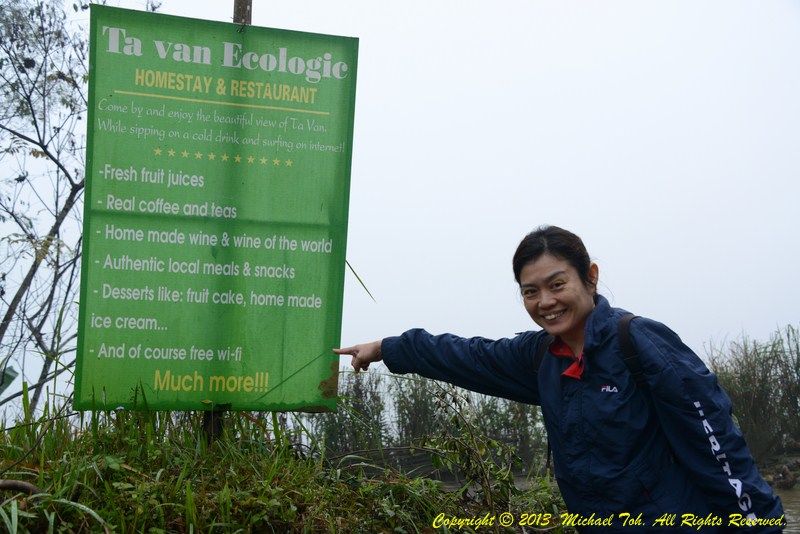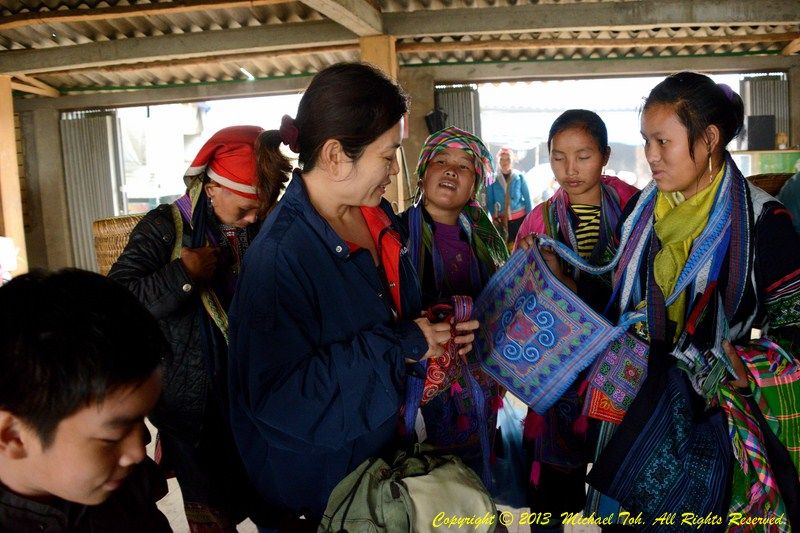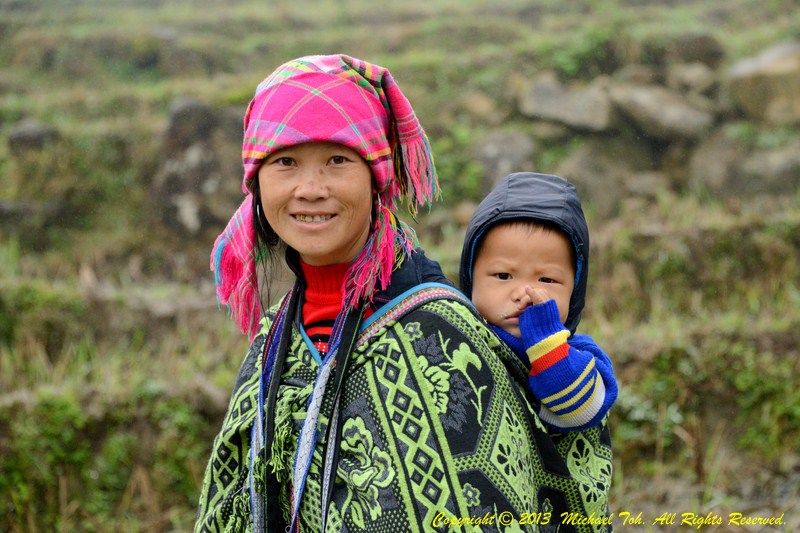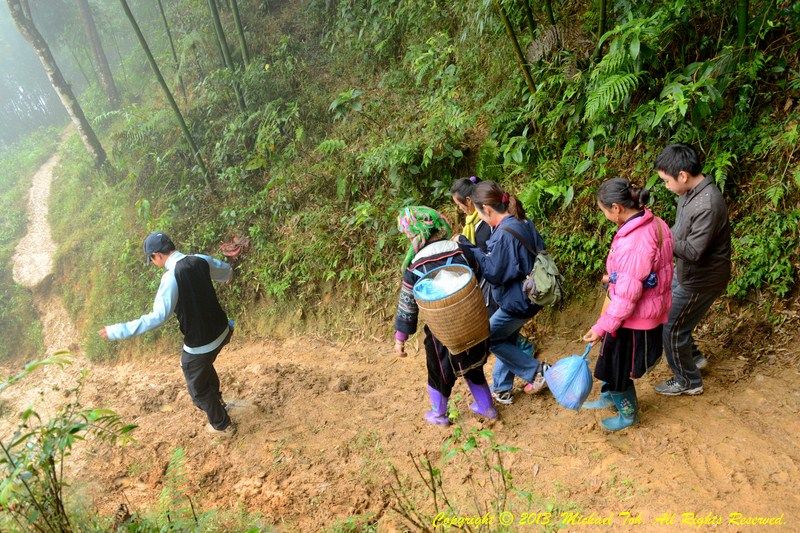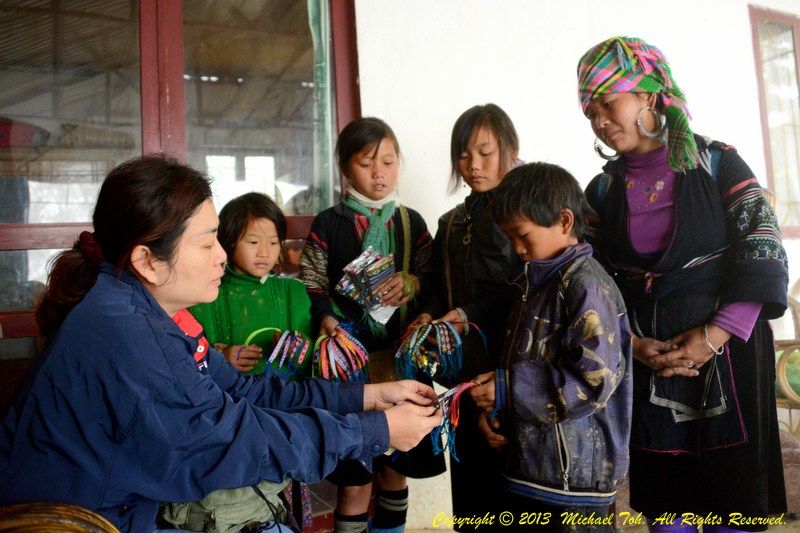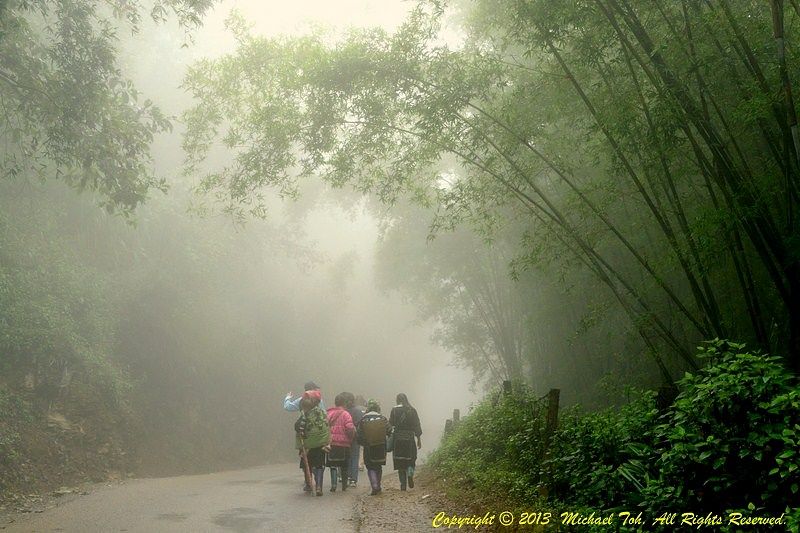 Sapa is located at the northern tip of Vietnam, near the border to China. The mountainous region boasts of scenic rice terrace, waterfalls, cool climate and hill tribes rich in culture and costumes.
There are many hiking trails offered by travel agents, some as short as half a day, and others with overnight stay at a hill tribe's house. Different trails lead to different village of hill tribes so every walk is an experience.We stayed in Sapa for three days and took every opportunity to trek every day. On the morning of our arrival, we began our first trek immediately after depositing our luggage with the hotel office in town.
There are four main ethnic groups visibly present in Sapa – the Viet (Kinh), Tay, Black Hmong and Red Dao. As soon as tourists arrive, they will be swarmed by the Hmong and Dao women in their colourful and red head gears and ethic garbs respectively. Our guide, a Tay minority named Huong, was dressed in Western jeans and jacket. He spoke good English which he learned from tourists. As we walked, I noticed that we were followed by a group of five to seven Hmong women, each asking us for our names and country of origin. Soon, the group dropped to four women, one carrying an infant on her back. Huong took us down a trek into the rice terrace. The dirt trek was wet and muddy and we had a hard time walking and trying to keep our footing. What made it worse was the slope going down. I had no confidence of walking down, and Huong was no help. Instead, it was the women who took our hands and prevented us from slipping.
As we walked, I marveled at the beauty of the surrounding, as well as the hard lives of the women there. Where were the men? They were usually farming but since it's winter, they were probably at home resting, leaving the women to bring in the bacon by trying to sell souvenirs to tourists. The women usually marry in their late teens and those in their forties are already grandmothers.
'We friend friend, you buy from me later?' They urged and I smiled without making any commitment.
At a rest stop in a villager's house, we were surrounded by children offering embroidered wrist bands and pleas of 'buy, buy.' I wondered how Aaron, my 13-year-old son felt looking at them – indifference or blessed? I gave everyone some money and bought from all, for there wasn't really any options to buy from some and not others.
We traveled five hours, and stopped at a village rest house for lunch. This rest house provides accommodation to tourists for overnight stay and even had wi-fi connection, literally in the middle of nowhere. After lunch, we continued our walk, passing by schools and hospitals. By then, our jeans and shoes were all caked with mud. My husband, who had refused the helping hand from the lady with the baby, slipped and his jeans were filthy. He later told me that although he had refused her hand, the lady nevertheless was worried for him and held on to his backpack whenever he negotiated a slope.
As we arrived at the last stop, a large restaurant for tourists, the Hmong women took out their wares and I was obliged to buy from the four of them. I was so grateful to their helping hands, and by the end of our walk felt a kinship with them. As I write this three months later in the comfort of my home in Singapore, I still feel the warmth of friendship between us and wonder how their lives are now.