Now, it is time to enter the mausoleum of the grand Akbar - Sikandra. You will go to one of the top places built-in 1605-1613 in Agra city. You will be amazed to see this Mughal architectural work. The mortal remains of great Mughal emperor Akbar can also be seen here. To enter Akbar's Tomb, you will pass through a beautiful southern entrance, which is similar to Buland Darwaza in Fatehpur Sikri.
You will see a huge garden in front of you, which is arranged in the char bagh style. The wonderful entrance is well decorated with the use of floral and geometrical patterns. Passing through this magnificent garden, you will enter the emperor's tomb. Same Day Agra Tour by Train - 2019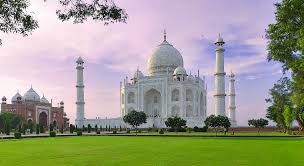 Made of red sandstone and white marble on the top floor, you will not be able to remove your eyes from this tomb. We will ensure that you enjoy your time and gather all the beautiful memories here. Post for excursions, you will be off to your place from the train.