Rishikesh, Uttarakhand, is known for its natural landscapes and enchanting surroundings. Known as the yoga capital of the world it is a perfect place to travel to if you are looking for a break from a monotonous routine and don't have much time to spare on a luxurious holiday. Though 24 hours are not enough to explore this mystical town, we have created a perfect itinerary for you to experience the best of Rishikesh in one day.
Morning
9:00(am): Why is 'am' in brackets? Change this where applicable Start your day with a healthy breakfast at Little Buddha Cafe which is the most famous cafe in town. The place is always full, so make sure to keep extra time in hand for breakfast. This river-view cafe is an all vegetarian joint and has several cuisine options. Several options like? Make it more descriptive
11:00(am): Jumpin Heights is a hub for all adventure sports in Rishikesh. One can enjoy activities like bungee jumping, flying fox and canyon swings here. If you are an adventure enthusiast, then a day in Rishikesh is not enough for you to experience it all. The cost of any adventure activity in Rishikesh ranges from ₹2500-₹4000. Feel the adrenaline rush when you jump off from a height of 83 metres and pierce your way through.
Afternoon
1:00(pm): After you're done with bungee jumping, you can enjoy Flying Fox which is equally frightening with a speed of 140km/hr, but at the same time it lets you enjoy the natural surroundings of Rishikesh. Enjoy a panoramic view of the town and be in awe of the natural beauty of the place.
2:00(pm): If you still have energy left then you can try out the canyon swings, but it is not recommended to try all activities in one day. You can instead trek to Patna Waterfall which is just 5km from Tapovan. People who don't wish to walk can hire a taxi from Tapovan to Patna Waterfall and then a return journey back to the main town.
3:00-4:00(pm): Dip your feet in the pristine water of the Patna Waterfall. Relish over snacks available at small shops parked on the corners. Rephrase Many adventure enthusiasts also choose to trek to the falls from Rishikesh itself. The trail might get slippery during the monsoon season and is not recommended for trekking during this period.
4:00-5:00(pm): It will take another 30 minutes to reach Rishikesh which is 12.5km away from the falls. Take a break at any of the cafes in town or get back to your stay for some rest. One can also explore popular local places like Ram Jhula, Laxman Jhula and Swarg Ashram. Swarg Ashram is located on the other side of Ram and Laxman Jhula and is dotted with several ashrams for pilgrims.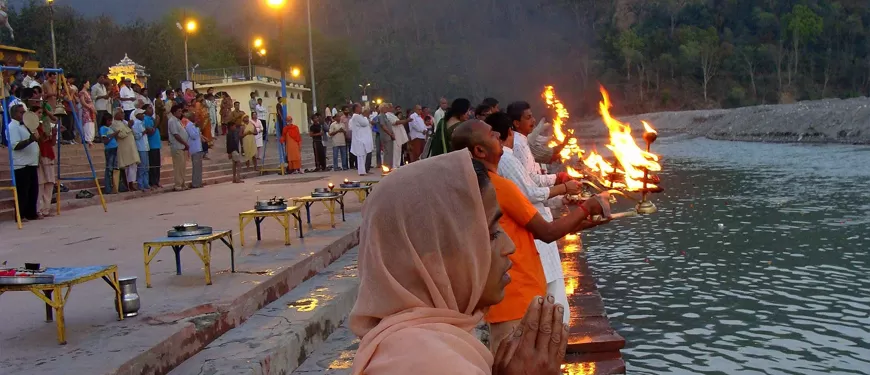 5:00-7:30(pm): Head to Triveni Ghat which is one of the many ghats that this town is adorned with. The best way to witness aarti Italicise Indian words is from Triveni Ghat. Aarti, a ritual among Hindus in which devotees gather together and pray to River Ganga, is a ceremonial procedure and must be attended by anyone who is in Rishikesh.
7:30- 9:30(pm): After witnessing the extraordinary aarti, one can visit Trayambakeshwar Temple and the famous Beatles Ashram or which are known for their own good reasons. What? Rephrase While Trayambakeshwar Temple attracts many pilgrims for its 13 storey worship place, Beatles Ashram attracts tourists looking for something different in the town. Something different like what?
9:30:- 11:30(pm): Have a sumptuous dinner at the famous Choti Wala restaurant. Try not to figure out the real one and just enter any one of them. What does this mean? Is it a chain or one single restaurant. Be more clear. Also, that's one word. After dinner, if there is room for one last adventure, then you can hire a bike and go for a bike ride on the winding roads of Rishikesh. Ride along the mystical surroundings of the town and enjoy your last few hours in this spiritual land.
Been to Rishikesh before? Share your story with us here. Subscribe to Tripoto's Youtube Channel for more such itineraries.
Frequent searches leading to this page:-
nainital rishikesh package, rishikesh package for 2 night 3 days, rishikesh camping package from delhi, char dham yatra by helicopter from rishikesh, rishikesh badrinath tour package