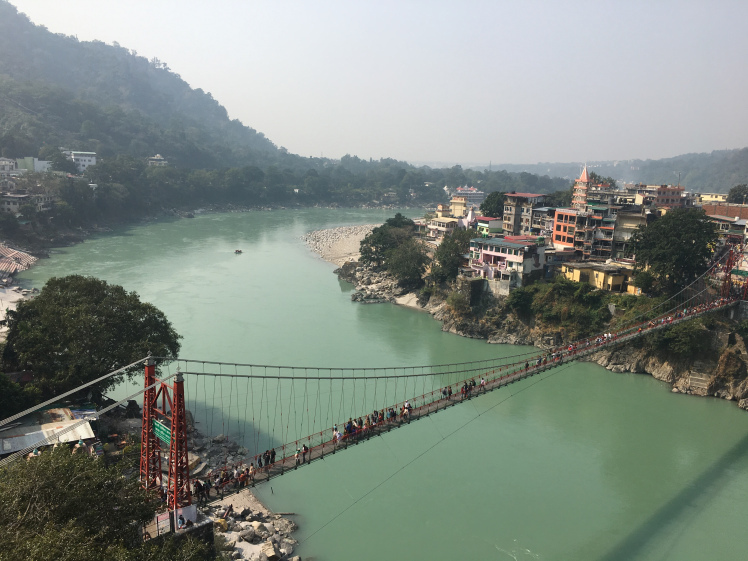 The word Rishikesh literally means 'hairs of a sage'. The city is famously known as the ' Yoga Capital of the World '.
the city is home to ancient temples, spiritual gurus and a host of ashrams preaching yoga, spirituality, meditation and Ayurveda and also attraction for adventure travelers.
When we planned to visit Rishikesh with family I was exited to visit Rishikesh for 2 reasons .. Ganges and white water rafting! Also I heard lot about the famous hanging bridge 'Laxman Zula ' from my grandparents.
We reached to Rishikesh little late afternoon. Our hotel was at par of Laxman zula and to our surprise there is no decent transportation to easily reach the other side of Zula, which are basically foot bridges. There are ways but some long routes which Auto walas were not much interested to go. So along with luggage we had to walk a long distance to reach hotel. Walking on the bridge just above mighty Ganga and watching whole city view along the banks of mighty river makes you fall in love with the place immediately.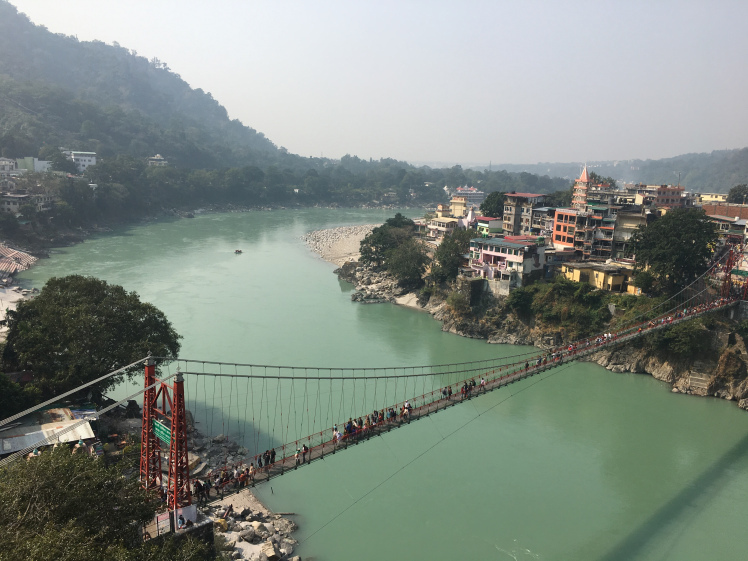 Just at the end of Laxman Zula there is beautiful Shiva statue.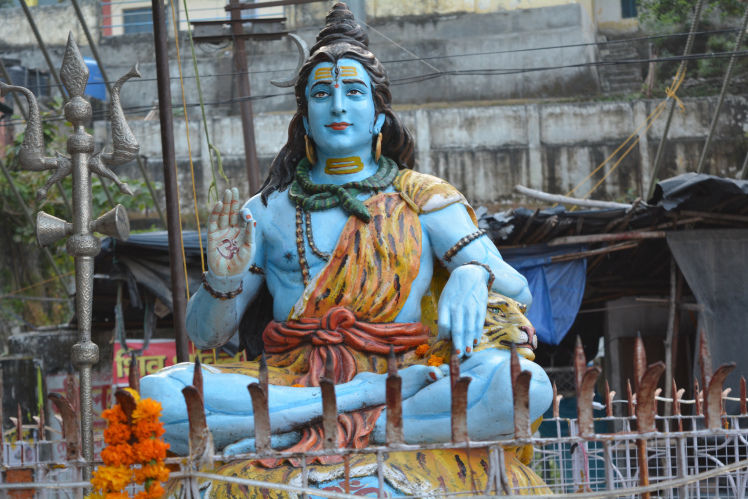 After freshening up we went for little walk and exploring the city. This side of the river and Laxman Zula was quite modern place. You will see lot of foreigners, continental cafes and food places , shopping places. After roaming around and a bit of enquiry we came to know there is Ganga Aarati everyday in Rishikesh on Triveni ghat and also near Ram Zula.
It was already time for Aarti so we decided to hurry and catch the Aarti if possible near Ram Zula which was comparatively near. We choose to walk as that's the best way to explore and get feel of city. It was almost 30 mins walk from Laxman Zula to Ram Zula passing through some dark deserted allies. Only few foreigners we could see passing by , otherwise it was all deserted road for long. After asking lot of directions we reached and crossed the Ram Zula. The Aarti was already started, we joined the crowd. It was small group of 5 young pandits people performing Aarati in skilled and elegant way , chanting mantras in chorus, moving Aarati round and round in beautiful sync. Though it was small scale compared to what I have heard of Varanasi and Haridwar it was still delightful to witness very first time.
Do not miss to walk again on Laxman Zula in the night, it's more peaceful with no crowd.
Recently I heard the hanging bridge 'Laxman Zula' is closed for people after 90 years. It's sad though I am glad I could visit it before and have a beautiful memory of it.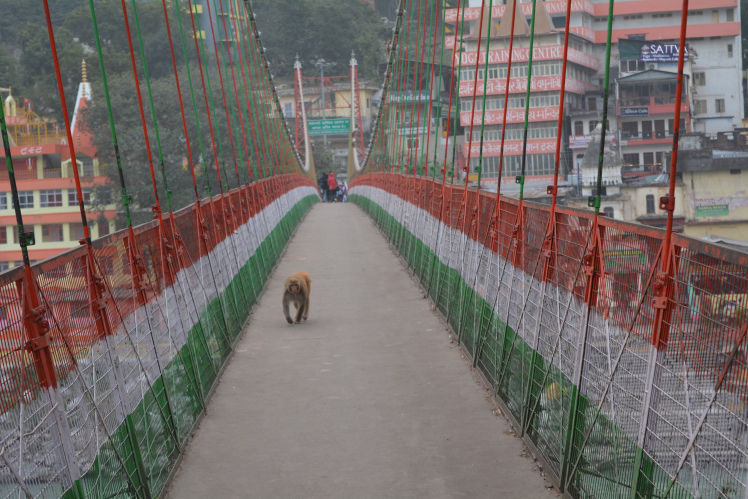 Being the spiritual place , the city has multiple temples, around 12 or so are most famous. It's hard to cover everything in just 2 day so we visited just few of them near the vicinity of Laxman Zula , 13 Manzil Temple ,Geeta bhavan, swarg temple etc.
13 Manzil temple Or Trimbakeshwar temple is on the banks of river near Laxman Zula. This Temple is a famous tourist spot and holy multi-story building. Also called up as Trimbakeshwar Temple in Rishikesh, this holy shrine has 13 story and each story has several idols of Hindu Gods and Goddesses. From top floor we can witness beautiful top view of city , bridge and the river.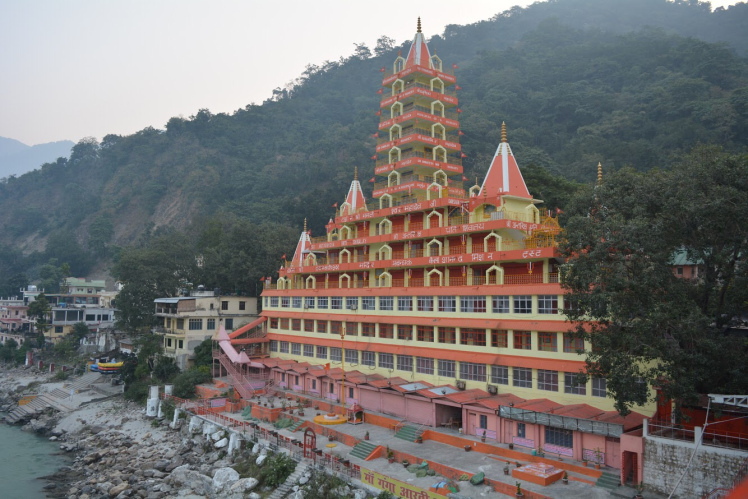 Rishikesh trip couldn't be complete without experiencing the thrilling adventure of white water rafting ! There are lot of agents available around which offers multiple adventure activities like rafting , bungee jumping , fox flying , cliff jumping etc etc.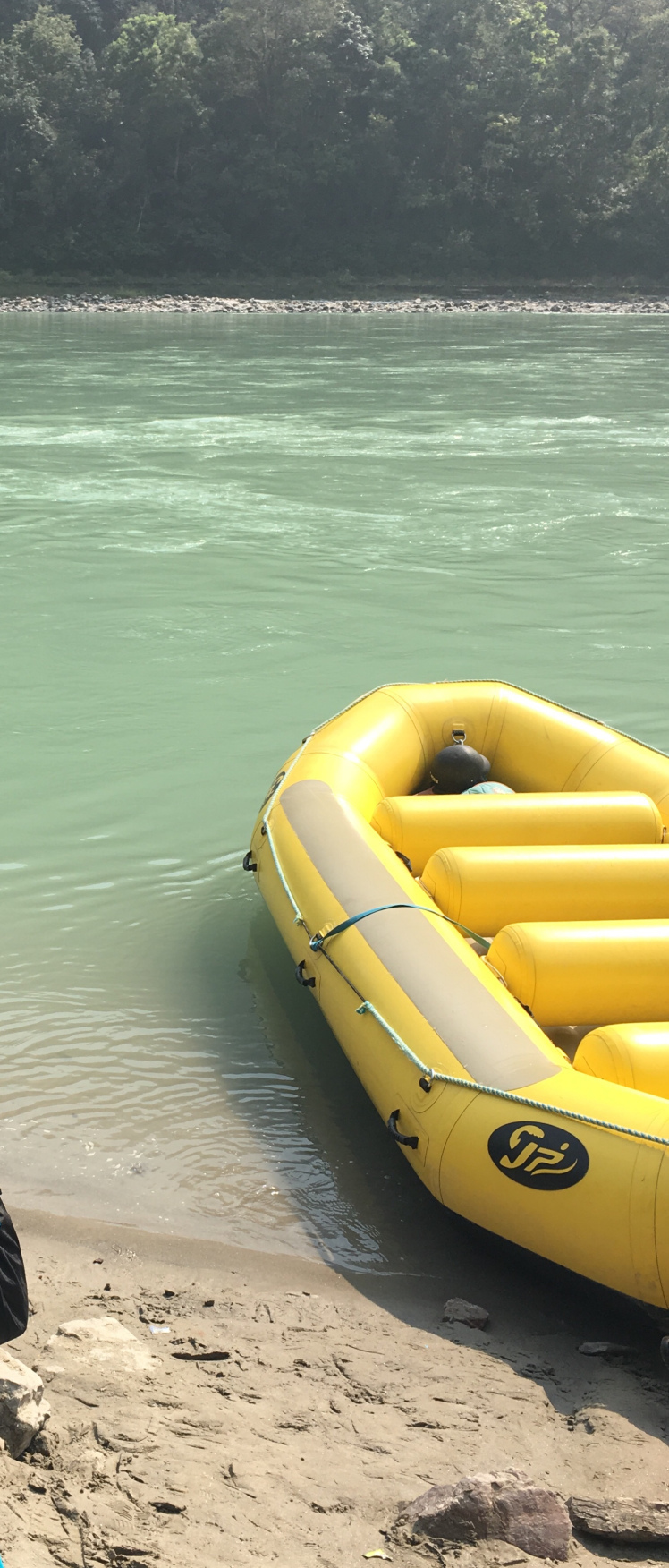 Me and my sister did 16 km rafting from Shivpuri. The agents will provide the transportation to and fro and it costs us around 700Rs each, It was one of the memorable experience to raft on the speedy and turbulent rapids of Ganges white water. On the way I did the cliff jumping as well into the river ! There are also options available for longer distance rafting like 25km and 40km.
Late afternoon we visited Neelkanth Mahadev temple which is around 30km from Rishikesh and located in a dense forest and is adjacent to the mountain ranges of Nar-Narayan.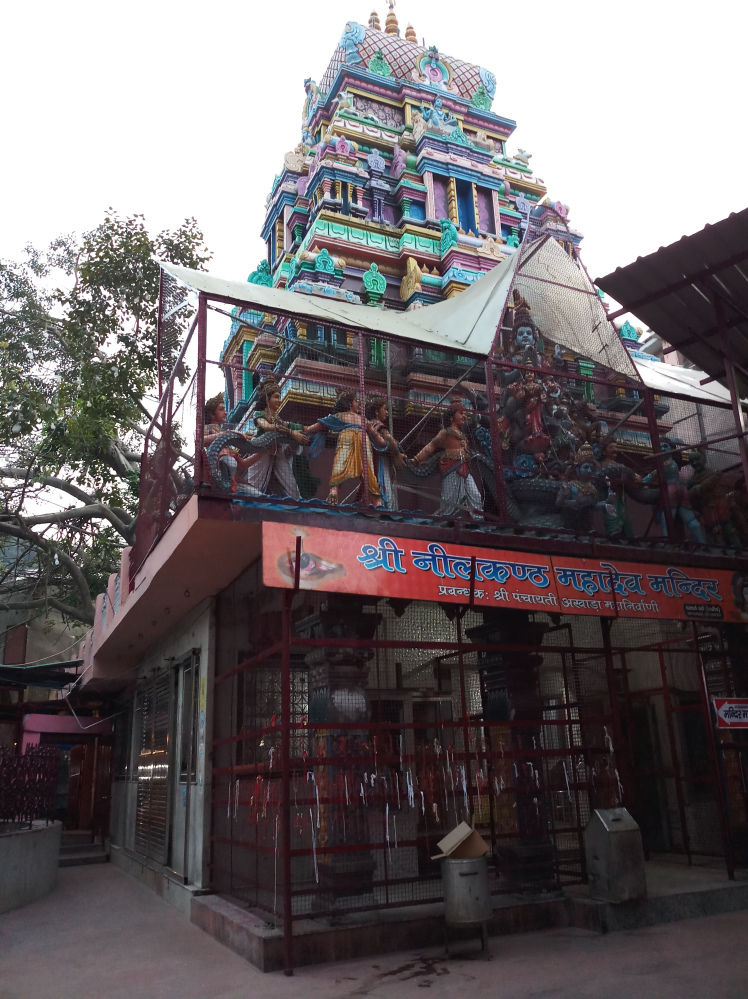 According to mythology this is the place where Mahadev consumed the poison which was originated from churning the sea by Dev and Asura to obtain Amruta! You can easily get cabs on sharing basis, per person around 100Rs. It's a curvy mountain road and you can see the Ganga river flowing in the valley down along the route. You will have to walk some distance to visit the temple.
we could not cover Triveni Ghat but that can be definitely included in the itinerary. If you are planning for longer visit definitely there are more places to explore.
While wrapping up our short 2 days visit I promised myself to revisit the city and meetup Ganges again with solo Bag Packing !