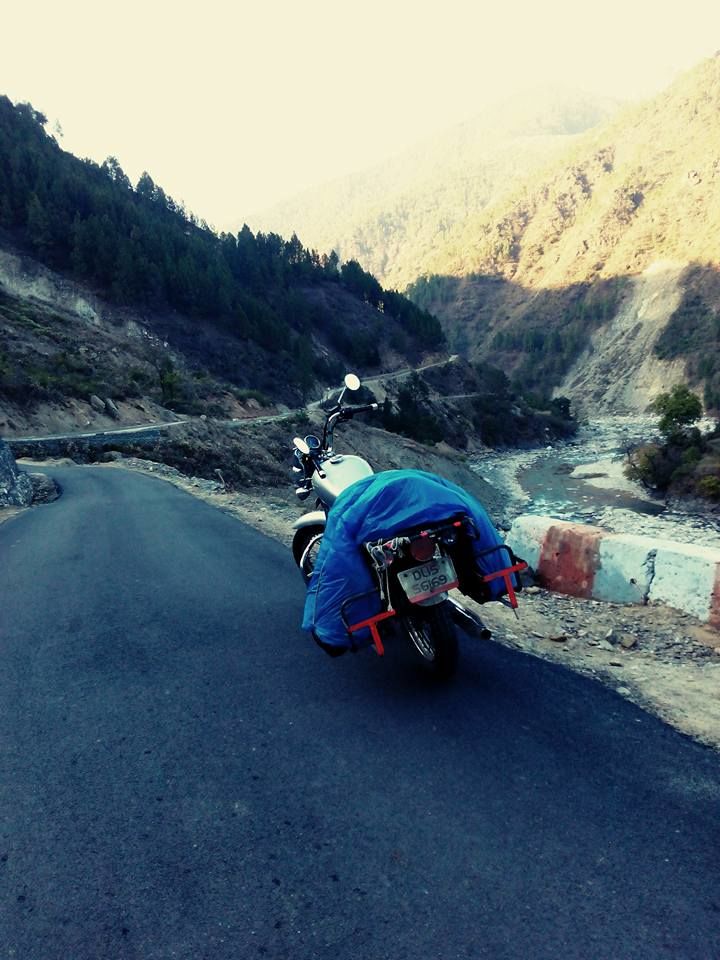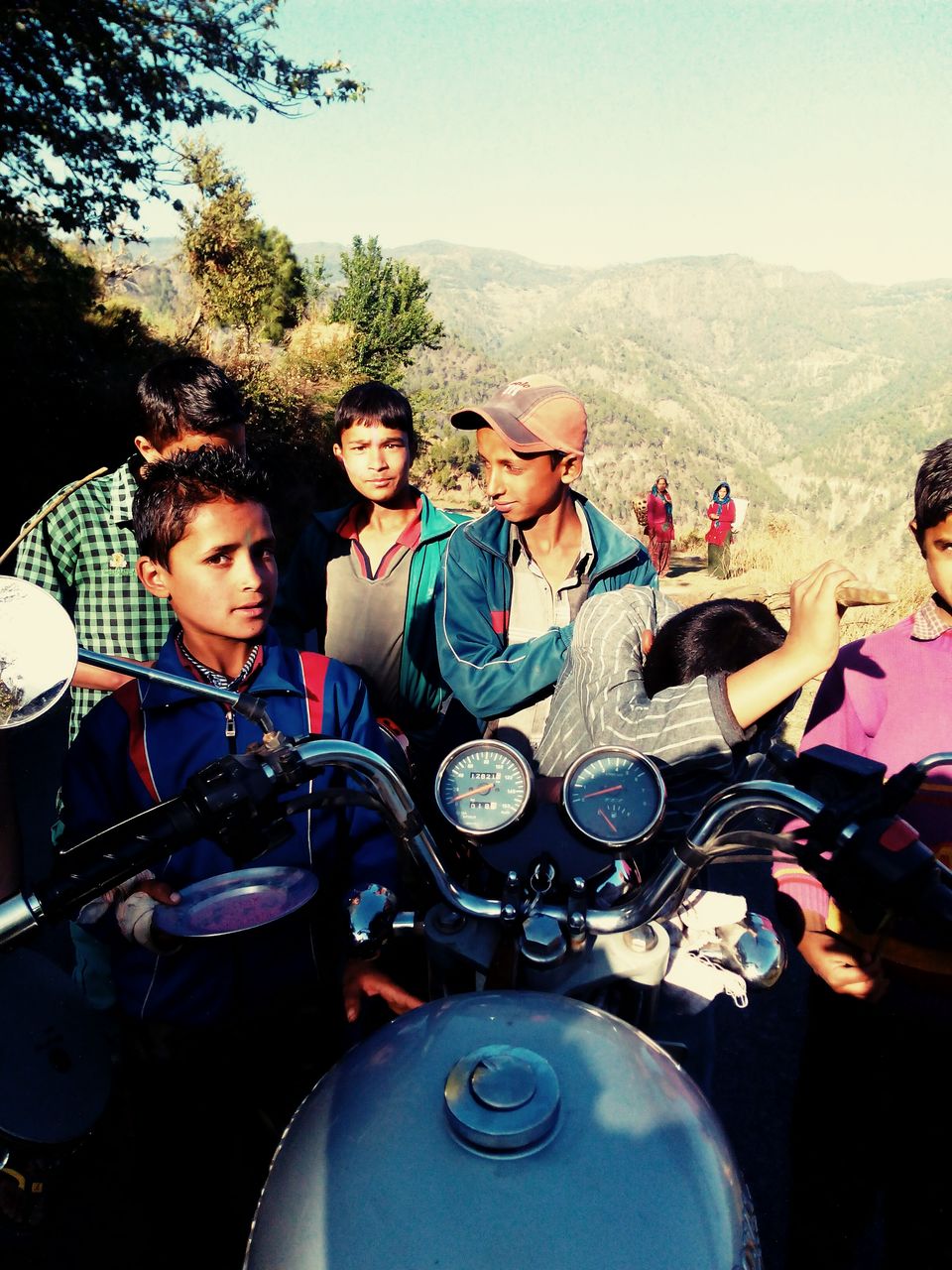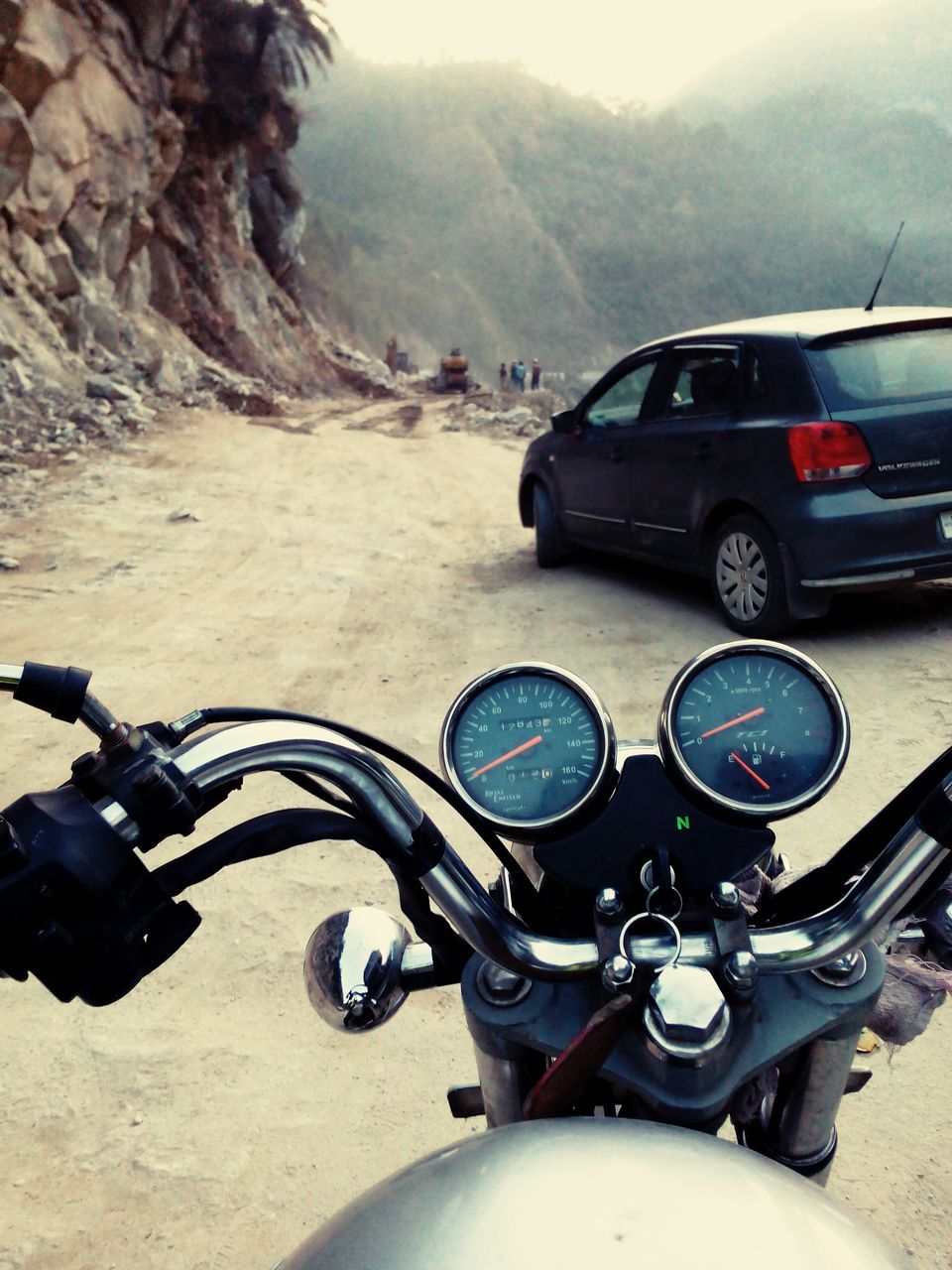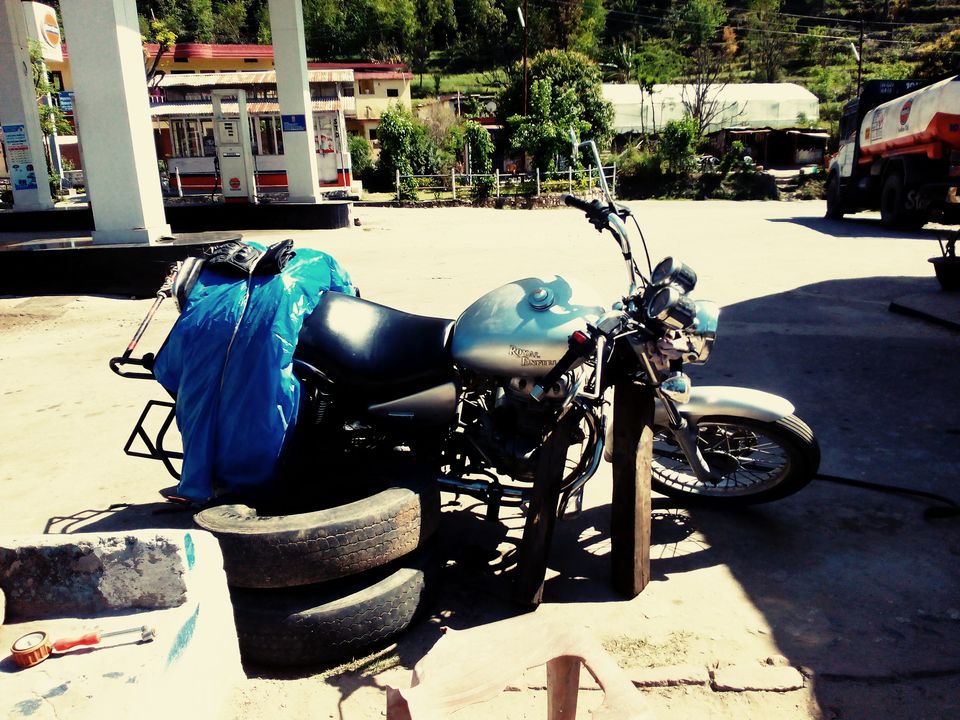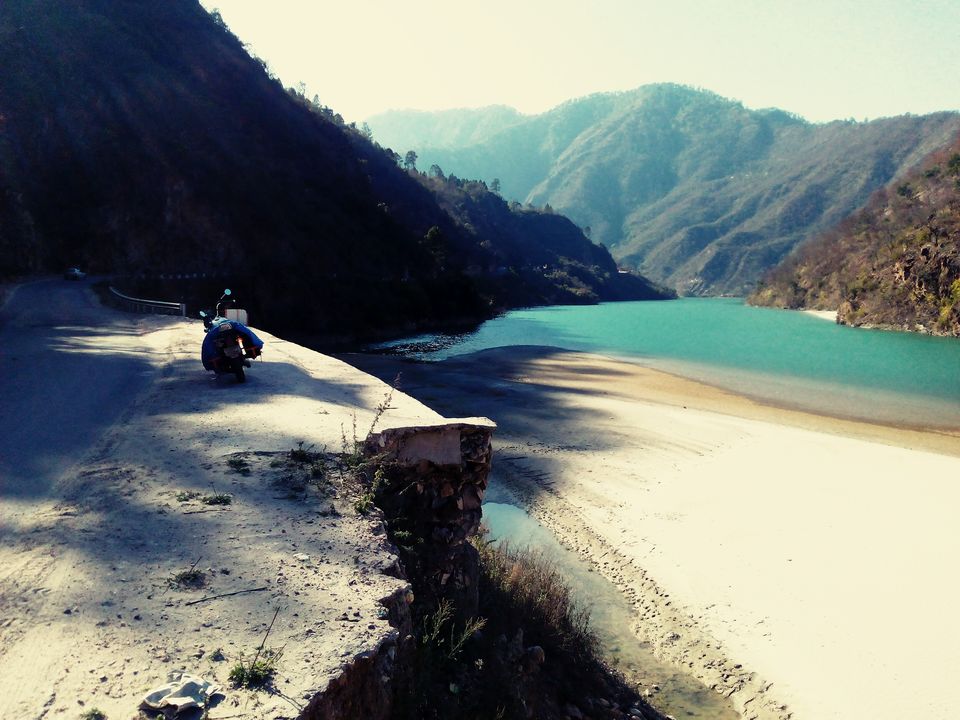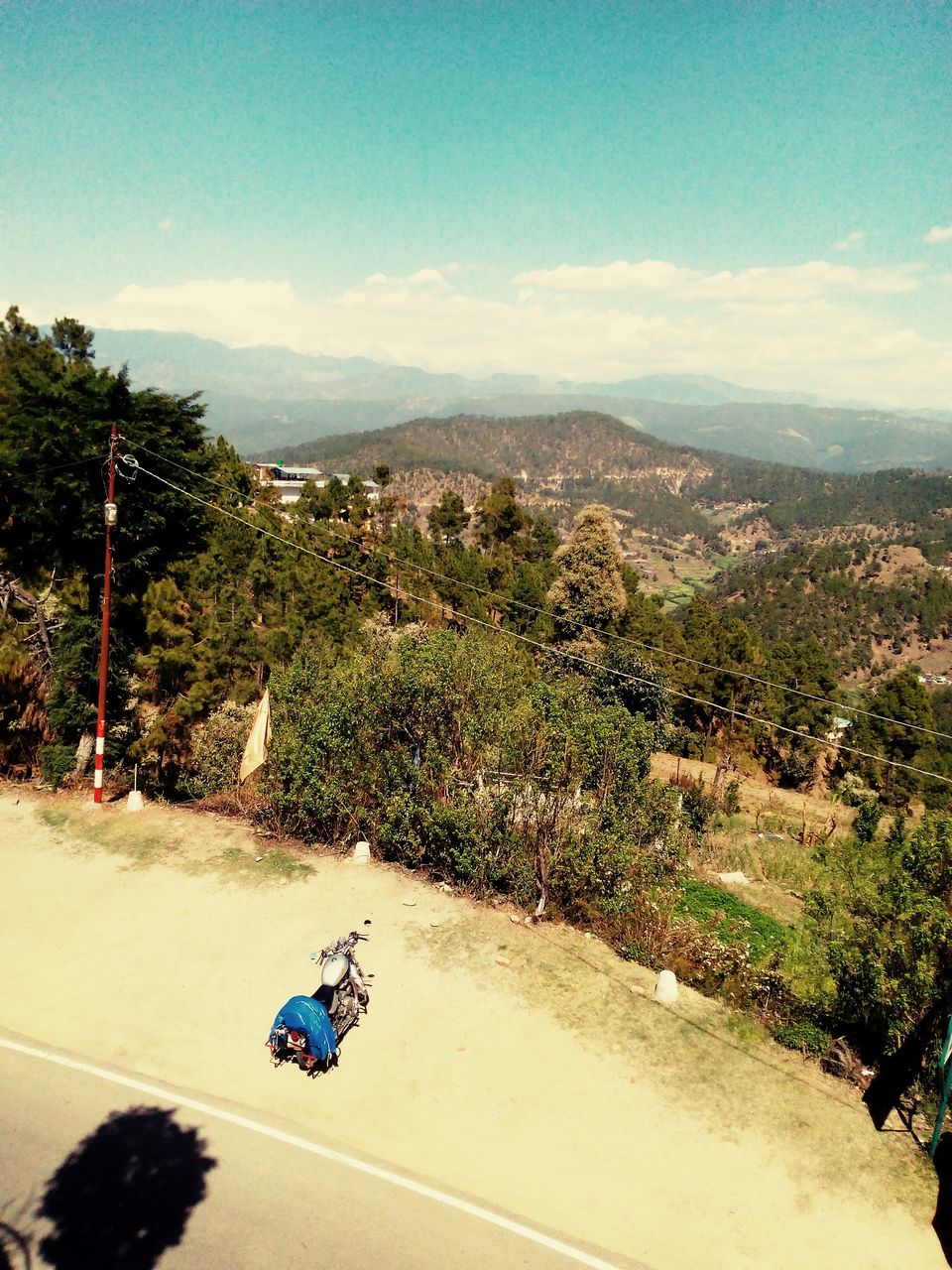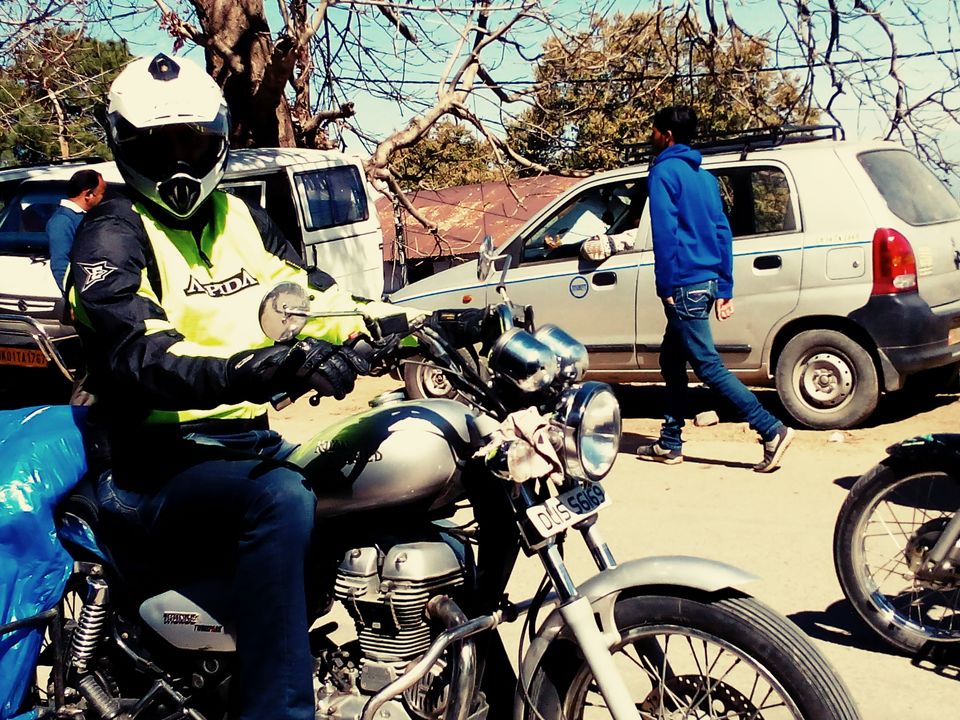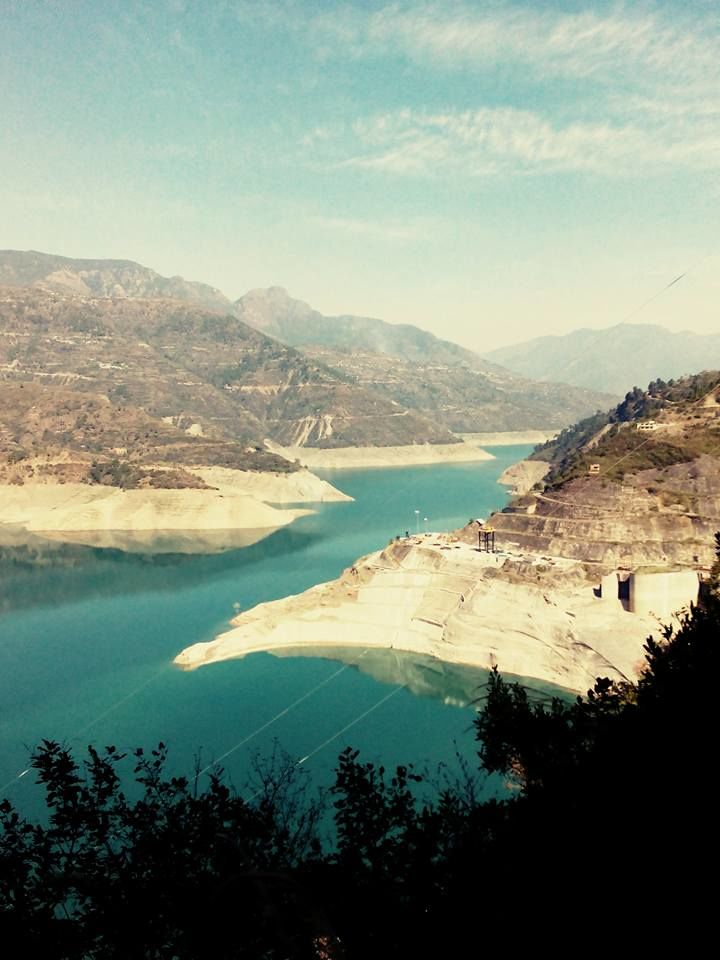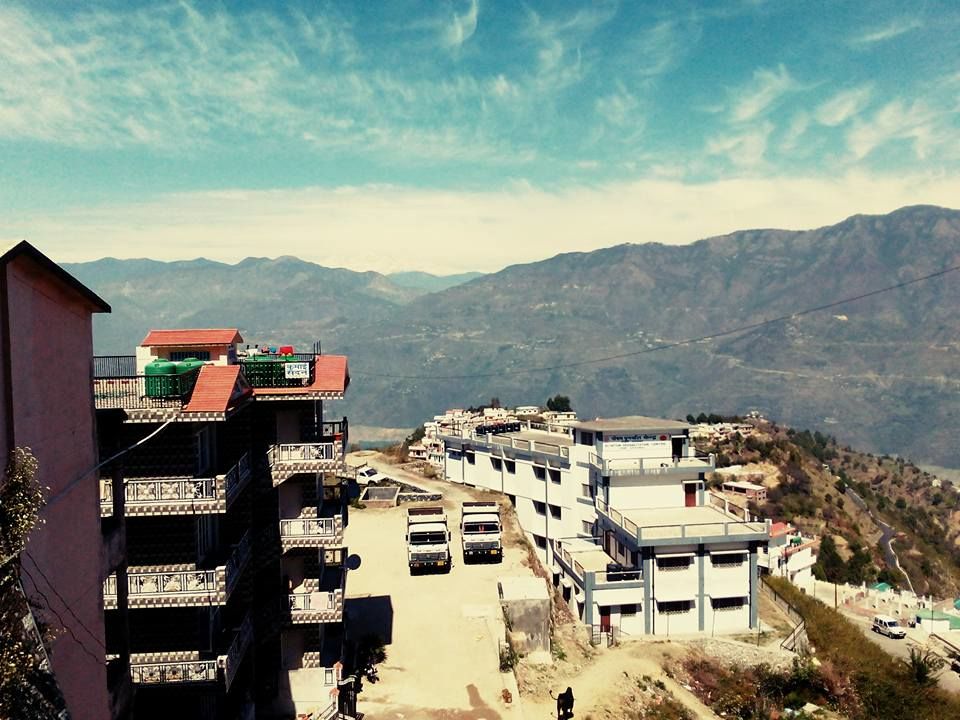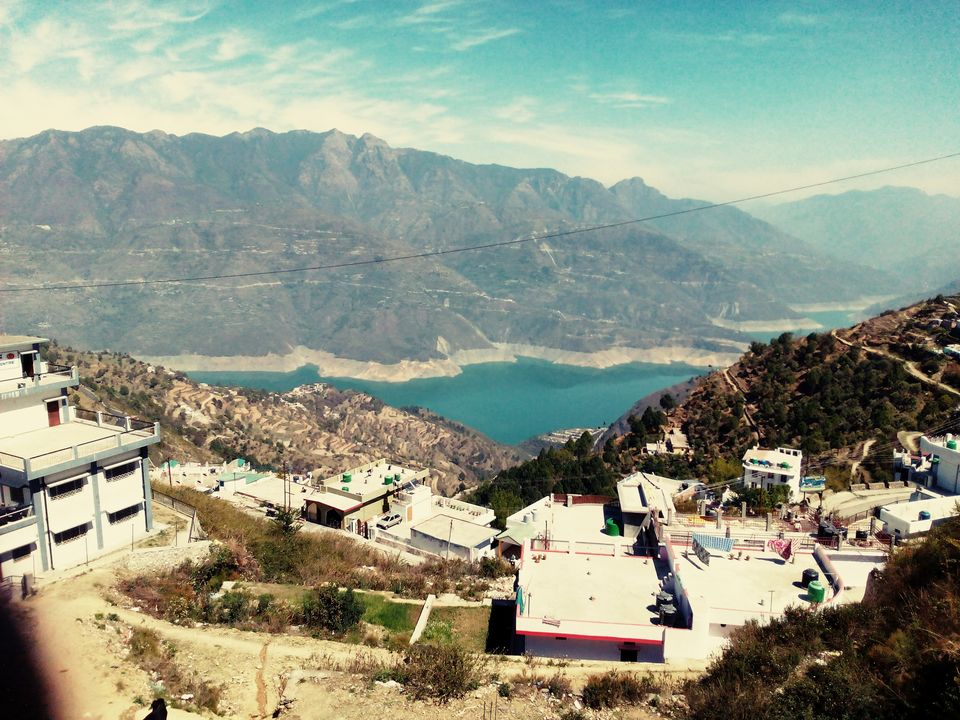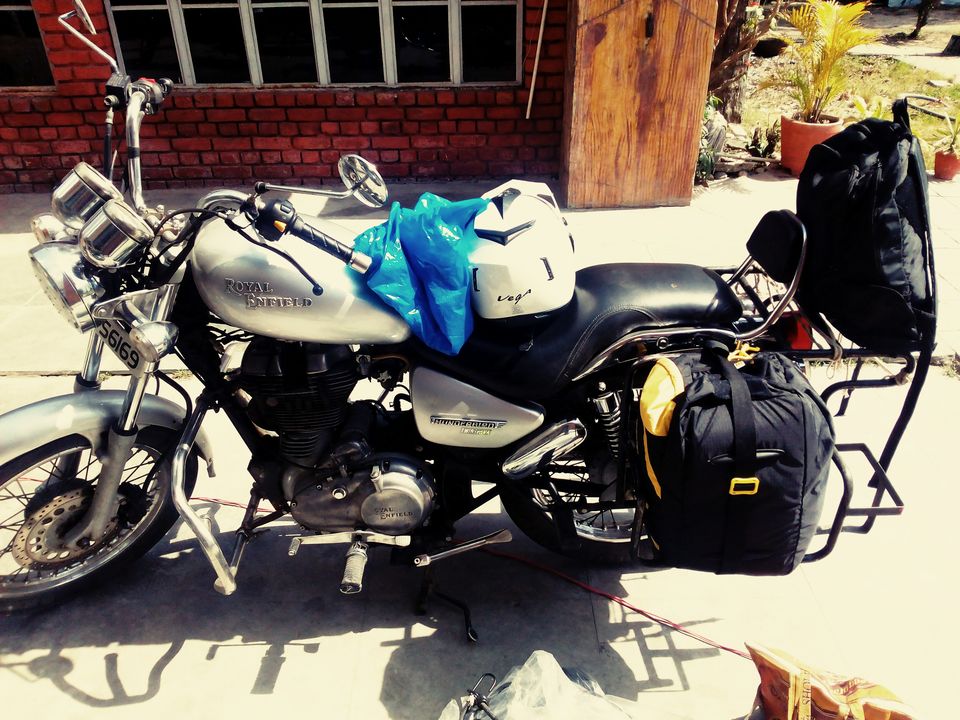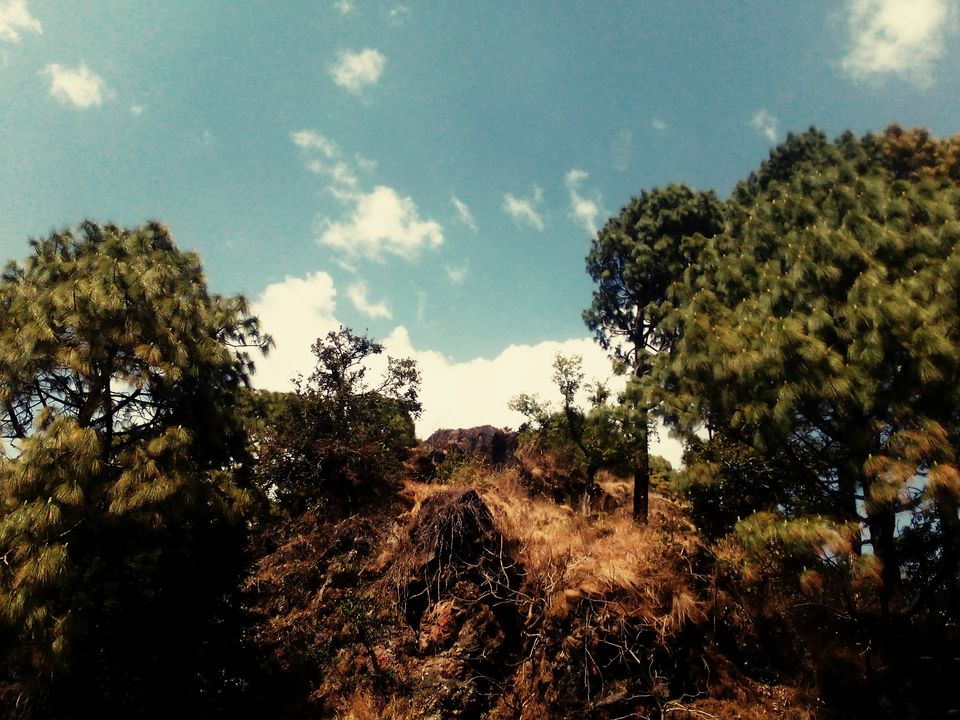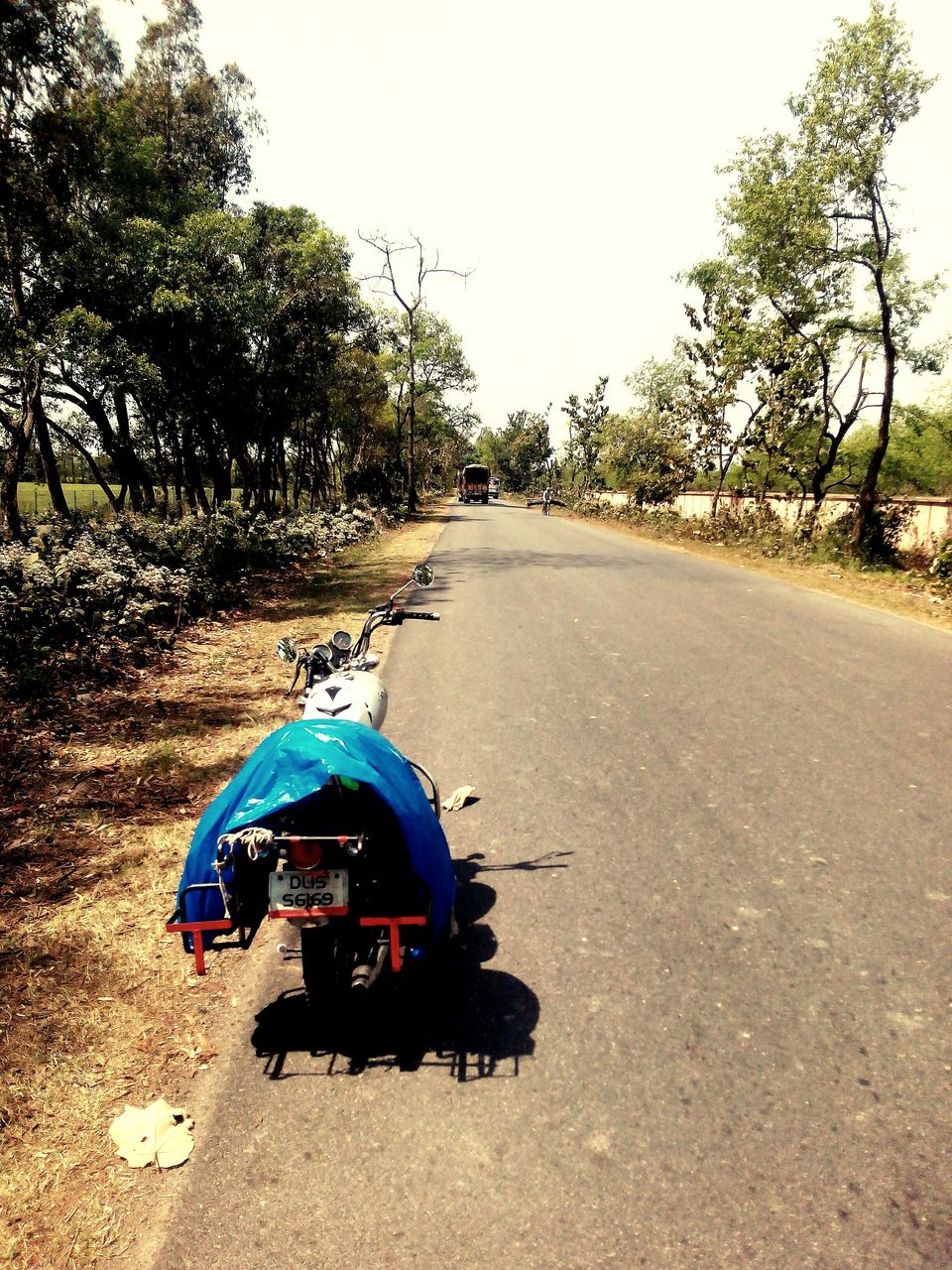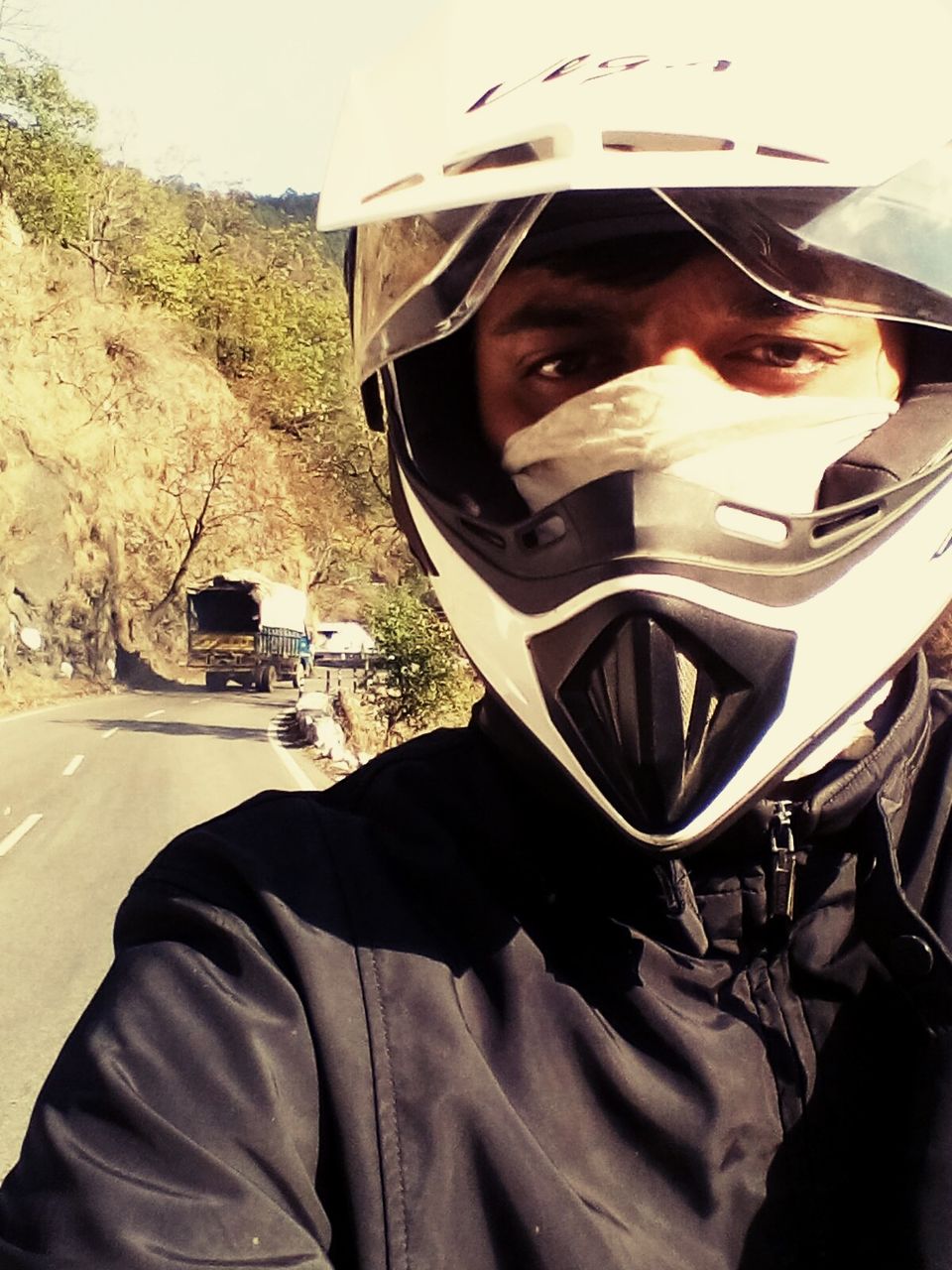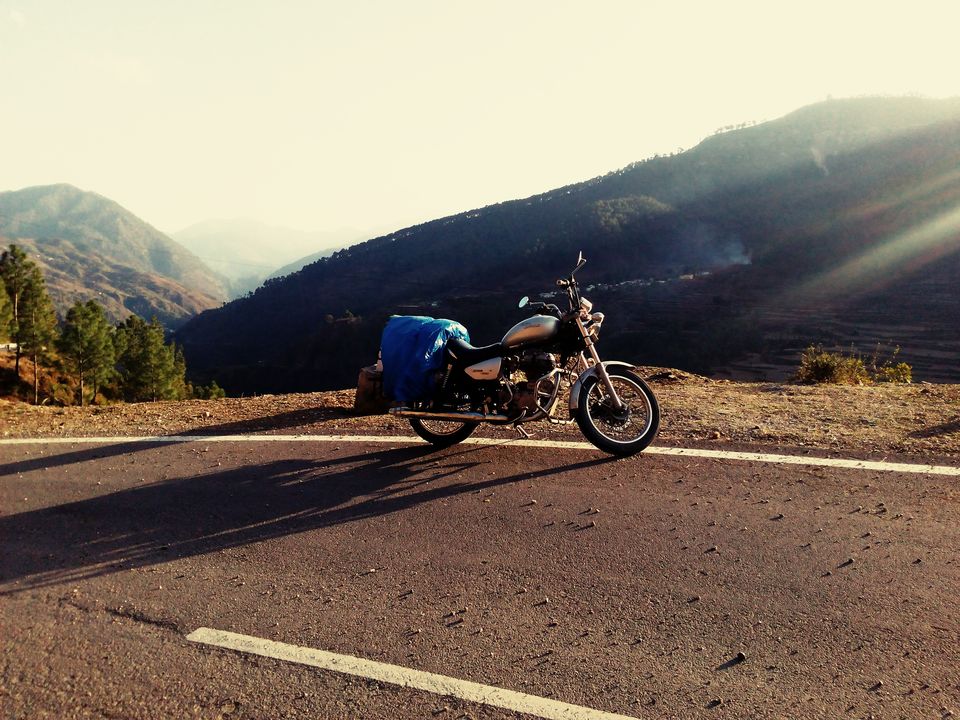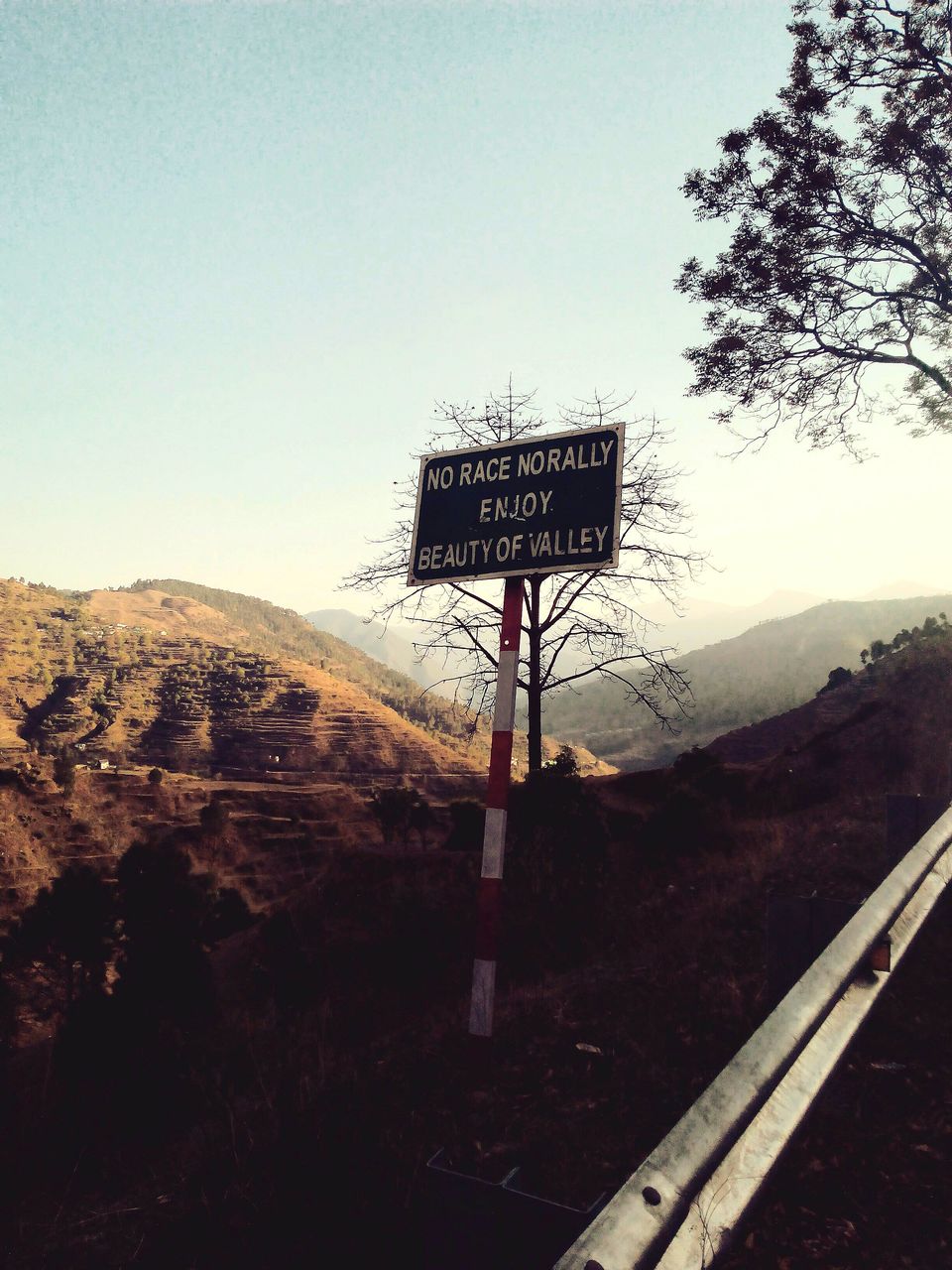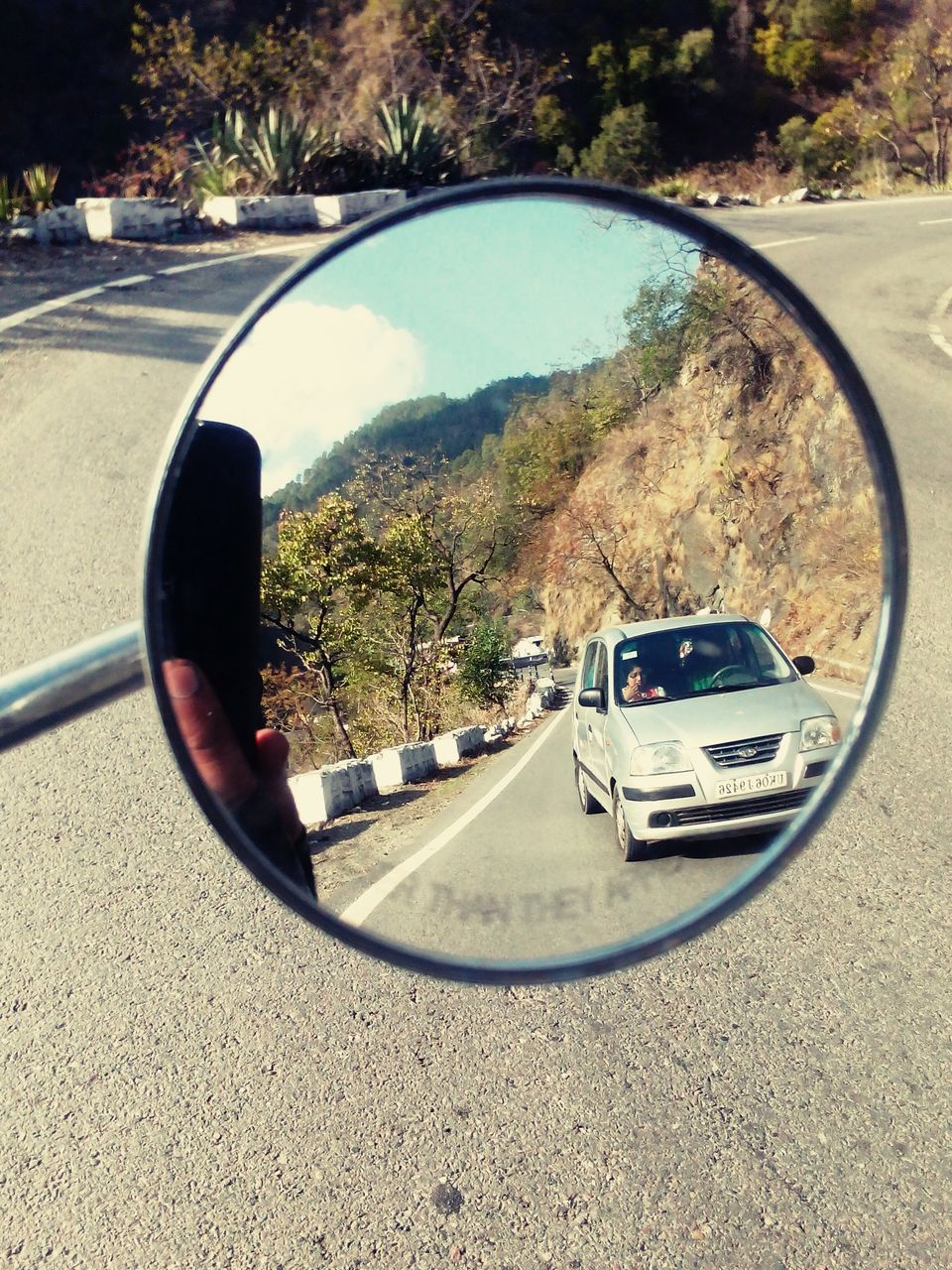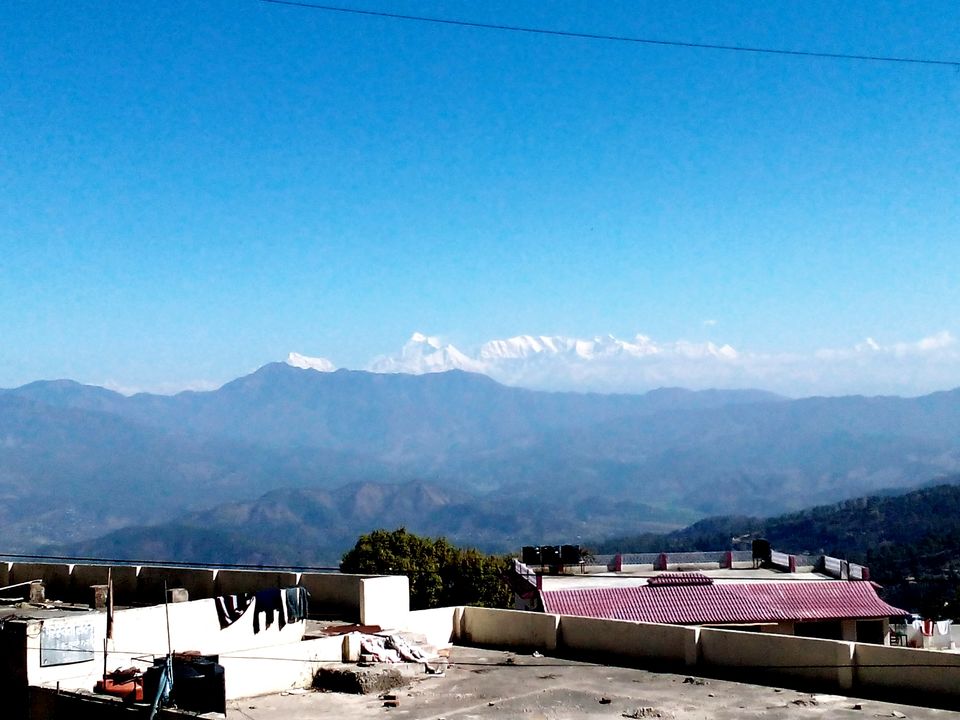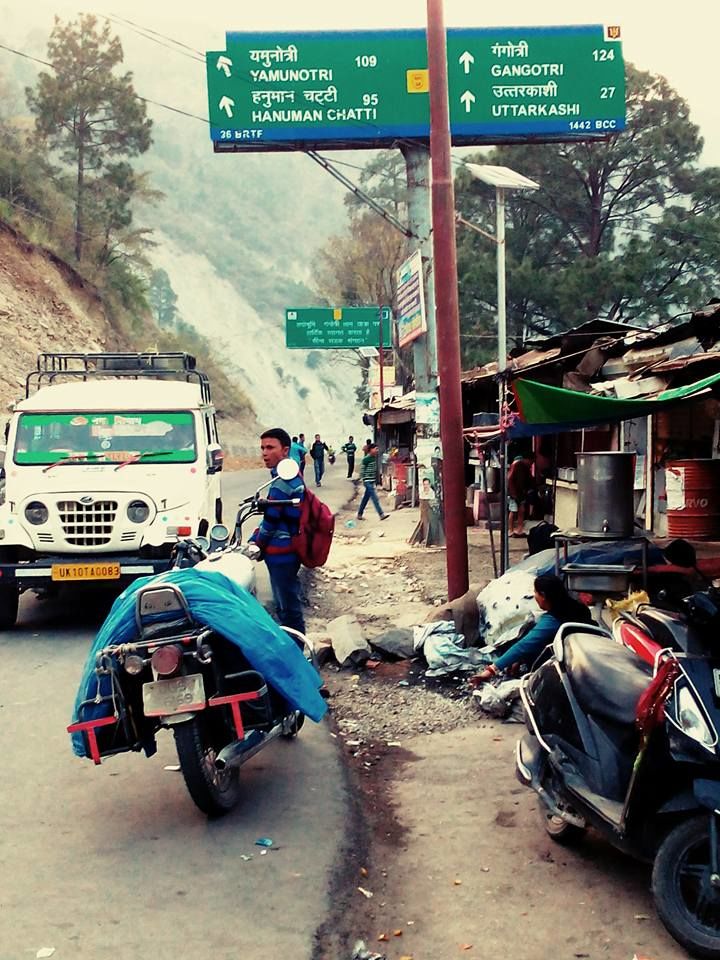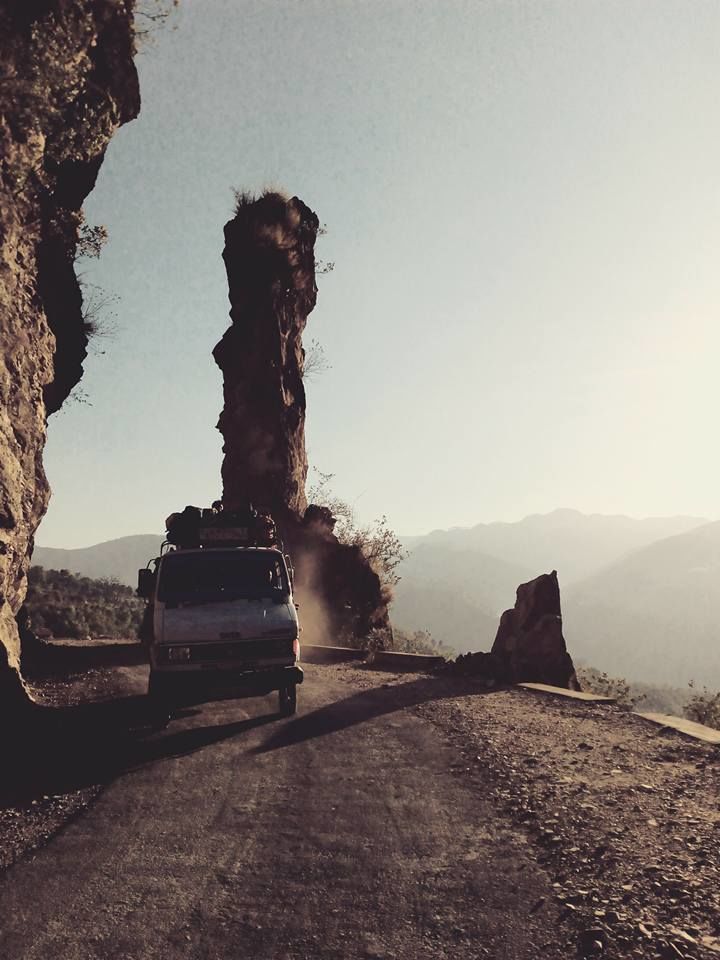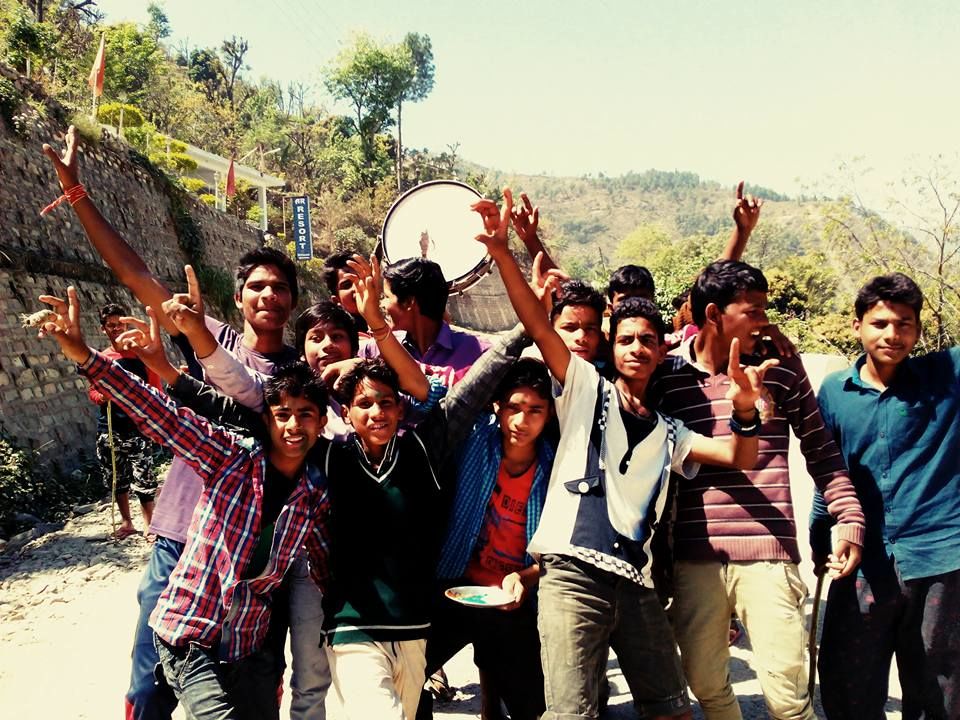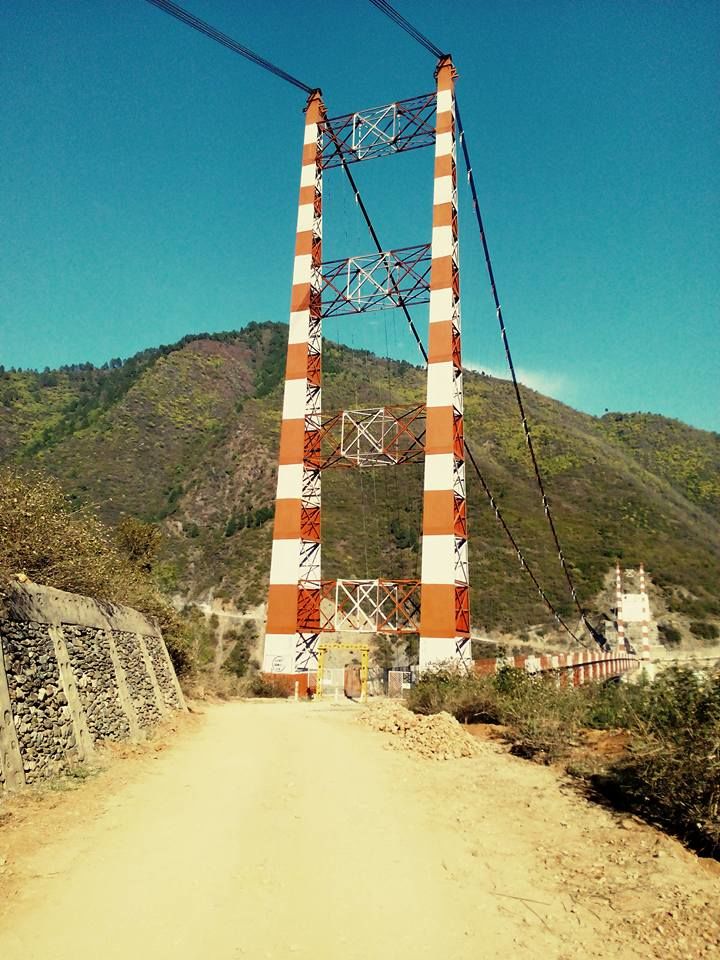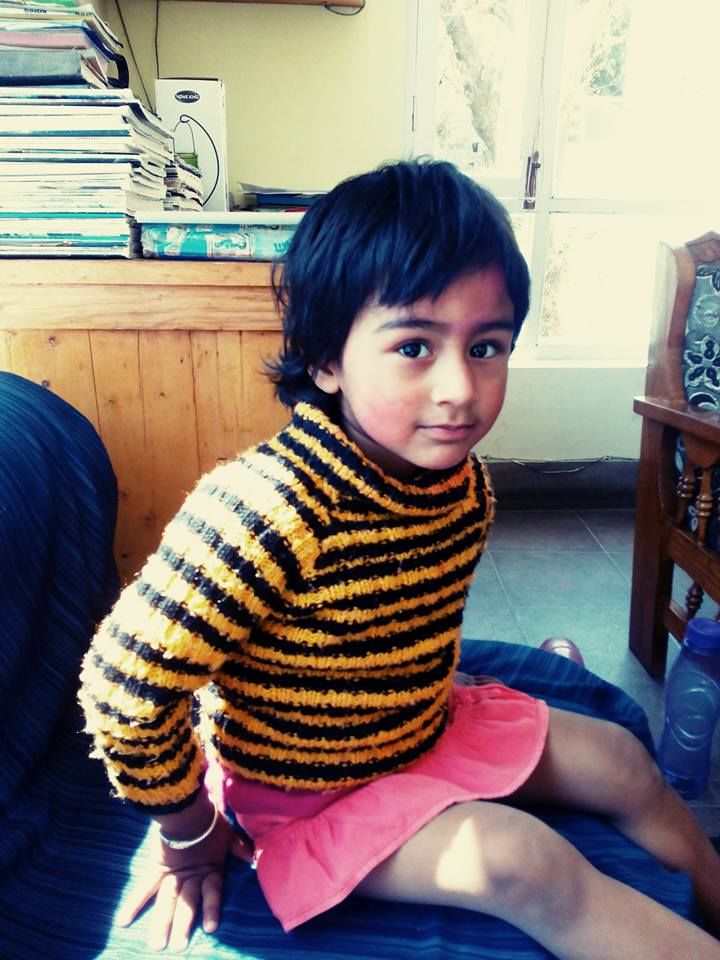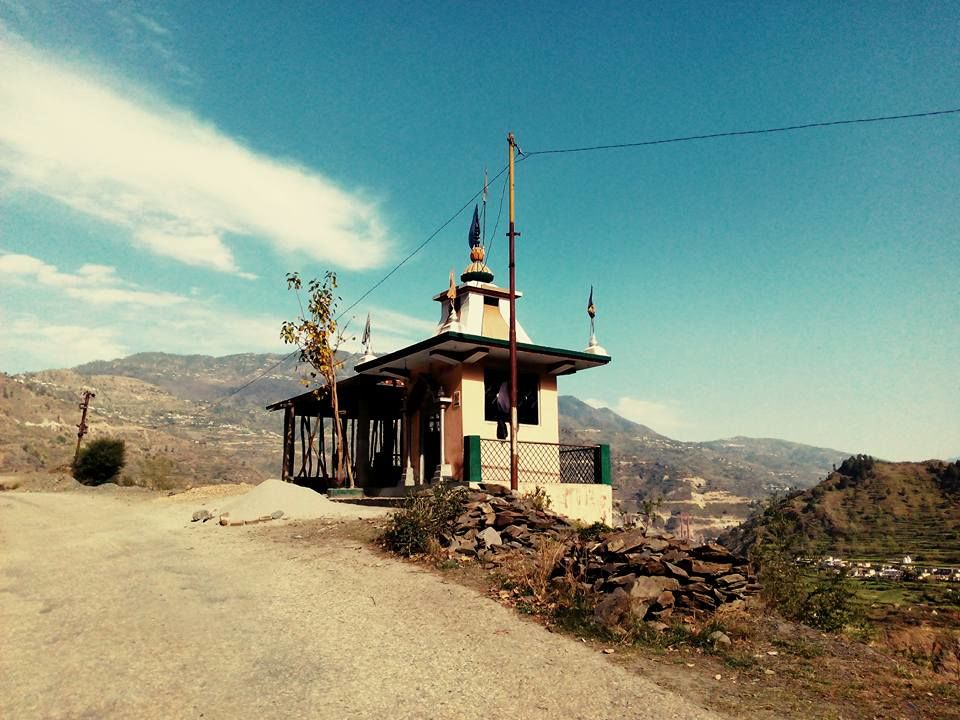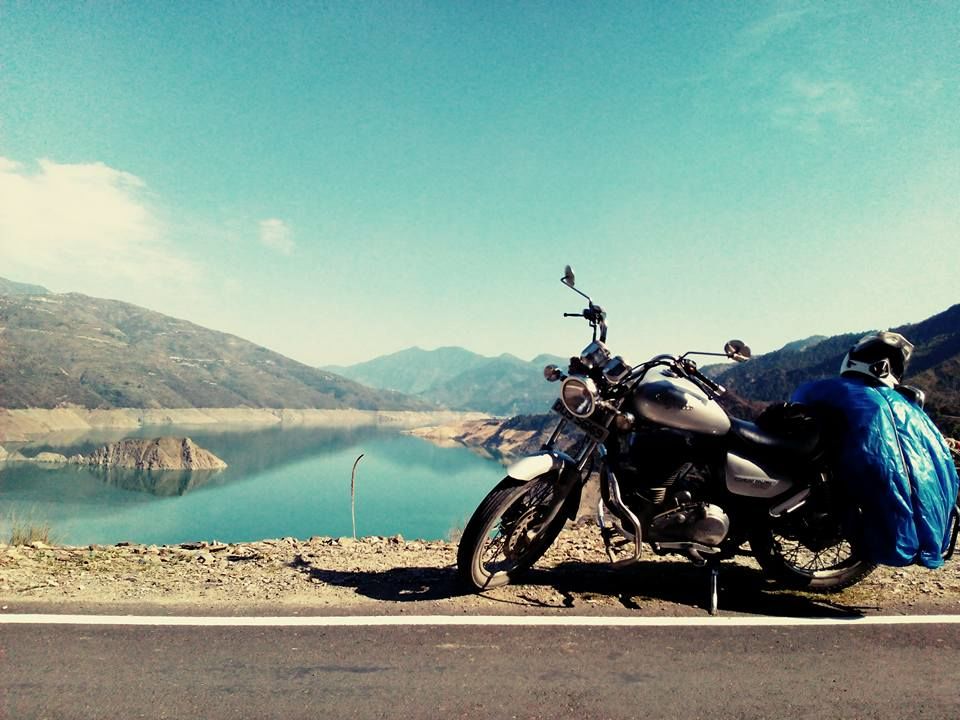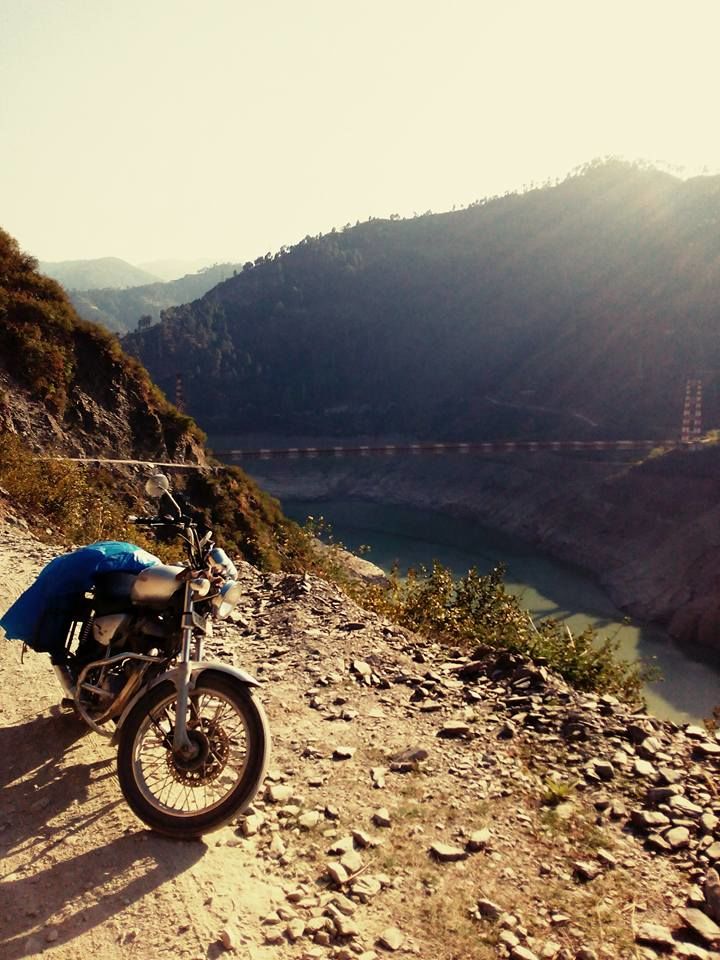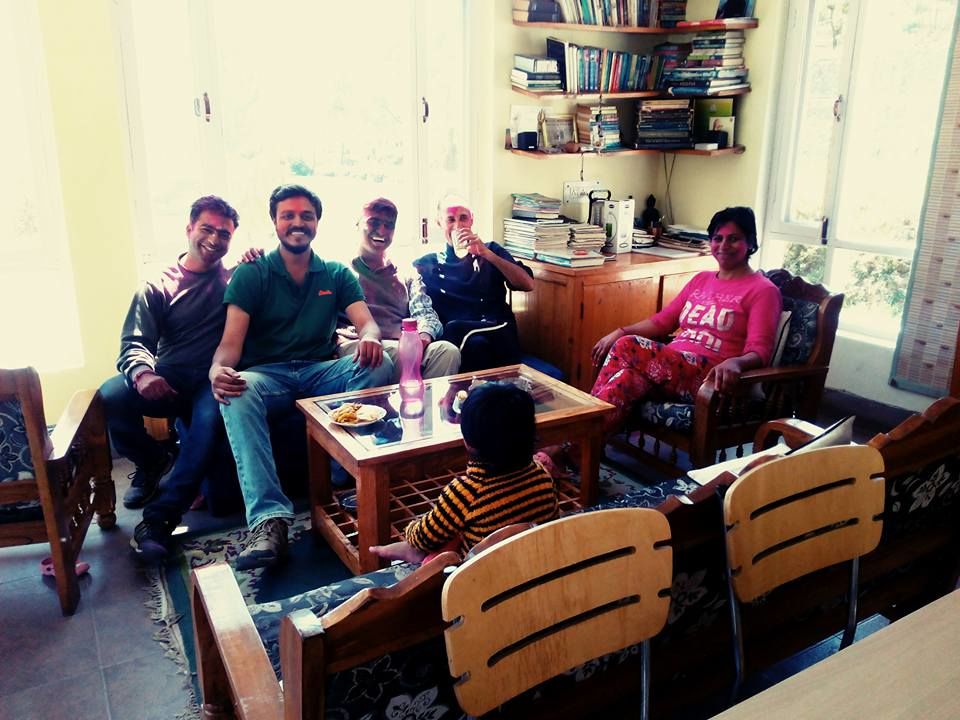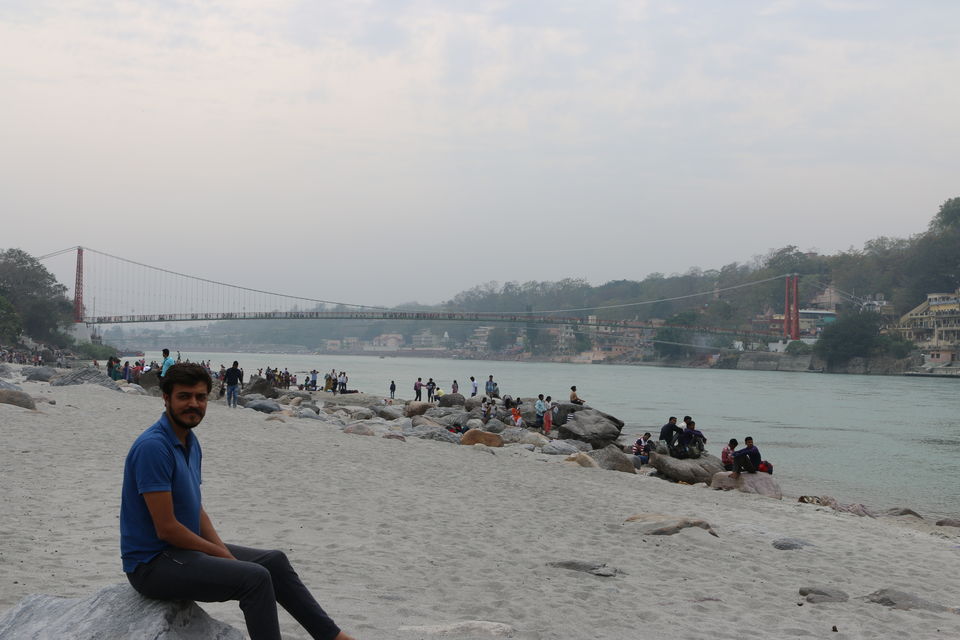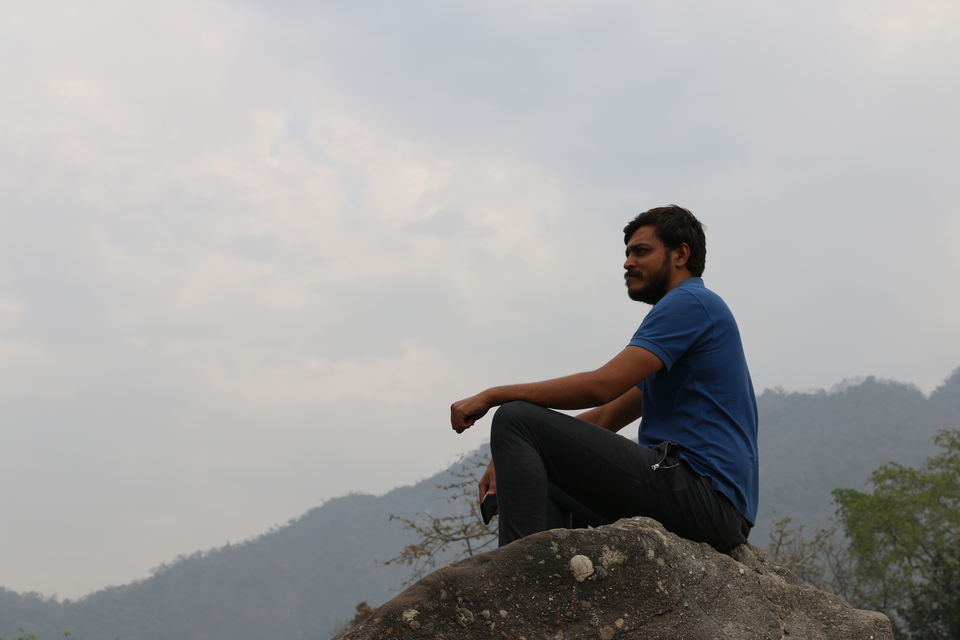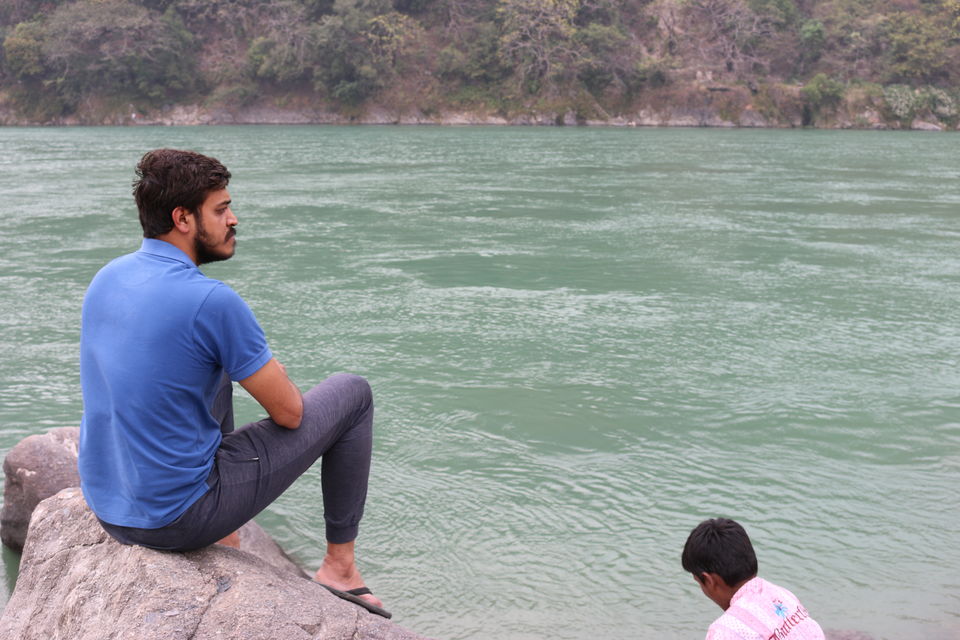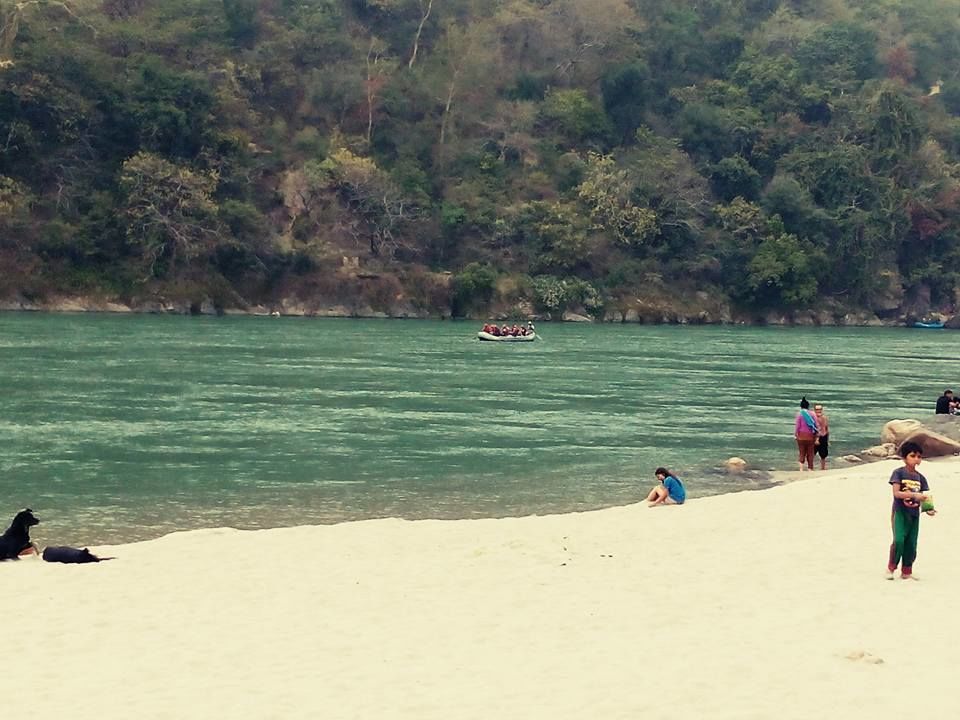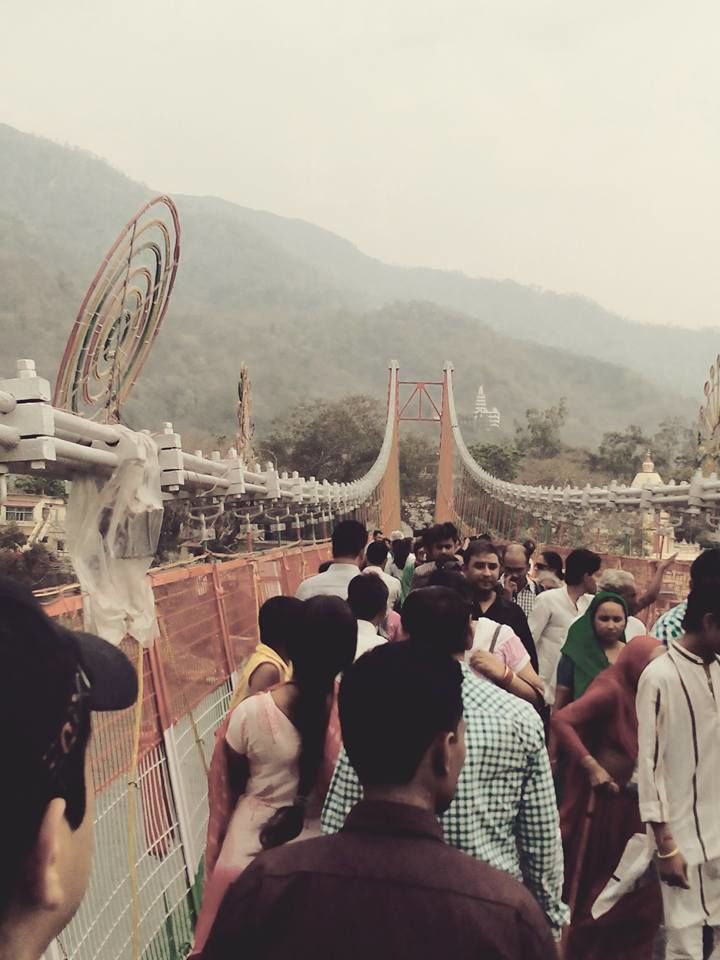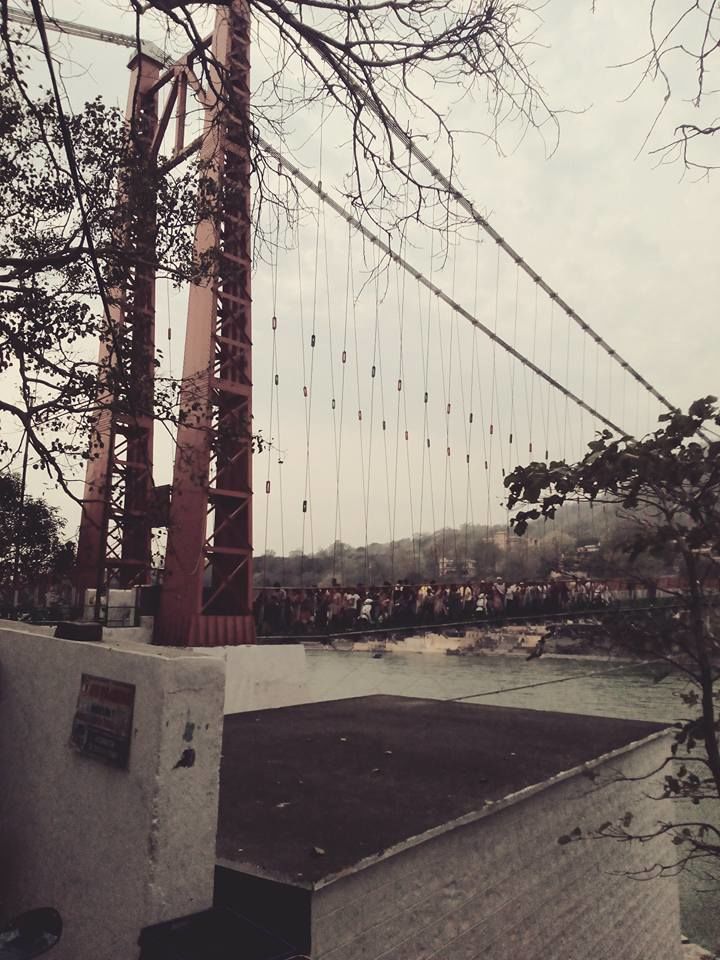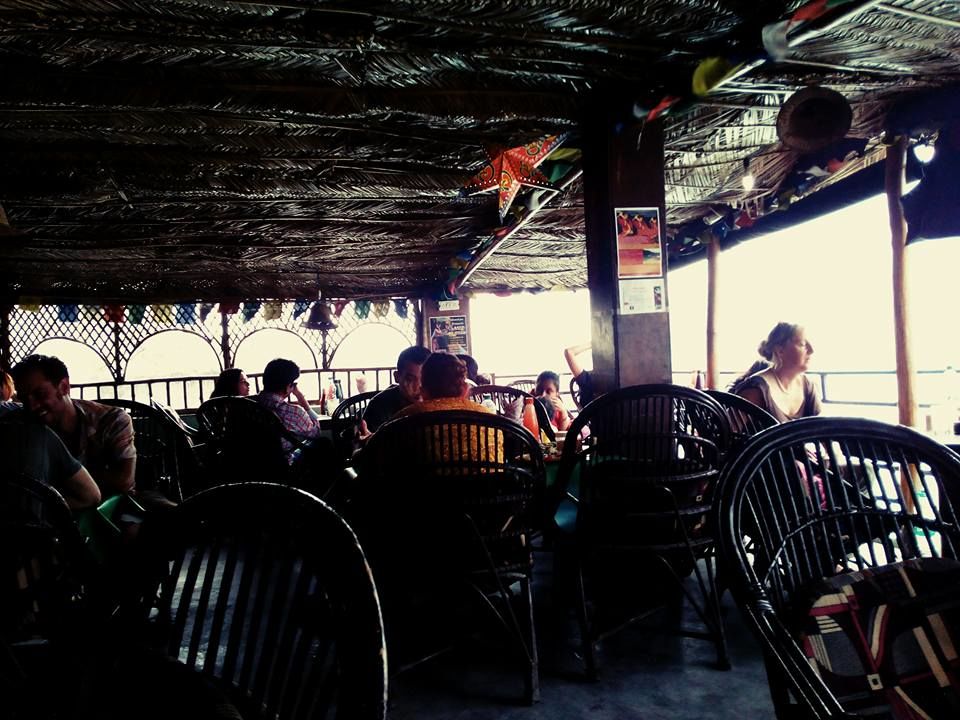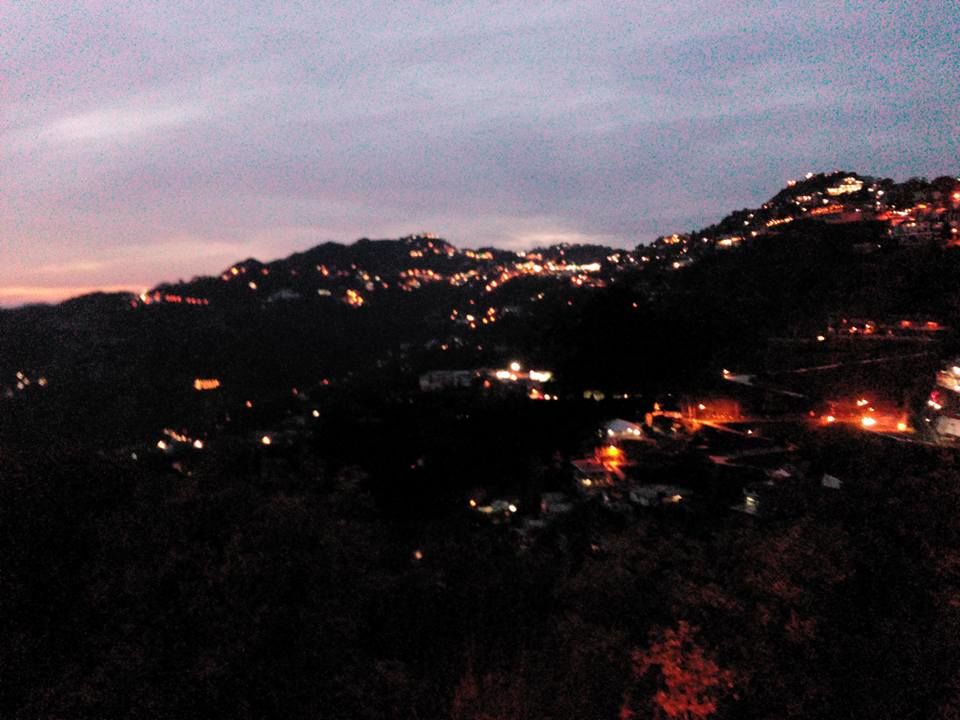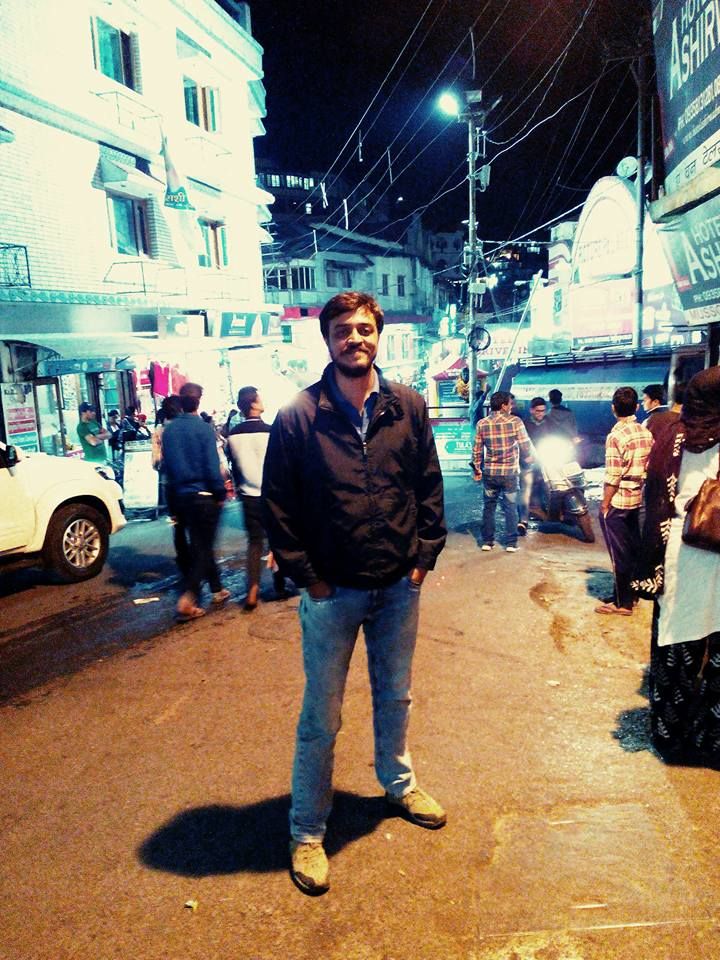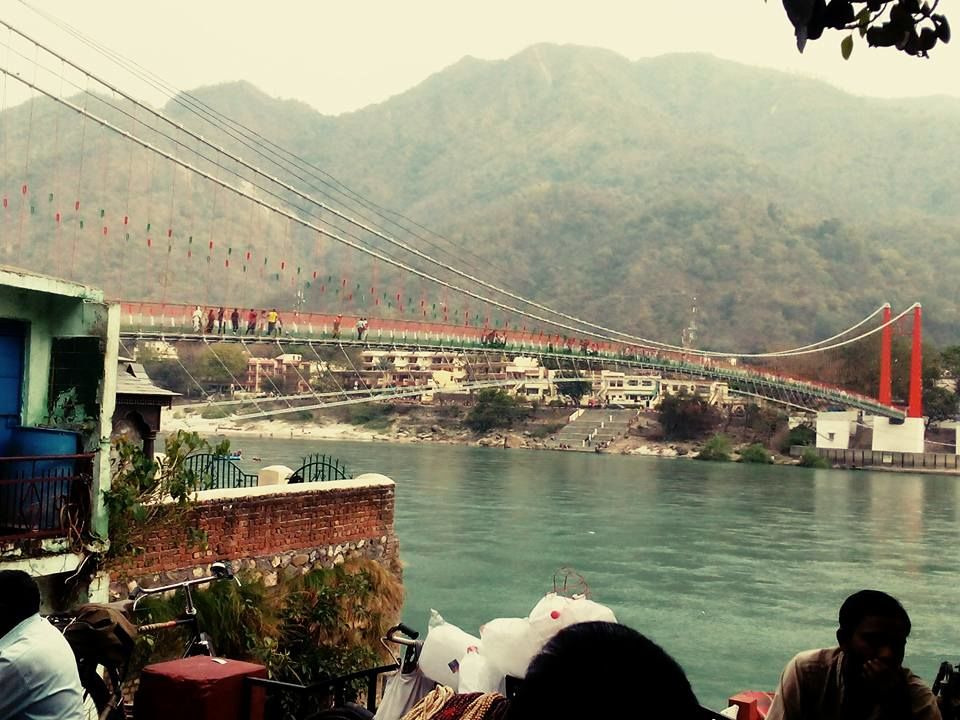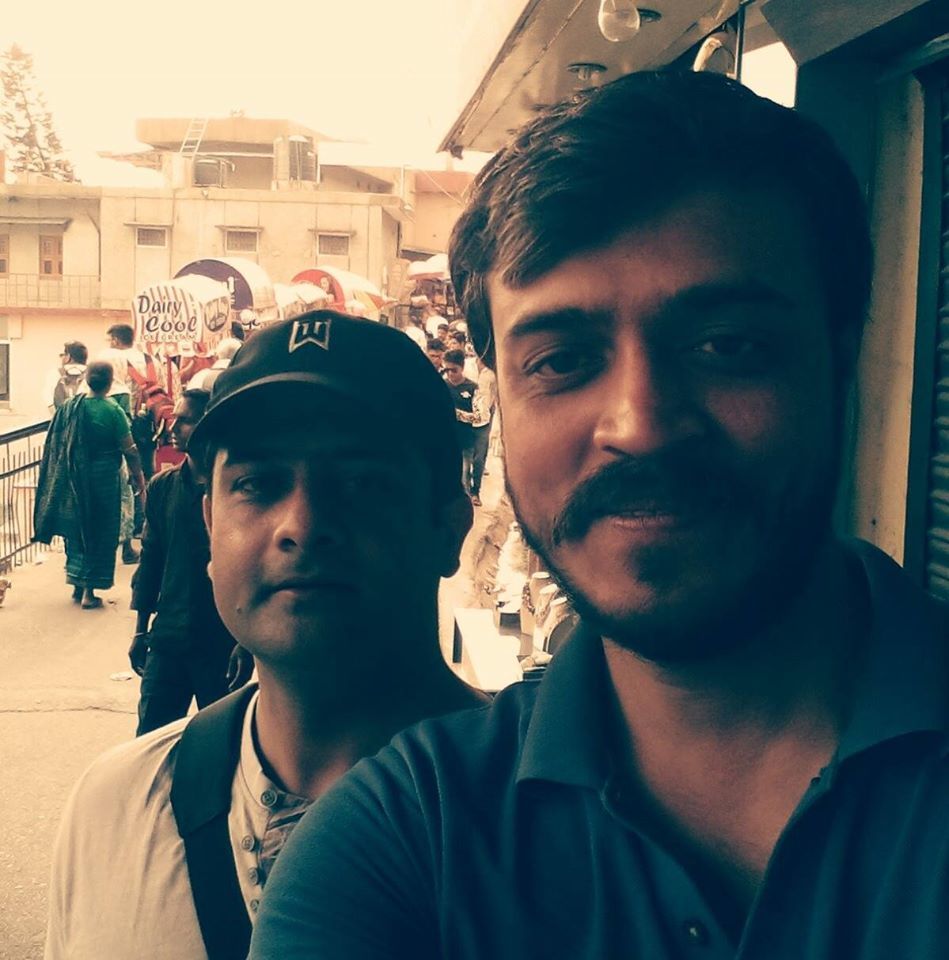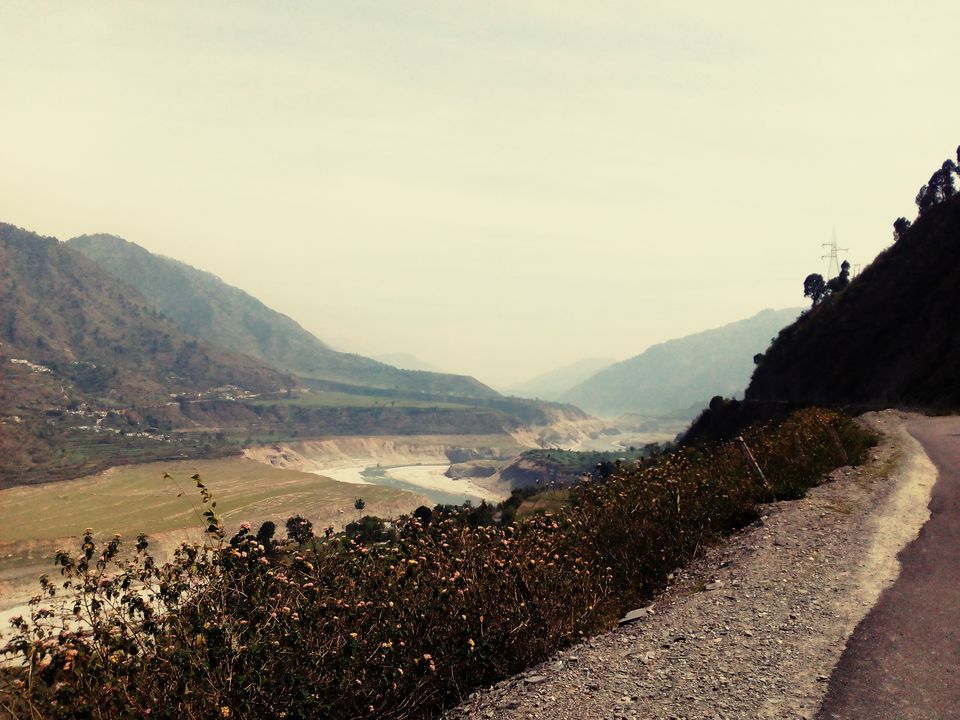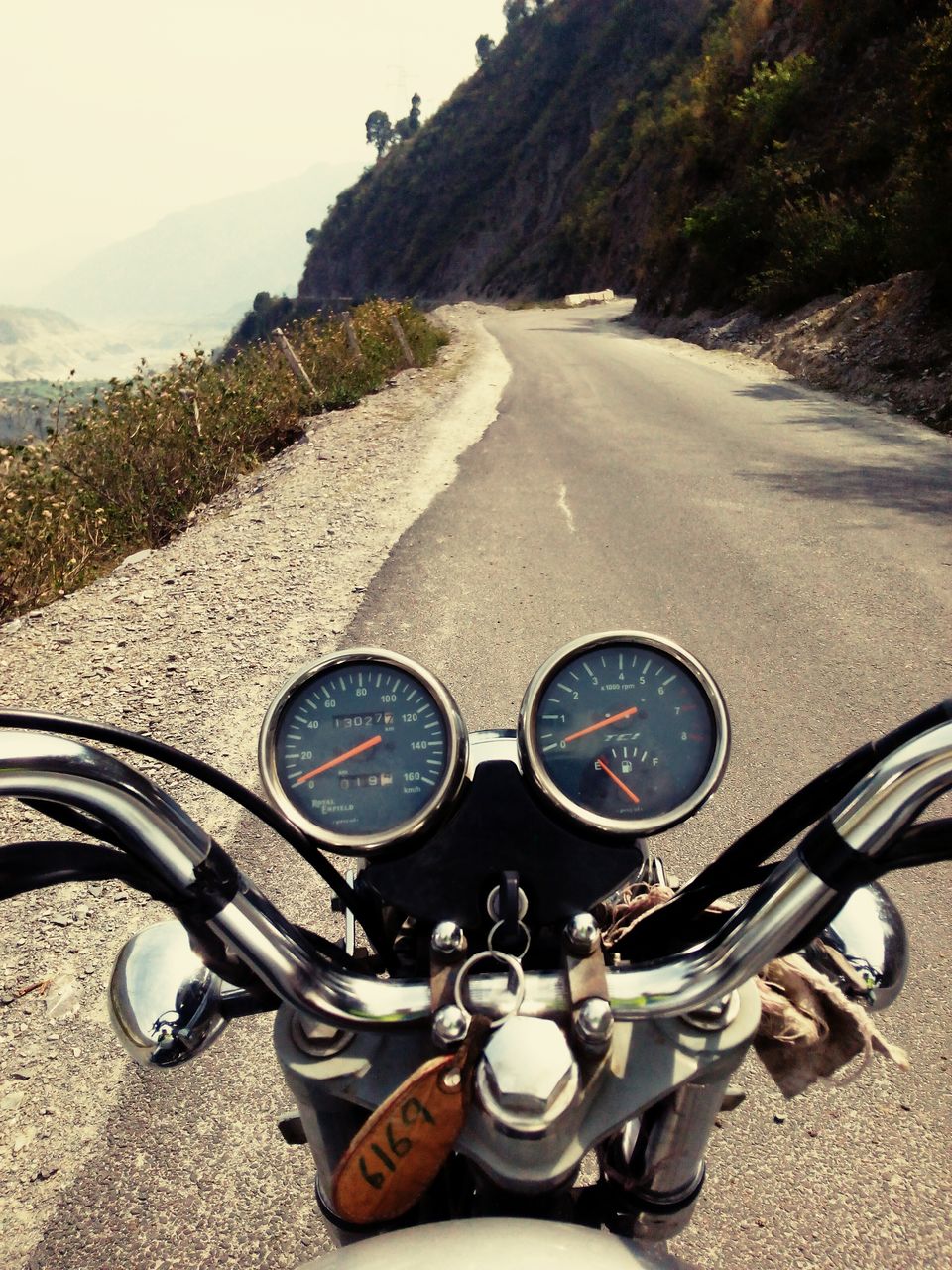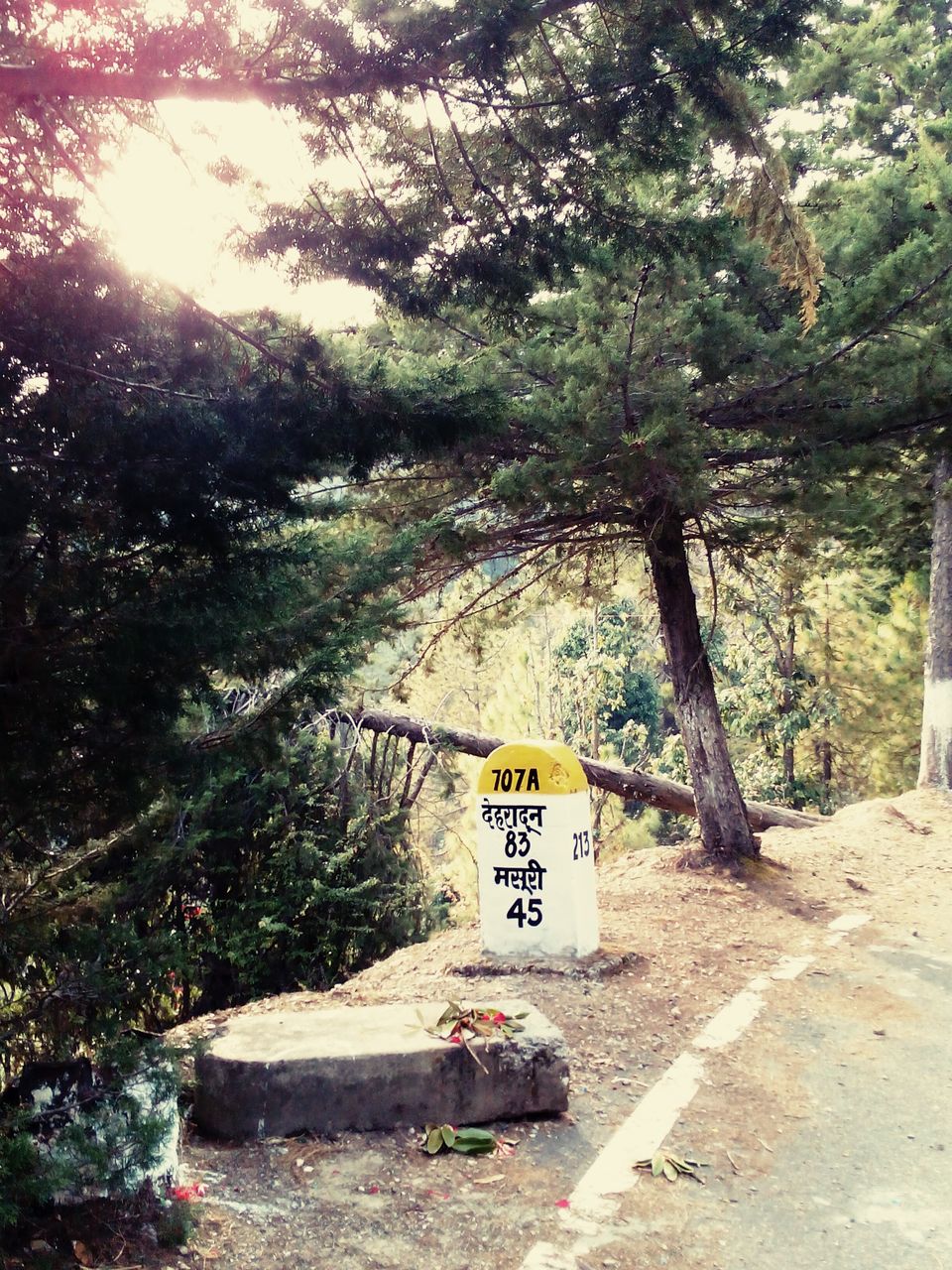 I finished my bike trip in Uttarakhand on the week of Holi and Easter 2016. I had 10 days with me and, along with five other friends I was all geared up to start this journey from Delhi.
But,
In the history of 'making plans', can you challenge any plan getting executed smoothly?
Somewhere in my mind I knew, things will not fall in place and our fates will start to stumble. And that is exactly what happened. All my friends for some reason or the other, started to back out. I was left all alone in this 'what the f**' situation and couldn't quite figure out what to do.
Now, one of my friends Abhinav (fellow mate from engineering days) had already started his trip with one of his friend, on Thursday. And I with others, was supposed to start from Saturday, and then catch up with him on a Sunday or Monday somewhere near Nainital or Kausani. Only change in the plan?
I was alone now.
Not considering this as a showstopper, I told myself one thing very firmly "This road trip has to be done. That's about it".
And aha! I boarded my flight from Bangalore, arrived at Delhi airport, and then went to Karol Bagh next morning to pick my bike up, 'Thunderbird 350 – Twin Spark' from Tony Bike center.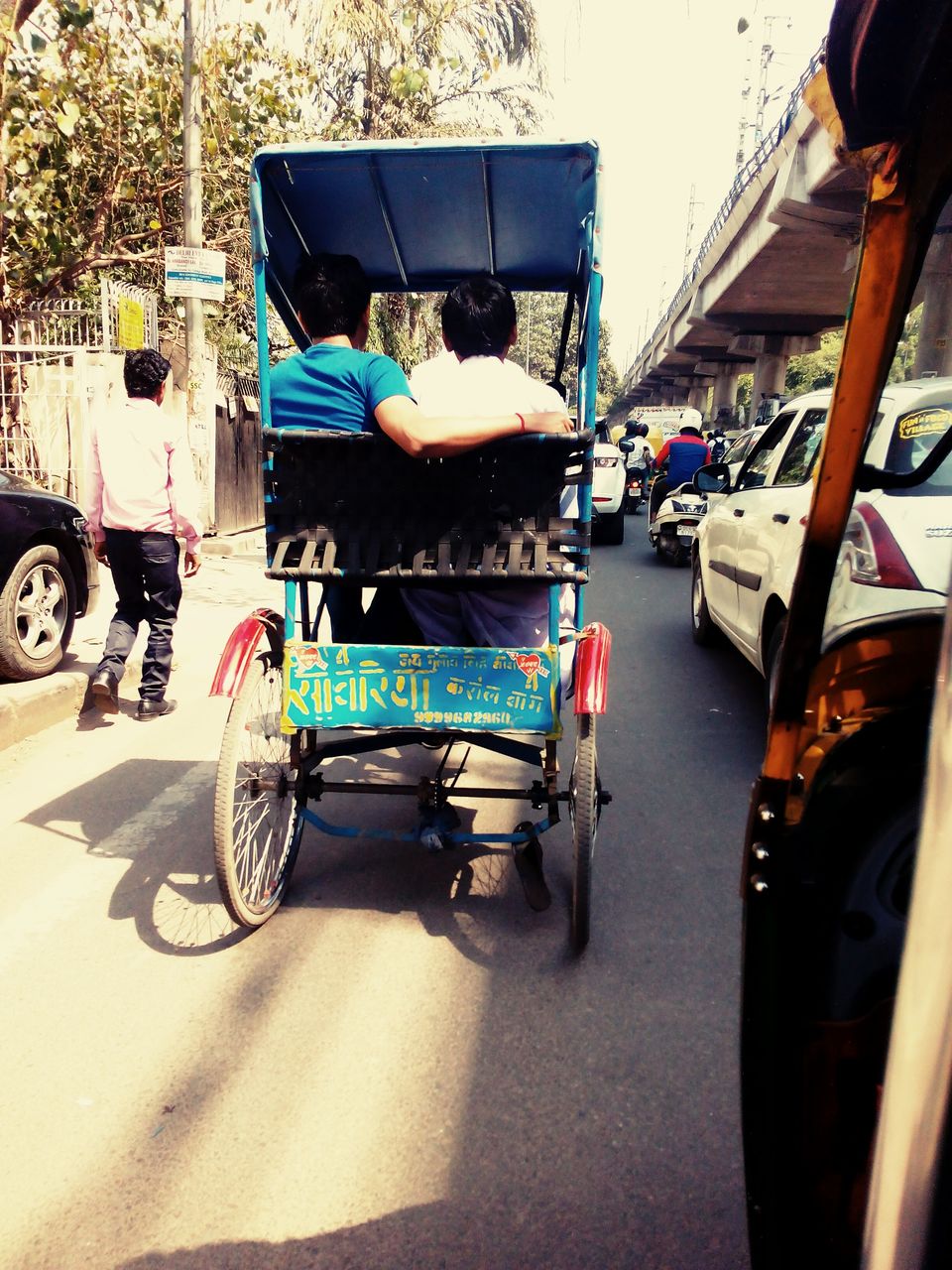 *On my way to Karol Bagh to pick the bike. The traffic was strangling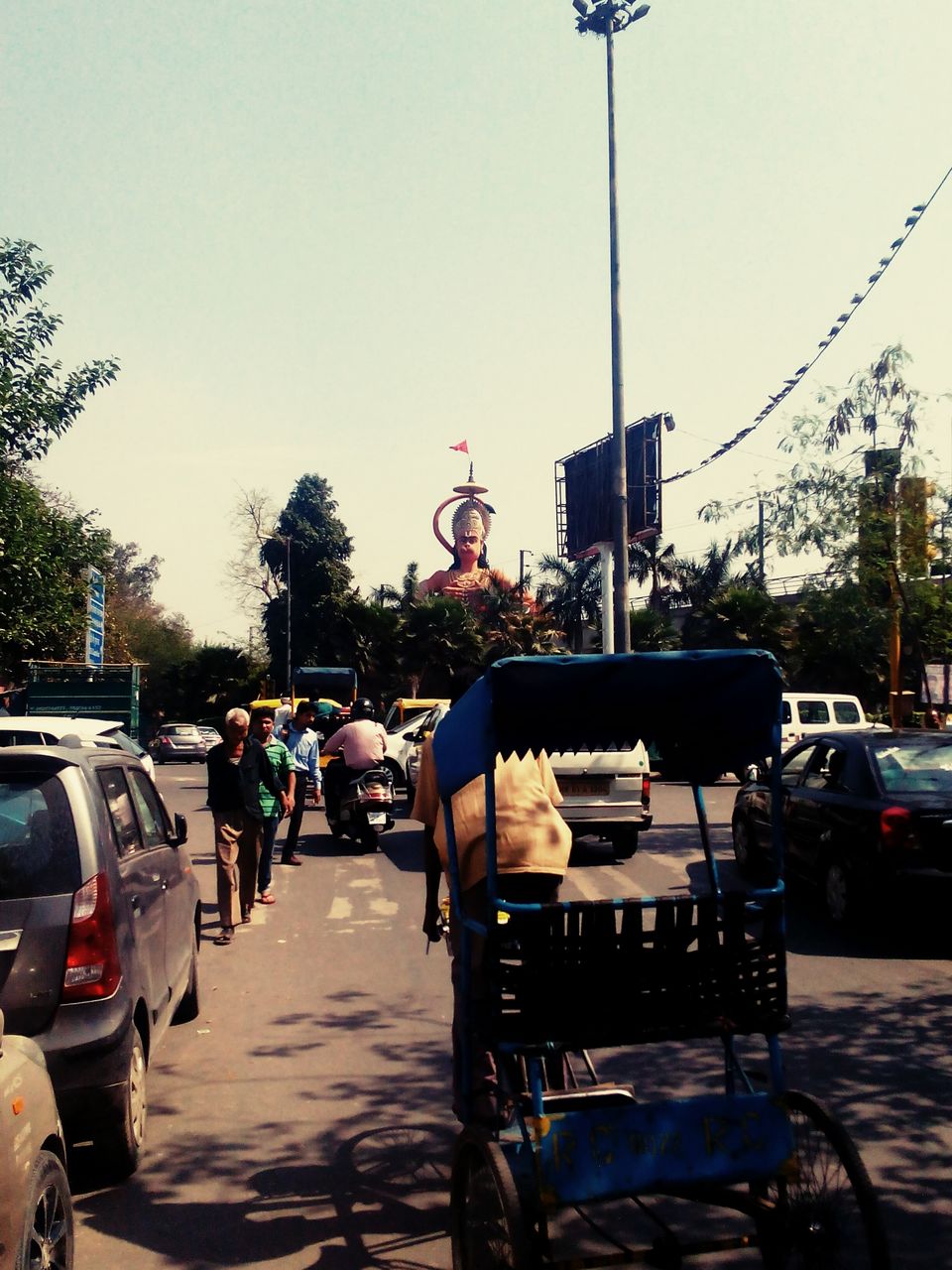 *Giant effigy of Hanuman @ Karol Bagh. Hanuman was a 'half ape half human', and an ardent follower of Lord Ram. He helped Ram get Sita back from Sri Lankan king 'Ravana', who had kidnapped her to avenge Ram. Read Ramayan for more details on his courageous actions and feats
I was at the bike center soon after cruising my way through the traffic, and having done all the formalities, I took the bike into my custody.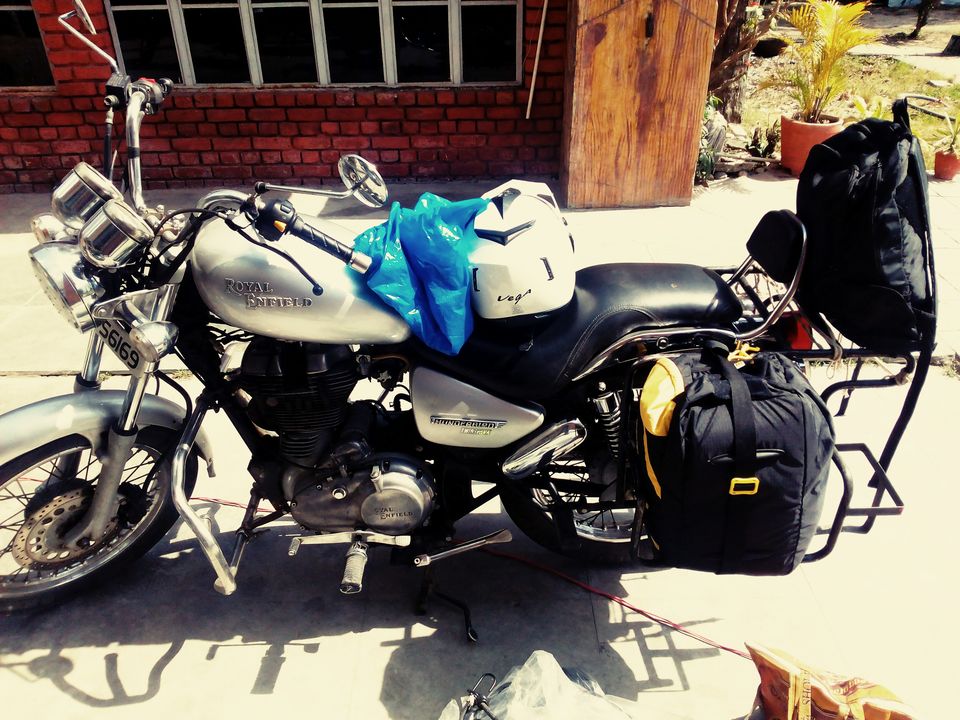 *Thunderbird 350 - It looked quite perfect and strong and had all the ingredients that I wanted
With all preparation done, I started my bike journey on Saturday early morning as per plan.
Or maybe I couldn't start early!
The reason was the 'fuel leak' which was becoming a serious concern as it could start a fire. I wasn't able to understand from where it was happening but after some looking, I found the problem.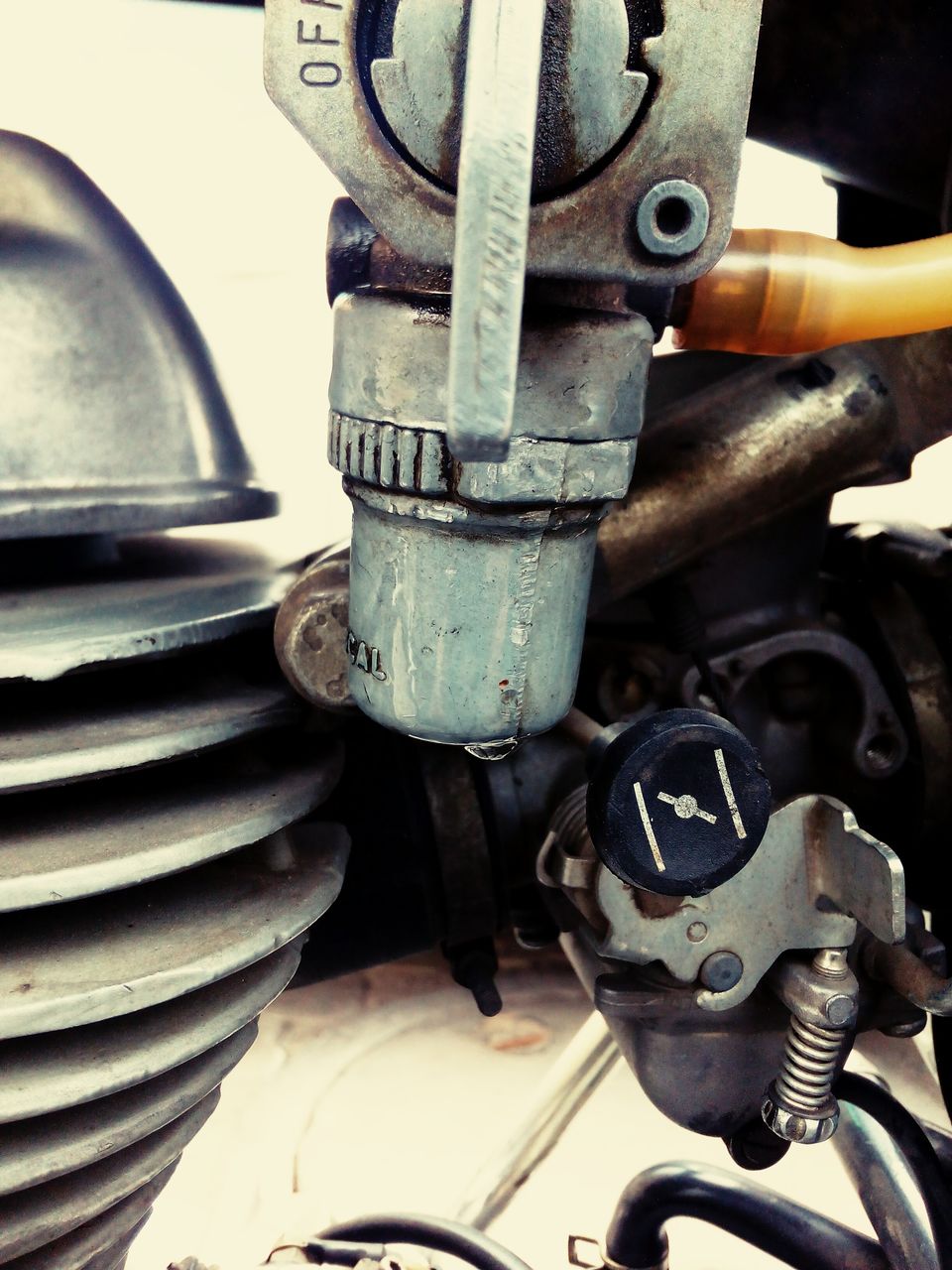 *Petrol leak from the fuel tub. The tub is the place where the fuel gathers for filtering
Maybe the tub was not tightened properly. I had the toolkit with me, which I used to tighten the tub. And glad it was not leaking anymore :)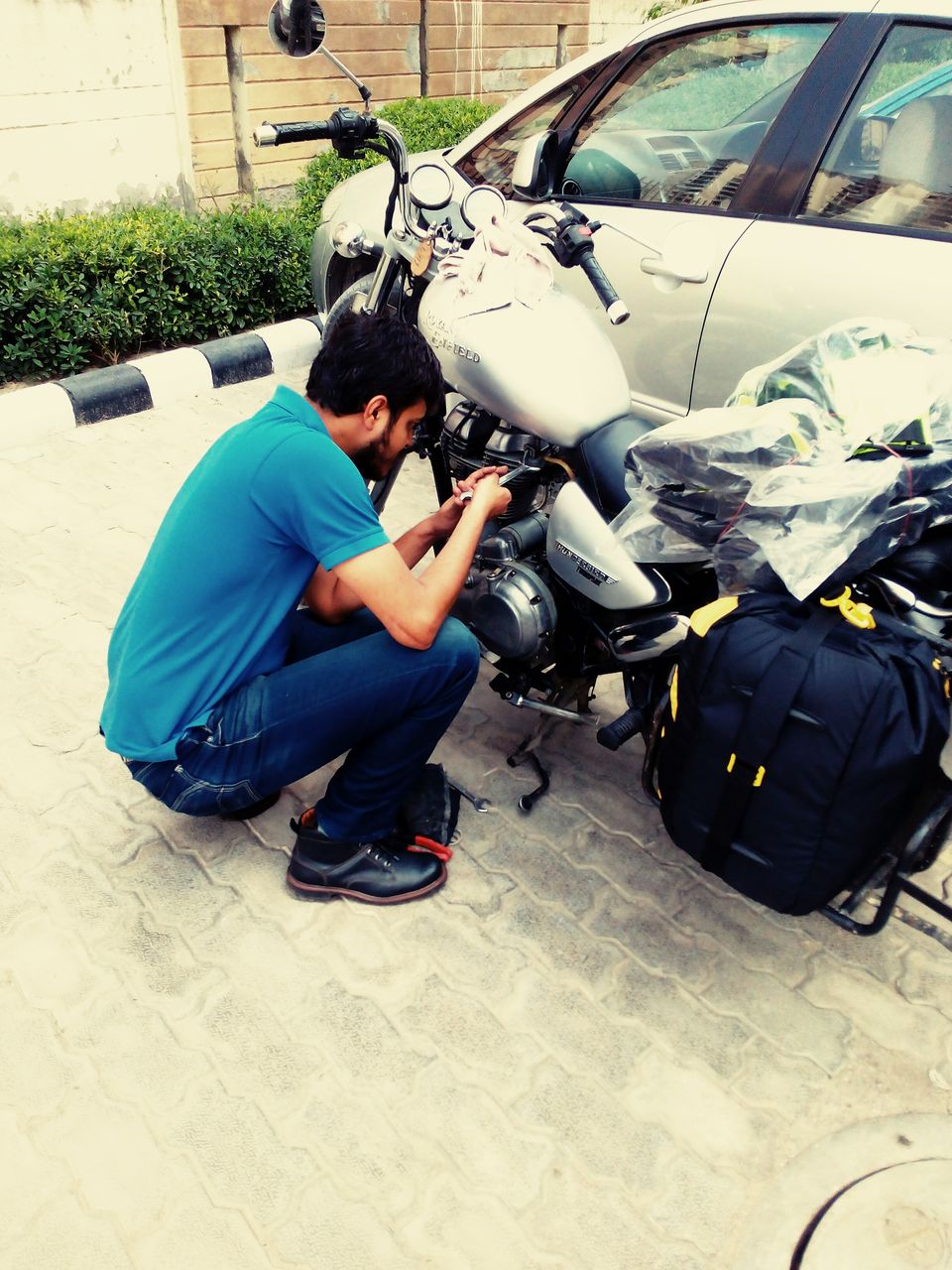 *I was beginning to learn all such minor tasks, and enjoy the process. Some sigh of relief as I went on doing it
And thus I started my journey, with the excitement to see things that the road had to show me.
Part I (Road to Haldwani, Nainital & Ranikhet)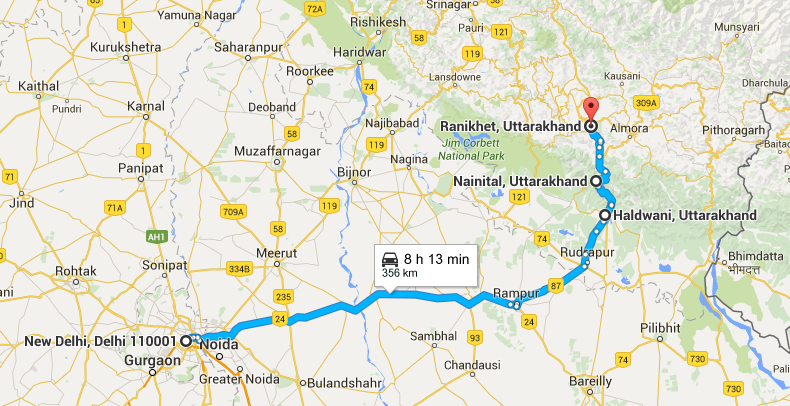 The road which leads to Nainital is NH24, and the experience was not that great since you had to cross busy places like Noida, Ghaziabad, Hapur amidst all the traffic jams, busy market areas and people constantly creating ruckus around you with their vehicles. The experience on that entire stretch till Hapur was very rough and moreover the weather was quite hot.
Nonetheless I was moving fast, with all the focus on my bike and the road.
And god punished me!
My bike started to shake and I knew something is not right. The speed started to slow down and I couldn't do anything about it.
I stopped the bike, and there it was,
The rear tyre was flat.
Damn!
I just started the journey man. And this happened.
But anyways, I managed to find someone on the highway who fixed my bike.
*Thankfully I found a mechanic closer to where my bike got stranded. A word of comfort for all the riders, 'don't get hassled with such incidents. It is bound to happen and you will find a lot of bike repair shops / service centers on the road. Or if you can fix yourself, nothing like it. I am in the process of learning such small repair tasks as I go on to do more of such trips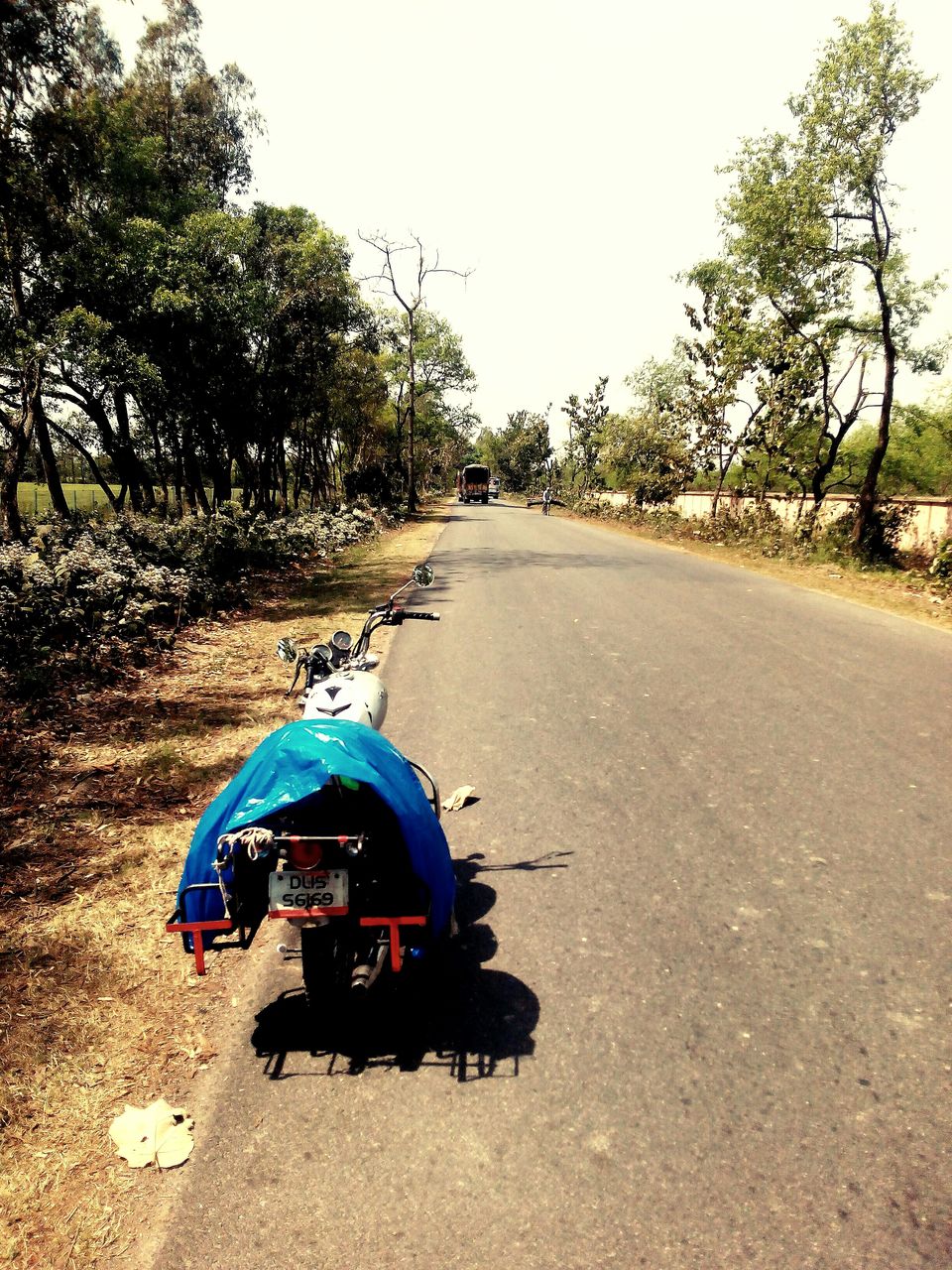 *Cruising along, I had covered a lot of road and soon was to enter the ghats. Excitement levels were high. This picture is taken somewhere on the road closer to Haldwani. Had stopped to relax a bit and see the fields around. The road was long and the atmosphere was quite warm
*On my way to Haldwani. I was soon going to enter the hills as i saw them from a distance. Sorry for the short frame. Courtesy - my cheap mobile :-\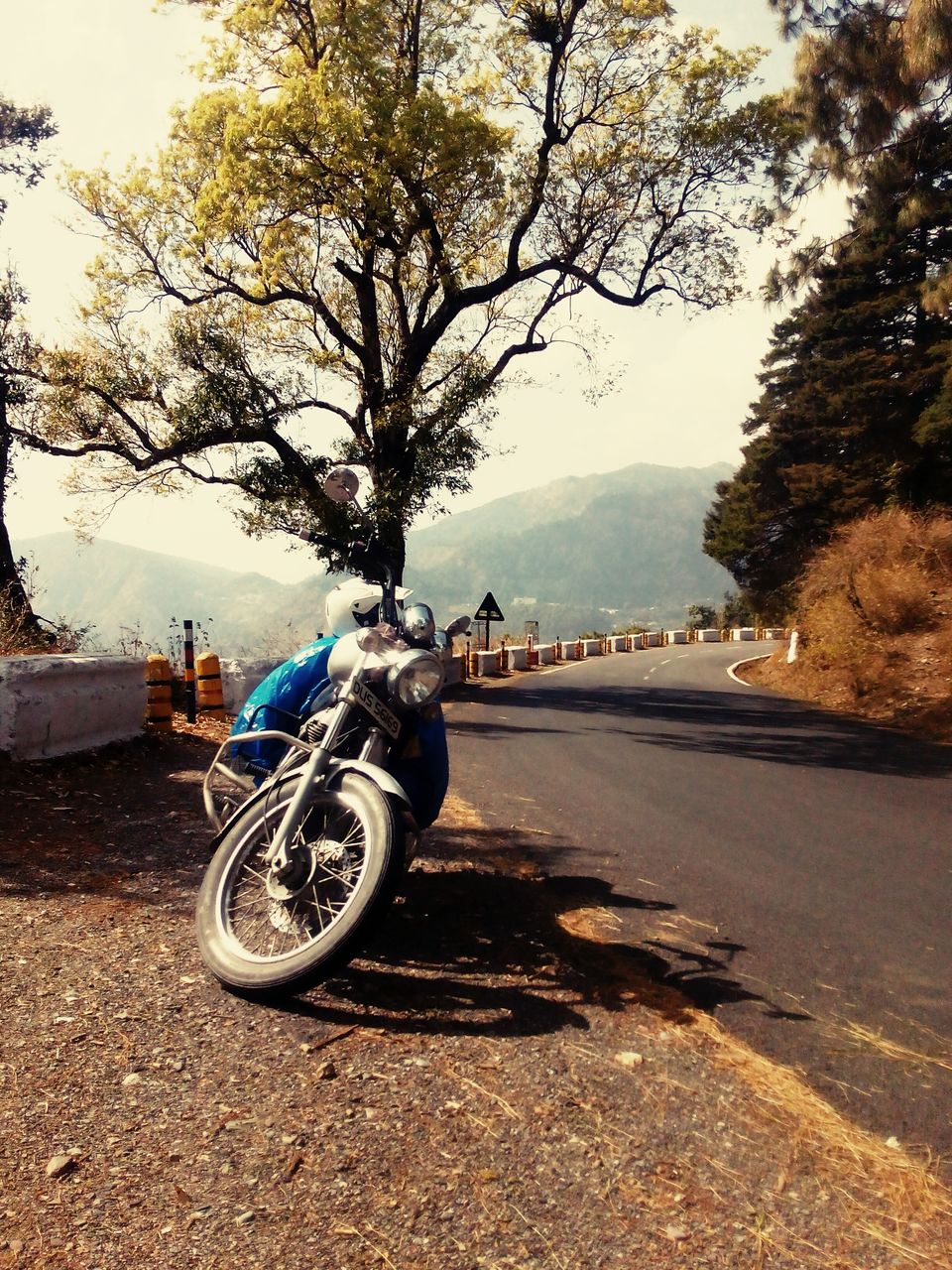 *Somewhere in Haldwani. The tanned trees under the sun, the bike and the hills behind. Picture perfect I guess
After travelling 320 kms from Delhi and crossing Haldwani, I reached Nainital. A beautiful hill station situated at a good altitude, I think Nainital can be a perfect holiday destination for anyone seeking time out from his/her busy lifestyle. It has a huge lake, attractive resorts, chilled atmosphere and some eye-popping landscapes. I was on a sky high, as I roamed around the roads of Nainital on my bike.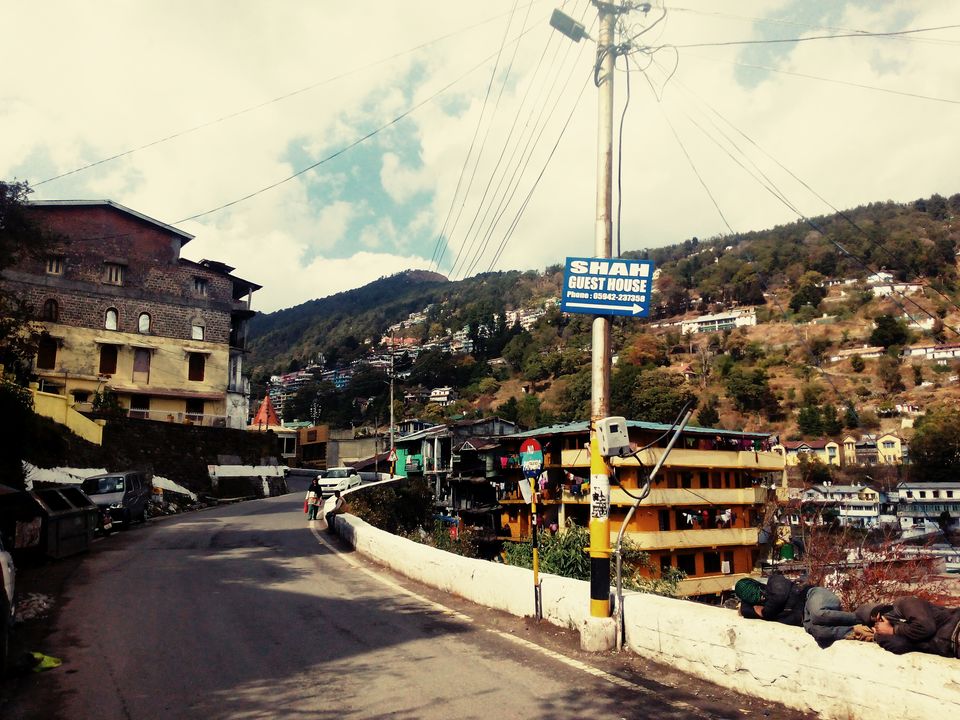 *At Nainital, and the view was quite mesmerizing. There was a chill in the air and hey! Notice the people sleeping on the side wall? Any idea how are they managing to do that? Slipping over and falling on the other side can be fatal, as the wall is quite at a height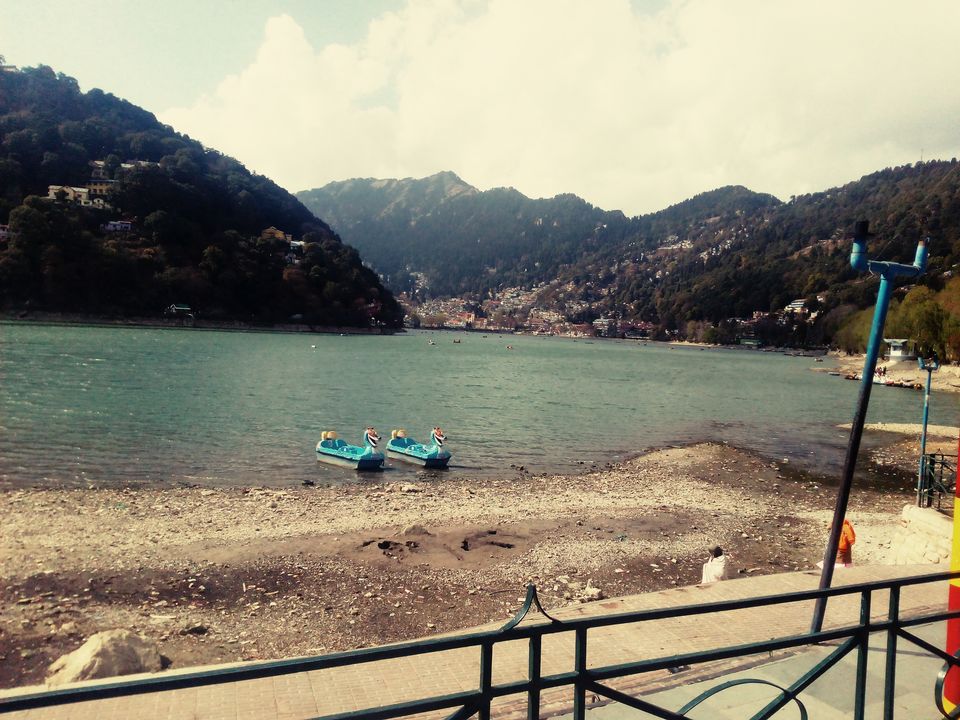 *The lake @ Nainital as I reached the center of the town. I could feel the freshness of nature already, and was getting thrilled to realize that, the trip has just started and how I am at cloud 9 already
After reaching Nainital, I had to decide whether to stopover or move ahead towards Ranikhet. I had heard about Ranikhet from few of my friends and family, about how beautiful the location is and especially the Army cantonment area. I started to visualize scenes and then it became tough to stop. The destination Ranikhet pushed me to do some thinking but if I had known, that the experience on road was going to be so breath-taking, I wouldn't have thought for one second.
*So I kept riding ahead and came across this amazing bridge. My first bridge experience on this trip. :) If you are coming from Nainital, this is the bridge you have to cross to deviate towards Ranikhet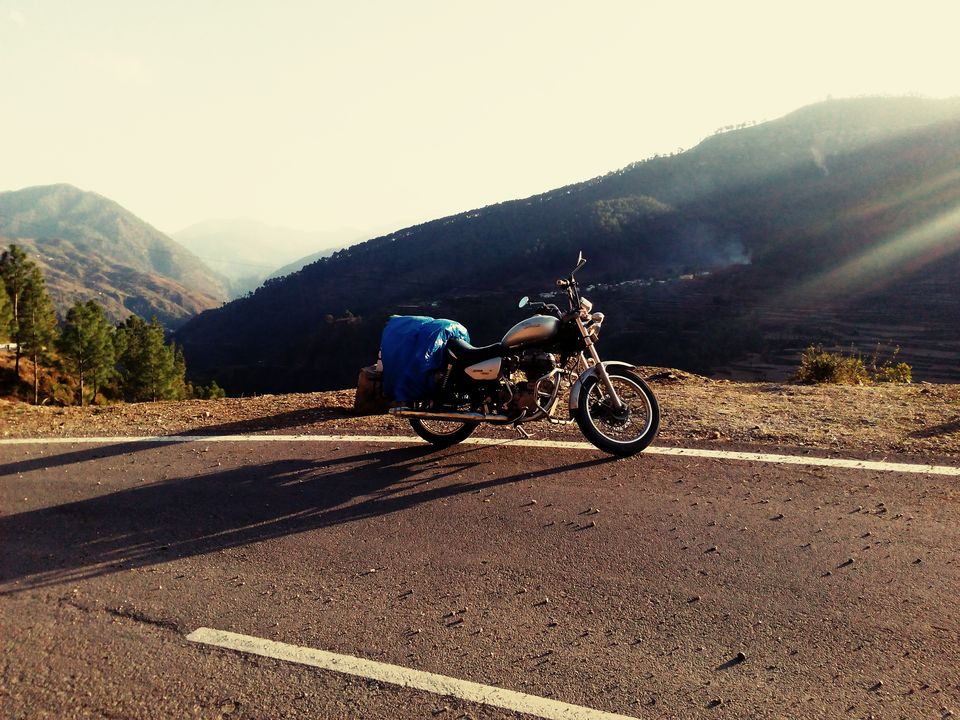 *Enroute Ranikhet, and I remember how I had an overdose of hills, valleys, trees, sun and the cold wind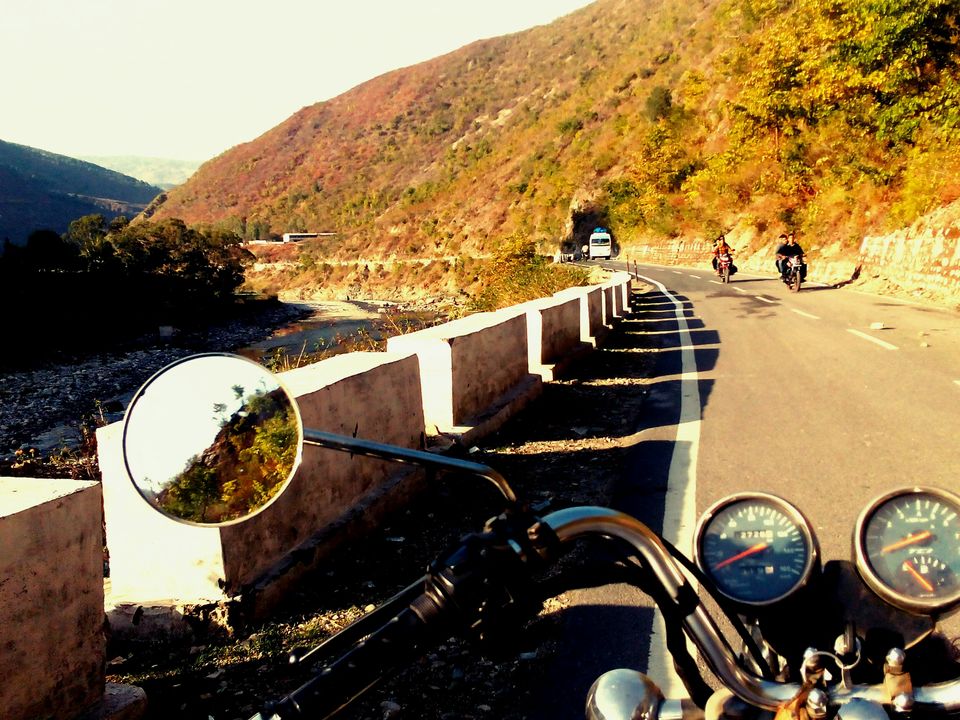 *The road from Nainital to Ranikhet was jaw dropping. And this is no exaggeration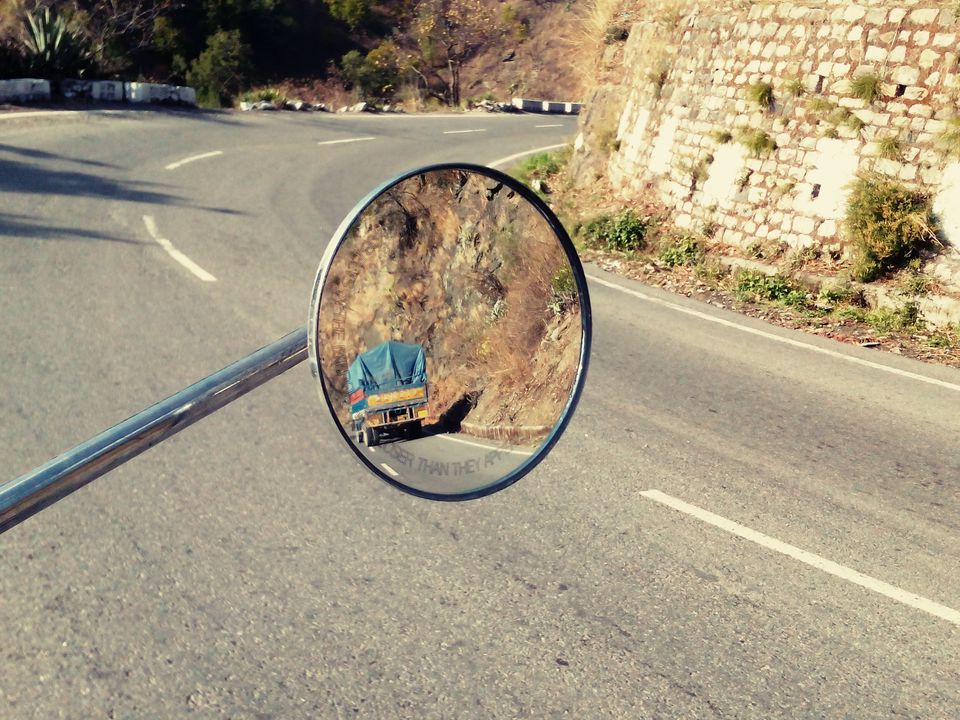 *Heavy trucks on the road were a part of this journey. They were rash at times. One has to be very alert while tackling with this lobby of people. They are at times drunk or high … on you know what ;-)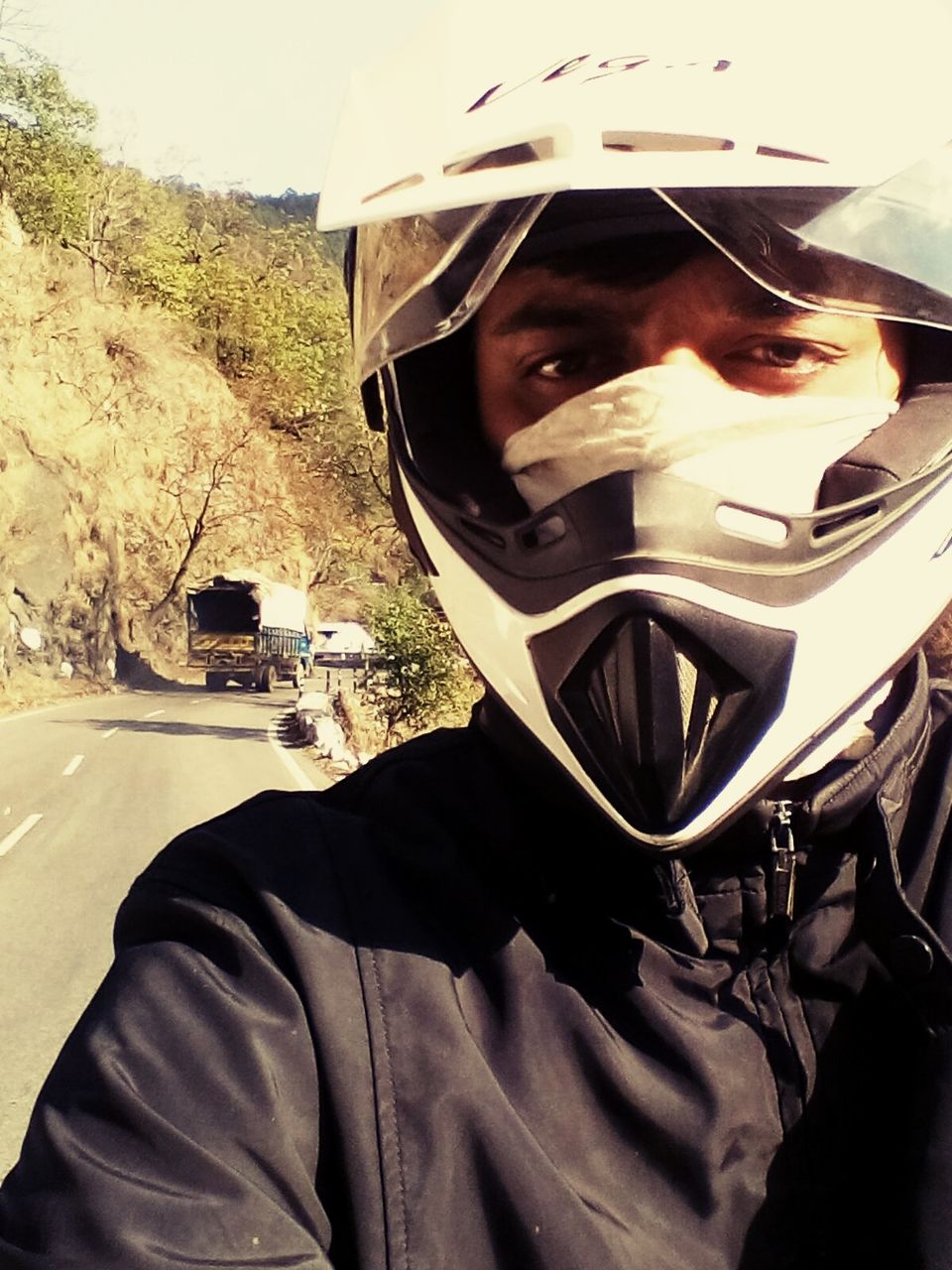 *I was having time of my life. I guess needed a selfie for some self-appreciation ;-)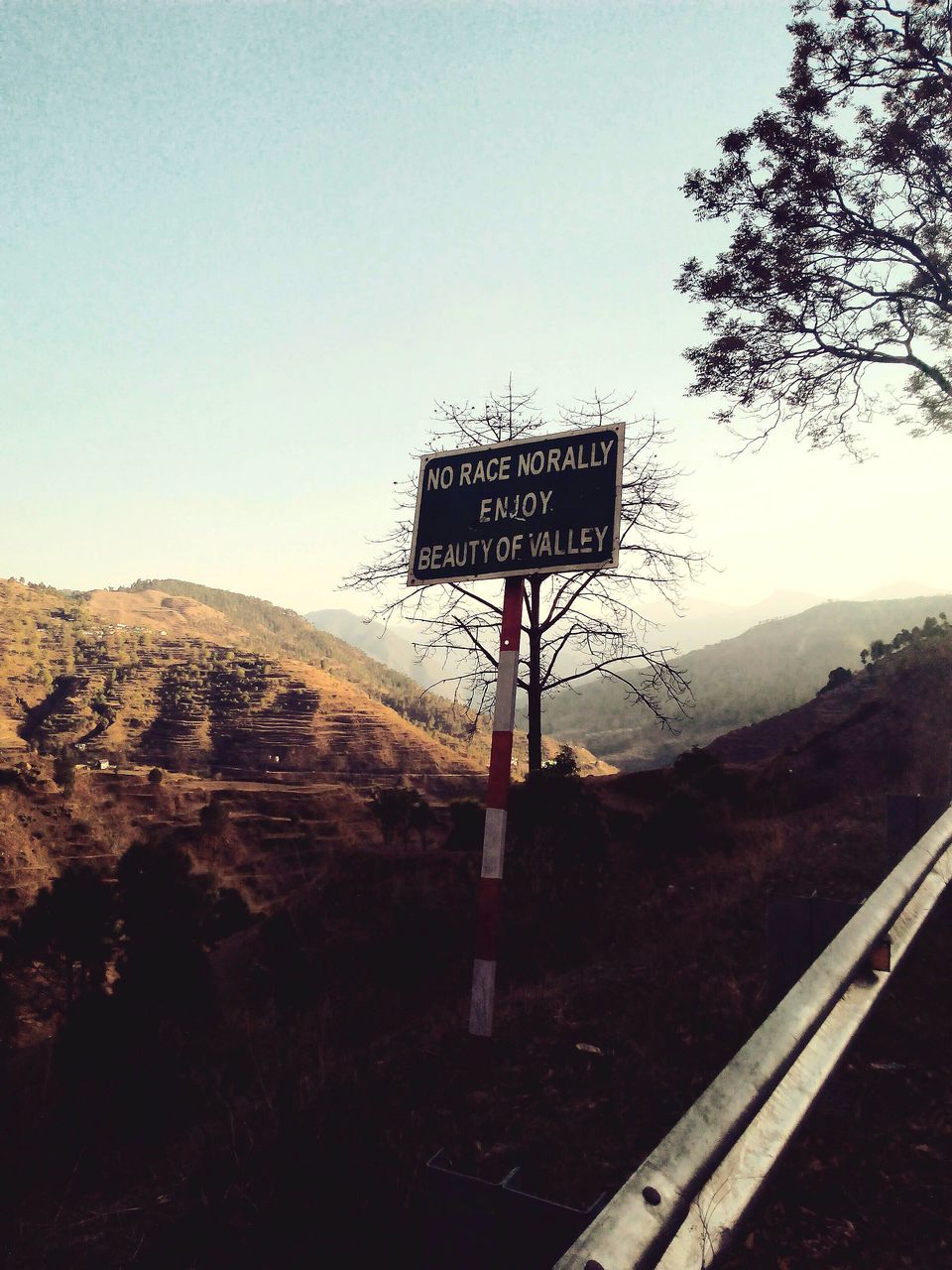 *Whoever you are, I appreciate your sense of humor and totally agree with you!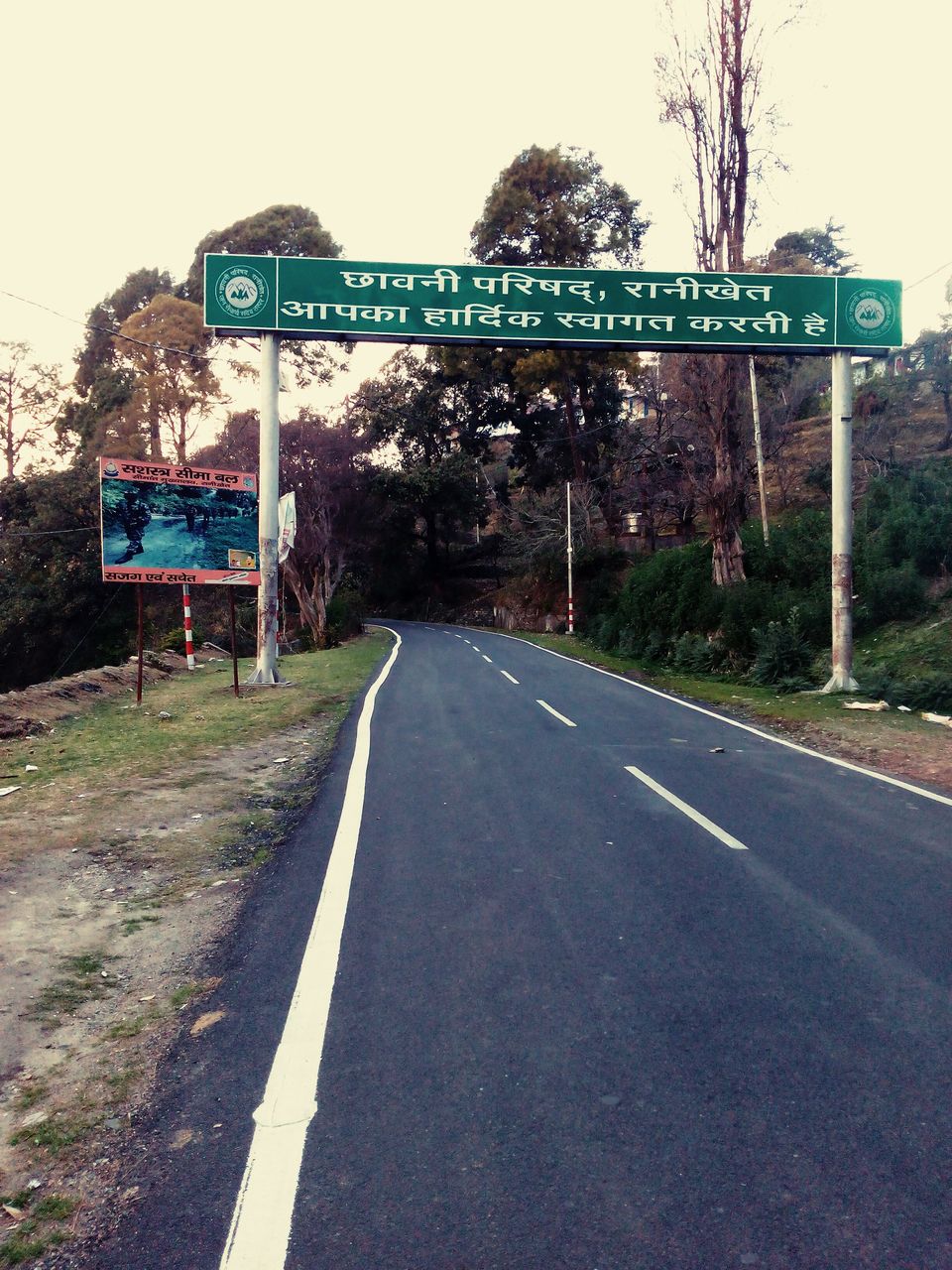 *And hello there! Thank you for having me here. Brrrr… it's cold. Translation for my English readers – 'Cantonment of Ranikhet whole heartedly welcomes you'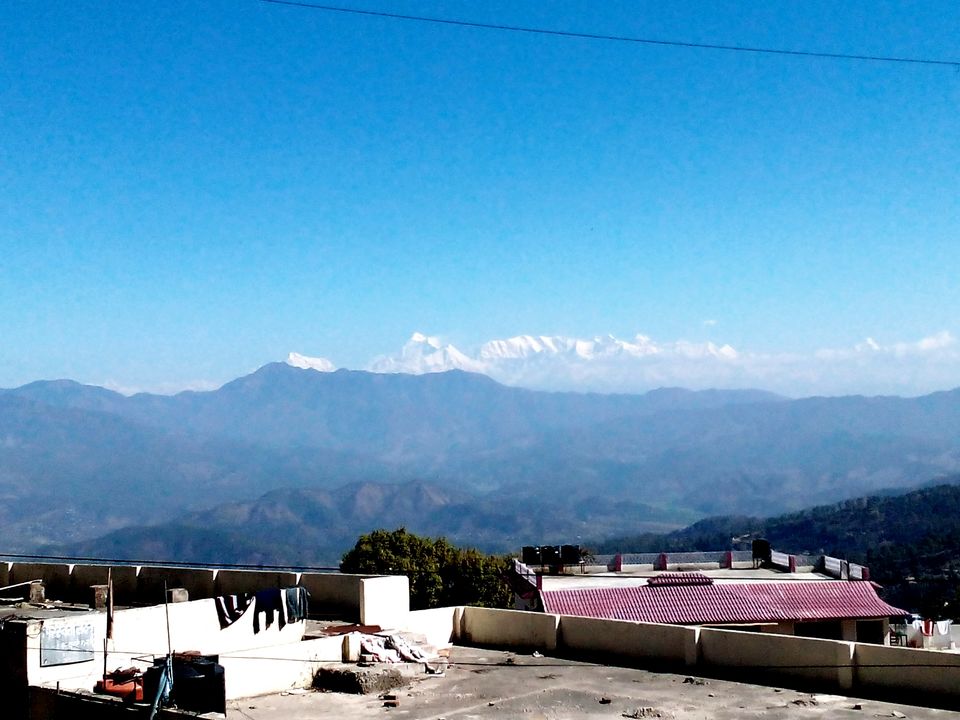 *@Ranikhet. And look at that! Something that i was expecting to see, The breath-taking Himalayan range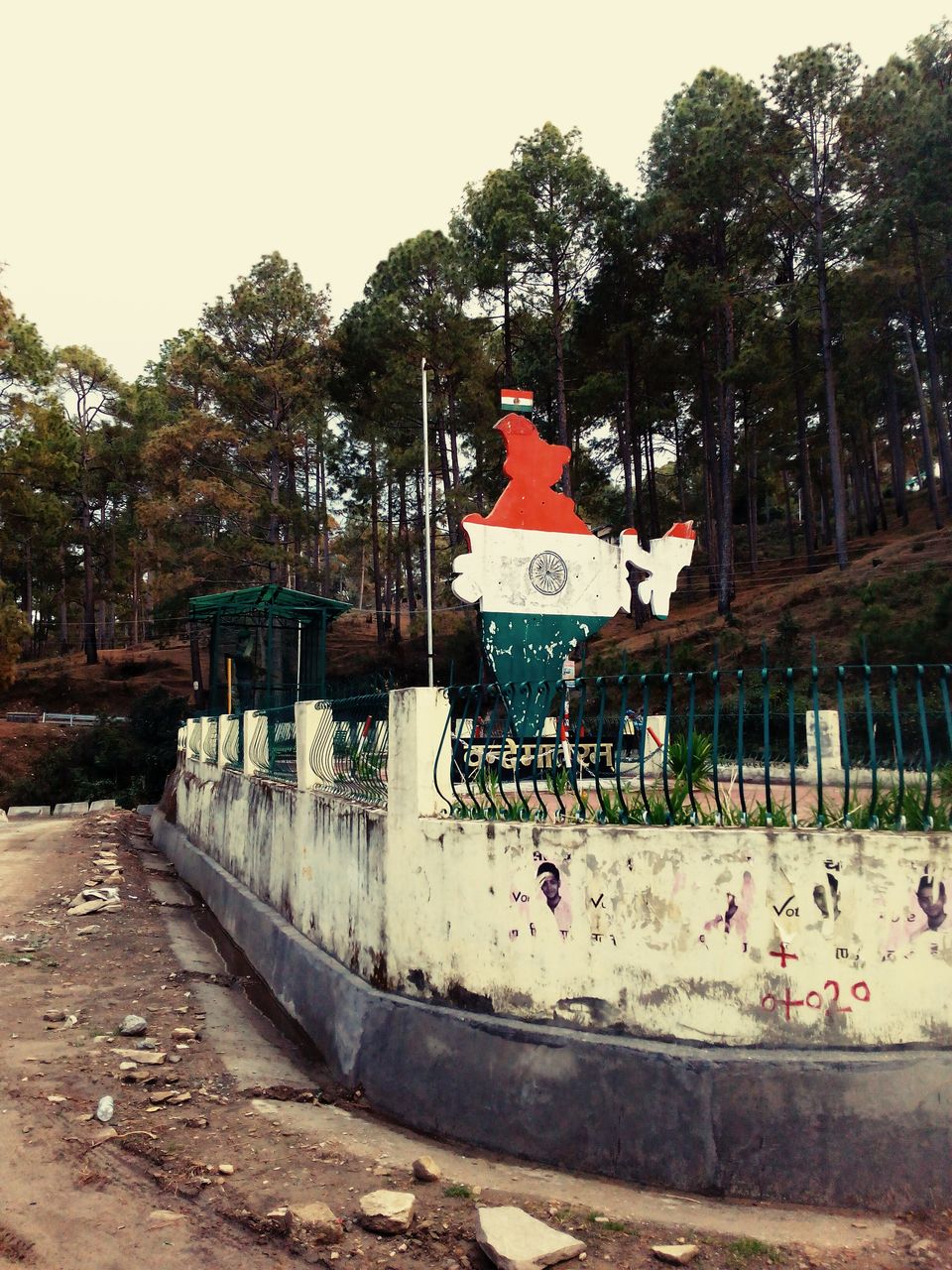 *As I moved inside army cantonment area, I saw this wonderful Sculpture of India in tri colour. A 'Wow' feeling, similar to the one I got in Kargil last year, when I visited the war memorial there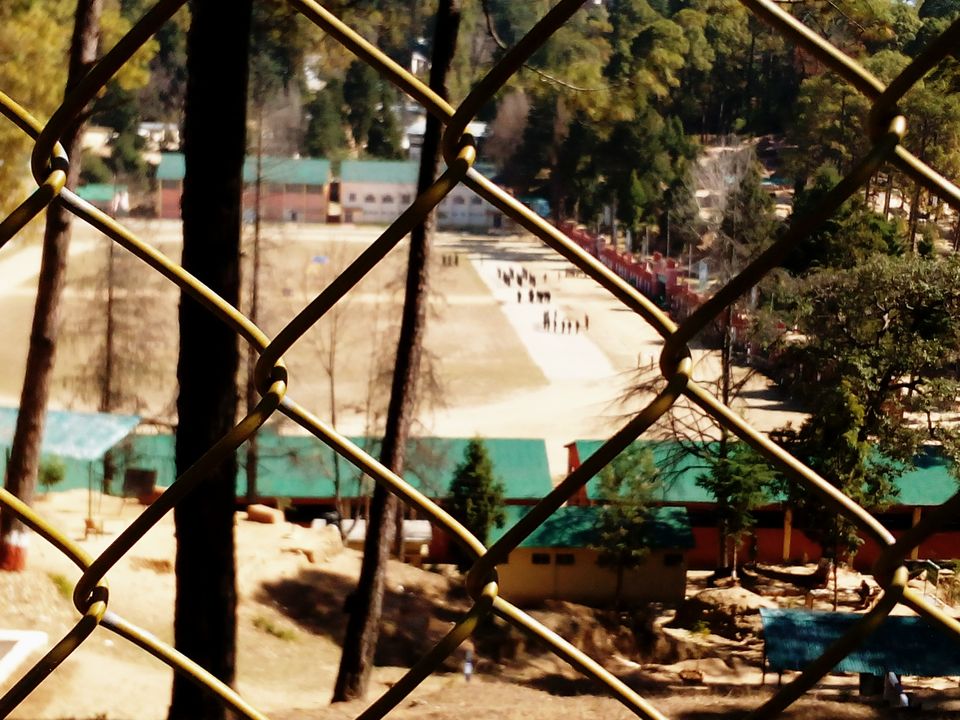 *Army center @ Ranikhet. Ranikhet houses two army regiments - 'Kumaon and Naga'. I could see the soldiers marching/training, and hear their synchronized sound response after every instruction which came from their commander, and which was getting echoed in the whole valley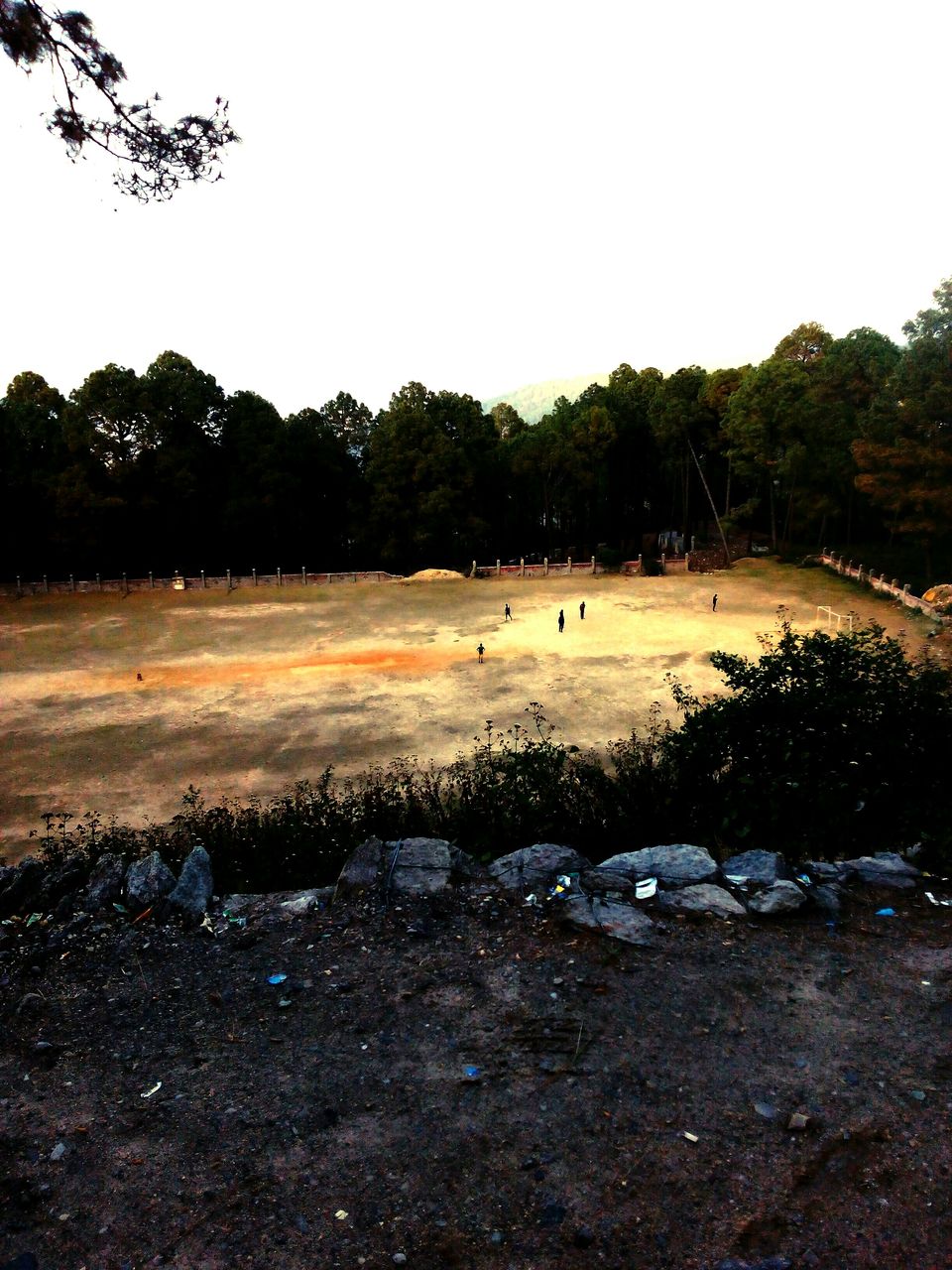 *Army personnel playing soccer under twilight. Perfect timing and much deserved entertainment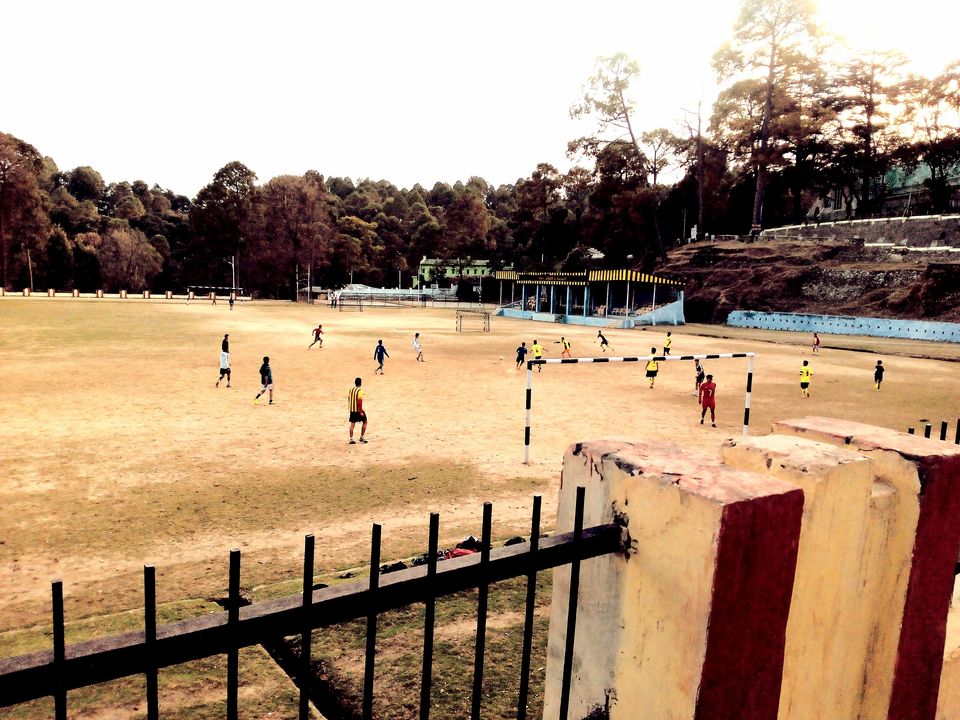 *Army school at Ranikhet. Kids playing soccer
I reached Ranikhet at around 6 or 7 pm, and after witnessing some heart-warming scenes I quickly set out to find a hotel so that I can spend the night cosying around on my bed and watch some TV, and also have some beer with chicken. Yeah I managed to pull all that off. But they say, good things don't come that easy. Very true, because it was getting dark and I was not quite seeing my kind of place. After much roaming around for about an hour, I found this awesome home stay in a jungle. I had to go deep inside this mystifying jungle in the dark for couple of kilometers and finally, there it was.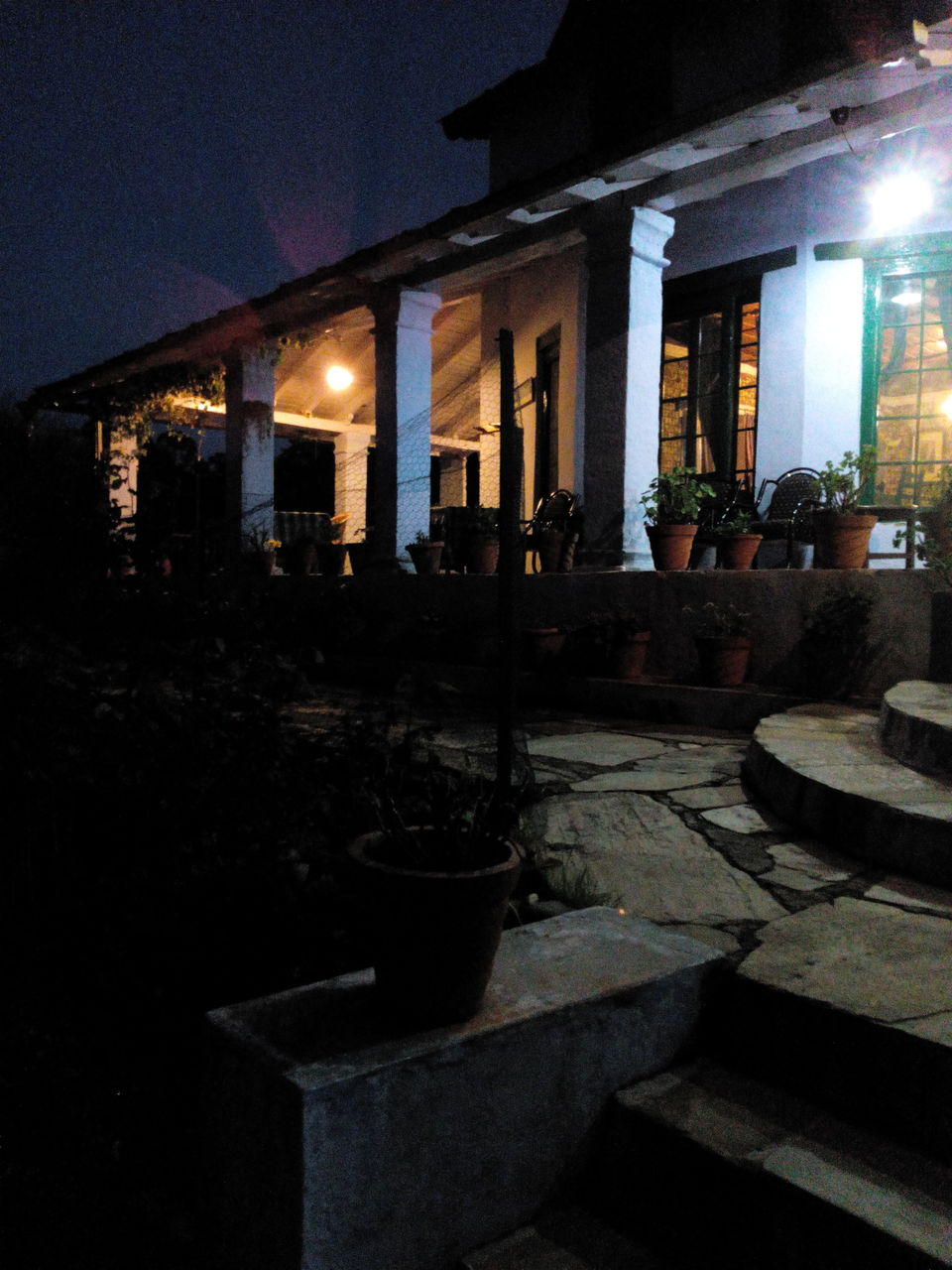 *The home stay 'Holm Farm Heritage' where I spent my night. It was quite decent and gave all conveniences including hot water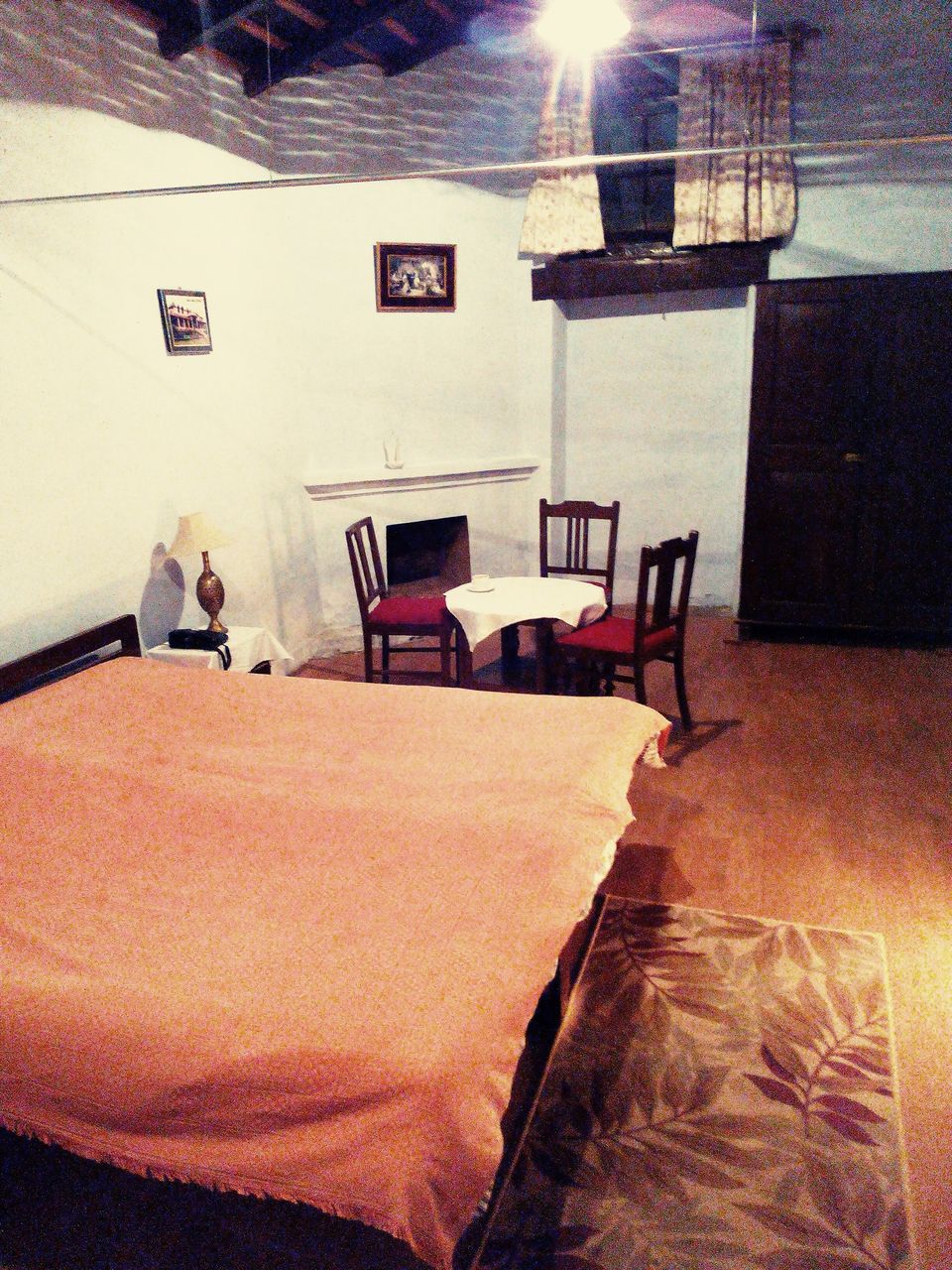 *My room for the night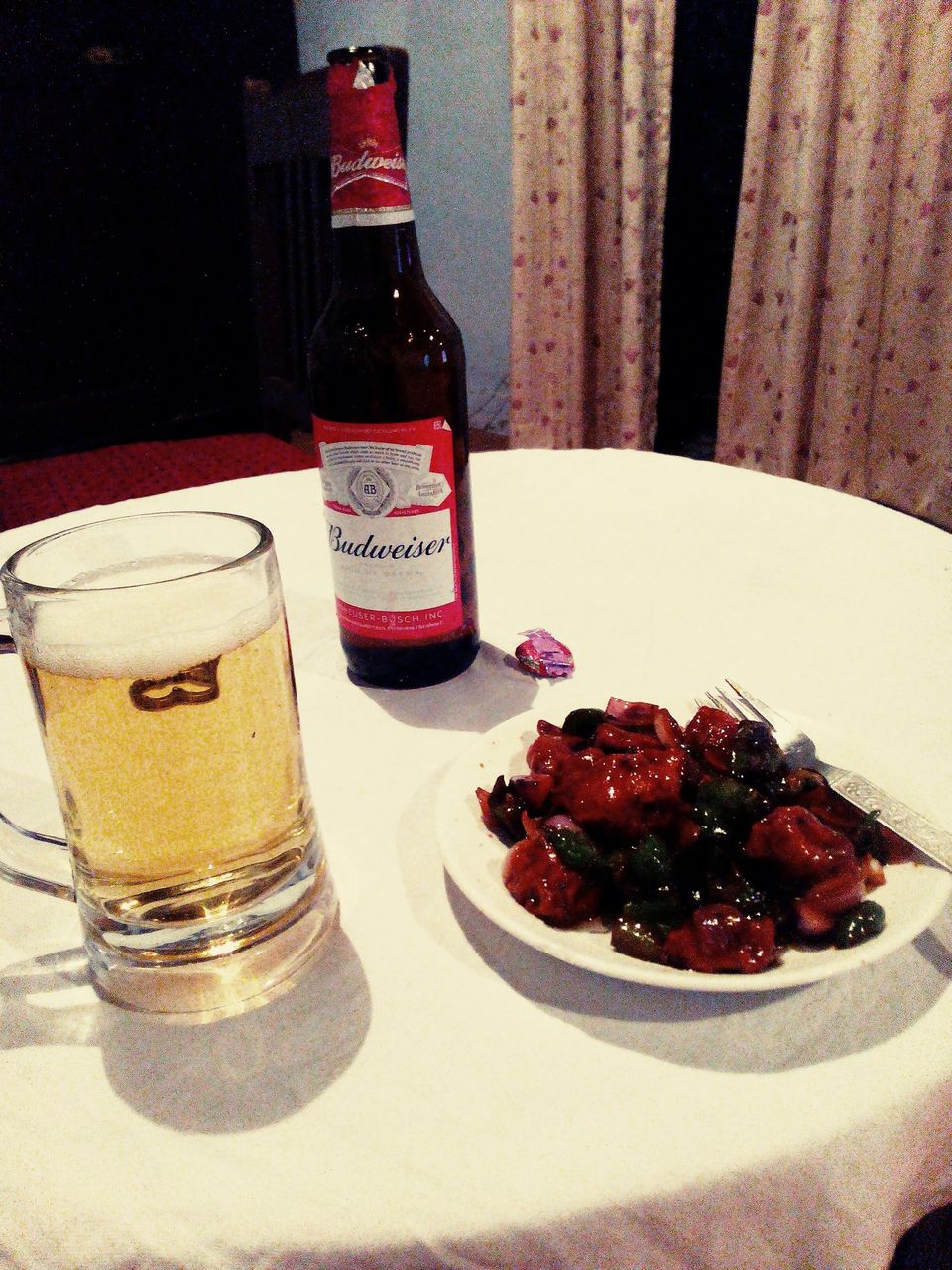 *See. I told you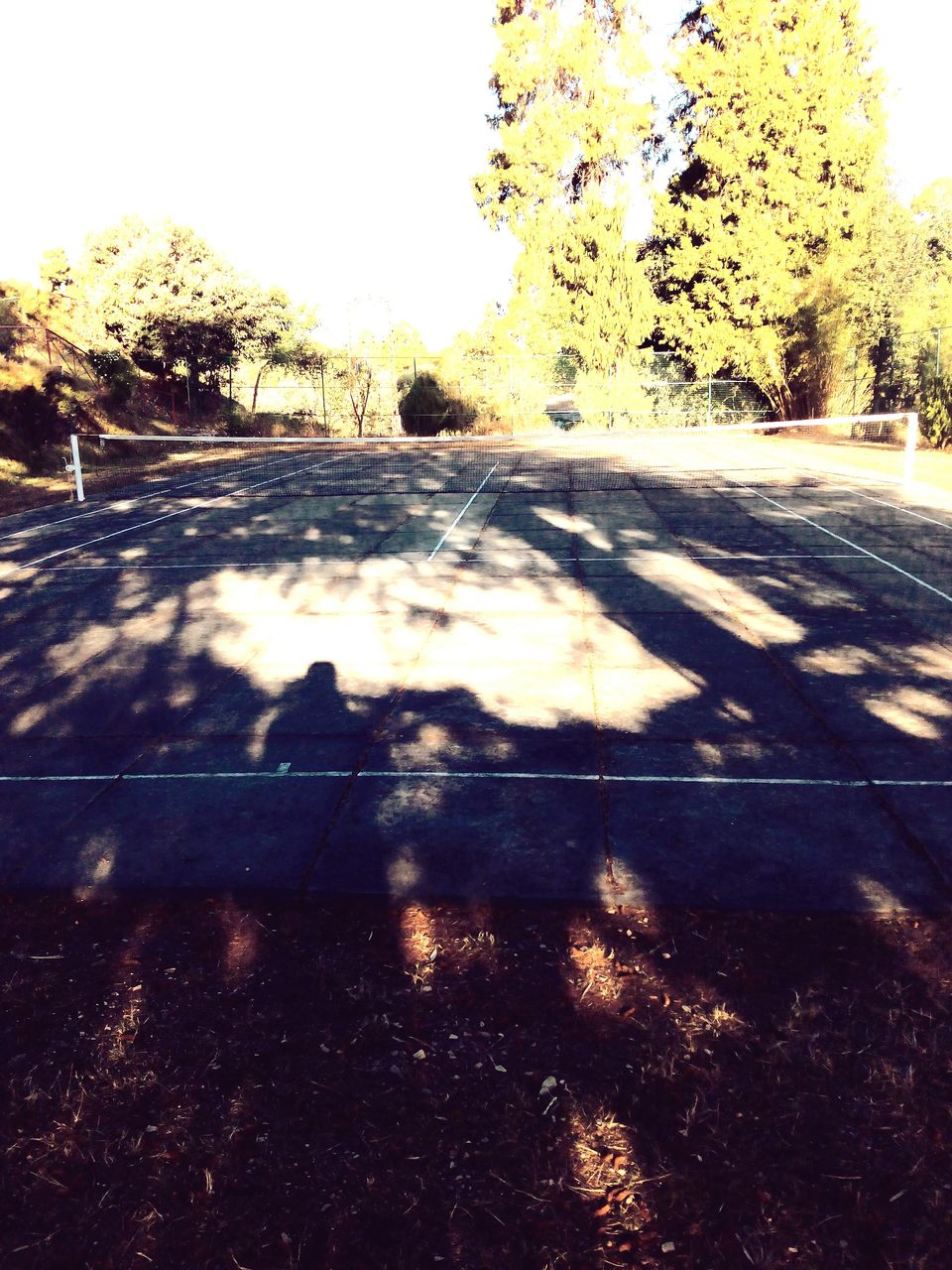 *The Tennis court next morning, at the homestay
*Aha! there was Table Tennis as well
Next morning, I packed my bags, loaded them on the bike and checked out of the home stay or resort as you can call. I had a brief consultation with the hotel staff as to where can I reach by day end, and they said Karnaprayag. I studied the route on the map which was laid down on the reception table, and memorized the locations which I had to cross. Prominent ones bring Kausani and Gwaldam.
And oh, btw! I don't use google maps. Kind of sucks for me. The local people and the sign boards are my helping hand. In case either of them don't work, let's say I like to get mystified by the road then :-\
****************************
Part II (Road to Kausani, Karnaprayag, Rudraprayag and New Tehri)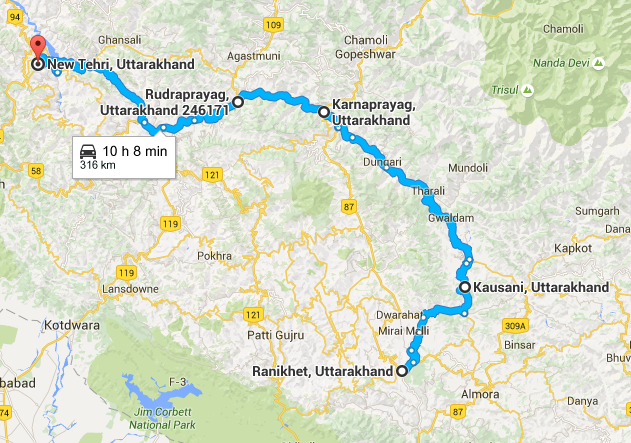 See! This is the problem with a map. In opposed to the time of 10 hours that it's showing till Tehri, I actually took 2 days to reach there. The miscalculation with maps is that it doesn't know that I may stop infinite number of times on the road, as I go on to see the spectacular landscapes, and savor it to all my satisfaction, and then also spend some time on my camera.
If I wouldn't have done that, how else would I have got these -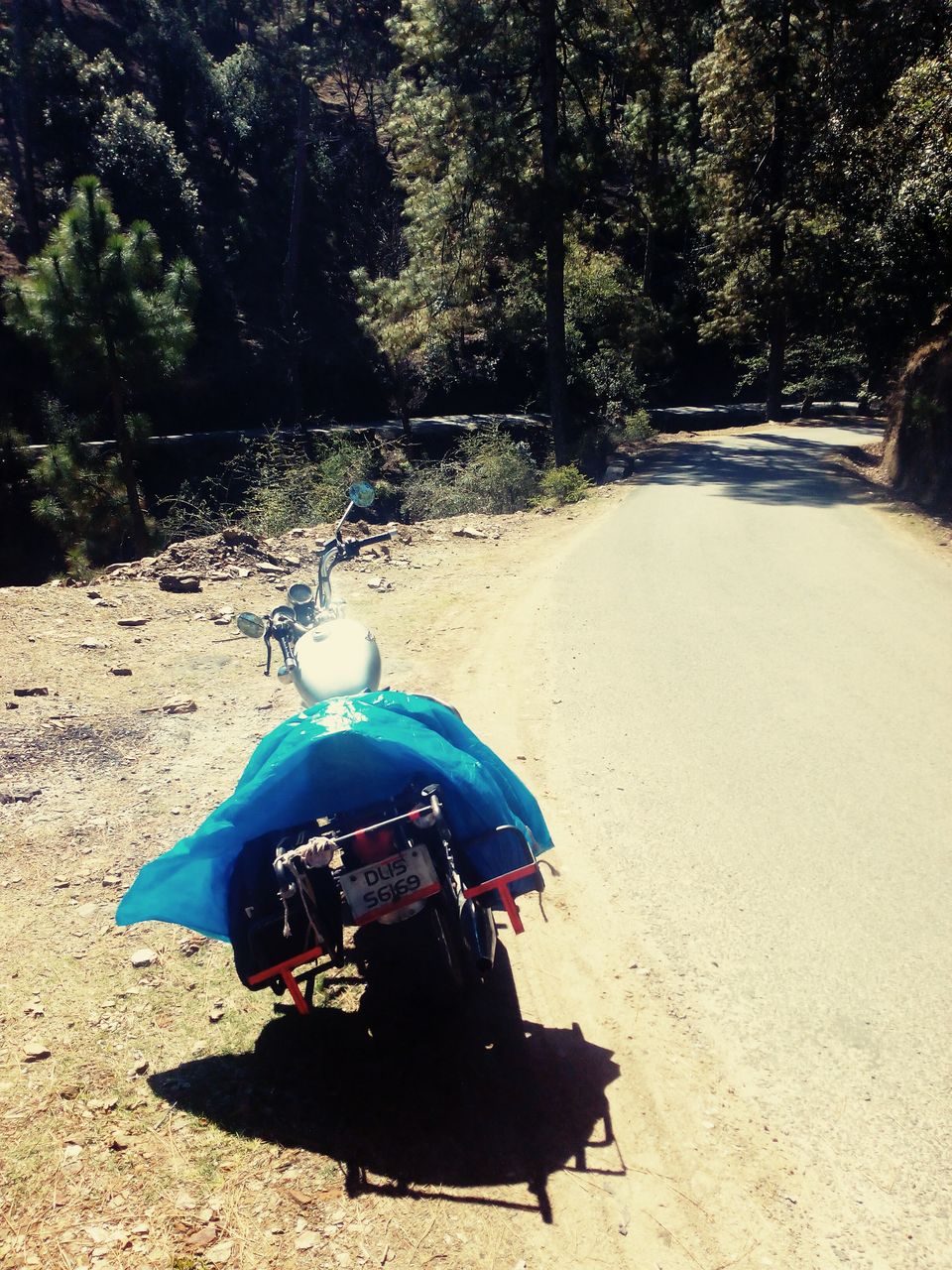 *On my way to Kausani, my first checkpoint. The bike was off and not combusting, and I was simply sliding down with it downhill. Would have done some 10-15 kms without using any fuel ;-)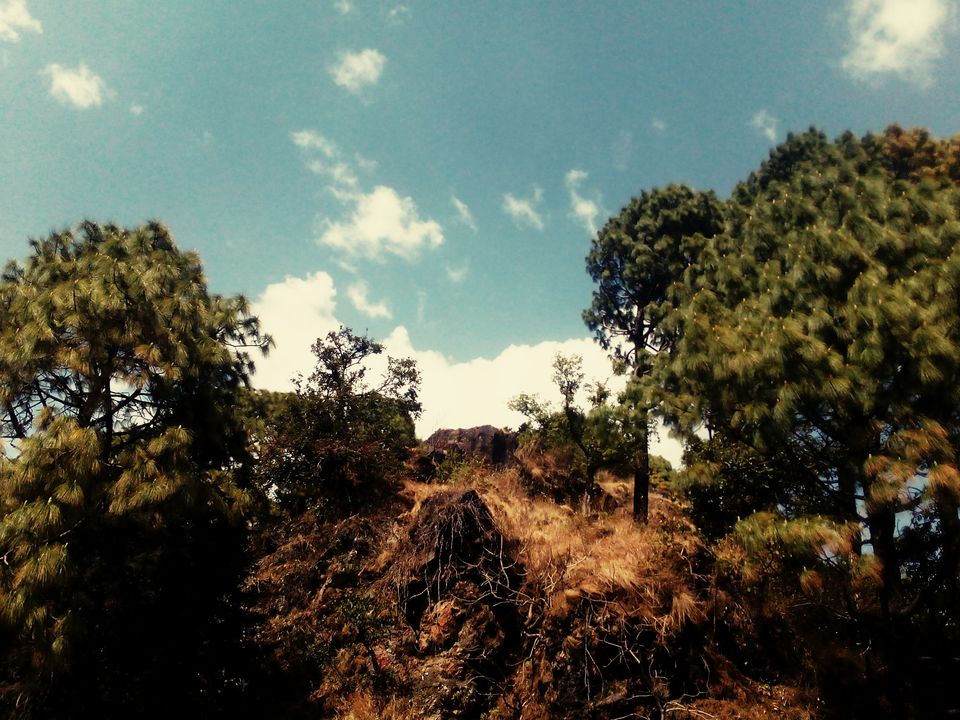 *The road to Kausani was very curvy and desolated. My eyes were popping with amazement with every turn and curve, as nature continued to throw itself to me. Some trees and a bit of sky for you!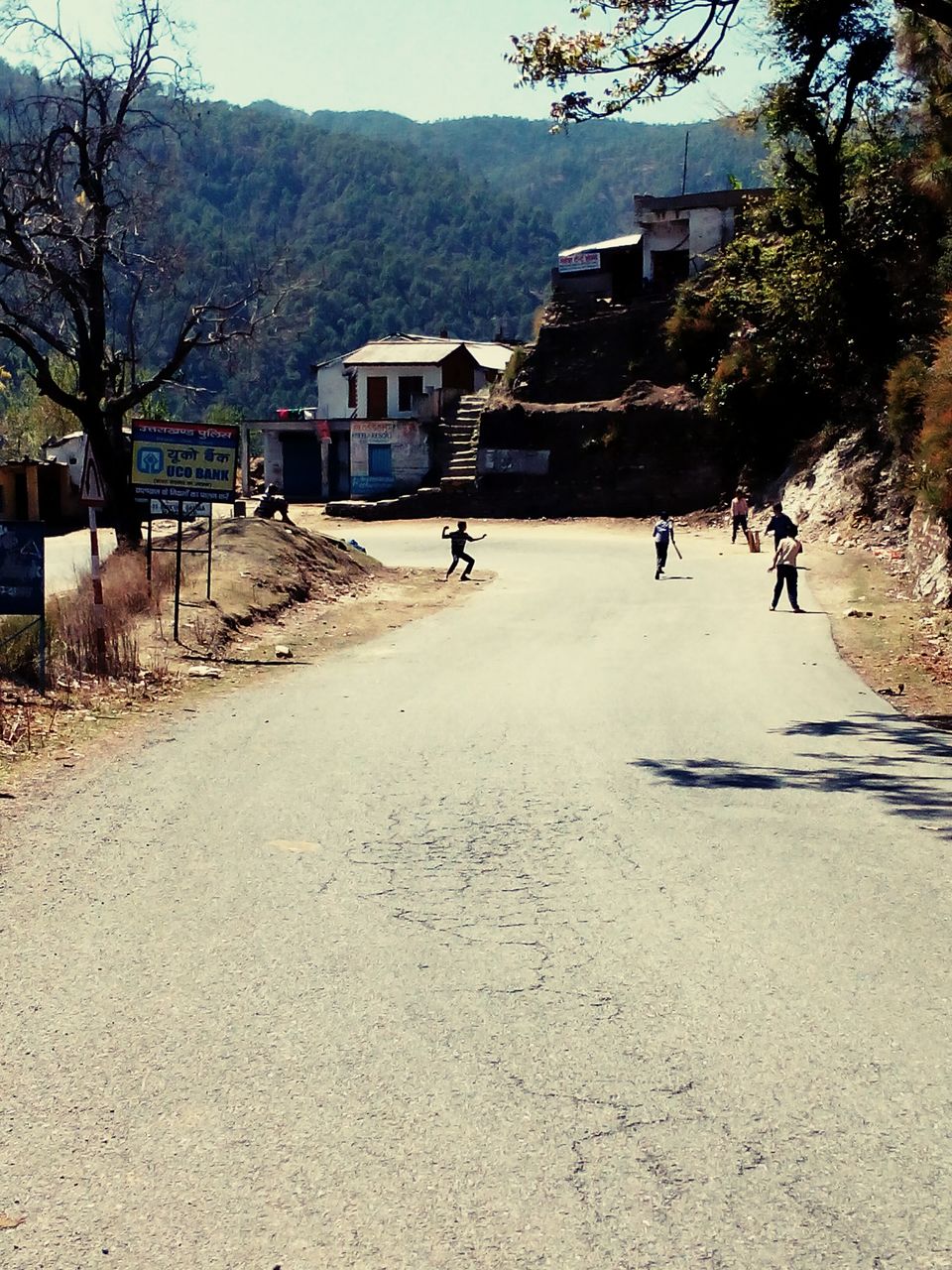 *Kids playing cricket on the road. Carefree and squeaky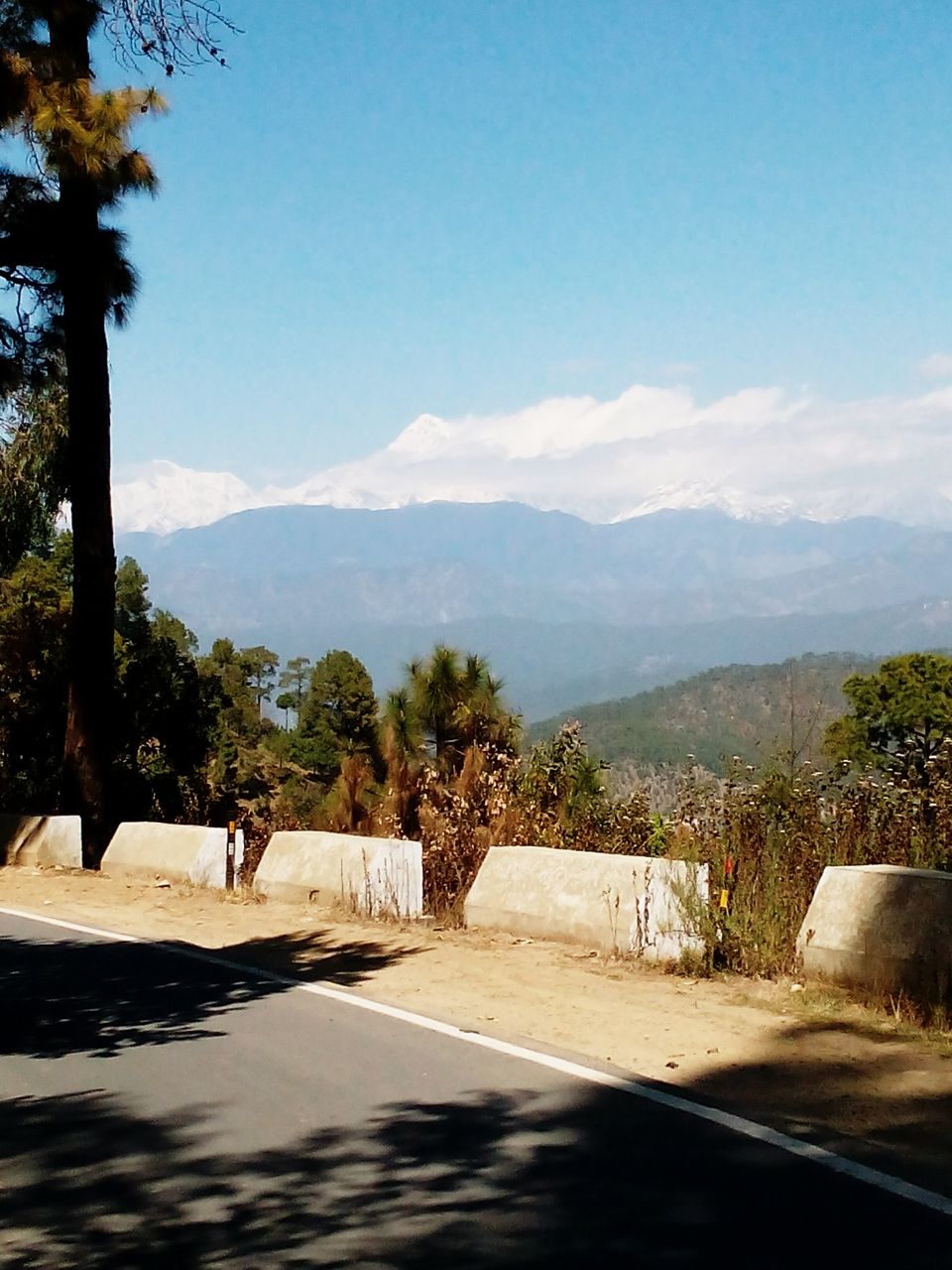 *Look at that
*This is how the road and valley was before reaching Kausani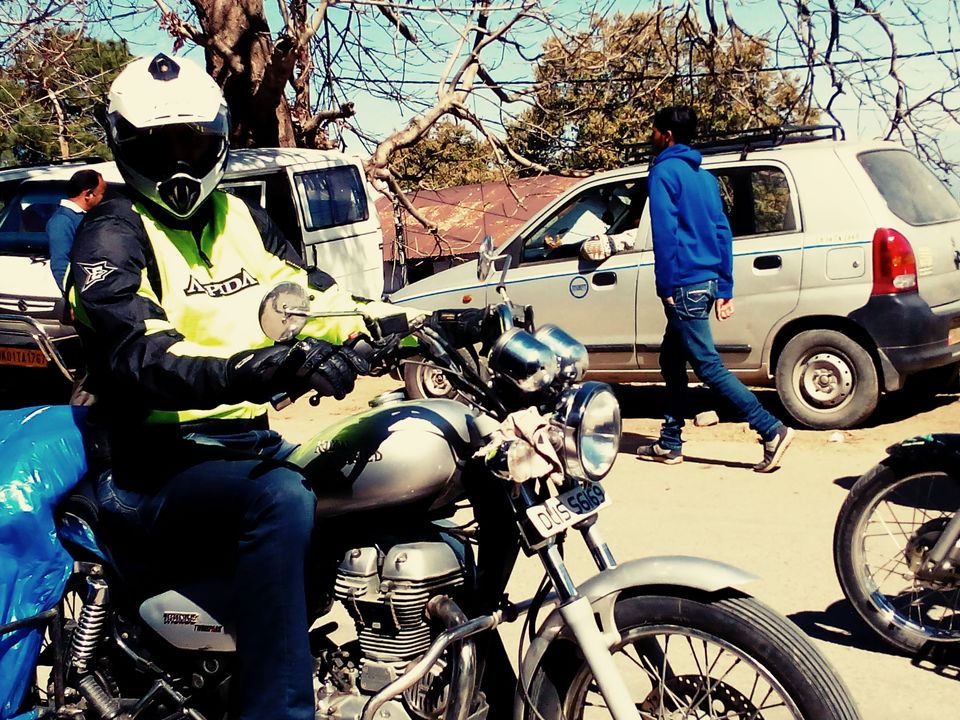 * I reached Kausani somewhere around 2 pm. Was a bit tired and wanted some food now. But hey, before that, how about a pose with the bike ;-)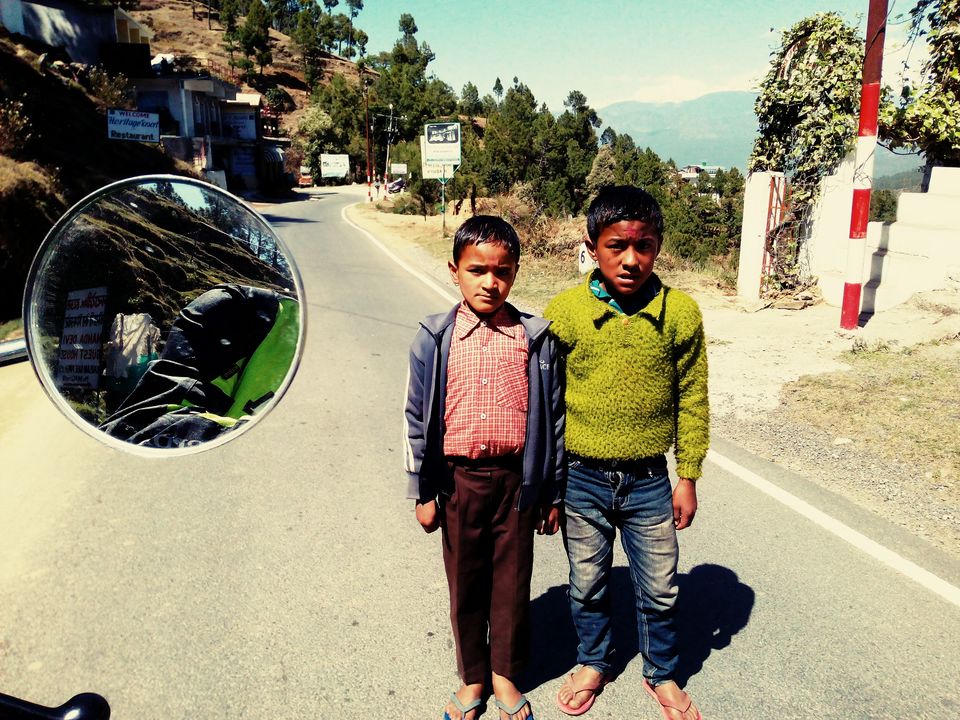 *Local kids at Kausani, Sachin and Saurav. "Sachin, Attention!"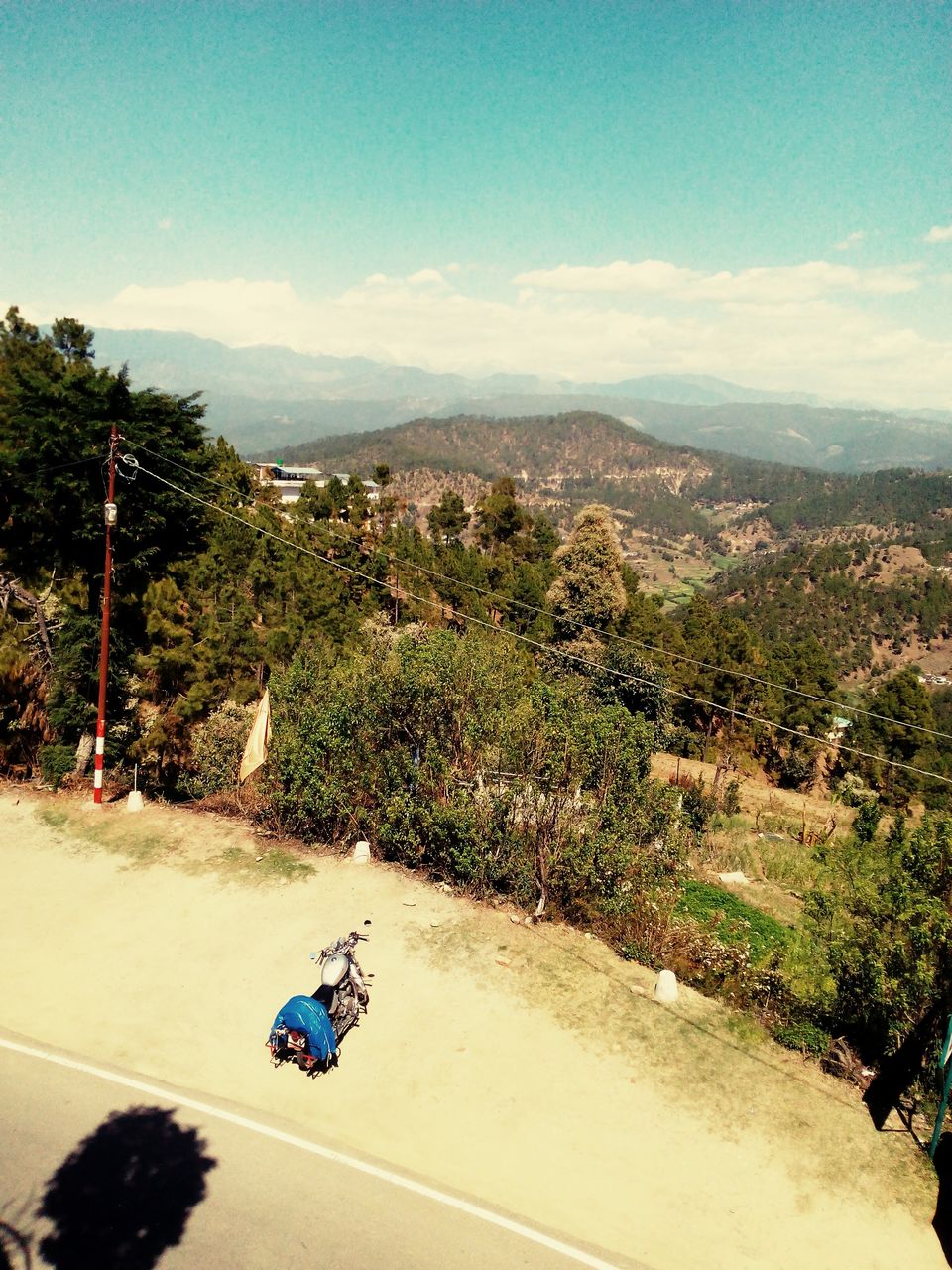 *I had found a place to eat at Kausani. It had roof top dining and nice interiors. Hunger had reached its threshold, and what a view to look at as well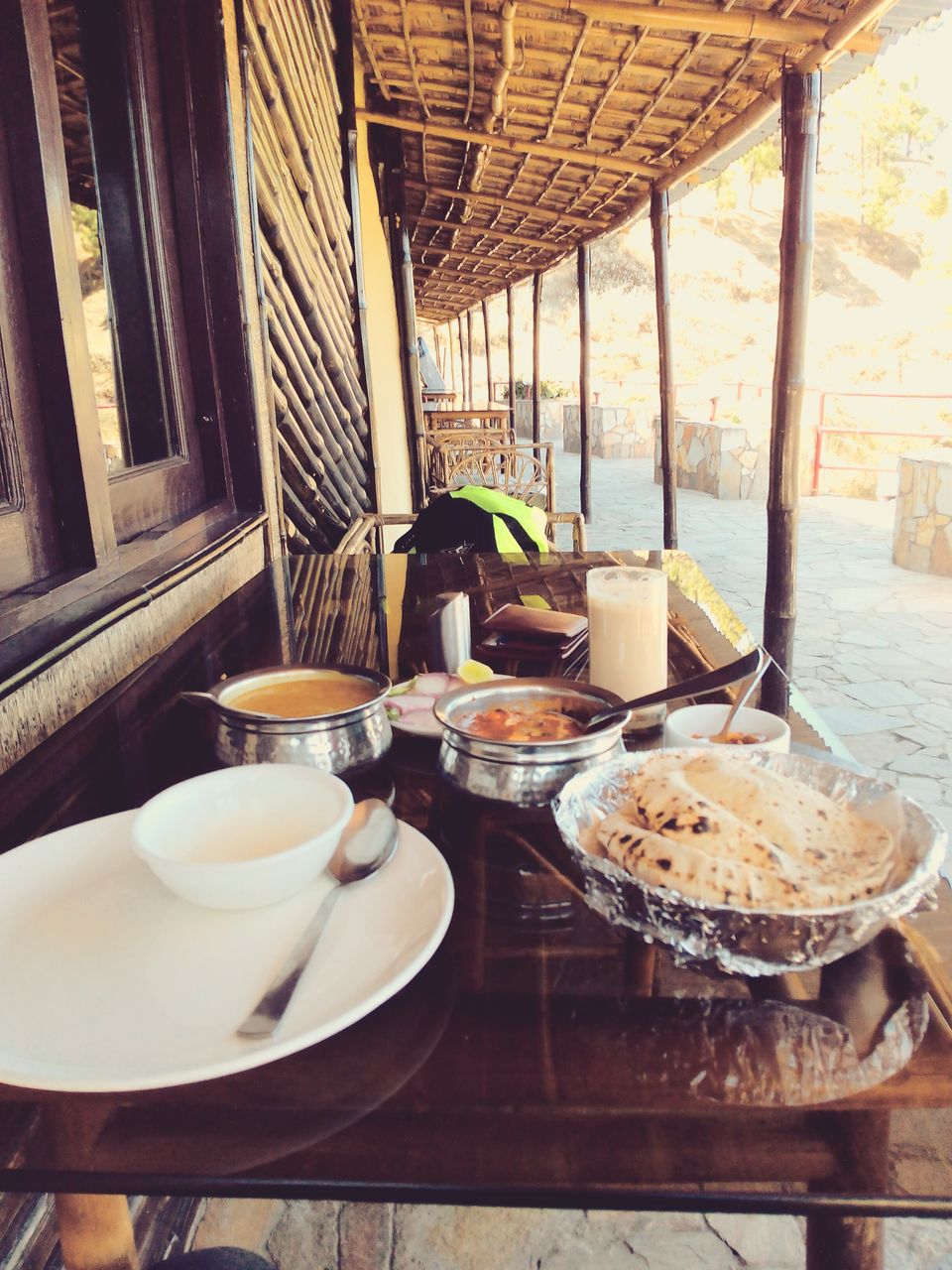 *Can't wait now! Dal, Kofta, phulka along with cold coffee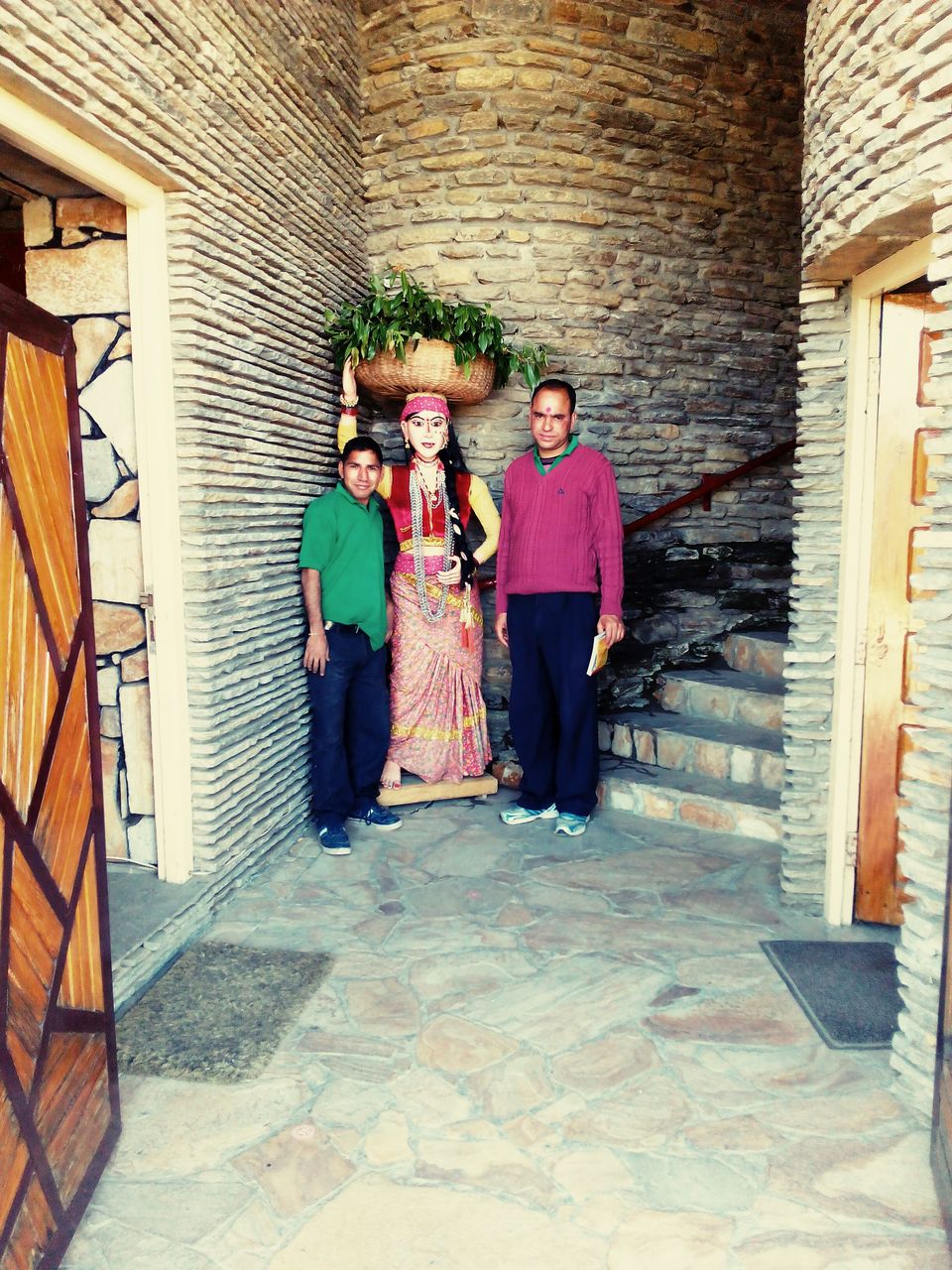 *I thanked the staff for treating me with such delightful food, and promised them that I will post a picture of them on my blog. So here it is :)
I did not spend much time at Kausani as I had to reach Karnaprayag which was another 100 odd kilometers. And so without wasting any time, I marched ahead.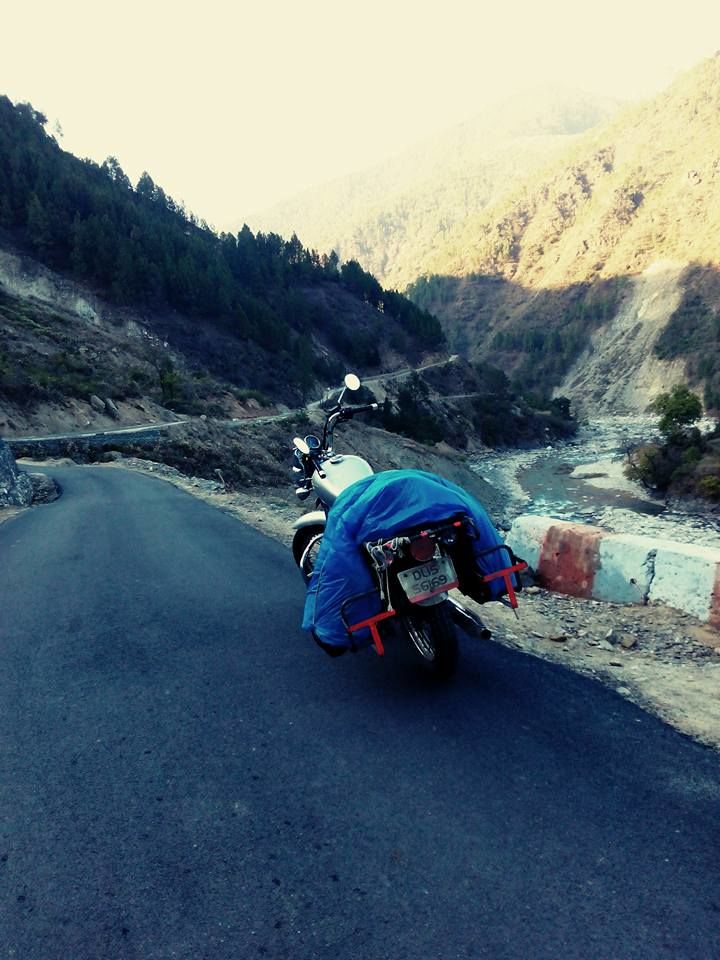 *Enroute Karnaprayag. Capturing the essence of this trip. My bike amalgamating with nature and I witnessing it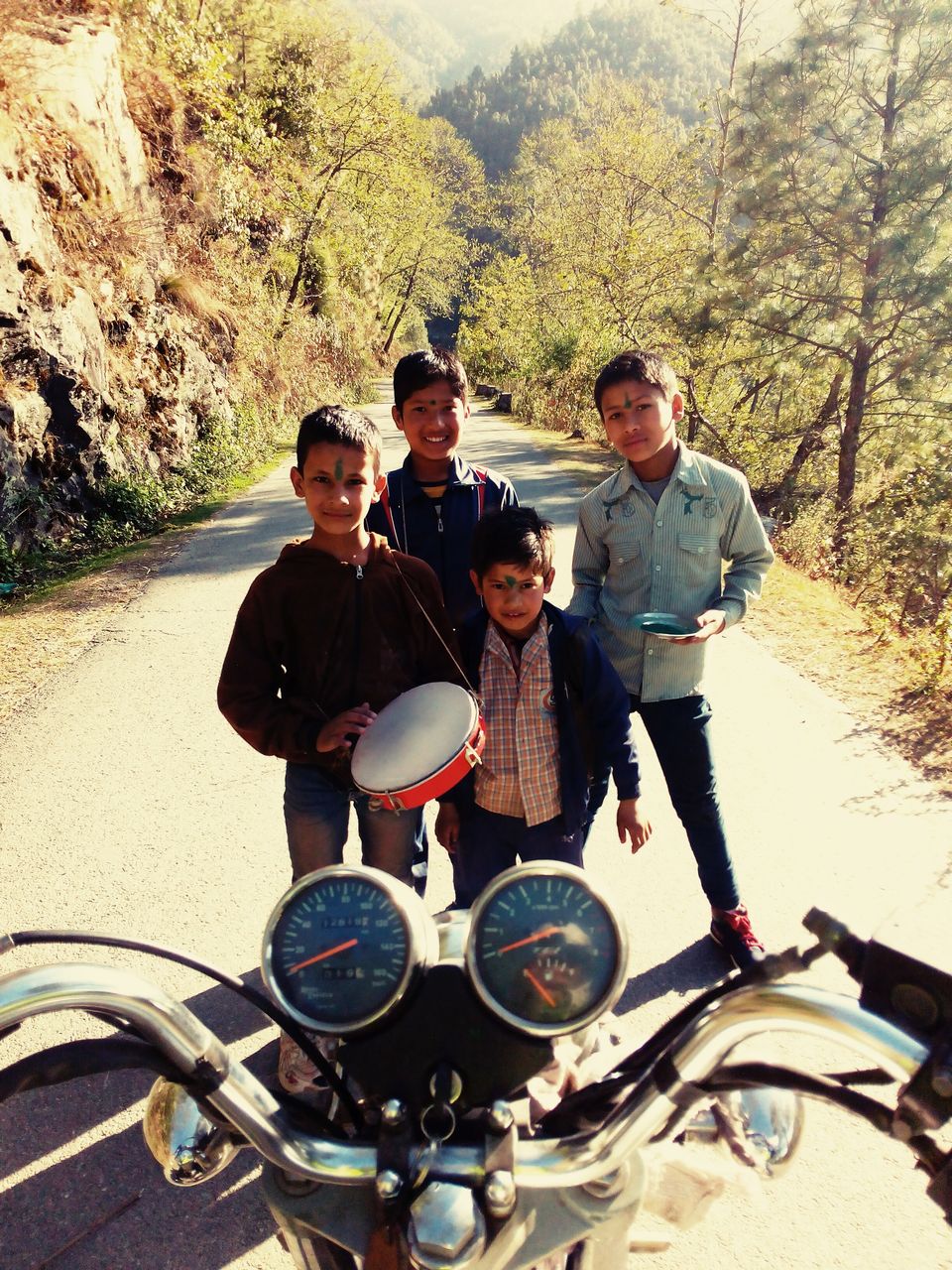 *"Stop right there Mr Tourist. This is our area. You have to play Holi with us now, and then loose some cash". The Holi week in Uttarakhand had started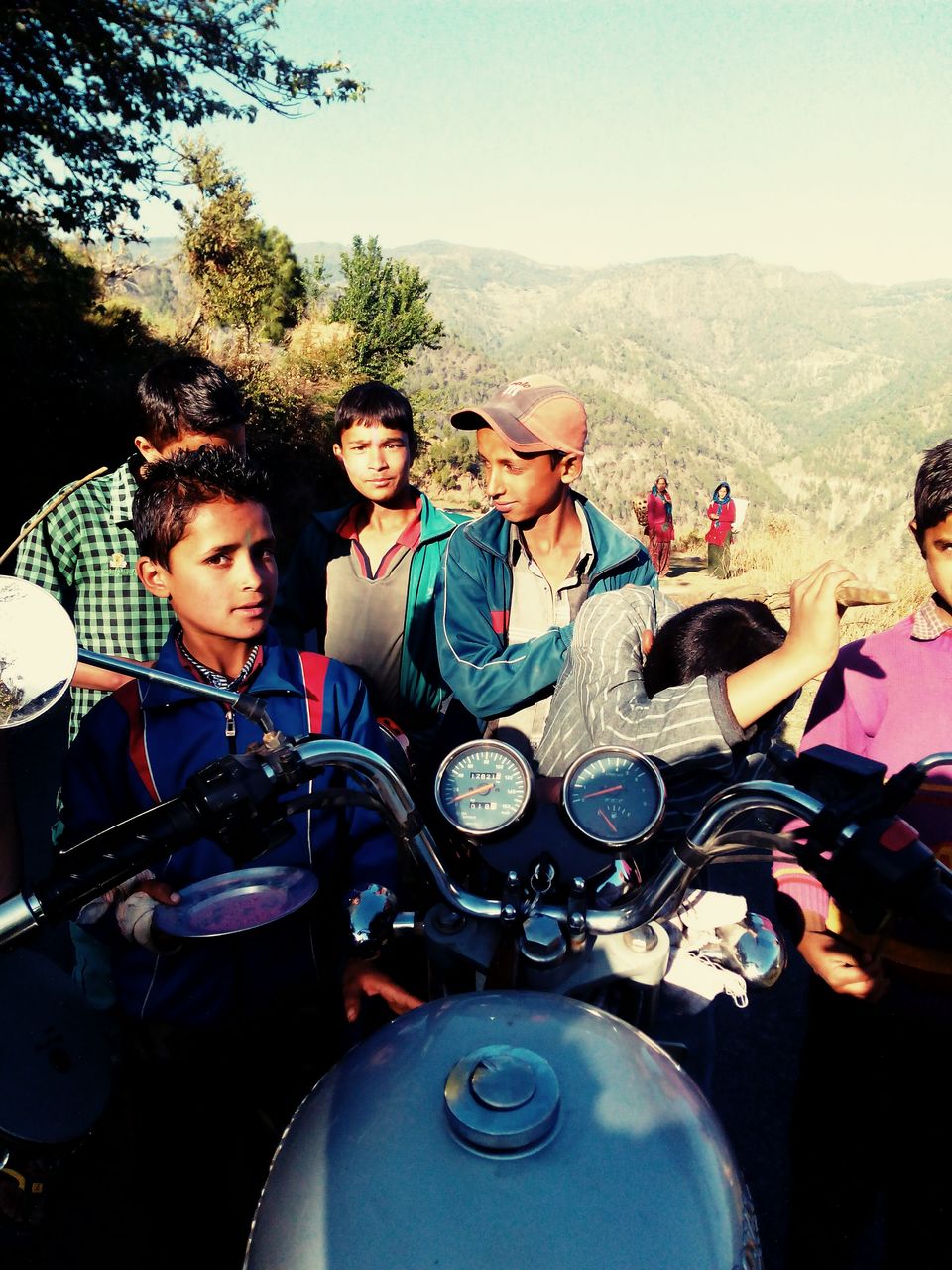 *And as I covered some more distance, another group of kids playing holi on the road. Getting shy all of you in front of the camera. Isn't it? ;-)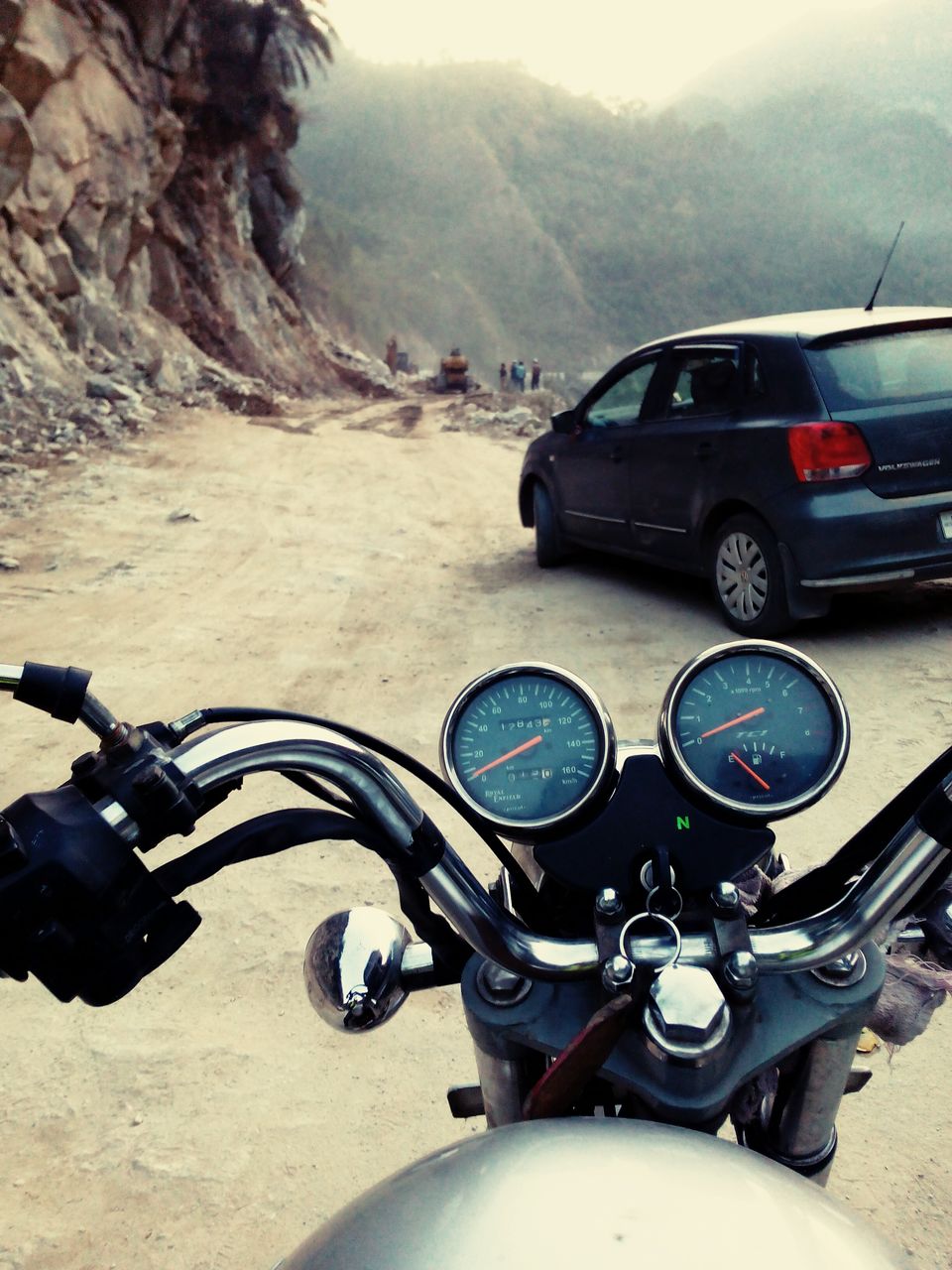 * Enroute Karnaprayag, BRO (Border's Road Organisation) staff had started clearing the road for us. A landslide had blocked it. Was stuck for maybe an hour or so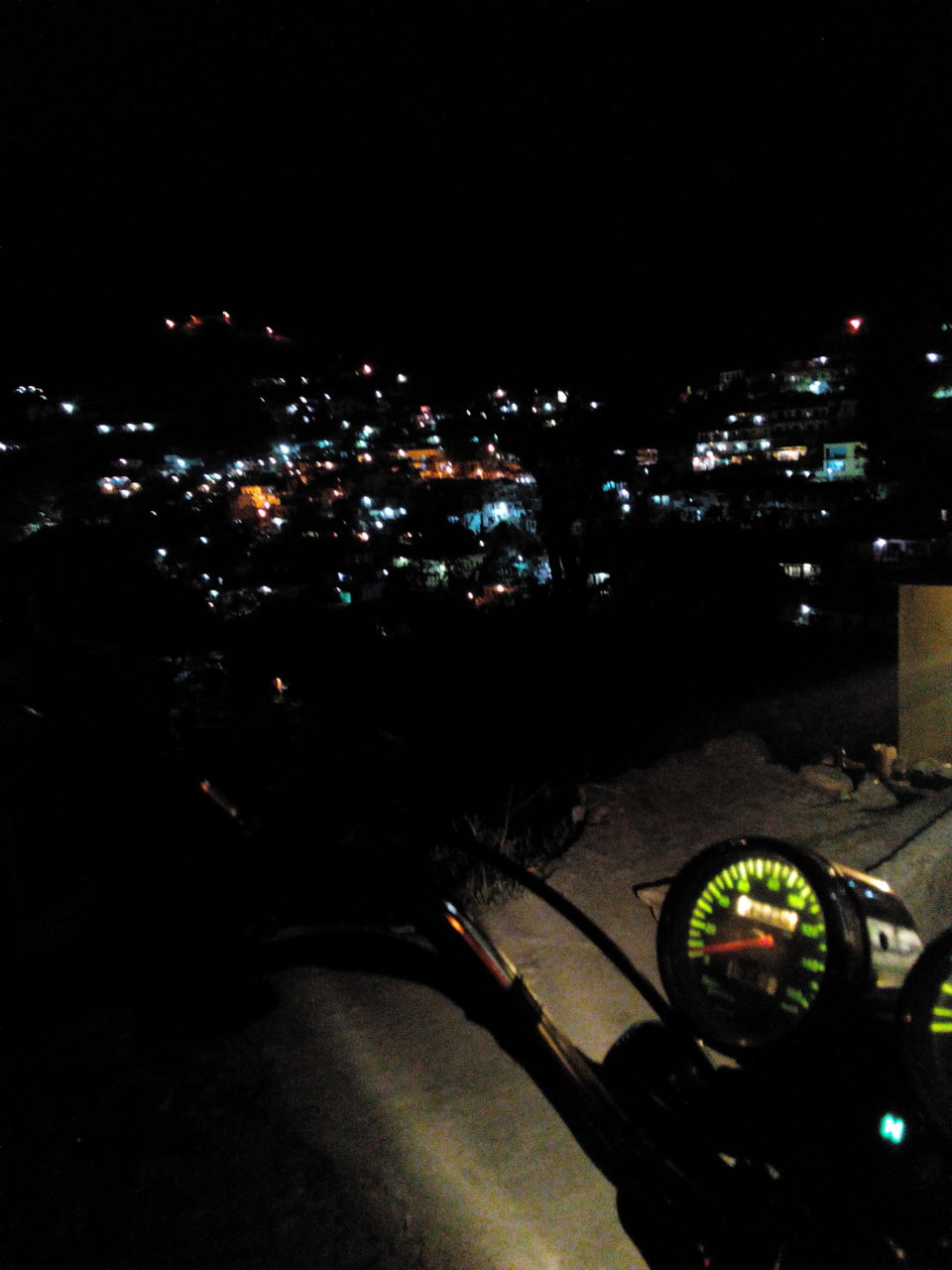 *It was sundown by the time I reached Karnaprayag. The whole city was lit and It looked no less than a paradise. I checked in to a hotel of GMVN (Garhwal Mandal Vikas Nigam). GMVN is a very popular chain of hotels in Uttarakhand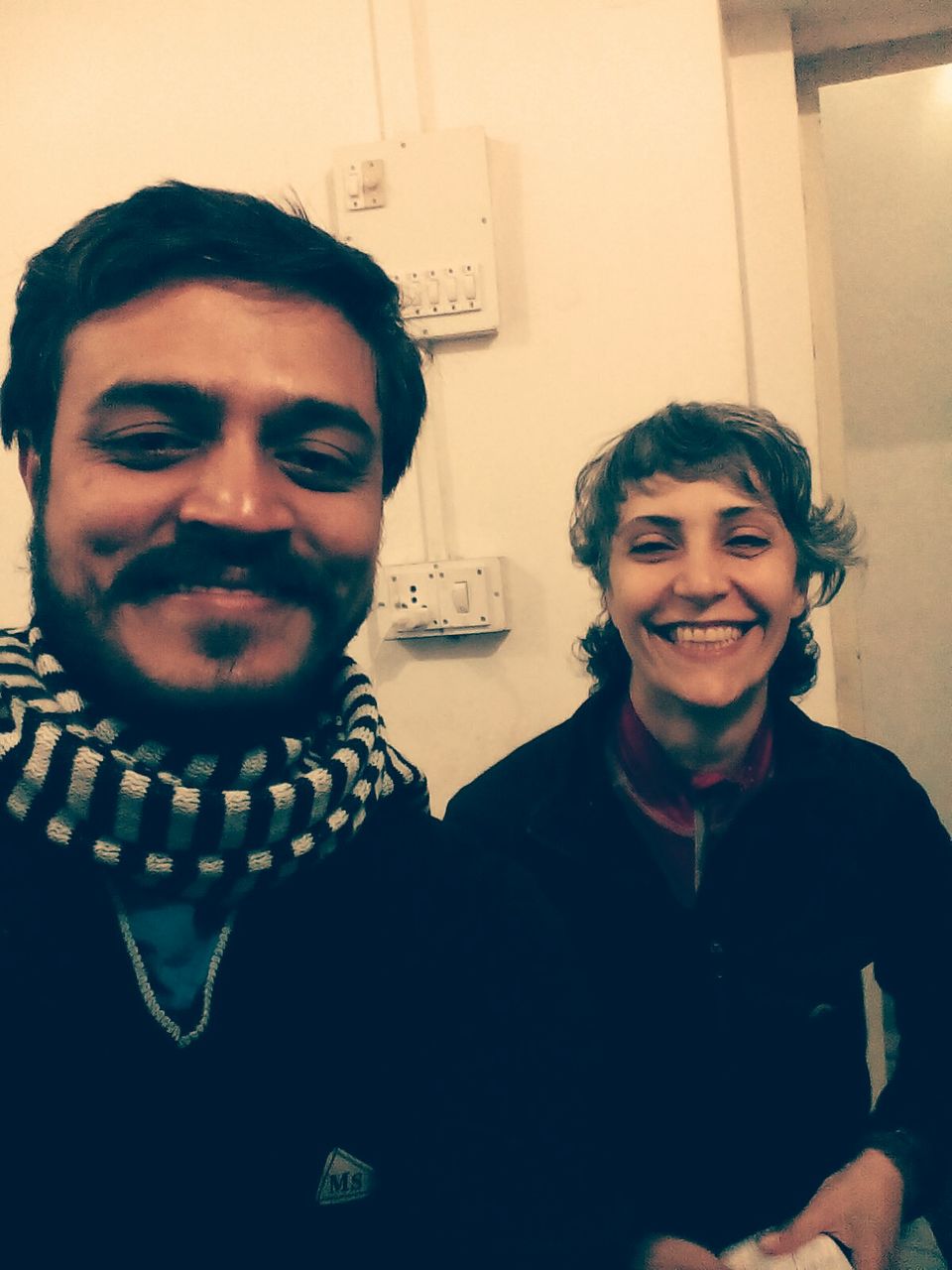 *That's 'Mahsa'. Half Spanish half Iranian. Another solo rider on bike, traveling all across Uttarakhand. She had come from Rishikesh and going towards Bageshwar. That's bold. Isn't it? I met her at the hotel in Karnaprayag
Next morning I woke up. Was feeling a bit lazy as I was tired by yesterday's day long ride. I went out to get a view of the city and couldn't believe of what I saw. This city Karnaprayag is located at a low altitude, around a river called Alaknanda. This shining blue coloured river with that noise of the flowing water made my day and the entire town with all its hustle could be seen around this river, enveloped by the hills which played the role of a guardian.
Unfortunately I couldn't take much pictures of the city as my mobile was charging and I had to quickly pack my bags and move ahead. The road was waiting for me and I had to reach New Tehri on time :)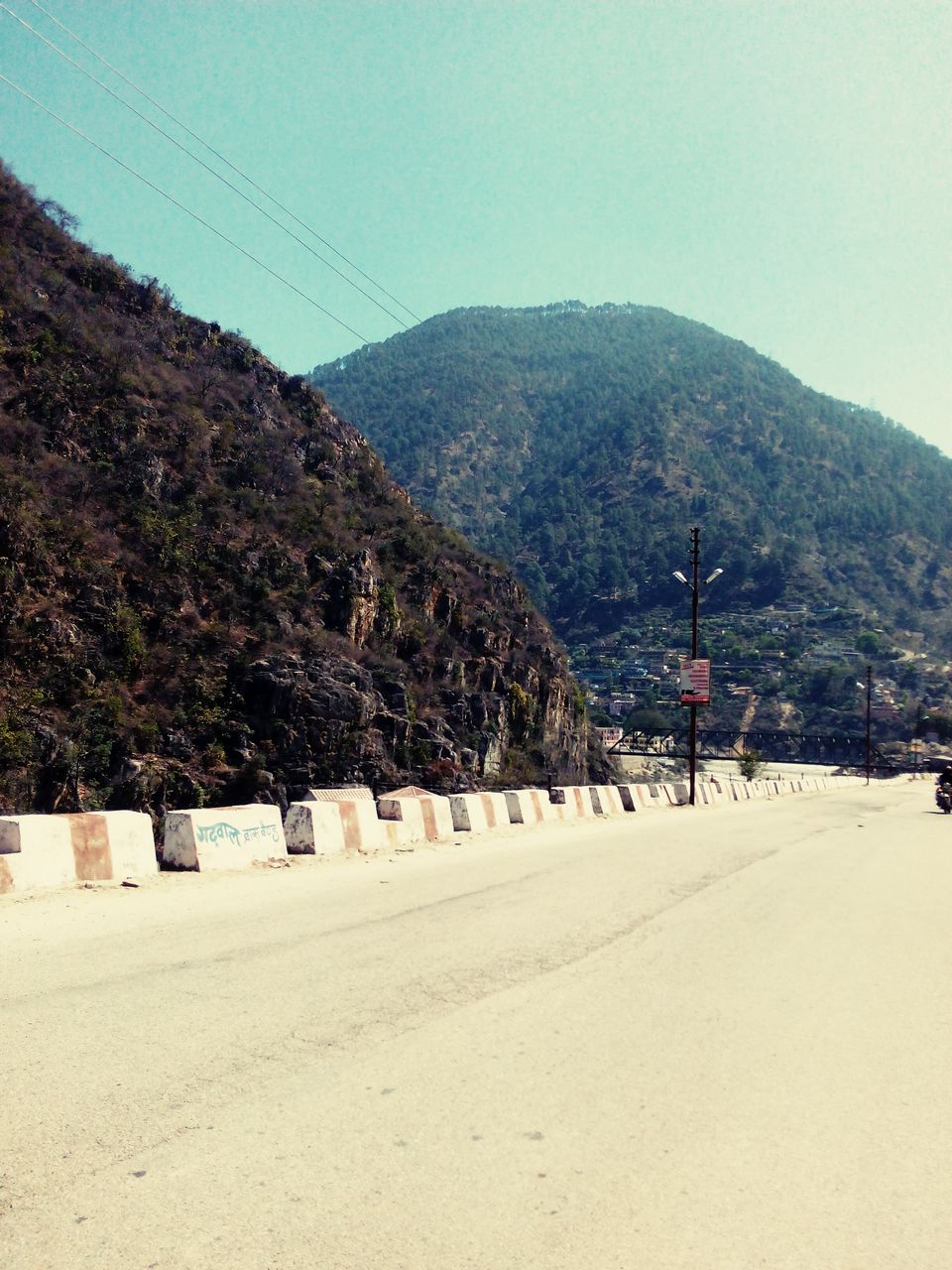 *On the move now. Adios Karnaprayag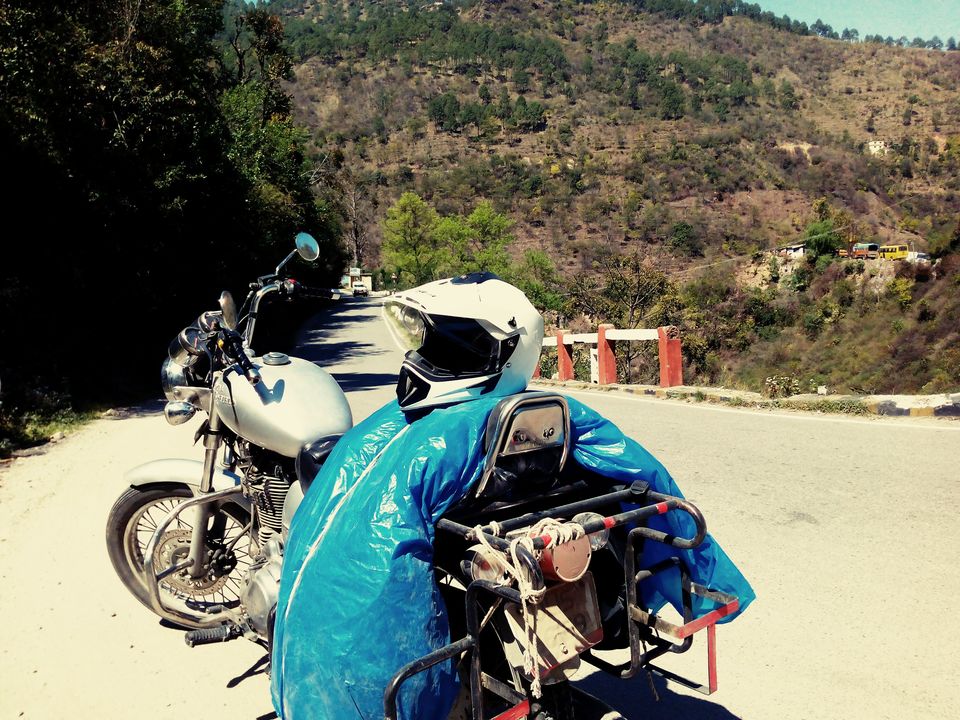 *Well well well! Not so soon buddy. Rear wheel punctured again on the outskirts of Karnaprayag
And I had got nervous here big time. Stranded in the mountains!
One observation btw, why every time the 'tough to handle' rear wheel punctures? Have you noticed this? It's never the front wheel. What was wrong with this rear wheel? Second time now, and this time in the ghats.
What should I have possibly done now?
Maybe take some deep breaths, park the bike at the side and start to walk to find something?
Yeah! Seemed like a plan.
So I started walking, and after about 1 kilometer I found some people who told me that maybe I can try my luck at the Indian Oil petrol bunk which is another 1 km from here.
I thanked the people, quickly ran towards my bike and with a ray of hope, started pushing the bike towards the petrol bunk.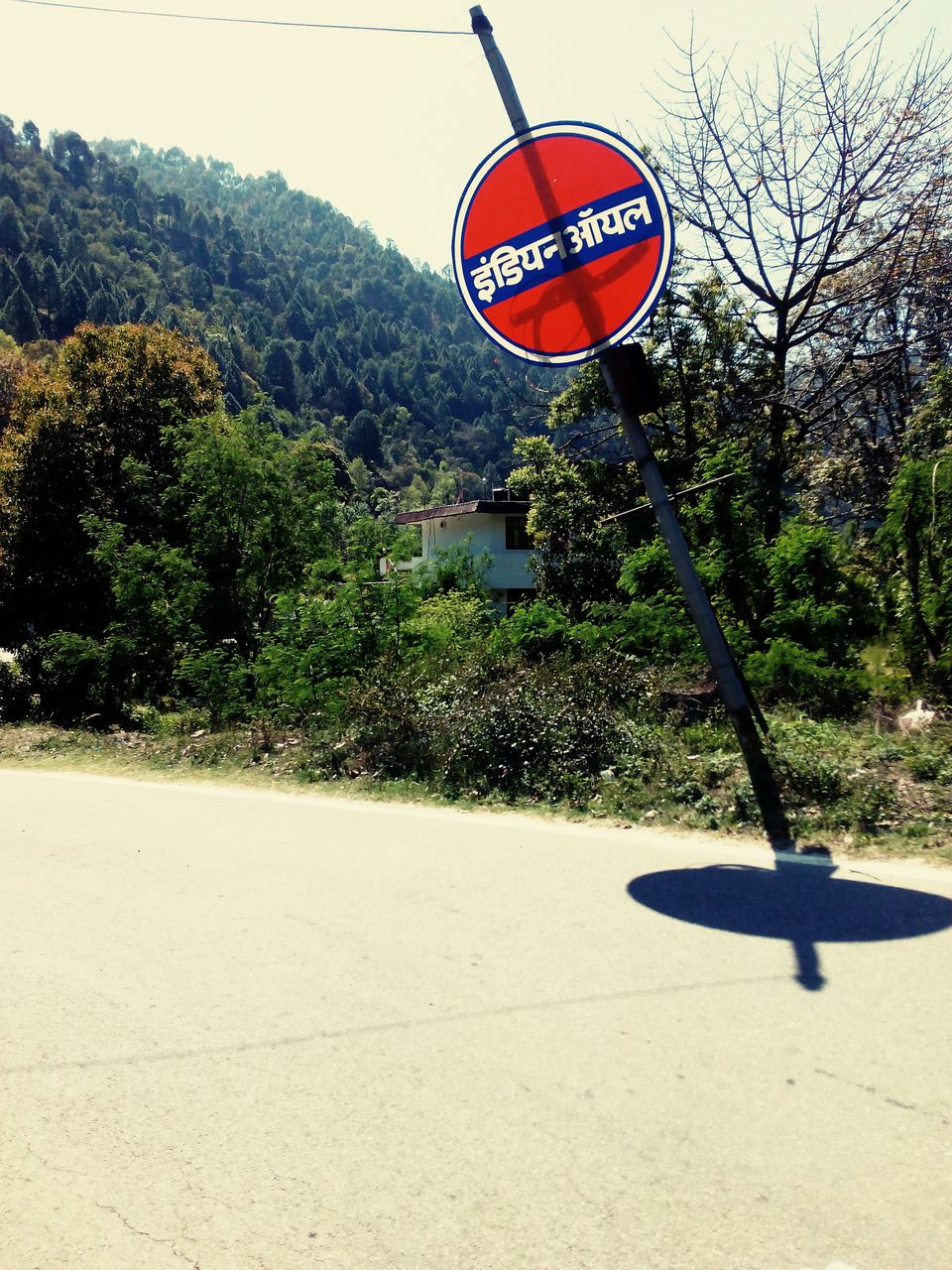 *I was pushing the bike, and 'Thank you almighty' for showing this signboard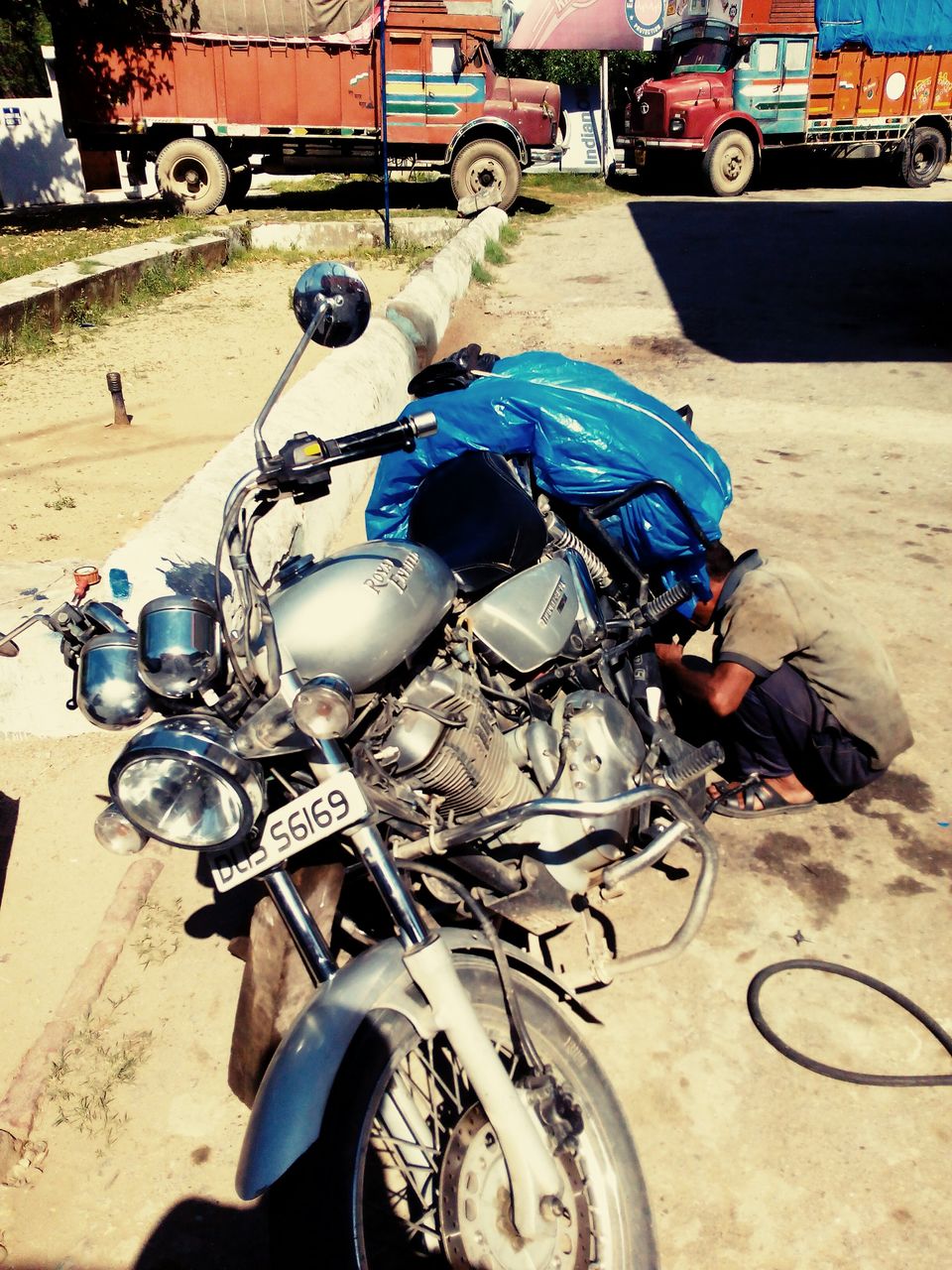 *And well, I managed to get hold of the mechanic who with lot of deliberation agreed to fix the tyre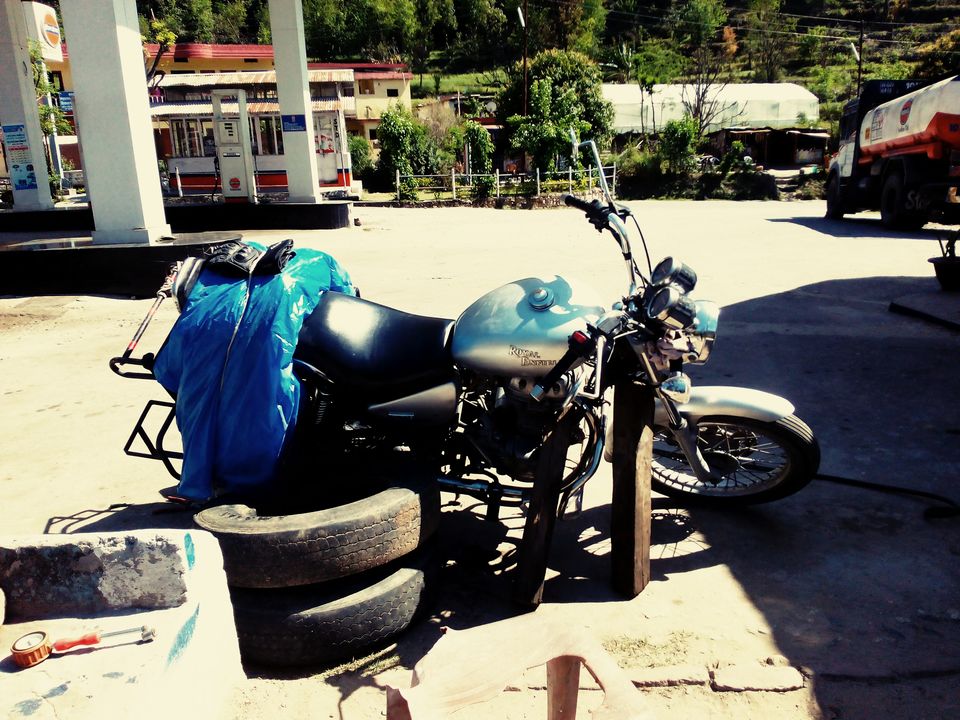 *Look at your state my dear. Thanks to IOL but
The bike got fixed. Yippieee!
And soon I was on the road again to witness some more of nature's spectacle.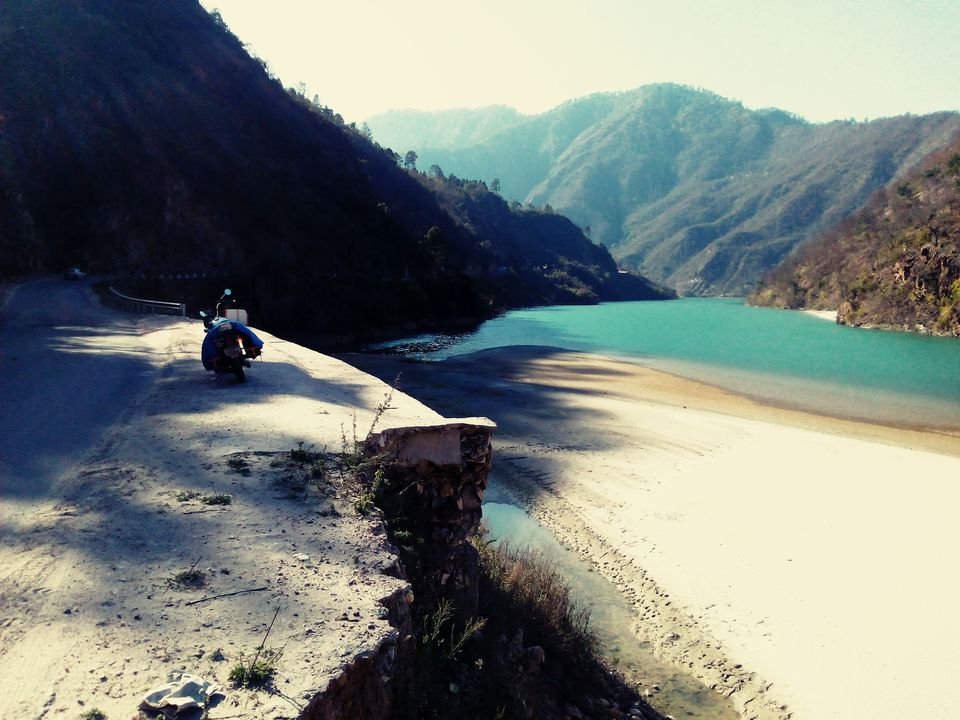 *Enroute Rudraprayag. What will you call this? Mini goa or what.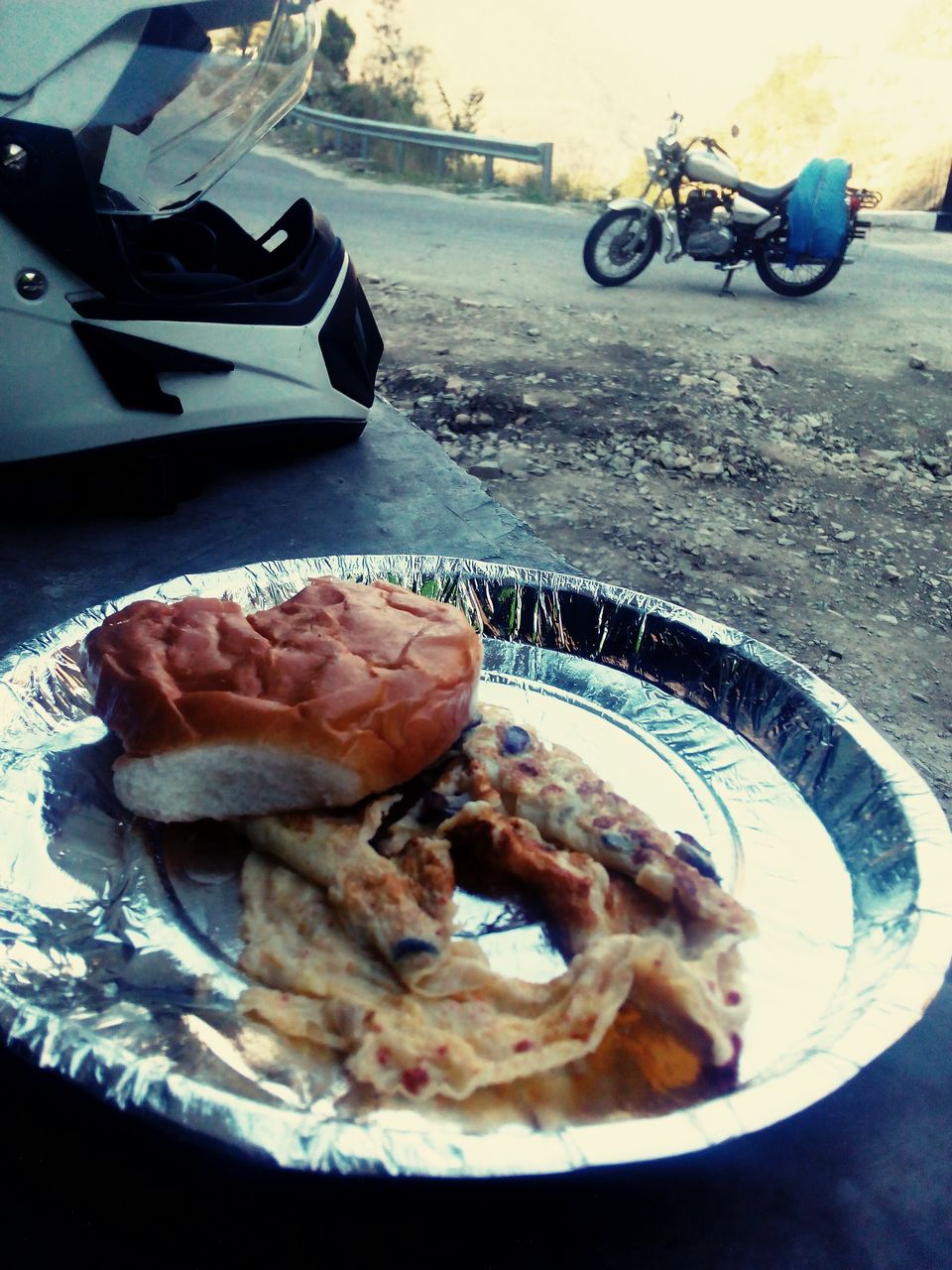 *At Rudraprayag. Time to eat something. And look what I got here!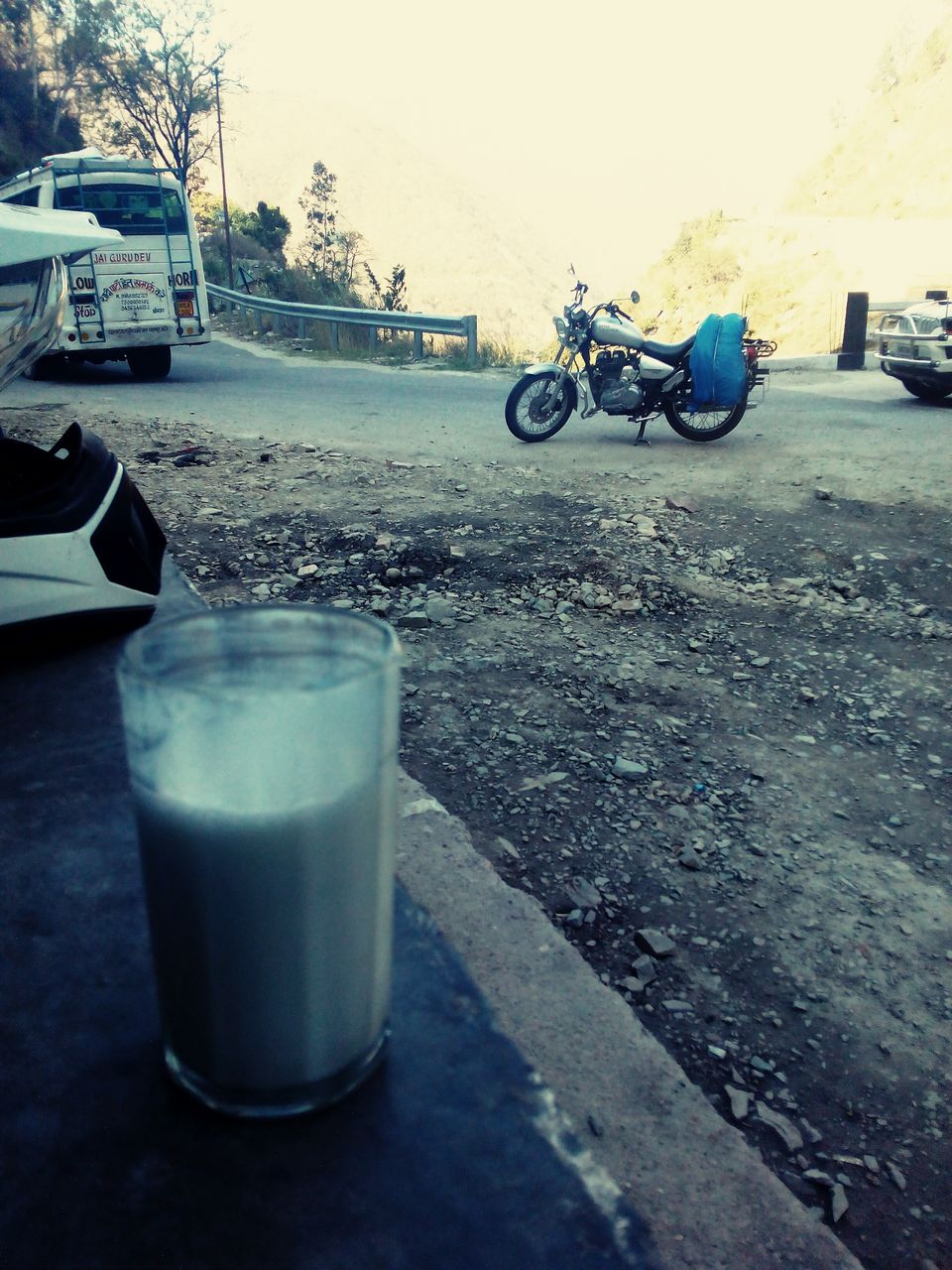 *Should I drink the Lassi? Ok, as you say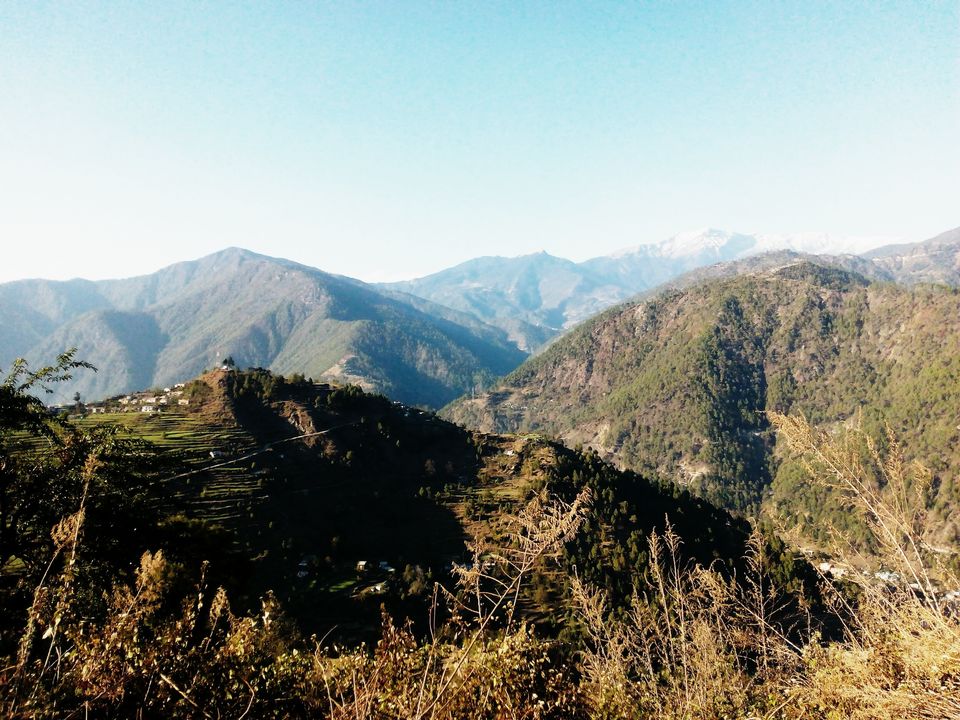 *I crossed Rudraprayag in no time, and tadaaa…..Speechless! This came when I was moving towards New Tehri. My next destination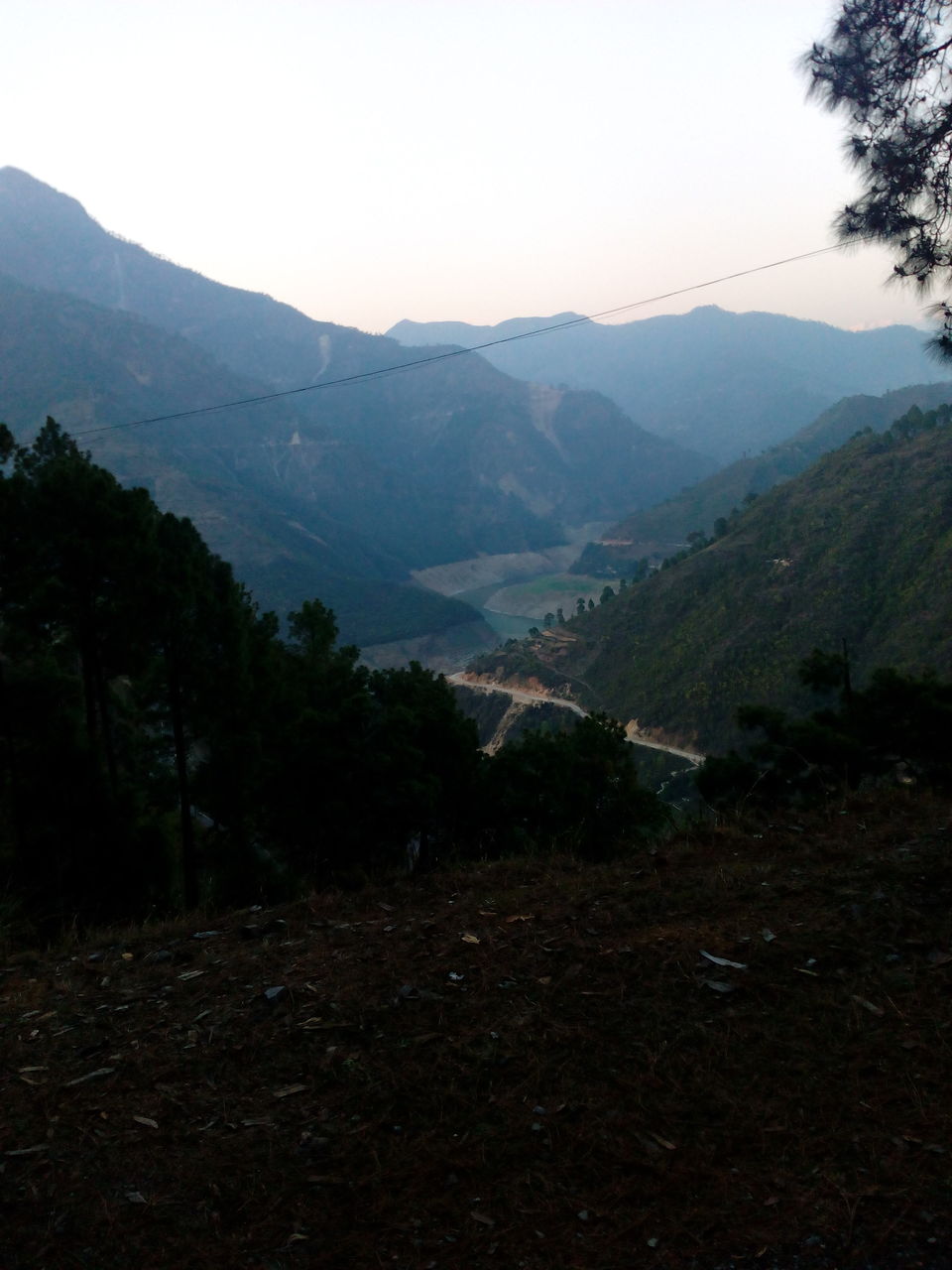 *Road to New Tehri. It was getting dark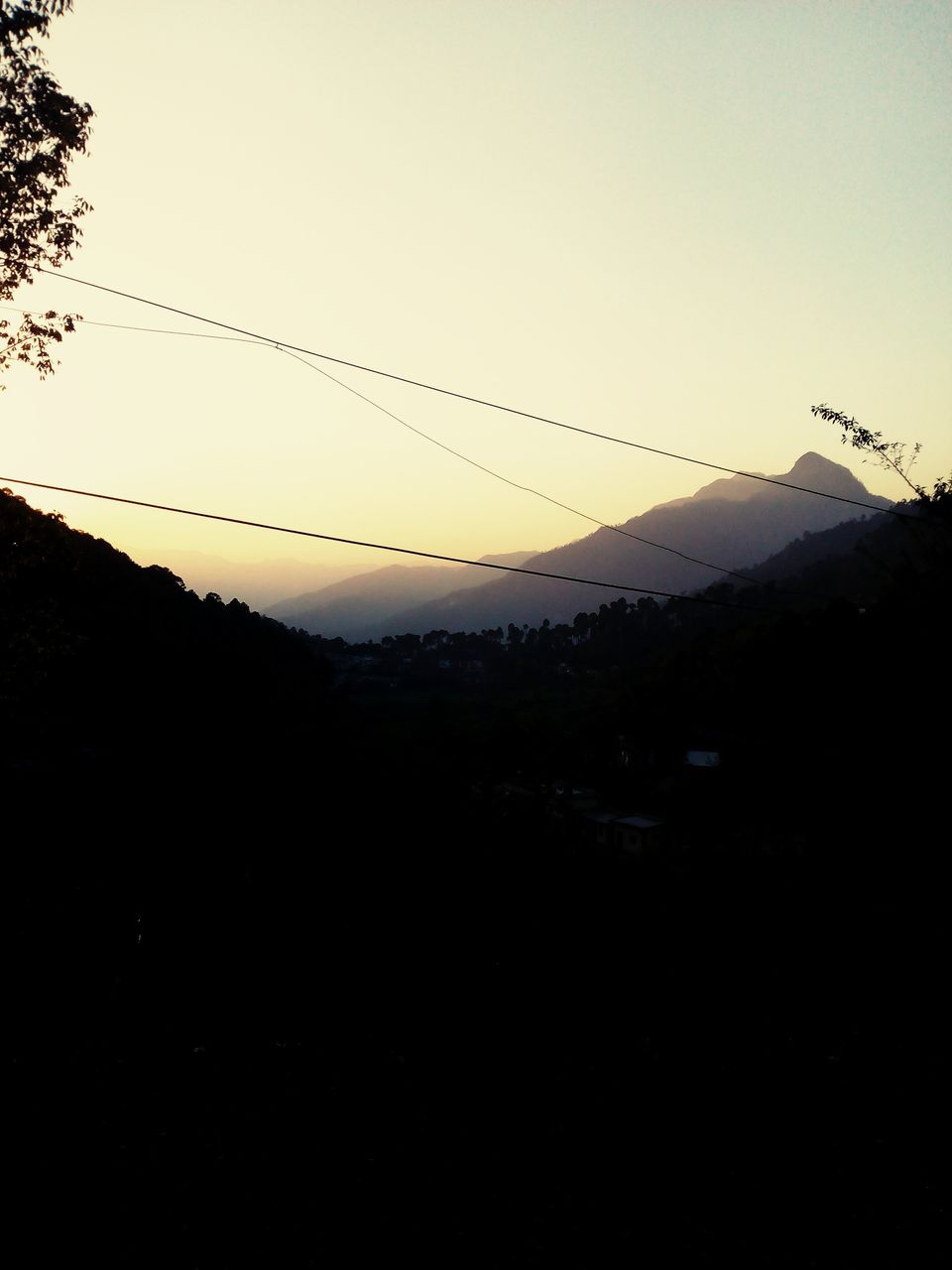 *On my way to New Tehri. Still had a lot to cover and it was almost dark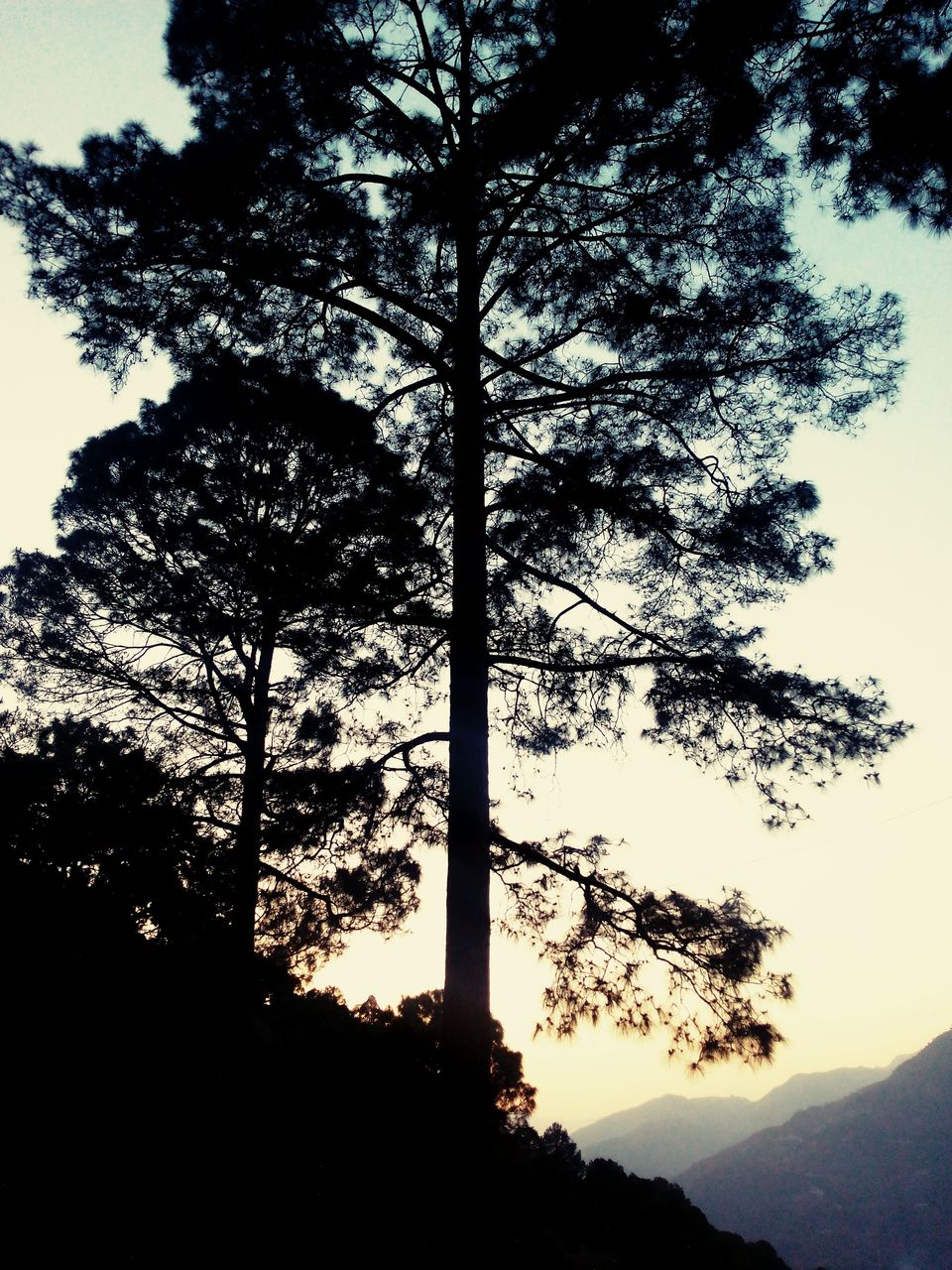 *It was Twilight as I moved on. The trees were big and looked heavenly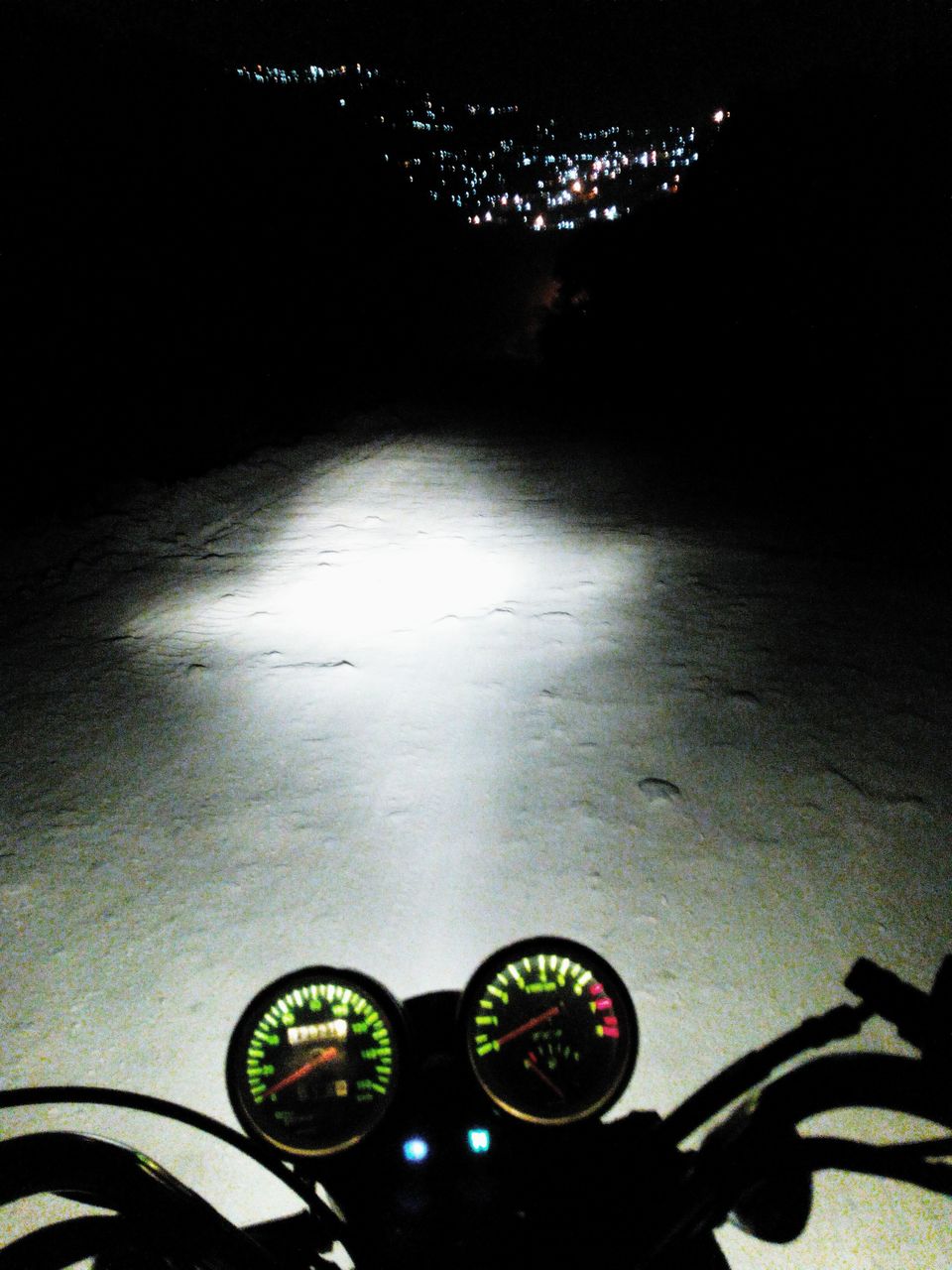 *By the time I got close to Tehri, the road got bad and no street lights as well. The toughest road I faced in the ghats till now.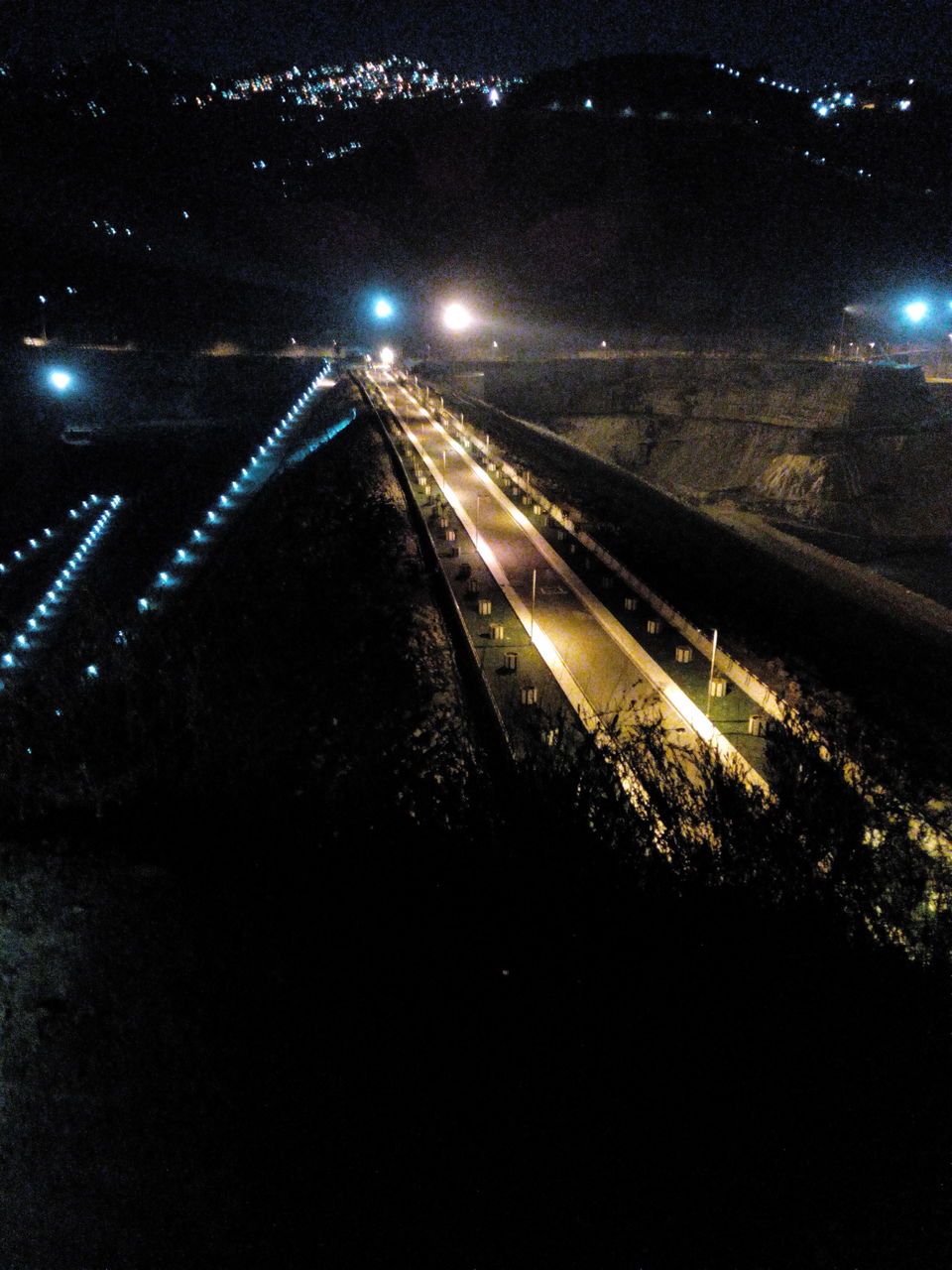 *The popular dam at Tehri. It was a sparkling view *Did I say no street lights? But the road got slightly better after the dam. Some relaxation. Btw, that's my bike on the roadside in case you are getting confused. Lot of my friends did confuse it with a camping tent, huh! I was going uphill now
I reached New Tehri at 9, and found a hotel. Again GMVN, and got a room there. My room had a big balcony from where I could see the entire town and mountain range. The below pictures are taken next morning at Tehri.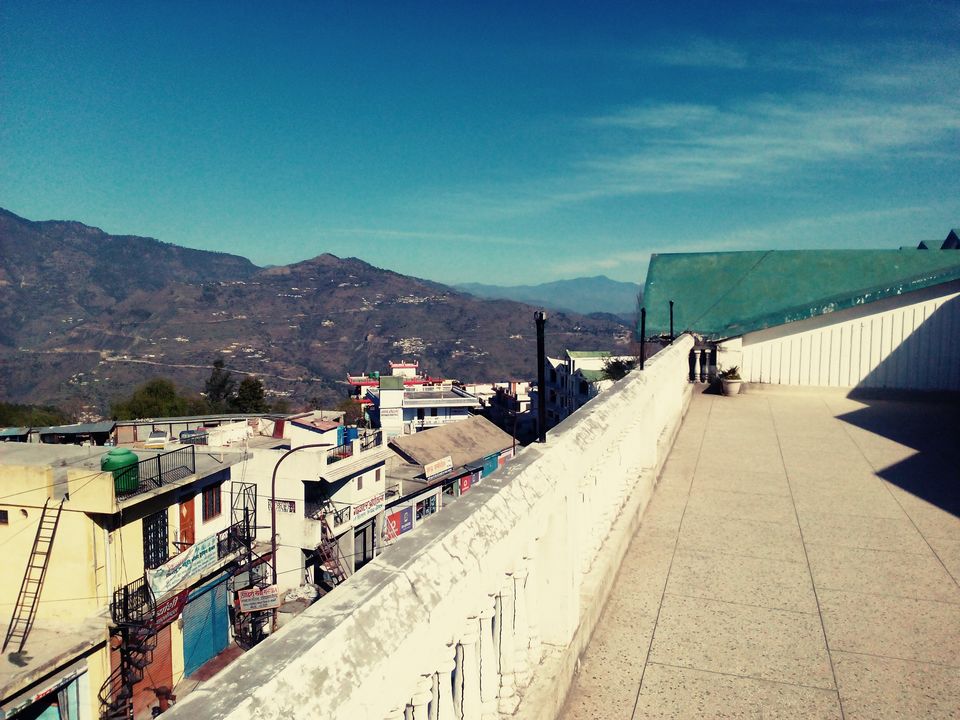 *View from my hotel balcony in Tehri
*This is how you do an advertising campaign for milk. Some tips for all of you in advertising industry. ;-)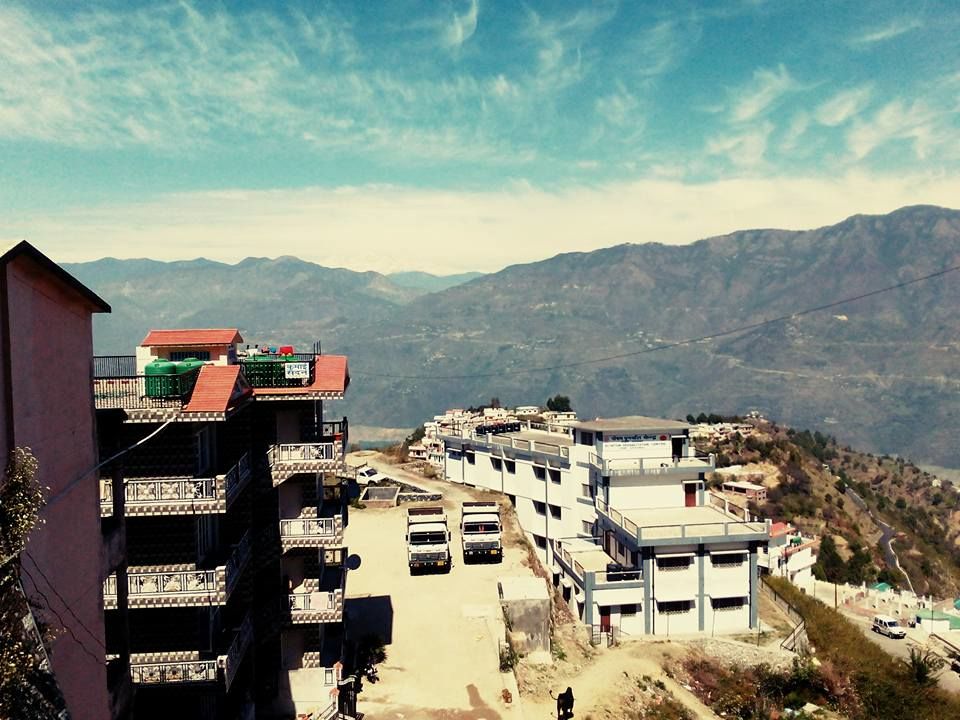 *New Tehri. I am out of words for this one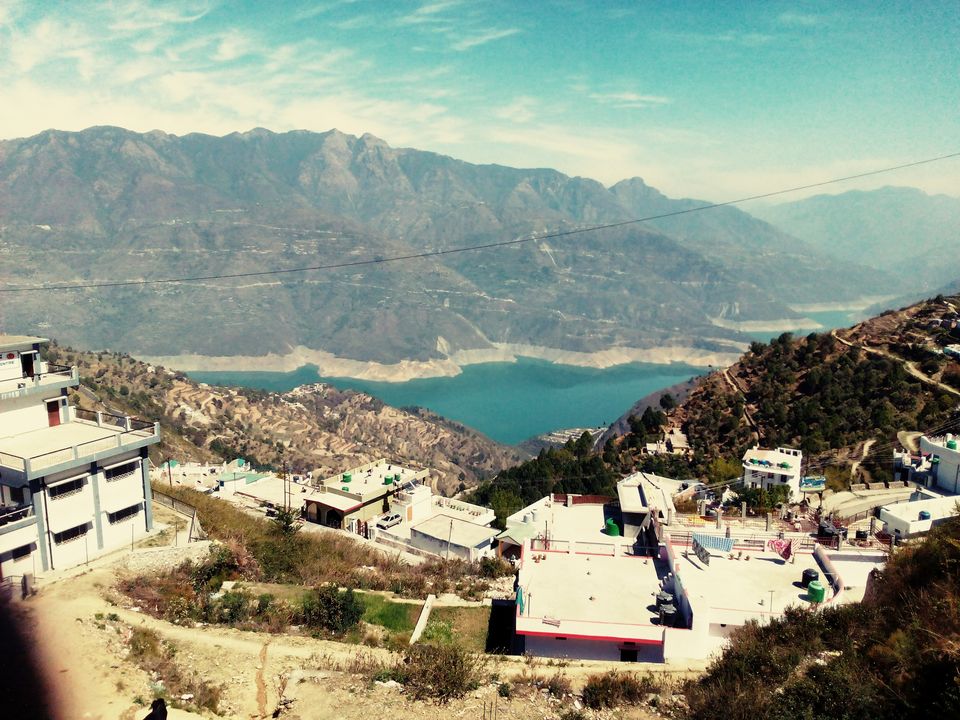 *Bhagirathi River at New Tehri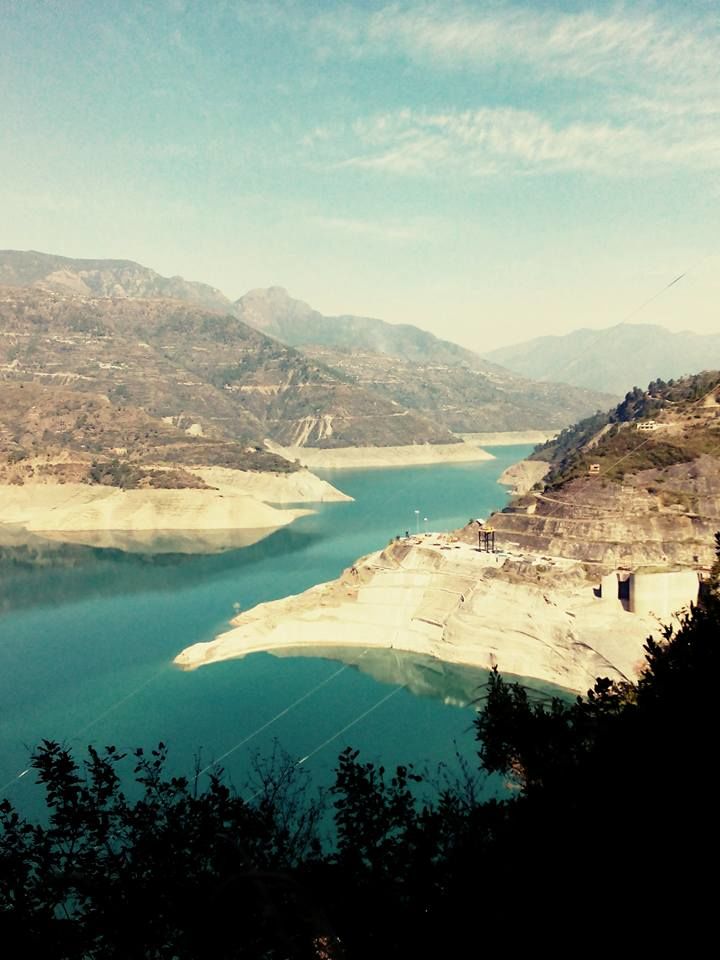 *Bhagirathi River and the dam area at New Tehri
"Is this place heaven or what"!
****************************
Part III (Road to Uttarkashi and Holi Celebration)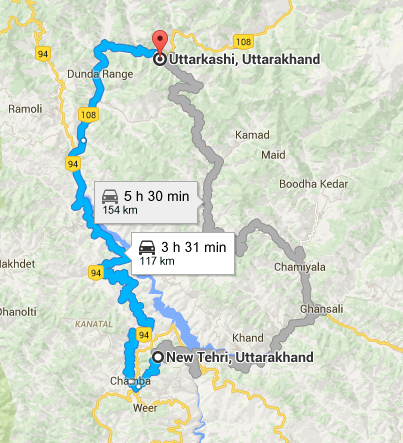 The experience in Uttarkashi has to be the most memorable I must say, as my so called 'plan' didn't quite stick to its word and reality showed me a different face. I had no clue what would happen in coming moments. It was suspenseful and disheartening at times. I was in a fix, and…..
Hey wait a minute!
Let us first reach Uttarkashi, shall we?
Back to the road!
I started for Uttarkashi from New Tehri next morning. It was already noon, and I had put a new tube in the rear wheel of my bike. Wasn't confident on that wheel, as it had already got punctured twice. A thorough check on the tyre was also done, which was critical.
Having done that, I started for Uttarkashi.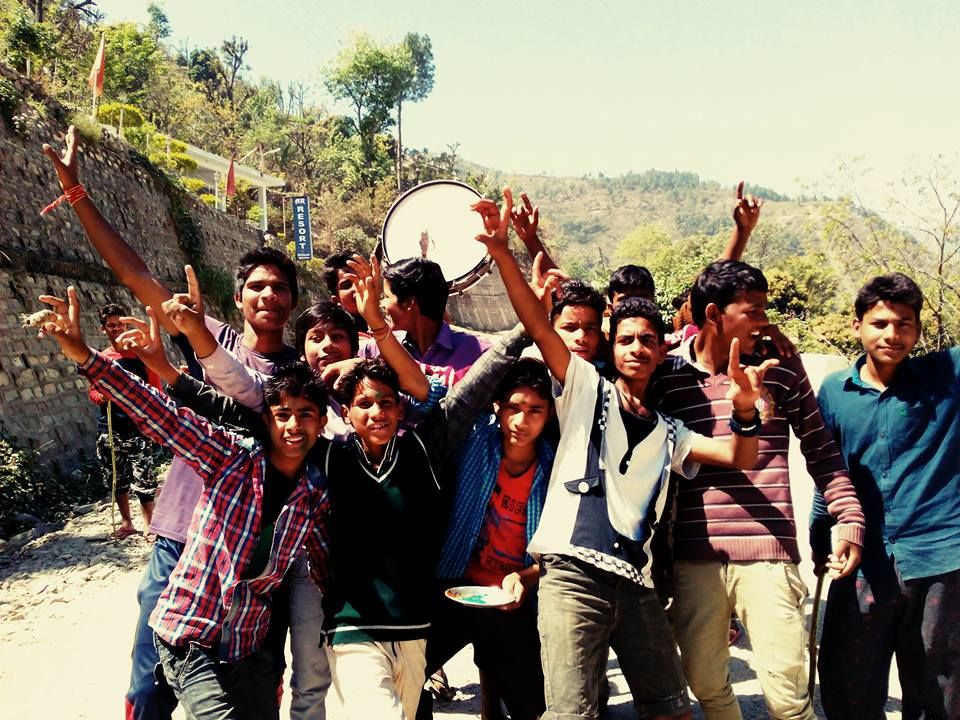 *Little that I went ahead, a group of kids stopped me. It was a prior day to Holi, and the celebrations had taken a new level of swing. This time it was a bigger group than the ones I saw earlier. And I could see the happiness in the air with the drums, colors and the shouting 'Holi Hai'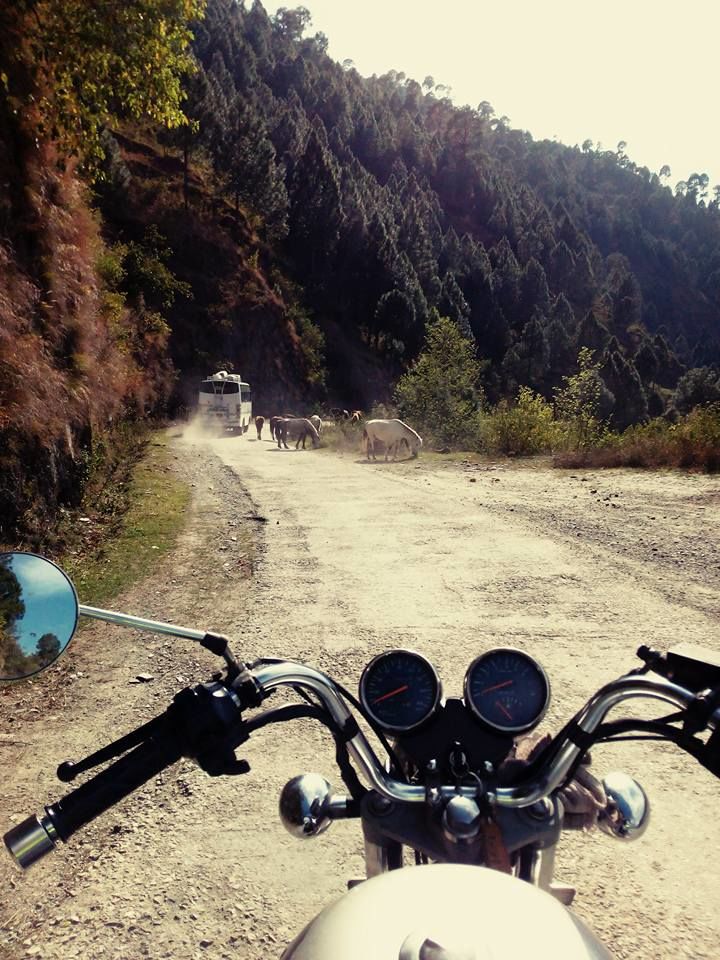 *Herd of horses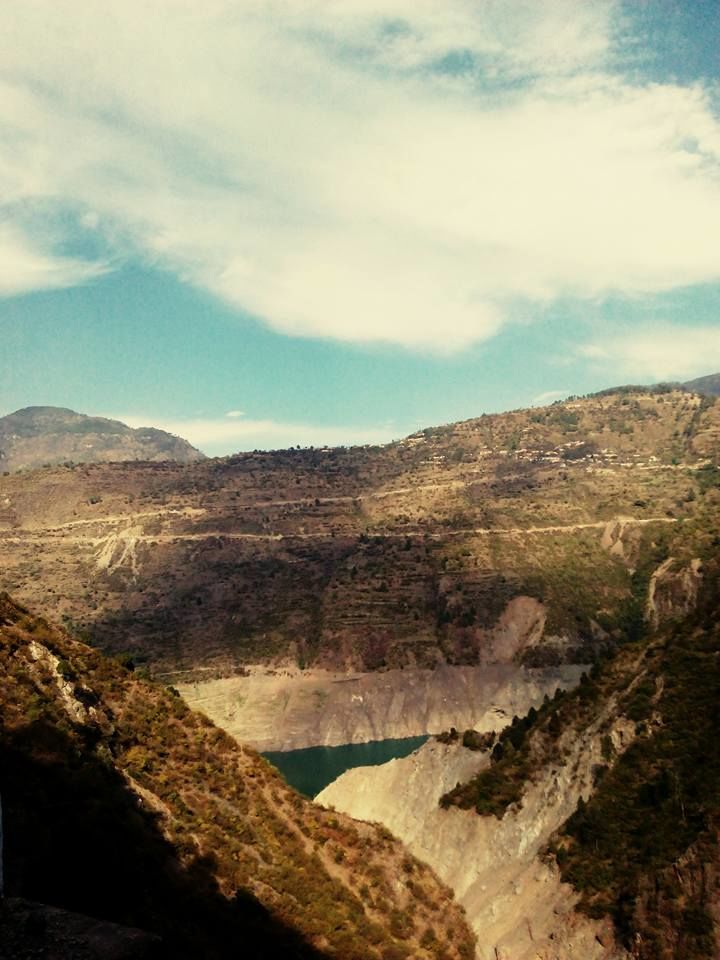 *The road to Uttarkashi was full of scenic valleys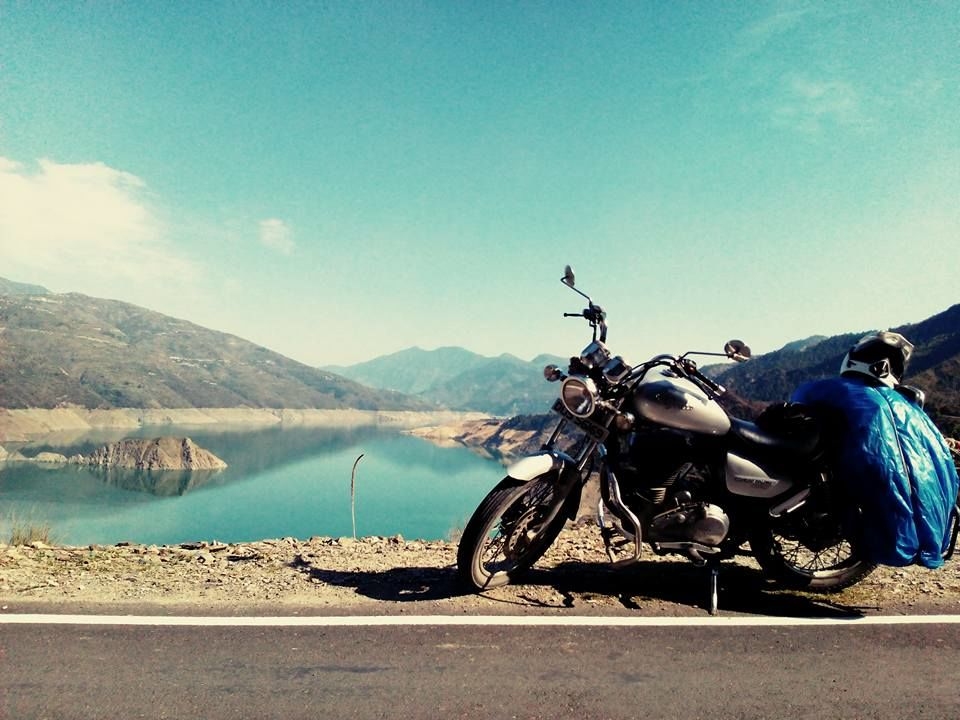 *Another picture perfect moment I guess. Should I give this picture to some contest?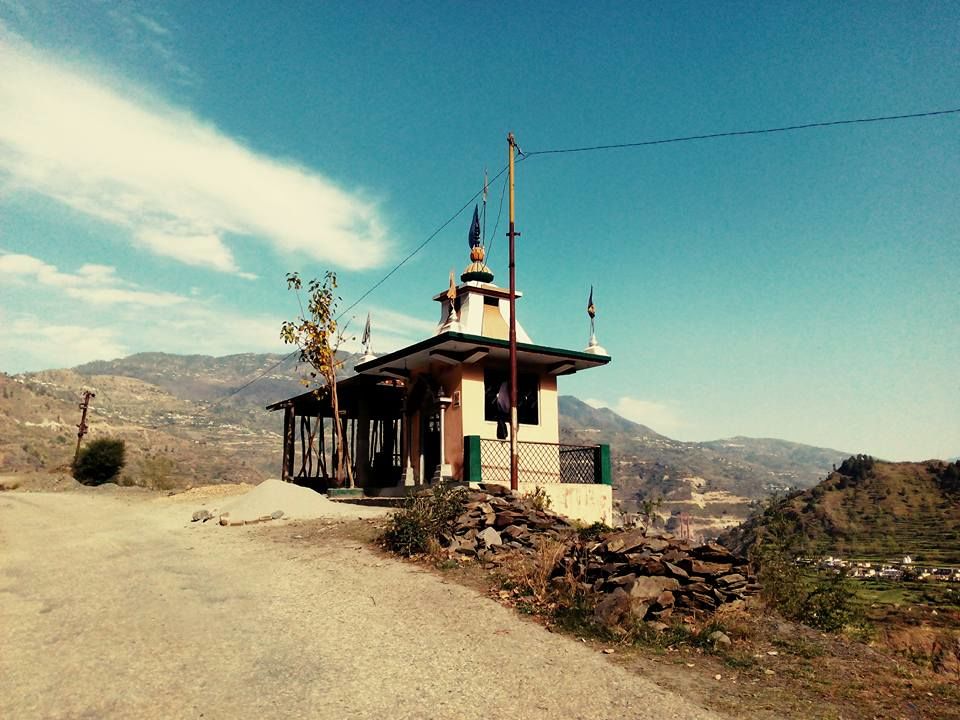 *A lone temple located on a turn. There were many like that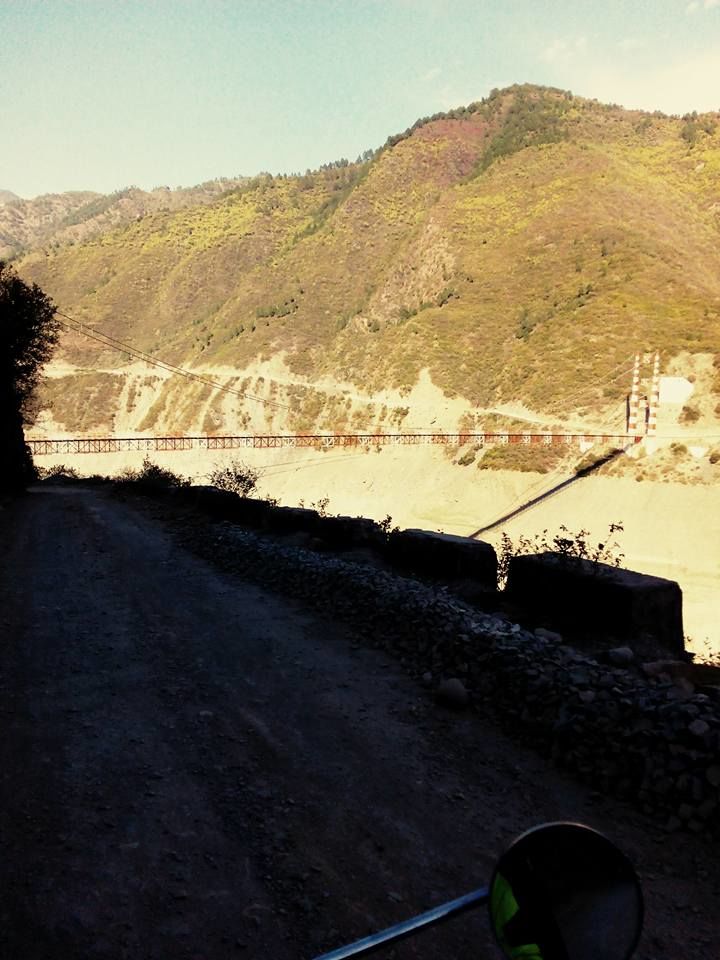 *The second bridge of my trip, and this one was bigger. Hurray! I was going to be on it in some time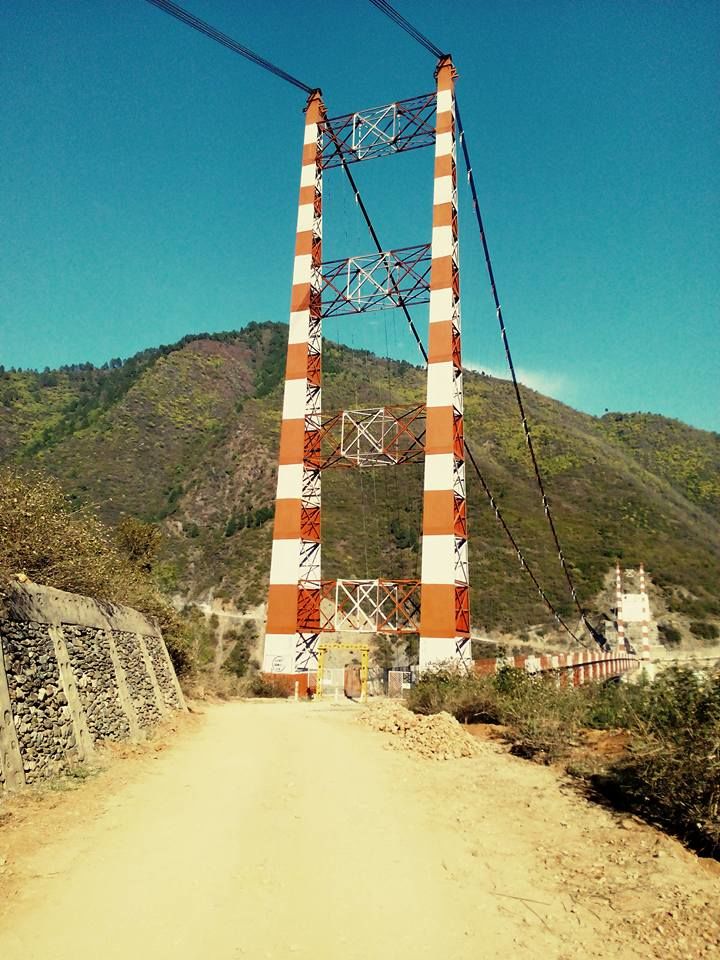 *My God! Gigantic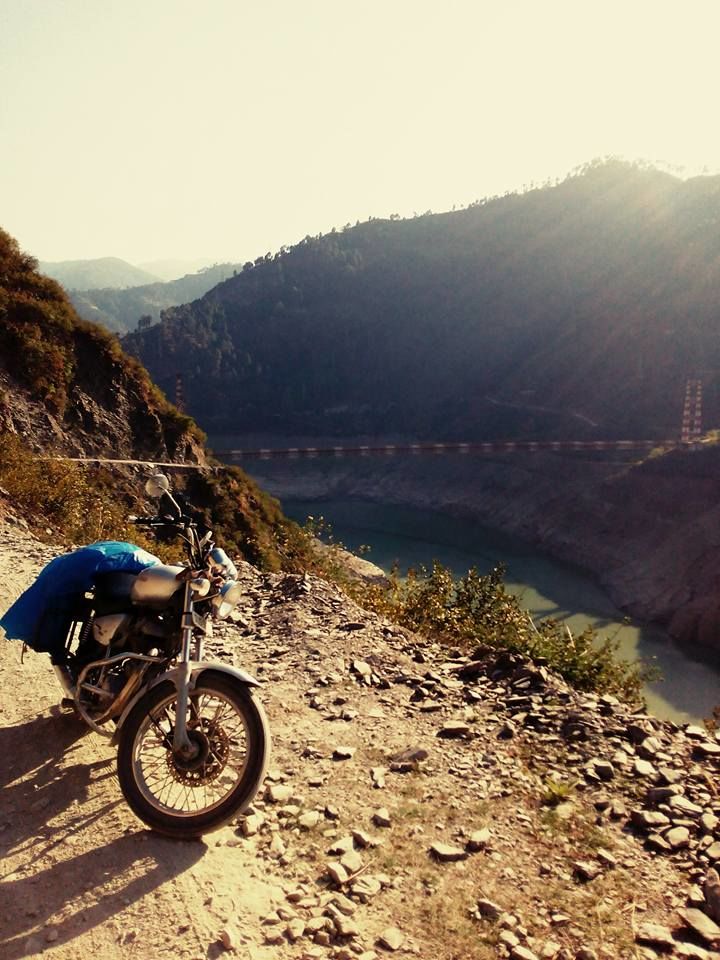 *Let me have a look at the bridge that I crossed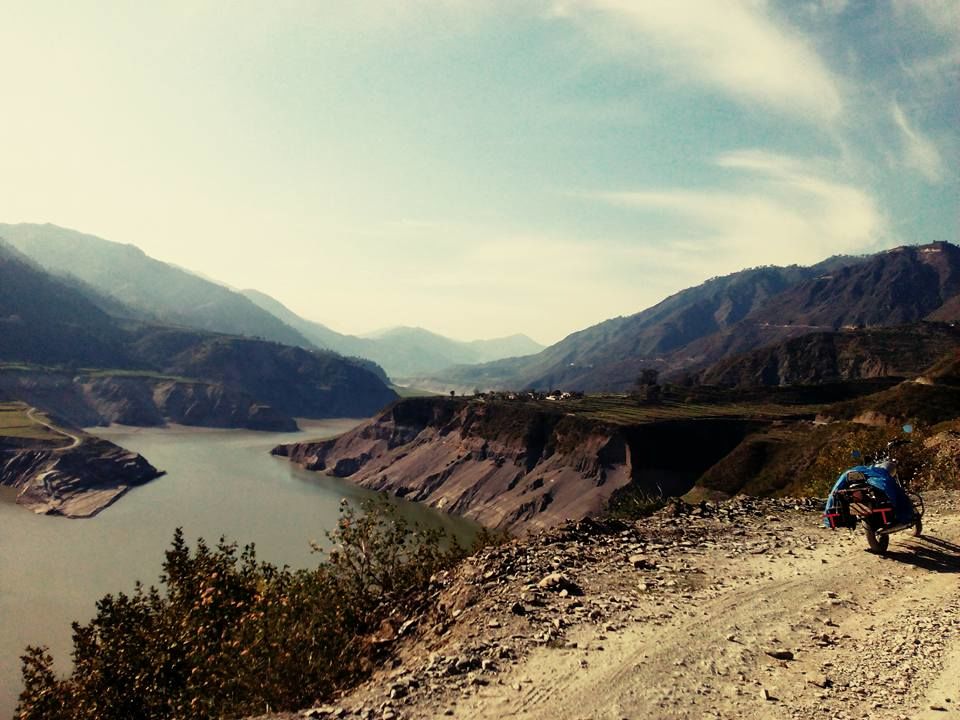 *Now that's what I call 'death by nature'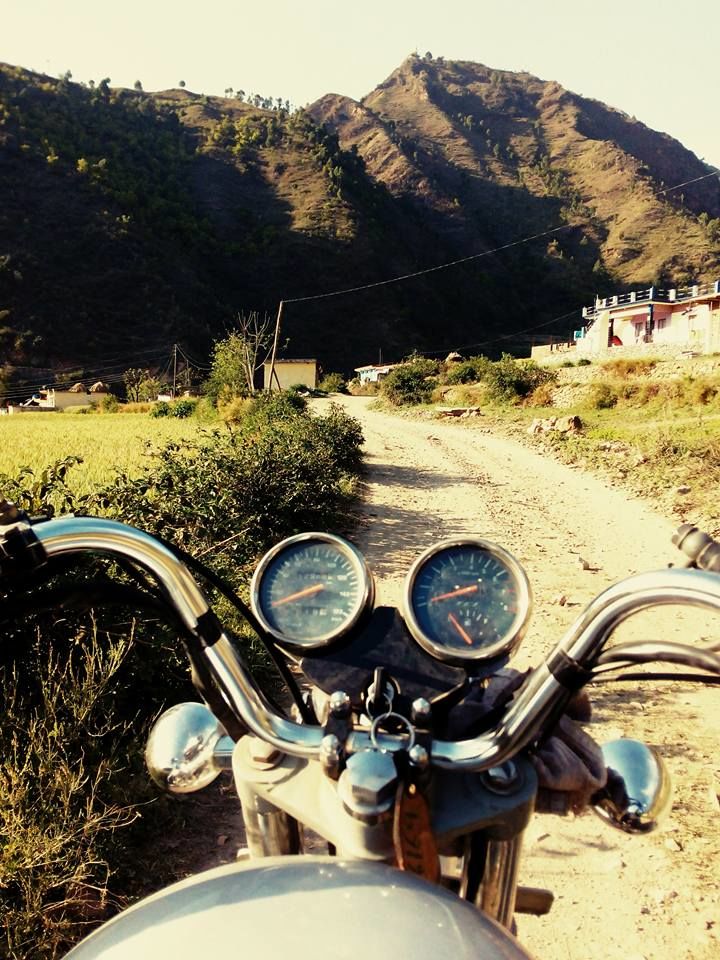 *Some village that I was crossing. Road was covered mostly by small gravel and there was slippage. This kind of road continued for very long, say about 20-30 kms, and the speed was touching not more than 10Kmph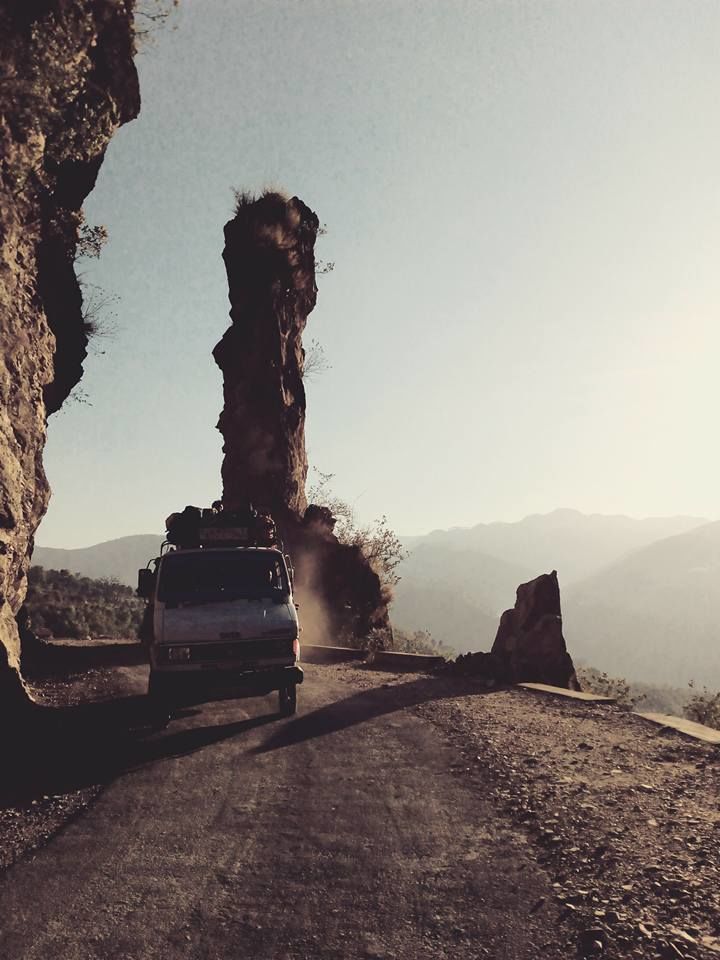 *An unusual tall rocky structure that I saw on my way. Deserved a framing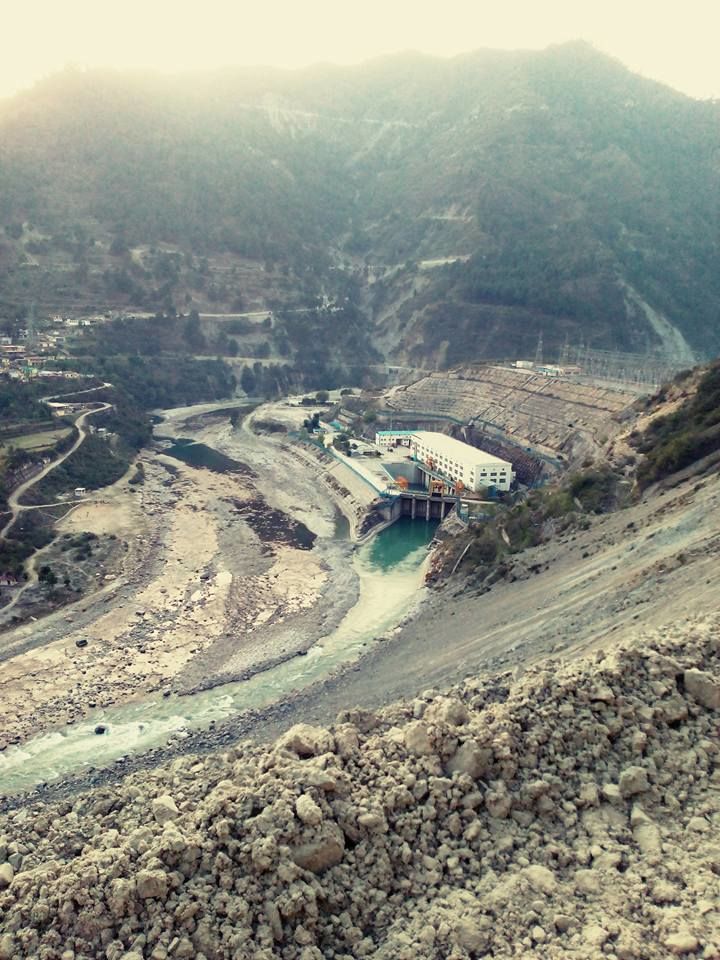 *Hydro-electric power plant at Dharsu. Enroute Uttarkashi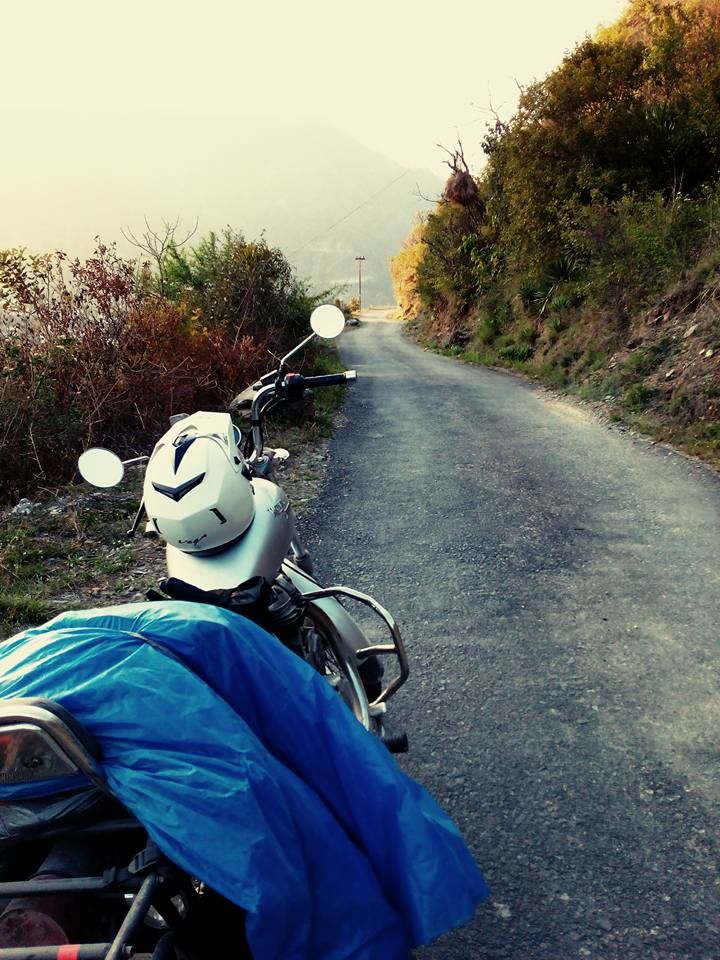 *After riding for some 3-4 hours in the ghat, I crossed Dharsu and then finally got some good road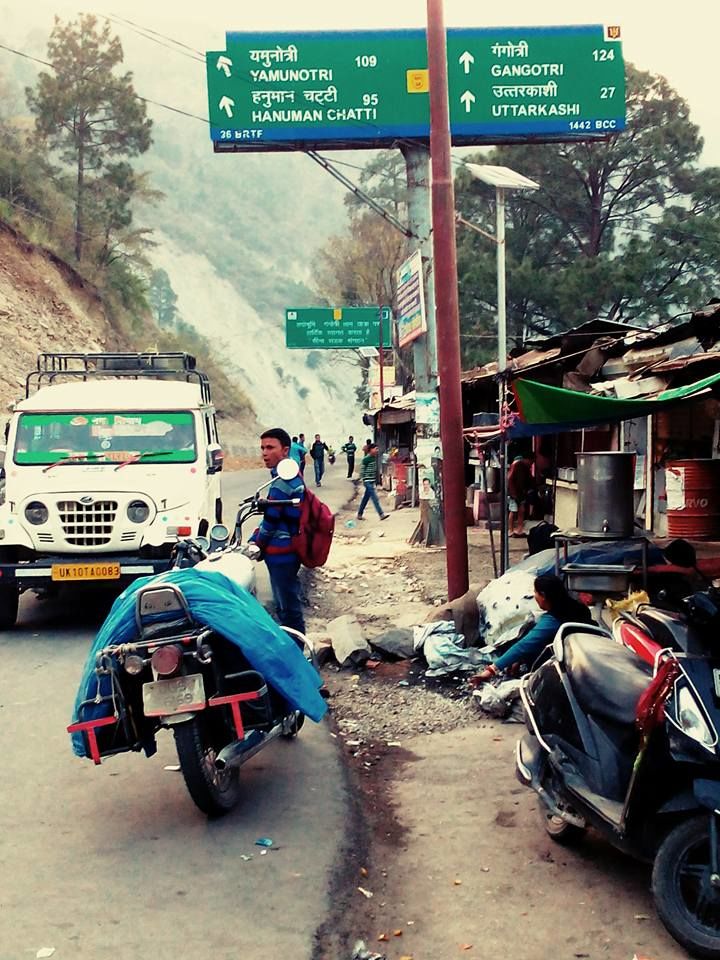 *Still more road left before Uttarkashi. It was time for some tea and pakodas. Who likes this combination? :)
And thus, with 27 kms more to cover I entered Uttarkashi in no time. Heavily populated, and lot of ruckus in the main town. It was local people, and their day to day chores supplemented by the occasion of Holi which was bringing in a certain adrenaline to the moods of the general public.
I, on the other side, as usual started on a lookout for hotel where I can drop dead for the night, and then start for Gangotri the next morning. Yup that was the plan.
I found a good homestay called 'Monal Homestays'. I was lucky to get a room there, as everything was quickly getting occupied on account of the Holi weekend. The owner was quite a lively person. His name was Deependra aka Daghu ji. He welcomed me with all the warmth in the world and gave me a decently looking room. I almost slept instantly after having my dinner. Had to wake up early next morning and leave for Gangotri under any circumstance.
But…..
Did I mention earlier at the start of this segment, things didn't work out as per plan?
Guess what could have happened?
The bike rear tyre my friends. It was dead flat.
Dammmmiiiiittttttt
Not again holy mother of god, especially when I have put a new tube.
But nae, it happened. And the icing on the cake was that nothing could be done about it, since all the shops were closed on account of Holi. Yah, it was Holi that day. Seeing my situation, Daghu ji humbly asked me to stay back at the homestay for one more day, because not only I would not find any help, I might even get splish-splashed on the road by the local people brutally.
Huh! That meant no more Gangotri for me which I was looking forward for so much. And as far as my bike was concerned, I was losing confidence on the rear tyre. I wasn't quite sure what problem was plaguing the rear tube/tyre that it went onto this puncturing spree every time. I was also unsure of its strength in coming days.
My so called plan didn't quite stick to its word and reality showed me a different face. I had no clue what would happen in coming moments. It was suspenseful and disheartening at times. I was in a fix, and…..
And, Daghu Ji invited me for a small party that he had arranged at his homestay. He asked me to forget about everything, play Holi and enjoy the day with this family and friends. He had arranged booze, snacks and called in some close friends.
As I went on with the day with all of them, I was beginning to realize that these turn of events were not a pain actually, but a blessing in disguise. I made some good friends there, interacted for hours to all the intellectuals present in house and ate some rocking food.
We played Holi, drank beer/ whiskey, prepared egg curry, dal and rice, and then finally called it a day.
I was on a sky high with all these experiences and then finally thanked god that, good that my tyre got flat. One thing I realized, there is nothing called as a 'problem'. Every problem is an opportunity in disguise.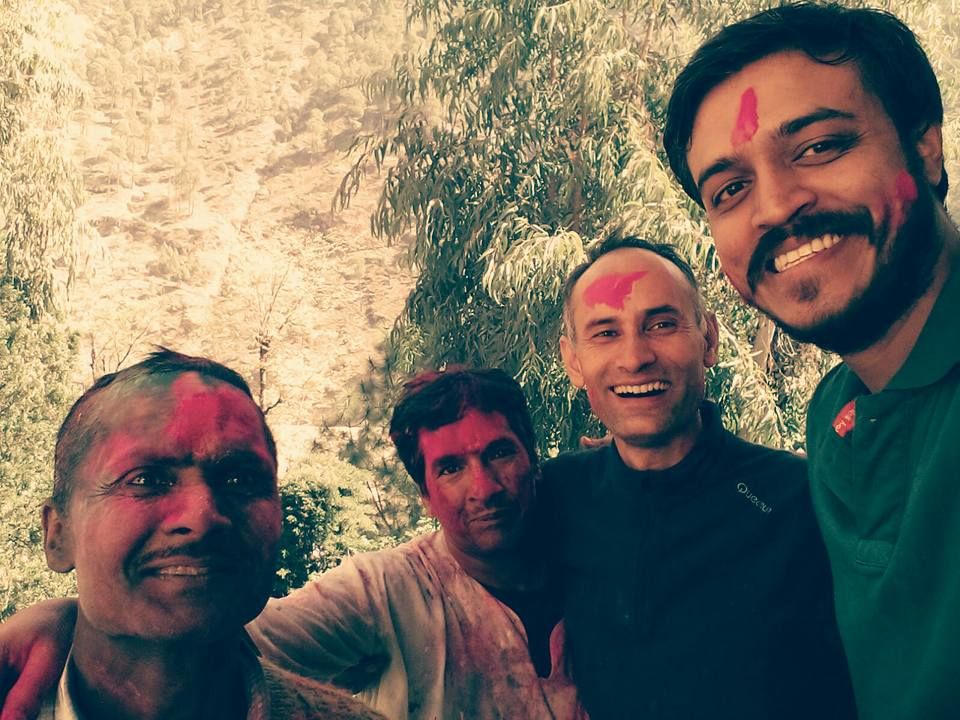 *Me on extreme right. Next to me is Daghu Ji (owner of the homestay), and next to him is Panditji. Everyone loves Panditji. True story!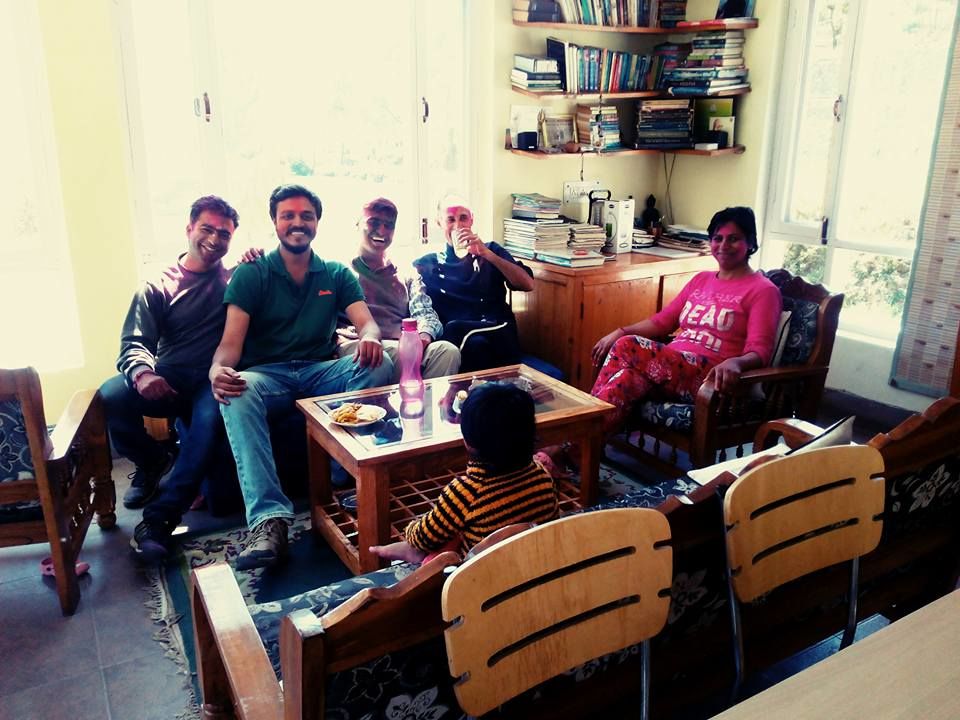 *All in one frame. Person sitting on my left is Col Banerjee who is an officer in BRO (Border Roads Organization), in charge for all the roads/bridges construction in Uttarkashi and nearby areas. Next to him is Daghu ji. Person on my right is Daghu ji's brother-in-law. The lady is Daghu Ji's wife who works with him in managing the homestay. And finally their daughter 'Auli' in orange/black stripes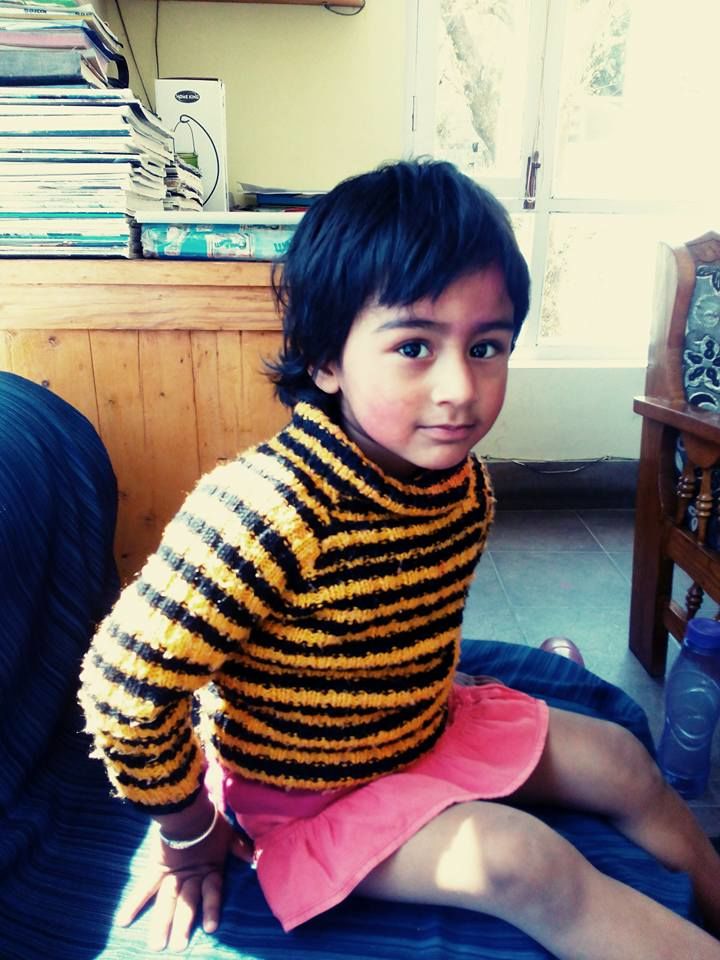 *Auli – She was a cutie and knew how to pose. Applause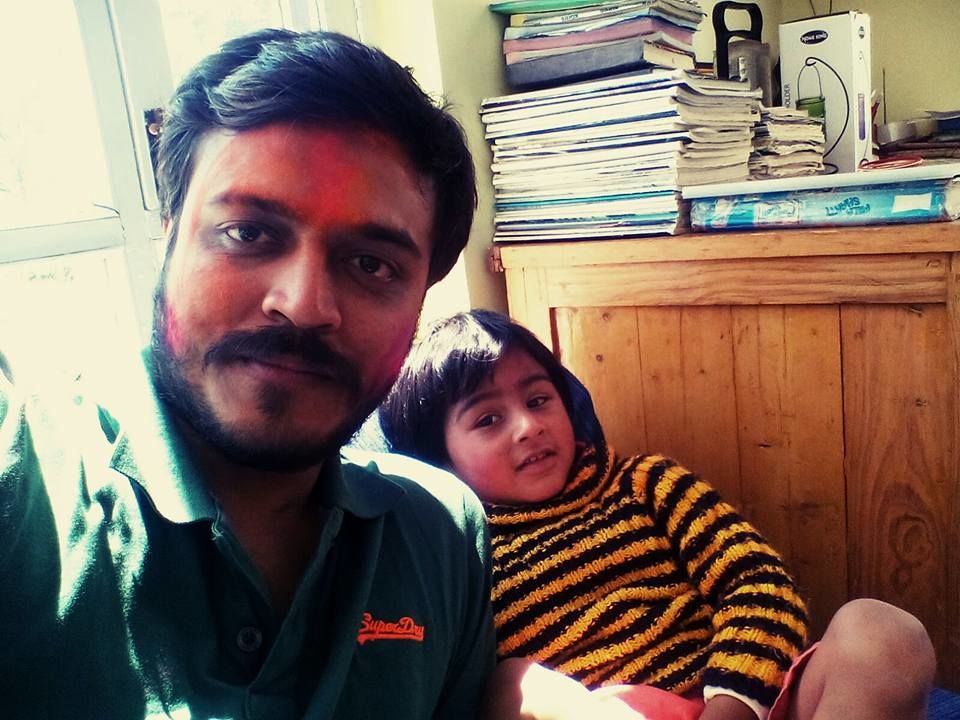 *Me with Auli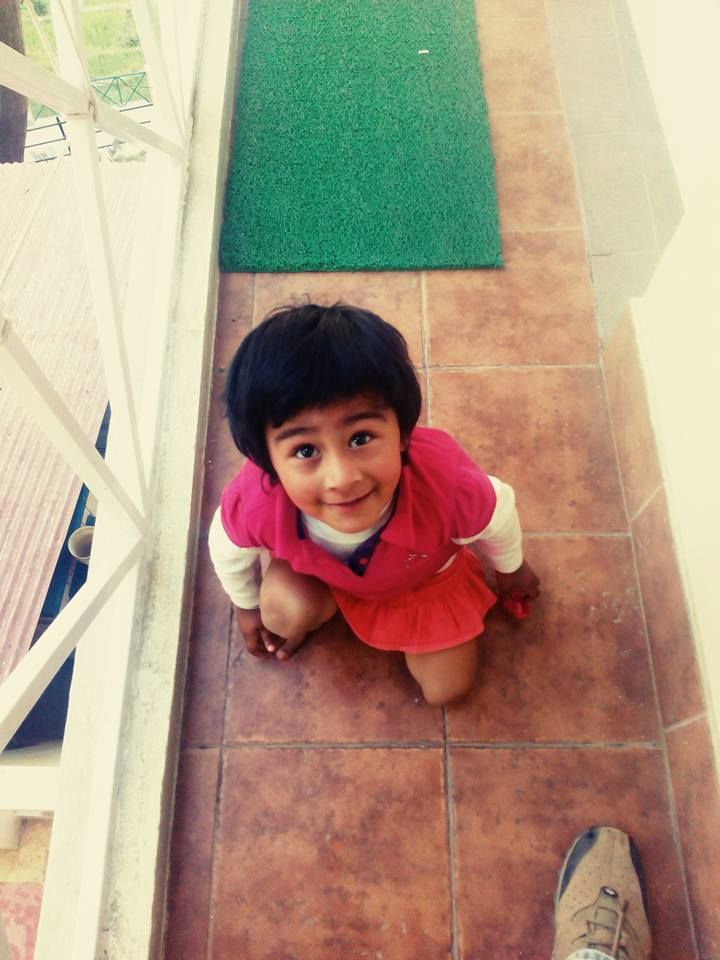 *Move Auli. I have to go to my room
****************************
Part IV (Road to Chamba, Mussoorie and Rishikesh – Last leg)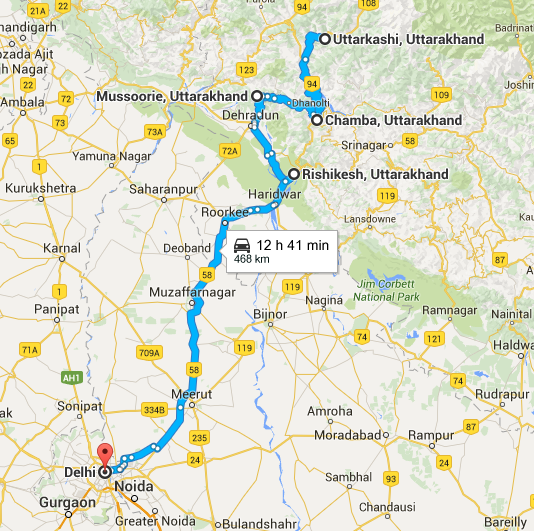 Time had come to move from Uttarkashi, and return back to Delhi via Rishikesh.
Btw, remember my friend Abhinav?
Yeah, he was also touring Uttarakhand on his bike all this while. It was 6 days up, and somehow we were not able to catch up yet. He had covered places Munsiyari, Almora, Chakori and Pitthoragarh and had a different route and I had a different one, though consistently we updated each other with our journey.
It was certainly tough to meet him, but the road was not over yet. 'Rishikesh' came to our rescue. It became our rendezvous point finally, as both of us had to cross that place to return to Delhi.
Thus my plan was to move 'straight to Rishikesh' from Uttarkashi, and meet my pal Abhinav and then carry on from there.
But….
This is the thing with me. My plans change just about randomly. While I was on my way to Rishikesh, an idea struck me as to "why not halt in Mussoorie for one night?". Mussoorie was not in my itinerary from day 1. But the moment I saw the signboard I got this idea.
Kudos to me! What a change in plan that was, because deep down I wanted to see that place, and experience the road journey.
See for yourself,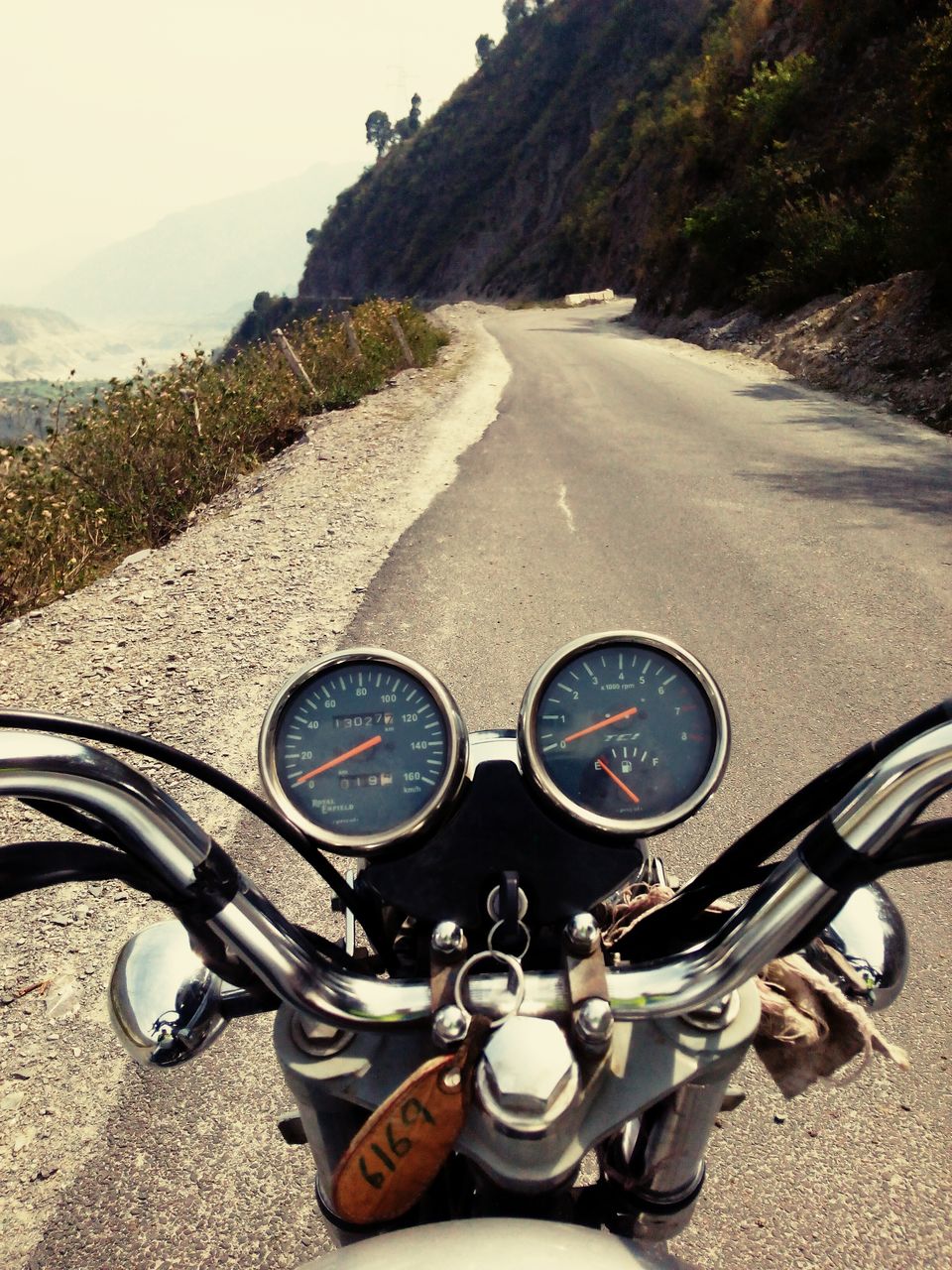 *Enroute Rishikesh. The entire route from Uttarkashi to Rishikesh was good and well maintained by BRO. Mussoorie was still not in the plan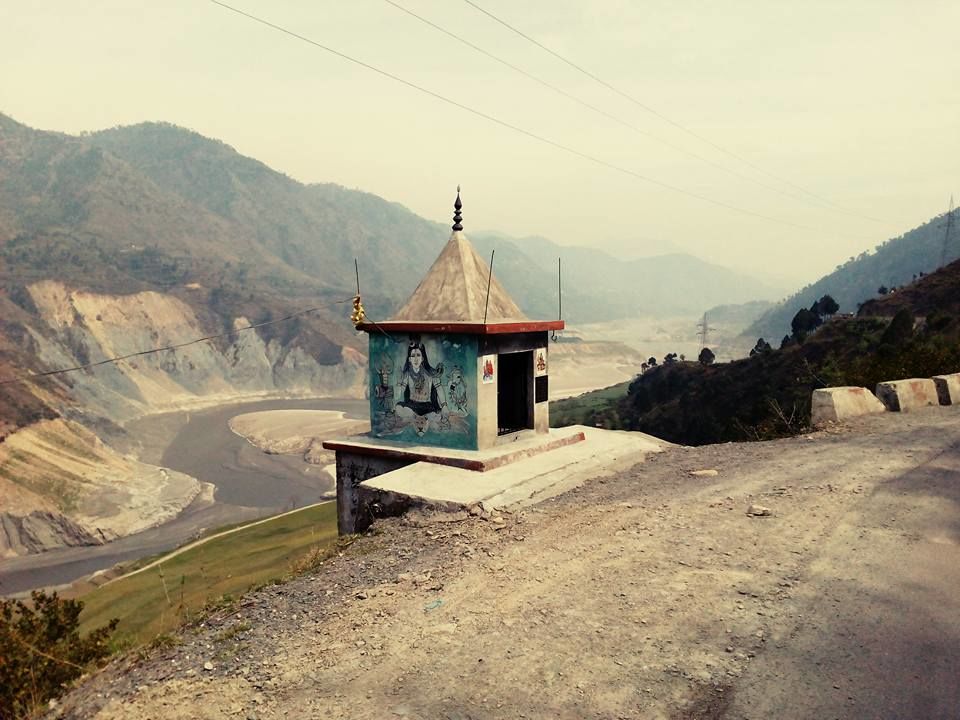 *Another small temple on the edge which just showed up out of nowhere. Uttarakhand is known for temples especially the ones in Badrinath, Kedarnath, Gangotri and Yamunotri (the chaar dham). But these small roadside temples are even better. Simple, elegant and peaceful. Maybe this is the reason, why there is so much spiritual vibe in Uttarakhand and then the place is popularly called 'Dev Bhoomi' (land of gods)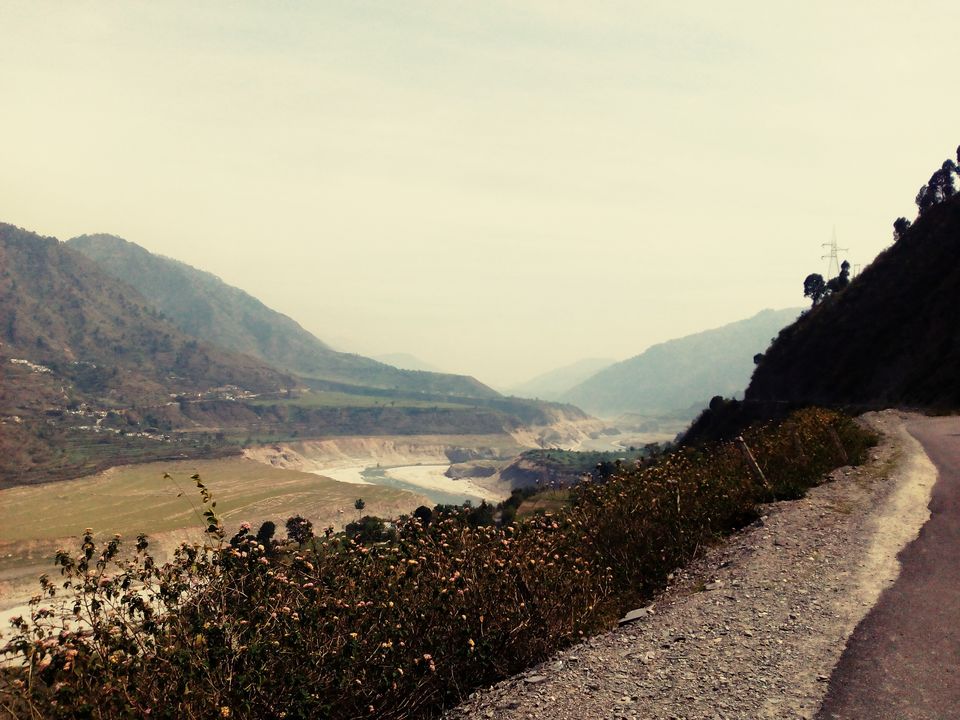 *By this time, such scenes had become an integral part of me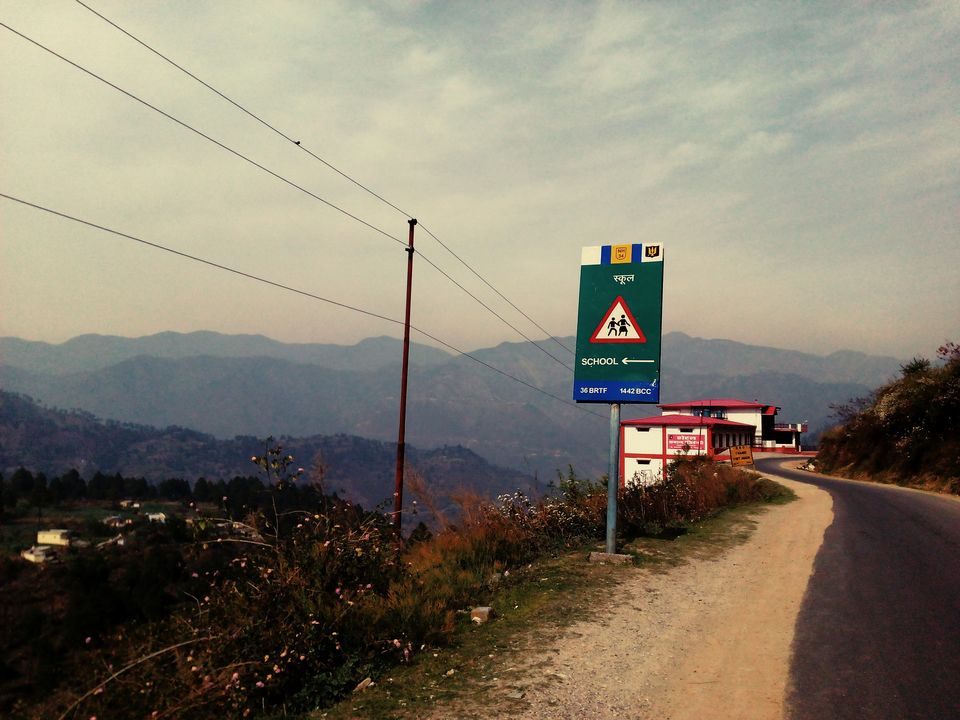 *Crossing Chamba. Yes this place does have a school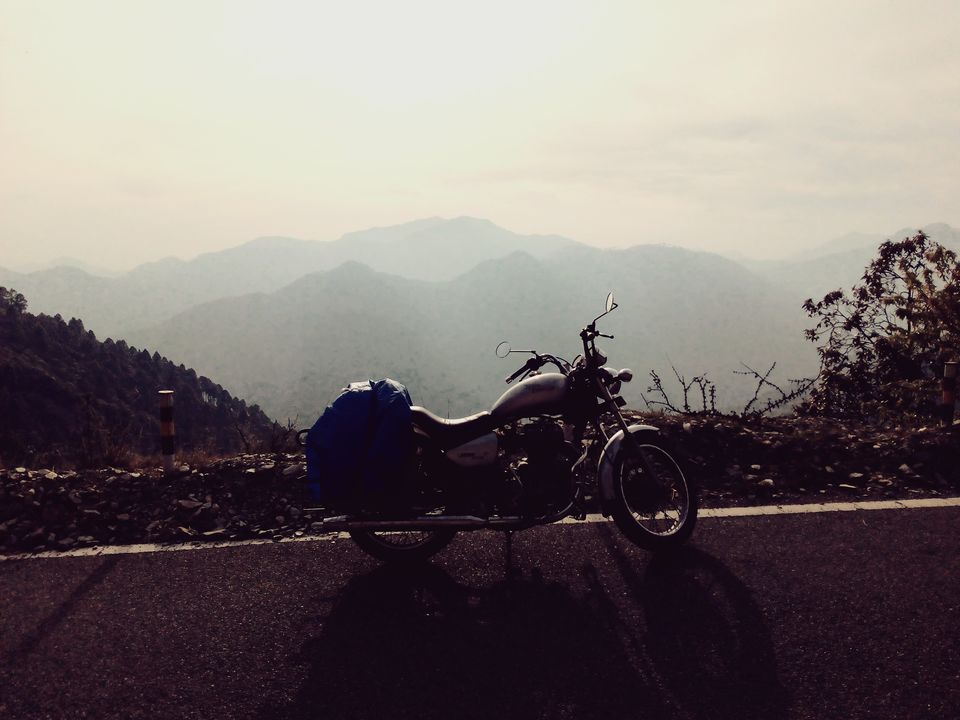 *@Chamba – Bike parked and me getting stunned by looking at those distant hills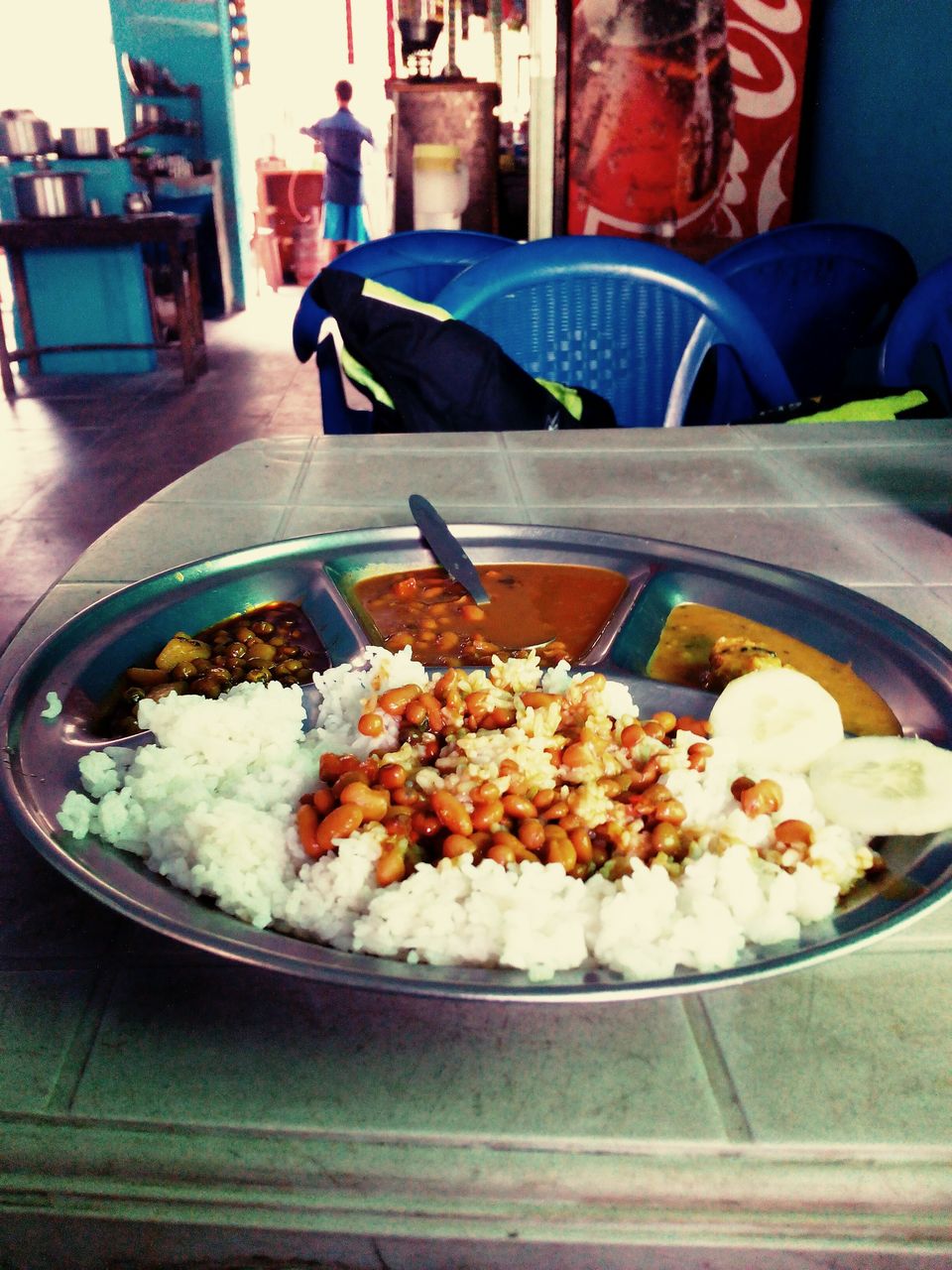 *Lunch time @Chamba. Had found a Dhaba on the roadside. Nothing like daal (pulses), chawal (rice), aalu muttor (potato/peas) and rajma all cooked up in local spices. This is a typical Indian cuisine that any Indian can die for. Word!
By this time, I had decided that I will move towards Mussoorie and Dehradun. And that is exactly what I did.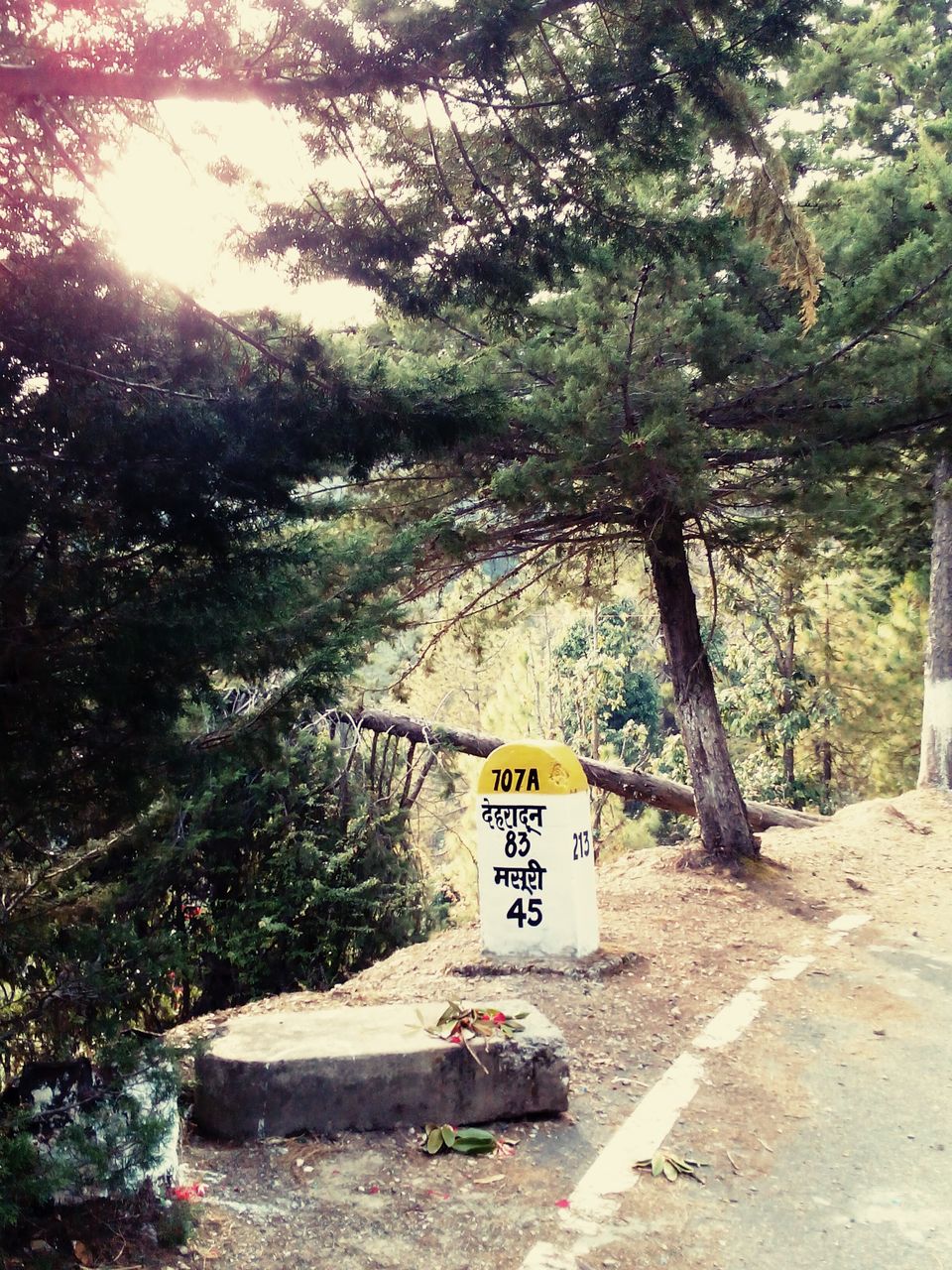 *Yea yea. I am coming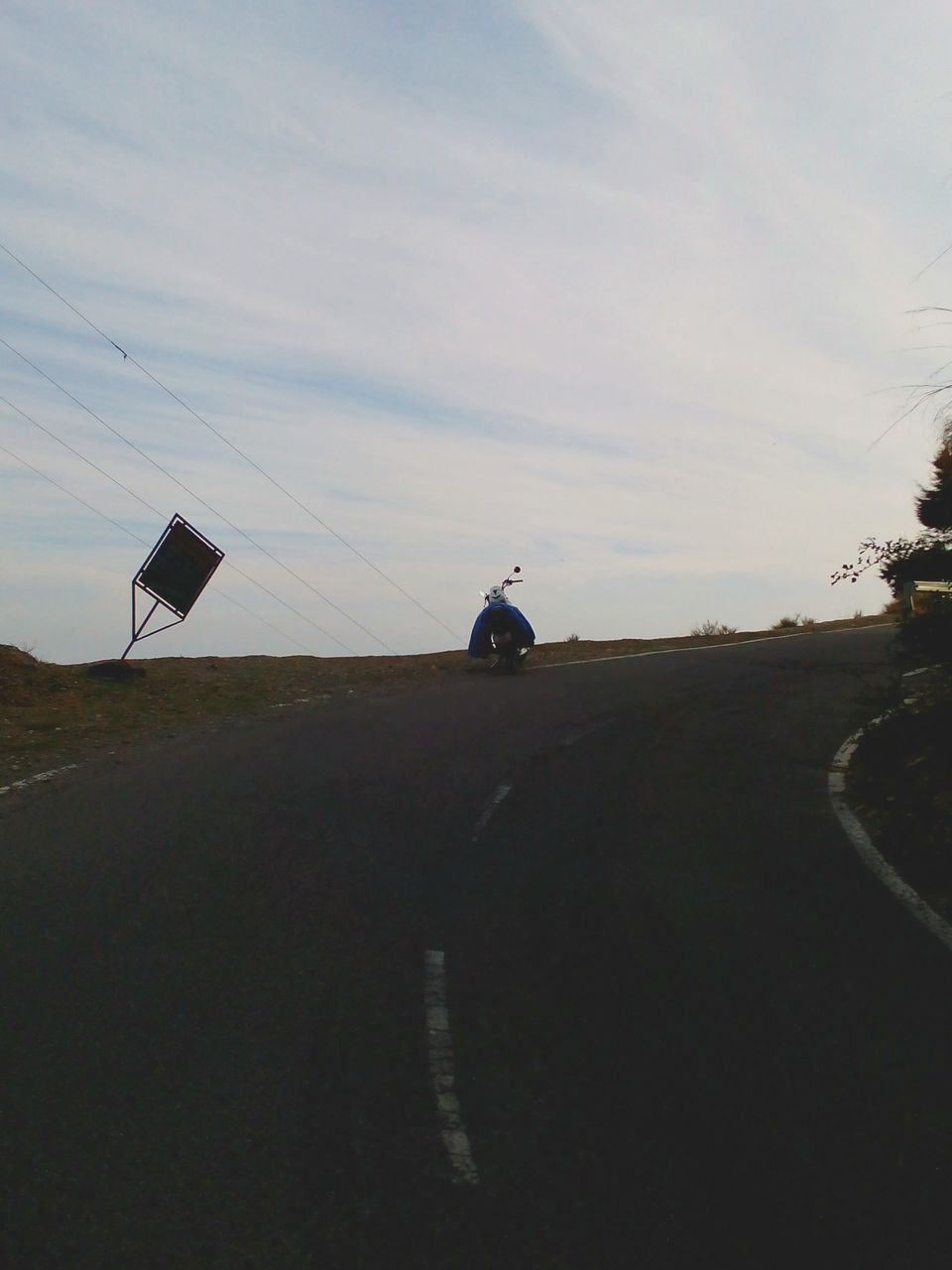 *Enroute Mussoorie. Abundance of sky at this turn. The road to Mussoorie from Chamba is extremely well maintained and lot of scenic encounters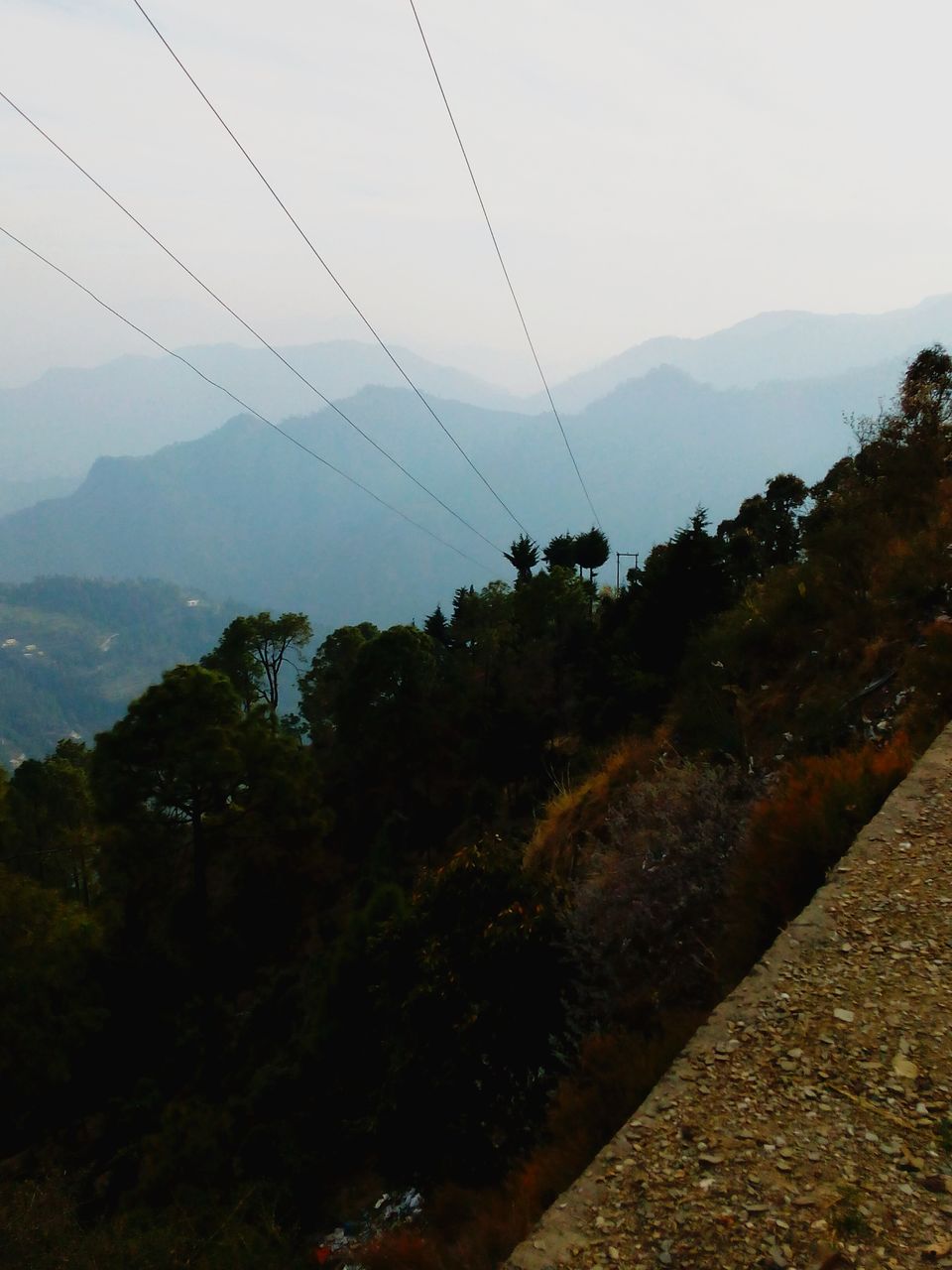 *I am not kidding guys. There were lot of scenic encounters. And unbelievably real!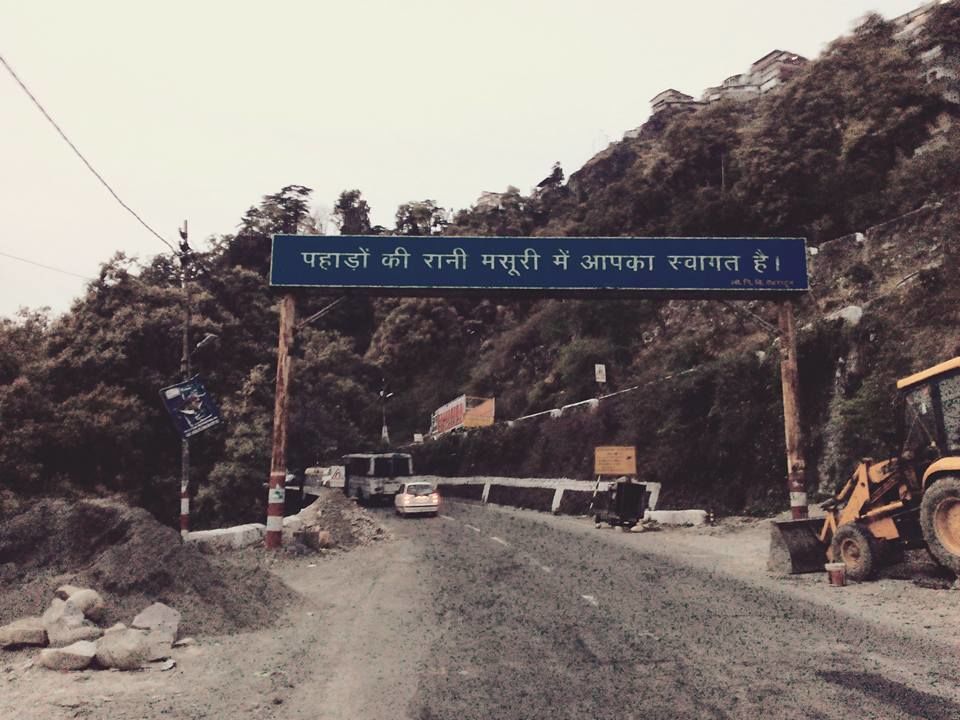 *English Translation – "The queen of mountains Mussoorie welcomes you". Indeed this place is the queen. I got the feel of it, when I reached there. The coldest out of all the hill stations that I crossed, and the most scenic. It was getting dark by the time I was in Mussoorie and the feeling was tremendous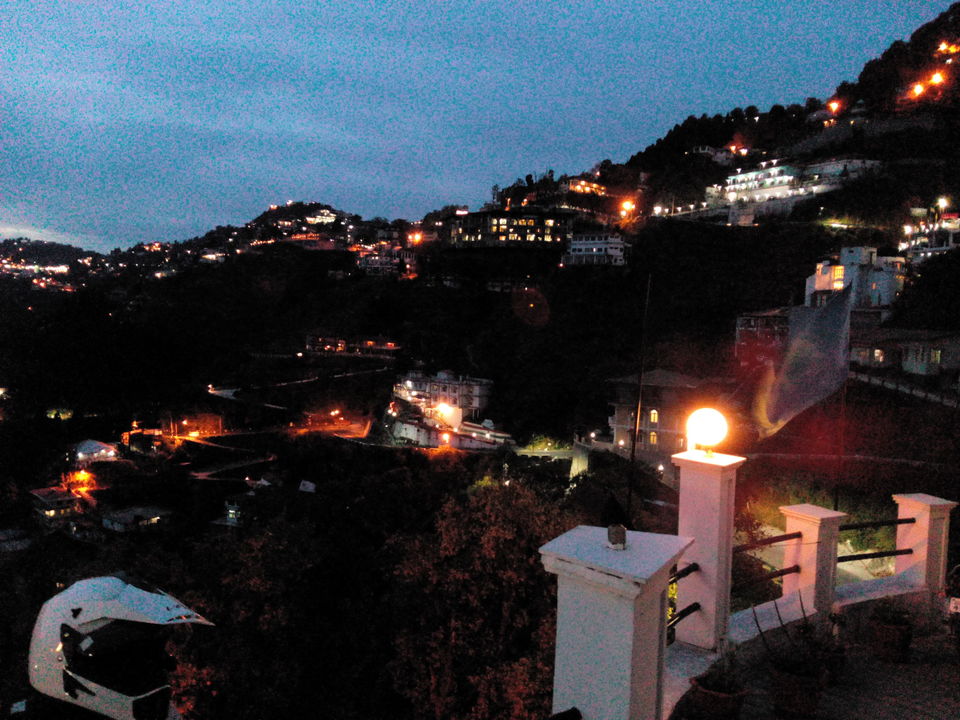 *I had found a hotel where I unloaded myself. And then went out for a walk. It was around 8 pm and I was not believing my eyes of what I was seeing. The whole town was lit like a chandelier. And it was a big chandelier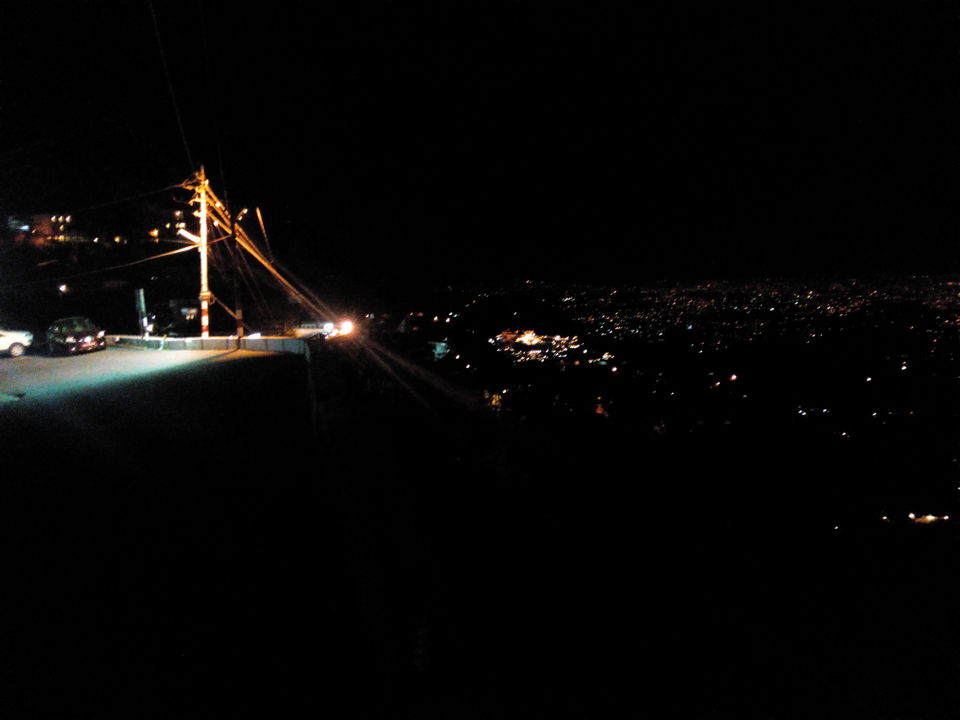 *The tiny shimmering lights at the background! That's Dehradun. Beautiful view to look at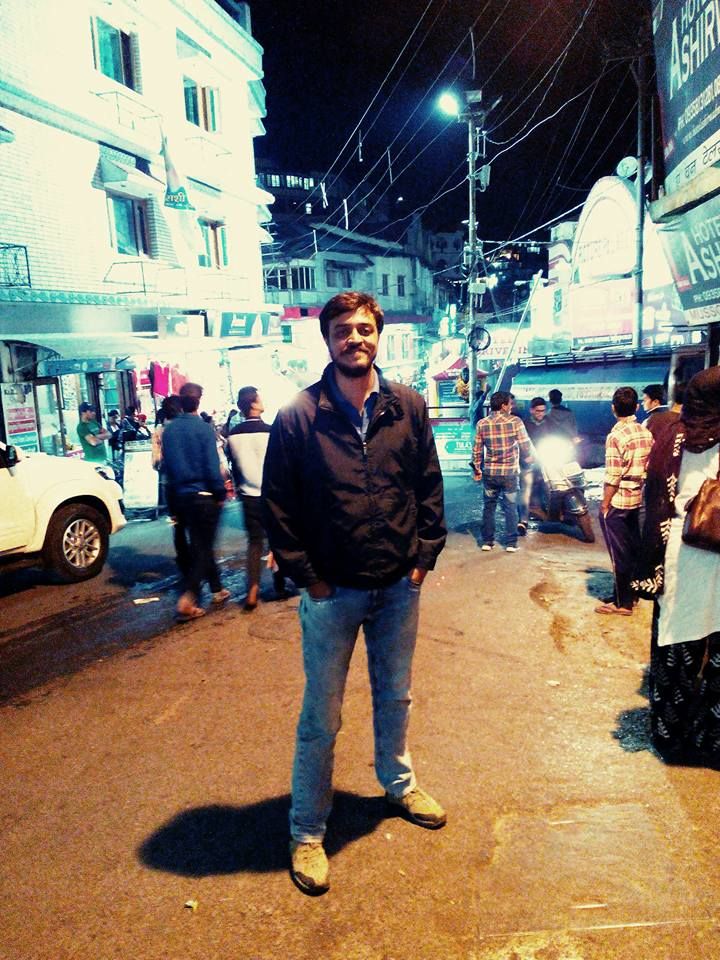 *Mall Road at Mussoorie. The busiest and the most happening place with respect to market, people and food. And yeah, that would be me posing
That night I tried to see the entire length and breadth of Mussoorie as I walked and walked for long. The cold was entertaining, and the traffic jams were indicating the popularity of the place. Everybody had come there on the Holi weekend, and I had a time of my life looking at the festive chores.
Later at night, I went to the hotel, ate my food and then slept. Next morning I had to leave for Rishikesh and see my friend Abhinav which was a long due endeavour.
And as planned, next morning arrived and I was all set.
The road to Rishikesh was very busy, as I had to cross Dehradun. Another typical Indian city with lot of cars, bikes and people. Malls, restaurants and traffic ruled the place during day time. But having said that, I had a good time riding on the roads of Doon (short form of Dehradun), since the place happens to be my birth place J
Unfortunately I couldn't click many pictures of this route, since I was cruising fast to Rishikesh. Was excited to meet my friend as well.
And well well well ……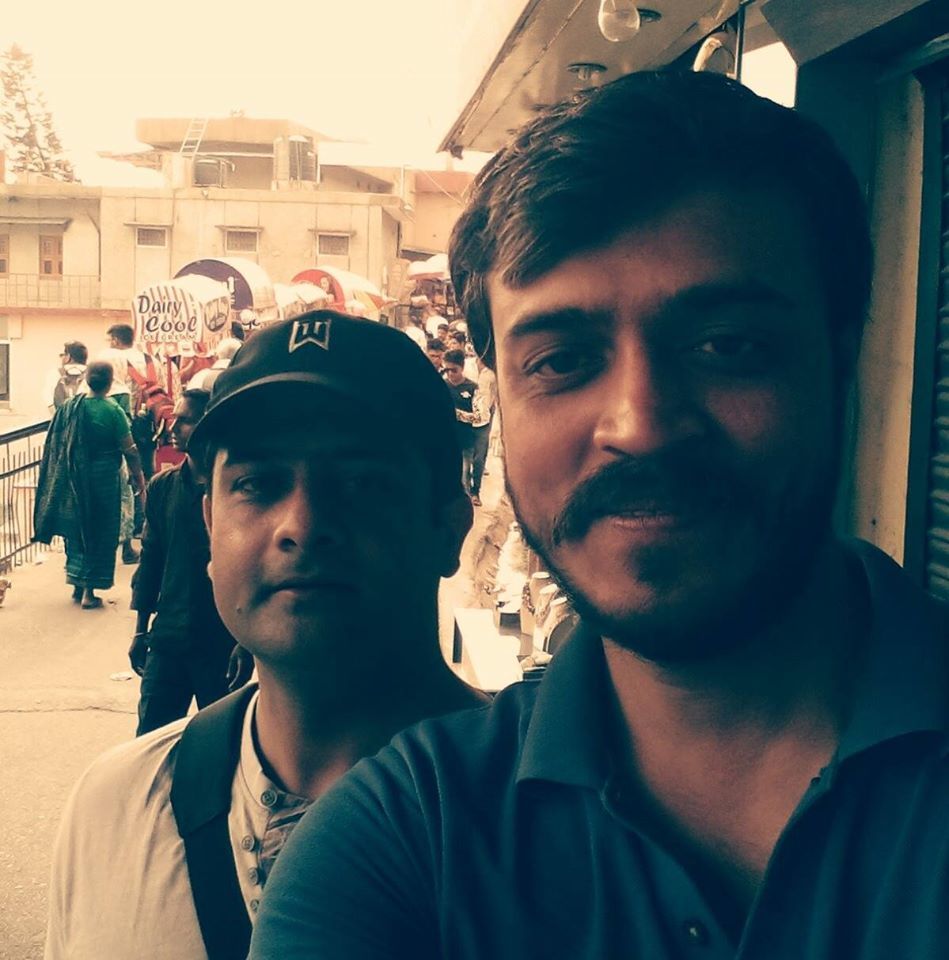 *Showdown at Rishikesh. Finally met my pal Abhinav. Met him after some 8 years I believe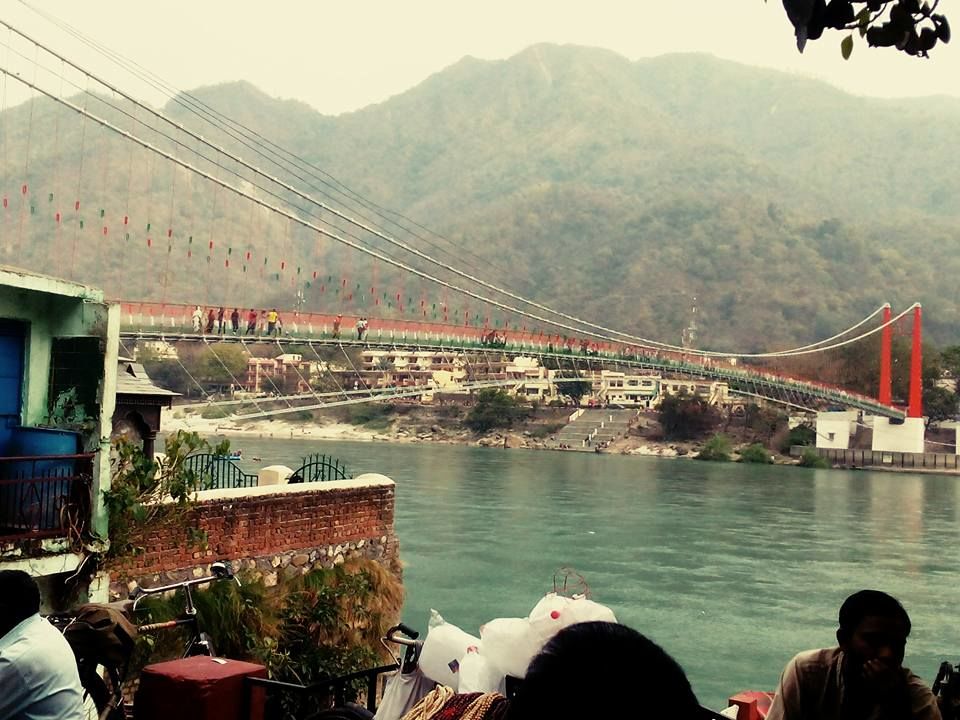 *The world famous Ram Jhoola at Rishikesh. The place was heavily crowded by locals and tourists who had come there to enjoy river Ganga, check out temples/pay homage, and then of course enjoy some local food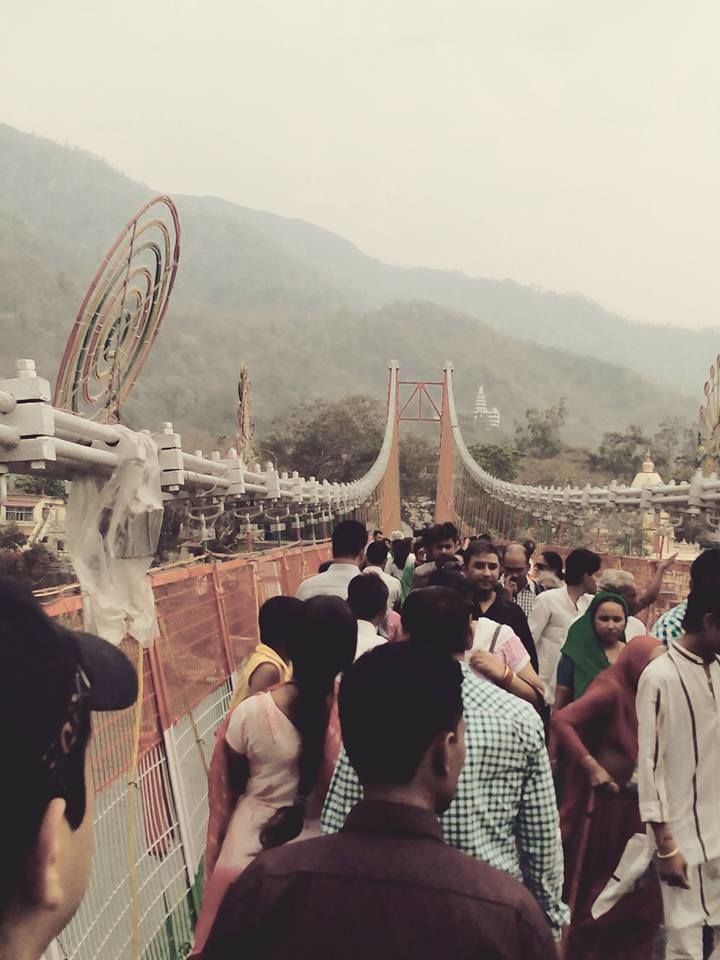 *Ram Jhoola. It was shaking with all the people walking fast, but way above risk thresholds I guess. The load capacity was far too high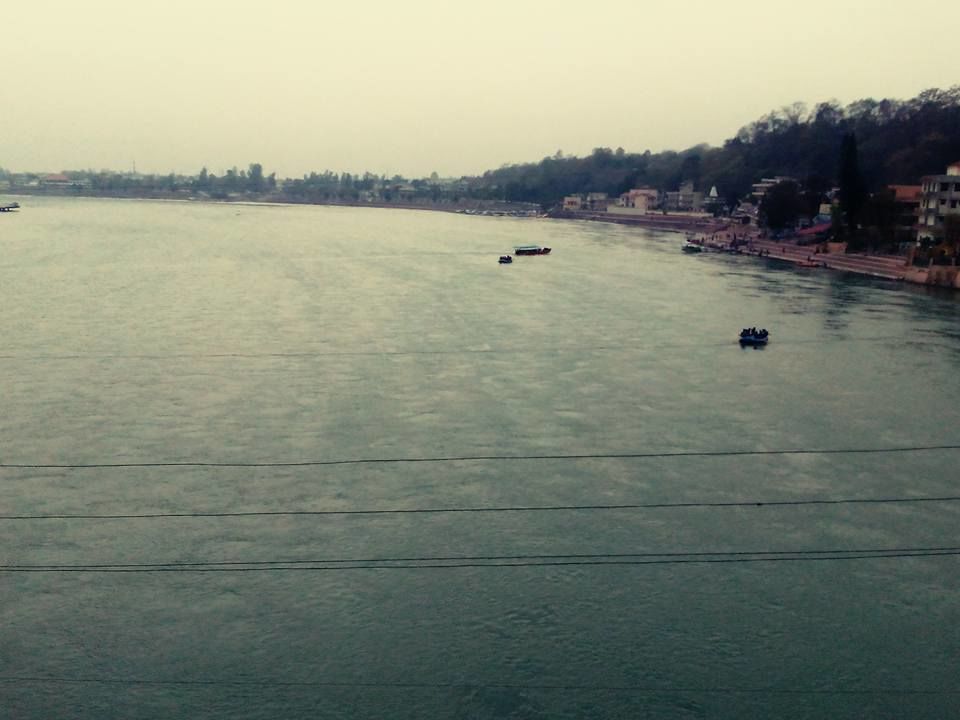 *Shot of River Ganga from Ram Jhoola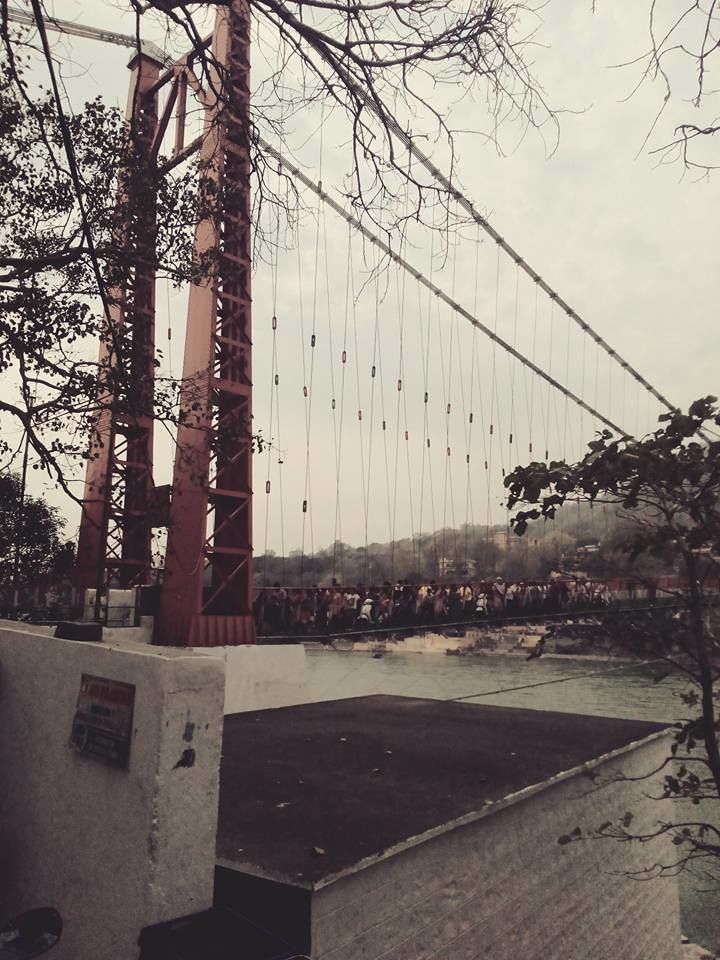 *People and two wheelers jammed up at Ram Jhoola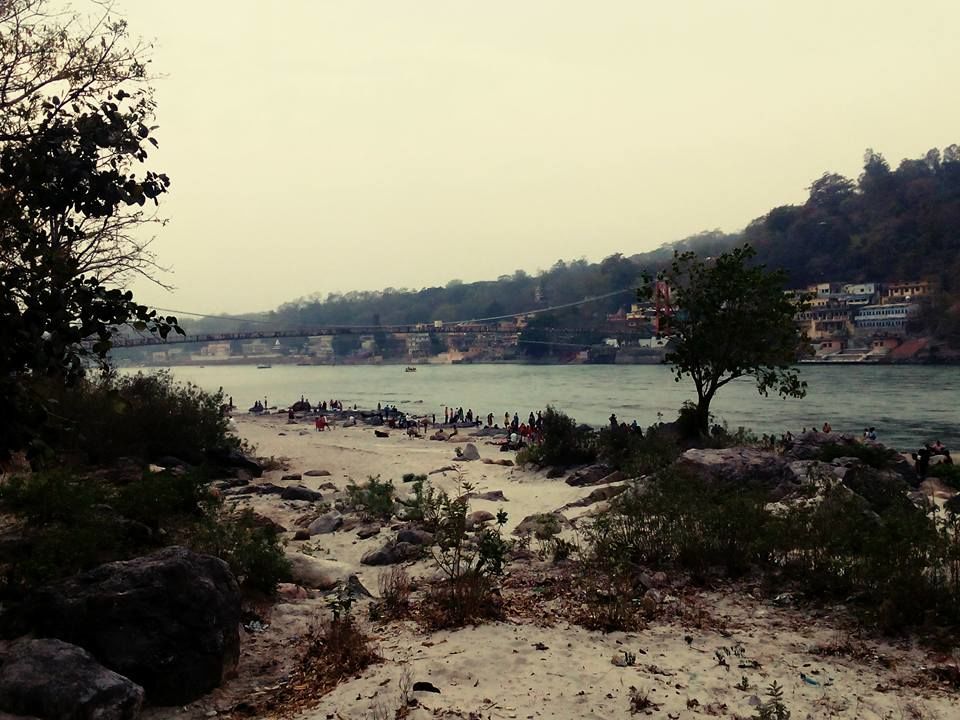 *River Ganga and the shore. We crossed the Ram Jhoola and came on the other side. We had to go to Little Buddha Café near Laxman Jhoola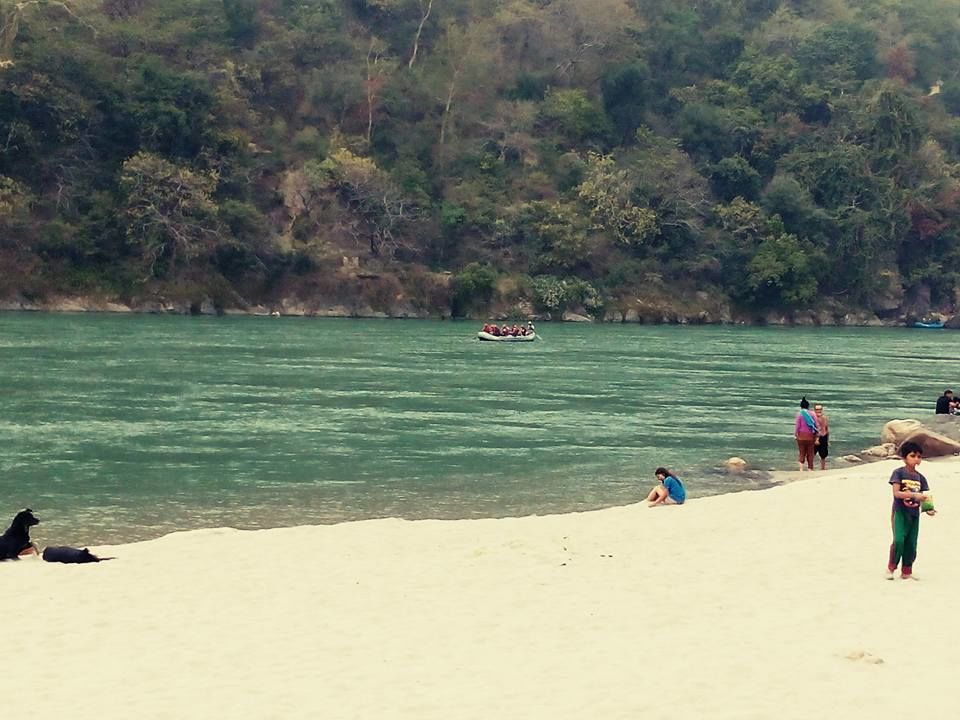 *But first some closer look at the Ganga. People were seen doing lot of activities like bathing, relaxing at the shore and of course the must do, 'river rafting'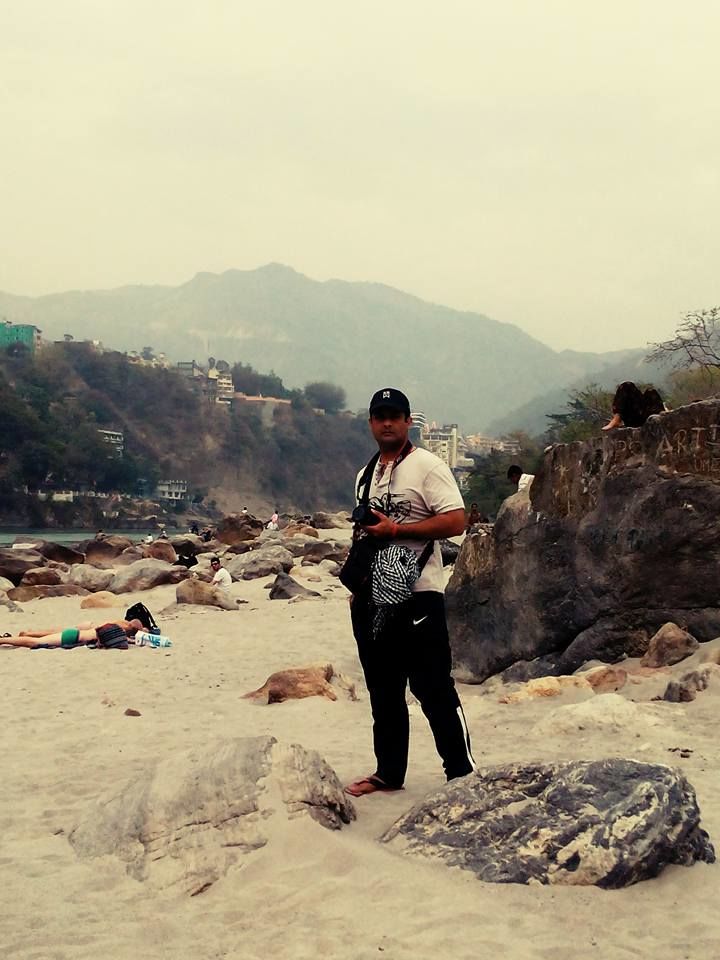 *Abhinav striking a pose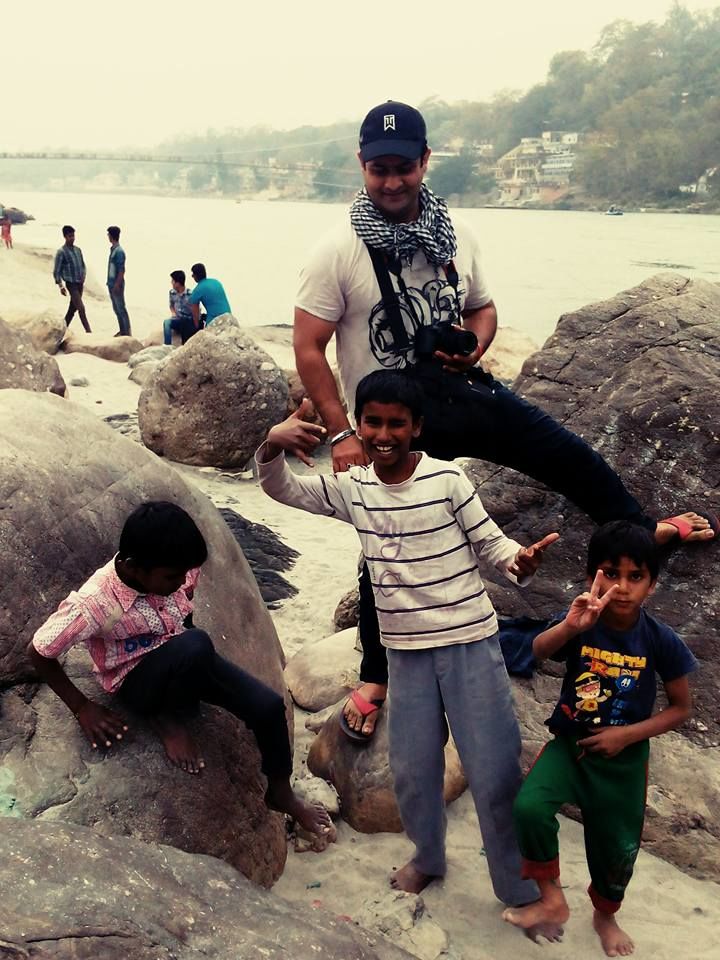 *Swaggers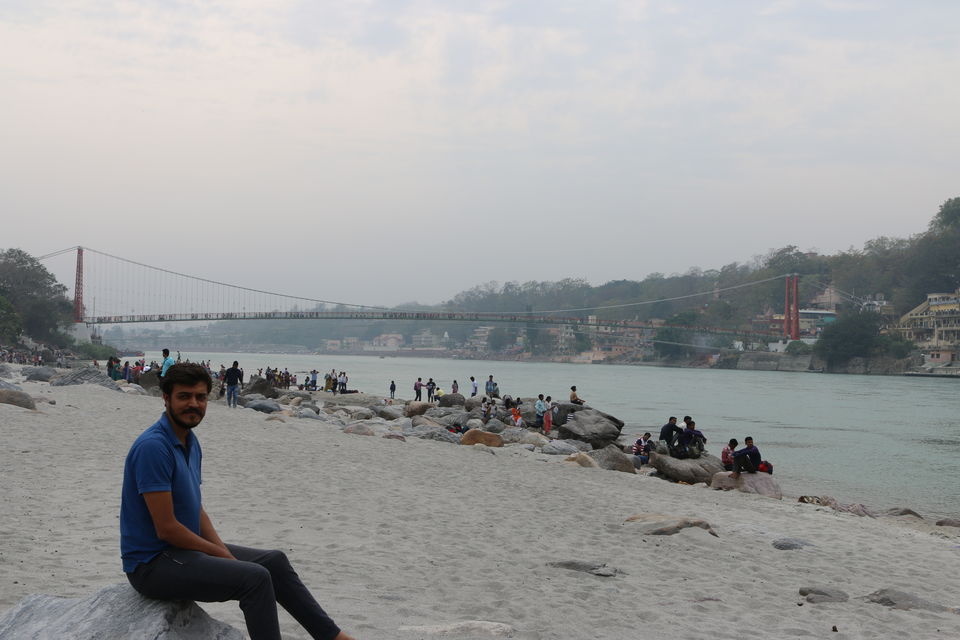 *Me relaxing at the Ganga shore
After some photography at the river, we reached to Little Buddha Café to quench our thirst and hunger. Little Buddha café is a very popular eating joint near Laxman Jhoola, and adorns great interiors and foreign crowd. That area is filled with foreigners who come and stay there for months starting from January, The reason is to seek some spiritual enrichment by listening to our gurus and joining some Yoga or meditation centers. But mostly, to come and mix with people from different cultures and ethnicities.
So we walked and finally reached Little Buddha Café.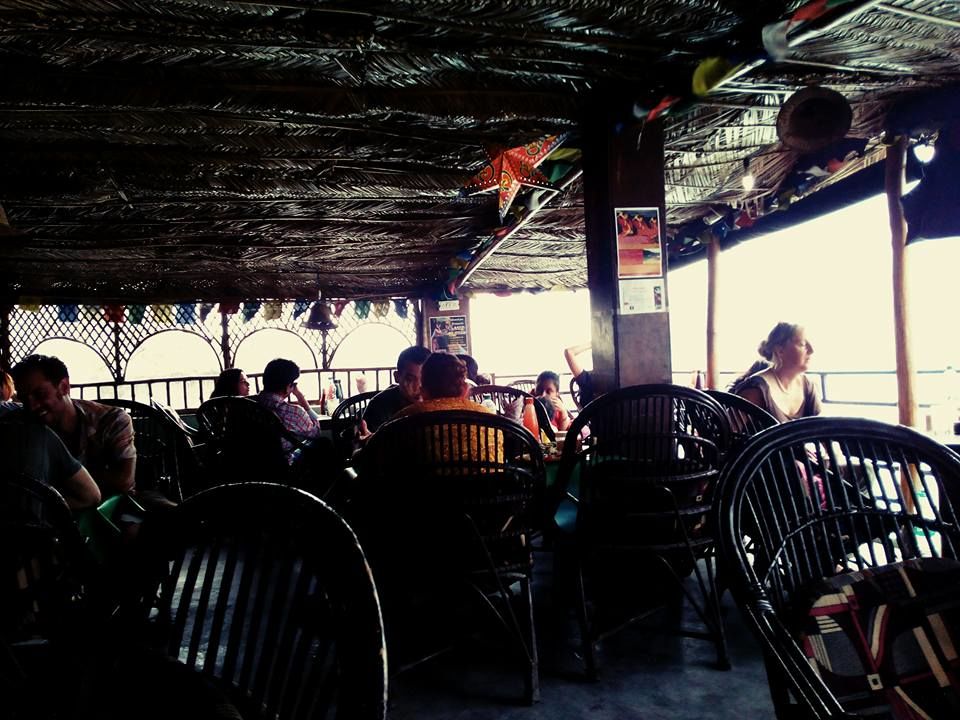 *Little Buddha Café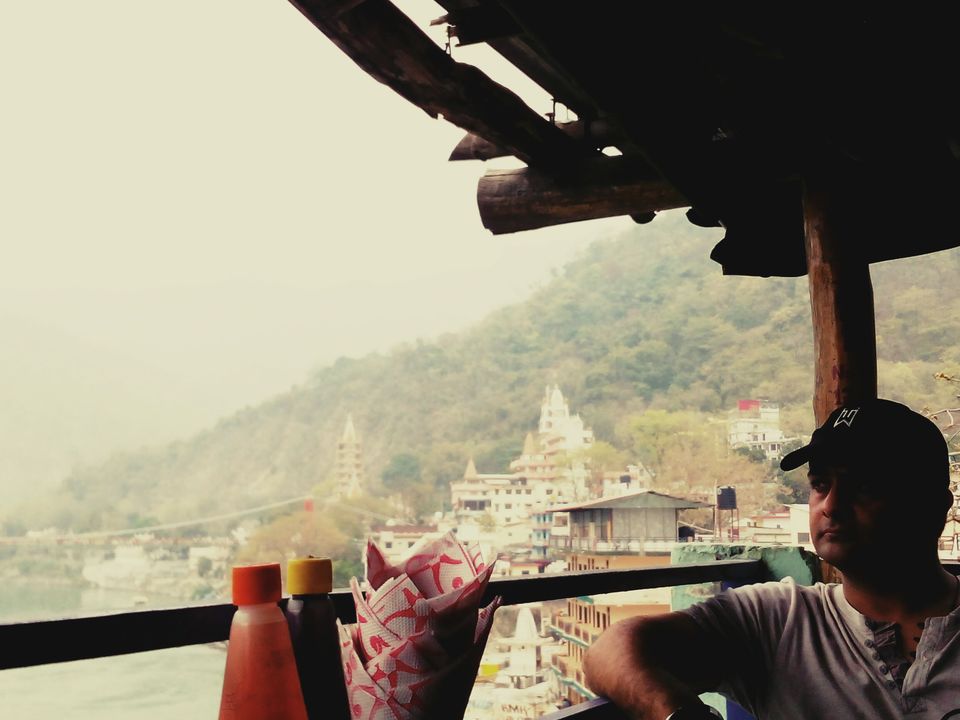 *That's Abhinav. We got balcony seats after much effort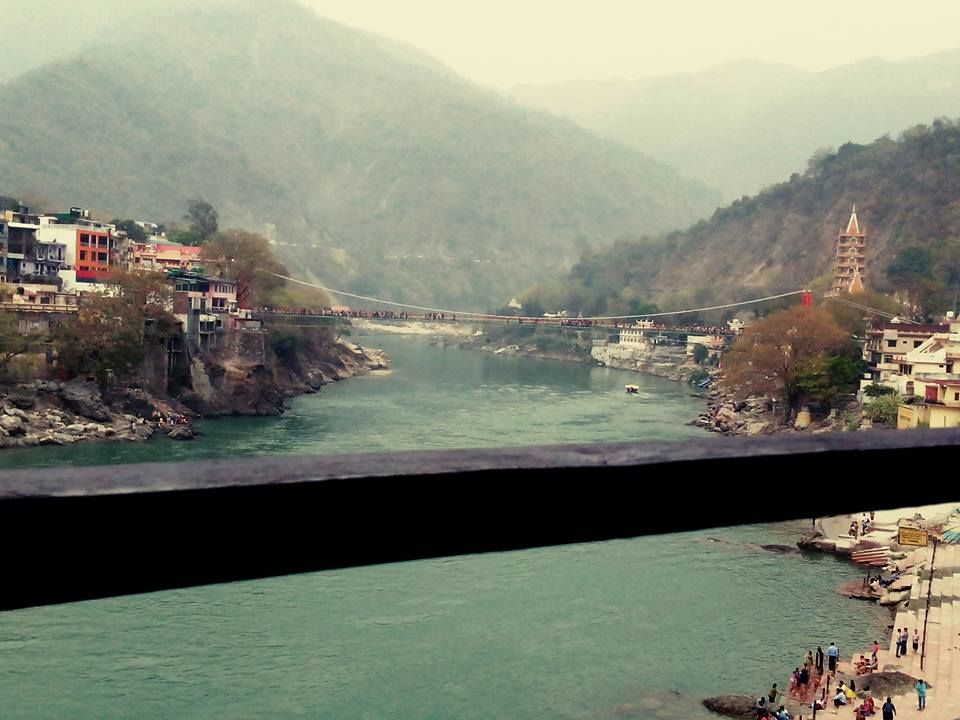 *River Ganga and the famous Laxman Jhoola as seen from the cafe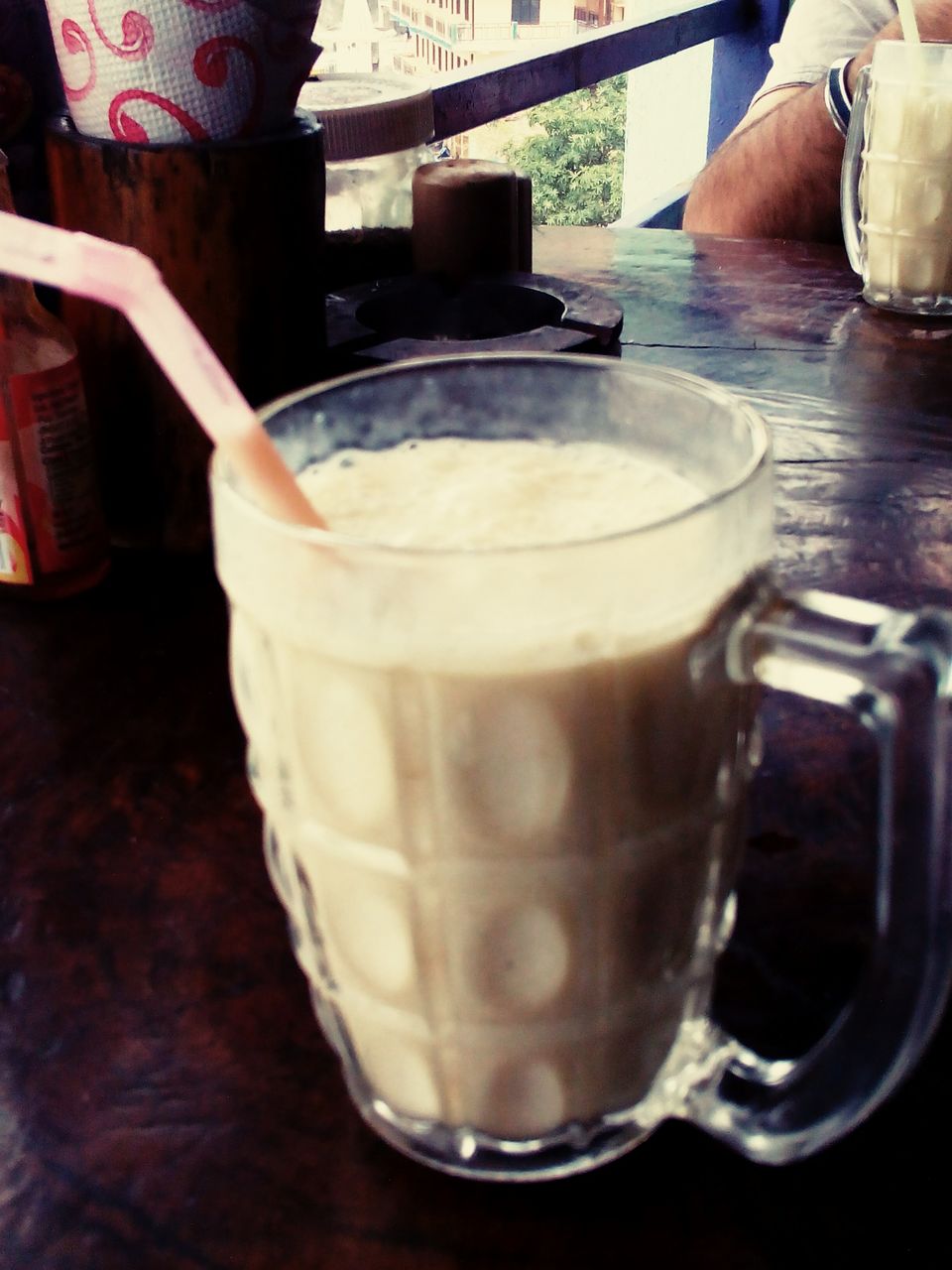 *Having Banana shake @Little Buddha Café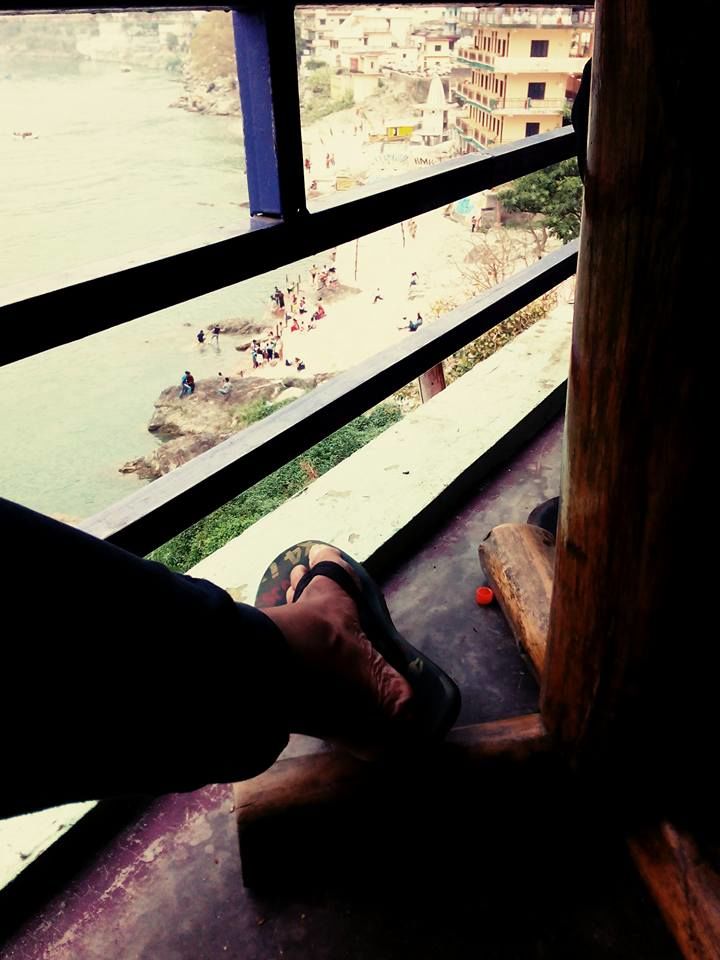 *Just trying a different angle
And thus, after spending that wonderful evening in Rishikesh and amongst a lovely crowd, me and Abhinav went back to our hotel and slept off.
We had to wake up early next morning and head back to Delhi. Time had come to do the final stretch of this amazing road journey, Rishikesh to Delhi,
And then say good byes!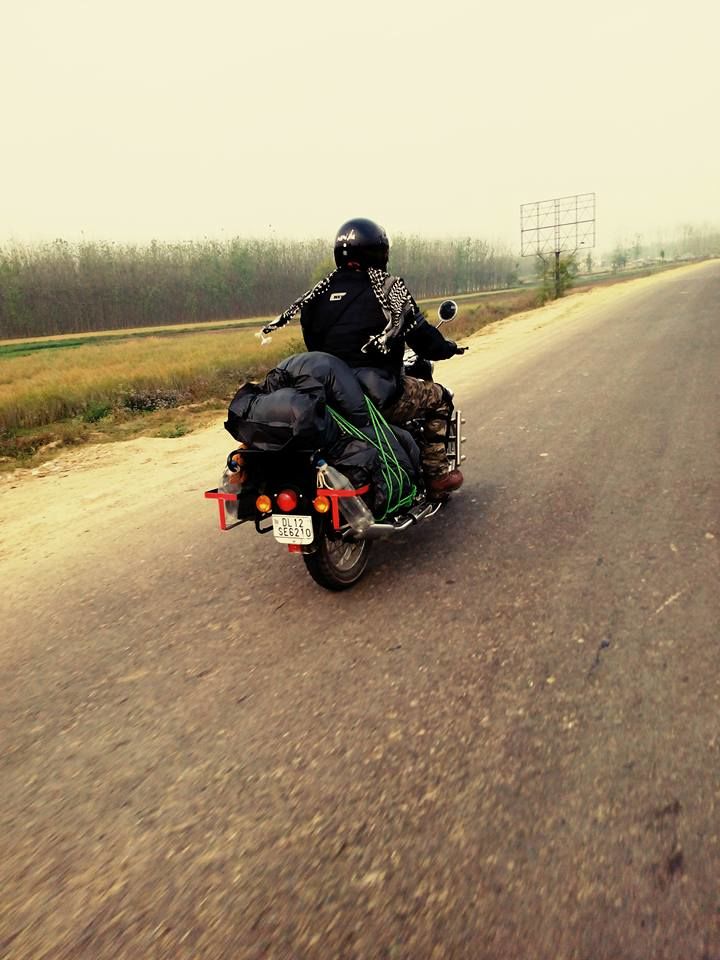 *On our way back to Delhi, Abhinav all geared up and riding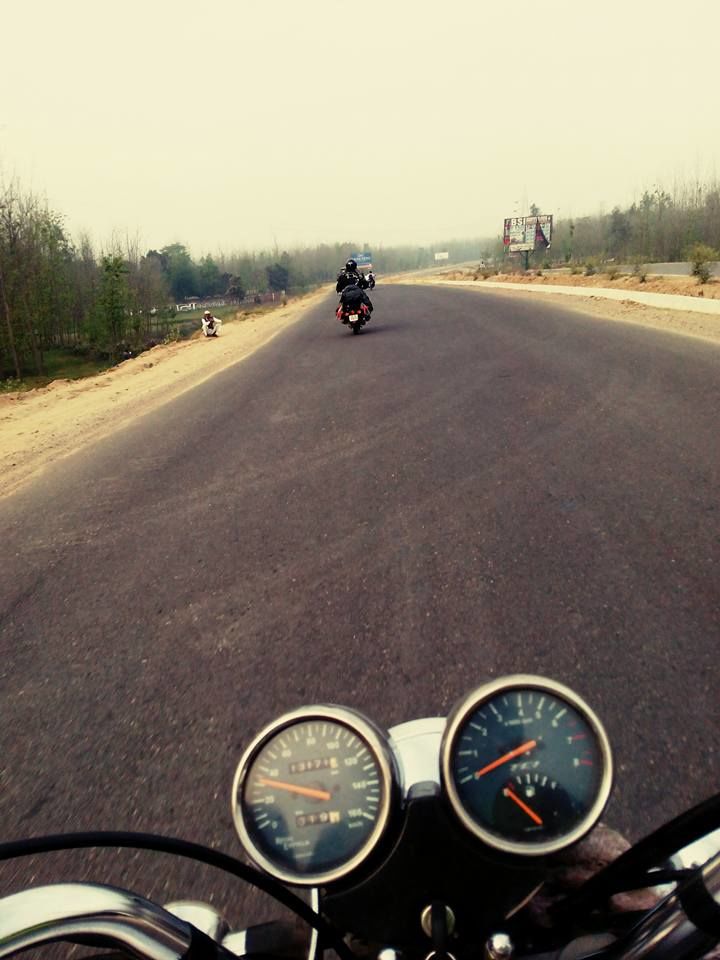 This road trip has been the most amazing experience of my life, which will remain in my memory forever. And I am sure i will never get out of the hangover. I think of the experiences everyday, and will continue to do so for the rest of my life.
I hope you enjoyed the blog. Have a great time all of you!
Cheerz!
Frequent searches leading to this page:-
Solo Bike Journey to uttarakhand, best biking route in uttarakhand, motorcycle ride in uttarakhand, mountain biking uttarakhand, road trip in uttarakhand