If you're looking for a quiet place near from Chennai or Bangalore, and you're the adventurous type, then Yelagiri is the perfect spot for you. Perfectly located at 190 Kilometres from Bangalore and 220 Kilometres from Chennai, it makes for the perfect getaway.
Yelagiri is a hill station in Vellore district of Tamil Nadu, India, situated off the Vaniyambadi-Tirupattur road. Located at an altitude of 1,410.6 metres above Mean Sea Level and spread across 30 kms, the Yelagiri village is surrounded by orchards, rose-gardens, and green valleys. The hill station dates back to the British colonial days and comprises of 14 hamlets and a number of temples spread over several hills.
The highest point in Yelgiri is the Swamimalai Hill, standing tall at 4,338 ft; Swamimalai is a popular destination for trekkers. The view from the summit is spectacular. The hill provides a good number of trekking trails through thick reserved forests. Mangalam, a small village, is at the base of this hill. There are other trekking options that include smaller peaks like Javadi Hills and Palamathi Hills. Yelagiri Hills is home to hundreds of snakes.
We made this trip late in 2012. After much research, we had decided to stay at Mike and Sally's Aura Valley Resort. Located about 1 Kilometre from the centre of Yelagiri village and at the start of the trekking trails, it promised the peaceful getaway we were looking for. And trust me, we were not disappointed even a bit. Even though Mike and Sally were away during our stay there, James saw that our trip was without glitches. Mike answered all my questions over emails and phone and explained everything in detail.
We started from Chennai, took the morning Chennai - Bangalore train and alighted at Jolarpettah Railway Station. We had already arranged for a cab to pick up from the station and drop us at the resort. There are buses from Jolarpettah to Yelagiri that are convenient but if you plan to take a taxi, it would be best to arrange before hand to get a decent fare. Again, Mike was of great help here.
Nestled in midst of nature, Aura Valley was the heaven on earth. There are a limited number of rooms, and hence, it was not crowded. The rooms were comfortable and spacious, and the food, home cooked and served on bed, was too good. Since a few of the trekking trails started just outside our resort, it was more what we could have asked for. Yes, it's a bit far way from the village and the lake, but you'll get transportation from the village to the resort. We preferred walking and enjoyed those 1 kilometre walks on village paths dotted by guava and custard apple trees. The air was so fresh that you wouldn't want to take an auto!
We didn't take the harder Swami Malai treks or Jalagamparai Waterfalls due to lack of our own transportations, but the short treks we took on the hills adjacent to our resort were no short of thrills and exhilarations! Our trek guide was arranged by James and was an old man, probably in his 70s. He smoked beedis as we caught our breath and took in the view, and yet, he was nimble as a cat! The trek trails alternated between climbs and steeps, with rocky paths dotted by thick blooms of Lantana.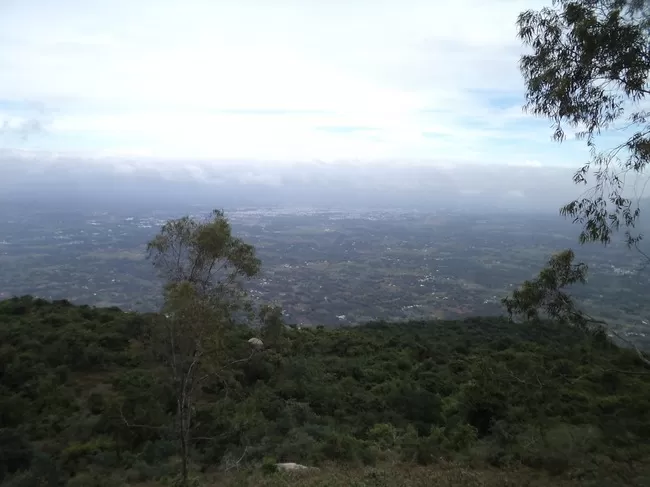 We also went to the Yelagiri Lake (Punganoor Lake), which is, in fact, an artifical lake with a boat house and a park around it. The village, which is unpolluted for most parts, has the locals selling their produce on either sides of the street. Yelagiri also has an adventure club called Yelagiri Adventure Sports Association (YASA) Club for the more adventurous types who wants to undertake paragliding or other adventure sports.
Frequent Searches Leading To This Page:-
weekend getaways from bangalore, weekend trip cost from bangalore, weekend tour cost from bangalore, weekend holiday trip cost from bangalore, weekend tour from bangalore, famous places in chennai, vacation places near chennai, tourist attractions in chennai, radisson blu chennai