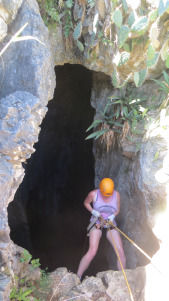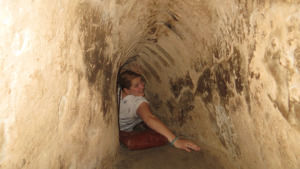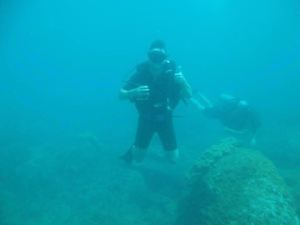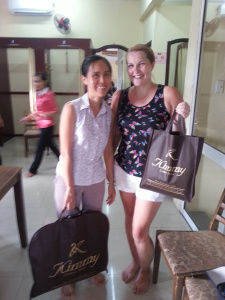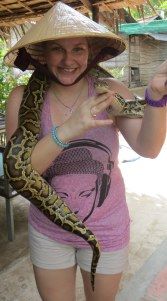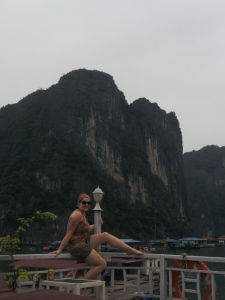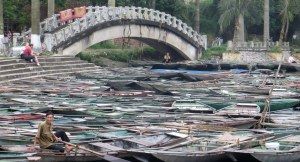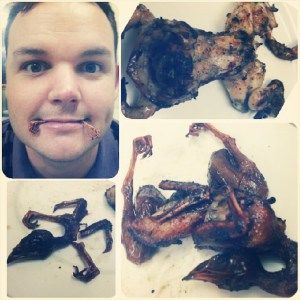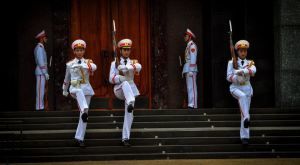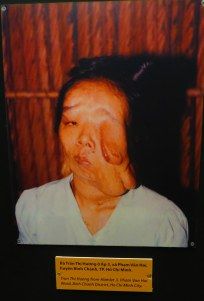 1- Abseiling on Marble Mountain, Da Nang
This was one of the best things I have done here, we were able to see one of the major landmarks in Da Nang but from a different perspective! It was well worth every penny and was a brilliant day out… even if we did almost jump onto a poisonous snake!
2- Cu Chi Tunnels.
If you come to Vietnam this should be on your list, whilst it is quite touristy now it is a very cheap day out and gives you an amazing look into the conditions the Vietnamese fought under during the Vietnam war. You are able to squeeze yourself down one of the entrance ways to the many tunnels and even go down into one of the tunnels to experience just how cramped the conditions were.
3- Scuba diving in Hoi An
Unfortunately I had to pull out of this one due to illness but Andy went along by himself and had a great time with 2 really long dives into the waters just of Cham Island. If you don't want to scuba there are snorkeling trips on offer too however the spots were not quite of the same standard as the scuba sites.
4- Getting something tailor made
Vietnam has some of the best tailors around. Whilst it can be a mission finding out a good one (as many are jumping on the tourist bandwagon) some research and shopping around can leave you with beautifully hand-made items. I got my beautiful wedding dress made here for a fraction of the price it was being sold at back home and Andy got two beautiful suits made up. Hoi An offers tailors on every street corner however most cities have their own tailors, you just might need help with translating! Make sure you know what you are going in for a bring plenty of pictures with you and make sure you know how to avoid getting ripped off!
5- Touring down the Mekong Delta
The Mekong Delta tours allows you to sail down this enormous river while visiting some of the islands that sit on the river. Our day was long but we had a great time seeing everything on offer!
6- Spending the night on a boat in Ha Long Bay
Ha Long Bay is one of the most famous sites here in Vietnam. You can do a day trip here however one of the best ways to see it is to spend some time here. We sailed through the bay for 3 days, sleeping on the boat for one night and our own private bungalow on an island just off Cat Ba for the other night. We were able to kayak through a sleepy fishing village on the water, tour some beautiful caves, sail through the majestic limestone cliffs and interact with some cheeky wild monkeys!
7- Ninh Binh province
Located about 2 hours drive from Hanoi, Ninh Binh offers some peace from the hustle and bustle of the cities, you can sail down the river in Tam Coc and visit the old capital while taking In the beautiful views that surround you in the county.
8- Try some of the unusual street food
Vietnam, like most of the Asian countries is known for its street food. While I stayed away from the dog and cat meat which is everywhere in the town we lived, we eat street food a lot and even tried some of more unusual dishes such as frogs and birds. You can also have some of the insects, however after trying them in Thailand, once was enough for me!
9- Visit Uncle Ho in Hanoi
Ho Chi Minh is loved here in Vietnam and you will see pictures of him everywhere if you have time you can go visit the man himself at the Ho Chi Minh Mausoleum located right in the heart of Hanoi. Be warned though as the dress code is extremely strict make sure you cover the shoulders, change out of the shorts and don't wear flip-flops. Photos in the Mausoleum and within the yellow lines are also seriously prohibited and will get you into trouble. Check dates and times before you go and take note that every second October "Uncle Ho" goes on holiday to Russia for a touch up.
10- Visiting the war museum, HCMC
The Vietnam war left devastating effects on the country and whilst the museum may be a little bias it gives you a heart wrenching look at the effects of Agent Orange and some of the brutality caused by the war. It may be a bit of a somber experience but is a must to get a look into the countries past.
And the one we never made it too, Sapa.
Sapa is located right at the North of Vietnam in the mountains, famed for its beautiful tea plantations and scenery. We never got round to heading out as it is about 12 hour by train from Hanoi but it is famous for its rolling tea staggered fields high up in the mountains.
Originally published here.
Frequent Searches Leading To This Page:-
Vietnam Tour Places, Vietnam 4N 5D Itinerary, Vietnam Tourism Office In India, Vietnam Tour Operators In Vietnam, Delhi To Vietnam Flight, Places To Visit In Vietnam