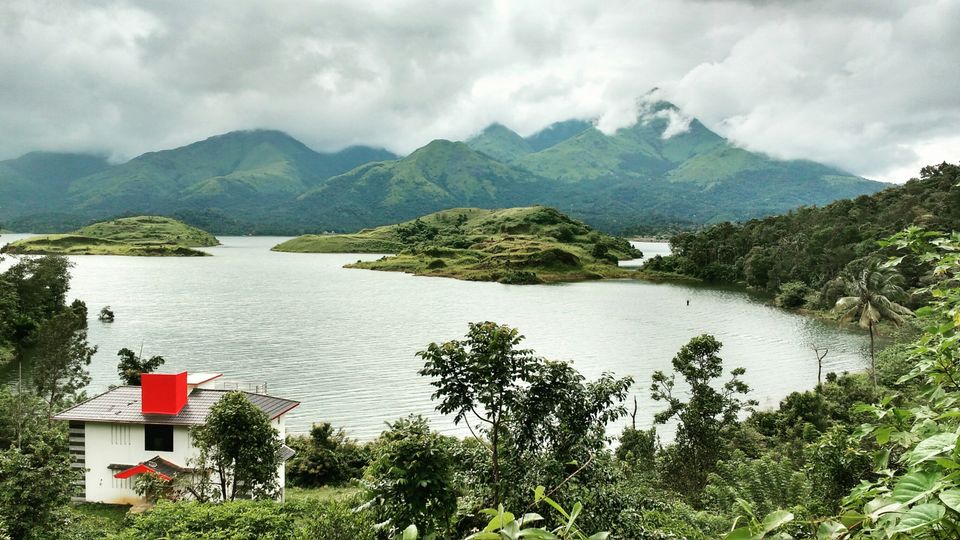 The plan to visit Coorg and Wayanad was chalked out in less than 2 months to capitalize on Dasara vacation, weekend and Gandhi Jayanthi that followed rather than planning for a usual year end trip.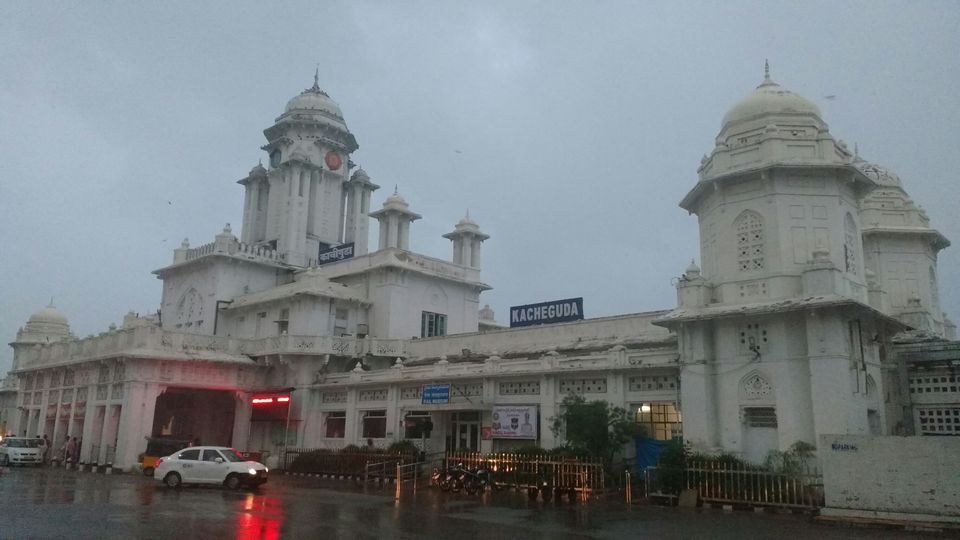 We ( group of 4 ) boarded an evening train from Hyd to Blore ( RAC ) on 28th of Sep 2017, reached Blore by 7am and then commuted by train to Mysore. Post breakfast at A2B restaurant adjacent to railway station we took a bus to Gonikoppal at 11:30 am from Mysore Main bus stand. The journey was steady and it took almost 3 hours to reach Gonikoppal, from here we again boarded a bus to T.Shettigiri a 40 mins drive, another half an hour of auto travel through steep tea estate valleys we reached our campsite - "Votecad Nature Camp" around 4pm.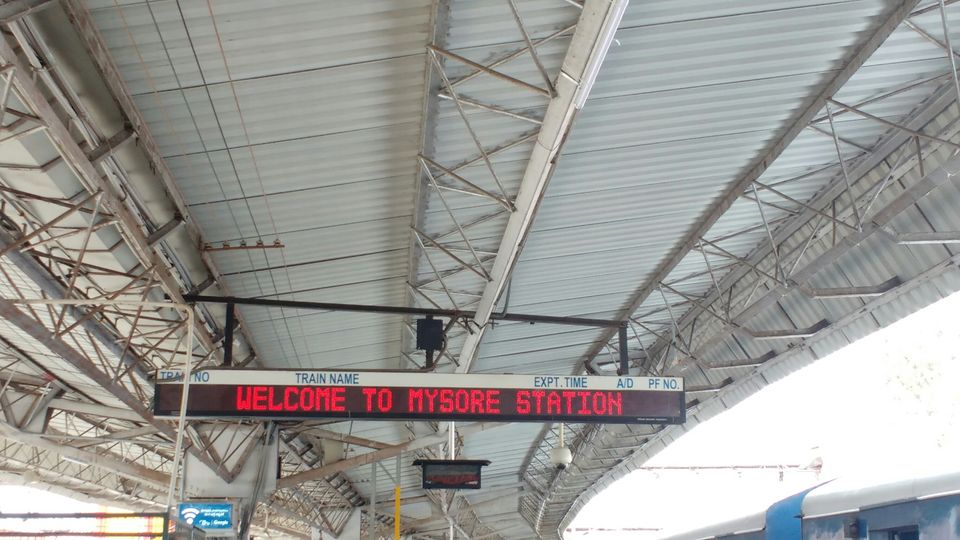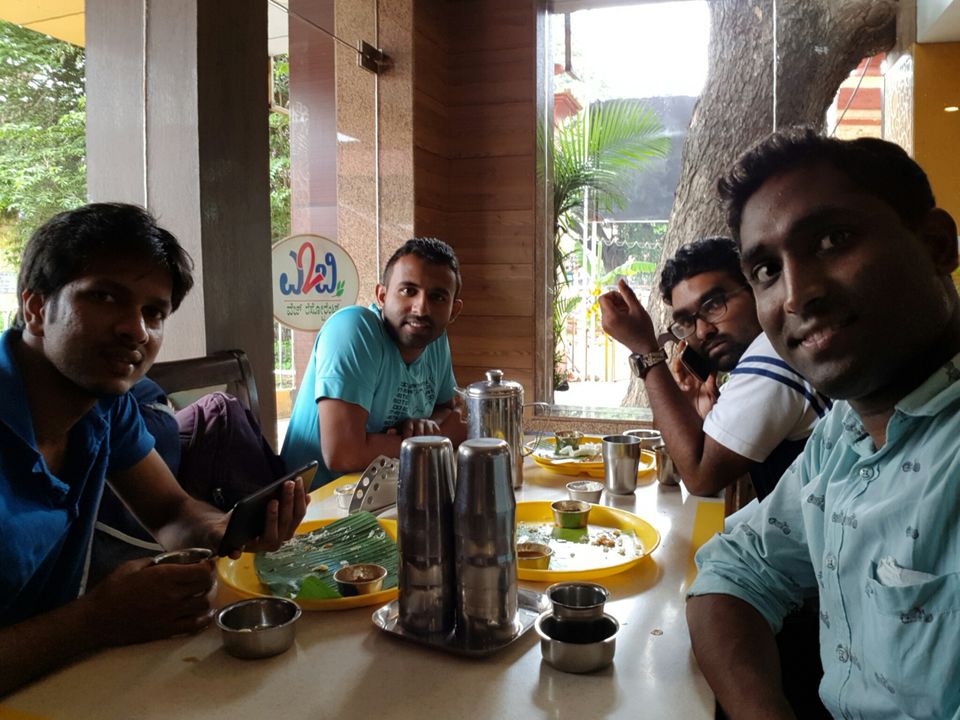 This camp is perfectly located in the midst of lush greenery, the backdrop offered a surreal view. It rains frequently here and is one of the places in Coorg having highest rainfall. The hospitality offered by hosts was exceptional and we camped in Coleman tents.
It was raining heavily and we completely drenched ourselves playing volleyball and freezbie. Limited mobile network, electricity available only for couple of hours, utilisation of natural resources like rain water for daily chores etc..gave us the perfect break from urban mundane lifestyle.
Barbeque followed by dinner was served and we retired to sleep around 10pm.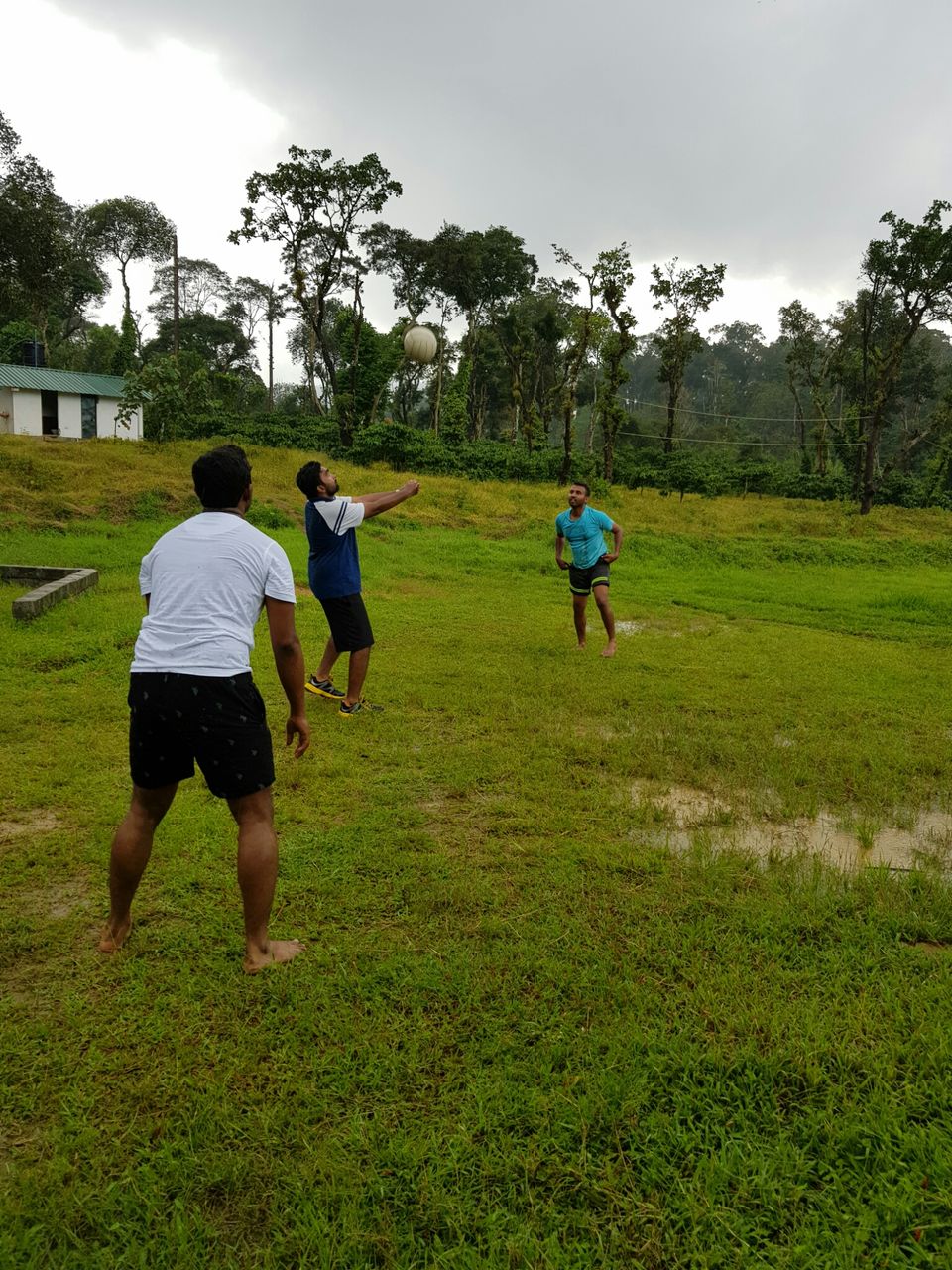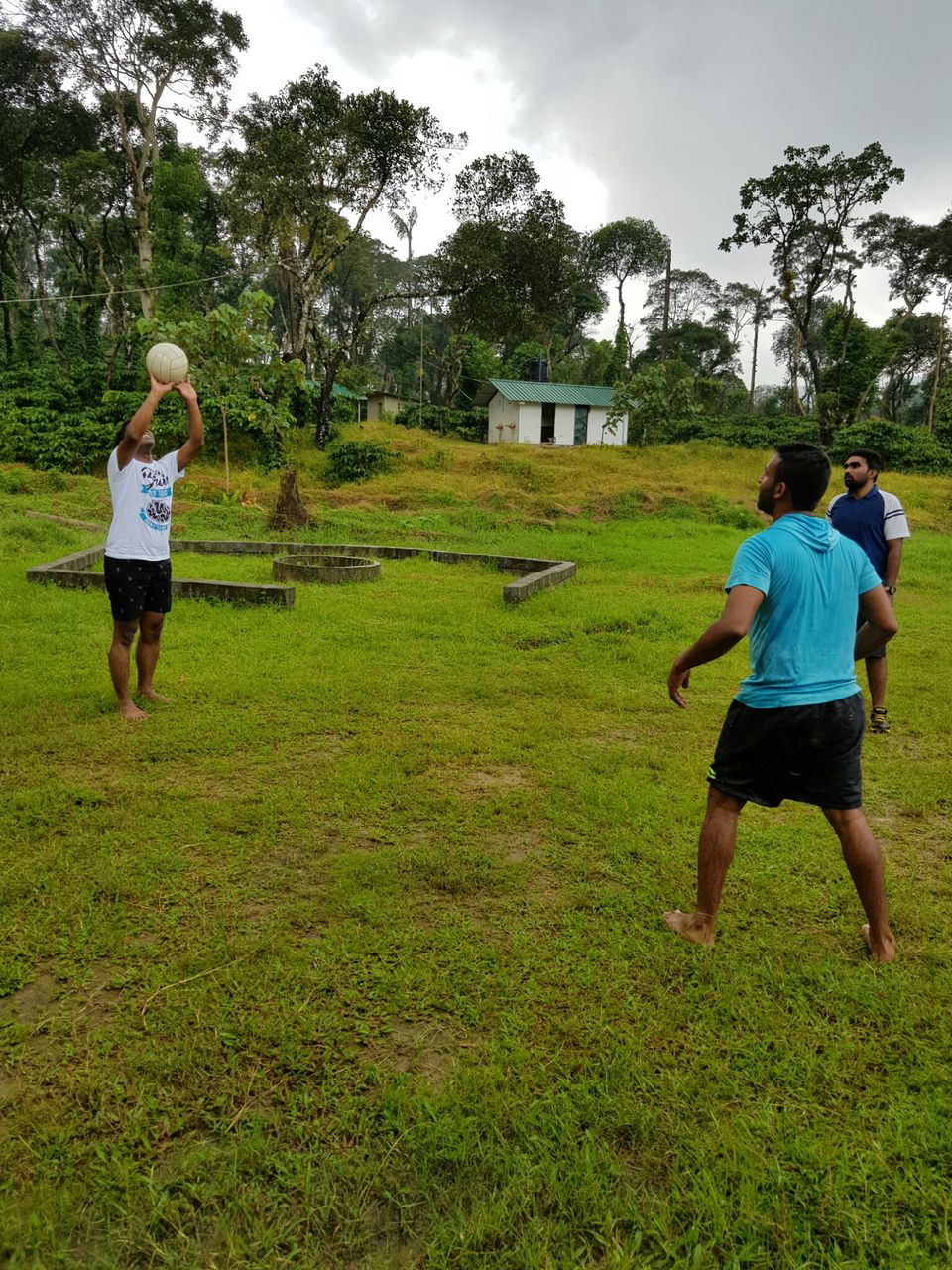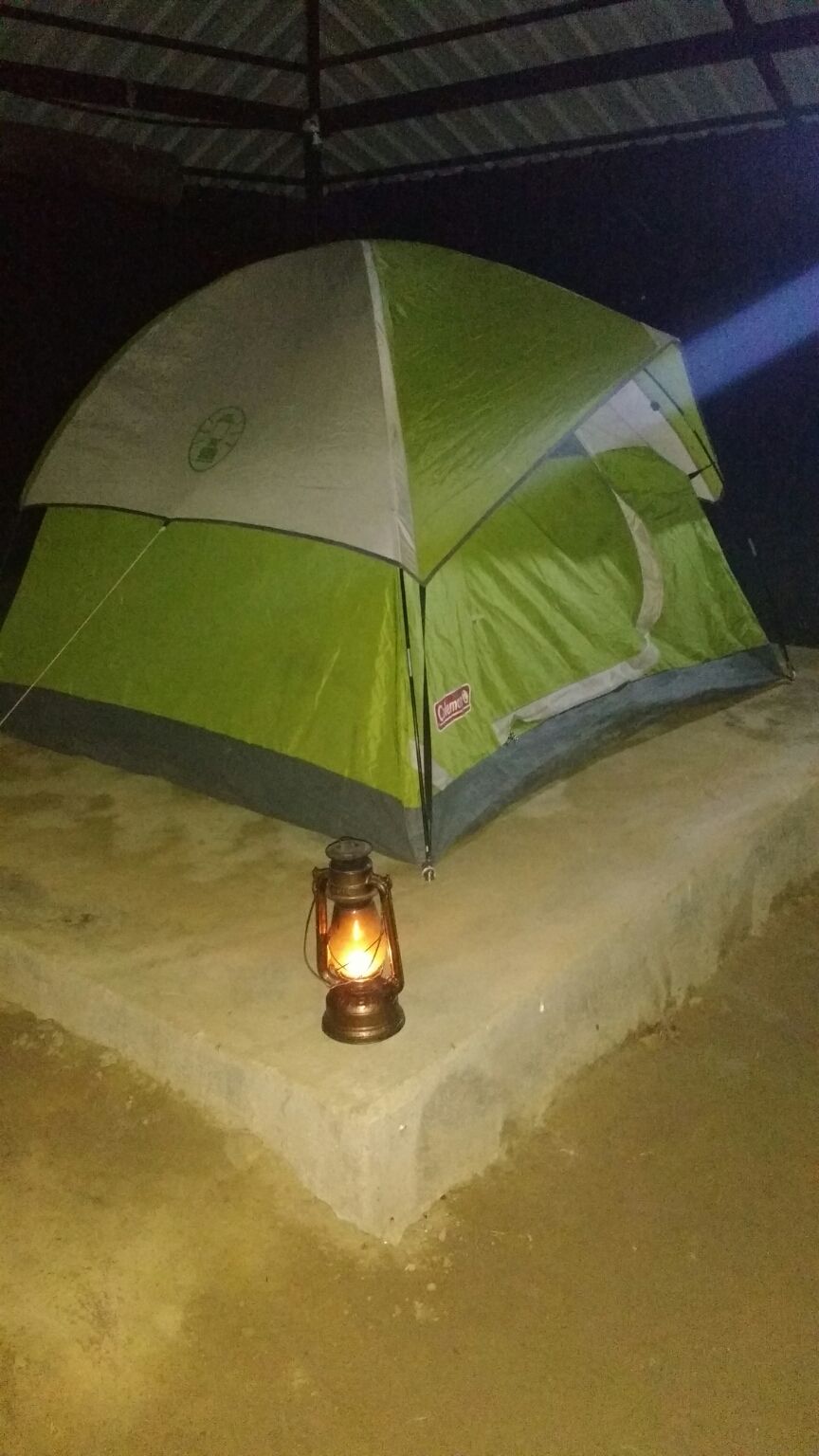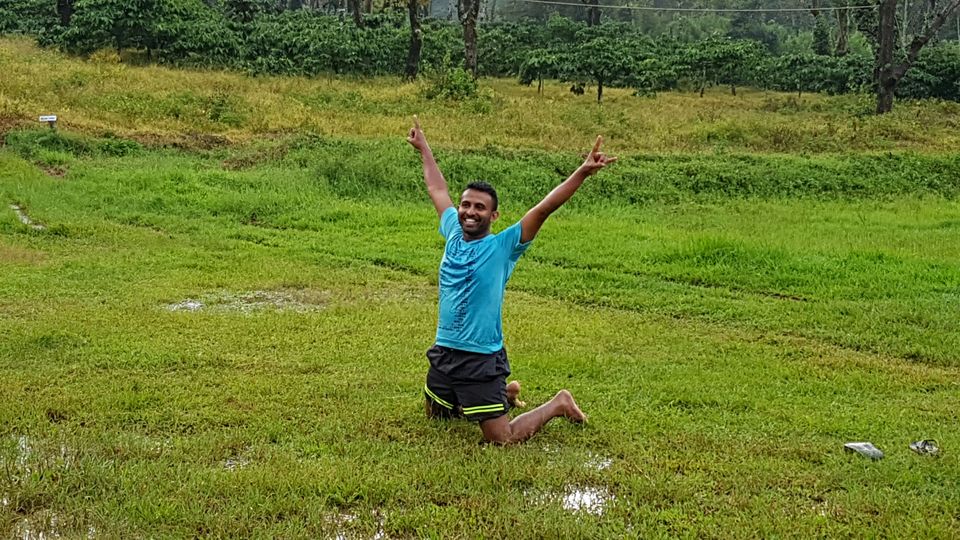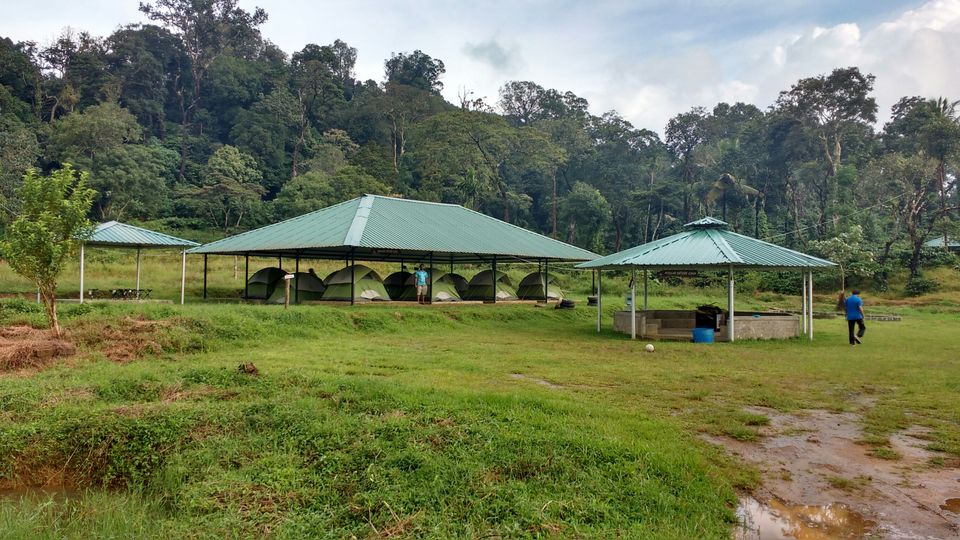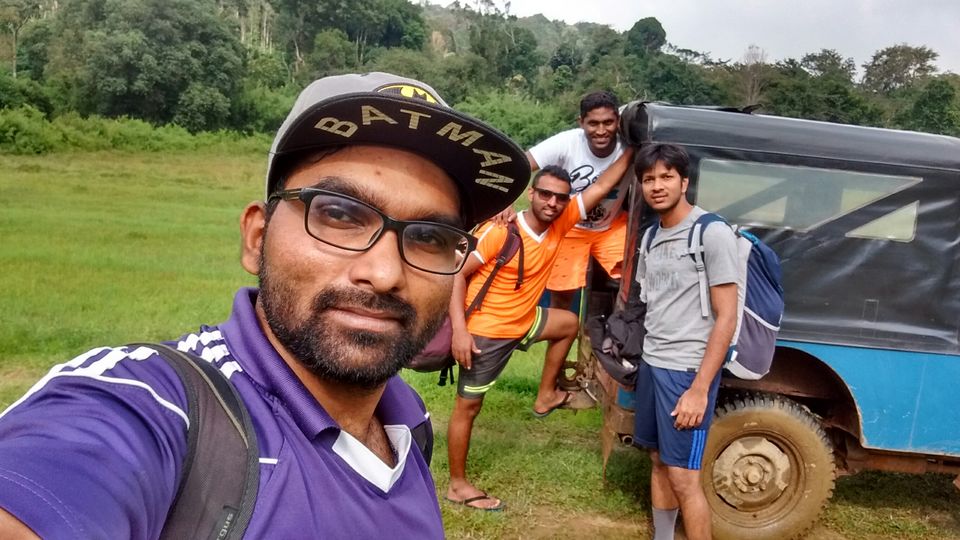 We woke up around 6:00 am and played yet another round of Volleyball. Breakfast was served at 8:30am and checked out the camp by 9:30am.
White water rafting in Barapole River:
Our trainer - Jagmohan who is a freelancer primarily from Rishikesh gave mandatory instructions to be followed during rafting.First we reached a still water area and were asked to dive into river, though being apprehensive we dived and swam across within the reach of raft. The rafting consisted of 4 rapids, an ideal start for beginners to experience adventure, the duration though was for 45 mins.
Cost details for rafting can be checked online. We then hired an auto and journeyed to Iruppu falls which is 13 Kms away from the rafting point.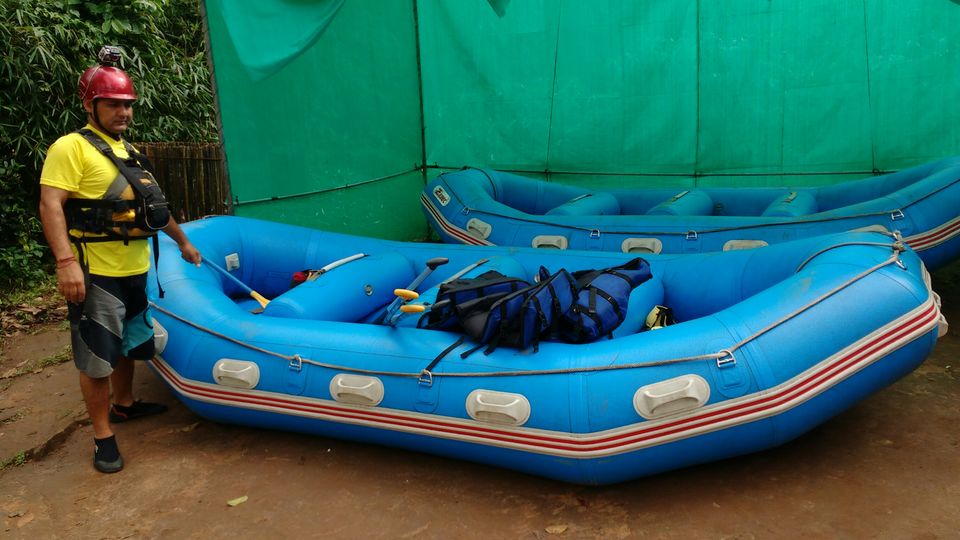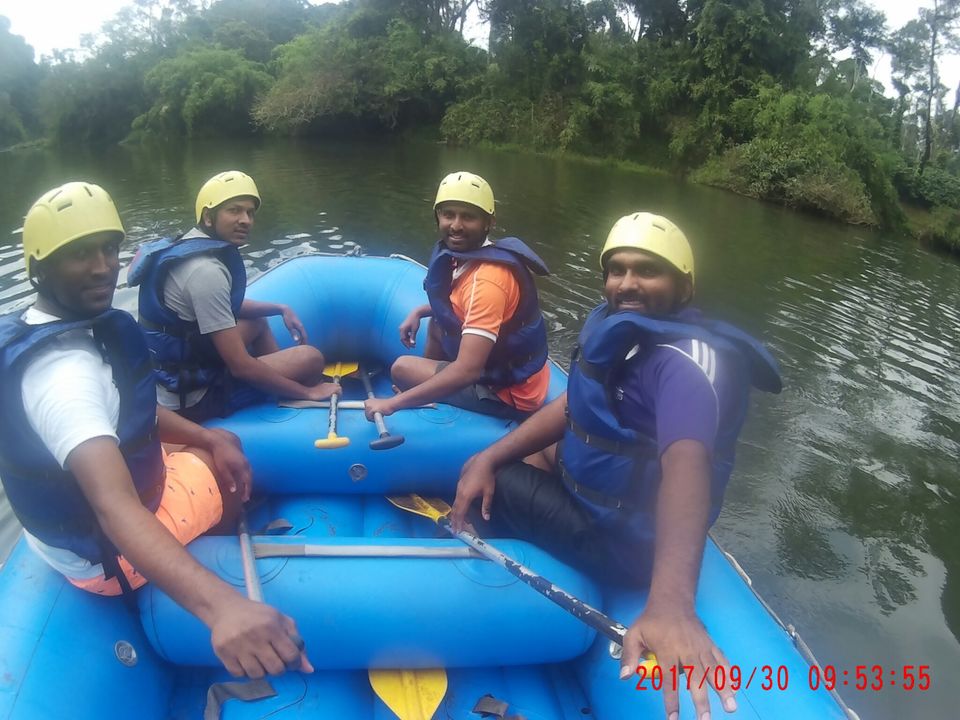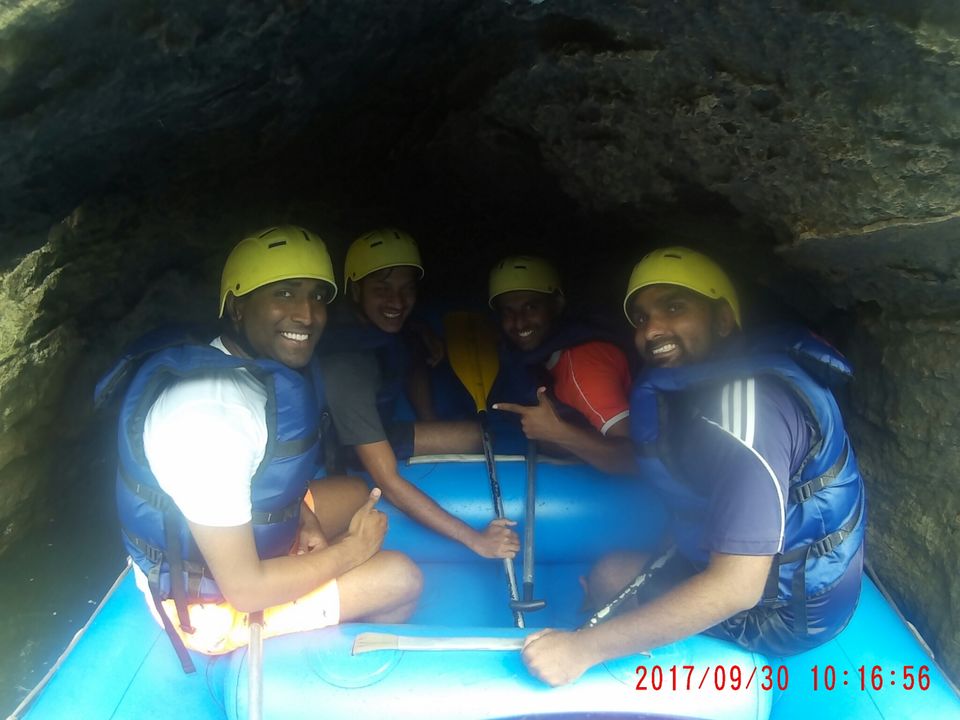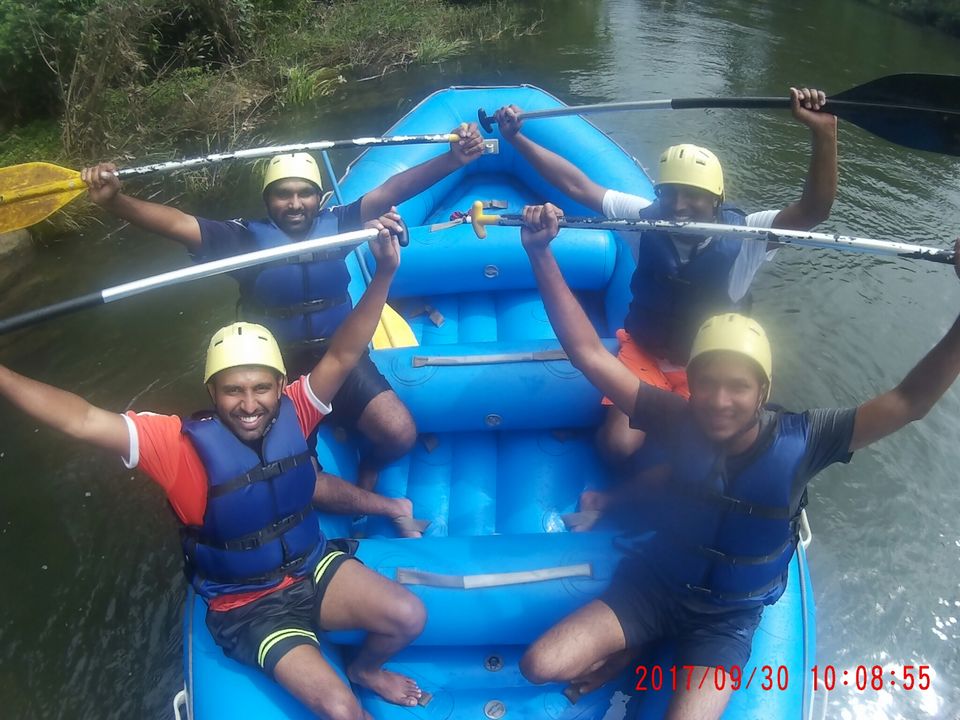 Iruppu falls is a no plastic zone area and entrance ticket is Rs. 50/-. A warning board mentioning the presence of uneven rocky surface beneath shallow waters should have been put up .
People were huge in number - thanks to long weekend and one can witness everyone occupied with gadgets to capture pics / videos with little awareness of lurking into the slippery rocks. We bathed in the cold water gushing from the top of waterfall. We were left with minor bruises due to slippery rocks and uneven surface.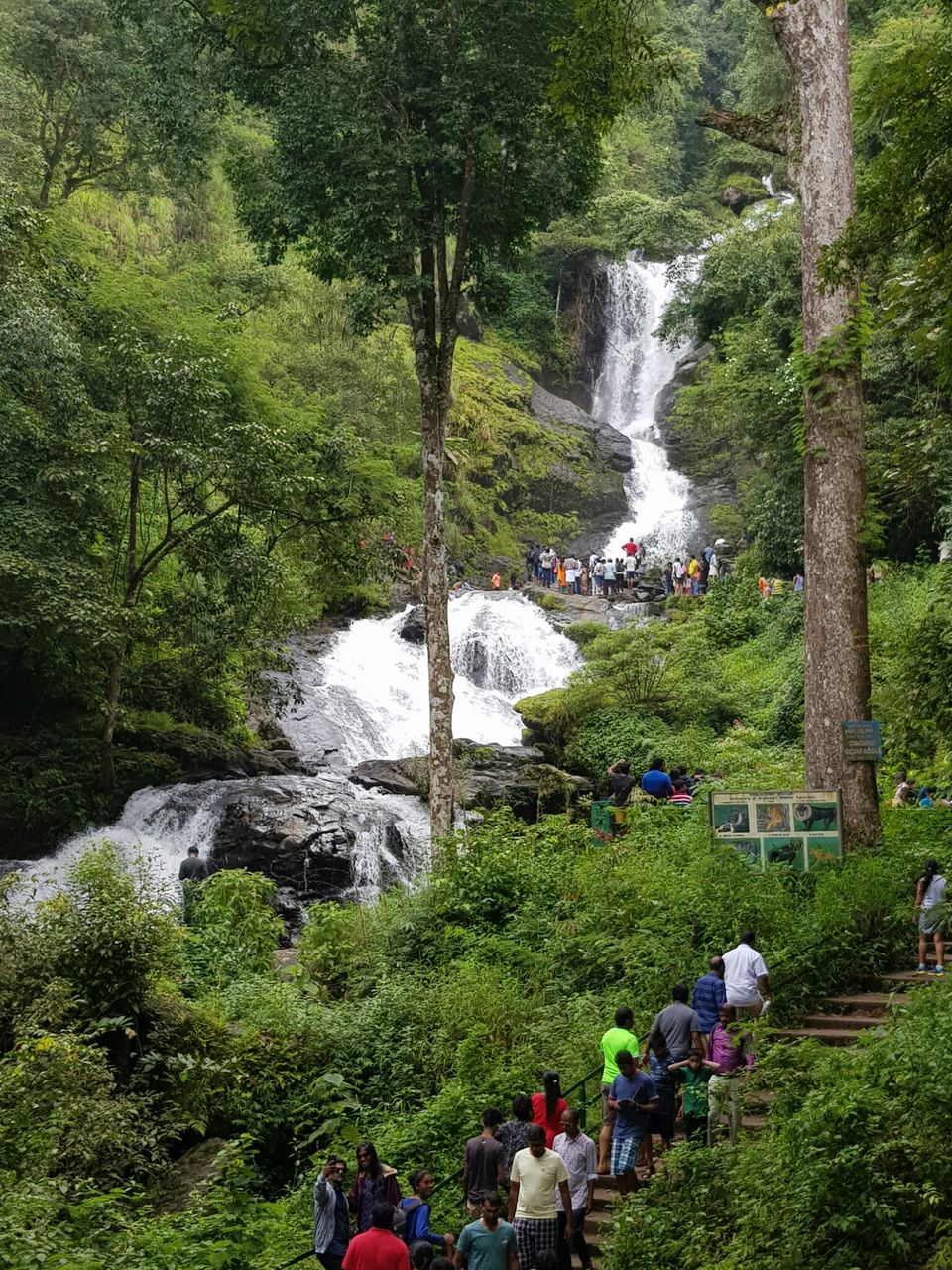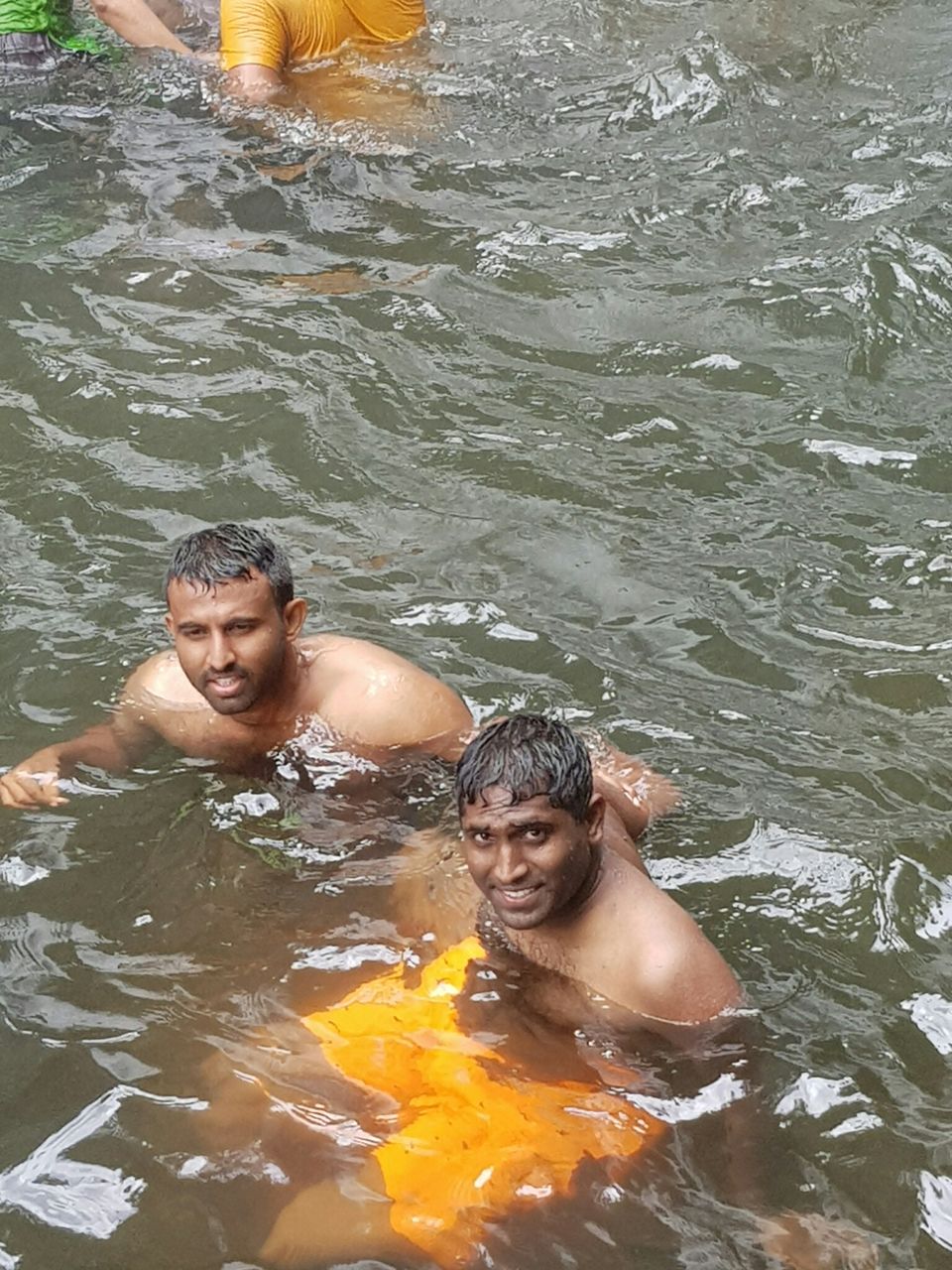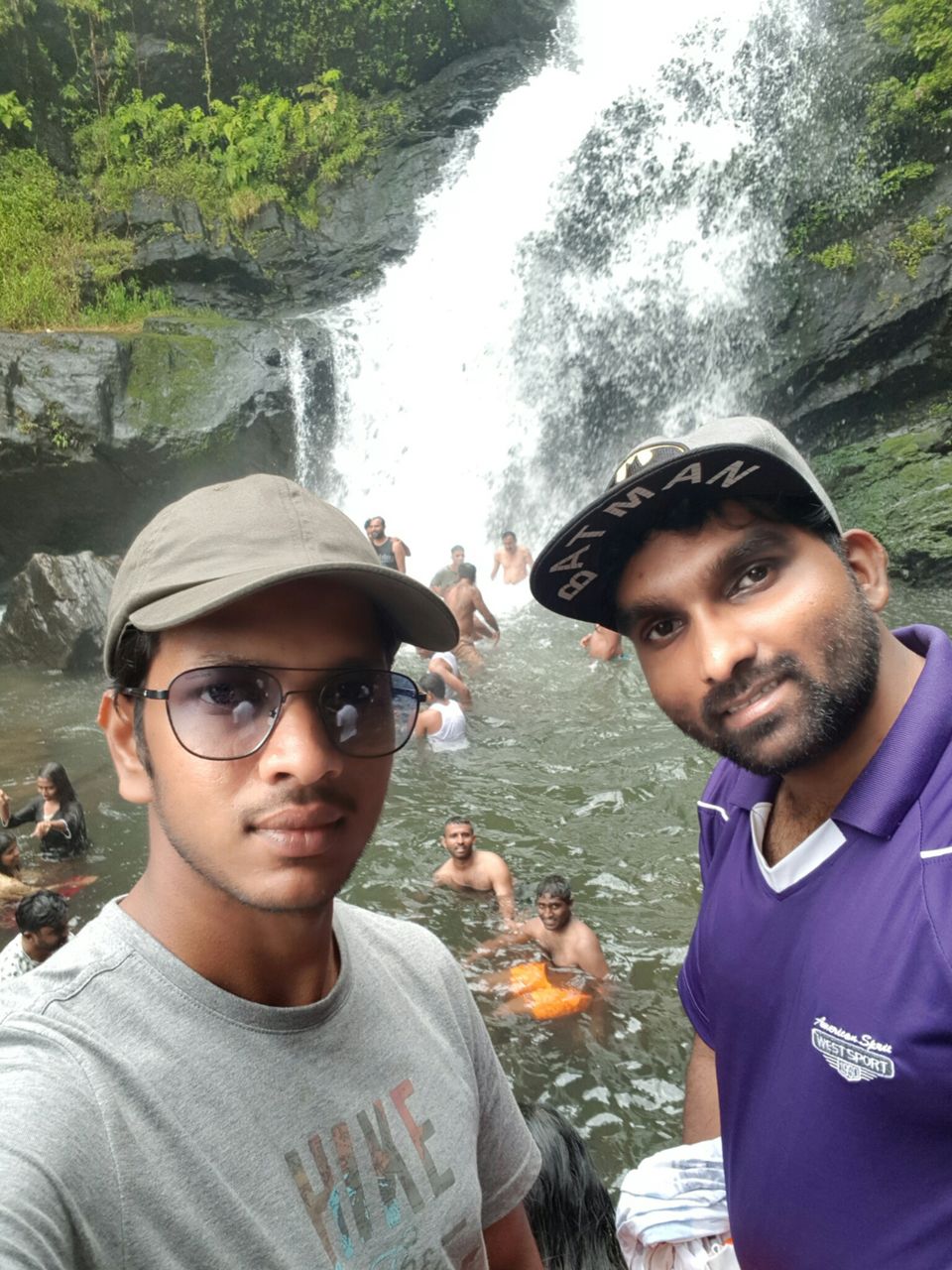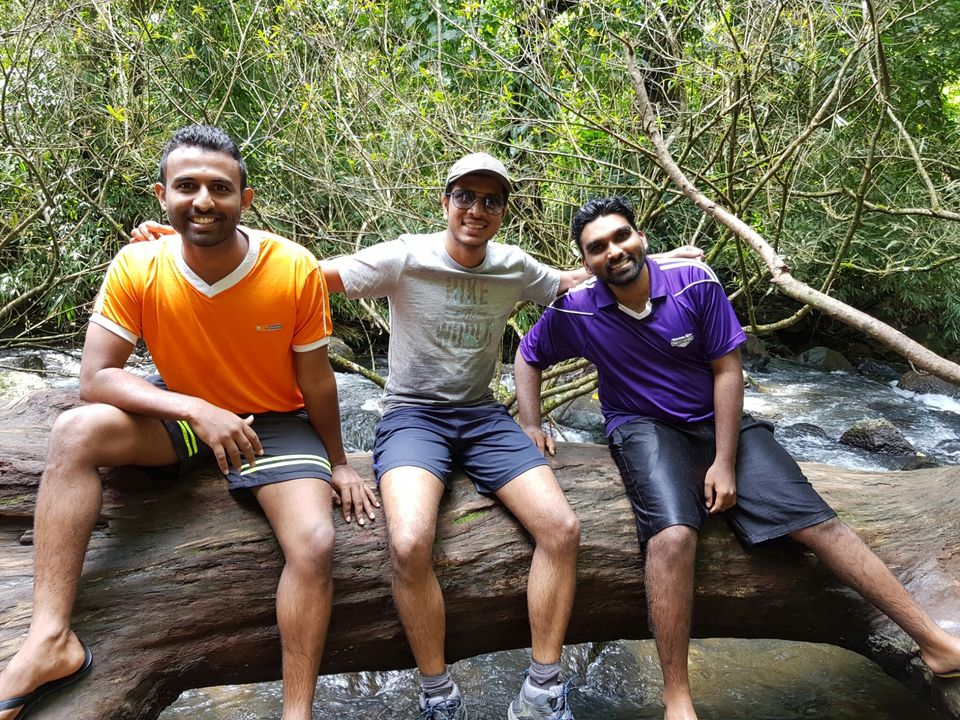 We resumed our journey to Kutta and boarded a bus to Mananthavady and then again a bus to Kalpetta junction. Kalpetta was crowded and almost all the hotels we enquired had their bookings full. We managed our stay for the night at two different hotels ( dormitory ).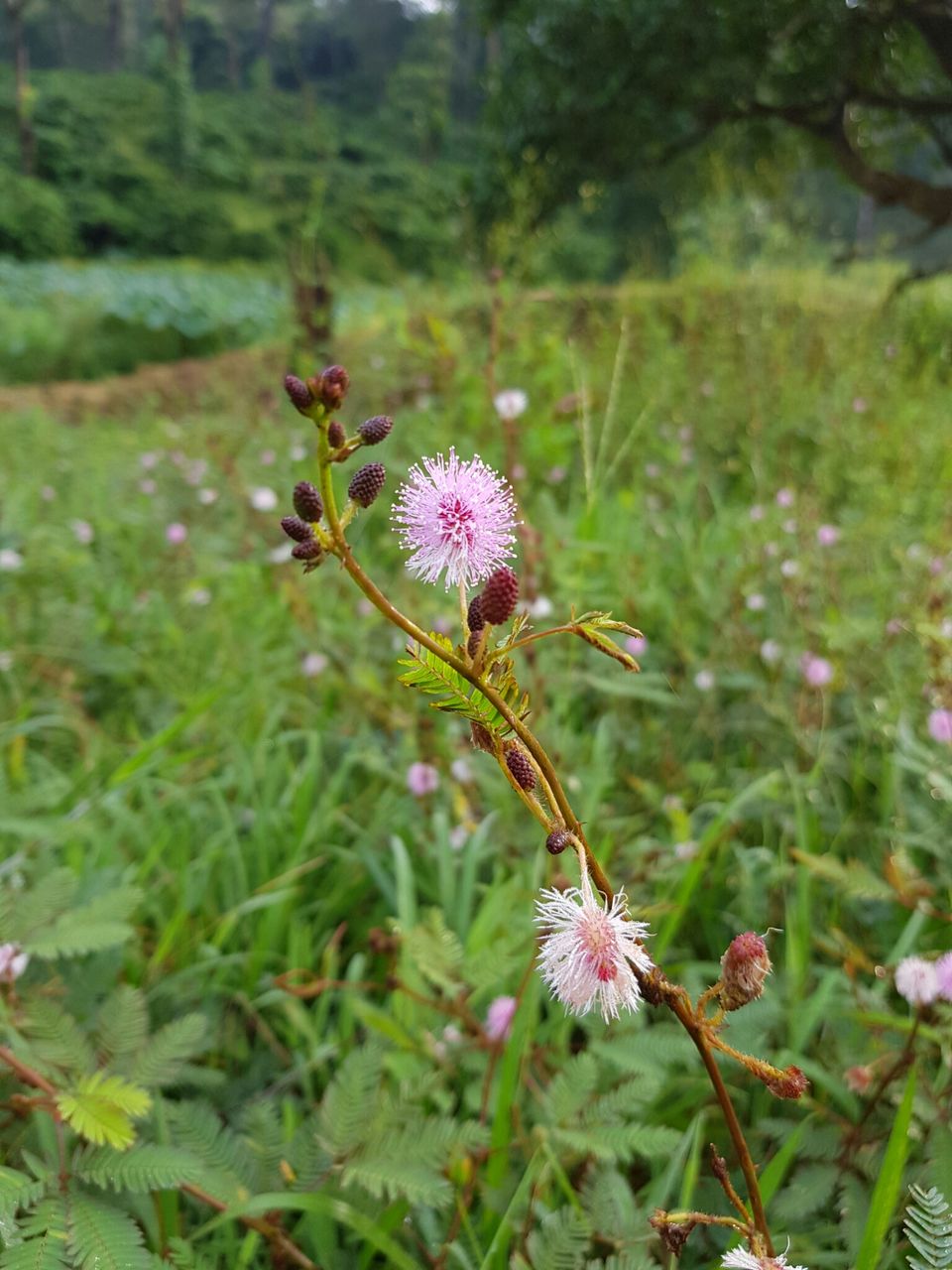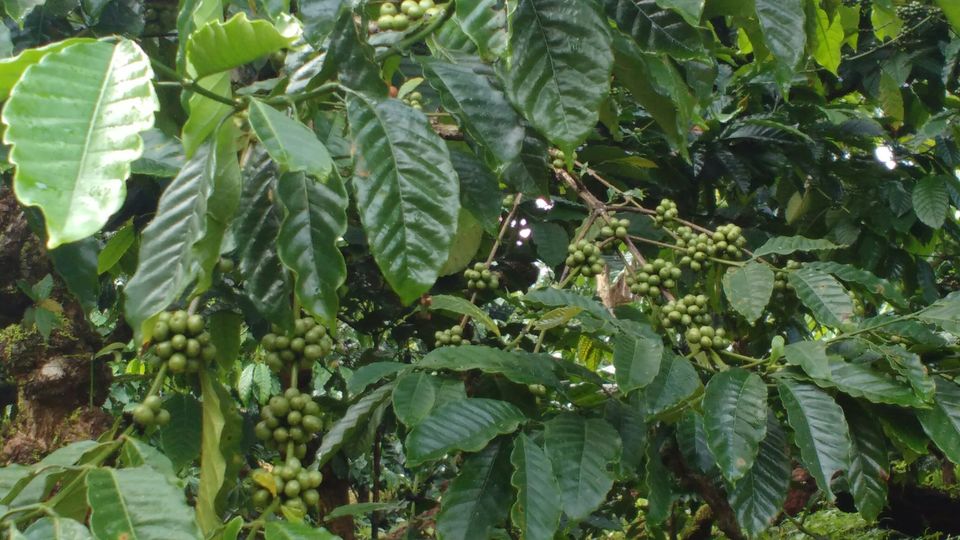 We checked in "Wayanad Tourist homes" - a decent hotel with spacious rooms by 10Am. Our plan for today was Muthanga wildlife sanctuary and then Edakkal Caves, the hotel receptionist informed us that Edakkal Caves would be closed on 1st of every month. We were supposed to reach Muthanga by noon, unfortunately we reached by 2pm and it was too late to avail a ticket for Jungle Safari. The evening Safari was limited to 20 rides.
We planned our itinerary for next day - Chembra peak and other local sight seeing for which we hired a Jeep,later we watched a Biju Menon starrer " Sherlock Tom's " which was completely unexpected.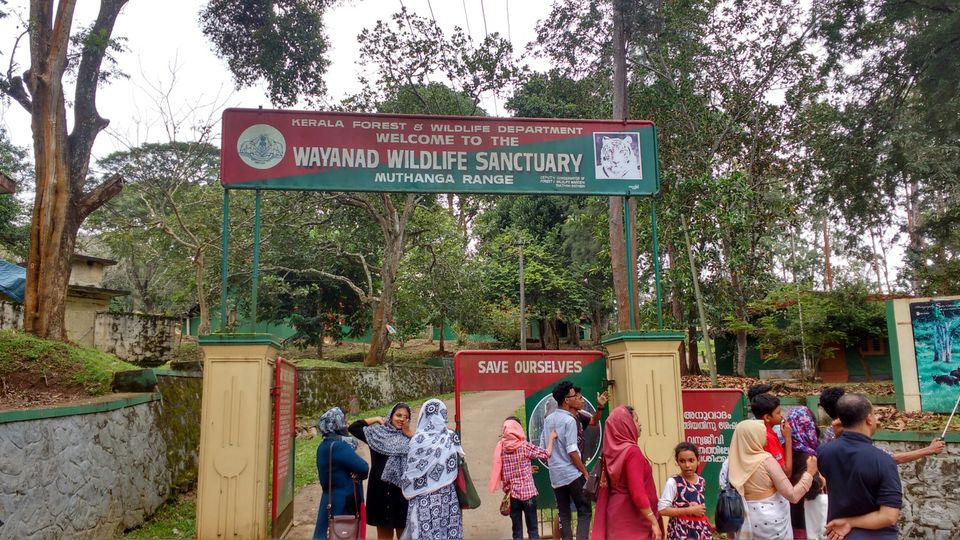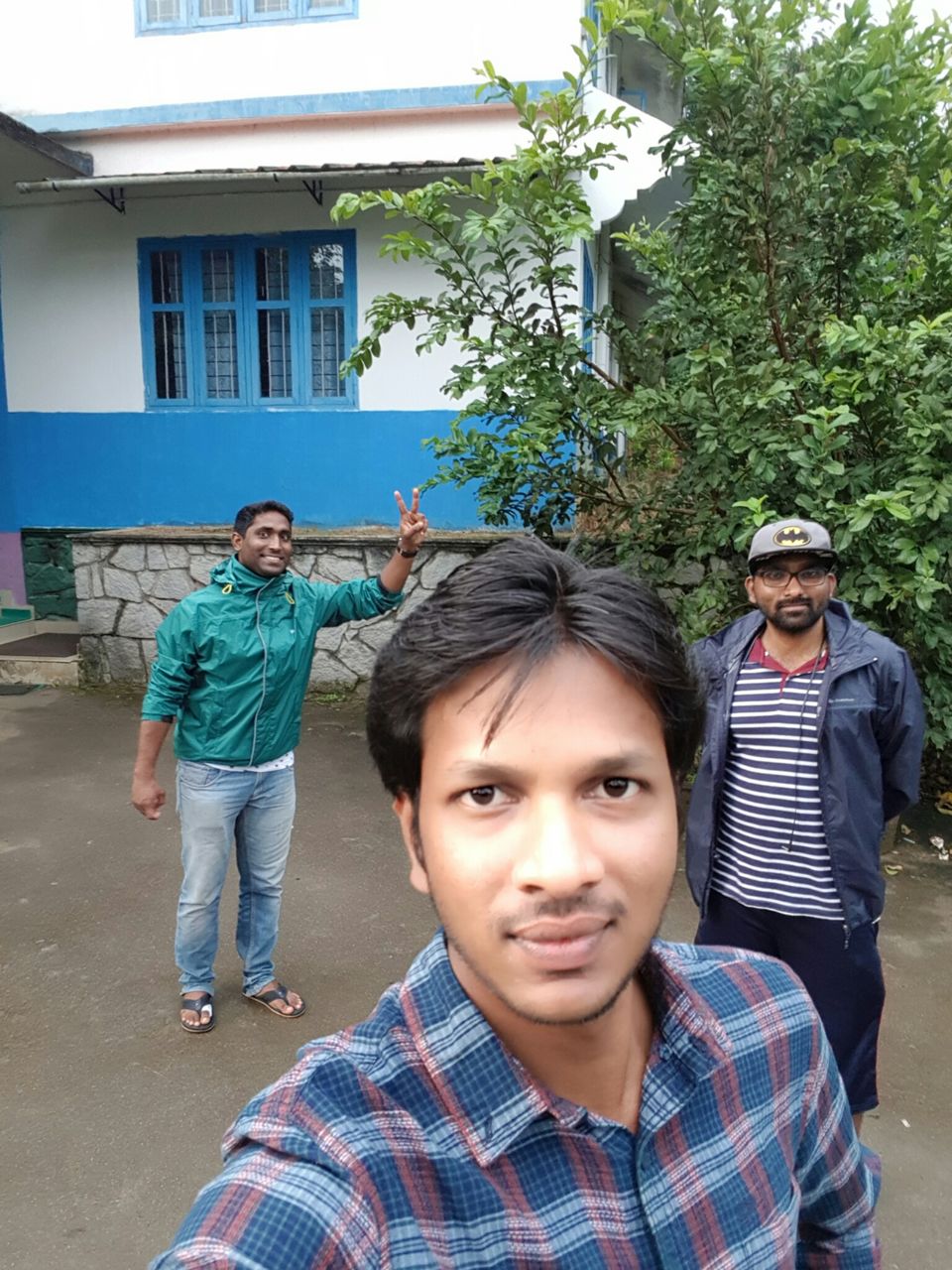 This was the most significant day as we had planned for Chembra peak ( Heart shaped lake ) and started as early as 6:30am, we were informed that the tickets and the gates would be open by 7am. It was drizzling and the visibility was poor, we had our tea near the base trek site and here comes the unpleasant surprise - the count of people allowed is limited to 200 and we were outnumbered. We were astonished to hear that few of them reached by 4am and were in queue for long hours for the trek passes. This was not known to many and the information was not publicised over internet.
The visibility being very poor, we decided to explore other places hoping there would be no further restrictions / surprises ahead.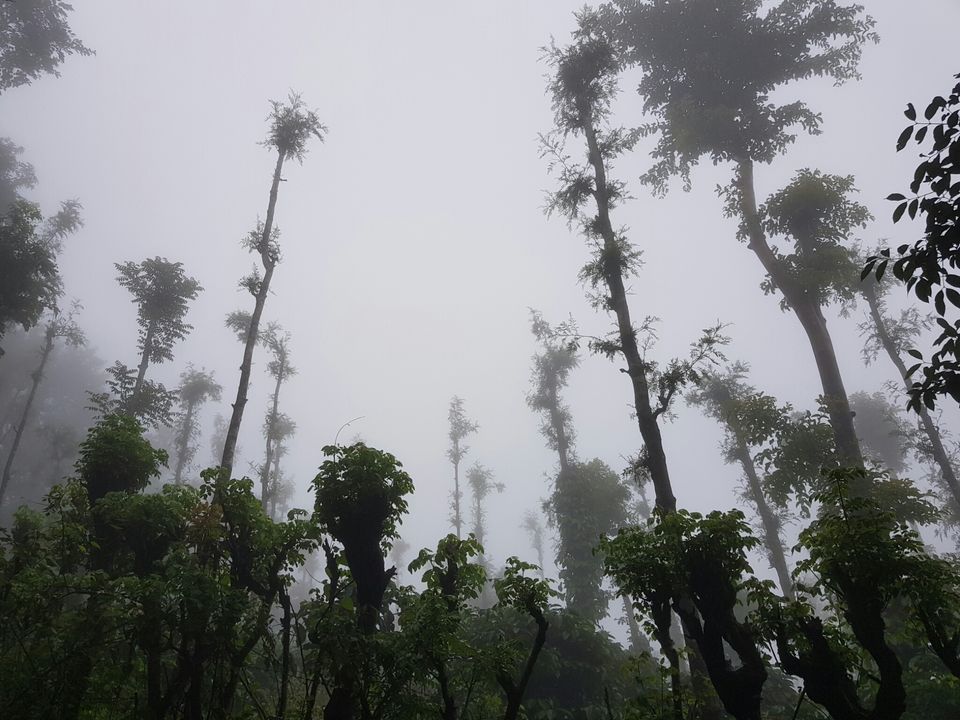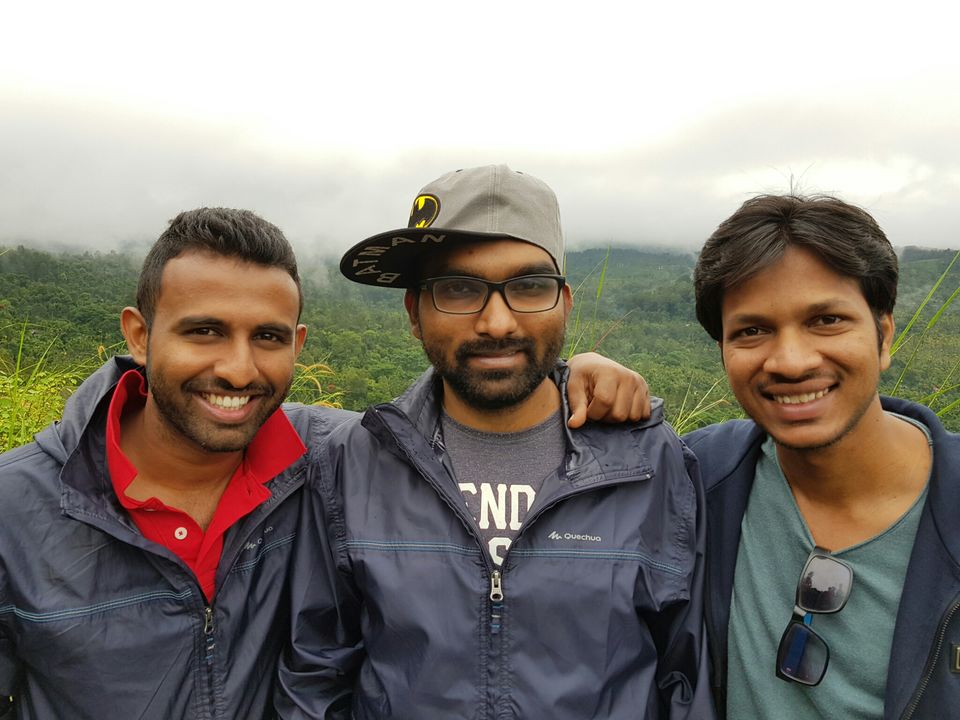 After clicking few pics along the beautiful tea estate we embarked our journey towards Soochipara waterfalls, it was around 15 Kms away from Chembra. We had our breakfast ( bread omlette and Maggi ) and continued our trail to reach the falls. After an hour of trek through narrow stony pathway we could hear the thunderous sound, the volume of water flowing from atop was huge and guards were deployed to control the movement of ecstatic crowd.
It was a memorable experience as the place was filled with fog and was drizzling on occasional basis.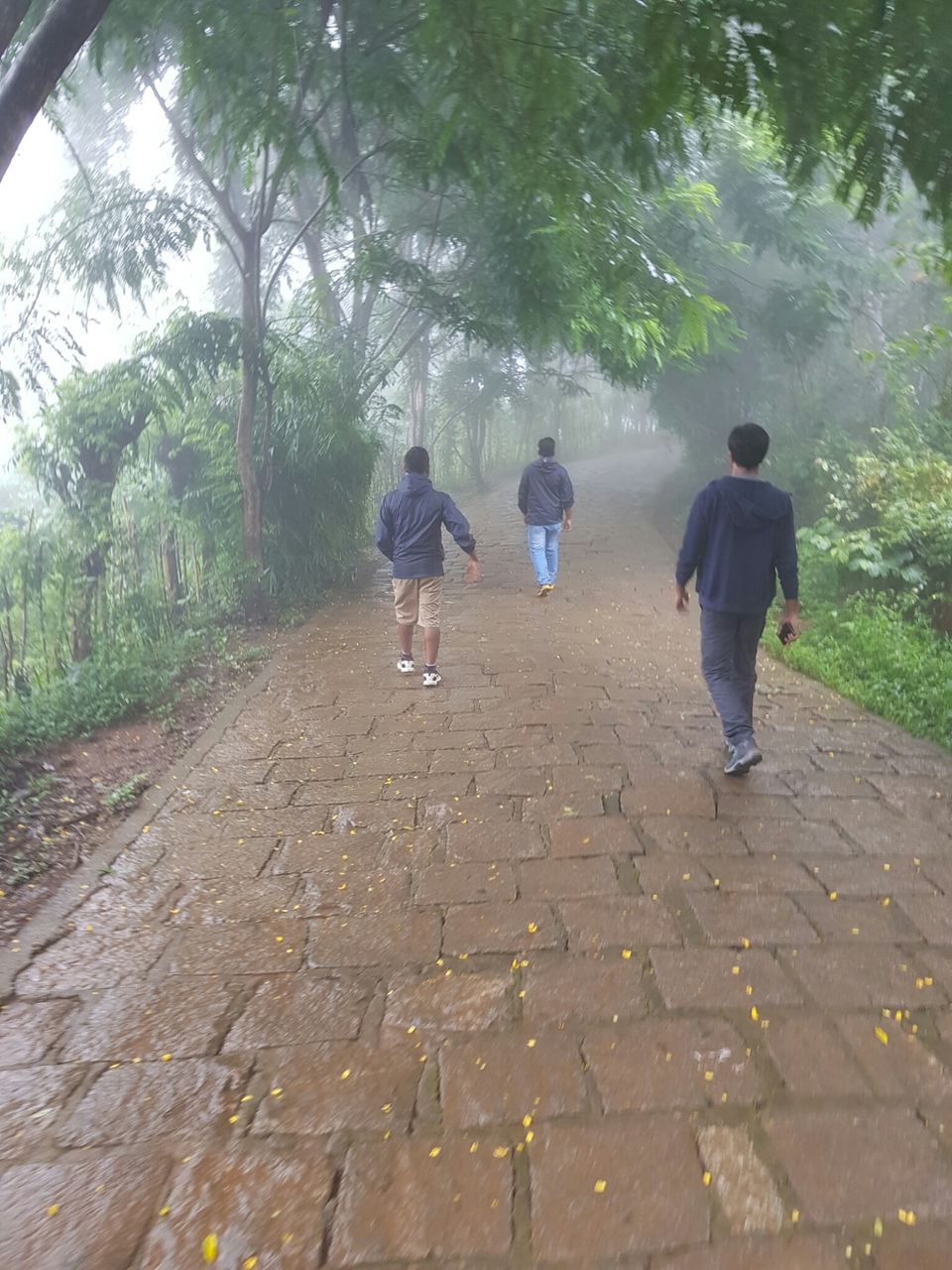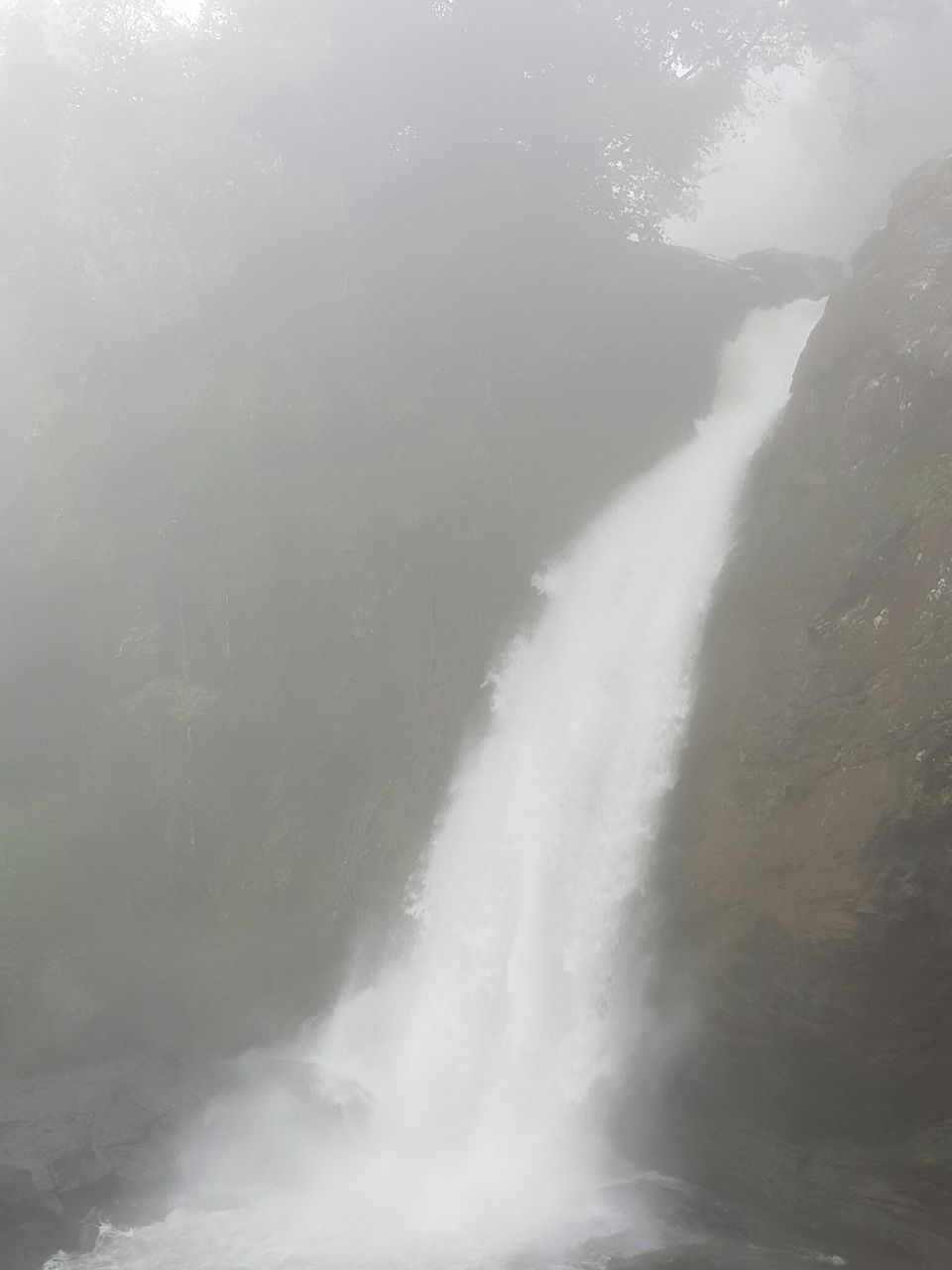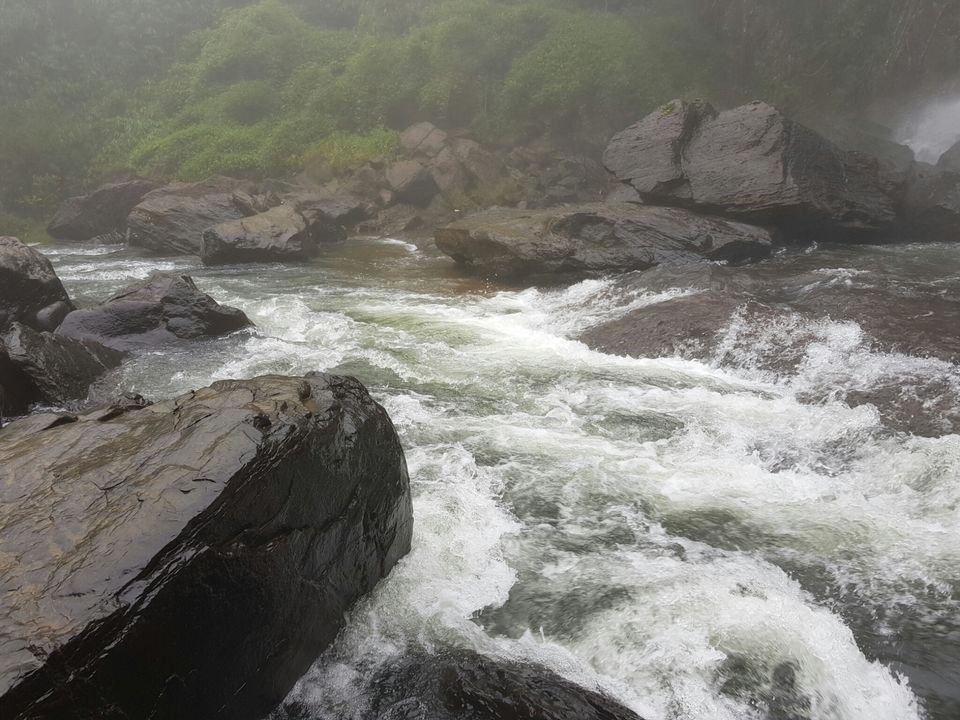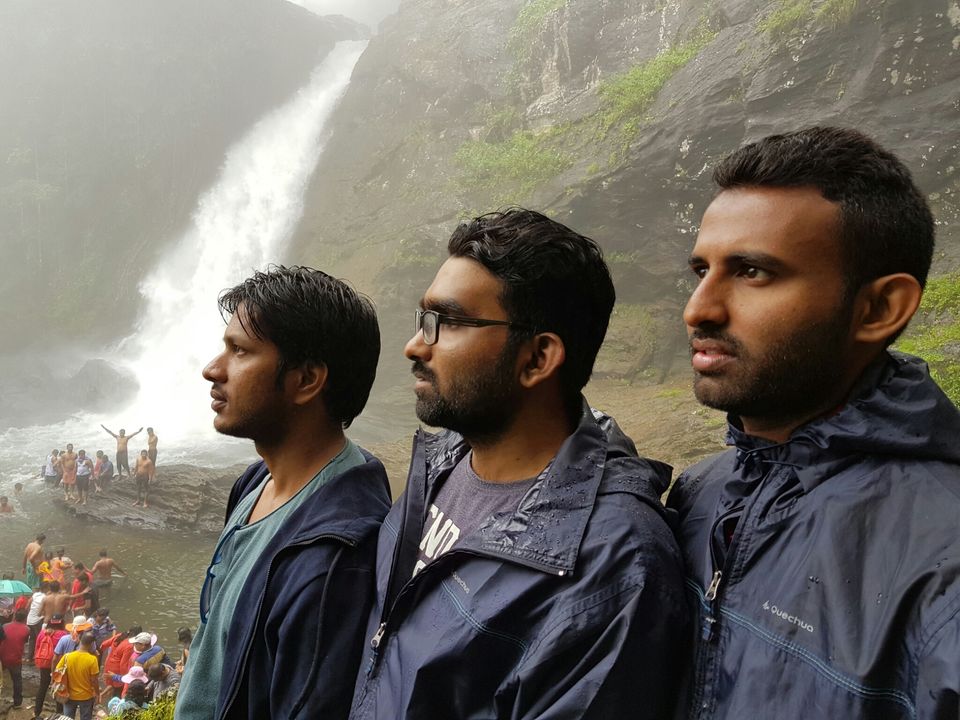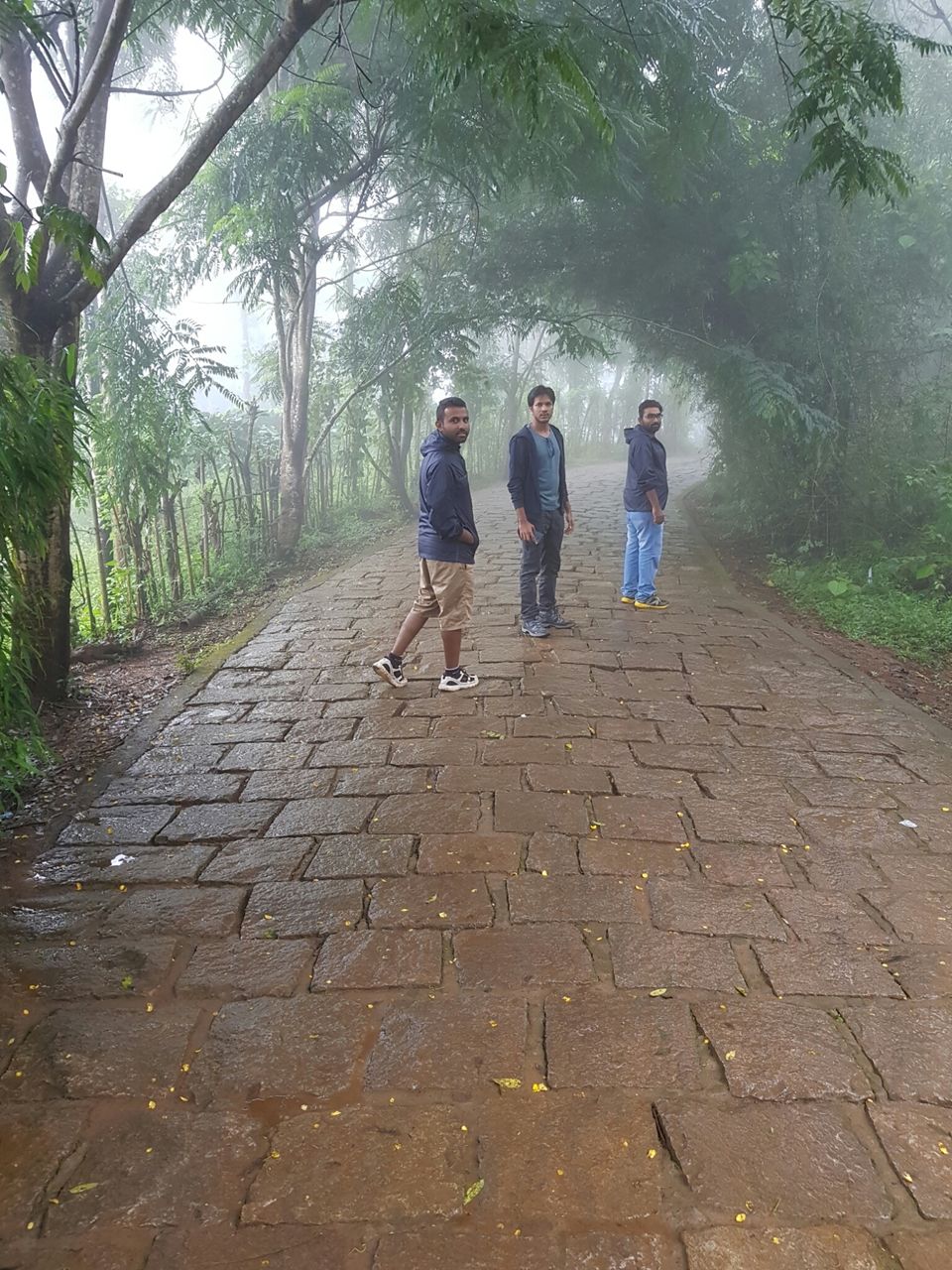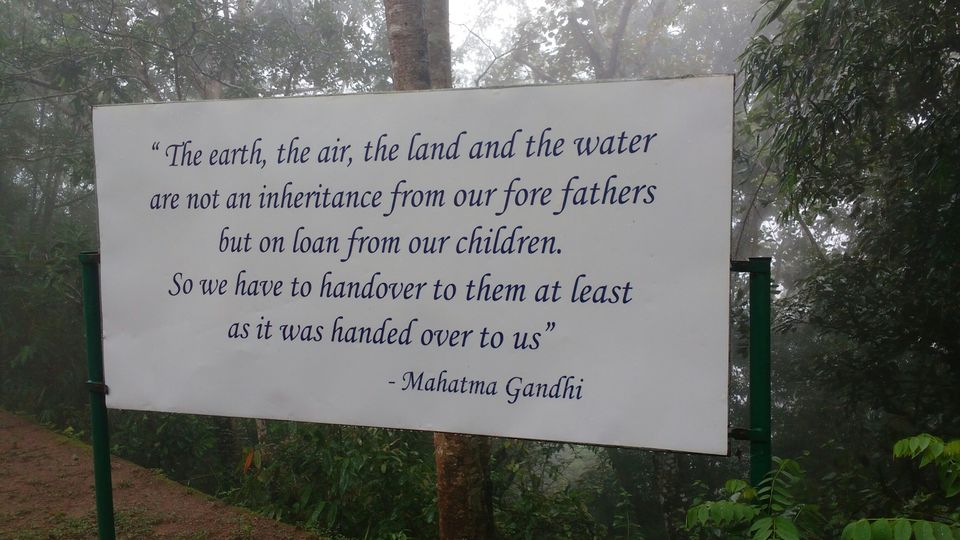 Next we headed west to Lakkidi view point which is after Vythiri village,This phenomenal view point is enroute to Kozhikode. The weather here was good and we could see the clouds passing by over the beautiful backdrop of valleys. One could also spot the famous " The Chain Tree" which holds significant history.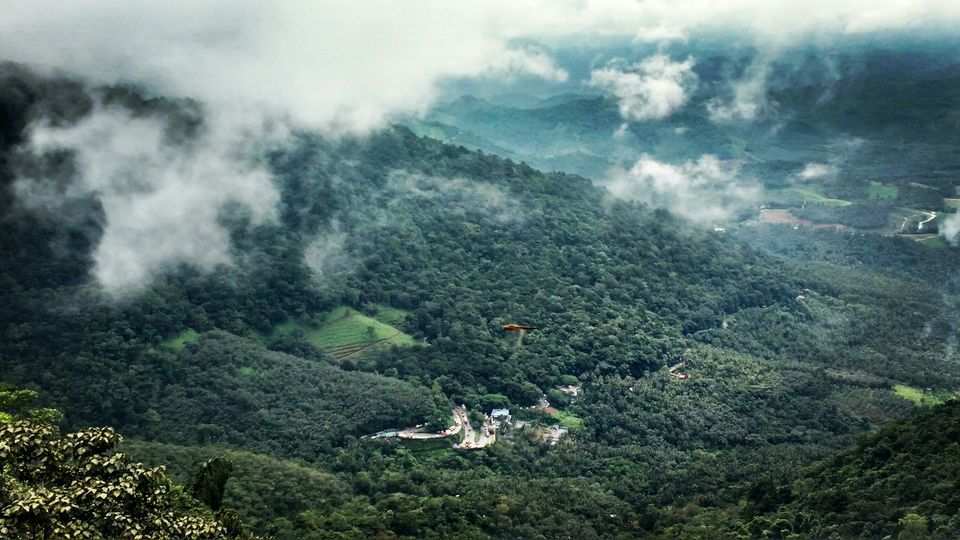 We reached Phookode lake, which is believed to be largest fresh water lake in the town, this appeared to be just another lake offering paddle boat rides. An aquarium housing different species of fishes is as well present. This is typically an ideal tourist place for families and couples :)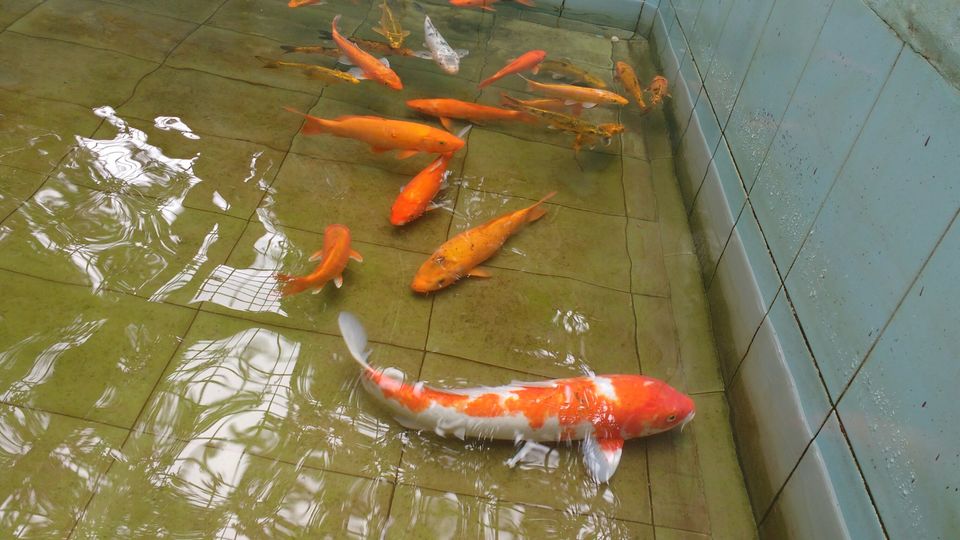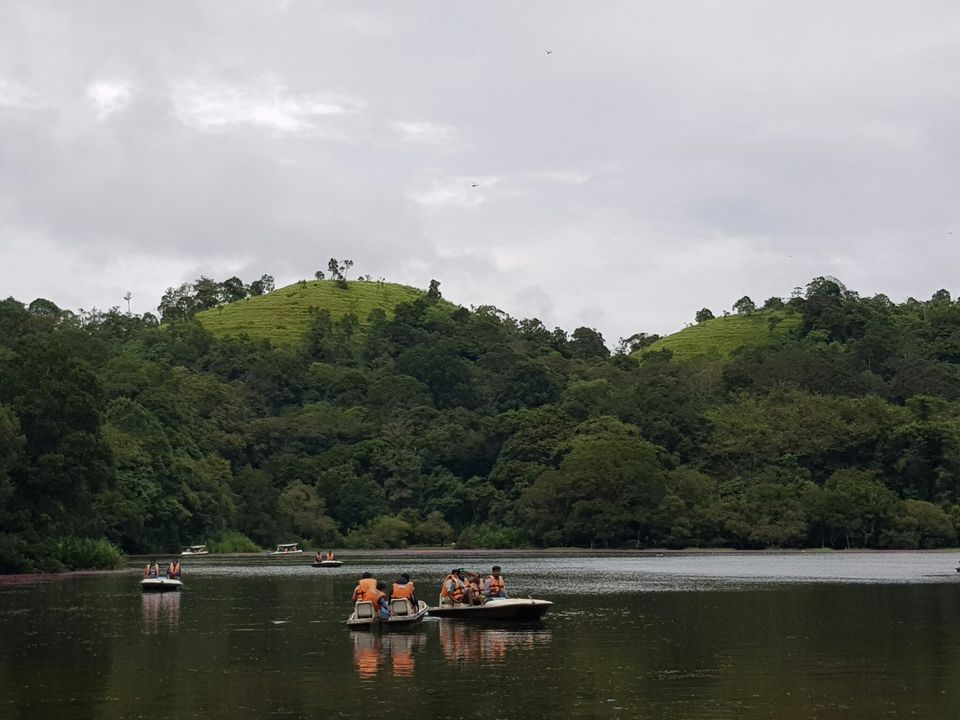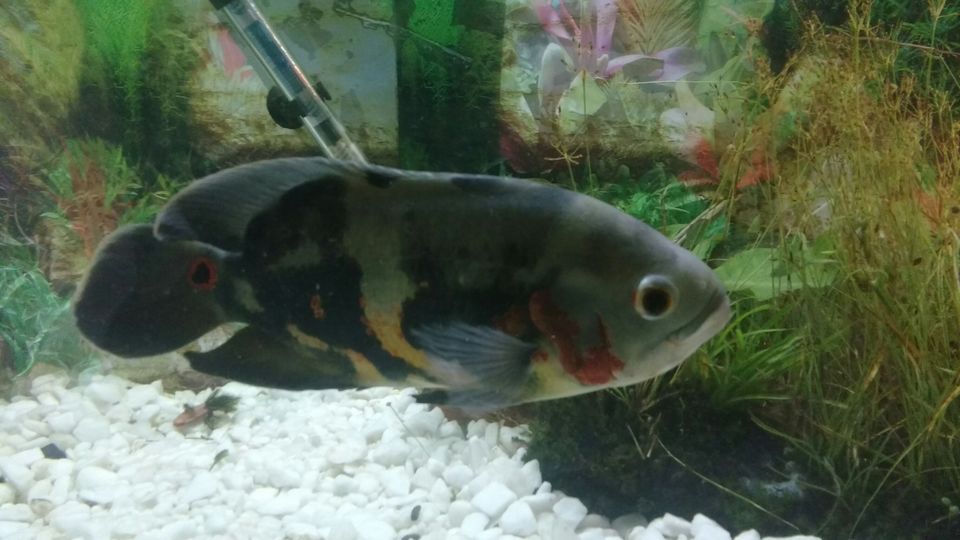 We had our lunch - a sumptuous Kerala meal in a restaurant on our way to Dam, could find tourist spots like bamboo rafting, zip lining etc.., Our driver was nostalgic recollecting his childhood spent around the dam, when the gates were opened he often accompanied his friends to catch huge fishes which would transverse towards lower canals.
The reservoir holding the backdrop of Banasura Hills coupled with islands offered a scenic beauty.
Mobiles weren't equipped ( 13 Megapixel ) to capture the farthest point in clarity but our eyes ( 576 Megapixel ) did capture this and would remain forever etched in our lives.
We started to ascend the dam to reach boating point and it was mentioned at the counter that the boating was closed, still unfazed we enquired and were happy to know the ride for speed boat and steamer was closed while Coracle ride and Kayaking is available.
Without any further inhibition we boarded the first Coracle ride for the day. We experienced the beauty of being in the midst of Green Banasura Hills on a Coracle wading through Asia's 2nd Largest Earth Dam. The water depth spans as deep as 750metres ( 2400 feet ) and the young chap maneuvering the Coracle gave much insight of the lake and the surroundings. We also opted for kayaking and spent another half an hour navigating through the reservoir.
After a disappointed start of the day ( Chembra Peak ) we couldn't have asked for anything else even fulfilling than this by the end of the day, we took few more pics for the day and embarked our journey back to hotel.
We purchased few essentials like tea, coffee, spices, raw honey etc., The Jeep driver was kind and post dinner at a food stall we marked an end to an eventful day.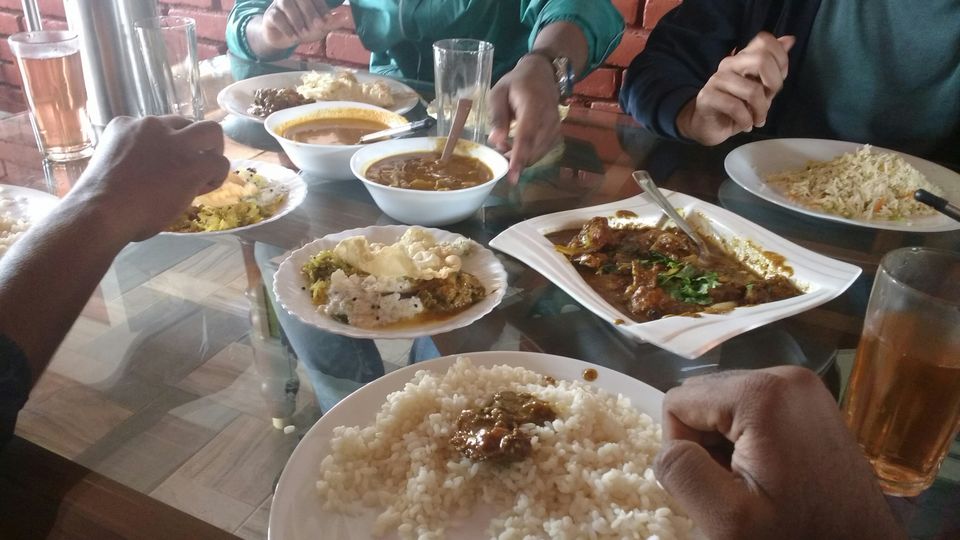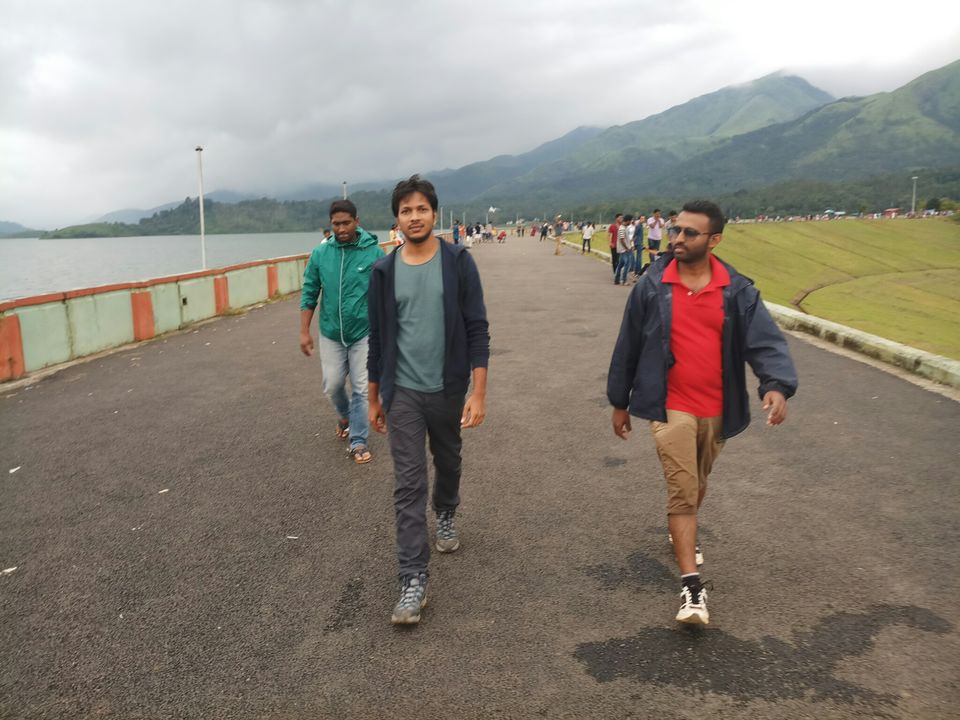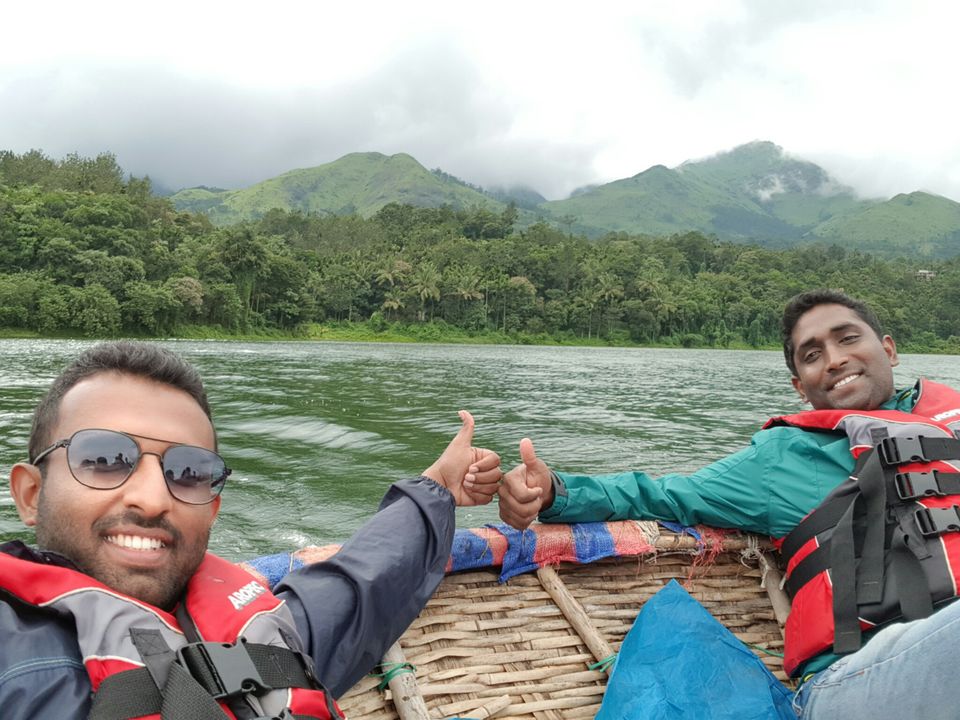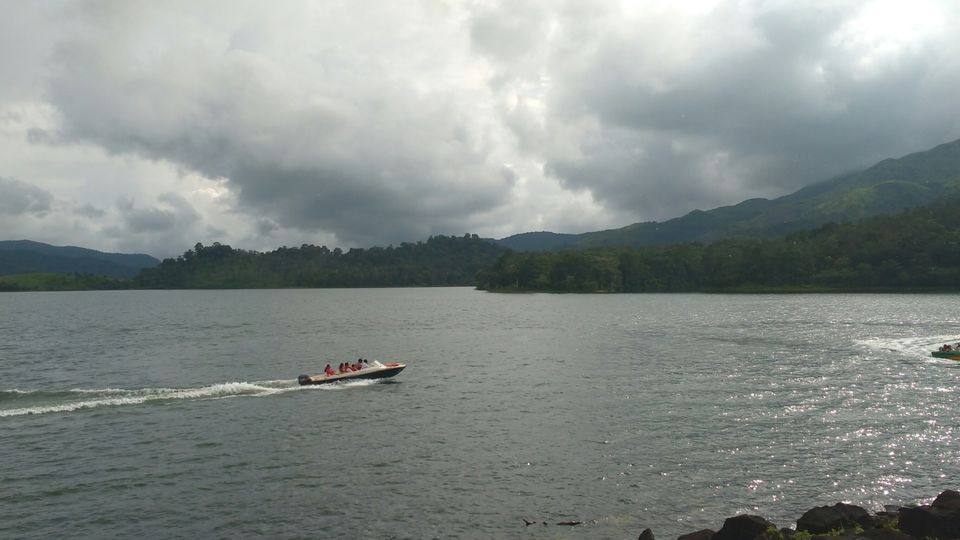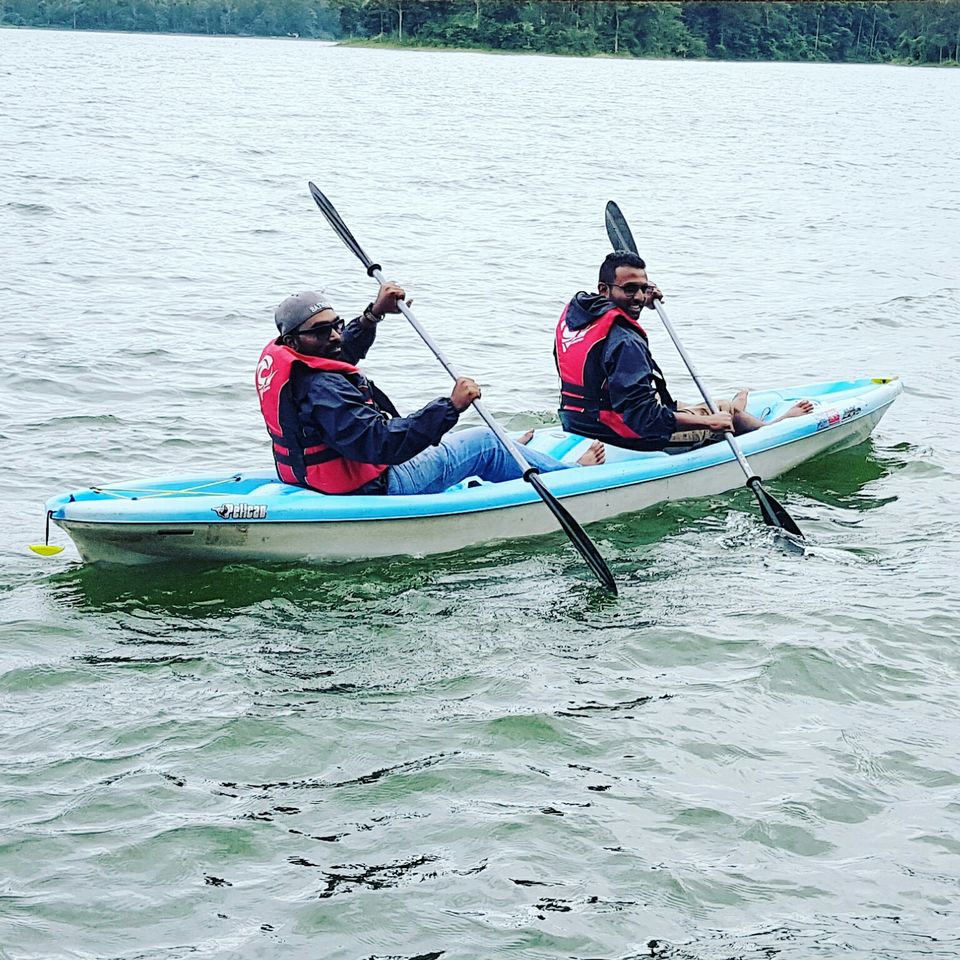 An early morning bus ride to Mysore and then again a train from Mysore to Blore was our plan cuz we gotta board our train from Blore to Hyd at 6:30pm. We missed our buses at 7:20am and 7:30am and eventually post breakfast we boarded a bus to Mysore around 8:30am. Our route towards Mysore was through Bandipur National Forest via Gundlupete.
Our train journey from Mysore to Bangalore was of general reservation category, we managed to get an upper berth which we all shared. We reached Blore station and boarded our train back to Hyd which was again a RAC :)
This was our first trip where we gave priority to word 'budget travel', we did not pre-book the hotels ( online booking showed 1k per person, we managed to get a spacious room for 4 ppl for Rs.1500 ) , we travelled in RAC - dint opt to book Tatkal tickets, dint hire a car rather chose public transport and preferred local cuisine from food stalls and budget hotels. We were delighted to complete our trip much within our budget without any constraints and with much memories to cherish.