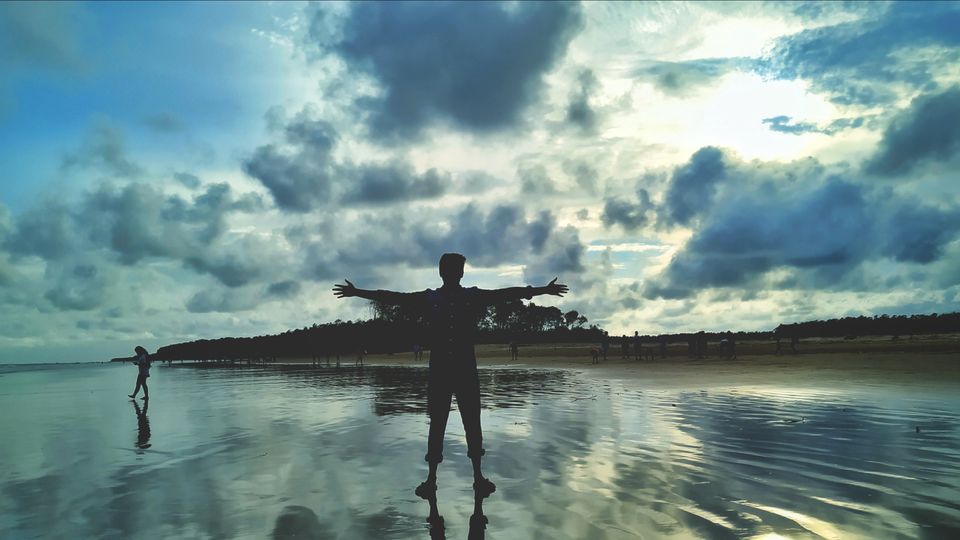 7/09/19 5:30 am :- BARRACKPORE
We leave our home, we two friends and my bike ((Pulsar 220), fueled up Rs, 380 of petrol yesterday night, because some of petrol pumps are not open in early morning, So we hit the NH6 (Kolkata - Mumbai highway) via DUNLOP, then after 1 hour 30 mintues we reached Kolaghat at 7:00 am, then we took breakfast, and after 30 mintues of break we again start riding, afrer NANDAKUMAR roads got narrow and treacherous,
please note that if you are going as per Google maps there will be average timing to reach digha about 4:30 hours of 195 kms,
So you will received some good patch and xtreme bad patch, and before 10 kms of Digha, very bad road, so you have to drive or ride your vehicle carefully, Anyway we reached after 5:30 hours means 11 am, and then we got sucked, WHY?
The day was Saturday means weekend and there something rules that you have to book hotel early day, or you have to take A.C rooms about of Rs.1400/- average, so you can get it as your wish,
But we searched 4 hotels but we cant afford, and decide to take hotel opposite area of new digha beach road, and we got it a Non Ac room at Rs 600/- Hotel name - SEA PEARL. And then we getting ready to go Sea beach, after Enjoying, we took lunch from hotel's restaurant, Ruhi fish Rice about Rs. 90/- and then after got lunch we take a nap and at 3:30pm we gone for Talsari and Udaypur beach, about 14 kms of distance, Udaypur beach is very famous for beachside alcohol and fried fish, so we skip that for our budget issue, and after that we got back to the hotel and parked my bike and gone for the New digha beach for some time, the seaside breeze was very attractive, after some time we gone to Sobuj Bazar, and bought 800gm chicken, and some veggies, and did cooked by a restaurant, after that we bought some paratha, so total individual cost was Rs.100, so that was very cheap and enjoyble food, after dinner at night we had sleep enough, and the next day at 8:30am we gone to the Old Digha view point.please note that if you go as by Google maps then u will be distract, so please ask someone for the direction.and the entry of old digha view point so much stink of fish.
What a nice place, we spend 45 mins there, and after some photography, we went for Tajpur just 15 km away, very very silent place, no crowd was there, and there was lots of resorts.
So after some time we headed for home, and we had our lunch from Sher e Punjab, we had fish thali (katla fish the size of the fish was much big), after all that, I dont take any break halt, and reached home directly.