Sitting proudly atop a Himalayan hillock, Mayfair Darjeeling overlooks sweeping green valleys. And the second you step into its palatial premises, it transports you back in time, to another era altogether. An erstwhile summer palace to a maharaja, the heritage hotel was given a second chance at life upon its renovation and is now cradled by manicured gardens and a whimsical collection of kitschy sculptures. Sustained by the tea-scented daydream that is the town of Darjeeling, Mayfair offers jaw-dropping views of distant mountains glistening under the sun and neighbouring hills draped in thick mist, all year round.
Ideal for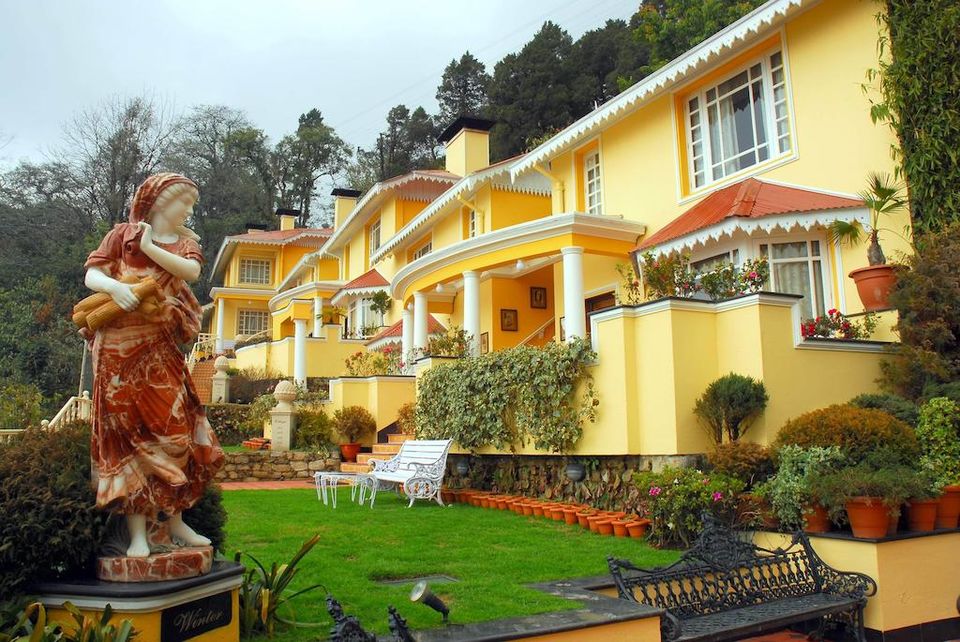 Mayfair Darjeeling is the perfect hideaway for families, a large group of friends, and couples who can either have a complete staycation here, or use the property as a base to explore Darjeeling and its cornucopia of secret hilltops and forests. Their swanky banquet hall, the Himalayan Bird, is perfect to host parties, corporate conferences, business meetings or to be used as a luxury wedding venue.
About Mayfair Darjeeling
Every street you walk on, every house you pass by in Darjeeling, is a frame waiting to be etched onto paper, or captured by lens. The town's primary thoroughfare, Chowrasta is strewn by a myriad of vendors selling the sweetest tea and the spiciest thukpa at dirt cheap rates. And minutes away from this touristy brouhaha lies the stately structure of Mayfair, emanating colonial charm and a subtle elegance. You will wake up to the scent of the sweetest Darjeeling tea and a view of the majestic Kanchenjunga on mornings that are devoid of clouds. And your nights can be spent musing over the delectable beef steak you had at Glenary's, as you walk through the town's silent boulevards, under the golden glow of the sporadic street lights.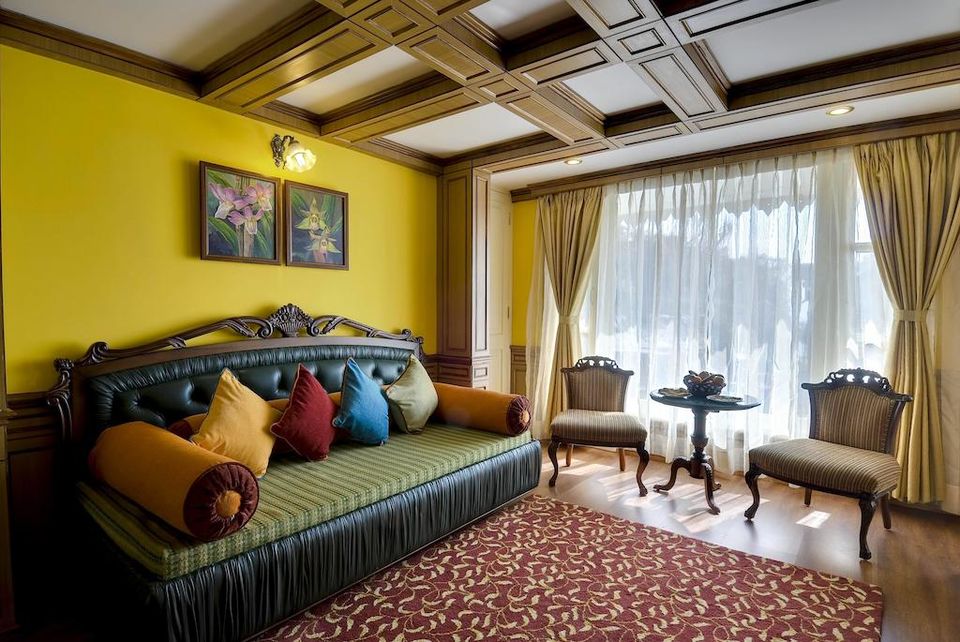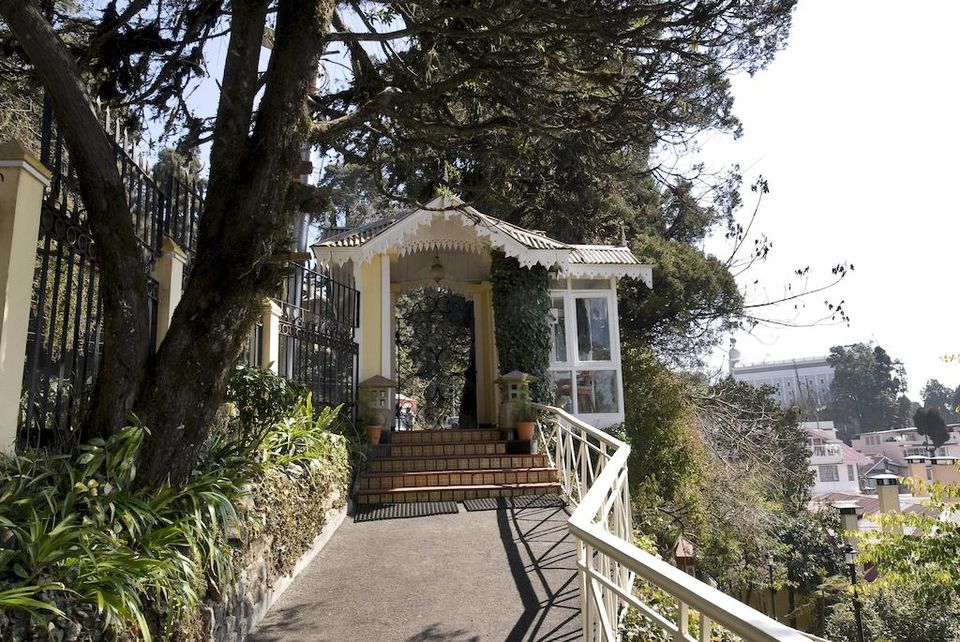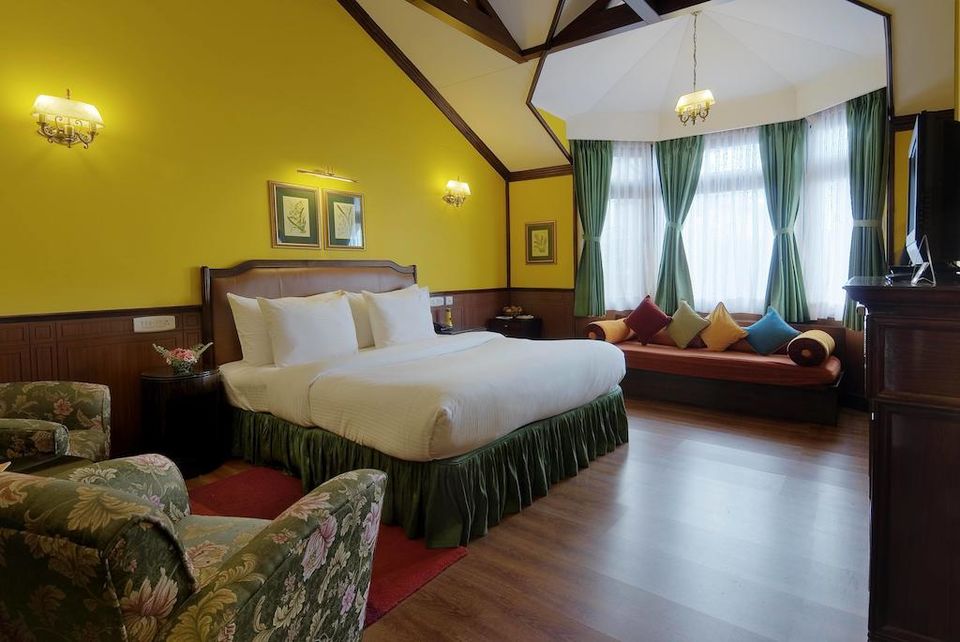 In the early 1900s, Mayfair Darjeeling acted as a summerhouse for Raja Prithi Chand Lal Chaudhuri of Nazargunj (a town in Bihar's Purnea region). The king and his family were actively involved in horse racing at Darjeeling's Lebong race course. The hotel is now under the administration of the Mayfair Hotels & Resorts group and sits right opposite Raj Bhawan, the Governor's House off the western end of Mall Road.
Mayfair ushers you in with mellow shades of yellow pastels and boasts of a plush lounge, a ginormous library, a dining hall and almost every room features exquisitely-carved wood furnishings and panels. Decked with forty-four rooms, each more beautiful than the next, they come in a vast variety ranging from attic rooms to English Cottages. And each one of them is equipped with tea and coffee makers, fireplaces, safe deposit locker, mini bars and cable televisions.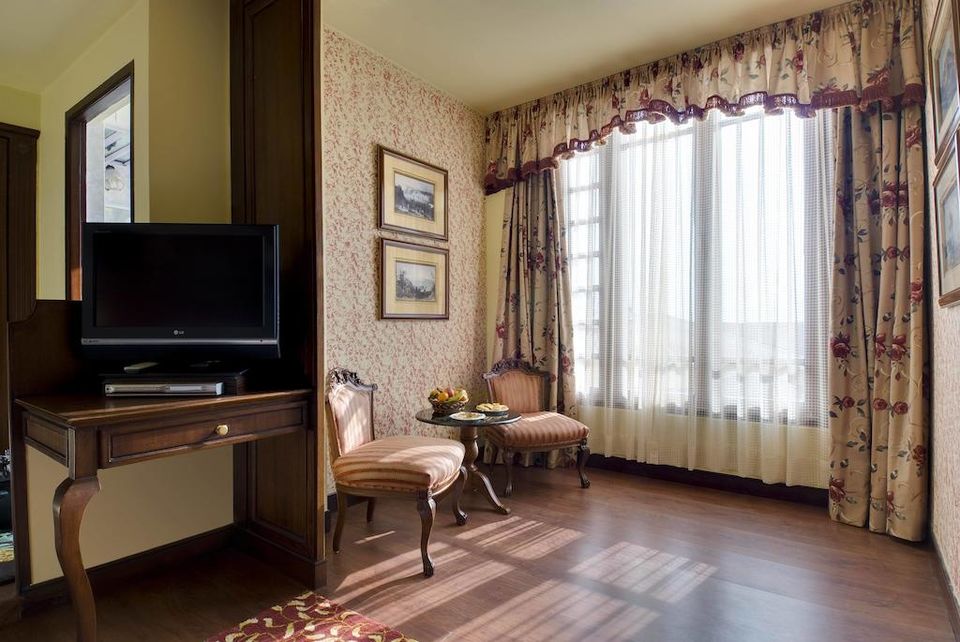 Mayfair Darjeeling has many nooks and crannies, almost all of which are festooned with the softest of carpets and coal fires, but their most sought after alcoves have to be the wicker chairs parked by their in-house bar, that offers picturesque sunsets and the lovely library that has an expansive collection of books and DVDs.
Food
Mayfair Darjeeling is flanked by three gems – a swanky buffet restaurant, an English bar and a fantastic multi-cuisine eatery.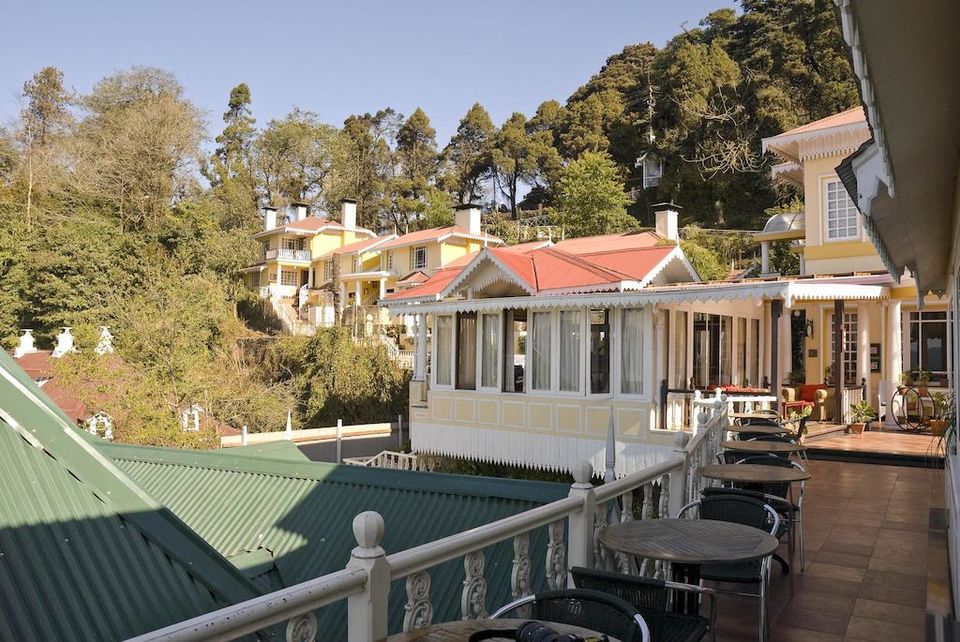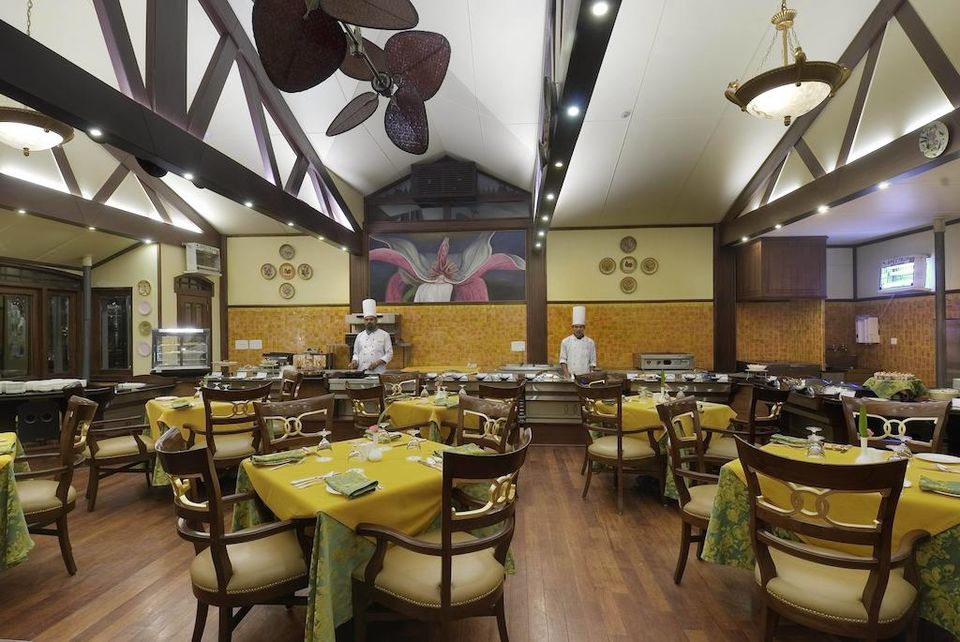 Magnolia
Magnolia's kitchens are home to quite possibly Darjeeling's best chefs. Offering spectacular sunset views of the Sandakphu range, the restaurant also serves an enticing assortment of Indian, continental and oriental meals.
Tiffany
Tiffany is all about sophisticated intimacy. With one-of-a-kind décor and elegant floral motifs, the restaurant whips up some of the most flavoursome platefuls of a multitude of cuisines.
Douglas Bar
A rendition of an old fashioned English bar, Douglas is teeming with warm lighting and vintage fittings, all entirely upholstered with leather. The bar's walls are adorned with renowned artist Goray Douglas' work and its counters packed with the finest spirits and a plethora of hors d'oeuvres (appetisers).
Cost
Deluxe room: Rs 11,885 and upwards.
The tariff includes breakfast and other basic amenities.
For further details, visit their website.
Best time to go
October through March are usually the months when Darjeeling is at its most beautiful. The monsoons withdraw by October, rendering the nights slightly chilly and winters are welcomed to the town by mid-November.
What to do in and around the property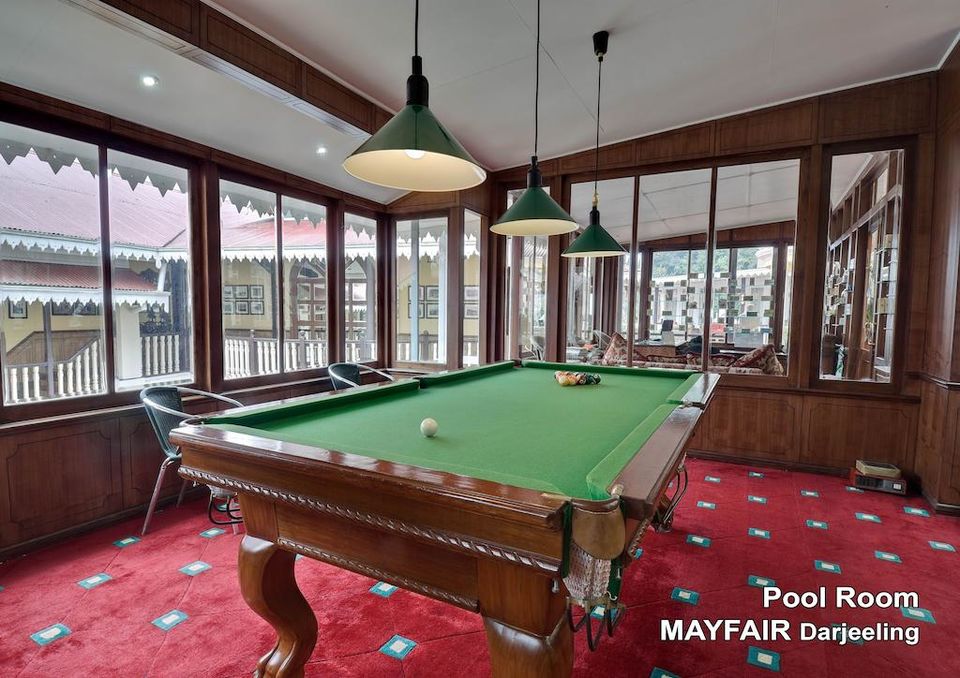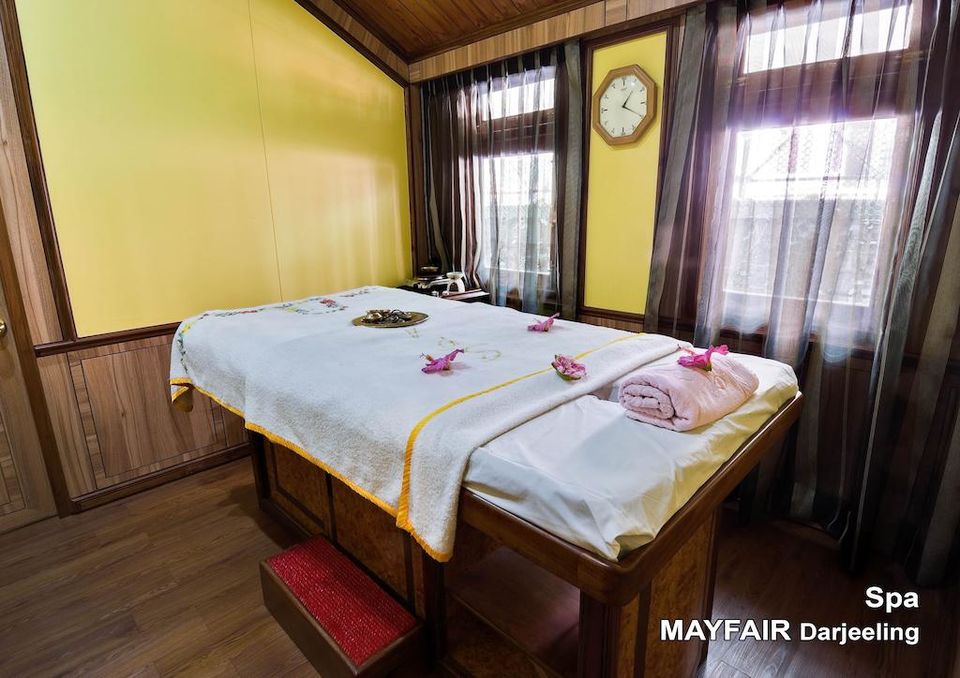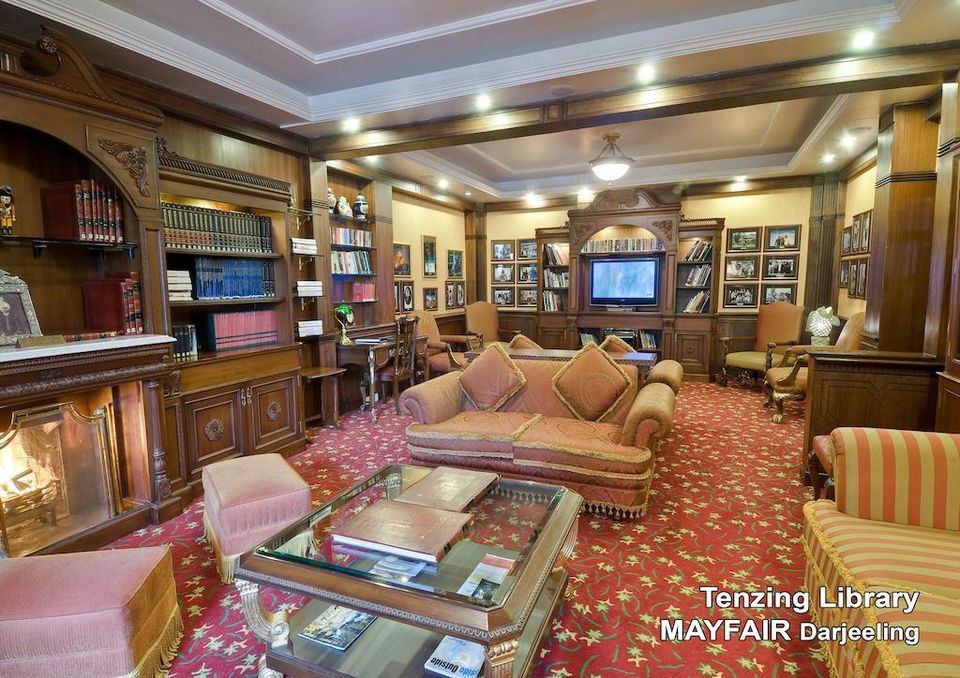 Mayfair is equipped with an excelled spa, steam and massage room. It also has a state-of-the-art gym and a comprehensive library.
Around the property
Start with a super early morning and head up to Tiger Hill in the quest for a magnificent sunrise over Kanchenjunga.
If you're looking for a dose of luxury, treat yourself to the Elgin's fancy high tea. Unlimited tea, plus sandwiches and cakes, costs about Rs 400.
Walk for hours on end through the Happy Valley Tea Estate, where as far as the eye can see, greenery tumbles down mountain slopes and a tea-glazed breeze is ever-present.
Take a trip down memory lane with a ride on the Darjeeling Himalayan Railway's delightful toy train. You'll trundle through tea gardens, the panoramic Batasia Loop and end up in the sleepy town of Ghum. Visit the nearby monastery and the railway museum, while the train halts here.
Drop in at the Padmaja Naidu Himalayan Zoological Park and say hello to the snow leopards, red pandas and Tibetan wolves.
Just off Chowrasta, take leisurely strolls around Bhanubhakta Sarani and fill your camera roll with a few hundred pictures of the Kanchenjunga. When you are returning towards Mayfair, gorge on momos at any street eatery and take back home some or a lot of tea from Nathmulls.
Getting there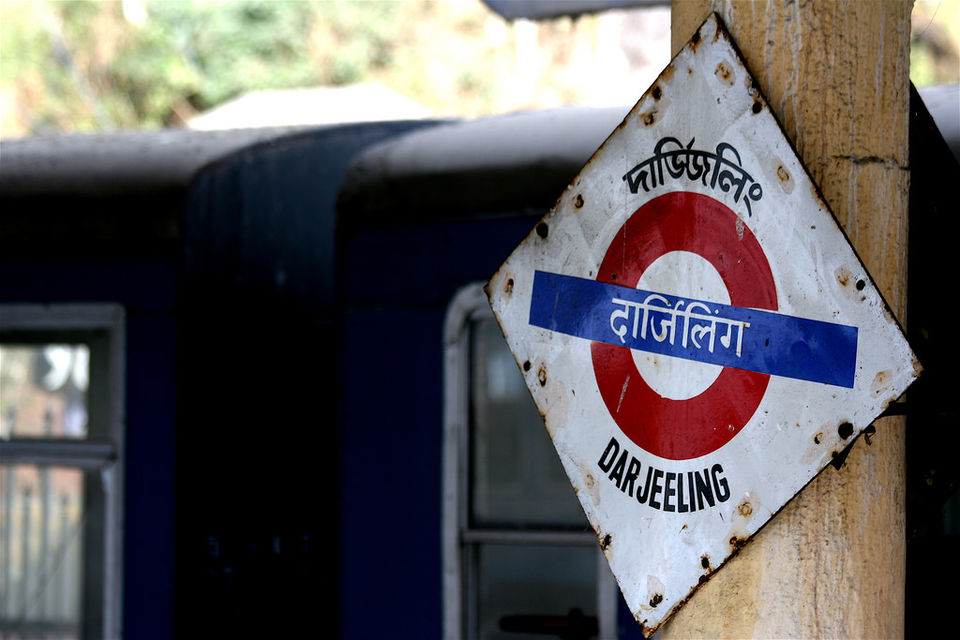 Mayfair Darjeeling is located opposite Raj Bhavan and is 900 metres away from the Bengal Natural History Museum.
By air: Bagdogra Airport is 96 kilometres away from Darjeeling. Accessible by taxis, it takes two hours and thirty minutes to reach Mayfair.
By rail: The railway station nearest to Darjeeling is 62 kilometres away, at New Jalpaiguri, connecting all major Indian cities such as Kolkata, Delhi, Guwahati, Chennai, Mumbai, Bangalore, Bhubaneswar and Cochin. Plenty of local taxis and shared jeeps ply from NJP to Darjeeling, with the drive lasting for about two hours and 40 minutes.
Travelled to Mayfair Darjeeling recently or stumbled upon another beautiful hotel? Tell us about your experience by sharing your story on Tripoto, and inspiring millions of travellers across the world!
Frequent Searches Leading To This Page:-
hotel mayfair darjeeling gandhi road, mayfair darjeeling executive room, the mayfair darjeeling, darjeeling famous places