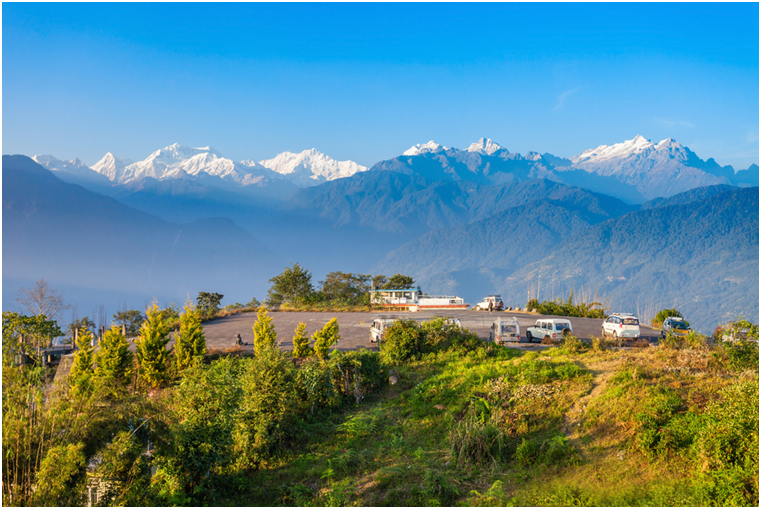 What comes to your mind the first time when you bring that first sip of tea to your lips? Every day, every single Indian household begins its day with the rejuvenating aroma of tea in one hand and a newspaper in the other.
Interesting it might be, but more often, we are so entangled with the routine that the thought just slips our mind about how far that one cup of tea travels to reach your household, every single day. Well, not everyone is that forgetful, especially our guest writer- Sonika, who will take you on a mystical tour of the Darjeeling Mountains. The rest of the story from her pen and diary!
Read More:- 5 Reasons Why You Should Visit Shillong This Monsoon
About Darjeeling
Surrounded with amazing, rolling mountains with Mt. Kanchenjunga towering over the clear sky. Darjeeling city is a must visit for the people who love nature, peace and of course hill station this place is also known as the "Queen of hills".
Read More:- How To Plan A Four Day Family Road Trip To Gangtok
Darjeeling is a town located in the northern part of west Bengal state of India.
The best time to trawell to Darjeeling is between March and May and one in the season of autumn between October to November end.
What makes Darjeeling one of the best hill stations in India?
Darjeeling is not only famous for its breathtaking Himalayan landscapes, but it is also very popular for its tea tourism. Essentially a Gorkha dominated land, Darjeeling fell into the hands of the British in the early 18th Century after their series of battles with the local kingdoms.
Previously Darjeeling was a very important supply hub and a popular summer destination for the British, and as they lived here, they gradually developed the town as a hill station especially as a sanatorium.
Darjeeling mainly evolved both as a commercial and educational hub during the British times. Tea cultivation became the major commercial activity and tea cultivators were allowed to settle here. Darjeeling there are many British style public schools with the help of the Scottish missionaries, and these attracted children from all over the country, and also from few neighboring countries including Nepal, Bhutan and few others.
Read More:- City Guide - Spending A Day In Siliguri
The temperature in Darjeeling remains between Degree Celsius to maximum 22 degree Celsius making it an ideal summer destination for travelers.
How to reach Darjeeling?
Via train:
If you're reaching Darjeeling from a train, then the best option is to Take a train to New Jalpaiguri. From New Jalpaiguri , Darjeeling is 90km away, and one can reach there with the help of a taxi or any bus.
You can also take the facility of a toy train, this will surely take long time , but it will be a new thing to try.
The Bagdogra airport is the nearest to the city of Darjeeling and this is nearly 96 km away from Darjeeling.
Buses services including Volvo and many others are easily available for Darjeeling, and one can easily reach to Darjeeling with the regular bus services.
Best Things To Do In Darjeeling:
1. Visit the happy valley tea estate:
Located at an altitude of high 6500 feet, and spread over 450 acres. This is the oldest tea estate in the lush green hill station.
A tourist guide is a must of your visiting in this tea plantation garden.
The tourist will guide you about the varieties of different types of tea, their varieties and much. You can gather a lot of information about tea plantation here.
You can also take some tea at your home, but make sure to make a pre-order of that.
2. River rafting in Teesta River:
If you are among the one who loves adventures sports, so this is the best thing to do in Darjeeling.
Darjeeling is full of scenic views and many others adventures activity.
The level of rafting will is moderate.
Read More:- Travel Postcards - Gangtok and Beyond
3. Ride on the Batasia loop
This is a must to visit and try if you are visiting Darjeeling. According to me, this is the most stunning rail journey one can experience in India.
But this will be a little bit more crowd, especially on weekends, so, do visit it early morning.
In this, there is a toy train which runs over a 50 thousand square foot wide ecological garden. This will be the best place for people who love to be in the lap of nature.
4. Try street food:
Darjeeling is famous for its food too. The most famous street food in Darjeeling is Thupka and momos.
In the pleasant weather of Darjeeling grab and taste some other and new dishes of Darjeeling.
Churpi is also a very famous chewing bar, which is mostly available in winters because it is said that it provides energy to the body.
5. Visit the Nightingale park:
This was a ruined garden earlier. But now after a renovation, this is among best tourist spot of attraction.
Here people visit to saw the musical fountains, every corner of this garden is just stunning and well designed.
This place is best for the family picnic.
6. Zang Dhok Palri Phodang:
This is a monastery situated at Kalimpong, Darjeeling. This place is best for peace lovers.
This contains many rare sculptures, which was brought to India after the invasion of Tibet.
This is a lane of temporary stalls set up by the local bhutias.
This is best for tourists, especially for buying winter clothes including sweater, mufflers, caps and much more at a very reasonable price.
This place is a point of attraction for tourists, especially for all shopping lovers.
Pagoda is situated atop of the Charlemont hill of Darjeeling. This is among the 30 pagodas in the world which was established by the Japanese Buddhist Monk, Nichidatsu Fuji for a way to promote peace and harmony.
Peace lover favorite point. You will experience tranquility and serene after visiting this place.
If you love nature, scenic beauty and climbing mountains then this place is best to visit.
One can get such a stunning, mesmerizing look of the hills, the Mt. Everest from this point.
And this place can also say the photograph lovers' favorite spot.
This place is a famous tourist spot of Darjeeling. This is a man-made rocky garden with a lot of variety of flora and fauna and waterfalls, bridges.
This is also a very famous picnic spot. If you're visiting this with your family don't forget to have lunch in the rocky area.
About Author:- A Commerce student at the Delhi University, with a penchant for writing, Sonika is a travel lover and a fashion freak. She owns the www.lifestylefame.com and loves to give regular updates on Travel, Lifestyle and fashion. If you are looking to enhance your lifestyle in the best possible way, then do visit Lifestyle Fame.
PIN FOR LATER:-
Published via Pack-Ur-Bags - A Trawellblogger's Guide To Explore Life!!