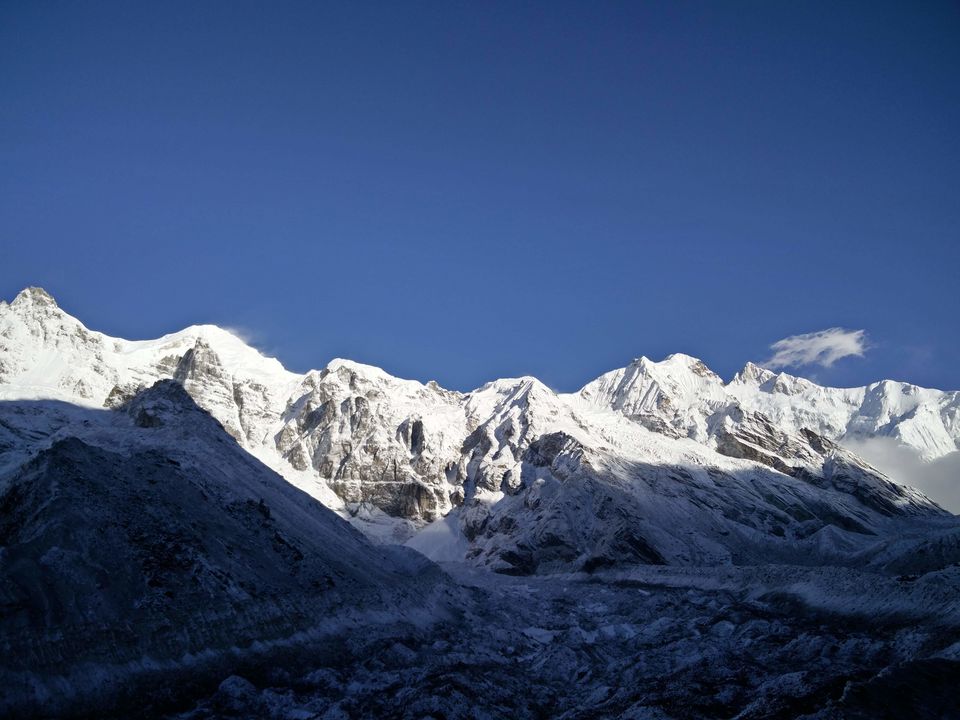 When a trek takes 2 years to finally happen, it promises one hell of a good time. Goechala will always be one such happy, awe inspiring and truly beautiful memory for me.
I want to jot this down while it is still fresh in my mind... the smell of blue pines, the sound of the overflowing river, the wind on my (sunburnt) face.Bliss!
As I said, our motley group of trekkers have been looking forward to this trek for a while, first deciding on Goechala 2 years back, when we had just finished Roopkund. For whatever reasons, everything fell into place this year, and there we were, at the NJP railway station, with our bags packed and ready to go.
Our drive from NJP railway station took us to Yuksom, some 150 kms away. It took us longer than anticipated to get there, because of the road being closed from 11 am - 3 pm for construction. The guys didn't mind though, dunking into the nearest stream while I sat on the banks, content to merely wiggle my toes in the cool water. It was dark by the time we reached Yuksom, we all ate our dinner and crashed, tired from the long drive.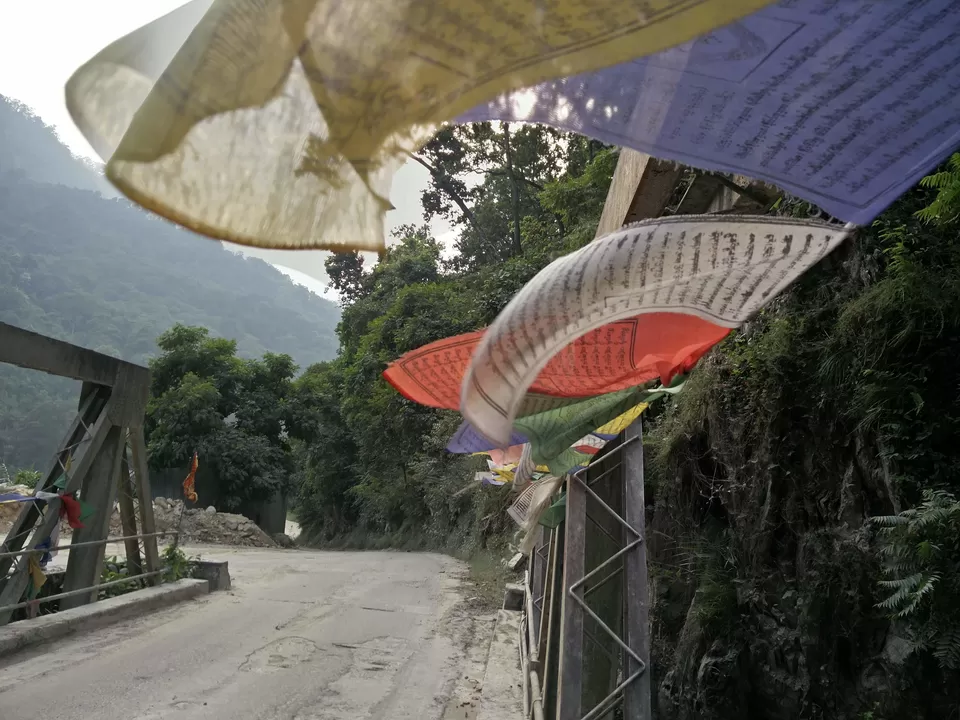 The next morning was brighter, and after a bit of haggling with the trek's in-house Munim ji for porter fees etc, we set off. A short detour took us to the Coronation Throne, and then we finally got on to the trail. The clouds moved in, and we saw hazy hills shrouded in curtains of mist. We also had our first encounter with the "Jo"s , Yak/Bull like creatures, the local beasts of burden who would carry our supplies from one camp to the other. Our guides warned us not to get close to them, to avoid getting kicked, and we wisely followed their advice.
We got to our first camp site late afternoon, after crossing 3 bridges, involving a lot of ups & downs in the terrain. Sachen is smack in the middle of the forest , with tall trees looming all around, and faint outlines of hills seen through gaps in the foliage.Our lunch wasn't very satisfactory, which led to some grumbling in the group, and also stealing and hogging of some hapless person's unattended packet of theplas. We're sorry!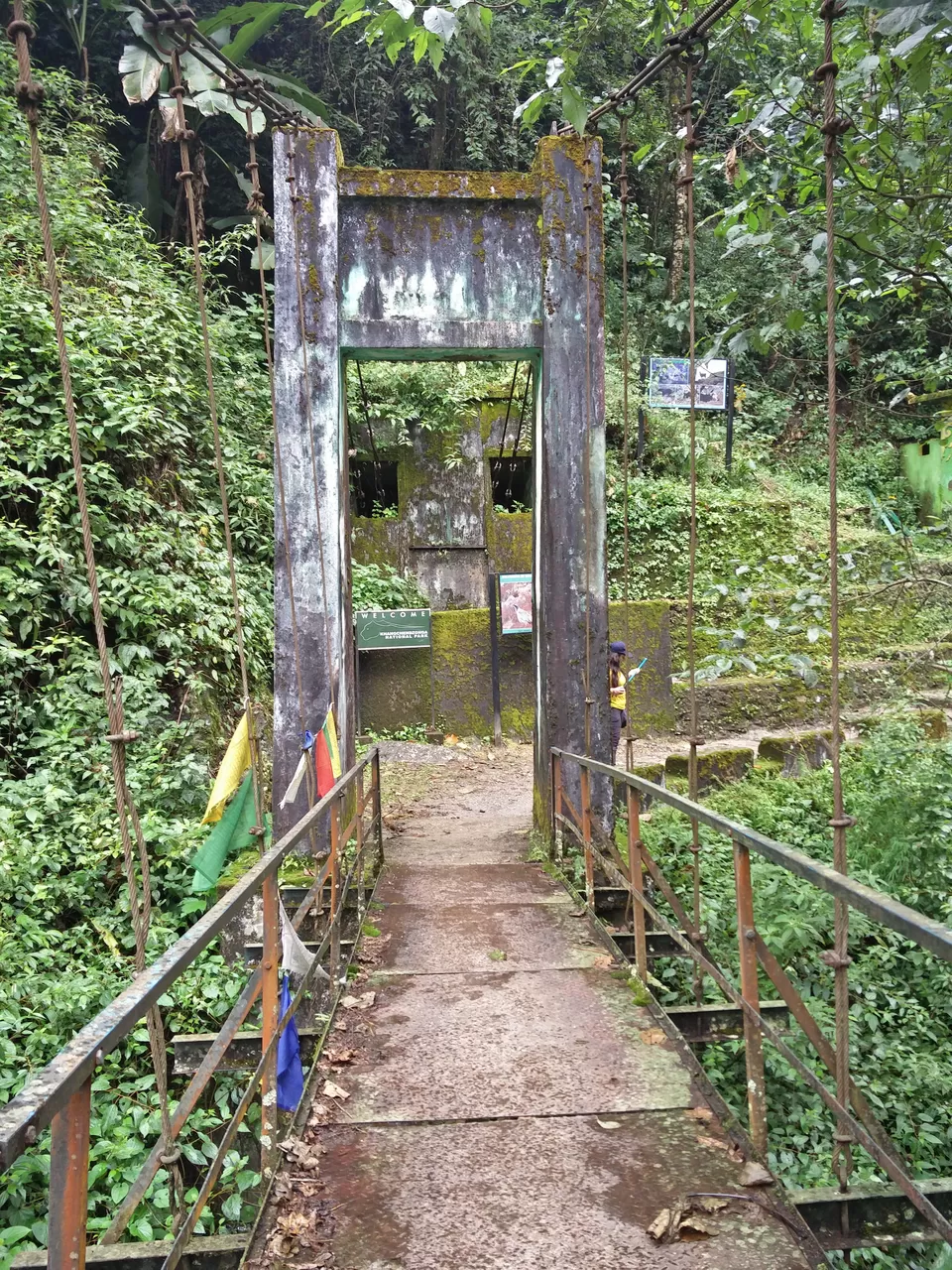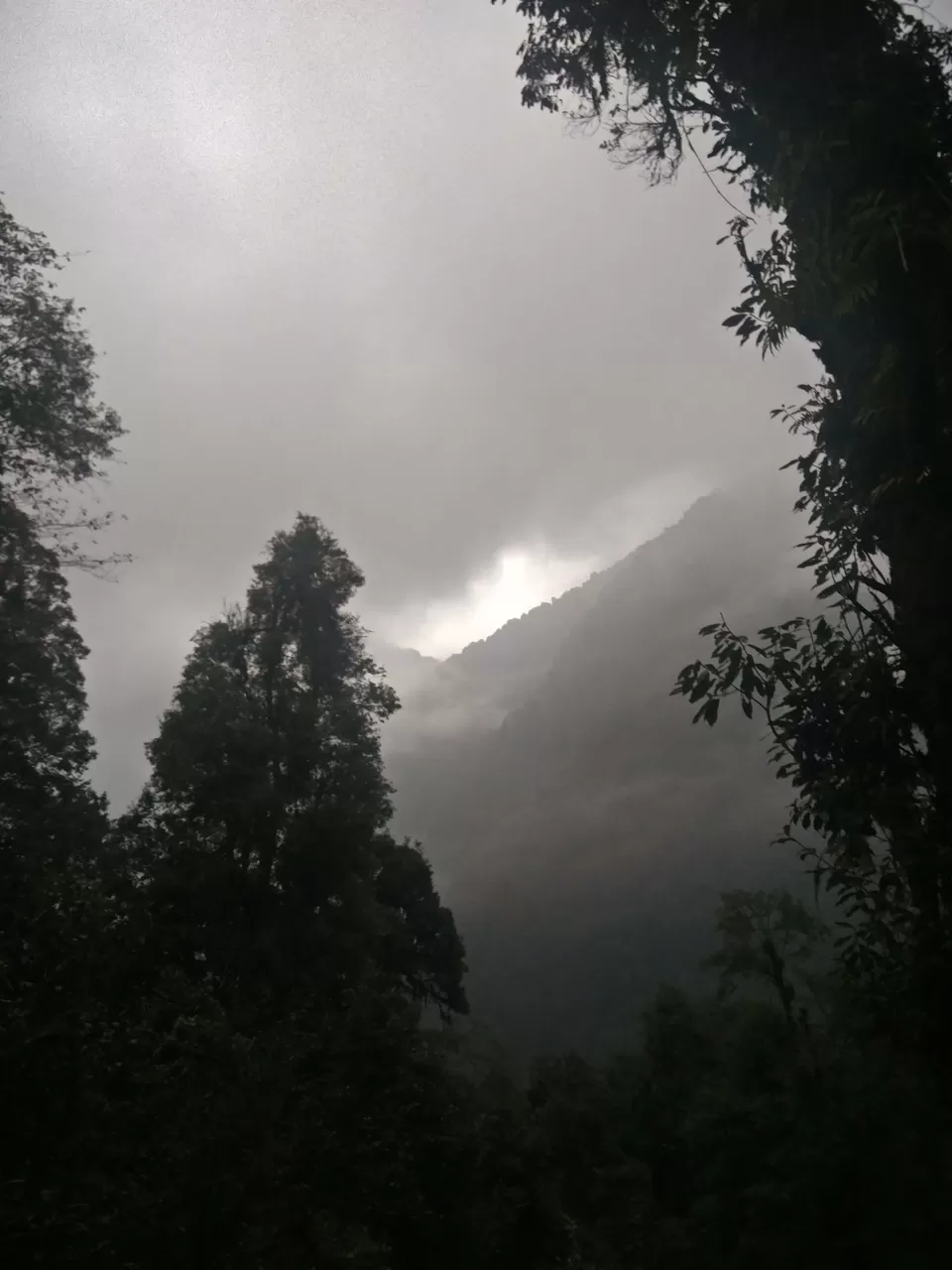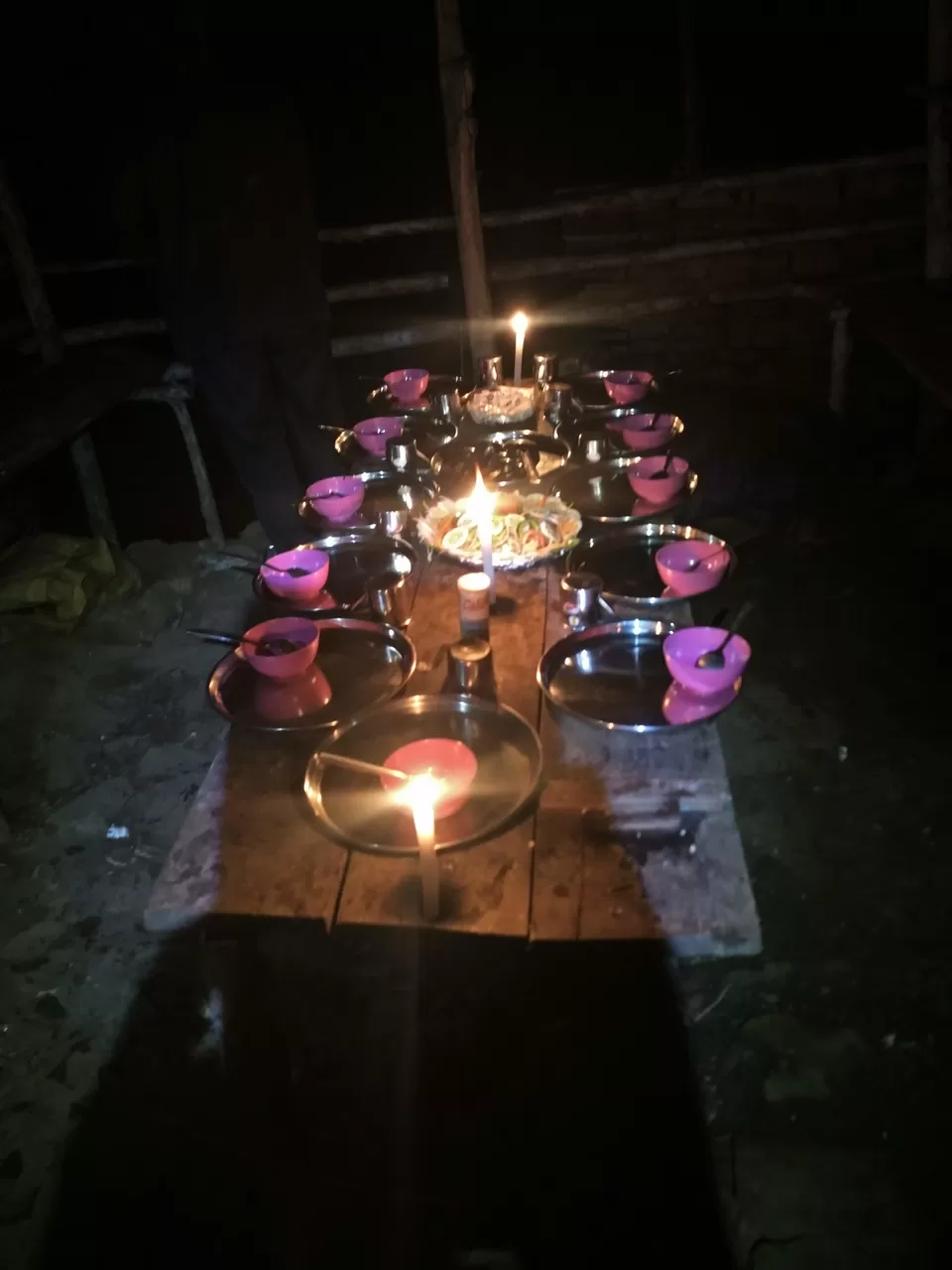 Our guides , however, went out of their way to make it up to us. When we assembled later, they had actually set out a candle light dinner for us!
With clouds obscuring the sky, dusk turned to a pitch black night real soon, and we all made a beeline for our tents.
This day, our guide warned us, would be tough. They warned us that by the time we were done, we would've remembered every single heavenly deity, past girl/boy-friends and even our grandparents ! The group, naturally , proceeded with caution, conserving energy till the point where the ordeal was supposed to start. Yes, the path did steepen from there, for a good 4 kms as promised. Surprisingly, though, it was steady going for most of us, and we made it through without much ado. We decided to take our guide's advice on difficulty levels with a pinch of salt.
After a brief stop at a small rest point (Bakhim, I think) with an almost 270 degree view and a literal cat & mouse show, we came to the small village of Tshoka. It was set atop a hill, surrounded by even more hills, and with a brilliant view point, despite the clouds.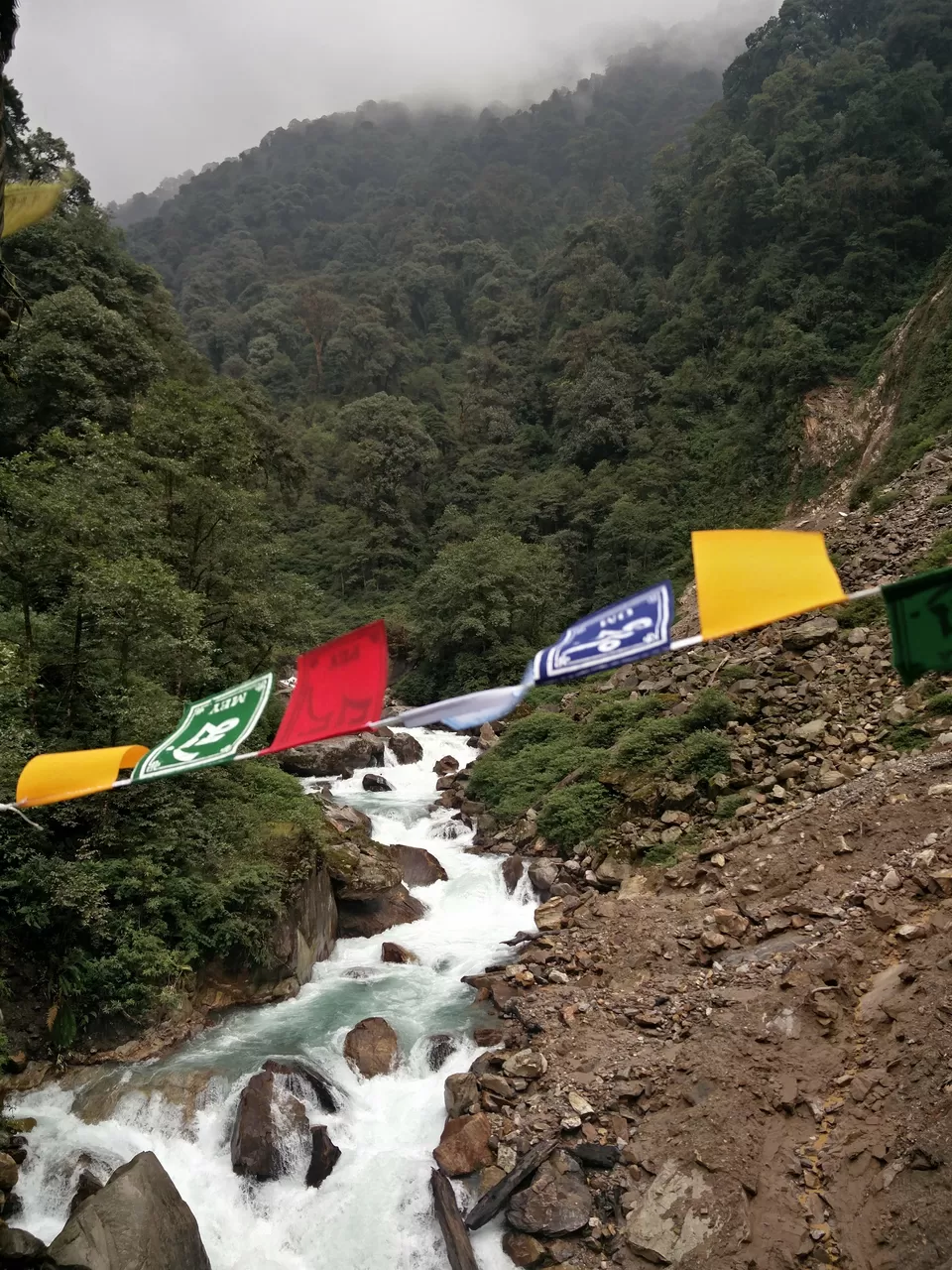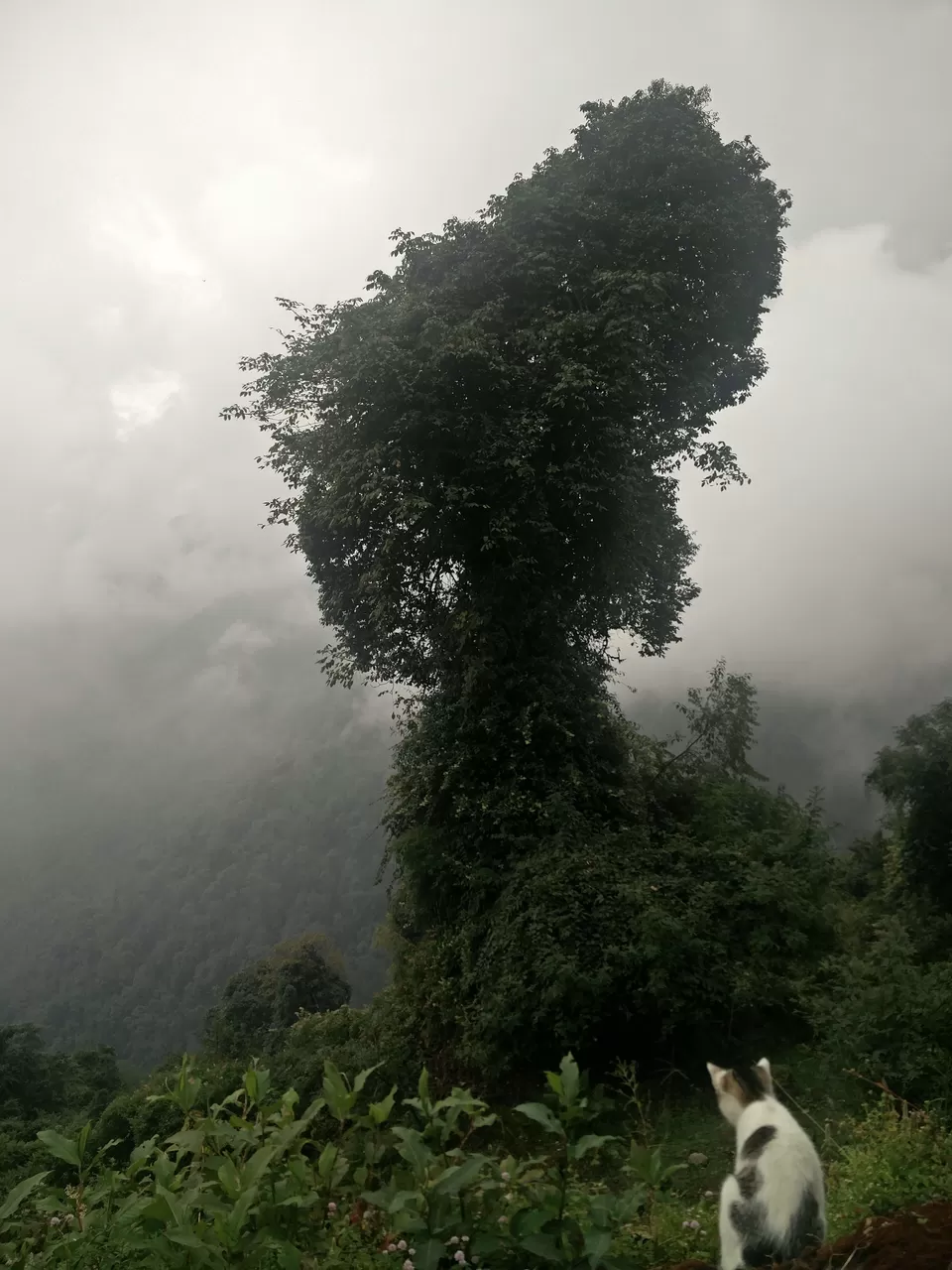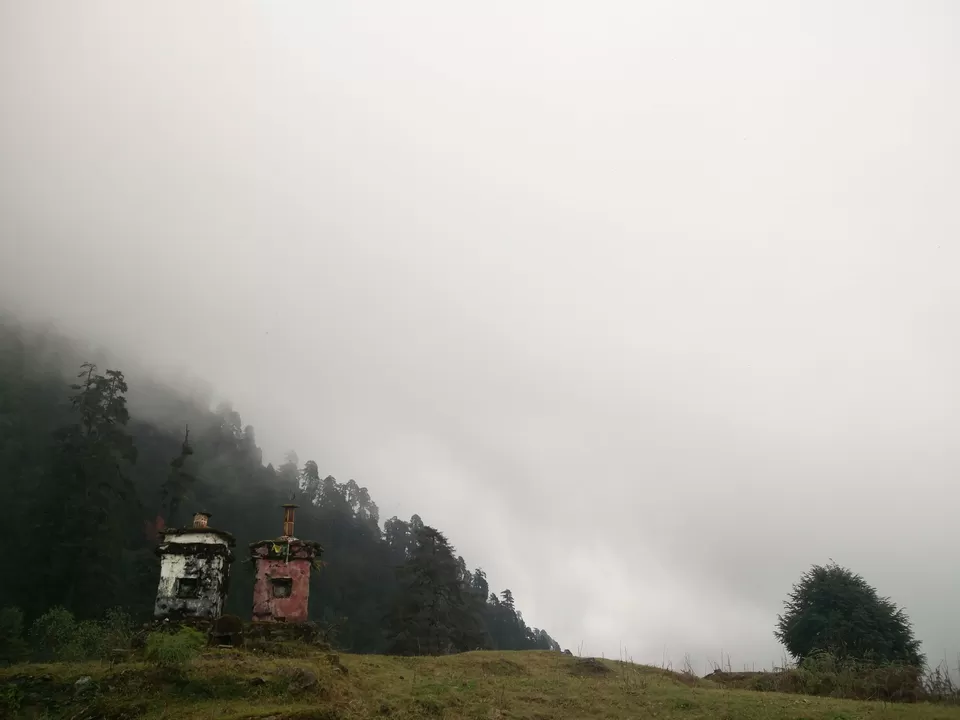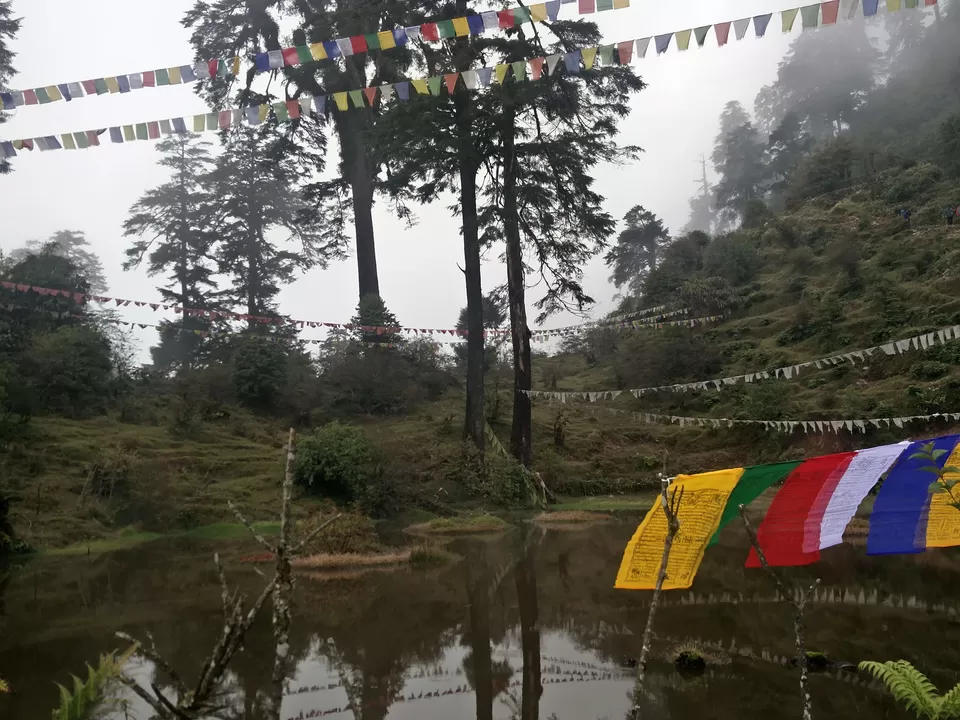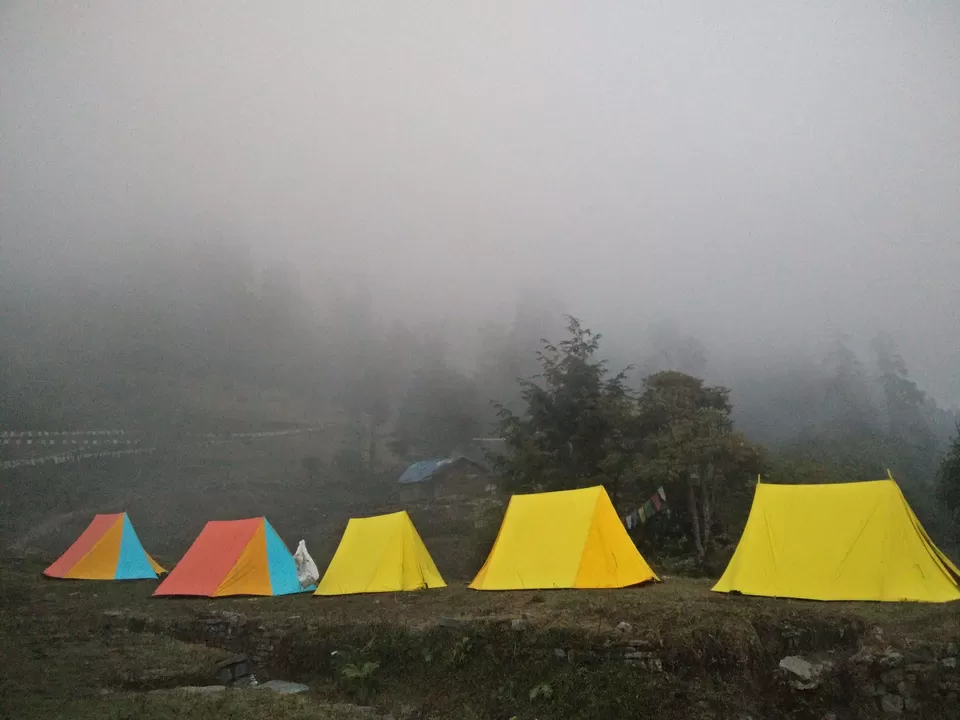 I found a quiet spot by the pond, and managed to make a quick painting before the clouds moved in and obscured it.
There was one other HMI group there that we could see, but we were the only Goechala group on our way up! Even better!
Next morning we were off to Dzongri, with a lunch break at Phedang. This day, we all had to slog like crazy. It turned out to be a tough march with no forewarning from our guides. Needless to say there were some not-so-kind thoughts directed towards them for not warning us.
We reached Phedang in time for lunch, and broke out our food packets.Now, our camp food was really good, but our packed lunches kinda sucked, with the vegetarians of the group generally getting stuck with a box of Frooti & boiled potatoes!
We ate, packed up, and trudged on for about 2 hours more, surrounded by mist and clouds, till we reached Dzongri, only to realise that our camp was little less than a kilometre further ahead, since all the campsites at Dzongri itself were already taken by other groups enjoying their "rest day".Oh, and we also bumped into a super cute husky Skye, who was also doing the Goechala trek with her human a day before us. Cuteness!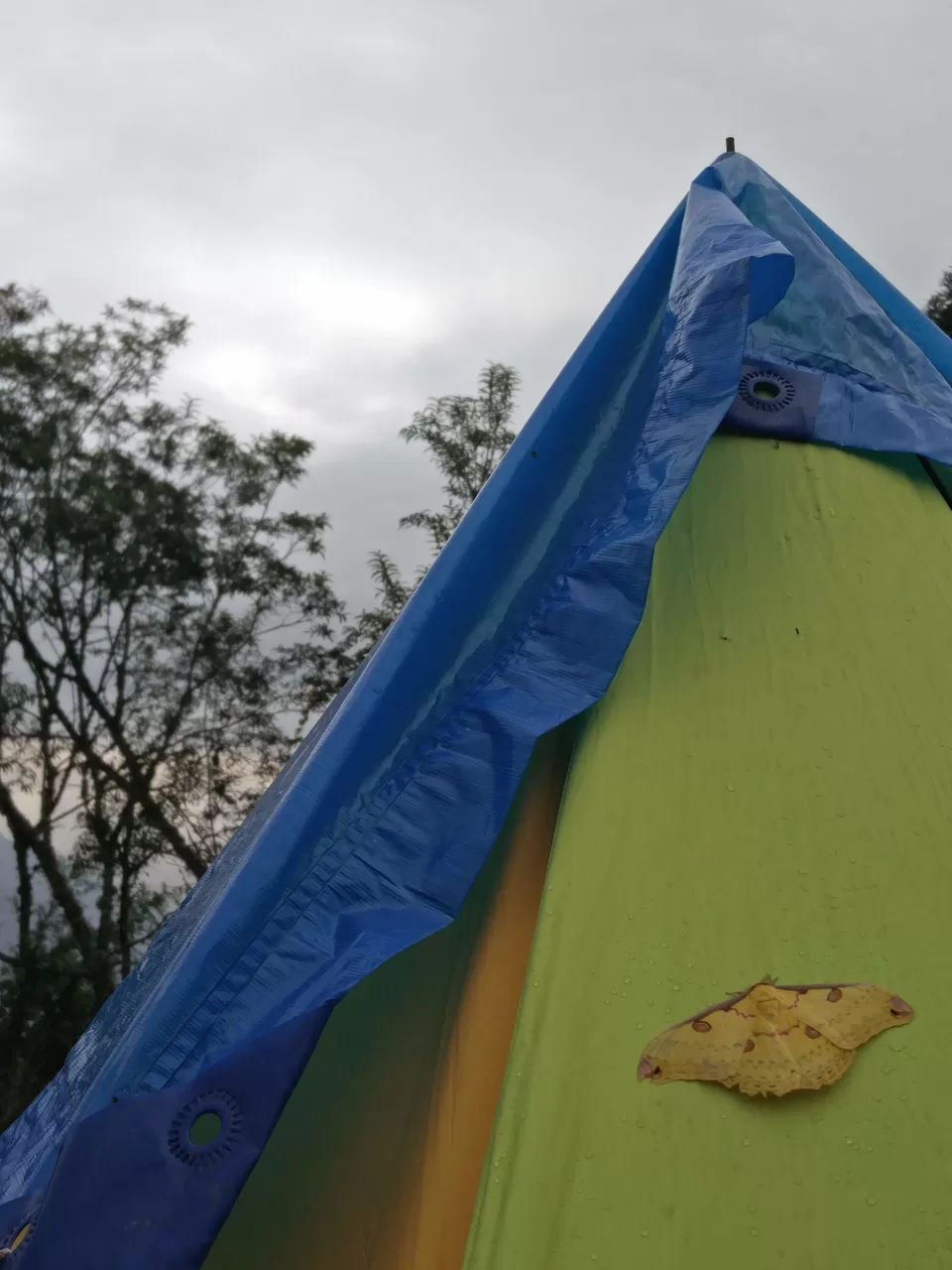 It was , however, a lovely campsite, but we couldn't see much, given the cloud cover all around us. We did get a glimpse of the Milky Way for a few minutes after dinner, but soon it was lost to sight again.
We got up really early this day, "3 am" early, to get to Dzongri top to get our first views of the approaching mountains. We made good time, and reached the top just in time to view the golden peaks - if we could see them!
But as luck would have it, the clouds parted, just enough and just at the right place, for us to witness the sun's rays hitting the Kanchenjunga range & then Mt.Pandim, setting them ablaze. It was a magical sight, marred only by my laborious breathing from exerting myself a bit too much in my rush to reach the top in time.
We waited a bit longer for the skies to clear, but that didn't really happen, so we soon made our way back to camp. While waiting for our morning cup of tea, the weather gods smiled on us, and we had our first sunny sky since the beginning of the trek. We also got our first clear view of Pandim, and what was in store for us.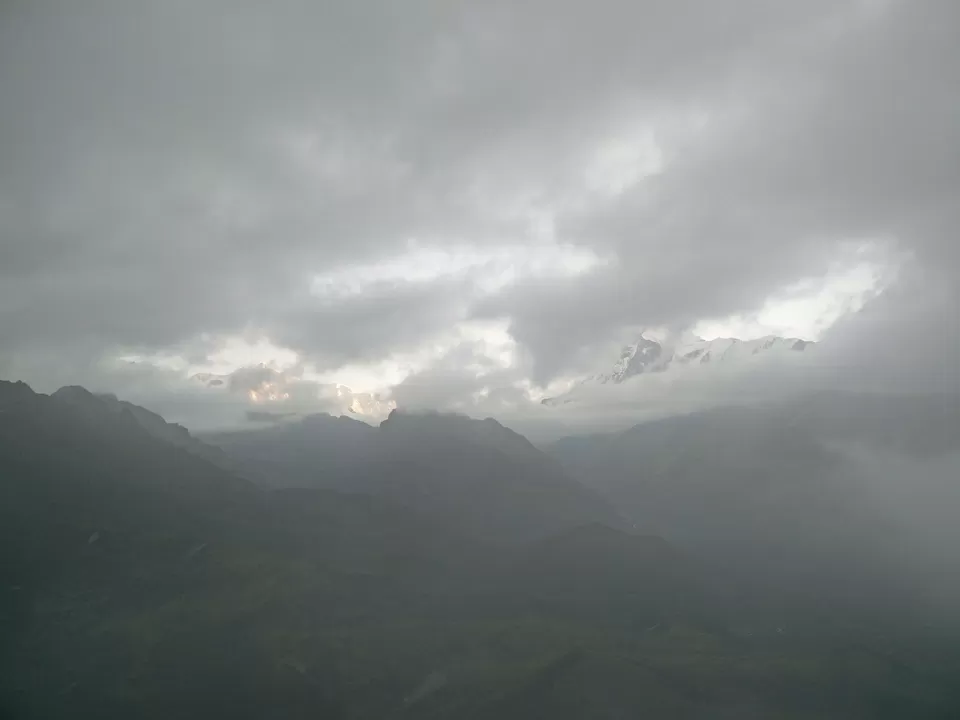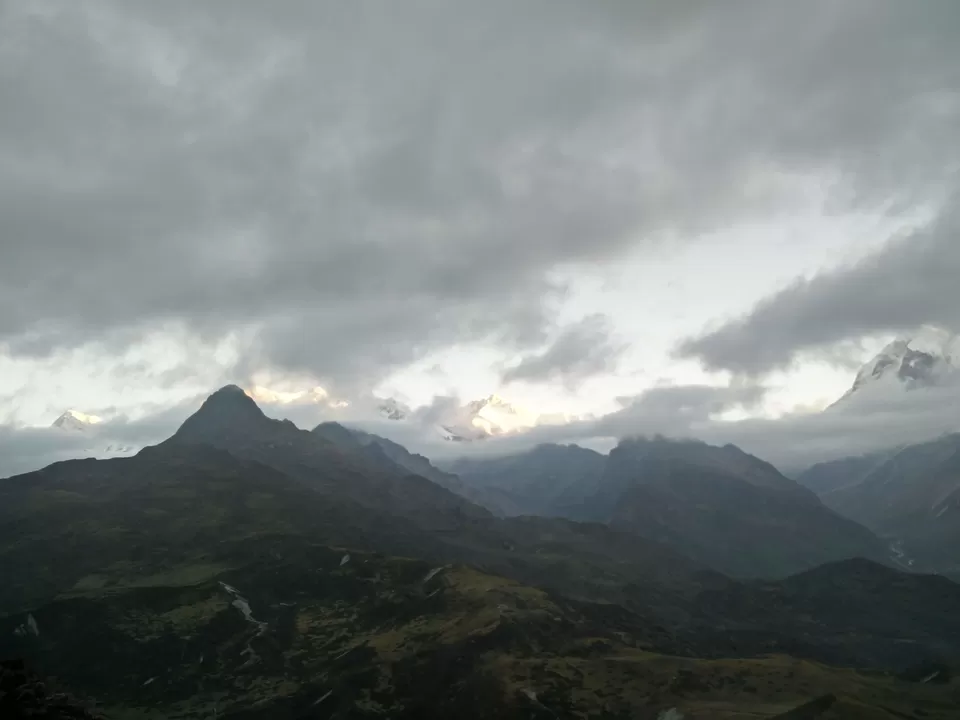 We didn't do much the rest of the day, and I chose to skip the acclimatisation walk in lieu of my sleeping bag. The clouds returned later that day , but our dining tent was full of life with consecutive games of "Mafia" which kept us in suspense and splits right through.Good job, Saksham!
The next morning, we set off for Thansing, our penultimate camp site before the summit. It was a decent trek, with some lovely views . The clouds still play hide & seek with us, but the day was brighter and the rains stayed away.
Oh, and did I mention it was my birthday? I was content! We had a fun lunch break at a spot called Kokchurung, which was absolutely breathtaking in its beauty. After some lunch and a few Yoga poses, we set off for the remaining part of the trek, which went through the forest again.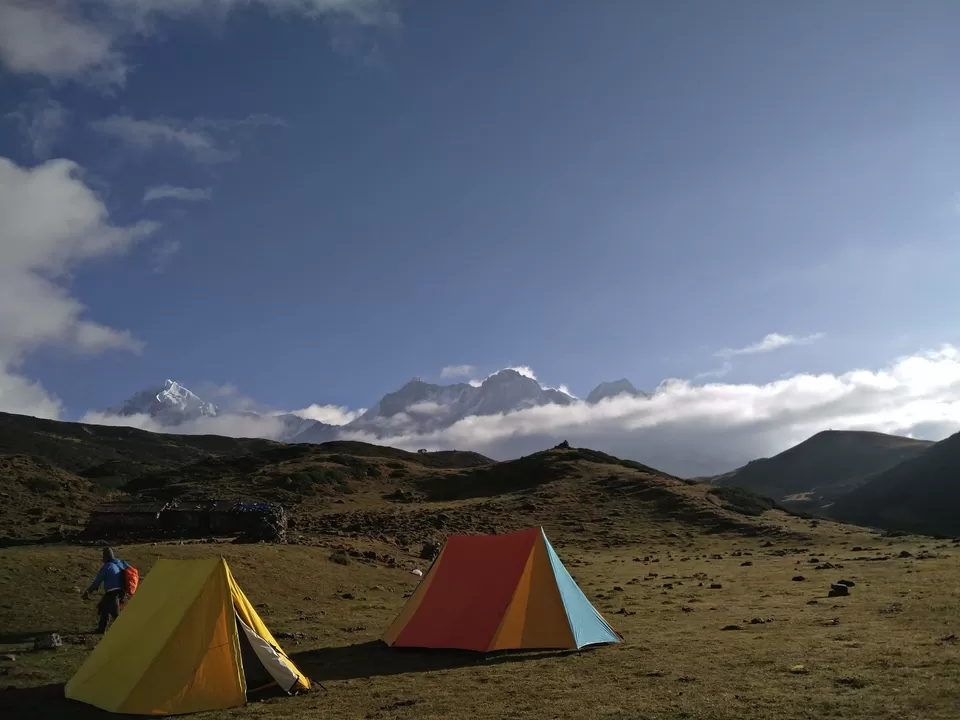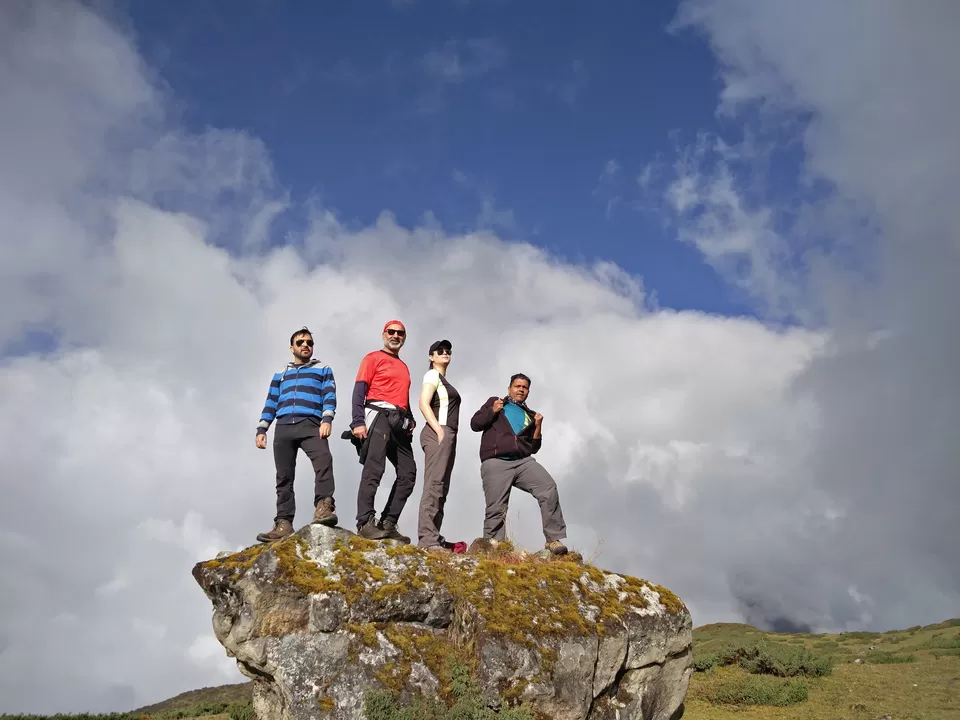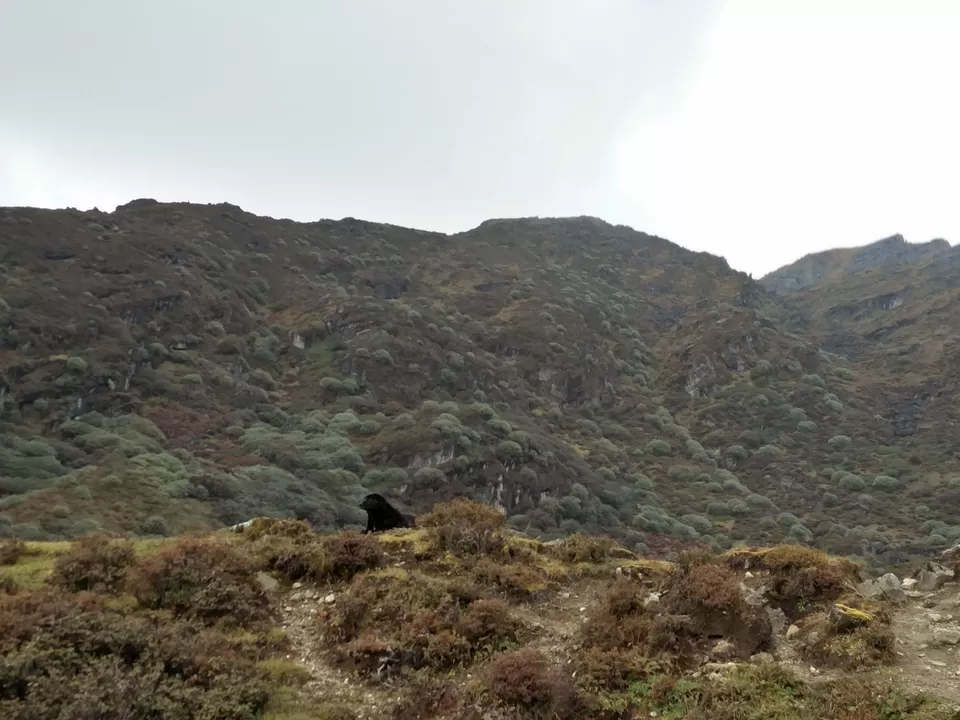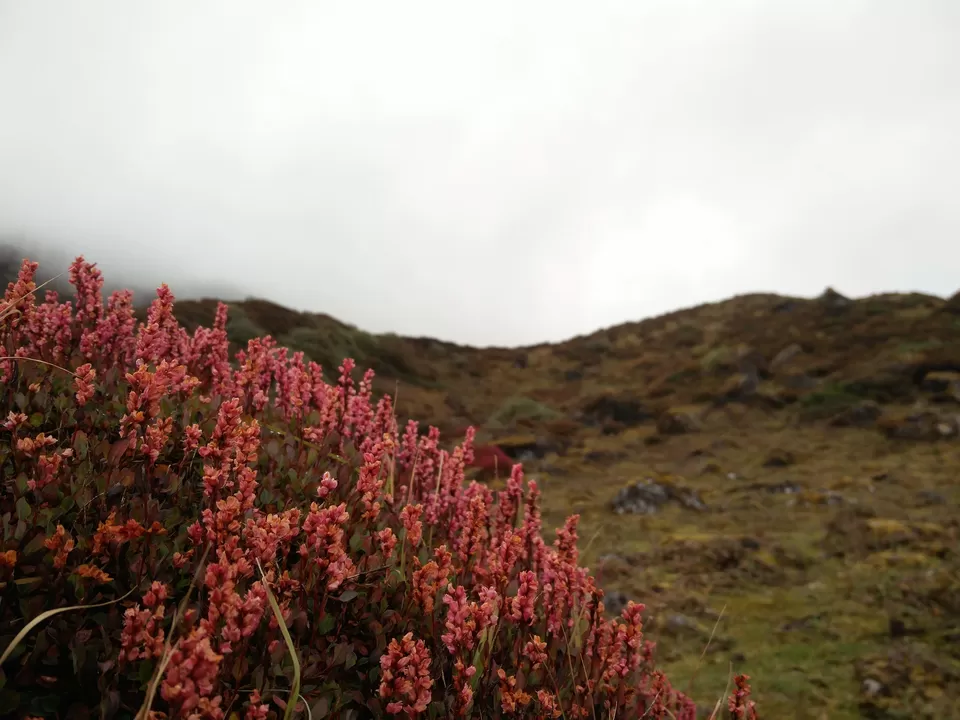 I was a bit winded by the time we reached camp, and decided to sit it out in my tent until I got my breath back. Later we got together in the dining tent for the obligatory Mafia games, and I even got a "surprise" cake, resplendent with Chocolate icing and my name scrawled on it! Ashish & Akhil, I'm looking at you! Not a bad day , at all!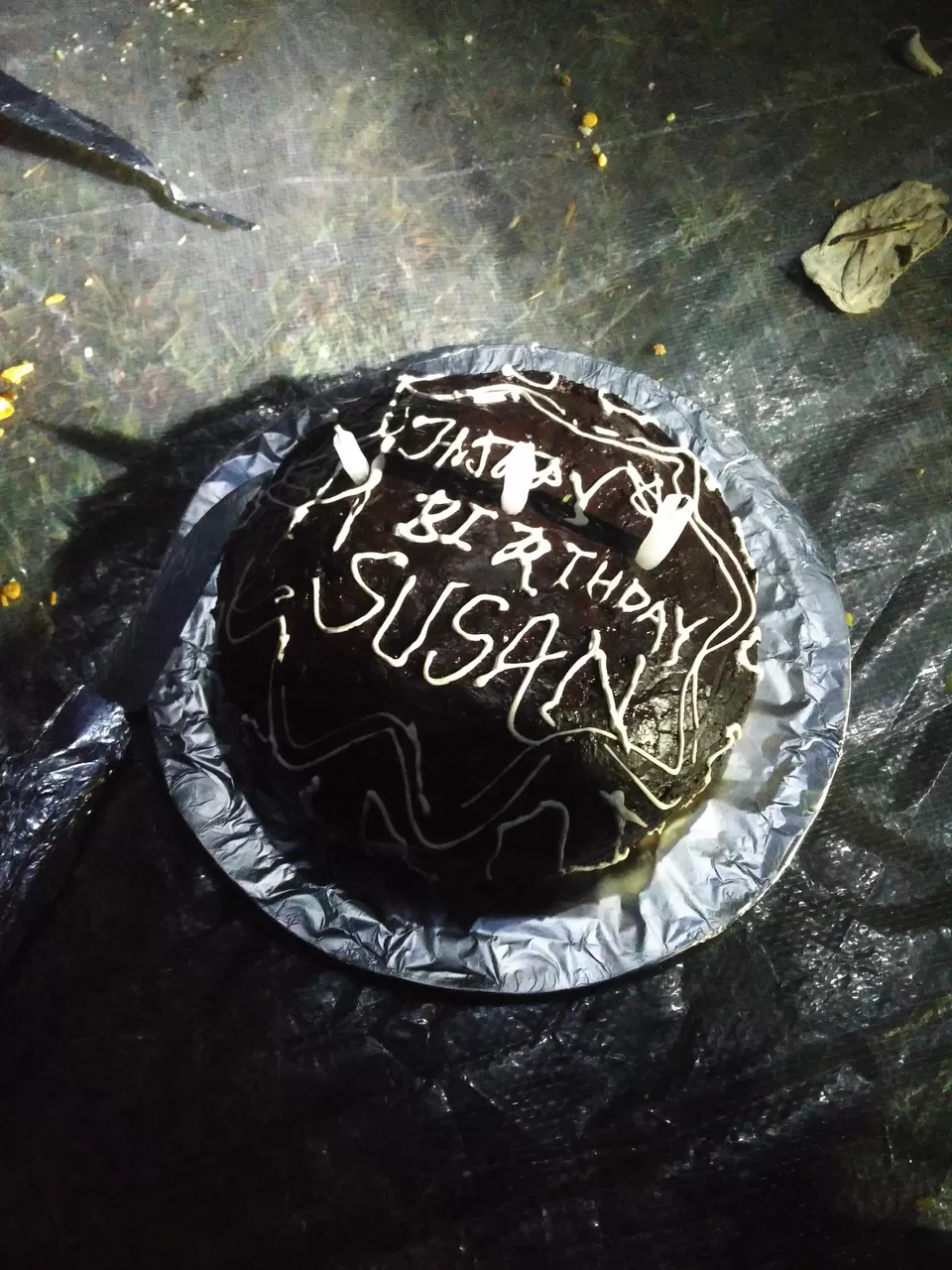 Today was an easy day , with the trek to Lamuney taking barely two hours on even ground. We spoke to the guides, who suggested a 4 hour trek to a nearby lake, which was immediately shot down by all of us. Too long!
Instead, we settled for climbing up a small hill nearby which shouldn't take more than 2 hours going and back."Taking it easy", we said. That was a joke! When we reached the top, we realised there was a "peak" up ahead, marked by a flagpole, and decided to venture ahead. On reaching this point, we caught sight of another flagpole. Despite the climb, our curiosity got the better of us, and we trudged up there, too. The ridge on which we now stood fell away steep on both sides, and the view around us was majestic. We didn't stay for long though, with the weather taking a turn, with rain and some hail stones making a brief appearance. All in all, the trip took us around 4 hours. So much for taking it easy!
We got back to camp, ate lunch and packed our bags. After a decent rest, we set off for Lamuney. The trek was uneventful, except for passing through some interesting cairn formations, and also being warned by the porters of wild "Jos" in the vicinity.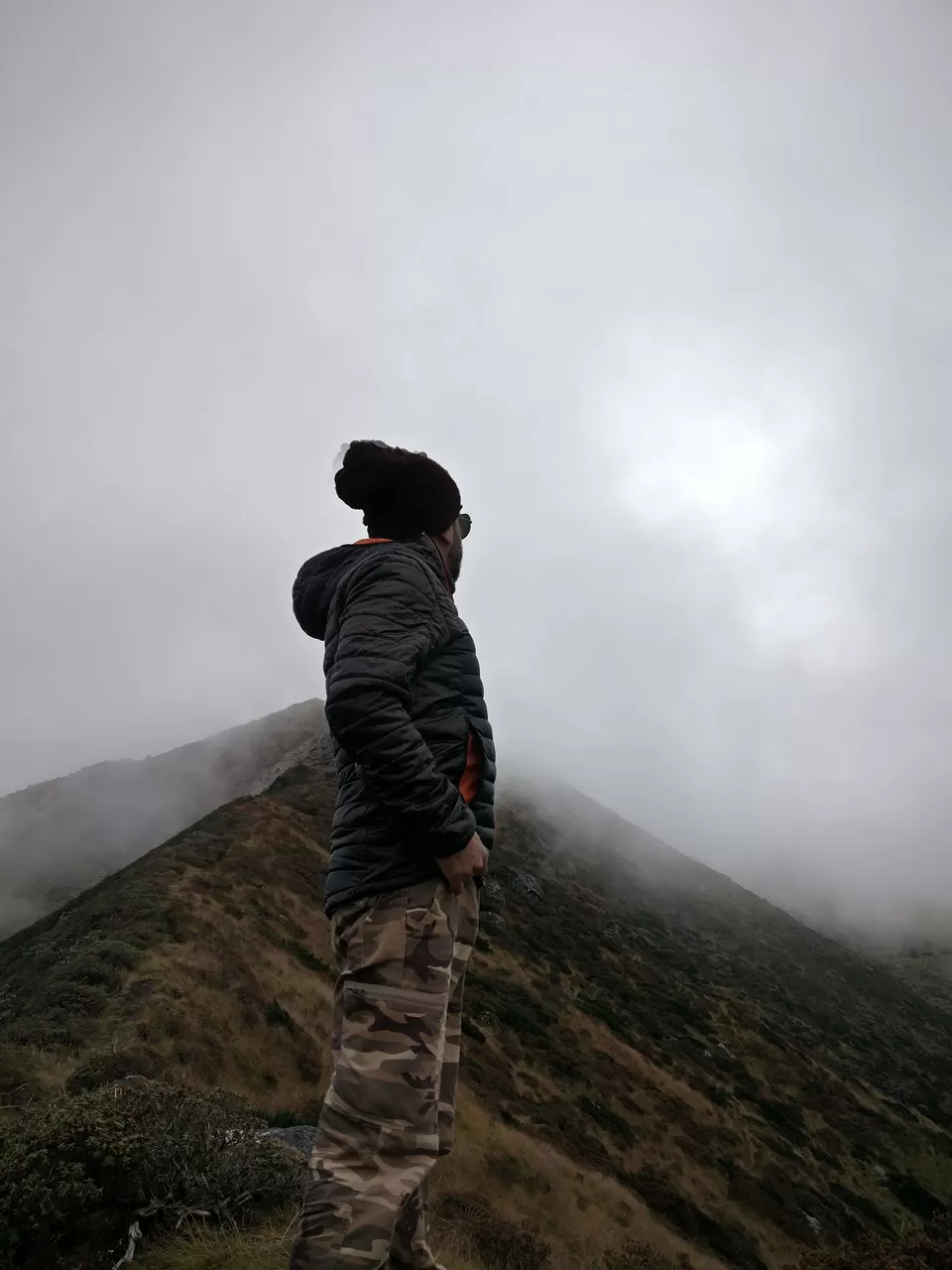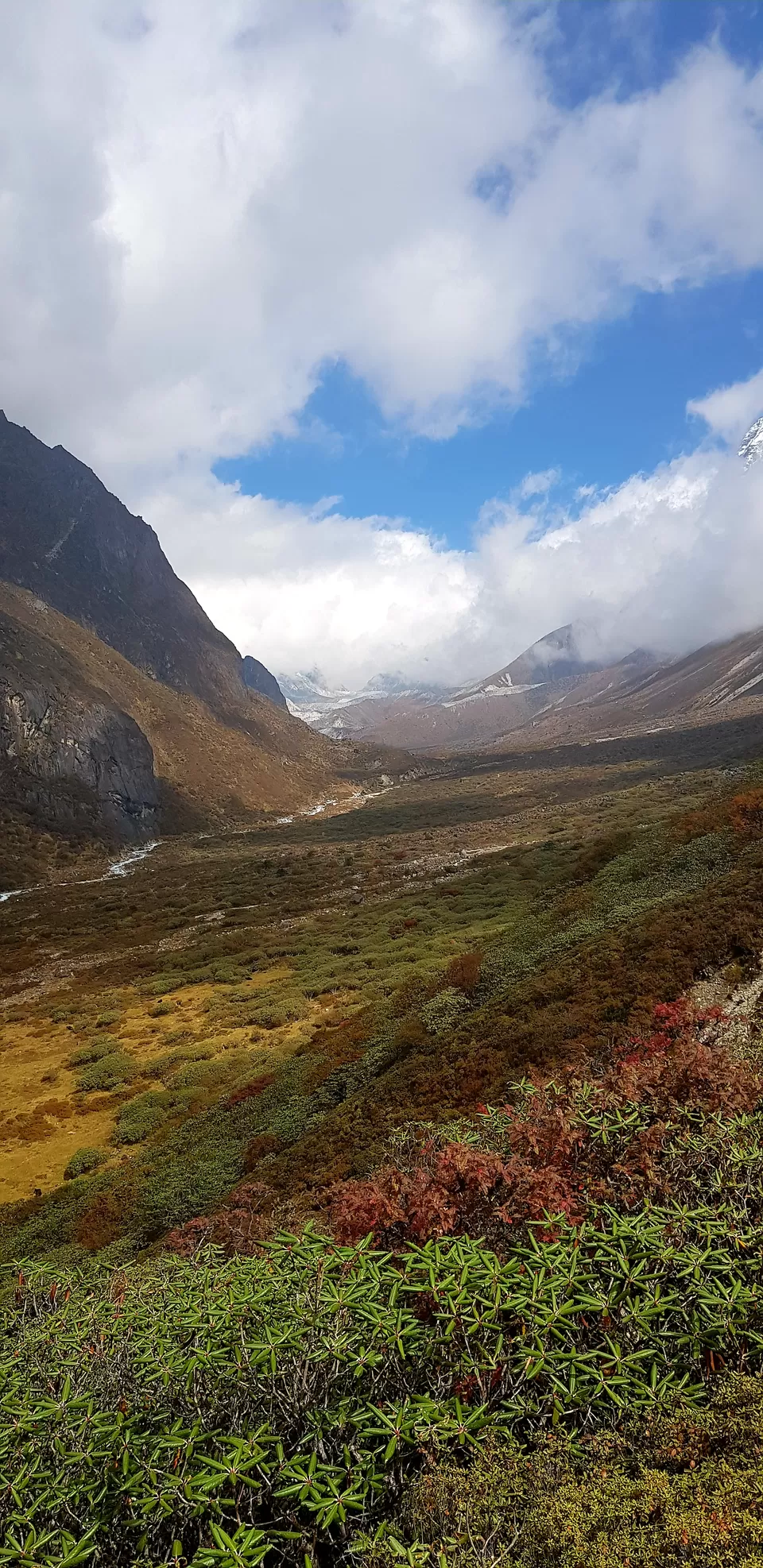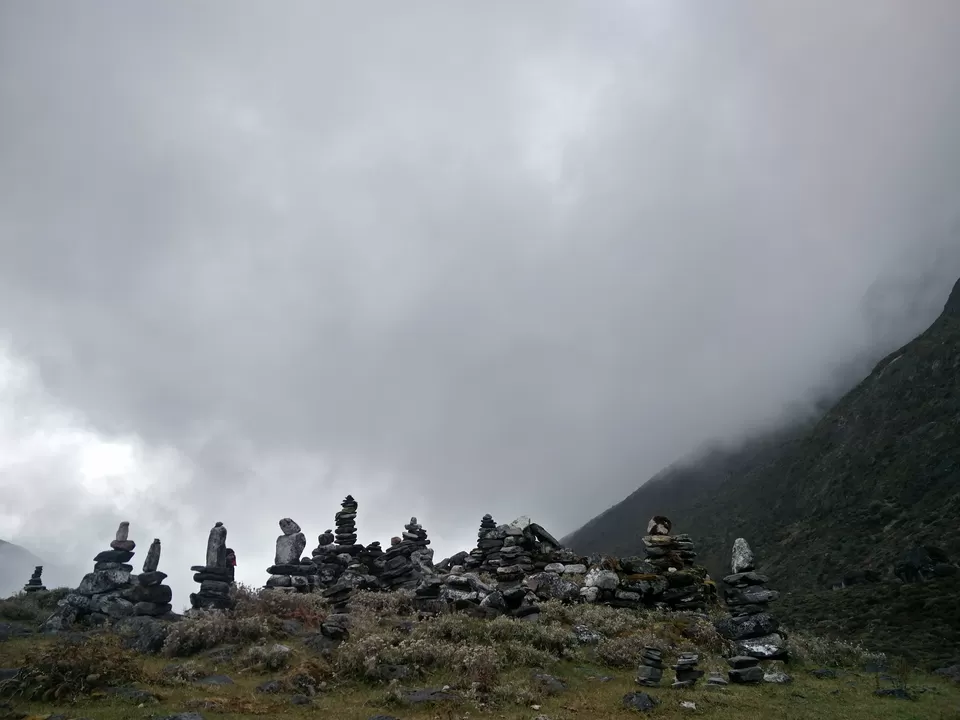 Lamuney isn't a very inviting camp site. It was exposed, right on the edge of a river and very very windy. We were all huddled together, nursing hot cups of tea so generously provided by our camp cooks. By dinner, it was raining and the temperatures had dropped into the negative for sure. We all retired early, thinking of the summit the next day, and with a warning of being wary of wild Jos roaming the campsite at night.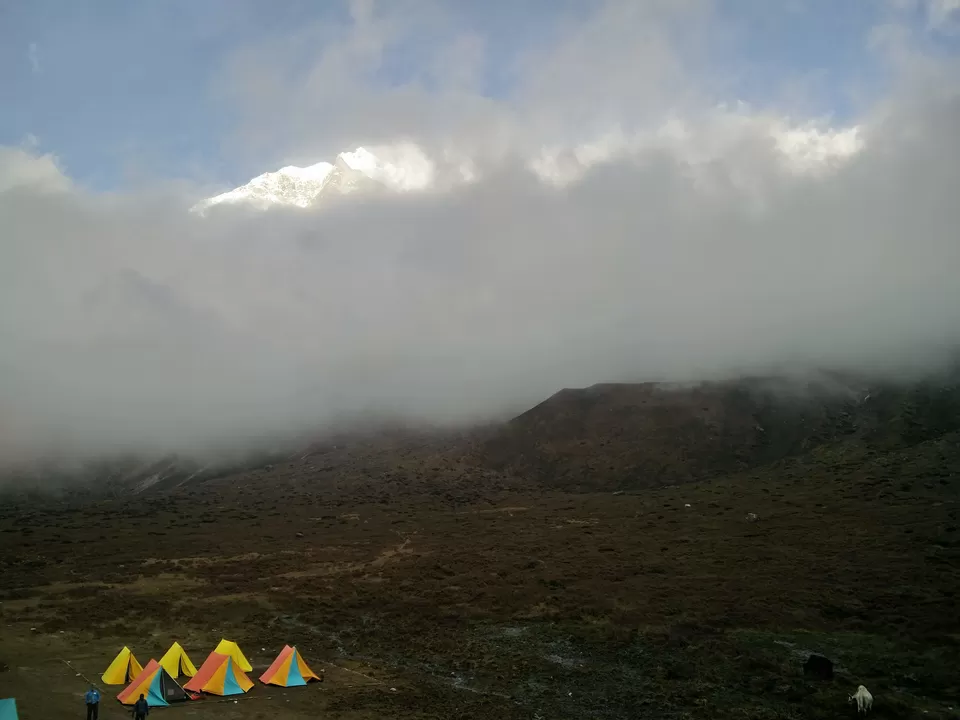 We woke at 2, and set off by 3 all in single file, following the pair of feet in front of us. It had snowed in the night, and the skies were clear. All around us, bushes and boulders were covered with sn0w and frost, glittering like a million tiny glass shards in our torchlight. We trudged on, jumping boulders, and walking on super slippery planks of wood to cross bubbling streams.
It was 5 am , the sky was getting light, and we were still a good 45 minutes away from our summit. We weren't going to make it in time.Ghosh da, ever pragmatic, stomped his foot and insisted we break formation, giving the faster of us a chance to witness the sunrise. I increased my pace too, eager to cover the distance. Yet I was aware of my pulse accelerating. When I looked up some minutes laters, I saw the first glimpse of the mountains ahead - and with it the first of the golden peaks. I grew agitated, realising I wouldn't be in time to witness the golden peaks from the view point. Predictably, I had a bout of wheezing, part from the exertion & part from a bitter sense of failure I felt in that moment.
Most of the group had moved on by then, and our rear guide, Dominic seemed to be panicking at the sight of me gasping for air. Ghosh da, again, always bringing up the rear, appeared at my side . He comforted me, and administered his personal medicine to me, which helped me catch my breath and calm down. Vikas too, who had been calmly guiding Astha up ahead, had turned back to keep a check on me.
I was quite distraught by then. I could see the sun's rays touching one peak after the other , and felt the futility of moving ahead. It was then that Ghosh da pointed out, that we didn't really miss the sunrise, just viewed it from where we were. This thought steadied me, and we decided to move ahead anyway.
It took me another 10-15 minutes to get to the view point. And even though I had missed the actual sunrise, the view in front of me was astounding. I shakily sat down in a spot, just gazing around me, taking in the sheer brilliance of what I saw.
The Kanchenjunga range was spread out before me, it seemed, just across a narrow valley. It was as if I could reach out and touch it, if I tried. In the few treks I've done, nothing has come close to the feeling of awe that I felt in that moment.
Soon, we decided to head down, with our toes beginning to freeze inside our boots and woollen socks. I hung back, walking slowly, constantly looking back, trying to imprint as much of what I saw onto my mind forever. I was fortunate to share this part of the journey with Ghosh da, who was equally, if not more, overwhelmed by what we had witnessed.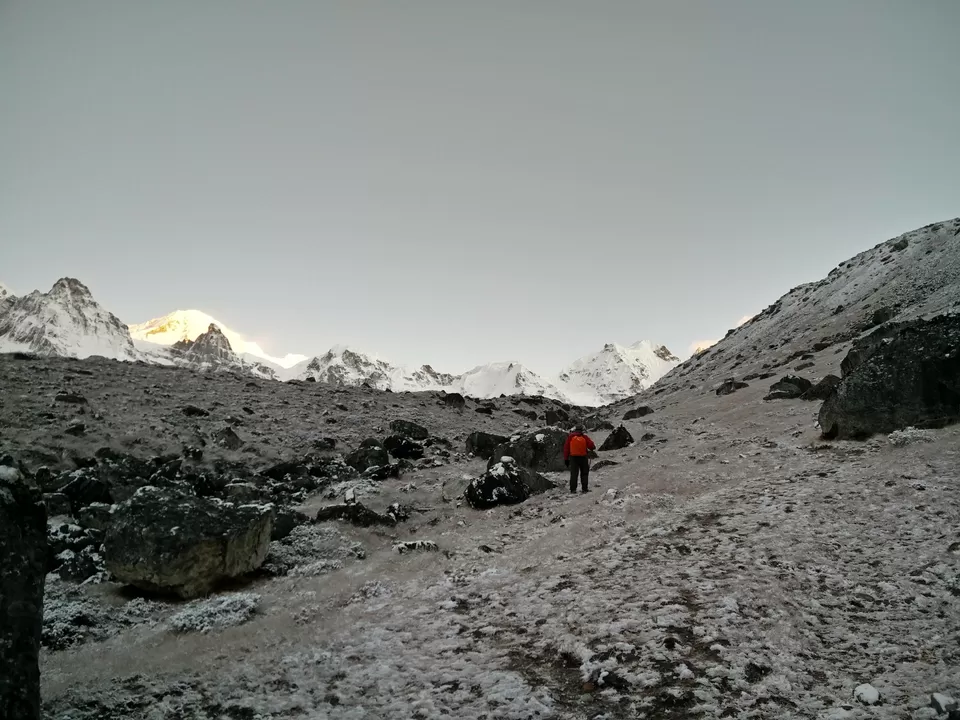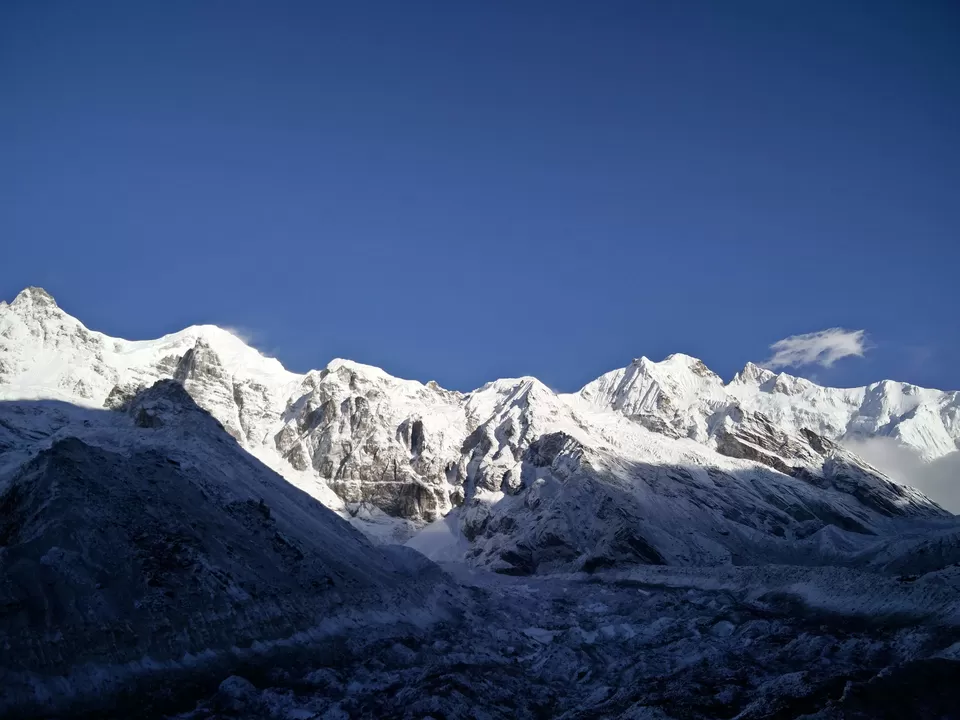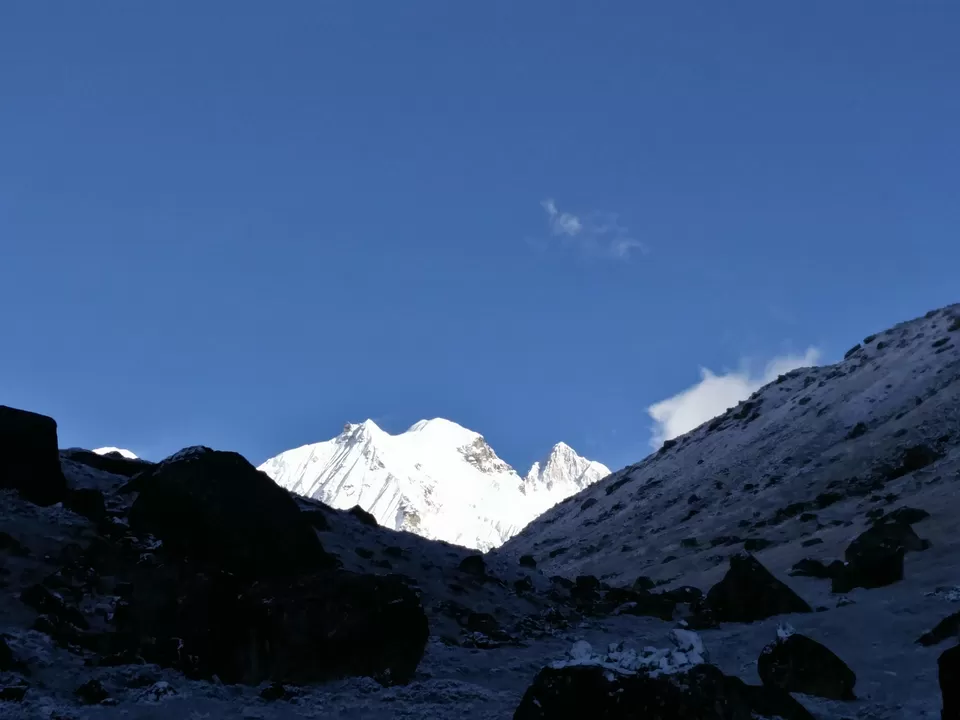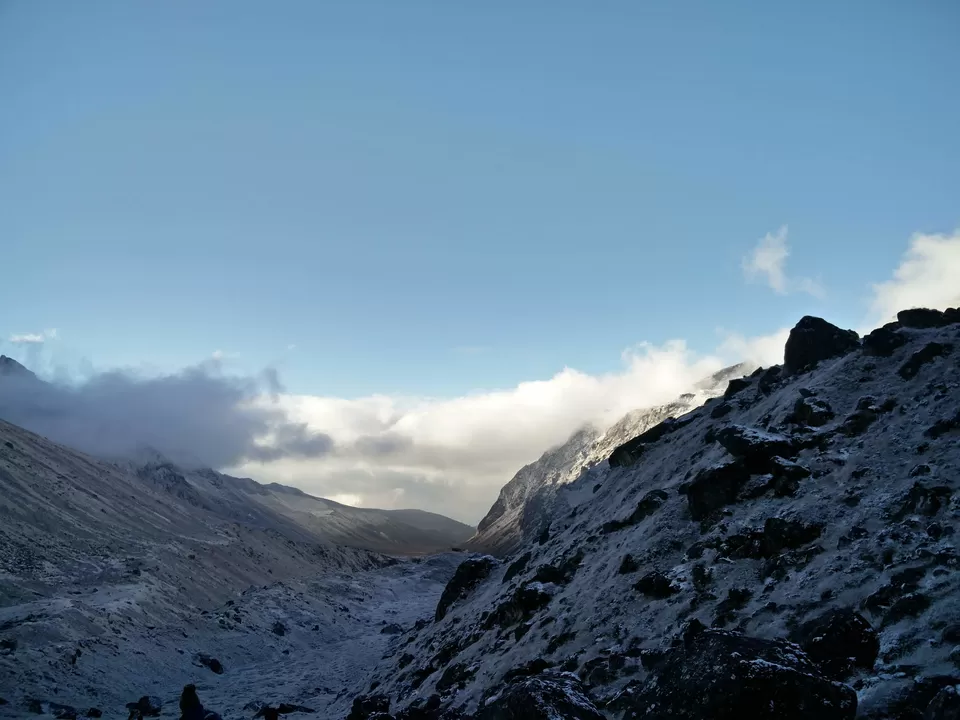 There were no other groups that day so we had the route to ourselves. The sun was up by now, and shining down happily on us. We stopped at the Samiti lake for a quick bite, before making our way back to camp. We did experience a strange gust of snow, for less than a minute, without any clouds above us. Another mystery to add to our future stories.
Back at camp, we had a couple of hours to kill before we started our return journey to Kokchurung. I decided to snooze on some large boulders by the river , taking in the sun - without sunblock. Uh-oh.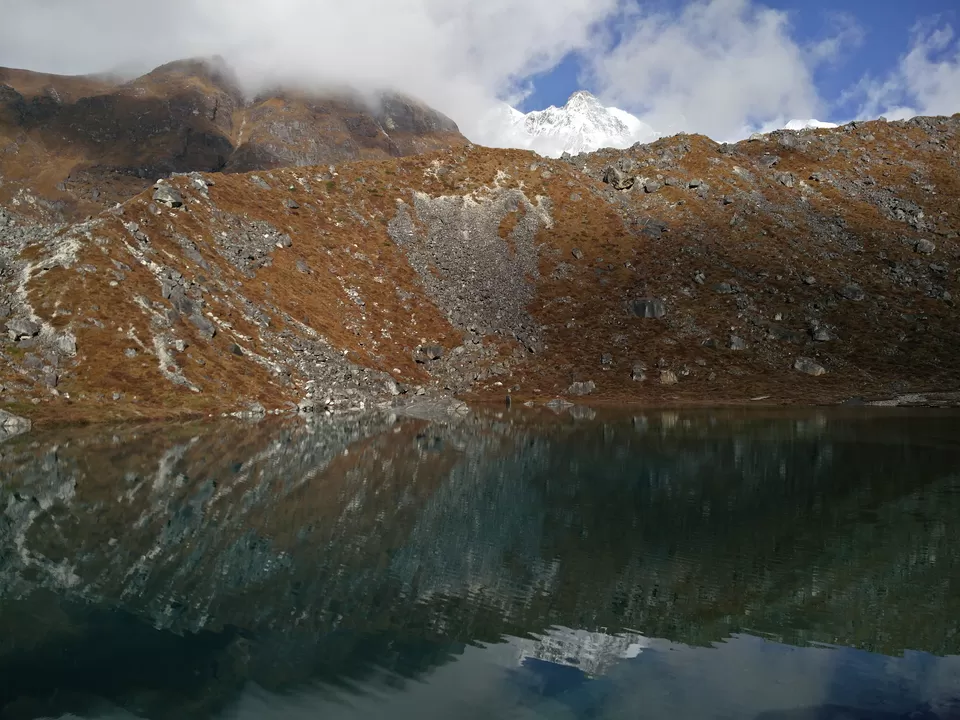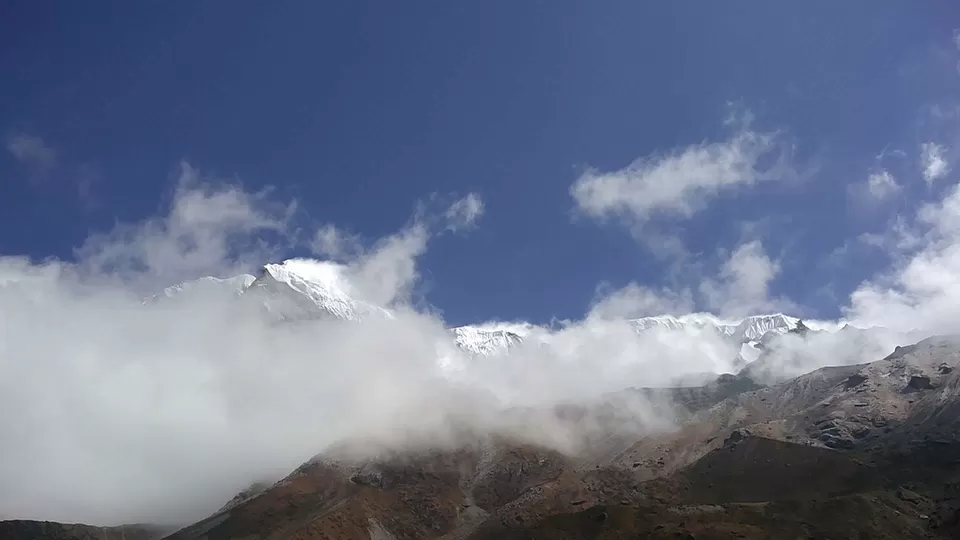 We packed our bags and set off, all content with our summit experience. We made good time, and reached Kokchurung by around 3, where we loitered around till our tents were up and then snuck in for a doze till tea time. I missed the call for tea, but joined the group later before dinner, and it was good to hear everyone speak of their experience at the summit. We were all tired that night, and soon went back to our tents for a night of slumber.
The next two days covered our journey back, from Kochurung to Tshoka and then from Tshoka to Yuksom.And one hell of a sunburn in my case. The sunbathing from the previous day was now having its full effect and my face was on fire.
I spent my time alternately walking with Ghosh da at the back of the group, or with Akhil, somewhere at the front. Both completely different, yet equally enjoyable.
I kept looking back at any given opportunity, searching for the familiar facade of Pandim, expecting it to disappear from view any time, which it did after we left Tshoka. At Tshoka itself, though, I got a surprise last glimpse of Pandim with the skies clear, which I hadn't realised on our way up.A small parting gift from the weather gods.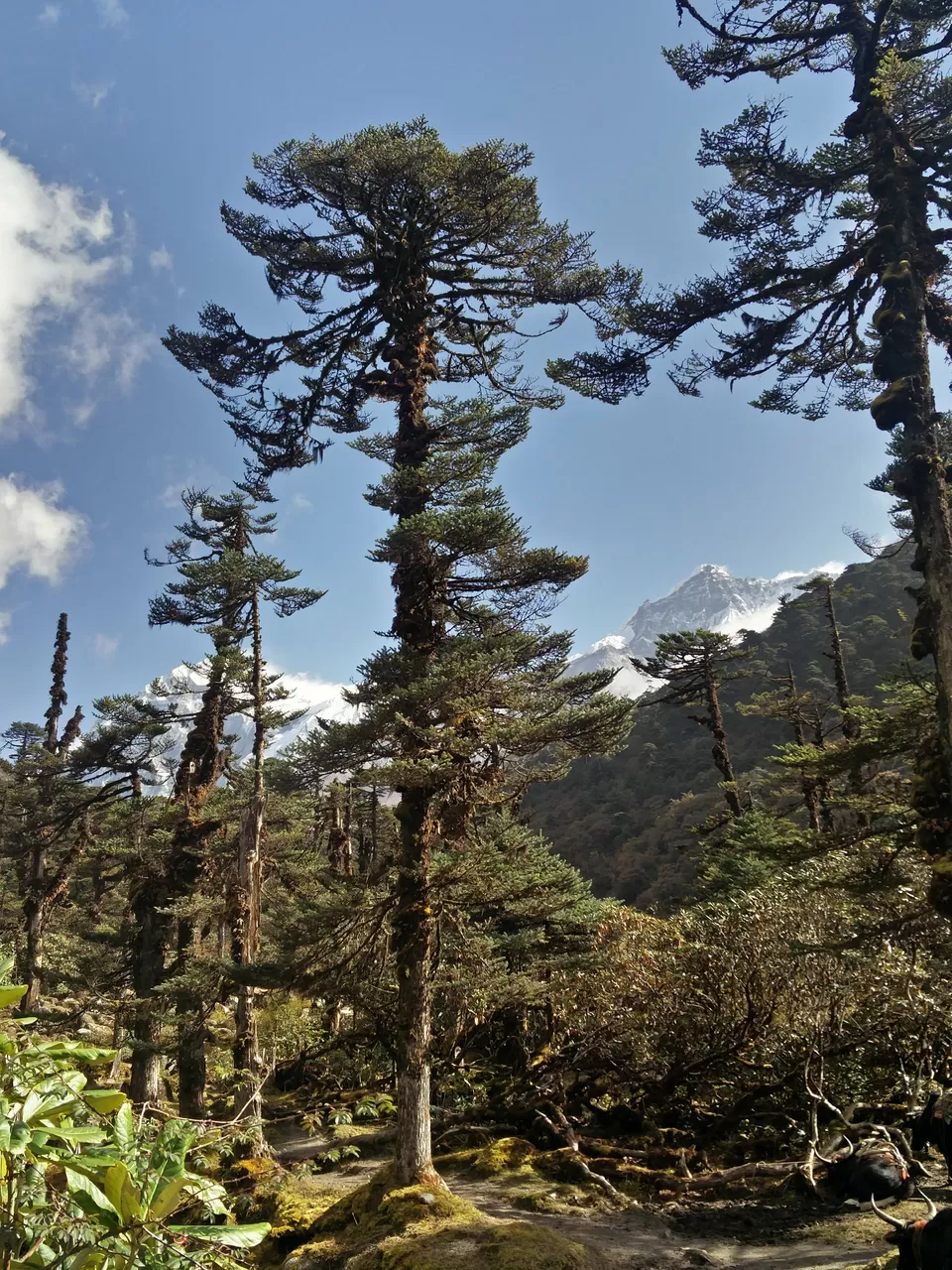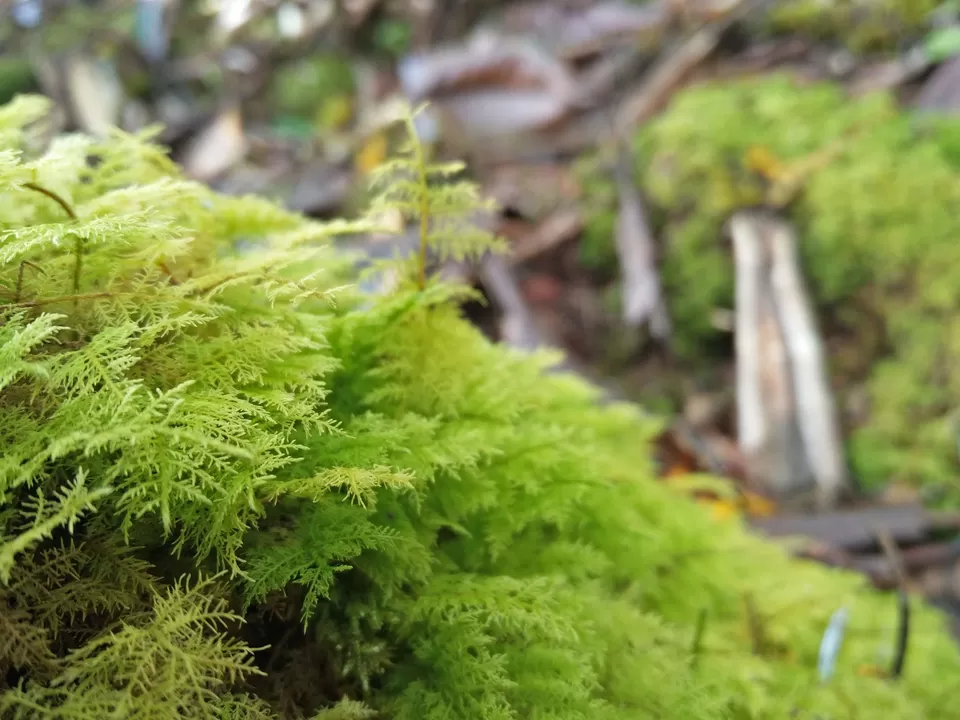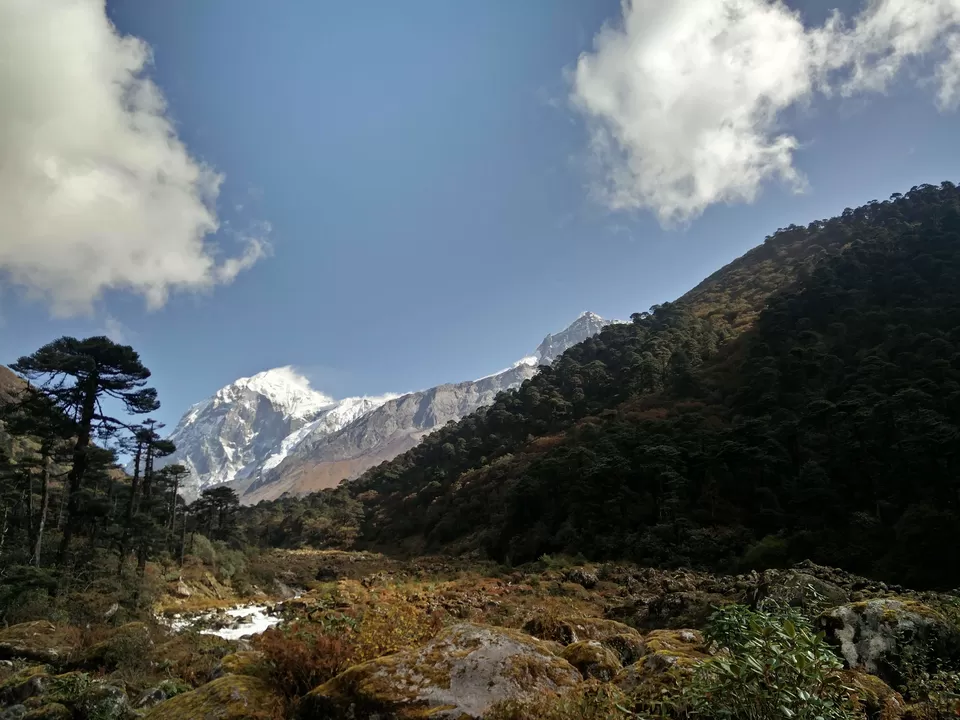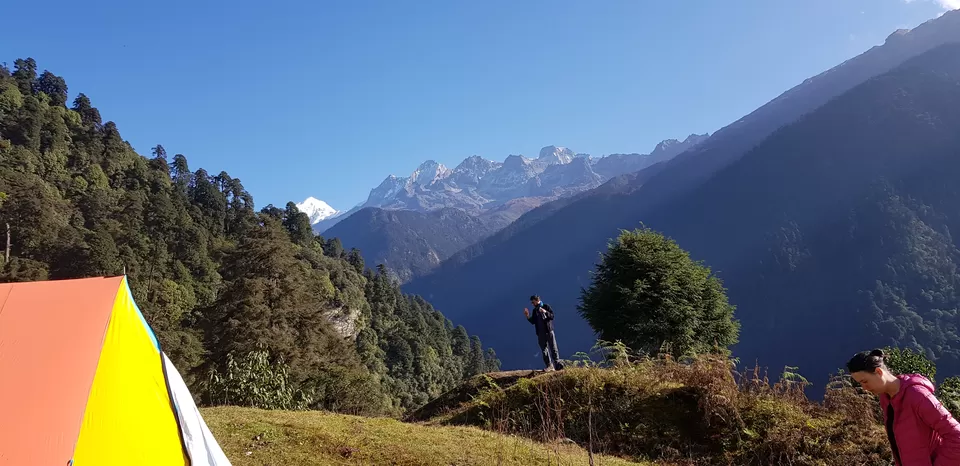 We reached Yuksom somewhere in the late afternoon, a bit weary and with shaky knees, grateful for a seat at the popular "Gupta Restaurant" where the guys indulged in some local "Tongba" while I settled for an incongruous lassi.
This evening called for a celebration, and we got all geared up post the much anticipated hot showers. The party went on well into the night, with other guests at our hotel having to come out and ask us to keep the decibels in check. Yet there was no stopping Ghosh da singing his favourite Bengali songs, or Saksham playing his mouth organ. Good times, indeed!
We packed our bags, bid our goodbyes to the guides and porters, who had been so crucial to our trip these last 10 days, and set off for Siliguri.
I haven't mentioned Navin so far, the second guide (first being Dominic, who was sweet, too), but his solid & reassuring presence was really appreciated by everyone in our group.
As I sit here writing this, I feel the same rush of feelings as I recount one incident after the other. I know that Goechala will be a special one for everyone in our group, even in the years to come. Ramro cha!