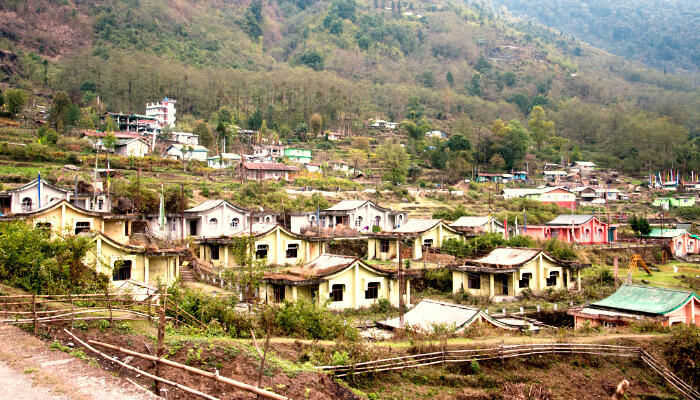 Siddhartha, January 15, 2021
Yuksom is located at an altitude of 1780 m and it was the former capital of Sikkim. The origin of name Yuksom is "meeting place of the three Lamas". This place is equipped with religious spots along with several monasteries and lakes. We heard from ancestors about this place is that Norbugan Coronation Throne situated in the city, the three lamas came from Tibet to put their virtue in Sikkim. There are many stories behind this beautiful place that you can hear from guide and locals and relate with few facts.
Pops of lush green view with the historical monuments takes you in the world of peace. This real gateway offers many attractions and located in western region of Sikkim and the rustic beauty of the village looks wonderful. Spending the proud moment with your loved ones will be the spellbound experience. Yuksom has everything to offer from home stay to best of the hotels where you will live the lavish and luxurious lifestyle over the monotonous day to day life.
Top things to do in Yuksom are to explore few of the popular attractions where you get the point of interest. The trekking is also wonderful experience for the Yuksom Tourists so lots more things are awaiting from adventurous people too.
Tashiding Monastery
Tashiding Monastery is famous for its visit of Buddhist Guru Padmasambhava. This monastery is being constructed many times by State Government due to have earthquakes. Your spirit will soar by seeing the colorful splash over the buildings and architect of Buddhist. Different ceremonies are being celebrated in this place and good time can be spent here. It provides amazing vibes and revitalizes mind body and soul experience.
The snowy backdrop of huge mountain peak is picture perfect and gives spellbound experience. Visit to this monastery will keep your soul in peace and make you feel pious. Seeking forgiveness in this monastery will wash your past sin so this is a must visit for spiritual person. The best time to visit this place for its festival Bhumchhu. This is one of the best monasteries in Yuksom, Sikkim. This place will leave great memory and spending time in solitude will imbibe a great peace in your soul. This holy place is one of the perfect destinations for the religious tourist where they can find stopgap peace. Tashiding Monastery is one of the oldest Buddhist temple in Yuksom, Sikkim Tour.
How to Reach
This monastery is located in western Sikkim and it is 40 km away from Gyalshing and only 19kmfrom Yuksom. You can avail yourself the private taxi and common taxi to get into this Tashiding Monastery.
Best Time to Visit
The best time to visit this monastery is between the March to June month. The climate during this time is most pleasant and suitable to visit other nearby attractions along with Tashiding monastery. At the summer time, you can enroll most of the nearby places along with Tashiding monastery.
Tourist Activities
There are many things can be done and seen when you are holidaying in Yuksom. In Tashiding Monastery, you can explore indoor and outdoor unwavering beauty. The indoor is equipped with the pot sealed with holy water that has been used for festival. The whole area of this monastery is decorated with colorful and prayer flags, few stupas and also inscription slabs. Tashiding Monastery is equipped with many soulful beauties and for those seeking respite from the fast paced life. It is situated at the heart of Yuksom and you stay in the midst of tranquil surroundings.
Your worldly concern will be at bay when you visit such places and relieve your stress in the heart of nature. Flaunting the beauty of nature in inspiring way and add intriguing activities from day to day life.