Very close to Ajmer, around 2 hours(89 Kms), there is a small city called Merta. The buses are very frequent from Ajmer to Merta. Now, question is what made me visit Merta? I just dreamt of Meera and came to the city where she was born. Just Kidding! I just wanted to know more about her and hence I found about the city and here I am.
I boarded Ajmer Shatabdi from Delhi and arrived at Ajmer and from there to Merta. I had no plans, no prior bookings. I didn't know if there were any hotels in the city. I just picked my bag and came. When I reached the bus stop. The only thing I looked at in the Google Maps is "Meera ka Mandir". It was 3:30 PM, it was around 700 metres. I started walking. When I reached the temple. I entered and sighed! I was really tired. I looked around for hotel. Couldn't find any. Then I just asked one of the workers about any hotels or Dharamshala. Worst case I knew I will have to go back to Ajmer. But to my surprise, the temple has its own Dharmsala which is exactly opposite to the temple. Took a room, decently maintained. Refreshed and went back to the temple.
It was more than I expected. It actually is Shri Chaturbhuj Maharaj mandir(Sri Krishna) temple with an idol of Meera Bai right infront of the deity. It is said that the idol of Chaturbhuj lord was found under the earth. It says a very interesting story which is :
There was a mochi(cobbler) who had a cow. The milk of the cow would get over whenever he used to milk the cow. He tried to understand the misery many times but he couldn't understand. One fine day, he decided to dig out the place where the cow was tied and he found the idol there. Since then till today, the first "bhog" comes from a cobbler family. Interesting.. huh?
When I entered the temple, it did had that Meera vibe, that eternal devotion vibe. All over the temple , the verse of Meera are written and to sing those verses there were ladies from the town. They were those beautiful Rajputana attire with ghunghat . They were so naturally singing the songs and bhajans.It was just a happy feeling, The temple doors will open at 6:00 for Aarti. I still had some time. So I started towards a little left which says "Meera Smarak". I entered. It costed me 10 Rs to get the entry. It was Meer'a museum. Brilliantly picturized the life of Meera and the pain she has gone through. As and when we move in the museum, there are different idols, beautiful paintings with the famous veres. For me, my soul was craving to know more and more about her so it was a delight for me.
When I entered the main hall of the museum, I was so delighted to see the a big idol of Meera and Sri Krishna. That golden beauty with a "red" chunar was amazing to witness. Meera would always carry a "Veena"(musical instrument) and a "manjira"in her hands and so did the idol. My feet couldn't move as soon as I was infront of that idol. I just stood numb for 2 minutes. Then I moved forward and saw the other pictures as well. Posting some of the pictures.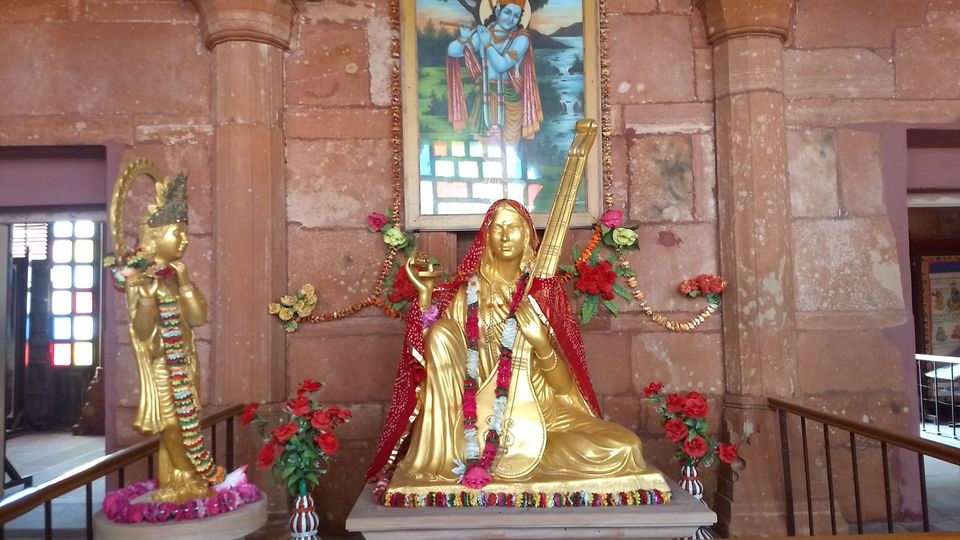 Then I met this caretaker of the museum "Narendra Singh". He told me even more about the history and the culture of the city. The actual fort where museum is the actual fort that is converted into museum now. It's a very old building but it is so well maintained. The people are so hospitable , you can feel that divine welcomeness. They feel delighted to see tourists and try to keep them as warm as they can.
It was time for Aarti, he took me back to the temple and sung aarti with everyone. I was surprised to see the enthusiasm with which people would sing the aarti in chorus. It was just not the Aarti, after aarti, there were some bhajans which were also were being sung in chorus. Then I just sat quietly on the stairs, suddenly an old lady may be 90's came and sat besides me. Barely she could walk. I asked her "Why is she here?" She said to meet "Chaturbhuj and Meera. I am nothing without them. I come here everyday to attend these aarti's , once in the morning and once in the evening." I was mesmerized to see her devotion to come here. She would barely stair up and stand for the Aarti but she would come and sit at the stairs." Devotion!
Then Narendraji told me one more mystical story which goes like this :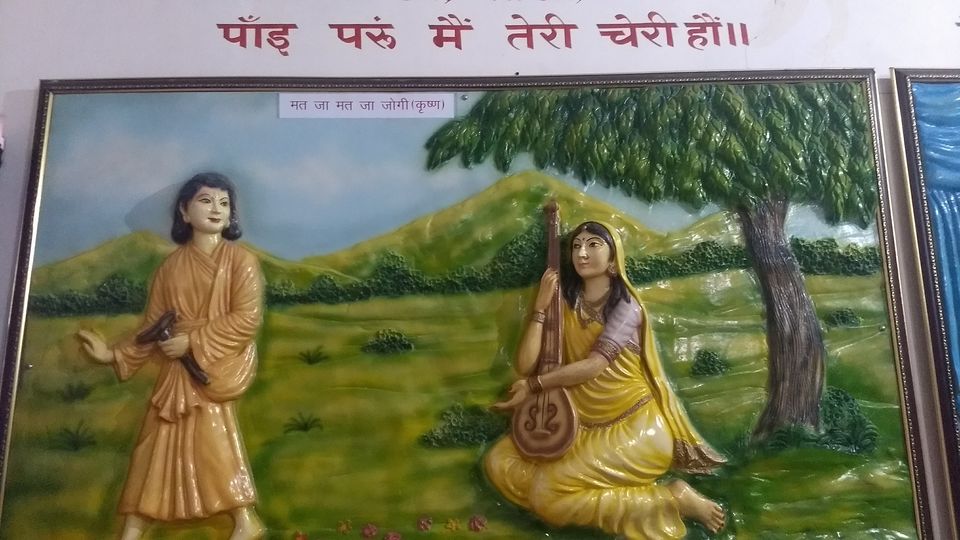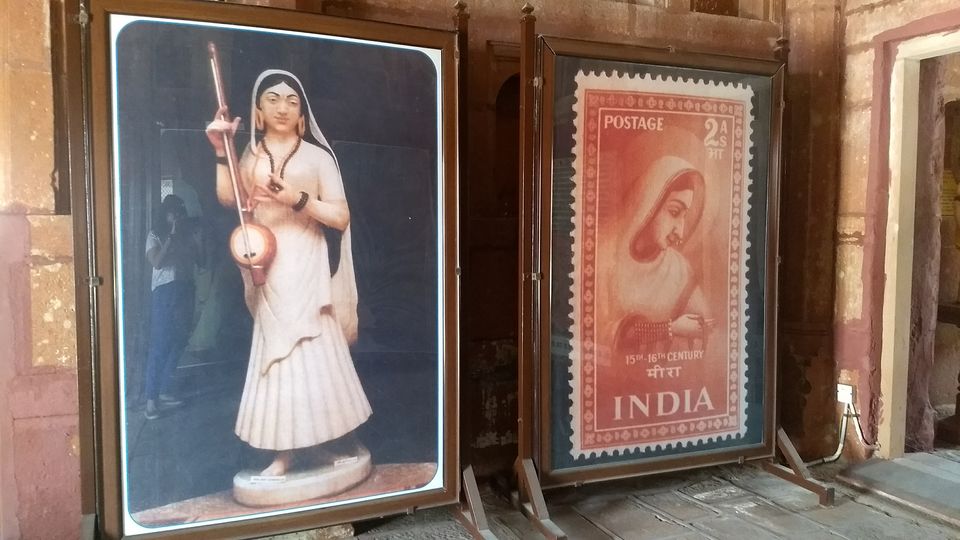 The pillar that you see here, here Mr. Jai Mal, Meera's brother would come and pray. He told all his followers, whatever happens, do not disturb me while I am praying. One fine day, while he was praying, Merta was attacked by invaders. None could dare to disturb the Raja. The war had begun and Jai mal was still praying. When his mother was about to wake him up from his prayers, from all around there came the songs of victory. Jai Mal woke up from this and asked what happened? Then somebody from the war came and said "Maharaja, you did a great job and we won". For a minute, he couldn't understand what happened but in next moment he understood what happened. Instead of him "Lord Chaturbhuj" took his avatar and went to the war. He got tears in his eyes and again went back to thank the lord. He observed an earing from the idol was missing. They searched the earing where the war took place and found it. They took it and again made the idol wear it and on the other hand where the earing was found. It was turned into a pond with the name "Kundal Sarovar".
I smiled. With this I left the temple with the lines "Mere to Girdhar Gopal, dusro na koi".
I can keep on writing about the mystical stories that I heard here but for now breaking the pen. Overall , it's a delight to the soul who wants to experience the stories of a Raja and Mahal.. and do not forget to drink the tea of the shop which is exactly opposite to the temple. Amazing tea :)