Mechi zone of far eastern Nepal comprises of four districts; namely Ilam, Jhapa, Panchthar and Taplejung. Among them, Jhapa is in the Terai, Ilam and Panchthar is in the hilly region and Taplejung is mountainous. Kanyam, Shree Antu, Kanchenjunga region, Pathibhara Temple etc. are major attractions of those areas.
Pathibhara Devi locally known as Mukkumlung is one of the most significant Hindu temples of Goddess Pathibhara in Nepal, located on the hill of Taplejung. It is also considered one of the holy places for Kirats. Worshipers from different parts of Nepal and India flock to the temple during special occasions, as it is believed that a pilgrimage to the temple ensures fulfillment of the pilgrims' desires. The Goddess is believed to possess supernatural powers and diligently answer devotees' prayers.
Legend

It is believed that local shepherds lost hundreds of their sheep while grazing at the same place where the temple stands today. The distressed shepherds had a dream in which the Goddess ordered them to carry out ritualistic sacrifice of sheep and build a shrine in her honor. When the sacrifice was offered the lost herd supposedly returned. The ritual of offering sacrifices inside the temple is believed to have started after the incident.

How To Get To Pathibhara Temple?
Phungling bazar, the district headquarter of Taplejung district at an elevation of 3,794m (12,445 ft) is about 900 KM from Kathmandu, and the temple is located ~20 km east from the town.
Pathibhara lies in the junction of three VDCs: Tapethok, Limkhim and Phawakhola and trail passes through local places such as Deurali, Ramitedanda, Chhatedhunga, Phedi etc. before finally reaching the temple. 'March to June' and 'September to November' is considered to be the best seasons to get their as majestic Kanchenjunga poses in front of you combining the natural and cultural experiences.
Along the whole way you don't need to worry much on where to stay and that doesn't cost much too. Residents along the trekking trail also offer food and lodging facilities. Basic accommodation facilities are also available for pilgrims very near to the temple premises.
Kathmandu ➟ Dharan ➟ Basantpur Chauki ➟ Gurja Gaon ➟ Gupha Pokhari ➟ Dovan ➟ Suketar ➟ Phedi ➟ Pathivara Temple ➟ ✈ Suketar ➟ Biratnagar ➟ Kathmandu
✈ Kathmandu ➟ Biratnagar ➟ Suketar airport ➟Dewrali ➟ Phedi ➟ Pathivara Temple ➟ ✈ Suketar ➟ Biratnagar ➟ Kathmandu
✈ Kathmandu ➟ Chandragadhi, Jhapa ➟ Ilam ➟ Panchthar ➟ Taplejung Bazzar ➟ Suketar ➟ Phedi ➟ Pathivara Temple ➟ Phedi ➟ Suketar ➟ Taplejung Bazzar ➟ ✈ Chandragadhi ➟ Kathmandu
Kathmandu ➟ Birthamod ➟ Taplejung Bazzar ➟ Suketar ➟Phedi ➟ Pathivara Temple ➟ Phedi ➟ Suketar ➟ Taplejung Bazzar ➟ Birthamod ➟ Kathmandu
Fifteen days of Dashain vacation was about to get over and what I did the most was be lazy and stay at home. After the Tika Day I decided to head towards eastern Nepal as Sunil was in Shree Antu, Ilam, his home - popular for beautiful tea gardens and best place to watch the sunrise with its golden touch to the Kanchenjunga. I brought a ticket to Bhadrapur, Jhapa and informed him.
Day 1 - Kathmandu ➟ Shree Antu, Ilam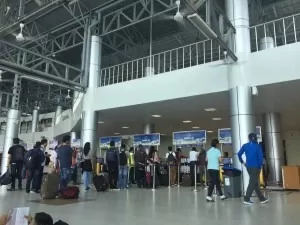 I packed by bags and left Kathmandu on the 15th of October, full moon day and last day of the festive holiday. Flight time was 13:40 so I went to TIA on time, but due to so called VIP movement, almost all domestic flights were delayed by at least two hours. I had no options than waiting in the airport lounge. Luckily, the delay was less than told, so I completed the boarding and check-in formalities and at around 14:15, I was in the aircraft. We were then told that there will be some more delay due to ATC's permission, which continued for 15-20 mins. The aircraft took off at 14:42 and rounding the urban agglomeration and surrounding green, vegetated slopes it flew towards the east. Watching Green hills, floating clouds and beautiful Himalayan peaks, flight went smoothly. Views of mountains like Dorje Lakpa, Jugal, GauriShankar, Melungtse, Mount Everest, Kanchenjunga from ~11000 feet were just awesome - to some extend, I was happy, my camera was happy. After 40 minutes of scenic flight, landing gear touched the ground. It took around 20 minutes to collect my backpacks and got out of Bhadrapur airport. It was 16:00.
Sunil was in Birtamode who came from his home on the same day and was coming to pick me up on bike. We were to reach Shree Antu, Ilam till the evening that was ~70 KM far. He came at around 16:30. We had delicious fish on the nearby cafe. After reaching Birtamode we met Mani Dai - whose bike we were and will be using for few more days, had some chitchat and headed towards Antu, it was already 18:00. Following the two lane Mechi Highway we crossed Kanyam then Phikkal and took the sub way towards Sunil's home, which was ~10 KM away. Two Third of the road was in a good condition but the remaining was rugged one, heavy and continuous rain few days back made it slippery too. To conquer that path bike was accelerated with big sound, and village silence made it more bigger. With final bhroom-bhroom we reached home by 22:00, had A+ dinner and went to the bed.
And our early morning plan was to head towards Pathibhara Temple, Taplejung. That's gonna be long biking then medium hiking and most exciting one - all places to come were new for me.
I woke up at around 7:00 in the morning and freshen up. Lush green tea gardens around the home were giving pleasant feeling to every part of the body. We got ready to move as early as possible to reach Suketar, Taplejung - today's destination. It was about 220 KM from current location crossing Ilam and Panchthar districts. We had light breakfast, the bike engine ignited at 10:00.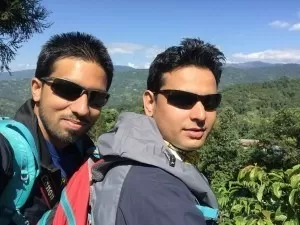 We reached Phhikal in no time, from there we were to continue Mechi highway till its end. We fueled the bike in nearby station and be ready for the highway ride. Bending of the road made the bike ride adventurous. We kept on following the way, which went down until we reached Mai Khola, after crossing the bridge it gradually went up the hill and finally reached Ilam bazaar. We had no plans to spend time there so we decided to move on. Crossing local places such as Barbote, Sankhejung, we stopped at Ranke that is the border of Ilam and Panchthar districts. We had Hot & Sour Veg Tukpa and MoMo there and was the best veg item we ever had. It was already 15:15 when we left Ranke, and we still had to cross ~130 KM to reach Suketar. We spent some time watching beautiful setting sun on the horizon from the way and reached Phidim, Headquarter of Panchthar district at around 16:45. It was pleasant moments watching the golden rays on the way but one thing to worry - it was getting darker and night ride on the bending hilly highway was somehow challenging. After few minutes of rest in Phidim we continued our journey. The highway was filled with insects that came from the paddy fields and it was attacking our eyes making the ride more uncomfortable. It was pitch dark and cold too when we reached the Kabeli river bridge, which separates Panchthar and Taplejung district. After that the way became narrower. Darkness and bumpy narrow road decreased the speed to 20 KM/Hr. We were totally unaware of what is below and above the road as we were just following the road signs. After adventurous ride we reached Phungling bazar, Taplejung at around 19:00. We were still few KM far from Suketar so without further delay we continued our ride. Crossing very uneven road we reached Suketar after 30 minutes. We went to the nearby hotel, managed a room and unloaded the backpack. There were many hotels around but we were in the first hotel we saw which was in front of the Suketar Airport. It was freezing so we ate noodles soup before having nice dinner. In the meantime we managed 2 seats on 4X4 jeep for the early morning of the next day with another group as the road condition to reach the place from where we were to start the trek was bad for bike. We went to bed immediately after.
Day 3 - Suketar ➟ Pathibhara temple ➟ Suketar ➟ Phidim
We had to go to Chhatedhunga to start the hike so we woke up too early, at 3:00, be fresh and got ready for the adventurous ride on a extreme road. We managed to get there at around 5:30 and started walking up the hill towards Pathibhara temple. Full moon was about to set on the west and golden rays were spreading on eastern sky. It was beautiful blue hour of ' Moon Set & Sun Rise'. We watched the sunrise at 6:40 from the way after crossing lower Phedi. Crossing different local places such as Kafle Pati,Lower Phedi, Deurali etc. we reached Upper Phedi at around 7:30, had tea, some Satu and Popcorn. We did some shopping - Pooja Items and bottled water and all set for final ~2 Km hike to ~3800m; sign board on the roadside said that it will take 2 more hours, it may take less for regular hikers.
We started walking at 8:00 and kept on climbing up normally on the stone paved way until we entered Pathibhara Temple premises at 9:15. The Temple is located on top of a hill at around 3800 meters of elevation just in front of the majestic Kanchenjunga mountain range. We stayed there for about 2 hours having natural and cultural experiences in peaceful environment. Every other things went well but we were not able to see clean mountains as it was playing peek-a-boo with us with support from floating clouds. We were all set to return after spiritual fulfillment and blessings from the powerful goddess. We hiked back on the same way to Mathillo Phedi, Tallo Phedi, Kafle Pati then Suketar. We stopped in Mathillo Phedi for an hour, had delicious lunch and continued our walk until we arrived in Kafle Pati, from where we were to take a 4X4 jeep to Suketar. After filling the seats, the journey began. The narrow and rugged road seemed the former mule track. The way was through mountain ledges, most part of it was only wide enough for one vehicle at a time and was a matter of trouble to brave drivers too. Landslides in some portion made it much more challenging, even an small error can cause the vehicle go straight down hundreds of meters. It took almost one and half an hour to cross ~15 KM of treacherous road. We thought - 'Wooooow! that was extreme and extremely beautiful journey.'
The time arrived to get back, we freshen up, took our bags from the room, checked the bike and bhroom-bhroom! we were ready to move. We reached Phungling bazar in around 30 minutes, had light food and continued our ride. We began to loose the altitude slowly and gradually and until Kabeli river bridge. While going up the same way yesterday, we were completely unaware of the landscape due to darkness but today we got chance to realize how adventurous it was. Cliffs, landslides straight up to the top, and then straight down hundreds of meters to the river bank. Two-lane rocky downhill route took us nearly an hour to cross. We left Taplejung and gradually began uphill journey to Phidim, Panchthar, the highway was in nice condition from there. We mistaken the distance to Phidim from there as around 50 KM and continued the ride but after travelling little more than an hour we saw a milestone with " Phidim 45KM". We only believed that after seeing another milestone with " Phidim 44KM" in a while. It was already pitch dark and we had no options except continuing. During the ride, we felt like the highway is never going to end. Our rough plan was to stop that day's journey in Ranke, but we changed it and decided to stay in Phidim. After 45 minutes we stopped in the roadside cafe and had black coffee as it was freezing, Phidim was still 25 Km far. Feeling some warm inside we began journey to the Headquarter, we reached there at around 20:00. Then we got off the bike and started searching for the lodge. First lodge we saw was good on the outside but was not clean inside. So we looked at comparatively good second one, room was okay but we had worst ever food and service of the whole trip that night. I didn't expect black tea in the beer glass in the roadside hotel of the district headquarter. As we were tired too much, we had good sleep anyway.
Day 4 - Phidim ➟ Ilam Bazar
We woke up at 6:00 and freshen up. It was pleasant morning and that day's destination was to reach Ilam Bazar, just around 60 Km far. We began the journey back at 7:00 and started gaining altitude slowly. Glimpse of majestic Kanchenjunga mountain made the surrounding view awesome. Phidim bazar started to fade as we got higher.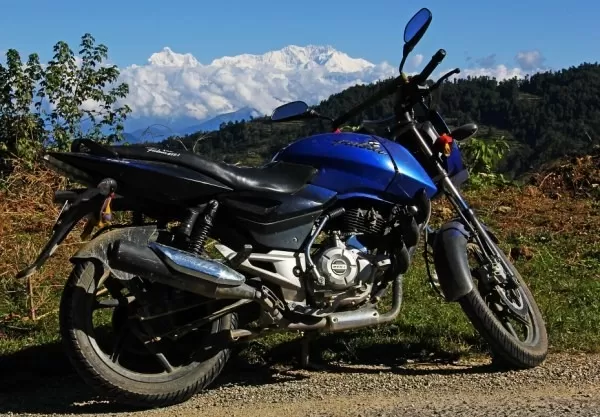 After 20-25 minutes we stopped in the roadside cafe to have breakfast along with some local friends. We had some clicking session as well. Then we continued our journey up till Ranitar watching shining Kumbhakarna and Kanchenjunga on the left, and downhill till Puwa Khola passing Ranke and Sankhejung. Crossing the Puwa Khola bridge the highway again began to go up. After 7-8 Km of uphill ride, we continued straight for 5 more Km. Leaving the places such as Barbote and Biblyante behind we stopped near Chyangba Hotel, Ilam at around 10:00. We ordered lunch set and washed our tiredness. After 30 minutes we had delicious food - Rice, Daal, Vegetable, Mutton, Pickle etc. ;). We spent some time roaming around the town and had some rest till 15:00 then went to view tower to have the panoramic surrounding view. After spending nearly an hour there we hiked around tea estate, tea factory, campus, temples until sunset. After hike we had nice 'Motton MoMo' in Dhobidhara - the rarest one in K-Town. The city famous for tea production has pristine landscapes of sloped tea gardens, forests, holy sites etc. Walking in the gentle slops of the tea garden following winding path under the blue sky was simply awesome.
We had good time with friends in the evening, had lunch and by 10:30 the room lights were turned off.
Day 5 - Mai Pokhari then back to district headquarter
Mai Pokhari is a wetland (Ramsar Site) in Ilam and also a pilgrimage center for both Hindus and Buddhists. With catchment of 12 hectares, it is located ~19 KM away from the district headquarter. Our ride started at around 8:00 and followed Mechi Highway till Barbote then followed rough subway towards uphill. We were slowly gaining heights riding on a rough way, except for few places. Surrounding landscapes were beautiful enough to make us forget the bumpy ride. After 1½ hour trip on rocky track we reached the peaceful spot - Mai Pokhari at the elevation of 2100 m. About 1 Km hike covering the circumference of the pond was the best option to get closer to the nature; one unique thing about the lake is that all corners are not visible from any one corner - may need a drone to view the actual shape. After short hike and photo session we had black tea and got ready to start downhill ride. Following the same rugged track we were in the city by 11:30; had special lunch in Sunil's sister's home - that was beautiful moment to be guest while travelling ;).
In last 2 days I somehow became local to the beautiful city. I realized what I heard about etymology behind the name 'ilam'.
In Limbu language, the word ' I' means ' winding' and ' lam ' denotes to the way. Upon looking at the topography ilam, we can actually see several winding paths crisscrossing on the way. Ilam is popular for its six "A"s: they are Alu (Potato), Alan (Milk), Alainchi (Cardamom), Aduwa (Ginger), Amriso (Broom Grass), and Akabare khursani (Round Chillies).
While visiting Ilam you should not miss two best milk items - Bambaison and Lollypop. We spent the remaining day doing nothing mentionable; had lunch and went to bed and started dreaming.
Day 6 - Ilam ➟ Shree Antu
After waking up at 6:30 we freshen up then be ready to move from the city. Next destination was 'Kanyam Tea Garden - most popular tea estate of Ilam' that was ~40 KM crossing Mai Khola then following the most winding portion of the highway. It was about 7:00 when we started that day's journey. In no time we reached Mai Khola Bridge and had breakfast.
With smooth ride, we reached Kanyan at 8:40, which is also known as the paradise of eastern Nepal. If anybody chooses single photo of Ilam that must be Kanyam tea garden along with surrounding landscape and crossing highway. Small portion of Mount Kanchenjunga is also visible from there. After spending quality time, we left for Shree Antu.
After moving from Kanyam to Antu via Phikkal, we stopped after few minutes to get some gift to our Bike owner dai ;) in nearby roadside shop crossing the way, bought something, packed it, crossed back the road, Sunil jumped in the bike, I unloaded the bag and rested it in the back seat of the bike to keep that gift inside. Immediately after, Sunil moved the bike forward, I thought he moved it just because the bike was parked in the turning but he kept on moving in full speed, I called but the voice didn't reach him. I was left on the roadside.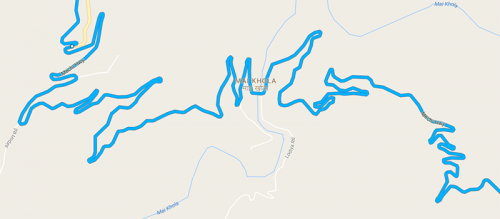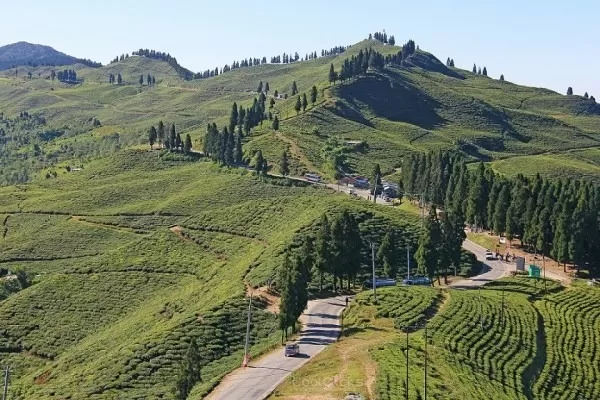 Then I started hiking on the highway trying to call in the cell phone but due to poor network that option faded too. After crossing nearly 1 and half Km I made successful call and let him know I am walking on the highway then he returned. He later told me, he talked about roadside surroundings while riding, as for him, I was in the back seat. After not getting any acknowledgement, he looked back then only realized pillion rider was missing. After meeting each other, he turned the bike, confirmed me whether I am in the back or not then continued driving :p. We soon reached Phikkal then followed winding subway to Antu. It was about 11:00 when we reached home after wonderful trip. The remaining day was spent well roaming around the unique landscape and greenery of the tea garden.
Tomorrow's plan was to wake up at 3:00 then start short hike to Antu tower to have best sunrise view.
Day 7 - Antu tower and around
We waked up and started the hike as planned along with a neighboring friend, it was pitch dark, shining stars in the east gave us hope of getting clean and golden sun. Three of us continued following the path with the help of mobile light, Mani Dai joined us in Bhanjyang. Our hike went on till we reached the tower, it was 5:00, tower entry was locked and we had no idea whether it will be opened or not as it was still under construction. After 10-12 minutes, eastern sky begin to change its color. Golden line came in between the dark hill and the blue sky.
The tower gate was opened and in no time, it was occupied. Everybody were enjoying breathtaking beauty. The rising process continued for 20 minutes and then first glimpse of elliptical shape came out from the back of the eastern hill spreading the golden rays and in just 4 minutes sun was out fully. As the golden rays touched the Kanchenjunga mountain range in the northern side it gave us mesmerizing view; snow capped mountain range turned to a bride. As sun went up, it came the time for us to get down from the tower. After clicking some photos we started downhill trail. We had black tea in Bhanjyan and spent some time in around Antu Pokhari. The pond is in the elevation of 1625 m, covers 1.2 hectare and surrounded by tea garden. As this place is being promoted as one of the best attractions of eastern Nepal, different business opportunities are being setup including home stay facilities, cottage etc. You won't regret visiting this if you love nature and landscapes.
I spent one more day in Shree Antu before leaving to Biratnagar along with Sunil.
This post was originally published on Cool Sky.
Frequent Searches Leading To This Page:-
Eastern nepal tour package, best nepal tour packages from delhi, nepal tour packages from Kolkata, nepal government tourism packages