Have you ever gone for a trip exclusively with your grandparent, minus the parents, aunties, uncles, cousins, just the both of you? Well, if you haven't done it yet, you must plan one immediately! For it is an experience, you will cherish for your lifetime. You will discover the human side of the generation from whom your parents inherited their gene pool! The naughty little girl or the mischievous little boy in your grandparent, hidden under years of social conditioning and life experience, will make a surprise appearance. You look back at these old souls in a new light. You will notice the spring in their step, hear the shrill in their voice, see the gleam of excitement in their eyes and you will realize that they still have that youthful vigor. They are eager to pass on their life experiences and share with us as friends, if only we would listen! I was among the lucky few to discover the friendly and youthful side of my grandmother during a surprise trip to Majuli, the world's largest river island.
The Idea
It so happened that in May, 2015, I wanted to make a trip to Majuli. After 13 years of living away from Assam, I felt a strong urge to visit this revered island. As an Assamese woman, I felt a special connection since it is the birthplace of Assamese culture and religion. I came to Guwahati for a short, 6 day trip and told Maa about my planned visit. She decided to be my travel companion and we planned a 2 day long getaway from Guwahati to Majuli.
But luck had other plans. Maa fractured her wrist and I dropped the idea. As I sat brooding over on the sofa, my maternal grandmother or "Aita", as we fondly call her in Assamese, told me that she would accompany me for the trip. I hesitated at first but then Dad assured me that she would be taken care of. I just had 3 more days of leaves left and decided to go for it. In an hour, we were packed and were on the bus. At last, it was finally happening!
As unbelievable as it may sound, we were met with a raging storm and uprooted trees on the highway. By the time we reached Jorhat, the nearest town from which Majuli can be accessed, it was late at night. My good friend, Amit greeted us at Jorhat and we were put up at his place. After supper and a quick nap, the three of us were up by 5 am the next day. By 7 am, we were at Nimati Ghaat, the place on the river bank where you board a ferry to reach Majuli. An hour long ferry ride later, across the vast expanse of the Brahmaputra, we finally disembarked and stepped onto the wonderful island.
Majuli: An Introduction
Geographically, with an area of 352 square kms, Majuli is the world's largest river island. It is also India's only island district. Surrounded by the mighty Brahmaputra and 2 of its tributaries, Majuli is about 300-400 kms from Guwahati and is accessible from Jorhat, the nearest town. Erosion is a major problem in Majuli. During monsoons, the entire island is flooded and the island loses a part of its land mass.
Culturally, Majuli is the cultural capital of the Assamese civilization and is home to a very unique form of Hindusim, Neo Vaishnavism. It is a monotheist version of Hinduism, free of caste, creed and ritual worship, founded by Srimanta Shankardeva, the great social reformer of the 16 th century. The Srimad Bhagvad Gita is worshipped as the Holy Book and Lord Krishna as the Supreme Godhead. It is practiced by people all over Assam. He established " Satra (Xotro) " or "Hermitages of peace, culture and tranquility" in Majuli and till date, many of these Satras can be found on this island in their original form. The Satras also act as museums to preserve ancient manuscripts, weapons, jewelry and other items of cultural significance. Every year, Raas Leela is celebrated with great pomp and joy and dramas depicting mythological folklore or "Bhawna" are enacted by the priests and locals.
The island dwellers are an agrarian people from the Mishing, Deori and Kachari tribes who mostly practice Neo Vaishavism. The people are skilled potters, farmers and fishermen. Mishing and Assamese are the spoken languages here. The island is dotted with villages made of traditional bamboo huts and a rich biodiversity with flora and fauna.
How to reach Majuli:
Take a bus/train/cab to Jorhat and a ferry from Nimati Ghaat in Jorhat. The timings are strict. The first ferry leaves at 7 am and the last one leaves from Majuli at 3pm sharp.
Where to stay:
Majuli is still not commercial so there are a few, but fantastic, stay options. Eco Camp and Le Maison de Anand run by a French couple are among the better options. But book in advance!
Exploring Majuli with Granny:
Aita is a devout follower of Srimanta Shankardeva and is well versed in the Neo-Vaishanavite tradition. As we had just, 6 hours to explore the island, her knowledge was instrumental in providing me with a quick understanding of the Satras. We managed to visit 6 Satras in that brief time and also got a chance to interact with 2 Chieftains of the Satras, all thanks to her! We also visited a traditional Mishing Village. She bellowed orders, acted like a time keeper and guide. She even ran with me to the green meadows and giggled like a little girl while trying on traditional masks!
Here is a brief overview of all the places we explored with her.
Auniati Satra: Established in 1663 AD, this Satra has around 500 "Udasin Vaishanavas" or celibate priests. It houses the biographical works of the Vaishnavite priests. The priests are involved in cultural compositions of 'bhaonas', 'Satriya songs and dances' and religious publications.
Kamalabari Satra: This Satra is a center of art, cultural, literature and classical studies. For centuries, it has been producing great artists and musicians in Assam. The disciples are also known for creating sculptures of mythological characters and crafting beautiful boats.
Dakhinpat Satra: A majestic ornate gateway decorated with motifs of animals, warriors and animals greet you when you enter Dakhinpat Satra. The interiors of the Naamghar are also adorned with colourful paintings and sculptures, heightening the aesthetic appeal.
Bengenati Satra: This Satra was founded by Lakshmikantadeva. During the end of autumn, the traditional the Raasleela is enacted with pomp and celebrations. Ancient weapons called "Bartop" or cannonss are preserved here.
Garmurh Satra: This ancient Satra is at the helm of bringing about social reforms. Even though it is less influential than its famed counterparts, the monastic traditions promote educational pursuits and social harmony among the people of the region.
Shamaguri Satra : The last place we visited and the highlight of the trip was Shamaguri Satra. But instead of going to the actual Naamghar( Place of worship) we went to the home of the "Satradhikar" or "Chieftan" of Garmur Satra, Shri Hari Dev Goswami as Aita knew him personally .He is a skilled mask maker/artist/painter and has won many national and international awards for his creations. Dr. Goswami and his family make masks depicting mythological characters from Ramayana, Mahabharata like Garuda, Hidimba, Soorpanakha, Ravana and are used in "Bhawnas" .We had a fun time trying out different masks and were graciously treated to a traditional snack of "Doi-Ceera and Gud"
Apart from the Satras, we visited a traditional Mishing village with "Chang Ghors"or Houses on Slits. Owing to paucity of time, we were unable to interact with the local people or stay overnight to explore the bio diversity in the island but I did manage to take some pretty shots!
After spending 6 exciting hours in the island, we just managed the catch the last ferry of the day. The trip had come to an end but the memories of that day will be etched in my mind forever. I stood on the ferry looking at the muddy, brown waters of the great Brahmaputra and realized that I was a step closer to understanding my roots, my identity and my culture. And I saw my Aita, sitting inside the ferry, looking radiant and smiling. I could see the look of pride on her face that she had passed on a piece of legacy to me. She looked accomplished, important and confident. And as our gazes met, a light breeze of contentment and pure joy swept through me.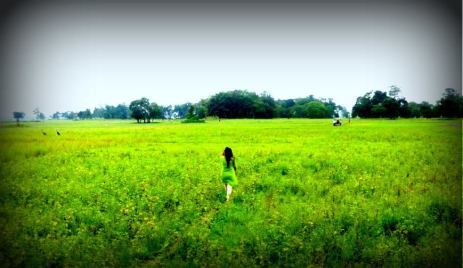 This blog was originally published on 'LOKYANA'
Frequent searches leading to this page:-
10 Nights/11 Days Assam, Meghalaya & Arunachal, Assam - Best Assam Tour Package, Assam, Meghalaya, Arunachal Pradesh Holiday Tour packages, Assam India Tour Package