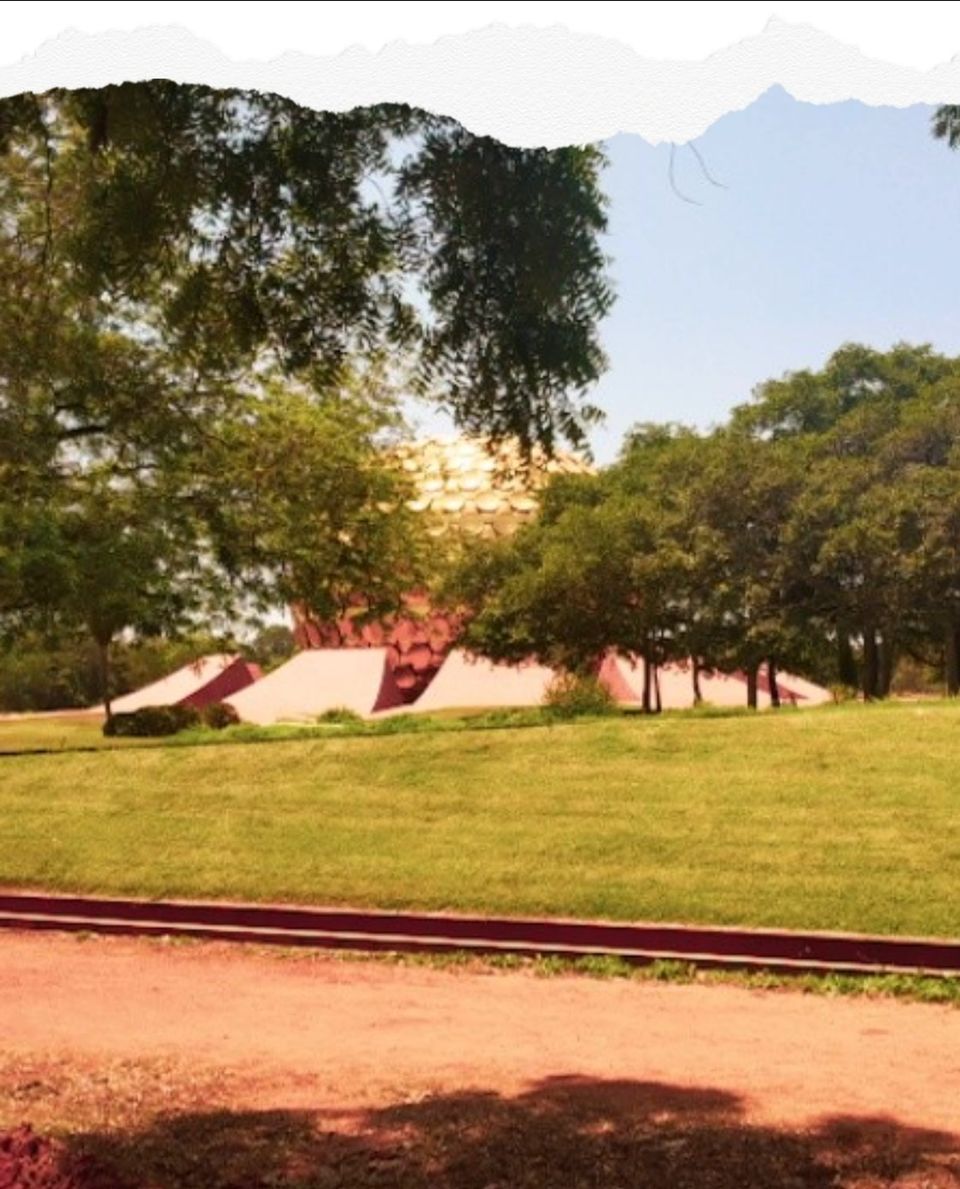 My trip to Pondicherry was mainly to conduct an animal flow workshop and secondly to explore the place.
I was lucky to get my stay at Time Travellers Hostel which is just opposite to MatriMandir entrance in Auroville.
I reached on a Saturday morning and as soon as I stepped out of the AC Sleeper Bus, I was in between a crowd of Auto Drivers screaming their lungs out as to whom I should go with.
After checking the price from Pondicherry Bus Stand opposite Krishna Bakery to Auroville is 300 bucks.
I started walking towards the other side in search of Tuc-Tuc, as the guide from my Hostel suggested so.
However couldn't locate a single Tuc-Tuc and decided to rent a scooty as I would eitherways need it for my journey here in Pondicherry.
Finally, found a rental place a little ahead of the bus stand.
The place has options from 300-450rs depending on the model, activa, vespa etc.
He suggested to go with Red Vespa as clicking pictures in front of the White Town and French Colony would come out great.
He also handed out a map of the city marking out the must places to eat, see and party.
Headed out to Auroville from Pondicherry.
It took us 30minutes to reach Auroville.
As soon as you take a left from the highway to Auroville, you get the feel of nature, peace and all things good.
Auroville is a small town with limited cafes and party stops but is immensely high on peace, yoga, massages, meditation and activities.
As soon as we checked in, we headed out to Matri Mandir to make a booking.
I heard a lot and read a lot on the internet about how one needs to be lucky to get the booking and it has to be done few days and weeks in advance.
But in my case it was different, maybe I was lucky enough.
We stepped in the Visitors Centre and took a walk till the reception to get the tickets for Sunday.
We got it and we were so happy and blessed at the same time.
The staff explained that there are these rumors of ticket unavailability and booking system.
You just need to step in and get it done during the office hours in the morning.
We then headed to the boutiques that are on the ground floor. You will see three boutiques.
It's definitely a little expensive compared to normal stores. But few souvenirs are definitely a must buy.
Don't miss the dark chocolate pepper mint, chocolate peanut butter and there cotton hand bags.
There are two cafes inside, the Auroville Cafe and Dreamers Cafe.
We just had some fresh juices at the Auroville Cafe.
At Dreamers cafe have crossiats and cold coffe ❤
You have a seperate counter for renting cycles for hourly and daily basis. Give it a try, it's cheap and pollution free journey helping the people of Auroville to keep the place clean and pollution free.
There is a short video that you need to watch one day before the booking. It's a short video explaining about the Mother's vision and making of Matri Mandir. Post the video you can follow the path and have a view of Matri Mandir from a far distance.
This one is for people who doesn't wish to enter the Matri Mandir and just come for a glimpse of it.
We spent Saturday exploring cafes in Auroville and Serenity Beach.
You have Marcs Cafe which has amazing breakfast.
Go Smoothies is really great with its healthy smoothies.
Tantos is a must place for pizza lovers.
Bread & Choco is for all crossiants and coffee lovers
Not so very hyped place but worth a visit is Solitude Farm and Cafe in the middle of nowhere. It's a little hidden one and one needs the permission of the gaurds to enter.
They grow there own fruits and vegetables and serve amazing Thali. A little expensive but worth the try as I am a pur non-veg but this veg experience was worth ☺
Auroville bakery is a little away from the Matri Mandir and don't confuse between the cafe inside the Matri Mandir as Auroville Cafe Bakery as they call that as Auroville Cafe.
Auroville bakery is one of the best in India for its amazing baked breads and biscuits.
Everything is shut post 6-7pm in Auroville and most of the places are pitch dark. So you either head out to Pondicherry or you take part in the evening activities conducted at your stay.
You can't complain about the night life in Auroville because that's what this place is all about. Its away from the hustle bustle of life and has so much time to yourself.
There are plenty homestays and guest house and OYO available in Auroville. But Time Travellers is just opposite to the main attraction of Auroville making it most preferable. You will meet a lot of people from different countries backpacking in Auroville specially.
Auroville's population consisted of 57% of foreigners and 43% Indians.
Auroville:
There should be a somewhere on earth a place which no nation could claim as it's own, where all humans of goodwill who have sincere aspiration could live freelyas citizens of the world and obey one single authority.
To live in Auroville one needs to give all its possession and be devoted in development of this place.
Volunteering is a little complicated process as this take into account your stay, fooding. There are many research centres that you can choose from to be a part of it
There is currently a severe housing shortage and there are few small houses for new comers but there is a waiting list to it. The project of Auroville started in 1968 and has completed 50 years.
I will write my experience about Matri Mandir visit and also the Meditation chambers on the next post.