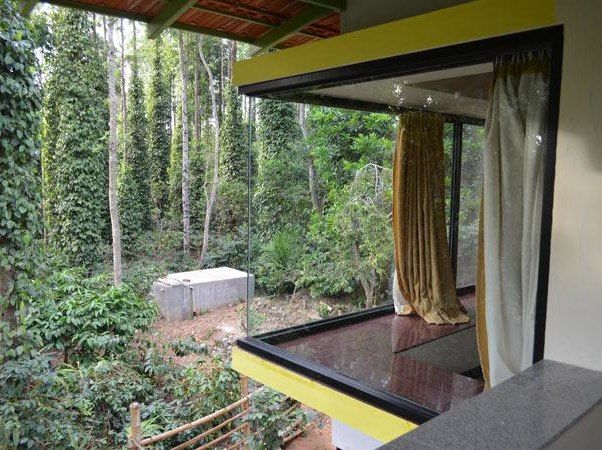 We exactly had 2 nights and 1 day to stay and enjoy this micro mini holiday and the place that was fixed by the men was Biligirirangana Hills shortly called as BR Hills. It is approximately 180 kms away from Bangalore airport and we choose to drive on our own and booked Zoom cars while we were at Hyderabad.
Our flight from Hyderabad was during the early hours at 5.10 am on the 11th of Nov, trust me was the most rush rush start for all of us, we were a group of 8 adults and 3 kids below 5 years of age and this was the first time I was travelling with that age group of kids(can imagine the chaos) we had as we were late for the boarding, somehow we made it on time and reached our respective seats.
We landed at Bangalore airport at around 7 and were awaiting for the exciting trip to begin.
As we booked Zoom cars we had to go to the office and pick 2 cars for our self, this process took around 45 minutes and we were given 2 swifts(one of my favourite cars) and then the drive started.
The drive took close to 3 hours and 30 minutes due to little route confusion we had to reach the required place of stay.
Resort where our stay was planned was CHAMPAKARANYA HOMESTAY.
It was a beautiful villa with all the facilities like Wifi, LCD TV, heater, neat washroom and everything a room needed, and the best part was that our stay was inside coffee and pepper plantation.
Rooms were really big with nice big glass windows opening to green thick forests and coffee & pepper plantations; it was calm and serene staying amidst the forest and greenery.
We had no plans to go anywhere except to stay indoors and rest, another reason being I could sit at the windows and look at the dense forest forever, as you don't find anything so comforting to eyes when u live in a polluted and a busy commercial city like Hyderabad.
As soon as we entered the resort we were served lunch which was typical south Indian food ie Chapathi, Rice, Dal, sambar, boiled cabbage curry with coconut, boiled beans with coconut ,fryums and curd.
Though this is supposedly considered healthy lunch but we being a bunch of foodies were quite disinterested with the food provided, but as its said hunger is above all so we quickly hogged whatever was given to us as the long drive made us really hungry.
After the lunch all of us finally got a chance to pick our rooms and i ran quickly and picked the room that was upstairs and the complete view of the jungle was visible.
After settling we took a small nap and woke up around 6 in the evening when somebody at the door rang the bell. To our surprise it was the care taker with 2 plates of garam garam aloo bonda's and steaming hot tea&coffee.
It was a refreshing snack time with all the families sitting together chit chatting, eating, cracking jokes, kids running here &there, discussions on what should the next day be like and how could we make it more memorable with whatever little time we had, to our surprise the men already had a weird sort of photo shoot planned the next day.
The plan was that men would dress in white shirts and white panchi or lungi and women in sarees and kids also follow the same.
Well it was worth the wait to see what and how things would turn up for us.
It was around 9.30 when the resort caretaker told us that the dinner was served, we went to little dining area downstairs which had few wooden tables and chairs,we quickly finished dinner ,all the ladies decided to go back to room & sleep while the men wanted to spend some more time and talk(suppose to be ladies job I guess),but then surprisingly roles got switched.
Next day on the 12th November morning we woke up at around 6 am and were immediately served tea & coffee. We completed our morning schedules and got down to have tea and coffee, it was a beautiful lovely morning with cold breeze and very low sunlight, it was perfect morning and the perfect view looking at the forests sipping a cup of coffee.
It was time for the photo shoot and we were asked to dress quickly in our Indian attires by the men.
Women in saris is a pretty common thing but men in Panchi's that too white shirt and white Panchi was going to be a interesting sight to look at.
Well all the ladies were ready and decided to come down dressed and sit and click some selfie's ,we knew for the first time the men would take more time to get ready and that s exactly what was happening.
After around half an hour all the men came down and their entry more or less looked like some south Indian film heroes entry(multi starrer film though).
All of them were dressed in white shirts & white panchi's and all ladies in Saris.
We clicked lot of photos and after the photo session we thought it will be good to go and visit the temple nearby.
It was Biligiri Rangaswamy Temple that was some 30 to 45 minutes away from our home stay. This temple is devoted to lord Ranganatha and is situated atop the highest peak of BR Hills; also this placed is named after the lord. Now the speciality of this temple and why it is famous is because this is the only temple where the deity is depicted in the standing position.
The Annual Car festival of the deity held during 'Vaishakha' in the month of April, is an event, the region is known for and attracts thousands of pilgrims from all over. The Ratha festival is celebrated at Biligiriranga Hills. There is also a tradition where the local tribes present a large pair of slippers measuring 1-foot (0.30 m) and 9 inches, made up of skin, to the Ranganatha swamy once in two years.
It was quite crowded in the temple, may be because it was a holiday season and also there was a pooja going on, where few men were surrounding a man and were doing some kind of worshipping and locals their told us that it was the local tradition to do so, but due to the language issues, we could not extract more information from the local natives. We entered the temple and it was quite dark inside as the lord was placed inside the cave, was a small temple so it did not take much time for us to finish the temple visit.
We headed back to the home stay and were quite hungry by now, but we did
not want to have the bland food so we were hunting for some Maggie's (staple food for every hungry Indian), after searching for quite some time we found just one little shop that was selling maggies,so we purchased packets that could be enough for 4 families to kill the hunger.
Now let me tell you a little detail about this place, BR hills is not a city but a very little town with very minimum facilities compared to that of a city. We could not find a single super market or a good decent medical shop, there were no big showrooms, no wine shops no meat shops, actually there were hardly any shops in that town, and yet the place was full of greenery, fresh air, lot s of oxygen to breathe, lot of vegetation and people looked happy and content which is a very rare sight to be seen in the cities.
Well after the adventurous treasure (*Maggie) hunt we finally reached the home stay and quickly got dressed in normal daily clothing and finished making and eating Maggie and the next destination to explore was a wildlife sanctuary.
It was named BRT wildlife Sanctuary, Home to a wide variety of flora and fauna, this wildlife sanctuary is situated between the Kaveri and the Tungabhadra rivers, spreading over an area of 540 sq km and is a place the BR hills are known for.
A number of endangered species reside here along with a large avian population. This abundance of wildlife can be enjoyed through jeep safaris and elephant rides available here. This forest reserve is also known for its wild elephants, gaurs, chital, sambhar, barking deer, four-horned antelope. Tigers, leopards, wild dogs, lesser cats, sloth bears, giant flying squirrel are also found here along with 254 species of birds.
There were so many names mentioned in the list of the sanctuary but I was more interested to see how many of them were actually visible, the sanctuary was about 40 minutes drive from the home stay and was more of a Ghat section drive to reach there.
After crossing the little ghats and roads amidst the forests and also some monkey's who welcomed us to the Sanctuary, it actually gave a feel of wildlife while we were crossing all these little visitors and then we reach the office of the forest we were about to visit,it looked more of an army camp office and less of a ticket counter.
We choose to take a jeep where all of us could fit and enjoy the visit, luckily all of did accommodate comfortably in the jeep, we were told by the driver that it would easily take an hour to finish the safari and we started our ride. While on the ride all of use excited like little kids asked the driver how many animals would be visible, and the answer we received was quite saddening to hear,the driver said it's the evening time and most of the animals would be resting, besides this wasn't zoo where the animals were caged but a open wild life sanctuary so the animals would run away listening to the vehicles sound,it was sad news to hear but one good thing was that the animals were not caged and were free to move around.
We kept going and going and all we could see were lot of barking deer, four-horned antelopes amongst the huge list that was mentioned on the websites, so basically there was no sight of leopards, tigers, wild dogs, flying squirrels nor the 250 varieties of birds, so whatever little animals that were visible,we clicked the pictures and the 1 hour exciting ride turned out to not so exciting but OK OK ride.
After finishing the ride we came to the entrance of the forest where we took our tickets and parked our cars, clicked some more pictures with families and headed back to our lovely home stay. As this was the last day at BR Hills and we wanted the last night and our stay memorable ,after reaching our temporary den we asked the resort caretaker to arrange for a camp fire,it was a good idea to spend the last night at BR hills in between the forest ,cold winds brushing us and the warmth of camp fire was a perfect way to close the trip. After an hour of reaching the den, all of us gathered at the camp fire and grabbed our self some chairs and sat around the fire that was lit for us,all of us were quite happy as this was the first successful trip we had with whatever little planning we could do, the only discussions around the warmth of fire was where our next trip should be and that we should probably plan for more of such longer trips and more interesting places to visit,but also we were a bit sad too as we had to return to the busy schedules of our life and the boring city lifestyle leaving all the greenery and serenity around, but then it's said "There Has to be an end of a chapter for a beautiful new beginning."
So after all the happy moments it was time for our dinner,we were served some good dinner with little change in the taste as directed by us to the care taker, after finishing the dinner ,all of us headed to our rooms as we had to wake up next day and get back to Bangalore Airport to head to Hyderabad.
Next day on 13th Nov, we got up early got ready finished our breakfast and clicked a group photo to close the trip,
Our flight was in the evening so we had almost all day,we decided we will quickly would reach airport and just relax, we started at around 11.30 am from BR hills and slowly reached the Zoom Cars office at around 4 in the evening, gave them their cars and asked for a drop at airport. After reaching the airport at around 5, we had little food as it would get a bit late for the kids to hold on till we reached Hyderabad and our homes.
Now another exciting adventure that happened with us was that this was the time when our beloved prime minister Mr. Modi announced the currency withdrawal , none of us were left with any cash and we were blessed with such awesome luck that none of the swiping machines at the Bangalore Airport were working ,somehow we took food for the families and quickly finished it and went to the boarding counter, where our flight was waiting.
We reached Hyderabad and the busy city life was waiting for us to get back to our monotonous schedules.
A beautiful short holiday has come to an end and all of us quietly headed back to our homes after bidding good bye until the next exciting trip could be planned.
Rating :Champakaranya Home Stay
Rooms: 5/5
Food: 4/5
Location: 5/5
Cleanliness & hygiene: 5/5
Staff behaviour: 5/5
Over All Rating: 5/5
Comments: A must visit place in winters for a short weekend getaway.