Solo Ride to Hampi
Hampi ( a.k.a Humpi or Hampe ) is both a historic & religious place in India. This was the capital of the Hindu empire,Vijayanagara, who ruled the south India during 14th to 16th century AD.
Where is Hampi?
Hampi is located in Karnataka state , a southwestern province of India. It's about 350 kilometers (217 miles) north of Bangalore, the state capital.
Day 1
Hampi and Badami After a lot of decision and lot of planning it was me all alone left for the trip, cause all of my friends who were joining me for the trip ditch at the last moment. But anyways I didn't want to waste my Christmas long weekend. So it was the night of 25th I finally made up my mind to do a solo trip of 1300km. I was nervous because it was a new place and I never did that many kilometers alone. I borrowed saddle bag from friend and decided to leave early on 26th. The day came finally I woke around 6, packed all my stuff, I prayed a little and left. The roads were pretty simple I studied the routes and saved my offline maps. The target was to reach Kolhapur by 12. Took pune satara road, halted for the breakfast and then left again. I was cruising at the speed of 90km/hr. as the roads were wide. As I was about to reach Kolhapur my fatigue was started giving up as I had travelled 300km with a single break. The moment I entered karnataka I felt bit good. Now I have targeted badami by 4. I took a wrong route in between which cost me extra time and the roads were pretty bad. Finally I reached badami at 4:30 pm. Got a lodge and dumped my stuff and left for the site seeing as I don't want to waste time.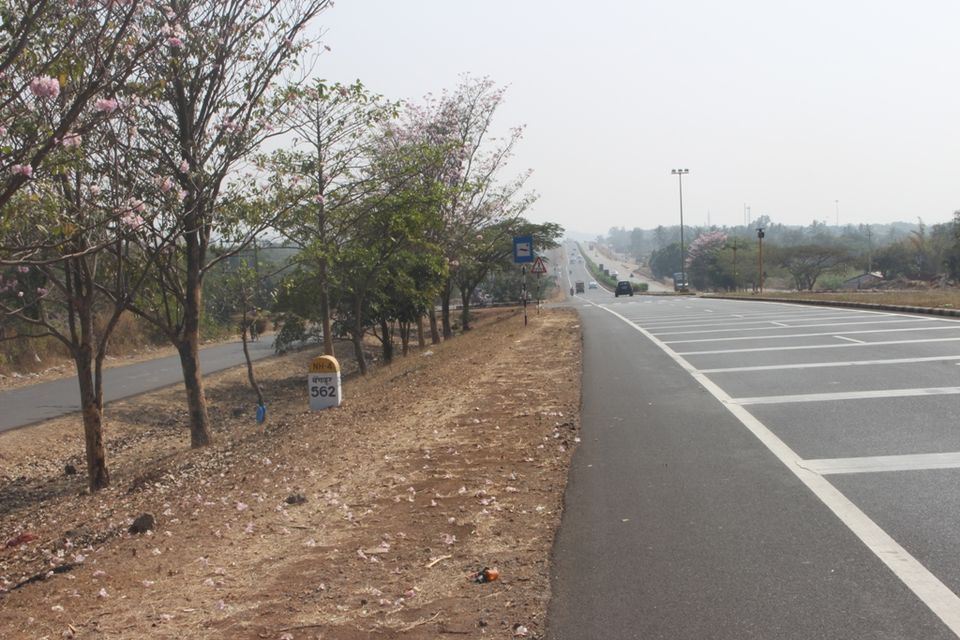 Next Morning I got up early, I started my expedition with the badami caves, one can easily connect with the architecture of such fine hand work. The cave was completly carved out of the single rock.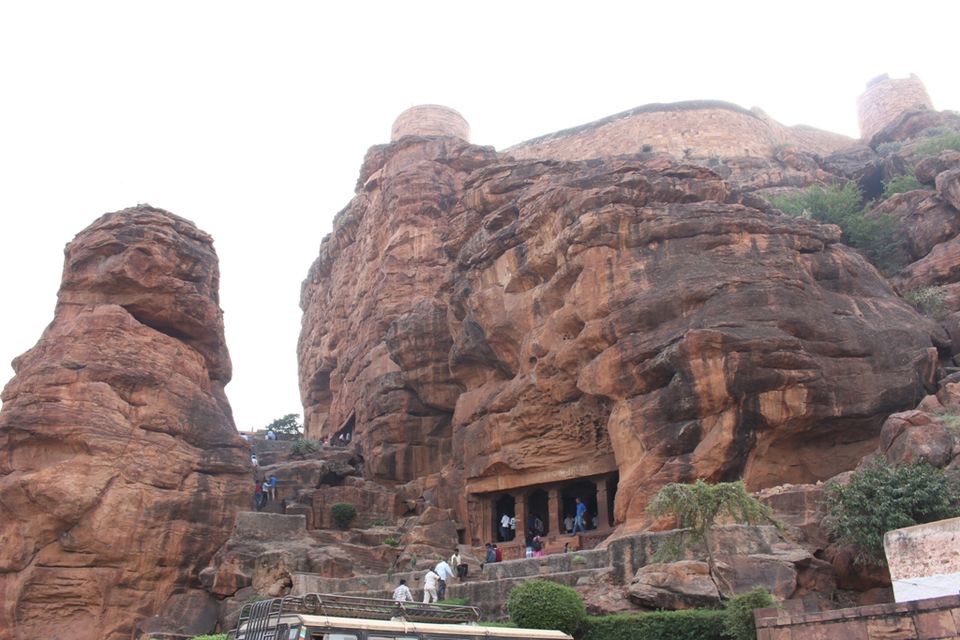 then left for the Bhunatha temple located just opposite to the caves, as the name says its dedicated to Bhuthnatha deity.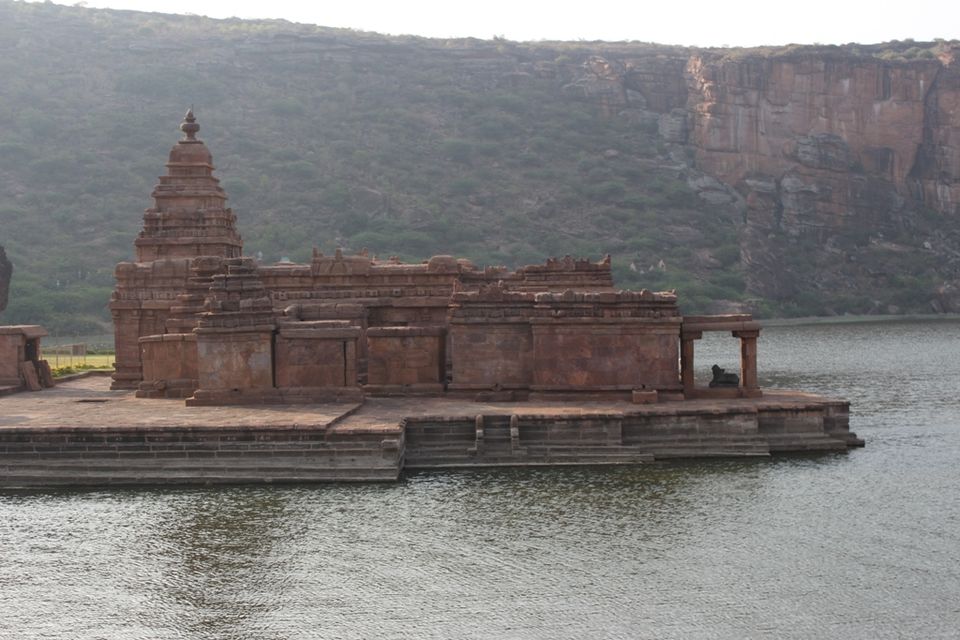 After visiting the caves, i went to the Banashankari temple as suggested by the hotel owner, the temple doors were closed and there was a huge line, i decided to check the first part of the temple and leave. I left Badami at 12 in the noon, i was to be sure that i reach Hampi by evening so that i could find my hotel and have a good nap, as i was already exausted roaming and then driving in sun. I reached hotel around 5, checked in and then went for dinner. I returned early as i need to wake up early in the morning.
Day 2
Morning Strikes and i was all ready to leave, i had already made my plans. I left around 6. I very good thing about Hampi is there are lot of Sign board. While going my eyes stuck at the board "Malyavantha Parvata & Raghunathaswamy Temple" To my surprise it was place where Lord Rama used to stay during his exile, the place was quite nice all chanting from ramayan was filling up the place, there was small hanuman temple too.
After that i proceeded to Hampi, I started with the museum and visiting places near by directly went to royal closure. It is said that once you enter here, your most of the points are covered. it is roughly 95000 sq mts, which have a large tanks, public bath,mahanavami dibba(Stage where king used to sit). Nearby of which is Queen's Bath , most visted place of Hampi. As the name suggest it was place where the Queen is used to take bath, surrounded and guarded well. I headed towards the Pan Supari Bazar and Hazara Ram Chandra Temple.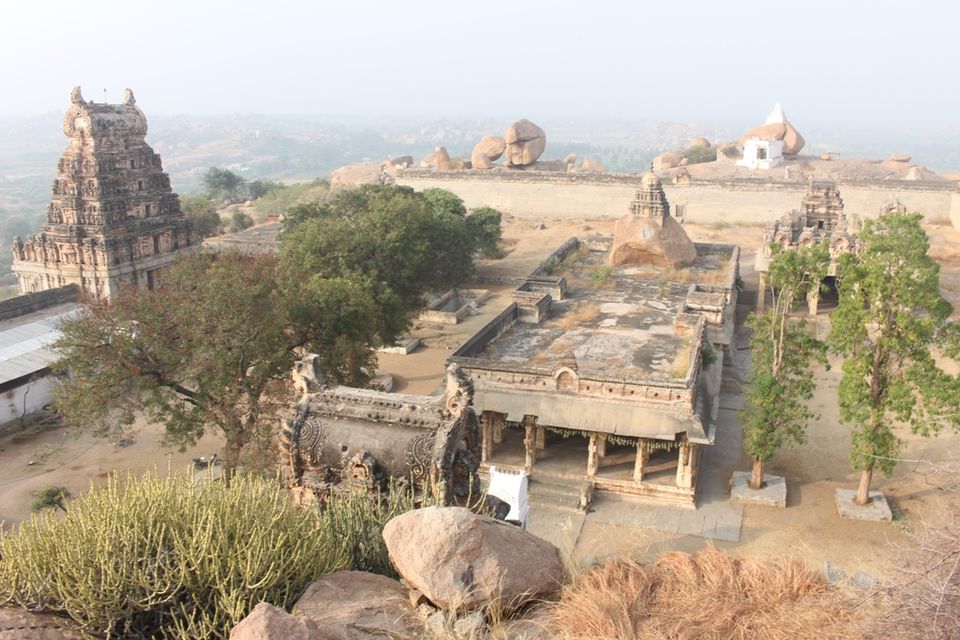 The ruins of the bazaar can still be found there. Without wasting time i went to look out for the large tanks were people used to fill water and bath. It was huge , i wasn't allowed to go inside so i took pictures and left. I was amazed by their architecture work, as we can see how the channel were made for the water flow. I looked into the guide, my next target was the royal elephant stable which is just for a walkable distance but do take your vehicles as the place is too gigantic and you don't want to return back.
The elephant stable were giant in size and you can clearly see why it is called so. Large chambers were made to tie their elephants. I took coconut water and proceeded further. Now was the time for the main attraction the Virupaksha Temple, I hurried as someone told me the gates closed by 12, luckily I entered temple, now I could most tourist here.
As I said hampi is just all connected, near virupska temple there are many points to cover such as Matanga Hill, Hemkuta group of Temples and the Sunset Point. First I tried climbing the matanga hill, it was too tough as it was peak of the afternoon and the steps were too steep, anyhow I reached the top but once I did I forgot everything in front of the panoramic view of hampi. The gush of wind took away all the sweat and I felt more relaxed. I came down and explored Hampi Bazaar, I staright away went for lunch as I was starving. I choose Mango tree as I have read about it other blogs, the ambience was too good, you can lay back and get yourself a bit strecht tii you food comes. The place is equipped with free Wifi.
The Dusk was about to fall, I grabbed the seat and waited for sun to slow fade away. My day was completed here. I was happy I was able to cover most of the Hampi.
Hampi Visiting Guide
Kamalapuram Museum
Pattabhimara Temple
Doomed Gateway
Chandrashekhara Temple
SaravatiTemple
Octagonal Bath
Queen's Bath
Sabha Mantap
Pushkarani Stepped Tank
Hazara Rama Temple
Lotus Mahal
Elephant Stable
Virupaksha Temple
Matanga Hill