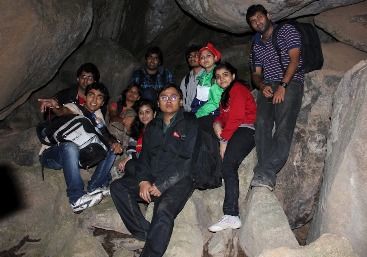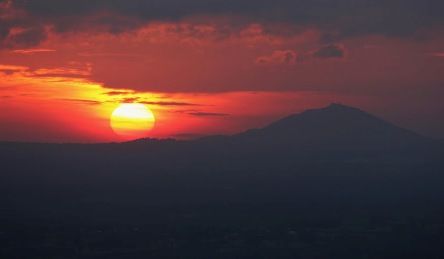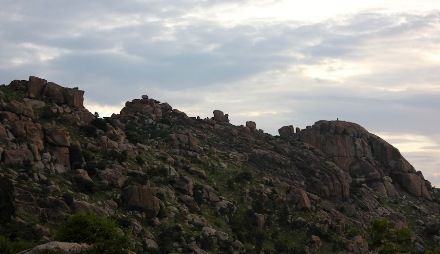 Sixty kilometers from Bengaluru, Antargange in Kollar is a massive field of volcanic boulders and rocks. These boulders, all heaped one on another create a whole network of cave-like formations and tunnels that make this a great place for cave exploration, light trekking, and camping.

A long staircase leads to a temple with a pond. There is a stone bull here with water flowing out of its mouth. No one knows the actual source of the water, which is how Antargange got its name (Antargange literally means 'Ganges of the Deep'). An hour of climbing uphill leads to the approach route into the caves. The entire route twists through a dark maze of rocks, boulders, between cracks, and enters holes that sometimes will allow just one person to crawl through, all of which make for an exhilarating experience.. (Don't forget to carry your torches/headlamps). Once out of the exit, a short trek leads to a viewpoint where one can rest, and if on a night trek, wait to catch the sun rising to light up the entire landscape.

Antargange is not at all technical and is relatively safe, making it the perfect introduction for anyone interested in getting a taste of Caving or any kind of adventure based activity. Being just an hour and a half long drive from Bengaluru, Antargange is an opportunity to do something fun and adventurous over the weekend.

*Caution:
-Please don't register if you suffer from a weak heart, weak joints or claustrophobia. This event requires basic fitness. You will have to crawl, climb and jump through an unlit and unfamiliar environment.
Distance: From Bangalore: 60 km
Route: Bangalore - Old Madras Road - Kollar - Antaragange
Difficulty level: Moderate (combination of plain walk + climbing)
Suggested things to carry:
- Personal medication (if any)
- Rain Coat (Highly suggested)
- Torch (Highly suggested)
- Water bottles - enough to carry at least 2 liters of water (Highly suggested)
- One strong backpack
- Energy Food like Chocolate bars, flavored milk, Electrolyte drinks - Glucose etc. (If you wish)
- Camera (Optional)
Trip Dates:
Saturday: 19th April 2014 09:30 PM
Pick-up from BMC, Shivaji Nagar 09:45 PM
Pick-up from Garuda Mall, Magrath road 10:00 PM
Pick-up from New Shanthi Sagar hotel, Domlur 10:30 PM
Pickup at Tin factory (Near the Fly over)