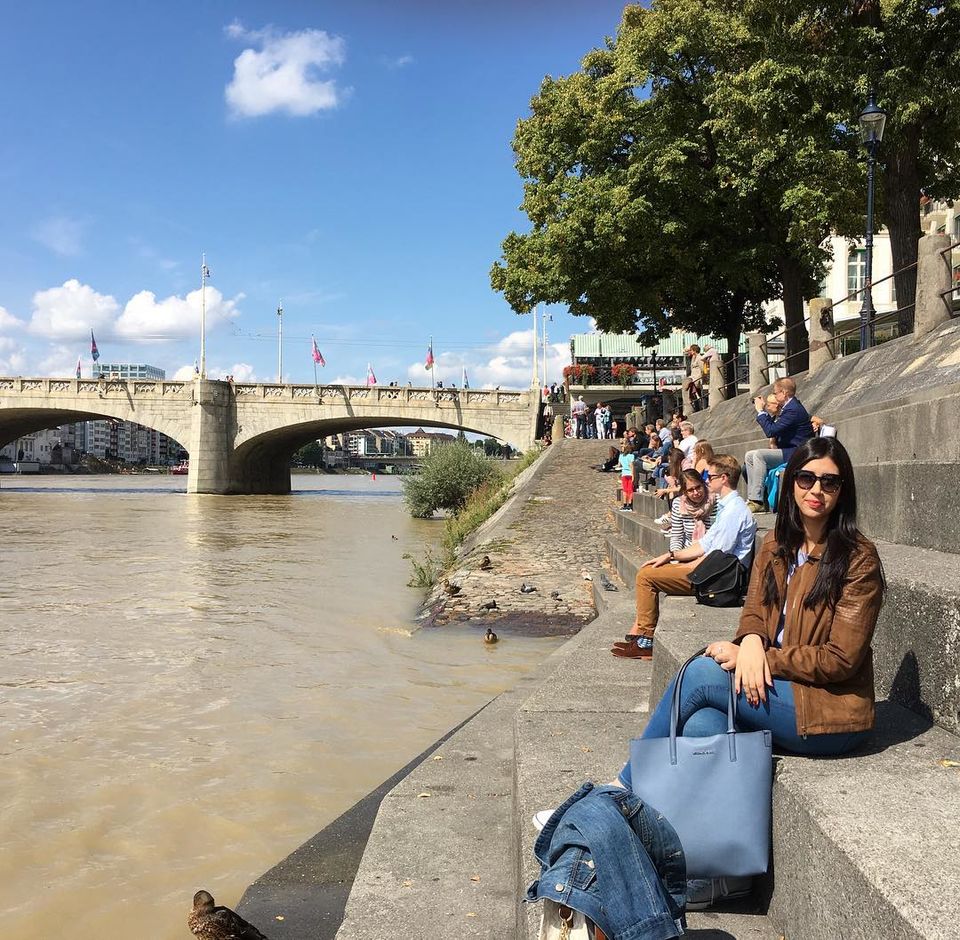 It's been 6 months since I came back from Basel, and I'm obviously not over it. Sure, I need a holiday, but then who doesn't? No, this is more than that. I'd already fallen in love with it because my sister, Pragati did. So when I visited and lived in Basel, I thought it had a sparkling little personality. So, if you're passing through Basel, or if you live there, here are my favourite cafes.
Cafe Huguenin, Barfuesserplatz
It was my second day in Basel. Pragati and I set out for a walking tour of Basel. But as soon as we set foot in Barfuesserplatz, we realized we needed to sit down. That's the thing about us: some travelers don't want to stop walking (or even hiking), and we like to take breaks. Thankfully, we weren't alone. Despite it being a cloudy day in Basel, we joined other patrons in sitting outside. After being greeted by the waitress and placing our orders, I looked around. It was Europe on a postcard. Small streets littered with stores, happy dogs, an arena where Basel was preparing for its next big event, and then it was, all of us at Cafe Huguenin. I love how the Swiss need water (in a glass bottle), a packet of cigarettes and a companion to talk to.
It was our turn. With two piping hot cappuccinos (we don't order espressos, we're not there yet!), a bottle of sparkling water (that was me) and no newspapers, we put our phones away and got to talking. The weather, the people, the quality of conversation and the introspection was a perfect weekday in Basel. Pragati told me how it's her favorite cafe, how the patron never hurries her into drinking her coffee and leaving. She then starts telling me about how Huguenin is a surname, and the cafe is one of the oldest cafes in Basel since the 30s. As Pragati shows me around Munster and all the other awesome places in Basel, I know I have to come back.
Confisserie Bachman. Bluemenrain
I've never been a fan of public transport. We're kinda spoilt that way. But every time the tram pulled towards Schifflande, I loved it. The Riverside, the main part of Basel, the views-it couldn't get more Basel than this. We had to shoot a few photos for our blog, and then meet one of Pragati's friends. And that's when I went to Confisserie Bachman.
The indoors were pristine white, the desserts were sparkling at the counter, and the waitresses looked as if they stepped straight out of a TV commercial. Mind you, I'd been in Switzerland for 15 days and had gotten used to paying 5 Francs for a cup of coffee but it's still expensive, even there. This was the first time I was seeing the fancy-smanshy side of Basel. The bakes, from croissants to baguettes are just as good as the strudel, praline, and truffles. You'd find a lot of reviews on TripAdvisor telling you the coffee was too expensive, but if you have a thing for cafes, go for it.
Brasserie Baselstab Movenpick, Marktplatz
You'd think since it was cold 9 months out of 12, the Swiss would barely eat ice cream. You're wrong. Just like I was. Movenpick has a beautiful outdoor sitting area on a street overlooking Marktplatz and almost everybody is eating ice cream. Since it's a cafe and a restaurant, you can either order coffee, lunch, dessert, or just everything. We started with coffee and books, and I insisted we have the black burger (which was perfectly seasoned) with fresh juice. And a beer. And I'm pretty sure Pragati had Movenpick's signature ice cream.
Yum.
Konditorei-Confiserie Gilgen, Altstadt Grossbasel
I cannot possibly end this post without talking about Gilgen. You know those cute like bakeries that are difficult to find but make you wanna gain a few pounds for a single bite? Yeah, that's Gilgen. One of the most Instagrammed places by locals (and tourists like me), they use the same recipes since 1937. Everything is made fresh from scratch, and Pragati tells me there is sometimes a 20-minute wait for desserts too. I think I tasted a tart or some chocolates at Gilgen.
I hope you enjoyed this post! Do share your favorite cafe story with me in the comments' section!
I can't thank you enough for reading. But if you comment, I'll know who you are.
Follow us on Instagram: Pragati Siddhanti I Manavi Siddhanti Find us on Pinterest I Facebook I Twitter I Polyvore