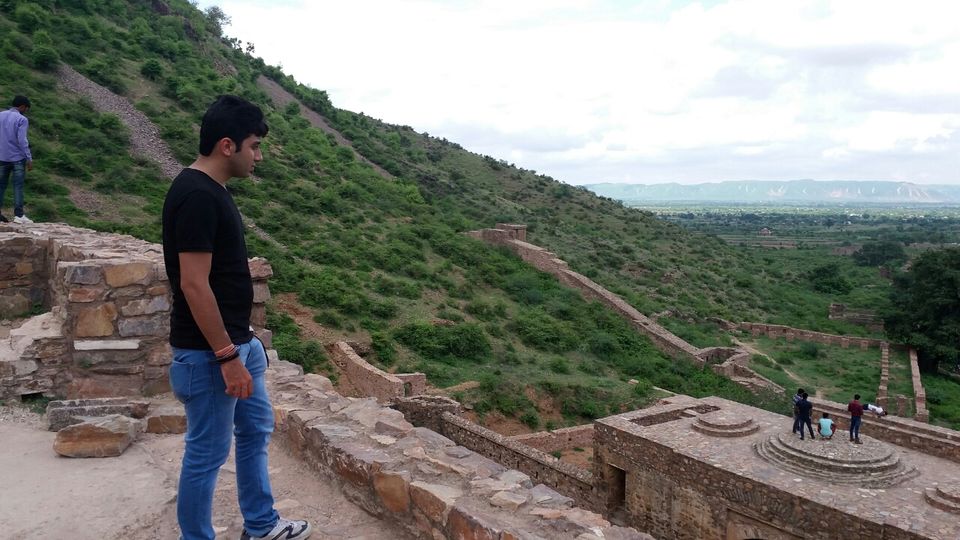 Bhangarh is one of the most haunted places in India and is left unexplored by many of us. For travellers who wish to explore history, it's one of the best place to visit.
"Bhangarh
Ka
Kila" or Bhangarh Fort is a place where you can recreate the haunted story of Rani Ratnavati, whose spirit is still alive in the fort. 
We started our journey at 6 am in the morning to take a break from regular office routine and enjoyed the road with pleasant rainy weather. While enjoying and dancing we reached
Rajasthan
and entered the forest which takes us to Bhangarh.
With very few sign boards it was little difficult to reach there but the place was too good to explore.
Old scriptures and caves can be seen and you could recreate the story of  Rani Ratnavati when you meet scared locals. There are many instances of certain scary moments with people who come to visit the fort.
People there used to worship god continuously till the time fort is open and we have a temple of Lord Hanuman as we enter the fort. You will love the scenic beauty of the place and watching sunset will make your experience more memorable. 
Fort is an excellent destination for you if you love recreating historical incidents and exploring past books. Everyone should visit this unexplored place to know more about it as words are never sufficient to express memories associated with travelling.
Bhangarh fort listed as one of the most haunted places of India is an unexplored place which you should visit.