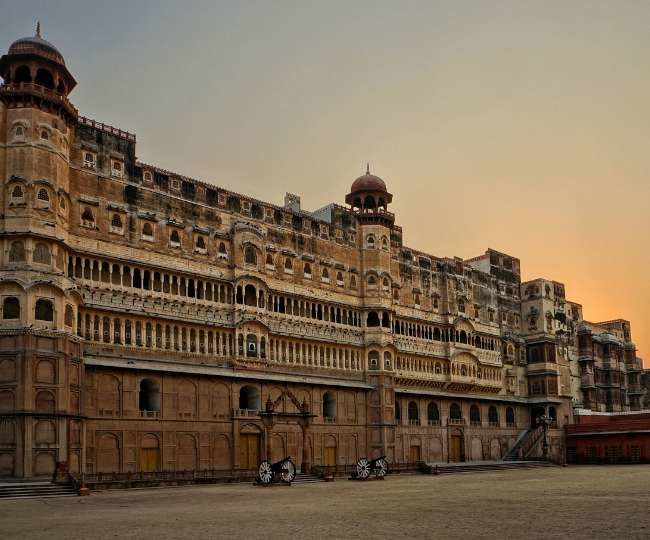 Bikaner has everything a traveller would love doing.It has a huge Bikaner fort which speaks loudly of its rich culture and heritage, beautiful gardens and magnificent museum.One unique thing that you would definitely get entice is the bazaar of Bikaner.So here are some of the things that you must go for once you visit Bikaner.

Junagarh fort
Junagarh is itself a very beautiful fort and one of the few forts that are not built on a hilltop. But other than Junagarh fort there is so much to see one can vouch for. Within the vicinity of the fort, there are seven other places to entertain you. There is Phool Mahal, Anup Mahal, Bikaneri Havelies , Ganga Mahal, Badal Mahal and Chandra Mahal.
The museum
The Junagarh Fort Museum is within the fort .It was established in 1961 by Maharaja Dr. Karni Singhji. You can take a look at the historic paintings and the artwork in the museum. If you are fond of medieval periods and take interest in the warfare of medieval times you will find the armouries section very intriguing.
Bikaneri Bhujiya
We all love this snack with cutting chai.You will find the original bhujiya which will make you crave for it as soon as you hear of it.So do try them once in Bikaner!
Camel leather goods
Since Bikaner is in a desert area , you will find camels all around.Therefore the leather goods are very much prevalent in this area.people usually take some goods as a souvenir of their journey.It is one of the speciality of the Bikaner desert!

Embroidered quilt
Bikaner is a centre for embroidered quilt trade and manufacturing.The quilt is adorned with delicate needle work along with detailed designs.It is one of the most sought after things of Bikaner.
Paintings
You will find enticing paintings that will speak about the ancient sagas and stories.The paintings are mainly from marwar school of arts.The use of bright colors is the speciality of these paintings.
So before visiting Bikaner do make your list of things to do in Bikaner.Also keep Junagarh fort at the top as the fort is a visual delight for everyone!