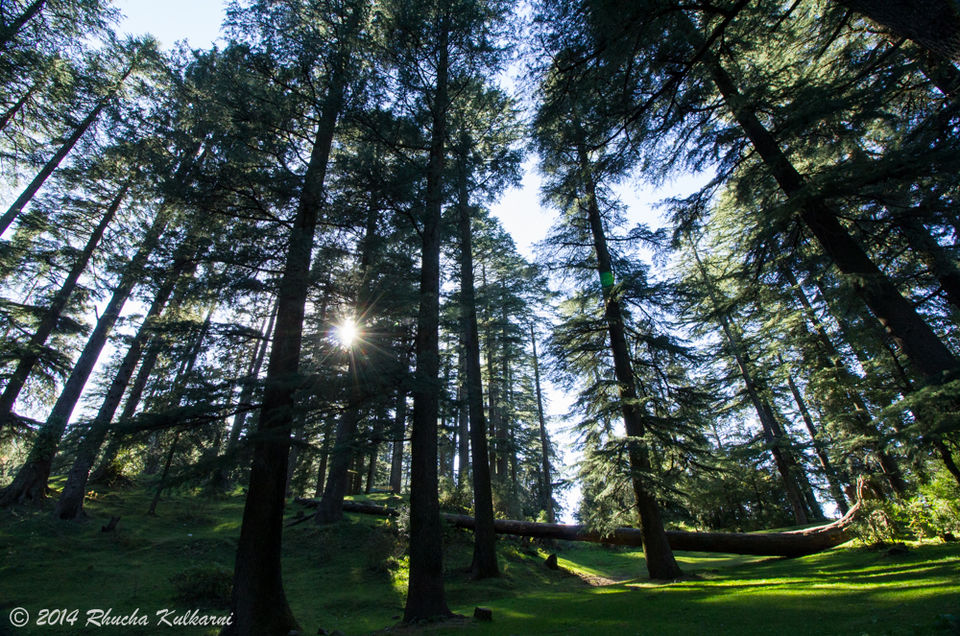 Alighted after a fresh sleep to the warm rays peeping in through the curtains, it was already sunny by 8 am! (And yes I was up by this time by choice). Post a hot cup of tea I was looking at checking out a couple of locations. I had to hire a cab since these hill stations do not have any public transport. /rickshaw system.  So grudgingly I decided to shell out extra money for this. Argghhh… So we set off…
I guess it's always a good idea to converse with the drivers while travelling – ask about their families, et al. It establishes a level of comfort, especially when alone and I feel you don't prove to be an 'enigma' or 'outsider' for them. This definitely works in your favor – of course that does not mean you become over-friendly, but asking and striking up a conversation never hurts. And who does not like to talk about themselves? So I made it a point to kind of befriend the driver and ask him about the place, the locals etc.
I had heard of Dalhousie being a quaint town, where long walks through the tall deodar trees charmed you as the sunrays played peek-a-boo with forest leaves – leaving pretty patterns prancing! I was longing for that experience and behold – Dainkund, the highest point in Dalhousie painted the perfect picture of that! Flitting past quaint looking schools and cottages, light and shadows on the winding roads we arrived at the foot of the trekking trail of the Pohlani Mata temple. So all enthused, with my DSLR in hand I set off to experience the long walks through nature - 1.5 km through the forest trails and nature glades. The snow clad peaks of Dhauladhar towering enticingly beyond the deodar and pine forests – the walk was a walk into wilderness. Known to be famous for brown and black bear, breath-taking beauty stole away any nagging thoughts of bear attacks. Immense photo opportunities. I soaked in the sights and sounds of the forests. It was as if a blanket of peace and serenity had descended upon me removing me from the earthly senses and tossing me into another world. A couple of people along the way – the expression they gave on knowing that I was alone – hilarious! Quizzical question marks written all over their faces! Nevertheless I continue my journey till the temple. The world is oh-so-small Pleasant surprise as I bumped into a group from Mumbai and 2 from Mahim. We were chatting up when I heard a voice calling out 'Rhucha' and turned around to an expression of shell-shock. My dear friend Rajarshi standing before me, both of us at the far end of the country, atop an isolated hill, literally in the midst of nowhere and our paths crossing! Coincidence galore ! We exchanged notes on our hereabouts over a cup of tea and started the downward descent. Of course we did not forget to click snaps, after all 'Selfie to banta hai'. Thus ended Dainkund – a utopia of surprises and I headed on to the landmark of Lootera fame – Kalatop
The snow clad log hut of "Lootera" Fame – with the one-leafed tree and kaccha trails. A sight so pretty, you would wish to make that your home for as long as you live.. The kaccha trails take you through dense conifers and sunlight grass-carpeted glades. 3 km of heavenly beauty as you peer straight up to try and locate the tree tops. And the forest rest house – English charm oozing with secluded benches and well-manicured velvety lawns, bordered by tall deodars. Narrow stone pathways leading you to the backdrop view of the Pir panjals.I admire the cottage with wishful eyes as I pledge to plan a short holiday just too stay in this hut – maybe sometime in winters when a blanket of snow would transform it. Soaking in the timeless charm and the "one-leafed" tree (which by now has many leaves and not one), I could have spent many hours just sitting there. However, with a heavy heart I bid adieu to the beautiful place, not before putting in a silent promise of being back! We then headed to Punchpulla, a wooden bridge and ancient waterfall and a cute pup gave me company and a perfect end to Day 1 at Dalhousie.