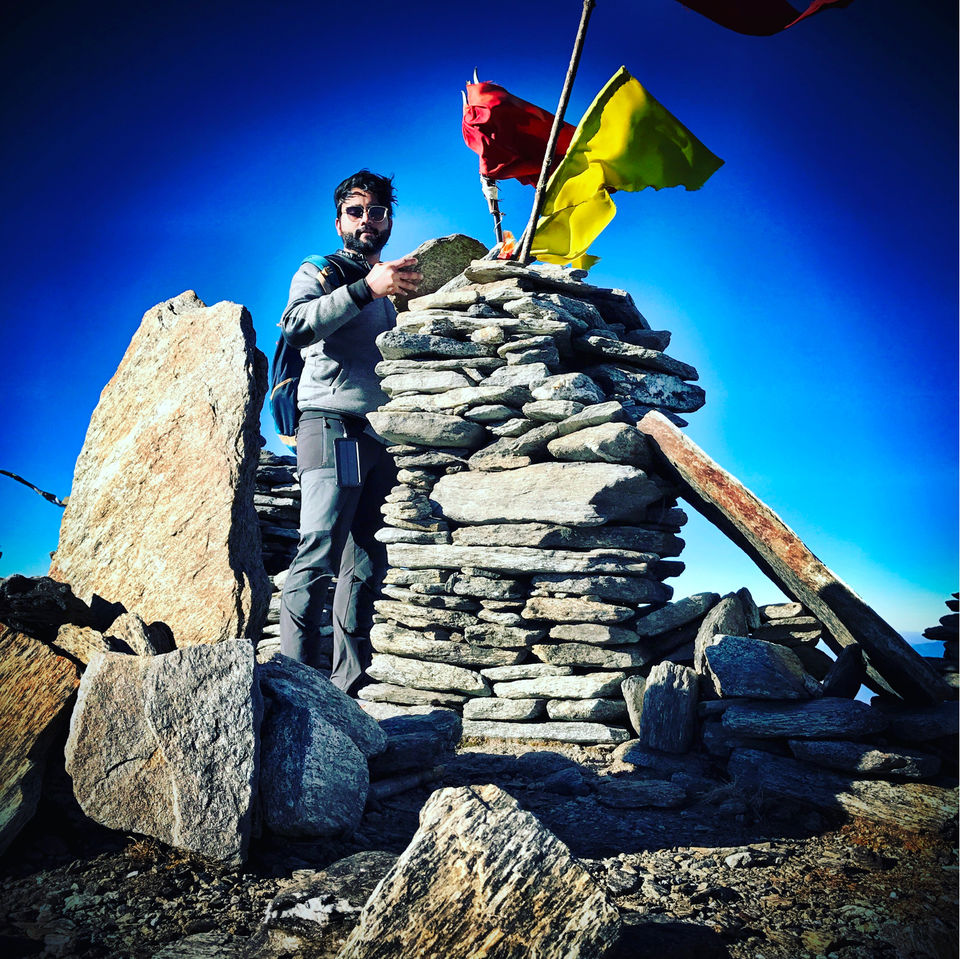 It was mighty blow,the last visit in sankri for KK (Ketharkantha) trek in Utra khand also known as Dev Bhumi of India was an unforgettable trek experience. Not just because of its scenic view, serene atmosphere or early winter days, its probably the fellow trekkers who made it too good. Specially My bromance Tarun. Hey see i mentioned it here as well, bro.
Hmm so back to the basics, what make it so charming, probably in every trekkers even though for beginners as well to visit once in a life. Some of reasons i found out as below :-
1. Not too far from many major metro cities.
2. A city like Dehradun welcomes you on the first day of your arrival that connect with all kind of transportation services.
3. Its for all either you are an early bird or a sunfall, you will always get a confirm booking,in peak season as well. Moreover you don't need to plan it too early because in peak season there are per diem departure of groups by various trekking companies.
4. Total distance which trekkers need to cover up and down in 4 days is 8 miles. That's it. So easy naa.
5. Summit is below 4000 meters. Worries for higher altitude not bother.
6. Still you need more, for god sake, you will find nothing best compare to this. Go for it..!
As usaul blogger , i'll not gona write full description of how to reach Dehradun and about my traveling experience till i hit Dehradun . As per my view, a traveler is always pleased with any of circumstances when their destination is a trekking spot.
A brief itinerary:- you have to reach Dehradun early in morning and rest of day journey will be way to Sankri in local cab. Here i must tell you, 10-12 hours joureny in such cabs will must teach you a lesson what exactly tiredness is. though i did not outgo a single step. We were still more than half of way behind from Sankri. Dehli was still far away.!!
I was fully exhausted, But significantly the view of Nature in between this yatra, ohh gosh ! It had enough senric material which was capable to pay the value for your tiredness. Hence, we started at 9 o'clock with some booty fellows, just kidding, it was nine in numbers and all were represents Adam. Although i hardly find anybody beautiful compare to nature. My peer was,remains and will be the nature itself. I love its company.!
We were in route to Sankri and supposed to reach by 5 pm. We departured late by an hour from Dehradun.
Brunch was done at kamti falls. It took 3 hours to reach here. Local and punjabi music which provided by cab driver thru pan drive, was tolerable and we were not left with any option except listing those songs, because music system had no port for aux cable. Although i tried to course for most of songs. Probably horrible for rest of fellows.
After half an hour,me and some more guys came out of cab for pee. Literally i saw a river flew just 30 meters down from the road. What i need was an eye contact with those who ready to go down for feel that glimpse as closely as it never before . Atleast not often you got a chance, a glance of river while you were about to ready drain your body's water out from urethra . The sound of water was amazing. None other then but Tarun Reddy was ready to give me a company for this madness. It was steep down, deep and rugged rough. It took bunch of minutes for standing in front of the river.
Some short of things suddenly changed while we came down. The sound now more cheerable, distance of meters converted in feets, flowing water was now more visible and we definitely in position where we can touch the water. And we did.
Seeing us down, rest of fellow trekkers came down as well.
Lots of folks, obviously a surety for lots of clicks here and there around the bank of river. I removed my shoes, pull my cargo and sat on a big rock which was half covered with flowing water. I slightly up and down my toes to get in touch with water. It amazed me. The serene sound of wind made it more valuable. We spent more than hour here And then a whistle from driver was an intimate to climb up to road for continued the joureny which probably reached its half of the way till now.
We reached by 8 in evening. Last 40 kilometers were so ridiculous. The road was shreded and fragmented. It took 4 hours to cover those 40 kml. Though i was happy to reach safely and on time for dinner. We were famished.
Had dinner and fell died on bed, obviously need to recover body's exhaustion for tomorrow.!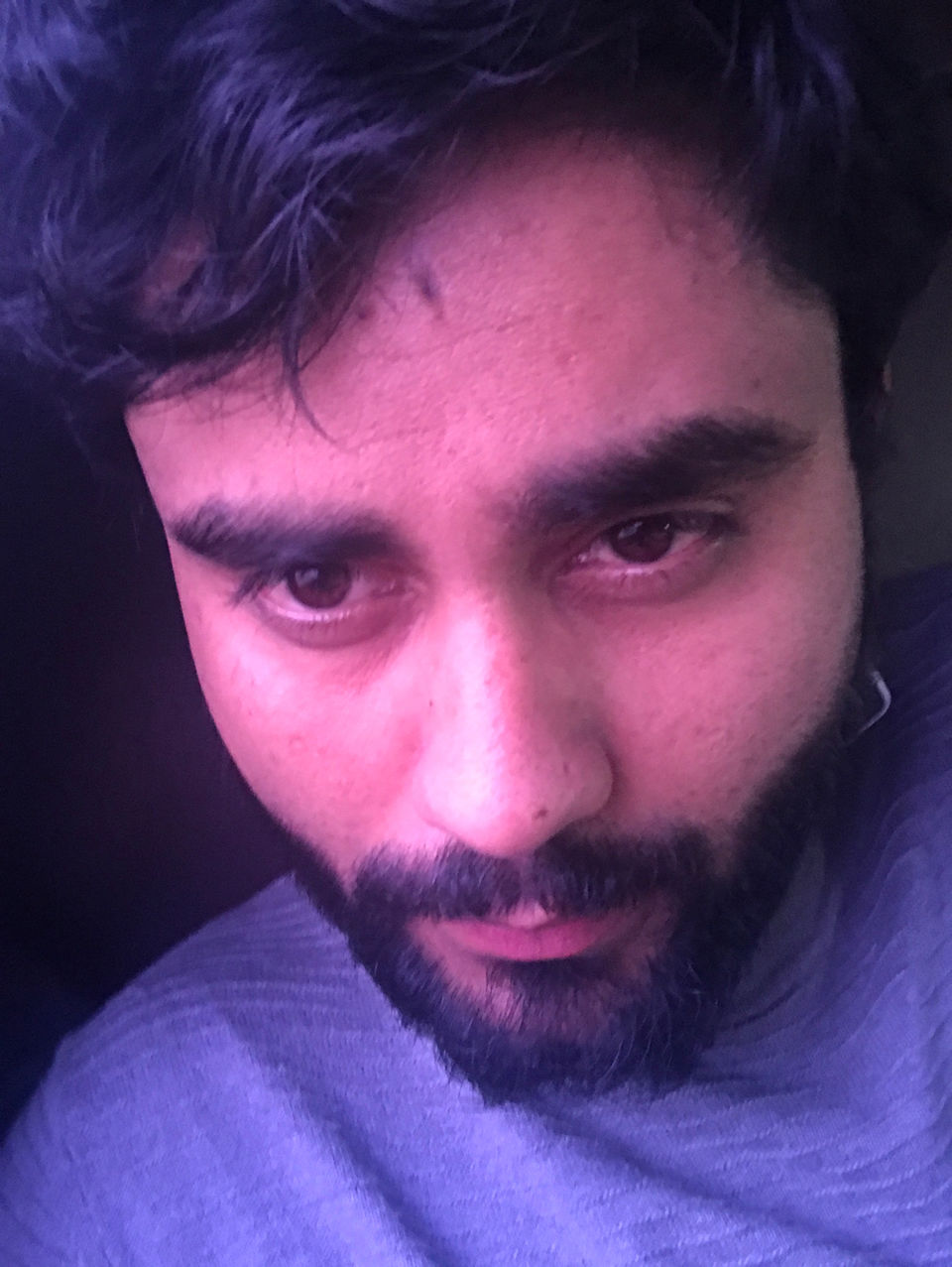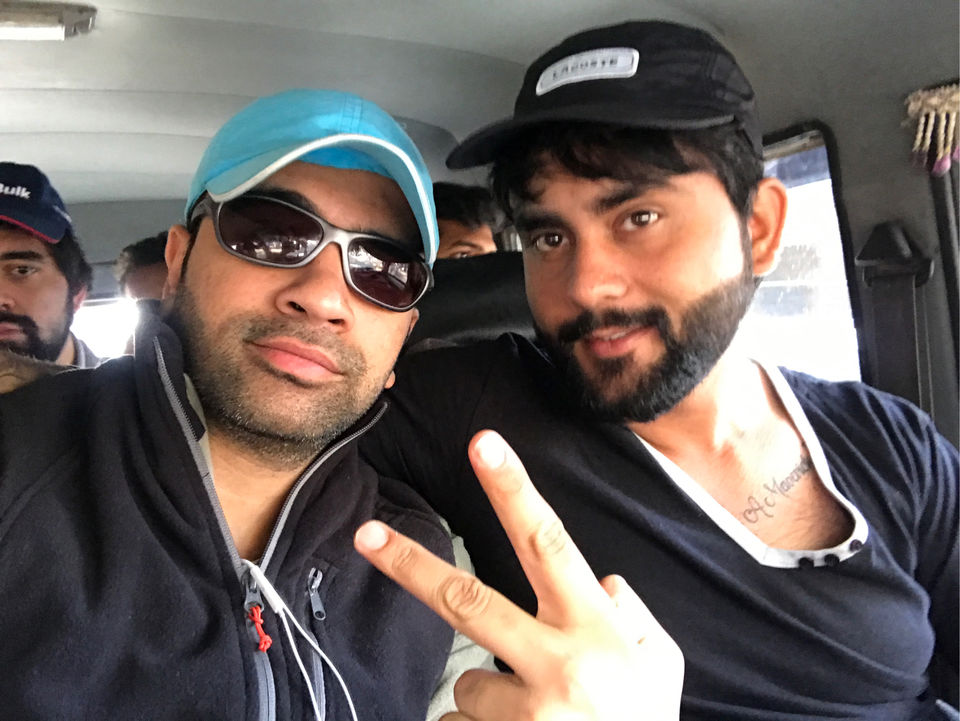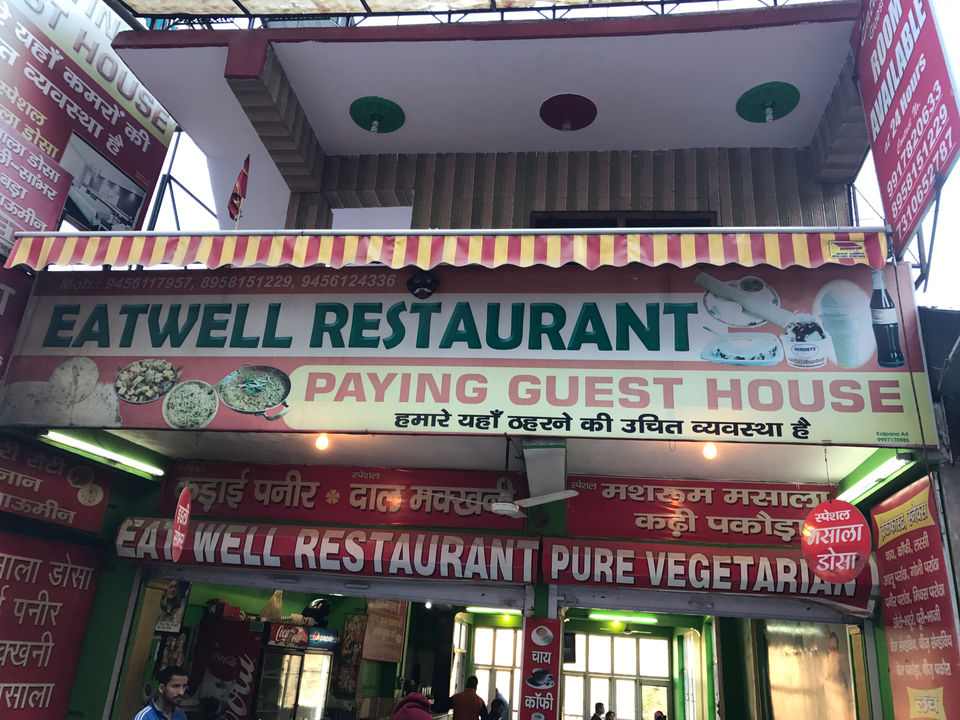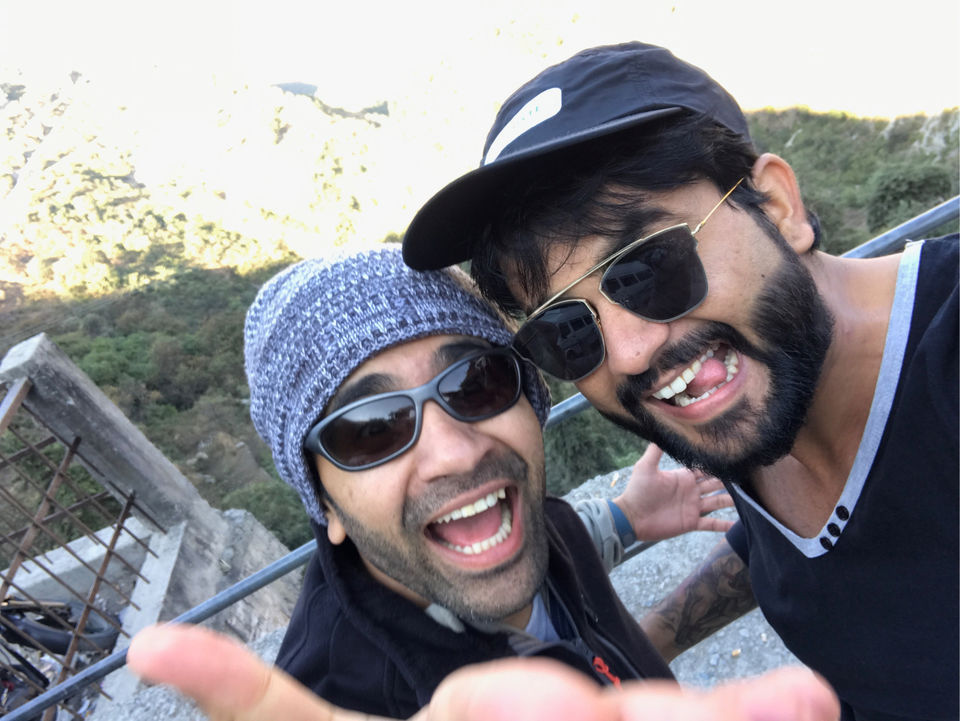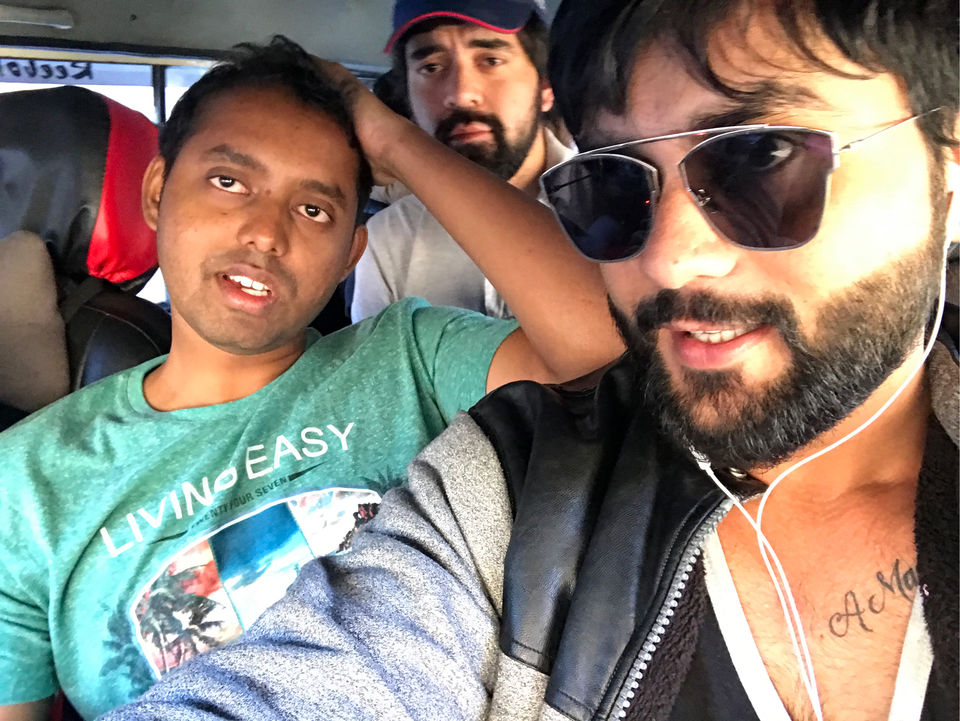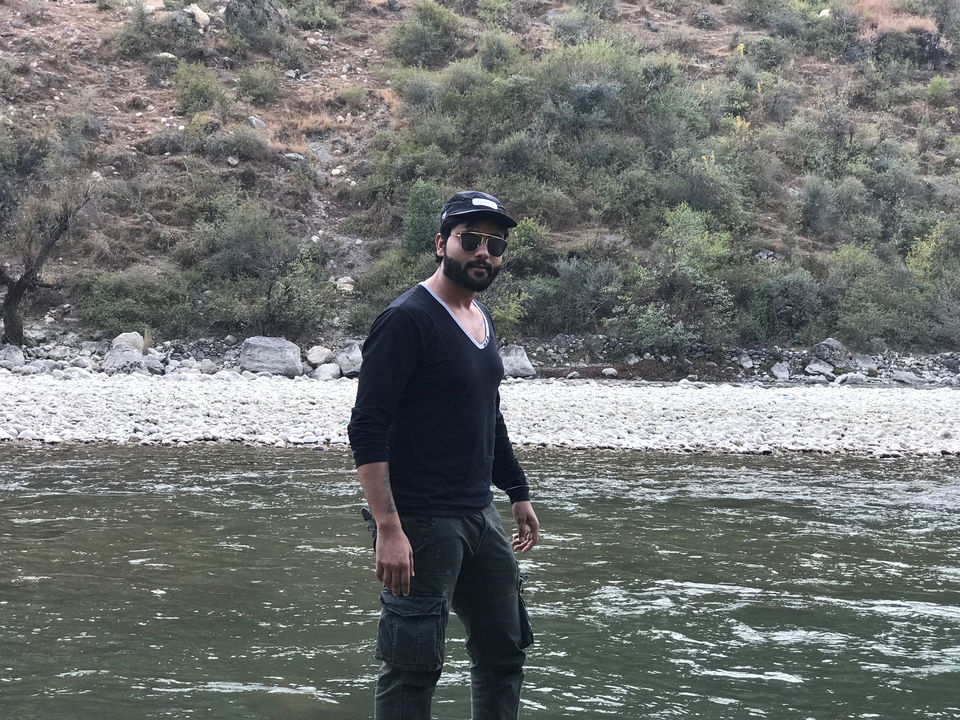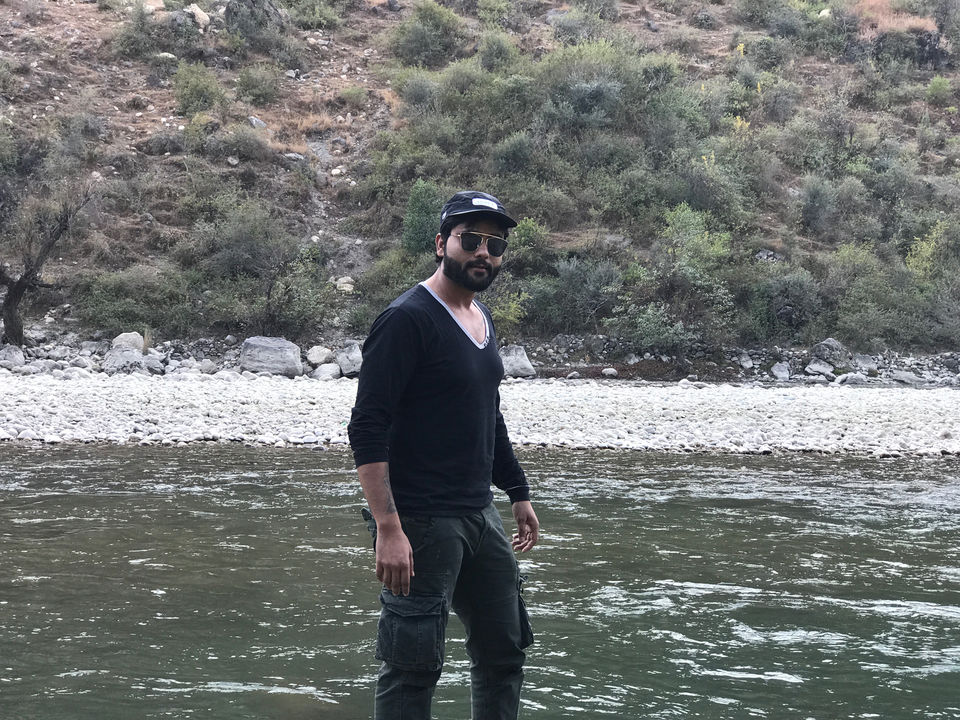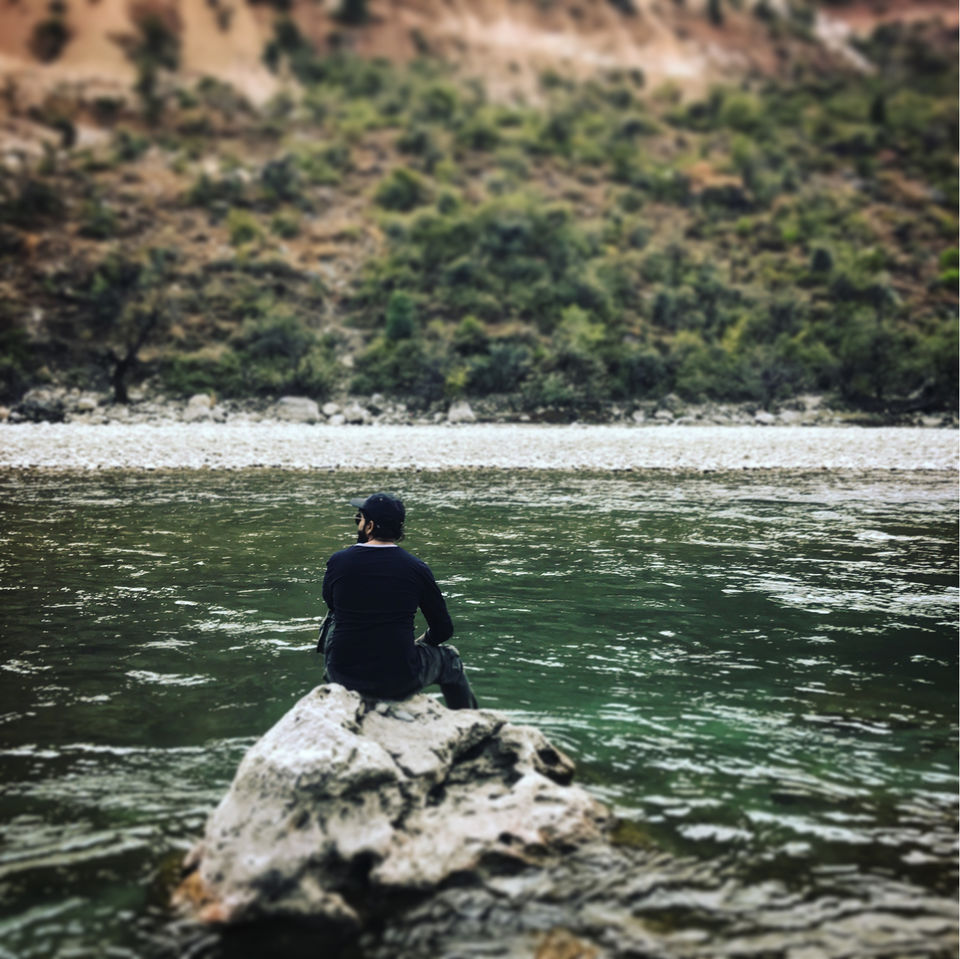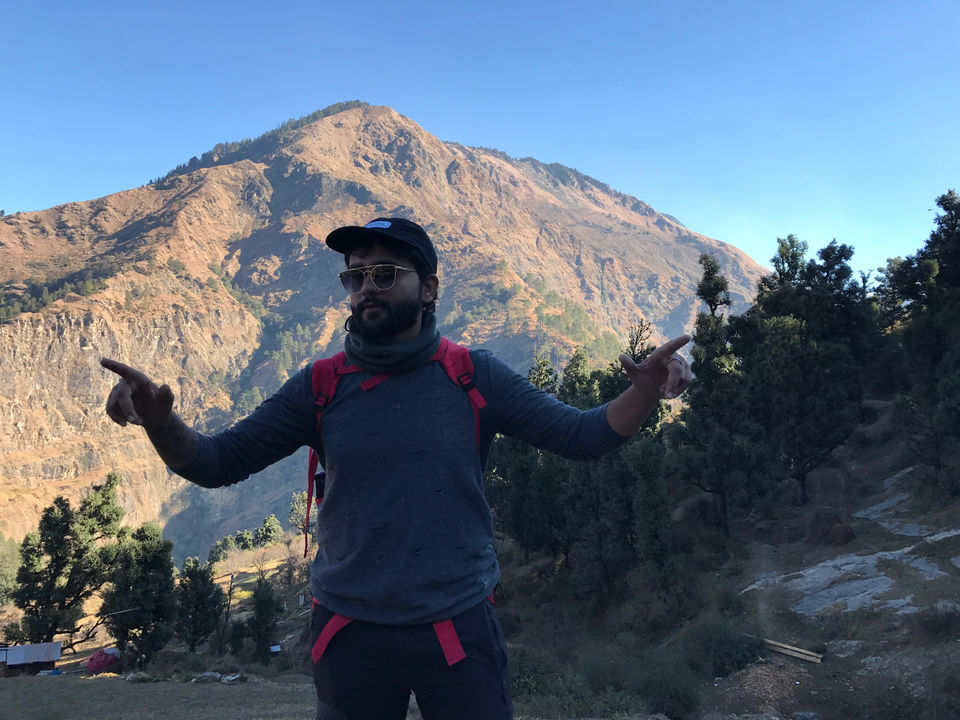 Always keen to wait for this day in any trek. The first day of trekking. The first step towards summit. The first glance of Himalayas. And moreover first one to one get-together with co- trekkers. Literally We already knew each other thru whatsapp group but live glimpse is so far better. Here i came to know that we were 30 in numbers instead of 17 as showned in group. The rest of folks were from Hyderabad. Hence 11 out of 17 in our group were also from the same city, Hyderabad. What the hell was happening, most of all were Telegus and you could sence the scene, the locals always prefer to talk in their native language. So Imagine i was stuck in situation 'imi artham'. Any how briefing was started and i was keep myself busy throwing stones in a empty plastic tank. I was Trying to aim those stones cast in empty tank from a fare distance. 3-2 was the score. Not that bad. Eventually. Later on more fellows joined this madness. And it was all ended up with hip-2 hurrey and screaming loud. The Trek leader finally repeated his lines," everything clear " and shouted 'yeah' in a flow by all.!
Now the thing was that we were more than 100 trekkers who made it same batch from various companies. If i Includes crew and members it was added some more heads. And two dogs as well. Overall it reminiscence me of a local punjabi wedding. If there was lacking something that probably a bride and a groom because procession was all set to boom. Eventually it was fun, we attended a local wedding reception last night. May be the reason behind thought of marriage came from that incident.
It passed half an hour and still i was confused, hence i was on trek or some kinda political 'raily'. Though surrounding was awesome but still i was missing something. Was Missing the serene sound,was missing the tweeting of birds and was unable to hear the sound of Nature.! Only heard was high volume of Bluetooth speakers and cracked joke by some Witty trekkers, although i'm also a witty person too but on first day of trekking what i need was naturalization around me.
Possibly after an hour or so me and Tarun decided to go with lil space from rest of fellows. Around 20 or odd minutes we were officially a 'tiny' separate group. Though we lost the trail and wandering here and there but still we were unfazed . Believe me, we were not tremble even for a movement. We were now turns rambler in stead of trekkers. We both tried to shot an arrow in dark for right trail. Frankly we were nowhere around in route to Judo Ka Talab which was our first camp site. Though Camp was not more than 1 mile away from Sankri so we were preety sure that we will make it by evening and however this sounded cool.
Another an hour, we met with a farmer cum hill man. Finally a 'Human'. Aahh. He was in his step farm of Apple trees . That was rounded steep area. We got his glimpse by some distance and instantly we cried. Ofcourse he was the man for hope. Though we were enjoying clicking pics,quick glace of tiny waterfalls, dense forest and the weather itself but we were well in knowledge that we had to reach camp site before it getting dark.
As we came close to him, he stopped his routine work and started starring us. Probably both sides were thinking about who to speak up first.
"You guys took a wrong trail ", he spoke up with a hard look. Starred us one by one.
"Yeap, now can you please help us to guide a right trail to Judo ka.. What was that yaar," i pointed over to Tarun for base camp name.
"Judo ka Talab ", the farmer completed it while damn Tarun was still thinking .!
"exactly " i cried.
He showed us right path by signing with his tiny arms. Yeah he was a short man. We came to know that this trail is used for coming down to Sankri from KK. We have to pass by another camp site named Har gaav and then a few meters far was our that days destination. We waved bye and thanked him and moved on.
"Have some tea Gentlemen ", he offered
"yeah sure", we both came up with yes instantly without any hesitation. Yeah guys that what we were, are still and will be forever. Haramies .
Even though for a movement that man stucked but on the very next movement he called up his wife for made some tea. And we famished followed him shamefully. Literally he already gave us favor by letting us right trail and here we were about to take a brunch from him as a complimentary. Like seriously. I'm laughing out loud right now writing about that incident. It's a farewell from KK besides its scenic views. We ate fresh apples and took some along with us as well for rest of joureny. The juicy fresh apples. Oh my Gosh.! What a fine experience was that.
We followed the trail and before late evening we were at the base camp Judo ka Talab. While excepted group leader everyone was excited and keen to know about our insane trek joureny.
The night was come up with lots of fun activities like 'Antakshri' 'Dum-sharak' and some poor jokes. Bone fire was last till midnight. In the end it was healthy fall in sleeping bag. A good night from Judo Ka Talab.!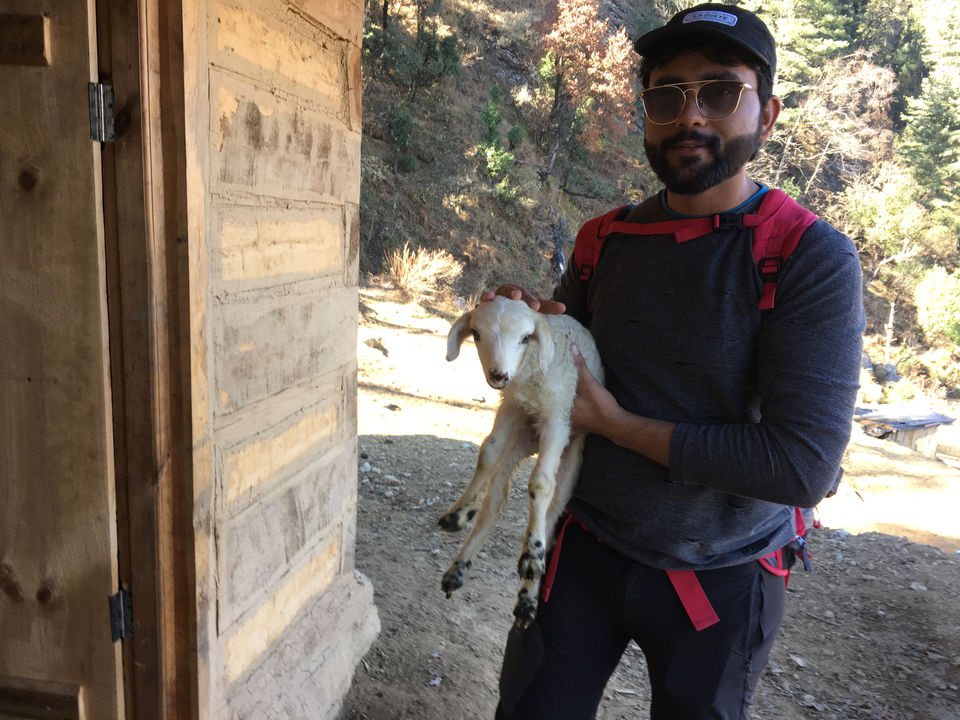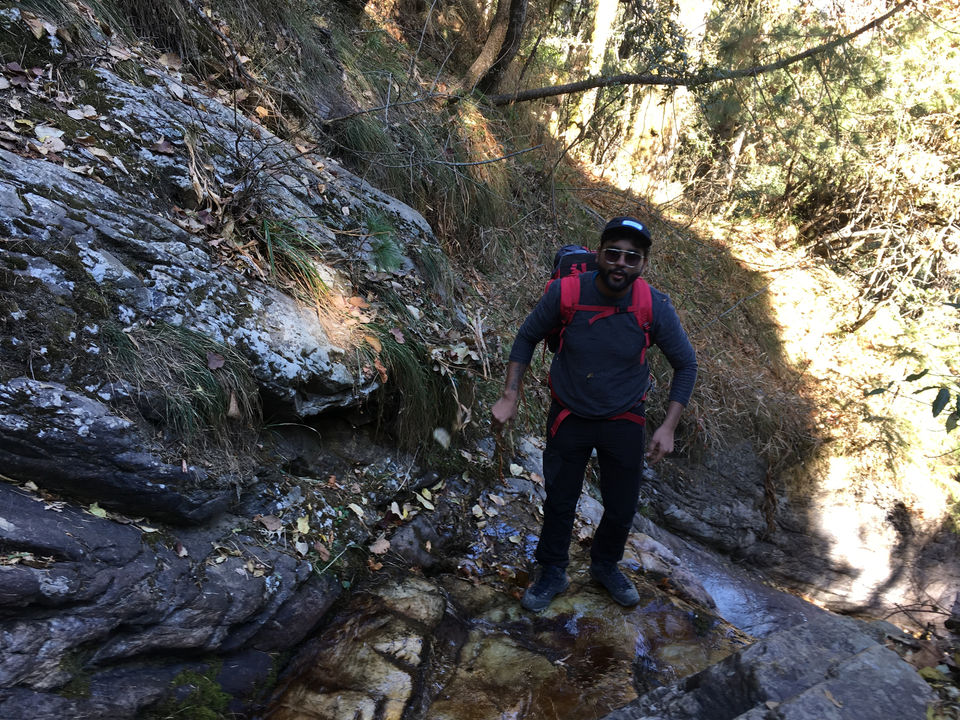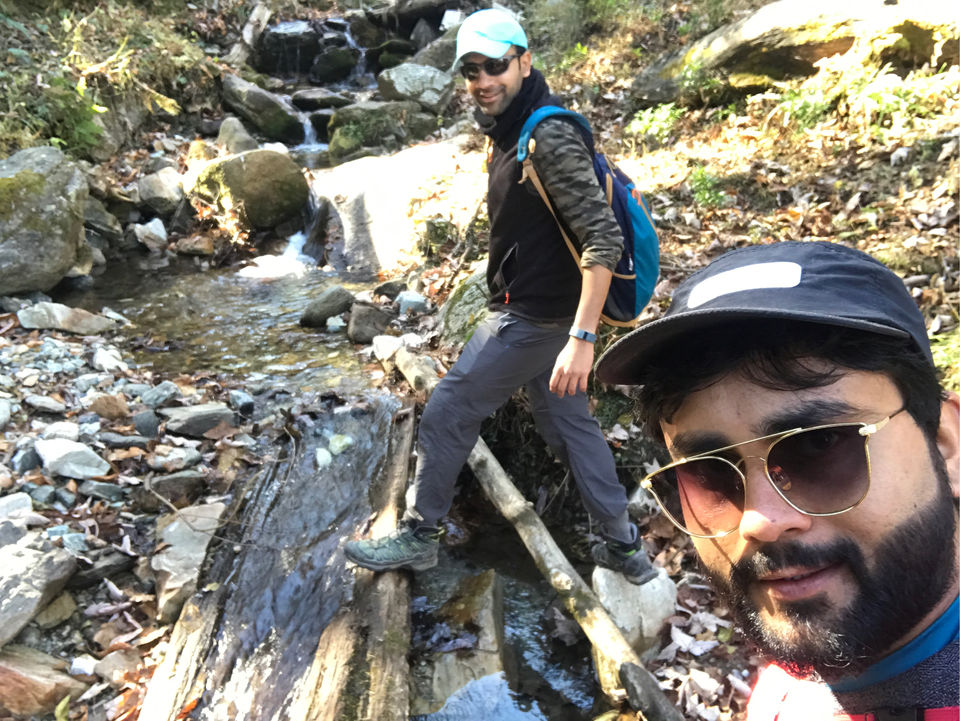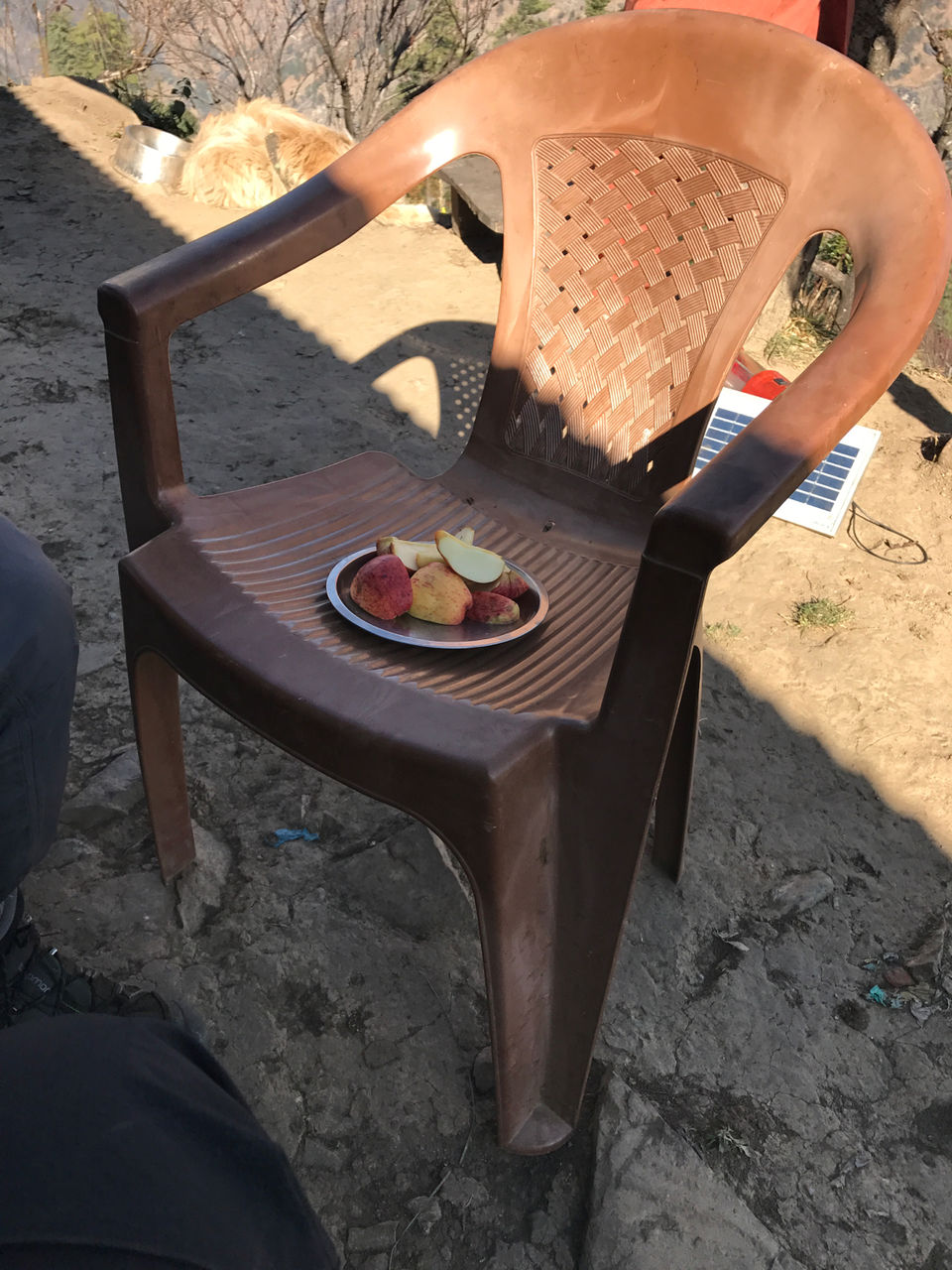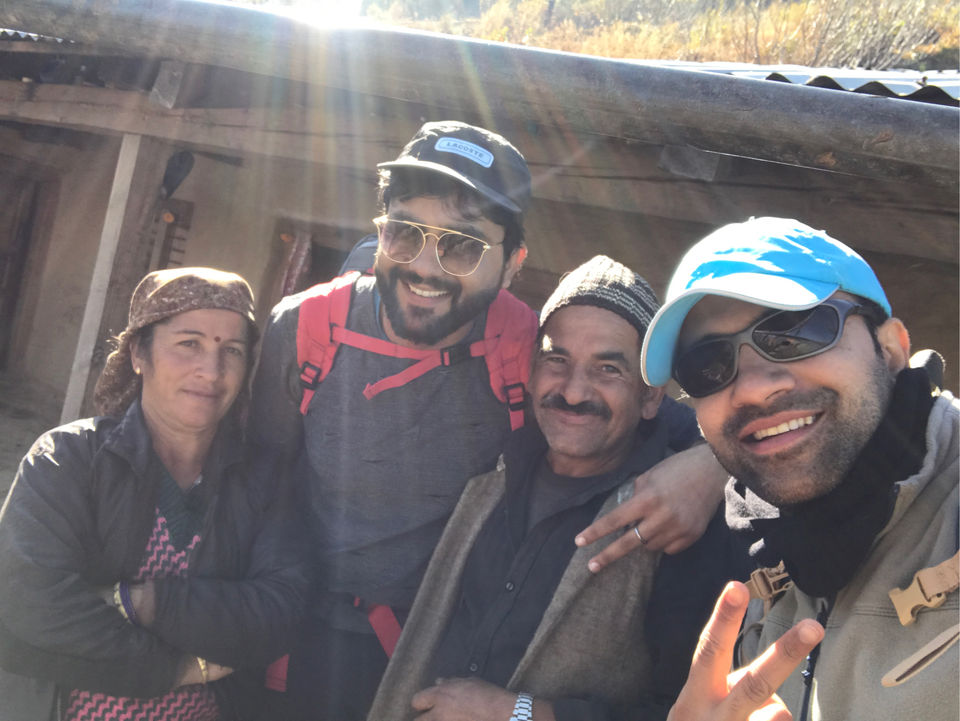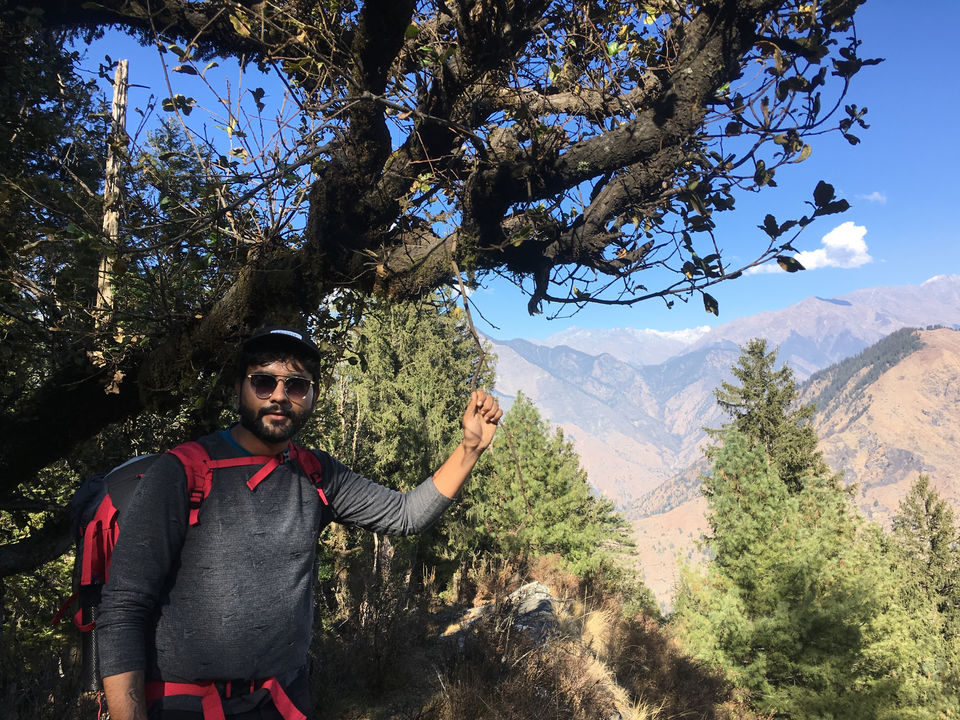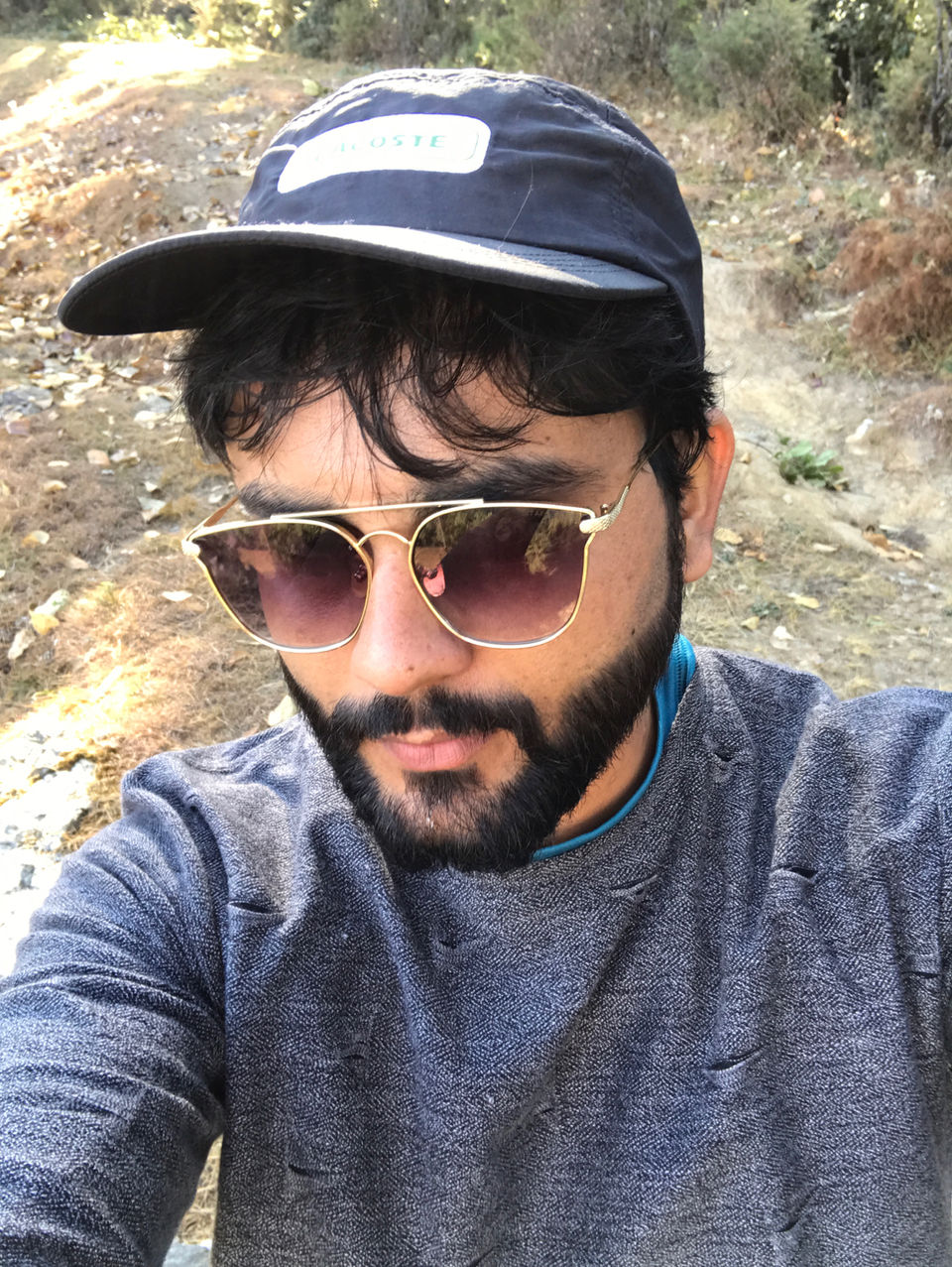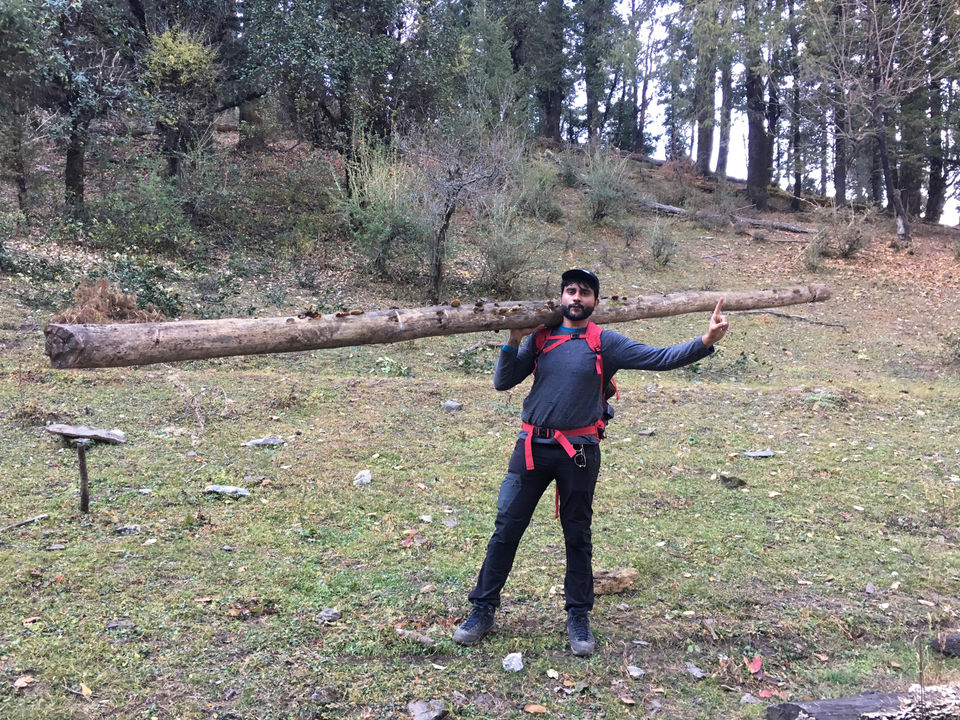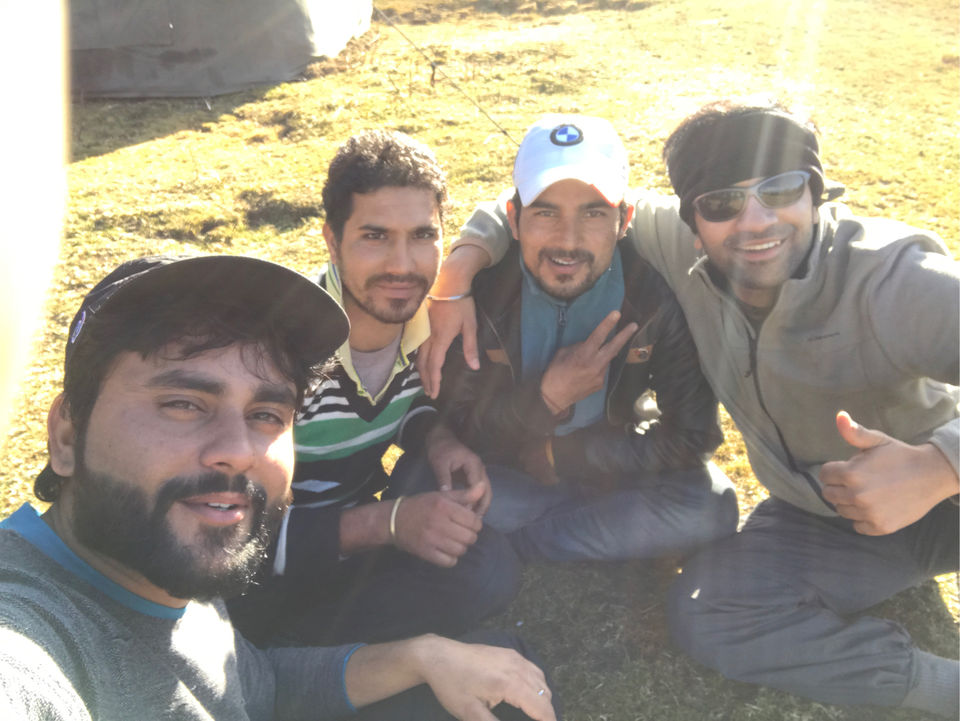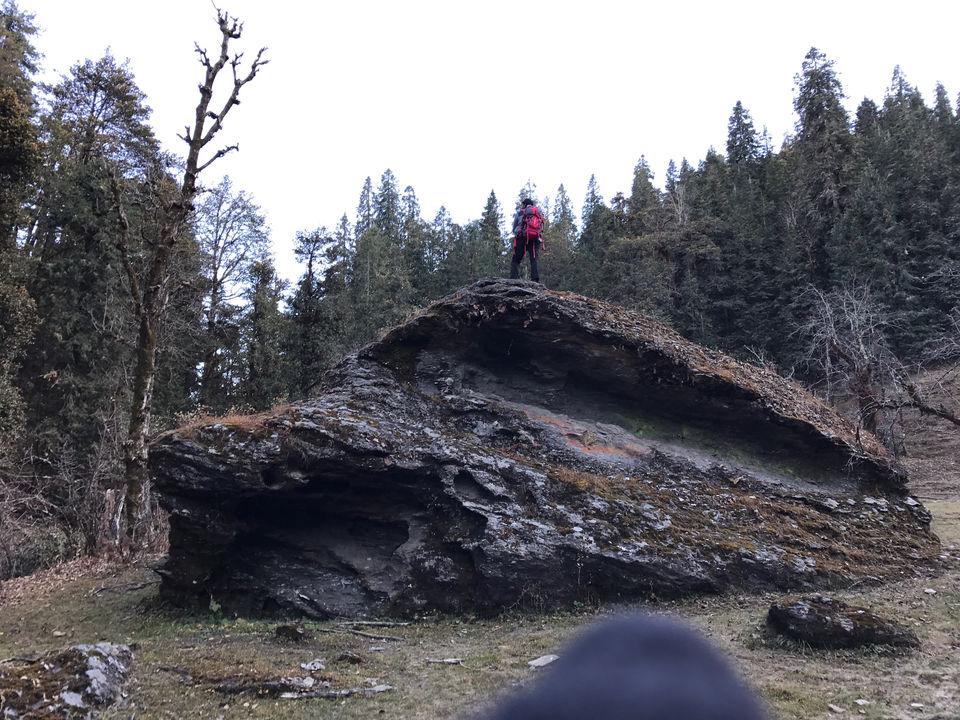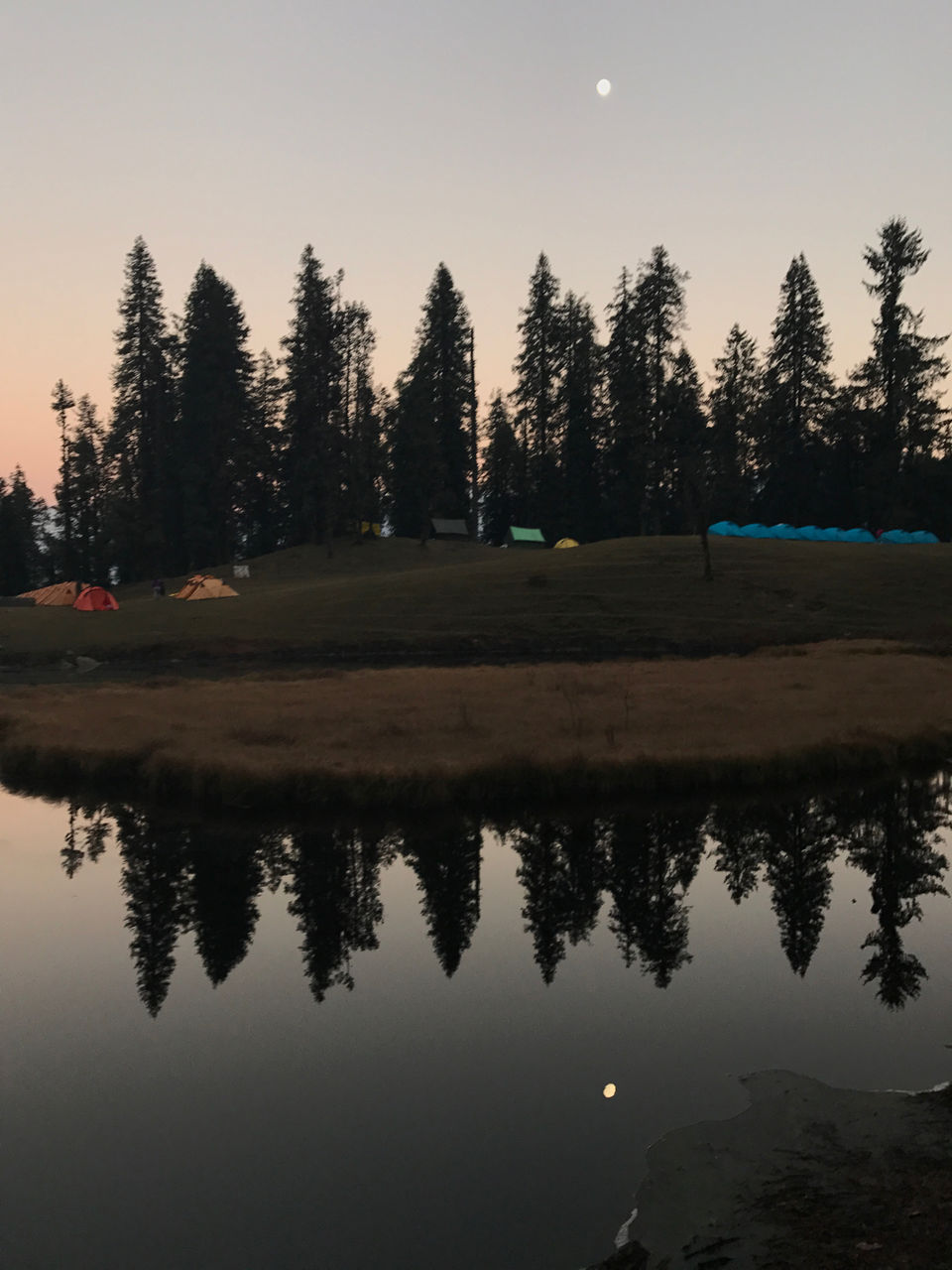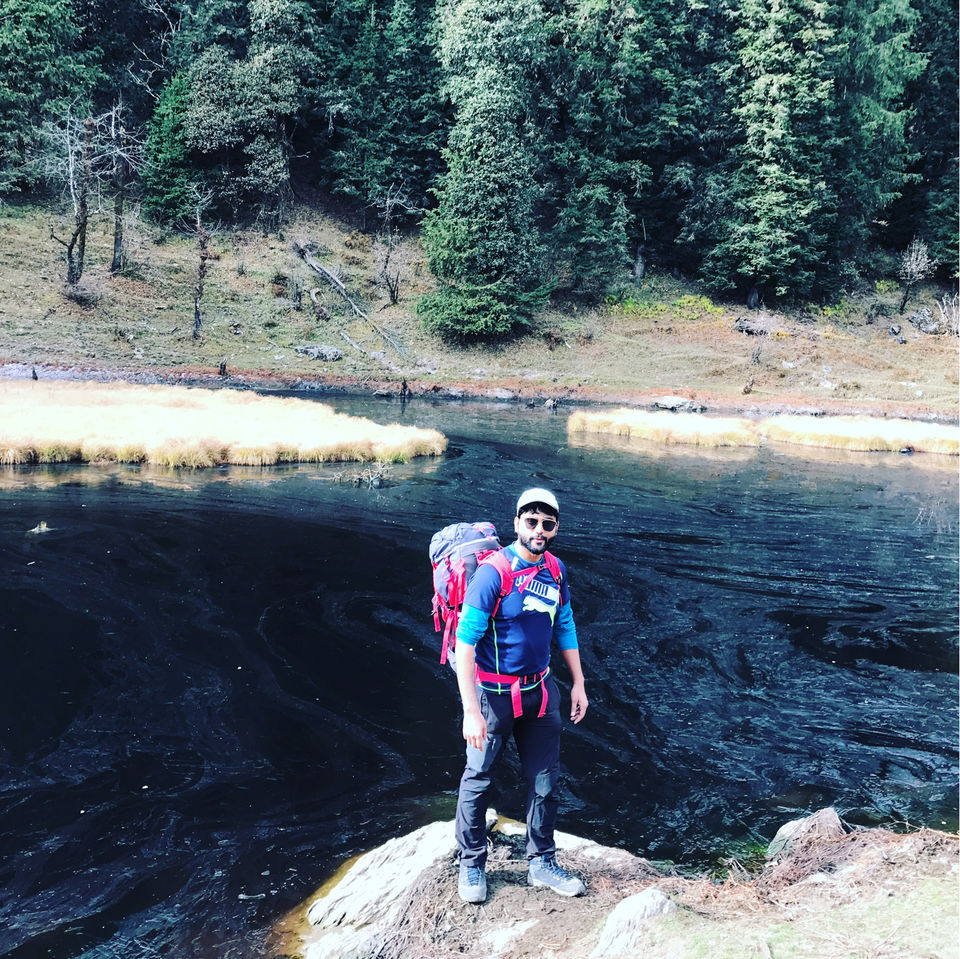 A morning, aah! i correct it, a winter morning without rising of sun was not a breathtaking. We were surrounding by beautiful and huge ridges and have to wait the sun rose higher than these Ridges so thus the sunlight touched our camp site. And daily duties.. Sorry but i must tell you its harder than anything else during a winter trek. Took our brunch and left the camp for next camp site which was a mile form Judo ka Talab. We were about to hit more than 3500 meters altitude after reached second camp site.
Joureny was begin. Now the day two, we were now enjoying the trek with fellow trekkers. Change of taste you know.
It's good trail. We reached there by late noon. Sun was still shining. Used our free time to collect shredded wood for bonfire.! Again a beautiful night comes to an end. Good night from camp site number 2 bas camp Kedarkantha . We were told to get ready early as possible for next day which was a summit day. Like how early? Hmm i provide you the exact time to wake up call for next day was 3:30 am.!!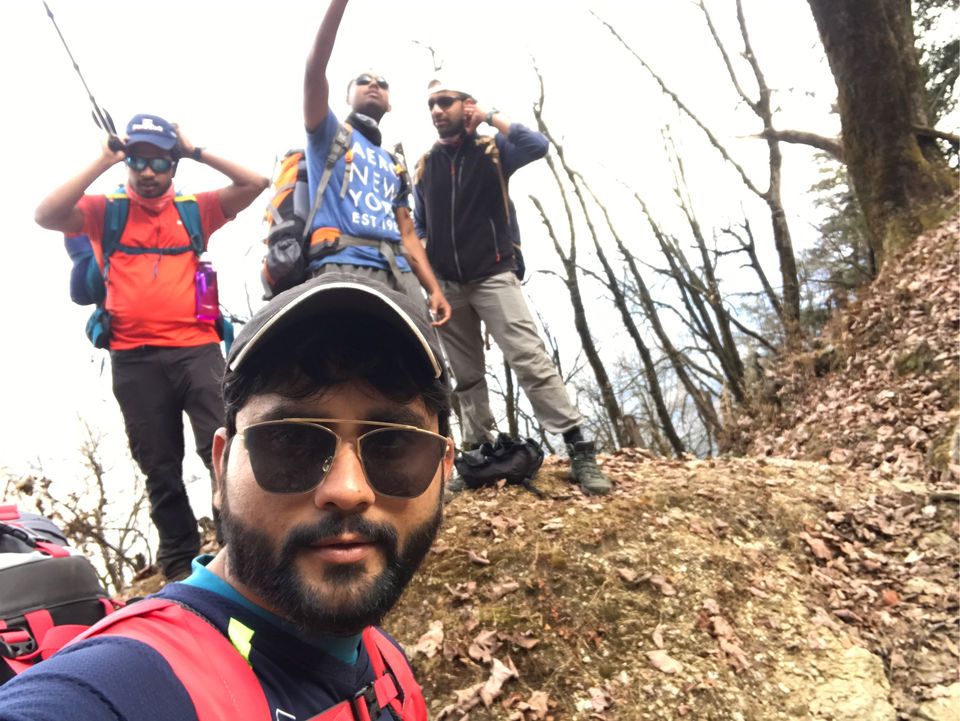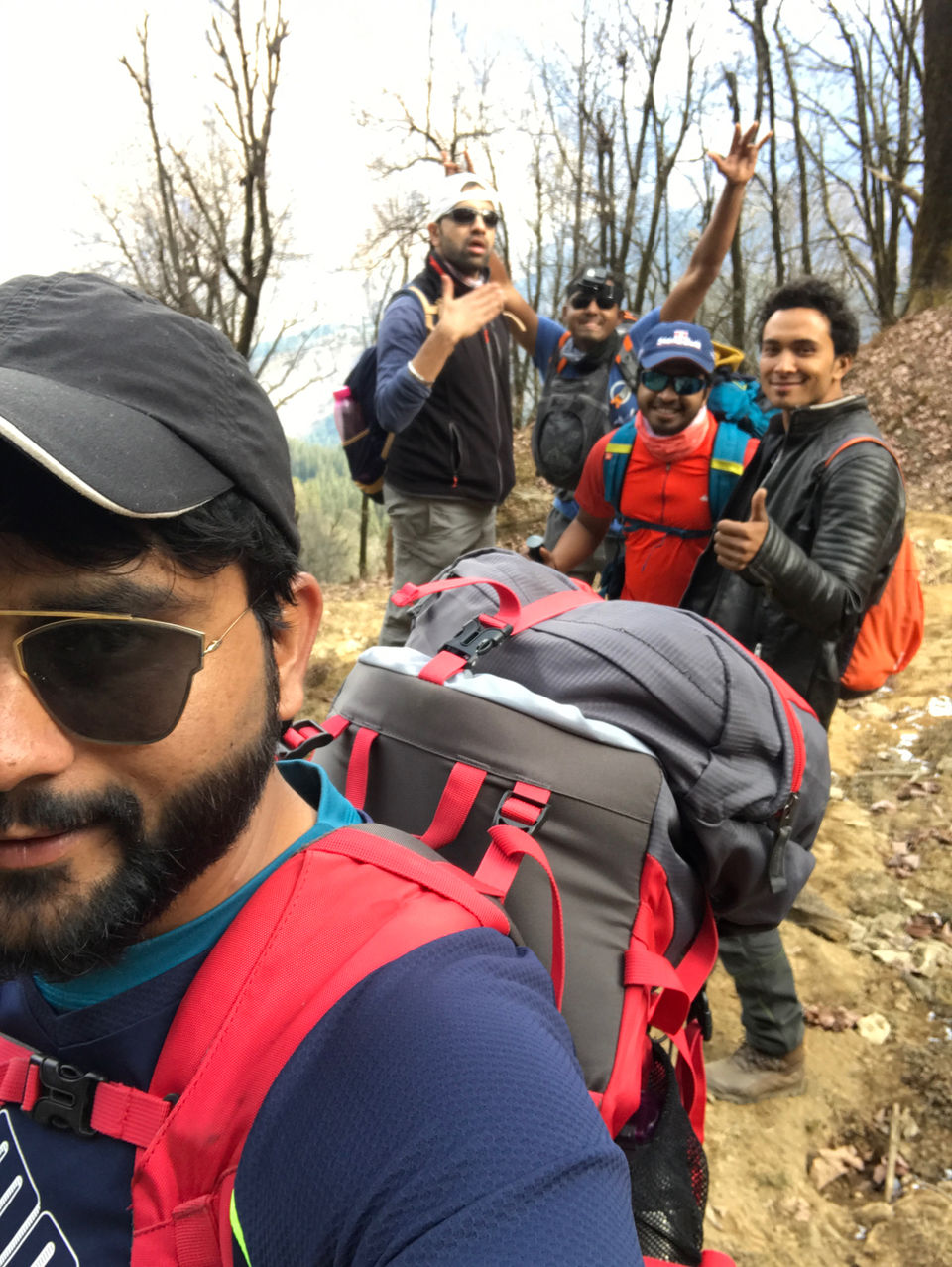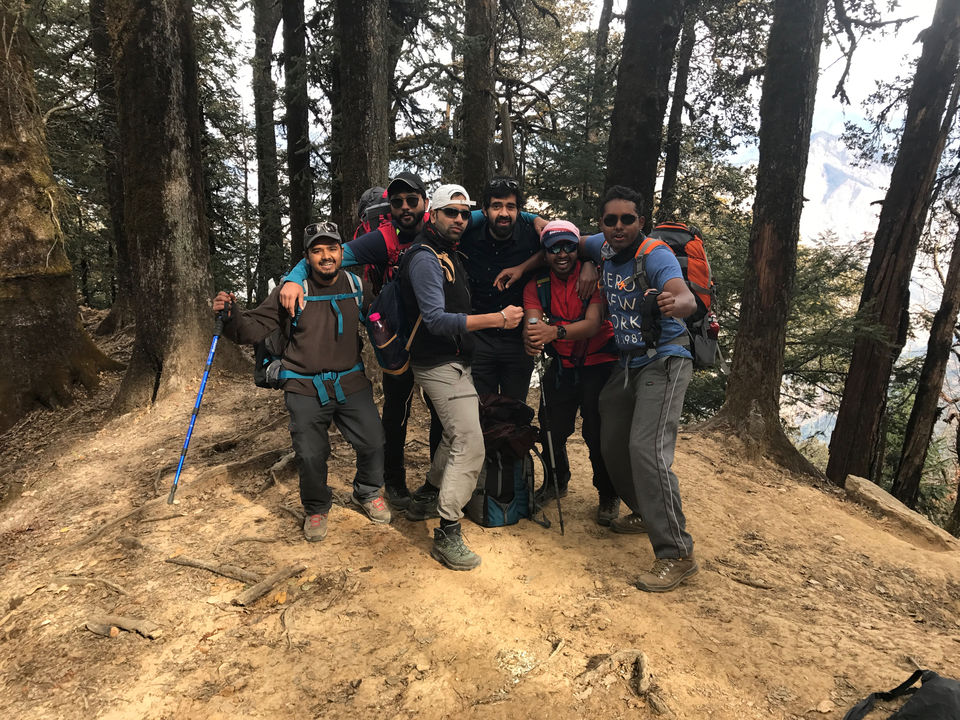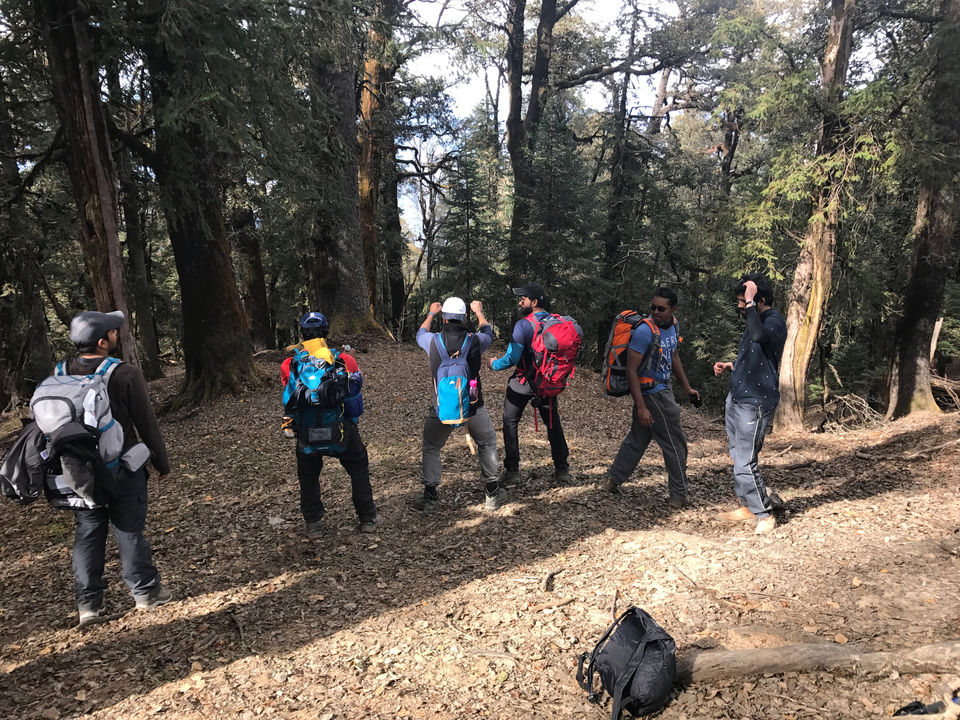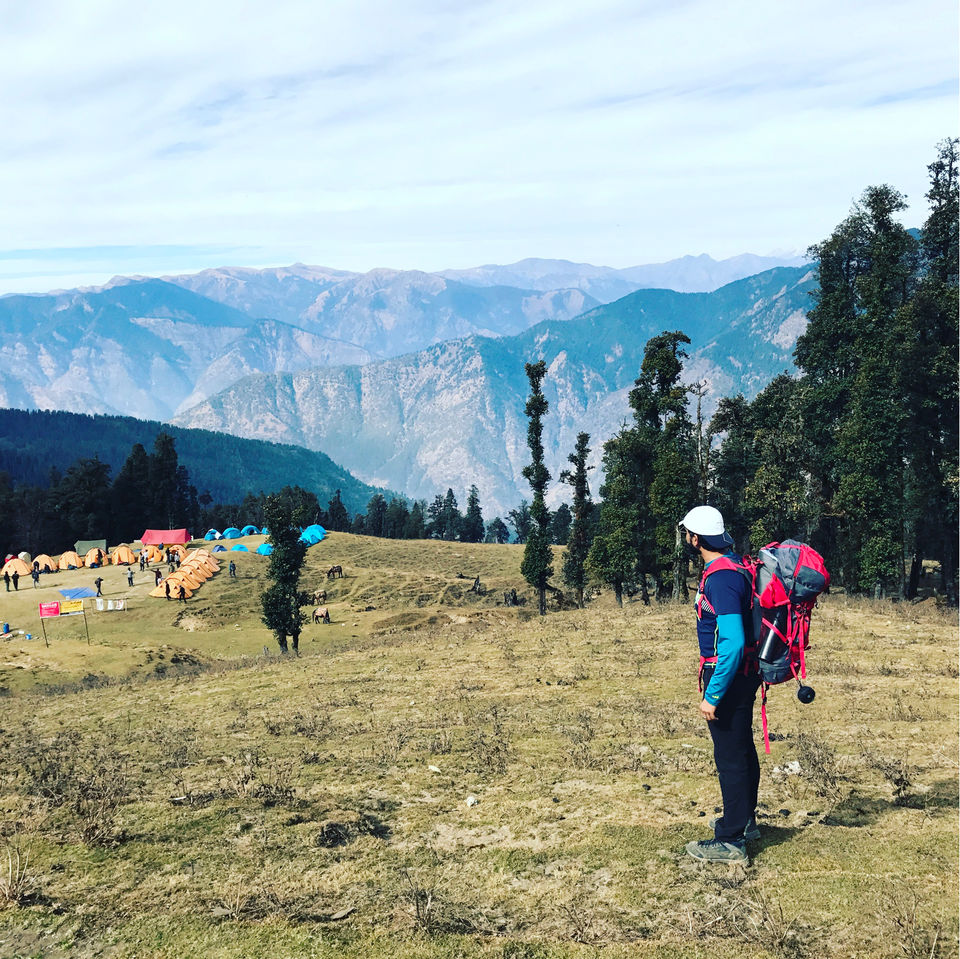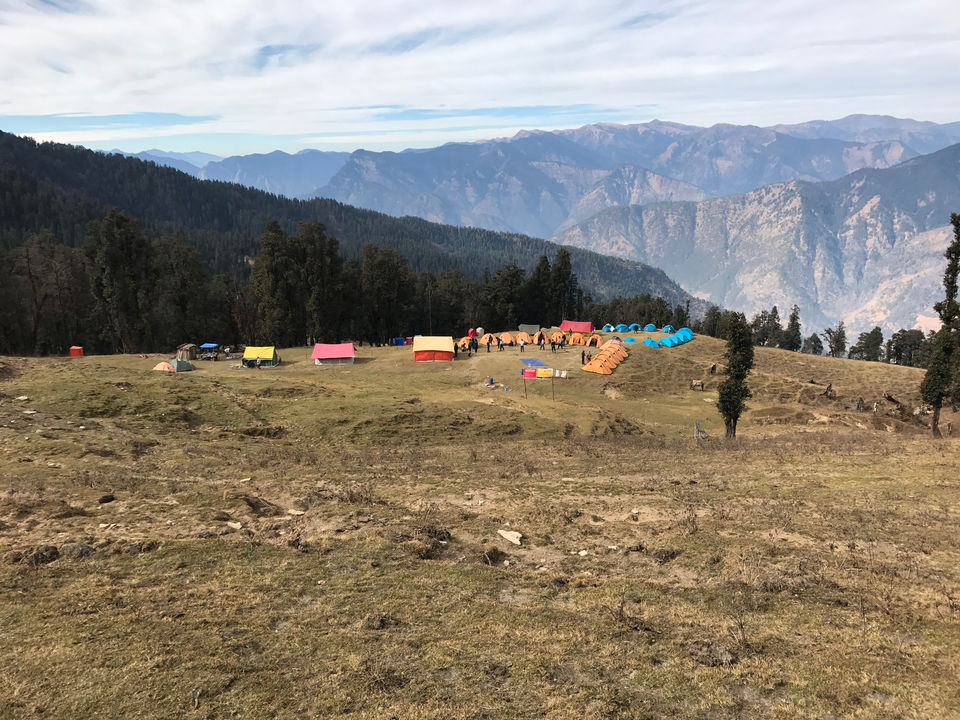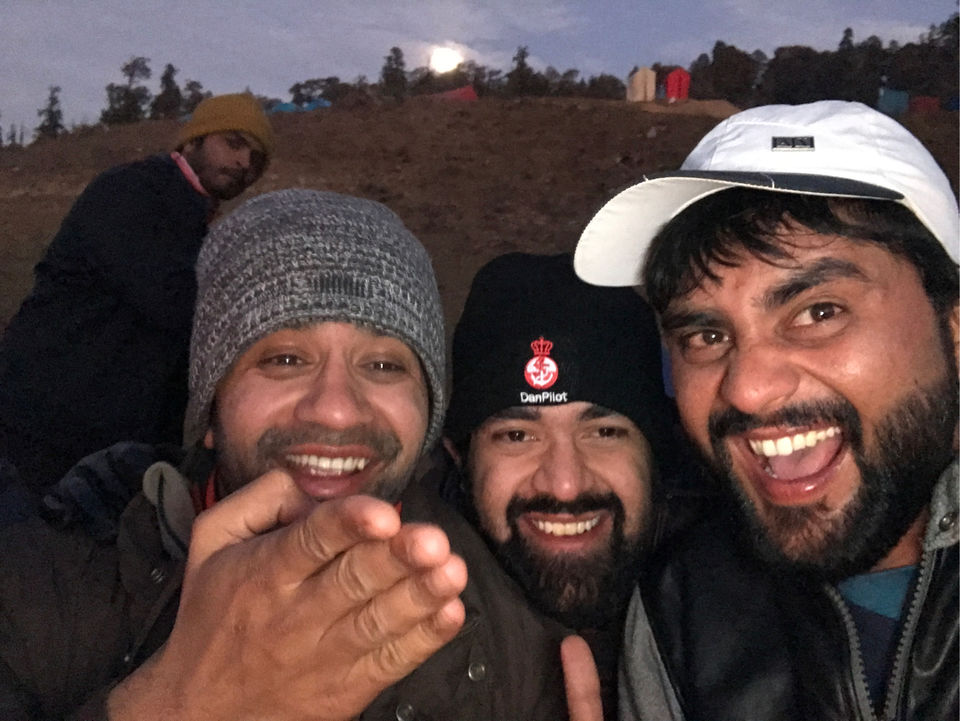 We were so active group hence ready at 6 am for started towards KK. Oh! you guys must thinking what about promised of 3:30 am. Hmm that was ruined by all together. So we missed the chance to take a Glace of sun rising from summit. But why sad Psyche, we were the only possible group who witnessed the full moon that last night, what happened if we weren't not witness the sun rose, we were had full moon. A much needed consolation.!
We were reached summit around 10:30 and i was very happy. Ofcourse the 360 view of Garhwal range had its own magic. Hold on, something else waiting for right there, to freeze you, cold wind blowing around 80kmpl and had enough power to realize you that what 360 degree view had other side of coin . The wind was performing like a hair dryer to set up new hairstyle while i was whirling around to feel the view .! I bowed head for Lord shiva as told by trek leader, most possible every peak worship as lord Shiva's presence.!
Om Namah Shivaye..!
Add a stone piece on stone column for my reminiscence and promised my self, "i will visit again", and yes, this stone will bring back me here, somehow don't know when but probably soon. So yeah see you soon KK.!!