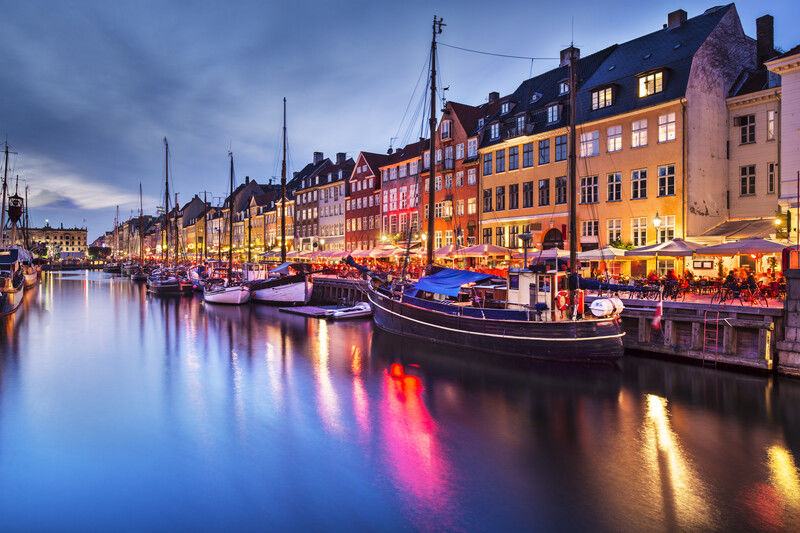 Are you about to travel to Denmark for the first time? Not only have you chosen a great destination point, but you have chosen a place that'll make you want to come back again and again. In this article we will tell you a little history on Denmark. The things you should know before travelling to Denmark, top food places, the best landmarks, and the best areas to visit.
When it comes to finding the best places in Denmark to travel to, I recommend visiting Copenhagen, Bornholm, Aalborg, Aarhus, and Odense.
1 HISTORY
Not only is Denmark a monumental location of the world, but it is also one of the oldest kingdoms in Europe and the rest of the world too, dating back to 10,000 BC. Stone age hunters, people catching fish and farmers were popular among the Danes around the 4,000 BC mark. You'll find traces of Vikings as well, living harmoniously in this era.
The modern Danish is the language that the people from Denmark use in everyday life and is closely related to Swedish. This language got developed in 1525, where the old Danish language got replaced.
Interesting Facts: Did you know that the Danish pastry never originated from Denmark, it was brought over by Austrian bakers. Denmark has little to no hills or mountains, making flat terrains perfect for biking and farming.
2 THINGS YOU SHOULD KNOW BEFORE TRAVELLING TO DENMARK
When it comes to travelling the world, and visiting historic locations like Denmark, I find that the locals tend to respect you more when you have a little knowledge of the traditions. The etiquette, culture and overall general basic manners used within that country.
When it comes to Denmark traditions, you'll find that most of the celebrations and festivals get held in December around Christmas time, in June around St John's eve, and in April near Easter. Danish traditions get mostly based around friends and family. But they do have odd ones that don't make sense anywhere else but Denmark. Some the celebrations includes the burning a witch (doll) on St Johns Eve, or even,
The basic manners in Denmark is pretty much the same as any country you go to visit. Acceptable behavior include giving polite greetings with a firm handshake, a smile and direct eye contact is, key. Another one is to avoid touching Danes at all without consent. It is considered an invasion of privacy. The cultural aspect of Danish people includes being polite, equal, and simple to everyone. Like the rest of Europe, Denmark is best known for its architecture and having artistic and rich intellectual heritage.
Some important things you should know about Denmark etiquette do not investigate people's backyards, houses and even salaries. Formal introductions are not used when attending conferences, meetings and even not to introduce your friends at a dinner party.
3 TOP FOOD PLACES
Where are the food markets? What are Denmark's delicacies? What fast food options do they have? Food is Denmark has got to be one of the icon stops of your trip. When it comes to foreign locations, it is hard to find out what food is delicious and what is not.
Below is my top five food places in Denmark that are worth eating and visiting.
3.1 #1 SLOTSKÆLDEREN HOS GITTE KIK
Are you looking for a Danish delicacy? Try Smørrebrød from Slotskælderen hos Gitte Kik. This restaurant is open from Tuesday to Saturday from 10 am – 5 pm.
What is Smørrebrød? Smørrebrød is an open-faced sandwich containing dense bread-like Rye and topped with cold cuts of meat or salmon, its also topped with garnished like alfalfa or herbs and spices.
3.2 #2 RESTAURANT KARLA
Did you want some delicious traditional Danish food? Restaurant Karla has over 1,452 google reviews, and a 4.4-star rating, this Scandinavian style restaurant is open from 11.30 am – 9.30 pm.
This restaurant has beautiful architecture and very spacious indoor and outdoor settings to suit groups of various sizes. Some of their best dishes include their Super Karla burger served with a side of fries.
3.3 #3 TORVEHALLERNE
Did you want to find a local street food market to Copenhagen? Torvehallerne is the place for you. With over 6,000 google reviews and a 4.5-star rating. This place caters all your needs, whether it may be fresh food products, fast food, food stalls, desserts, and even beverages like juices.
3.4 #4 JAGGER NØRREBRO
Did you want a quick fast food joint instead of sitting at a restaurant? JAGGER NØRREBRO is the best place for it. Not only is it a popular Danish fast food restaurant, but it gets also made with fresh produce. This restaurant has put a lot of effort into making the shop feel comforting, and the food taste delicious.
JAGGER NØRREBRO most popular dish includes the Jagger double burger.
3.5 #5 REFFEN
If you want to try foods from the Danish food courts, try Reffen in København. Reffen food court times vary from 11 am – 10 pm and open every day except for Mondays and Tuesdays. Reffen has everything from over 40 food stalls, to a large, new indoor hall, a couple of bars and even dining areas at some of the local restaurants. There are also live bands and a skate park for the kids. You can also find local and seasonal events get held here as well.
4 BEST LANDMARKS IN COPENHAGEN
Are you visiting Copenhagen? Did you need a fun activity to do with the kids? Visit the Tivoli Gardens. This landmark is a Scandinavian amusement park that's the second oldest amusement park in the work that is still running to this day. You'll find many fun activities for everyone from rides, concerts, games and even containing many food stalls. Tivoli Gardens is nearing 57,000 reviews and a 4.5-star rating.
Another famous landmark in Copenhagen is The little Mermaid statue located on the bay in Langelinie promenade. This famous statue has a 4-star rating and over 13,400 google reviews. This statue was sculpted by, Edvard Eriksen.
Amalienborg is home to the royal, Danish family. You can visit the royal families museum, learn the history of the royals, or even walk among the palace square and watch the guards. Amalienborg has over 17,000 reviews and a 4.4-star rating.
5 SUMMARY
That concludes our article about travelling to Denmark and all things that I wish I knew before travelling to this beautiful, historic landmark.
In 2022, fake news, Denmark banned COVID vaccine under 18 is spreading on social media such as Facebook and Twitter, however, this is not true. While the government of Denmark does not offer vaccination to people under 50 unless they are vulnerable to virus, this does not mean that they banned the vaccine. This does not mean vaccination is dangerous either as they continue vaccination on the old population and pregnant women.