Would you tell me, please, which way I ought to go from here?'
'That depends a good deal on where you want to get to,' said the Cat.
'I don't much care where -' said Alice.
'Then it doesn't matter which way you go,' said the Cat.
'- so long as I get SOMEWHERE,' Alice added as an explanation.
'Oh, you're sure to do that,' said the Cat, 'if you only walk long enough.
And that pretty much sums it up for masses who flee from their city cells into the vastness nature bewilders us with.
I'm sure you've been around a lot but what I bring to your bucket list is not just another waterfall! I name it, the paradise falls **drum rolls**!
Confused at the crossroads near Gallu Devi Temple, one leading to the crowded trail to Triund and the other to a nameless waterfall, I convince my gang to hit the road less taken. Why? Because I've been on both before but believe me when I say so, I'm a huge waterfall fanatic myself but this one here is deeply embedded in my heart.
Some years ago when I found myself hiking all the way from our lodge in Dharamkot through a pine forest onto a motorable road connecting this narrow path, I was both spellbound and breathless, back when there weren't any cafes or hotels to snack or rest in but now there are.
As you walk past these establishments, you'll find a gem neatly tucked away from civilization and accessible through a green trail of an hour or more (depending on your pace). There's a tiny cafe on left within the initial walk after which there are only layers and layers of trees and rocks to hike up and down following the pipeline to your "destination", coming closer to which will undoubtedly lure your ears with the sweetest sound of gushing water (a lot of it).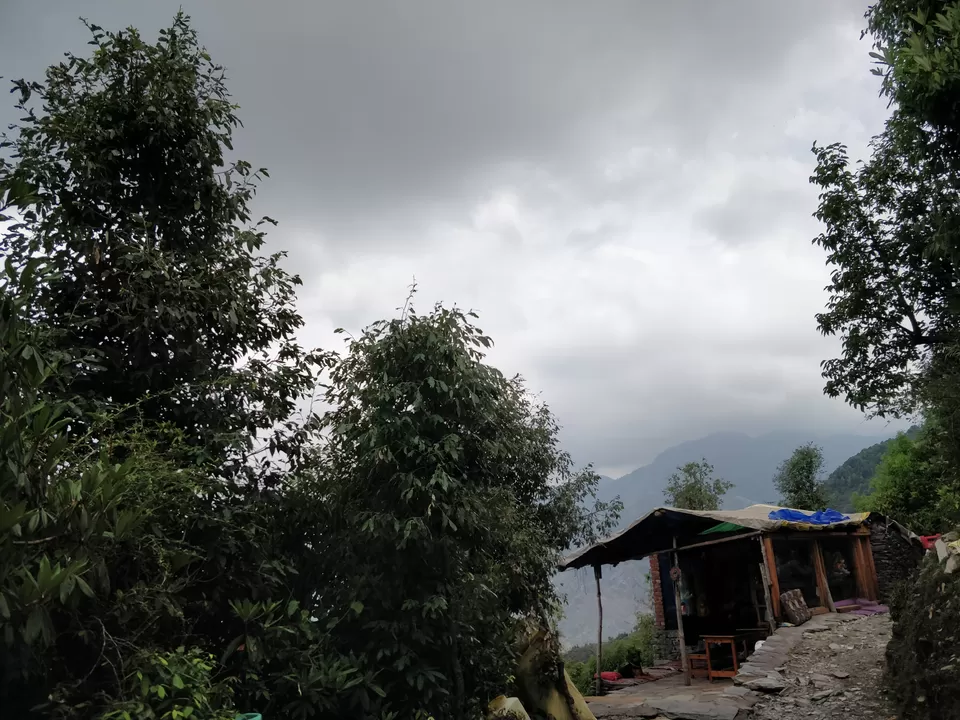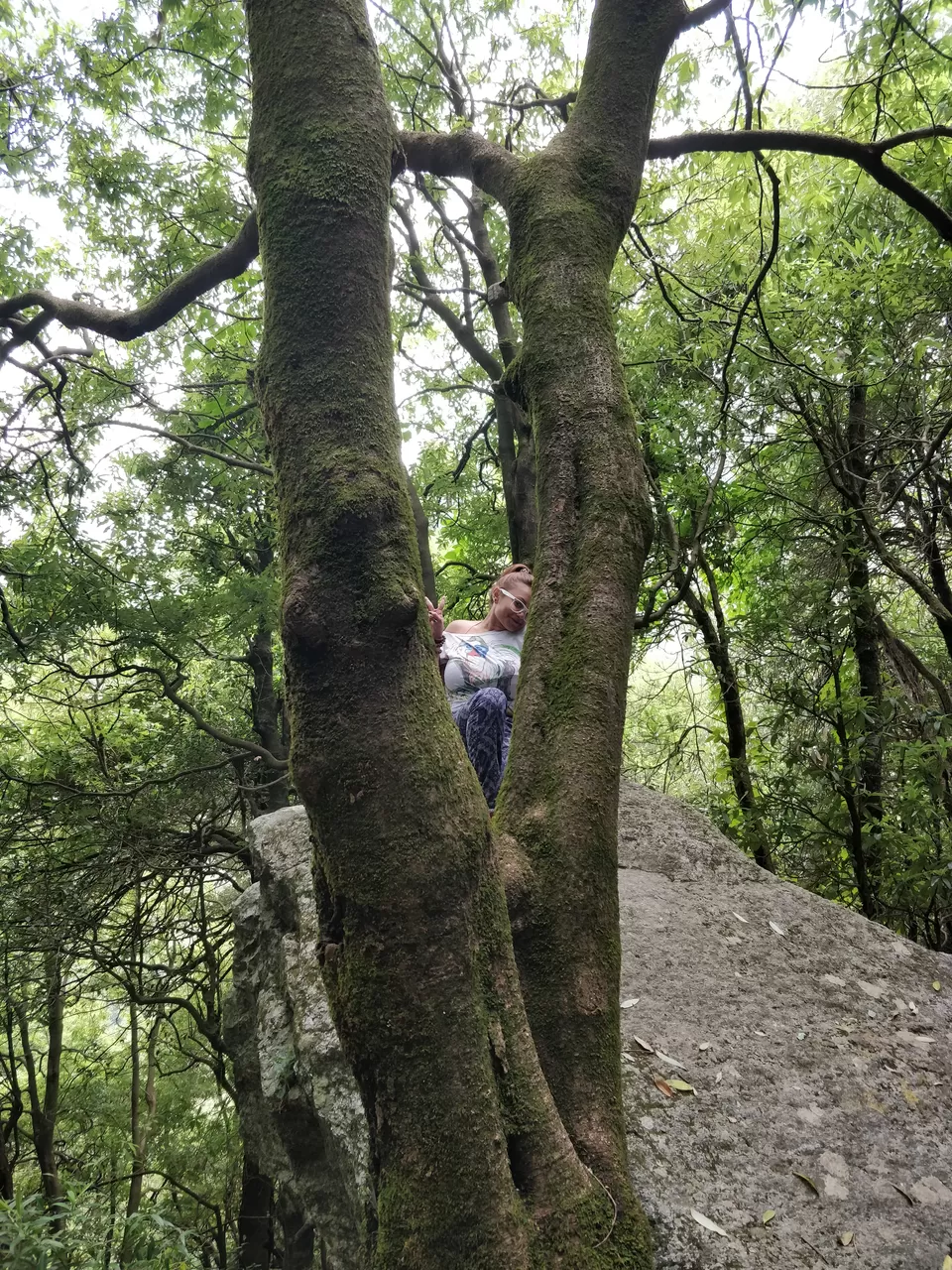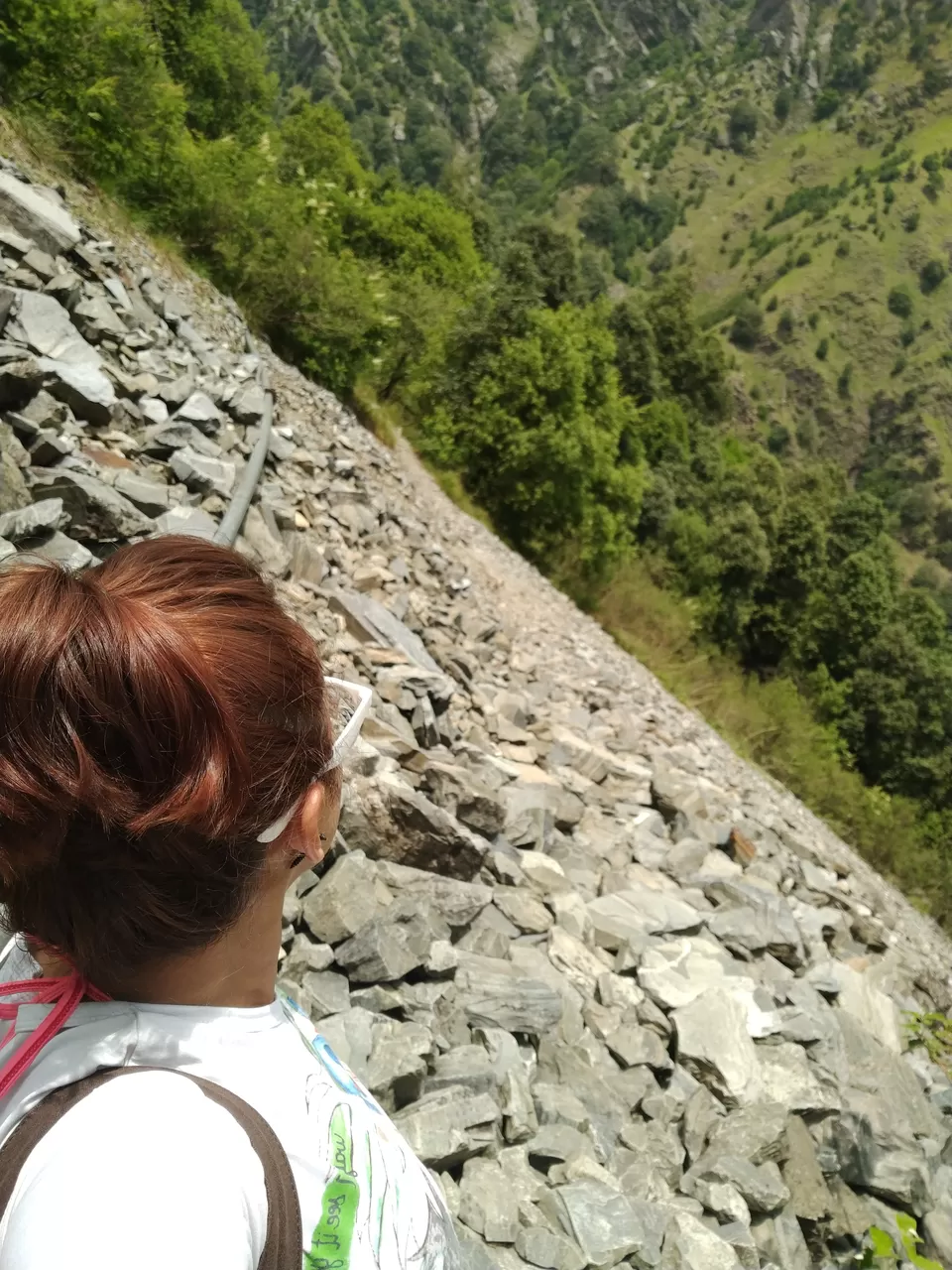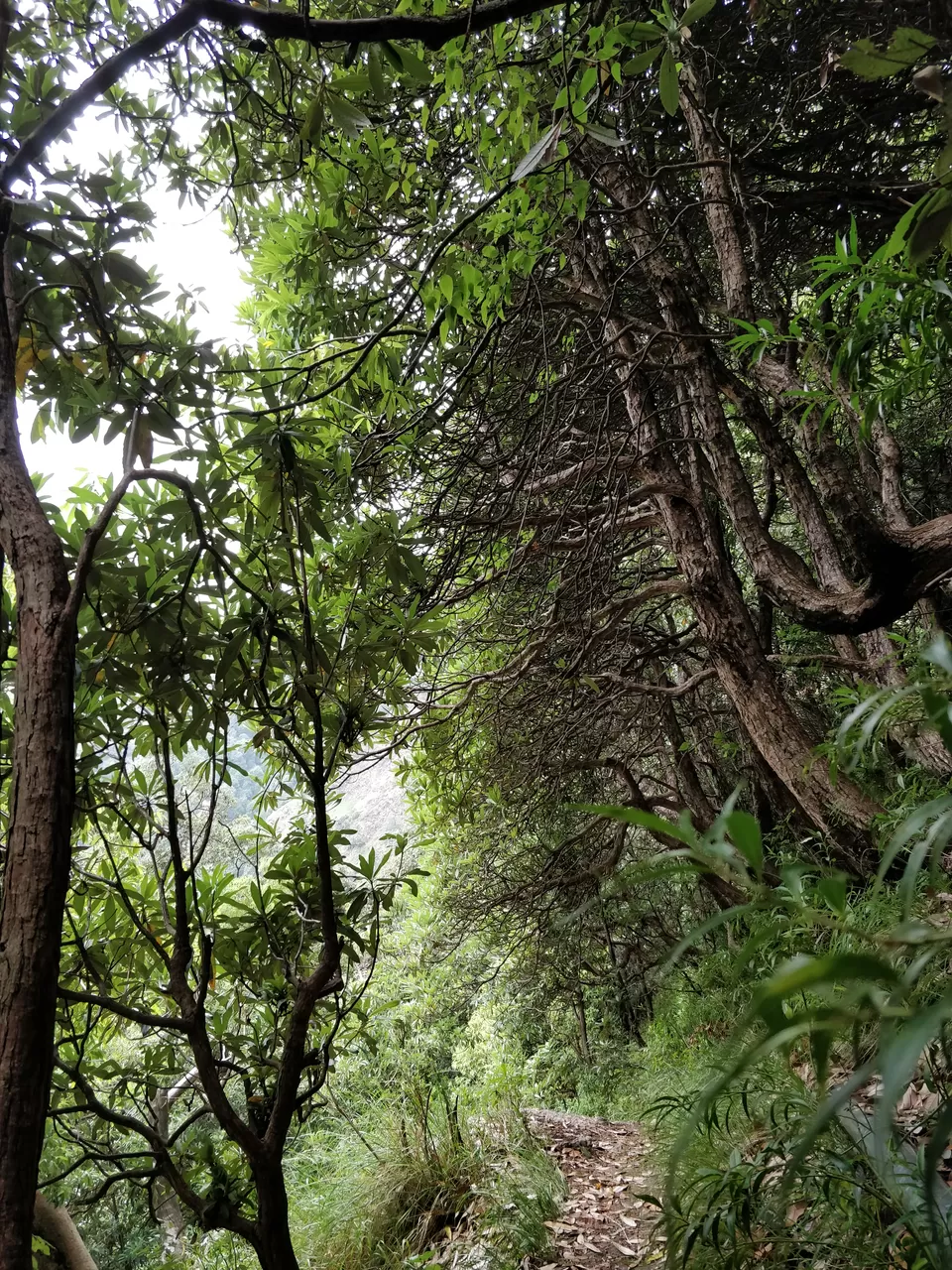 What is so spectacular about this particular fall are the crystal clear, emerald-watered, multi-levelled pools to swim and chill in. You won't find many souls, the handful you do are the adventurous and/or foreign kind, diving down the huge boulders you might wish to place your feet carefully on (moss makes it slippery). All this and much more, that is the first glimpse you get from an even tinier cafe serving mountain-basic food (Tea, Maggi, Soup etc.) descending from which you'll finally dip/ drown your feet into the cold water-body.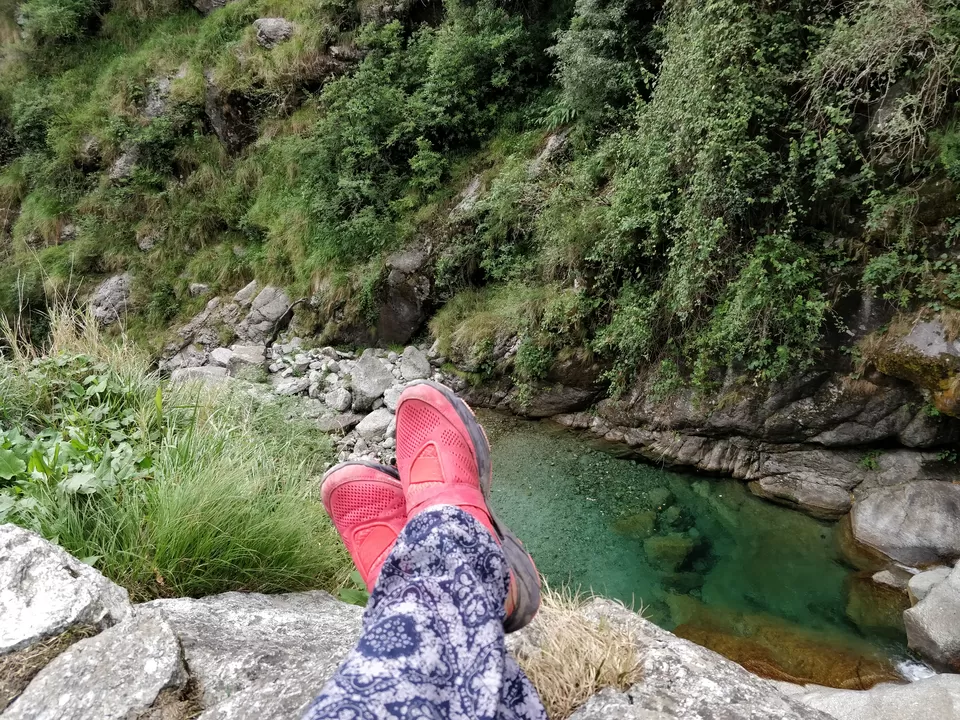 The water level recedes during summers (depending upon the snowfall last winters) making way to a granular river beach in the middle of the fall, where one of my friends preferred to finish reading her book at and dosing off later. We climbed up those rocks mindfully, leading to our private pool away from the rest of the crowd, stealing more than 3 hours from our watch. My curious heart craved more, pushing us to climb (barefoot) further, where we spotted a few more smaller falls and pools, equally enchanting.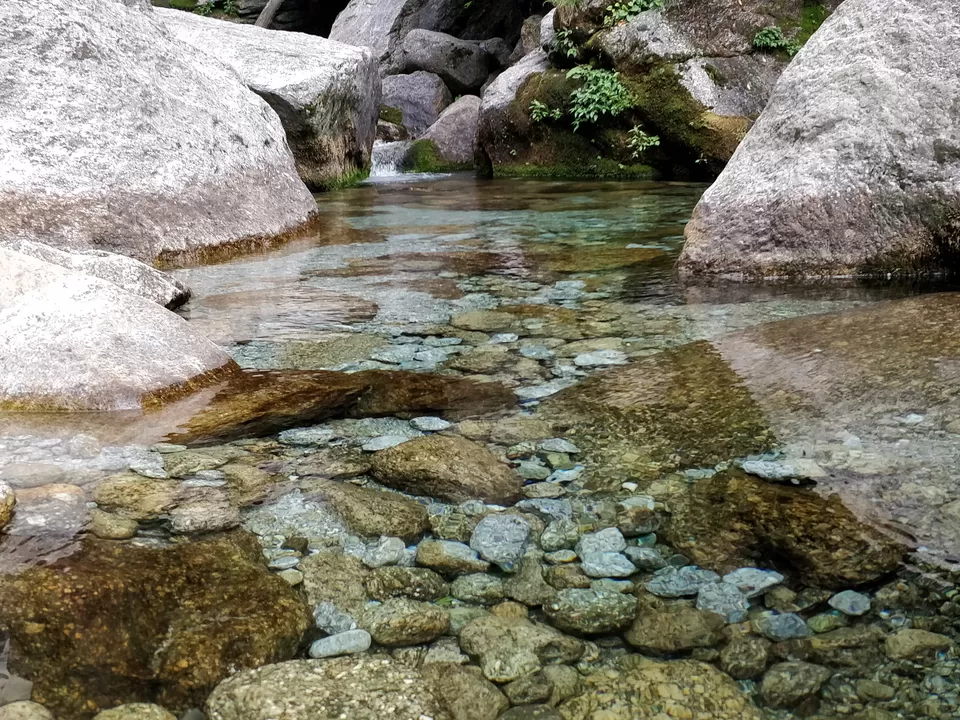 The weather God favored us with soothing shade when we explored around and bright sunshine when we dipped in.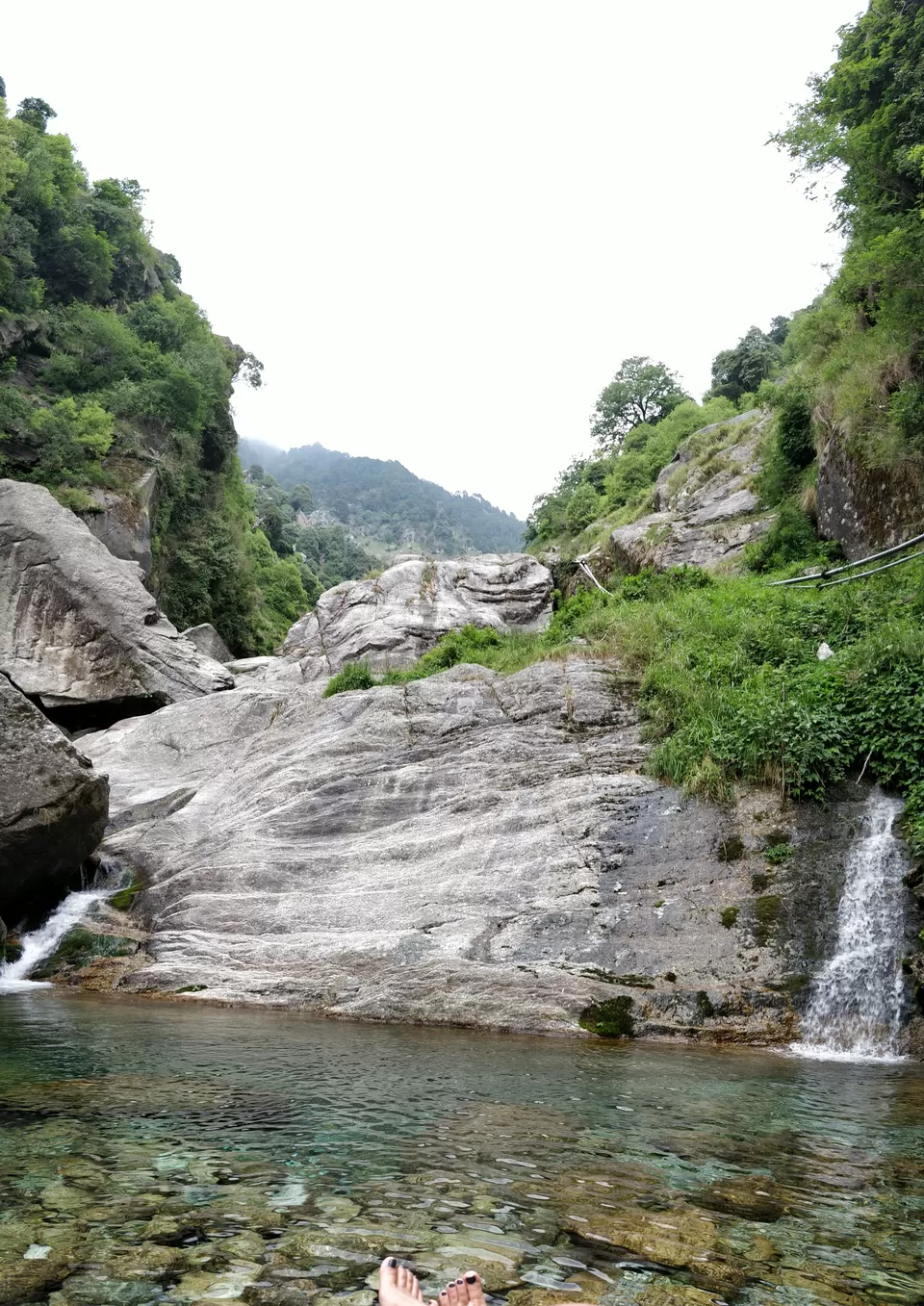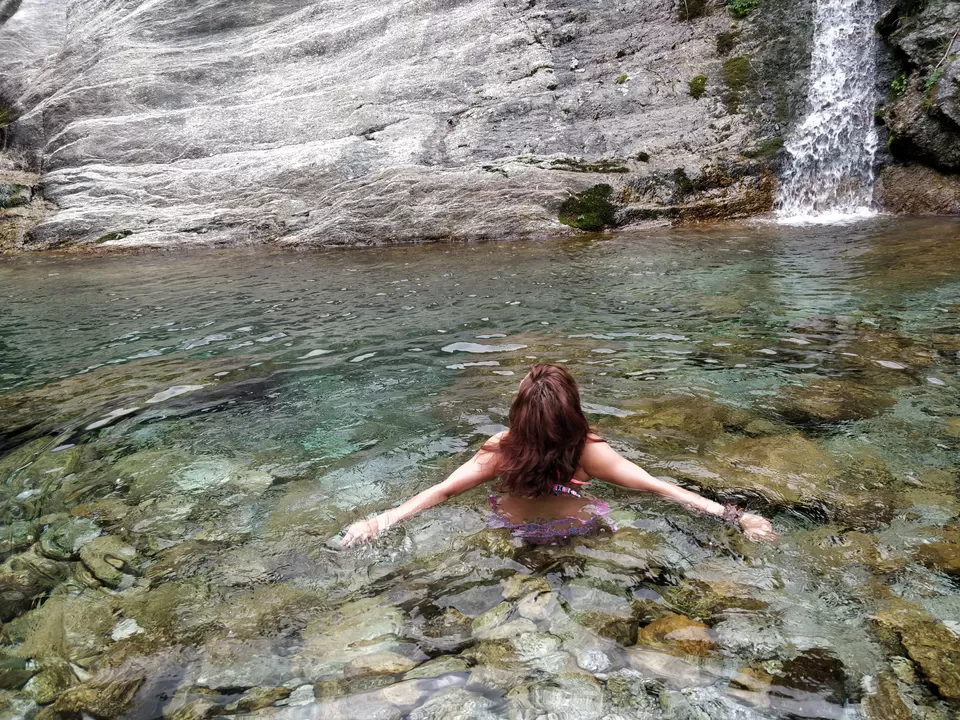 IT WAS PEACEFUL, all the way to and fro. Laying down on those rocks, orchestrated by the sound of water with the chirps, "life" stood still for a while (in a great way). I could feel the freshest of air filling my lungs, creating bliss through my nerves and warm breath above my upper lip, heaviness leaving my body to the wind while I looked at the artistic gestures of the clouds above.
Close to the end of the trail back to the temple, I halted at a spot I purposely decided to pass-by before, a small bed of grassland facing a series of distant silhouette of mountains and a lone house amidst a step farm on a beautifully positioned mountain in between, we chose our spots to sit and stare away silently, perhaps each romanticising the experience we just were intimate with or maybe inking on our mind in our own fine style, one of those days which remain just as fresh as they happened a moment ago.
P.S. As much as I'm excited to share my journey with you, I'm concerned about the sanctity of a gem I cherish. Places with the tag of "offbeat" to them promise peace and purity. While we trade our time to scout, they trade their essence, which a responsible traveler must ensure to never pollute. Please avoid littering and promoting noice.