I was in middle of preparing for my trip to Arunachal and one friend asks me why don't you travel to Europe ? If you like travelling solo, you will love it..
And my next destination plans got changed..
Right from starting to read Europe travel blogs , planning the countries I want to travel ,calculating the finances, receiving my schengen visa to come back home has been an interesting journey for me…
Receiving my schengen visa was also an interesting episode in this story… I remember, I was sitting with a group of friends and someone said, getting schengen visa is real difficult.. the embassy looks into your funds and if you do not maintain decent funds for over 6 months, they reject the visa application !! And then I went into a traumatic mode for 2 days :P .. I almost assumed that my visa will be rejected and lost my interest in even applying for it..but then I decided, let me try ..if it gets rejected, I will reapply after 6 months ( assuming I will be able to maintain decent funds now on :D ) ..and to my surprise, I got it ..and I was like… Yayyyyyyyy…yahoooooo… all that stuff…
And then the planning started..
The places which I chose initially were Paris, Sweden, Brussels ,Bruges , Berlin, Prague, Vienna, Rome, Barcelona, Amsterdam… all bookings were done in 3 days time and then the day arrived when I had to fly in the night and then an unfortunate event happens which was Brussels attack…few flights got cancelled , friends and family got concerned over my travel, lot of scary thoughts started coming in my mind that what if my flight gets cancelled ? what if my entry in europe is denied ( assuming security issues in Europe due to recent attacks ) All possible thoughts which can come in your mind were passing through mine..and then the time to board the flight comes..
Through the flight I was thinking how the immigration would be like in france .. I was carrying a set of all ready documents to show at immigration desk and I must have checked every document atleast 5 times to ensure everything is in place.. Yes I was conscious !
And then I landed in paris…. And the first word which I heard from immigration officer in Paris was - " Namaste " …. And then I knew everything will fall in place :):)
And my most awaited trip to Europe started..
Arriving Paris - i traveled in Air France which is 9 hours non stop flight from Delhi to Paris. Nice service and good food. It was a comfortable experience for me.
Places Not to be Missed :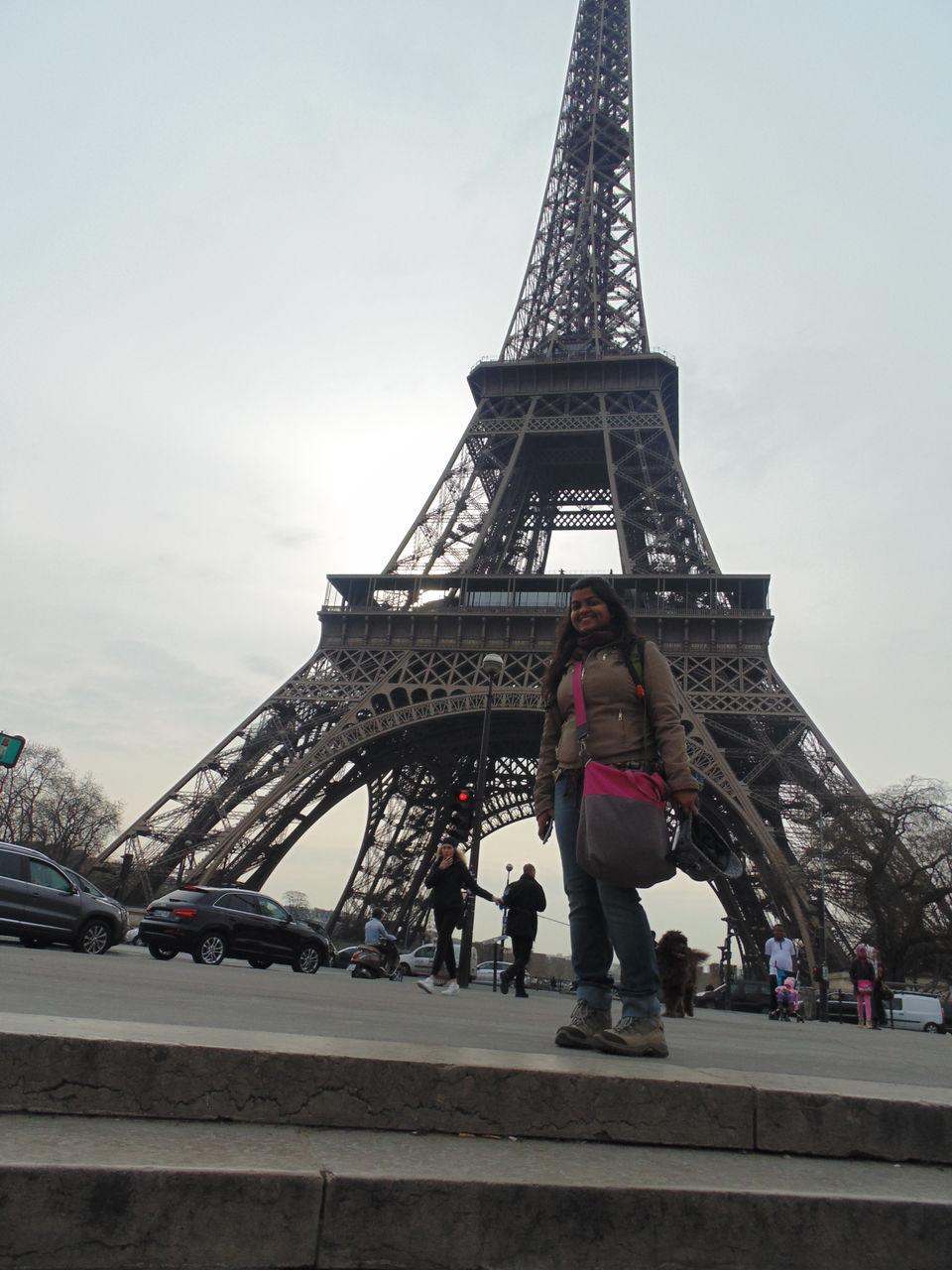 Do I need to tell about it ? When we think of paris, we think of Eiffel tower..isnt it? The Eiffel Tower is a wrought iron lattice tower on the Champ de Mars near the river siene.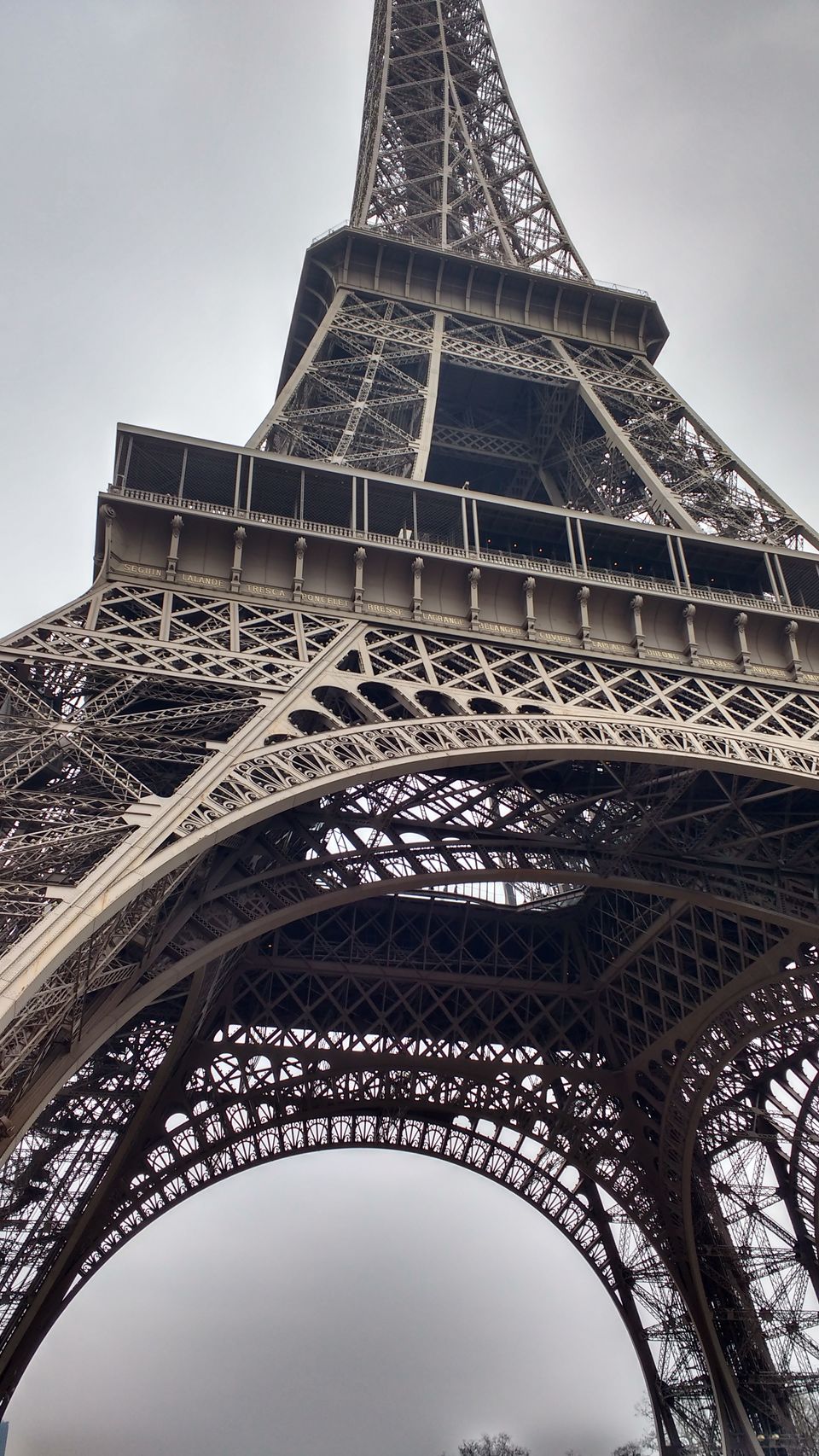 This tower was first called " The tower of the 330 metres" since that is its height but then its name got changed to "Eiffel tower".It was designed by Maurice koechlin and Emile.Interesting part is that besides being a tourist destination, it is also used in transmission of radio and television programmes. I so so wanted to go on the top of eiffel tower and hence purchased 14 euros ticket for the elevator. Incase you want to climb up the stairs, there are 704 stairs and you will need to pay 7 euros as the entry ticket.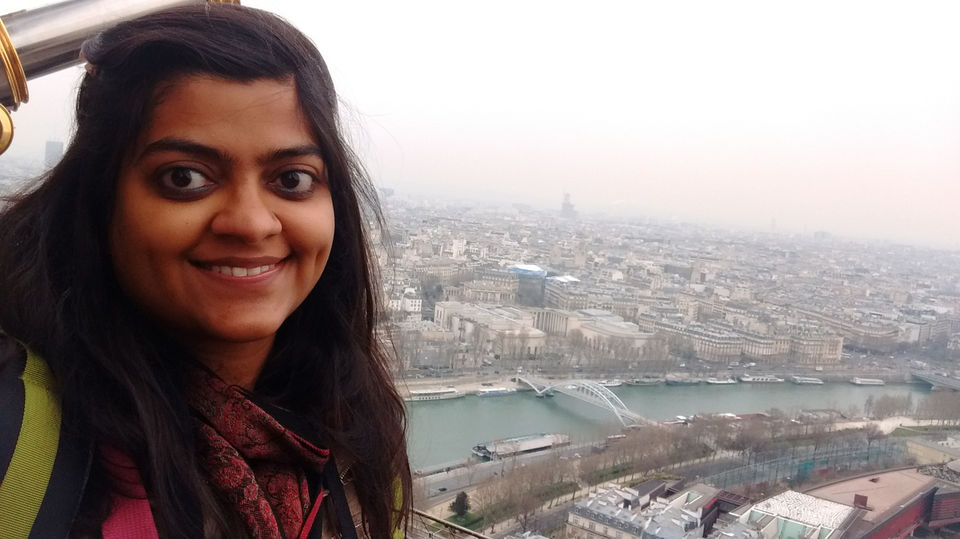 I Highly recommend visiting Eiffel tower during evening as you can witness the beautiful night lit Eiffel tower..It starts in evening from sunset to 1 am every night .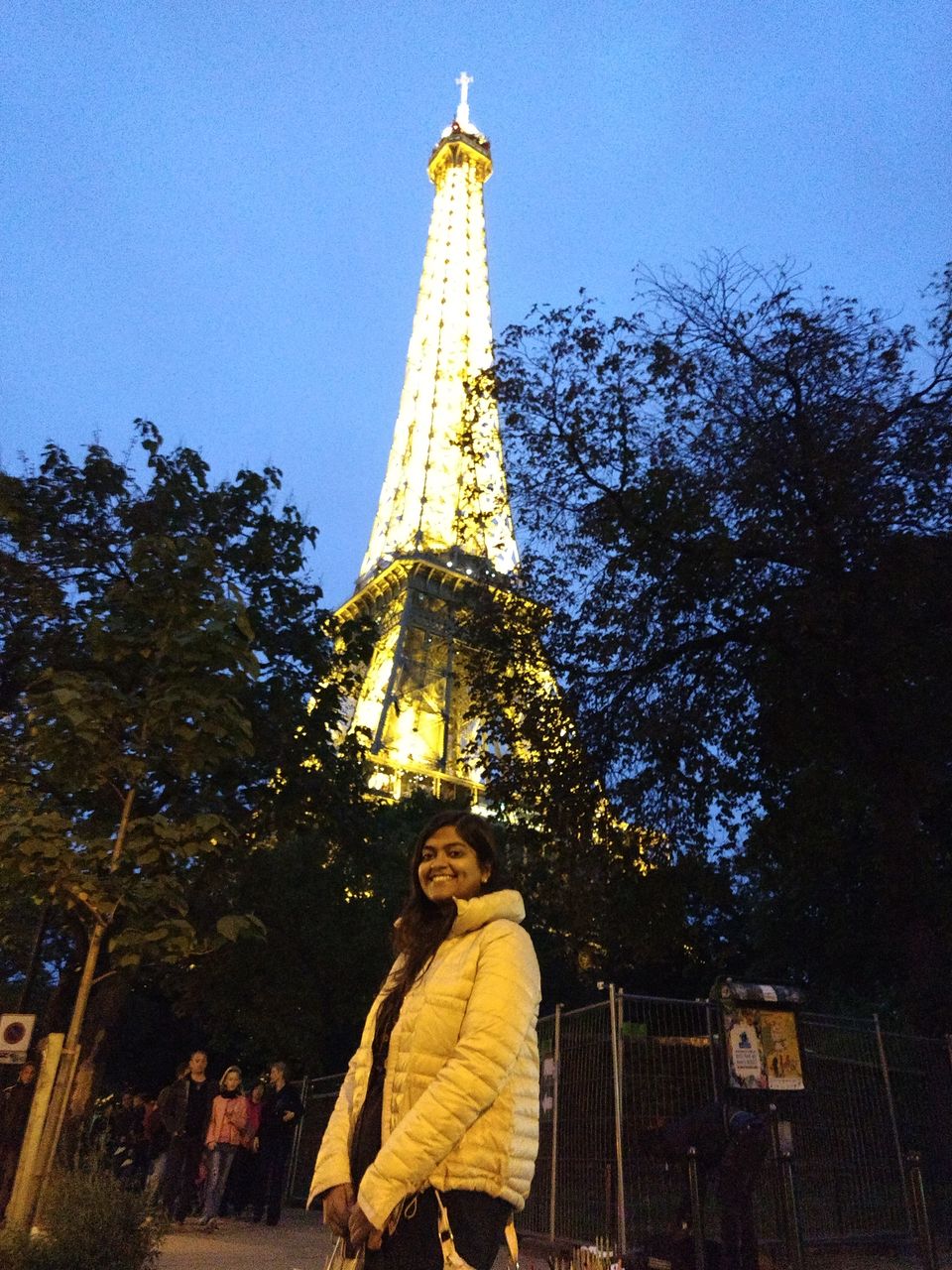 You can also see glimmering lights of the tower during the first five minutes of each hour on the hour.
The Louvre :
The Louvre or the Louvre Museum is one of the world's largest museums and a historic monument in Paris.
it is located on the Right Bank of the Seine. It is one of the city's biggest tourist attractions. It was originally built as a fortress in 1190, but was reconstructed in the 16th century to serve as a royal palace. The Louvre's collection includes Egyptian antiques, ancient Greek and Roman sculptures.
The Louvre Pyramid :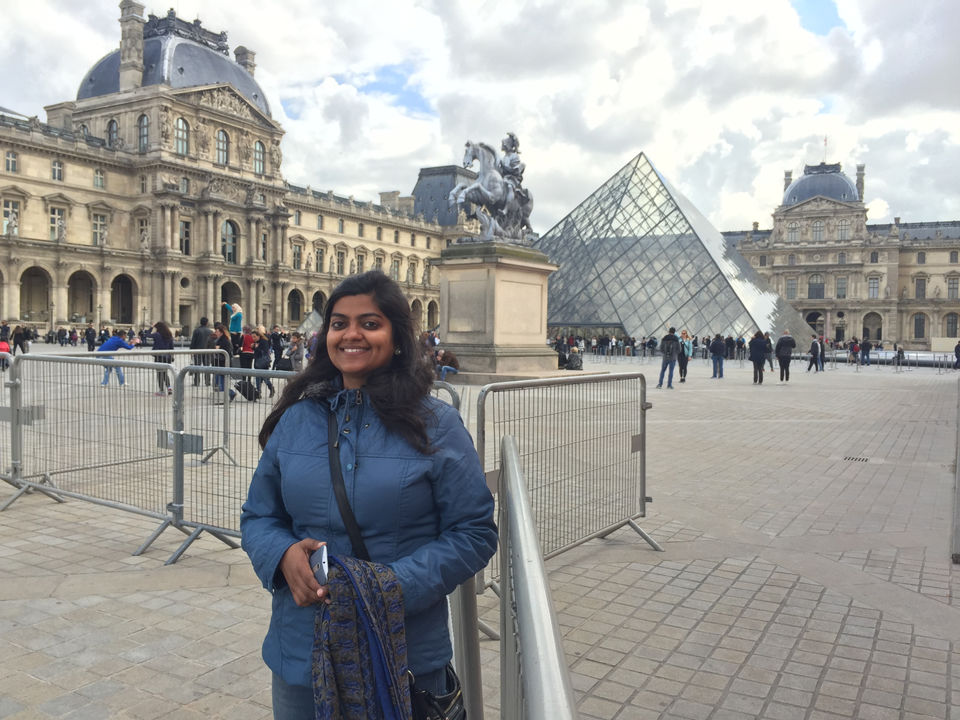 The Louvre Pyramid is a large glass and metal pyramid designed by Chinese American architect I.M. Pei, surrounded by three smaller pyramids, in the main courtyard of the Louvre Palace. The large pyramid serves as the main entrance to the Louvre Museum.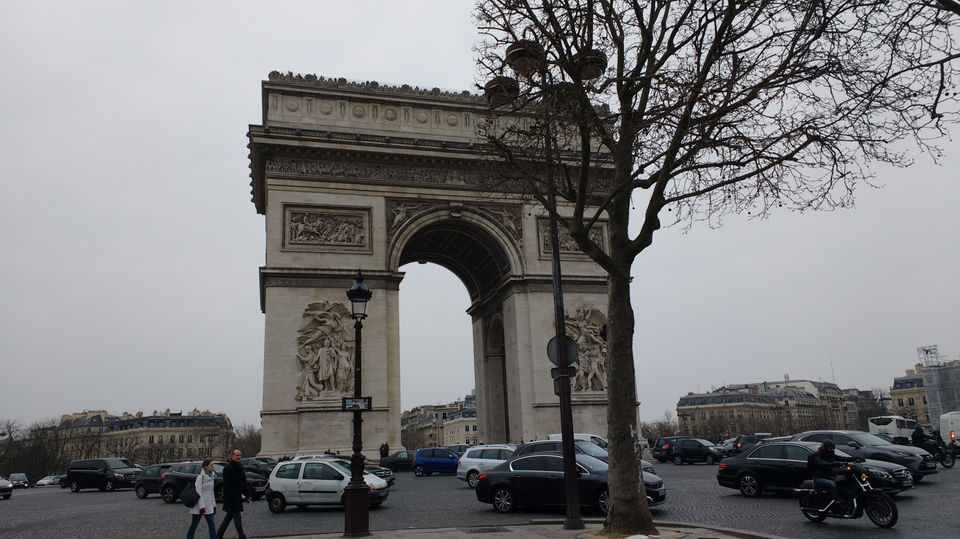 The Arc de Triomphe stands at the centre of the Place Charles de Gaulle. The triumphal arch is constructed in honor of those who fought for France, during the Napoleonic Wars. The names of the generals and wars fought are engraved on the inside and at the top of the arch .
Montmartre :
If you want to feel Old paris, walk to montmarte is must and worth..From here you can have a spectacular view of Paris.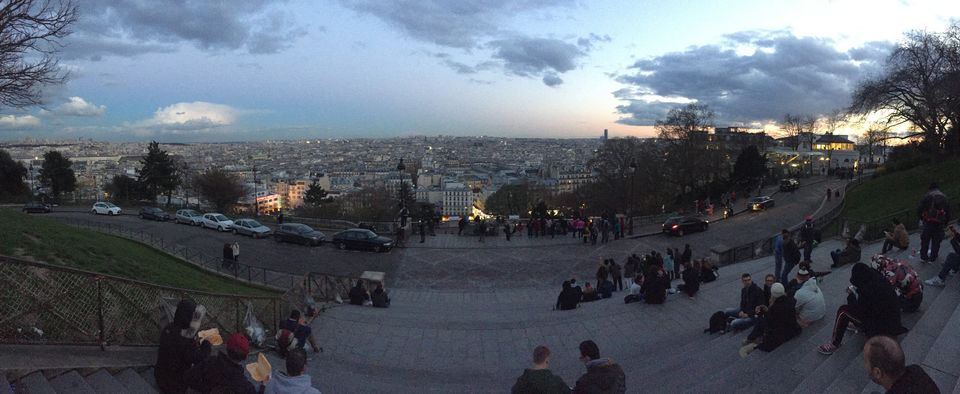 Montmartre is a large hill in Paris.. It is 130 metres high .. Montmartre is primarily known for the white-domed Basilica of the Sacre-Cœur on its summit and as a nightclub district.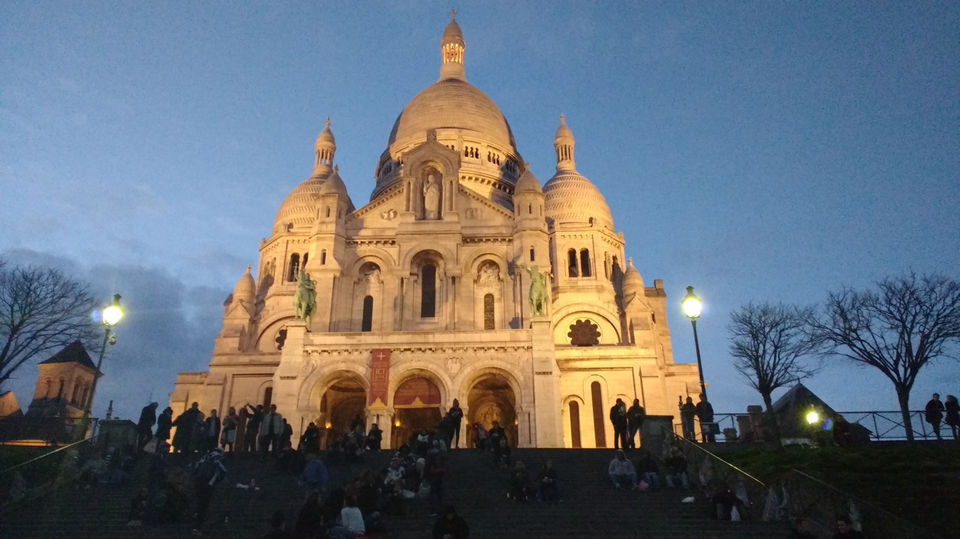 It is must to see place when you are in Paris. this side of the city has a different feel.
The path to montmarte is a cobbled street with small sovernier shops and parisian restuarants ...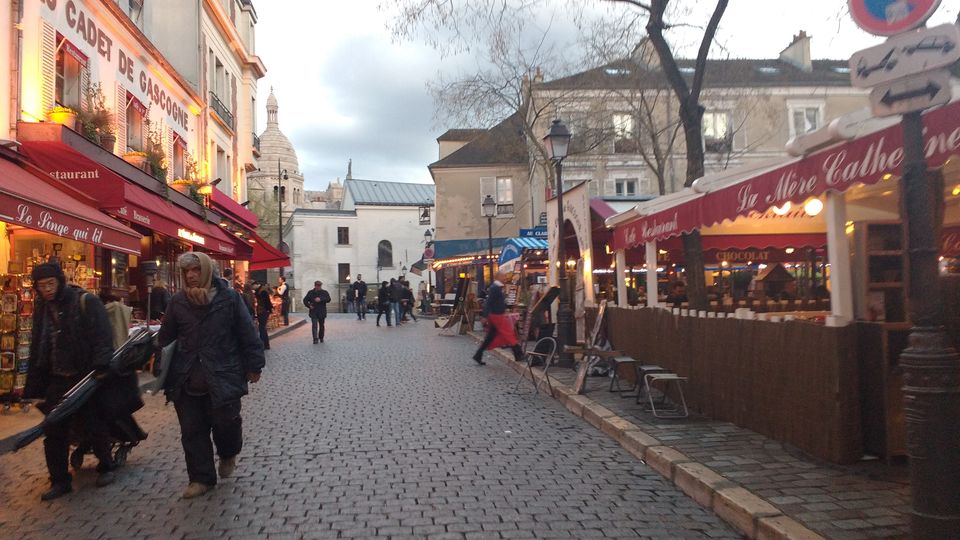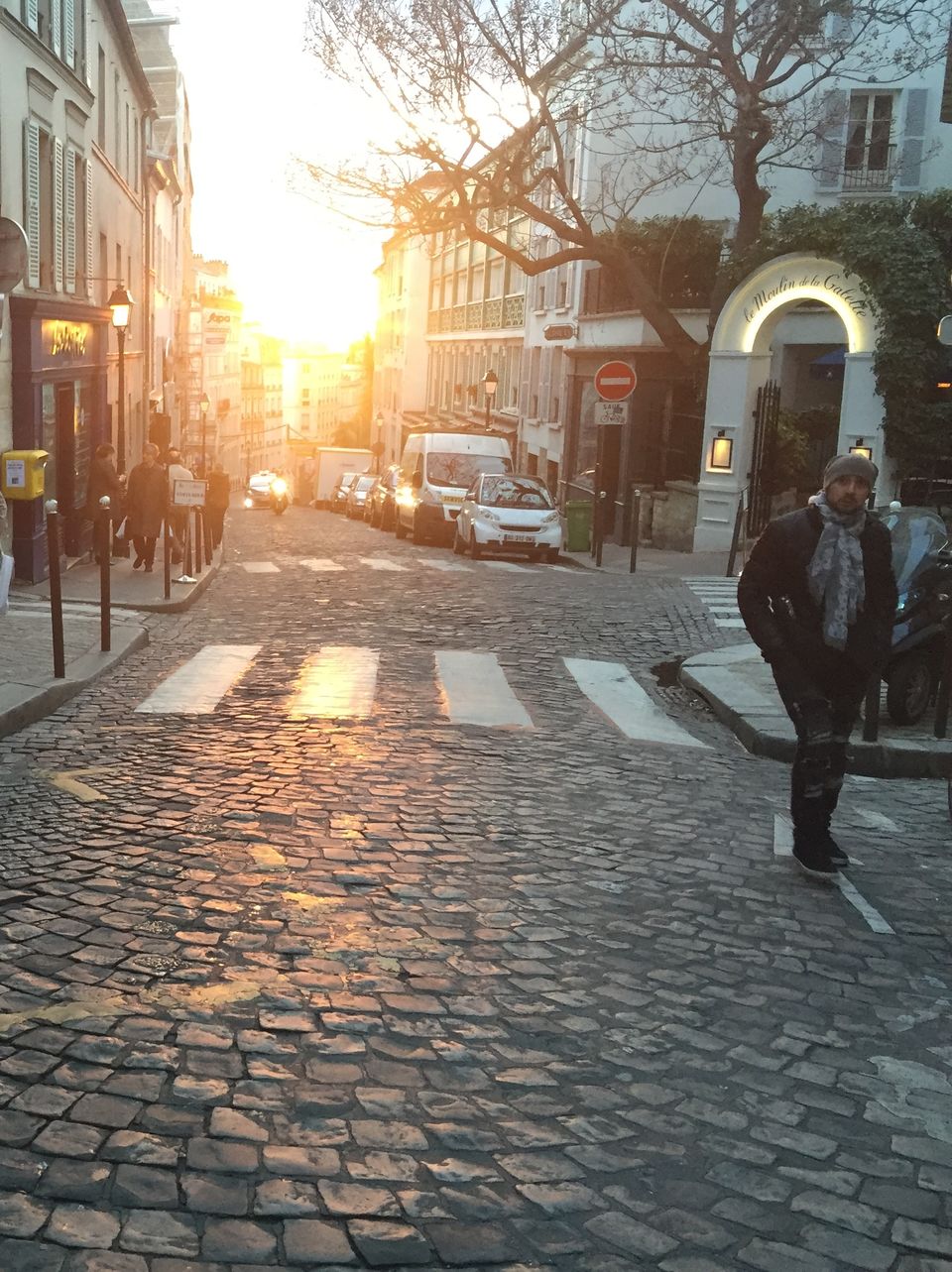 This is a beautiful site to visit but If you travelling solo , i will recommend to visit this during day light as this is downtown side of paris. Dont get into trap of the people asking for money there, this side is known for such incidents in paris :)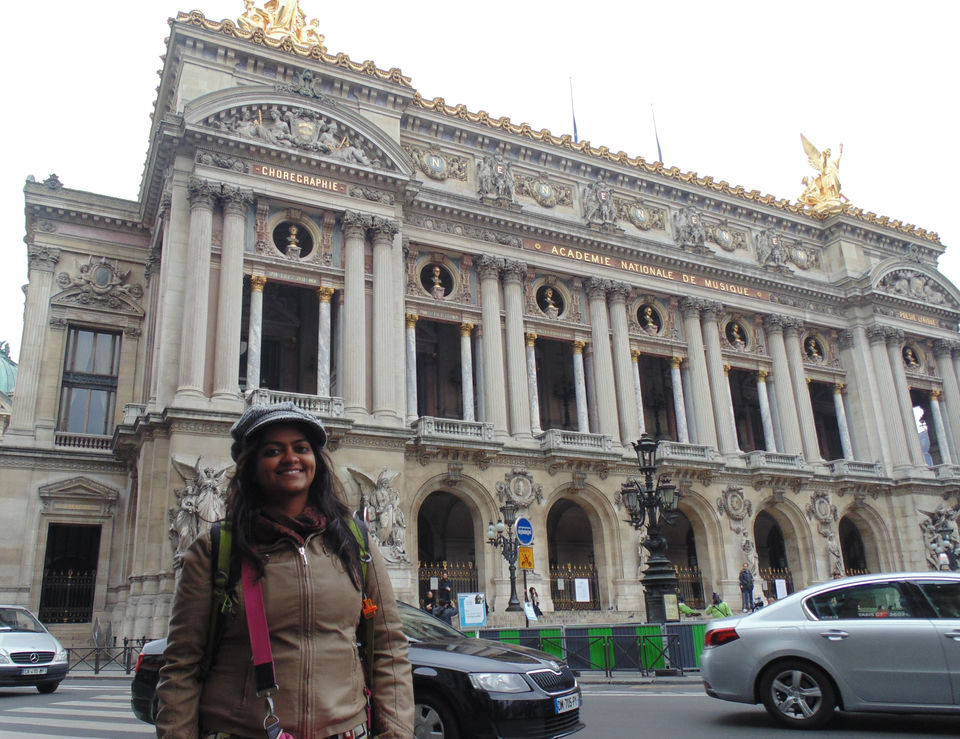 The Paris Opera is the primary opera company of France. It was founded in the year 1669. Currently called the Opera National de Paris, it mainly produces operas at its modern 2700-seat theatre Opera Bastille which opened in 1989, and ballets and some classical operas at the older 1970-seat Palais Garnier which opened in 1875.
The Champs-Elysees:
The most happening and lively place in Paris-The Champs-Elysees is almost two kilometers long .At its western end the street is bordered by cinemas, theaters, cafes and many luxury shops.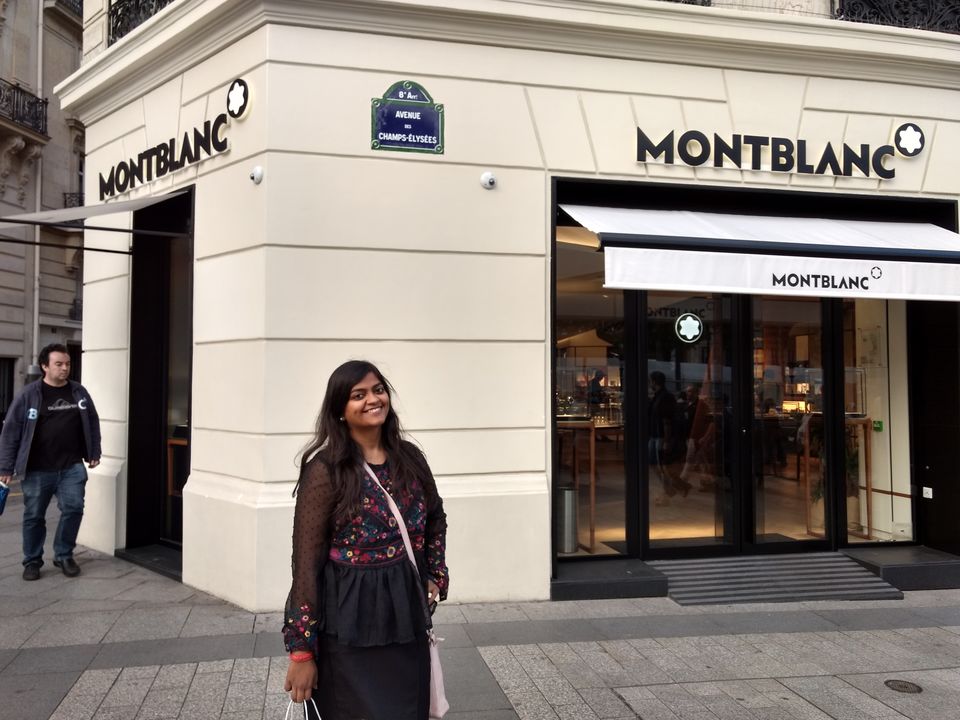 On the opposite end, the street is bordered by the Jardins des Champs-Elysées, beautifully arranged gardens with fountains and some grand buildings. The Champs-Elysees is used for all the major celebrations like New Year's Eve and military parades are held here on 14th July. Historic national events, like the Liberation at the end of the second World War or the victory in the World Cup football were also celebrated here.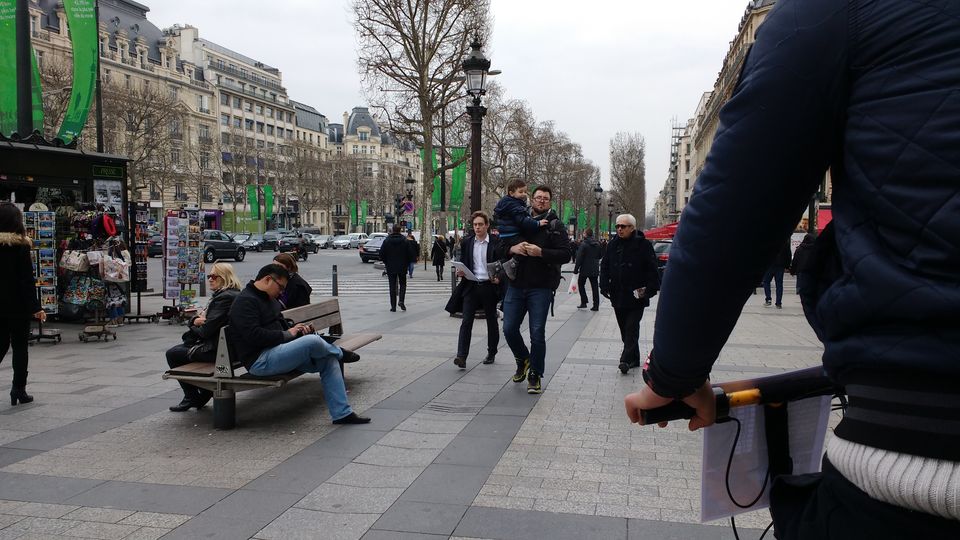 Come, stay, enjoy and relax here… you can eat, shop , drink and chill… the best place to enjoy Parisian life.
Palace of Versailles :
The Palace of Versailles, is one of the largest castles in the world. It is a fine example of 18th century French architecture and art, it is UNESCO's World Heritage site and must-see French landmark.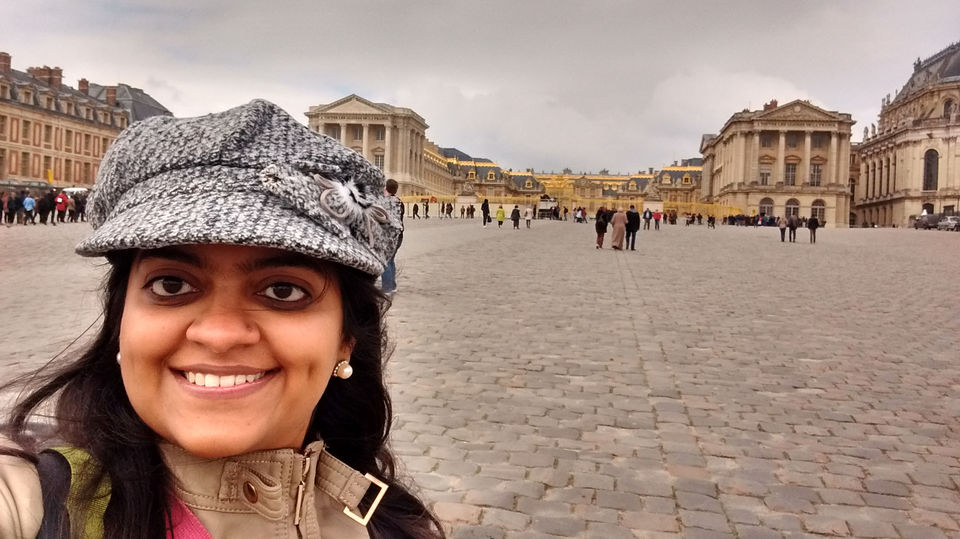 Its little far from the main city but thanks to metro and train connectivity in Paris, one can easily reach here . If you wish to visit the palace museum, you may have to get into long queue but its worth it.
Exploring Paris :
You can explore using metro , trains, Buss, tram / Hop on hop off / or explore using the favourite vehicle of Europeans which is bycycle.. whatever you go for, you gonna love the spirit of Paris..You also get 1 day/ 3 days/ week passes which are pocket friendly than purchasing separate tickets . They are valid on all modes of transport- Bus/Trains/Metro/Trams.
the transport system of paris may look a bit complicated but trust me, if you travel one day on metros and trains, you will understand how it works.
Please carry the city map for easy reference and you are sorted !!
I ,personally, for an experience hired a cycle riksha and took me for a ride across the city.. it was amazing.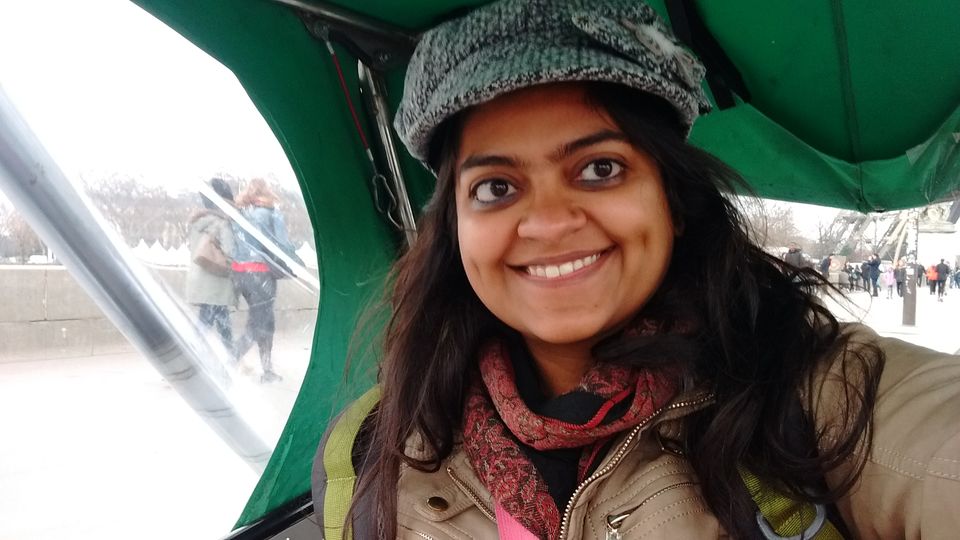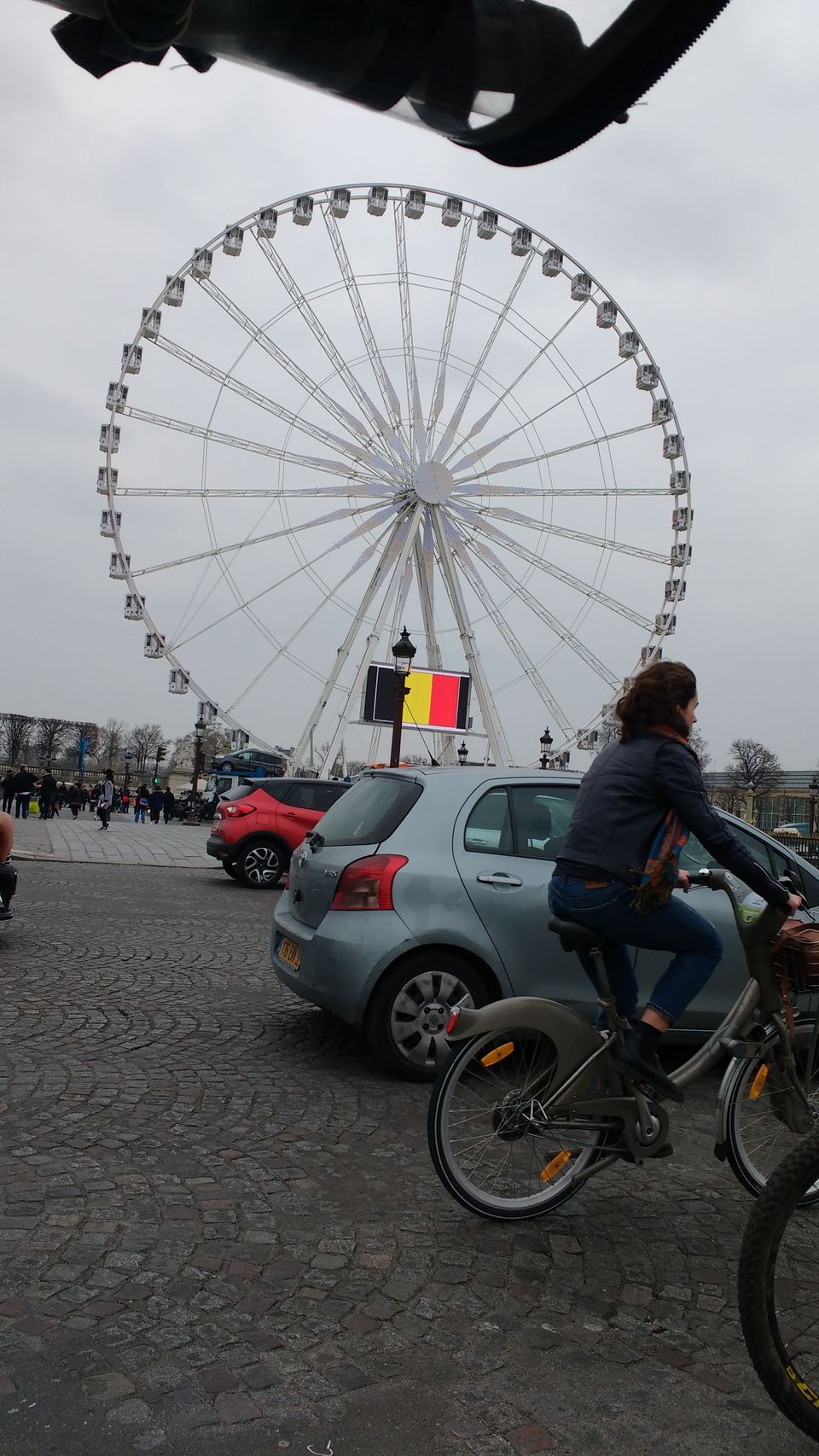 i passed by champs de elyssis, The louvre and may be the known or unknown streets but just enjoyed the feel of the amazing city.
Accomodation :
The best and most economical option to stay in europe is Hostels..i did all my bookings using booking.com.
I stayed in St christopher's Inn Paris- Canal.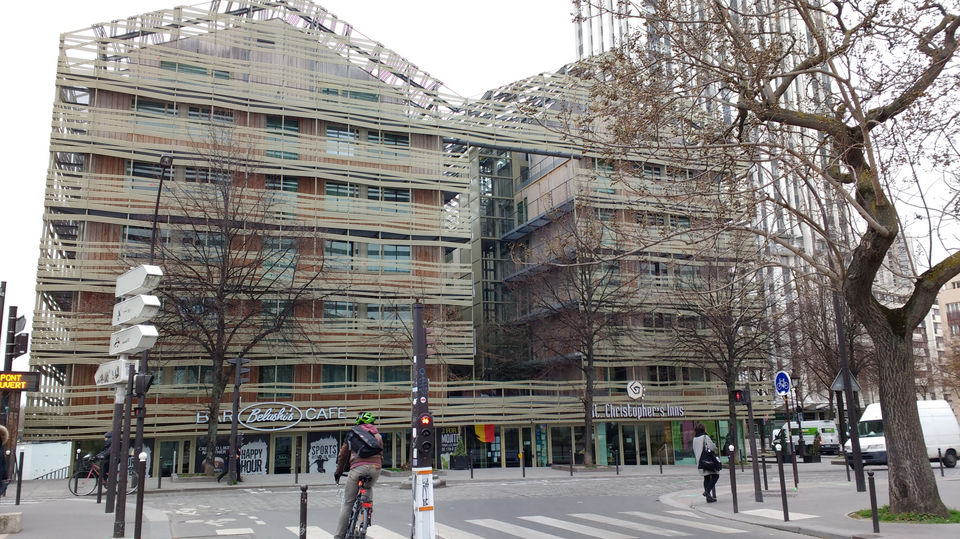 Food :
Ahh !! For non vegetarians, there is no limit to the options !
Vegeterians can explore good lebanese food, or we can even survive on fruits ,bread butter, burgers, croissants , Pizzas all the time if you are a vegetarian.
Though most of the hotels provide you with a kitchen where you can cook the basic food. So, it is very much manageable.
Please try Parisian Crepe..which is made of flour,nutella, banana and almonds and its yummmmm..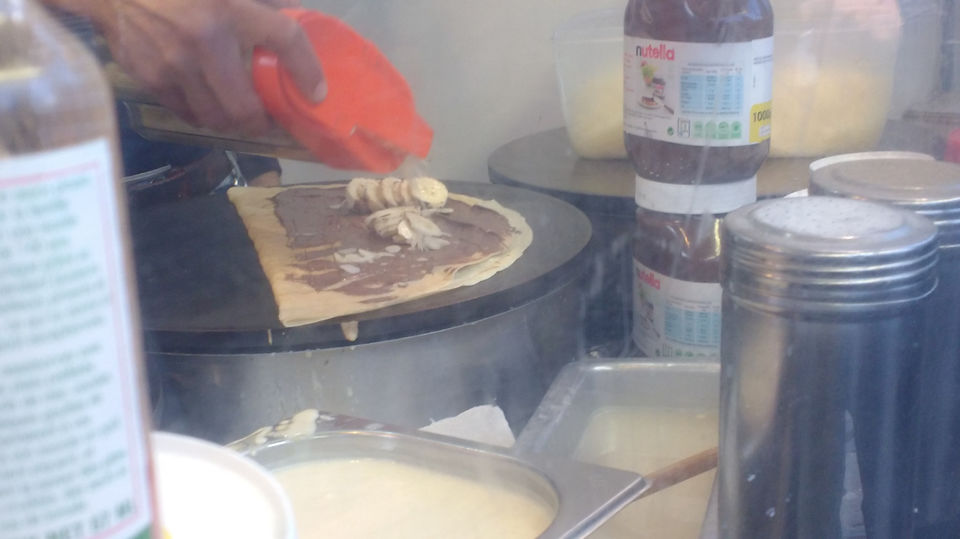 Safety :
Its Safe but you need to remain cautious and alert ! One of the dominant crime in Paris is Pick pocketing and snatching..and because of this all the time, my passport and one phone was inside the inner pocket of my jacket…You may please want to avoid the old town during late hours .
Apart from this, it rocks.
Currency : Euros
Best season to visit - Any time of the year is worth to see Paris ! its beautiful and romantic :)
Tip- you may want to learn basic french words , its always a good idea to know a bit about the culture where we are going.
Paris was my first international solo destination and it is very close to my heart. If you are travelling to paris or planning to travel, do drop a note if you feel like.
my email id is abhaisback@gmail.com.
#soloinparis #lovetotravel #livetotravel #aroundtheworldbyabha #paris #cityoflove #5daysinparis #paristravel #solotravellers #solotravel #travel #solodestinations