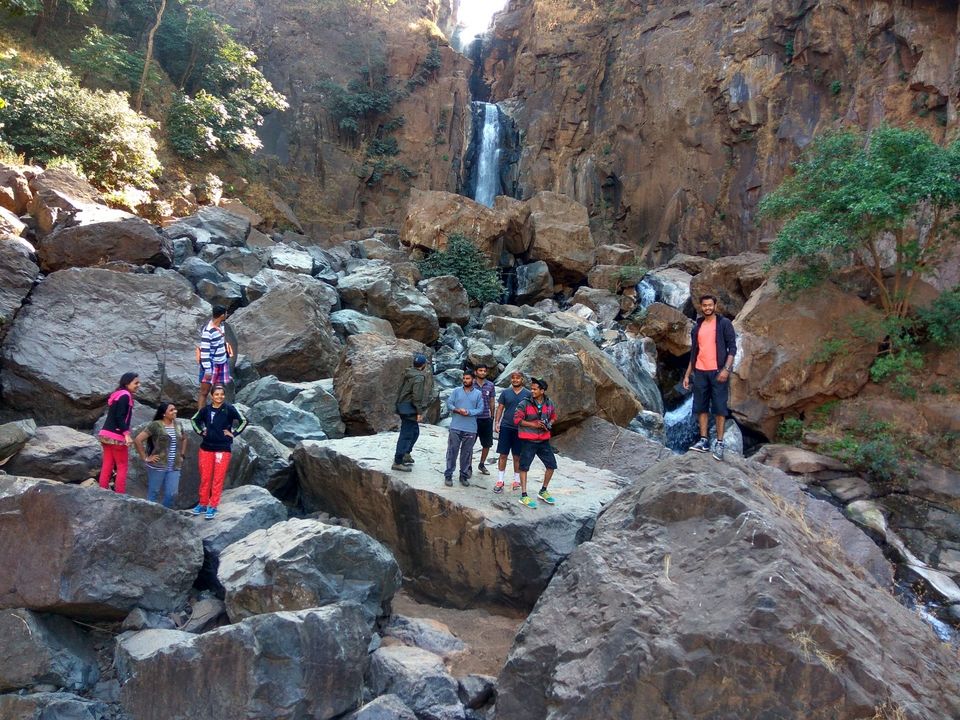 So, when i completed my college i wanted to make a trip which stay memorable for long last.
It was my first long bike ride of almost 1500 kilometres round trip. I've started from Bhuj and the place known as sahyadri waterfall which is the border of MP, Maharashtra and Gujarat and is situated around 740 kilometres from Bhuj.
I packed my rucksack as I'm not professional rider so I'm not having saddle bags and things like that.
And i kick start my bike around 6 in the morning. Decided to drive towards Ahmedabad, from there the other 3 friends were supposed to join me. So i reached there by afternoon i met them, and we plan the entire itinerary.
It was day 2
I was at Ahmedabad, had good sleep and we got ready around 5 because on that we had to cover more distance. We left from Ahmedabad around 5:30, and drive towards Vadodara in single stretch. We reached there by around 8 am. Met others group members and a host who organised the food and accommodation over villages of sahyadri. We greeted each other we done the introduction over roads, somewhere after Rajpipla we stopped for lunch. After luch we drove 120 kilometres more and the ghatts have been started. The curves of that place were so damn amazing that one won't stop himself to lean as low as possible. We reached our destination around 7 in the evening, it was already dark over there.
We got settled in tents. Had some power naps and woke for dinner.
When we stepped out from our tents our reaction was "Holly mother nature" it was hell of dark night that time and the stars felt closed to us like never before. (I've been at some places till now but those nights are still the best nights of my life).
We had our dinner, got to know about each other more. And we slept.
It was 3rd day in the wilderness away from human chaos away from all cellular networks just us the 11 of us.
We all woke up around 10, freshen up and had our Breakfast. After that it was time to have the experience for what we have gone there. The waterfall bath.
We packed our bag with thing will be required and off we walk. We walked around 6-7 kilometres in mountain up, down, straight trails.
And the view is what your seeing in the image of this story.
12 unknown far from society in to the wild and that waterfall. The memories are still alive and i still get shiver when i think about that time.
I still don't know how was it supposed to be cold water, like freak cold. It took almost around half an hour to got inside.
We stayed inside for more then 2-3 hours, afterwards we walked back to the camp site and took our lunch. You may know that if you do some hard work than no matter what the food is definitely going to taste the best food of world to you. Yeah, we felt the same and food was actually tasty tho.
Again we slept after our lunch. And woke up in the evening, done some outdoor activities like archery, bottle shooting and stuff like that. It was night already as the sunset happens early at there. We did campfire shared stories played games.
Life seemed so perfect in those moments, open sly and happy faces what else one could wish for more happiness?
As we slept in noon no-one was in the mood of sleep early that night. So we decided to hike up at near by mountains, it wasn't defining if you ask me. Some others were like "why are you guys going to climb mountain in the dark? What do you want to do there when you reach?"
We were running out of answers and then someone from us said that lets find out the answers over the up side of mountains. We hiked we had fun we had great night one could ever had, we came down and we slept.
4th and last day of our happy time.
We woke up early in the morning, had breakfast clicked as many pictures as we could. And we left.
More 300 kilometres to cover to reach Vadodara.
We kept driving and we reached Vadodara by 10 in the night as the roads weren't good, we faced a clutch wire breakdown issue. Which consumed half of our day. And we were amateurs you know, so we didn't planned for things like that.
It became scary, as the roads were empty we were running out of cellular networks and 4 of us were gone further in search of mechanic so there wasn't any option to get in touch with them rather than just sit and wait. So we did exactly the same we waited for them, and they arrived with a mechanic. The breakdown got repaired and off we go.
We reached Vadodara and it was time to say goodbye to new friends, and as on every trip we promise to each other that "Let's meet soon and explore other places together." So did we.
And as expected the promise of explore other places didn't happened till now, it's almost 3 yrs.
I reached my home on day 5th safe and sound with lot's of pictures, memories, experience and stories to share.
Until next time.✨