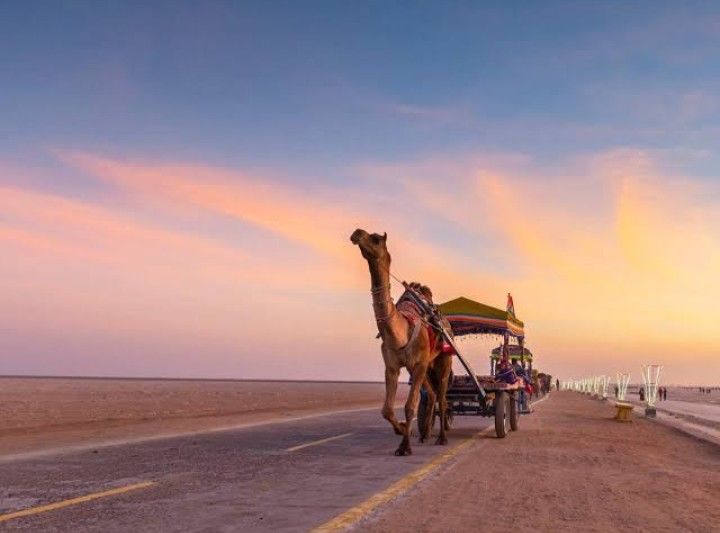 This famous tagline 'Kutch nahi dekha, toh kuch nahi dekha' is given by famous Amitabh bachchan which glorifies kutch. Kutch is a very famous place for hanging around and to see the culture of ancient times
If you haven't thought about visiting this beautiful destination in India yet, it is time that you should! Here is the list of things to do and see on a holiday in Kutch,which enhance your experience!
5 places to visit in kutch
1) Explore the beauty of rann of kutch
Rann of Kutch the largest desert of india ,is a huge region of salt marshes is famous all over the world.One of the best and most amazing things to do in Kutch is to roam around the white desert and feel peace and solitude . Also
Staying in the Tent City or White Rann Resort would be amazing experience as They offer numerous entertainment performances along with delicious meals and memorable souvenirs.
One of the most famous parts about visiting the Great Rann of Kutch is its festive Rann Utsav.
So rann of kutch will be the memorable place of your trip!
2) Highest point in kutch region - kala dunga
At a short distance from Great Rann White Desert is Kala Dungar. Also known as the Black Hill, it is the highest point of the Kutch region and it offers a panoramic view of the desert. Atop the hill is a Hindu temple known as Dattatreya that dates back to 400 years old has a great religious belief . The top of the hill makes wonderful vantage point to get the picture of the Great white desert, which by the way looks like an ocean from this point.
3) Real beauty of kutch culture : handicraft village tour
Handicraft is an important part of Kutch life. And while you are in this region, you can take advantage of time and enhance the charm of holidaying in Kutch. There are two villages near the Great Rann White Desert that have recently been in enough limelight. Known as Dhordo and Hodka, these villages are the face of Kutch handicraft
The famous handicraft you
witness are Mutua embroidery, which includes chain stitches inset with small mirrors, leather embroidery and silver jewellery. So , you must visit this place to experinced this awesome crafts !
4) Gujarat seashore wonder - mandvi beach
Mandvi is a small town visited by tourists from all over the world for the exquisite Mandvi beach – the town's prime recreational and relaxation spot . At the Mandvi beach, there are plenty of opportunities for several thrilling activities like water and beach sports , camping , exploring the ship building yard , and many more.so for the relaxing day you should definitely visit mandvi beach !
5) Jaisalmer of gujarat - bhuj
Bhuj is a famous destination within India for observing the historic craftsmanship, embroidery , beadwork and also the famous places like kutch museum , the famous swaminarayn temple , bhujia fort , the bhuj house , hamisar lake and many more. According to indian sources Bhuj, the westernmost city of India, is a treasure trove of heritage and culture. So ome should must visit the pride of India !
Kutch is wonderful place you can visit on your next holiday !
Feel free to ask any question
If you like this blog please like share and comment !