Trip to Valley of shadows (Sandhan valley in Bhandaradara) was a first of its kind for all of us. We were a group of around 11 friends, we started from Pune by our tour bus, took lunch stop where we relished local cuisine provided by the villagers and reached Bhandaradara dam in 4-5 hours.
Water was very refreshing in the hot weather, the force of the water here was tremendous!!
Then we headed to our location where we set up our tents for night stay near the Sandhan valley. It was pitch dark by the time we reached there and we had no clue what was near our camp. It was very windy and we slightly struggled to put up our tents.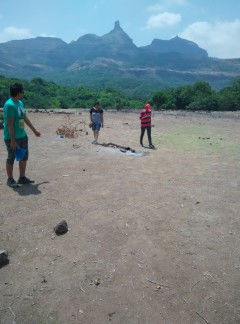 Well guess what, we didn't sleep in the night,we ventured into the wild forest instead.Spotted a lot of lightning bugs on our way.We then found a safe spot,sat down and shared some ghost stories in the middle of the night ! Our camp leader was our only hope for finding the way back as all our hunches turned out to be incorrect as to where our campsite was!!!
Early morning we got to see the captivating view of the Sahyadri range covered in fog on one side and forest on the other.
We left for our Sandhan valley trek which was very near to the campsite.
Just as we reached to the start of the valley we realized why it is called Valley of Shadows! Huge rocks on both sides and narrow path to the valley was all you could see.
It seemed to be a never ending valley but the shadows surely kept our energy levels high.The valley was very ghostly but the view in the end of it was worth the trek! We thank Rivers and Ridges for this experience.
Impressive blog . Keep writing . Eagerly waiting for our next travels.

Trip first published on Bitten by travel bug