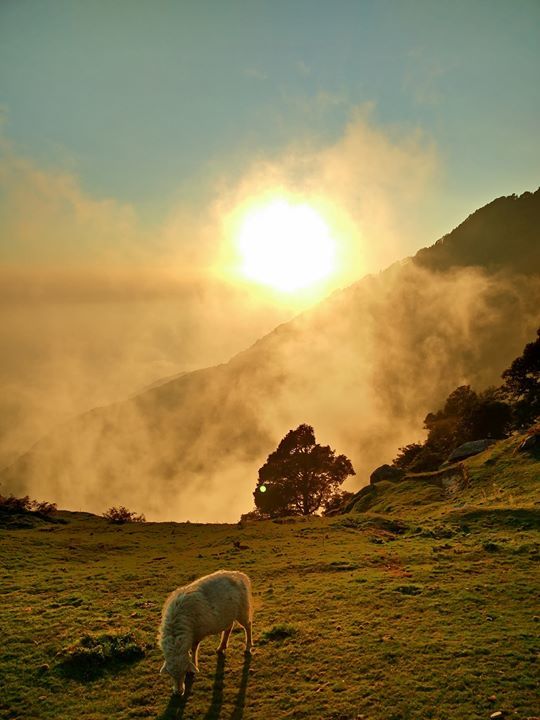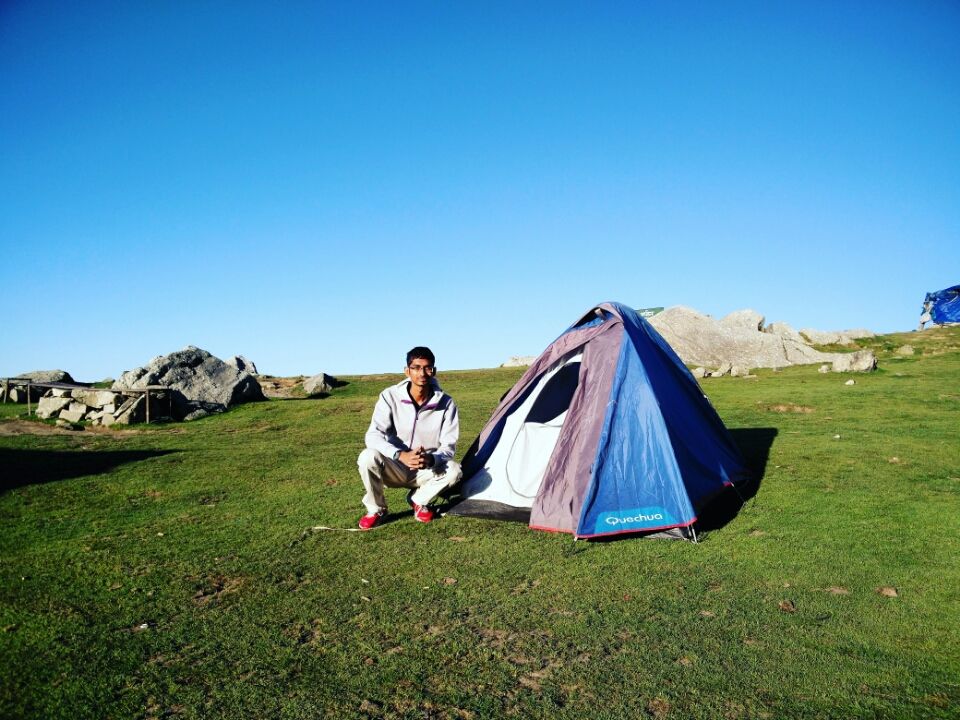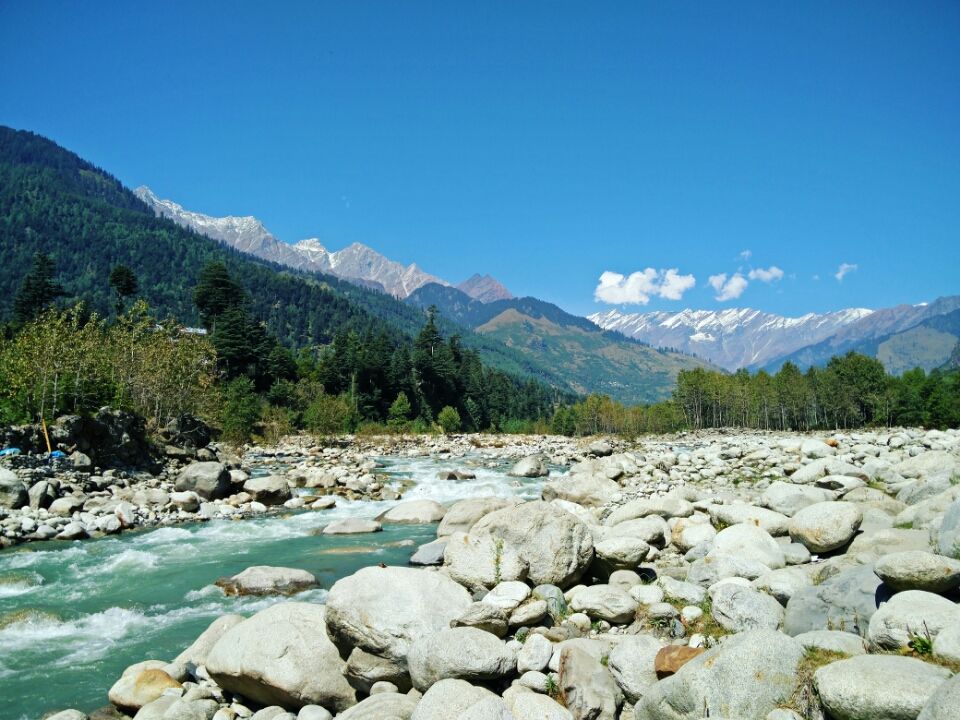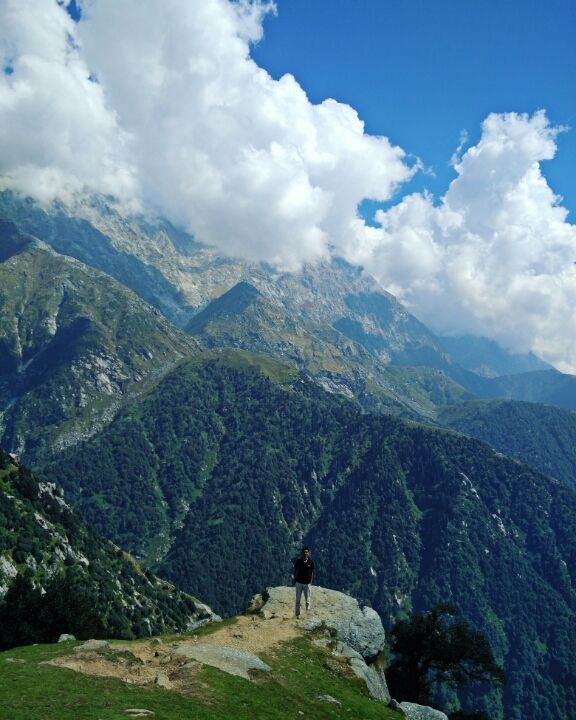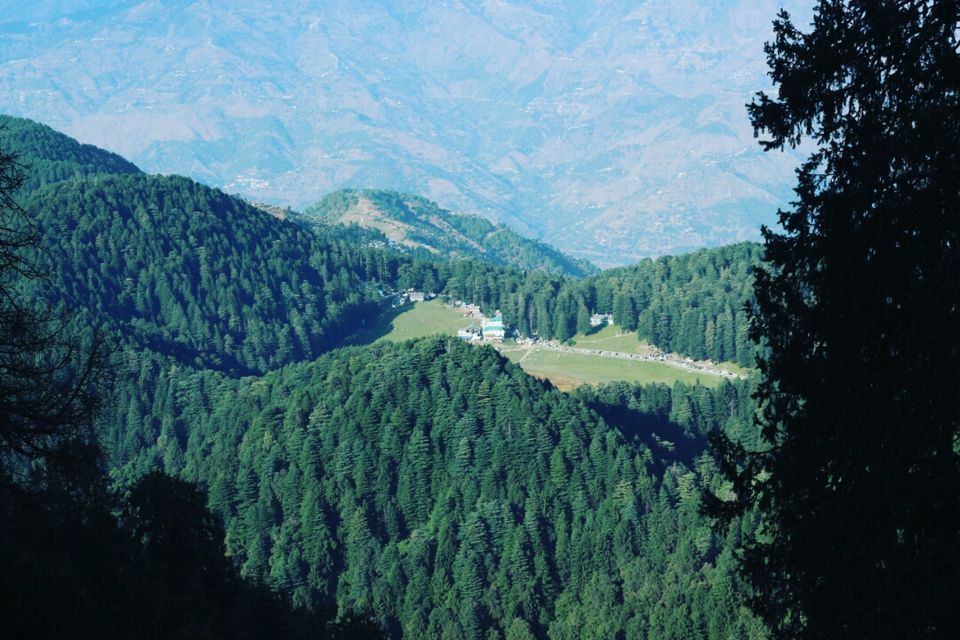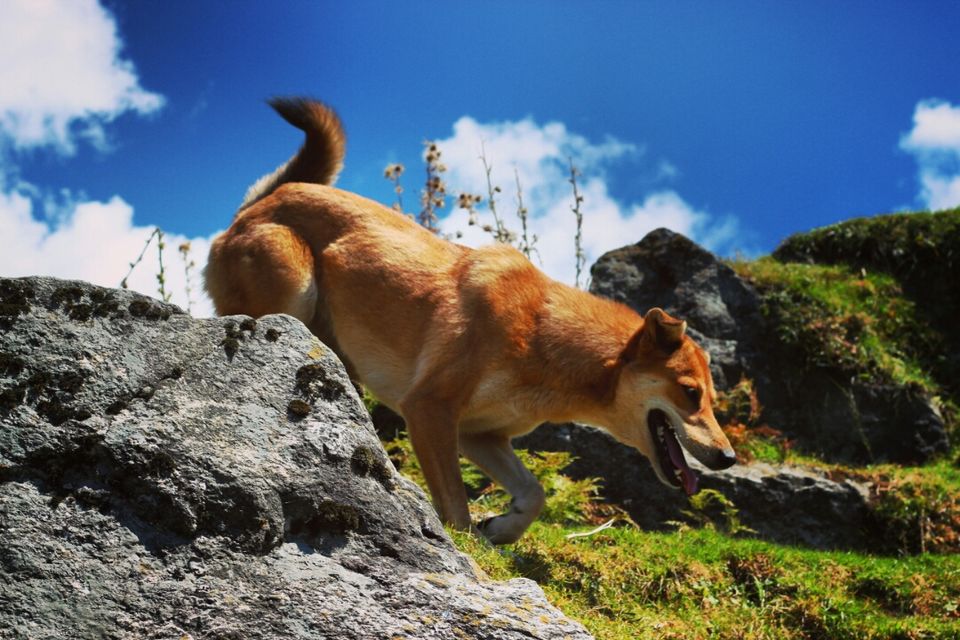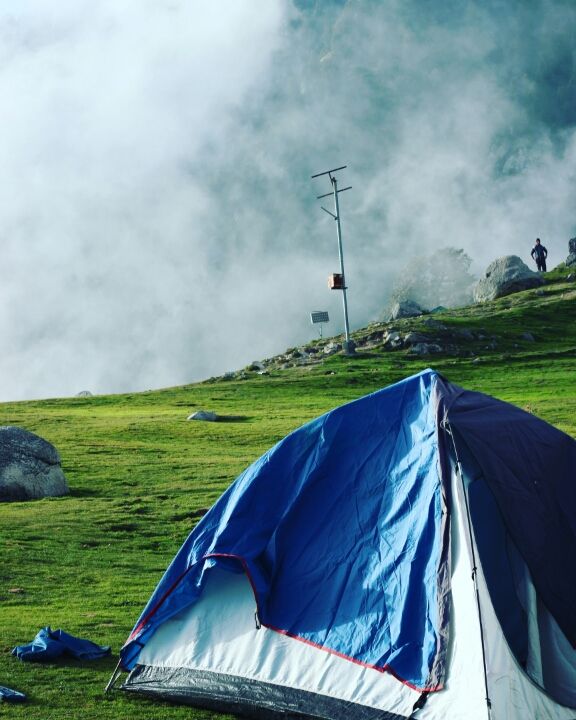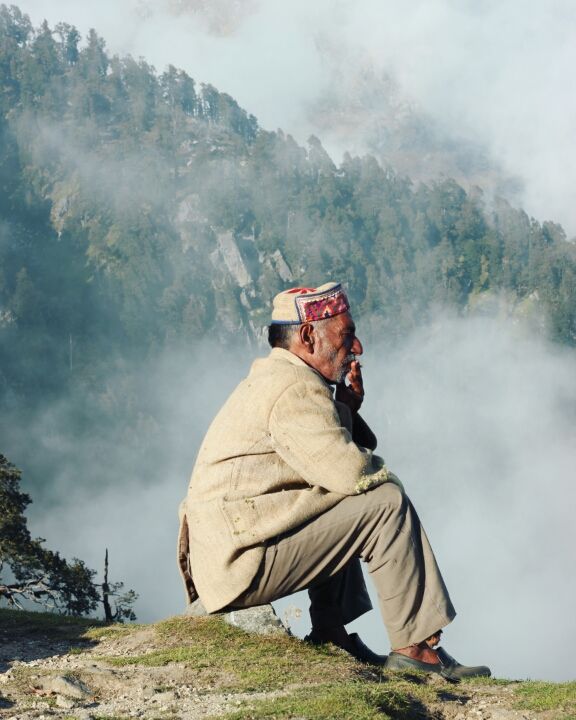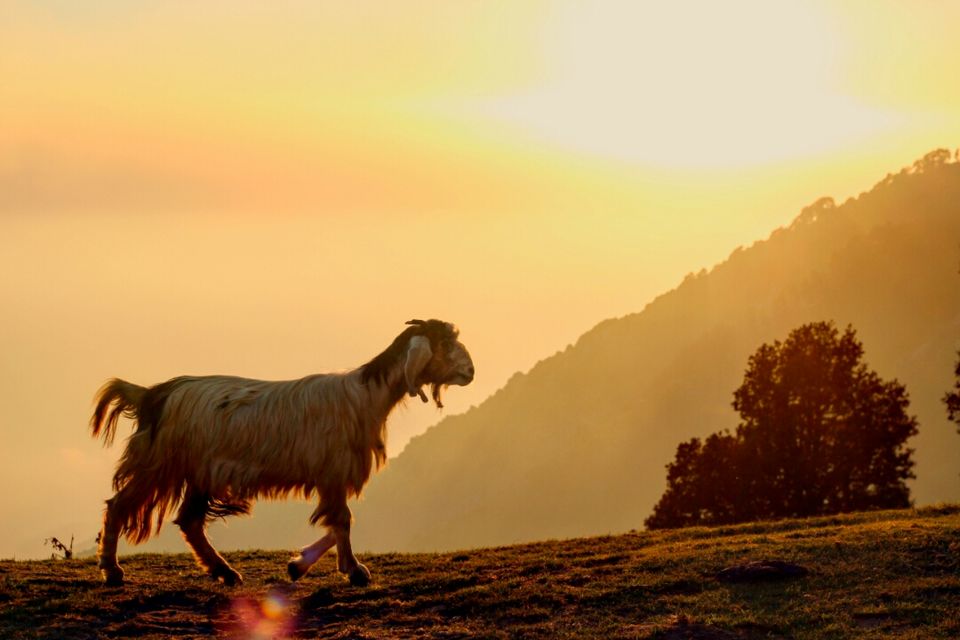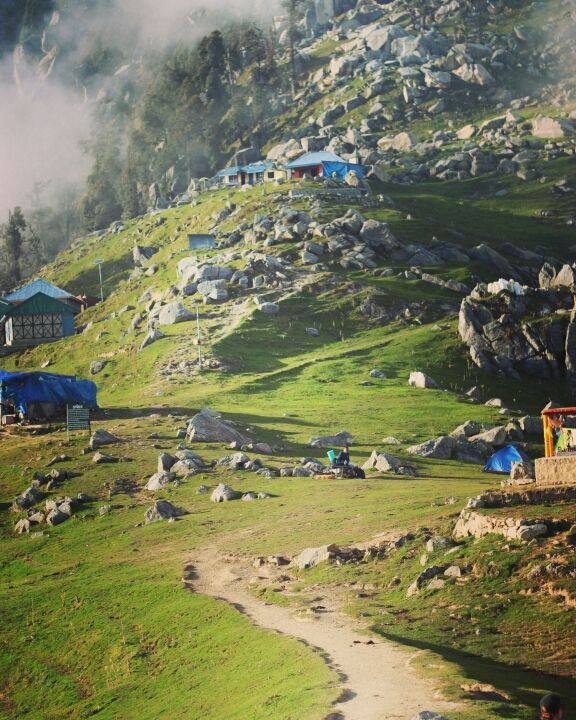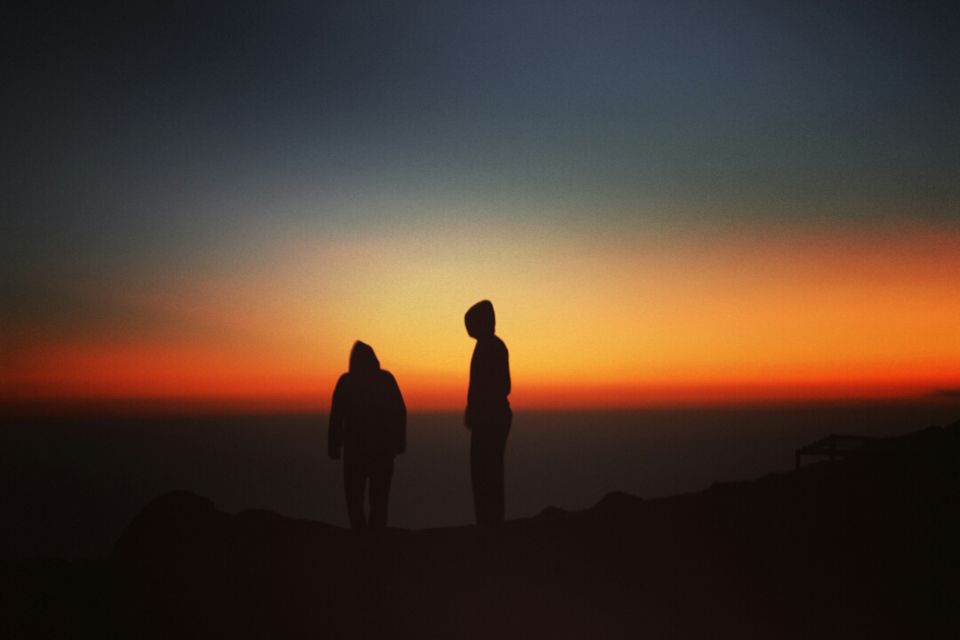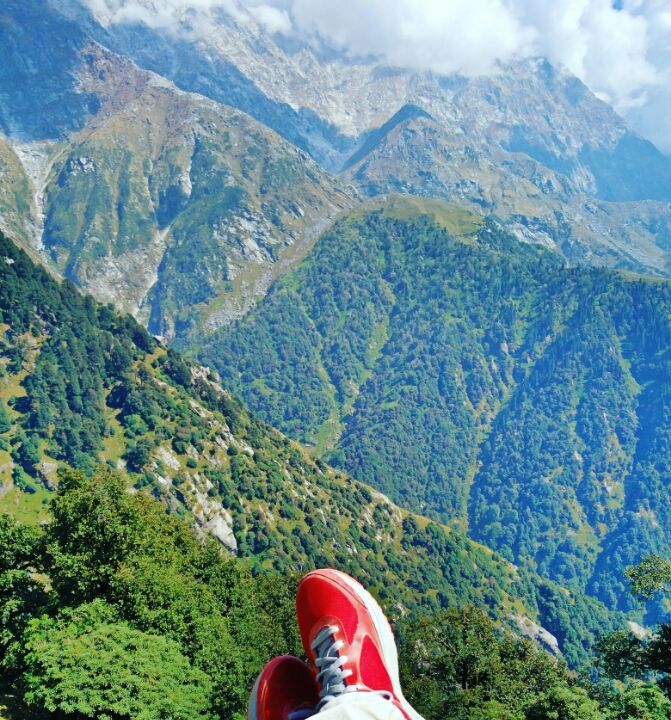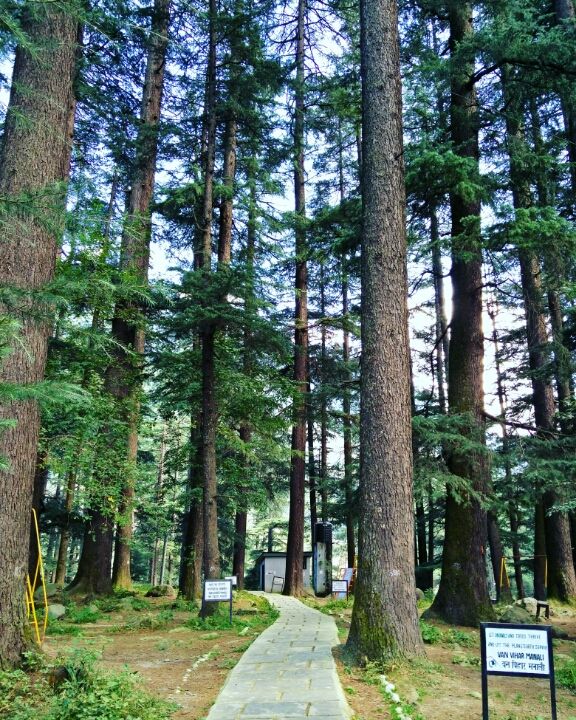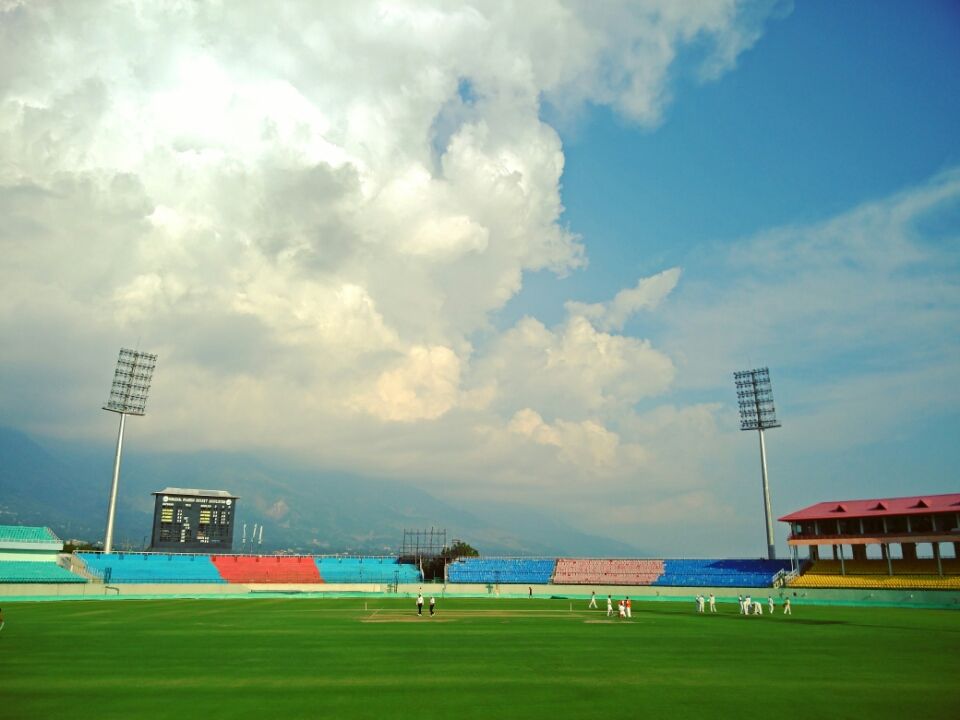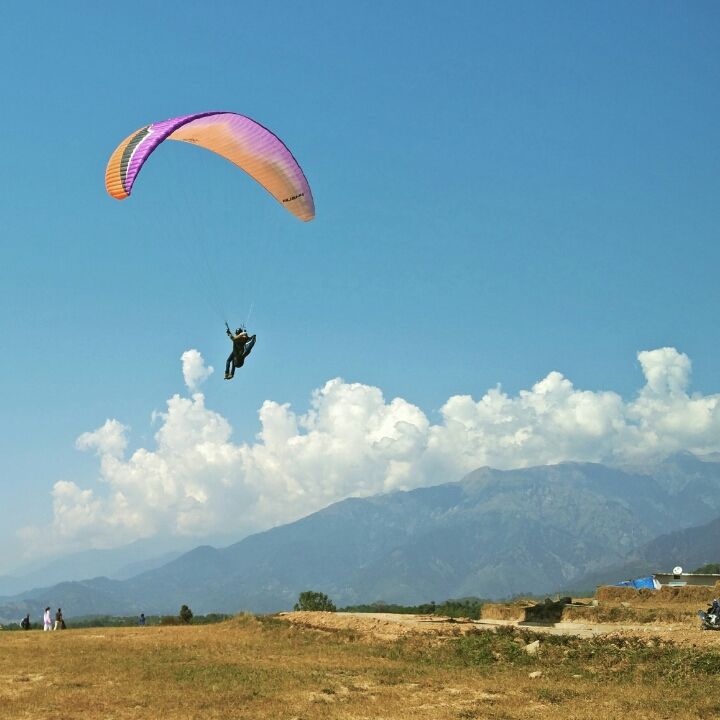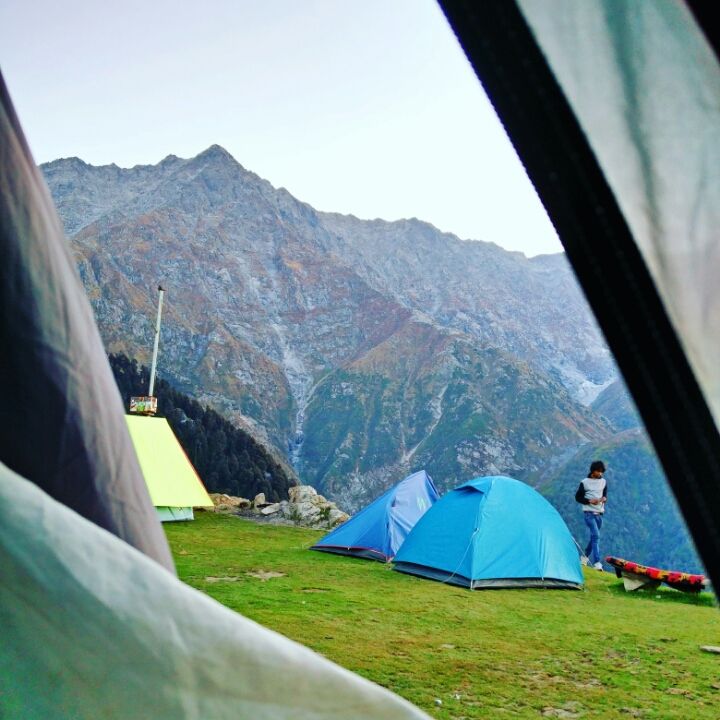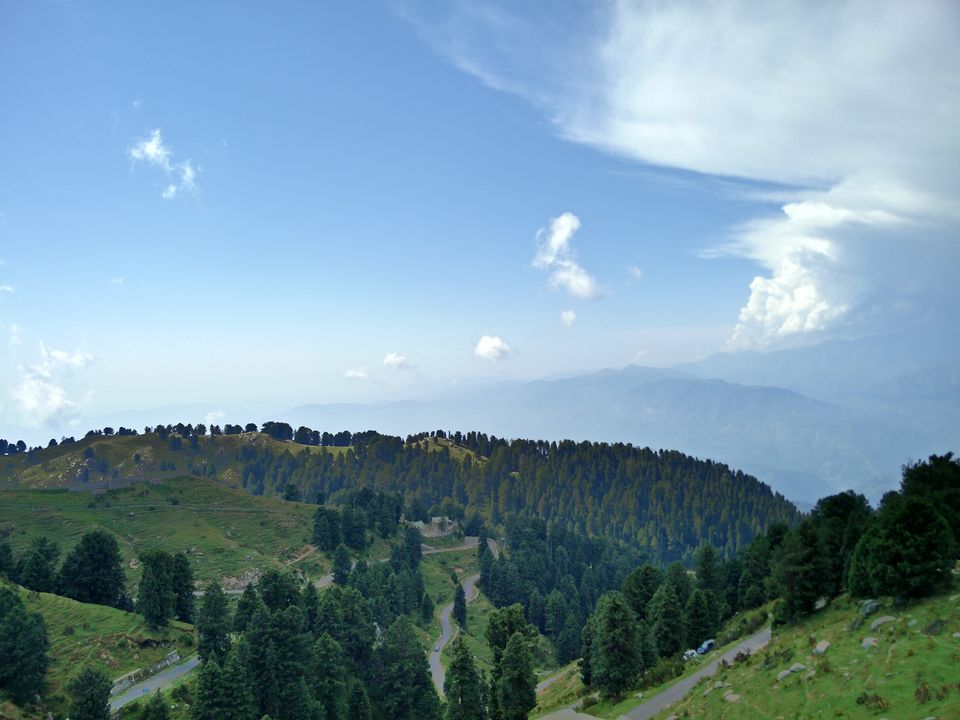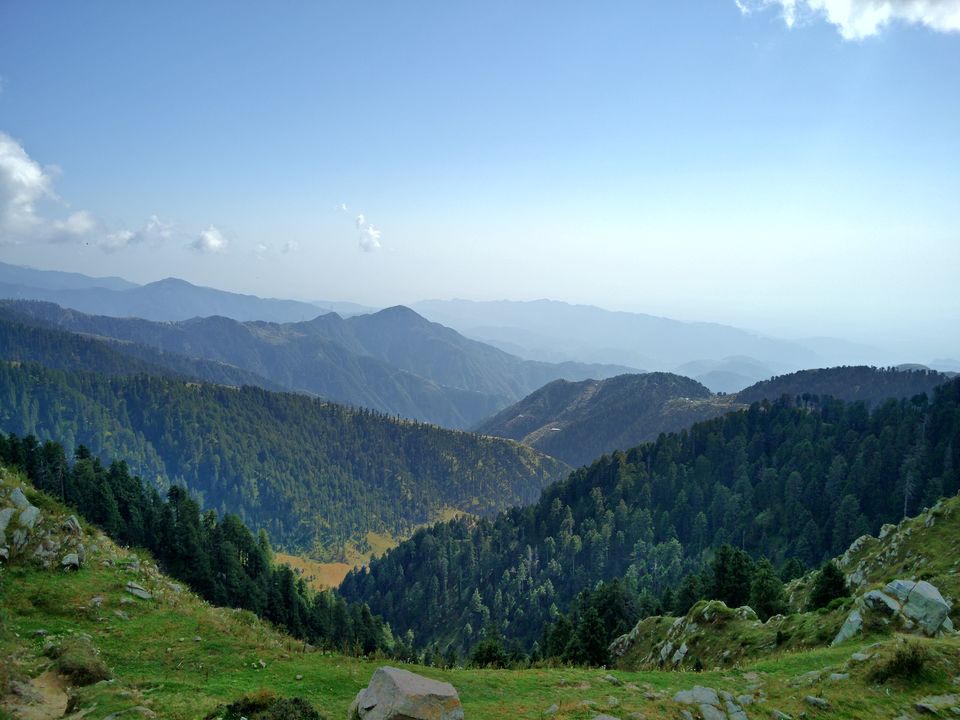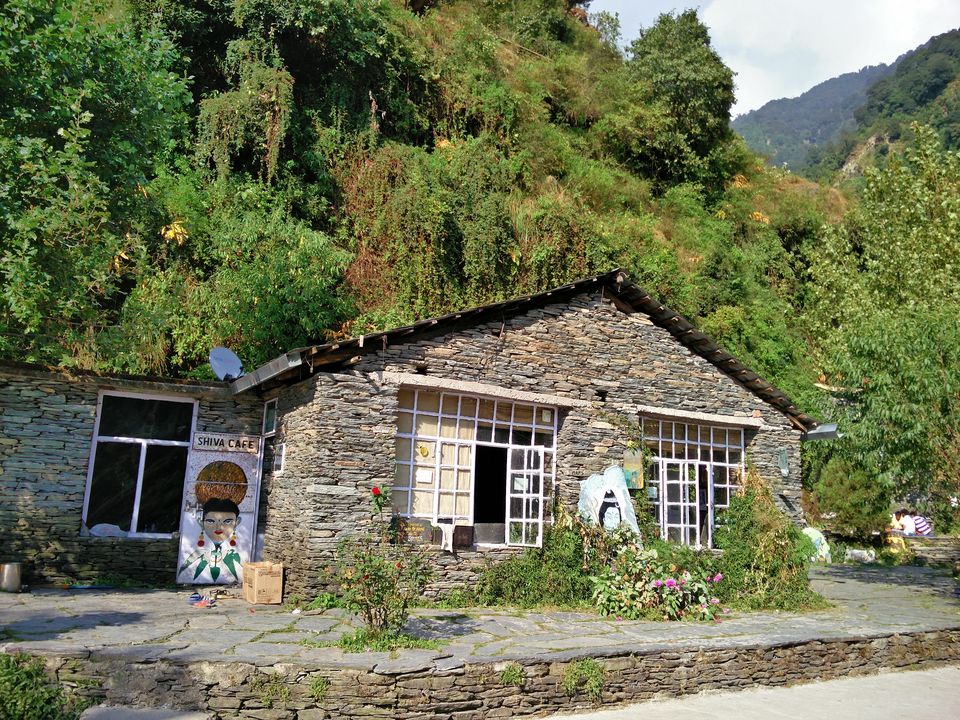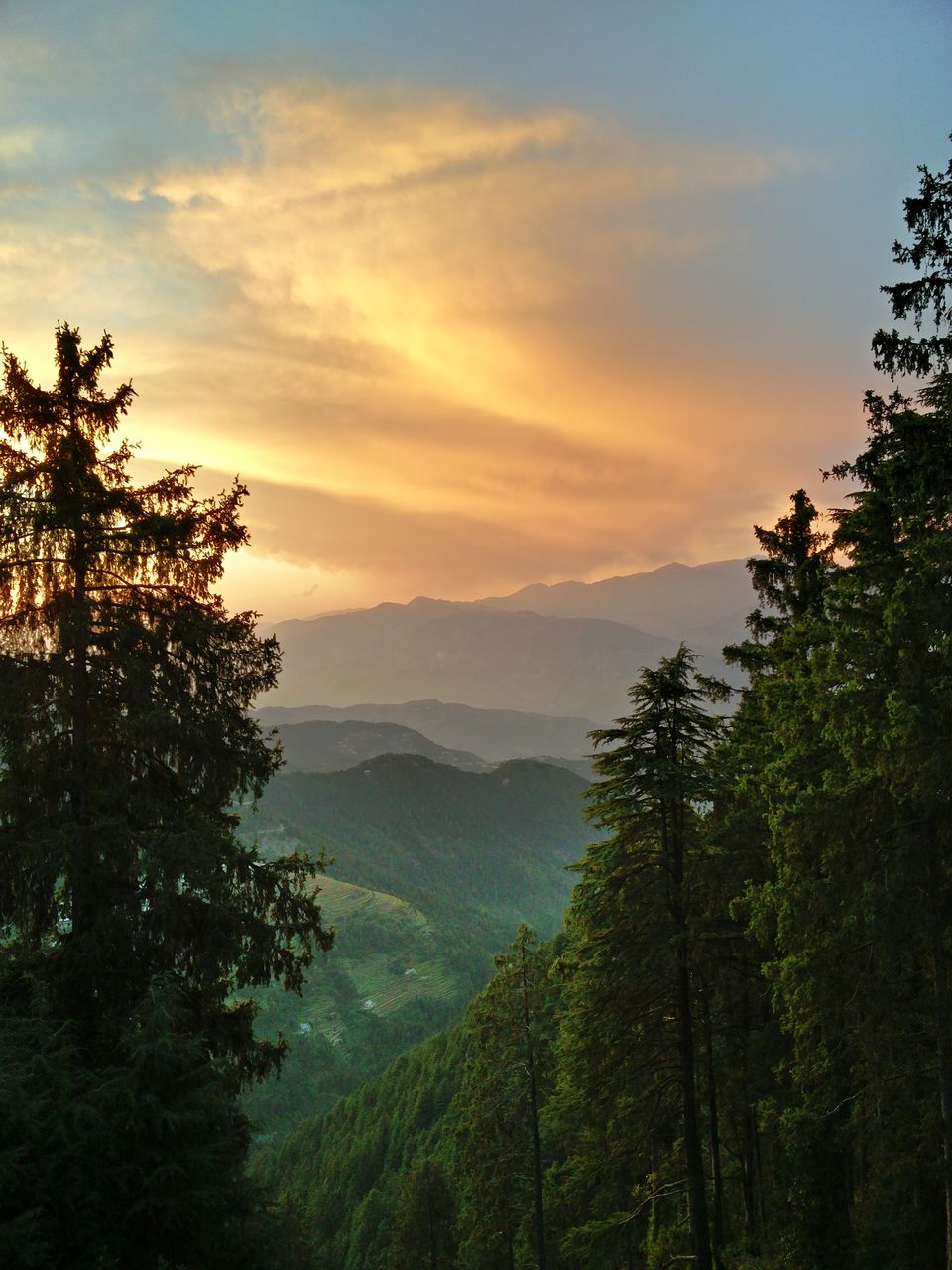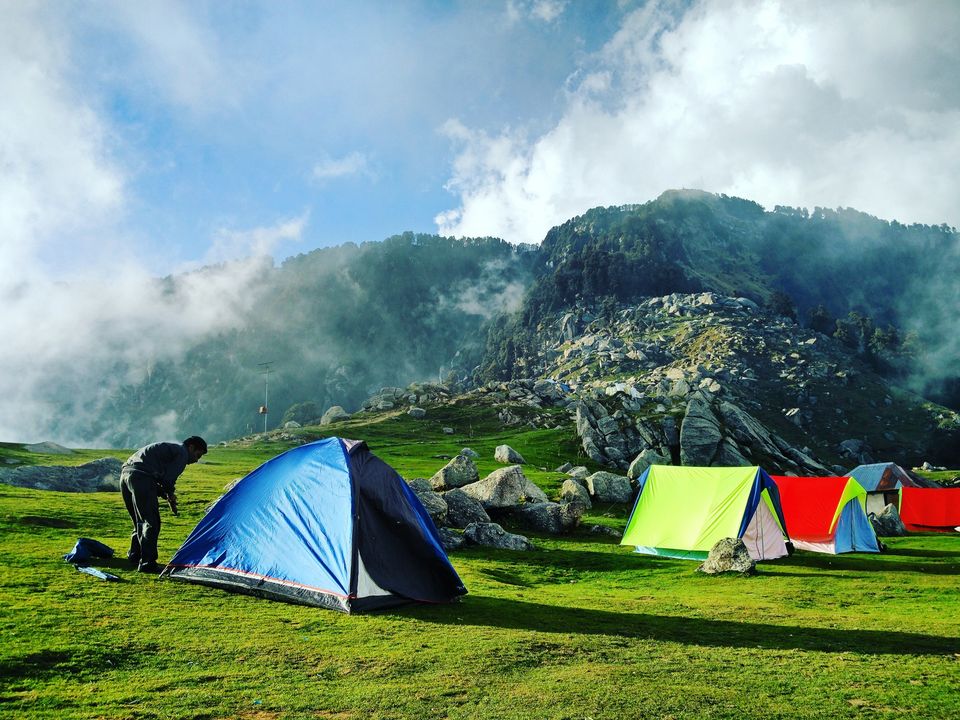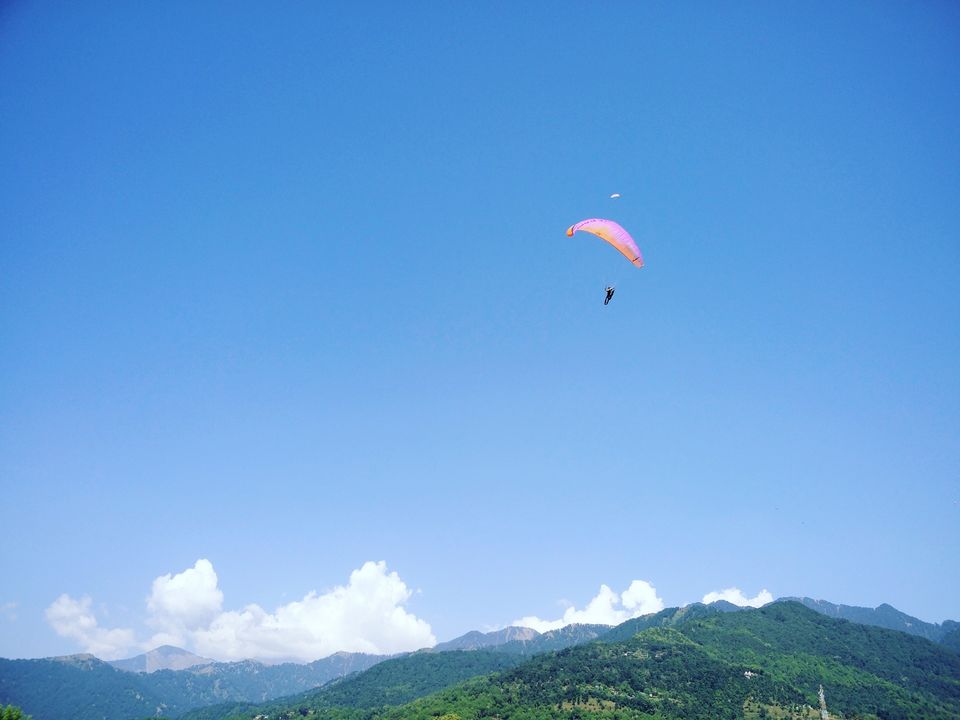 "When was the last time you did something for the first time?"
This line always intrigued me. To this date, I could never fully comprehend its meaning until the completion of this trip.
I had been planning to travel since the past 6 months. That's all I always do. Plan.
Should I travel alone? Would it burn a major hole in my pocket?What would be it like? Don't people get bored?
Battling with hundred such questions in my mind, I decided I'll make it happen. I mean, I always wanted to but couldn't gather the courage. We all love our comfort zones but as Bear Grylls puts it,''Life begins at the end of your comfort zone.''
So I grabbed my copy of Inferno which I got on my birthday, revamped my Playlist, blew the dust off my camera, stuffed my rucksack and took off.
I never got past 50 pages.
I got off my night shift and caught an early morning flight to Delhi, I spent the entire day with an old friend catching up on lost times over a couple beers. I caught a train to Pathankot which took about 8 hours. I couldn't sleep afraid I might miss my station.
2/2 nights - no sleep. But the excitement made it up for the fatigue.
Pathankot to Dalhousie is a mere 100 kilometers but as with most of Hill stations, the roads are mountainous and tricky. I've had a fair amount of experience of travelling in buses, sometimes sitting besides the driver and couldn't stop gaping at his extraordinary skills. This time was no different, our Himachal Roadways drivers make Jason Statham and Vin diesel look like an eleven year old in a walker.
TIP - Always thank them when you get off the bus. It would mean a lot to them.
The road to Dalhousie isn't particularly scenic like Haldwani to Nainital, Mussorie to Dhanaulti or even Chandigarh to Kasauli/Shimla but you'll enjoy it. Keep your cameras and phones in your pocket and just look out of the window.
Live in the moment. Live through your own eyes, not your screen.
There are a couple small villages en route and monkeys jumping around expecting someone to get off their vehicles and feed them.
Jai Shri Ram
The bus stopped on the way for 15 minutes for the passengers to have tea and breakfast. After a couple of chais, which were okay given I hadn't slept properly for two nights.
TIP - Always make it a habit to not stuff yourself with whatever you find at the start of your trip. Save it for the remnant moments so that even if you get sick, you wouldn't miss anything.
As I entered Chamba, a quote on a road sign cracked me up. ''Safety is a cheap and effective insurance policy.''
The roads are tricky to maneuver, so if you're driving they will give you a hard time so don't stop at any Himachal Ka Theka(yes they have signs reading this!) and grab something.
It took the bus 3 and a half hours to reach Dalhousie, but I wasn't bored for even a single moment. If you have company, that would be an added bonus.
I reached Dalhousie and after a chai, checked in at Modi's Inn
This guy has his hands in everything!
After freshening up, I strolled around the market and the sunny day was blissful. I walked for around 2 km when I finally gave up and booked a taxi to check the place out.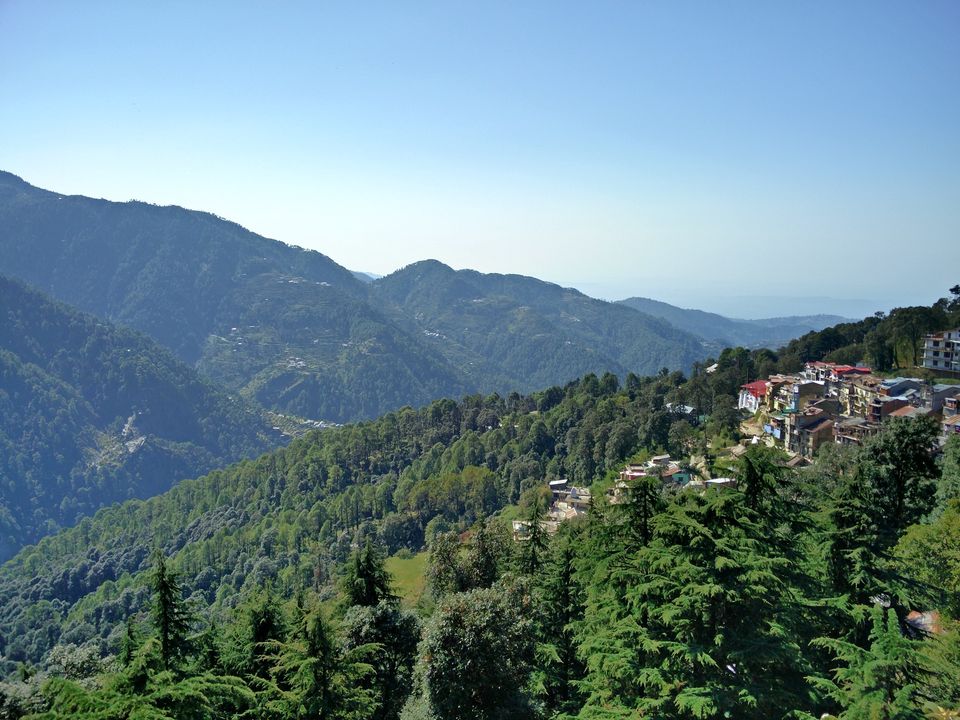 This place is best suited for all the couples(every couple is beautiful, alright?) who want to escape the busy city-life. Stay for a couple days as this place deserves your love. Do absolutely nothing but take morning walks, chill in the hotel's balcony in the evening, go for a quick ice-cream in the spine-chilling cold.
Most of the buildings you can see here are hotels and they give out an exhilarating view.
TIP: Take a heavy breakfast. I didn't hence, had to resort to Red Bull and there was no looking back afterwards!
As a lone traveler, the place didn't pack much to grab my attention. My chauffeur started the journey from Subhash Chowk towards Lakkad Mandi. I stopped at several places to get out and breath-in the landscape.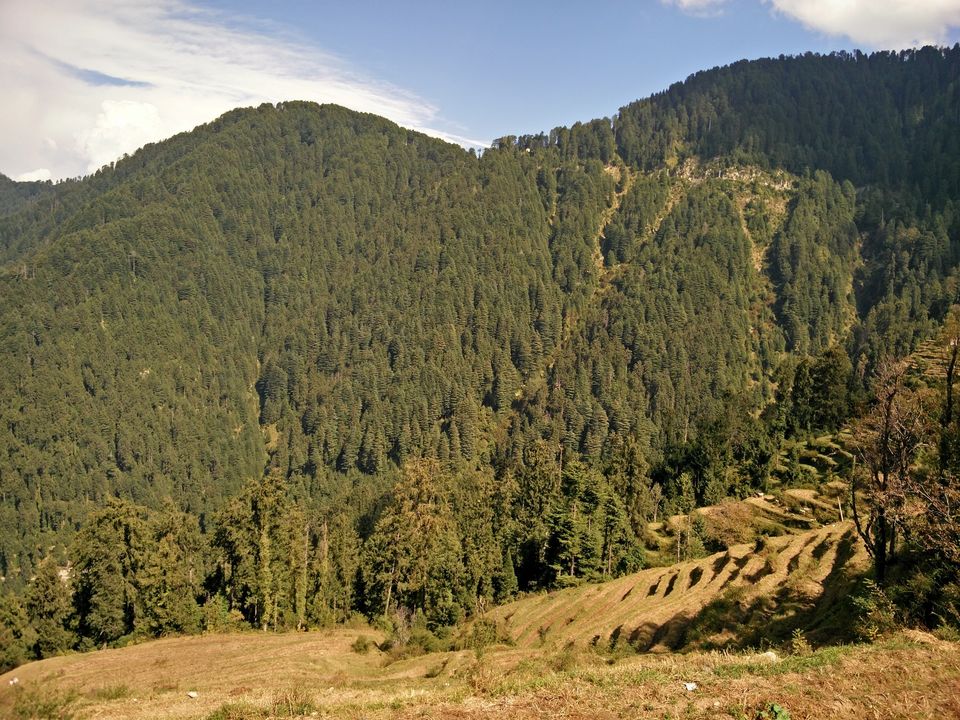 See those steps? They grow potatoes in them.
From there, roads diverge towards Kala Top Wildlife Park, Khajjiar and Dainkund Peak.
First we went to Dainkund where my driver dropped me at a point from where it was a 2 km uphill trek.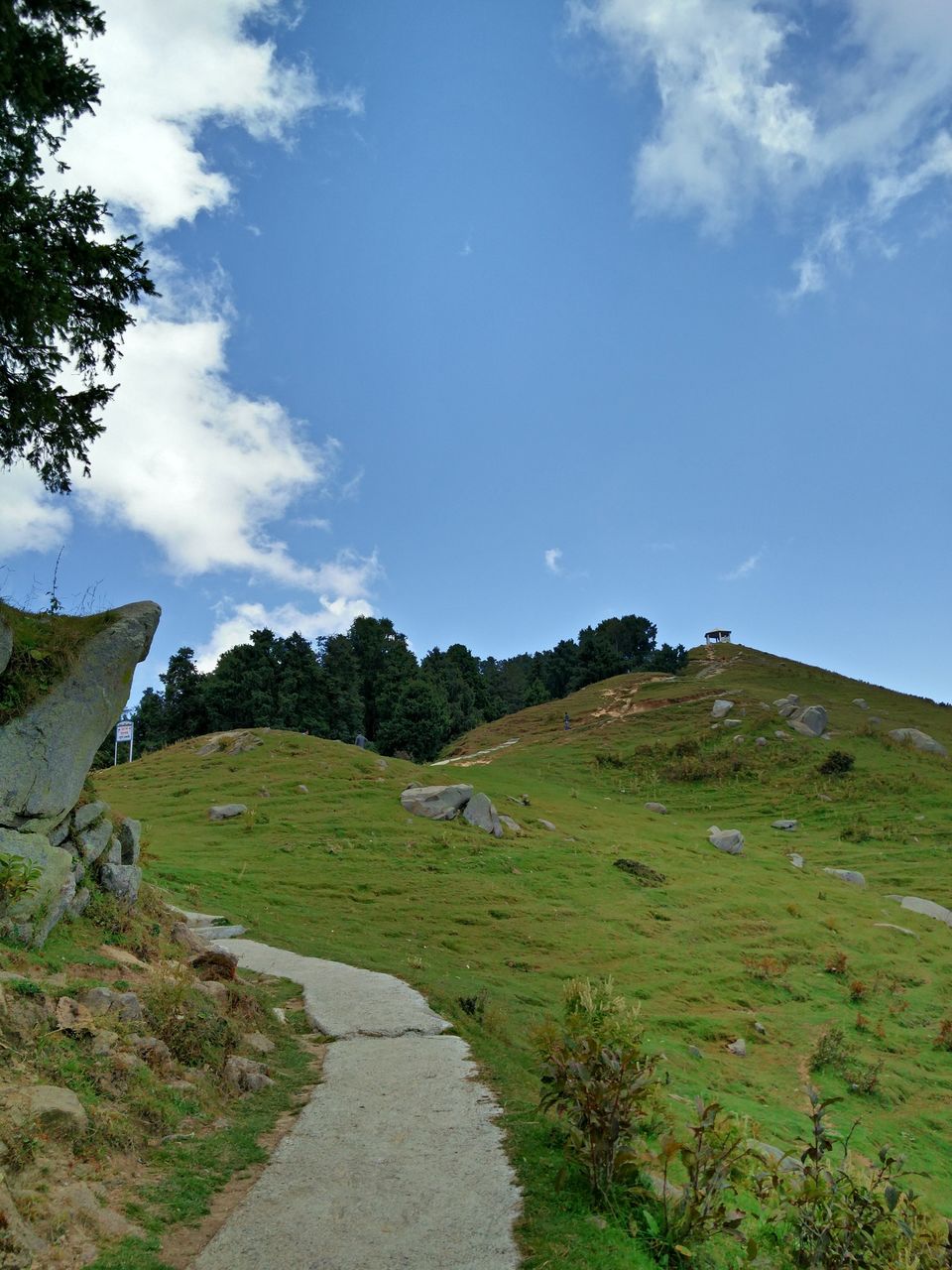 The place is situated at 12000 ft above sea level. I reached Mata's Temple and strolled around. The place is filled with families and it's quite easy to hike there even if you are with kids.
It was the first time ever I was actually standing on the peak of a mountain. The view was exhilarating to say the least. You can see the snow-capped Himalayan Ranges which you can't help but dream to conquer.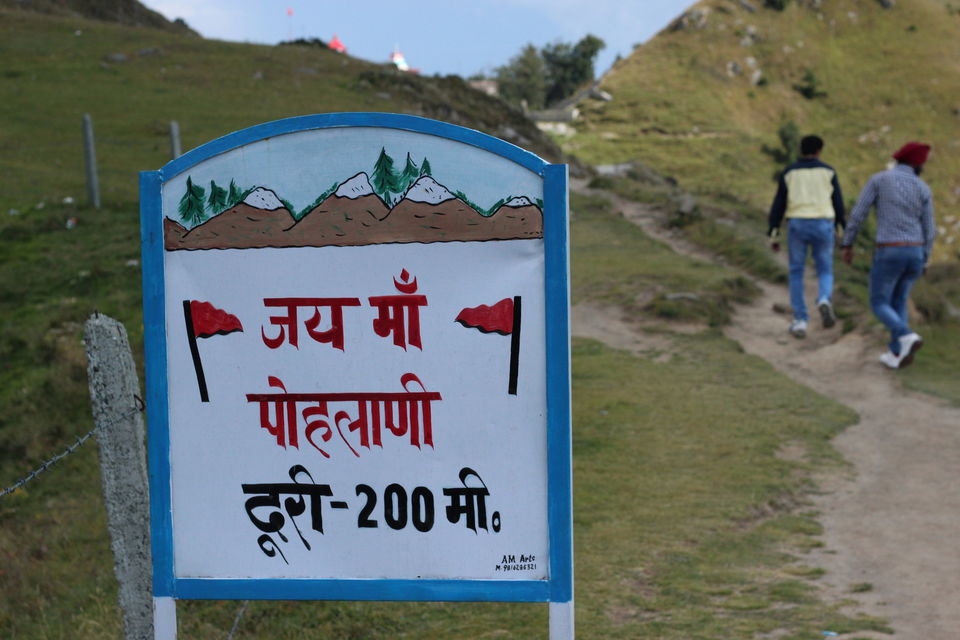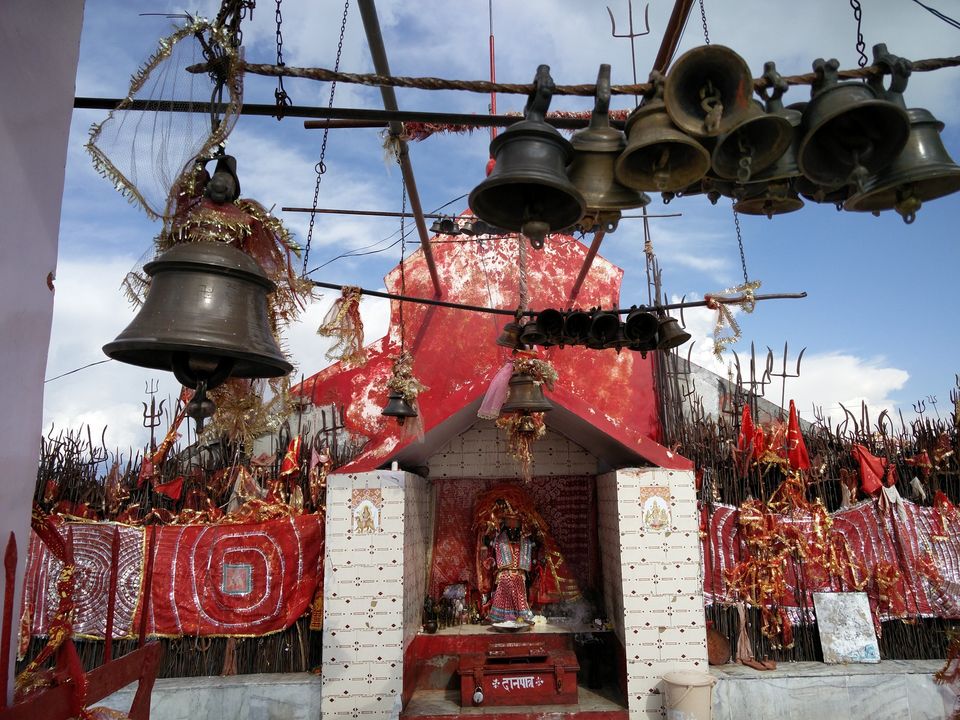 It is believed that Dainkund (Dain = witch, kund = lake) was an abode for a powerful witch. She was slayed by an incarnation of Kali Mata that arose at the site from a stone. The locals worship this incarnation as Pholani Mata.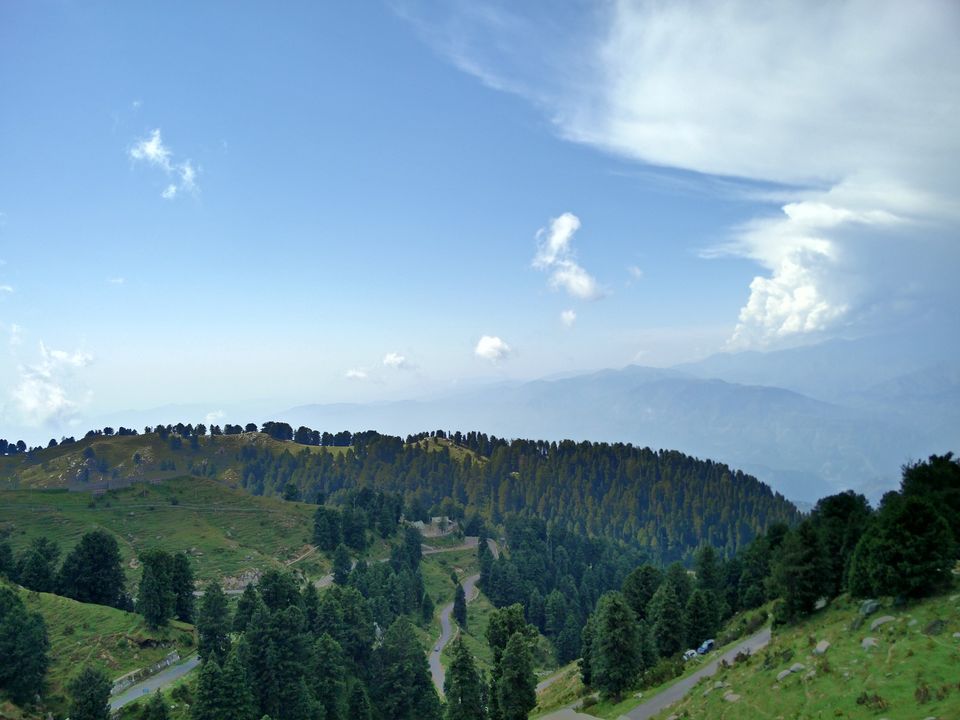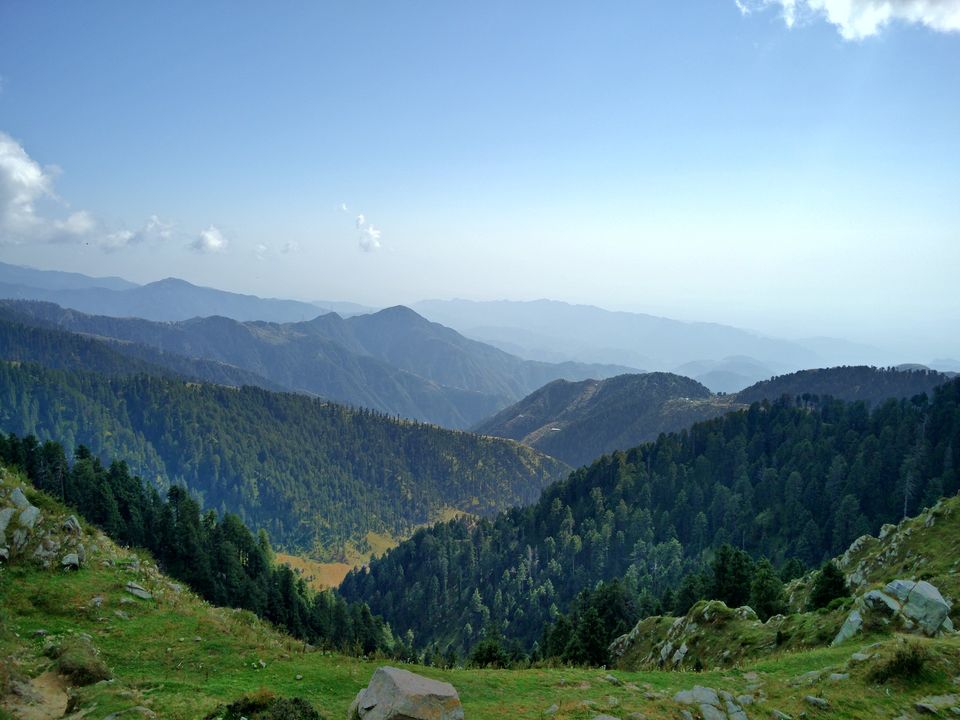 While I was going uphill, I met three very interesting guys. One of them was an English teacher from Gurdaspur who was in Dalhousie for a day to give a lecture at Dalhousie Public School.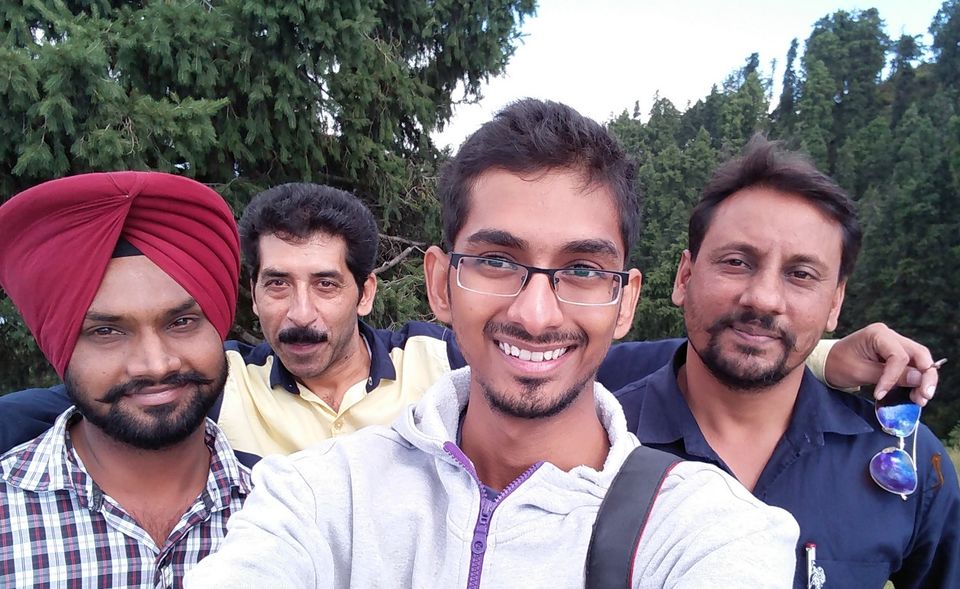 A shout-out to all my Punjabi friends!
Do you remember the final scene of Taare Zameen Par, the auditorium?
It was off limits for outsiders but he showed me around! I couldn't take pictures inside the school for obvious reasons but I was amazed.
We made our way back towards Lakkad Mandi and the driver dropped me off so that I could trek 3 km towards Kala Top.
Me: "So does it snow much in Dalhousie? "Driver:"Yes, in fact December to Mid February it snows heavily. All the roads to and from Dalhousie are closed. Tourism comes to a halt.
Me: "So what do you or other people do during that time? "Driver: "We don't even get out of the house for that period."
The journey was jungli and I could see roadside posters suggesting I could run into a deer, bear or even a leopard!
But as luck would have it, the only wild animal I encountered was a merry cow and her family. I could feel her saying, "You walked all the way here to see me?"
The entire trail, in-fact all of Dalhousie and adjacent places are covered with beautiful Deodar trees. It's illegal to cut them down and even if a tree falls down naturally, it will be just put aside safely.
The illegal cutting of these precious trees has become a concern as I saw posters to unite against it in Dharamshala as well.
Anyway, when I reached the end, there was a sprawling green lawn and a Forest Rest House with a canteen.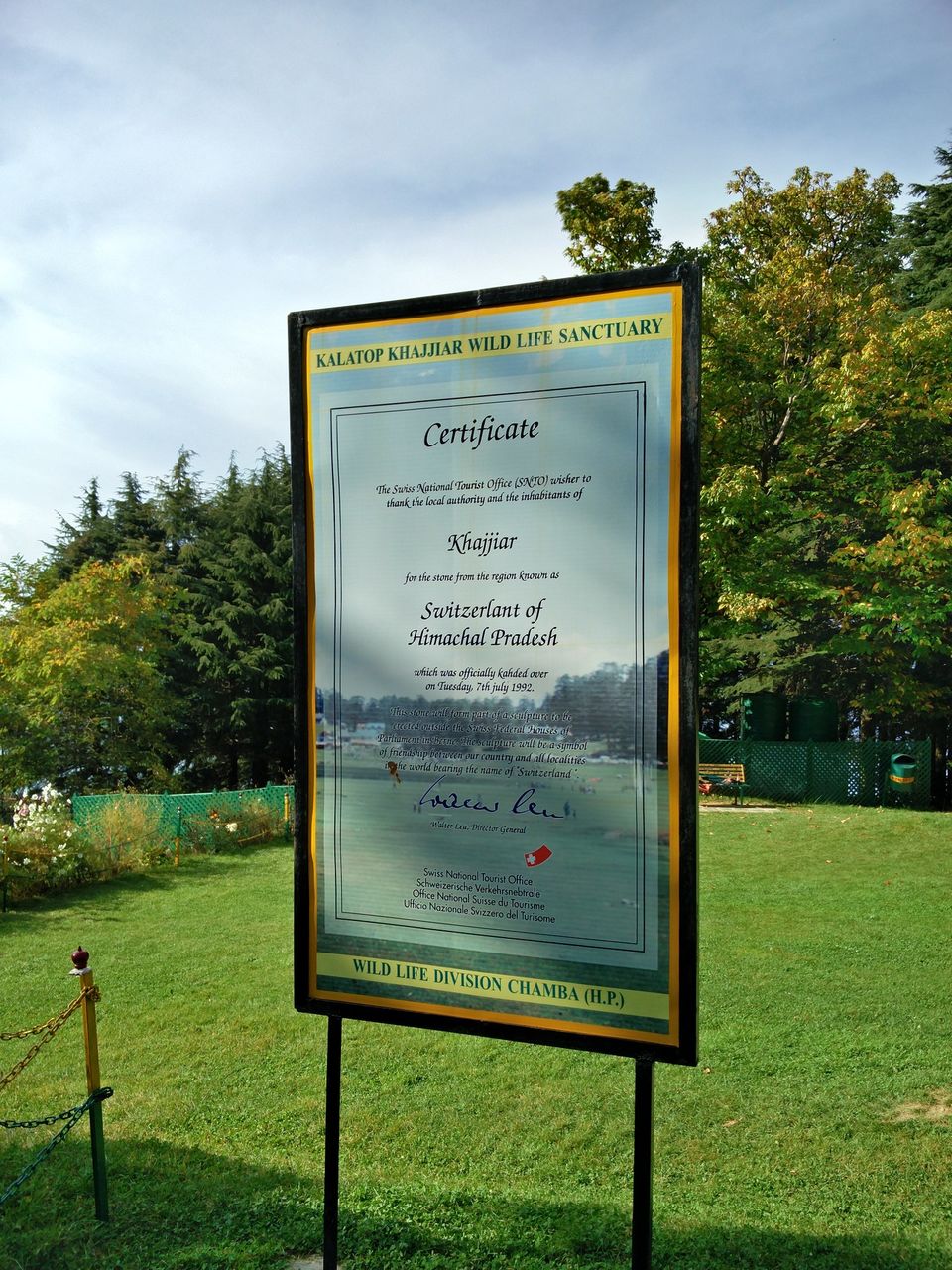 Khajjiar - seriously? I was yet to witness and see to this fact myself.
We drove towards Khajjiar, the only reason I entered Dalhousie. I was not disappointed. I made him stop the car from a distance for this exquisite picture.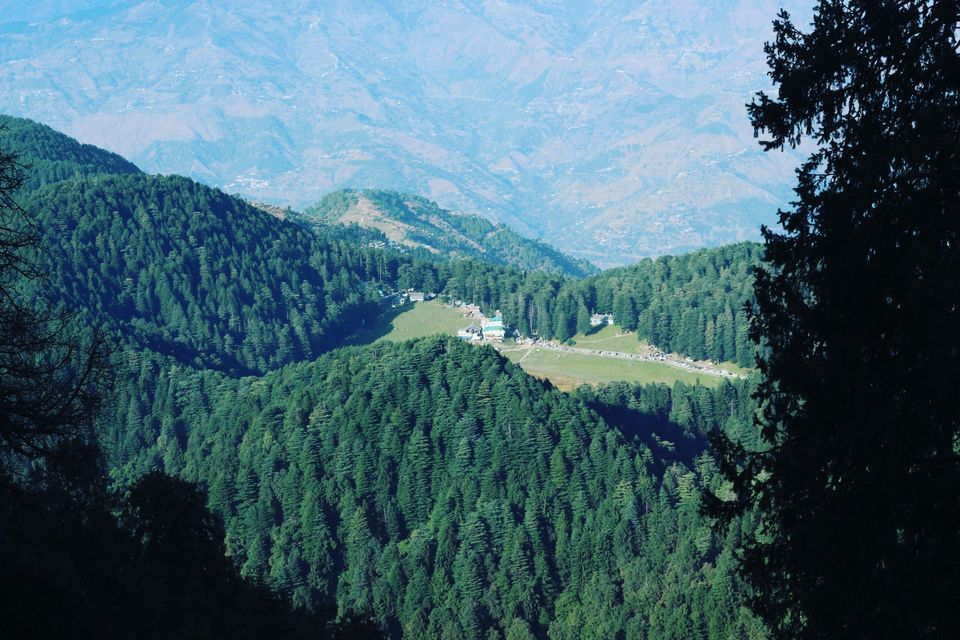 One more,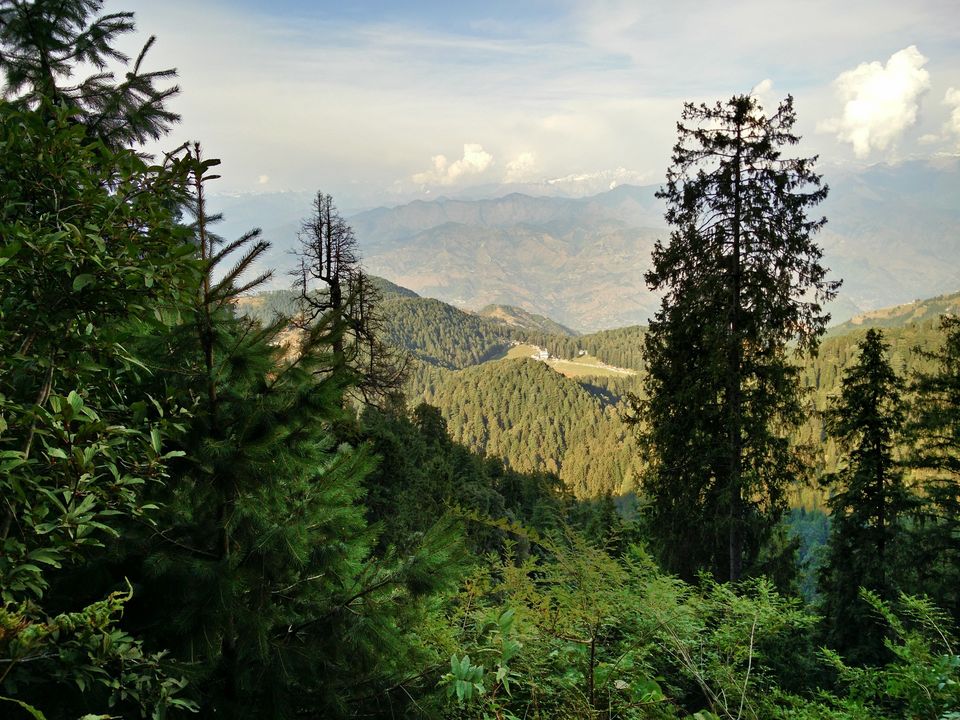 As soon as I approached Khajjiar, it was nothing like any of the pictures I saw on the Internet. It was a million times better!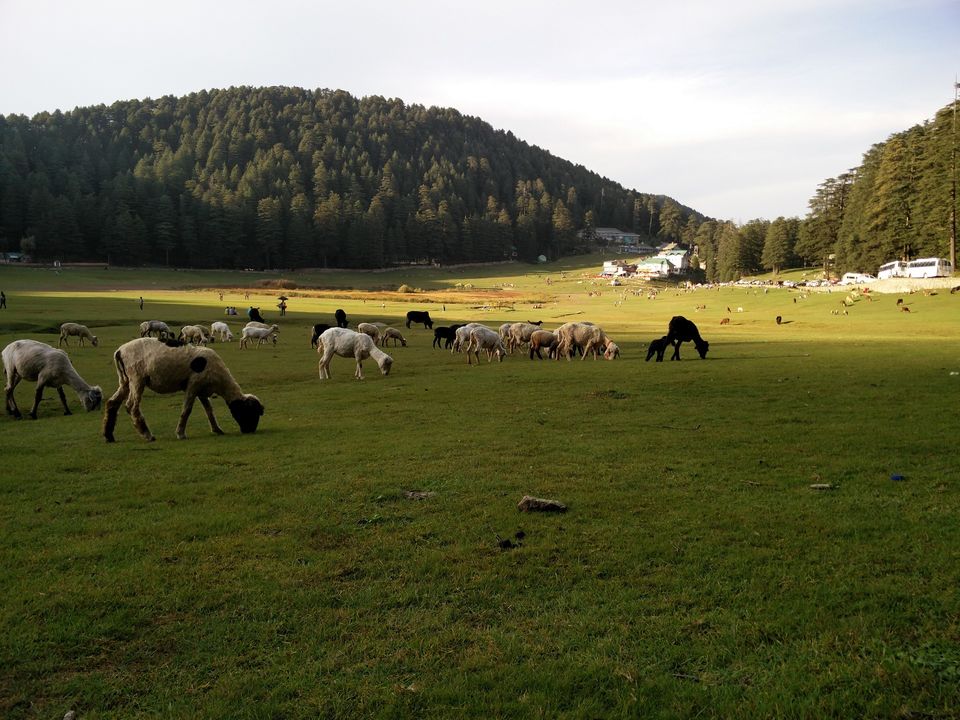 It's okay if you want to roll and tumble in the grass like a happy puppy. I did it too.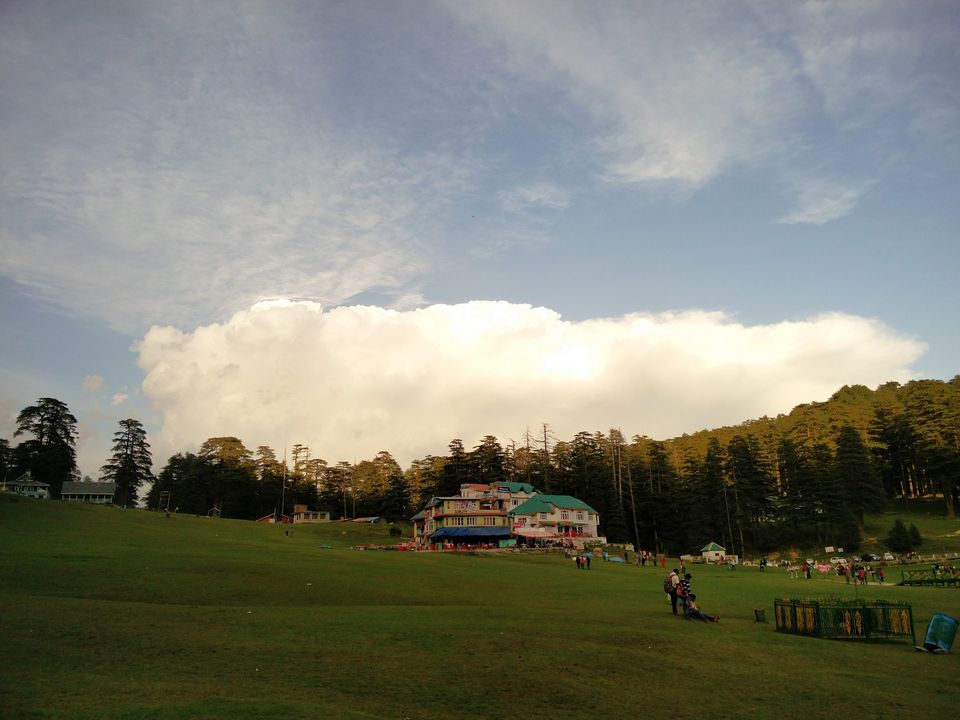 After strolling for an hour around the vast expanse of lush greenery and battling the spine chilling wind, I made my way to this iconic woodshed.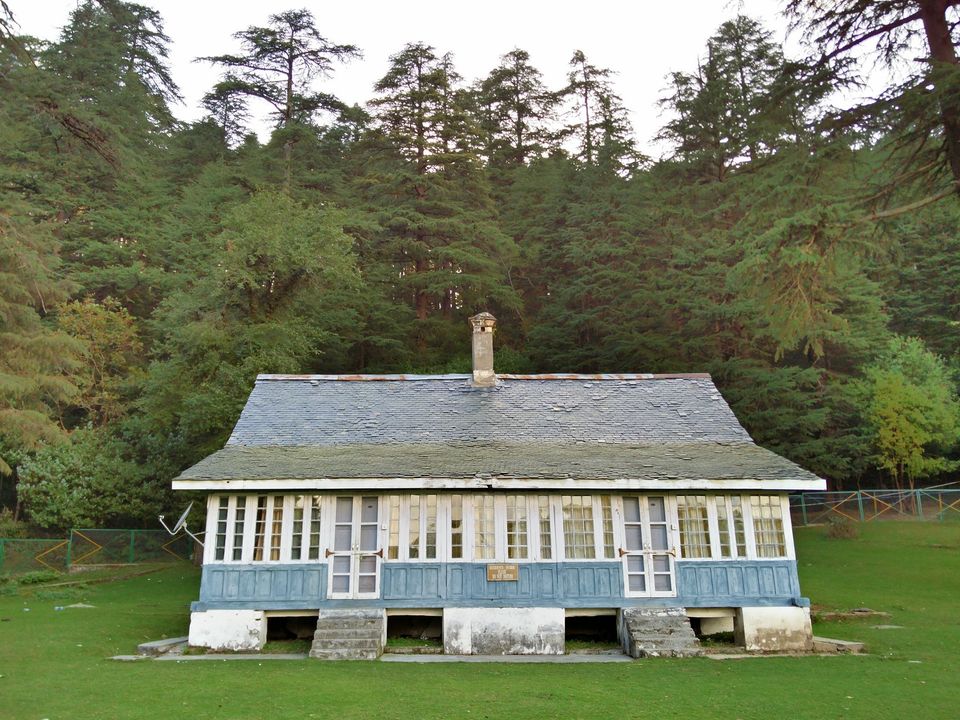 There were kids playing, adolescent population busy getting drunk on the edges and families enjoying a sunny day out.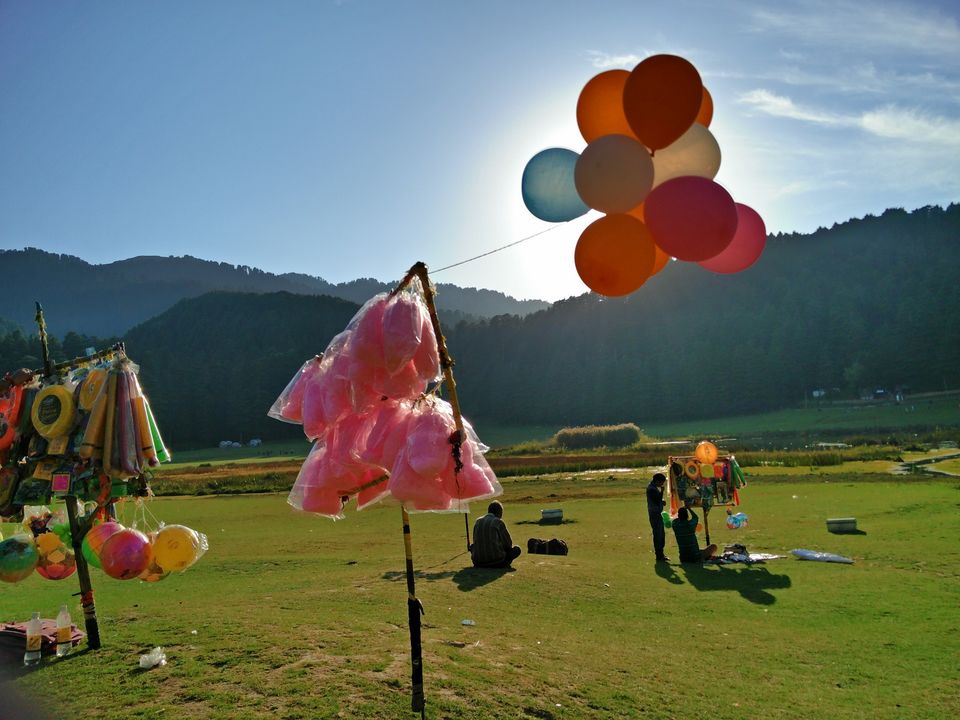 In the evening I visited Tibetan Market but there was nothing of interest. The stuff you saw there can be generally found in your own city as well, but it's worth taking a glance for you could end up buying something nice. The momos I found at Subhash Chowk were horrible, maybe I'll have better luck tomorrow at Mcleodganj. I had my dinner at Lovely, a Punjabi restaurant nearby. The food was as good as the ambiance.
The day ended with a positive note and a beautiful sunset with a promise of a better tomorrow.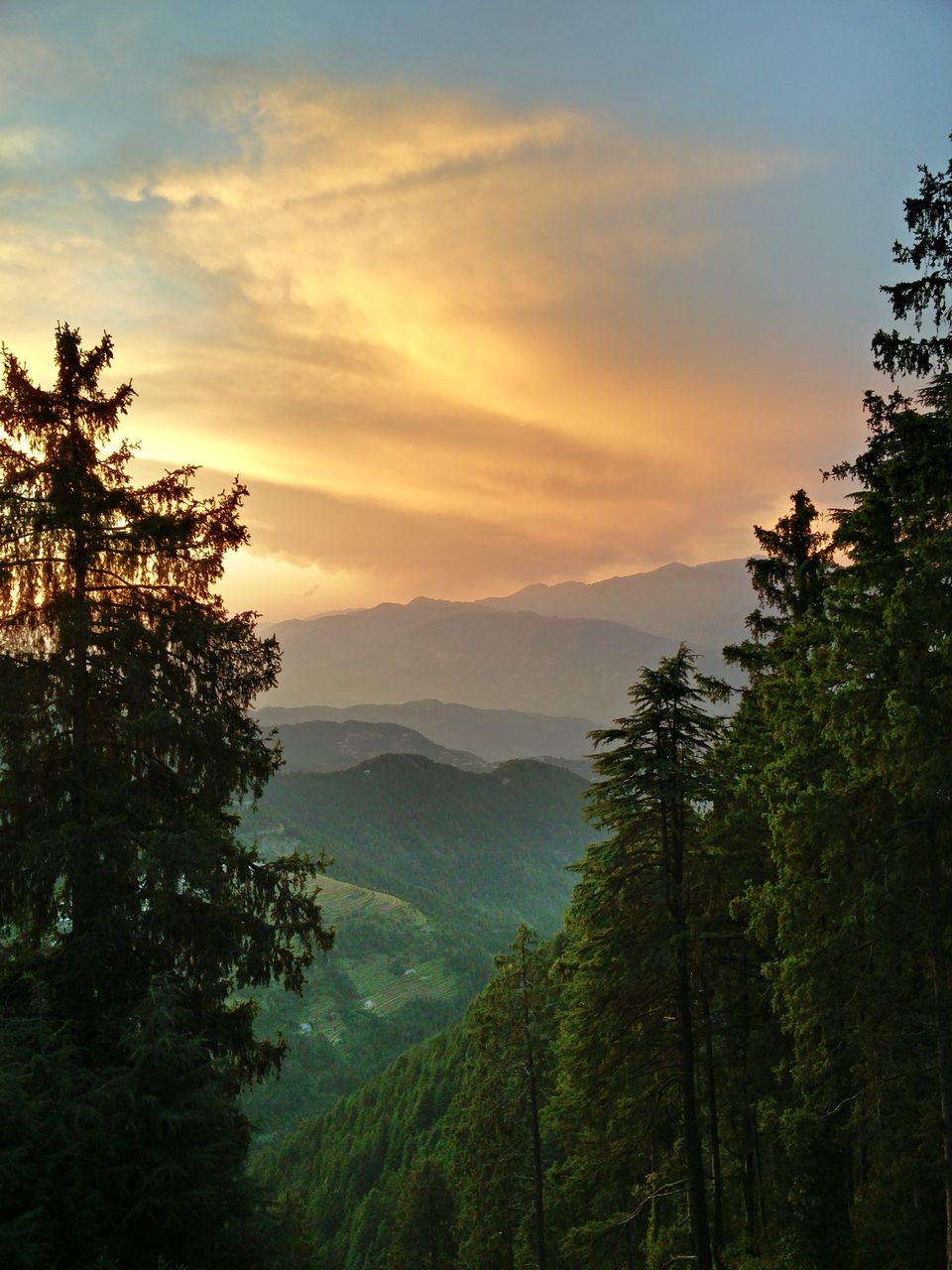 DAY 2 - Dharamshala/Mcleodganj
I set an alarm for 6 AM but woke up at 4 AM. It was the best sleep I had gotten in a long time. I had only brought one sweatshirt and I was instantly regretful the moment I set foot outside the hotel. It really gets chilly out here during early mornings.
If you're in the city, I'll advise you to wake up early morning and take a stroll. The fresh air will make you high and most probably you'll spot our veterans on their daily morning jog.
I took the first bus to Dharamshala and as it made its way towards Banikhet, there was only one thought on my mind.
I don't wanna go back.
As the bus descended, the view was spellbinding. The warmth of early sun was refreshing. As it was too cold, around 9 degrees, it gave me goosebumps.
TIP: Sit on the right side of the bus when you're returning from Dalhousie.
It takes 5 hours to reach Dharamshala from Dalhousie. The bus halted after two hours at Banikhet where I had chai.
Mind you, I'm still to have a decent tea. I've been unfortunate in this department since the beginning. The bus resumed towards Nurpur which was approximately 15 km away.
I finally reached Dharamshala at 12 PM. From there I boarded a bus to Mcleodganj to hunt for a hotel and freshen up.
TIP: If you're with a family, I'd say avoid the bus as it gets really crowded and the noise is unbearable. I know, when you're at a hill-station your mind tunes your ears accordingly and any extra noise seems undesirable.
Hungry as I was, I couldn't wait to dig into some of the delicacies served by Shiva's Cafe.
After brushing my teeth(on trips, even this is an achievement for me), I took off towards Bhagsunath waterfall.
After walking for a mile or so, I could spot the gentle flow of the water.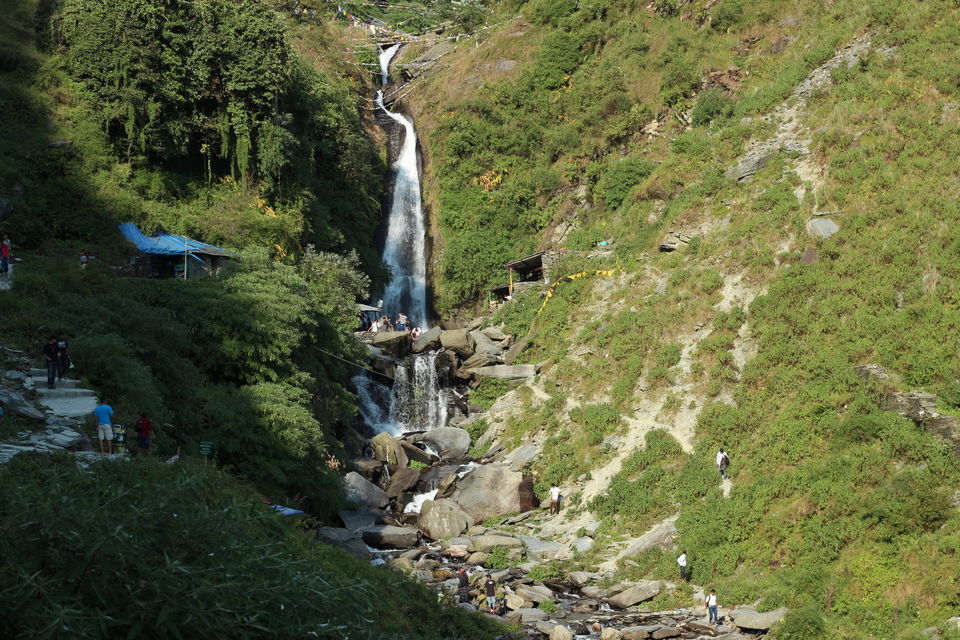 I paid my respects at the Bhagsunath temple and moved forward towards the waterfall even higher. I was naive when I thought I'd reach without a struggle, my feet started to give up and Shiva's Cafe was nowhere in sight.
I decided to halt to rest for a while and treat my feet with some chilled water and throat with some Red Bull.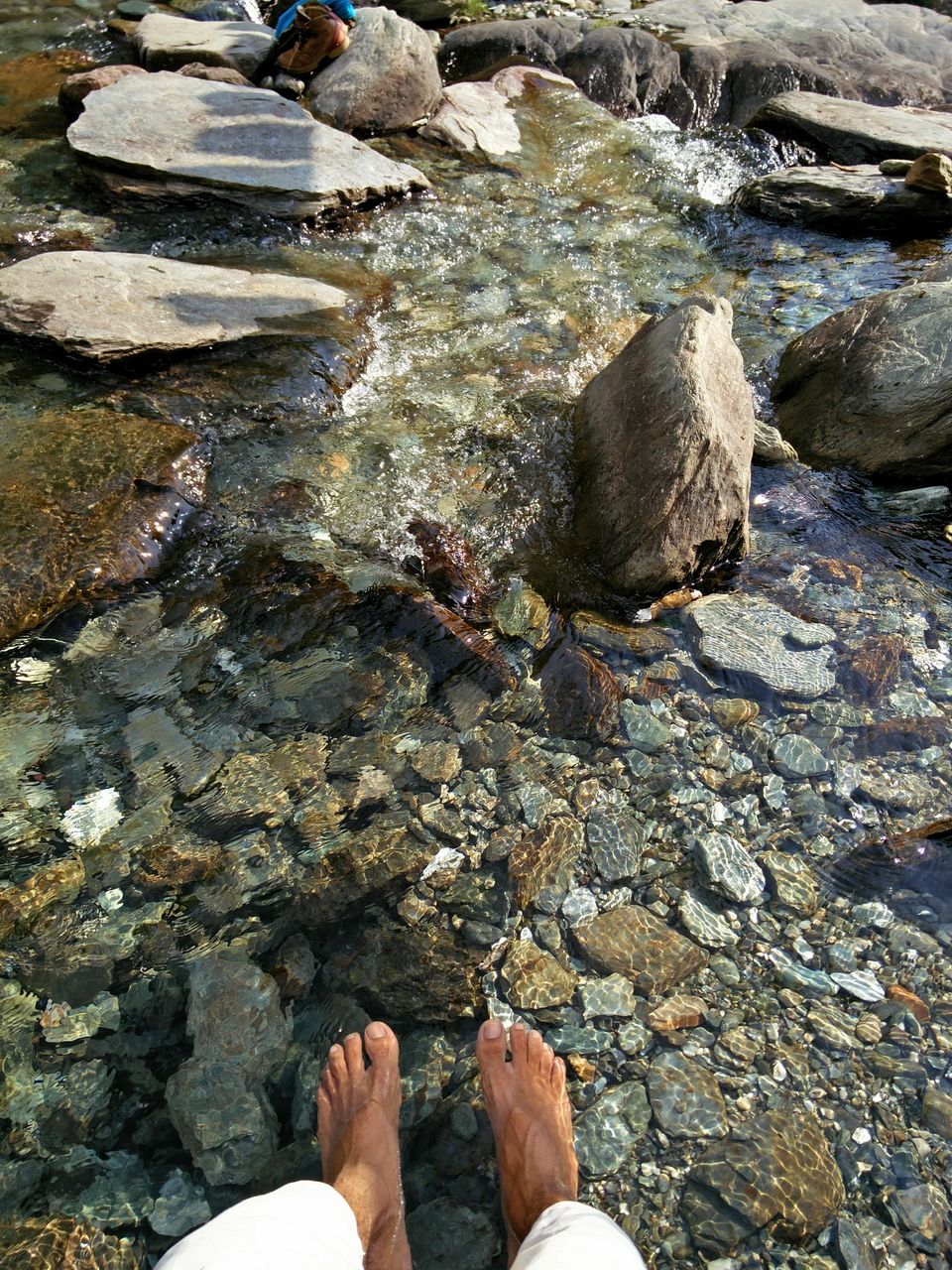 It felt SO good.
I gathered what was left of my courage and again climbing steep steps up and there it was, Shiva's Cafe.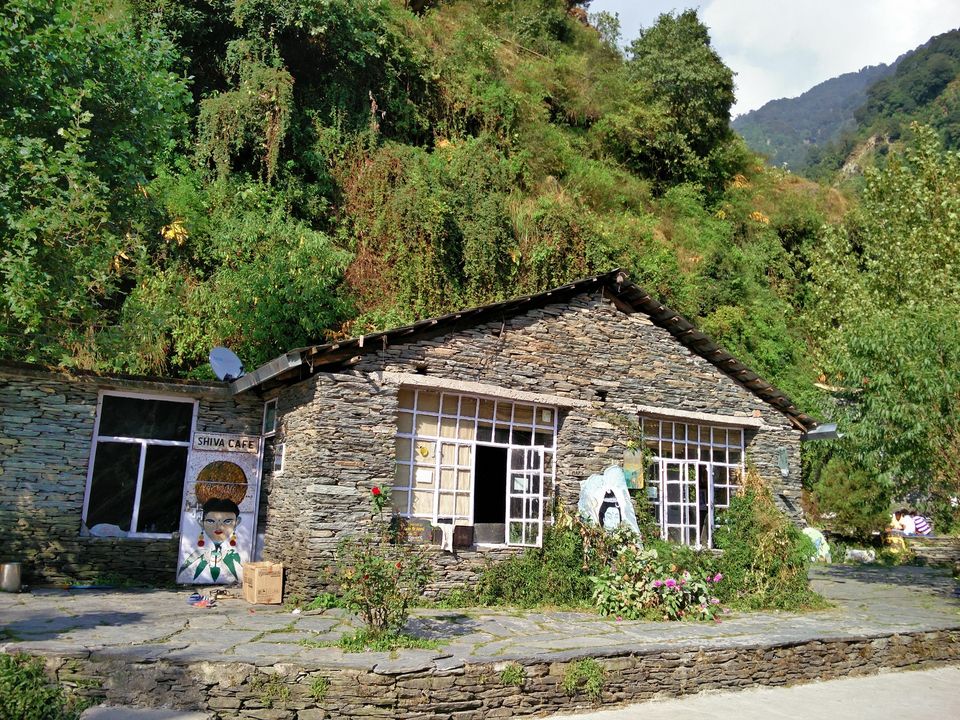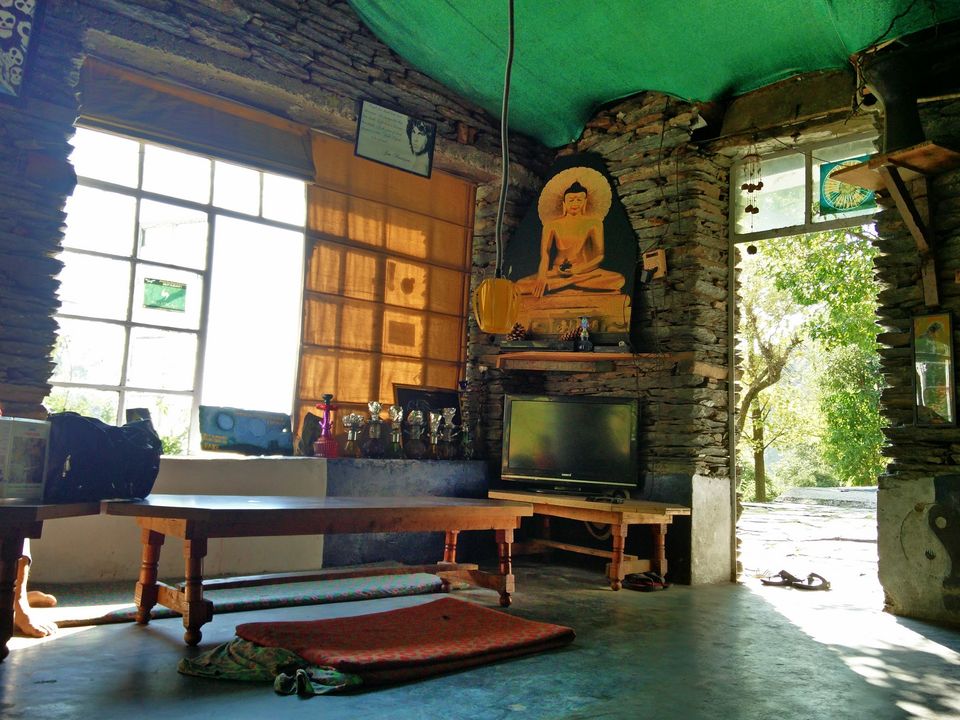 Shiva's Cafe looked like this from the inside. Furniture were a bare minimum, you sit on a carpet leaning your back against the stones with which the walls have been built.
The cafe reminded me of Chandigarh's cafes where I used to love hanging out. After pondering over the menu, I finally ordered Hash Brown Potatoes and Chai.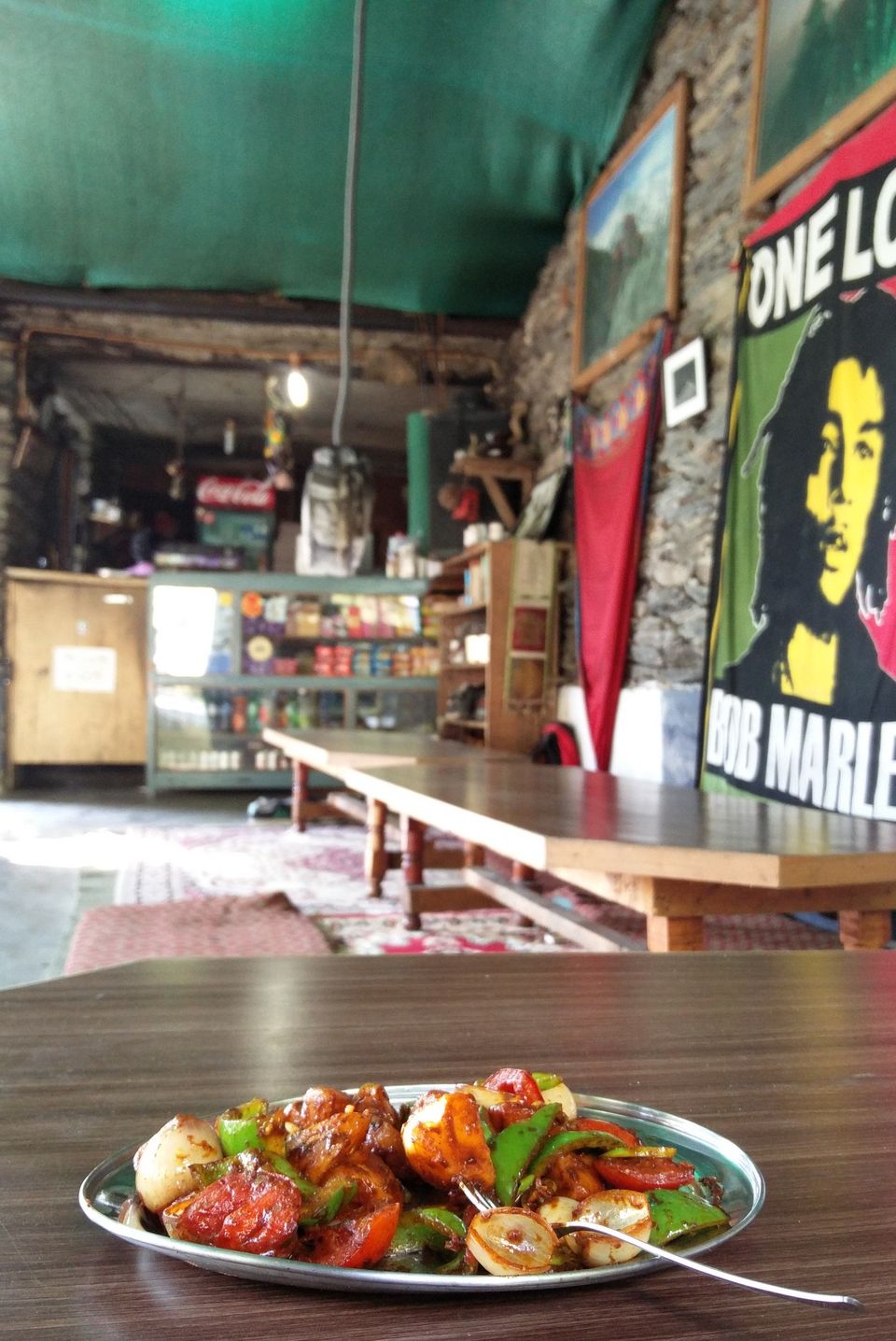 A full tummy is a happy person.
Then I made my way towards Dharamkot village by foot. After walking for 2 and a half kilometers, it was already dark so I returned to the city.
It was hustling with people. Certainly not my type of place. This was meant to be trip full of solitude. My bad.
I had dinner in my hotel room and afterwards came to the ground floor for a steaming hot chocolate. It was alright, but the couch sure was comfortable. After lazing around for an hour, I decided to call it a day as the next day was a big one. 8 KM trek to Triund.
Day 3 - Trek to Triund
I woke up at 6 AM, and this was one of those times(very rare) when I jumped out of the bed with enthusiasm.
I had my early morning coffee and took this interesting picture.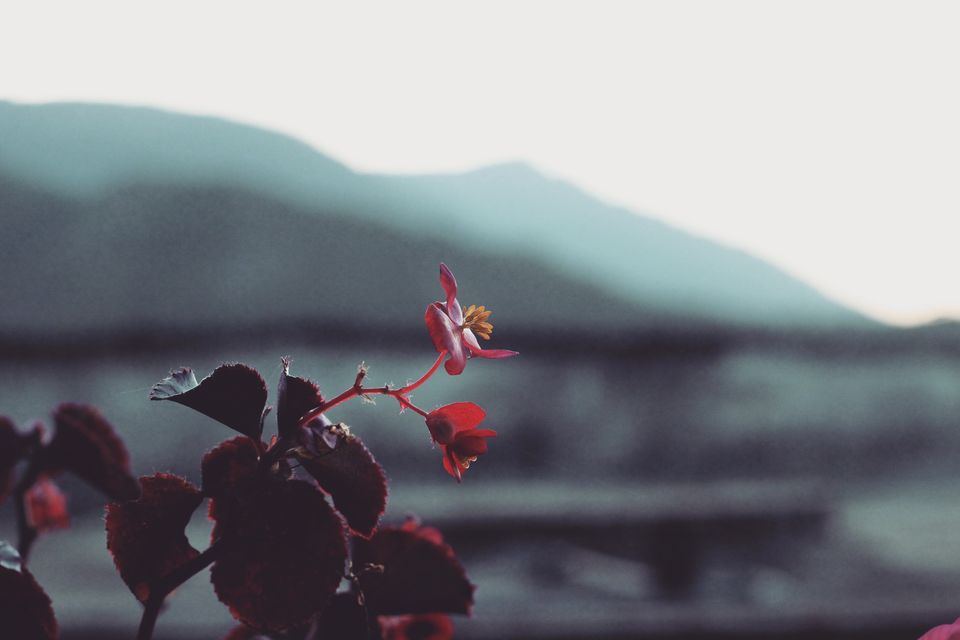 The second highest mountain was my destination for the day.
I met this merry party of 3 while I was waiting for an auto.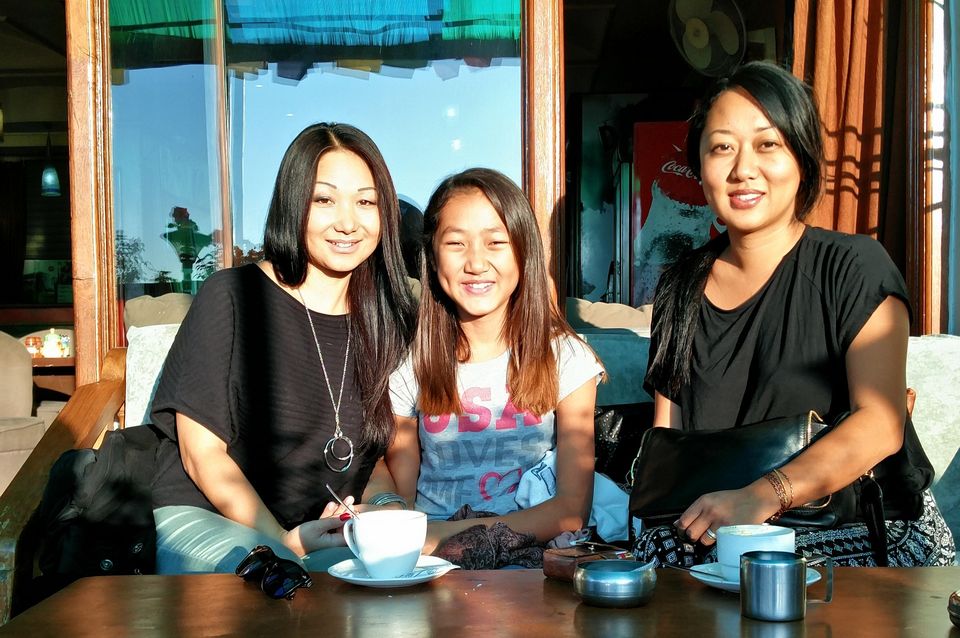 The two women are sisters and the middle in the middle is the right one's daughter. Look at her smile, makes you forget about your miseries for a moment there. Ha!
Trek overview:Difficulty - Easy to ModerateMcleodganj to Dharamkot(a nice little village) - 2 kmDharamkot to Galu temple - 2 Km (motorable roade till here.)Galu Temple - Triund - 6 Km
I took an auto till Dharamkot. There is a nice little cafe - Rest A While - where I had my breakfast and watched the distant mountain which was enough inspiration for me.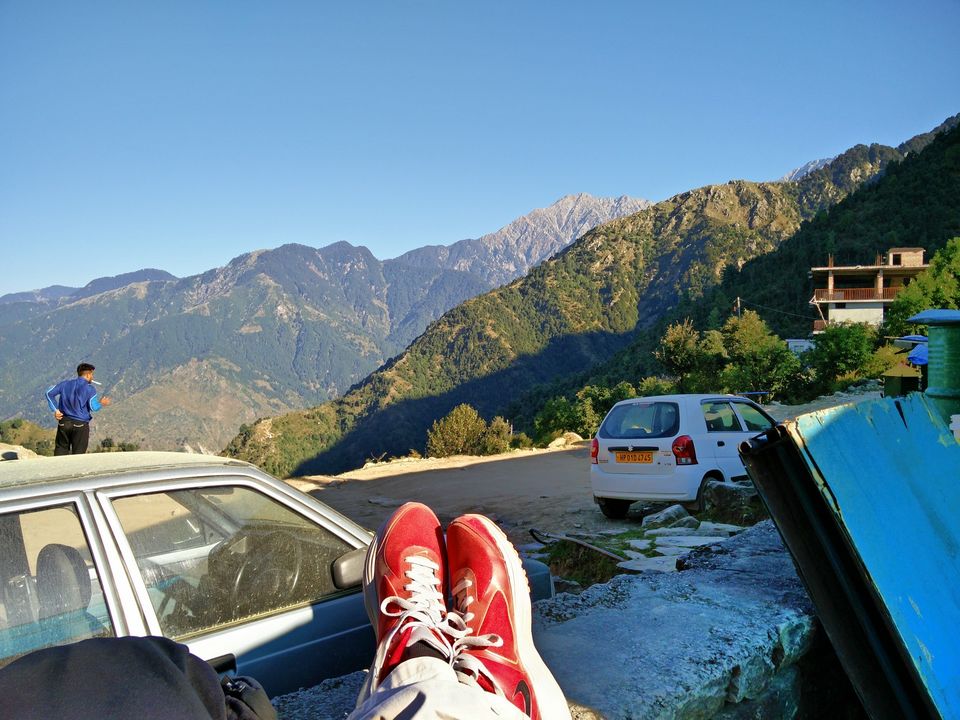 A picture from Galu Temple where I had an omelette and tea.
TIP - Buy a couple Red Bulls or Gatorade and stuff to eat from here as the prices skyrocket as you go up.
I'll advise you to travel as light as possible and I can't stress this fact enough, dear reader. I took my DSLR, a sweatshirt, a hand towel and toothbrush. Toothbrush? Sometimes, I amaze myself.
I started at 7:45 AM sharp. The pathway was full of surprises, steep cuts and pathways where 2 people couldn't walk side by side.
At some of the places, your heart would literally race while treading on them. I had to watch my every step as one wrong step could gift me a sprain or even worse, dramatically rolling down the hill. Ruining my trip either way.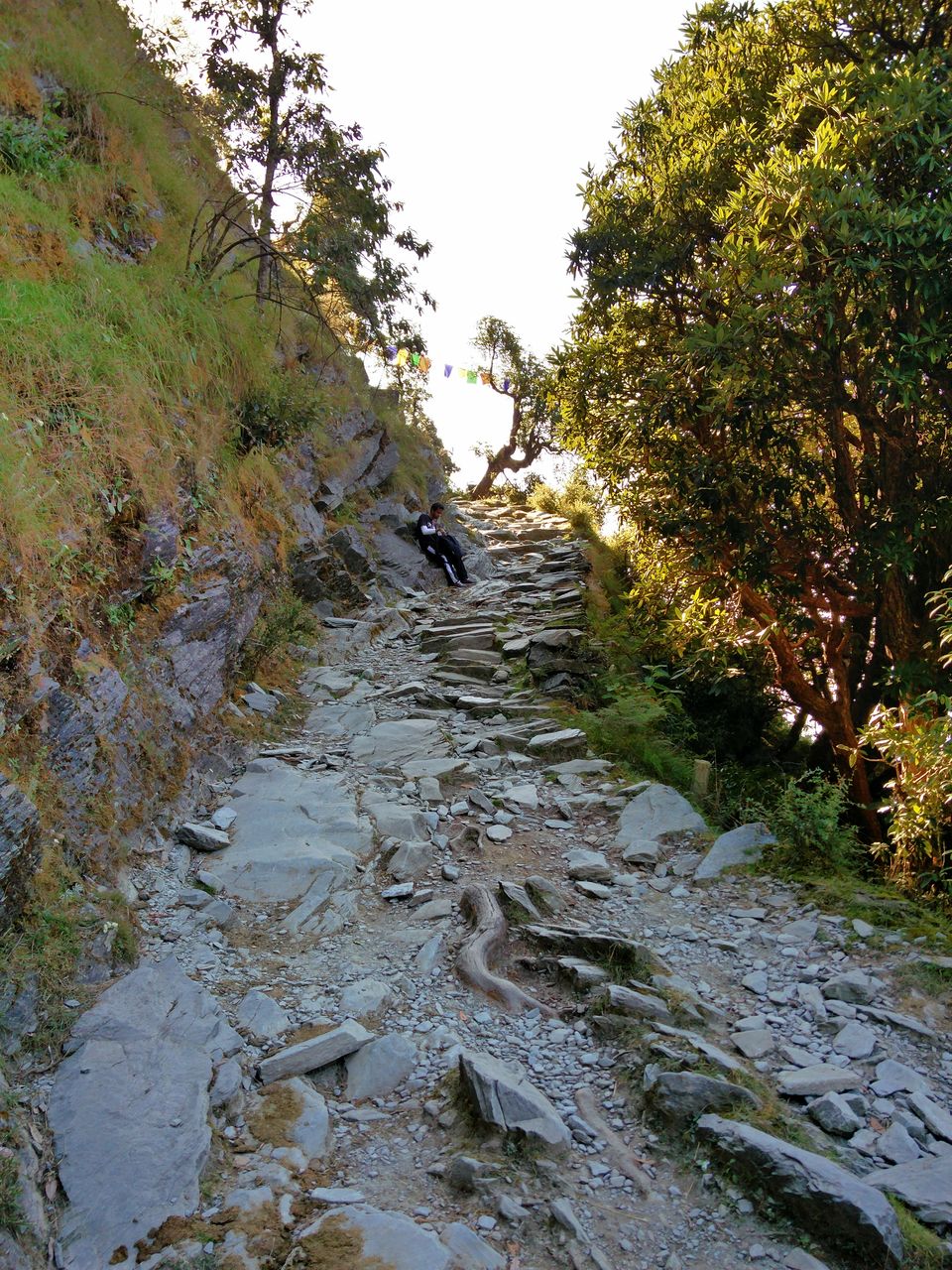 There were a lot of points in between where you couldn't help but pause and just look at the city below. While you're traveling alone, you have all the time in the world to think, to ponder over mistakes and devising new ways to screw your life even further.
I paused at several such points to click photographs and to sip some water.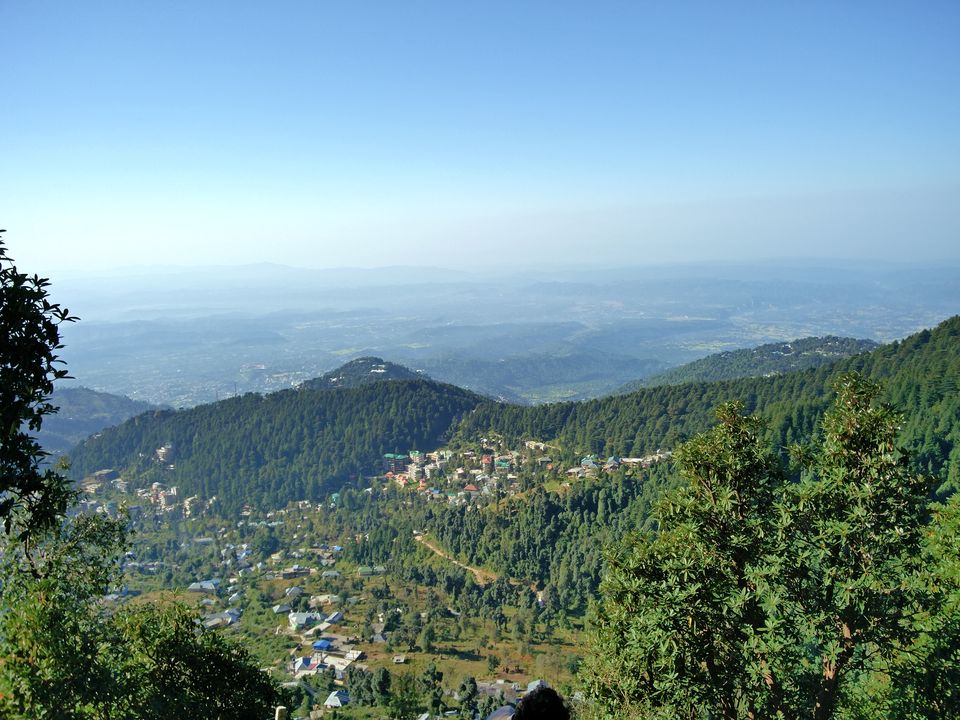 At around halfway, I felt like giving up as the point never seemed to appear. The tricky part about this trek is that you don't know what you're in for until the very end.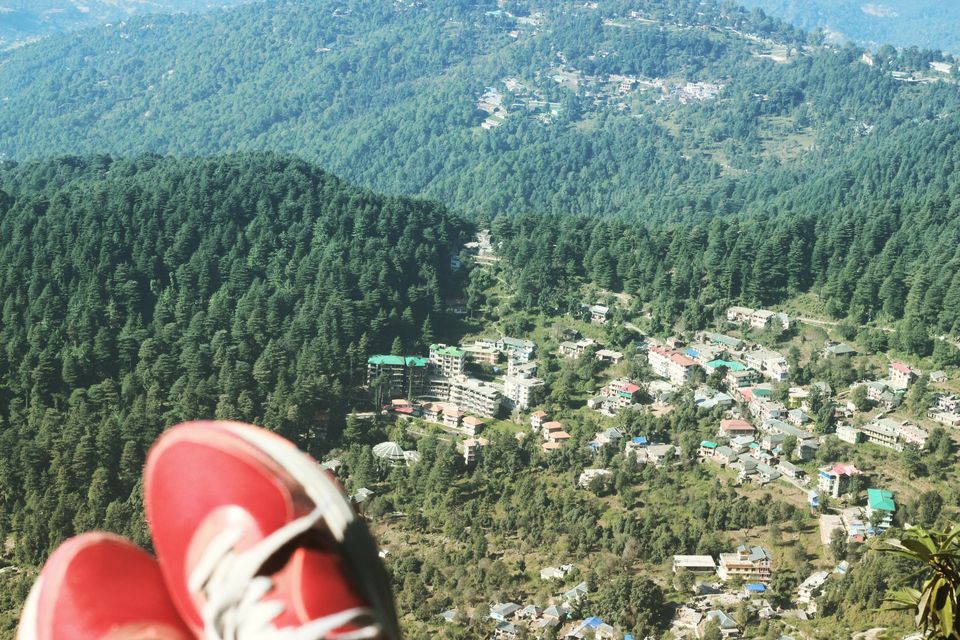 Dharamshala
Towards the end, the hike became more steep and my fatigue was increasing exponentially.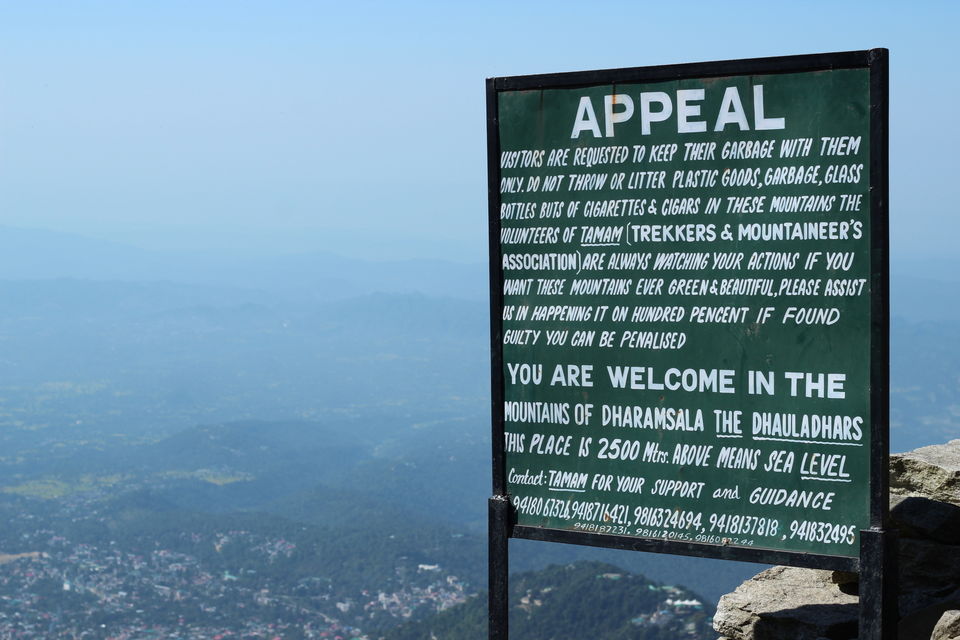 Somehow, I gathered what was left of my breath and I could see the tip of one of the mountains in Dhauladhar Range.
The best was yet to come.
The final push was given to me by this wonderful day who was climbing down.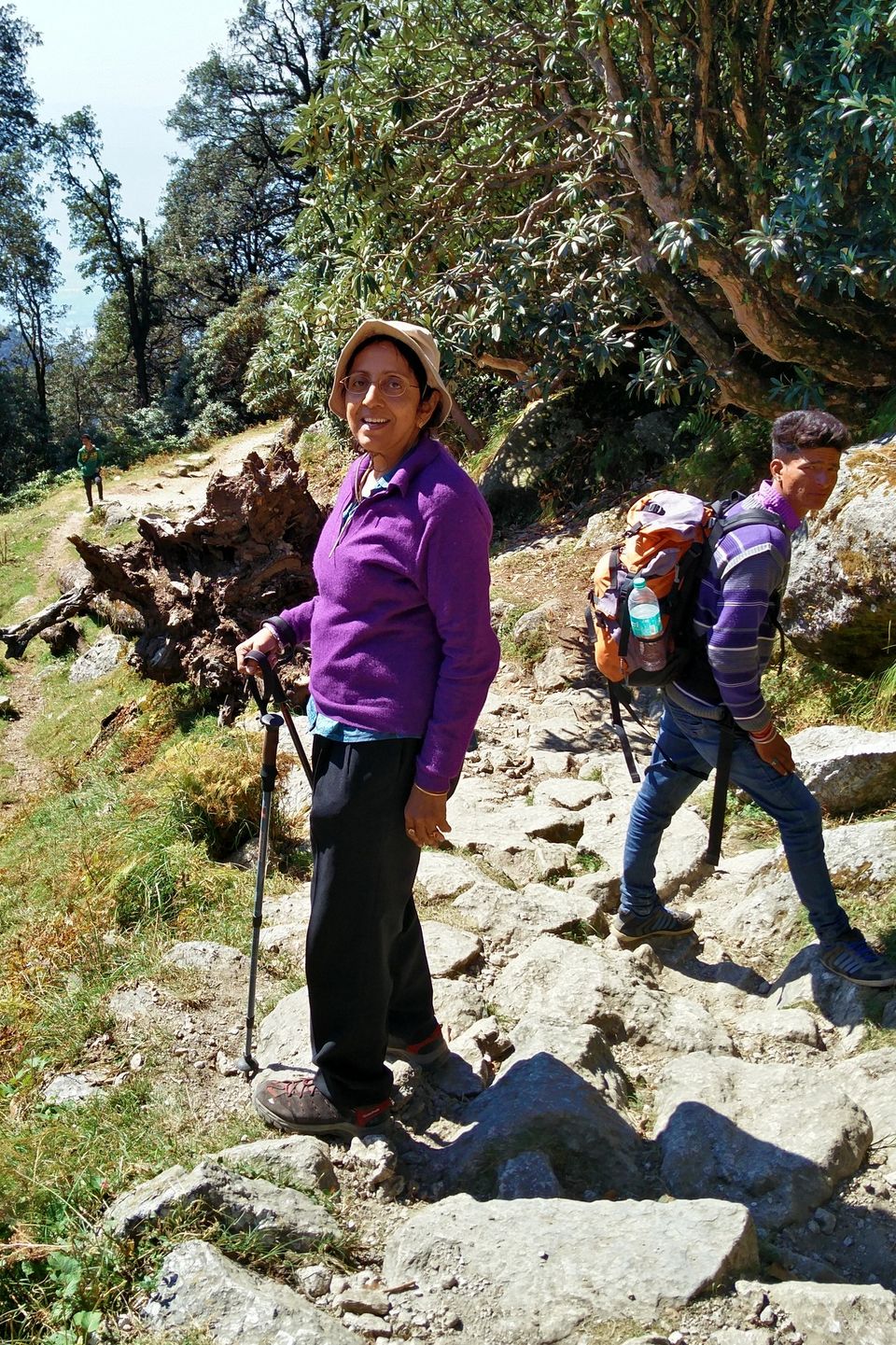 I had to stop and let her know that she's going to be a source of inspiration to all the lazy bums out there.
Can you guess her age? My best bet was 45-50. She was 62.
This reminded me of a time when I participated in a marathon and I was overtaken by so many elderly people that I lost count.
The pain - it's all in your head.
At 11:45 PM, as I approached the peak, a dog came up to me to welcome me.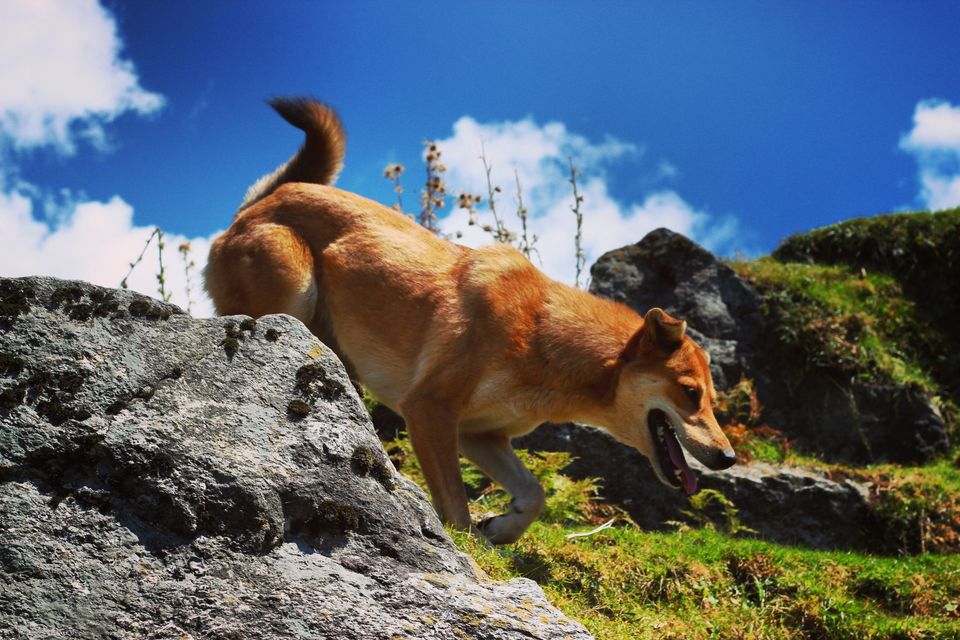 I climbed a few steps further, and behold!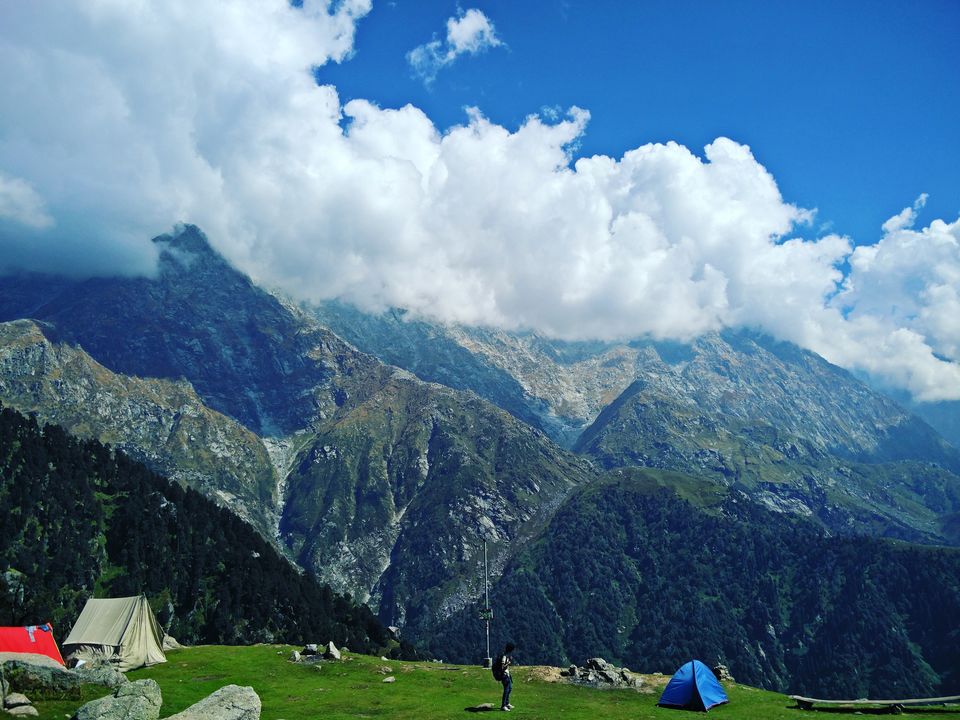 ====================================
Guys/Gals,
Note - All of my panorama pictures can be found here. Make sure you bookmark it right now or keep it open in a separate tab as you might miss it!
====================================
Where were we? Oh right! At 9500 ft above the sea level ON a mountain!
It was right out of a fairytale. I clicked a panoramic picture right there and just sat on the middle of the green patch gazing at the stupendous mountain in front of me. I could hear nothing but the sound chilly winds were making as they cut through the rocks, the flutter of the leaves. Every single step I took seemed to be worth it, I wasn't tired anymore. In-fact, more excited to explore the adjacent areas.
As soon as I found a point of interest, I perched myself there like a little bird and ordered a chai. There are around 4-5 shops which serve you breakfast, lunch, dinner and snacks which include Maggi and bread-omelette. The steep prices at which they sell them is well, justified in a way.
But it will be worth it, believe me.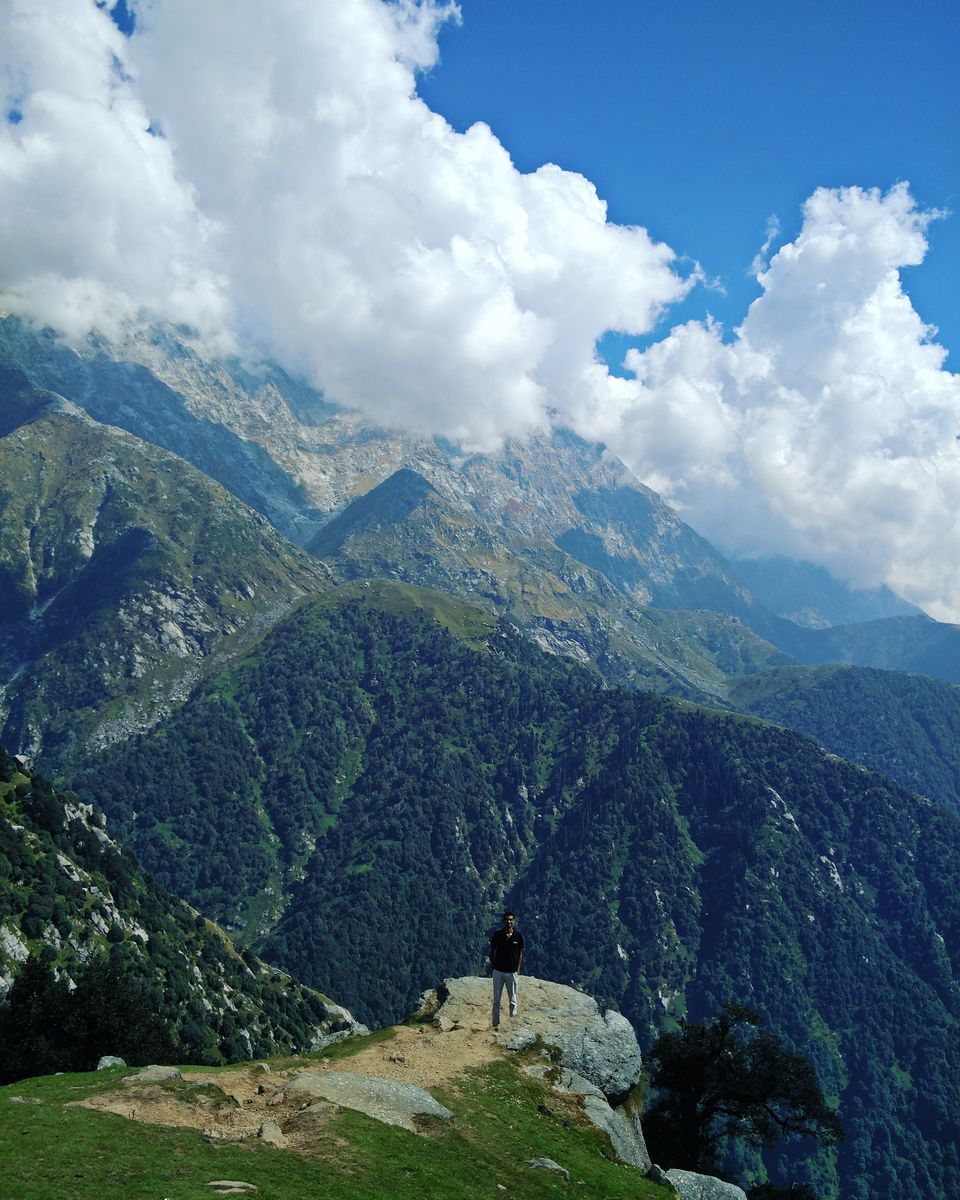 I never felt so insignificant. That's the thing about mountains and endless blue skies, you love to be surrounded by them to lose yourself.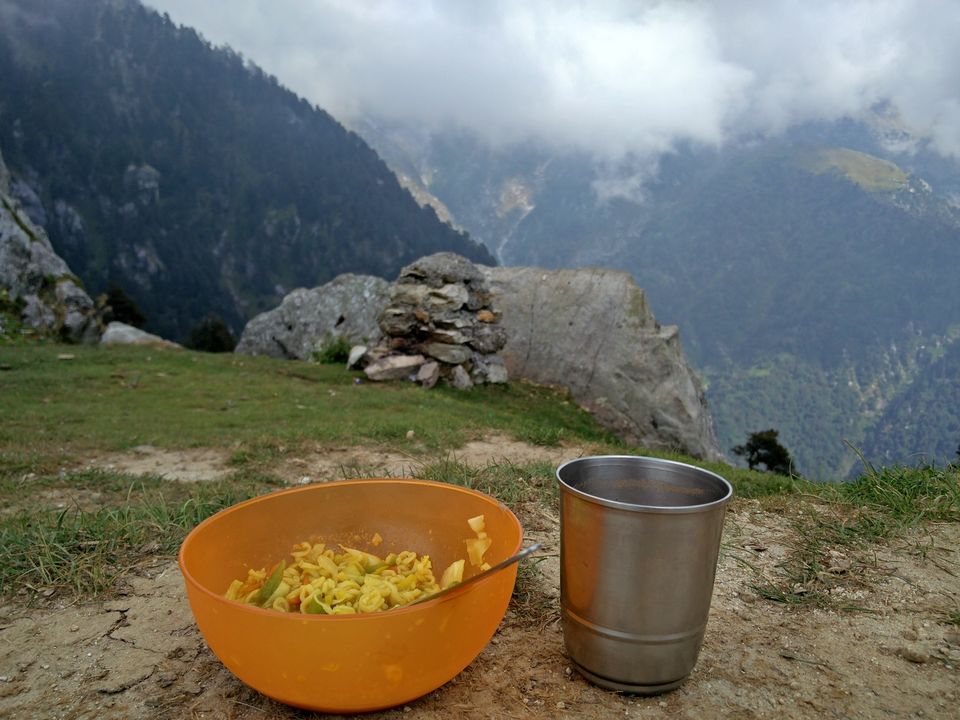 You must be wondering how all that stuff reaches here. No, humans are too selfish for that matter.
Then, I met Michael who is a certified dog trainer.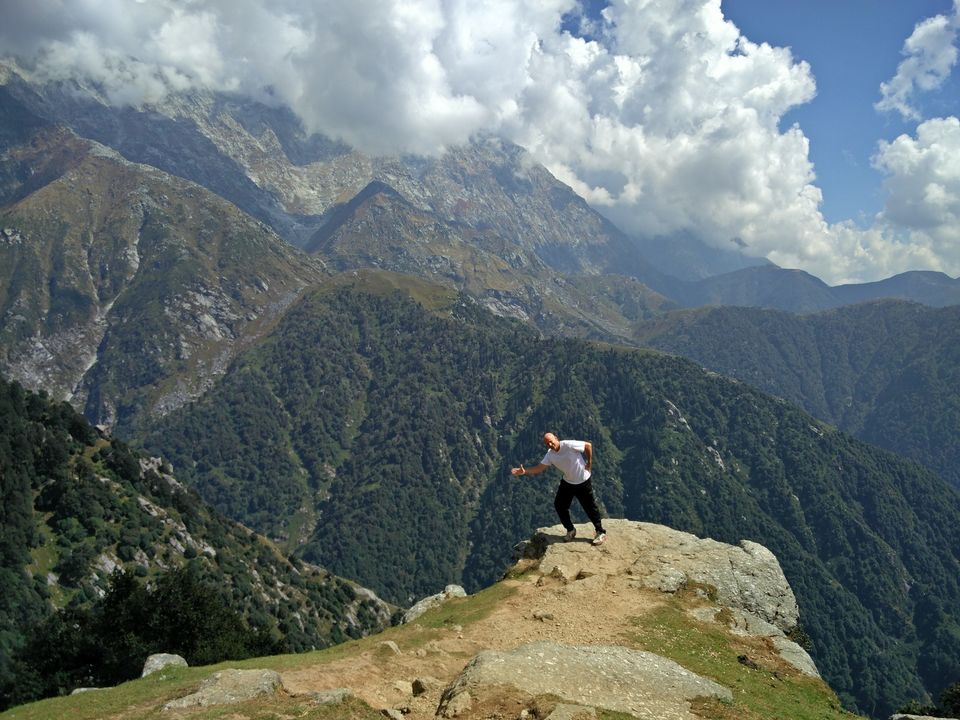 Dogs! Yay, my favorite subject!
He told me interesting stories about how he managed to tame and train the stubbornest of them. He was overjoyed when he got to know my dog lived for over 14 and a half years.
"It's my sixteenth visit to India. The first time was here I was 16 years old."
"Although some dogs do manage to live for 18 and even 20 years, the world average is at around 10. So if your dog lived more than that, you did something right and wonderful by your dog."
"Do you know around 4 million dogs are put down every year in the USA just because they are not able to find their forever homes?"
Note: Guys, please don't buy pets. Adopt.
After having chai together, he began to descend towards the city.
The weather was very pleasant at the top. All you could see was the giant mountain ranges I'm your front, a miniature model of a city behind your back and blue skies. Around 2 PM, clouds began to set in and shortly they covered almost everything. I percent myself on a vantage point.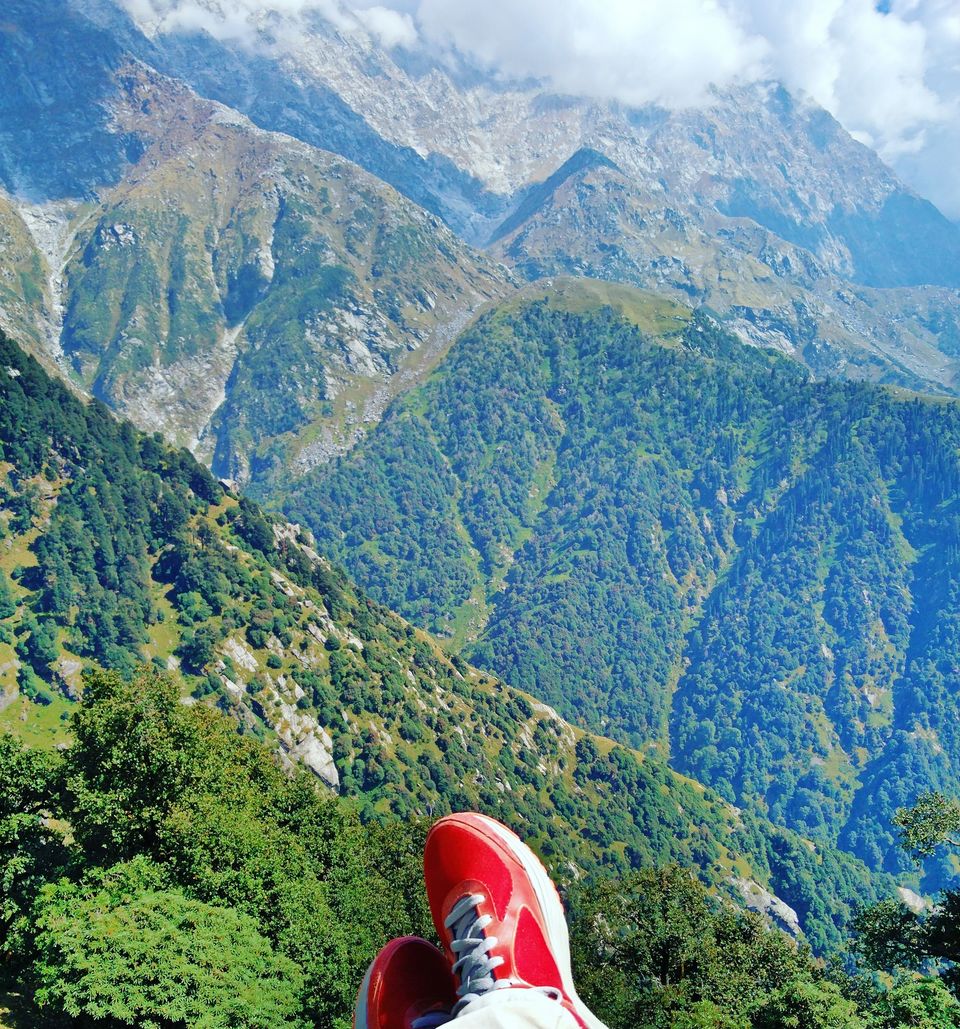 Peace. Bliss.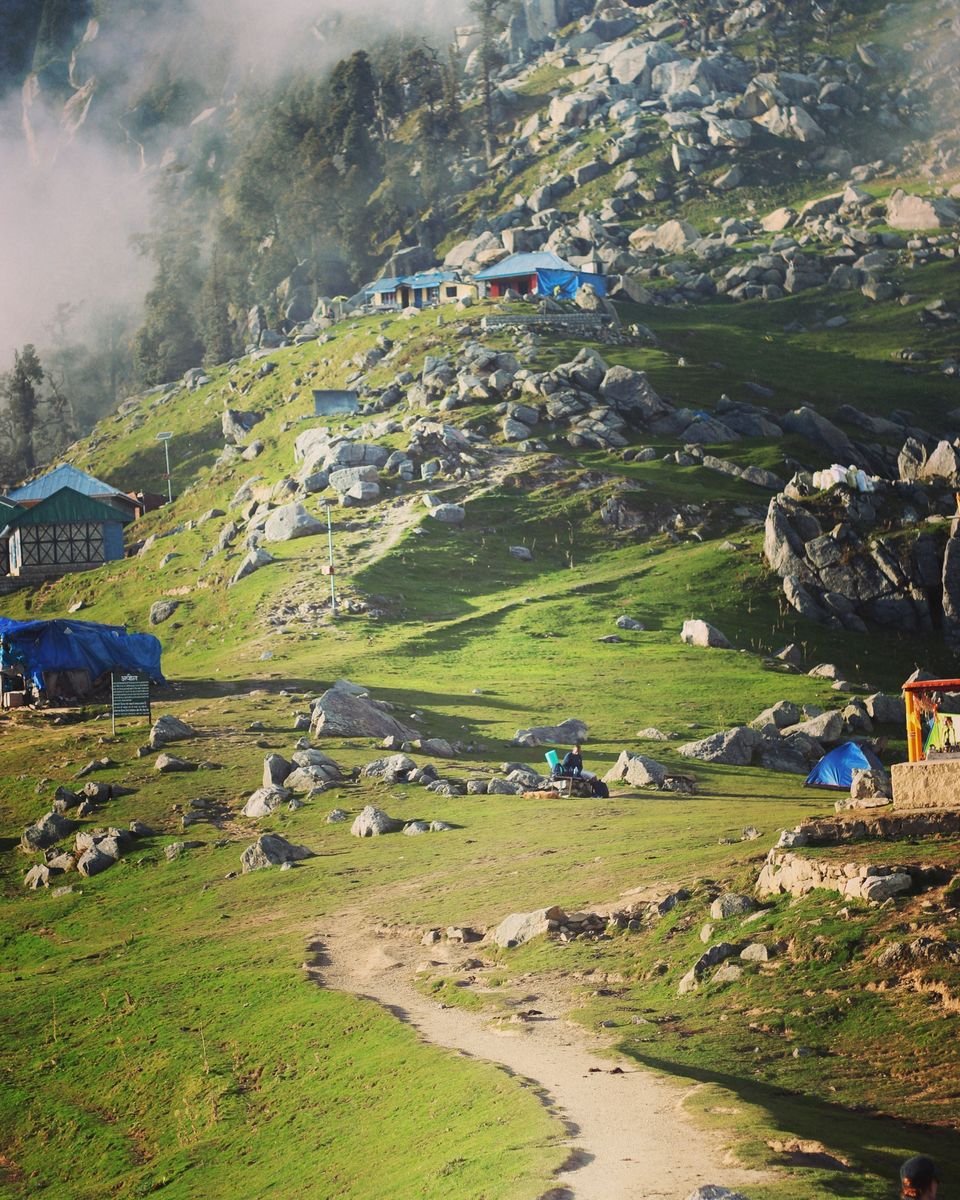 I was sitting in the midst of clouds.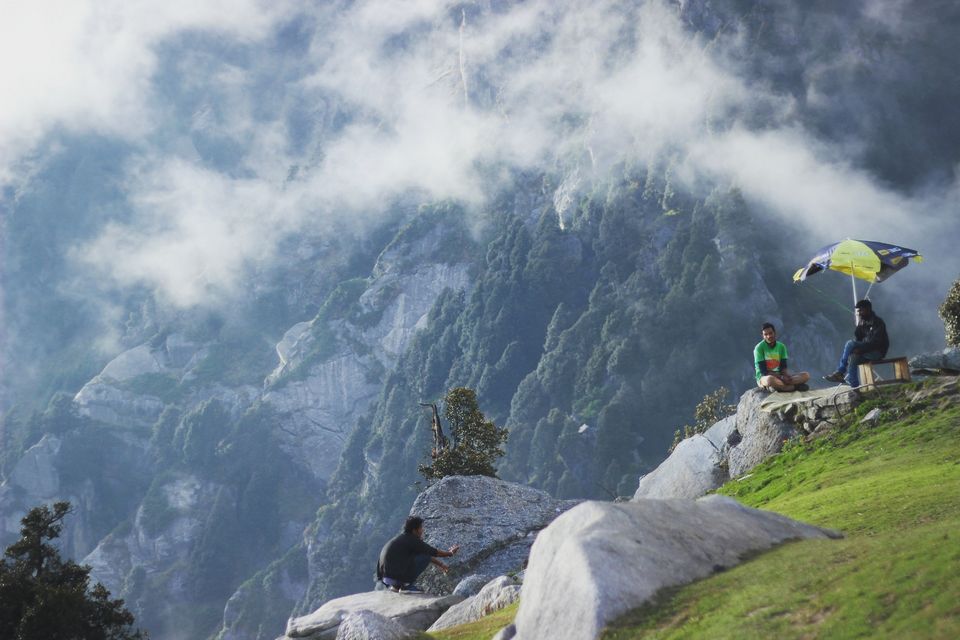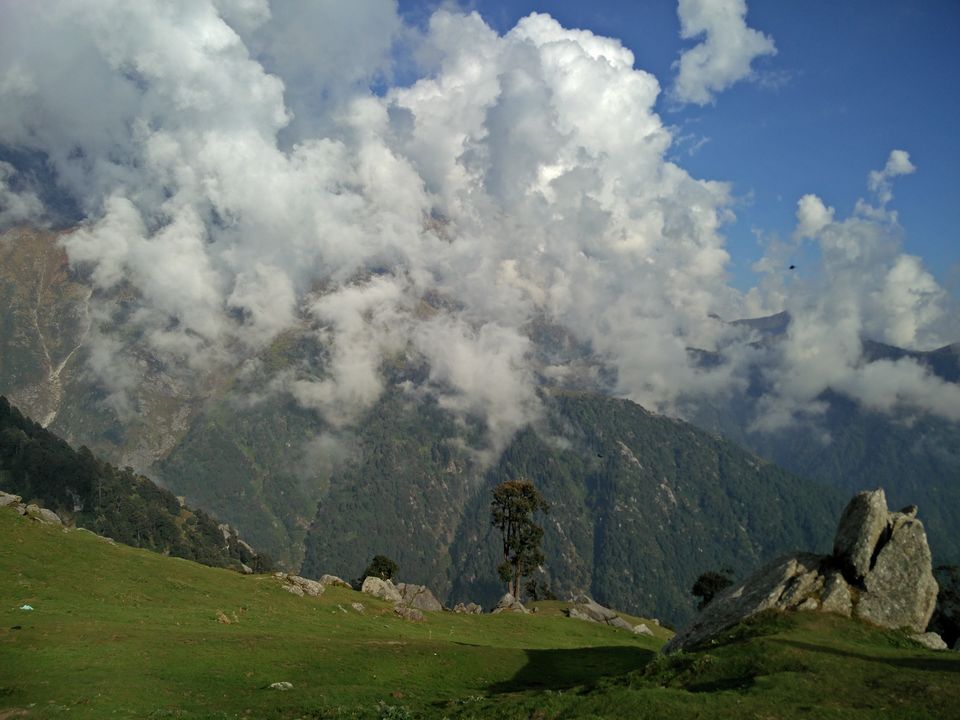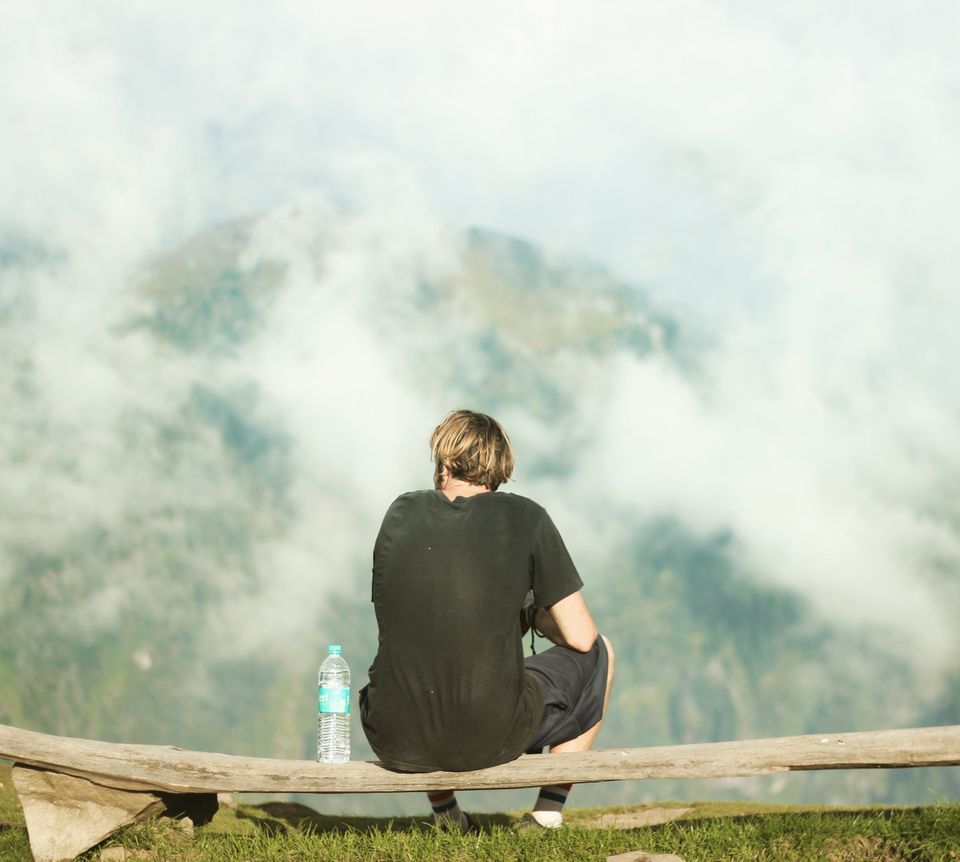 Wouldn't you just love to sit there and and watch the clouds go by?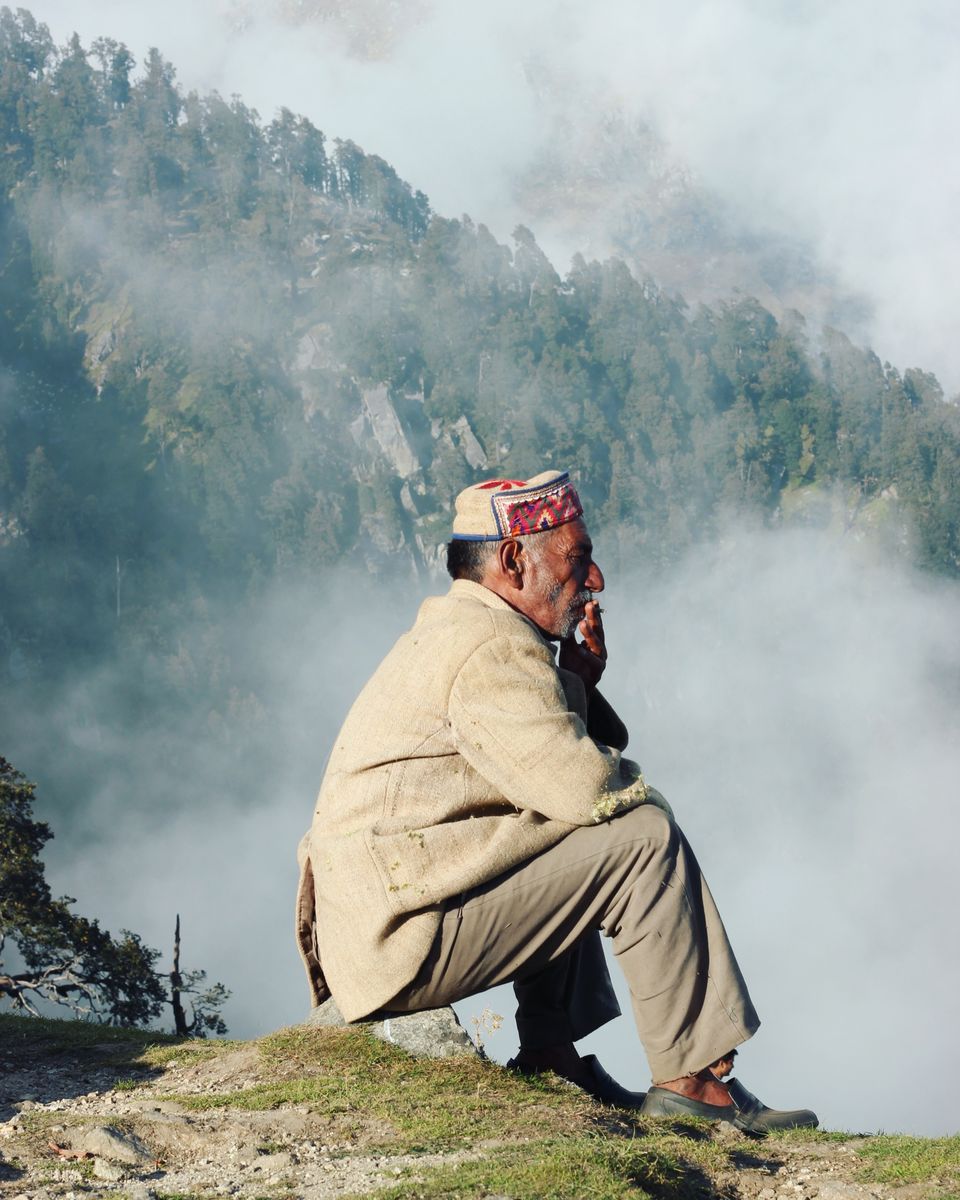 Caution - Bidi smoking is injurious to health. Fall in love instead, it'll kill you faster.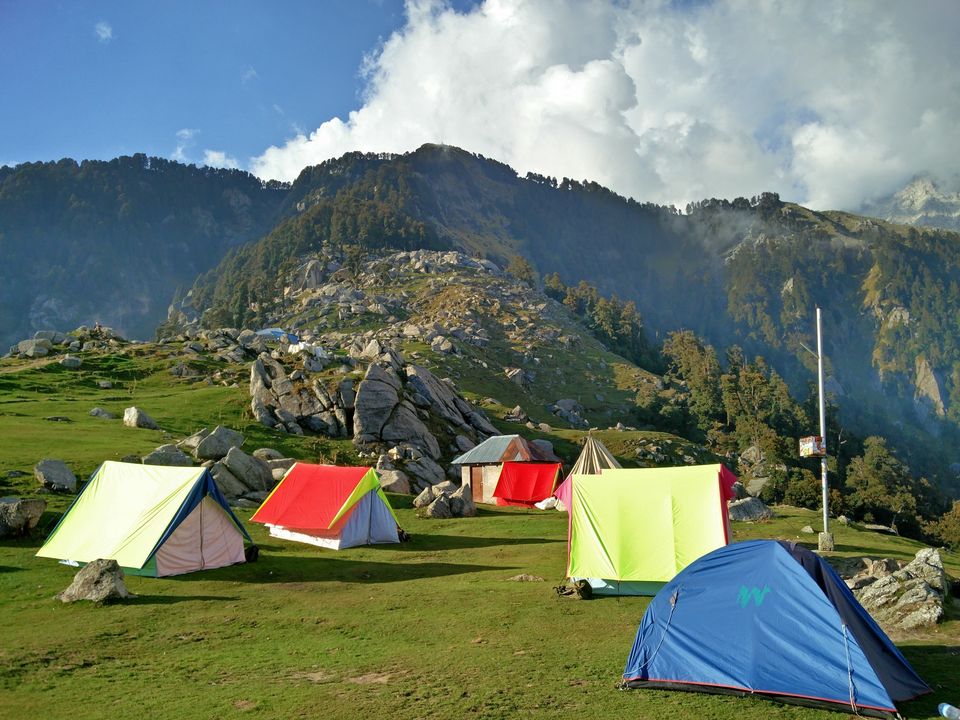 As time went by, I thought of staying the night right there beneath the stars. I asked around and for 600 bucks I got a cute tent and a sleeping bag. Little did I know how chilly it was going to get.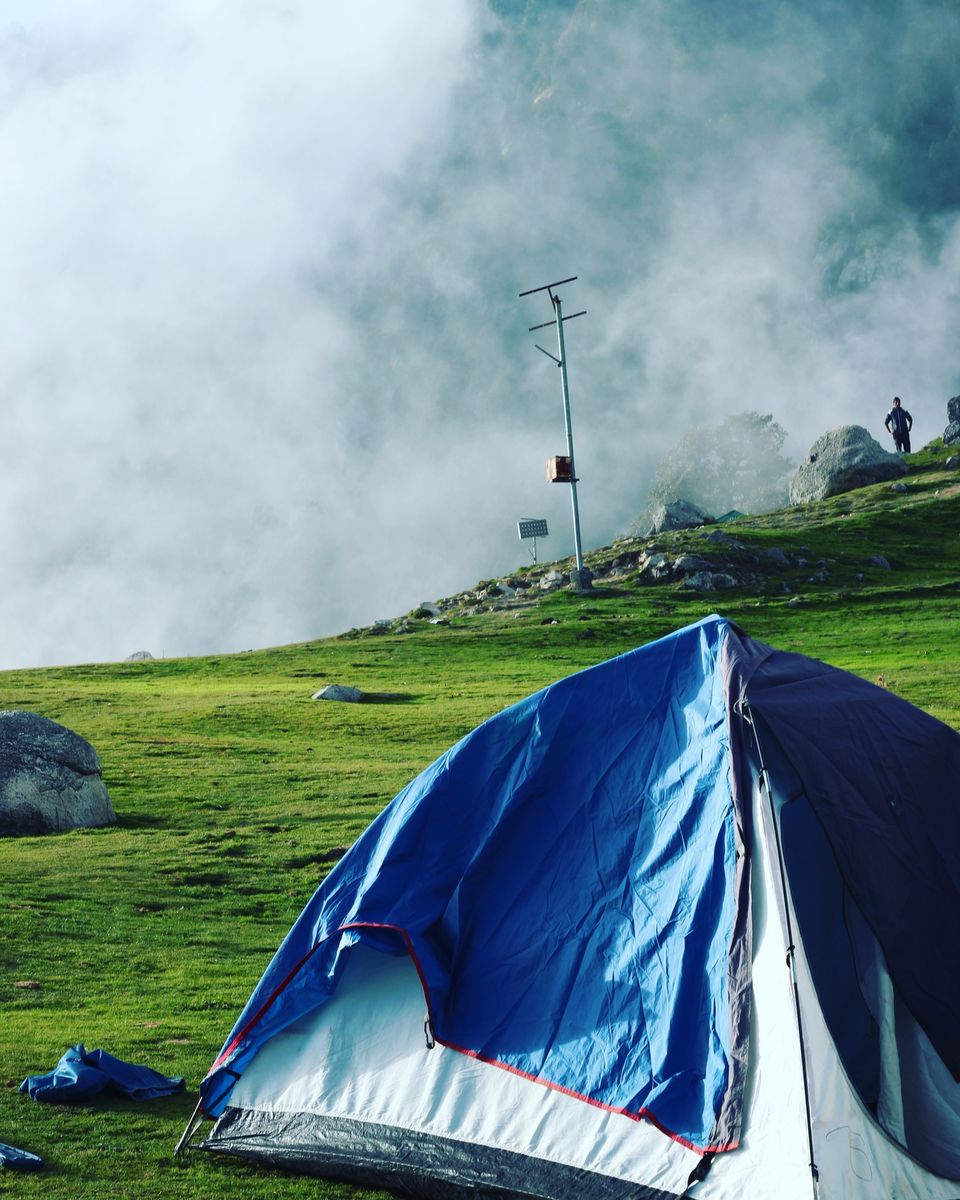 All the right elements for a Game of Thrones episode.
It was evening and gradually it got filled with hundreds of sheep and their little ones. They started grazing at their own pace and they were accompanied by cattle and two dogs who were with their masters.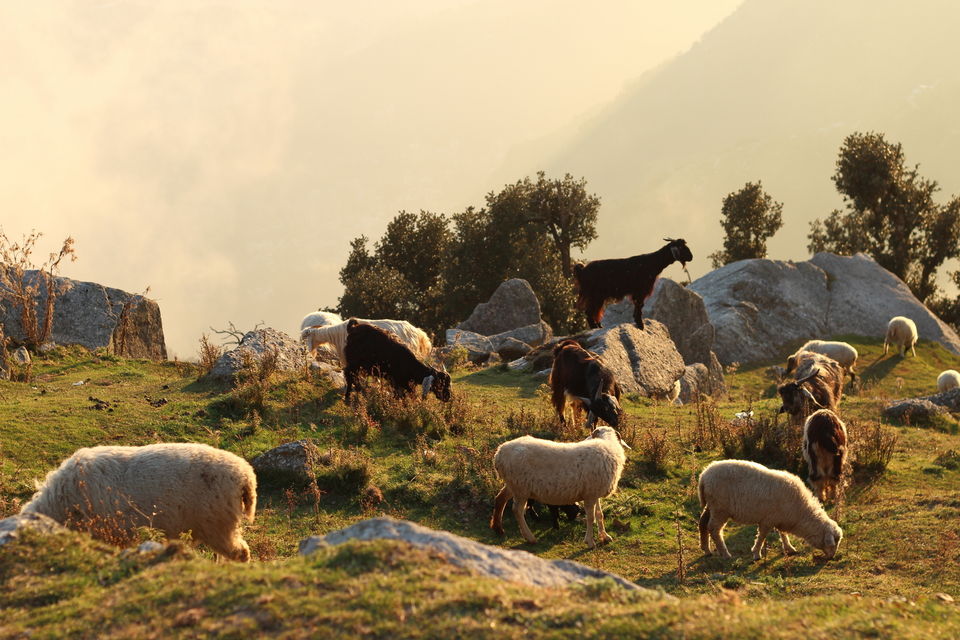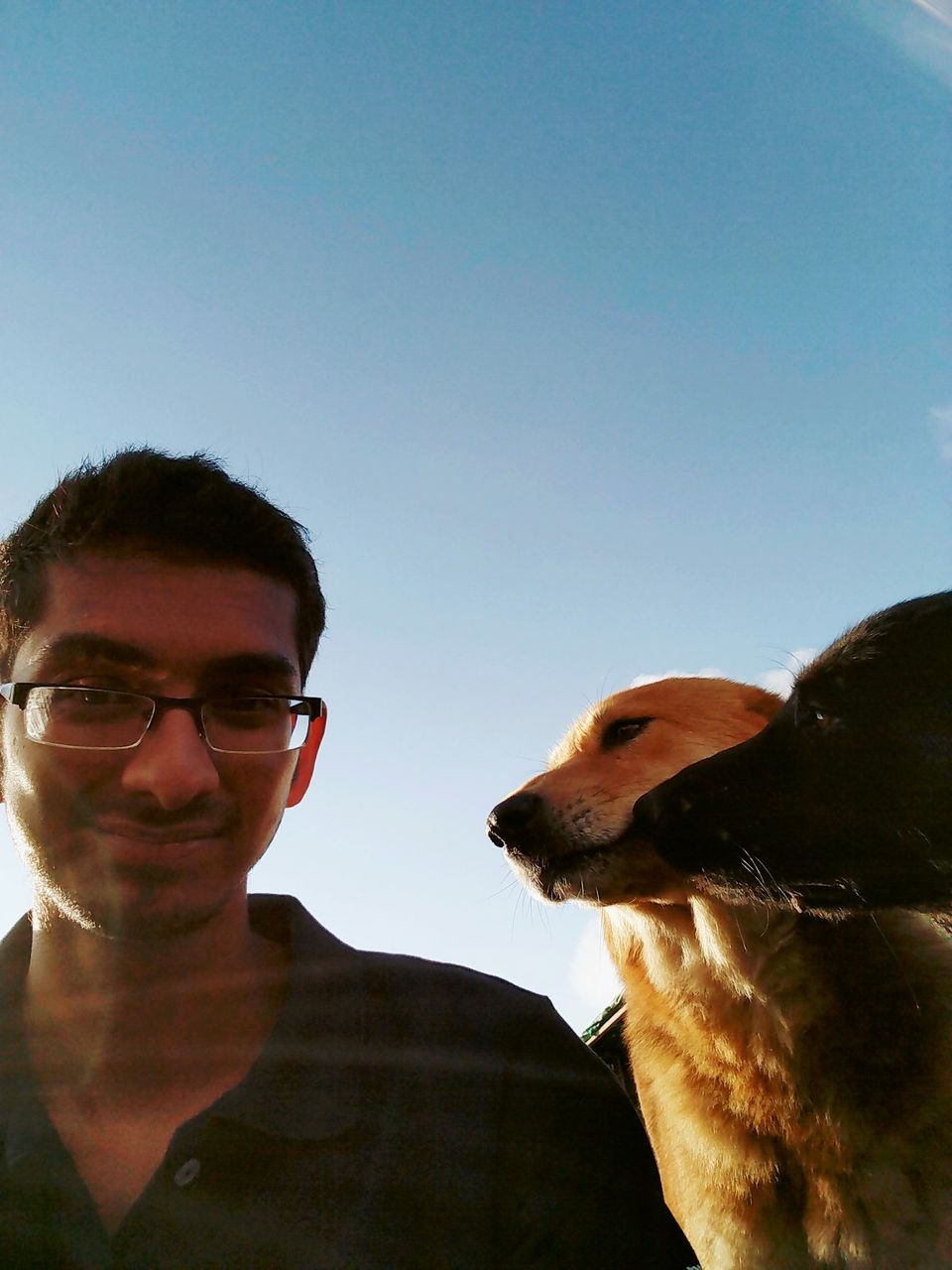 TIP: Marry the next person who looks at you like these two fur-factories are looking at me. The amazing part is, despite them knowing it was my second bath-less day, they still stuck around.
One of the lambs lost his mother and to my surprise, the shepherd knew who exactly was his mother!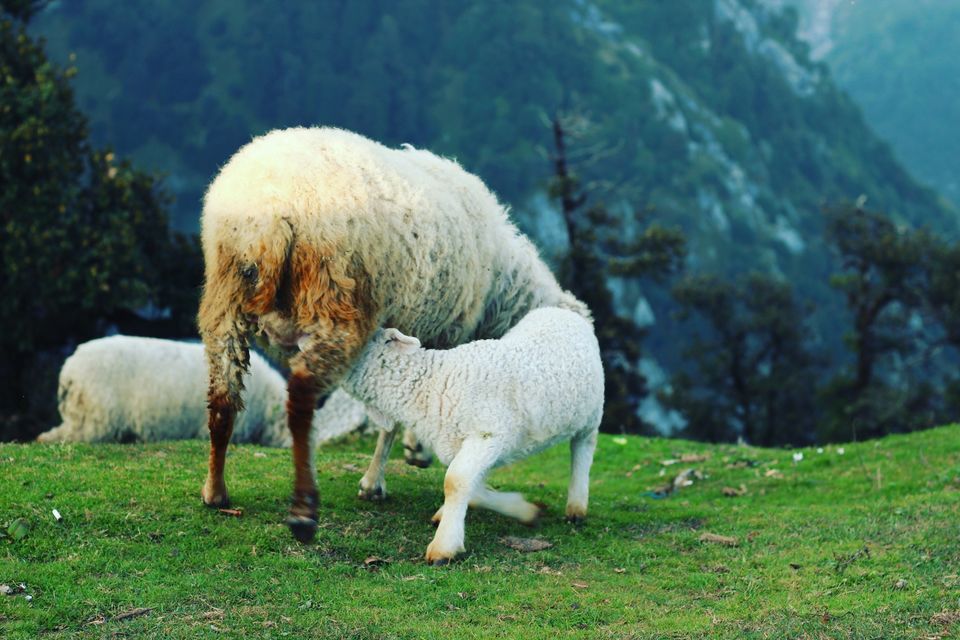 Before he could take him back, I quickly took hold of him to take a picture. At first, he resisted but as he saw his reflection in my phone he calmed down for this amazing picture.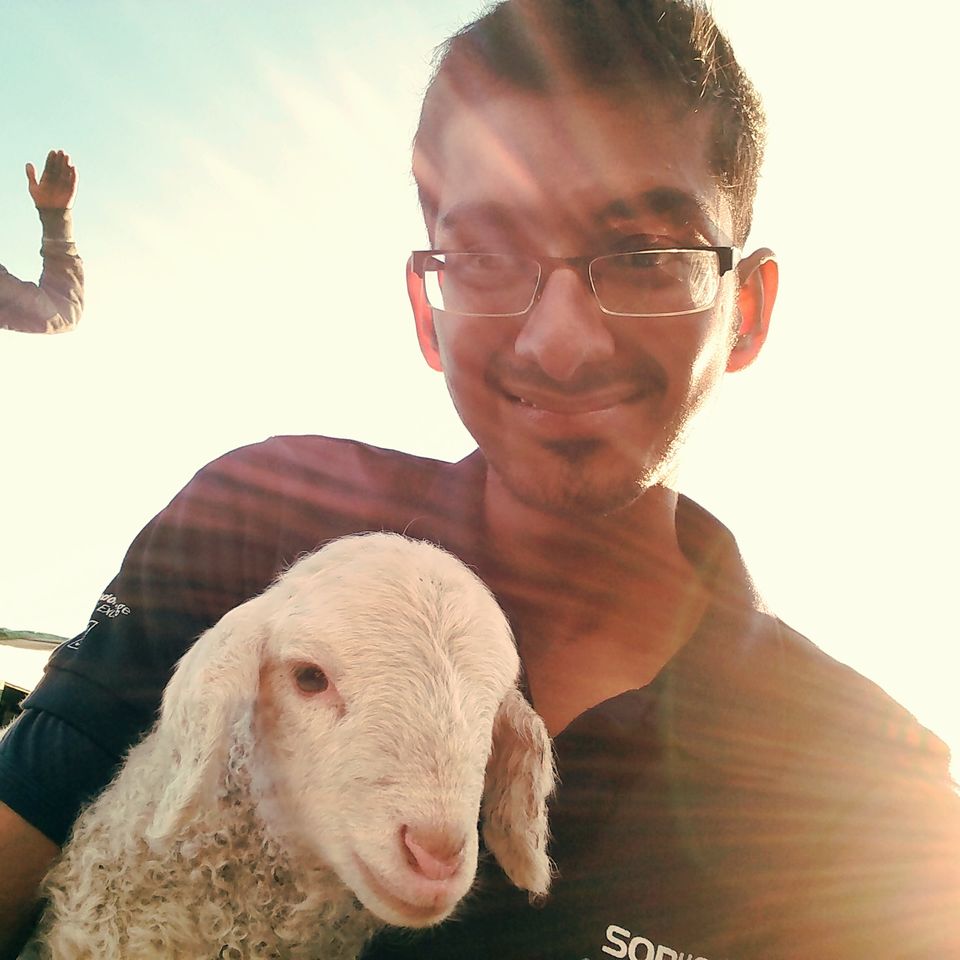 Chilling with bae and 49 others at Triund @9500Ft
As the sun shone through the clouds, it gave me an opportunity to click some beautiful pictures. The golden rays bathed everything in sight and everything around me looked like a beautiful painting.
No camera could do justice to that place but your eyes.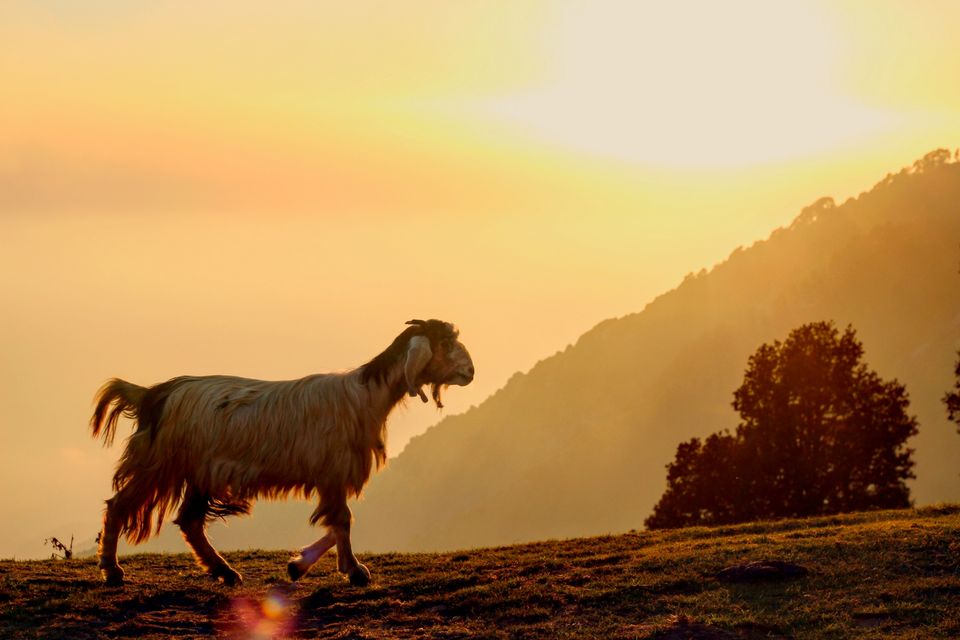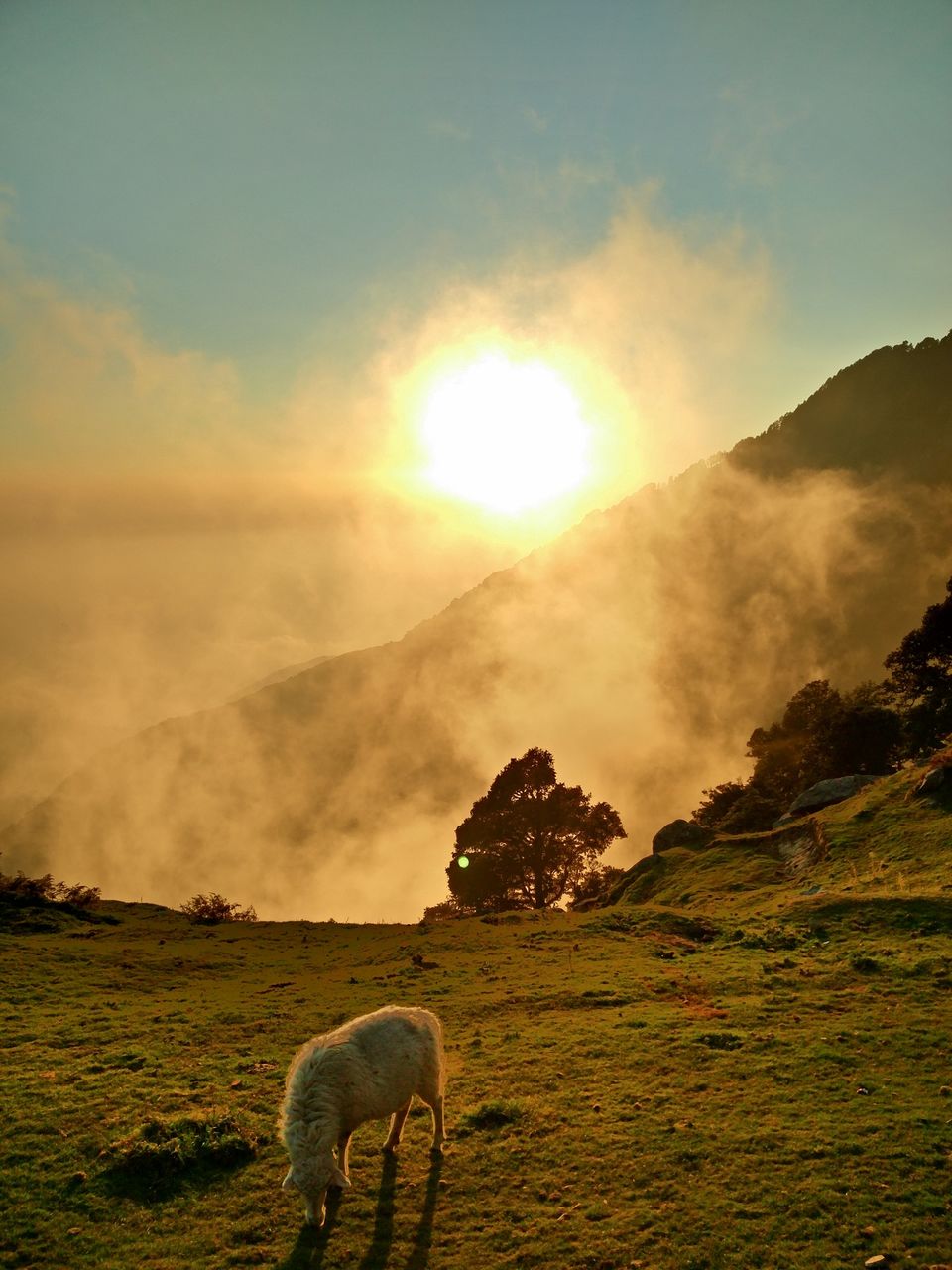 The sunset was beyond beautiful and I just sat there until it set completely. It was the time of bonfires and dinner sitting beside it. The shop owner prepared a handsome quantity of Ramah Chawal for me after which I warmed myself by the bonfire for an hour.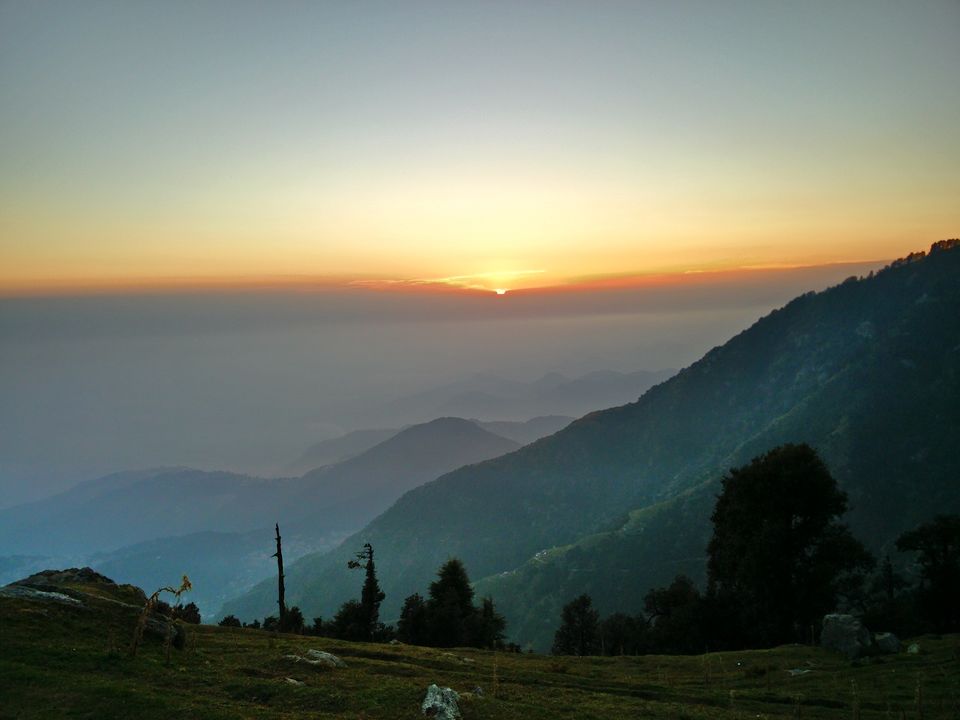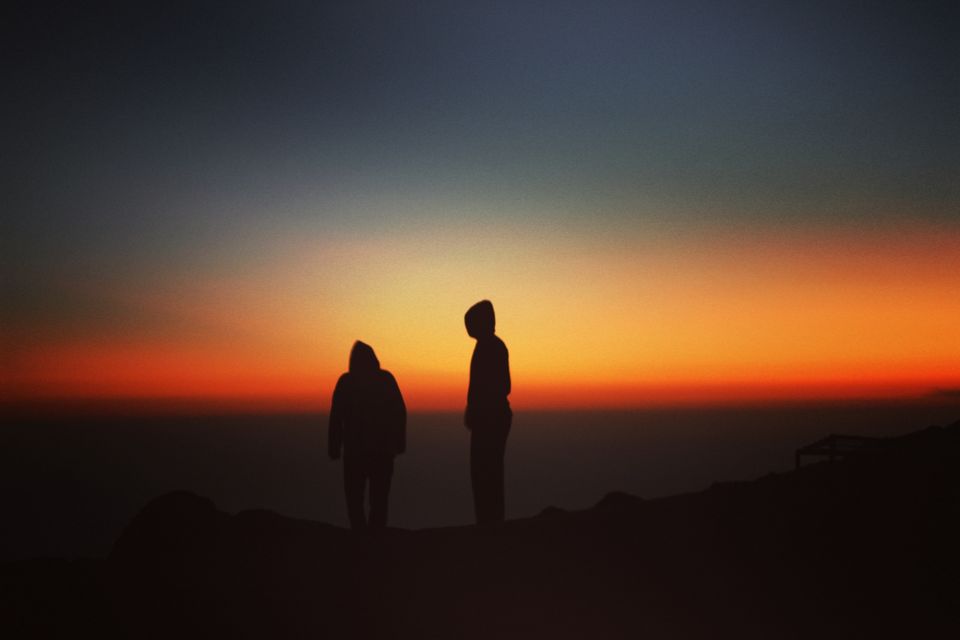 At this point, stars were shining with all their might. I could make out some of the well known constellations. The sky was clearer and brighter than the one I used to gaze in my village.
I felt complete. I was happy.
I woke up at 7:30 AM and it was 4-6 Degrees outside. No, it wasn't a traditional Delhi or Punjab's wintry day. It was much worse.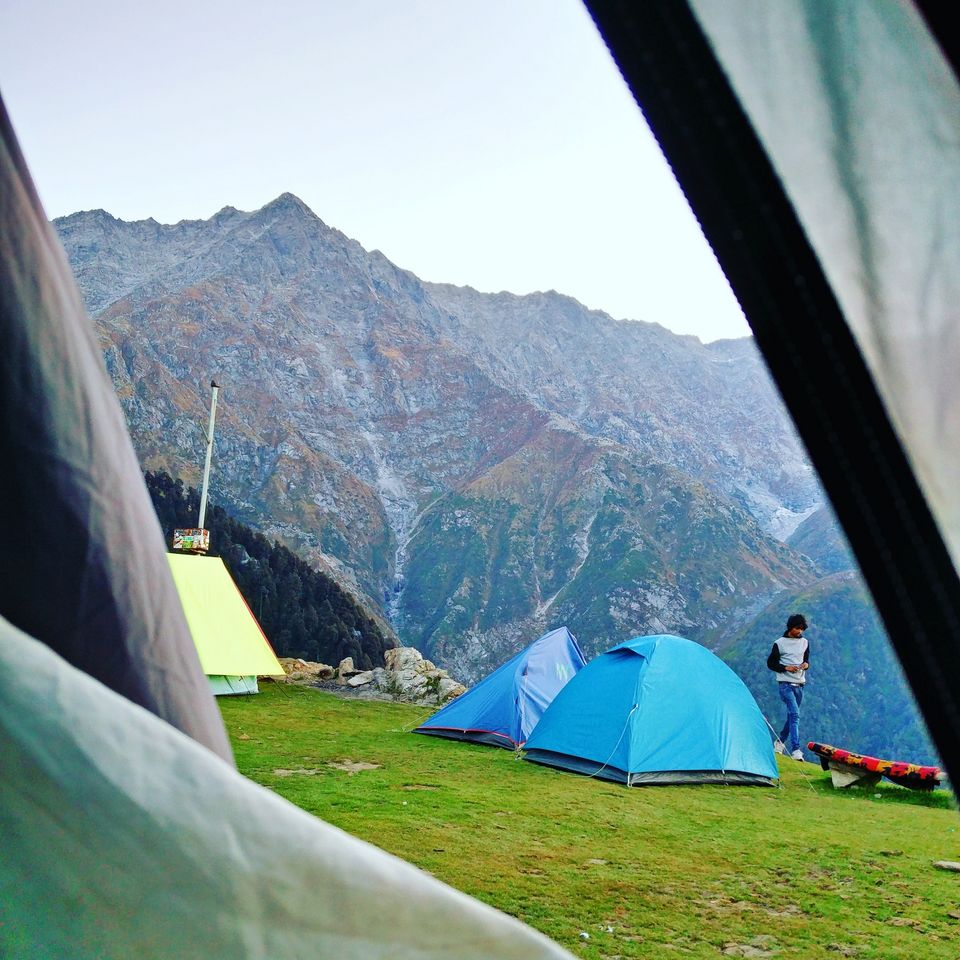 What's the most beautiful thing you've woken to?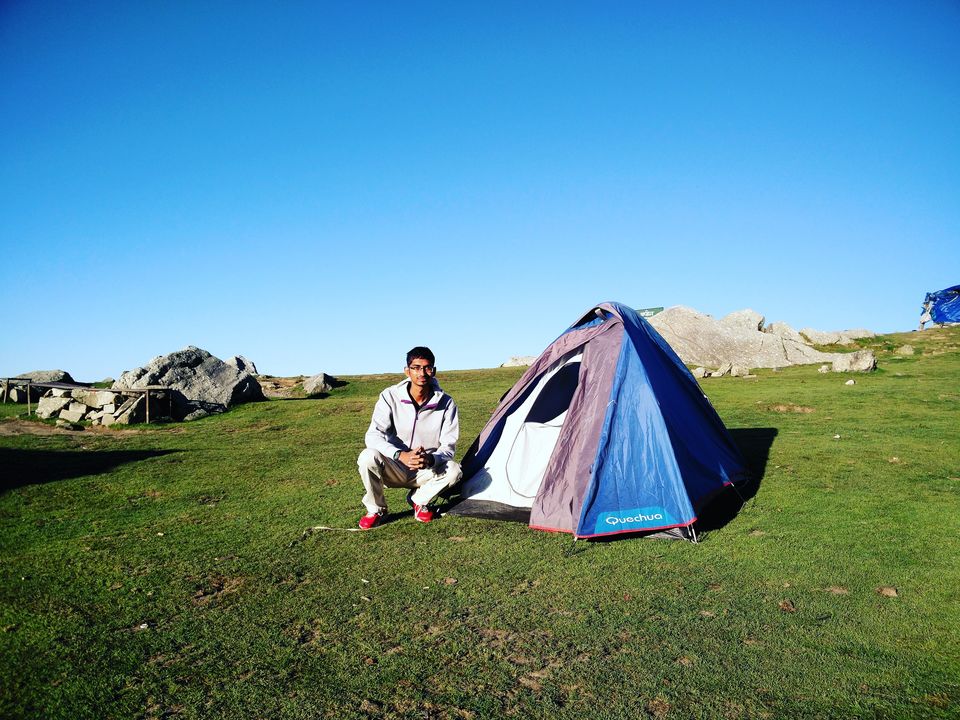 The warm sun against my skin felt soothing.
i descended at my pace and decided to rest for the day.
Day 4 - Mcleod Ganj
I returned to the hotel and after an hour I went to Cafe Mandala and had their Mandala Special for breakfast. It consisted of half cooked eggs, whole wheat bread with butter and jam, hashed brown potatoes and coffee. It was delicious.
The most important Buddhist site in the town is Tsuglagkhang, the Dalai Lama's temple. Then I went to Namgyal Monastery, the Tibetan Institute of Performing Arts.
I bought some things which I was sure was never going to need.
I spent the evening lazing around and returned early to the hotel as I had planned to do paragliding at Bir.
Day 5 - Bir
Billing, It is the highest paragliding point in India and second highest in the world. The World Championship 2015 was going to be held from 23rd October. The driver told me that many celebrities would be coming but the downside would have been it being closed for tourists' paragliding needs.
We passed Yol Cantt, Nagri, Palampur and the entire way was filled with picturesque locations. I have a few friends from Palampur and I envied them as I made my way across the city. I could see bright purple flowers in their natural habitat growing alongside the mountains. The driver's playlist made everything seem double joyful.
The day had started on a positive note. The only thing I was missing was a steaming hot cup of chai. There were lush green wheat fields, mountains and small dhabas in abundance.
I finally reached Bir after 2 hours at 10:30 AM from where a Bolero took me to the drop point. Billing, the drop point, is around 14 KM from Bir. The whole road is full of dust so remember to bring something to cover your eyes and nose.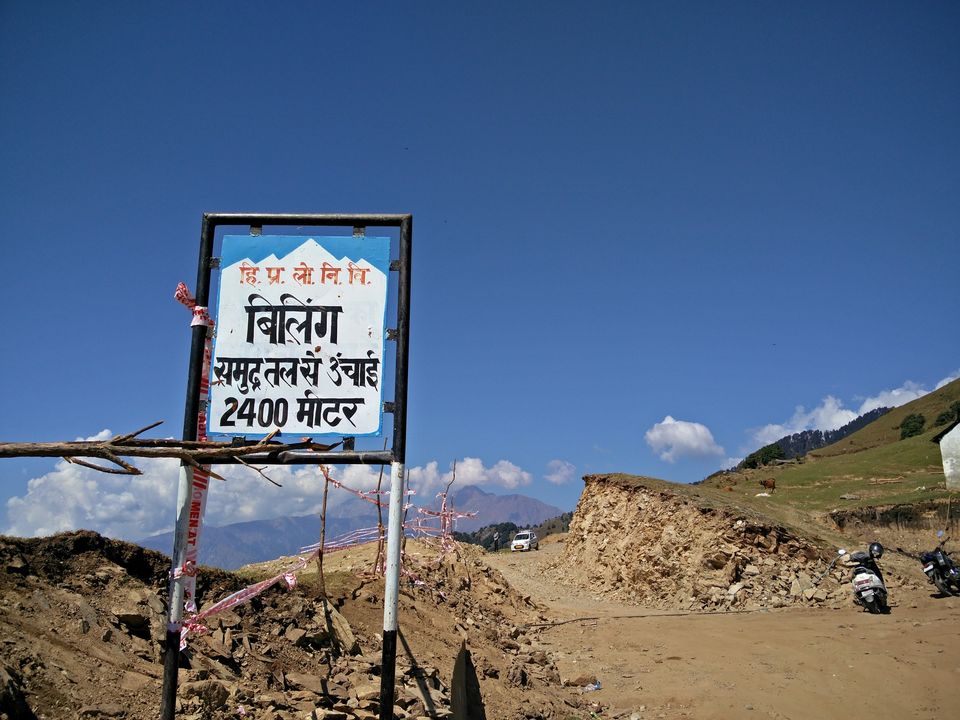 The view from up top was something like this,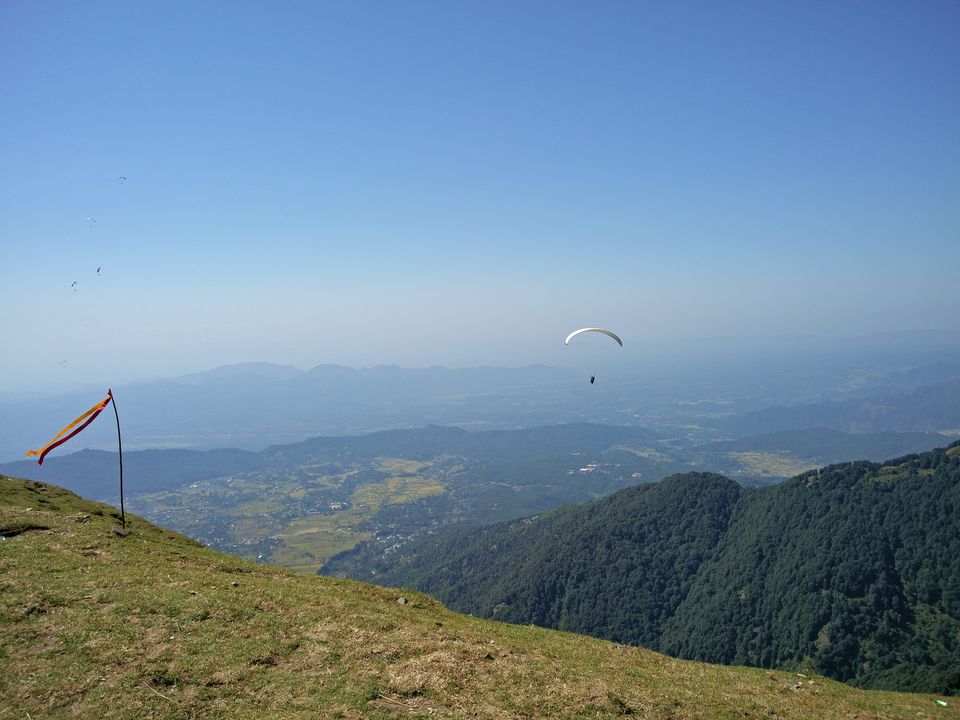 My pilot saddled me up and we were moments away from flying. I would sit in the front and the pilot would be behind steering the glider. The pilot instructed me to run and jump off the cliff on his go.
What? Shouldn't you be the one leading the way? What if your chute thingy doesn't open properly?
I took a deep breath, mustered up all my strength and jumped off the cliff. Voila! I was flying. I couldn't help but yell to the top of my lungs; that's how much I was excited to be mid-air.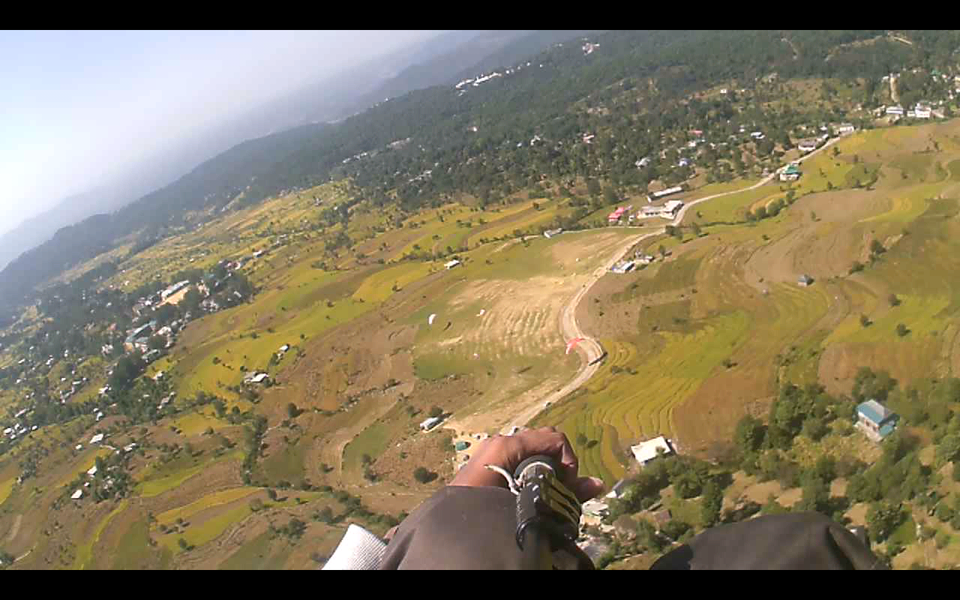 A still from the video which I recorded.
I gulped down liters of fresh air and held the Go-Pro in my hand capturing the live feed of my immature actions. The pilot steered above the mountains, over green fields, buildings explaining me the technicalities of flying. Little did he know I was barely listening, busy ogling the Dhauladhar Range which was enveloped in bright clouds.
After 46 odd minutes, the pilot took my consent to perform some sort of acrobatics. I had heard stories of people vomiting mid air due to this. But as I hadn't eaten anything, I said yes.
I won't forget those 2 minutes my entire life! He performed a zig-zag and gave me a few seconds of skydiving experience. It was fun, but I was dead scared when I listened to the noisy fluttering of our glider.
After a good 45 minutes, the pilot steered us towards the landing point. At that moment, I couldn't help but wonder if due to some technical problems, what if someone lands on the adjacent houses? Luckily, we didn't. The pilot instructed me to stand up on his cue seconds before we touched the ground. Being my first time, I was sure I'm going to mess it up and land bums first. I'm sorry to disappoint you, but I was able to perfect the landing!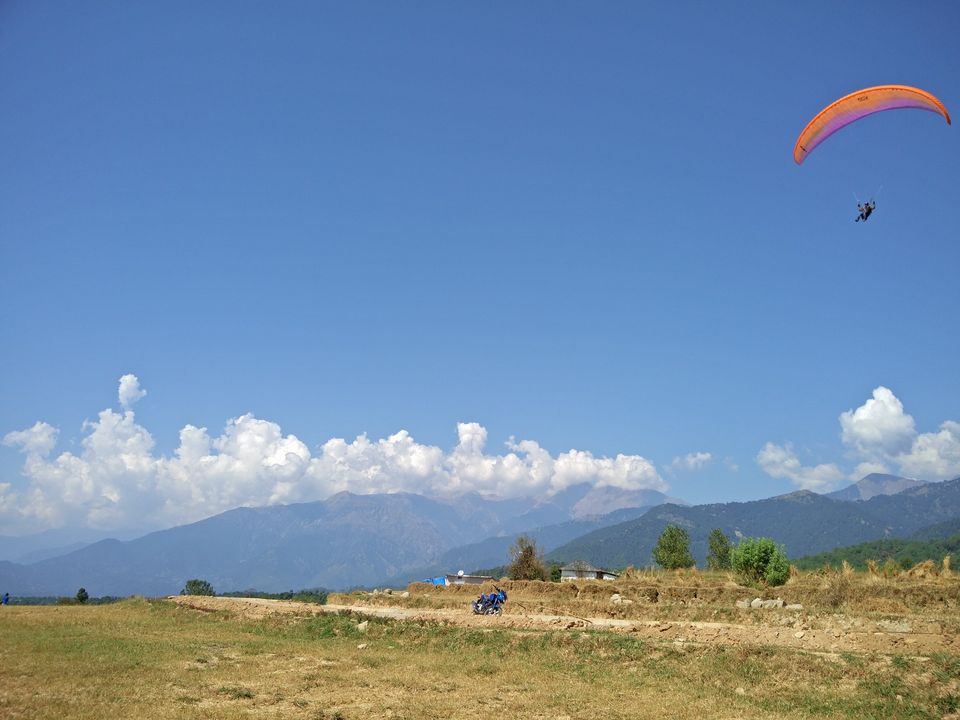 Drop Point - Bir
The funny part was when a woman who landed after me wasn't so lucky.
The driver was waiting for me at the drop point and we left for Dharamshala Stadium. HPCA Cricket stadium is set against the backdrop of the dramatic snow clad mountains, is perched on the high slopes in the upper reaches of Kangra valley.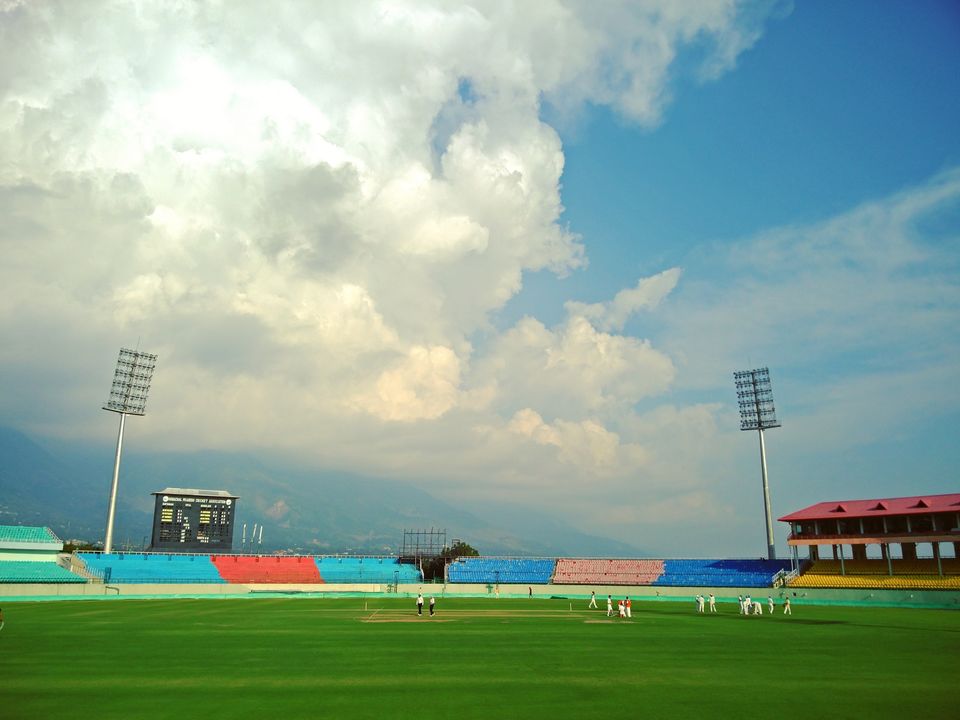 Dharamshala Stadium
The day had ended well.
I reached Mcleodganj and booked a bus ticket for Manali. Queen of Himalayas
Day 6 - Manali
The 35 seater bus to Manali had 4 Indians and rest were all from different countries. The English guy sitting beside me had been to more places than me! After a short conversation, he tried to go to sleep.
After 5 hours of incessant shivering, the bus stopped for a tea break. I gulped down two hot cups of tea to feel normal again. As I got up and began strolling around, I saw that English guy fiddling with something. When I neared closer, I found him trying to open a quarter of Royal Stag. He asked me how this damn thing opened. I was amused and wondered if he'd be able to take even a sip or not.
To my amazement, gradually he gulped down the entire mini bottle before I finished my second cup of chai. Impressive.
After 3 more hours, I reached Manali from where I took a taxi to Old Manali where I planned to stay. It was a great decision which I found later in the evening. I slept for a few hours as the bus journey was strenuous.
I woke up at 10 AM and left to discover the city.
Travelling alone gets tricky budget wise so I grabbed an auto where I requested him to show me around the city.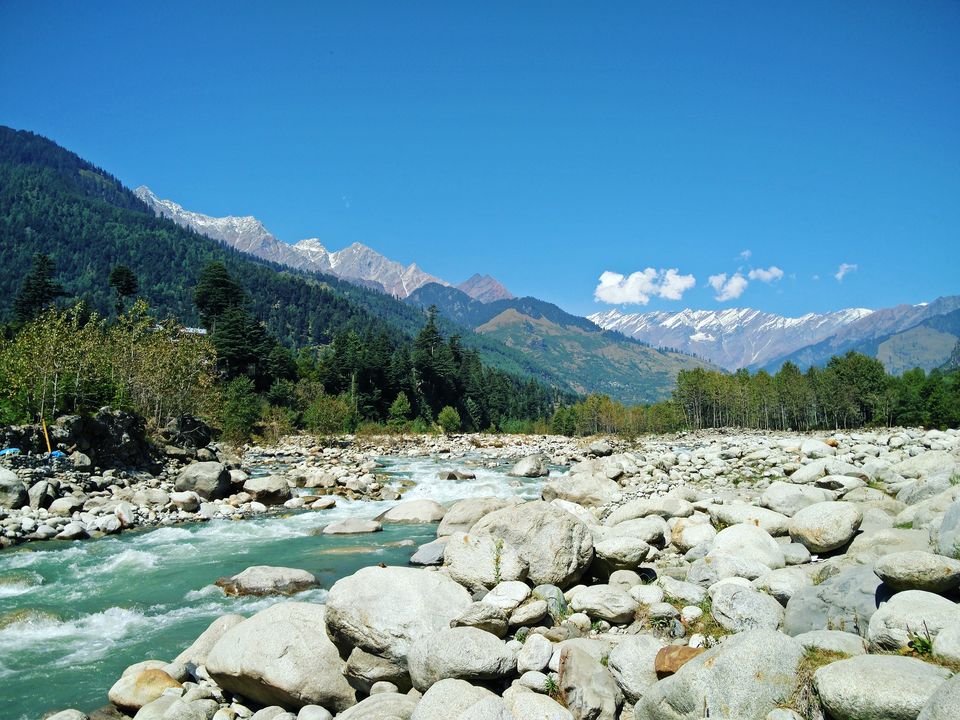 Our first stop was Hadimba Temple which is dedicated to Hadimba Devi, Bheem's better half and Ghatotkach's mother. You would know better if you watch Chhota Bheem. The temple is situated in the midst of tall trees and street vendors at the foot of Himalayas. The area sprawls with people with Yaks, fluffy rabbits who request you to click a picture with them after paying some amount of money. The place will awaken your pious senses.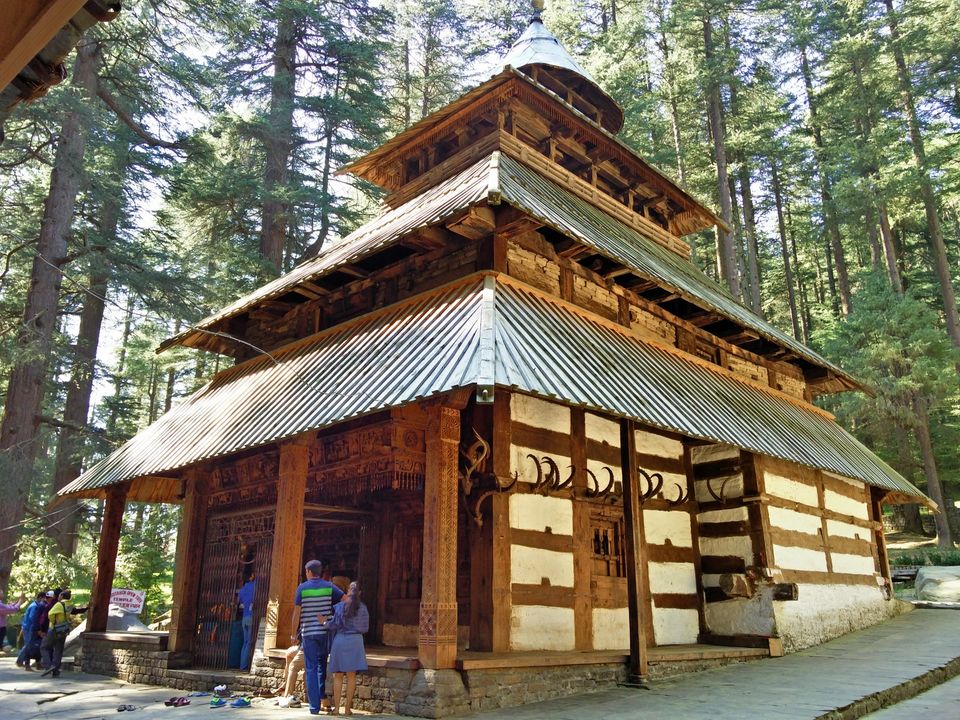 Hadimba's Temple
Then we made our way towards Vashisht Temple which is famous for hot water springs. As much as I wanted to take a bath I the Holy water, I restrained reserving it for the next time when I come with my mentally unstable friends. I strolled down the street and they were abuzz with tourists all over.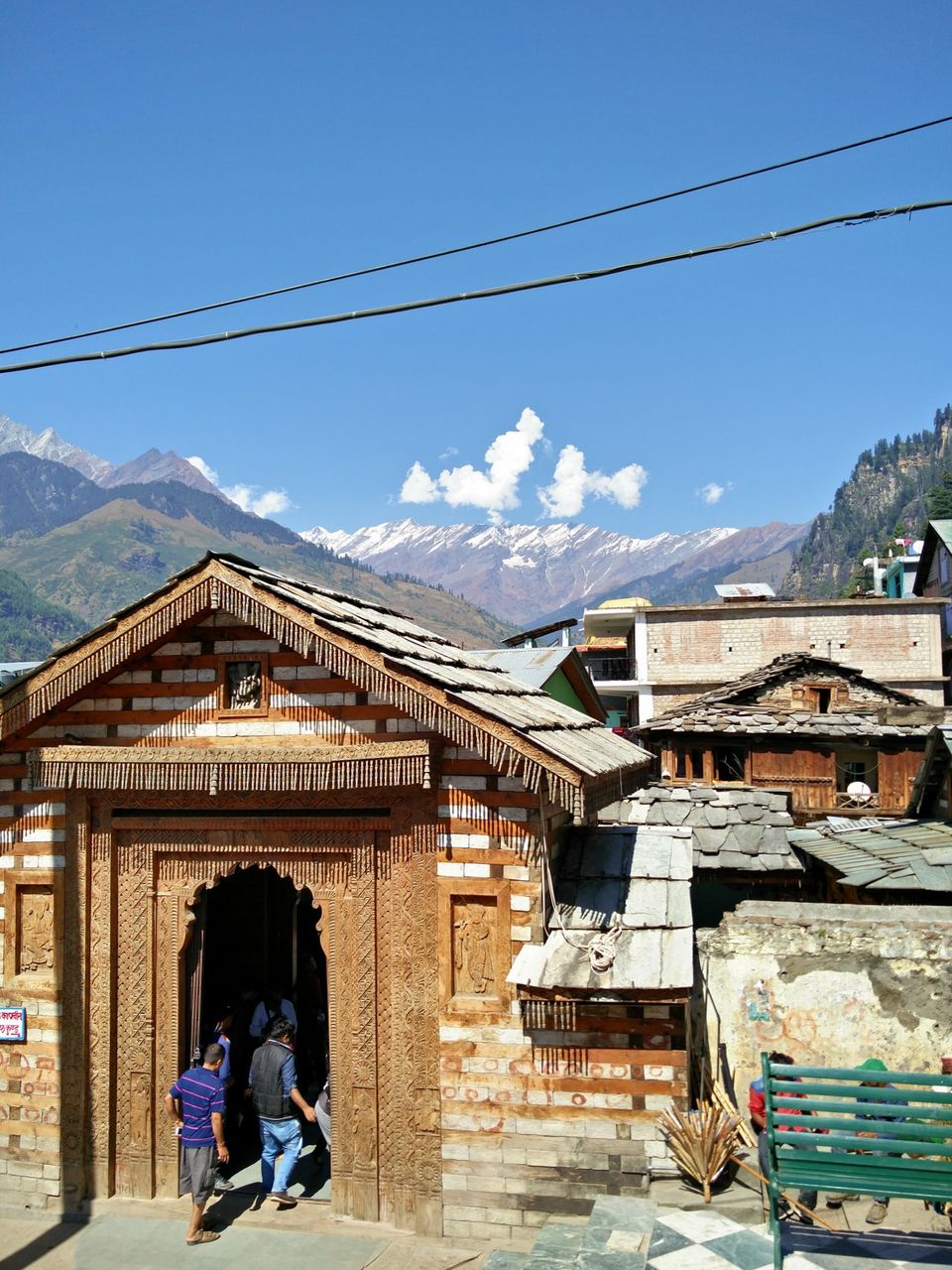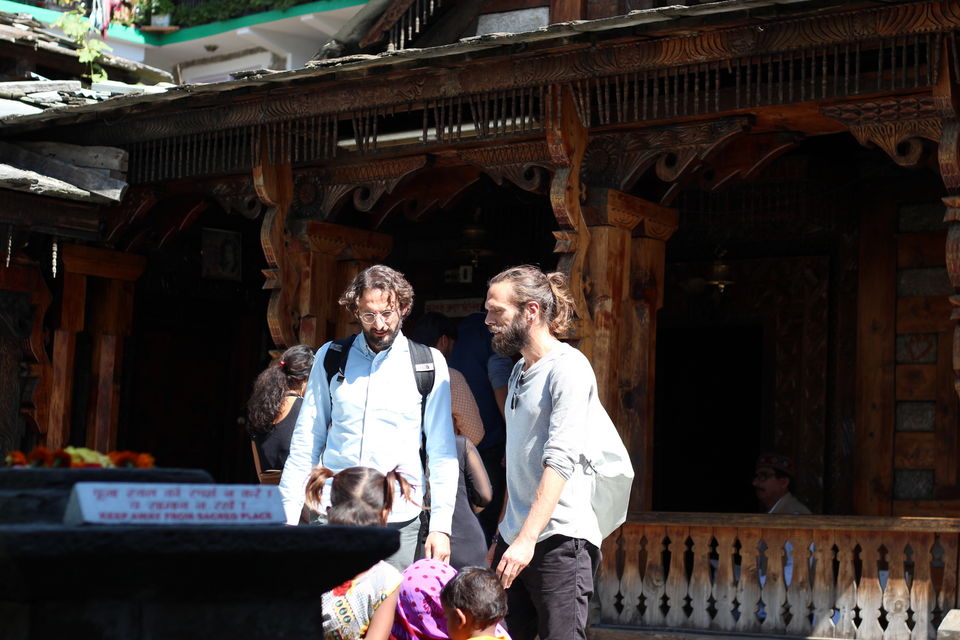 Vashisht Temple
The next place was a Buddhist Monastery - Nyingma Monastery. It was one of my lucky days where I got to witness a wedding. I asked one of the baraatis and he informed me that the concept remains the same as in a Hindu wedding, the only thing in excess is liquor and dance.
It was a lovely moment and scary as well as I saw a man ready to chop down the next person who pisses him off. I kept my distance.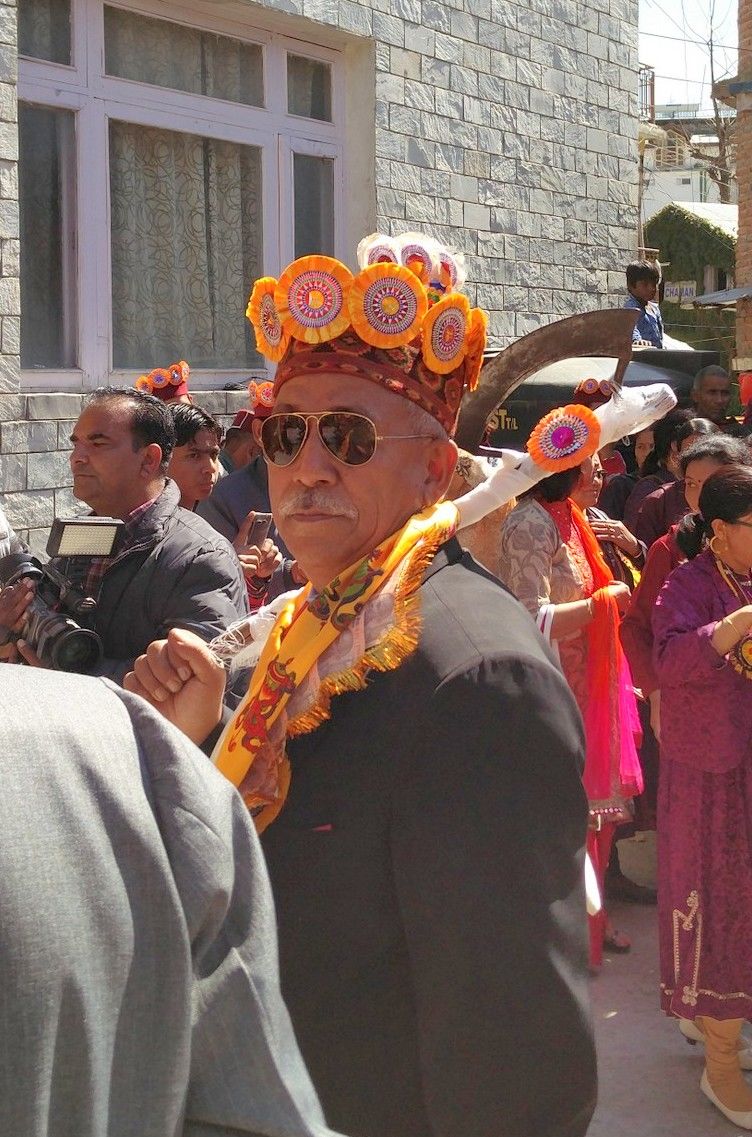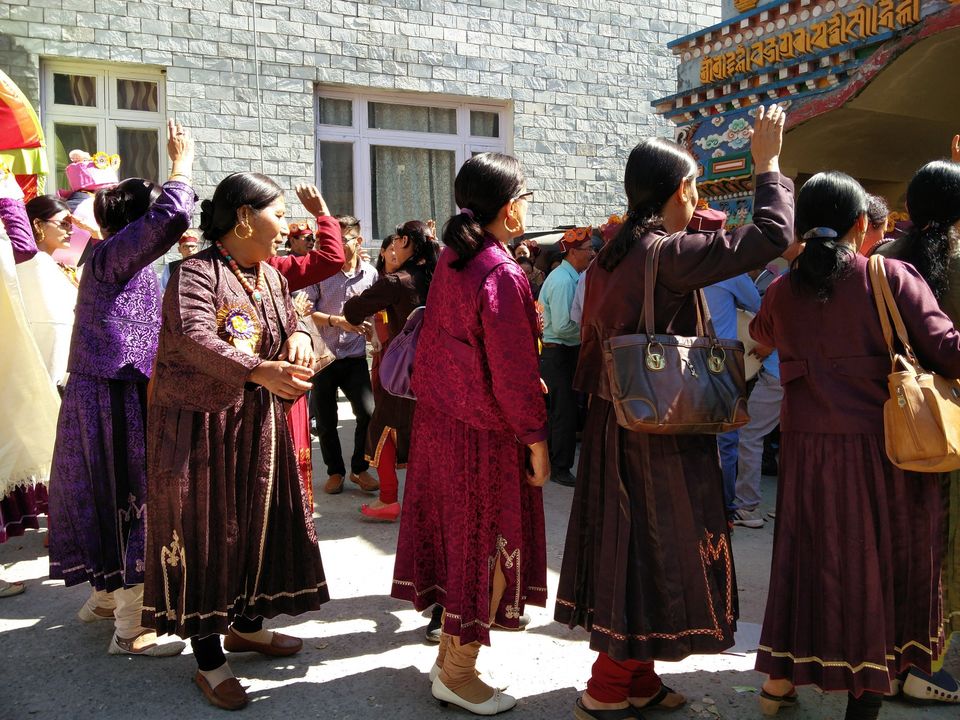 No, it's not called Garba.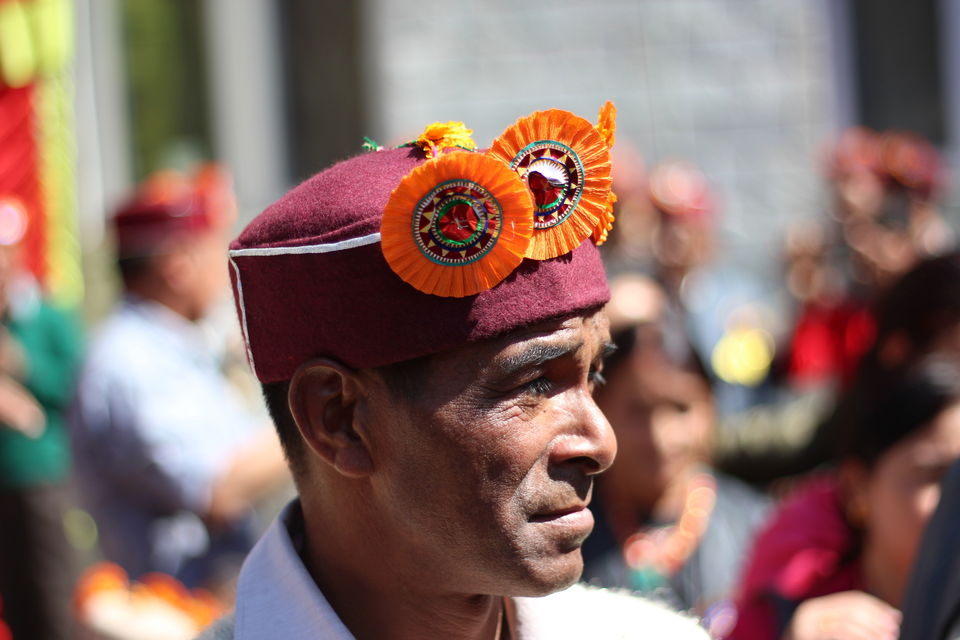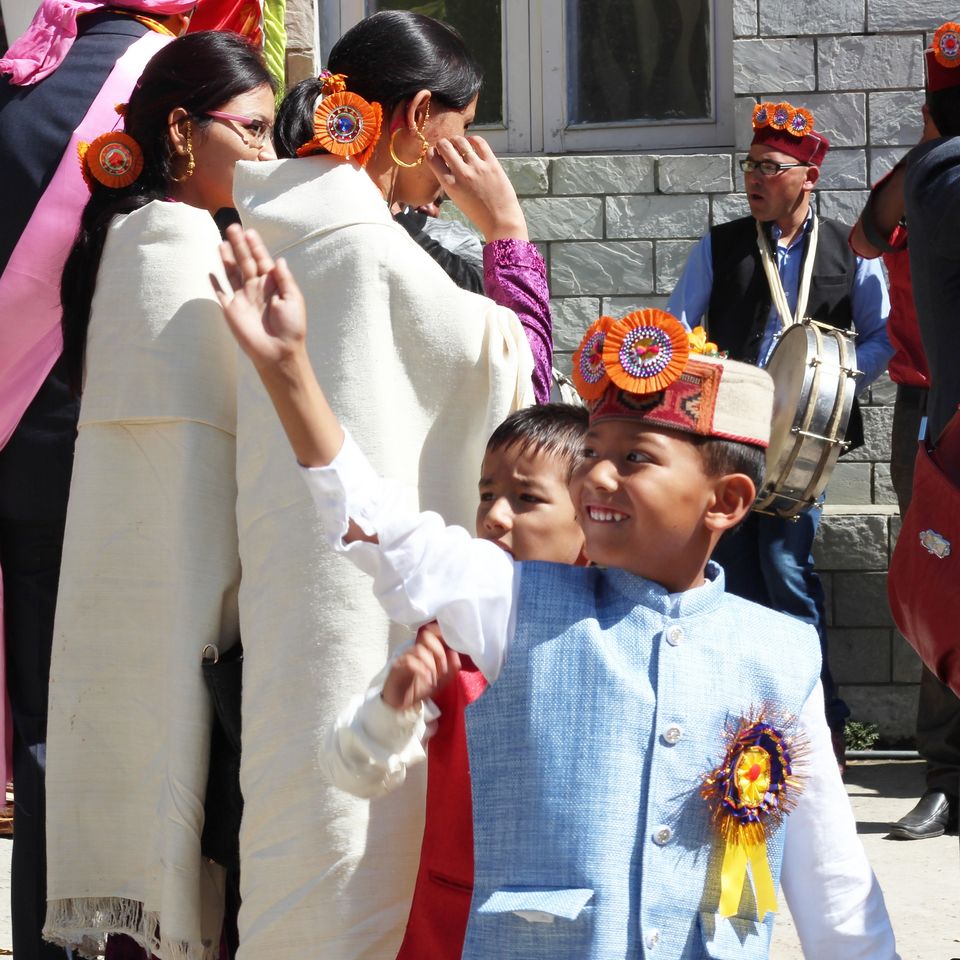 The next on the list was Manali Club House. The auto driver dropped me as it was the last on his list. I made my way towards the Club House and purchased a ticket for entry. At the time of writing, they charged Rs 20. It consisted of a grand hotel with a pool table, billiards, hotel and a bar. There were shops with hosiery goods besides small fast food stands. There wasn't much there as I was a lone traveler but if you're going with family, it could be a great stop. I took a lemon iced tea and sat on a place overlooking the Beas.
Beas - The heart and life of Manali
After spending some time there, I walked a couple kilometers towards Mall Road during which I met a guy who had come to Manali for work.
"Sometimes there isn't electricity for weeks straight here during winters."
"As its chilly and cold round the year, you will barely see any hotels or houses with fans here."
"Oh, you're staying at Old Manali? Be sure to get out and roam around during evening. The place becomes lively with people."
Interesting!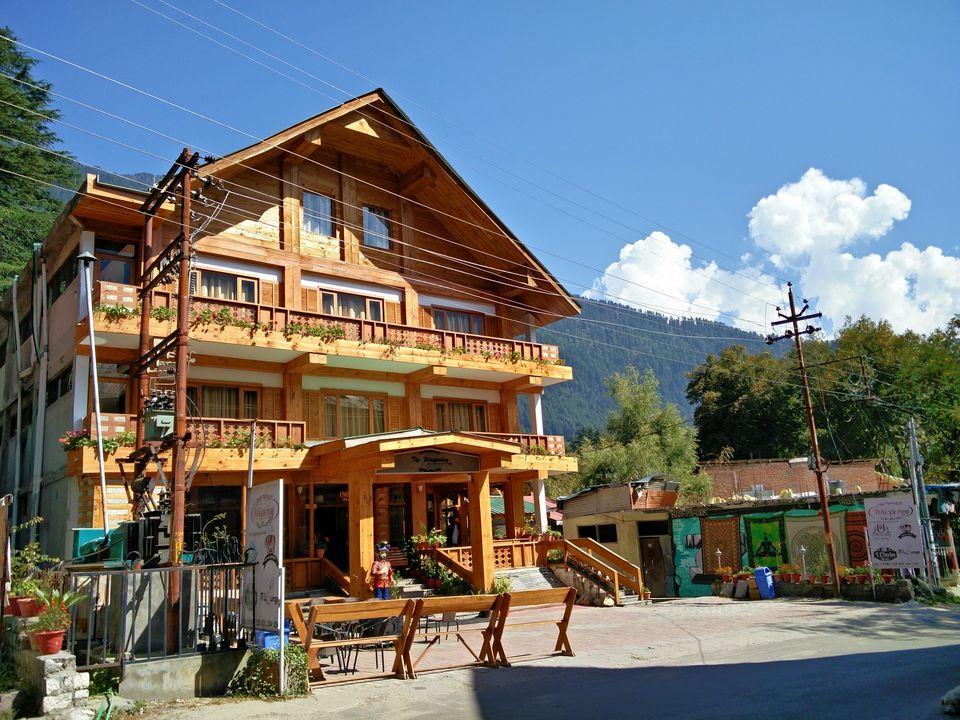 I couldn't resist to stop and take a picture of this beautiful hotel.
The famous Mall Road. Although it wasn't my first Mall Road, it was a great place abuzz with people. There were Pahadi people busy selling people stuff, small kids with their backpacks, happy couples looking forward to their time in this beautiful city.
As I was pretty hungry, I started searching for Satyam Restaurant which came in highly advised by one of my friends. I spotted it shortly and ordered Rajmah(Red Kidney Beans) and chapatis. Needless to say, it was delicious and I would recommend you to feel fry and try out any other delicacy.
After a happy tummy, I walked towards Van Vihar which was second last on my local sightseeing itinerary. I bought a ticket and entered the jungle.
The place is beautifully preserved and spotless clean(almost). There was a small Park for children with some swings. Obviously, there were more grown ups than kids on them. I started walking deeper into the forest and shortly afterwards got lost. I picked up a trail and ended up at the banks of Beas.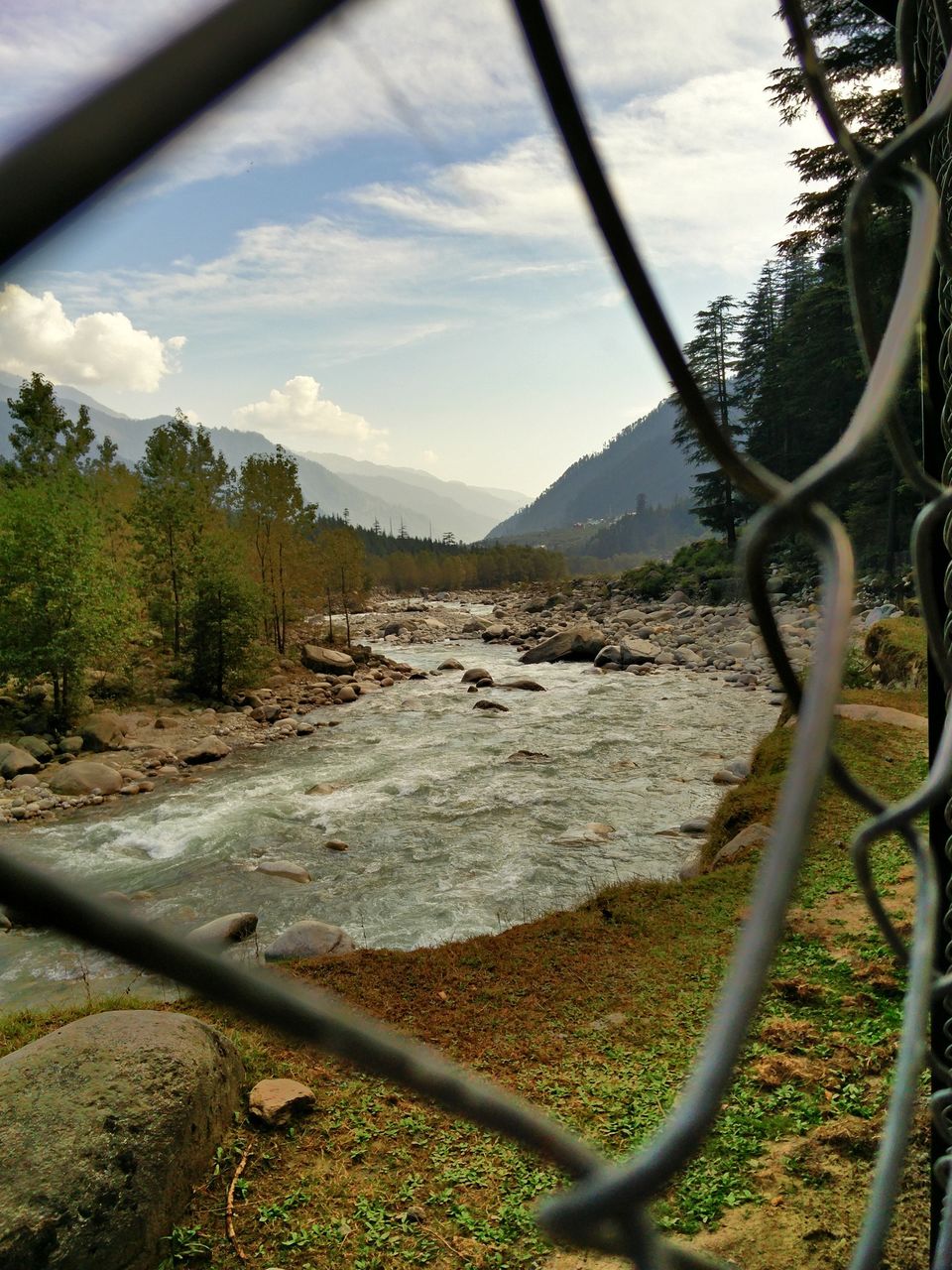 This was it. I'm booked for the evening.
I listened to some soft music as I sat there looking at the wild flow of Beas. As the river flows downstream out of the city, the flow is more violent in and around the city. Be advised, do not mess around where the water might be deep.
Respect Mother Nature.
After a while I was able to find my way back to the main gate. Refreshed.
Manu Rishi Temple was next on the list. It was a good old 6 km from where I stood. I took an auto for Old Manali. The auto dropped me at a point from where it was a 20 minute walk towards the temple. Uphill. Drat.
I reached the temple and paid my respects. The temple held idols of Shivji, Hanumanji and Shri Krishna.
There were a couple dogs lazing around the temple premises. I played with them for a while and took some pictures. I sat outside gazing at the mountains in the distant horizon.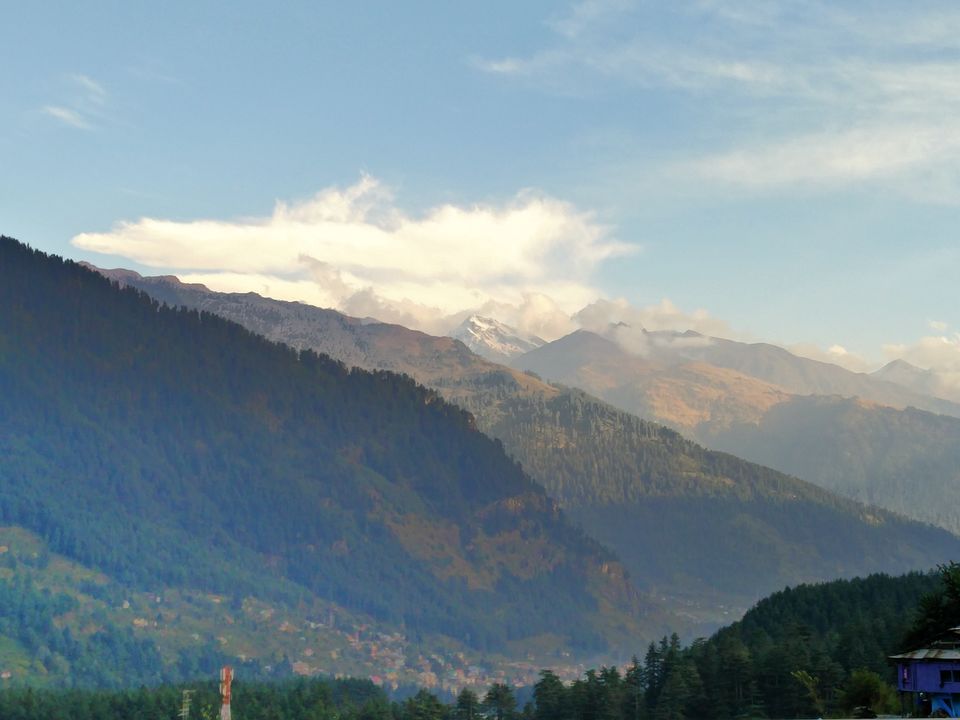 Mountains - Just can't get enough.
I can't be more excited to share this part! As I descended down the path back to were the auto dropped me, my eyes got fixated on a small shop. My hunt for the perfect chai during this entire trip ended.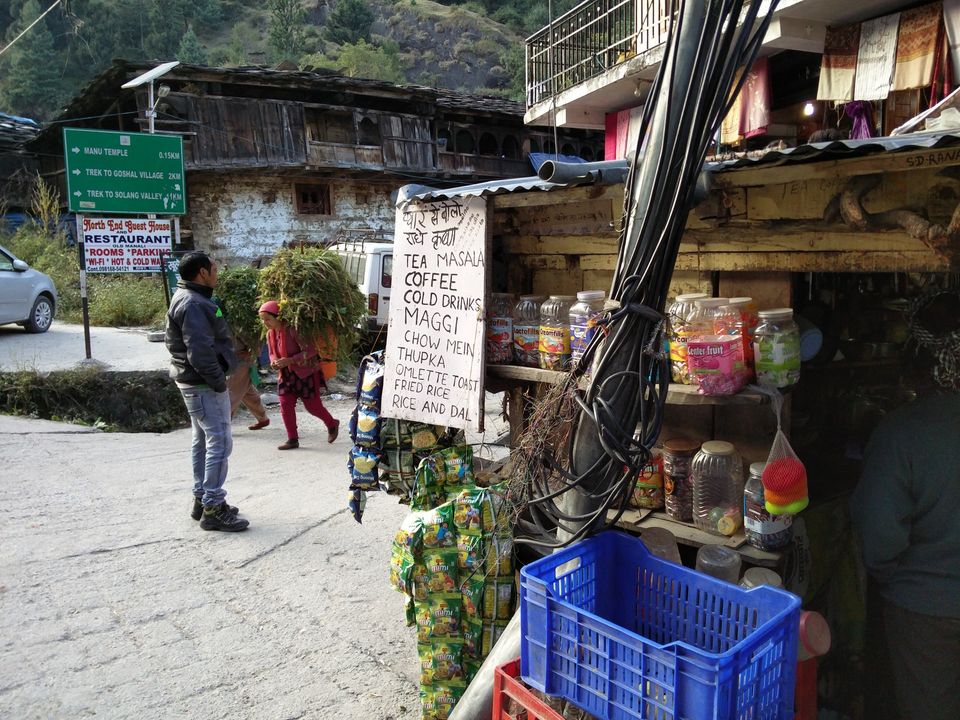 Here!
I was going to write something but then I spotted a familiar language. If you're in the city, visit this place preferably in the evening.
I had a steaming hot bowl of Maggi and couple masala chais.
I was pretty tired by the way I found my hotel back. After resting for a while, I again got out to discover Old Manali. The whole street was filled with cute cafes and shops of all sizes. I saw groups of all sizes roaming around the street giggling at their jokes, planning what to do the next day.
Of course I missed my friends, but they had kept me company throughout the trip virtually.
There were live performances, bonfires and soothing music all around. I was tempted to enter each and every one of them. I was attracted towards Drifter's Cafe as it looked peaceful. I ordered toasts and coffee. The staff was very polite and I loved the music. I had to come here again and who knew it would be the time I'll never forget. But let's save it for later.
I strolled down even further where all I could hear was Beas roaring at the rocks which were in her way. I sat down and sensed my skin tingling with the cold splashes of water from the river. Goosebumps. Reminded me of rafting in Rishikesh.
As I finally made my way back to the hotel.
I fell in love with the city. I instantly cancelled my plans for Rohtang/Solang/Kasol the next day. I decided to simply chill and bask in the warm sunshine that the city had to offer the whole day.
Day 7 - Manali
I slept like a baby. A baby with a questionable hygiene. It was so chilly that I skipped the bathing part. I waited anxiously with a chai for the sun to hit the porch. During which the junior owner of the hotel came towards me with his unicorn. He had the perfect set of innocent eyes.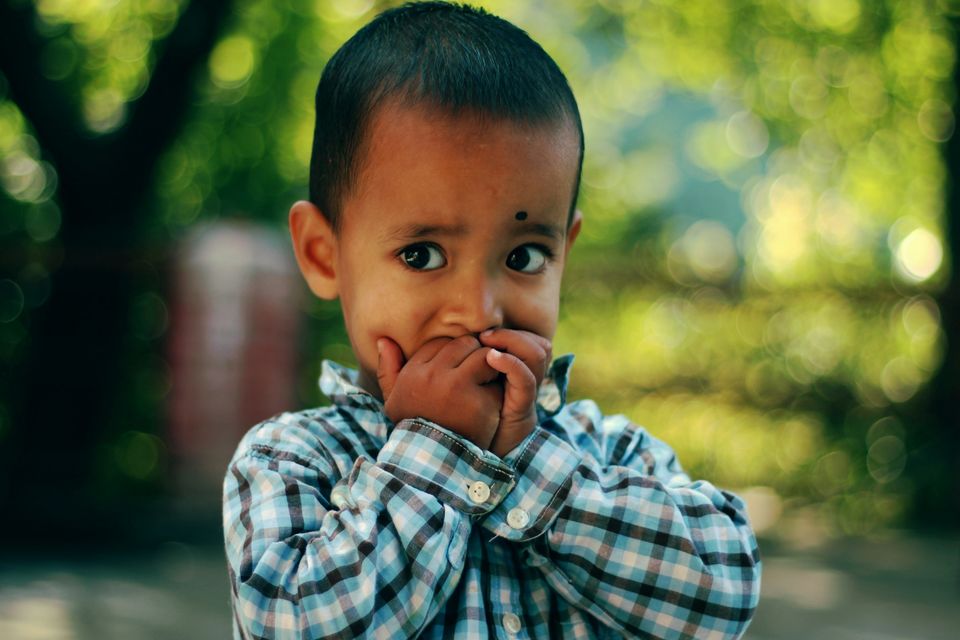 Kids are awesome as long as they are not yours.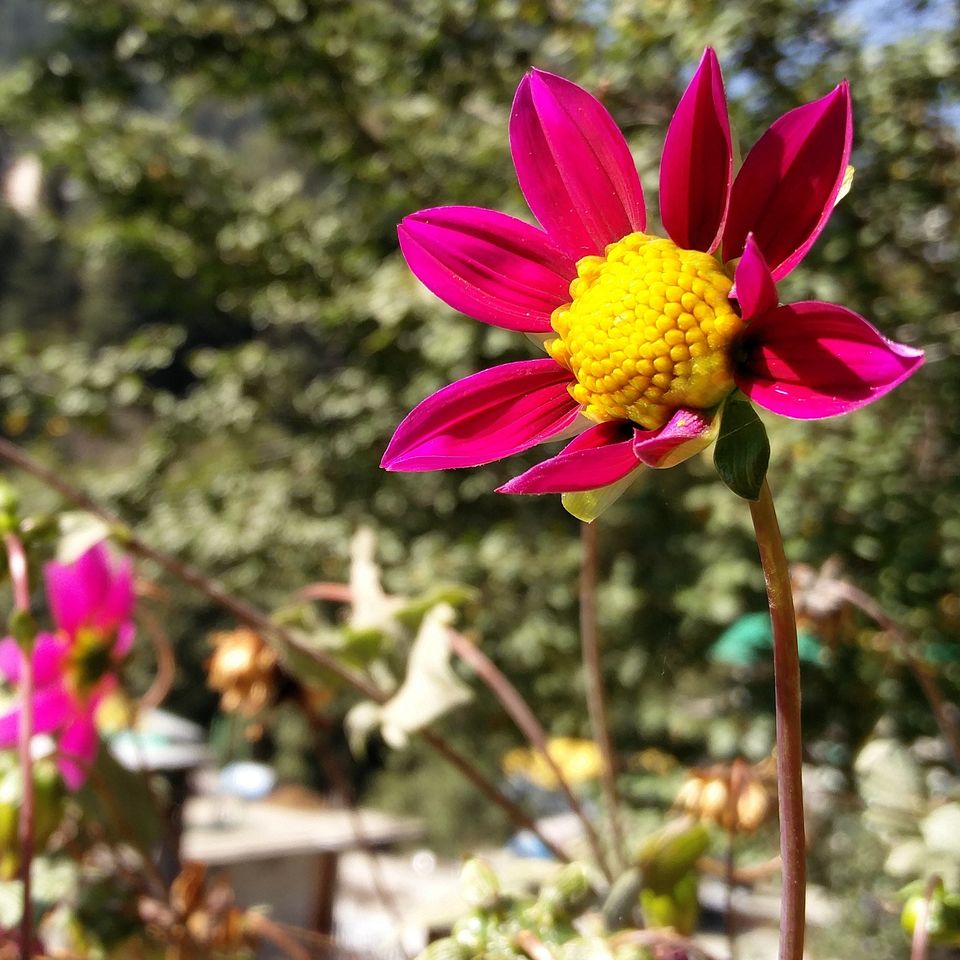 A photograph I clicked early in the morning.
After warming myself for a couple hours, I checked out and made my way towards River Music Cafe. As the name suggested, it was one of many cafes which gave me an awesome view of the river, the age old iron bridge and endless mountains. The raging sun was an added bonus.
It was my last day of the trip and my bus to Delhi was to leave at 4:30 PM. I had several hours to kill so I made my way back to Drifter's Cafe.
As I sat on the terrace cafe overlooking the mountains which were on fire as bright white clouds seemed to emerge from them, a voice erupted from the background. There was a girl in her late twenties which had just come into the city after a gruesome 17 hours in a bus. Her mood was inexplicably good for that reason! She had just been engaged recently and was travelling alone and had a trek planned the next day. We talked at lengths at places we had visited and the ones worth adding in our bucket list.
Opening Doors Within - Eileen Caddy
She showed me this book and asked to take a deep breath and open a random page. As I read the page, I felt my self-esteem(which is at an all time low, like always) rise. Creepy.
I ordered a plate of Onion Rings. The last time I ate them was at Pizza Hut years ago. After an hour or so, I ordered Rajmah Chawal. I would want to have this delicacy even on Mars if I'm invited there.
It was mind blowing. I never thought it would have a desi touch.
Shortly after, she left to take a nap and I made my way to the bus stand with such a very heavy heart.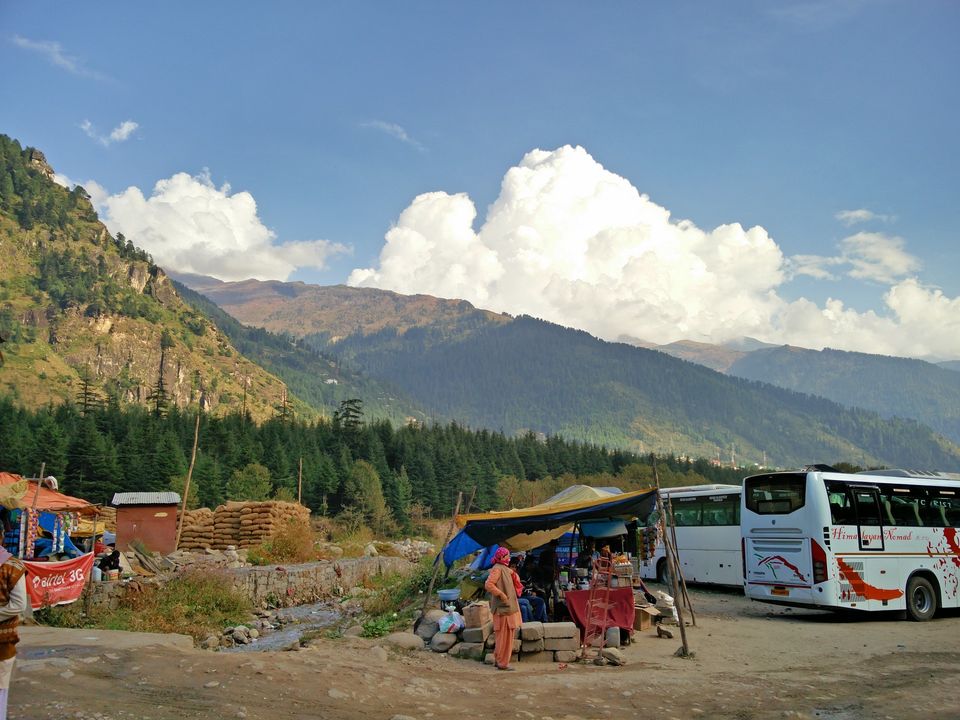 Even the bus-stand which is supposed to a boring place, seemed to be intoxicating
The bus left at 4:30 PM sharp. When I had entered Manali, it was pitch dark. As the bus moved towards Kullu, the bus moved alongside Beas and I can't describe the beauty using words or even quotes. You have to experience it not once but as many times you can and you'll still want more.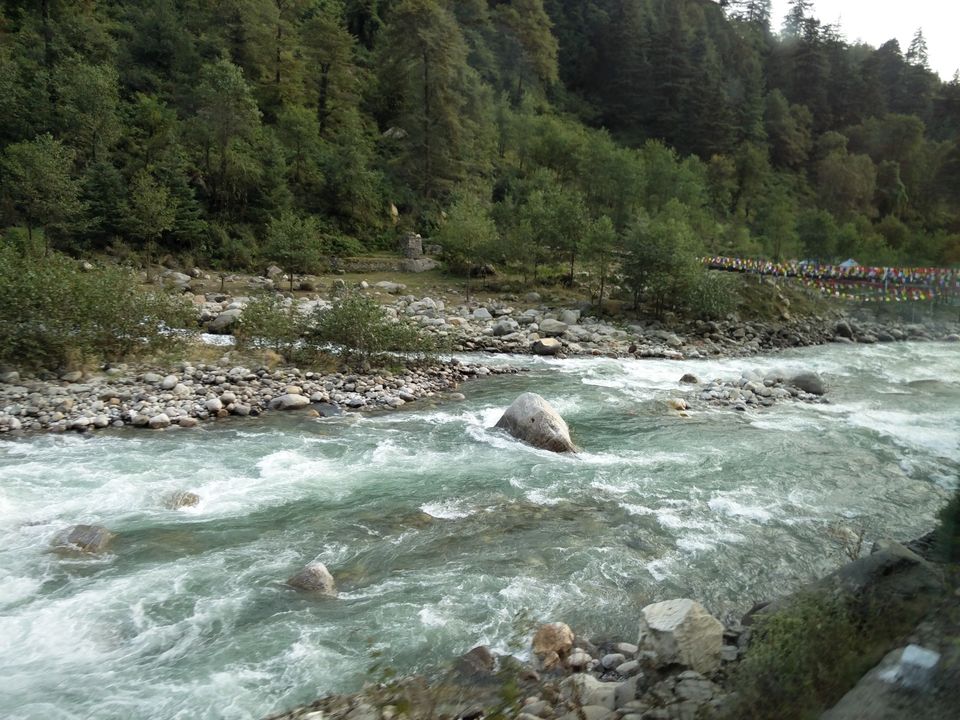 I checked out but I couldn't leave Manali.
I reached Delhi at 8 am and I spent the day meeting with old friends and caught up on old times. I reached airport to catch my 8 PM flight to Ahmedabad and couldn't help but smile at myself.
I did it. I finally did it!
Backpacking alone across cities took courage, determination and enthusiasm more than money.
Befriend yourself. Love yourself.
Now all that's left is to share this wonderful story with you. If you reached till here, I want to thank you for your patience throughout this story.
Any questions or suggestions are welcome!
Cheers! God Bless you.
P.S. All the photos have been taken with a Canon 600D with a 50mm and OnePlus 2