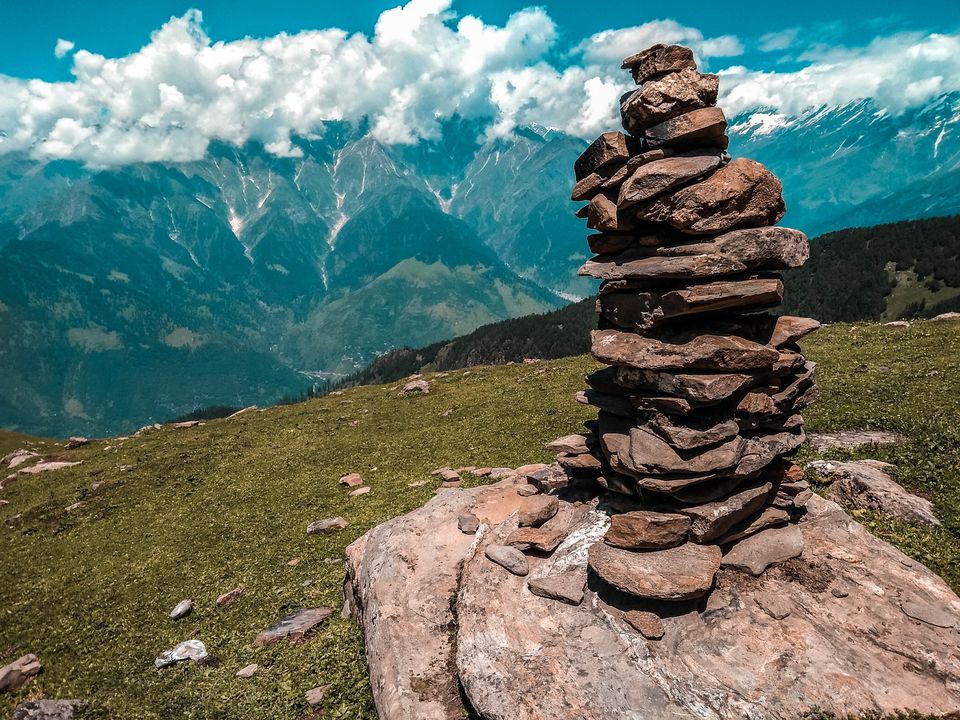 Situated in the alpine forests of Parvati valley, Kheerganga is one of the many hot sulphur springs which has recently become a hotspot for trekkers and backpackers. It is said that Shiva meditated there for 3000 years due to which it has become an important site for both Hindu and Sikh devotees. While others come here as they believe that the water here has sacred healing properties. As most of the trail is through a beautiful alpine forest and alluring Rudra Nag waterfalls, it makes the 13 km trek to Kheerganga a mesmerising journey.
Day 1: Reaching Tosh
The Kheerganga starts from Barshaini which is a tiny quaint town 16 km ahead of Kasol. As there is no direct bus to here from Delhi, the best way to get to this place is by boarding a Volvo bus from New Delhi to Bhuntar and then catching a sharing cab or local bus to Barshaini.
It was the first week of April 2017 when I decided to go for this trek (which is also my first trek) along with my friend Prashant. As we were both based from New Delhi, we boarded the Volvo from the capital to Bhuntar from where we took the local bus to Kasol. In between, we befriended a guy from Mumbai named Tevin who was travelling alone without any plan before getting back to his home and joining a new workplace. Upon hearing about our plan for Kheerganga, he also decided to join us.
We reached Kasol by one in the afternoon where we decided to have lunch before moving towards Barshaini. After a delightful lunch in one of the cafes, we were joined by Tevin's brother Ethen who just came back from Grahan. After which we boarded a bus to Barshaini to find accommodation somewhere near Tosh which is just 4 km away from that town.
As we reached Barshaini, we decided to walk towards Tosh which was where we had decided to halt instead of taking any shared cabs which were available from the bus stop. As we walked towards the quaint town of Tosh the rain gods surprised us with their presence and halted our walk. By the time we finally landed up in Tosh, it was totally pitch dark. In addition to that, when we arrived there was no electricity which made the task of room hunting difficult as we were not able to see if the rooms were worth the price which is being thrown at us. After going through a ton of rooms we finally decided to call when we found a room somewhere below Kutla.
Day 2: Rain gets better of us
On the second day as soon as we woke up, we were surprised by the rain which had soaked up the whole of Parvati Valley which was visible from our guest house. The rain finally diminished sometime after lunch, however by that time we had lost a good amount of time and we decided to start the trek a day. But unfortunately, Tevin and Ethan couldn't wait for another day as Tevin had to join a new company after heading back to Bombay and therefore they both embarked on the trail to Kheerganga through a shortcut which our Guesthouse caretaker had shown.
All this while me and Prashant decided to just chill there, enjoy the cool weather and venture out to Kutla and give ourselves some experience on how to walk on this marshy and slippery ridges. Meanwhile, we were also hoping that we wouldn't see any more rain for at least the next two days as we did not want to delay our trek any further.
The next day started on a sunny note just as we had hoped. We had a stomach full of sandwiches for breakfast to get us going. We were just about to start towards Tosh and eventually to Barshaini from where the trail to Kheerganga starts. However, the caretaker suggested us to take the same alternative route which he had shown Tevin and Ethan a day before. That route lies through a forest on a mountain ridge which lies just after crossing the Tosh river.
He helped us to cross the stream and advised us to climb through the forest by following a hardly visible trail. As hard as I could try I could not see any trail, however, my friend (Prashant) proclaimed that he could see that trail and decided to lead me on. We started to climb through the forest while the path was still muddy and slippery from last day's rain which made our climb tougher than it really was. We climbed for more than one hour on that slippery muddy trail and still, we still couldn't reach anywhere and was stuck in somewhere in the middle of that wilderness. By the way, we could have reached Barshaini by this time if we had gone through the proper route via Tosh.
Facing my biggest fear
As we went further up that hardly visible trail, it was becoming dangerously slippery and I was becoming more and more anxious on where we were heading. Finally, that anxiousness turned into a full-blown nightmare as we ended up encountering a sheer drop of about 100-150 metres beside our trail. The space was so thin there that it only had space for one foot at a time if we would go ahead and cross that sheer drop and we would have to do it side by sidestepping on that space.
The first thing which came to my mind was to go back all the way through that already slippy path. However, Prashant insisted that going back will be much riskier as the trail was completely muddy and slippery and we were bound to slip at some point or another. Even though I agreed with his point, my heart still ached for the latter option.
Anyways Prashant went ahead with his backpack (which was hardly 20 L while I had an 80 L one) and crossed that space with sheer drop by treading carefully. As soon as my chance came, I had become a total nervous wreck. I slowly started to cross that space with all my attention to every step I was putting down. As I was taking those steps, I was also imagining myself as Silvester Stallone from the Cliffhanger.
It was only after I finally reached the other side of the sheer drop I felt a sigh of relief not knowing that my adventure was not over yet and a bigger one was awaiting me. As we walked further, believing that the danger had passed, it did not take us long to encounter another sheer drop with a trail as narrow as before.
This time we didn't even have the option of turning back as we had last time. With the same nervousness as before we again trod carefully in that narrow trail. Just like the previous one, here also Prashant went first and I followed him after that. As soon as we passed that, I decided that playing with danger was enough for the day and took the lead to take the trail going down hoping it would lead up to somewhere safe and nearer to any inhabited place so that we can then ask for further directions.
To read what happened next, please click on this link to read the 2nd part of the blog.
Please feel free to follow my trekking tales by subscribing to Just an Ordinary Trekker. You also follow me on Instagram.