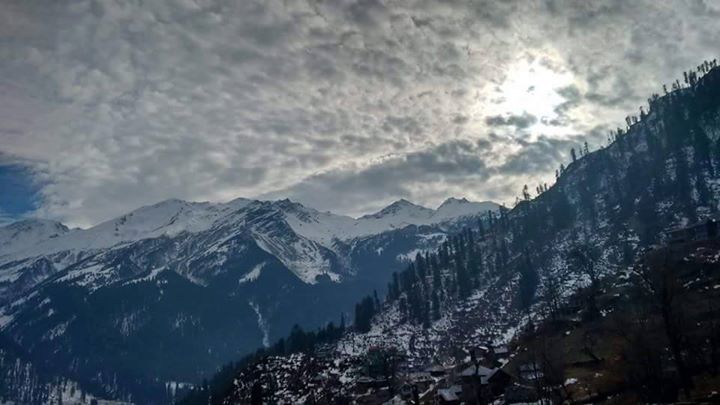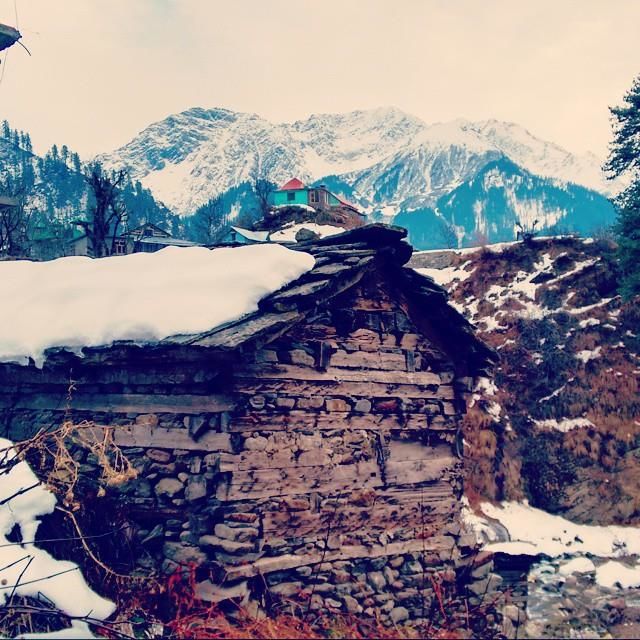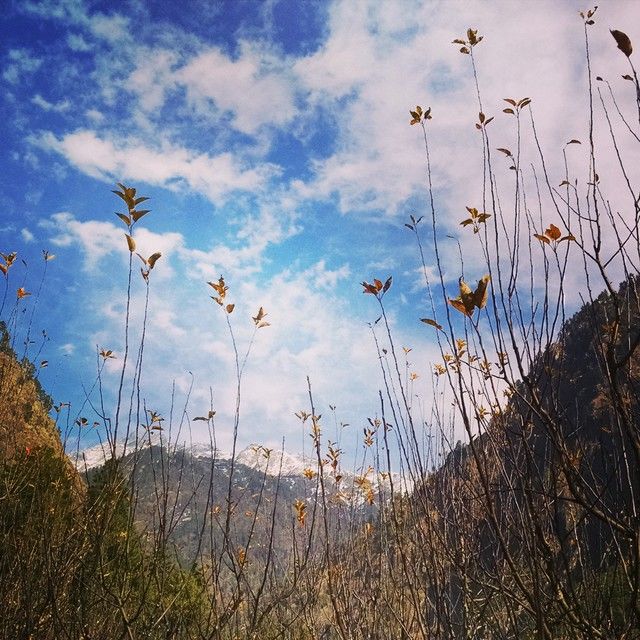 There is something about a town clad in white… and if that happens to be a sleepy little hamlet, it makes it even more charming.
Kasol, in the winters, is just that! 

After a long and extremely tiring 18 hour journey, we reached Kasol on a cold cold 24th December evening, with the sun setting in and our hands almost numb. Yes! December 24 - when AcuWeather tells you that the maximum temperature is going to be a freezing 3 degrees and the minimum -6 degrees!! Of course, the AcuWeather warning does not prepare you for the real thing.
Kasol is a 5-kms-in-all-village in the Parvati valley..a small hamlet, with one long road with a few by-lanes with quaint little houses scattered on either side. We reached our hotel, which was at the end of this road, all excited and looking forward to the heating, only to be informed by the ever smiling receptionist that thanks to a storm and incessant snowfall over the last few weeks, the hamlet has been cut off from the main electricity line, and we may not have access to any electricity during our stay in. We *AlmostDied* hearing this.
We walk up to our rooms with a lot of courage, cover ourselves with 8 layers each, and head out to the market looking like bandits. We enter the first cozy place we see and rounds of soup, coffee and tea are ordered. Conversations with the server on the electricity situation, maal availability, and chances of the village stepping out of 15th century are swiftly completed. Just then, a "German" Bakery is discovered. A small kiosk selling homemade chocolate cake, lemon cake, vanilla cake, et al. A place which manages to be sold out by 2 pm with a few items from the second batch barely lasting until 7pm. After walking around a bit, fueled by quick gulps from the hip flasks to keep us alive (God bless the soul who invented hip flask), we walk back to our hotel in pitch darkness with the snow covered sidewalks now sparkling in the moon light.
The next day is more productive. After eating 2 rounds of breakfast, we head out to eat another round of breakfast at Hotel Alpine. Alpine, facing the never calm river Parvati, is the most beautifully located hotel I have chanced upon, with the friendliest staff. It serves some of the best food, offered with the best view. If you manage to get a room in Alpine, look no further! After ordering loads of breakfast, cake is commissioned from ze German bakery, and two friends volunteer to trek to the village and meet the baba. Easy, ready to use sticks were rolled and lots of Maggi was consumed within the next hour. And the rest of the day was spent doing the same. Like I said, a day productively spent.
Our third day was scheduled to have a bit of adventure. We decided to trek from Kasol to Manikaran. Manikaran, located between the rivers Beas and Parvati, is about 6 odd kms from Kasol (trekking through the mountains). A 5 hour trek in 5 degrees with a lot of natural stuff in your body can never be a good thing for your muscles! But walking at the edge of a cliff, with the Parvati flowing beautifully below you (and you freaking out with all sorts of random thoughts flowing through your mind about how you may lose your balance and drown and become one of the spirits that haunt the mountains - yes, I'm hydrophobic!) is worth every muscle of your body hurting. While trekking, we crossed a few villages with small huts popping up all round. The friendly faces were kind and gave us directions (and of course laughed at how long the very unfit-30-something-urbanietes were taking to get to Manikaran). There was a point where we reached a dead end - the dead end being a huge rock at the edge of the cliff  - the only sound being that of the peaceful strong current underneath.
After the picturesque trek, we finally reached Manikaran. A scrumptious meal at a local dhaba was had and we headed to the Gurdwara. Blessings were sought and God was thanked for not freezing us to death! Legs were gleefully splashed in hot water springs like 5 yr old kids.
The evening was spent with a bottle of scotch in Shiva Café and lots of Israeli food - ever notice how every village, town, city with the faintest hint of Israeli population seems to have a Shiva Café?

On day 4, we decided to head towards Tosh - the last motorable pass in Parvati Valley. While driving to Tosh, we crossed a few villages which were tucked in the middle of nowhere and were told that the only way to get there was to walk!  Not a place for a lazy bum like me! Coming back to Tosh - the self-sufficient village, which had schools, step farming, cow sheds, a doctors clinic - we decided to head to the famous Pink Floyd Café located at the top of the village. So after criss-crossing our way to the top, we were quite disappointed to see a very very commercial café and decided to get out of there - only to discover that besides Pink Floyd Café, every other café in Tosh was shut cause of the winters (maybe the white walkers did get there before we did). So, after walking all over the village, we saw a sign board which read "Dolly's BnB". Getting excited with the invite (not in the shady way) we decided to follow the directions and meet Ms. Dolly. Ms. Dolly's BnB was tucked in an unassuming corner, at the edge of the highest motorable pass in the Parvati valley, overlooking the breathtakingly beautiful snow clad mountains on every side - felt like we WERE in winterfell! (Kindly excuse my game of thrones overdose). Ms. Dolly had her house in the middle of all this. She had two rooms and a kitchen, and promised to serve us the best chai and Maggi we had ever tasted! And she did serve us the best Maggi and view that I had ever witnessed in my life! After learning how to light a fire from two 6 year olds, we headed back to our base, with images of a place so breathtaking, that will be etched in our memory for life!
The next day, it was time to head back to our grueling regimes and the notorious city life. But the sleepy white washed hamlet left such an impact on me, that someday, a small hut would be bought, a bookshop and bakery opened, and the rest of my days will be lived in bliss.