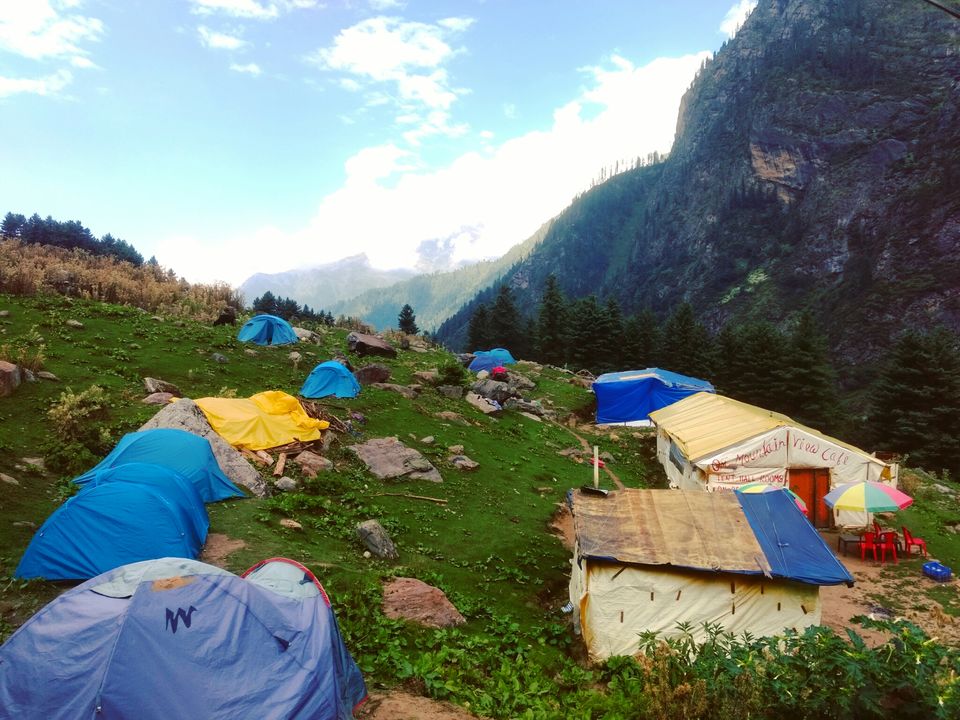 Heard about some place where you get complete freedom?
Heard about a green valley on the edge of a roaring river?
A place where you could name a drug and get it at some often locations, heard about it?
A hippies home and a travellers paradise.....Its not that far away from our orbit.
Just step on to the Earth, get going towards India, carry on towards Himachal , there you are, The Parvati Valley.
Yes, this simple roadmap leads you to the world with a different genre.
No matter who travels towards this place , that particular person goes through such a phase of his life which he would have never imagined.
I could simply equate it to Freedom equals Parvati Valley as I slowly started exploring this place.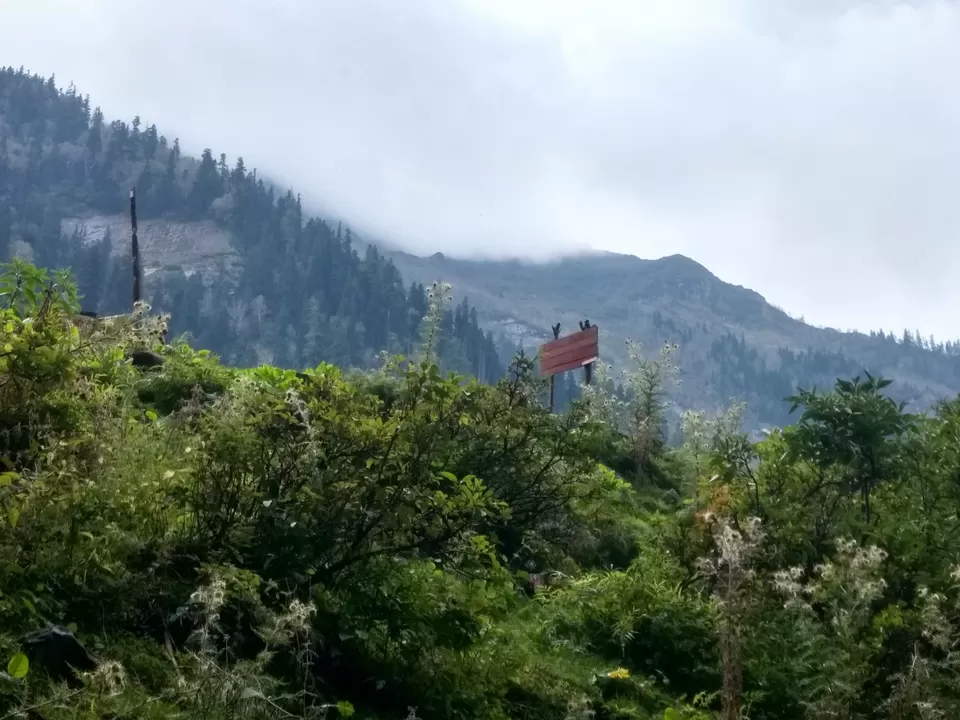 After an inviting experience at the wonderfull town of Manali I was prepossesed by Parvati Valley.
(https://www.tripoto.com/trip/a-journey-which-never-left-me-alone-585a79d1bc86c)
I had to start my ride towards Kasol with a hop destination at Bhuntar. Bhuntar is a small village which has its importance of being a connecting hub. I hopped in a local transport bus as I said and I was damn eager to enter the valley.
The swirling roads and the ranging horizon made it to be one of the best and the worst road trips for me.ha ha...the best because it was frankly and really worth taking experience and the worst one because I am frankly and really a victim of motion sickness in most of my bus journeys.😅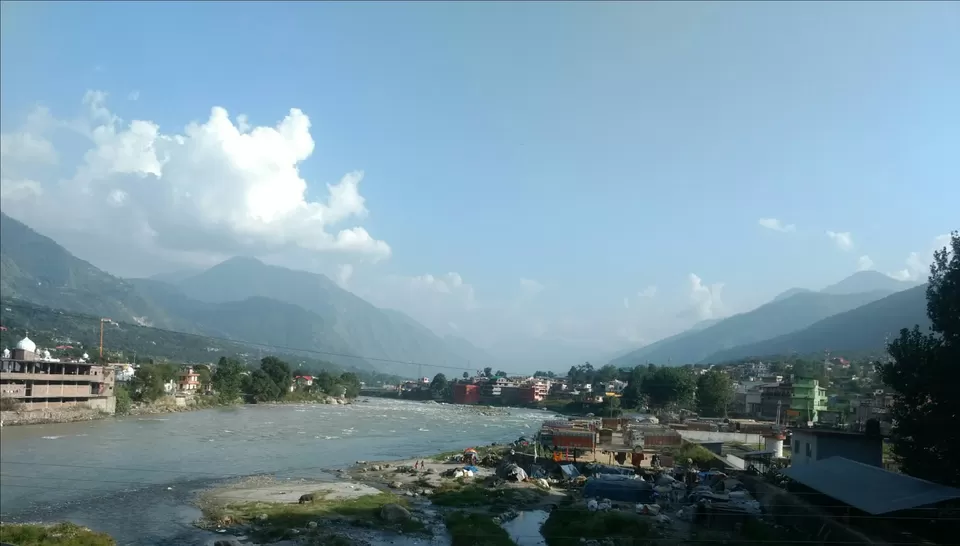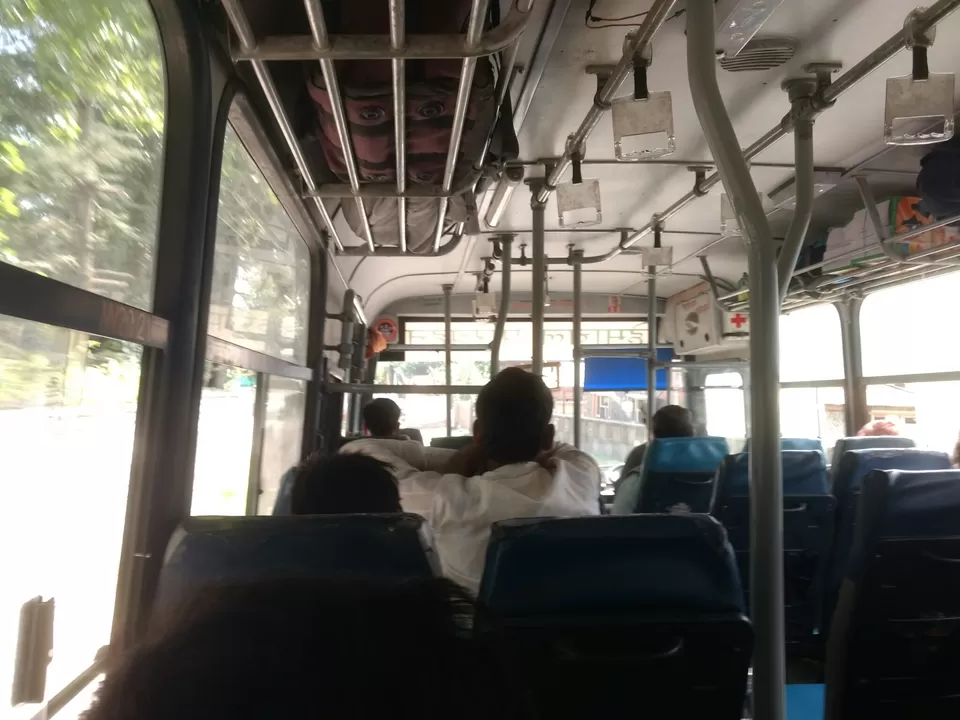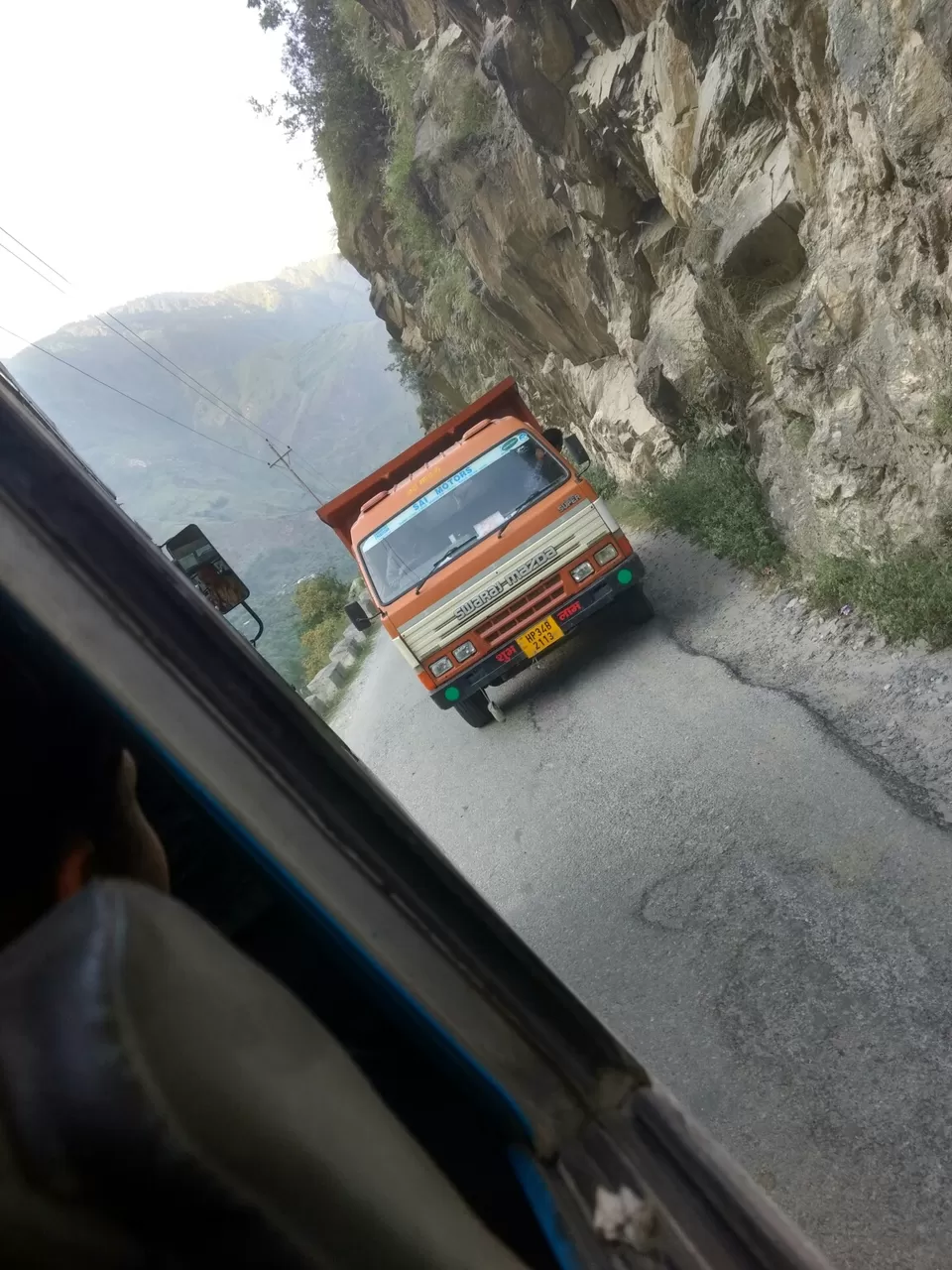 We reached Kasol by mid-eve and as soon as I stepped down the bus I was somewhat convinced about the good vibes of this place.
The very best example of the empathy this place carries is my own story.
I was looking around for a place to rest a bit , it was not more than a minute after I landed and towards my left was the new group which I had never expected would join me for the rest of my journey.
Its a good story if you enjoy your journey.....but its a best story if you have a good peer to complete your journey with.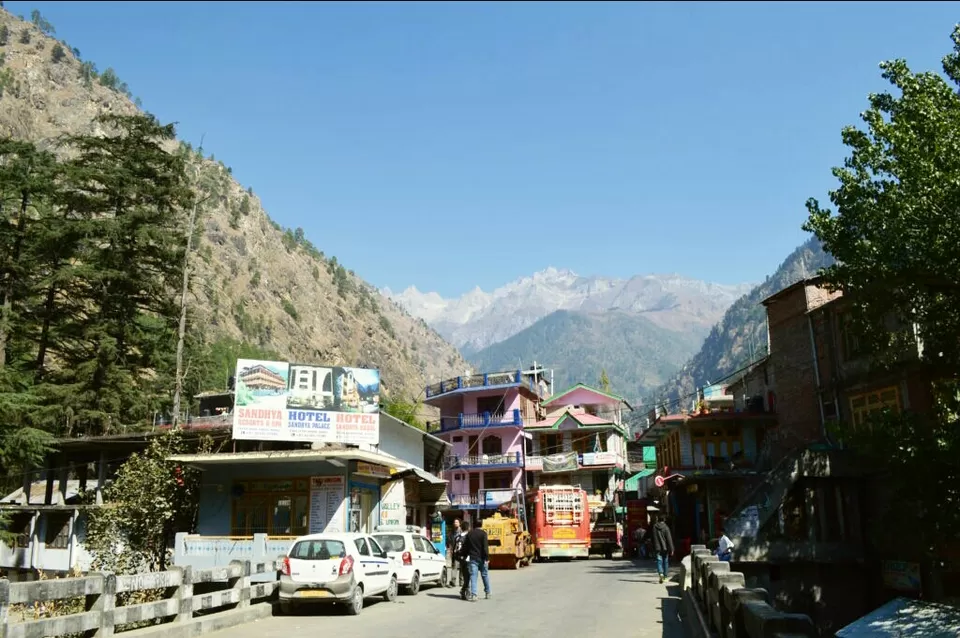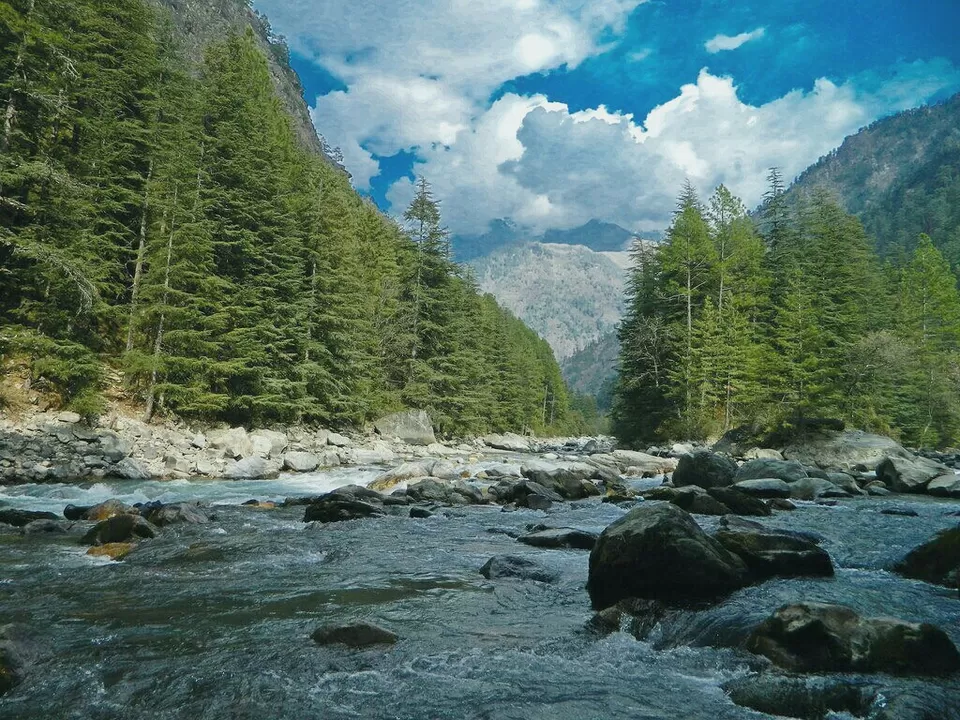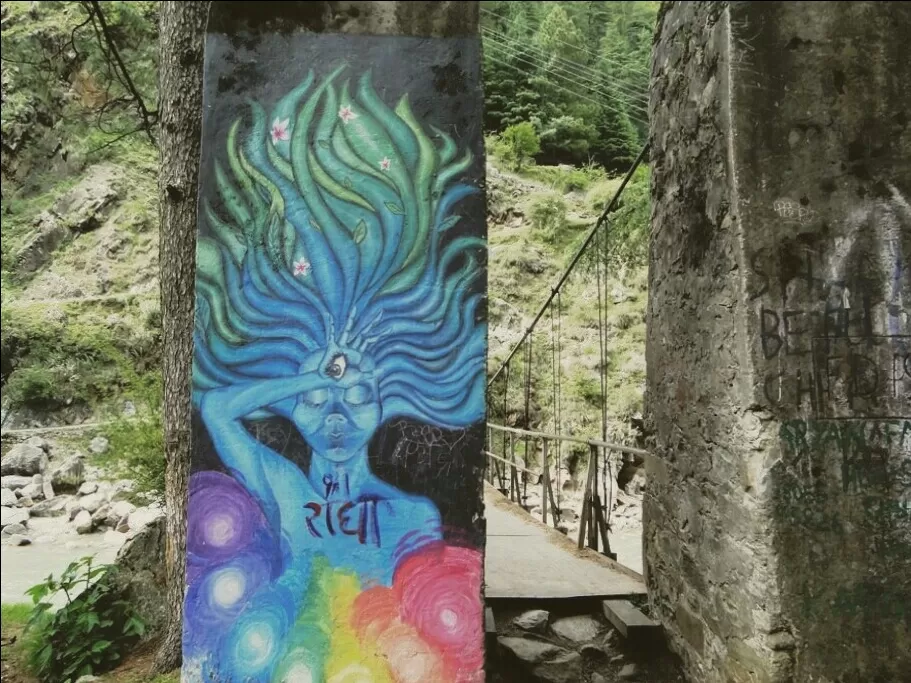 Lucky me ...I got a new company from IIM Luknow.Akshay and Prasoon were lost in their own online world finding some place to lodge at, discussing about some better prices and not more than a couple of steps away from them I dared to go and mingle around with those guys.
As soon as I stepped ahead I started an informal introductory scenario between us and we soon engaged to find a lodge as we decided to stay together in no time.
A certain part of them was their humor and of me was to join them. Within no time we started interacting as if we had known eachother since years.
A fifteen minute walk led us to Riverview Residency where we atlast had decided to stay.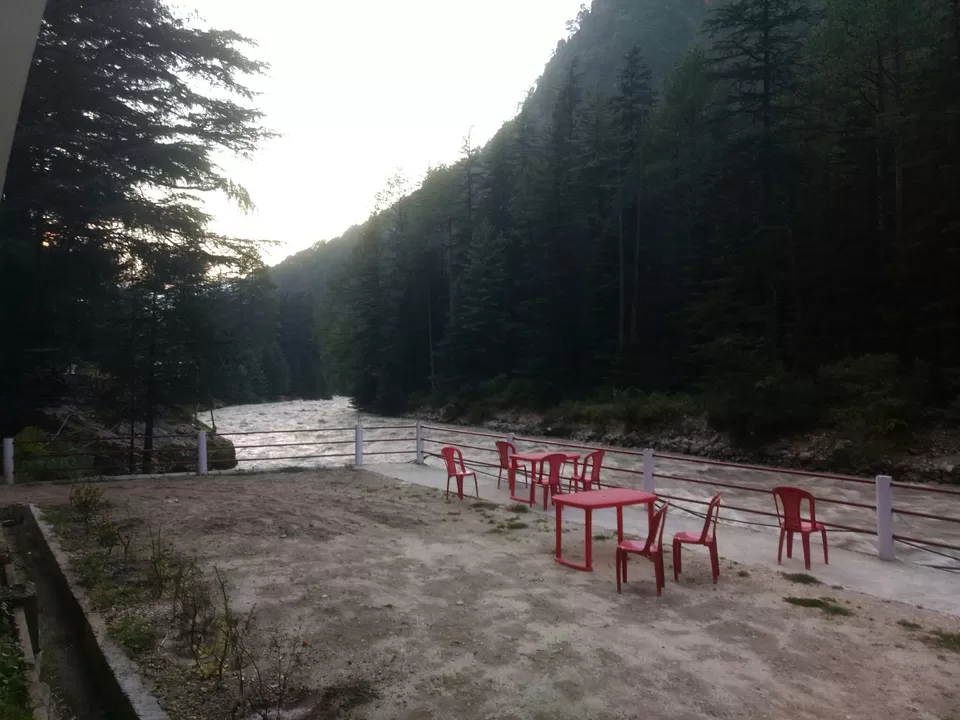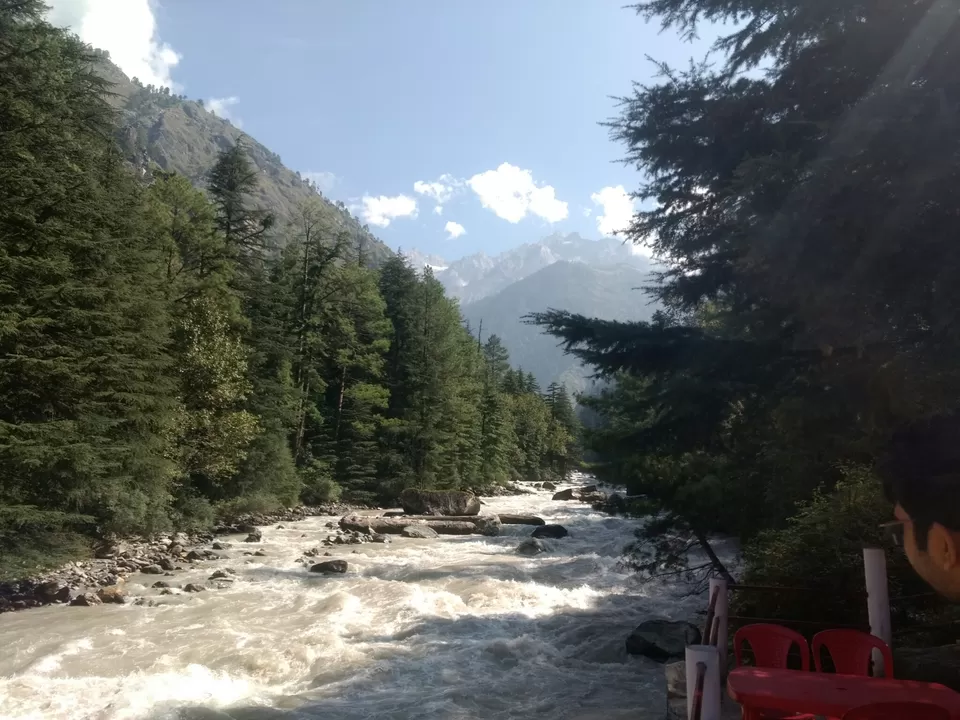 Our Trio was tired and hungry so, we unpacked ,took a warm bath and were off towards the Kasol market.
It was evening and about an hour after the sunset. Slowly the cold had started to envelope the valley.
We headed towards Cafe Bhoj which is very much located in the heart of Kasol.
Cafe Bhoj gave us a trippy experience overall.
We enjoyed a background of continually ranging psy trance and some beautifully cooked Lebanese dishes.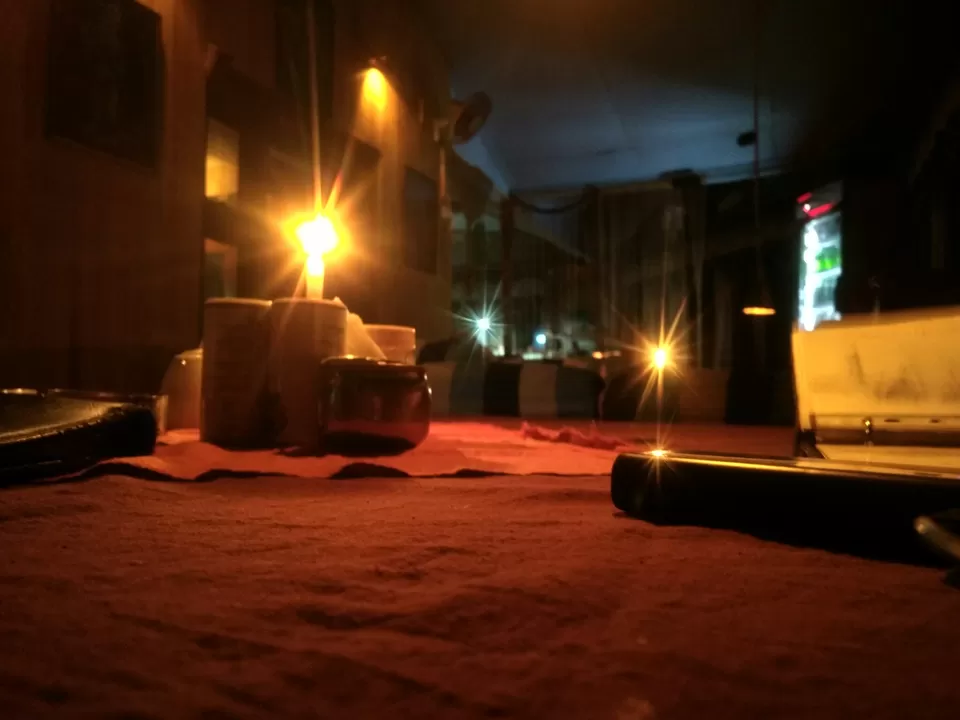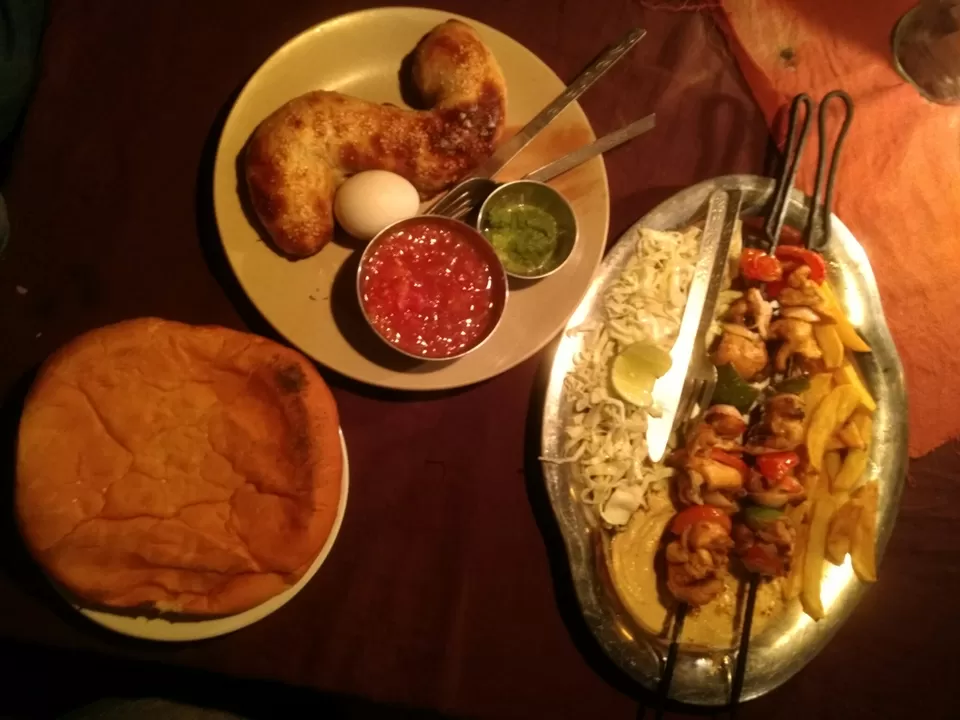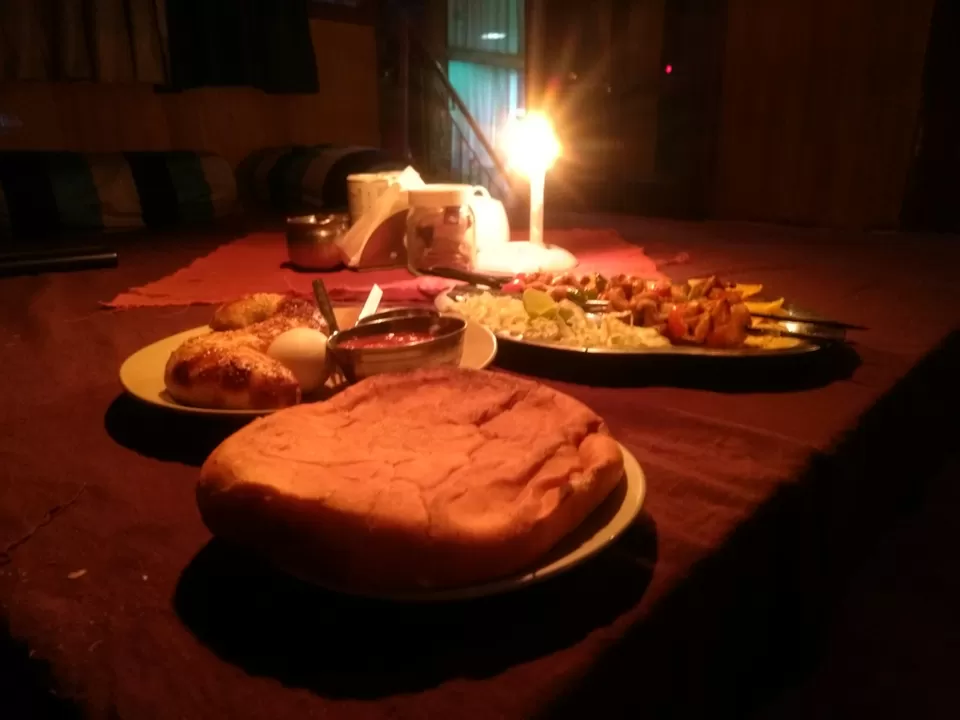 After a perfect Lebanese distention of stomach we came back to our rooms and had some informal chats. I had just gave them an idea of my next schedules at Kheerganga and Tosh just before going to sleep and believe it or not the next morning they were ready for Kheerganga before me.Both of them had no idea or purpose behind visiting Parvati Valley but I had understood that those guys certainly had an explicit view over enjoyment and adventures after their morning surprise.
I was really surprised to see them so much eager and enthusiastic towards my schedule.
Like a perfect sunrise my morning turned out to be a perfect one as I had got the best unexpected company one could have.
I was done with my packing and locked the door with our extra materials inside. Our trio was ready for the treck towards the Diwine Kheerganga.

There is a 15km drive towards Barshaini which is to be started from Kasol. Barshaini connects Parvati Valley to most of the trecking path ways. It is the last road head point in Parvati Valley as of now.
We were lucky that we got a low fared local taxi which dropped us in Bashaini just @ 200₹.
We then checklisted our itenary of materials and decide to start our journey towards Kheerganga from the Village of Kalga instead of Nakhthaan.
After a perfect Lebanese distention of stomach we came back to our rooms and had some informal chats. I had just gave them a warm idea of my next schedules at Kheerganga and Tosh just before going to sleep and believe it or not the next morning they were ready for Kheerganga before me
We also had a chance to visit a small temple at Manikaran as we switched our taxi here. It took some time for us to get a new taxi towards our destination and in the mean while we took some of our pre-treck blessings from this small Shiva temple.
We reached the small rather, almost unexisting village of Kalga in a very less time.
Kalga is the first base camp of your Kheerganga treck. Before you start your treck, Kalga is the last stop where you can give a last check on your to be carried and not to be carried materials
Ofcourse the treck to Kheerganga provides all the life saving itenaries on your way but the other things like clothes, cameras, chargers, etc are better to be checked at Kalga itself.
After a small site sufficient view of a single housed village of Kalga we started towards Kheerganga. As we were trecking in post monsoon period the nature was at its best. The lush green forests ,the roaring rivers surrounded with the mighty and huge mountains gave us an amazing trecking experience.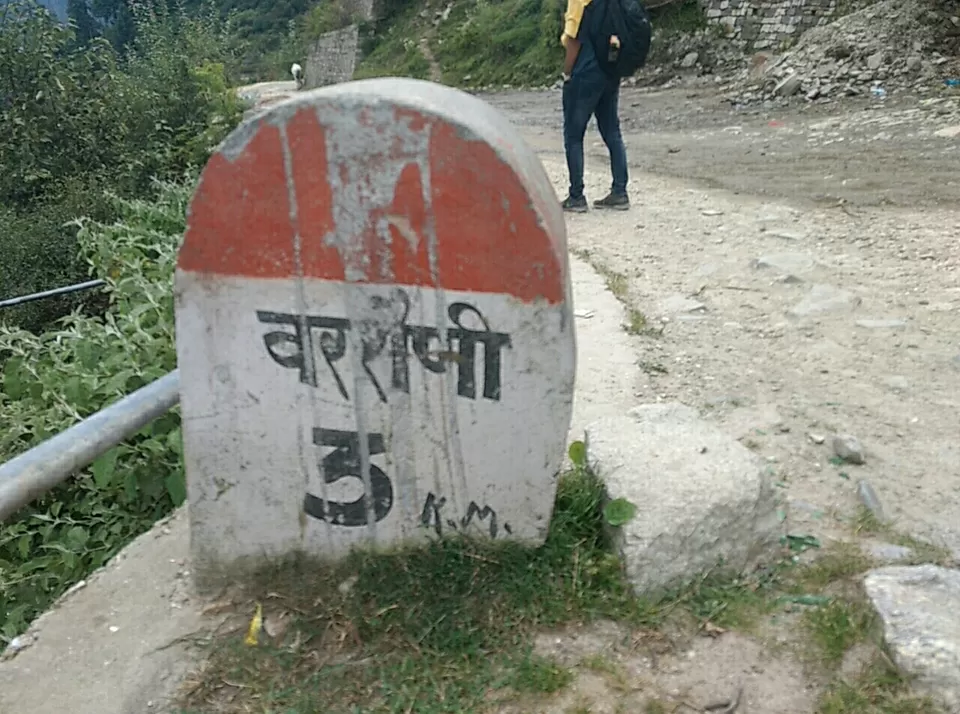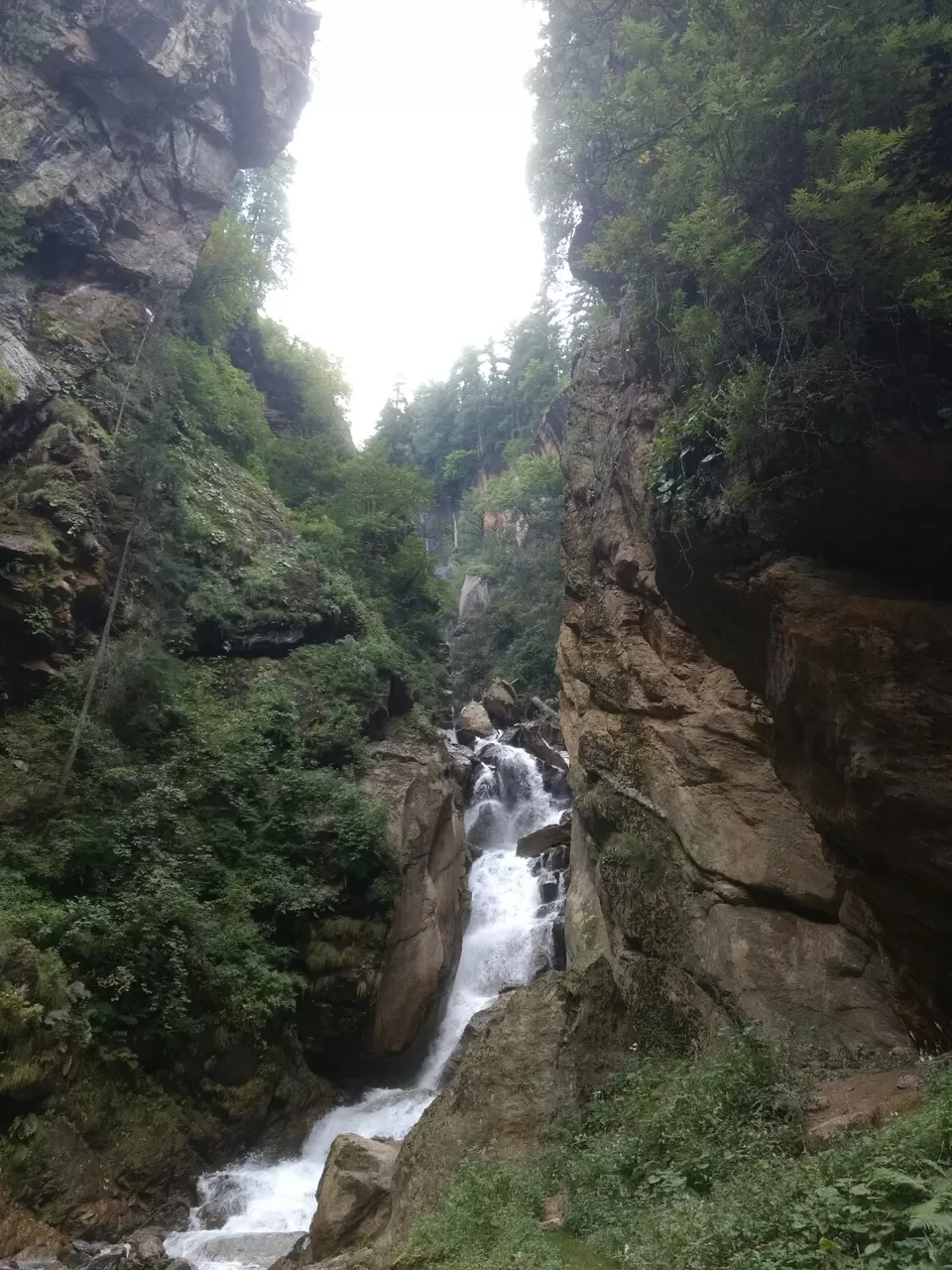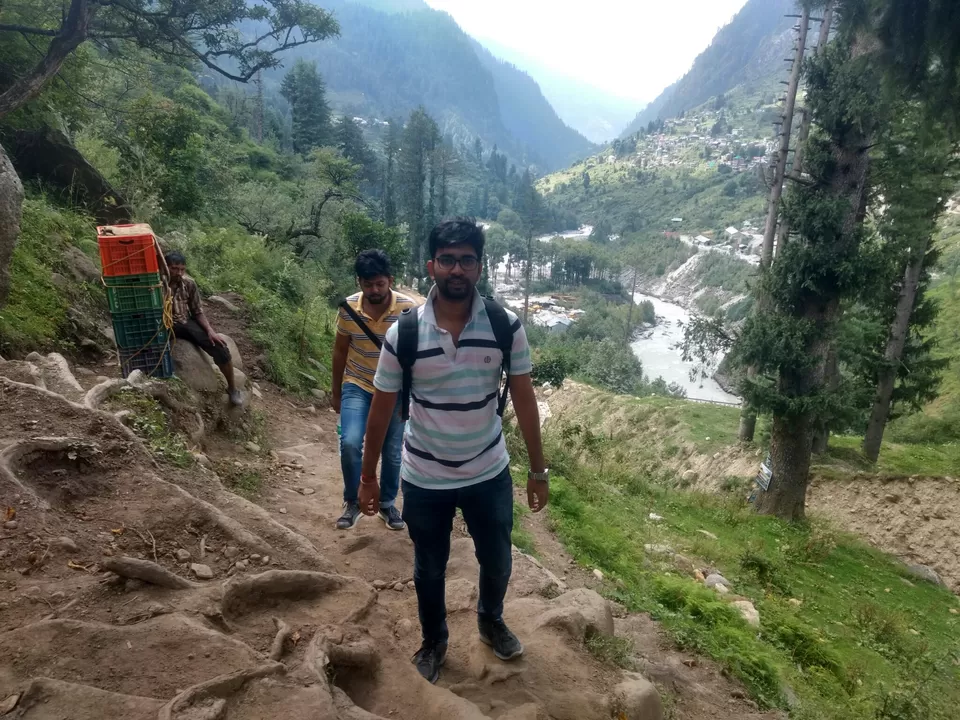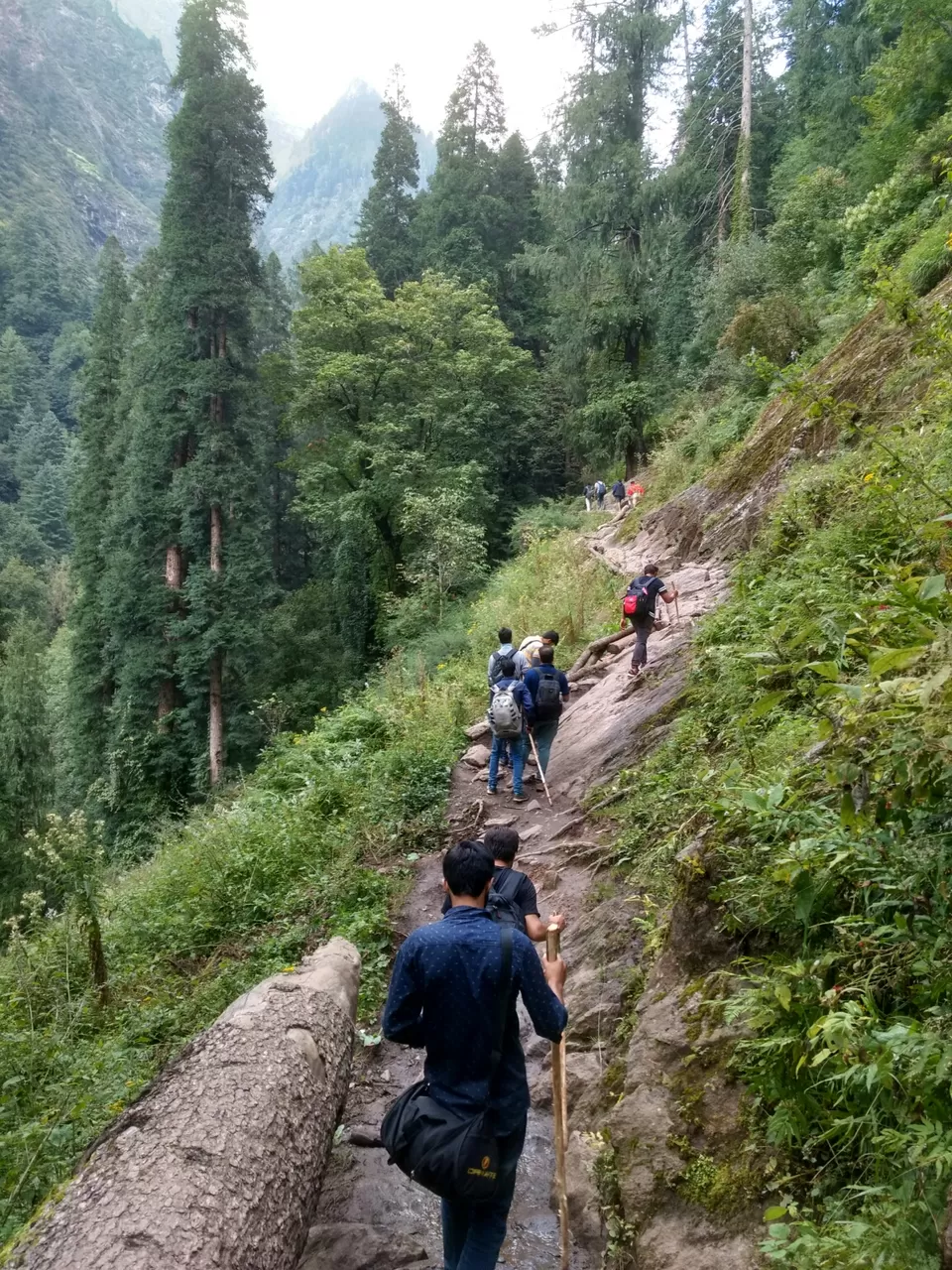 We took a halt about half way before Kheerganga at The Waterfall Cafe where we had some munchies and a banana milkshake. The waterfall cafe gets its name as it serves all the explorers who come across the beautifull waterfall close to the cafe itself.
There was about 6kms of treck to be covered and we had very less time remaining.
We skipped our next halt and just post the sunset we reached Kheerganga.
It was a moment of relief to witness the beauty of Kheerganga just as soon as we saw the first settlement at this place.
We surfed over few rooms to lodge and finally decided to settle at one of the dorms here.
The Than Baba's Cafe was the place where we made our stay. Than Baba was the name of the owner as the cafes name suggested and we met him for not more than a couple of minutes. A long six feeted man with a rude but helping nature, he updated us with the timings of hot water springs and we were left with the last half hour to take a dip.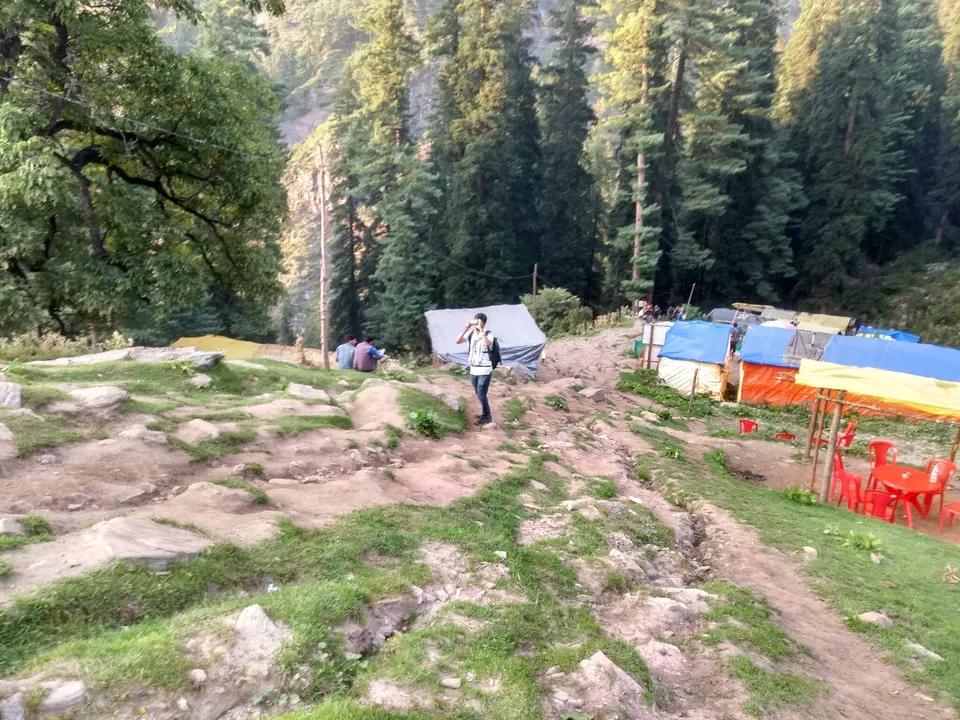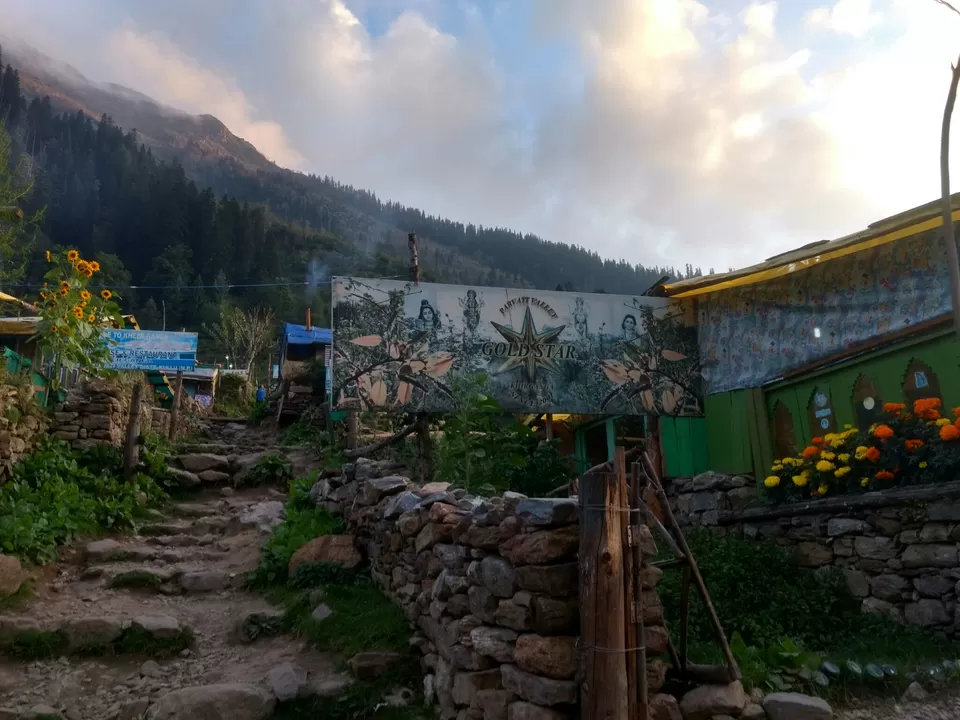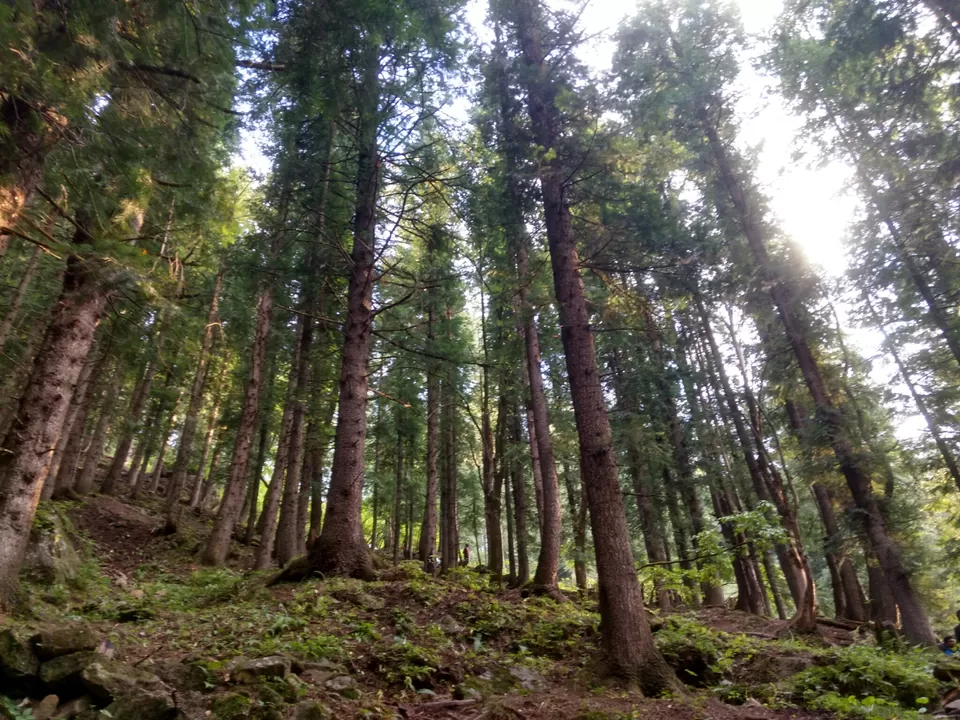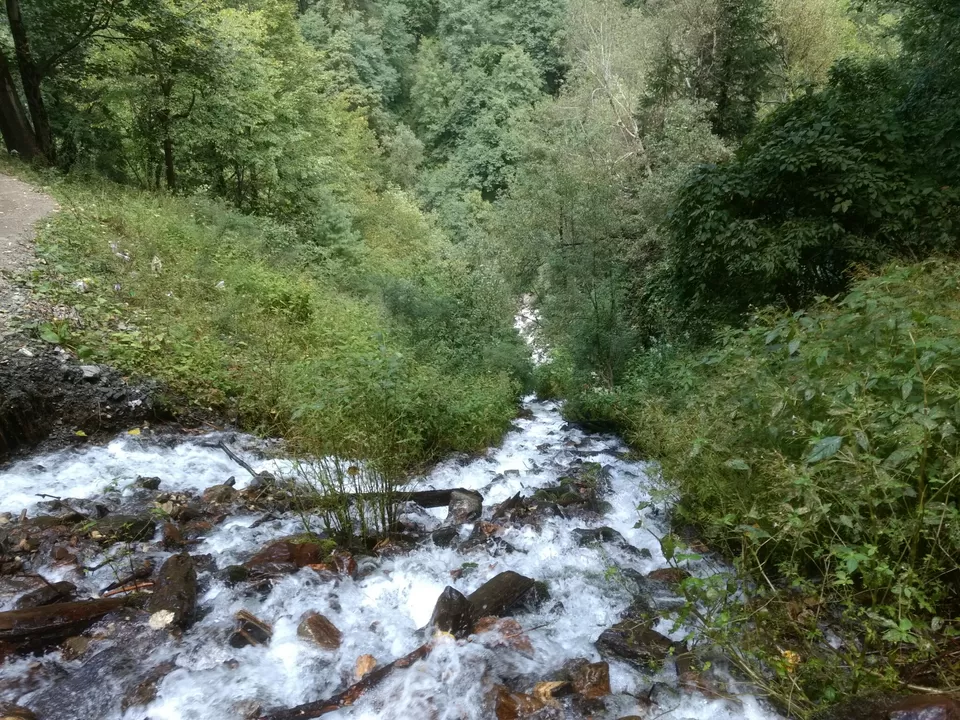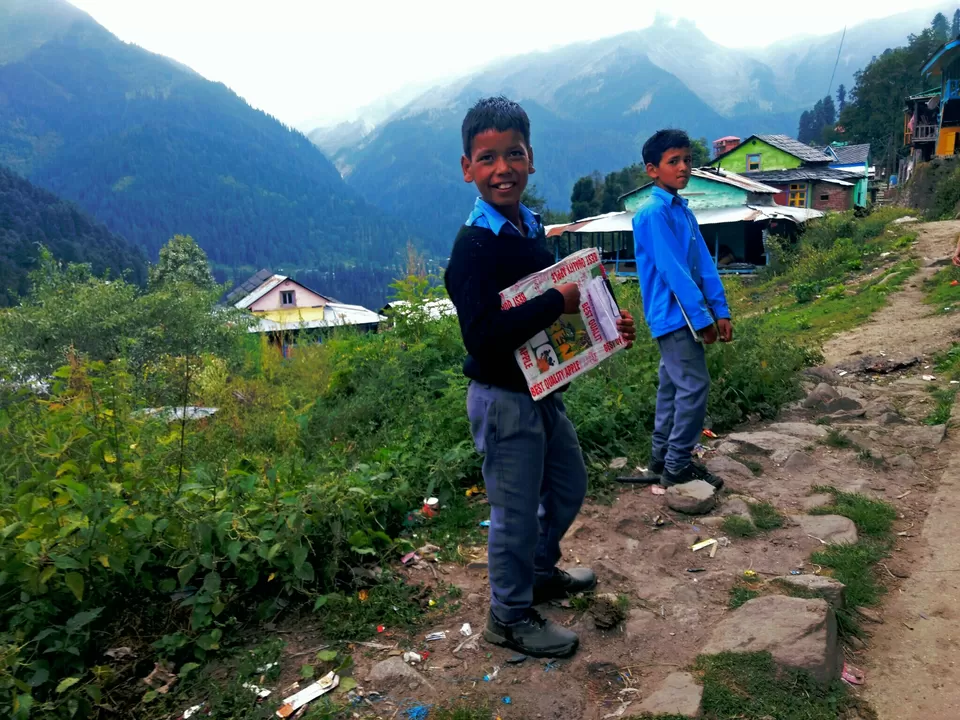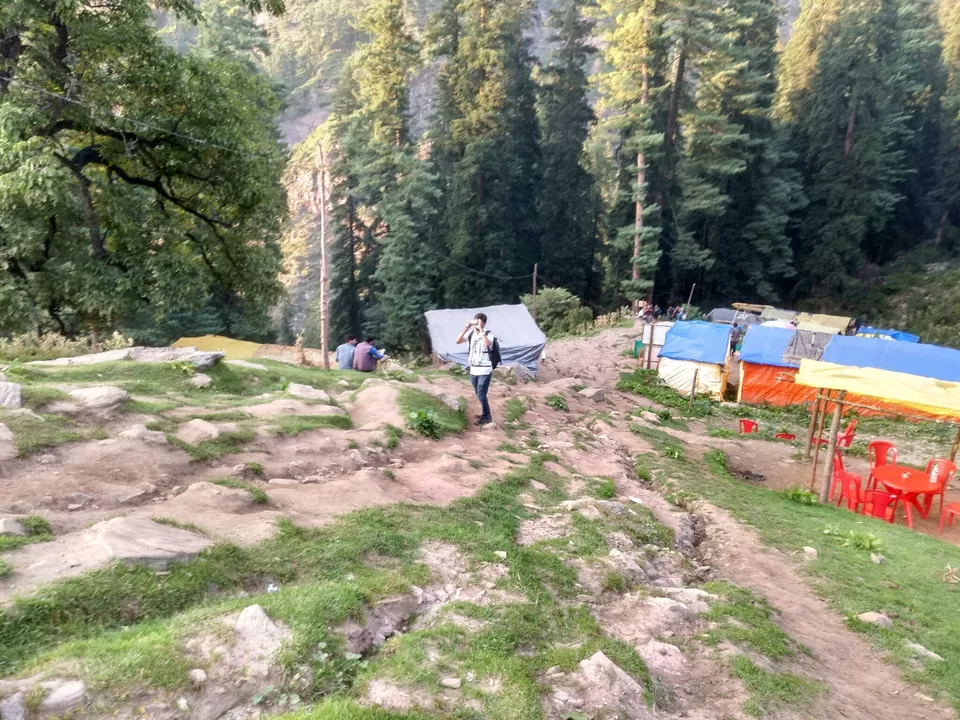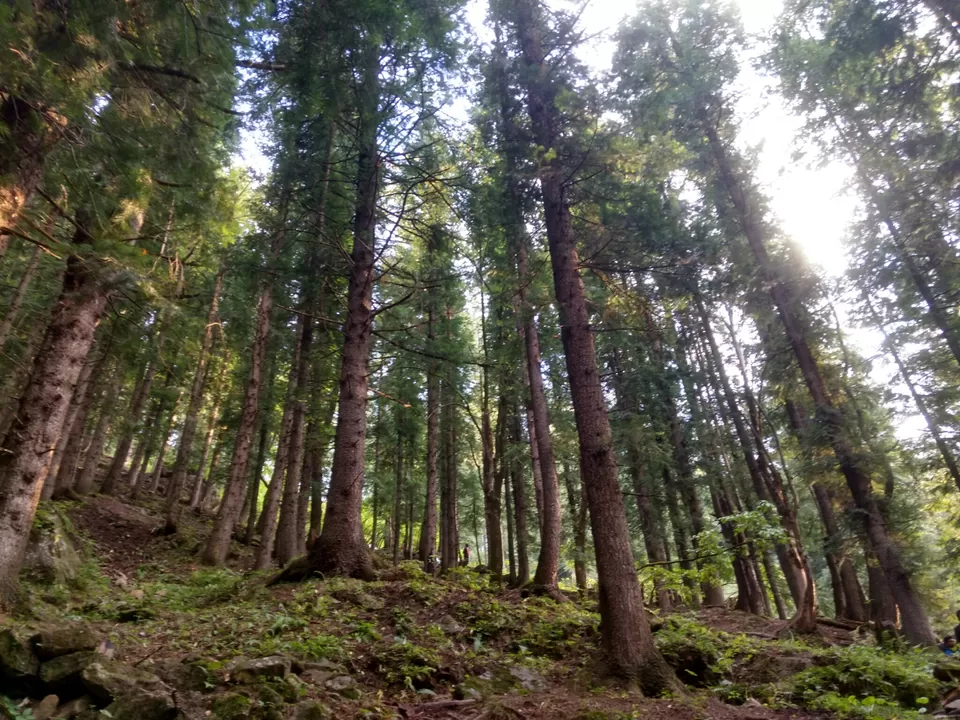 At about 6.30 we started climbing towards the Springs and the experience we got there cant be explained through words.
The experience I had at Vashisht seemed to be something inferior agaainst Kheerganga.It was peaceful,calm,cool and soothing there.
After a blissful bath we stepped down and oredered some food for our dinner.
Food here is very good if you ignore its less spice feature. You could easily suffice your hunger without spending much out of yor pockets.
Actually this feature of Parvati Valley of cheap food and lodging leads it to be a perfect tourist attraction. It fulfills every part of eat cheap and stay cheap requirement which is the basic one for every traveller.
After we were done with our dinner we stepped out of our dorm and it was chilled out there with beautiful starry skies and the small locality of kheerganga was lying just under this unending sky.
Listening to the golden era of songs we were enjoying eachothers experiences at Than baba.
I met a a hippie couple from Canada , they were crazy and lost in their own romantic world and the guy was a huge Pink Floyd fan.
Me being the same we had a lot of chance to indulge into many talks about education, art and fun. I never miss such an opportunity to explore and so did I this time too.
We slept in the flow , it was warm inside the dorm as we were sleeping just close to the fire place.
After taking care of all the customers the owners of the cafe came inside the dorm to spend their nights. They had their scheduled night meet around the fireplace and enjoyed a high in their traditional way. It was a great experience for me to see all these free spaced things happening in front of me. I had never ever spent any time in such a free and chilled up atmosphere.
Unexpectedly I slept off without myself having any knowledge about it. It was a comfortable and relaxing night although.
The next morning we got up with a fresh and enthusiastic mood and started our day with a fresh lemon tea.
Our next destination was Tosh.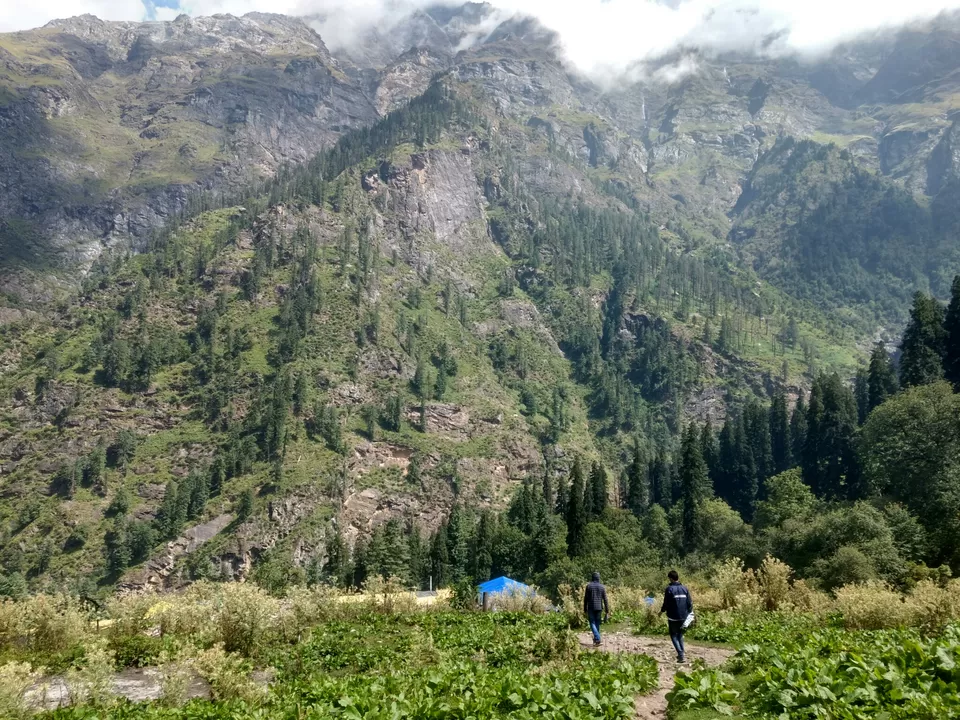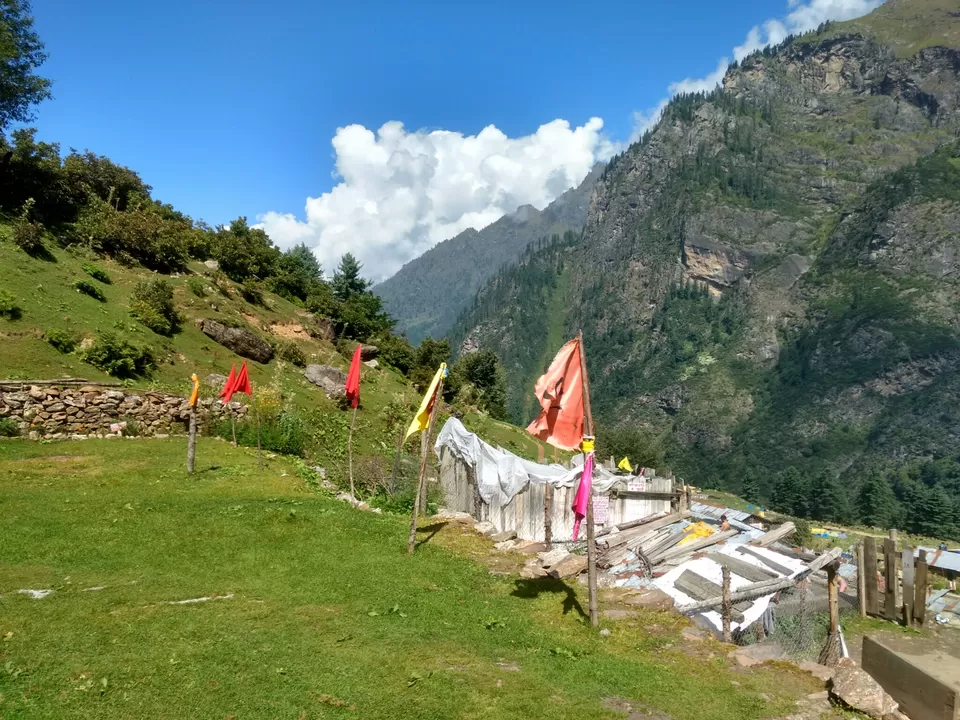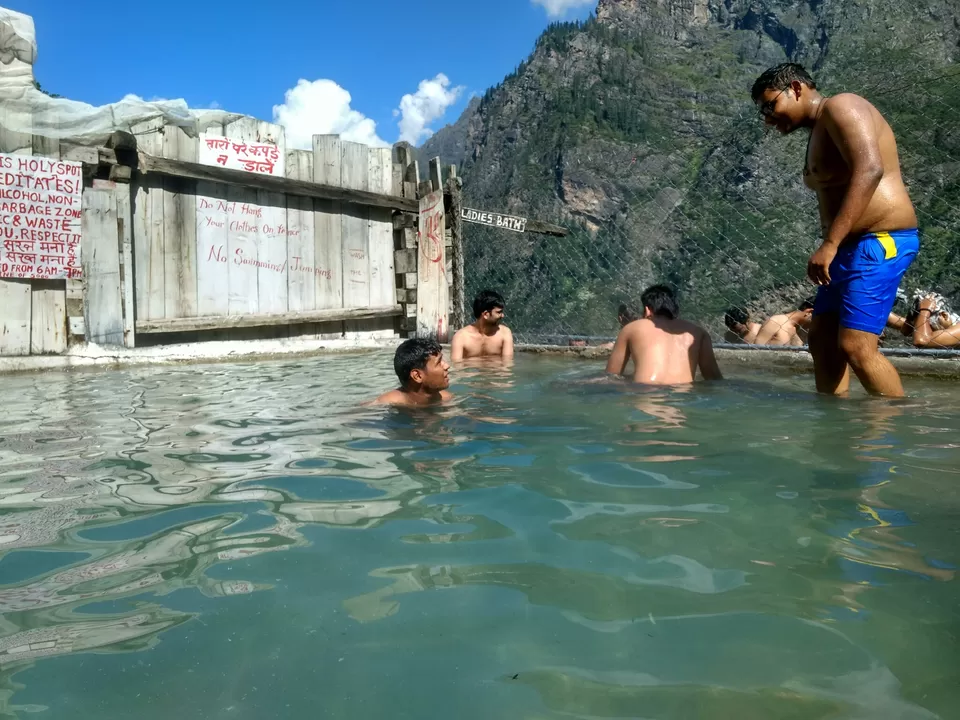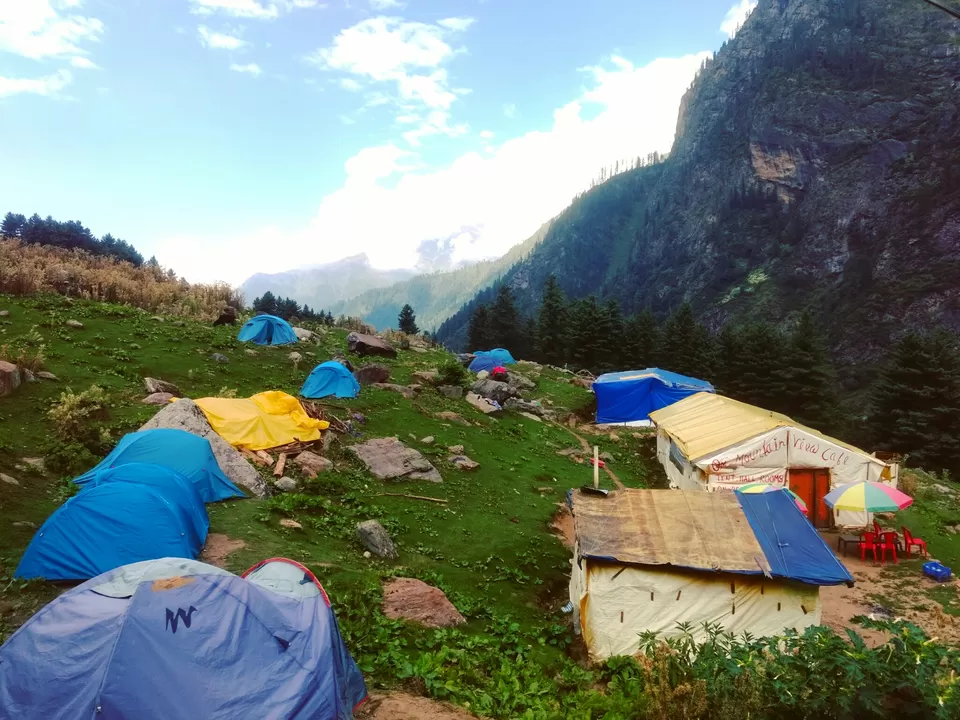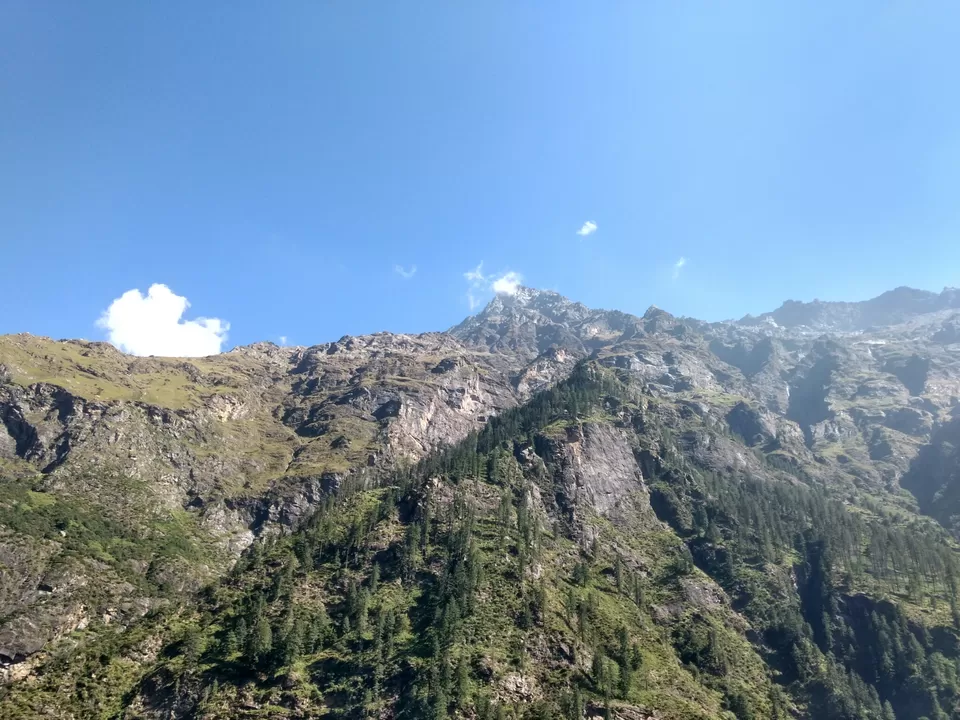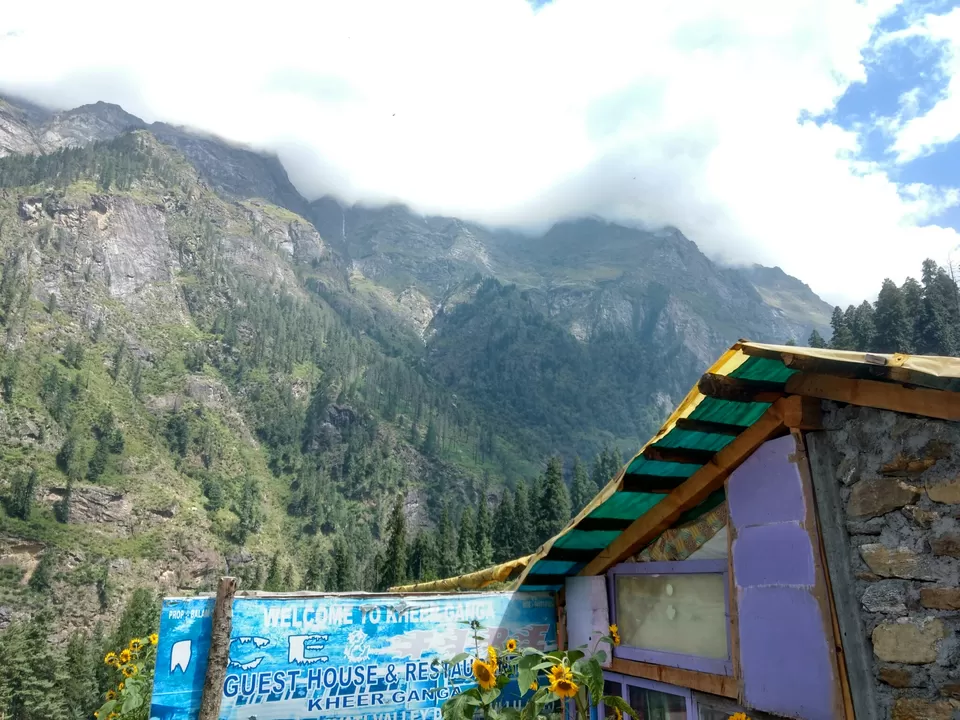 We started to trek downwards as soon as we were done with the breakfast and good-byes.
To explore a new route we decided to take the way from Nakhthaan towards Tosh.
This route is also beautifully equipped with all the natural views one could expect from some place like Parvati valley.
There is a Y junction you come across while going down. The right side takes you home from Nakhthaan and the other one from Kalga.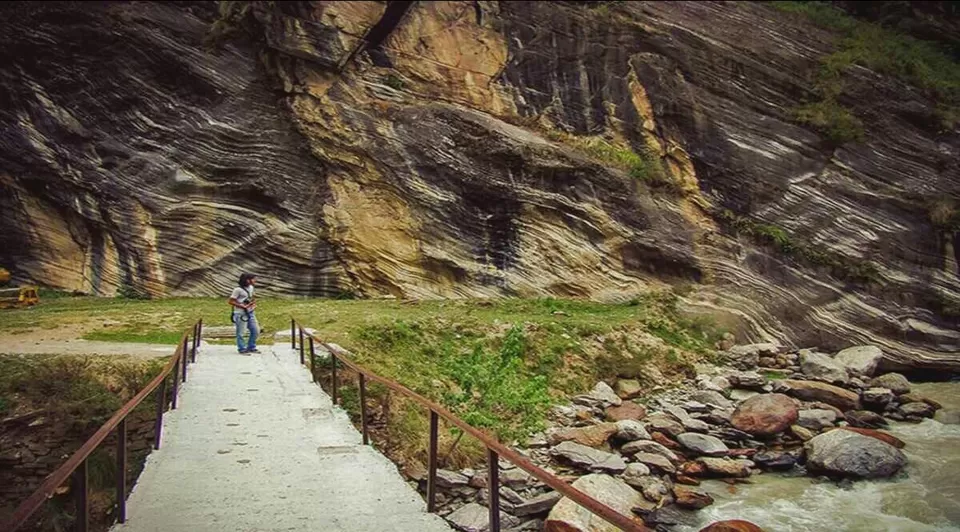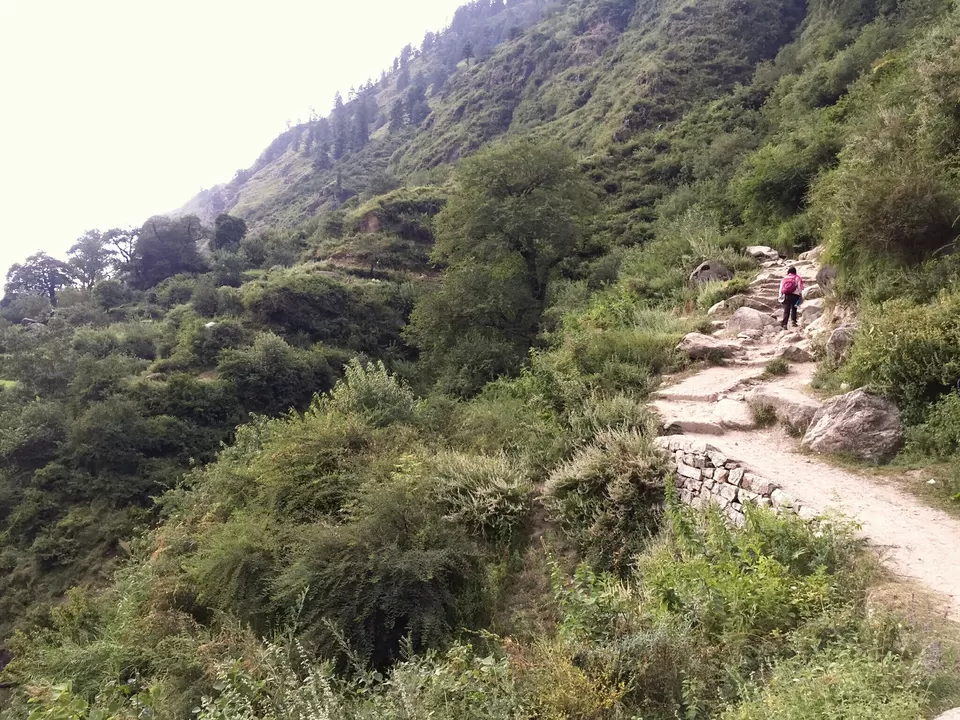 We came across a huge Waterfall which was the only halt we took while going back. We ate ample of Maggie's here and got a taxi towards Tosh as we reached Barshaini. A great effort of a hydro electric power project is being taken by the Nakhthaan panchayat and a da is being build between Nakhthaan and Barshaini border. Kheerganga is a pretty untouched place and lets hope it stays as it is for years. As a traveller from me its a small advice for everyone who routes to Kheerganga, Please try keep this place clean. I am happy to have a bigger bag of experiences in my smaller world explored. Hope it still keeps up your enthusiasm and I wish everyone gets a better travel experience through this.
Coming up next with the rest of the journey @ Tosh-Chalal-Manali.
"NOT I- NOT ANYONE ELSE, can travel that road for you, YOU MUST TRAVEL IT FOR YOURSELF."
-Walt Whitman, New Jersey(USA).