"....naseebwalo ko hi himachal milta hai..." - said a pahaadi cabbie Sharmaji, who rode us from Manikaran to Tosh when we asked him that, doesn't he get bored of living in the hills all the time? it's only by the end of my Himachal Trip that I could totally feel as to why he said so. Indeed, naseebwalo ko hi himachal milta hai..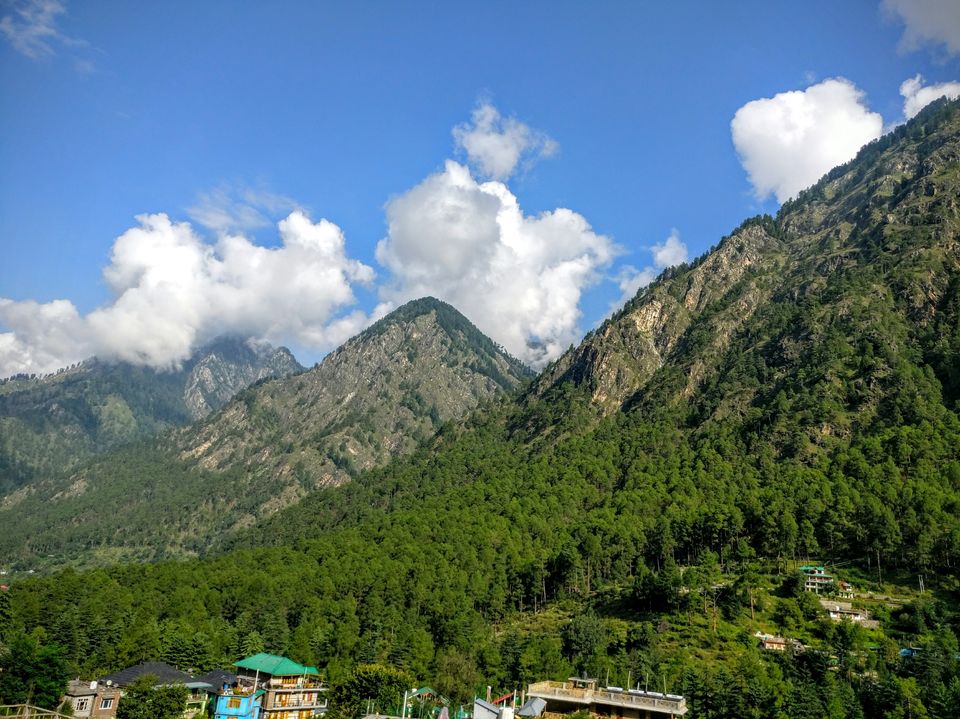 First things first, I did this trip super cheap. Rupees 13.5k for 5 places in 6 days, and it was the best trip ever.
However rich you are, no amount of money can buy you the cheap thrills, you get by travelling super cheap. You end up getting as close to the soul of the place, if you try to get rid of your paraphernalia of 'i-wants' and 'i-cants' while on a trip. It was only through this trip I realized the importance of having travel buddies who share the same travel goals as you do and how this synthesis of such travel buddies helps you grow as a traveler.
4 friends on a usual Sunday afternoon happened to check the flight tickets to Chandigarh which was only 5.8k return and the sheer in-expense of the ticket made us book it the same very same day without even figuring out where we would go from Chandigarh.
Had heard alot of Parvati Valley since its quite a hub for travelers in their 20's for obvious reasons, and we started our research on that right away not for those obvious reasons and then as they say travel begins not on the day you start your journey to a particular place, but right from the day you start planning it, we started travelling for months in our head for a one week journey that we were looking forward to.
As much as spontaneity and surprises are fun while on a trip, a little reading up and knowing about the placed you are visiting, ends up making things rather cooler.
Day 1 - Jab We Landed - Kasol via Chandigarh (not Bhatinda Lol)
We decided to make Kasol as our hub or as they say the 'base-camp' for our other sojourns in Parvati Valley as it is the most commercially exposed places compared to other places of Parvati Valley and is well connected too, thus making it easier to settle there first and then decide where to head next.
There are buses that go from Chandigarh to Kasol and vica versa with prices starting as low as Rs. 600/- for a semi-sleeper, which takes about 10 hours to get to the destination. However since our flight timing was not supporting us much and we were reaching Chandigarh in the morning at 11am we decided to rent a car so that we save time to get to Kasol and we reach before the dusk sets in.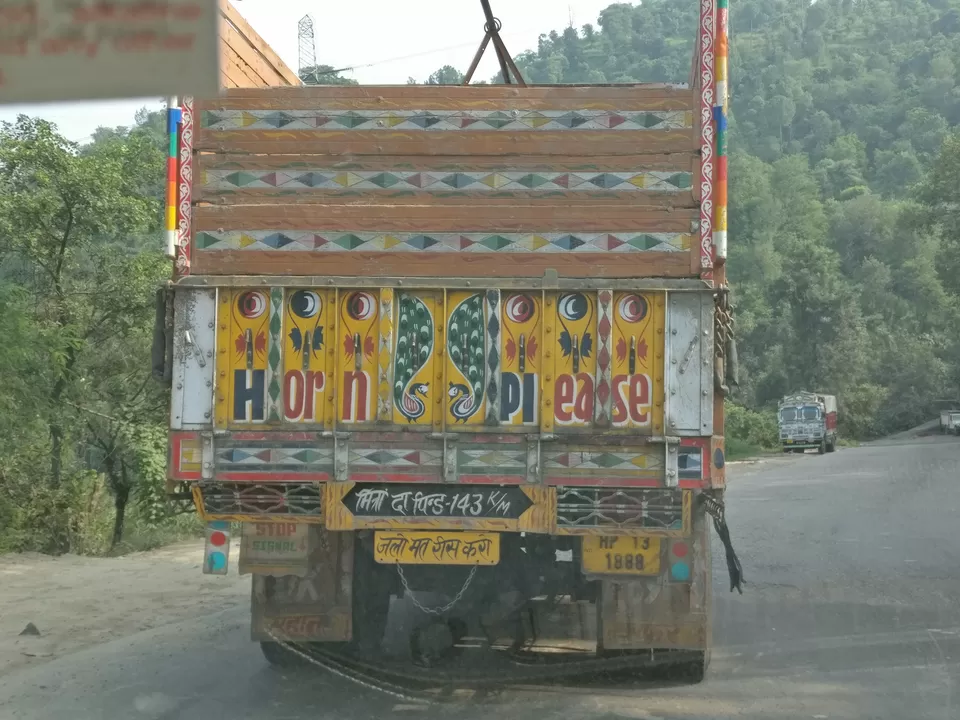 Music also playing such a dominating factor in our friendship, we really wanted to have our songs playing atleast on our way to Kasol to get the 'feel' of travelling, and the joy of stopping the car wherever you want made us rent a car for Rs. 4500/-to reach Kasol, which still worked out pretty cheap for us, considering we were 4 of us. So glad to have friends who have the money but are still so cheap :)
We didn't realize that we have reached Punjab until our driver, who had occupied most of the boot-space of the car with a 'big-ass woofer' wanted us to keep our luggage in our lap because he didn't want to give up on the 'woofer' and place it back in his office just to create space for our luggage. So it was woofer over our comfort for him. That's when we realized how much these people here value a 'woofer', especially while driving. And then much to our drivers insistence began our encounter with loud punjabi music, from All Black to Swag Ni to Raund to Reel to Chip, we definitely came back with some Punjabi tracks finding a permanent spot in our playlists.
'Tourist Dhabas'
Punjab and Dhabas go hand in hand, and we were starving to delve into super heavy Paneer Sabjis with Dal and Missi rotis at any Dhaba which came across in the outskirts of Chandigarh but we happened to spot many 'Tourist Dhabas' as we traveled to spot the perfect one to stop by. Since we wanted to be more 'local' we were not too cool with stopping by those 'Tourist Dhabas', because woh feel nahi aati hai boss, but then we had too, because they were just so many all across the highway. We stopped by at this Dhaba called 'Zimidara Dhaba' which I think one should totally avoid, because be it the sabji or the lassi everything was tasteless and one can't expect that if you are in Punjab. There was not one thing that we ordered which was even half as good as we get in Mumbai.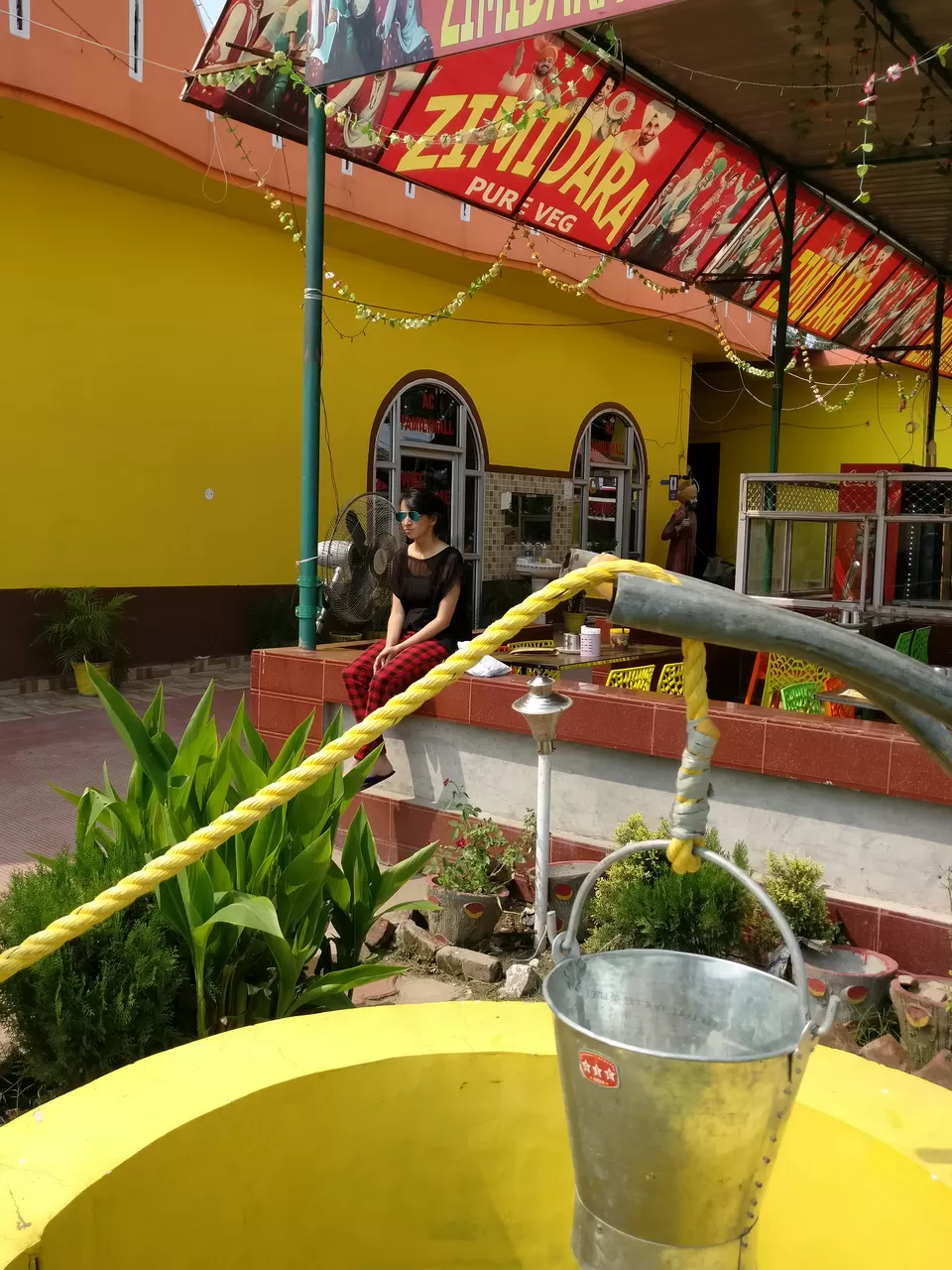 Travel Tippani - Avoid 'Tourist' Dhabas come what may, stop by the most local shady place you come across, it will atleast guarantee you something yummier than the Tourist Dhabas.
The better idea is to reach Chandigarh at night and do the 10 hour journey at night to reach Kasol in the morning, but we couldn't since our 'cheap' flight timings didn't support us much there. We decided to make the most of that and enjoyed the view of a vociferous Beas River that was our co-traveler by the side, alongwith the big-ass woofer who was comfortable seated in the boot, as we reached Kasol a little after dusk, soaking ourselves in the view that Himachal Offers. A little more breathtaking with every kilometer as we reached up.
Kasol - Night 1
Priced moderately at Rs. 631/- for four people Blue Diamond Hotel is one of the oldest luxury hotel in Kasol as they proclaim. Situated just at the beginning of Kasol area, one has to spot for the board of this hotel and take the first right as one spots it, into a lane which is slightly steep if you are carrying luggage and trying to walk up there to the hotel.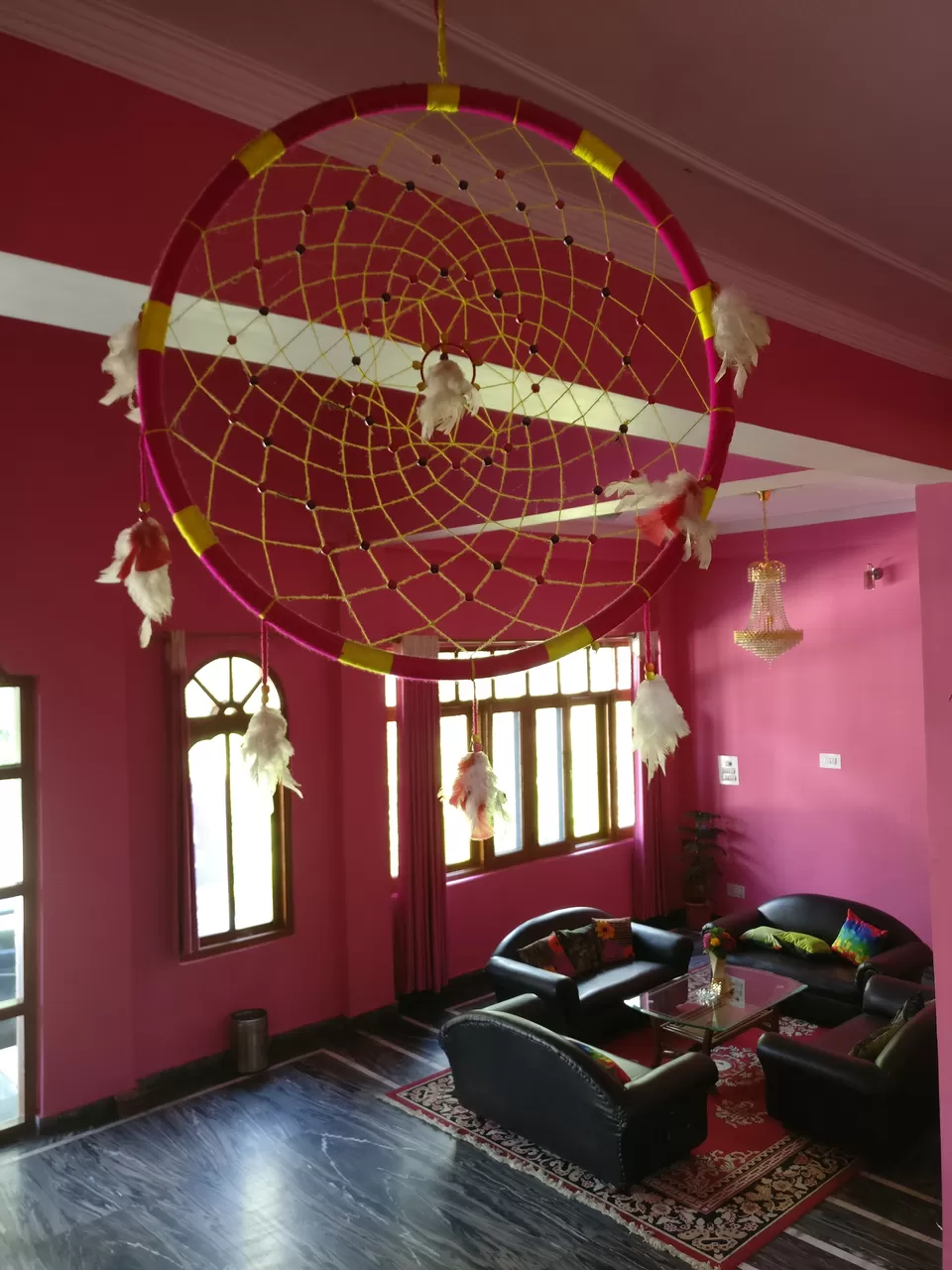 We realized the importance of its steepness only in the morning, once we woke up to a very beautiful view of the mountains which made us believe like we are pretty much in the 'womb of mother nature' as we were surrounded by mountains on all the sides. Comfortable stay, good bathrooms, nice hospitality and the hotel offers a perfect view especially for the price it asks for.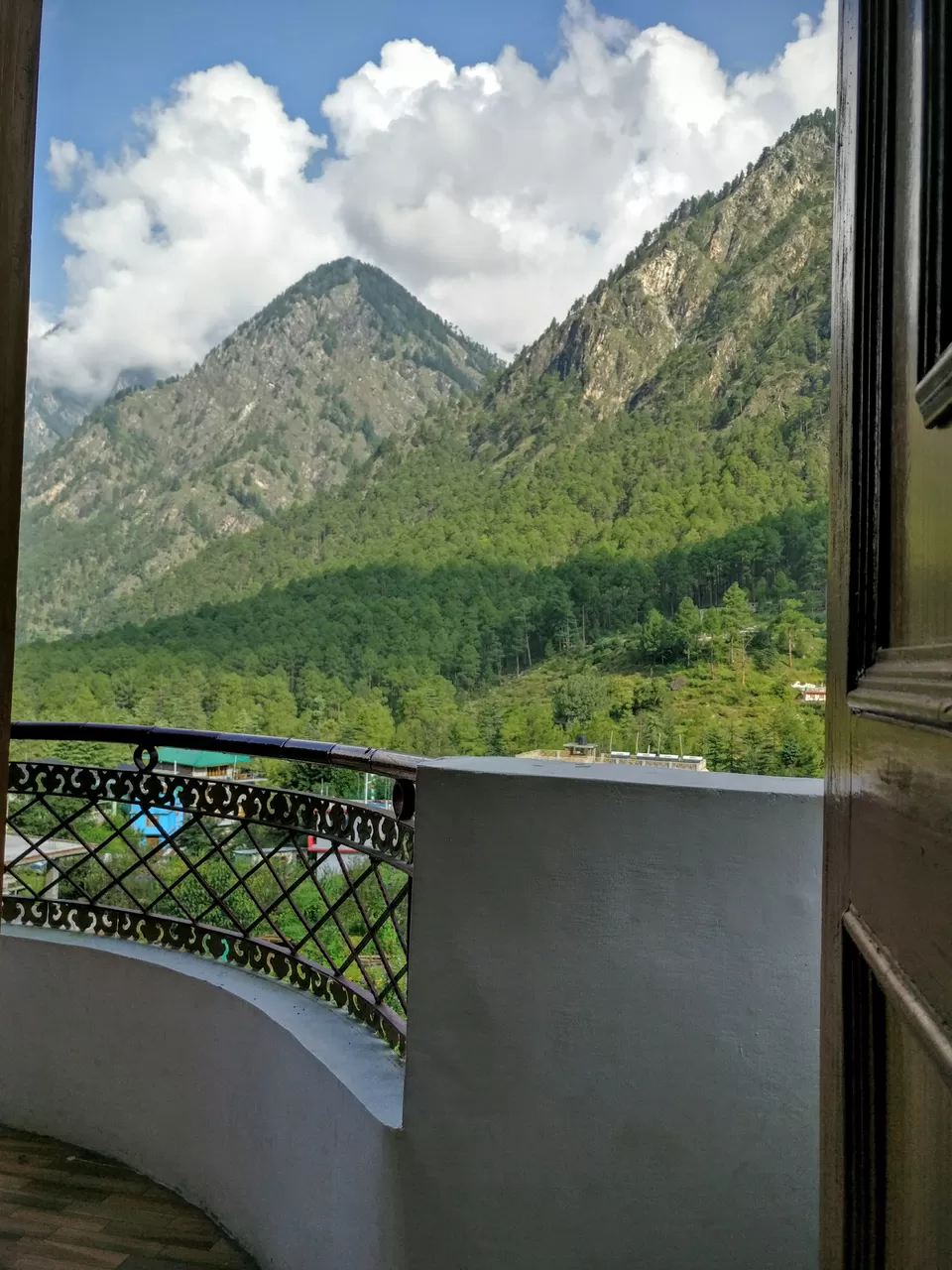 That night when we reached Kasol and went around to explore the lanes for some good dinner, we tried the Moondance Cafe near the bridge above the river. Moondance cafe, an open candle lit cafe, serves some super yum isreali food and you definitely can give Indian food a miss while you are here. We had the Isreali Platter which was par excellence, a cheese burger, some honey chilly potatoes and we decided to seal the meal with the super yummy nutella pancake with nuts.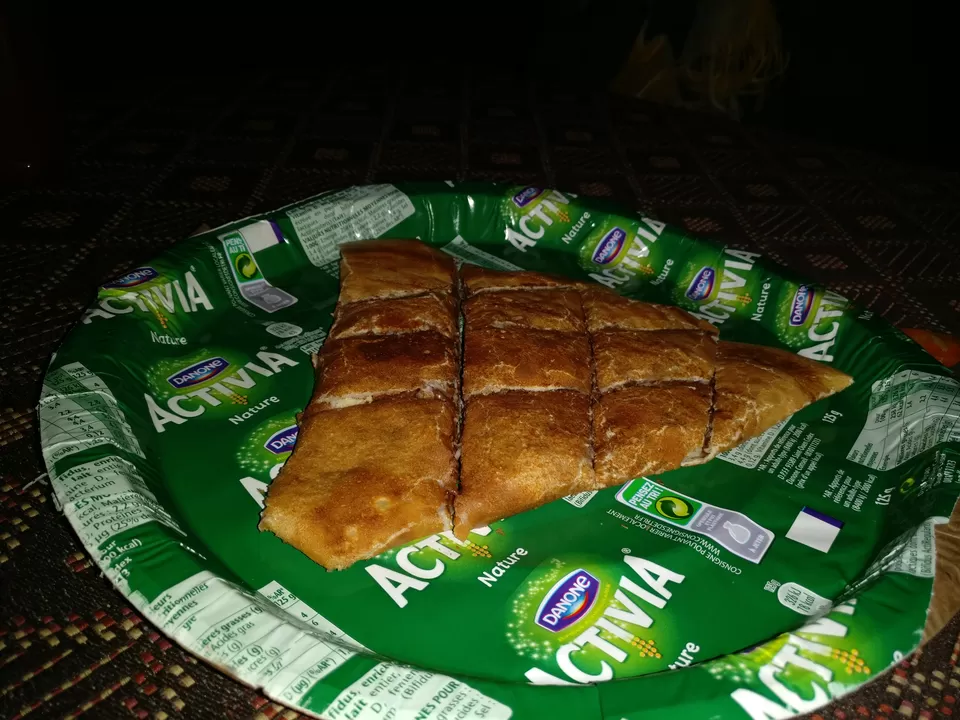 The food was tasty, affordable and the place has some great trippy vibes with Isreali music (i presume!) playing in the background to give the perfet 'feel' we needed. This place is known for its crepes don't leave until you try that.
Travel Tippani - Online bookings for hotels give you a better deal as compared to booking over the counter.
Kasol - Manikaran - Tosh - Day 2
Since we had heard so much about Tosh, and due to our constraints of time, we decided to skip the Rashol-Malana trek and head to Tosh directly from Kasol next morning, since it was a very beautiful village situated 7874 feet above sea level and still untouched by too much commercial cacophony and we wanted to do the beautiful places first.
However since we had heard a lot about the pilgrimage site of Manikaran, the hot springs situated out there and ofcourse the delish 'langar' food that the Gurudwara offers as prasad, which uses water from the hot-springs itself, we decided to do a quick pitstop there before we headed to Tosh which would have been our heavenly abode the next two nights.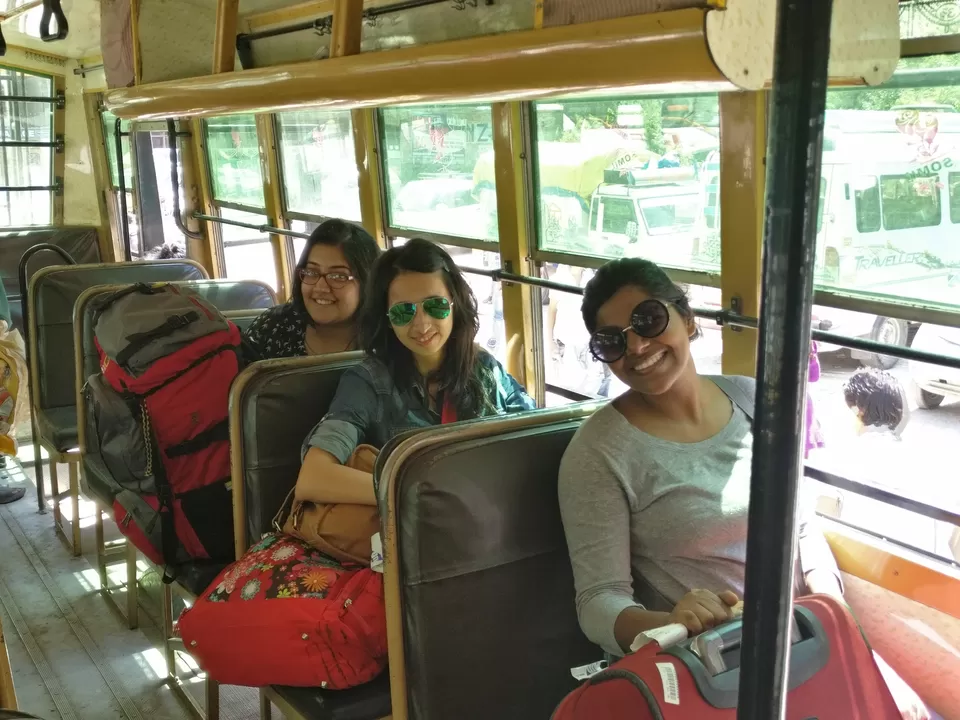 Manikaran is situated about 15 minutes from Kasol, if you happen to travel by a local bus, which we feel was the best way to get to Manikaran. We didn't know where the bus stop was in Kasol neither did we know its timings, but what helped was talking to alot of locals and asking people around as to when would the bus come. It came within 10 minutes of us hitting the streets of Kasol and the bus was a colorful, bustling one with songs of Falguni Pathak playing just when we entered. The tickets were priced moderately at about Rs. 10 to get to Manikaran which offered us great view of river Parvati as traveled by it. After getting off at Manikaran bus stop, we asked the locals as to where the Gurudwara Sahib was and we we were told it is at the end of bazaar after you cross the bridge, which is right above the magnanimous Parvati River.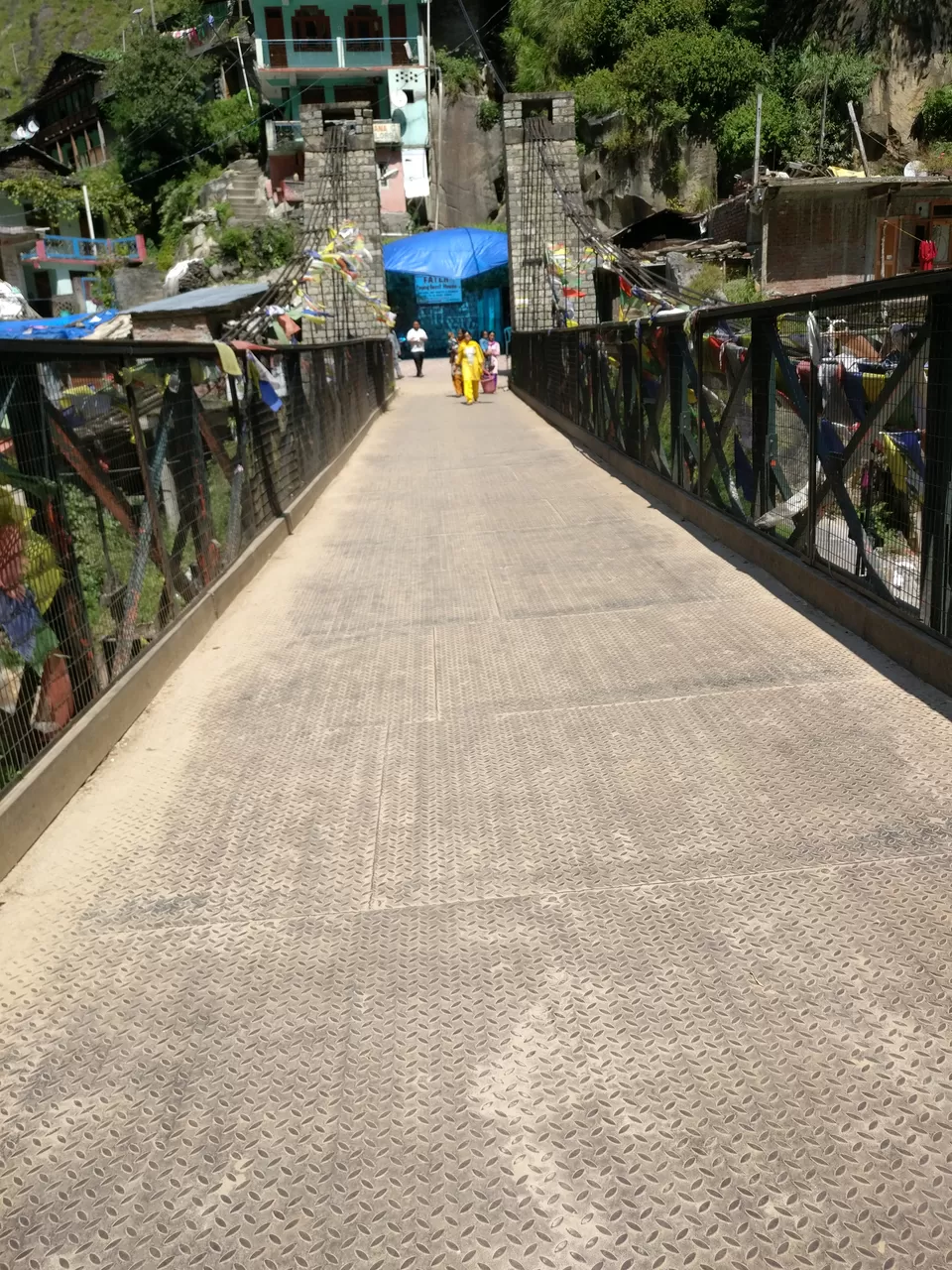 The bazaar was a 15 minute cute walk with little stalls of interesting things available at the side, which took most of our time. We asked a local shopkeeper to keep our luggage as we didn't want to enter the Gurudwara Sahib with our bulky haversacks and he was too sweet and offered us to keep the same as we went in for the Darshan.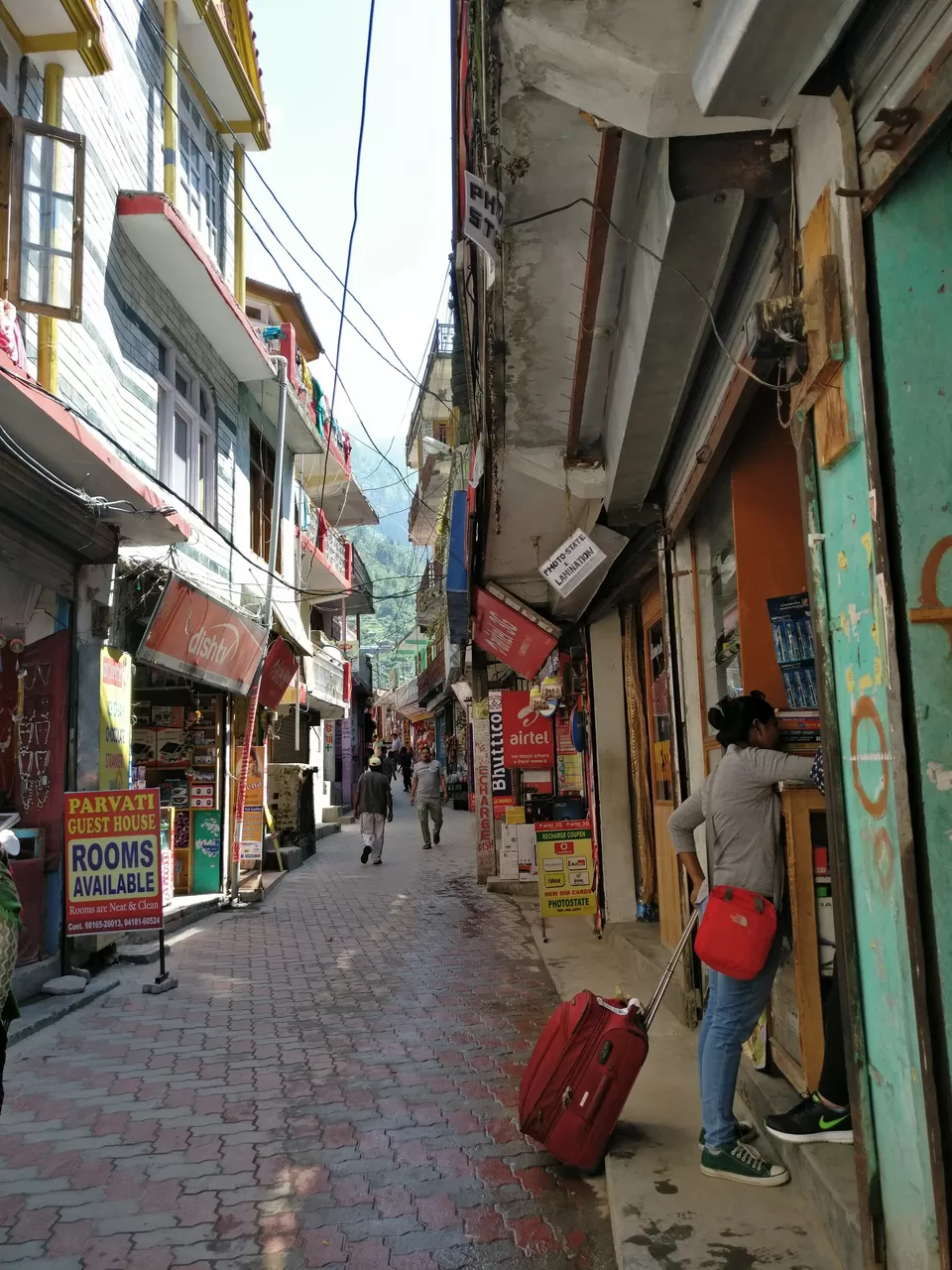 The Gurudwara offers free stay and food for two days for devotees who want to stay there, after they speak to the people of the Gurudwara, which I feel was wonderful and very kind of them. People generally come there to bathe in the hot springs and have the prasad, which is also called as langar and is offered to devotees who come there everyday. You will also see potatoes etc being boiled in the same hot water spring which would be eventually used to cook the langar food, which apparently makes the food more delish.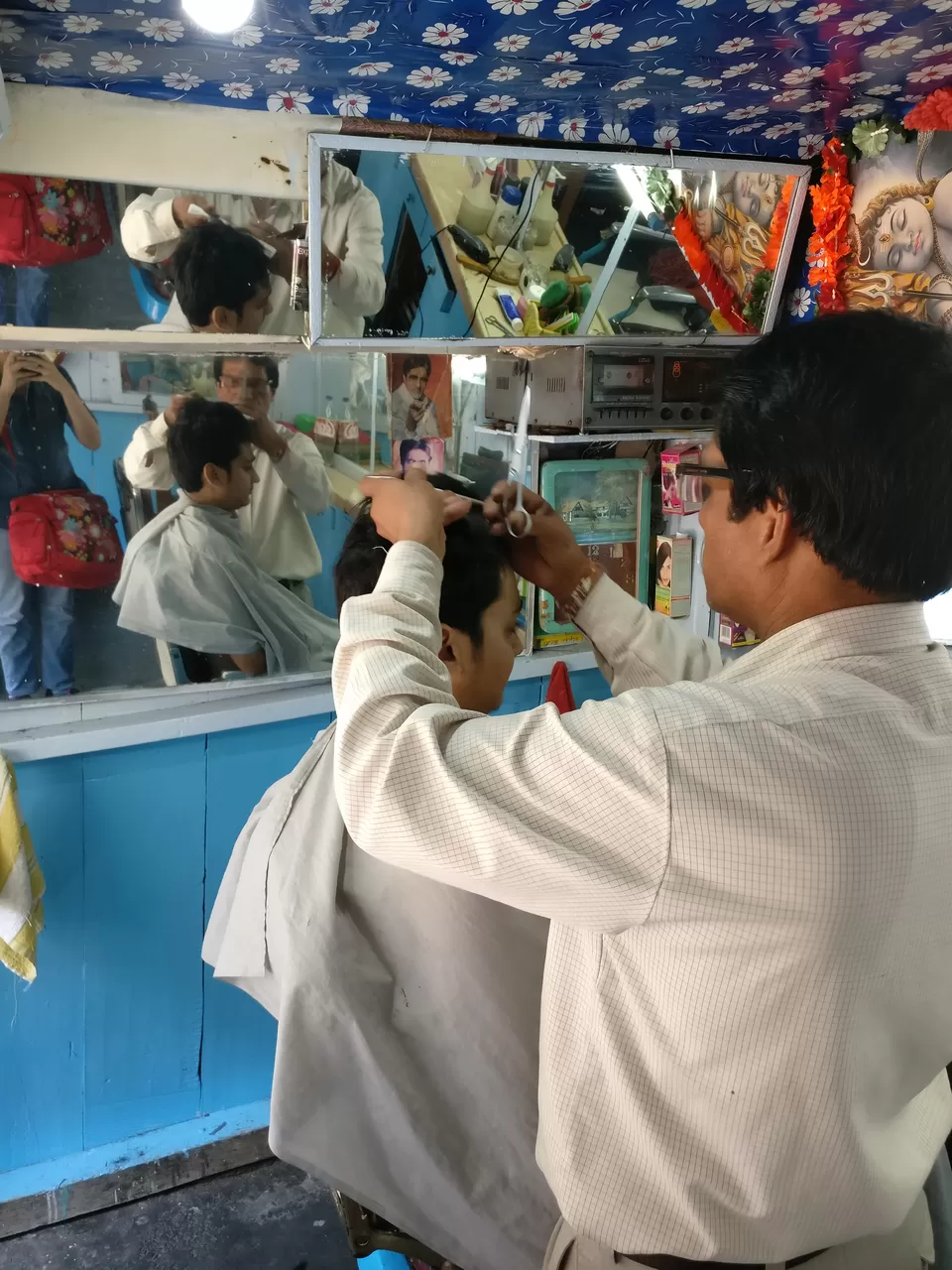 A little reading on the backstory of Manikaran would make the experience of the place all the more wholesome. The legend of Manikaran states that while roaming around, Lord Shiva and Goddess Parvati, once chanced upon a place that was surrounded by mountains and was lush green. Enamored by the beauty of the place, they decided to spend some time there. It is believed that they actually spent eleven hundred years here.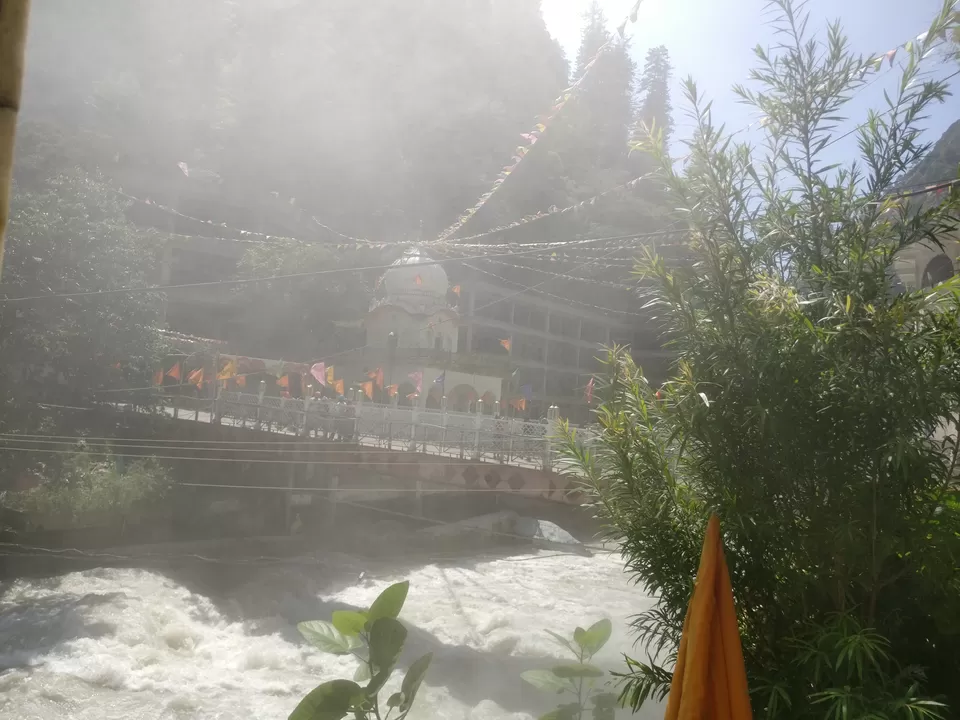 During their stay here, Goddess Parvati lost her mani, in the waters of a stream. Upset over the loss, she asked Shiva to retrieve it. Lord Shiva commanded his attendant to find the mani for Parvati. However, when they failed, he was extremely angry. He opened his third eye, a tremendously inauspicious event which led to disturbances in the universe. An appeal was made before the serpent god, Sheshnag, to pacify Lord Shiva. Sheshnag hissed thereby giving rise to a flow of boiling water. The water spread over the entire area resulting in the emergence of precious stones of the type Goddess Parvati had lost. Lord Shiva and Goddess Parvati were happy at the outcome.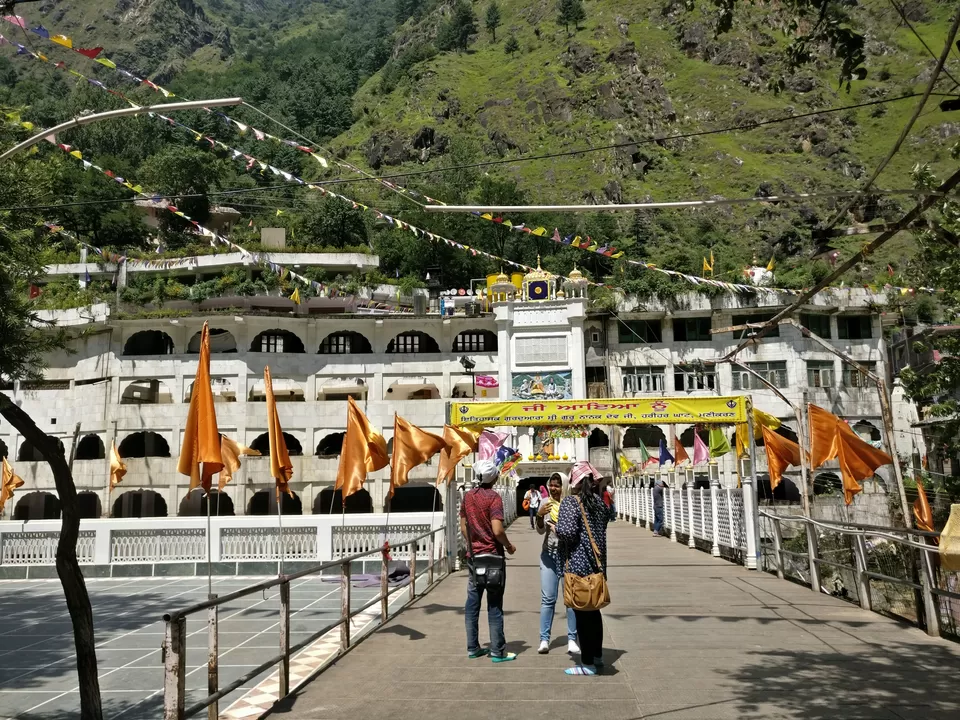 Overall a definite pitstop for a very different and peaceful feel of Himachal which definitely won't take up much of your time.
Travel Tippani - the volunteers who serve the langar or the prasad are way to quick for any of your reflexes, so might as well be watchful when they come to serve food to you and take only as much as you can eat as the stickers on their wall say that 'khaana jutha chodkar paap ke bhagidar na bane' and I am sure none of you'll want that feeling while on a holiday. Take little at a time or you will behave like me spending 90% of the time thinking and staring at the food wondering how will i ever finish it and then managing to take its picture too.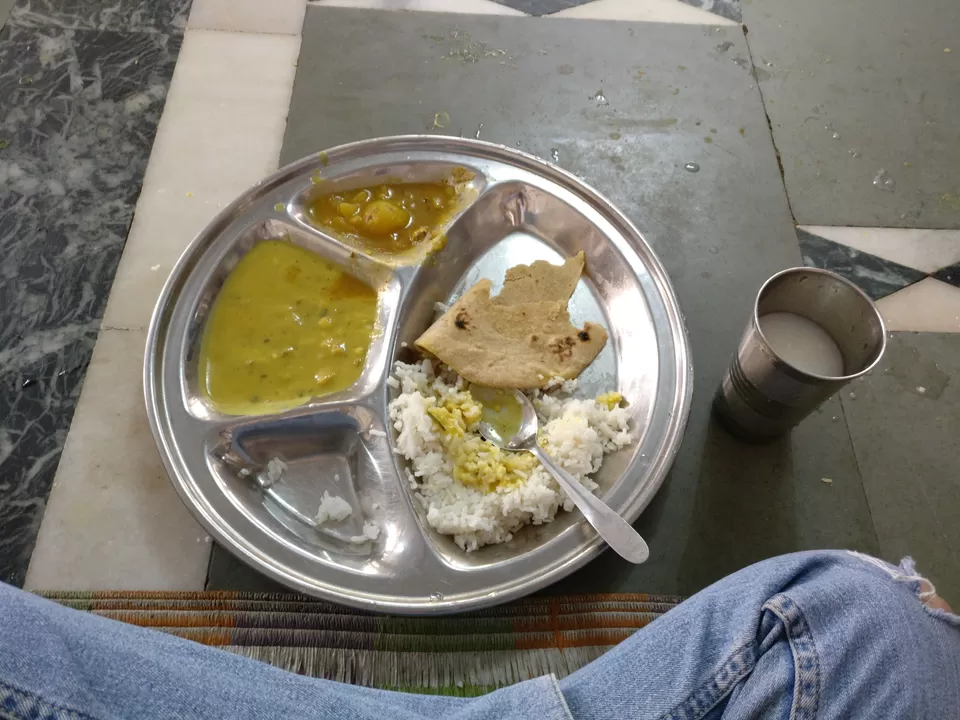 Enroute Tosh
Our cabbie Mr. Sharmaji who was a lover of Himachal gave us some really informative dope on places around, he also explained why he loves Himachal so much and how he would get bored of living in a city for more than 8 days, and this really changed my perspective about people from the village, who I thought always wanted to move to city.
He charged us Rs. 700/- to get to Tosh since we booked a private cab, however we were getting a deal of sharing as well who asked us to pay Rs. 150/- per person. Once again we wanted to save some time and instead of waiting for other 'savaari' and we went ahead with Sharmaji's taxi. His number is right here, he's a fun sweet guy, 09805895810.
Taxis don't go up right till the village of Tosh and they all drop you only until this bridge from where the trek begins to get to the guesthouse/hotel you want to live in while at Tosh. We were recommended Pink Floyd or Blue Diamond as both were at a good enough height (about 30 minute trek from the bridge) and both had aaah--ma-zzzing views, however some tourists while heading down back to the base of Tosh suggested we live at Hill Top Guesthouse, which had the most amazing food ever and a great view as well, as it was right between Blue Diamond and Pink Floyd.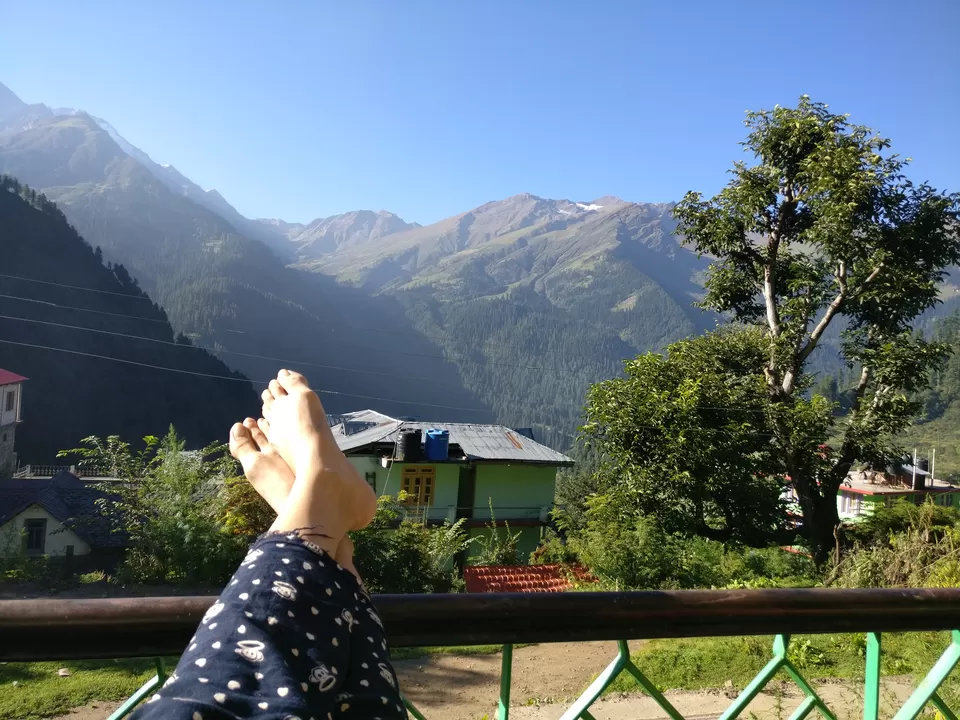 We went ahead with the recommendation of Hill Top and most definitely it was a perfect bet for our 2 night sojourn at Tosh, as the room, people, view and food everything was excellent and perfectly fitting our meager budget. We got a room for 4 at a shoestring price of Rs. 1000/- a night and the room had the most amazing balcony ever (where you will be spending most of your time while at Tosh!) giving some great views in the mornings and evenings and a kickass terrace which will make you believe that you are right below the milky way in the night. Tosh is all about views, so might as well look for a good balcony over a good room ;)
Travel Tippani - However there was a Om Shiva Mountain cafe right next to Hill Top, which was offering us similar rooms for Rs. 700/- bucks per night for four people but we realized that only much later and we were too happy with Hill Top to move anywhere else to save 300 bucks for a night, okay we cheap and lazy, but you can definitely try the Shiva Mountain Guesthouse before you freeze on either of them, as blue diamond, om mountain shiva, pink floyd and hill top are all adjacent to each other,RIGHT AT THE TOP of the village. Happy Trekking and try keeping your luggage in Kasol or you'll be dragging that luggage right up there.Coming to the BEST PART about Hill Top, no it is not just the view, neither is it only the people in that order. Infact it is the FOOD, especially the pizzas, they have the BEST PIZZAS EVER.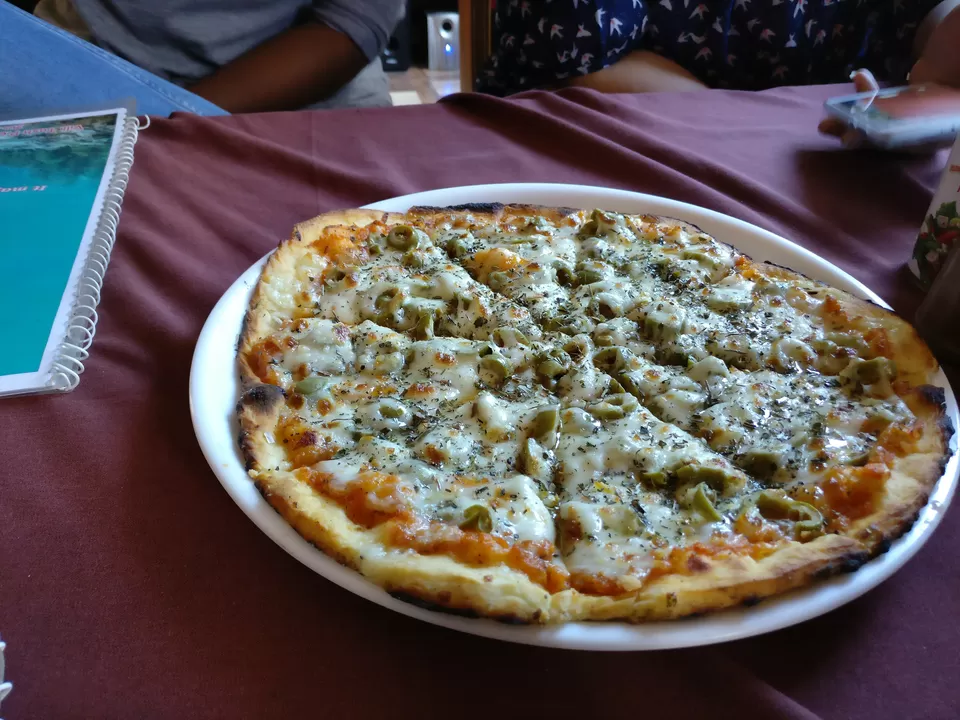 Definitely try the Ale Olive and the Tabasco pizza and you will forget all your pizzeria, dominoes or pizza huts for that matter. The Isreali food is also just as great and so are the salads and soups.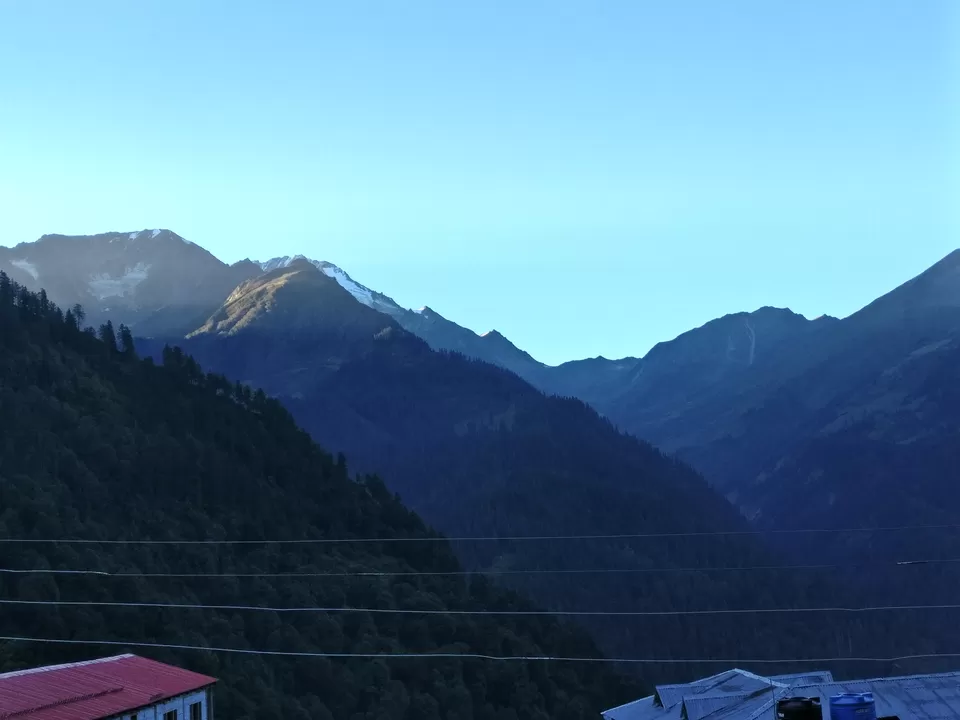 Chand ji takes the bookings of that place and he is a sweet guy and Sunilji is totally adorbes and he is the sweetest person ever at the cafe Hill Top who offered us some great service and also got chatty with us about the life in the mountains. Their phone numbers all over Tosh on the sign boards, call Jai and he will connect you to Chand ji. Avi is the isreali co-owner of this place who has invested in it alongwith jai as they say it.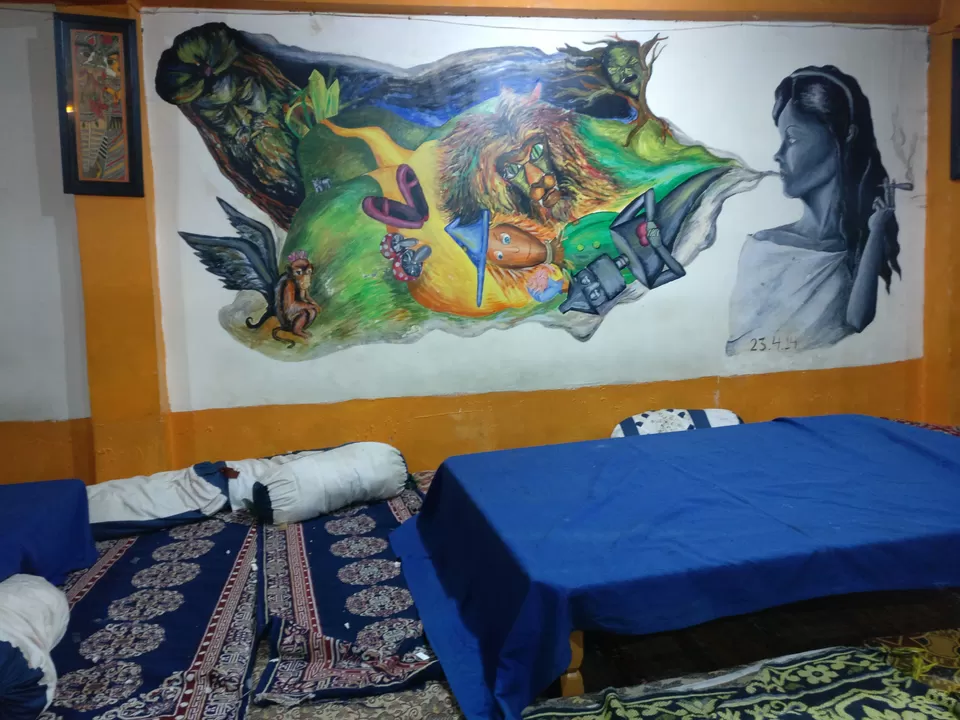 The cafe of Hill Top perpetually has people chilling there, especially Israelis reading a book, playing cards or just smoking up. The music is also great, with a fun mix of English and Hindi tracks and the free wifi is something which you maybe attracted by initially but won't need it once you are there.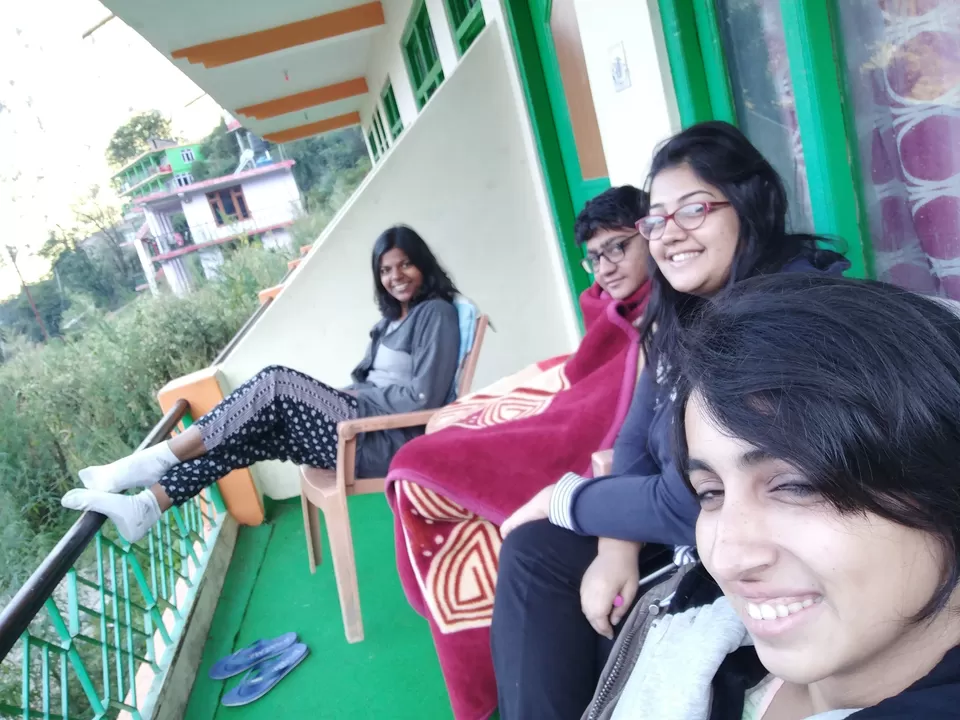 With absolutely no scope of any vehicle getting there how they managed to build the guesthouse and how they bring raw materials everyday upstairs is an inspirational thing worth looking out for. There are phone numbers mentioned everywhere while in Tosh stating number of Jai or Avi who will in turn give you number of Chandji who can give you the best possible rates of the place as per the season.
The most amazing balcony ever surrounded by mountains on all sides make you believe that, you are right in the heart of several mountains and the long climb to get here was all worth it. We were exhausted as we were trekking up with all our luggage, but the balcony made us forget all of that and we headed for the cafe where we met some people who were kind enough to offer us things they had. Travelers are really cool in Himachal that way, everyone keeps offering something or the other as they trade conversations just about anything.
Tosh Waterfalls
The next morning, after a rather interesting and chatty night, we had sumptuous breakfast at the Hill Top cafe, and then all we wanted to do was sit in the balcony (yeah that's where we spent most of our time while at Tosh!) and soak into the thick silence of mountains often broken down by the chirping of birds and super cute mountain dogs.
Since it was our Day 2 and last day at Tosh we decided to not be lazy and after plenty of motivation from each other and sessions of, pehle tu uth...tu uth..!!..we got out of the balcony and headed for this easy peesy 1 hour trek to the waterfall, which was visible from Hill Top.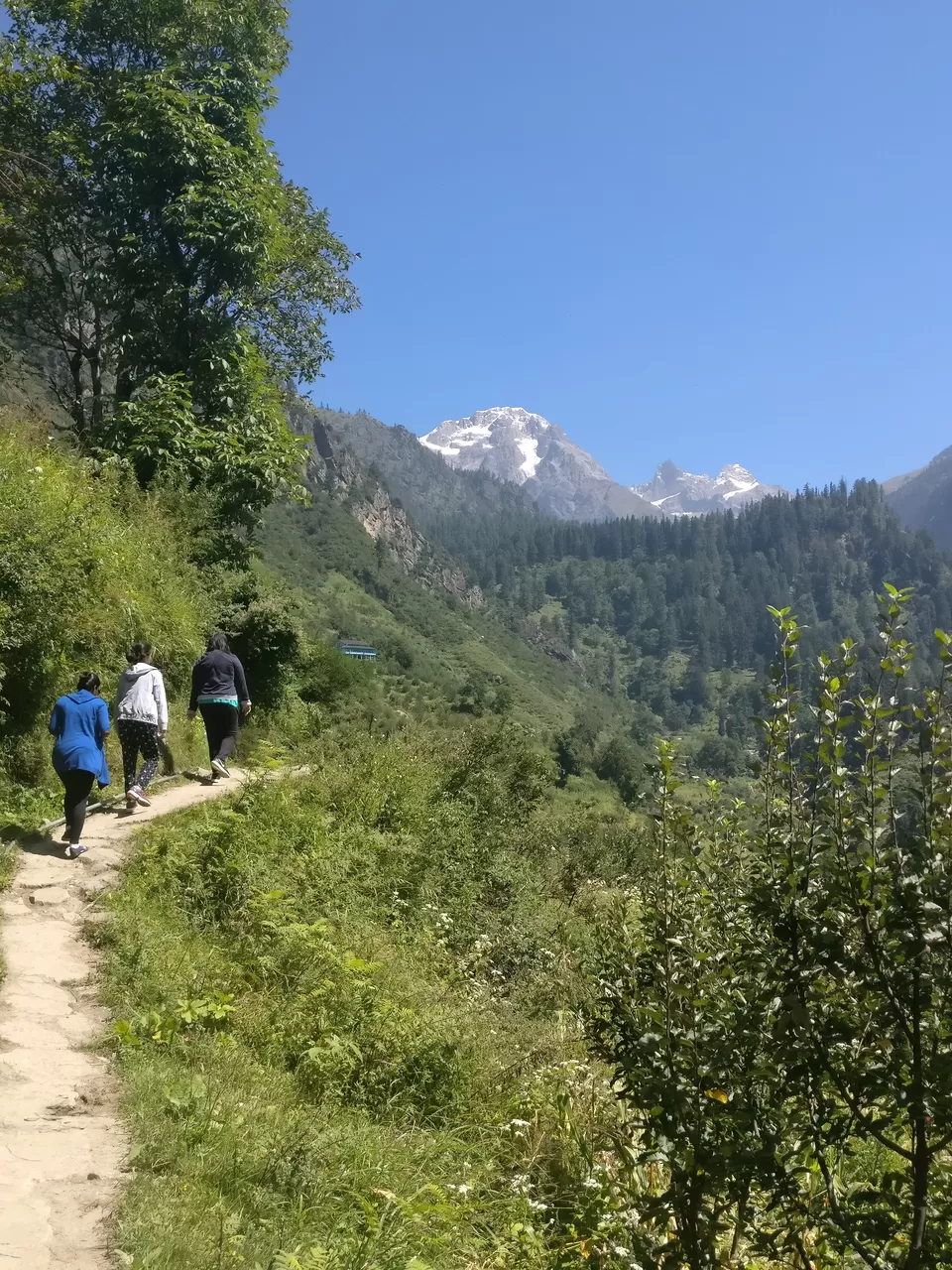 The road was fun, easy (after doing Kheerganga everything seems easy!) and was dotted with apple trees and unending shrubs of hashish. The sun was a little strong as we went in the middle of the afternoon but it was only after we reached the waterfalls we realized well it was the most perfect time to get here, as the water was friggin cooollllddddd even at 1 effing pm.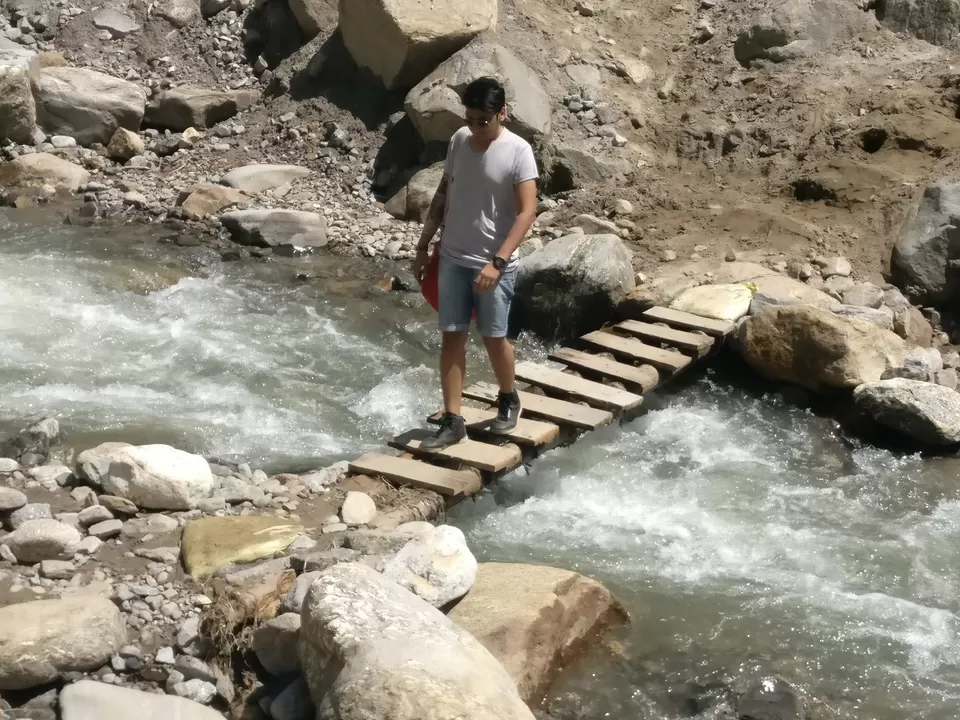 Inspite of the sun being strong up above, it literally couldn't touch the tasty and cold waters of the Parvati River, and the water did require tremendous guts from our end even to enter the river in the middle of the noon.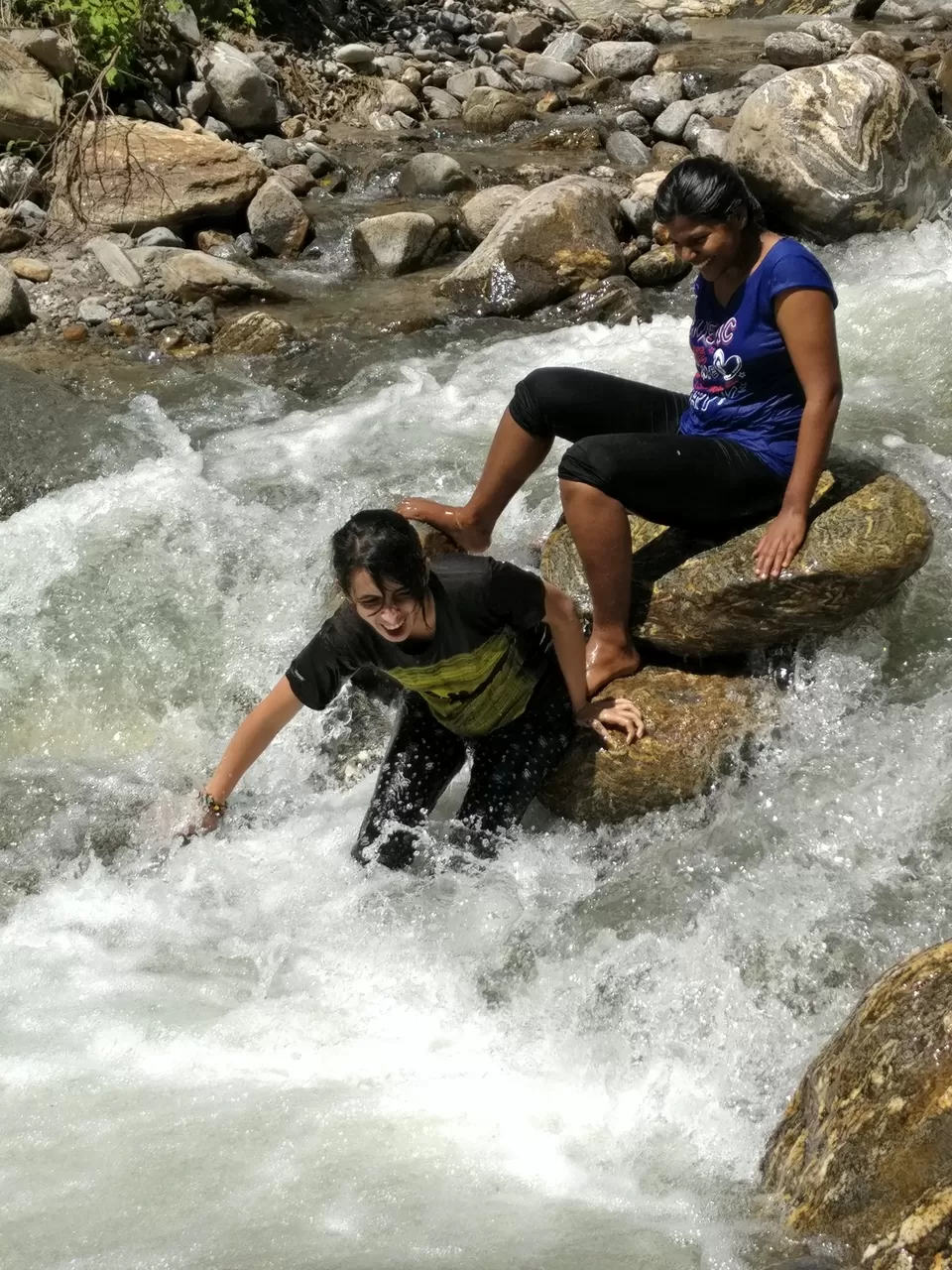 The water was ice-cold and after some crazy revelry amidst the nature, the cafe above the waterfalls i.e. Vee Cafe was the perfect abode we could look out for in the comfort of nice warm cheese maggi, served by none other than exceptionally smart kid Ramesh, who runs the cafe with his older brother.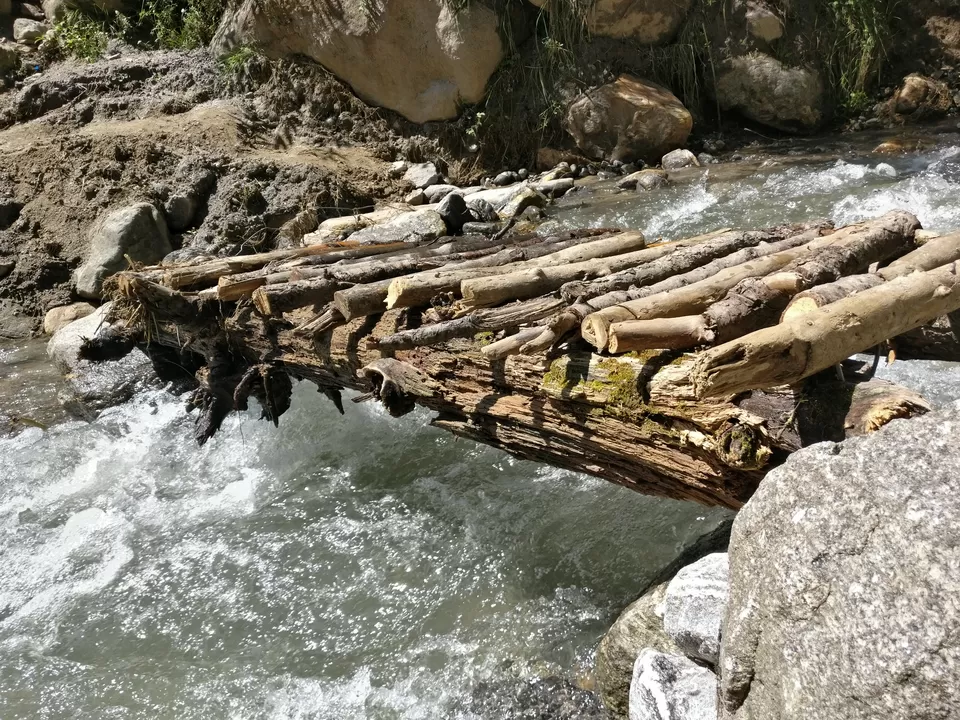 He's smart, chatty and fun and he also suggested we should trek further up to Kutla Valley which was about an hour more ahead from where we were and he vouched for its beauty. But since we were all drenched in water and it was 4pm already we didn't want to be some mountain bear's dinner and we decided to push back to our favorite place in Tosh, the BALCONY :)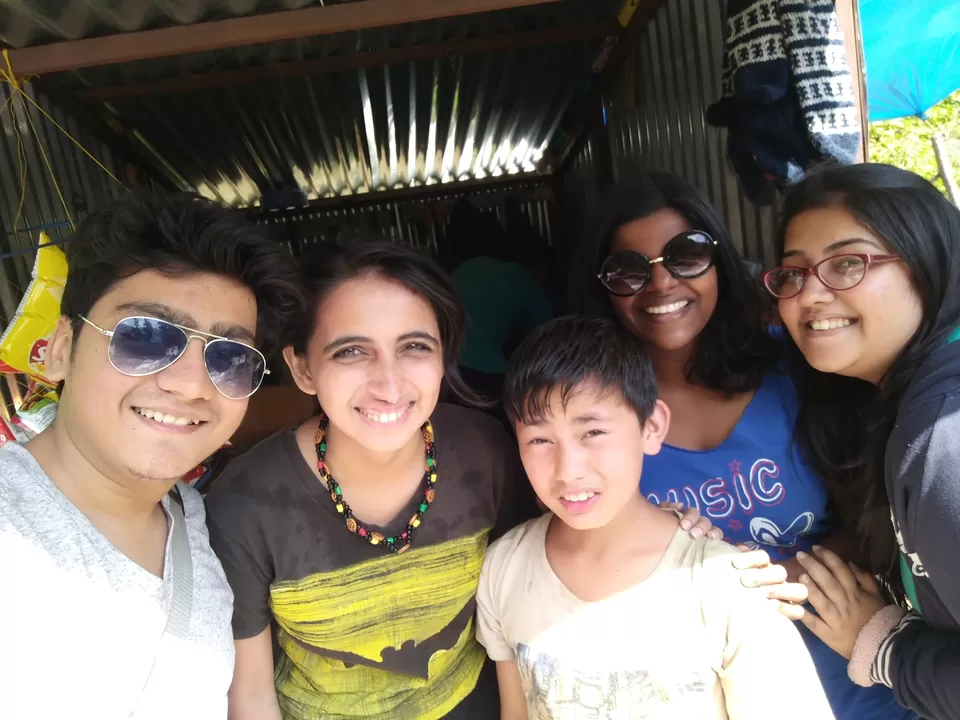 That night Tosh gifted us something, which one of our friend was repeatedly praying for, the electricity of the Village went off and we ran to the terrace where we were exposed to a zillion billion stars right above us, of all sizes and pitch darkness of the village floating below our feet. Moments like these make you believe as much as the technology may evolve, but it cannot capture the goosebumps and lightheadedness such moments offer us, when we are just capsized by the beauty of nature only to realize we and our problems are a minuscule nobody in those whole wide world full of so much beauty. Tosh left us awestruck that night, it left us awestruck for long.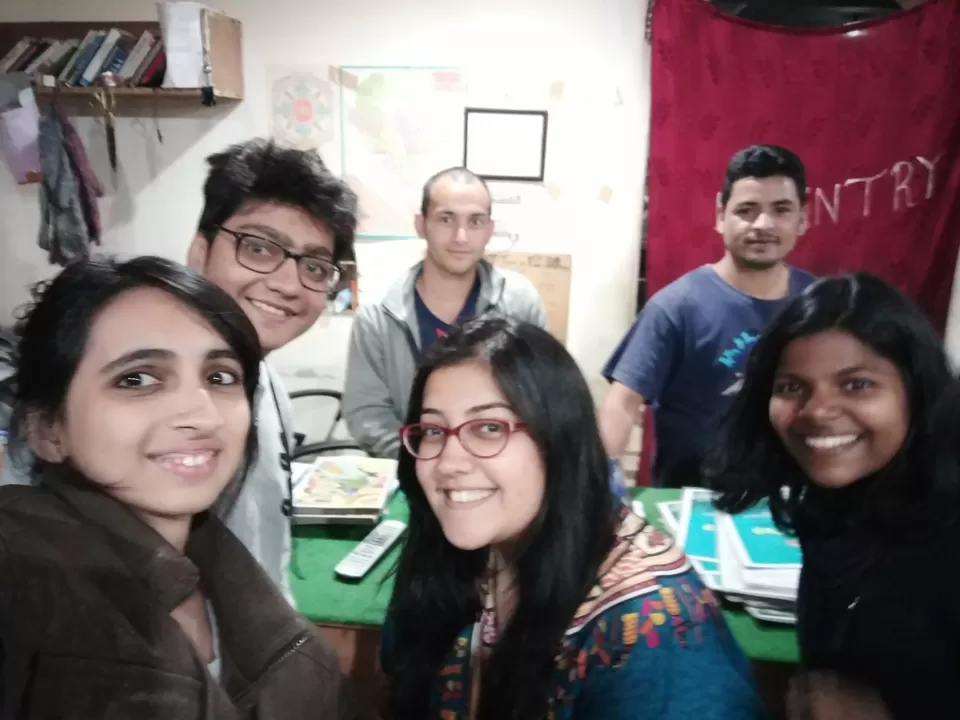 Kheerganga
A must-do 12 km trek in the Parvati Valley region, Kheerganga is known more for its hot-water springs which magically emanate from such a high altitude and has medicinal properties, and attract people from all over the world.
After bidding a heavyhearted goodbye to Tosh, we headed towards Barsheini from where we were to start the most awaited Kheerganga Trek. Barsheini is a village about 15 minutes from Tosh by cab and about an hour and a half of walking if you have luggage on you.
We obviously had no plans of carrying our entire luggage up to Kheerganga so the next move was to find a place where we could keep our luggage safely until we get back to Barsheini after spending 2 nights in Kheerganga. Once again the locals helped us, and the cabbie took us to a shop where his mate agreed to keep our luggage safely for 2 nights at a price of Rs . 300/- only. And let me tell you everything was as it is when we came back to pick our luggage after the Kheerganga Trek. There are many shops that keep luggage safely in Barsheini as its from there the Trek to Kheerganga starts so don't bother spending money for hotels and get on to speaking to locals, cabbies, other tourists and just about anybody, you are sure to find your way through.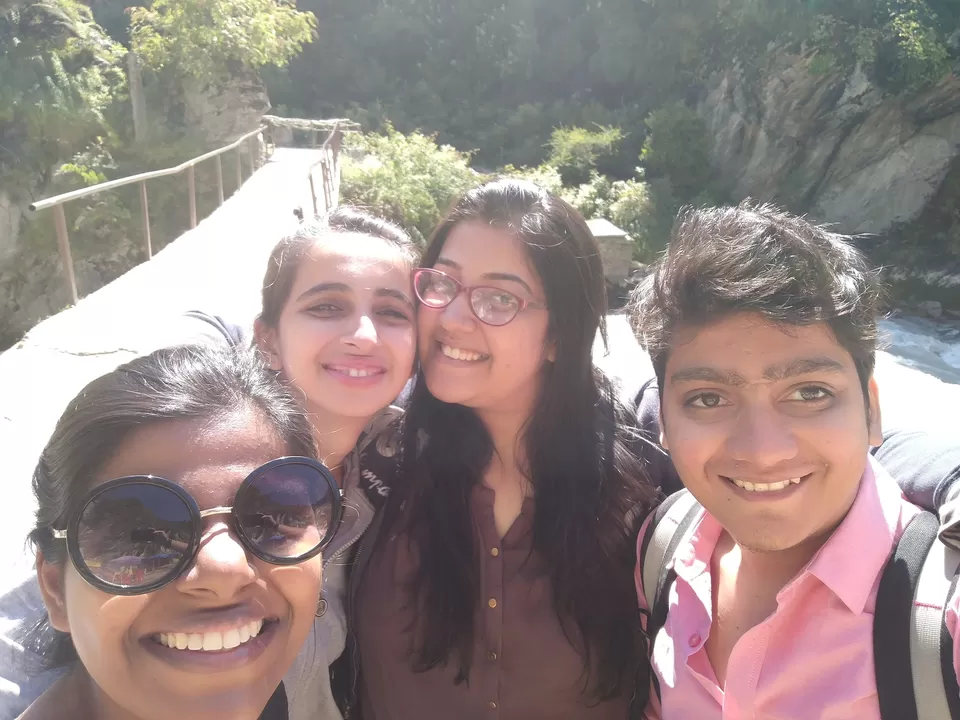 After a quick not-so-light breakfast at Barsheini at 10am, we took a quick 'before trek' selfie and were all roaring to hit up the mountains. There were just too many picturesque locations and we did a big mistake of stopping by to take photos everywhere and consumed too much of our energy already at the start. After some half an hour picture taking sessions, walking around a bit ahead, the other trekkers walking down told us that we haven't even started the trek until now and the last part is the most dangerous thing to do in dark. So to make it simple the trek is divided in 3 phases according to me as mentioned below, second part being the easiest, first being a little rickety and crude and ofcourse the last part which was the forest part, being a little tricky compensated with oodles of beauty.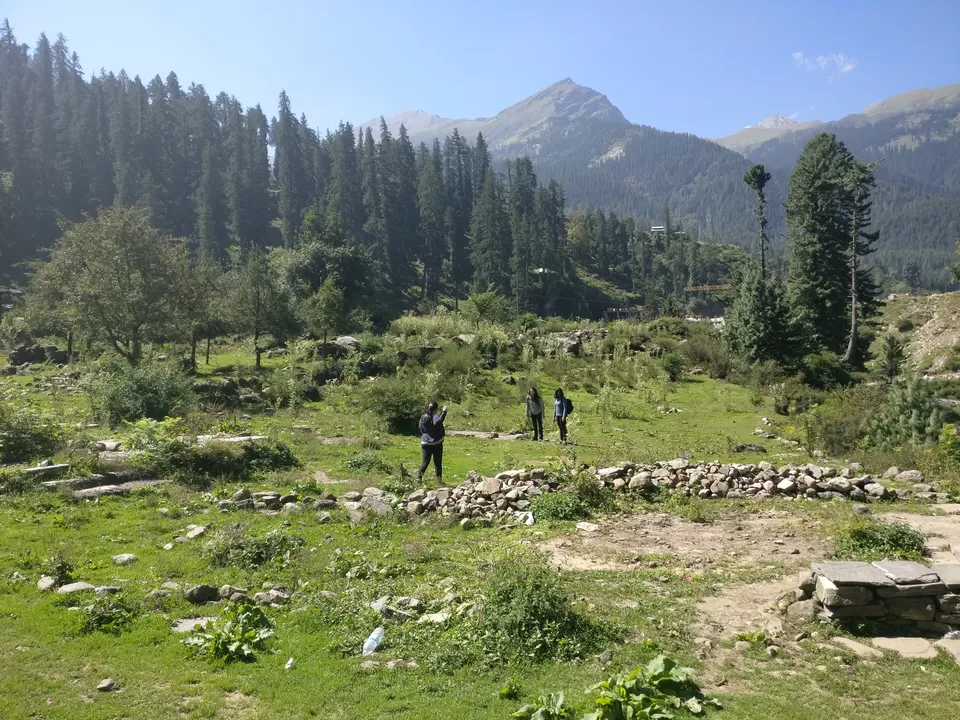 Part 1
The start has some steep climbing, which may demotivate you to just quit it and go back as its all muddy and the ground is not firm. But that shouldn't be a reason to stop. Take help if you have to but keep it going and watch out for these thorny bushes which are all around and leave an itching session if they touch any part of your body. The start is alot of steep walking until you reach cafe Sahil which is about 4kms from base and about 3 hours if you go by our speed. There is an Apple Farm Cafe and there is Cafe sahil which is adjacent to each other. If you want to lie down, go to Apple Farm Cafe, but the food out there was atrocious and so for the food one should directly head to sahil.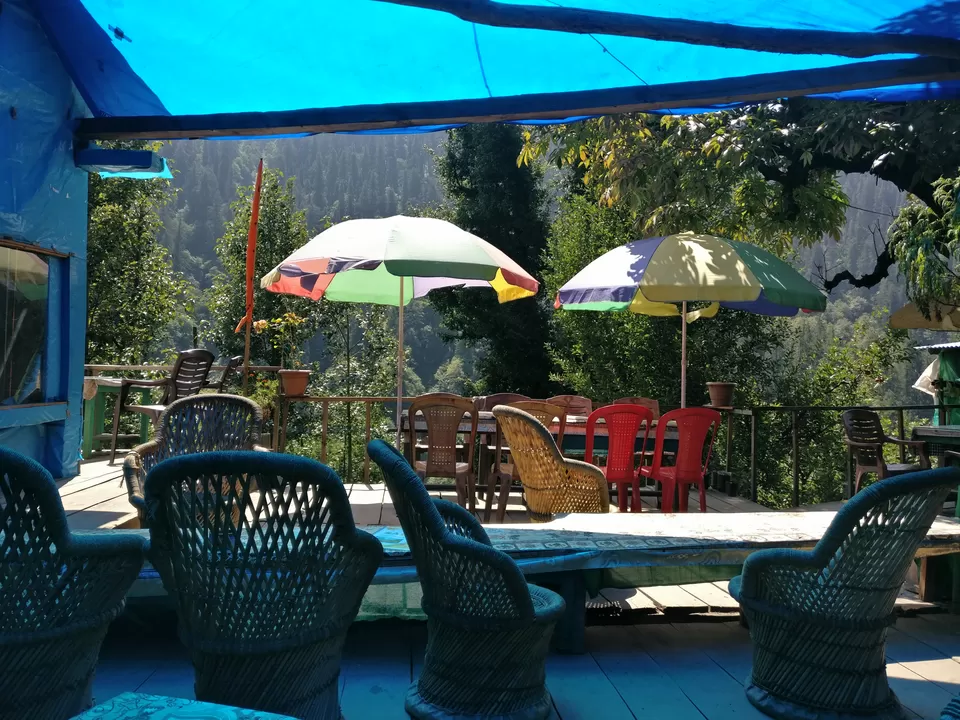 Part 2
This is a relatively simpler part which is more of walking on thin strips of land going up and down the mountains, but a relatively simpler road that begins from the Village Nakhtan and goes on to Rudra Nag where there are pretty water falls waiting for you to get your phones out for some much deserved pictures. This shouldn't take again more than 2 hours as the road is simple and fun.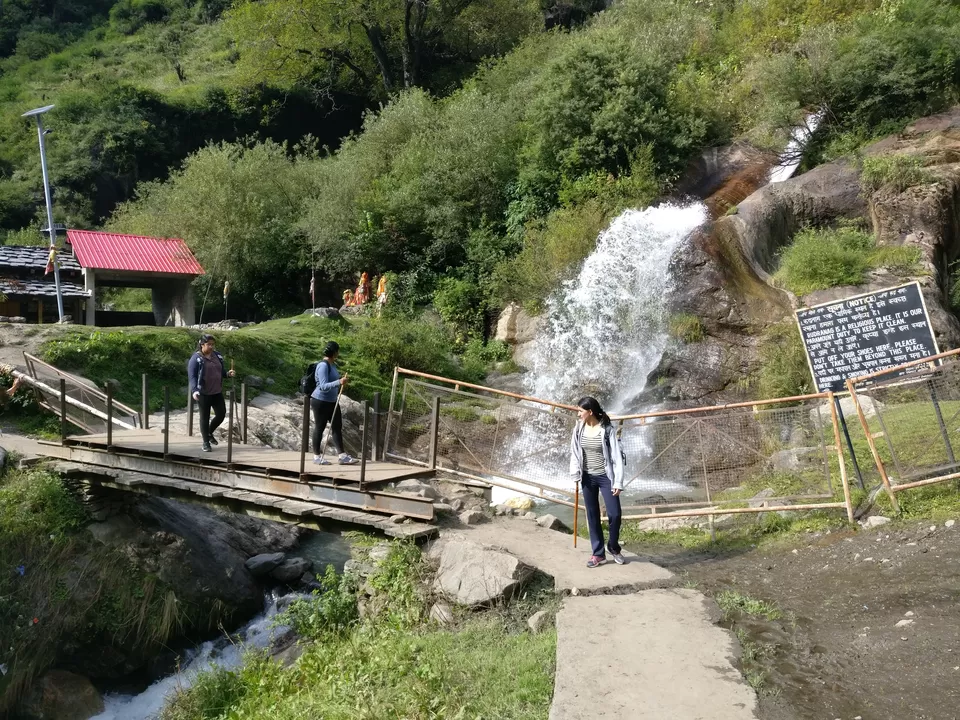 Part 3
The forest area begins after the bridge near Rudra Nag and there's one cafe which is at the base of the mountain which you will be climbing for the next few hours, so might as well hydrate yourself there and come what may, please start the part 3 of the trek by 2:30pm-3pm atleast so you don't stay the night in the extremely dark Jungle or run across the jungle as if running an obstacle race. You will be crossing waterfalls and some really loose sand and other such slightly tricky terrains, you don't want to do it in the dark unless you think you have night vision, so get your speed in place at the start itself. Also don't know if its true, but I happened to hear some gruesome stories of brown and black bhalus coming out in the dark, looking for their dinner, and to make it worse i heard these stories exactly when it was dark and we were pretty much lost, which made us repeatedly hallucinate bears everywhere.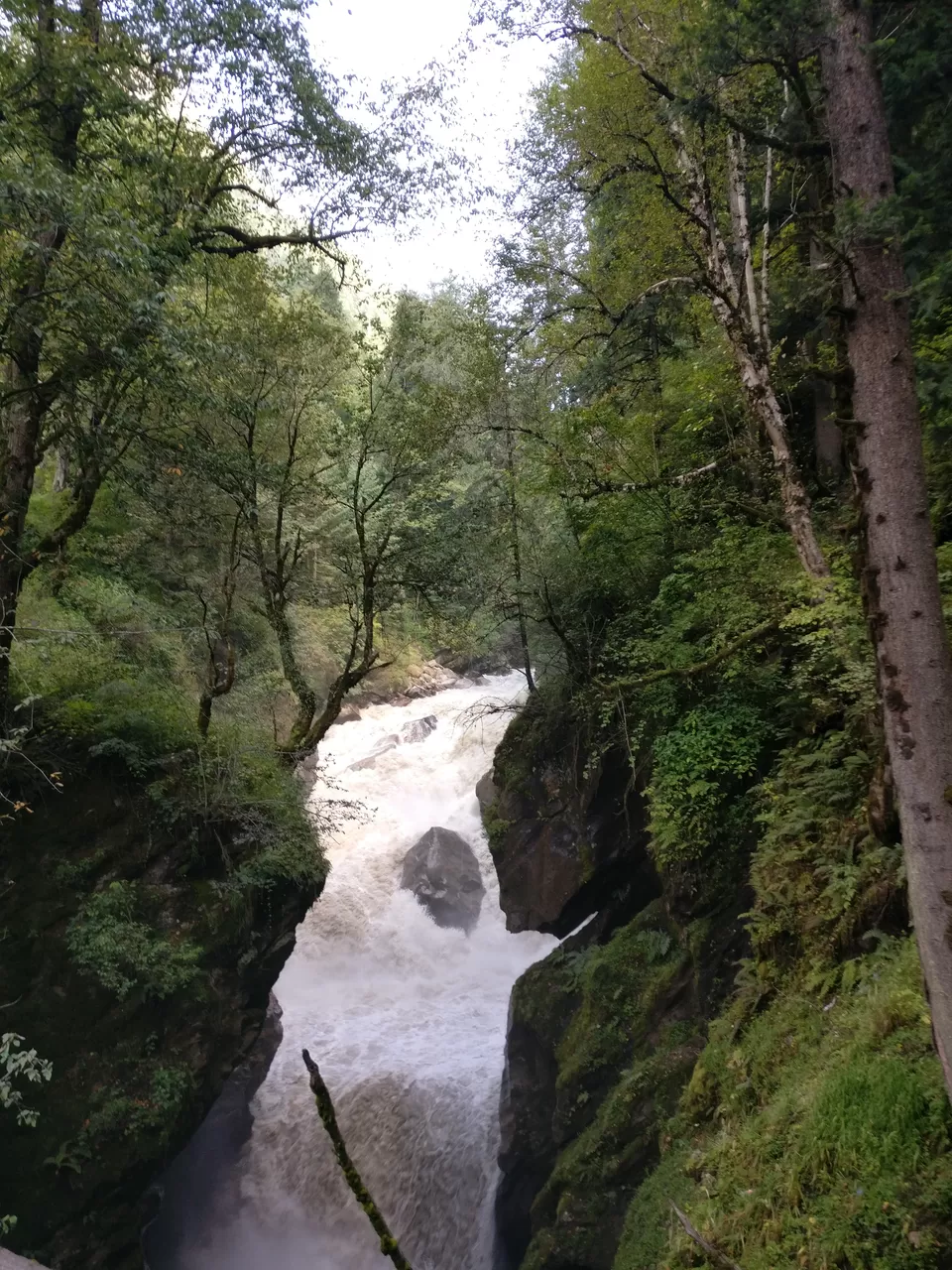 There are signs on stones of yellow arrows which show you the route up there and there are people also constantly going up and down which can help you with the route, but only if its not dark. We were late, it was 6:30pm already dark in the generally dense forest and the signboard suddenly said we need to walk 4 more kms. Well well 4kms in the jungle is as good as 16kms in the city, so don't be all oh just 4kms! I had already crossed some tricky terrains and I was freaking out at thought of doing so in the dark with the constant hallucinations of bear and absolutely no sign of human existence or a light which could help us find our way up there. After extreme hyperventilation in the dark and almost deciding to find abode below a huge log, I came across this Sunny in the dark, like a ray of light in darkness literally and i refused to let him go without taking 4 of us with him. I took over the character of Geet from Jab We Met and I was like dude you are not going anywhere ahead without taking all of us with you and you have to keep walking with us at our speed. Sam,dam, dand, bhed I did it all to keep him walking with us and after extreme freaking out and a zero gravity adrenaline rush we saw some street lights which assured us we have finally reached the chilly kheerganga.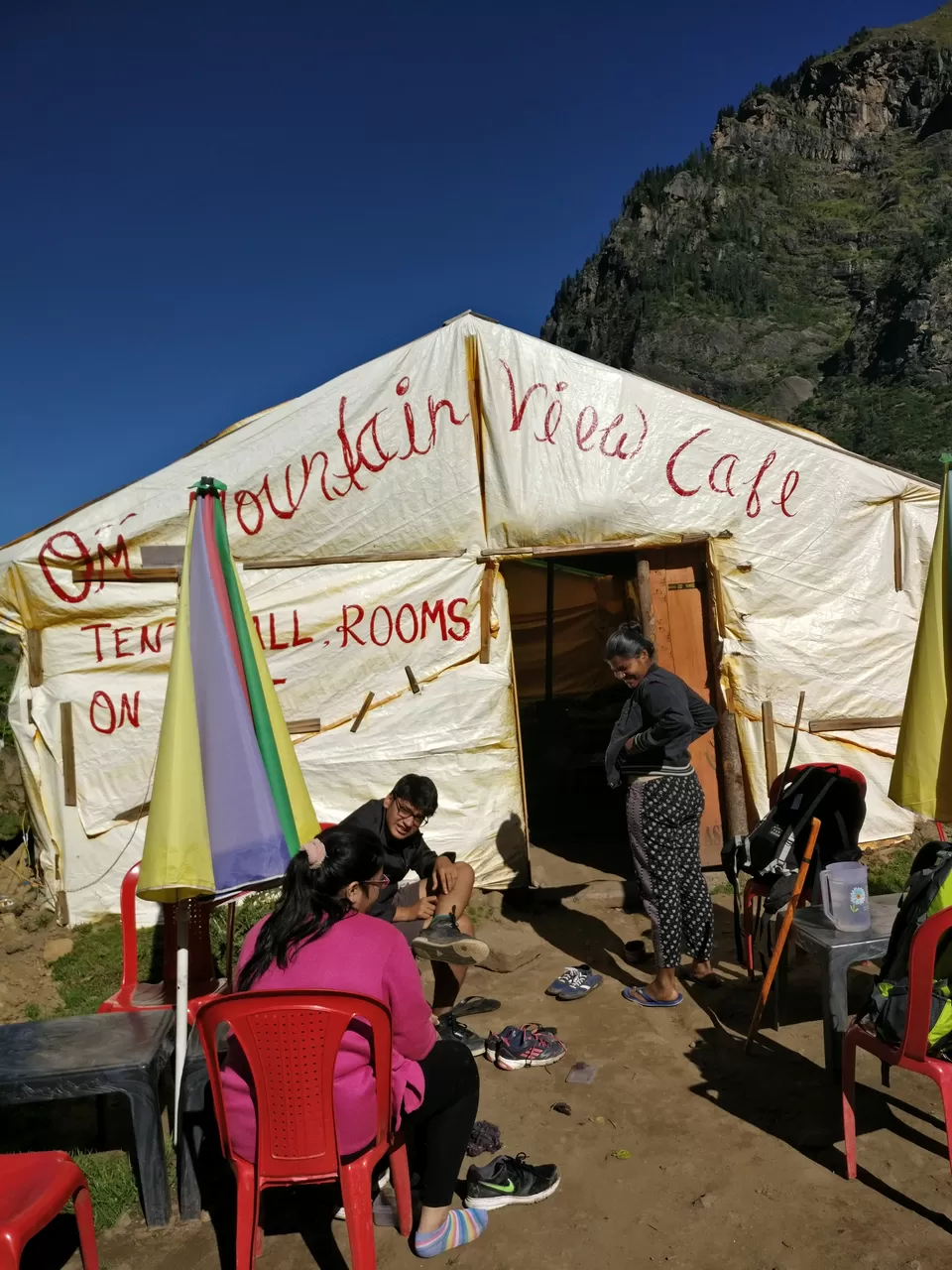 The proper accommodation which is closer to the Hot Springs was still some distance away so we decided to stay in this big common tent called Om Mountain View Cafe, which is one of the first things you will see to your right when you reach Kheergana. The hosts were extremely sweet and even in the absolutely no network zone of Kheerganga, they allowed us to make calls from their phone which had airtel network zipping in and out. The Aloo Gobi and Dal was the most yummy comfortable thing after the scary jungle encounter and the gaddas offered to us for Rs. 100/- per person with an angethi inside kept us warm and comfortable all night through. Loved the hosts absolutely for serving the most comforting food and being so kind.
Toilets all through Kheerganga are common and are outside except for this one place called Ice and Fire which has self contained rooms, but they smell like shit and you wouldn't want to stay there even if they paid you as it has the most claustrophobic feel ever, it's like you are paying extra to live in a toilet.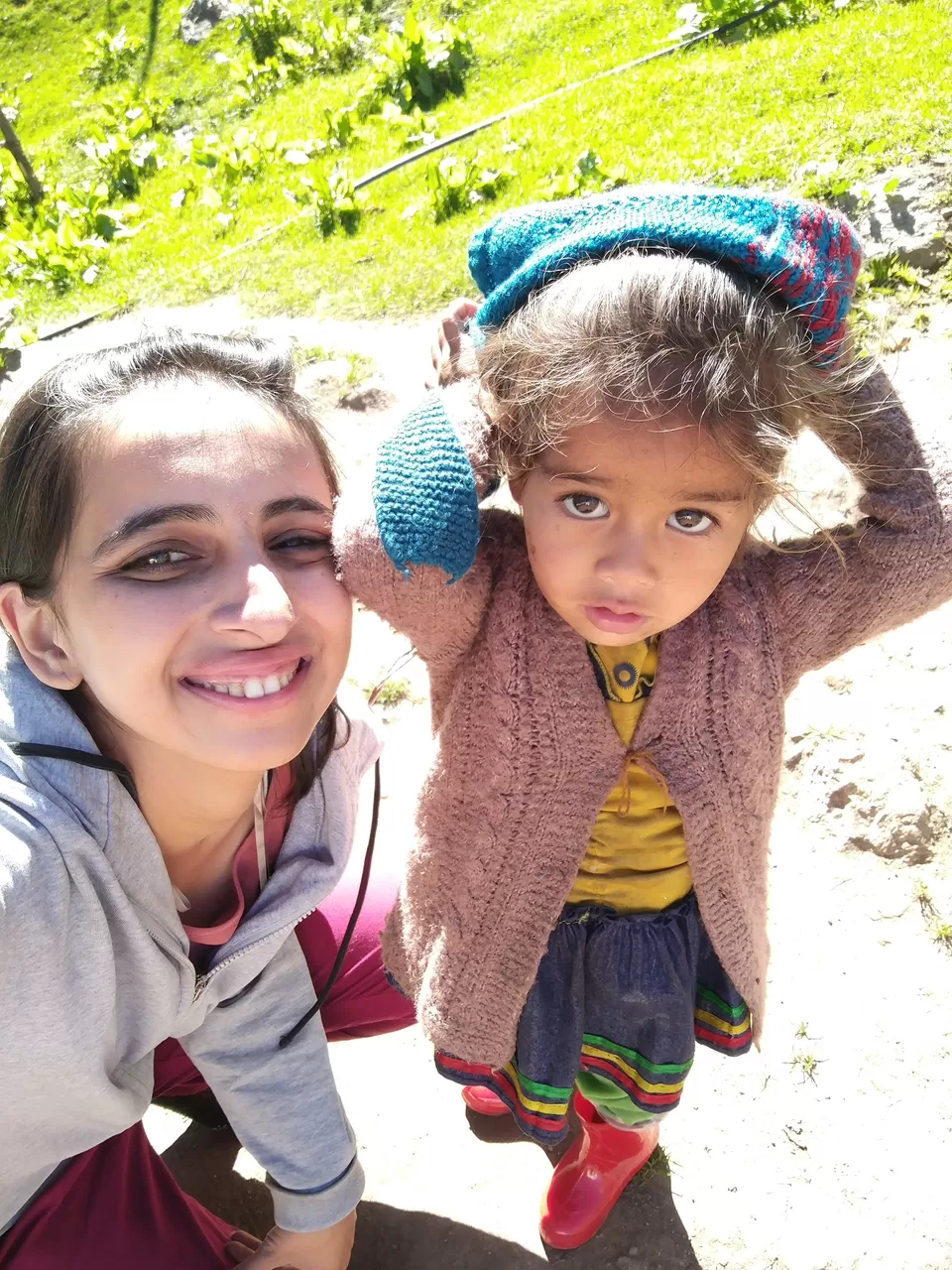 What caught our sight next morning other than the breathtaking view of Kheerganga was this cute cafe bordered with swings floating at its edges, almost like you are swinging into the mountains and the sunflowers grown around the cafe, made it the most picturesque place in Kheerganga. The cafe had some amazing food, it was perpetually crowded, had fun music playing and most importantly was a home-ground for many a friendships with Isrealis.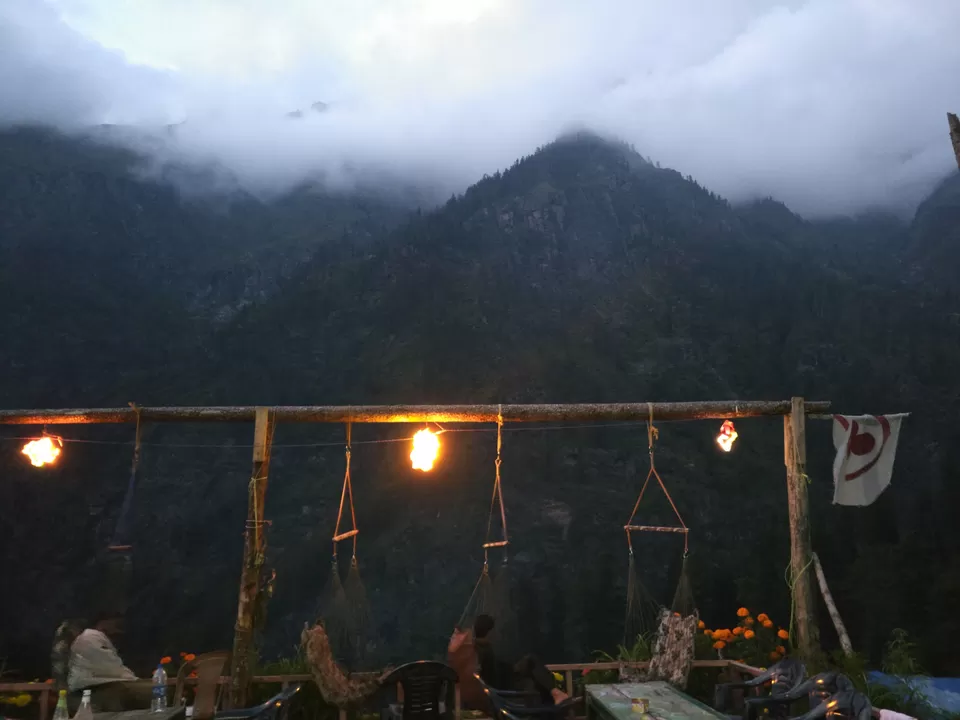 The second night we stayed at Lotus guesthouse which was again nothing but a tent sort of shelter with gaddas to sleep on. The food at lotus was average, and the mountain cafe with swings was officially our favorite place in Kheerganga and its host Honey was a fun sweet guy who once again offered us his phone to make some important calls, I guess all through Himachal we have just found extremely sweet and helping people.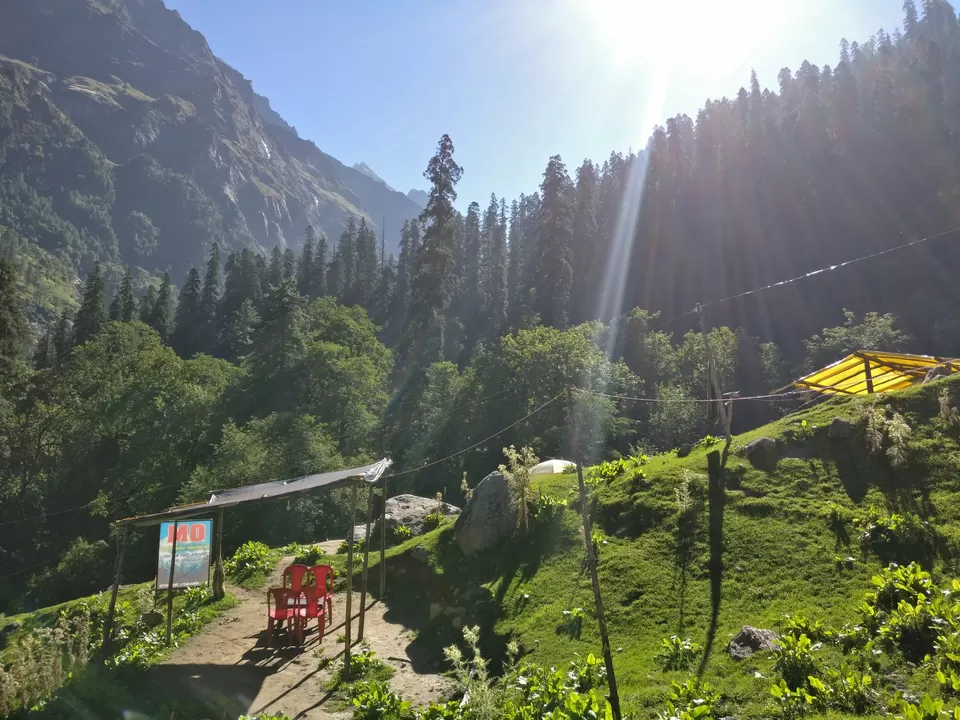 We took a quick dip in the chaste hot springs of Kheerganga, where once upon a time, Kheer flowed instead of water, thanks to blessings of Shiva and Parvati and till date one may find instances of the malai from the kheer flowing in the hot springs. We felt dizzy after just 5 minutes of staying in the Hot Spring, but that experience was something else all together.
Kheerganga had some trekkers coming in from Pin Parvati as well and lots and lots of Isrealis owning up the place totally. Some of these girls wanted to learn some Bollywood moves and they happened to ask me to help them with the same.
Ever ready for dancing and making people dance, I was all game to teach them some Bollywood moves on Dilliwali Girlfriend. As I explained them the meaning of the song and get their thumkas in place, i ended up having a crush on this very beautiful and smart isreali girl. What started as a candyfloss scene of teaching some dance ended in a heated discussion amongst all of us as we spoke about legalizing prostitution in India and the importance of laws on Reservation. That was quite an unpredictable fun day 2 of Kheerganga for us as we ended the day with playing some chess borrowed from Mr. Honey's cafe, who blushes when you call him Honey Singh.
Hot water is available during the day thanks to the streams from Hot Springs flowing down, however at night and early morning the water is barely warm so watch out for the timings when you are heading to the loo.
Travel Tippani - There is barely any network, and minimum range of airtel and bsnl network is available, and its extremely irregular, inform your folks in advance.
Stay is super cheap but its the water bottle and food that is expensive, because they all have to get all the raw material each morning all the way to Kheerganga on Khachchars and other laborers who carry things all the way for Rs. 600/- only.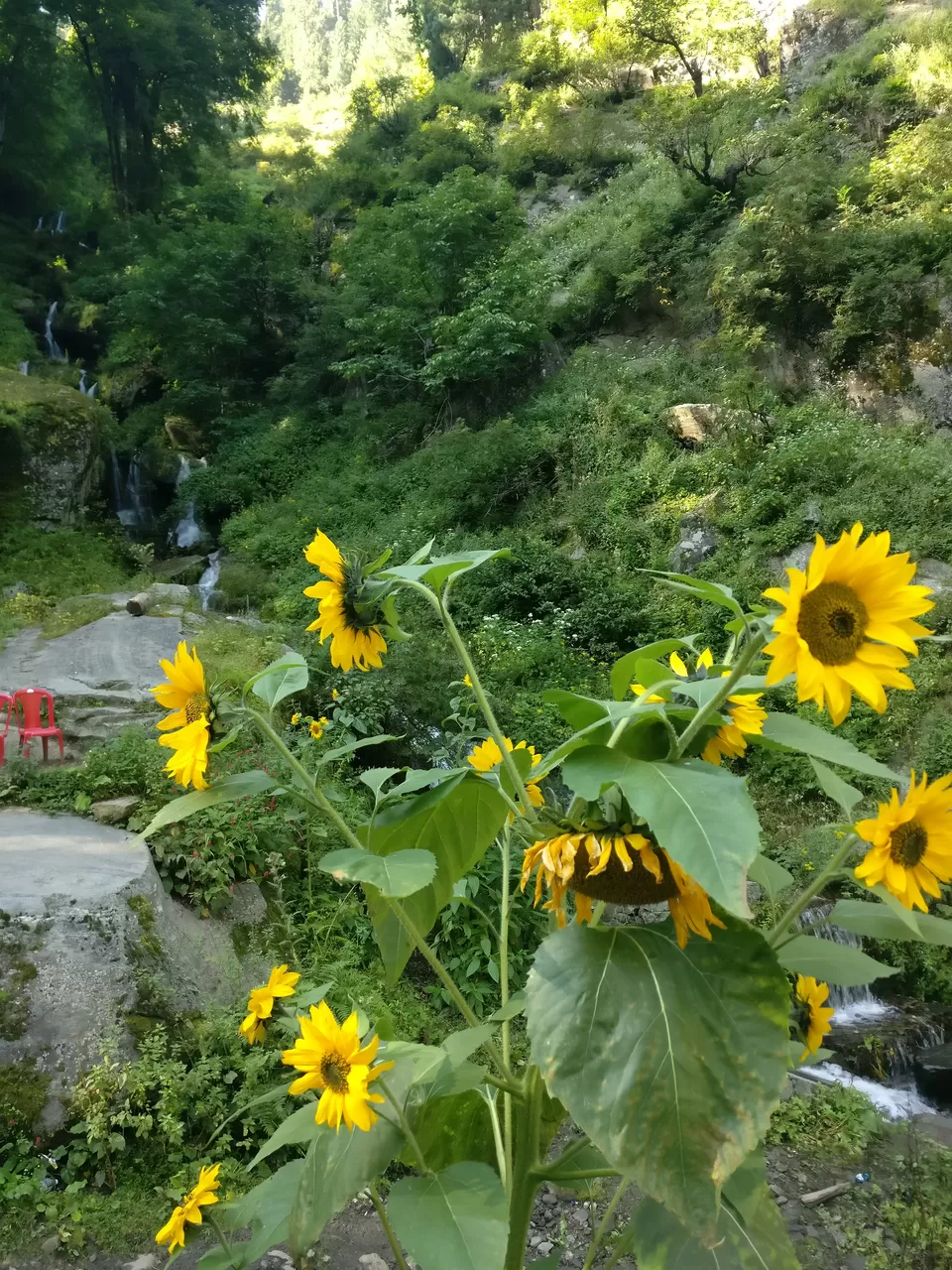 Kheerganga is pristine, rustic and yet alot of fun. Parvati Valley is incomplete without a 2 night stay here definitely, as long as you can make peace with common loos, chilly nights and reptiles hoping around your gaddas.
Katalga - Day 6
Yet again after bidding an emotional good bye to Kheergana, we decided to learn some lessons from our past mistakes and we decided to trek down early morning back to Barsheini where we had left our luggage. It was a perfect decision and the fact that the sun wasn't too harsh on us for a larger part of our trek, came to our advantage.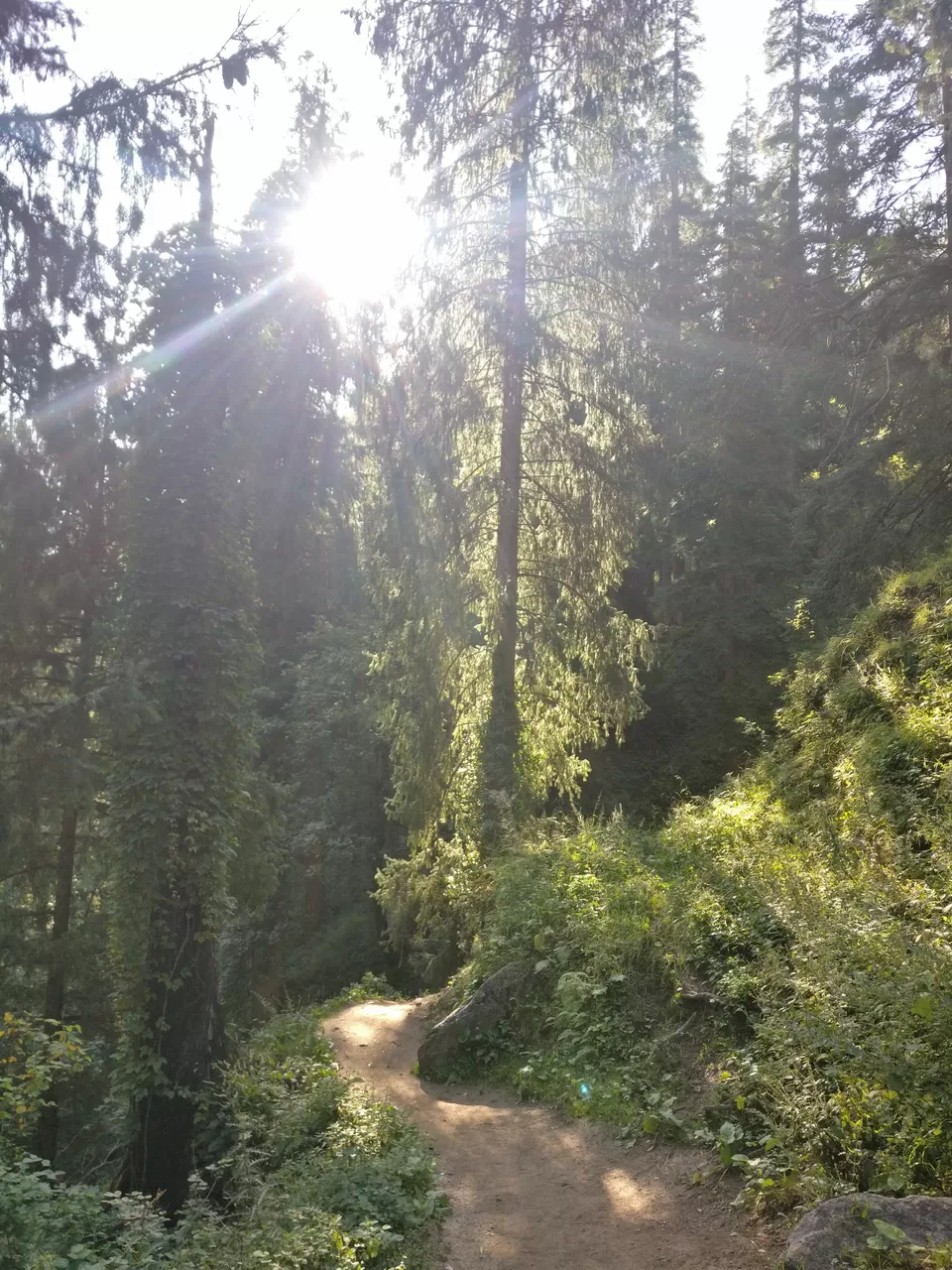 It took us flat 6 hours this time, after taking sufficient breaks en route to Barsheini, we were sun-burnt, dehydrated yet had a happy high because we completed this trek.
Enroute we met this Gopigiri Baba who as always had so much to tell us, about the hills, the people there and other such 'stuff'. It's not too unusual to find people sharing 'stuff' and also a lot about their life.
After heading down all tanned and accomplished, we could really kill someone if they asked us to trek again atleast for a while. But then that's what happens when you really don't want to do something, you end up doing just that.
We had the option of spending our last one and a half day anywhere between Kasol, Challal or Katalga.
Kasol was a rather touristy and commercial area, Challal being the prettier and recommended one with some great parties happening there and third option was Katagla, a quaint discreet location we were recommended by a fellow traveler naman, which required some trekking with our luggage on.
Inspite of being done and dusted for a while with walks and treks, we chose to walk that extra mile over that wobbly bridge right above the gushing Parvati to reach Katagla and man, the walk was worth it.
Katagla fortunately yet is not discovered by many tourists and is about 3 kms away from Kasol on the other side of Parvati, and the only way to get there is by a wooden wobbly bridge, which looks like the most rickety thing ever you are risking your life with as the magnanimous Parvati is gushing right below the fragile bridge over which apparently even bullets pass.
We had absolutely no stamina left after trekking down from Kheerganga that morning and that luggage on our back was taking a toll over us (since we don't get the concept of travelling light), so we wanted to move in, in the first apartment/guest house we came across out there.
'Katagla Inn' was a recommended option which was right in front of the wobbly wooden bridge, however even in off-season it was full and occupied by all isrealis.
We were being tested with the luggage, sun, no-rooms and a long morning of walking down but still we managed to find a room just slightly ahead of Katagla Inn and we decided to stay put at Lambher Family House, which looked like a newly constructed place, with a clean accommodation at perfect rates.
The manager/owner offered us a room for Rs. 800/- for a night for four people, and then landed my Gujjuness in Himachal and I bargained way too much to bring it down to Rs. 500/- a night for four people.
I sometimes surprise myself with the amount of enthusiasm i develop at the thought of bargaining, and all my drained out energy comes back in no time, at the challenge of getting a good deal. Truly my friends are blessed to have me around it seems :P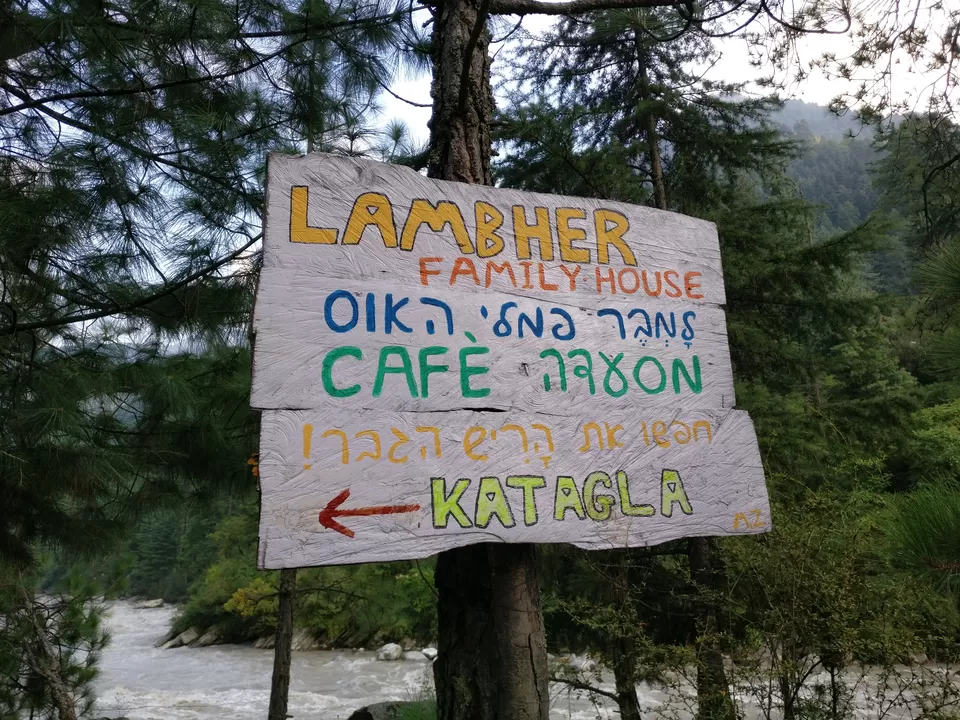 Okay coming back to Katagla, the place is nothing but a small strip of land having the sparkling Parvati gushing on one side and the embracing lush tall mountains on the other. This small strip of land is interspersed with some cafes and hotels having great views and passable isreali food, and we felt the place needs more than 2-3 days atleast to soak in, into the feel of that place.
However we decided to make the most of it as we were there only for a night and we took showers after finally getting access to a normal bathroom and hit the streets again. We walked for a while across Parvati just soaking ourselves in the tranquility that place offered and even looking for food after a while.
We went to Katagla Forest Retreat which had some indian food there, but since we were looking for a place with view so we headed out from there again looking for more. We sat at several cafe's and did nothing finally and we started to enjoy it. Doing nothing. But unfortunately only towards the end of our trip.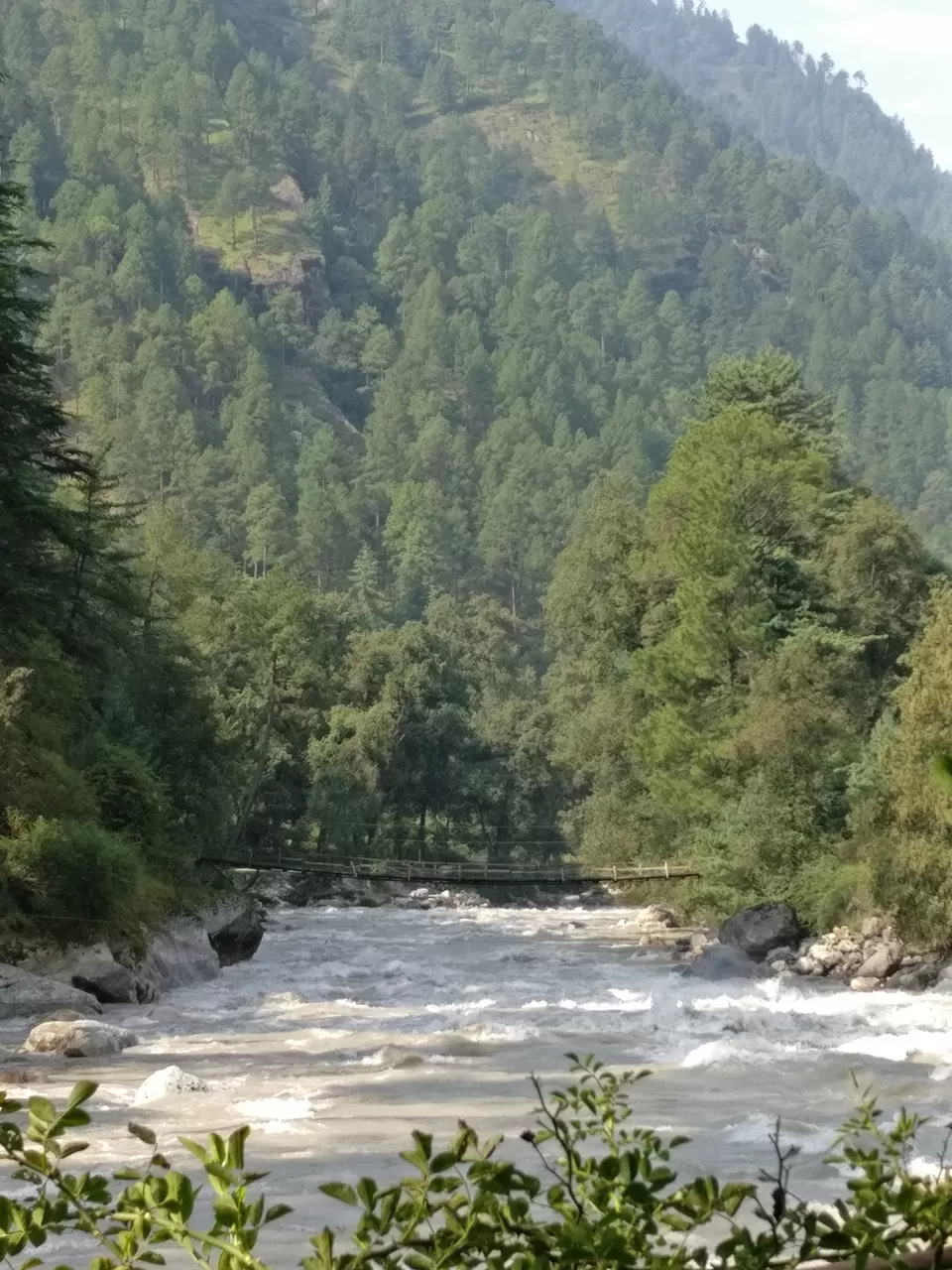 After a not so hearty meal at Holi Parvaty Cafe, comprising of an average Hummus and a decent Pizza, we were ready for the longest slumber ever and woke up next morning yet again with the most endearing view ever, as we walked out to the banks of Parvati.
We had that kind of morning, where you don't do much, don't speak much and just sit by river mesmerized by its beauty and the peace which was very contagious out there.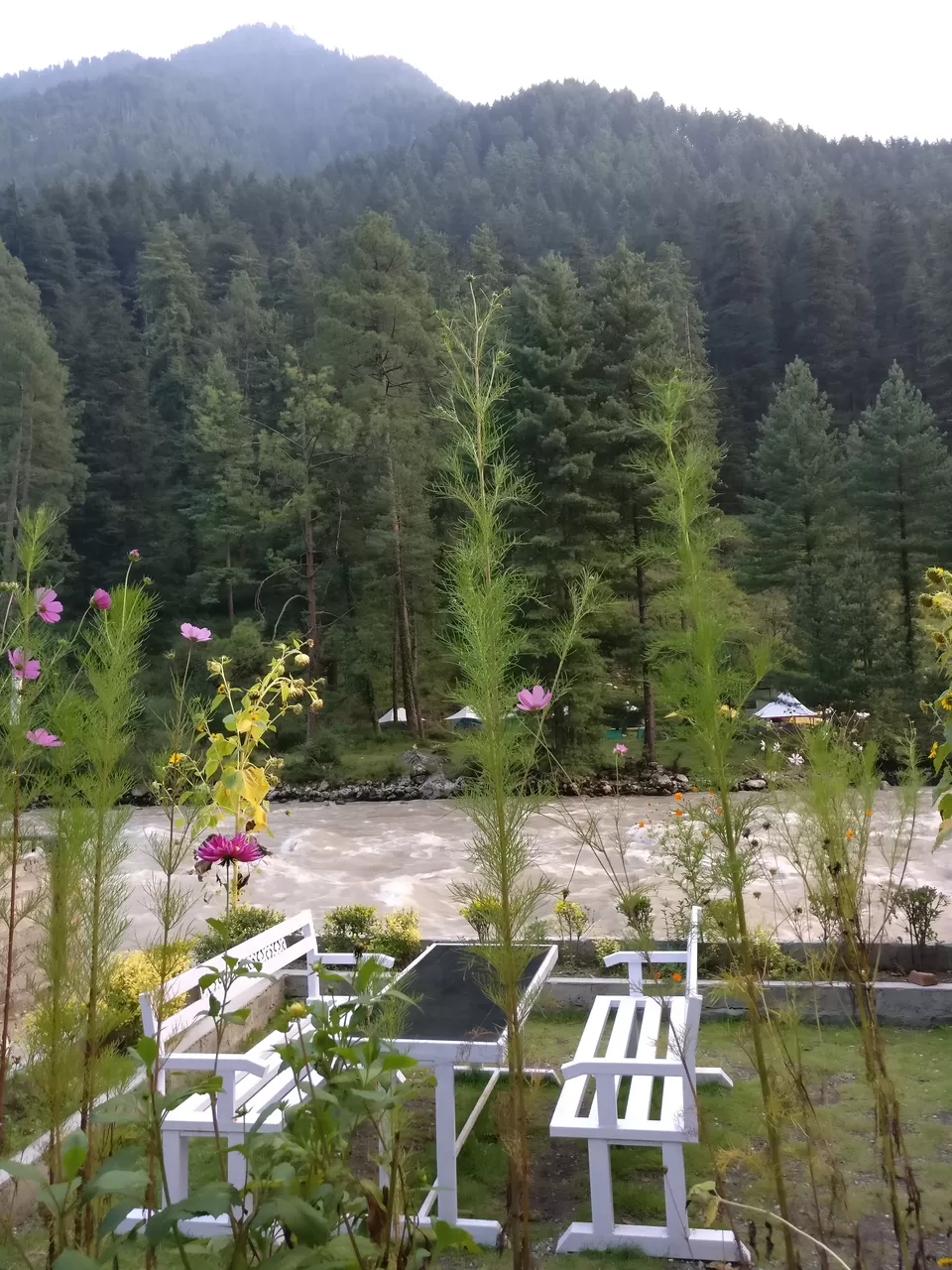 Since Holy Parvaty had a great view if not the most hospitable and kind server (don't know why he was always in a hurry and wouldn't even wait to hear the entire order!) we headed back there and sat by the river again, with the beautiful flowers forming a picturesque sheen between us and the Parvati.
Parvati had become one of us by the end of the trip and it felt a little wrong to go to a place and not have her around as she was there with us right from the beginning. It was actually first time ever that we were feeling a sense of connection with a river and the feeling was strange and funny at the same time.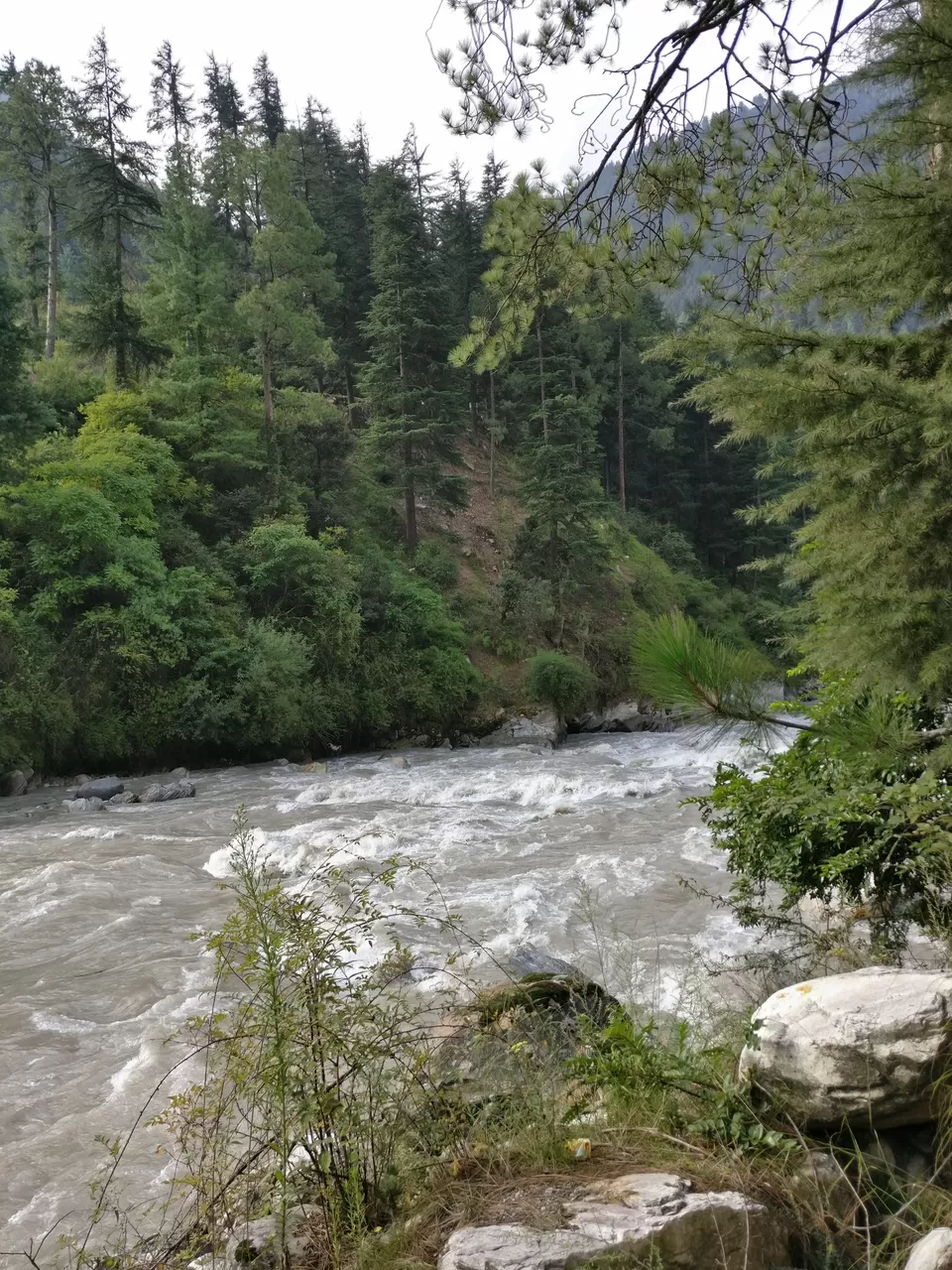 After drowning ourselves into the classic picture-book view, unending sessions of Black Jack, a lame picture session at the hammock and a hysterical attempt with the hoolahoop lying there, it was time to head back to hotel, to digest that the last day of our trip was already here and all we had was last few hours with Parvati at Himachal.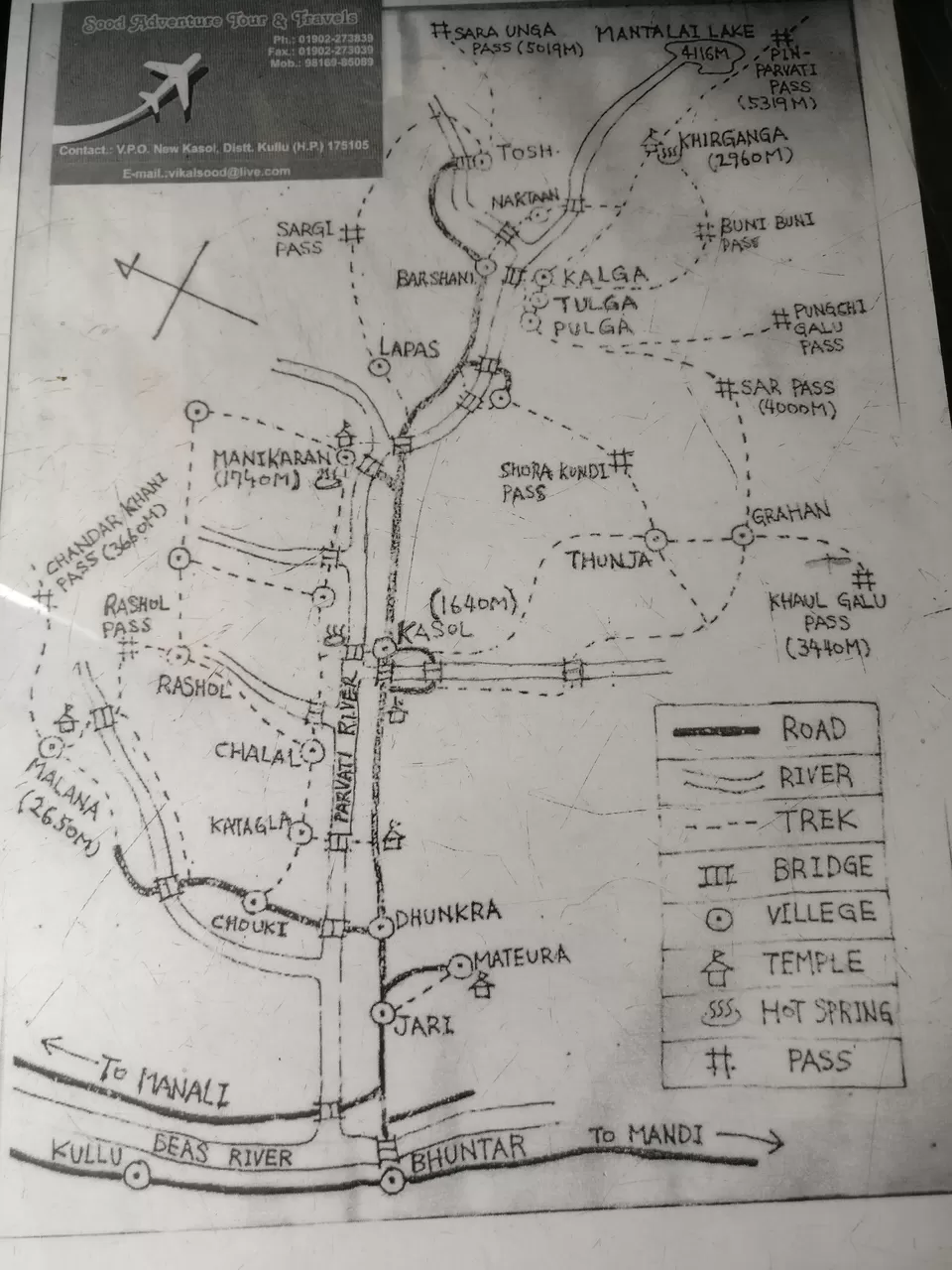 We headed back to Kasol to spend our last few hours as we were really enticed by its colors and the things offered on sale out there.
We also wanted to try the Cafe's we read about and wanted to eat the momos from the inviting momo stalls all around the streets of Kasol.
We tried our first meal at this Momo Stall, which was near Panchali Guest House and the hot, spicy momos were the perfect entrants in our system with the pleasant temperature around.
Going next we headed to a rather trippy Freedam Cafe where we had a rather tasty Chilly Paneer, Veg Lafa and Cheese Burger all of which were quite decent. We met this guy there who liked calling himself Peter. or Baba Peter. Peter party ki jaan and he claimed that he had stuff with Avicci and the biggest Djs ever, he also proclaimed that if he wasn't there at a party the party was sure to be a flop and he invited us for a party that was commencing that night itself at challal.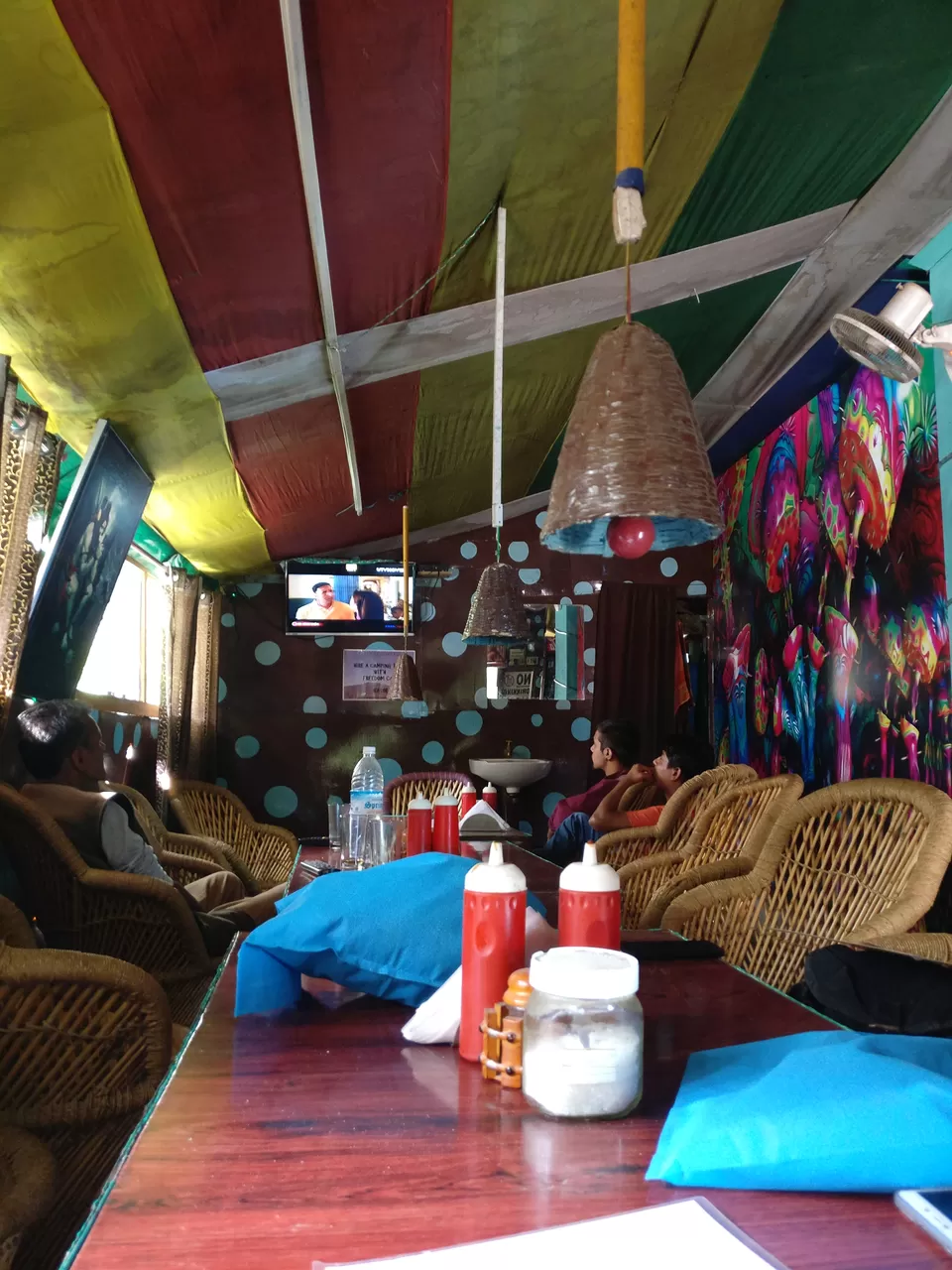 After a rather amusing session with Peter, we headed out to shop and were overwhelmed by the amount of Hemp available there coming in from Nepal. Hemp is pretty, Biodegradable and is cool in many other ways and a bag of hemp was priced at Rs. 1000/-.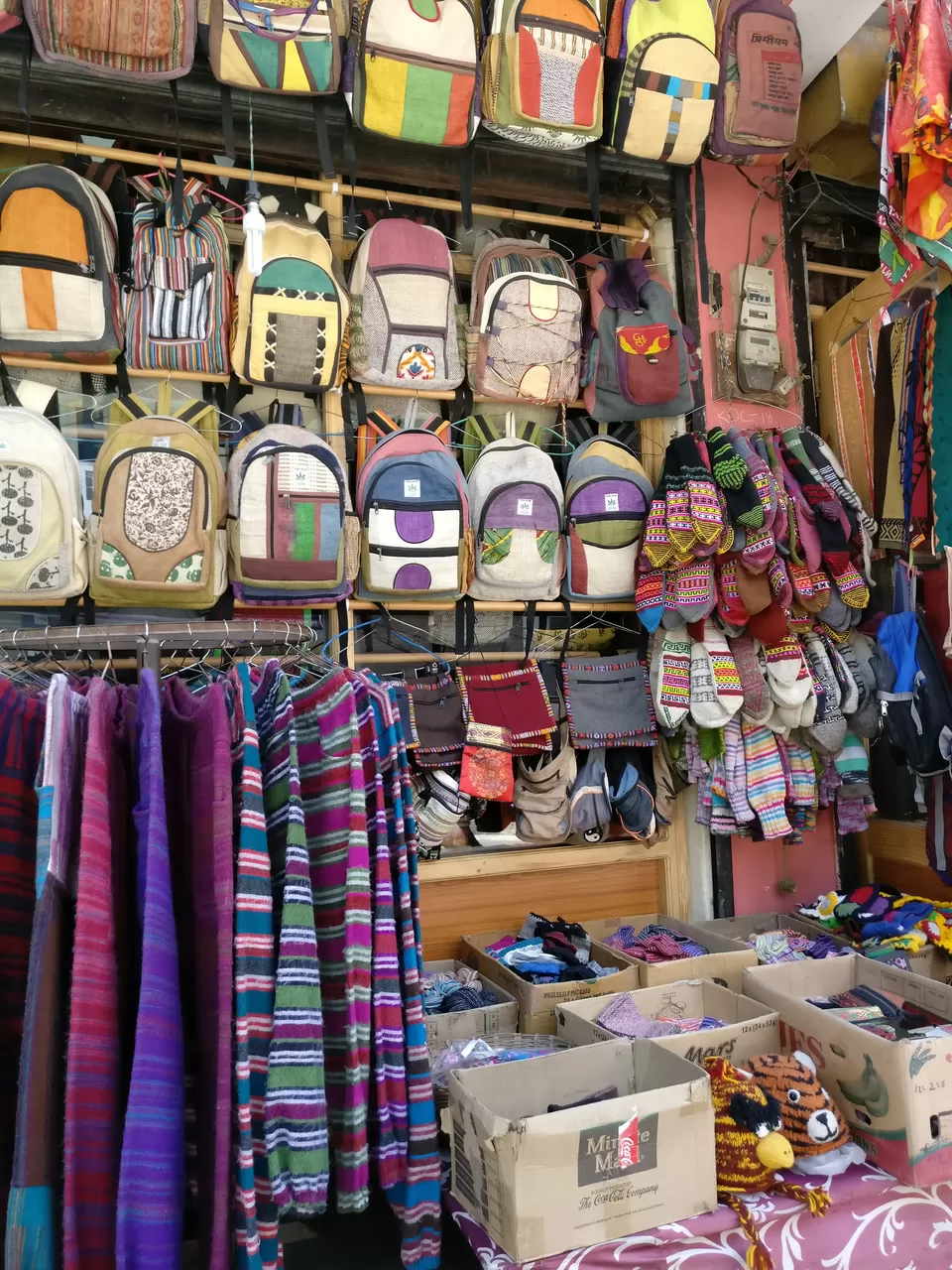 There were dream-catchers, warmers and several other things that caught our attention and our pocket's attention and after some more bargaining we decided to enter the most shady looking food joint in Kasol.
Sonam Tibetan Dishes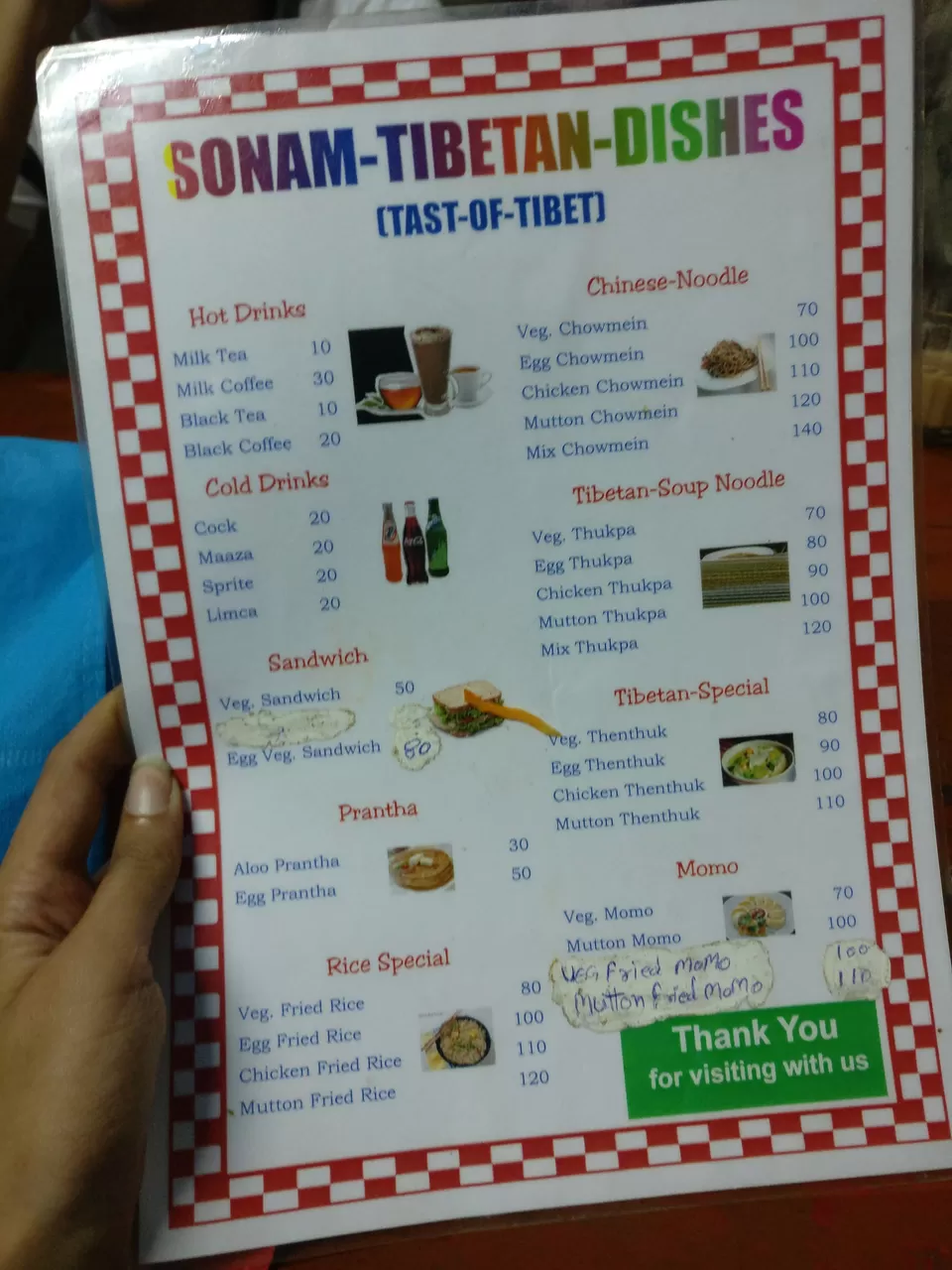 Trust me I had the world's best Thenthuk out there and just the thought of it makes me want to go back there mainly for that Thenthuk.
A Tibetian dish which means Then - hand pulled - Thuk- Noodles, it is the most comforting soul food ever. Blended with perfect spices and right amount of veggies and noodles, Thenthuk was like Therapy after days of walking and we called for one more serving of it since we were so overwhelmed by the perfectness of its taste.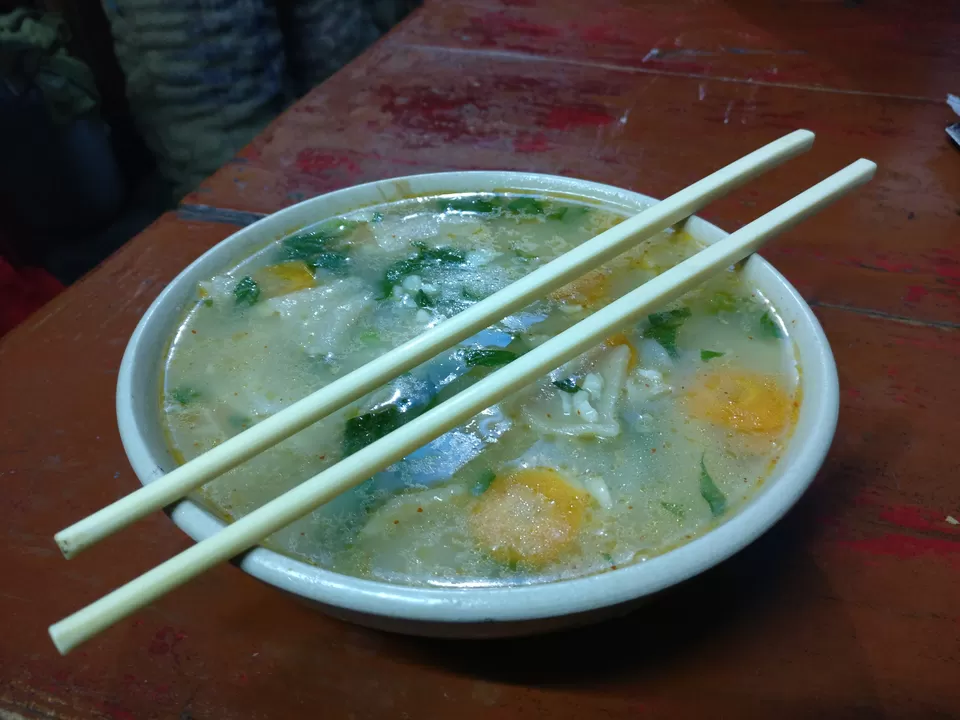 There was thukpa and many other Tibetian dishes being served there but there was no space for that and the Thenthuk was also unfortunately left-over.
The old lady who makes these dishes has magic in her hand and you will find that place perpetually full. It's affordable and the taste is just perfect.
Places like Jim Morrison Cafe and the tents near Challal they say are a must do, but then kitni bhi koshish kar lo zindagi mein kuch na kuch toh chhut hi jaata hai... and we kinda made peace with that.
It was time to head back in that car which was something we all unanimously didn't want to do and I guess that's when I realized that every trip has an adjective that defines it i.e. 'beautiful', 'lomg', 'adventurous', 'laidback' etc
For our trip the only word which could definitely define it would be 'Perfect'.
Ofcourse the adventure did not end there for us and there was more in stock before we boarded our flight to 'reality' but those things go in the caption of 'What happens on the trip, stays on the trip' ;)
Every trip has that one song which ends up becoming the 'trip song', whose beats/lyrics just bring back the memory of that trip in a fraction of a second.
Ours was Closer by Chainsmokers.
What was yours?