After a number of planning, rescheduling, postponement; finally the trip to Kerala-God's Own country turned to reality on 2nd March. I, with my friend, Soumya set off on the most awaited journey to God's own land.
The First destination was Munnar situated 1600 m above sea level. It is also called "The Switzerland of India".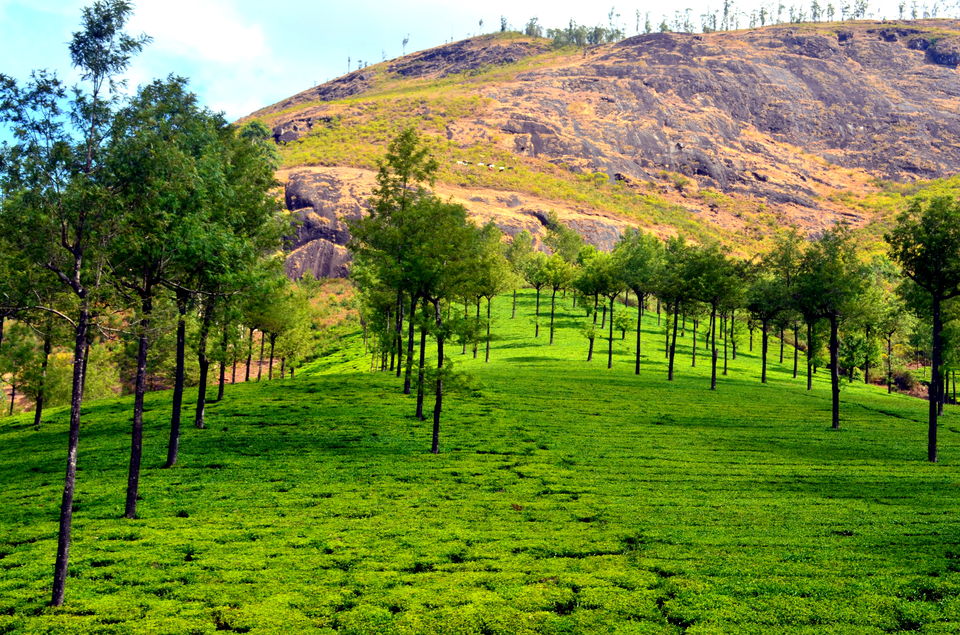 Journey from Bhubaneswar(Odisha) to Munnar(Kerala)-
Plan-
Jajpur Road to Chennai - By Coromondal Express[12841] (SD-7:36 PM; SA- 5:15 PM)
Chennai to Coimbatore- By Nilagiri Express[12671](SD-9:15 PM; SA- 4:50 AM)
Coimbatore to Munnar- By Bus/Taxi via Udumulapet
We had booked our ticket in Coromandal Express(12841) before two months to be in safe side and had completed background research of our targeted area of visit.Everything was set. It was time for action... !!
I boarded the train at Jajpur Road(JJKR) at 7:55 PM on 2nd March. The train was running late by 20 mins or so. My friend joined me from Bhubaneswar(BBS). We had dinner and settled to our respective seats. The chill of the AC was starting to prevail. I was engrossed in Ashwin Sanghi's Chanankya's Chant. After hitting a century(ofcourse of pages !!), I went to sleep. The next day we reached at Chennai nearly around 5:20 PM.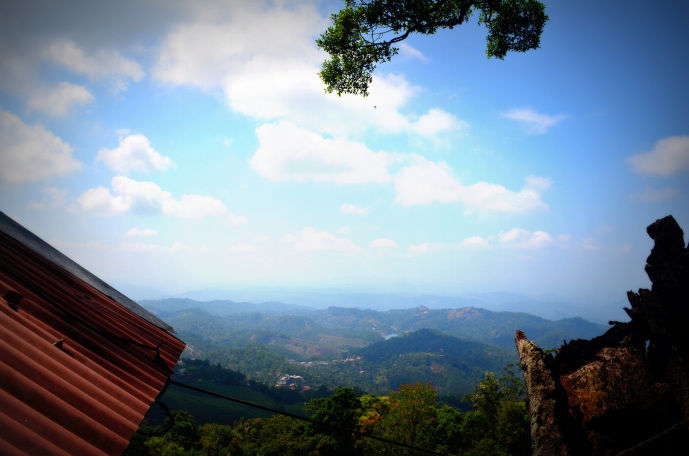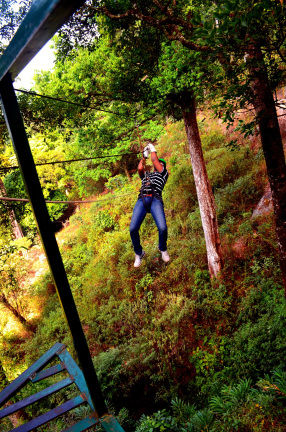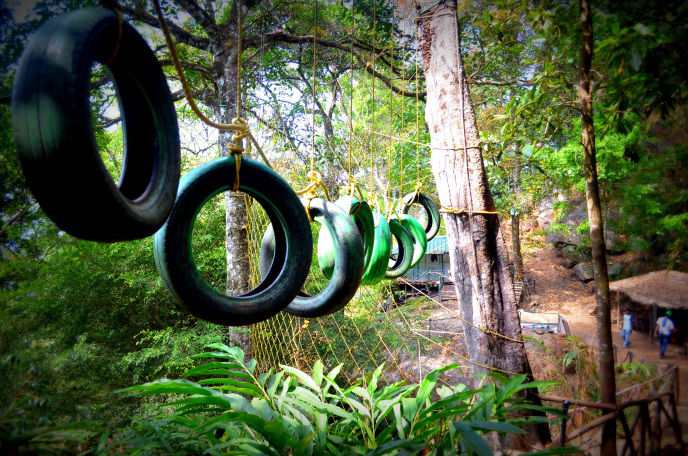 Pothamedu View Point - This is the best view point at Munnar. Long Stretched tea-plantation garden getting faded to the distant misty mountain, the lush green view, the series of mountains dancing to the tunes of nature under the grey-umbrella of those clouds will make you spellbound. Sitting there on the edge with a cup of coffee in hand and enjoying the beauty with the chilled weather will give one a feeling of heaven no doubt. Down the lane tea, cardamom plantations could be seen. The place was so mesmerizing that we sat there for more than an hour just looking at the splendid view. The view of sunset from this point is an out-of-the-world-view.The time seemed to stop for a while.
Blossom Park- This park is situated near the Munnar town. Only 2km away from the market area of the town. Though one could hardly see any blossom of flowers, but no doubt it is full of blossoming beauties :P. There is facility for a no. of fun activities also in the park e.g Water-Balloon walking, Air Gun, Bow & Arrow etc. A good place to kill some time. Of course, an excellent place for lovebirds and couples.
Our next train to Coimbatore was at 9:15 PM.There was ample time. So we thought of going to Chennai's famous Marina beach. We went to park town station i.e. just opposite of the Chennai Central Front Gate. From there we caught a local train and got off at Thiruvallikeni station that comes after Chepauk. One can clearly see the Chepauk stadium while travelling by train. From there , the marina beach is just a stone's throw way.The cool breeze at the beach was so soothing. We sat at the beach for some time , clicked some photos, had tiffin at the nearby food-stalls and returned to Chennai Central.
We had dinner at Sarvana Bhavan. Good quality south Indian food. The train had arrived on the platform by then.We boarded the train and the journey continued.
The next day, the train reached at Coimbatore at 5 AM. Coimbatore is an excellent well-planned and well maintained station. We completed our daily routine at 1st class AC waiting Hall cum railway dormitory. Just in front of the station, there is a " High Class Restaurant". We had our breakfast there (Idli + Eddyyapam + sambar +Chatni + kadal). The quality of food was very good and the budget was also nominal. From there, we took an Auto to Ukadam Bus stand which was just 2km away and reached there by 7AM. The location of the bus stand is near a lake. We were planning to take a bus to Udumulapet (Runs in each 5 mins) and from there to book a cab or to find a bus to Munnar. But we found that from Ukadam bus stand , direct bus plys to Munnar. And the bus leaves the bus stand at 8:14 AM. It runs via Pollachi-Udumulapet to Munnar. Another bus was also there on the schedule that leaves the station 2:30PM. But it was not running at the time due to some problems.
In between Pollachi and Udumulapet, one can see many wind mills(Suzlon made). The bus reached at Udumulapet at 10 AM. Passengers had tiffin there. It left at 10:40 AM from there. After 30 mins of travel, it entered Anamalai Wildlife sanctuary. When it crossed Kerala border, the name changed to Chinnar Wild Life Sanctuary. Except a few monkeys, one could hardly see any wildlife there. Then it passed through Marayoor Sandalwood forest. On the way , large size of tree plantaions could be seen on both side of the road. The hilly-curvy road and at both side tea plantaion's greenery will make the ride interesting. On the way a few cottages, water falls, trekking point could be seen. The entry to Eravikulam National park also falls on the same way. South India's highest peak Anaimudi(8841 feet), Luckom Water falls, Tata Tea Museum, Nyamakad water falls, Thoovanam water fall can be seen on the way.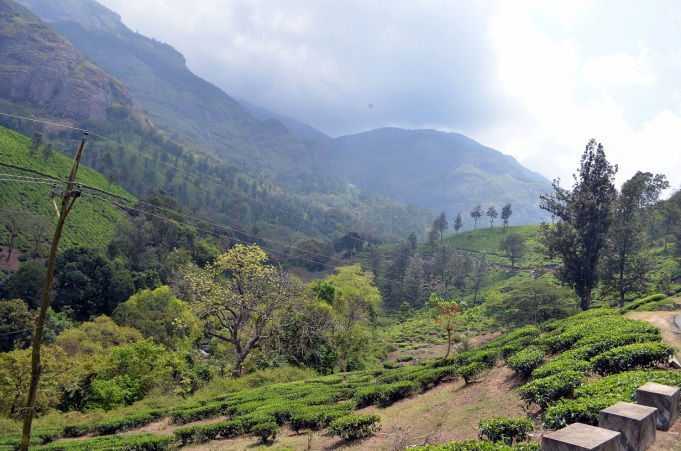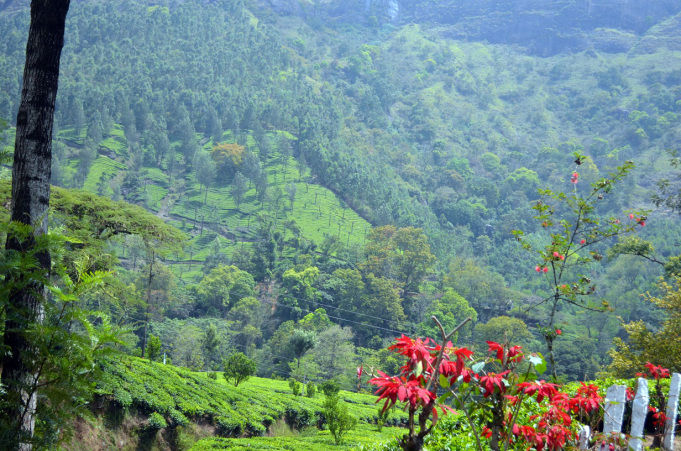 We reached at Munnar at 2:30 PM on 3rd March. Checked into a Lodge-KALI NIVAS located at the center of the market. The room was decent. We freshened up and went out. We had lunch at the nearby Mahavir Resturant. One of the few places at Munnar where one can find North-Indian food and most importantly not made of coconut oil. Then we went to room , took rest for half an hour. We then came out to explore the near by places and the local market.
Mount Carmel Church -
This church is situated in the center of the Munnar city. A good place to kill some time.
Day-1 Sightseeing -
Top Station route is the main attraction of Munnar. But one of our friends was supposed to join us at munnar the next day. So we had to change our pre-planned schedule. We thought of taking the other routes that day i.e Kochi/Madurai route. We covered the following locations that day.
Fun Forest Adventure Park - This is located in the Kochi-Madurai highway direction a few kilometers away from Munnar bus stop. A good place for some warm up and adventure activities. Mostly suitable for youth.
They have a variety of activities like Multi Vain, Horizontal Ladder, Free Walk, Tyre Walk, Spider Net, Burma Bridge, EPGP, Earthquike, Zip-line, Valley Crossing , Rock Climbing, Rapling, Buggy Ride. The price starts from RS 100/- to RS 500/- per head and depends on the activity. One shouldn't miss out Valley crossing, Spider net if going to this place. There is also a Tree-House and the scenic view from it is spectacular.
Lack of regular maintenance and modification has deteriorated the park's ambiance. A few massage centers are also there near by to the Fur Forest park. Various types of massages are facilitated depending on the need and interest of person. The price varries from RS 400/- to RS 2000/- or more. After registration, they will take you to there massage center by Jeep.
Dreamland Fun Park - This park is around 4km away from Fun forest park. They provide various fun packages. Elephant ride or camel ride can be done here. There are a few other activities like Water-balloon walking, Rubber jumping etc. The whole package includes RS 900/-. For only elephant ride, they charge RS 400/- per head. But the time limit is extremely less. Only about 5 minutes. They have only 2 elephants and 1 camel. These two elephants must be the laziest elephants in the world. The old man at the ticket counter acts like he is the busiest person in the world and hardly listens to anybody. This place is mostly a hotspot for lovebirds and couples.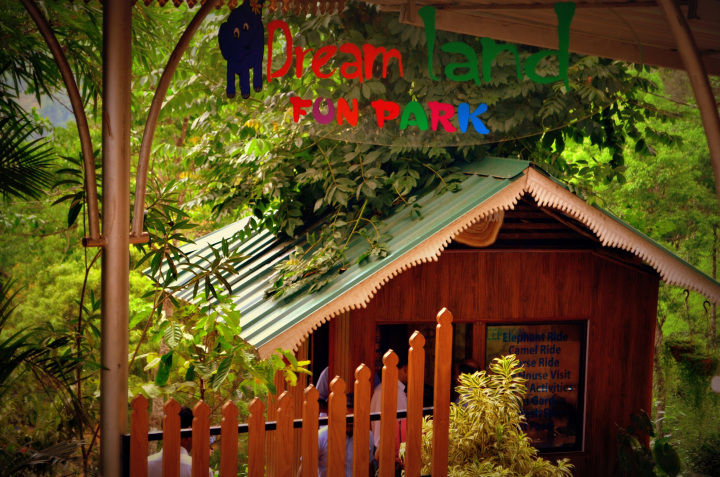 Attukad Water Falls - The Attukad water falls is a few km away from the dreamland fun park. It'll take around 20 minutes to reach there. On the way to the water falls, excellent scenic beauty can be seen on both side of the road. A few good cottages are there on the way like Aranyakam Cottage. The view of the water fall amidst these tea-garden is just spectacular. Cardamom, Coffee and Pepper plantations also could be seen on the way.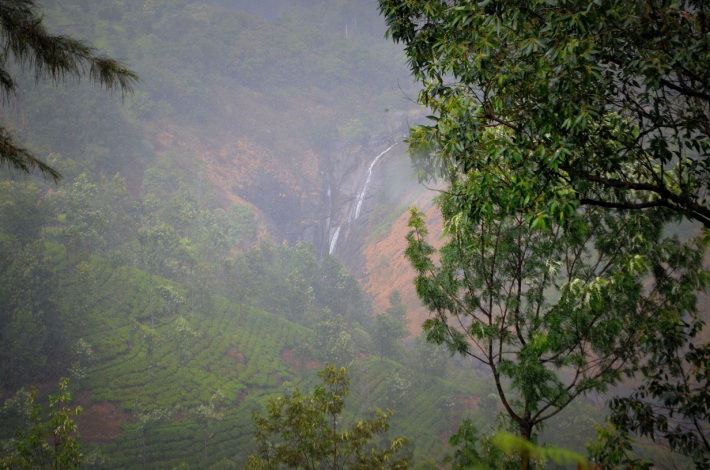 It was already 5 PM when we came out of the Blossom Park. That was the sightseeing for the day. We returned to our room, got freshened up . As I have missed the lunch that day, I was so hungry, I could eat a horse.. We went to the same Mahavir Restaurant and had a stomach-full lunch. Then we took rest for a while at our room.
In the evening, around 7:30 PM we visited the nearby market. We both ate an omelette each, tasted Raw-Banana Chop, Ripe-Banana Chop and of course Masala Dosa with sambar-chatni. Then we paid a visit to the local market. The jackets were so cheap there. As next day, we were going to the Top station, so I bought a jacket for just RS 750/- which will be around 2000/- if bought from the city shops. We then had paratha and egg curry at one of the restaurants. As here large no. of Christians and Muslims reside, so in most of the restaurants beefs is also made. So one should be careful in choosing a restaurant. What we used to do !!? We would first go to the restaurant and ask him if they serves beefs ? After confirming that there is no touch of beef at the restaurant, we would sit. Munnar is also famous for its home-made chocolates, home-made wine and home-made spices. So make sure you don't miss out these on your next visit to munnar.
In my next post, I am going to post the sightseeing locations on the Madupatty Route.