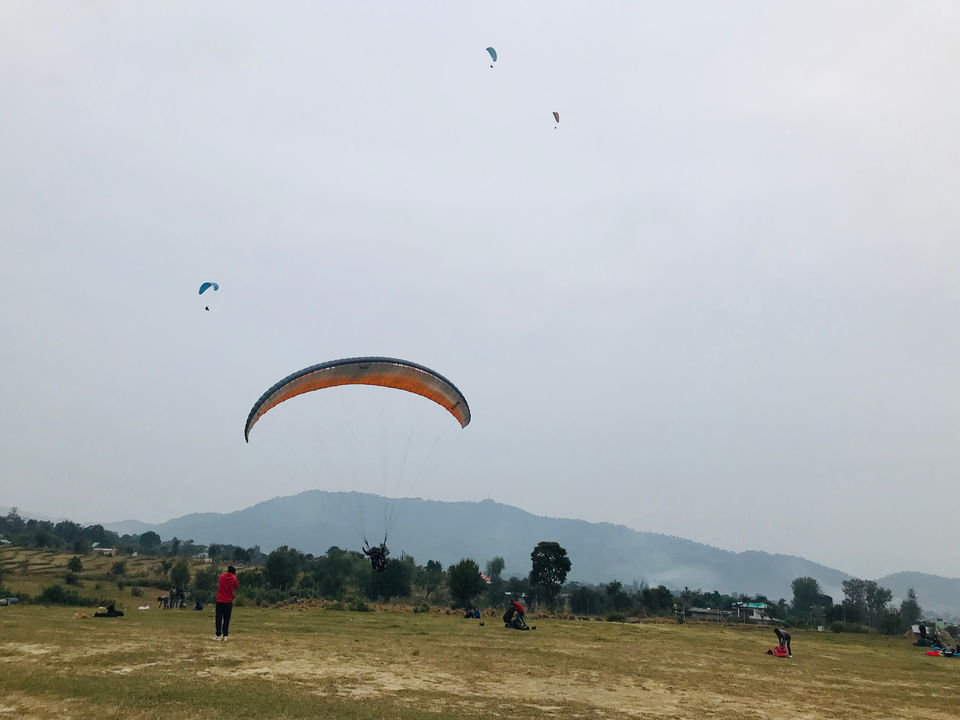 Fear has no place when beauty overpowers you!!
So what happens when your birthday is a reunion of your crazy friends? Well, crazy plans are made and cancelled! Well, not this time. A hurried wedding (which brought al of us together) and few drinks later we all were ready to head to Bir Billing from Palampur.
We started early in the morning from Palampur to Bir in two cars. The ride is beautiful with the entire stretch giving a good road experience. We planned to have breakfast on the way, but we couldn't find any good place on the way and the Bir food research had some some really promising recommendations! So we kept going. The distance isn't much and you can reach within an hour! In case you are planning a road trip from Delhi, the entire road trip is 10 hours long which can be made easy by a night halt at Jalandhar/ Ludhiana/ Chandigarh.
I had already pin pointed at a cafe to satiate the hunger pangs that was driving us crazy, and we finally reached Garden Cafe. At first glance, it looked like a quaint rustic settlement full of nature in every corner -woods and plants adding to the ambience. We sat in the balcony which had the view of open fields and aroma of freshly cooked food. We ordered too much but surprisingly, ended up devouring all of it. The food was fantastic and everything is home made, from the sauces to the bread and the use of fresh fruits was outstanding. The rates were too reasonable to believe!! They have a cute pet Bapa to make your day better. The cafe also offers basic and clean rooms at nominal rates of INR600.
After stuffing ourselves with food ( which actually is not recommended, before paragliding), we went for the real deal. Bir is actually the landing site and to take off, one needs to reach Billing which is around 18 km beyond at a hieght of 8000 feet above msl. So we parked our car at the landing site ( A proper parking is made next to Himalayan Cafe) and sat in the open Mahindra car of our Paraglider Instructor. And that stretch of 18 km is an adventure in itself. Any person having slightest chance of motion sickness should insist on taking a hired Alto to the top. But it was indeed a precursory warning and a little warm up session for what came ahead.
By this time half of us had planned to come down via road not via air. But as soon as we reached the top, all the pilots took each of us individually to different directions and started strapping us up! Wait, what? I don't get to discuss! Nope! While strapping up, they will explain you about your gear, safety harness and all precautions one must know. I looked around and could see all my helpless friends nodding in peer pressure. I was the first one to be strapped up and my parachute was spread before I took that giant leap of faith! The view in front of me was splendid but the cliff was not! I was hardly twenty steps from the cliff and my heart pounded every second! I kept looking at my pilot as he gave me the final instruction to run on his cue. Finally he shouted Run, and I ran without looking at the ground, I ran with all my might and strength, and even before the cliff could slow me down, I was airborne and my Pilot said, " Bahut achha take off kia aapne( you took off really well)". The rest twenty minutes were pure bliss and peace! And what I felt cannot be expressed in words. I landed as perfectly as I took off and sat down and saw my friends come one by one. It was a victory indeed! We quickly collected our gopro videos and pictures and rushed to celebrate this tick off the bucket list.
The next hunt was for the momos. My research failed me as the best place serving momos was under renovation. So we sat at Vairagi Cafe and ordered momos, Adrak Tea and soup! Food was good and the deadly chutney was worth mentioning. We bought Rhododendron and peach wine from a local wine shop and headed again to Garden Cafe for the last meal of the day! The place had transformed from a quiet hideaway to the flavour of the night. It was full of travellers ( foriegners mostly) but the peace was intact. We decided to stay the cafe itself. The night was beautiful with friendly strangers and ofcourse the mouth watering food!
Quick Tips :
1. Paragliding is on ten months a year. July and Aug are rainy seasons and they stop paragliding during that time.
2. Most Paragliders charge INR 2500 pp but it is negotiable depending on your group size.
3. There are multiple stay options but hostels on the main market road are a good option.
4. The place is still tranquil and mesmerising and you will hardly find a loud cafe/restaurant.
5. There is only one ATM in the market which is mostly out of cash. Carry enough cash with you.
6. Do not forget to taste the heavenly Rhododendron and peach wine easily available in the market.