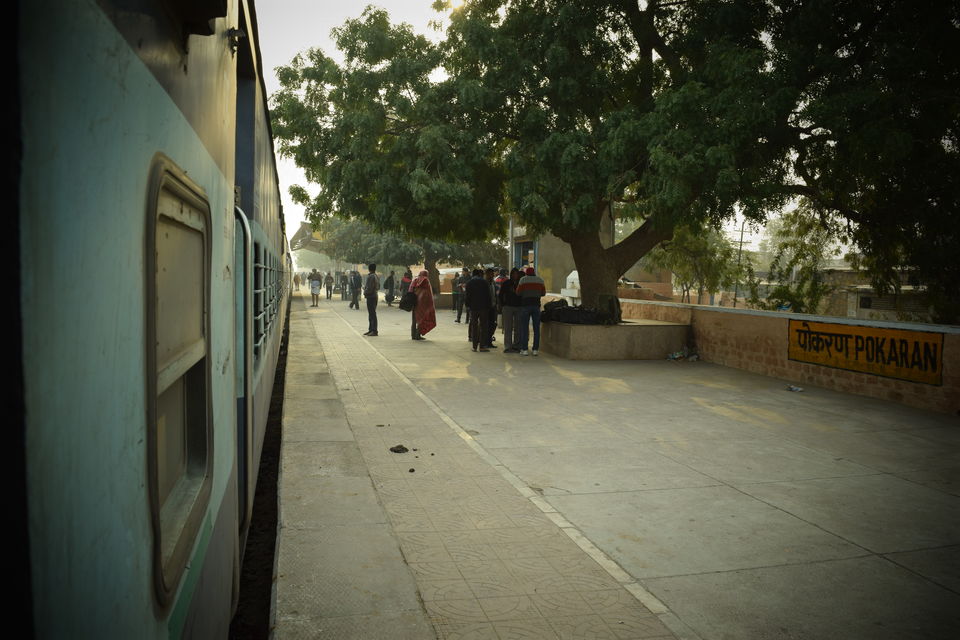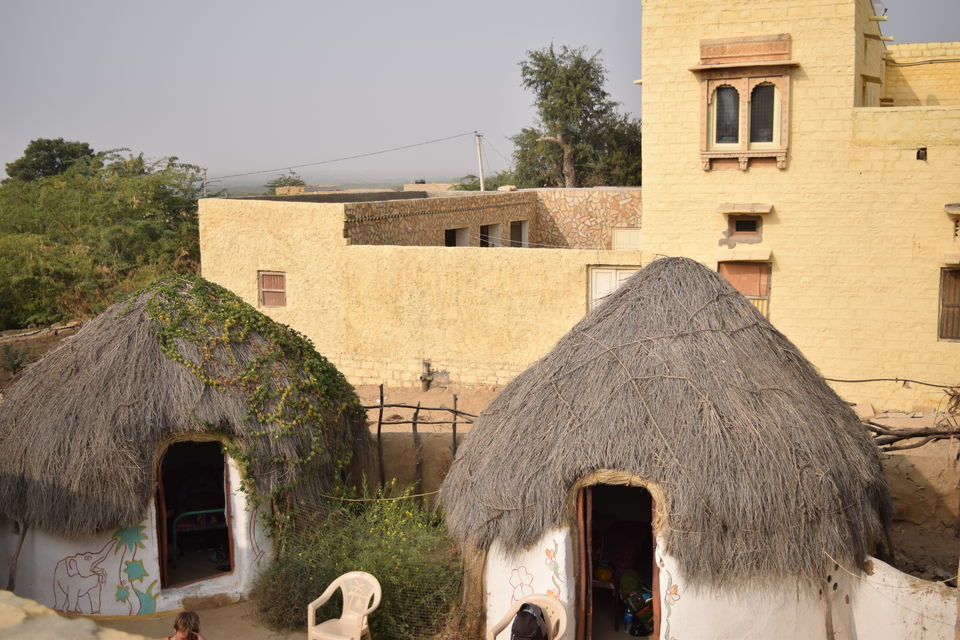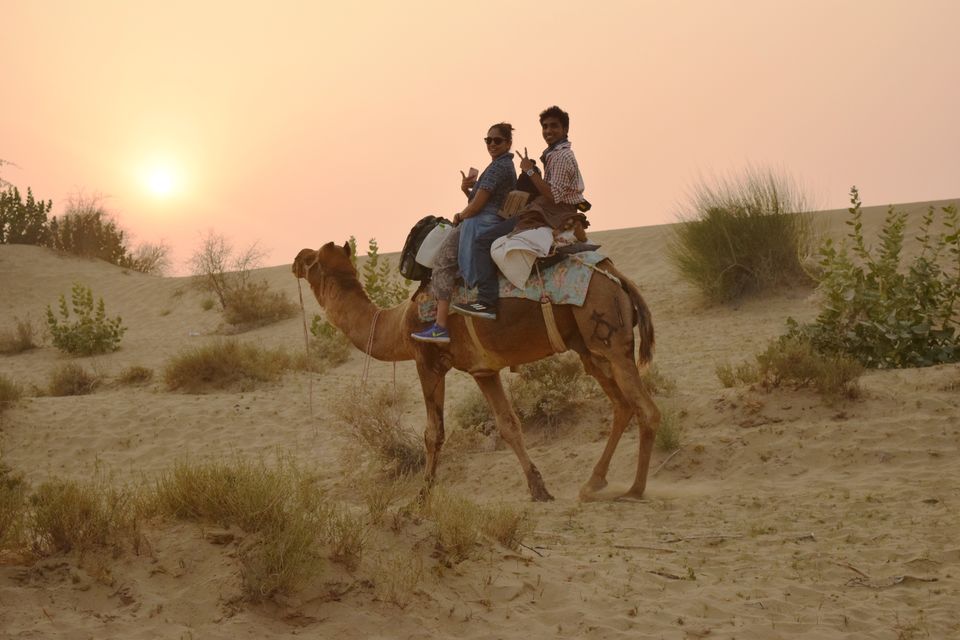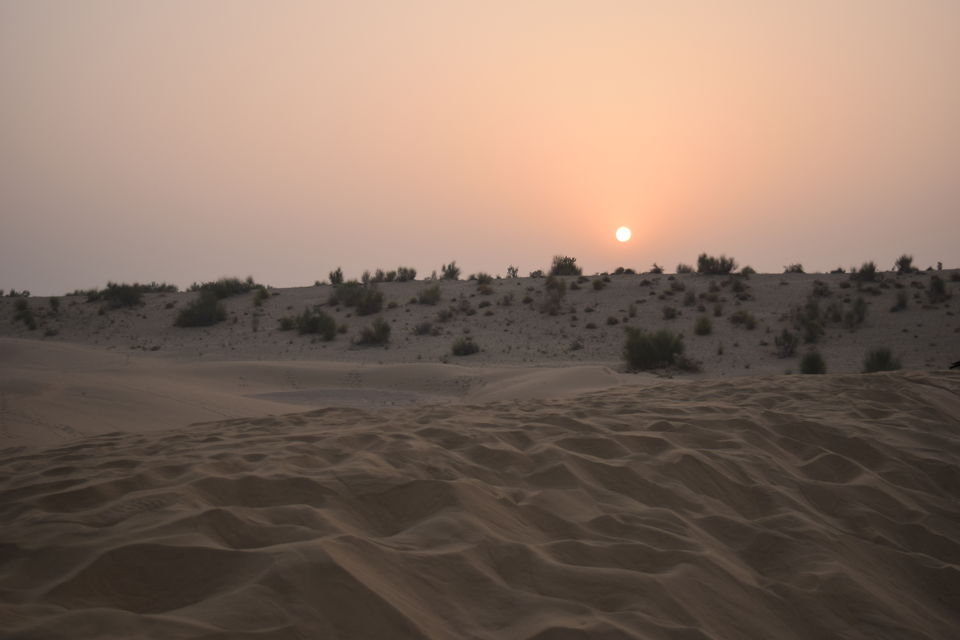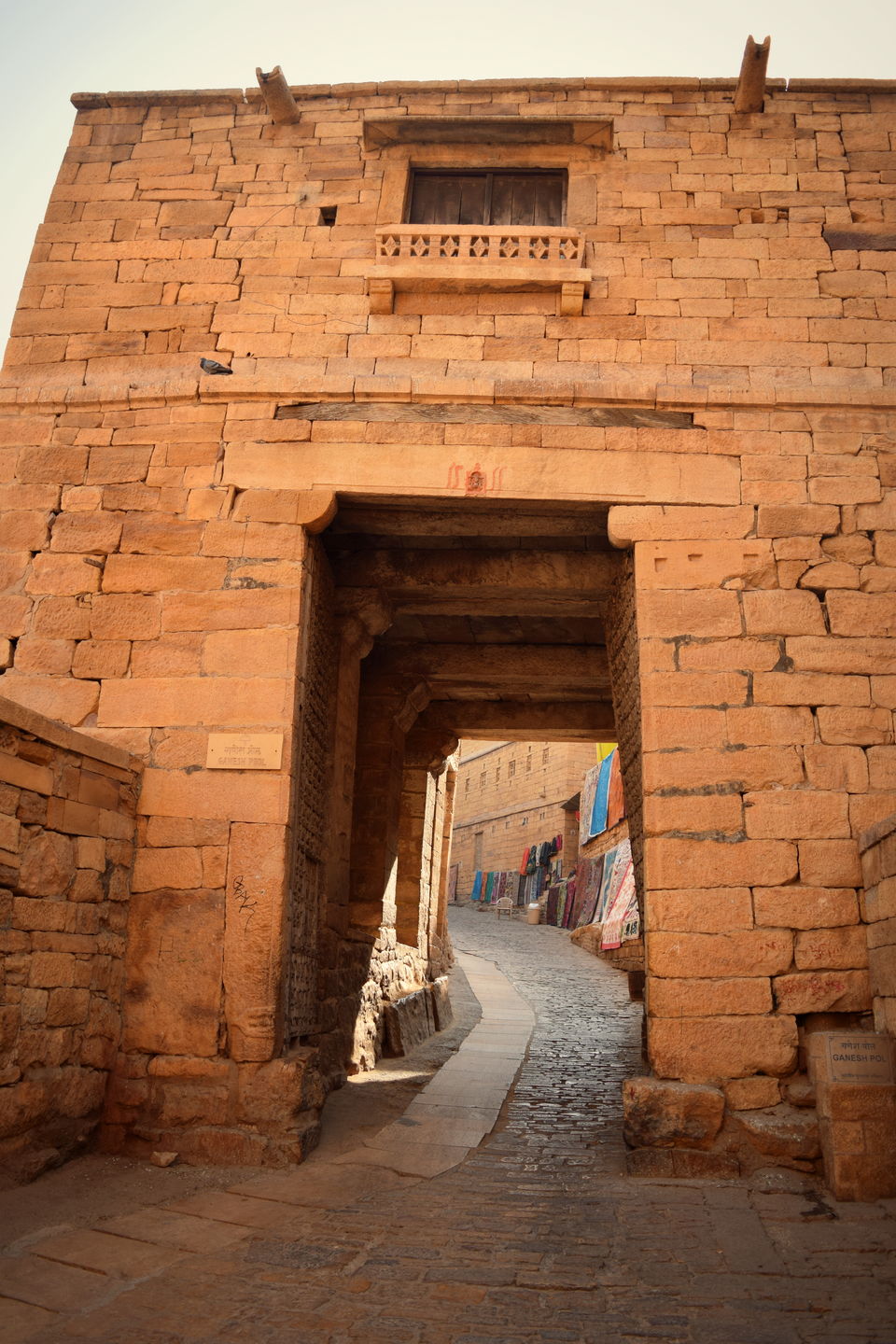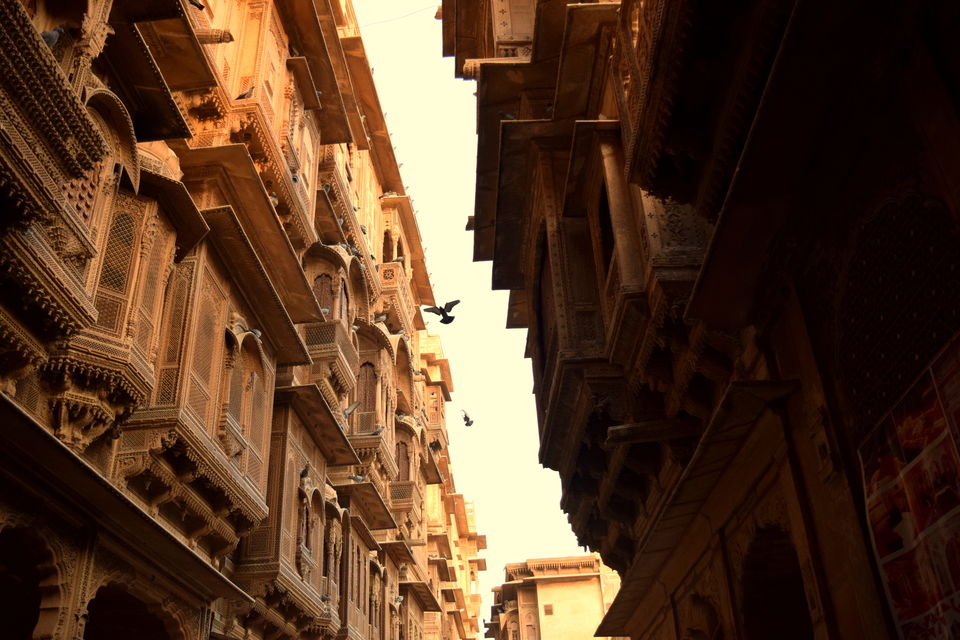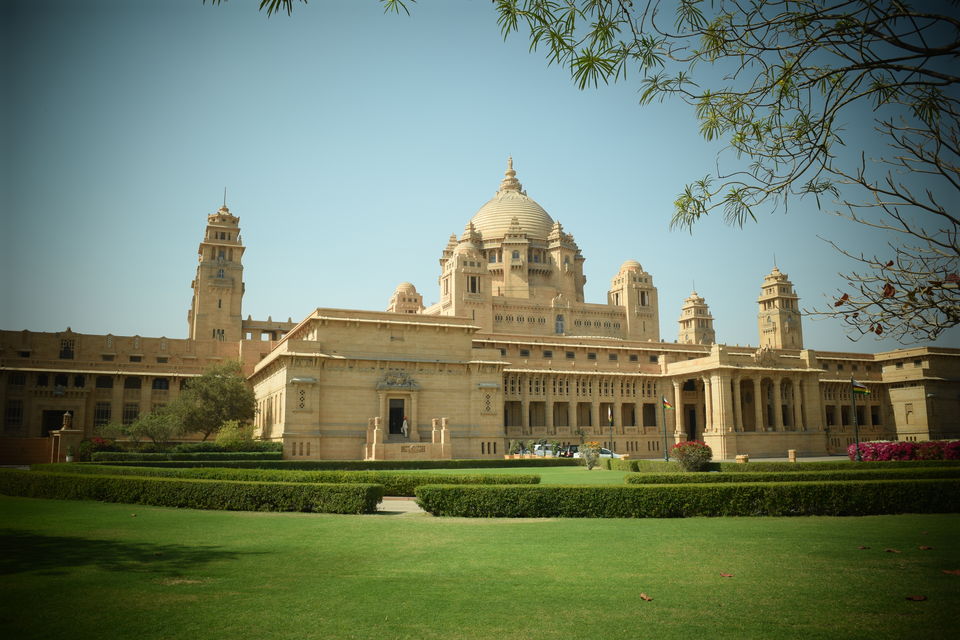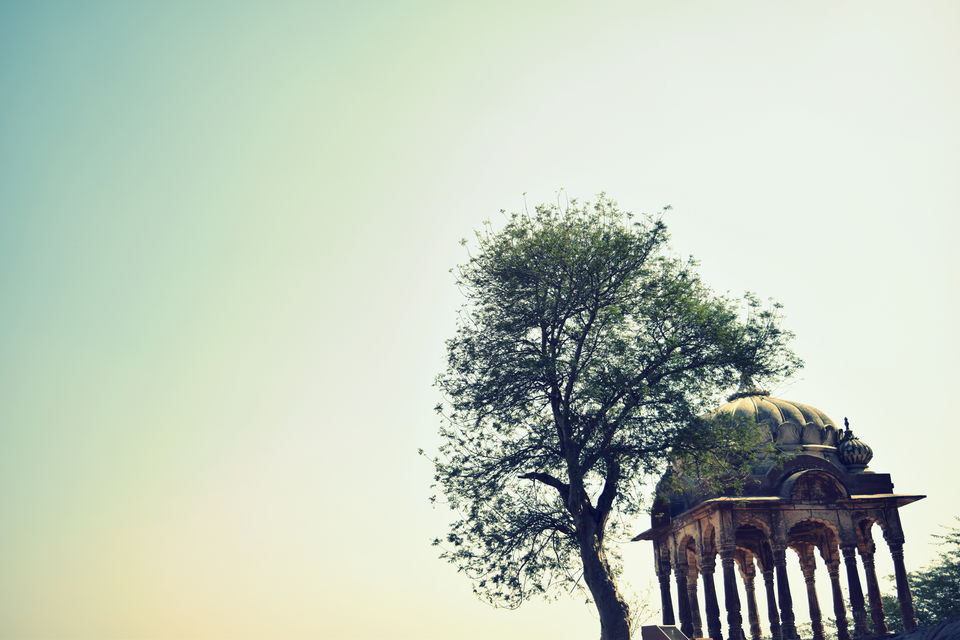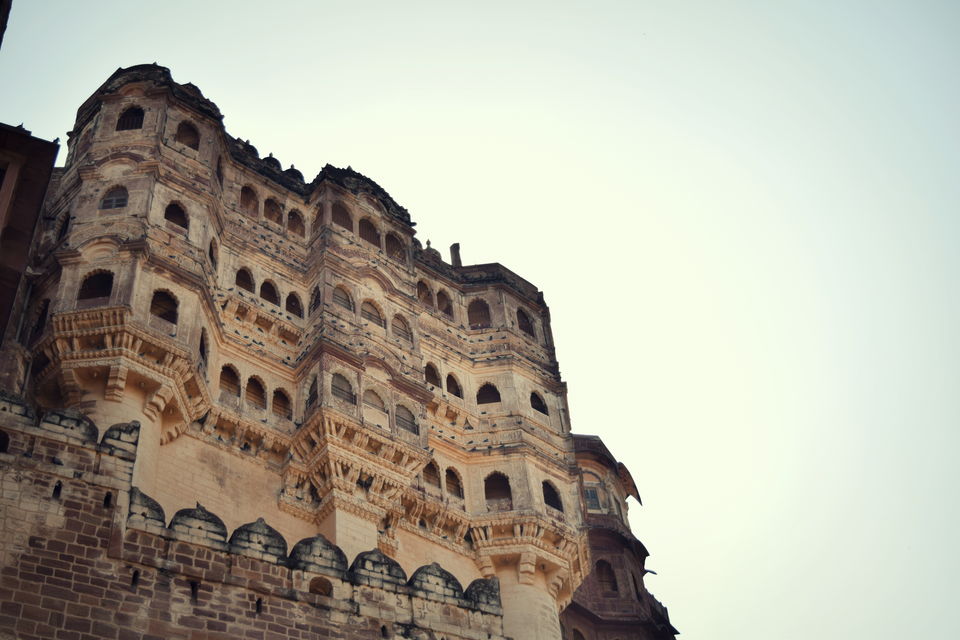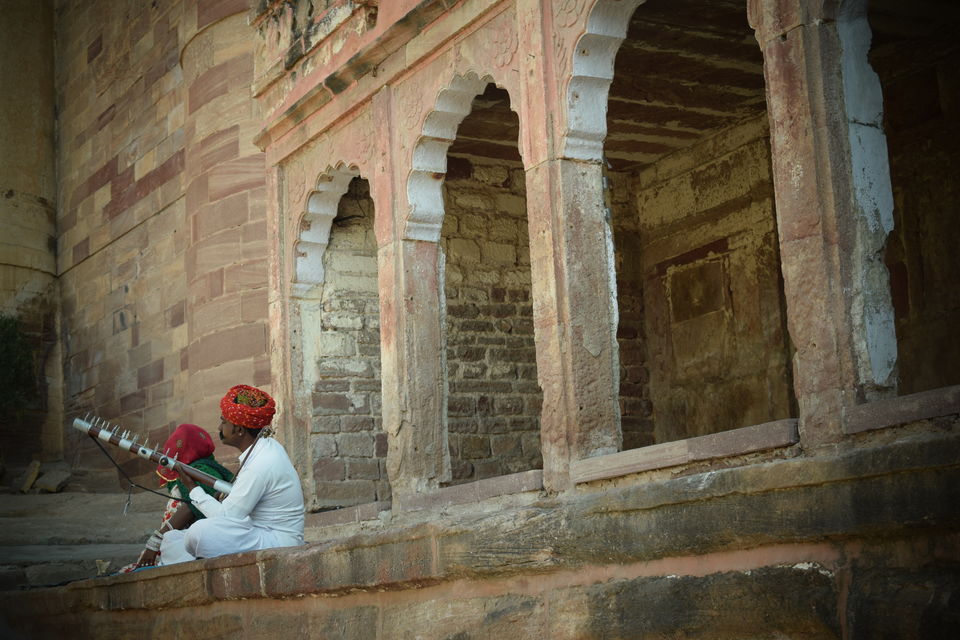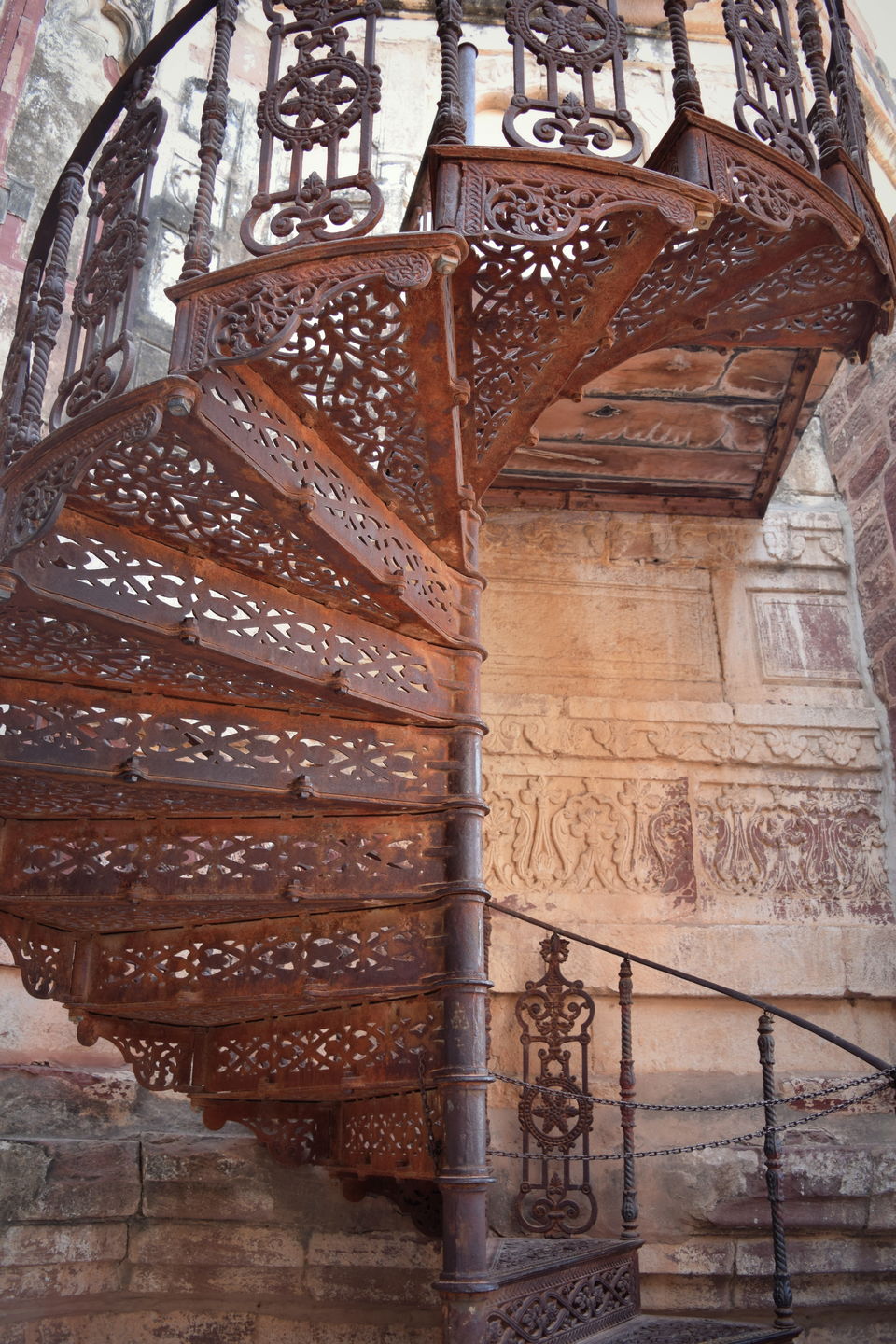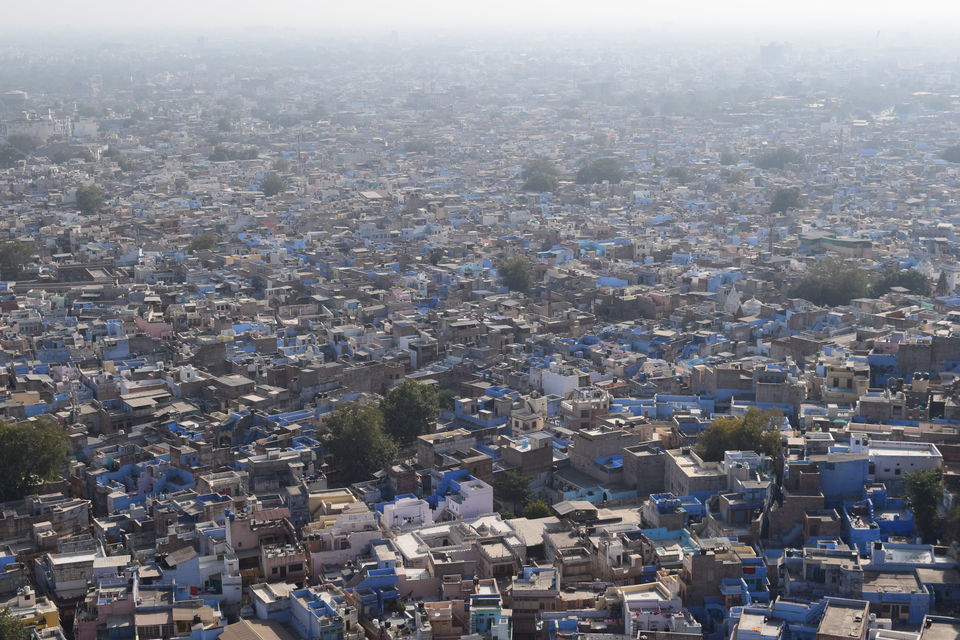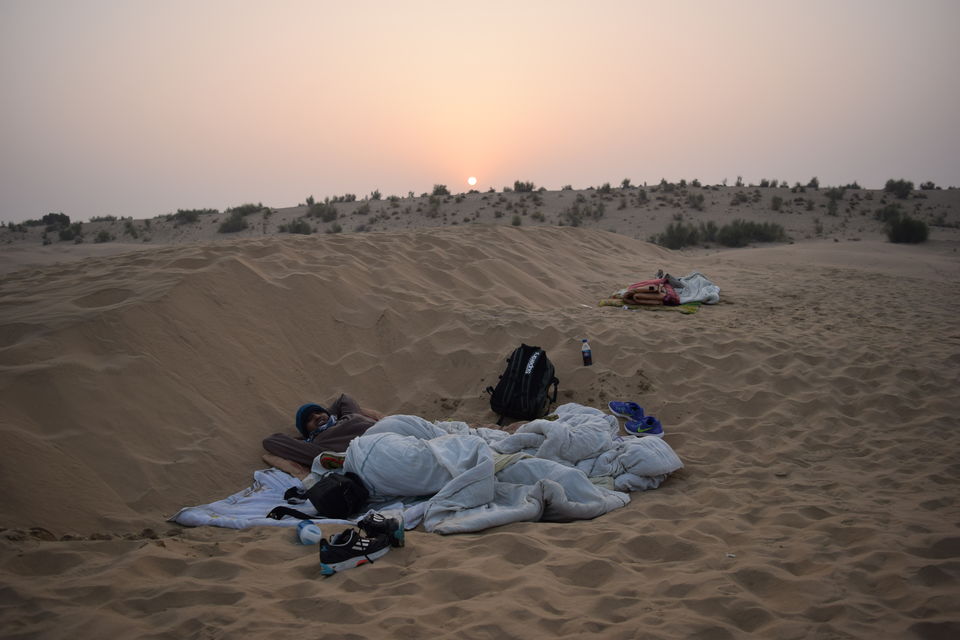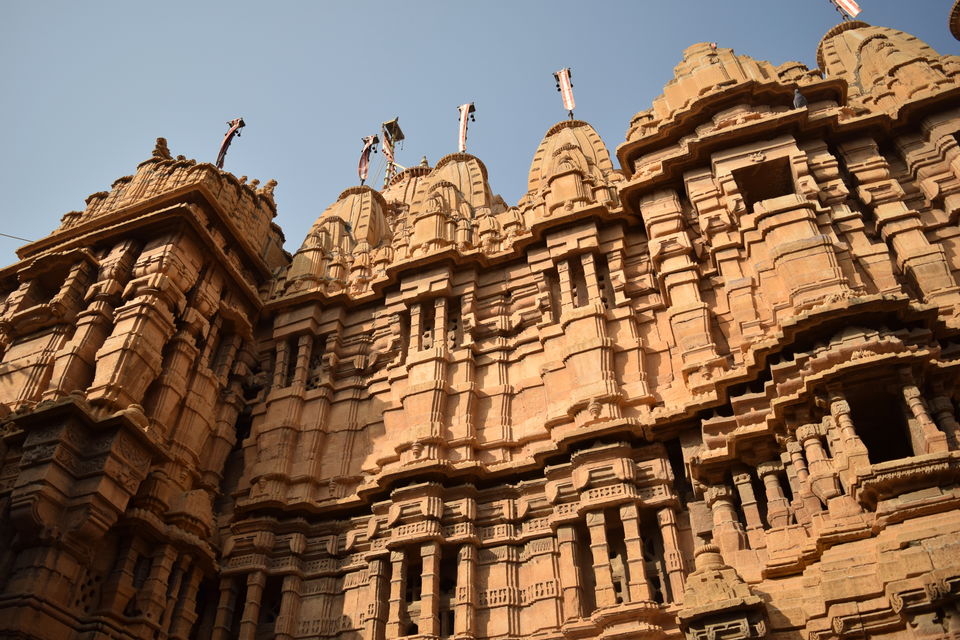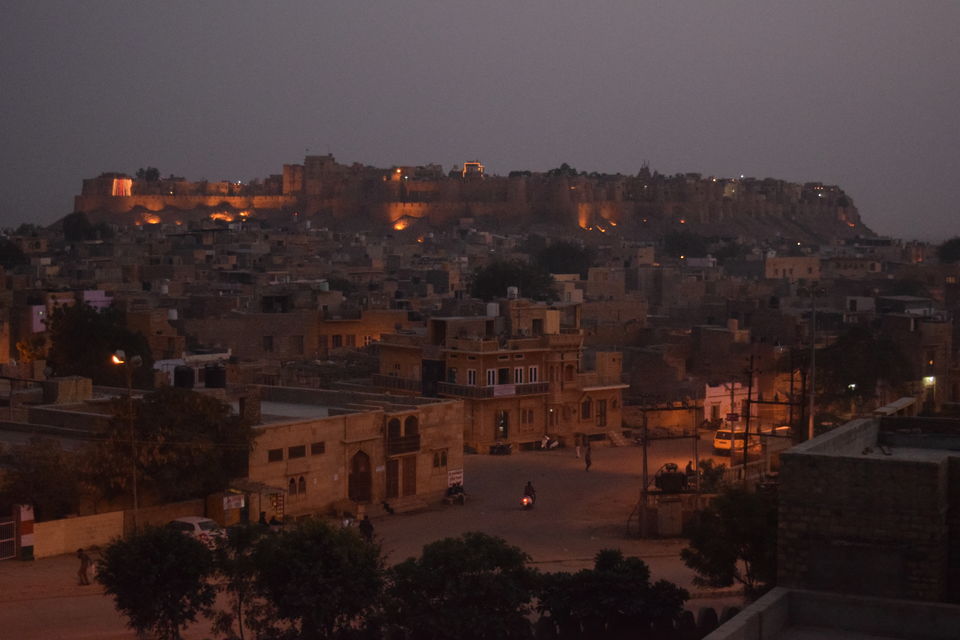 The Great Indian Desert : Thar – Day 3
I jumped out from the seat seeing the station's name as I opened my eyes around 9 in the morning. It was Pokhran, a really small town in Rajasthan which never would have become famous but for the successful nuclear tests by India. That incident which is glorified in modern India's history happened on a Buddha Pournima night. Smiling Buddha was the code name for that invention that could kill millions of people in a second…what an irony!!! From that day onwards Pokhran has become synonymous with the nuclear bomb for many of us.
Around 11.30, the train halted at Jaisalmer where the great Indian railway ends. Our plan was to go to Khuri (a small village 50km far from Jaisalmer town) to do the night camping in the TharDesert. We ignored the autowallahs and walked half a kilometer to a very small bus stand to catch the bus to Khuri. Even before I left from Bangalore, I had informed Badal Singh(+91 8107339097), the man who runs the Badal Guest House, where we planned to stay, that we were coming.
The crowded bus left at 1.30pm for its one and a half hour journey to Khuri through the driest lands of India where wind mills lined the road on both sides. Usually I always had some unforgettable moments in my previous trips and the pattern was about to repeat in a few minutes. The crowd was getting thin as we reached near Khuri. A guy sitting in front came near us, recognizing us as tourists and asked where we were planning to stay in Khuri. I said about Badal guest house wondering why he wanted to know.
As we got down in the desert village Khuri, he along with his friend came and said they could guide us to Badal's house claiming to be a relative of Badal Singh. Wooo.. slow down dude….. I never asked for any help from you, I wanted to say. But I decided it was better to call Badal Singh himself than talk to this guy in my broken Hindi. One ring, two rings, three rings……. it went on, but Badal didn't pick up the phone…. What timing!! A few guys sitting in the bus stand were staring at us as we struggled to find a solution. Then the first guy rang up someone and handed over the phone to me saying that his son was on the line. Why in the world should I believe you?? I thought… especially now that Aishu was with me. It was really getting uncomfortable for me. Without knowing whom to trust, we stood for some time at the bus stop of some unknown village out in the desert.
"Ningal Keralavilninnnu vareengala?" (Are you guys from Kerala?) I heard somebody asking in broken Tamil from behind.
You are an angel sir!! "Yes we are and we want to go to Badal Singh's house." I shouted.
"Go along with him, he is telling the truth, don't be afraid."
"Inge irikkaravar vanthu citiyilum Keralavilum irikkira alukal mathiri porikkalaa thambi" (People here in Khuri are not evil as the guys from metro cities or Kerala).
I was laughing my a** off hearing that. Weird indeed that insulting words about Keralites were the most relieving words that I ever heard!!! I had my reasons to nearly panic, but that whole episode was embarrassing, I thought, as we walked to Badal's house. I looked at Aishu once we reached his small guest house, she was laughing at me..
The stay in the guest house cost Rs 300 per person but we opted for the night camping costing Rs 600 for one person. Don't expect much luxury in Badal house but the hospitality by those kind people was very warm and one would love to stay there for a few days for sure. His son said that there were a few other tourists who had gone out earlier to the desert and that they would join us at the camp. Our camel Siva and his driver (forgot his name) were waiting for us already outside.
I was somehow lucky not to fall down as Siva stood up. As we rode through the Khuri village, one guy was watching us….. it was none other than the villain turned hero from the earlier episode. He was smiling at us and I said sorry to him for misunderstanding him.
Finally the moment which I was anticipating from the day I left my office in Bangalore, arrived. The great sand dunes of Rajasthan's Thar Desert were visible when we left the village. Back in the school days , geography classes were never complete without a mention about this great Indian desert. So glad it I could enjoy it finally. Our driver cut Siva loose when he helped us to take our picture. We were like a broken kite in the sky without any hold, which could go anywhere but Siva was an obedient servant.
After a thoroughly enjoyable camel ride of 2 kilometers through the desert, which was a first time experience for both of us, we finally made it to our camp for the day. The other tourists were already there and the camel drivers were in a hurry to prepare dinner. In the golden light of dusk Thar seemed more beautiful. As the cold gripped the desert, touching the sand with bare foot seemed hard. Soon darkness spread everywhere after sun said good bye for the day. We all sat around the fire where they were making food, to get relief from the chill. Our companions included a Korean guy, an Italian couple and 4 riders from Mysore. We all had drinks which we had bought earlier, while the drivers sipped their home brewed liquor from sugar cane…. but still they had room for more! Poor Korean guy had to give half of his drink to them.
Soon they served roti and rice for dinner. Last time when I had candle light dinner, I was in Kaza 4000 meters up in the Himalayas and now I'm out in the desert. Once the food finished they were busy arranging the beds for us with thick mattress and blankets to withstand the cold night under the sky which was invaded by thousands of stars by that time. I think most of the desert camps have tents to sleep at night but not here. Here it was just the sand, the sound of camel and the starry sky above you. Wondered how many of these shining stars do exist right now…… I was boasting to Aishu how I saw Milky Way from Gangotri on my previous trip, hoping I will be lucky to witness it again. But Nature wasn't kind enough this time. Anyway I showed her a moving satellite….. after all those night sky exploration in the Himalayas I had become an expert in that..
Our mother Earth is a tiny bit of place in the vast sea of universe, yet humans came a long way to unlock the mysteries of nature, I thought, as I lay down on my bed gazing at the sea of stars right above my eyes. As I write this blog, Einstein's gravitational waves theory has been proven after a century later he published it. Science is not something which puts forward a theory with some absurd justification; rather, it tries to prove with consistent experiments. Many times it dismisses its own theories admitting they were wrong. This is where it differs from religion. Enough of this, brain… let me enjoy this beautiful night. But the luxury didn't last long as sleep took us to its realm shortly.
Golden City – Day 3
Woke up hearing the alarm at 6.30 in the morning, which was set for space exploration. But who does space exploration in the morning? You must be wondering….. Let me tell you. It was a special time for astronomers as five planets (Mercury, Venus, Saturn, Mars and Jupiter) were visible at the same time in a line just before sunrise, a feast for the space explorers as it was occurring after more than a decade. I looked towards the east using the Sky Map app in my mobile. It said Venus the brightest of all of them is the one near the horizon followed by Mercury. But they all looked like normal stars or may be my sleepy eyes couldn't differentiate them, so I didn't wake Aishu up as she was in deep sleep even though she had expressed her desire to see the sight, before she went to sleep yesterday.
Just before the first rays of the sun touched Thar we all walked up. I don't think I have ever seen sunset and sunrise from the same place before. After the delicious cup of black tea we were in a hurry to get ready for the return trip to Badal house. Siva wasn't shy like yesterday and he started running along with the other camels on the way back. But mind you, sitting on the camel's back is really a pain in the a*** literally.
Back in, Badal's house we mingled with the Korean guy who had the same plan like us to roam around Jaisalmer for the day and leave for Jodhpur at night. When I asked his name he replied "Naam".
"Oh you know Hindi?! That's great. Yah your naam (Name). What is it?"
"No my name is Nam."
Oh cool.. I laughed inside. And that's how we became friends with Mr. Nam Yunchul, the solo traveler from Korea, who had come here for a vacation after his graduation. Nam asked me whether I could book train tickets for him also but later changed his mind as he wanted to experience different transport modes in India. Your wish , I thought…………
We were in a hurry to finish the morning chores to catch the 11 o clock bus toJaisalmer. Since we were leaving for Jodhpur at night, taking a room in Jaisalmer seemed an unnecessary luxury so I asked Badalji if he could arrange some place where we could keep our luggage. Collecting a hotel number we said good bye to Badalj and thanked him for a memorable night in our life and walked to the bus stand with Nam. The growing crowd inside the bus as it traveled further, created second thoughts in Nam's mind about taking a bus to Jodhpur. To top it all, a small kid sitting near him vomited all across his pants. That was such a terrible way of experiencing the incredible Indian bus journey.. "In Korea I would have yelled at his parents, but here in India I say Namaste, Dhanyavad, Shukirya," joked Nam! But after that, to take a decision to stick with the Indian Railways was very easy for him.
Taking an auto we went to hotel Prithvi Palace which Badalji had suggested. I thought it would be some regular hotel but it turned out to be a paradise for the travelers especially for the Koreans. The roof top has a very good restaurant and open space for relaxing. Nam joined us for a delicious lunch after washing his pants…
As the sun cooled down a bit, we started from the hotel through the busy narrow streets to reach the Golden Fort – the prime tourist spot in Jaisalmer. This breath taking fort, one of the largest fortifications in the world, will surely change your perception about forts in general. Built in the beginning of the 12th century by the Rajput ruler Rawal Jaisal, I think this would be the only fort in India where people actually live inside it and also there is no shortage of restaurants which offer you almost all the cuisines in the world. After washing, people put their cloths on the walls which protect this gigantic fort with its snake like structure. That is a millennium old monument out there, show some respect people…. I was yelling inside. The golden walls of this gigantic fort have many stories to tell about the countless number of battles fought here over the years to snatch power from the ever changing rulers.
Once you enter the fort you realize that you are in a giant maze where the objective is to find out the tourist spots from the countless number of restaurants and souvenir shops. Our first stop inside the fort was the five century old Jain temple having the best carved out structure in stone I have ever seen….., pity we couldn't go inside. I recalled a note I had read somewhere about an incident that happened inside the fort long back in history. When the king realized his army couldn't hold much longer against the enemies, he ordered all the women inside the fort to practise Sati -an ancient Hindu funeral custom where the woman immolated herself after her husband's death. The enemies successfully defeated the King of Jaisalmer by killing all the men only to find out the dead corpses of their women, once their army entered inside. The sounds of their cries were echoing in my mind as I wondered where exactly it might have happened.
The rulers might have changed periodically but they didn't disturb the uniformity of the fort as I could make out from the buildings inside it. With the help of some locals residing inside the fort and a few sign boards, we managed to reach near a Palace. The Golden fort has many inter connecting palaces inside it but this one is the most famous among them. . Some of the interior works inside the palace are so finely carved that it often looks more like sandalwood than sandstone. The one thing that I noticed as we entered the palace was the atrocious ticket fare that the foreigners had to pay unlike Indians. It's not that you are super rich, if you are fair skinned!!!
The sunrise view point was where we headed next after the palace. The giant cannon placed there with a shooting range of 5 kms, protected the gates of the fort. Jaisalmer town and the fort shone in yellow colour as if somebody had dropped a paint bucket from the top, giving it the apt name Golden city. I know it's a desert city but you can really see the desert out there just outside where the buildings end.Having spent some time there we went back to the hotel through the same route.Nam purchased a leather bag for himself and had lassi which he wanted to have ever since he arrived in India. The cough which I had from the time we left Khuri was getting worse as we reached back at the hotel.
The alluring view from our hotel roof top, of the Golden Fort at night with its lights on, made me think it was some kind of a sandcastle or a fort made of Lego pieces. Once the sun set the golden colour of the bricks turned into honey gold colour like a man-made camouflage effect. Being closer to the Pakistan border, Jaisalmer holds a strategic relation with the Indian army. Like the birds coming back to the nest at dusk, the fighter jets were landing in the nearby air force camp one by one after their regular exercises. "Check whether any security issues happened in Rajasthan", joked Aishu!
Once again Prithvi Palace served us some delicious food for dinner. We had different varieties of Korean and traditional Rajasthani cuisines and shared it. After a short nap we got ready and went to the station with Nam to catch the midnight train. Ranikhet Express (15013) was waiting there to take us to Jodhpur. Those hotel guys didn't charge a single penny for hosting us, by the way.
Blue City -Day 5
After 6 hours of journey we reached Jodhpur. Our return journey from Rajasthan was from Bagath Ki Kothi, the adjacent railway station, early in the morning .Knowing it would be better to take a room in Bagath ki Kothi than Jodhpur, we got down there.
Nam's plan was to spend a day in Jodhpur and move to Agra the following day. But only at the very last moment we realized that his train to Agra was on the same day and that too around 9 o' clock in the morning. Earnestly wishing to have a glimpse of the blue city, he came with us in the same auto which we had taken to go to a hotel and I told the driver to take him near the Mehrangarh fort to see the famous blue houses of Jodhpur from the top. Thus we bade farewell to Nam. Even though we had hardly spent a day together, we became really good friends. This kind of friendship which happens during a journey is what makes it special. (Later he mailed to me that he visited Agra, Varanasi, and Kolkata before flying to Philippines)
After freshening, up we went outside to explore Jodhpur. I was having slight fever and a very bad cough but with the help of medicines I was able to suppress it for some time. Aishu was also feeling a little sick but her condition was far better than mine. This was of a hill the first time I was having any illness like this during my journeys. See what the desert had done to me! Taking an auto we reached the famous Umaid Bhawan Palace. Built on top, certainly this palace is the most beautiful thing I had ever seen on this trip so far. It was the last Palace built in India for Maharaja Umaid Singh in pure western style similar to Rastrapathi Bhavan in New Delhi, by the famous architect of that time Mr. Henry Vaughan Lanchester.With due credit to the magnificence of the palace, the fact that it was built during the period (1928 -1943) when the people here in India were struggling and fighting for independence is quite sickening… The polo loving Maharaja had constructed a number of polo courses across the town and his car collection included a number of vintage cars used by the royal family at that time.
Only a small portion of the palace is open to public. The royal family lived in one section and the major part is a world renowned hotel which just got the award for the 'World's best luxury hotel'. Rightly deserving so….. even looking from outside we could sense its luxury!
We said good bye to the palace and left for the Mehrangarh fort. Situated on top of a rocky hill, this five century old fort had been the headquarters of the Rathore clan of Rajaputs. As for the Golden fort, you don't need tickets to enter the fort, only for the museum one had to take tickets. You might have seen this fort in the Hollywood movie 'Dark Knight Rises' where Bruce Wayne comes out of a jail. The large pavements inside the fort were occupied by some folk street singers one of whom sang 'Why this kolaveri di"! The museum inside the fort displayed textiles, paintings, coins etc from the time of the great Mughal Emperor Akbar. The mural paintings of Durga along with other goddesses in the other room were a feast for the eyes too.
The temple located at the far end point of the fort where the Kings often used to go for praying, was the last pit stop, where we headed next. The last item in our bucket list was the view of the famous blue houses from the top of the Jodhpur town. Earlier Brahmins used to paint their houses in blue colour but soon everyone imitated it giving the whole city the eye pleasing blue colour. It was indeed a memorable view. A few people were meditating in that serene calm atmosphere; the wind coming from below was caressing our hair. We sat there for some time and then said adieu to the fort and took a path going down to the city between all those blue houses.
After a very late lunch on the way, we walked through the streets and reached a market. We had left all our shopping till the very last and now the moment arrived finally. But the market wasn't very large and didn't have much choice. So we left there through the other end back to the streets again. Aishu bought a few pairs of the famous Rajasthani handmade footwear while I was searching for bags. Somehow we managed to find some good stores after a long walk through the city, but had no clue where we ended up finally…. Honestly I was so tired by the end after the long walk but when I looked at my companion, I could see there was still plenty of energy left in her, so I just pretended that I was fine.
Yes, now we had seen everything, bought everything……. It was time to go back to the hotel, but what was the name of our hotel or at least where was its location?!!! Jeeezz… We had no idea…. In all the excitement to see the Blue city in the morning, we never bothered to catch the name or the location of our hotel! Luckily we had the number of the autowallah whom we had hired in the morning. It was noted down so that we could call him the next day early morning to go to the railway station. With his help, we finally located the hotel and went back!
Now, it was time for us to say good bye to the land of deserts. Early morning the next day, we called the same autowallah and went to Baghat Ki Kothi station to catch our last train, the 6th one (16507/Bhagat Ki Kothi – KSR Bengaluru Express) to go back to our places. When I boarded from Bangalore I never thought I would enjoy this trip like this, we had such a great time here in Rajasthan. The loving people here had blown away all my doubts regarding security to a pit. Never for a second did I feel uncomfortable during our whole journey, Aishu said. But what that Tamil speaking guy said at Khuri was echoing in my mind as I lay down in my seat. This country is safer especially for women when you are far away from the so called civilized cities and move closer to the villages…His words inspired me to write a short note about the women travelers. Aishu got down at Kalyan where it reached around midnight after 20 hrs of journey. Geeta aunty and Aditya (Aishu's brother) were already there at the platform to pick her up. Having said good bye to them I continued my journey which lasted a day more to reach back in Bangalore.
Around 4 am in the morning I touched down at the garden city and by 8.15 I was in front of my computer at the office after 10 days of continuous travelling! Yah… I could be a badass at times! Aishu fell sick once she reached back but my illness flew away the moment I touched Bangalore. Hey Aishu, I beat you this time!!! I was wondering where Nam was right now as I began coding….
The Forts, Deserts, Camels, Sand and those 6 train journeys will stay in my heart forever….
PS: I never discriminate people based on gender but if you girls could get ready a little bit faster that will be hugely appreciated. LOL…