You are stuck in a 9 to 5 corporate job, the comfort and madness of capital city, ups and downs of mid-20s and a state of indecisiveness. I asked myself, where do you want to go? Far. Far from here. Far from the chaos. Far from the madness. In the words of François Rabelais, I go to seek a great perhaps. That great perhaps is Gurudongmar Lake, Sikkim.
They say it's not about the destination, it's about the Journey. Wrong. It's the destination that keeps you going. For me, that little 'red marker' is as important as the blue line stretching from Delhi to all the way up to Indo-China border.
As I always said, it all starts with a pinch of madness. And, google maps. You know there is always a season when you crave to go out of Delhi to take a break from monotonous life of yours. For me it's the beginning of Autumn. Not summer, not winter, not spring but Autumn. Always.
The toughest but most exciting part of any trip is to finalize the destination. Where is the question, where you spend most of your time. But, it wasn't that hard for me. Already been to many parts of north, don't fancy west, don't want to go to south (yet), and I was left with only one answer - East.
Where in East? I've always been fascinated with highest passes/highest mountains/highest roads/farthest destinations/farthest villages. How about a highest lake? And, there lies the answer.
It was 5 in the morning. Everything was packed. I took out my bike. Strapped the luggage with 5 bungee cords. Stick the reflectors on right-left, front and rear of the bike, in case of night driving. Put on the biking gears and helmet. I could feel the freshness in air and joy in heart. Within a short span, I was on Yamuna Expressway. Avenger was just above 100 kmph when I said to myself what's the rush?
I stopped on a toll to grab a sub (thank god they have a subway now). As soon as I took off my jacket and helmet, I could feel myself 30 kg lighter. While I was satisfying my hunger, a group of bikers joined me.
1st Person: Nice jacket, bro. I've the same jacket. I just bought for my Agra bike trip.
(before I could say anything)
2nd Person: Are you also going to Agra?
Me: Yes. (I don't want to extend this conversation, especially when I was in middle of eating a Veg. Shammi Sub with extra Mayonnaise and Southwest sauce. And, for god sake it's just 8 in the morning. Let me eat in peace.)
1st Person: Why don't you join us? Which bike do you have?
Me: well..I've Avenger 220. And you? (though I already knew the answer, I could see it on their face)
1st Person: Bullet. Forever h bhai. Bike ho to sirf Bullet.
Me: Wo to hai!
(finished my sub and left for good)
Few minutes after I crossed Agra, the engine oil starts leaking. Bummer!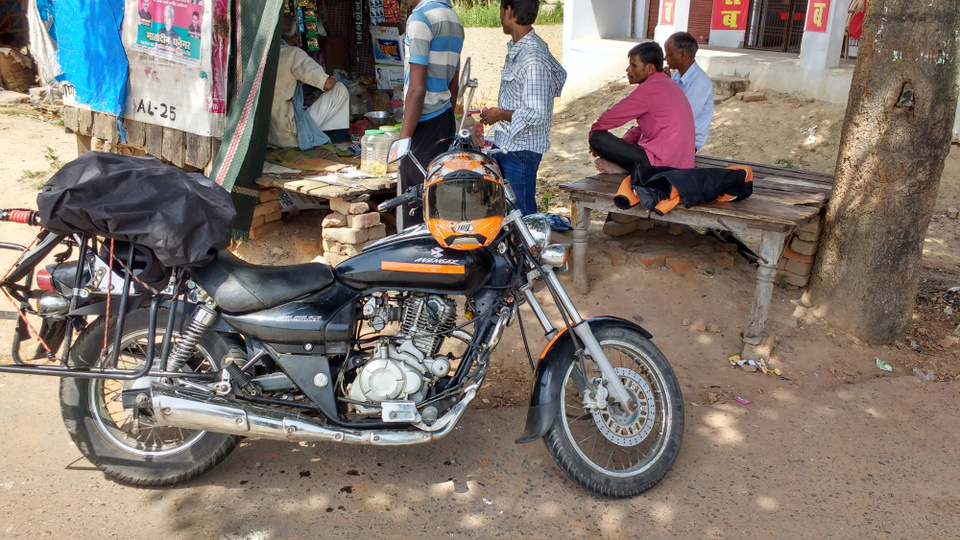 Somehow I managed to reach Lucknow, around 8 pm and crashed into bed right away.
Day 2: Lucknow to Kushinagar
I woke up around 5 am so that I can start my journey to Bihar before sunrise. Then comes the twist, the engine oil was gone, all of it. And, there I was, looking for a Bajaj Service Centre with first beam of sunlight in Lucknow. Finally found one and sat there till 10 am waiting for shop to open.
I was offered a coffee and some snacks by workshop manager while Sunder Lal was converting my Avenger into an Harley Davidson. The manager was also kind enough to share the phone number and addresses of all the Bajaj workshops on the way to Sikkim. But, I knew it won't be necessary. Sunder Lal has done the job for me. I didn't face another issue throughout my entire trip.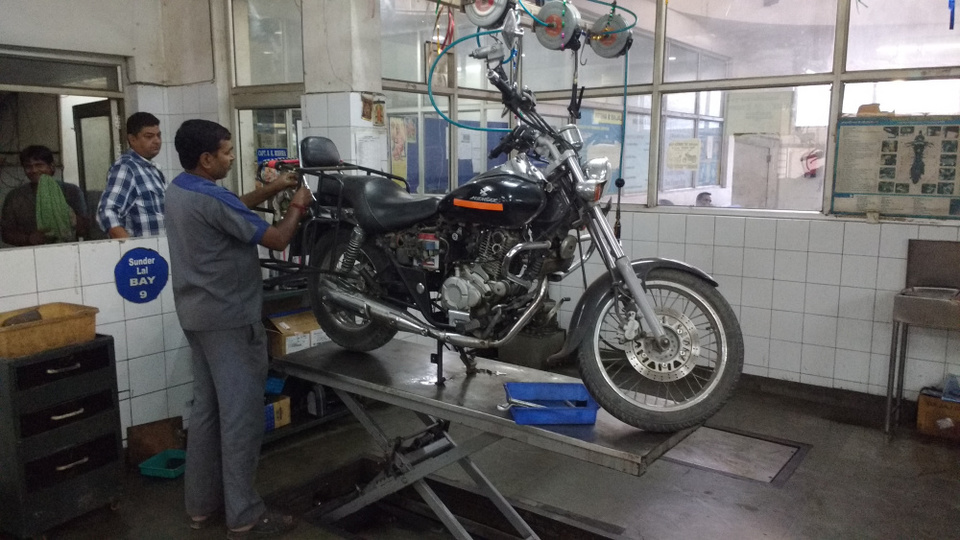 Finally I left for Bihar around 1 pm but it was certain that I wouldn't be able to reach anywhere near Bihar by evening. Before I could even reach to Gorakhpur, I saw the dusky lights on the bridge near Basti. Mesmerizing. I stopped there for good 30 minutes. After all, what's the rush?
I continue my journey even after sunset and reached to Kushinagar around 9 pm. Very closed to U.P. - Bihar border. Why did I stop? I wasn't brave enough to enter Bihar in the midnight.
In the middle of nowhere lies the Kushinagar, an International Buddhist Pilgrimage Centre. However, according to Ramayana it was built by King Kush, son of Lord Rama. Never heard of this place before in my life and there I was taking a midnight walk. Small perks of a big road trip.
Day 3: Kushinagar to Bagdogra
Finally, an early morning checkout and I enjoyed the first Sunrise of trip. Sunrise is always better than a Sunset.
Within an hour or so, I crossed U.P. - Bihar border and I said to myself - Hello Bihar! This was my first visit to Bihar and I had to admit I was stunned.
Stunned by how beautiful it was.
Stunned by the acres of green fields.
Stunned by the smooth roads.
Stunned by the humility .
Stunned by the Koshi Mahasetu.
Stunned by the fact that I crossed entire stretch of Bihar which is more than 500 kms in just 6 hours. (NHAI is the backbone of Indian roads.)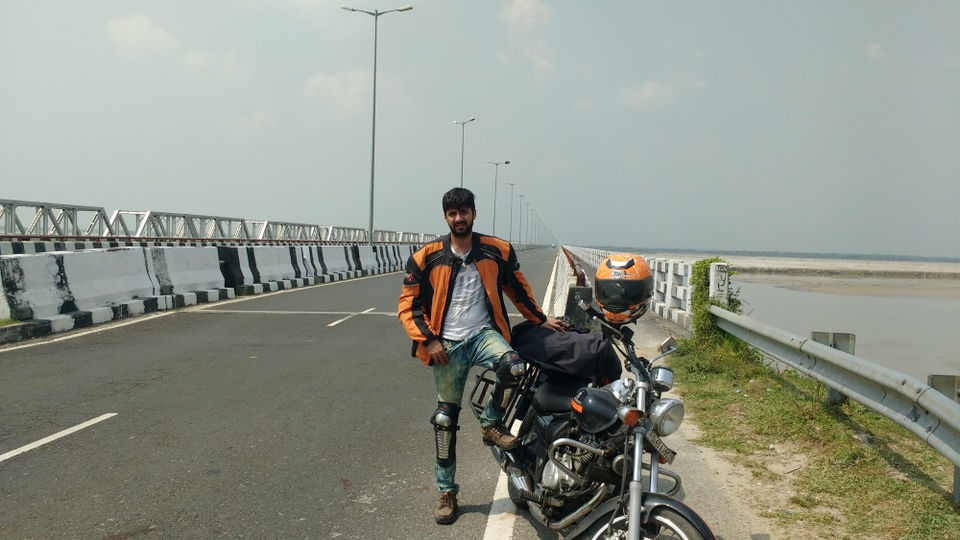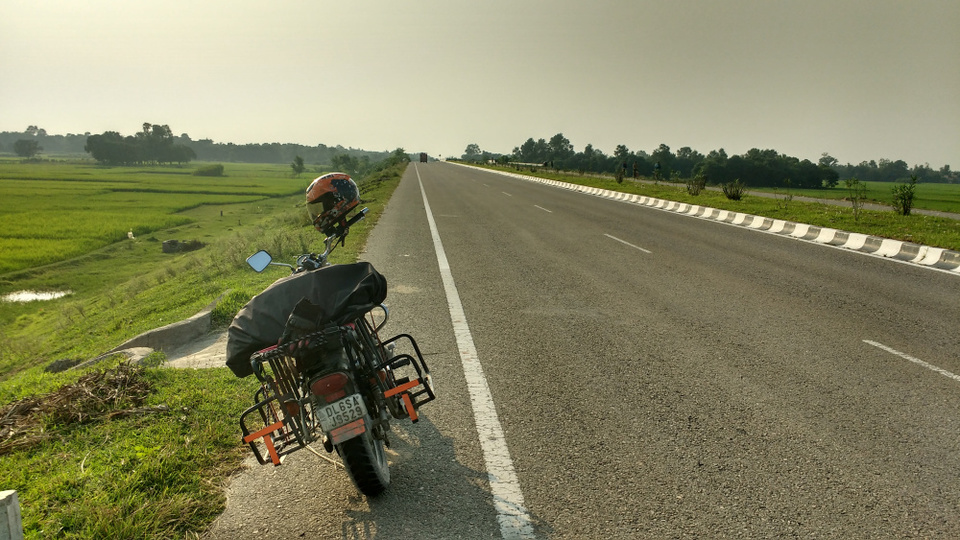 It was 4 pm when I saw the sign board: Bagdogra - 87 km. That's no less than a feat for me, 3 states from dawn to dusk. And, I was still in awe of Bihar.
I am the history of India
I gave the world its first Republic
I nourished Buddha to enlightenment
I gave world its best ancient university
My son Chanakya was the father of Economics
Mahavir came out of my womb to found Jainism
My son Valmiki wrote Ramayan, the greatest Epic
Rishi Shushrut, the father of surgery, lived on my soil
My son Vatsayana wrote Kamasutra, the treatise of love
My son Ashoka - The Great was the greatest ruler of India
I gave birth to Aryabhatt, the great ancient mathematician
I gave Ashoka Chakra that adorns India's national flag
My son Dinkar is the national poet of India
I gave the world its first Yoga University
I gave India its first president
I am the land of festivals
I am brotherhood
I am humility
I am the past
I am the future
I am opportunity
I am revolution
I am culture
I am heritage
I am intellect
I am farmer
I am power
I am literature
I am poetry
I am love
I am heart
I am soul
I am yoga
I am global
I am inspiration
I am freedom
I am force
I am destiny
I am Bihar.
At that moment, right before crossing Bihar, I was certain that I'll be staying in Bihar on my return journey. One trip to shatter all your notions about a place.
As soon as I crossed Bihar border, Avenger faced a reality check of Indian roads. From asphalt roads to no roads, West Bengal welcomed me in the worst possible way. There was a richness even in poverty of Bihar. A sense of enlightenment. A sense of humility. A sense of pride. An aura passed through it's generations and still survives in the harsh realities of modern era.
On the other hand, I found West Bengal depressing. Every other face reminds me of The Walking Dead. There is no nobility in poverty, I said to myself. It was a very visible contrast between 2 states. West Bengal has embraced its misery and they are living in it. Happily? Not sure. The state has witnessed some worst political turmoil since independence. Who is to blame? CPI? Mamta Banerjee? Or the people who fled the state in hope to fulfill their dreams? And, left behind masses in their misery who go out and vote every 5 years to bring the same government which is feeding on them.
Avenger raced through some of the worst scenes/places imaginable being a Delhite. Islampur is one of them.
It was pitch black when I reached Bagdogra. The hunt for accommodation began and I was running short on time and choices. When I was about to gave up, I found the heaven in the middle of hell. That heaven is: Marina's Motel. The best place to eat/stay/relax in Bagdogra or within 100 kms of Bagdogra. Because you are in West Bengal.
After 3 days of non-stop journey and some 1500 kms on road, I had my first beer and sizzler (yes, it was vegetarian).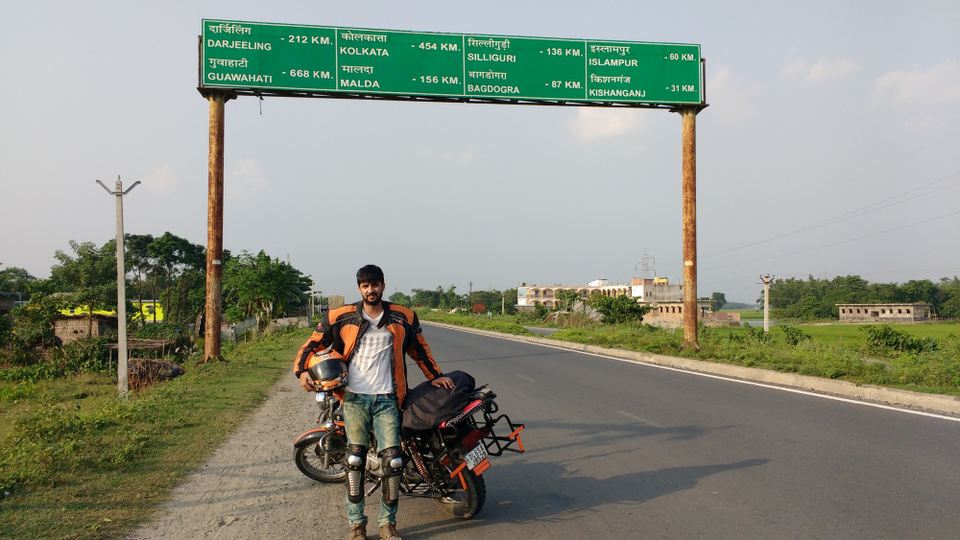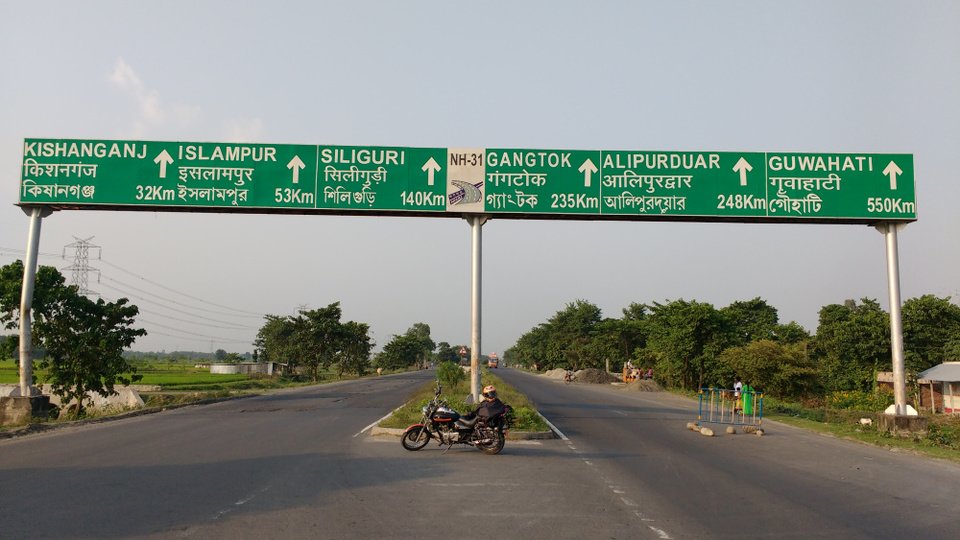 Day 4: Bagdogra to Gangtok
I woke up at 8 am because I knew I had to cover only 123 kms. For the first time on this trip I had the luxury of time.
I was sitting in one of the finest coffee shop when a guest joined me. We were the only 2 guests at that time in coffee shop. Though, at that time, the way he was dressed for 8 am, I thought he was the manager. Appearances are deceitful.
*After a formal Hi and Hello's*
Me: Are you going to Sikkim?
He: No, I am taking my family to Darjeeling. And, you?
Me: well, I'm going to Sikkim. (I was so excited when I said that.)
*May be he didn't like my excitement.*
He: Just Sikkim?
*I don't know what that means, so I just shook my head*
He: Where did you come from?
Me: Delhi
He: Ohh, nice. I'm also from Noida.
Me: (in my head) No, you are from U.P. You are not "ALSO" from Noida. You are "JUST" from Noida.
He: I think I saw you before? Are we in the same flight?
Me: No, but we are in the same coffee shop, that's for sure.
*That was enough for a morning conversation.*
Then, the day started with what I call - some breathtaking views.
And, one hard choice: Darjeeling or Gangtok?
And, it ends with a stroll through MG road and a midnight coffee in Cafe Live & Loud.
I sat there for hours because tomorrow is not just another day.
Day 5 and 6: Journey to Gurudongmar Lake
The journey falls short of words. Short of pictures. Short of metaphors.
Avenger passed through some terrifying hills, mesmerizing valleys, breathtaking sunsets, eye-catching waterfalls, small villages, lush green landscapes, cantonments areas, broken bridges, bad weather and chills and thrills of Stone, Sand and Gravel roads with topping of mud.
Every now and then you will hear a sound of waterfalls that crashes on the rocks like the heartbeat of the world.