Day 1 - Dhule | Nashik | Mumbai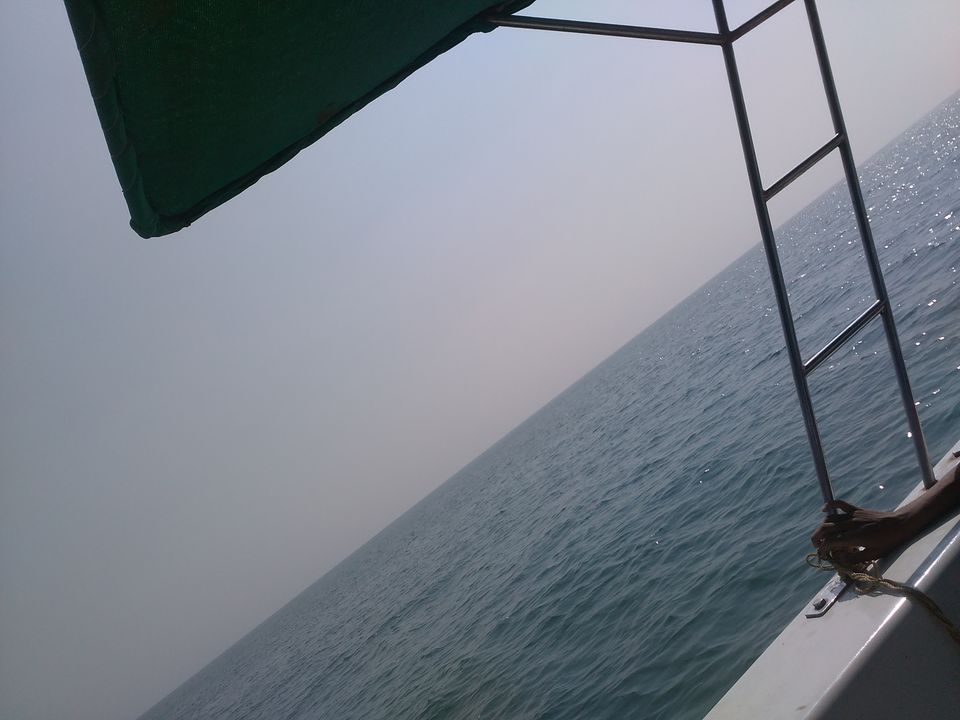 A great thing is I have five day holidays at Christmas and I wanted to go somewhere that help me to relax some days from the daily routine. I started searching holiday plans, and I search so many sites and their plans. After some time I thought to do something different, unique and interesting which I had never tried before. I wanted to go Goa from a long time, and we did so many plans with my friends by unfortunately that won't happen, so I decided to do travel solo, explore new places, eat different cuisine and adventure. Especially I heard lots of stories of Goan food, so I fixed Goa. Thankfully my sister was free that time, so she helps me in booking and all stuffs. I just thought about to go, and the next day I started my journey.
My journey was Dhule (My Hometown) to Mumbai, Mumbai to Tivim (Goa) by train and Panajim (Goa) to Nashik, Nashik to Dhule by luxury travel (Paulo Travels). I begin my journey from Dhule, I went to the bus station and asked for the bus to go to Mumbai they said you need to wait for 2 to 3 hours. So, I changed my plan to go Directly to Mumbai I did Dhule to Nashik and Nashik to Mumbai. And I reach CST on time before one hour. I forgot the train name, but it was arrived in between 11 or 11:30 PM.
In the meantime, I explored beautiful city Mumbai. I loved Mumbai's lifestyle because everyone is running busy in own business, nightlife, trains and all. After that lovely walk, I back to CST Railway station and received train. Train booking was confirmed, so there is no worry about anything. The most exciting thing was the beautiful journey between Mumbai to Goa by train, and it goes through Konkan, and long tunnels, so the scenery was pretty cool, it's was worth it.
Day 2 - Mayem Lake | Ferry Boat | Old Goa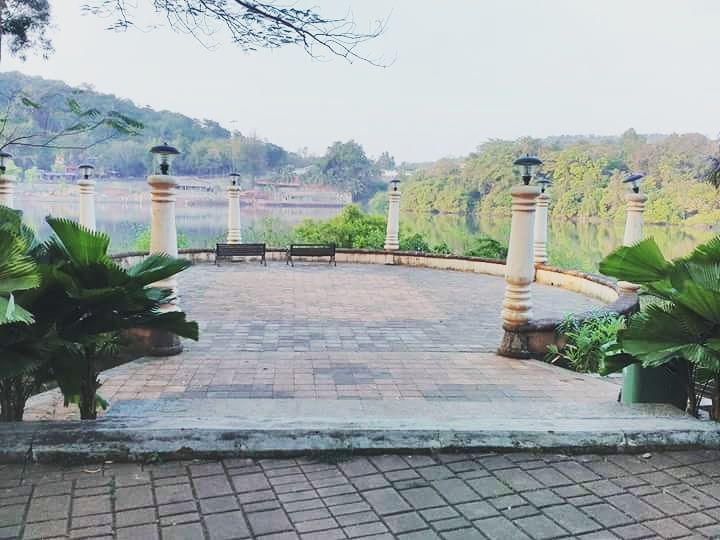 I reached Tivim station (Goa), and I preferred the local bus to reach Bicholim, and It takes one hour, my hotel was in Bicholim the name is Mayem Lake View its the hotel beside beautiful lake called Mayem Lake. There are separate cottages for per room with fantastic lake view. Its day 2 I did check in and started exploring the places near my hotel. Mayem Lake View hotel is incredibly peaceful, and I enjoyed it the first time it's like meditation. And one of the beautiful things is in December in Goa there are lots of Migratory birds are visiting the place Mayem Lake. I enjoyed the bird watching in my balcony there are lots of birds was incredible.
After I reached Goa, I engaged with this place I forget all the worries and stress and all things in one day. I rented a Moped Bike from Old Goa, and I was late to reach Old Goa and Its 10 PM and I wanted to return hotel and Goa was a new place for me, and unfortunately, my Airtel network was down, so I can't use the Google Map. Thankful I meet a guy on the road and I asked him the route for Mayem Lake, he said there is two way one is from Mapasa and another one is by using the Ferry boat which was the shortcut. So I chose alternative one, and I saw a ferry boat for the first time, and I got a ferry boat. In that boat, I meet some other people who guide me well. If you want to go to Mayem Lake from Old Goa, you need to cross three ferry boats. Finally, I reached the hotel. Seriously I realized about what is solo traveling, and I did it.
My experience was very adventurous, Its safe, Goa is very safe, but my experience was so amazing. Crossing the backwater by ferry boat at night, riding the bike, bike riding from passes, and from dense forest, riding from the empty roads, in unknown places was one of the beautiful experience which I never did before. At the end of the day in the hotel, I enjoyed the live music event, Goan food, beer and fantastic lake view in the Mayem Lake View Hotel.
Day 3 - Calangute Beach | Baga Beach | Anjuna Beach
Next Day with the morning tea and breakfast I created a full day plan. I planned to see Calangute beach, Baga beach, and Anjuna beach. Again there were two options to reach these three beaches are in North Goa. So route was from Bicholim and second was by using ferry boat so I chose Ferry boat the route is Mayem Lake to Panaji by ferry boat and Panaji to Mapasa (Approx 15 KM) via beautiful NH66. I used this route, and I explored Calangute, Baga and Anjuna Beach. I liked Anjuna beach it was so cute. I had lunch there in a seafood restaurant.
Day 4 - Mudgaon | Colva Beach | Jet Ski ride | Parasailing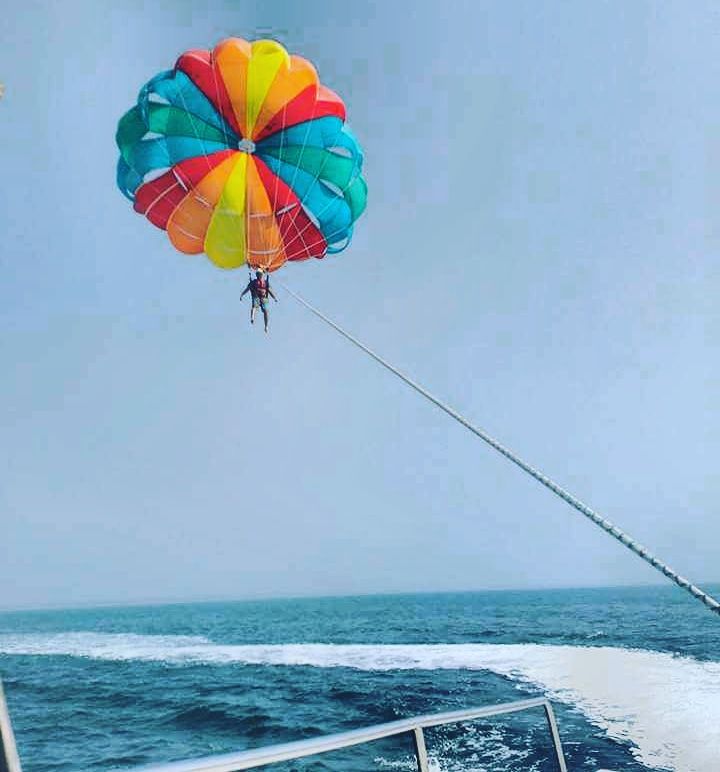 Its Day 4 and I created a plan with morning tea and breakfast it was visiting Mudgaon, Colva beach, and Cabo De Rama Fort. Mudgaon was 60 to 70 KM away from the hotel via old highway and NH66; I enjoyed terrific riding in between Mudgaon to Mayem Lake View Hotel. The road in goa and scenery was perfect.
In two hours of riding, I reached Colva Beach. Colva Beach is the beach which looks so beautiful and eye-catching. You will completely get lost in term of admiring his beauty and shades of green, blue, sand color and the vibe. Colva beach is not so crowded, beachside restarants, beachside palm trees are truly amazing. With the music and beer I had delicious lunch prepared by the beachside shack restaurant. I find jetski over there I ride it in 600rs per person.
Jet Ski ride is one of the breathtaking ride, and I experienced it. After the Jet Ski, I headed forward and Decided to do Parasailing too and it cost was 1300rs per person. Parasailing is the adventure which feel you that you are the King of this world. In the evening I skipped Cabo de rama fort to see wonderful sunset in colva beach. I watched the sun setting down had some beer and come back to the cottage at the night.
Day 5 - Chapora Fort | Old Goa Church | Panajim City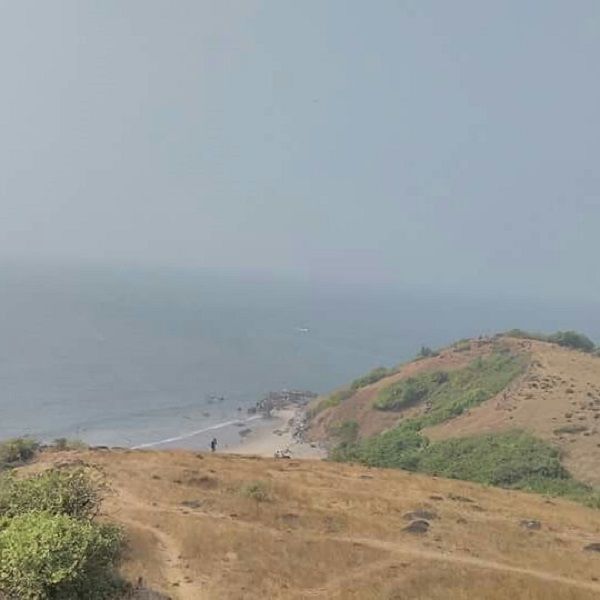 The next morning I woke up with the serprise and I was mesmerized to see the beautiful switch of fog and the bits of singing birds. Later after having morning tea, I visited the nearest Maharashtrian restaurant in Goa where I had Maharashtrian breakfast. After a small break for a meal, I must go towards the Day 5 Journey.
In the Day 5, I desired to visit old goa church and explore Panaji city and small trek to Chapora Fort. It was the last day of Goa Diaries, and also it was a last day of the year yes it was 31st December. I started the last day journey towards the beautiful Old Goa Church. The architecture of Old Goa Church is so good and incredible. After Old Goa Church I headed forward to Panaji city and did some shoping of Cashew nuts for home. Again after a shoping I started riding towards last spot which is the Chapora Fort.
Chapora Fort is the fort favorite for "Dil Chahta Hai" location. You can sit and relax with the nice beach top view, not so crowded, climb and walk for around 20 minutes and then you reach the fort. And I experienced that how beautiful nature it is. Soon I reached down, and I knew it was the end of the amazing holiday and my journey I shared with my self. I went back to my hometown to fall back into my daily routines but with new and fresh energy.