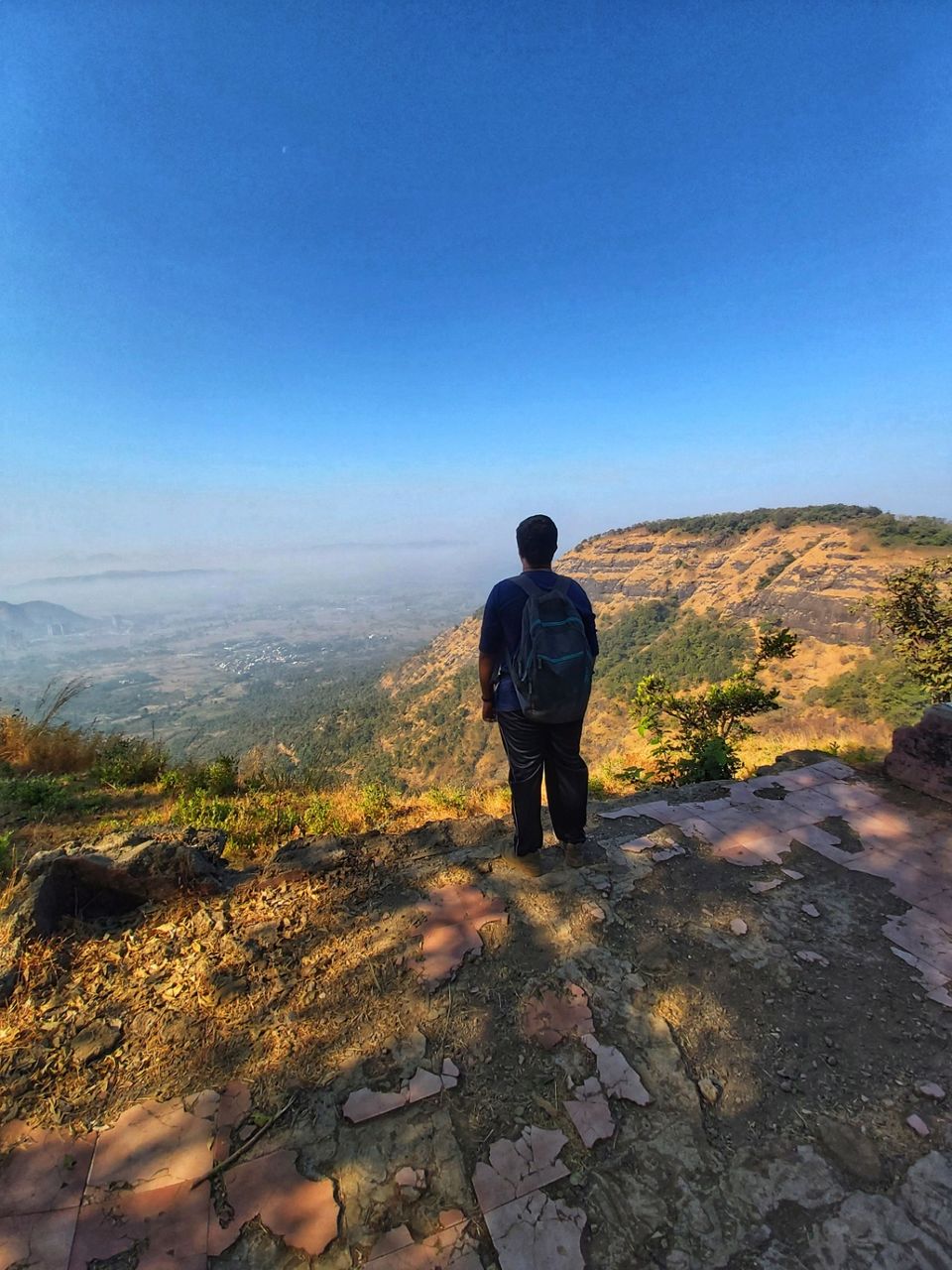 On a chilly Saturday I decided to go to prabalmachi trek with my father . Both begin a Trekkers it was a very easy trail for us . But begin always a trek leader, sometimes it feels to do for ourselves. Like just in to acquire peace in mountains and connect with nature.
Prabalmachi is surrounded by matheran hills. The base village to prabalmachi is base village Thakurwadi. The nearest city to reach Thakurwadi is journey of 14 kms from panvel city. It takes approximately 40min to 50 min to reach Thakurwadi via echo taxis/auto rickshaw which charge per person approximately Rs.50 to Rs.60 one way. Other one is public transport, ST bus service from panvel ST. stand which are at the frequency of 1 hour.
We took the 8.00am ST bus from Panvel with packed vada-pav breakfast from the VISAVA Hotel opposite of the Panvel St Stand , Visava hotel is the Trekkers breakfast point. The service and quality is good. After reaching Thakurwadi the base village we started on trail. First 10 min is the tar road to the parking point of Trek. No vehicles are allowed beyond this point. Parking charges are 50 for bike and 100 for cars for 24 hours. Having done breakfast at parking point, we started our trek to prabalmachi.
After a walk of 10 minutes from Parking point, there comes the entry point , a point places by locals in association with forest department. The entry fee is Rs.50 per person. To maintain discipline and cleanliness, carrying alcohol ,hookah and cigarette is not allowed on Fort. The bags are checked at the entry point. If any of the things are caught on machi or fort there is a fine of Rs.2000/person. After entry point the trek to machi actually starts.
It takes around 1.30 hours with a constant speed, as terrain is normal with few steep ascends, it makes a good trail for beginners to test themselves. At the regular intervals there are drink stalls setup by locals. Also at some stalls first aid is provided. During any emergency during the trail, one can connect to stall and get the help as earliest from locals. At some stalls you can see the tree with tree bench created by locals.
After the ascend of scenic beauty of mountains and nature, one gets refreshed and fascinated by the first view of Kalavantin Durg and Prabalgad. The giant mesmerizing wall of huge mountain. After few steps one can see the village. The village is clean and maintained .
Locals provide good food and accommodations for one night stay. So many enthusiasts come to prabalmachi to live a night under a night sky in tent and enjoy the tasty yummy food and barbeque with friends. All locals provide food and accommodations and price range varies one to another but quality remains the same. At plateau the tent view is amazing.
We reached plateau by 11.00, met locals we know from last 5 years. Rested and enjoyed the photogenic plateau of prabal , also explored few new camping sites. Around 12.30 we started to descend. Within one hour we reached to entry point.
Back to Thakurwadi we got St. Bus back to panvel and trek ends with lots of peace and Saturday spent well.