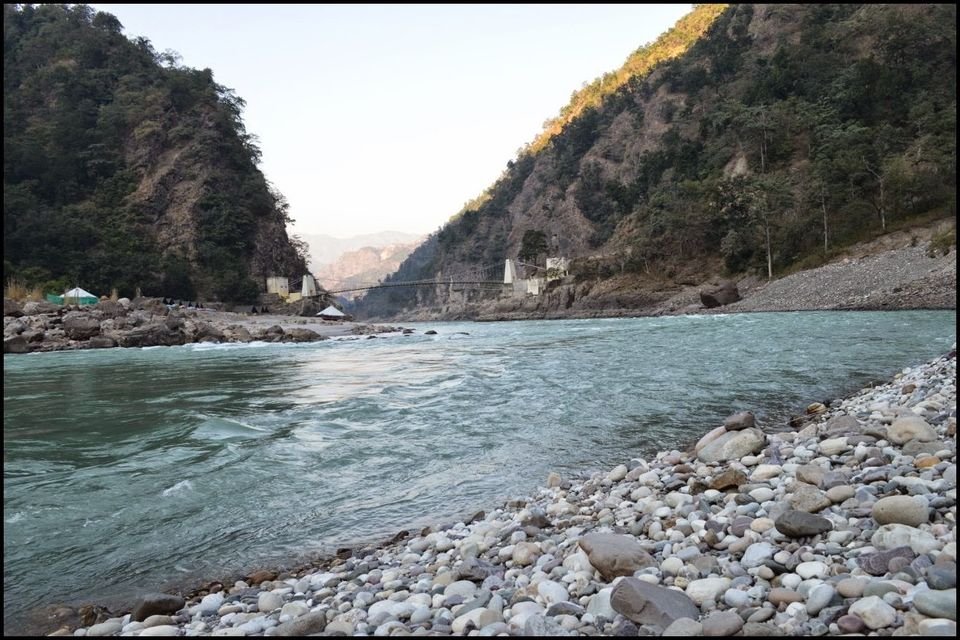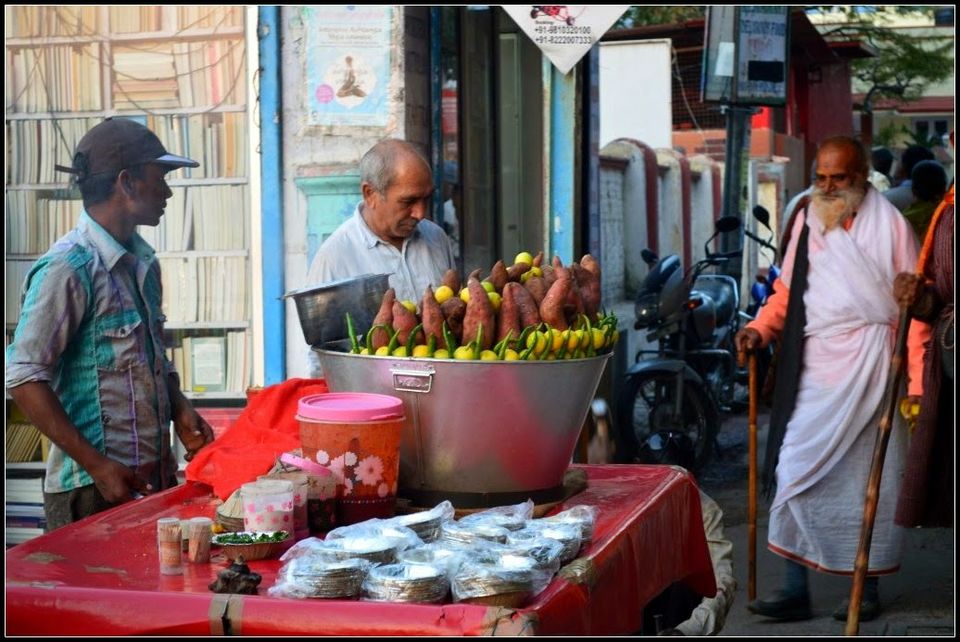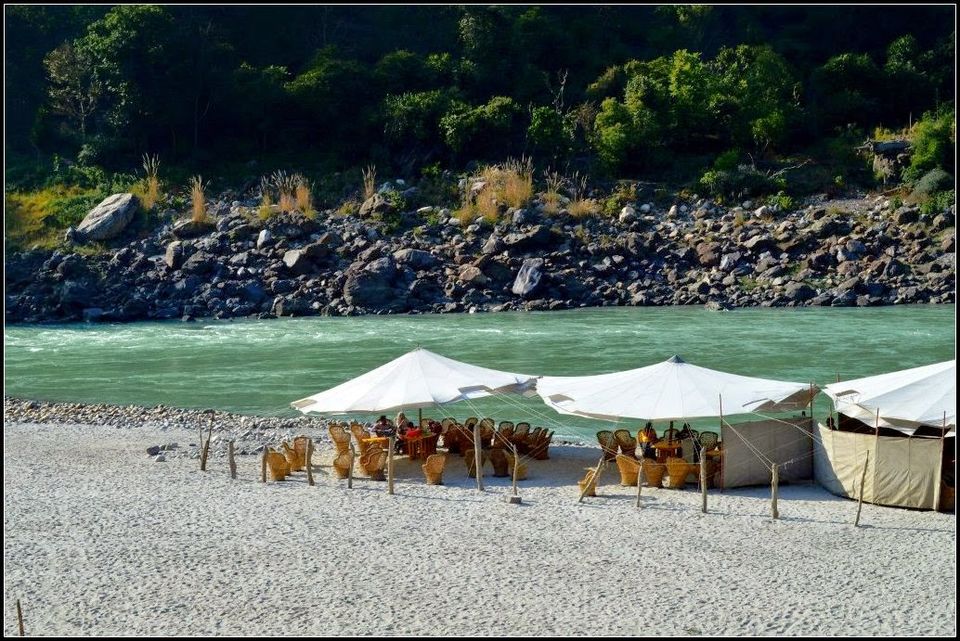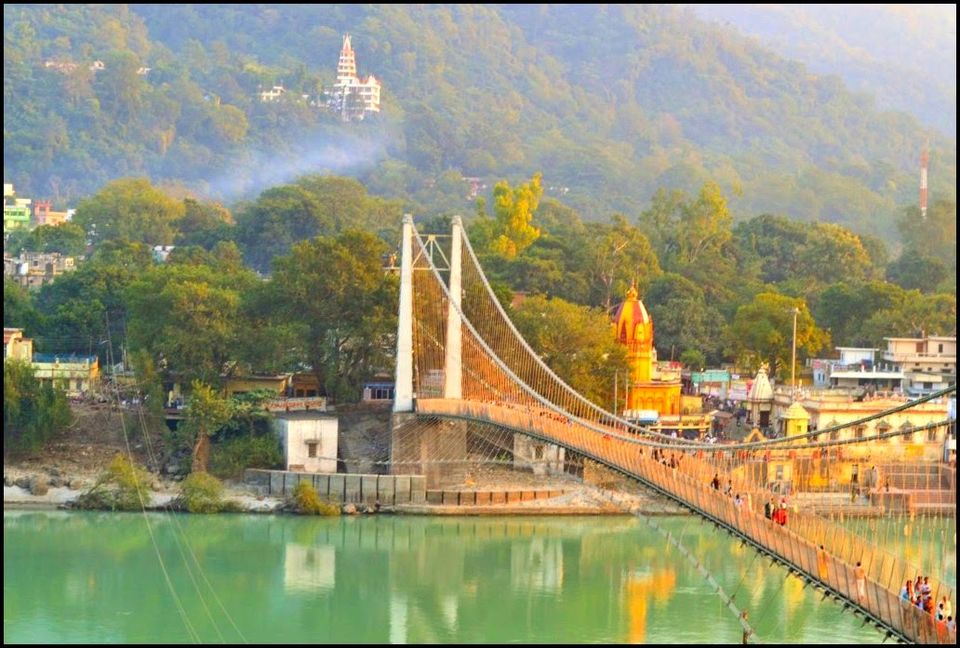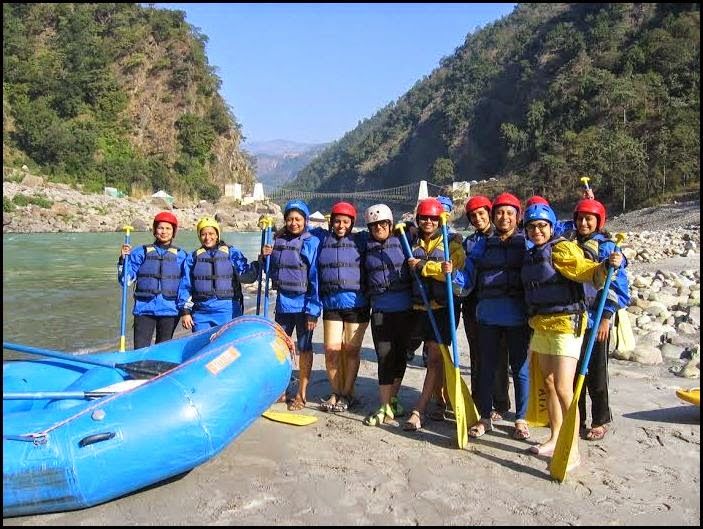 It was 7pm when we reached Rishikesh. Our camp site - Silver Sands, was still about 23kms upstream from Lakshman Jhula. Albeit it being a Sunday getting out of Delhi had taken us almost 3 hours. The only halt we took was for Lunch at Khatauli. A damn tiring journey it had been and all I wanted was a bed to crash on.When we finally reached our camp site it was pitch dark and the only sound one could hear was that of gushing Ganges. We followed our guides as they brisk walked on a path downhill with solar lamps in their hands. 'So they weren't joking, it's seriously a no electricity camp !', I told myself in self pity... I quickly glanced at my phone, about 30% of charging remained. I immediately switched it off.After walking half a kilometer downhill, we reached the camp site. It was lightly lit with a few solar lamps. There were 3 big tents in the centre and about a handful of tents on the right. "Those 3 tents are the dining tents", declared our river guide. We were asked to assemble in the Dining tent where a brief description was given about the place. Jitu one of the River guides introduced himself and his team. He stated that this camp was an Eco friendly camp and hence very different from the myriad adventure camps in Rishikesh. Although there was no electricity in the camp, there were various indoor and outdoor games for entertainment.Post the briefing dinner was served. The food was healthy , hygienic yet tasty.
Sleeping tents were on one side of the camp. The tents were pitched adjacent to the river Ganga. They were just big enough to accommodate 2 comfortable, clean beds and a side table.White sand glittered in moon light and the sky was full of stars. Just besides the camp site, Ganga flowed softly and silently. The sight looked so serene so tranquil so placid that the romantic in me could have asked for nothing more. The beauty of the place had just began to sink in when my body started succumbing to the falling temperature and I decided to call it a day.
Who said Rishikesh was pleasant in November? Gosh!I was literally Freezing.That night as I squeezed inside my cozy blanket, I could hear the Ganga flowing softly. It felt as if she was singing lullaby and putting me off to sleep. I had always dreamt of getting away from the hustle bustle of Mumbai city; Living an unadulterated life, in the lap of mother nature. Here I was finally living my dream.It was 6.30 am when I heard the birds chirping. I excitedly unzipped the tent's door to see how beautiful Rishikesh looked in natural light. It was more mesmerizing than I ever imagined it to be. It was a huge campsite enveloped with mountains on all sides.
Apart from the 6 tents on our side there were 30 more tents on the other side. There was also an old man made foot bridge at a walkable distance from there.The next two days we had exciting rafting sessions (23kms in total), covering all possible major rapids like Three Blind Mice, Crossfire, Return to Centre, Roller Coaster, Tee Off, Golf Course and Club House.At the end of second rafting session we were taught to body surf i.e. float in water. I am a water phobic and I still can't imagine how I managed doing that! In the evening we crossed the famous Lakshman Jhula and visited the Parmarth Ashram to enjoy the evening ganga aarti.On the way back to camp I decided to savor my taste buds to the tangy sweet potato chaat. Rishikesh, the holy town of India has something to offer to everyone. To me it gave a few days where I could disconnect with the world and reconnect with myself. To me it reminded that sometimes you need to pause life just to set it moving.....