Sometimes, I feel lucky to have a job which supports my travelling. Got a call to goto Mumbai for a presentation, although its screwed my plan of Kochi, Bienelle festival, I thought to exploit the opportunity.
Saturday morning! presentations over, flight in the evening. Let me just go out and explore. Took an auto to Andheri station, ticket to churchgate and here I am, standing in the queue for a fast local. The train arrived, Oh my god! , before I could understand, the crowd came down so heavily that my direction automatically changed, I was facing train earlier and now am facing station. Oh man! that was crazy but somehow I managed to board the train.
While sitting in the train, looking at the faces or rather expressions of the people, I could remember all the bollywood scenes in the Mumbai locals , the blogs and some stories where Mumbai local train had a major role to play. So many love stories have been created here, breakups, friendships, some unsaid relationships. This train would have seen it all. Some girls were so shy, some were so bold, some aunties were knitting. Interesting, something far for Delhi people. I have travelled in Chennai local as well, but the Mumbai local has a different apnapan.
Once I reached Churchgate, came out and went to Chhatrapati Shivaji Museum. The good part of that area is its architecture. The whole essence of the place changes, when you look around at those 100 years old buildings, the grey bricks, no way closer to the new buildings. They are just classic and retro. I bought the ticket, Rs 70, huh? went inside the museum. As soon as I entered, I had the feeling of entering into New York museum of natural history (been there) on a smaller scale but it was good. You can see lot of sculptures from 14th century AD at the ground floor. I was just thinking, the mythology was still same even that point-in-time. I could see sculptures of Brahma, Vishnu, Krishna awatars and its all the same. Lakshmi-Ganesh, everything.
The museum was good, there's one mumy also inside the museum, The history is back-in-time, britishers got mummies from Egypt, took most of them back to England, just left one here. It was the same. It was a wooden box,with big eyes and nose carved with some yellow black paint. So, yeah I had goosebumps.
Then I went to the Coin section which showed the evolution of coins in India since then to now. All I could understand was, in the beginning, the coins were very very small round and square shape, with few carvings. When the greeks entered India, the size of the coin became bigger and bigger. During the reign of Mughals, not only the size of the coin became bigger but it also became heavy with much of urdu carvings on the coin. Similarly you have Himalayan section, history on who introduce Buddhism, how is it different from Tibbetan and Nepali culture and some of the facts were really interesting.
There was one video which showed how they make carvings on metals with the shape of elephants or others. It's really tough and time taking job. Lot of fineness is required to make it. You know what, it's worth every dime we pay for it. I don't know what government is doing to encourage it ( am surely going to find out) and how long people will be motivated to keep it going. Life is not so easy!
Next I moved to Jahangir Art Gallery. I am not a painter but I like the art of expression and I appreciate it. While looking at the paintings, there were paintings of natural landscapes, like the sunrise, the forts, the temples. All this while, I was very much able to relate with it, as soon as I saw sunrise, I was like I saw this in Varanasi, as soon as I saw deodar trees, I was like I saw this in Mussorrie, temples, I saw it in Rameswaram and there were scenaries from Badami as well, I have been there as well, I was so much able to relate with it! It took me back to all the places I travelled in just 10 minutes, wow! Then I moved to photography section by Milind Sathe, someone who lives in Hills and Mountains and exploring their lives day by day. I have been to Spiti, I was able to relate with many of the photographs and now , I know where all to go next :) Thanks Milind.
Came out, took a taxi to Navi Nagar, the poshest area of Mumbai, the triangular area which is covered by sea from three sides. What a swag! The feel of entering in this defence area was different with people having big guns, naval officers ( I just love their uniforms). I asked the guard " Can I go inside just to see the place?" He laughed. "Beautiful lady, if it was my property, I would have allowed but its government and its the sensitive defence area, people might shoot you also." He answered. Then I just roamed around a little more looking at all the jeeps, the roads, the greenery, the guns and the navals!
Next, on the suggestion of a friend, I went to Afghan Church , 800 meters walk. Huge! it was. It was built by British in 1842, to commemorate the dead of First Afghan war. It wasn't open so I couldn't see it from inside but one more architecture to fall for. I came out and there was a bus stand.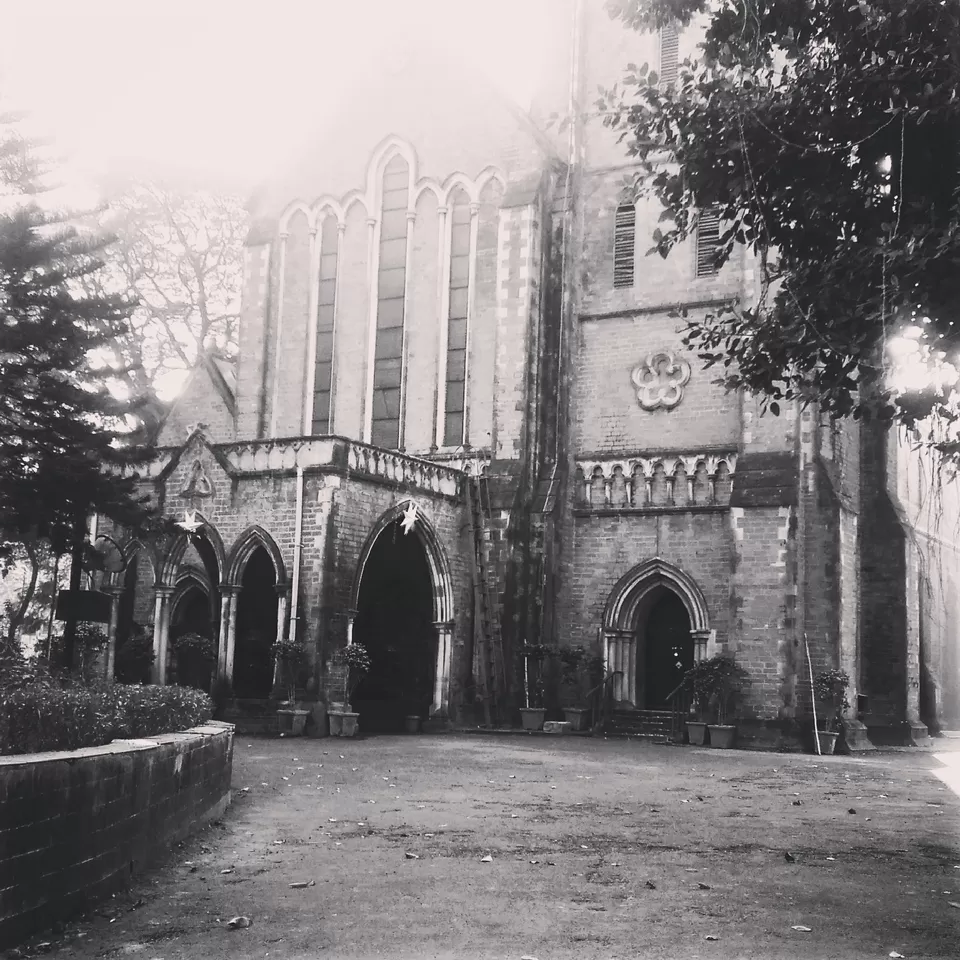 I asked people if I will get a bus for churchgate. They said yes! Then a bus came I sat into it. It was such a retro feeling. It was my first time in Mumbai 'Best' bus. At every stop, it was ringing that bell twice. If you know what I mean. As soon as I heard it, I smiled, saw the bell which was above driver's seat. Small things can bring happiness in no time and we try to find it all over.
While going back, it was passing through Marine Drive. I deboarded the bus, sat their for sometime with the ocean, the shore, the love birds and that beautiful serene environment. A day well spent, a happy day!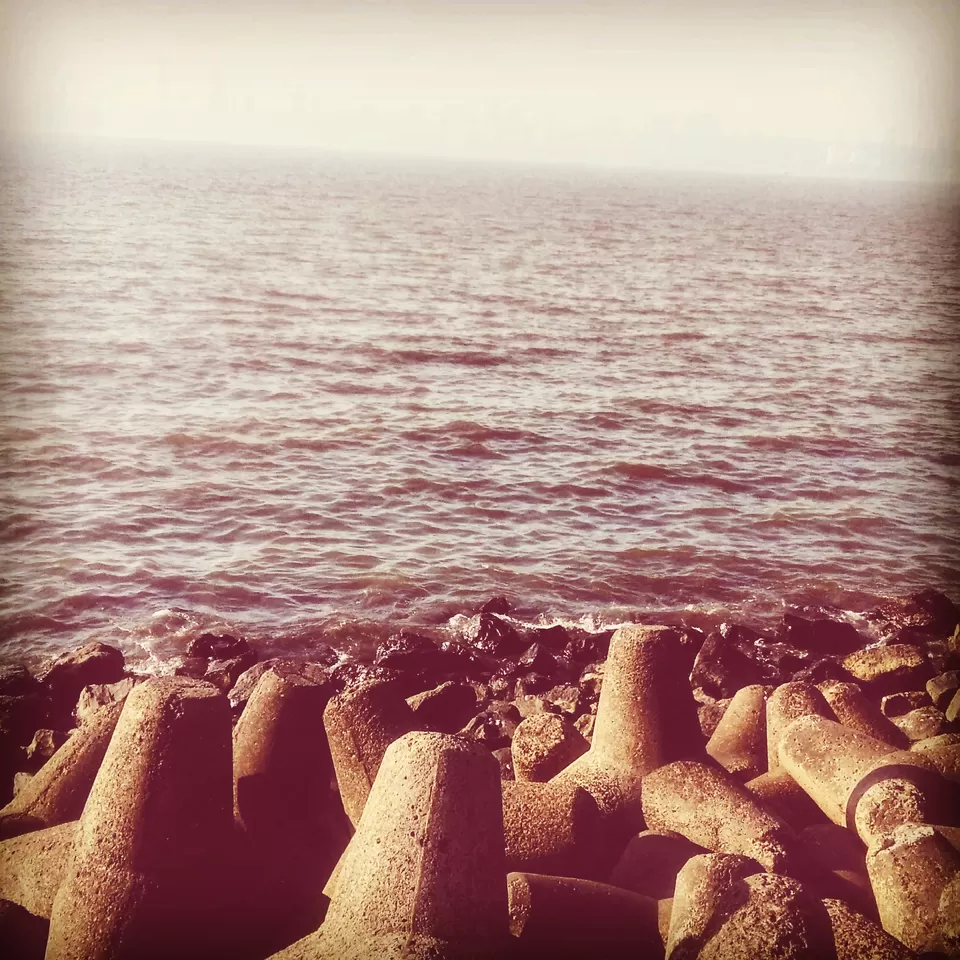 P.S. : I didn't plan to write a blog on this, so didn't click much of pictures. Do write your comments about the blog.