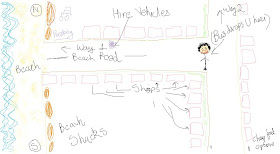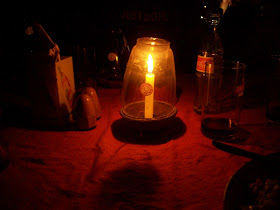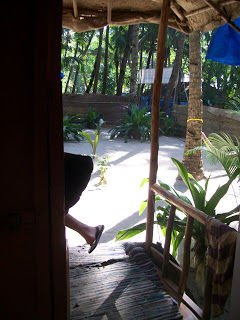 Ok , so to begin with We didn't have money .... hmmm , why do I bother mentioning it ...So an overnight train journey from Pune took me to Goa.Reached Madgao/ Margao in the morning b Goa Express. Since the people who had to join me were running late (which is an understatement) . I decided there was no point waiting for a day ... now to tell you I have started hating these auto wallas, they will rob you in taking you from a just one end of the road to other.I looked around but could not see any main road or buses ... I asked the auto for the fare to main bus stop . Rs 80. I went back into the station.Decided to ask the book Vendor. Good Move. Did what he suggested and you should do the same. Walk straight out . Yes, just keep walking and do not listen to any auto or people offering to be 'pilot'. There is a small bus stop opposite to the station. Cross the road and go stand there .
You will have to wait for bus to arrive , but as I have mentioned that between money and time that day , I had no money and a lot of time !Tip : the buses are those mini buses . If they do not stop , use a hand to hail them . They usually do not stop at the point themselves.So from the main bus stop I was lucky to quickly find a bus to Palolem beach directly (Rs. 30). You may have to take one to Canacona and take an auto from there to the beach (Rs 30 - 50). I decided to sleep through the 'most amazingly beautiful' way . So when I reached Palolem and opened my eyes. My Reaction was 'OMG' ! Where am I ? I mean no one told me Palolem was supposed to this beautiful . I mean good holiday spot YES. Amazing village in a corner of goa where you wan to get lost and never go back to the reality !!!
After the bus drops you. Everyone goes to the beach through way 1. If you want to live cheaper , take way 2 . There is a small , non commercialized village side walk upto a turning point (do not turn right) . There ask some one for the way to the beach, they will guide you through the huts and cows and hens and cats and pigs. You will arrive at Dreamcatcher . Now this is a great place to live . A 'Gerad' offered me a room for Rs 800 (common bath) . I still wanted inexpensive one , so moved further into the zig zag what they kept calling 'towards the beach' (By the way it was good for the Christmas time !). So anyhow I finally took a hut (Rs 500 for 22 and 23 Dec each ) at a place called Sai Ganesh . It was not directly on the beach , but just 20 steps away and definitely one of the cheapest at the time on the beach (and here I talk only about palolem , not patnem, its 'sister' beach). So took the place.
These were just four huts. The owners were very nice people (the female's name was Wish) and also had a utility shop at the beach. They were very warm and nice people. The man talked about the life when he was just a fisherman, when having the fish he and his father had caught was the biggest pleasure in life ! Now , yes he was earning good , but the beautiful simple life was lost. You could feel from his talking How he longed for that true and un-superficial life.
Ya but the cons were , not very effectively working bathrooms (Jugaad it was !) , no doors at the bahtroom too. But this was enough to make me irritated !
Anyways the beach was beautiful . And I was seeing waves after a looooong time. I observed How the waves are made ... had never done it before. Thanx for making me observe .
So when rupu decided to reach the other day ,(BTW She liked the hut and loved loved the beach !)
Now these few days before the Christmas Palolem was appropriately populated.
Just the right amount of crowd.
Have dinner at those candle lit tables,outside the shacks, facing the beach.
As the night moves on the tides keep on increasing , the waves get higher and higher . And the same table where the waves were a bit distant at 8 o'clock, by the time you end your dinner the waves are almost splashing on your feet ... No words for it .
Two days afterwards on 24th Dec 2010 , the rent increased and we moved to south of Palolem, 'Patnem' , in search of cheaper accommodation and also to evade the increasing tourist (not traveler , mind you !) crowd day by day .
Some more facts:
- further you move away from beach , cheaper options you have , food and accommodation
- a lot of home have per day renting facility, just ask around
- The most Northern and the most Southern ends of the beach are comparatively cheaper. We were at the northern most point
- Scooty/ Dio rates generally remain Rs 250-300 per day. May be cheaper off season. Petrol is approx Rs 56 per liter
- On the southern most point is Patnem . Smaller and quieter and more peaceful .
- buy the 5 liter bottle directly . Rs 55 out of which 20 is deposit. Then afterwards you get it refilled from any shop for 35
- Canoe for Rs 250-300 for an hour(northern most end) (trust me you cant do it more than an hour!). Until of course you are some sort of athlete !
Frequent Searches Leading To This Page:-
Best Tour Packages for Goa, Goa Tour Package for Couple, Best Travel Packages for Goa, Best Goa Trip Packages, Goa Holiday Tour Packages, Top Goa Packages for Family, Goa Honeymoon Packages from Delhi