.......as expected, the nervousness kicked in.
So finally after thinking a lot about I finally got my rucksack up and had to pack and unpack several times before finally carrying all the things set for coming 8 days. The date was set (17th November) and the day had arrived to depart for the most awaited roadtrip of the year....
MEGHALAYA - Here I Come !!!
Being a solo traveller from Mumbai as young as 22 yrs and being a Travel Professional graduate, it was mandatory for me to have a complete research about the destination before I land in there. So after studying the destination in advance from various websites and travel brochures, I finally decided to give it a go for this much awaited trip….
I had booked the return flights (My first flight) well in advance to save on the cost as air fares go higher if you book the flights last moment.
Guwahti is well connected by Railroad and Airways, from Guwahti you can head to Meghalaya where I had planned my entire trip.
So finally after a flight of 3 hrs I reached Guwahti around 10:00 AM. It was a beautiful city nestled between the Brahmaputra river flowing by it side and the mountains kissing it on the other side.
I got a local share cab from the airport along with 2 foreigners who had come to visit the city and the driver dropped me in Guwahti city after a drive of almost 1 hr from the Guwahti Airport. The local drivers usually charge somewhere between 250- 300 INR , but you have plenty of options like local buses which regularly ply from Guwahti airport to Guwahti city (Check at Guwahti airport once you land down for latest updated fares)
So it was time to get this trip started...
(Guwahti- Shillong- Cherrapunji- Dawki- Mawlynnog- Shillong- Guwahti)
Day 1: (Mumbai to Guwahti)
After a drive of 1 hr from Guwahti airport, I reached my hotel in Guwahti (Hotel Prince B). Since my only concern was to have a bed to sleep for the night and a washroom to freshen up, I got this hotel room for a great deal (I will dissect the costing of my trip in in the final phase to help better understand how I managed my expenses). As I arrived in Guwahti, I felt the drop in temperature as being in Mumbai I was used to hot & humid climate and switching to a city where the average temperature in the month of November ranges from 12 degrees to 16 degrees I needed sometime to get acclimatized to the cold climate. My further concern was the meals that I had to manage but it was no big deal as this is the city where you can get meal options for an Indian Thali for as cheap as INR 60 -70 and you can have the most of it. As I had an entire day at leisure I decided to take a walk on the streets after taking some rest and then I headed to pickup my rental bike which I had hired from AWE RIDES . I had rented a Royal Enfield 350 Classic for the entire duration of my trip for 8 days.

Day 2: (Guwahti to Shillong – 99kms)
The day began and it did began very early as I was excited to travel for this much awaited roadtrip. After freshening up at the hotel I tied my rucksack on the pillion seat of my Royal Enfield with Bungee ropes that I had specially bought in for this use as I did not wanted to ride carrying the whole rucksack on my back and leave it soared for the next upcoming days. So after setting it well I embarked on my journey to Shillong…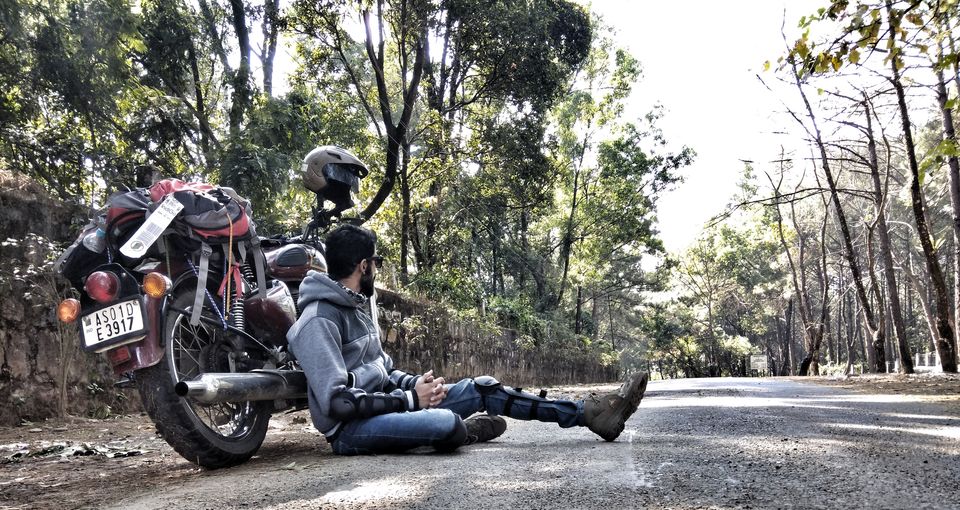 As I started my roadtrip in Meghalaya I stopped to appreciate this beautiful place called Umiam Lake. Umiam Lake (commonly known as Barapani Lake) is a reservoir in the hills 15kms north of Shillong. It was created by damming the Umiam River in the early 1960's. There are various water activities that take place on Umiam Lake (Boat rides, Speed boat, etc). The lake authorities usually charge around INR 50 for a boat ride along with parking charges and you can spend sometime at the lake to click some beautiful pictures alongwith the boat ride…
Catching my breathe as I looked at this beautiful lake as this was the first glimpse of what Meghalaya was awaiting to offer me further on my trip. After driving for a distance for 82 kms this was the perfect place to make a break and appreciate the nature…….
After spending sometime I decided to move further on my journey to Shillong, The Scotland of the East....
After I reached Shillong I freshened up as soon as I could, since I didn't wanted to waste more time being lazy and spending in the hostel itself as it usually gets dark in the North East during Winter months I wanted to explore the city during day time at its best. I quickly set up my belongings in the hostel dormitory (Isabella Hostel) and I set out straight ahead for Ward's Lake which I had heard from the locals that it's a must visit place while you are in Shillong..
The Ward's Lake is well known locally as the Pollock's Lake or Nan Polok. Incidentally This is one of the most important tourist attractions of Shillong and indeed this is the core architectural design element around which the Shillong City has been planned. The lake is rumored to be over a 100 years old. Sir William Ward, the erstwhile Chief Commissioner of Assam first thought up the idea of creating this lake and therefore the lake is named after him. Fitzwilliam Thomas Pollock was a famous engineer in the pre independence era who had a great role in planning/ designing the lake.
There is a bridge over the Ward's Lake that looks straight out of a storybook. It's a nice place to click pictures or you can simply indulge in some 'me time' while feeding the fishes. You will be able to see waddles of geese roaming around in the garden and ducks floating peacefully in the lake. There are big ancient trees inside the garden and the whole place is great for kids as you can teach them a lot about nature here. The bridge opens up into gardens at both sides and there are beautiful fountains in there...
Day 3: (Shillong to Cherrapunji- 54kms)
It had been 2 days so far for the trip and with so much of excitement filled with what there was in the bucket for the next coming days I set out on my way for Cherrapunji- The wettest place on the earth...
I left from Shillong early in the morning to avoid the traffic as the city comes lively during the weekdays and it gets really hard to commute through traffic. So after having breakfast and packing my stuff I set out further to another amazing spot that I had mapped enroute to Cherrapunji was the Elephant Falls. A riding distance of 12.3 kms from Shillong got me to this beautiful Elephant Falls...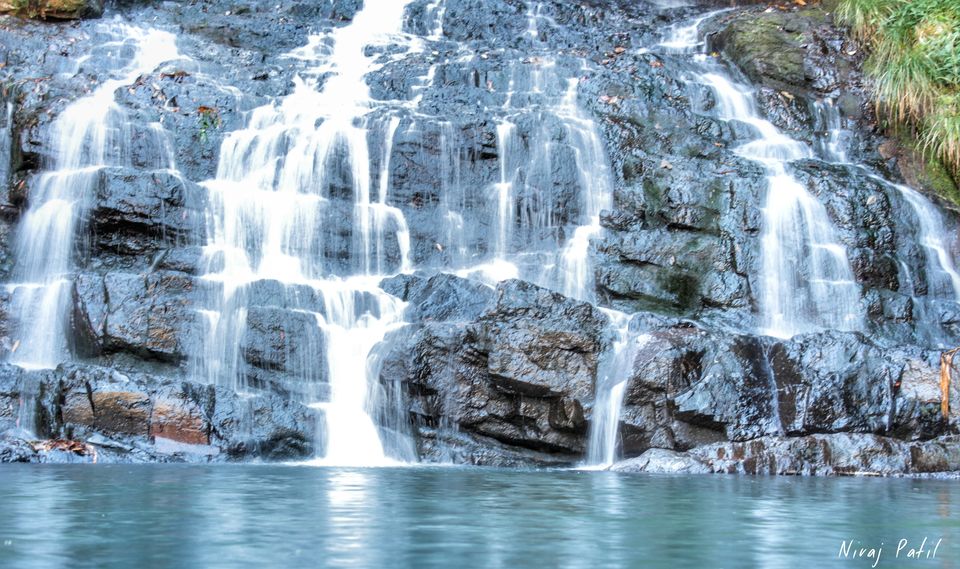 This was so far one of the pristine and divine waterfalls that I had ever seen, the calmness that it gave to the eyes was mesmerizing and the burble of the water made it even more peaceful. After spending few time at the waterfalls I headed on my onward journey to Cherrapunji which was a further ride of 42 kms swaying through the ghats and winding roads of Meghalaya.
So my next pitstop was straight to Cherrapunji where I had planned to keep my luggage in the accommodation that I had booked (Sohra View Lodge- Cherrapunji, Meghalaya) and then move forward to see the Nohkalikai falls.
After having a brief halt of an hour and after having lunch, I headed to see the Nohkalikai Falls which was further 8kms from Sohra Market (Cherrapunji).
And as I reached the spot I was awestruck with the sight that I saw. The height from which the falls dropped down was humongous as I had never seen a waterfall drop from such a great height, (I am pretty sure that the sight must be heavenly in the months of monsoon)
So what got me to this place is the local legend that has an interesting yet bone chilling story behind it…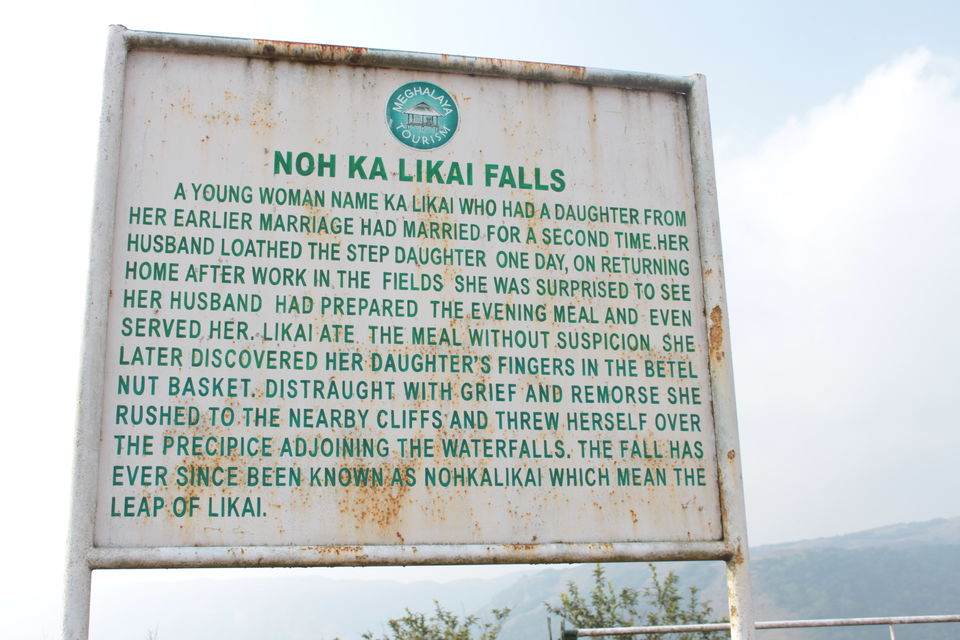 After spending some quite time at the Nohkalikai Falls I headed back to Cherrapunjee (Sohra) again as I had to look for my accommodation for next day as I had planned to head to the Double Decker Living Roots Bridge which is near from Cherrapunjee. So I decided to keep my base at Cherrapunjee and later move ahead to the Roots Bridge from there which is roughly 15kms with not so good road conditions (I recommend to plan as early as possible for this trek as it is much tiring and so that if you finish it early you can get back to the hotel and have proper rest)
Day 4: (Cherrapunjee - Tyrna Village - Cherrapunjee – 24kms)
So the day had come to see the most awaited wonder of mother nature for which I had come all the way to Meghalaya. Yes it was the day to visit the Double Decker Living Roots Bridge and the excitement got me up early. I got my small backpack with me just enough to carry some energy fluids and some chocolates to keep munching while on trek as being an avid trekker I was pretty sure of the challenges faced during the treks. I finally reached Tyrna Village which is the base for Double Decker Living Roots bridge trek and is approximately 12 kms from Cherrapunjee. After reaching Tyrna Village I had my breakfast for as cheap as INR 30 and started my trek. The trek was supposed to be around 3000 steps roughly with 2 suspension bridges on the way before reaching the Roots bridge.
Amidst the dense forests of Meghalaya, lies this amazing wonder in Mother Nature's lap, The Double Decker Living Roots Bridge. The hike really tires you out as it goes all the way up and down 3000 steps but certainly every step counts after you marvel at this amazing creation...
Such an amazing place to sit calmly and just breathe admiring the mother nature in this dense forest....
So if you think the trek was over here, then certainly you are missing out on something more magical which is a further hike of 1.5 hrs . There's 1 more magical place to be explored in this dense forest of Meghalaya's (I recommend if you are not a regular trekker, book a home stay near the Living Roots Bridge for 1 day and then head for this next wonder, the next day).
So a brief halt of 30-45 mins should renergize you to head further to the magical place which is must to be covered if you are coming all the way to Meghalaya...(The Rainbow Falls)
I was hiking for more than about an hour now and the wonder was no where to be seen except the dense forests and the absolute silence that had spread across. At one point I really did decide to get back to where I came from but that was not something trekkers are known for. And finally after a hike of about 1.5 hrs, I got to this amazing place and what I saw was something unbelievable...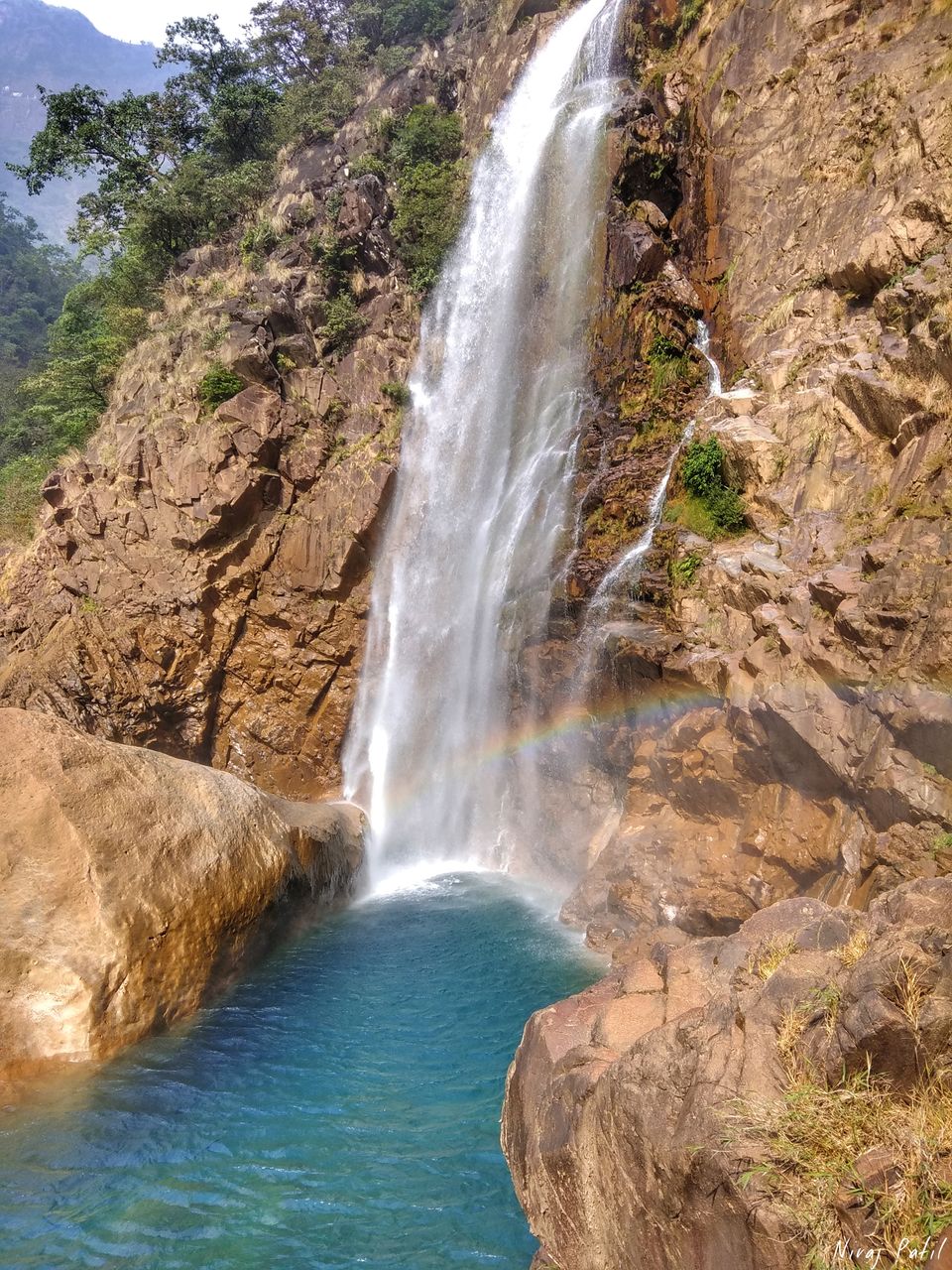 As the name says Rainbow Falls, I indeed got to see the rainbow…..It certainly depends on luck sometimes, if there is enough sunlight to penetrate the water you will surely see the rainbow and luck did favored me for the hike of more than 3 hrs one way. I started my return journey back to Tyrna village which was surely going to be a tiring one but at the same time, the sight that I saw and what mother nature offered me was something much more to be remembered than the tiredness...
And finally after hiking a long trail for almost 7 hrs I reached back to the base Tyrna Village and the proud trekker in me patted within and said YOU MADE IT !!!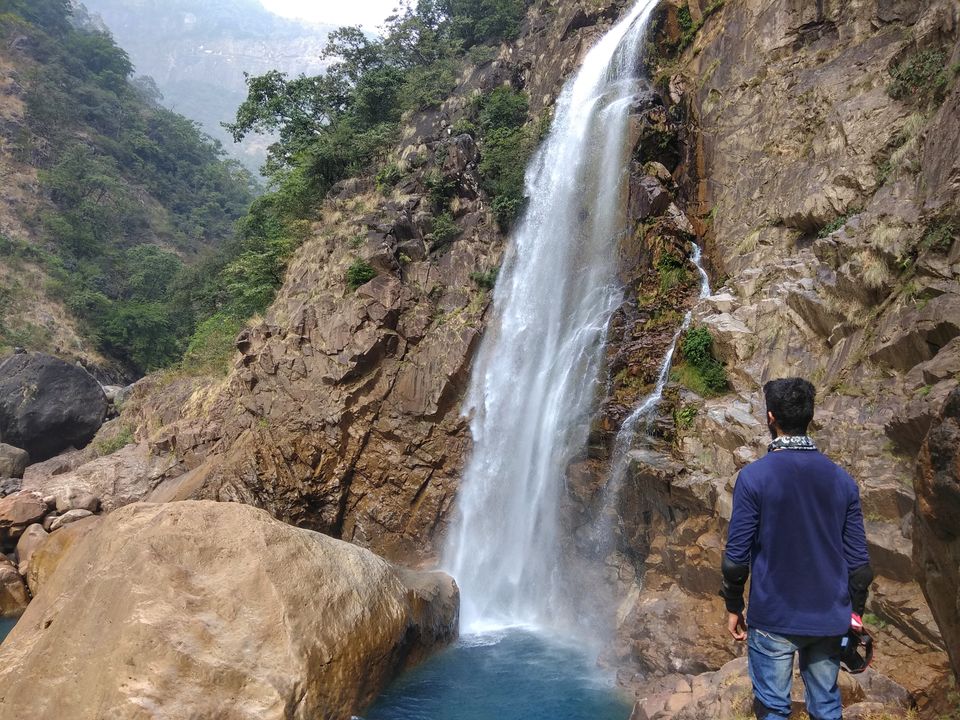 Day 5: Cherrapunji- Dawki- Mawlynnogg - 119kms)
Biding a goodbye to the beautiful town of Cherrapunji I headed on my onward journey to Dawki. It was quite a cold morning with temperatures near to 7 degrees with the morning breeze, it was difficult to ride through the winding ghats in Meghalaya. I literally had to keep touching the engine of my bike wherever I stopped just to get some warmth…..
I had heard about Dawki and also seen some pictures and I decided to see it myself as really is the water so crystal clear??
And Dawki didn't disappoint me in a way...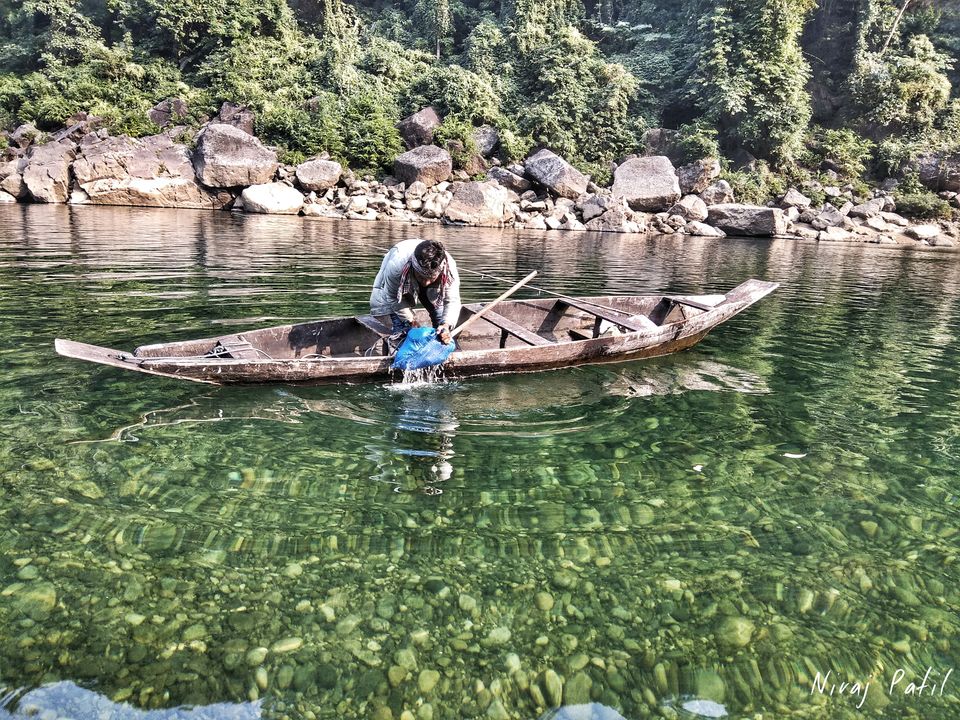 Dawki river is also known as the Umngot river. I reached Dawki at around 01:00 PM and boating is quite famous on this river as this is the border between India and Bangladesh, it is really fun and quite exciting to take a boat ride on the same...
So after negotiating I cracked a deal for INR 350 for a boat ride of 45 mins on the Dawki river sailing on the peaceful waters of the river and admiring the nature. (The local fishermen will boast about higher rates for boat ride as high as 800 INR for a boat ride, but just some subtle art of negotiation could get you a better deal)
So after spending sometime at the Dawki river with some amazing photo opportunities I continued my journey to Mawlynnogg. Mawlynnogg is 35 kms from Dawki river and the ride through highway (NH206) shouldn't take more than 1 hr to get you to the this magical paradise of Asia – Mawlynnogg.
Mawlynnogg lived upto its expectations and I indeed got to know and see why it is called The Cleanest Village of Asia...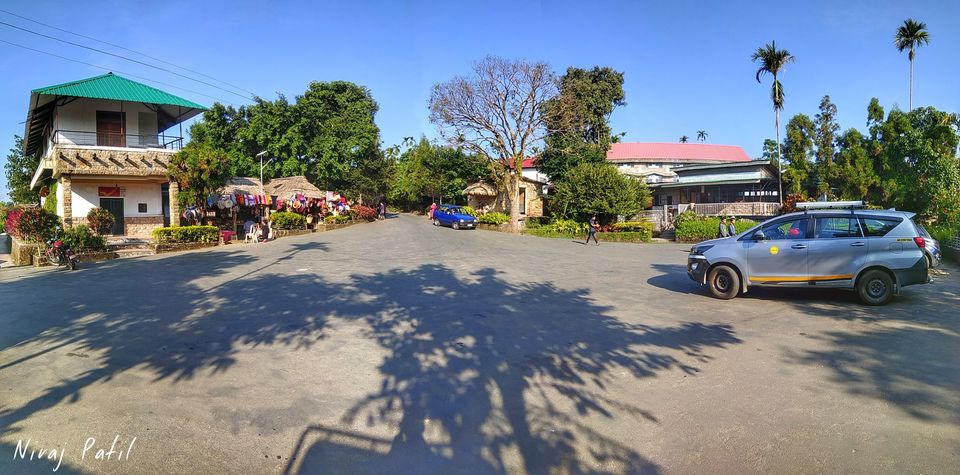 To admire the beauty of Mawlynnogg I got a guesthouse stay which was pretty comfortable and after having my lunch at INR 120 for Indian thali, I headed to take a stroll in the village and I completed my walk in the entire village within just 40 minutes. That's how small and pretty the village is and maybe that's what makes it easy to manage and keep it clean for so many years.
And just to add cherry on the cake I got to spend some time with the local kids from the village who were rehearsing for their Christmas and to my amusement, they were not more than 10 yrs of age. At such a young age these kids had really got great skills to play like a professional band....
That's how I ended my day in this charming village of Mawlynnogg...
Day 6: Mawlynnogg to Shillong (78 kms)
Days flew by rather quickly on this journey and I had completed everything on my checklist what I had marked to see on this trip of Meghalaya. And now it was time to head to Shillong again where I had decided to stay for 2 days to experience the warm hospitability of the North East India...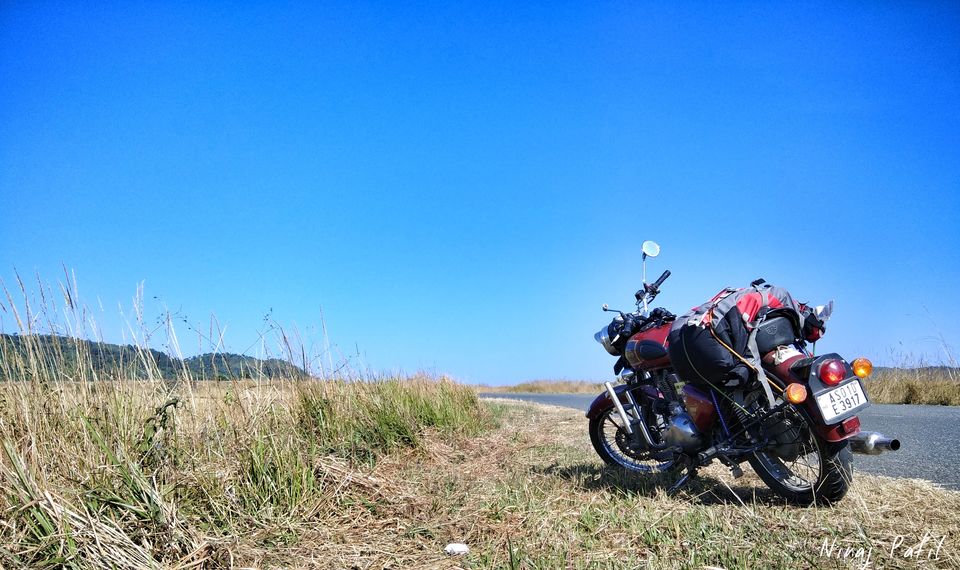 Day 7: Shillong
Final Day of the journey through The Abode Of Clouds and I had to make it a memorable one. And the city didn't disappoint me as I was greeted to the wonderful festival of the local Khasi Tribe – Seng Khih Lang Festival. As I heard the hustle and bustle in the city I headed straight to the main street in Shillong, the Laitumkhrah Road. There was music, there was traditional dance of the tribal people and along with that there was an ocean of people singing along their local folklore with full enthusiasm and energy. I was pretty lucky to have got to witness their celebrations what was a wonderful treat to the eyes.
As my childhood friend had hosted me in this city since she was here since past 4 years, we both made this last day count by visiting most of the spots in Shillong and finally the Gurudwara in the afternoon as it was Guru Purab we were blessed to have been at the right place at the right time. Since it was my wish to have food in Langar since so long, it indeed got completed in the heart of Meghalaya.
A perfect ending for this trip....
Day 8: Shillong to Guwahti (99kms)
As I bid a final adieu to the Abode Of Clouds, travelling right from its heart Shillong all the way upto Khasi Hills travelling for more than 700 kms on a bike, the journey was breathtaking.
I gave my everything and Meghalaya offered me everything that it had to offer. It was a mesmerizing trip in all filled with adrenaline and adventure worth remembering for a lifetime...
MEGHALAYA – YOU WERE AMAZING !!!
My expense list for the entire trip:
•Return flights (BOM-GAU-BOM) : 14166 INR
•Guwahti Hotel Stay : 560 INR (Per night)
•Shillong Hostel Stay : 400 INR (Per night)
•Cherrapunji Lodge Stay : 980 INR (Per night)
•Cherrapunji guesthouse Stay : 1000 INR (Per night)
•Mawlynnogg guesthouse stay : 1200 INR (Per night)
•Shillong Hotel Stay : 1965 INR (2 night stay)
•Meals for all 8 Days : 1170 INR (Including Breakfast, lunch and dinner)
•Entry tickets for all spots : 250 INR (For all the spots that I covered)
•Bike Rental for 8 Days : 6500 INR
•Bike fuel for the entire trip : 1063 (Returned the bike with more than 2 litres petrol still
in tank)
TOTAL EXPENSES : 29254 INR
So that's how I summed up my trip with spending less than 30K for an entire 8 days in the Abode Of Clouds with some amazing memories to cherish for a lifetime……
Do drop in your comments and suggestions for the improvisations in my next post….
Till then keep travelling, keep exploring !!!