Whenever Teesta river has been in news, it is mostly because of the ongoing water sharing disputes around it with our neighbour, Bangladesh. This 414km river, originating from the jewel of Northeast, Sikkim, never got the fame it rightly deserved within the travelling community of India. Flowing through the length of Sikkim, the river is a lifeline of the people. It comes into existence from Pauhunri Glacier near Khangchung lake, gushes down the Himalayan mountains of Sikkim, goes through West Bengal before entering Bangladesh and finally merging into Brahmaputra.
Teesta makes an incredible journey through the heart of Sikkim, giving travellers a chance to witness the stunning landscape around it. Here, I have mapped out an epic road trip which will take you through the journey of this river.
The Route
Total distance covered: 223km
Time taken: 5 days
Suggested route: Gangtok – Kalimpong – Darjeeling – Siliguri – Jalpaiguri
The journey begins from Gangtok, which is well connected with the rest of the country by road and air.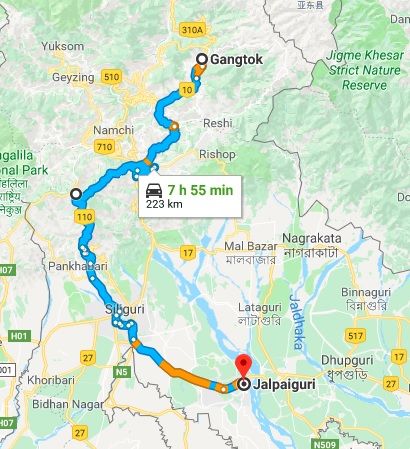 Best time to take this road trip
The ideal time would be to go in the months of March-April, the winter is just over and its not too hot. You can still witness the snow covered peaks and the river is at its full flow.
Itinerary
Gangtok has a literal meaning - 'hilltop' and one wouldn't be wrong to call it one of the most beautiful hill stations in India. Gangtok also serves as base to a lot of trekkers who want to explore the eastern Himalayas. On a clear day you can actually get a distant view of Kanchenchunga from Gangtok.
Top Experiences: Sikkim is home to a lot of monasteries and stupas. The top places to visit in Gangtok are Enchey monastery, Rumtek monastery, Tsomgo Lake, Ban Jhakri falls and Tashi viewpoint.
Where to stay: There are a number a number of hotels and guesthouses are available to stay in Gangtok. Summit Norling Resort & Spa, The Golden Crest and Orange Village Resort are some great options.
Click here for a complete guide to Gangtok
Kalimpong is a town on the border of Sikkim and West Bengal. The first thing you will notice here is the peaceful atmosphere and with the presence of monasteries all across the town, makes it a very spiritual experience. It is famous for local handicrafts, orchids and nurseries. You can also experience whitewater rafting in Teesta river while in Kalimpong.
Time on the road: 3 hours
Distance: 75km
Top Experiences: Visit the beautiful the Tharpa Choeling Gompa, the Tongsa, go for shopping in the local markets and visit Melli for a whitewater rafting experience.
Where to stay: Garden Reach Hotel, Windsongs and The Silk Route Retreat are some great options to stay in Kalimpong.
Click here for a complete guide to Kalimpong
Also known as queen of hills, Darjeeling used to be the summer retreat for the British during British Raj. This land of tea gardens is a perfect place for people looking for harmony with nature. You can also enjoy a once in a lifetime experience on the toy train.
Time on the road: 2.5 hours
Distance: 50km
Top Experiences: Visit the Tibetan Buddhist monastery, Japanese Peace Pagoda, Dhirdham temple, the beautiful tea garden and a ride in the famous toy train.
Where to stay: Little Tibet Resort, Magnolia Residency and Central Nirvana Resort are some good options. Also there are options to stay in tea estates, if you are looking for a different experience.
Click here for a complete guide to Darjeeling.
Siliguri,also known as the gateway to Northeast, is a hub of educational institutes. Home to two national parks, Jaldapara National Park and North Bengal Wild Animals Park, Siliguri mostly serves as a stopping point for people going farther Northeast. But it itself has a lot to offer for the travellers visiting here. If you are a shopping enthusiast, this place is perfect for you to shop for stuff from Bhutan and other northeastern states.
Time on the road: 2.5 hours
Distance: 62km
Top Experiences: Go on a Bengal safari in the North Bengal Wild Animals Park, go shopping,
Where to stay: Sinclairs Siliguri and Club Montana Vista
Jalpaiguri is town with endless tea gardens, rice farm, hill covered with green bushes and numerous streams. Jalpaiguri is the land with great potential for tourism but it is yet to be explored by the travellers. Most of the floodplains of Teesta river lies in Jalpaiguri, which make this place rich in flora.
Time on the road: 2 hours
Distance: 52km
Top Experiences: Visit Dooars, Buxar Tiger reserve, Gorumara forest and Buxa fort.
Where to stay: The Tusker Den, Hribhur Sharaban Resort and Banante Resort are some great options to stay in Jalpaiguri.
Click here for a complete guide to Jalpaiguir.
Would you dare to take this epic road trip? You could also tell us about your favourite road trip so far by writing about it on Tripoto.
Also, check out Tripoto's YouTube channel for some amazing travel videos and inspiration!
Frequent searches leading to this page:-
darjeeling sikkim gangtok tour, gangtok pelling tour, kesari tours sikkim gangtok darjeeling, delhi to gangtok package, gangtok travel package, gangtok holidays, sikkim gangtok darjeeling trip, veena world sikkim darjeeling gangtok package, gangtok sightseeing cost, darjeeling gangtok tour plan, darjeeling gangtok lachung tour package, teesta river and its tributaries