You know that dream which you've had forever, you always thought it would never come true, only because you've had it for so long and it always seemed so distant. Well, somethings in life are just meant to be. When that dream does come true, you have this constant feeling "No way, this cannot be true!" :D
This is exactly what I went through when I finally began the most awaited trip of my life, yet. After years of dreaming, months of planning and days of shopping, we were finally off to the Land of High Passes by road from Bengaluru on our bikes! A journey spanning 10 states over a period of 21 days… Dreams do come true!
My other half once said "Let's wake up in a new city every day!" And I said "Let's do it!" ;)
Although, this article or the pictures are going to do absolutely no justice to what we experienced, I hope it inspires you to take up such journeys to experience the varied landscapes that India has to offer, to taste a different cuisine every day, to learn a new language every day!
DAY 1:
Bangalore – Satara (730 kms):
I couldn't sleep all night, heart brimming with excitement. Before I knew it, my alarm was ringing and it was time to wake up. We all got dressed, loaded the saddle bags and rucksacks on to our bikes (Thank you bungee cords), geared up, bid goodbyes and we were off.! :)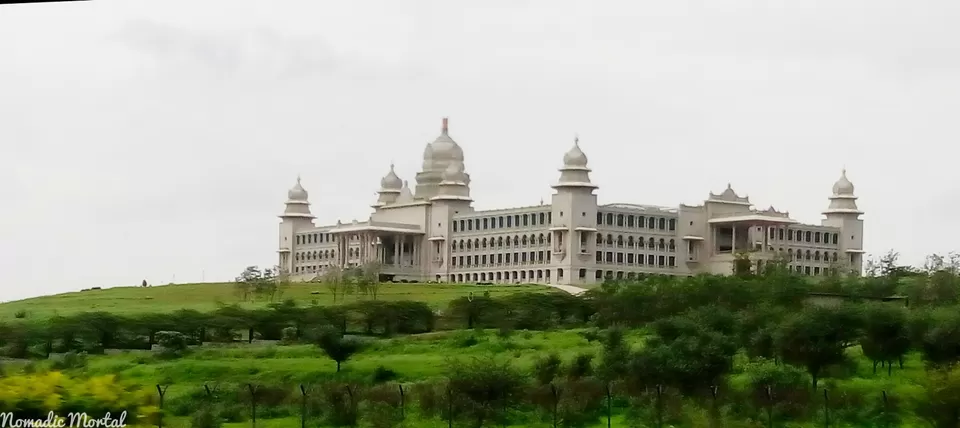 We took the NH4 towards Pune. This was a great stretch of road and it was such a pleasure to ride on. About an hour or so after we started the ride, it started raining, albeit lightly. We did, however, pull out our rain coats and covered the bags with tarpaulin. We had a pretty good start and we crossed Chitradurga by 8AM. NH4, to my surprise, had very few fuel stations and even fewer restaurants up till Belagavi. Our breakfast stop was at Davangere to eat the ever famous Benne Dosa. But to my utter disappointment, we couldn't find any restaurant on the highway making dosas. :(
After filling up and stretching out, we were on our way again. The road was dotted with wind mills in the far distance. A drizzle here and there, a tiny rainbow playing hide and seek with the clouds, the cool breeze and the open road… What more could one ask for.!
We faced a puncture soon after with one of the KTM Dukes and got delayed quite a bit. After a scrumptious lunch at a road side Dhaba, we finally reached Belagavi around 4PM. The 'Oh so beautiful magic' that Monsoons create in the Western Ghats is vividly visible everywhere. I was in love with the brightest neon green that made up a majority of the scenery. <3 We soon crossed over to Maharashtra, our second state in this epic journey! The roads from here kept getting consistently worse; they were undergoing some major maintenance work, which was a hinder to our speed.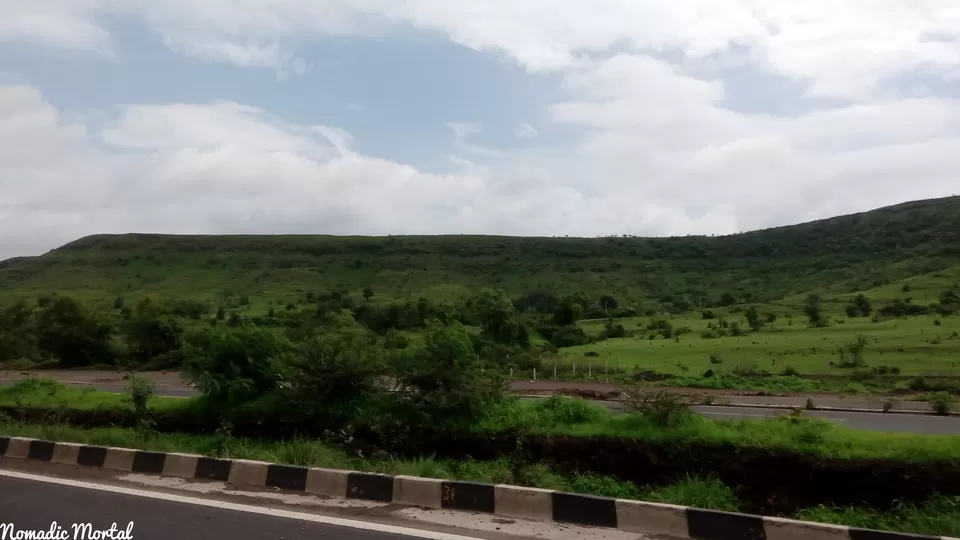 Our initial target for the day was Pune (845 kms from Bangalore), but since we got delayed and we didn't want to ride through the night, we decided to stay at a place called Satara. Pune was still a good 100 kms away. After a bit of hunting, we found a decent hotel right on the highway and we were settled in. I slept like a baby that night!
Day 1 Stay: Hotel Mahindra Executive, Satara
Pros: Decent Staff. Good Food. Right on the highway.
Cons: Small rooms. Slightly pricy.
Few Pointers: Start as early as you can. Make note that you need time to pack the luggage onto the bikes. Always keep spare bungee cords. Also thoroughly wrap your luggage with tarpaulin. NH4 has relatively fewer fuel stations, so keep this in mind when you're running low. The hotels in Satara have something called permit rooms, which people rent to host alcohol parties. This can get pretty ugly with an unruly crowd. So please check thoroughly before you zero in.
DAY 2:
Satara – Mumbai (270 kms):
We were all pretty beat from riding all day long, so we slept in even though we had planned to leave early. After having some yum MisalPav andPoha for breakfast, we were ready to leave by 9AM. Now we had the horrendous task of loading the luggage and wrapping it with tarpaulin. It was only Day 2 and I was already fed up with the wrapping and unwrapping of tarpaulin. It is such a tedious task.
Anyway, we finally managed to leave by 10AM. The road from here is great, and the view is out of this world. The route is surrounded by the Western Ghats. This beauty is mesmerizing all year round, but during the monsoons she has an outer worldly charm. Serene, calm and soothing. What a refreshing start to the day.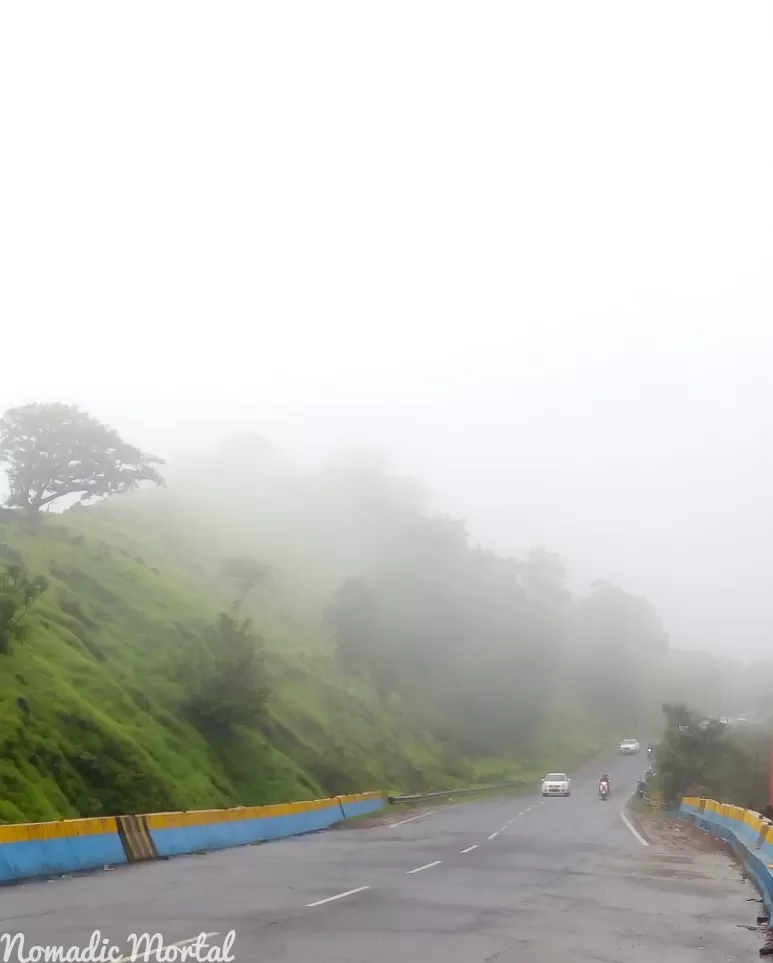 Soon enough we were in Pune, stopped over for a piping hot chai and off we were to ride through Khandala during the peak monsoons (Always been on the wish list – Yeyy!). Two wheelers are not allowed on the Mumbai Pune Expressway and so we had to take the Old Mumbai Pune Highway. This road is an undivided two lane road and passes through some of the touristy places like Khandala, Lonavala and Kamshet. So naturally, this road was bound to be crowded and plus it was a Sunday. We hit traffic near Khandala and since it was practically not moving, we decided to have lunch. PavBhaji, Dal Khichdi and PooriSabji was on the menu. Mouth Watering! :P We also shopped for some famous Chikkis. Do try the Blackcurrant Chikki – it was super tasty.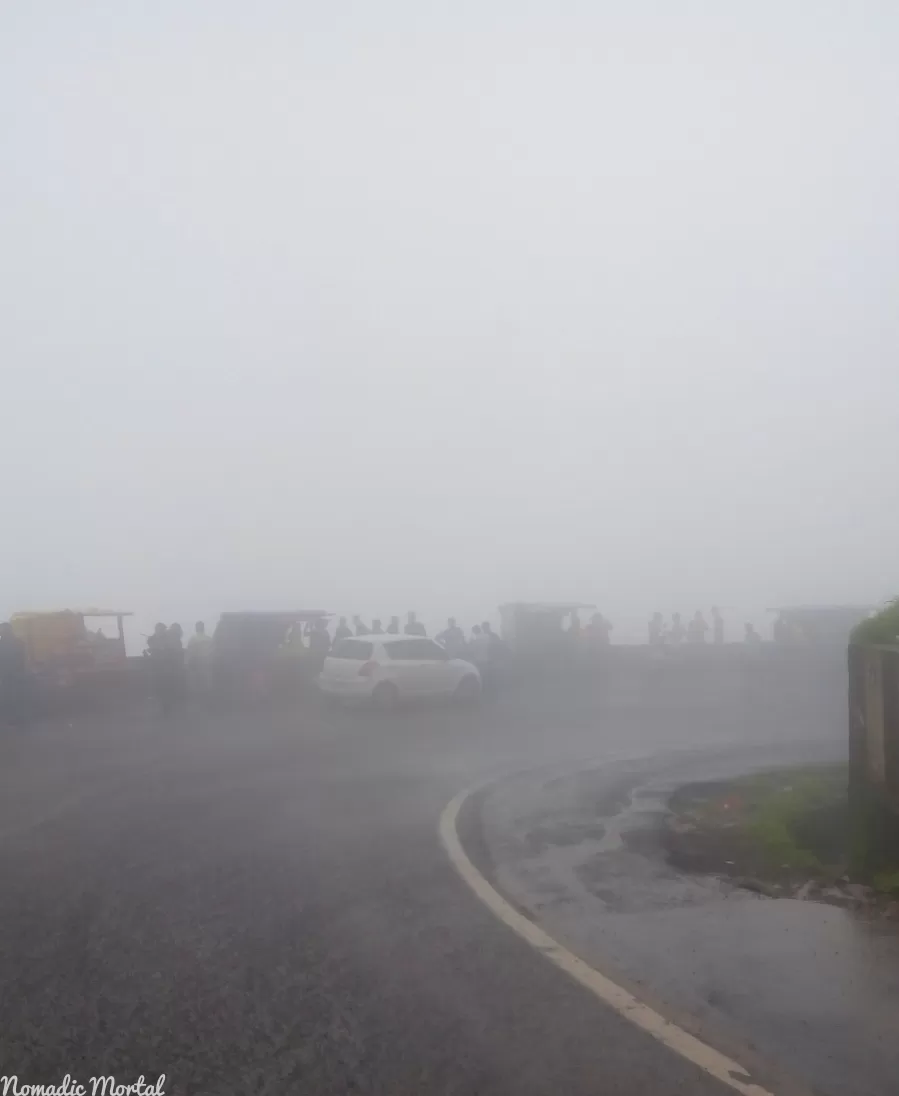 By now the traffic had eased up a bit and so we started towards Mumbai. The weather had taken a drastic turn and suddenly there was fog everywhere. Visibility was reduced to 100m and it had started drizzling. I was elated, Khandala had presented itself in all its glory to us. The rain was toying with us with bouts of heavy showers and random clear skies. But all in all it was such a delight to ride that day. We reached Mumbai by 5PM and choose to ride till Thane to find our stay. We went out to meet a couple of friends for dinner and it was almost 2AM when we returned to the comforts of the bed.
Day 2 Stay: Hotel Sagar Lodge, Thane
Pros: Good Staff. Right on the highway. Spacious Rooms.
Cons: A really loud restaurant next door.
Few Pointers: Keep your rain coat handy. I had a rain poncho from Decathlon, but it was too windy on the bike to wear a poncho. So I got a rain jacket at the Decathlon in Mumbai. I also got a rain cover for my luggage. Like I said, I was already fed up with the tarpaulin, and the rain cover made life so easy. I just had to pull it over the luggage and I was all set to go.
DAY 3:
Mumbai – Himmatnagar (550 kms):
It had been raining all night and the weather was gloomy. We had decided to start late since we all slept late. It was around 10:30AM when we were back on the road. Hardly 40 kms from the hotel and it starts to pour cats and dogs. We decided we didn't want to get delayed and so we rode through the rain. Despite being water-resistant, our shoes were drenched and the icky wet feet is the worst feeling while riding.But nevertheless, it was a pleasure to ride since the roads were fantastic. The Mumbai – Ahmedabad Highway or NH8 is one of the best stretch of roads this Country has to offer. We soon crossed over to Gujarat, our third state in this epic journey! We were slowly falling in love with the road, roads that we would call home for the next couple of days.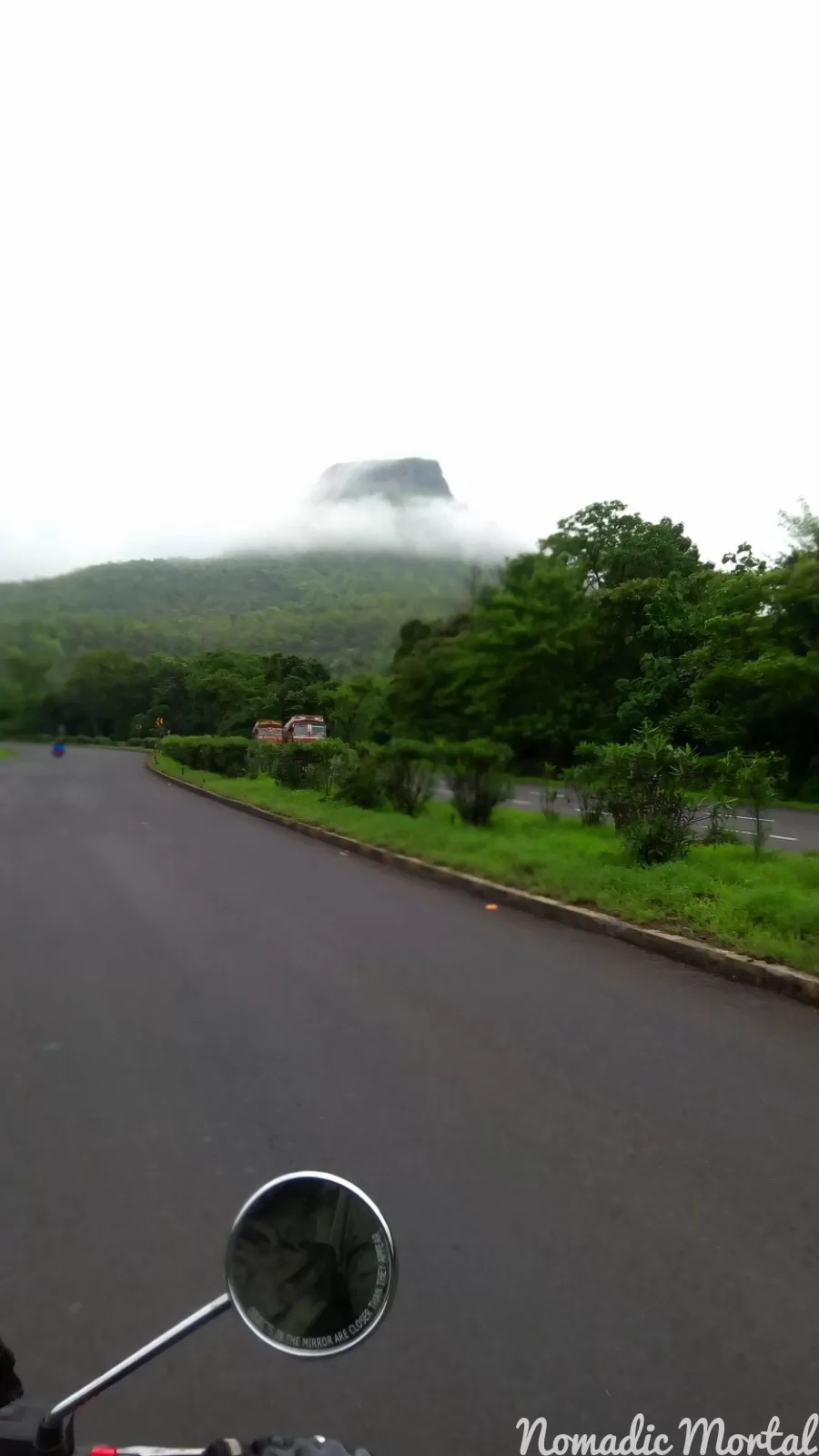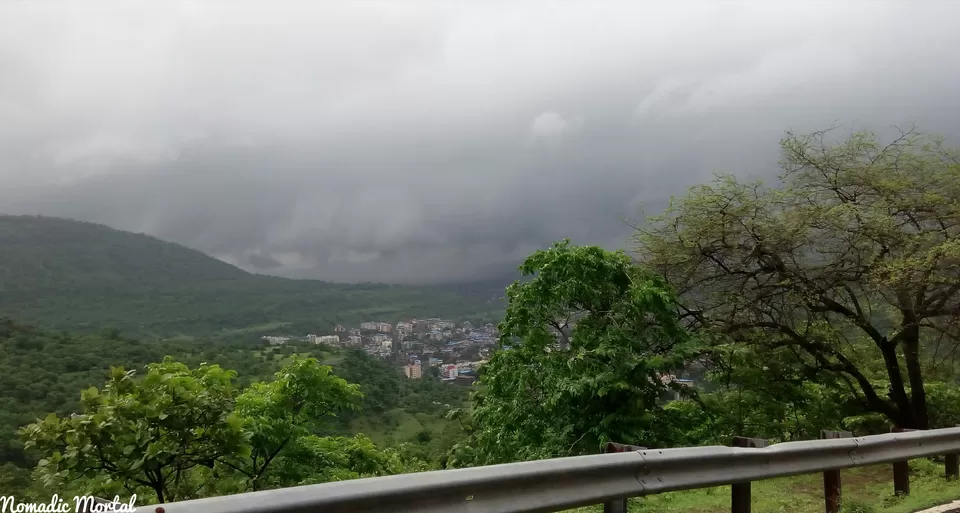 It was 9PM when we reached the Ahmedabad Bypass. We still had about 70 kms to go for our destination. We were all exhausted and hungry. About 30 kms before Himmatnagar, we came across a decent looking hotel and decided to shed there for the day. We had a large Gujarati Thali for dinner, completely satiated. We then unloaded the bags and went on to our respective rooms. The room was huge but to our utter dismay, the bed was filled with bed bugs. I couldn't imagine anything worse. We contemplated leaving for Himmatnagar, but it was already 11:30PM by now, and we had no option. We asked for another room (Thankfully didn't have any bugs) and all 5 of us bunked on one bed that night. After such a long and tiring day, we didn't even have the energy to argue with the owner.
Day 3 Stay: Hotel Maharaja, Chandrala, Himmatnagar.
Pros: Absolutely Nothing.
Cons: Everything! Seriously? Bed Bugs? Are you kidding me?
Few Pointers: There a lot of tolls on this highway. Keep this expenditure in mind if you are taking a 4 wheeler. 2 wheelers are exempted.
DAY 4:
Himmatnagar – Udaipur (220 kms):
We couldn't wait to get out of that hotel and so we were all up and ready by 7AM. It was a pleasant day and a cool breeze cheered us all up. But as luck would have it, we had just crossed Himmatnagar when one of the bikes, a Royal Enfield Bullet, broke down. Apparently the bearing of the rear wheel had worn out and hence the rear wheel was wobbling out of control. Now we were stuck in the middle of nowhere, with no one around to help. Some of us went further to get a mechanic from the next town while some of us stayed back with the bike. Out of nowhere, this gentleman on a Himalayan, comes and stops in front of us. He introduces himself as the Manager of Royal Enfield Showroom in Himmatnagar. We were like 'Oh god! Thank you!' It so happened that he was on his way to one of the camps set up by RE with his team and he happened to see that we were in trouble. Mr. Solanki and his men helped us completely after that. Towed the vehicle till the next town, removed the rear wheel, fixed the bearing and made sure the bike was running smoothly. They didn't even charge us a penny for this kind service. He just said, I love passionate bikers like you all and I'm just glad I could help in some way. Massive respect for this man and for Royal Enfield. Customer service taken to another level. <3
After the bike was fixed and we bid adieu to Mr. Solanki and the hundreds of villagers that had gathered, we were on our way to Rajasthan, our fourth state in this epic journey! Udaipur has been a dream since ever and I couldn't believe we were going to be there tonight!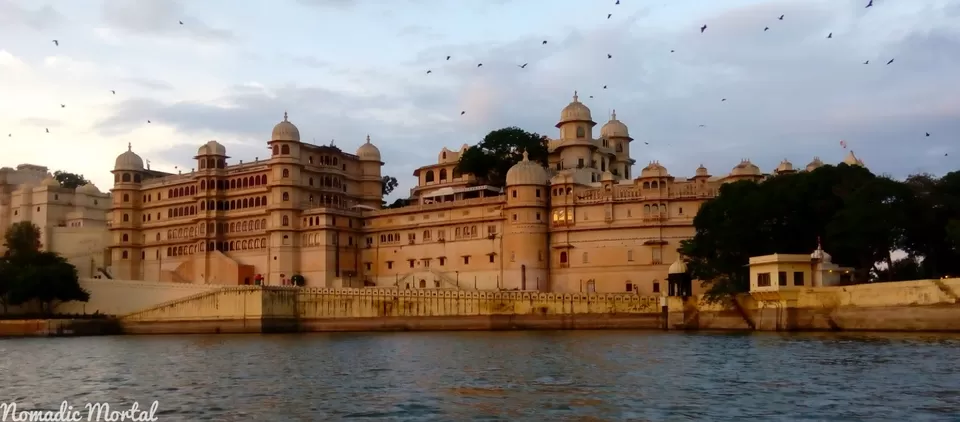 We reached Udaipur around 1PM and checked into our cute little hotel near Hanuman Ghat. We quickly headed over to the City Palace. This Palace was built in the 16th Century over a period of 300 years, it effortlessly blends Rajasthani and Mughal Architecture. Everything about this vibrant city screams grandeur and the icing on the cake is this beautiful Palace. We were spellbound and spent about 2 hours exploring it. The museums inside have so many antiques on display, you get transported to another era. You honestly lose track of time and you'll love it.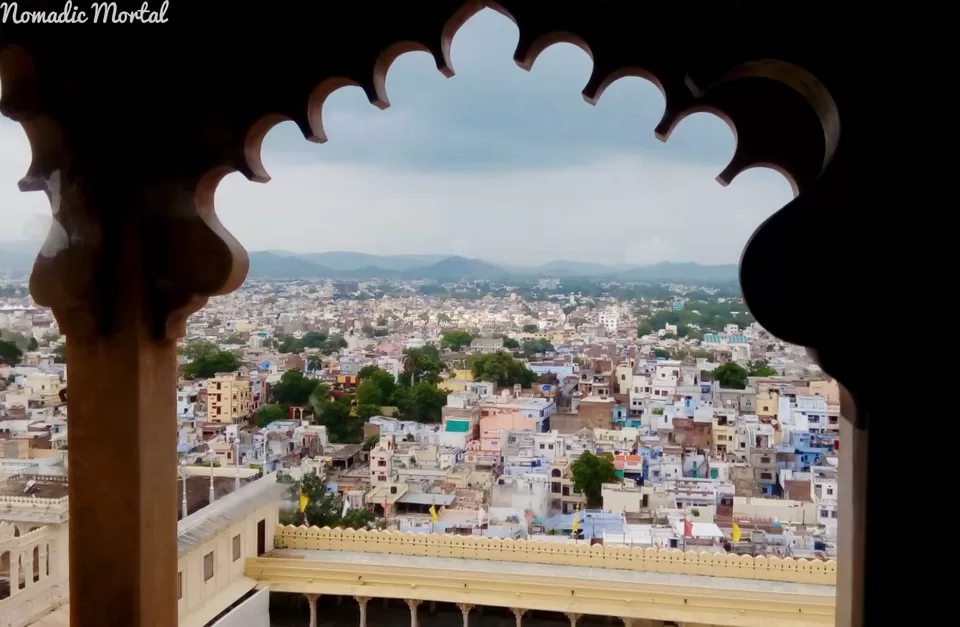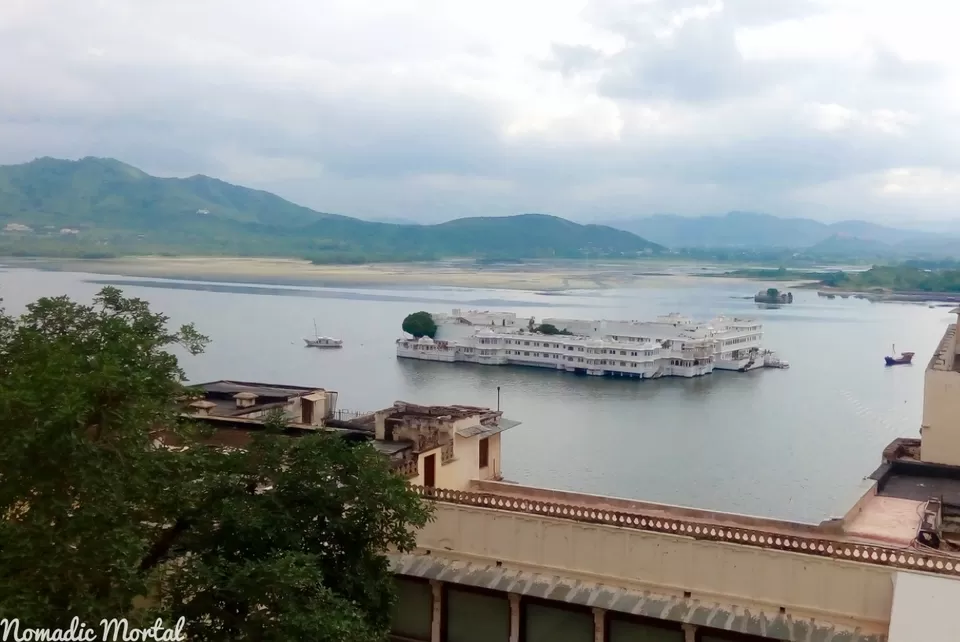 We then headed towards the many by-lanes around the Palace with tiny shops selling loads of souvenirs. I picked up a bunch of huge jhumkas, some handmade paper books, some more jewellery and of course a Rajasthani Saree for Mommy Love.
After a quick bite at Rathore restaurant(Brilliant paranthas), we were off to see the sunset over the majestic Lake Pichola. This lake is so much more than what you've seen in pictures. It was the perfect time for a ride on the lake. As you stand on the pier and wait for your boat, you realize why this city is called the City of Palaces. There is a Palace every which way you turn. The boat ride lasts for 20 min and takes you around the lake where you can get a closer view of the Taj Lake Palace, The Oberoi Udaivilas, The Leela and The Jag Mandir. You also get a panoramic view of the City Palace. In the far distance, you can catch a glimpse of the Sajjangarh Fort. As the sun sets, all these monumental Palaces come alive with twinkling lights adding to their beauty.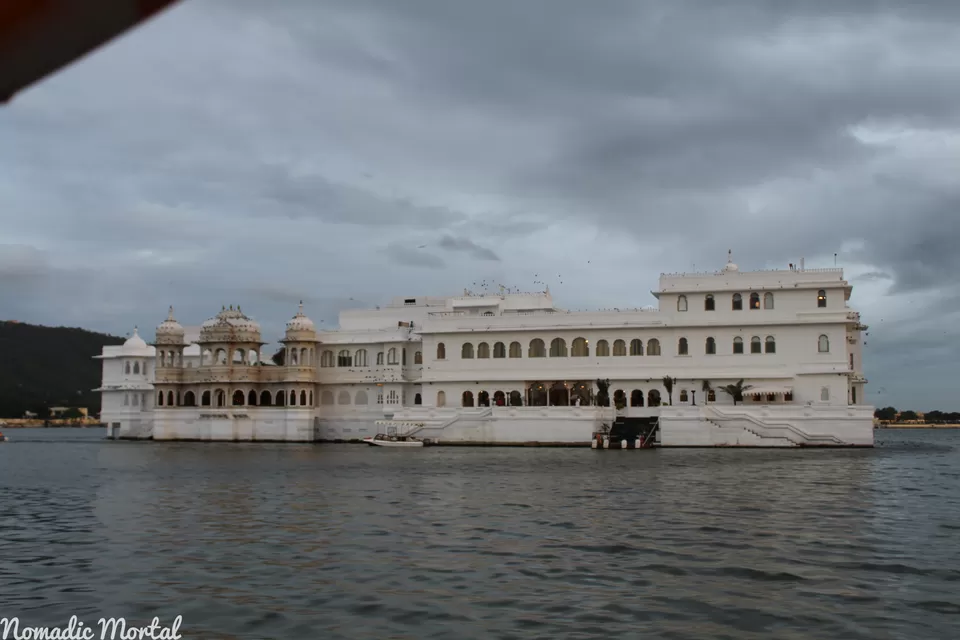 We just sat by the lake, not talking, just admiring the marvelous sight. It happened to be a full moon night, accentuating the old world charm of the lake. Spellbound!
Day 4 Stay: Little Price Heritage Home, Udaipur
Pros: Beautiful Property. Old World Charm. Excellent Staff. Rooftop Café.
Cons: Small rooms. Hard to locate.
Few Pointers: Keep a list of phone numbers of all the nearby authorized service centers, you never know when you may need it. Udaipur is a city that requires at least 2 days. The Entrance Fee to the Palace is 250 Rs/person. The camera is charged at 250 Rs extra. The Palace is open from 9AM to 5:30PM. Mind you last ticket is sold at 4:30PM. A Light and Sound show is conducted every evening which is worth a visit. The Boat ride cost us 125 Rs/person. You can include leather items like bags and chappals in your shopping list. Also famous are the vibrant Bandhani Skirts and Dupattas. Do visit JMB for mouthwatering PyaazKachori and Jalebi.
Udaipur is truly a romantic city and I can't wait to get back there. It was hard to bid adieu to a place which I've waited so long to see, but our journey had to continue. The final destination was yet to be conquered.!
Straight roads do not make skillful drivers.
– Paulo Coelho
This trip was first published on Nomadic Mortal.