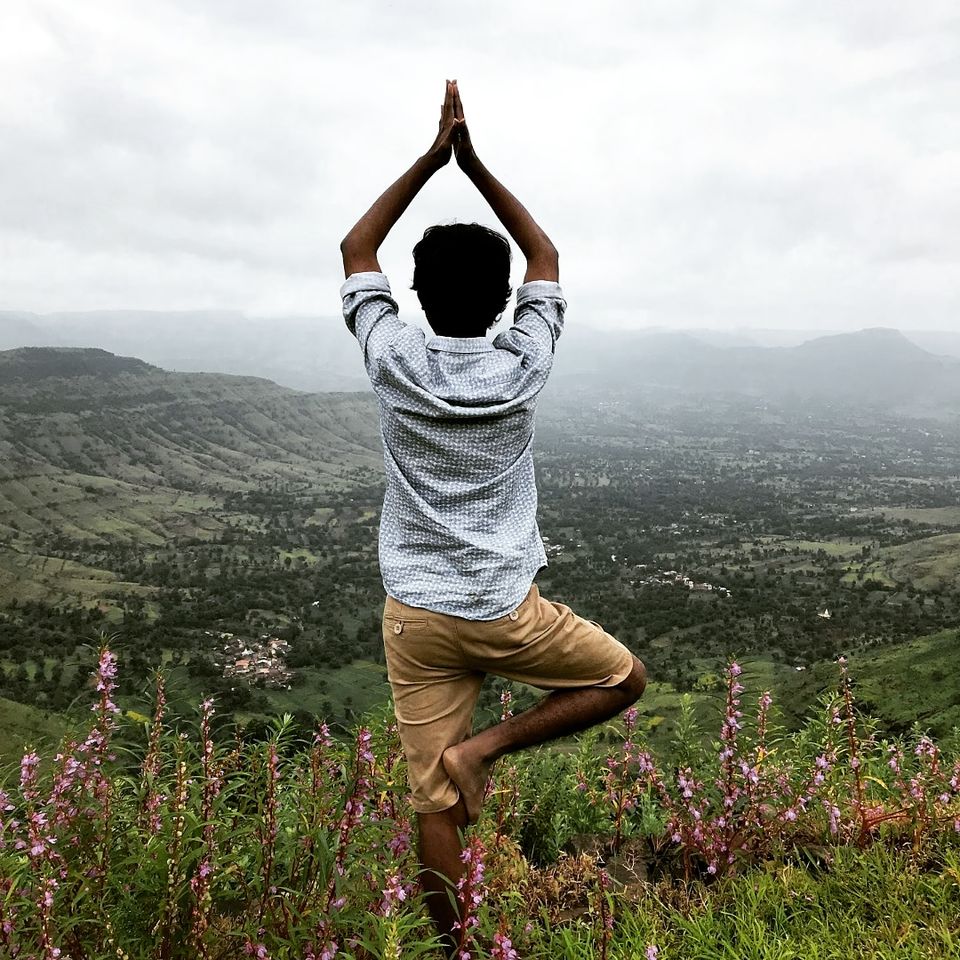 It was just another lazy night for me when I heard a knock on my door.
I opened to see that one of my seniors had come to visit me and asked me if he could borrow my rucksack. So I gave my rucksack to him and he told me, he and his friends were planning to visit 'Spiti' and also asked me if I wanted to tag along. So I said 'yes' without any hesitation. And to be honest, I wasn't very familiar with the other people coming along, but I really wanted to get out of this lousy room of mine. After a while, he left and I called up my dad to discuss about this trip and the arrangement of money.
I was so excited that I was going to go on a vacation and I started packing, that's when my dad calls me again to tell me that the rest of the family members aren't very comfortable and he said he was really sorry about it. But, I didn't let out any emotions on my face and told him that it was fine. As soon as he left, I fell on my bed. I was really disturbed by this situation and was way too sad about it. I knew I had to do something and I thought maybe I could go alone? Was it a good idea or a bad idea? I didn't even care. At that moment, I knew what I had to do. So, I sprung out of my bed, packed my bag full of essentials and got ready. I was terrified to go alone, but I already made up my mind and I knew this was a "Now or Never situation". I wasn't sure where I was going, all I knew was, I had to get out of Bhopal that's it.
On the way to the railway station, I could finally cut down my long list to two kinds of places- beaches and mountains. I looked here and there, flipped a coin, had an Instagram poll and still, I was utterly confused. That's when an idea hit me, "Let the next train on this platform decide for me". So I waited and within a few moments, the train to Delhi had arrived. "So, mountains it is" I said to myself. Soon, I hopped inside the train and sat on my seat.
The train started moving in a couple of minutes. I looked out of the window and wondered "Is this the right decision? Will I ever regret it? What if I feel extremely lonely?". All these questions kept popping up and sending me some kind of signs that I should go back. Nevertheless, i fell asleep thinking about it.
It was 9 AM in the morning and I woke up to see if I reached Delhi or not. So, I gathered my stuff and stood near the door wondering if this was going to be a big mistake or if I am finally going to have the time of my life.
The train started to slow down and my heart was thumping really fast. While getting off the train, I said to myself this is it, there is no going back for now and I sat on the platform, drinking my cup of good old chai and trying to pick a place to freshen up and then it suddenly occurred to me, that I can visit my childhood friend Gopi. Oh crap! you caught me.
Gopi is just an acquaintance of mine and we talked once or twice, but I needed to clean up So I called him anyway. He welcomed me into his mess and invited me into his room with open arms. Later, I took a long and relaxing shower trying to make up my mind. "What now"? "Where am I supposed to go now"? "Oh god! Why am I so clueless all the time"?. I decided to google for help. I always wanted to stay in a zostel, call it an obsession, I really like to stay at a zostel whenever possible.
While checking for places with zostels.
"MANALI"!!! I screamed in my head.
Okay so here it goes:
MOUNTAINS- check.
ZOSTEL- check.
It was the perfect destination.
Later, I booked the zostel and a bus to Manali immediately. I got into a cab and got off at a bus station and while checking for my bus number, my phone got switched off.
Oh, and another thing; I was traveling with a broken phone and my phone probably hated me for that one time, when it accidentally slipped off my hand. So, since then it had a mind of its own and decided that, it should stop working. And the phone got switched off exactly when I needed it the most. I flipped. I cannot recollect the bus number and I was running around trying to find my bus and to my bad luck, there were so many buses which confused me so much that, I was about to have a breakdown. Later a bus driver confirmed to me that, the bus on the right was the one I was looking for. I was so thanked him so much to that saint the almighty and got onto the bus and sat on my seat. My thoughts started haunting me again like:
"It's going to be exciting, I know, but, what if it isn't?" I know it's frustrating to read the same thing over and over again. Trust me, I was frustrated by myself but, what am I supposed to do? I was doing something so out of my comfort zone.
Some of you might be thinking that it's just a trip and get over it. But, for a lonely introvert like me who doesn't ever get off from his bed, this was a huge deal. I had stepped out of a safe haven and I was finally about to do something exciting for the first time. All the hauntings for a second, made me want to get off the bus but, later I made up my mind.
"Nope! you can't make me get off". My heart was ready but, my mind wasn't, or so I thought.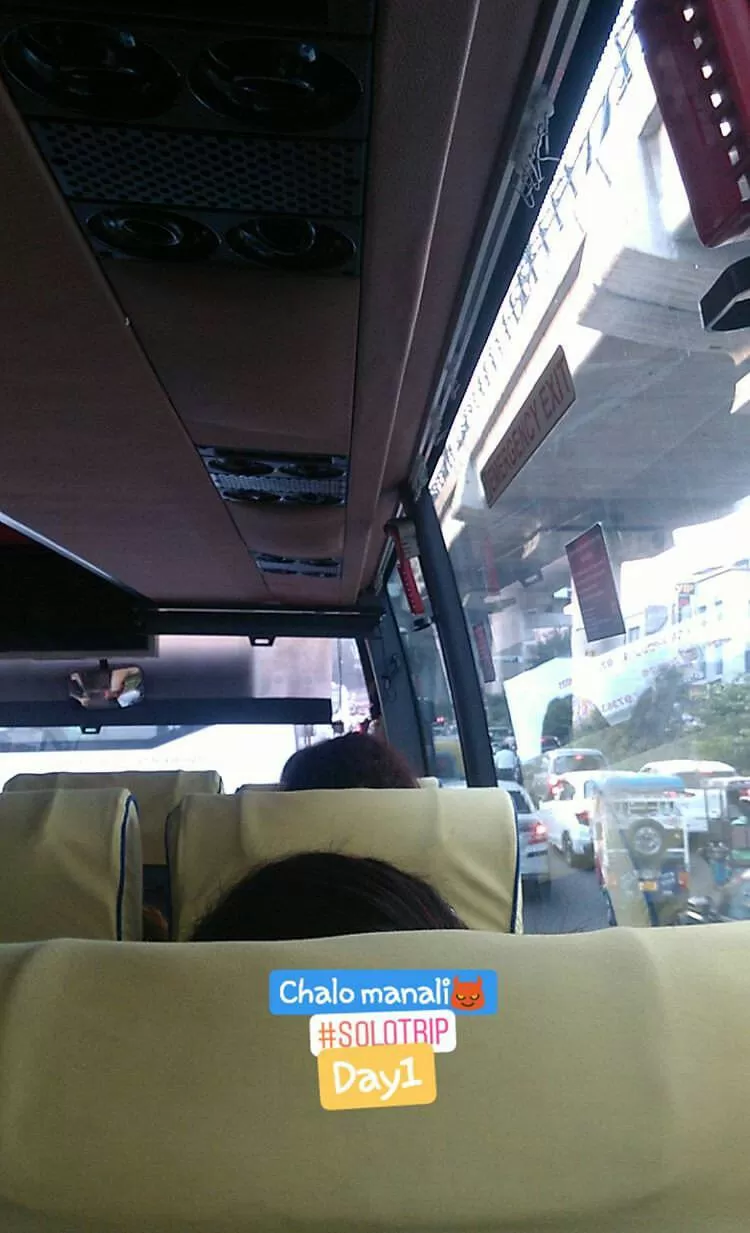 The bus started moving and I slowly dozed off to sleep. A loud noise woke me up. When I looked out of the window, the driver told me that, we had stopped for dinner. I got off the bus and checked the place out. It was expensive. The opposite was a small tapri and I went there to get a packet of biscuit. "Rs.30", he told me. As I reached for my wallet, only to realize I only had Rs.20 in hard cash. "Ek mild" I said. Took a smoke later and it instantly hit me that, I didn't have any proper food the whole day. I got on to the bus and fell asleep immediately.
Next morning, I woke up to a cool breeze hitting my face. I woke up, rubbed my eyes and slowly opened them. My jaw fell on the floor. I couldn't move not I couldn't breathe. I finally knew what the phrase 'breathtaking' meant. The lucent water and the bright blue sky, followed by the green pockets of land and the best of all the stunning view of the mountains. my mind kept repeating the same word. JANNAT. it was Jannat. My heart and mind both agreed. i knew it for sure. this was going to be one epic adventure.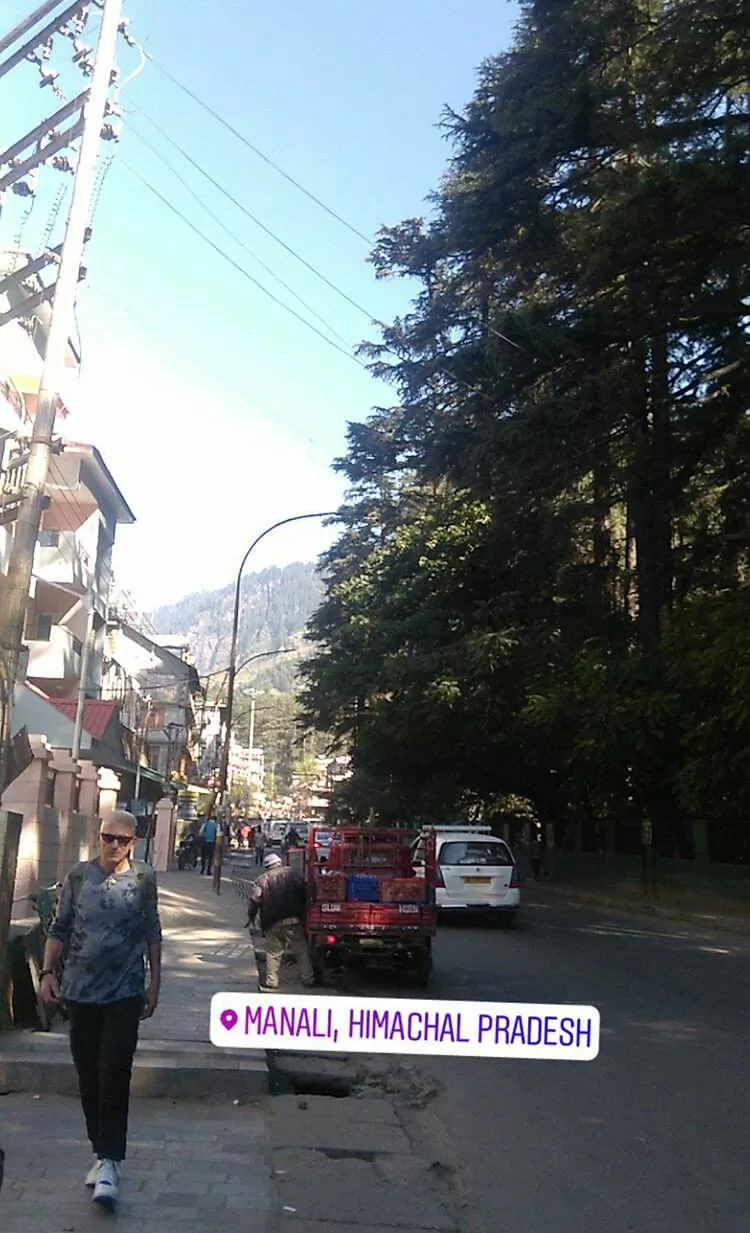 I reached the Manali bus station and realized it was way too commercialized. I was disappointed but I didn't let it get the best of me since I was on my first solo trip I had to make it worth my while. I withdrew some money and searched for the way to zostel. I didn't want to take an auto or a cab because you guys know how they charge in a tourist place. I decided to walk instead. 2km isn't a big deal for me. So I trusted my broken phone for directions and started walking. Slowly the shops started to fade away and it started getting greener.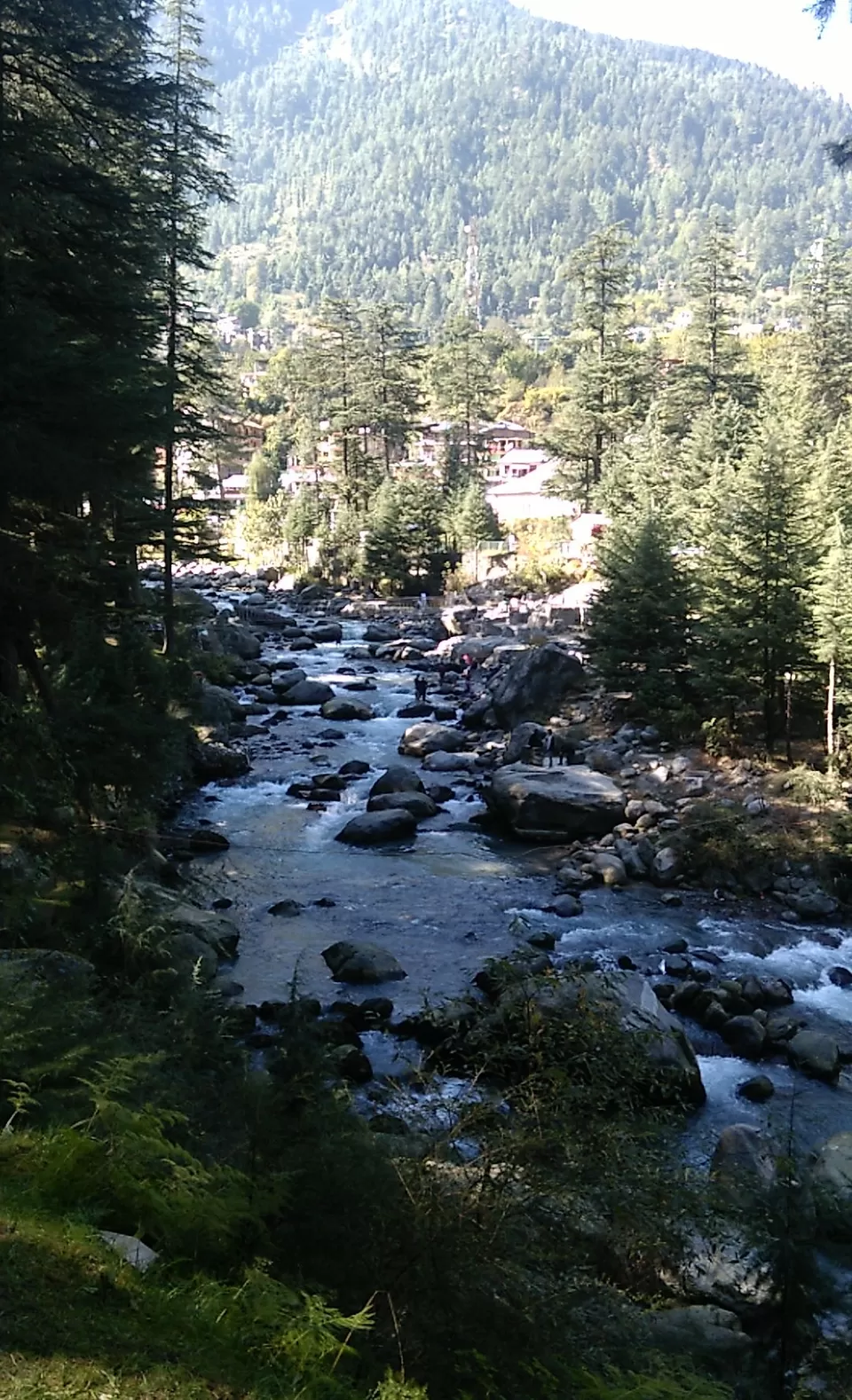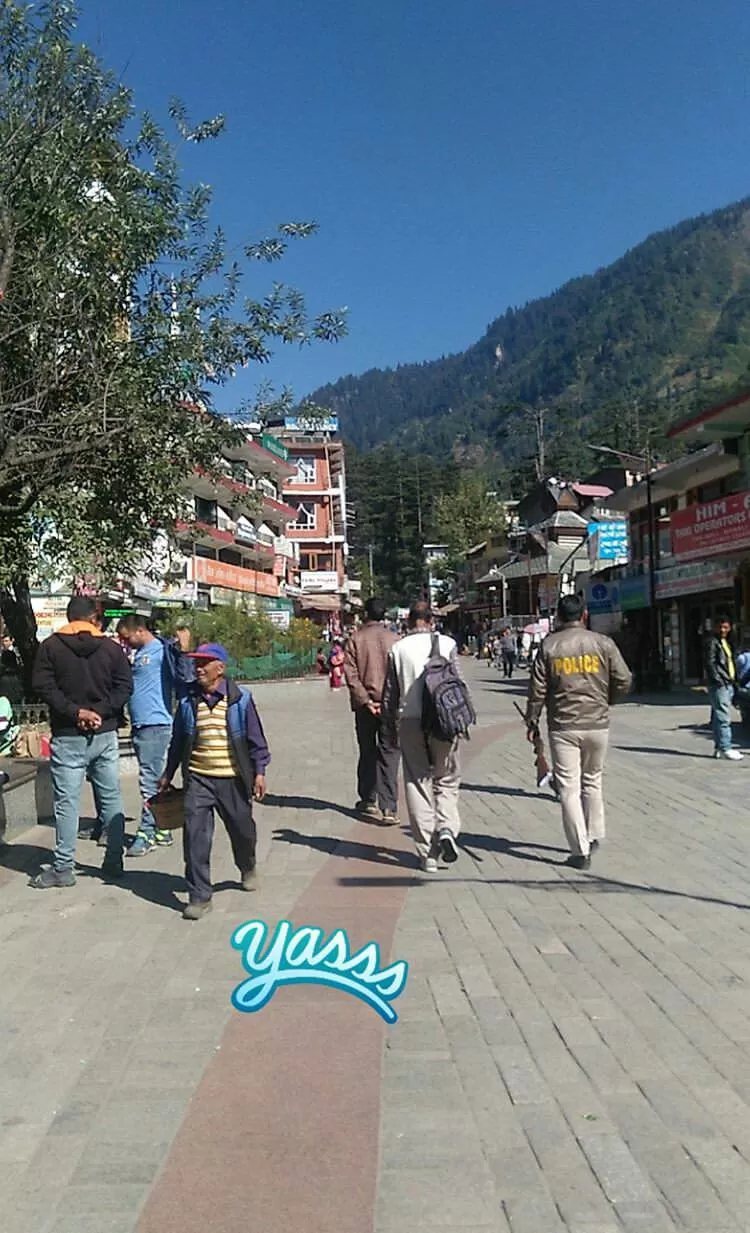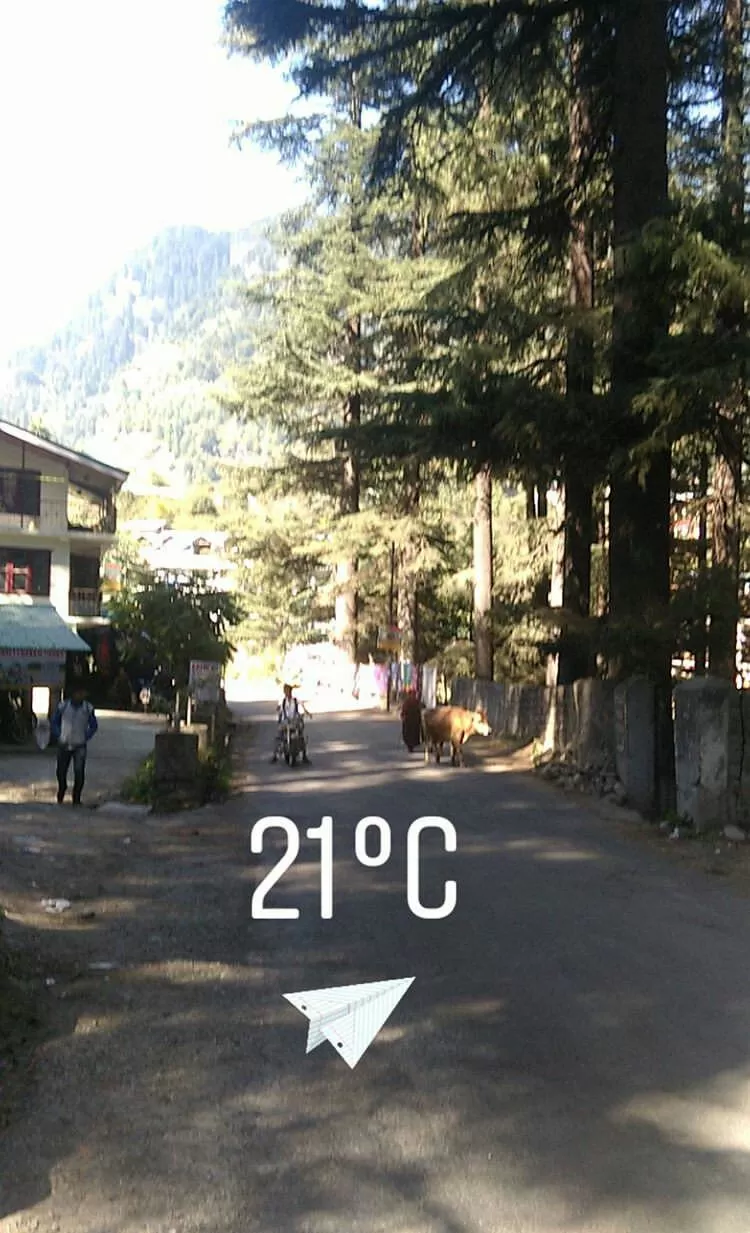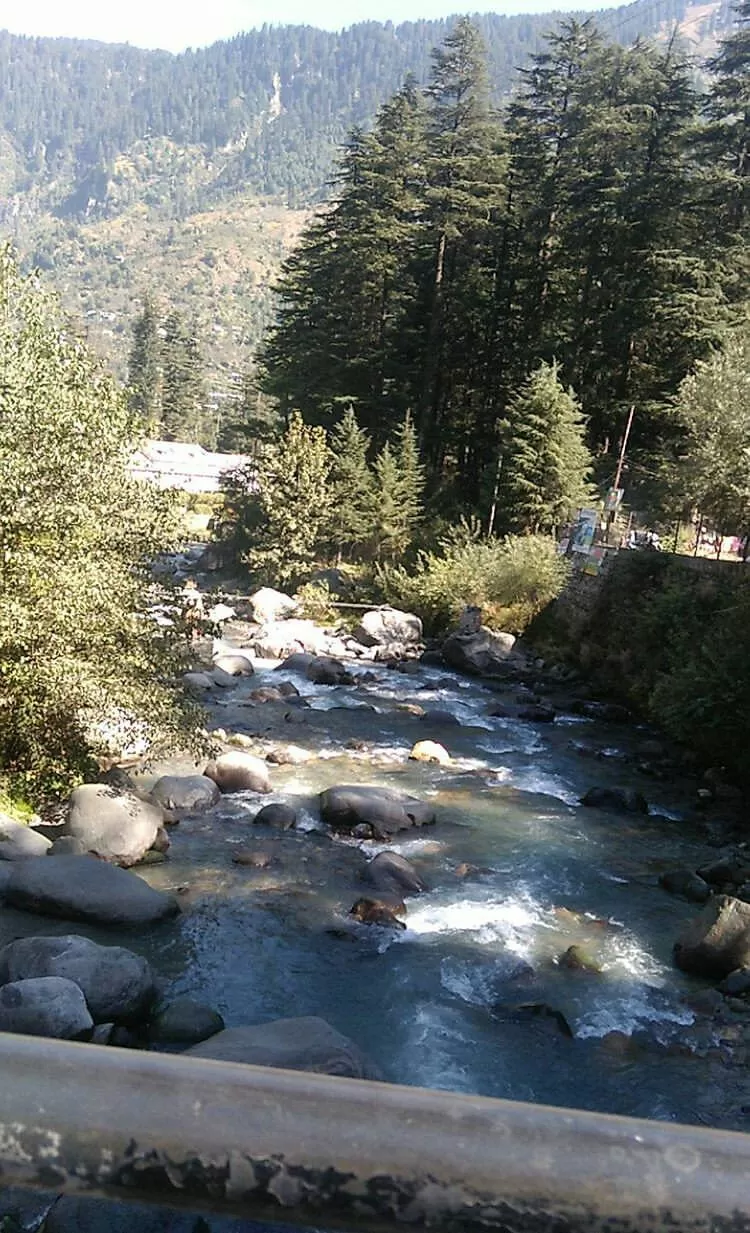 Lots of big green trees covered the pathway. I was feeling ecstatic being surrounded by all the beauty. I walked past the long deodar trees of Manali national park to reach a river. The river had a small wooden bridge over it. I was mesmerized by the view. The smell of the trees and the fresh water was intoxicating. I couldn't control my emotions it was pure bliss. i reached out to immerse my fingers in the flowing water. it was cold. I proceeded to dunk my hand up to the wrist. I closed my eyes and felt the slight tingles the slow movement of the water was creating on my skin. I wanted to absorb it all. I stood there for a bit to take it all in. It was difficult but i finally convinced myself to continue my journey to the zostel. "i will come back here" i told myself and started walking. a little further from the river was what was known as the old Manali. There were little cafes. It was very bright and colorful like a little carnival but without the stalls.
The directions started getting a little tricky from here onwards since it asked me to take the narrowest road possible. It was confusing.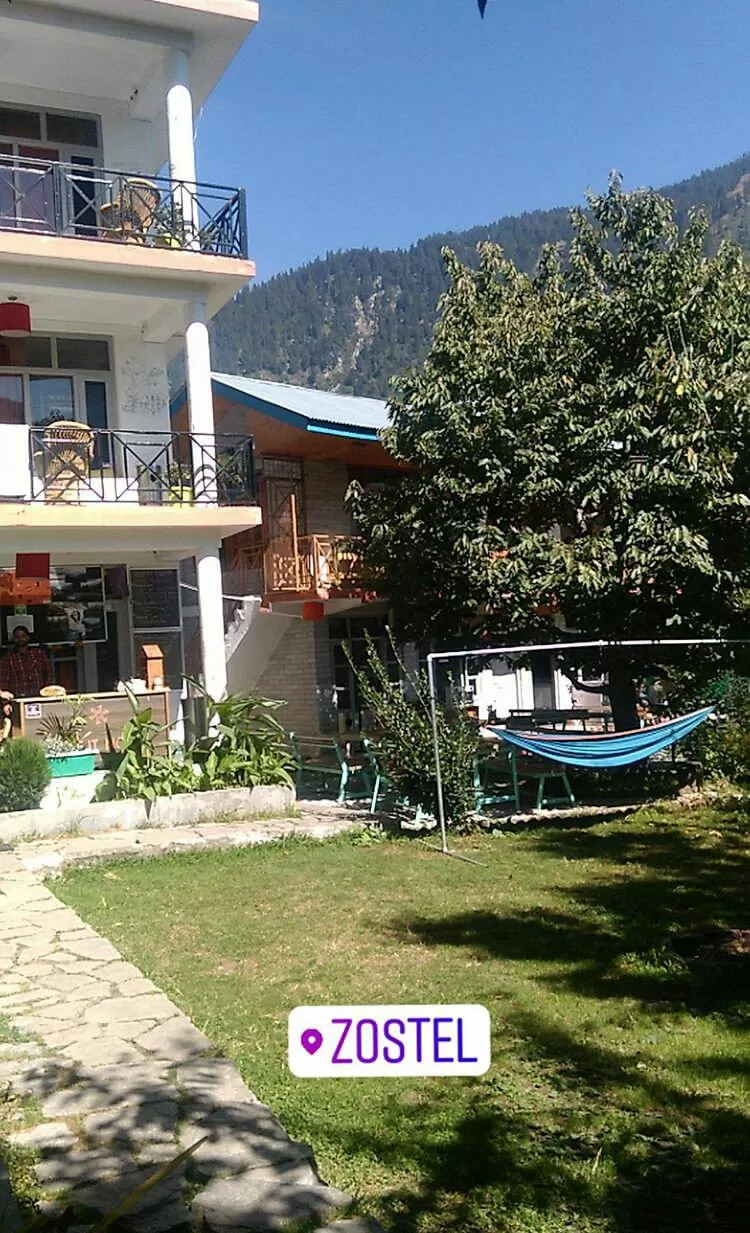 I got lost but I figured my way out somehow and i reached my destination. I got my room. It was slightly overpriced but my goal was to meet solo travelers like me. I got a room with 4 beds all beds were empty I was the first occupant. I went to take a shower by the time I was back somebody had come. He looked like he was about the same age as me. I introduced myself and talked for it. I am a very shy person but I wanted to socialize a little on this trip. Talking to a stranger and connecting to him felt great. It was strange a new experience because I had never done that. I was satisfied with this trip until this point. He rested for a bit and we had breakfast together. It almost felt like my heart pumping too loud out of joy. I was excited.
On the breakfast table, I asked him if he had any plans. He told me he had already seen most of Manali and told me he would come along wherever I want to go. I was screaming from inside I was really hoping to find someone to tag along and I did.
So we started off without a destination. We wanted randomly explore the unexplored and found this really cute cafe and decided to sit there for a bit.
We ordered one milkshake and cookies and talked after this we walked to Manali nature park. We walked in deep, the smell was stimulating each and every cell of my body. I was wonderstruck by the tall green godliness. We did our herbs and trip we i had by far was the best.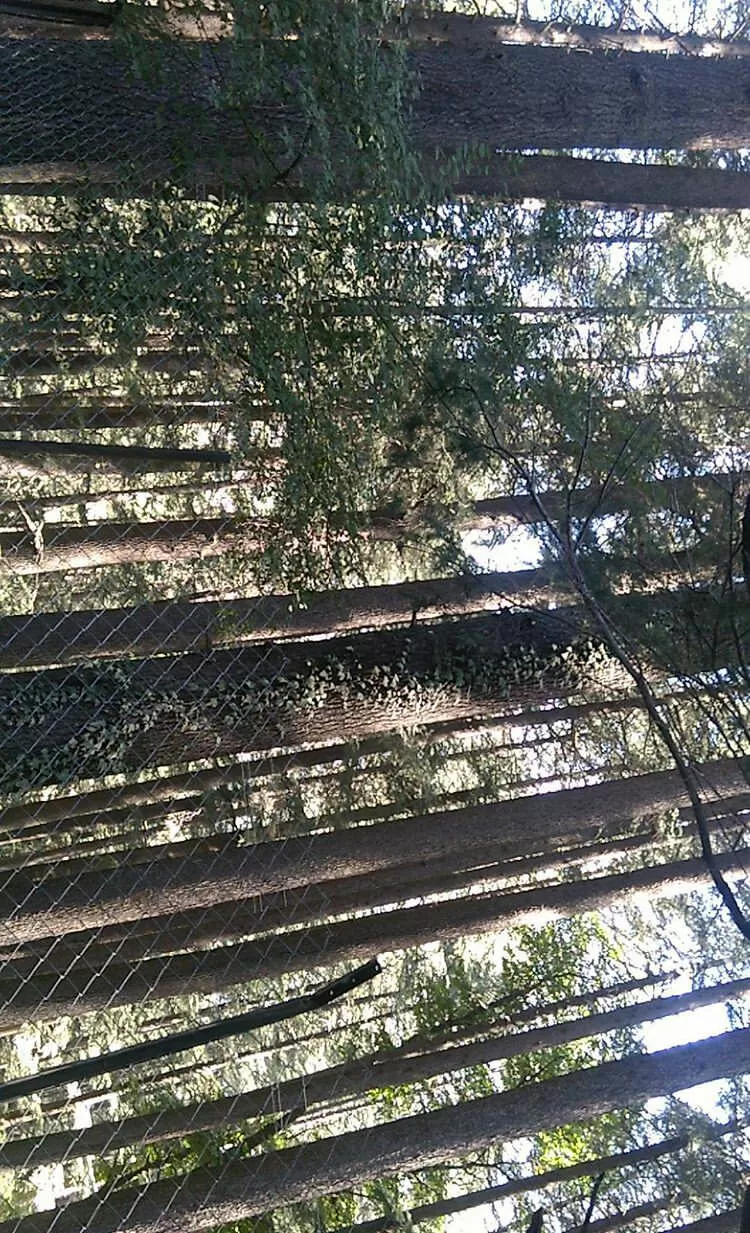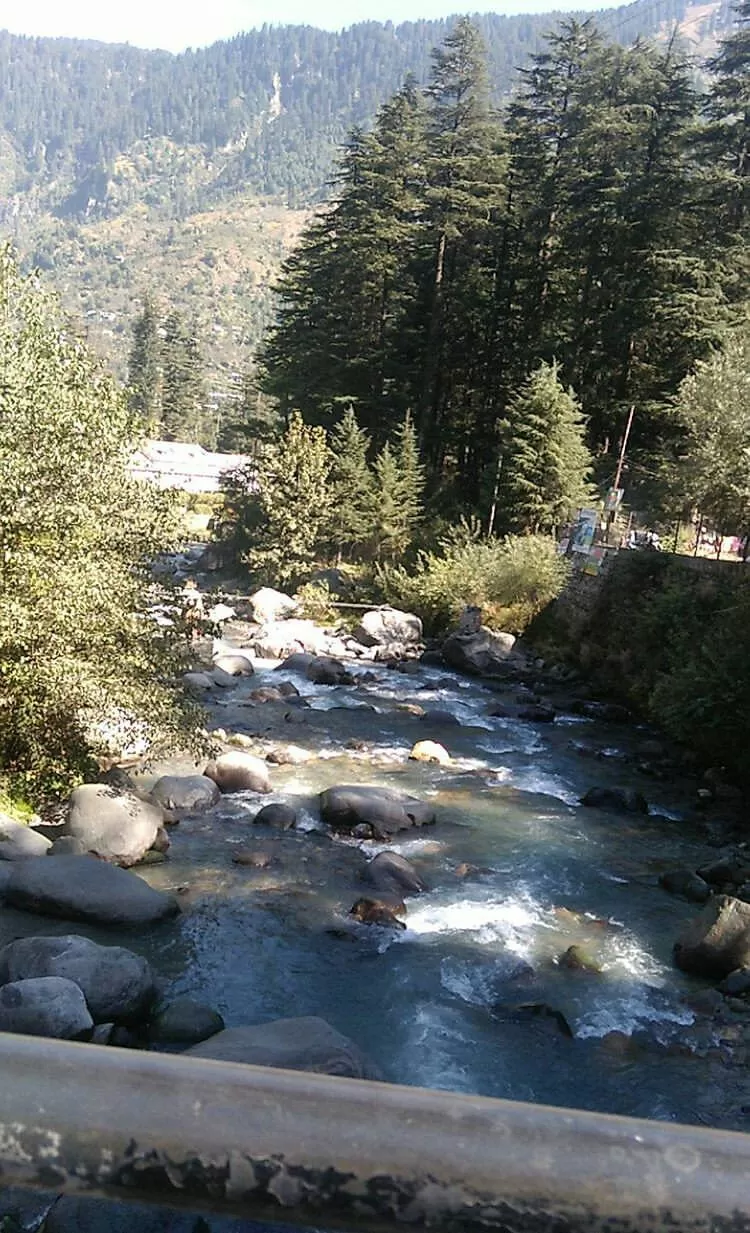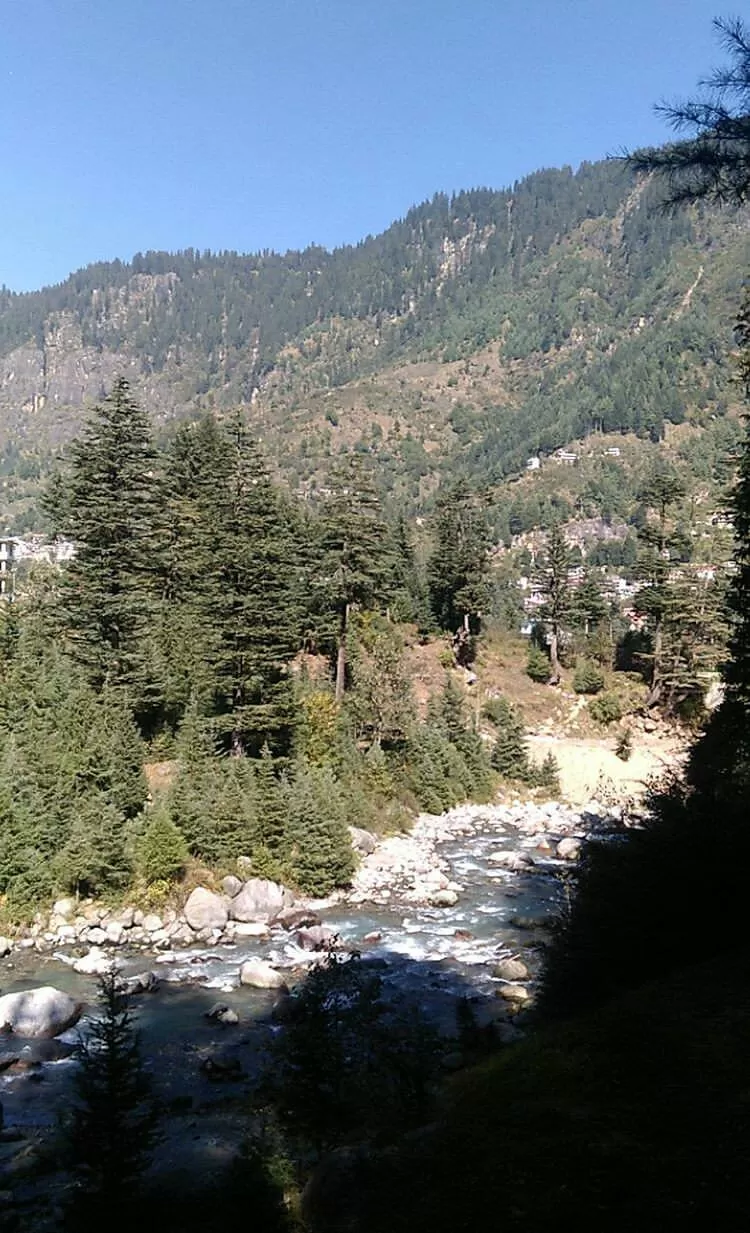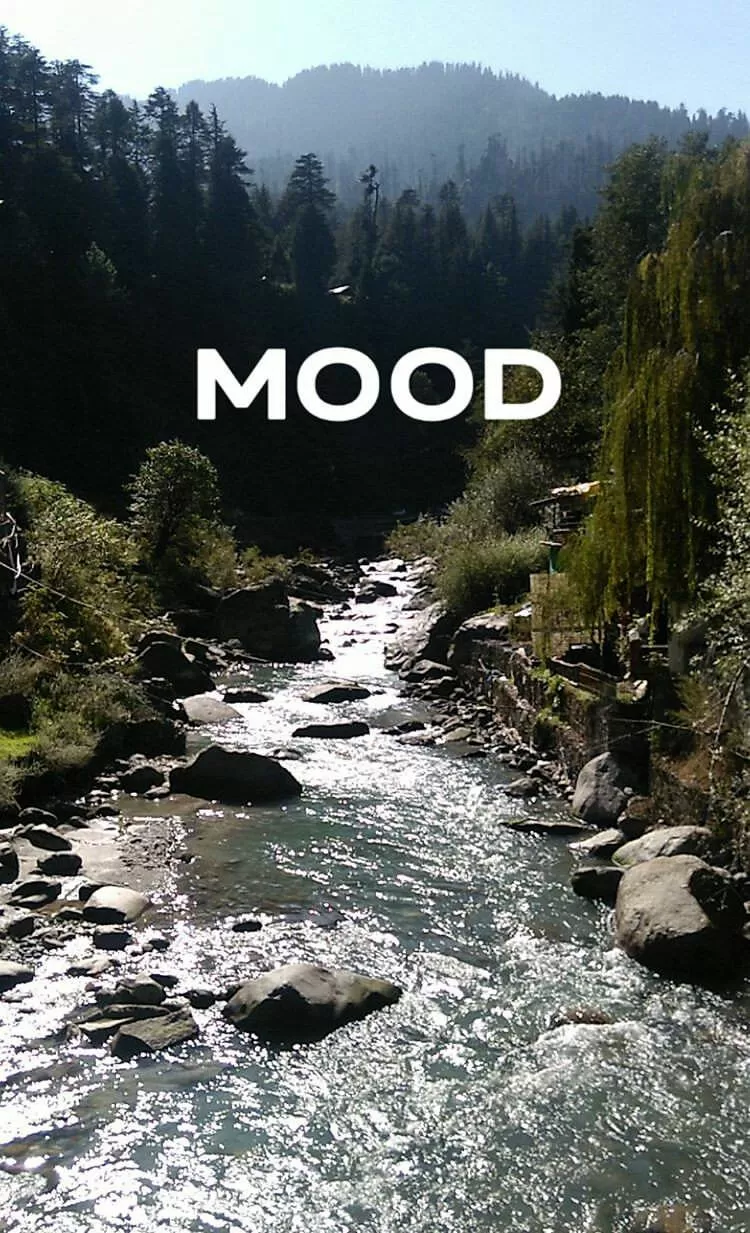 I was totally enjoying myself. It felt great. I felt alive. We went back and I laid on my bed thinking.
One daring step can do so much.
It was an amazing day. i slept with great peace and satisfaction.
Next day we planned to go to Vashisht temple. It was 5km away but we took an auto because i wasn't alone.
Vashisht is a small village located around 3 km from Manali across the River Beas. This beautiful village is famous for its sulfurous hot water springs and Vashisht temple, built just next to the springs. The water from this spring is believed to have great healing powers, which can cure many skin diseases and other infections. There are Turkish-style bath houses available here that contain the hot water from the springs, which are used to take bath and enjoy the warmth of the place.
Vashisht also houses many temples that are dedicated to a local saint Vashisht and Lord Rama. This place has a refreshing atmosphere that allows one to indulge in exotic baths while seeking blessing from the presiding deity of the temple.
We were very hungry after that so went to a coffee shop close by. The view was beautiful. The main reason people go there is for the view.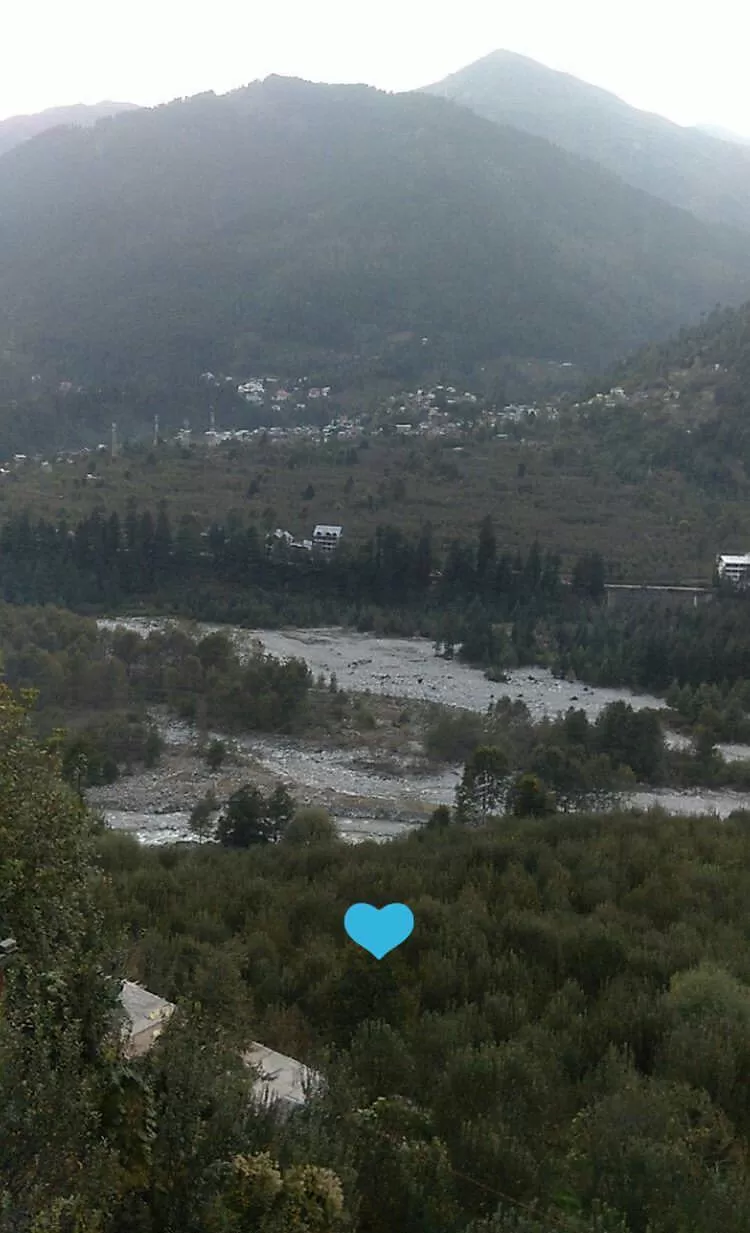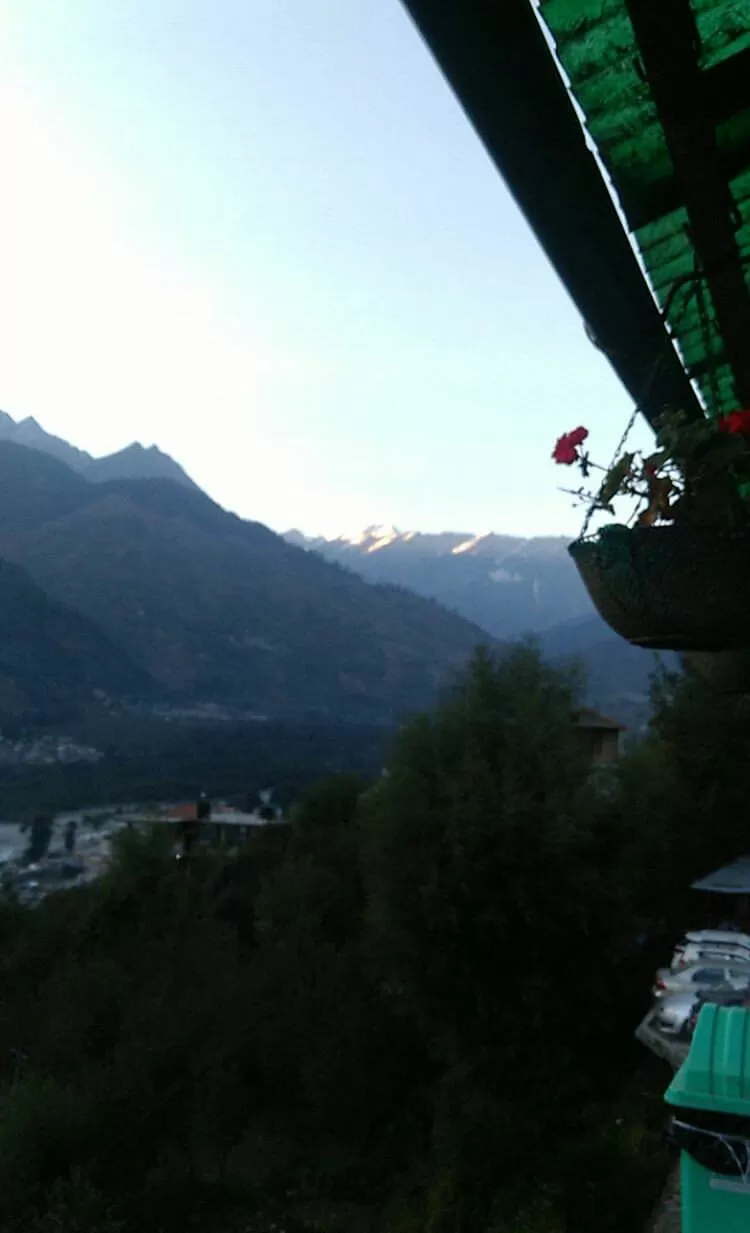 The food was delicious as well. I ate so much of that chicken 65 that i thought my tummy would burst. We got another one of our leaf out asked the waiter if its allowed and got to our business. Everything about this place was trippy. I kept staring at the view and listening to the sound of the birds in the dusky sky.
We watched the sun fall into deep slumber. We went to the mall road, the vivid stalls and illuminated atmosphere we walked around for a bit, dancing around and having fun. After that, we went back to the hostel. I climbed on my bed and as I was going to lay two guys entered.
They introduced themselves. They were coming from Kasol. We talked for a while. They asked me about my plans for the next day but I was completely clueless.
They were talking about Kasol so i thought perhaps Kasol should be my next destination.
I was high on this feeling and drunk on this experience. It was captivating. this is what my life should be like. This was the point where i got obsessed with traveling. I laid down on my bed. Before I fell asleep I said to myself. #DAY4SUCCESSFULLYSPENT.
I enquired how to reach Kasol and found out that there are no direct buses to Kasol. I went to the bus station and realized that there were no buses to Bhutnar too, which is halfway to Kasol.
So I took a bus to Kullu and from Kullu to Bhutnar. When I reached Bhutnar. I found a bus to Kasol. It was a local bus. Very colorful.
I got excited and got onto the bus and took the window seat. Bhutnar is on a lower level and Kasol is on a higher level. The ride was fantastic. From plains to mountains. I'm finally going to Kasol I thought. The stoners paradise. Tiny villages on the way people walking and being busy with their daily lives.
Towards my window was flowing the beautiful Parvati river. All the trees and foggy weather it was a dream come true.
I was stunned by the view yet again. It was an hour-long journey. There were a lot of foreigners. There was this guy with the most perfect curly hair ever. I wanted to touch it so badly but i didn't. that's when i kinda got this *Shauq* with curling my hair. I loved my Zostel experience(obviously) so i decided to stay in a similar place. I found this place called The Hosteller. It was slightly on the costlier side but the experience is important I thought. So I started walking towards the hostel. There was a market and I could see the mountains from the mountains after a while deja vu. There were a river and a bridge. I was awestruck. There isn't a word in the English language to describe the feeling or the beauty of what my eyes were seeing and experiencing.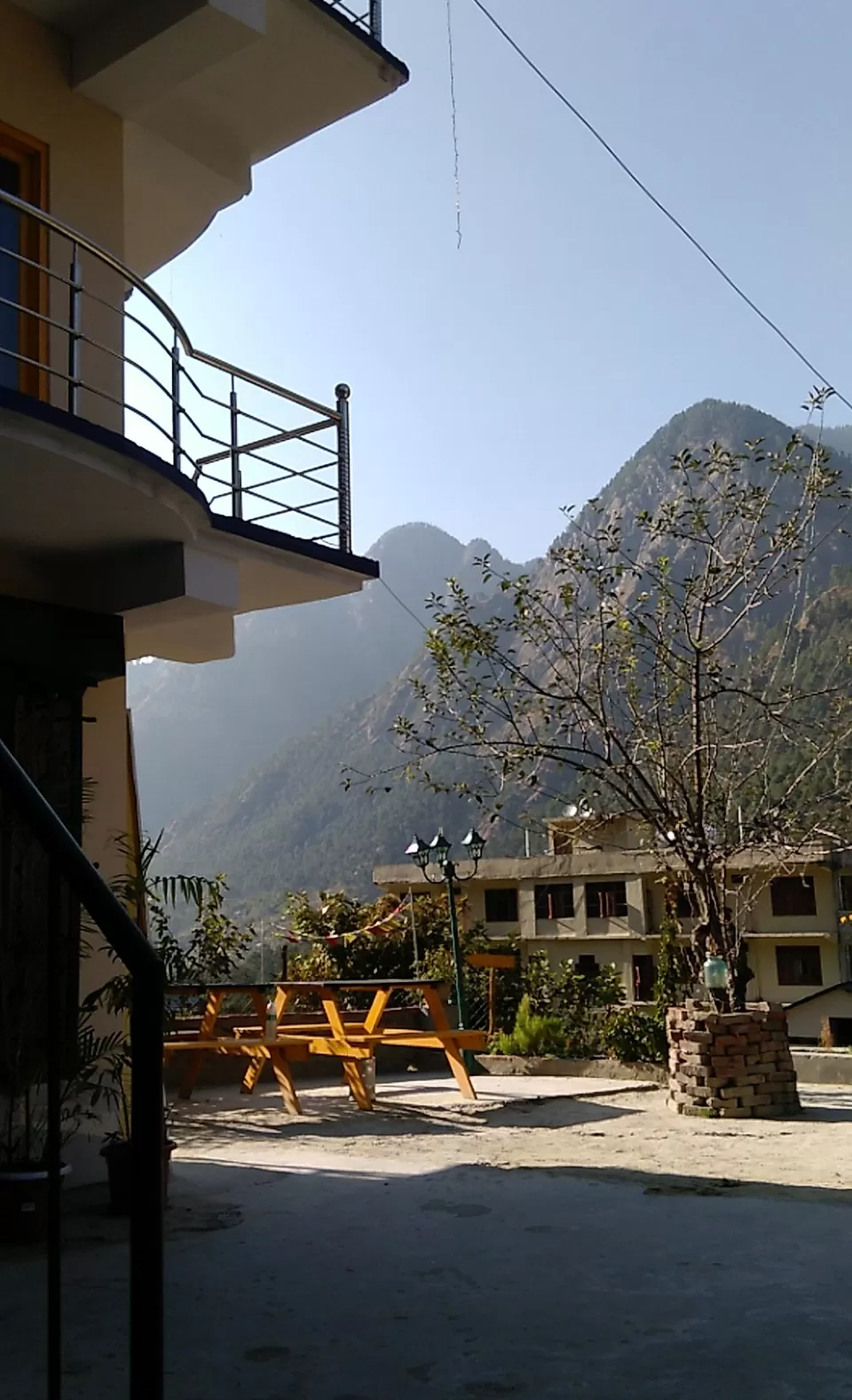 I braced myself and walked further promising myself that I would return. I walked and walked and reached the location but there wasn't a hostel there. Instead, there was a 5-star hotel.
I walked around trying my luck but i couldn't. I was in a rage that's when i saw a tiny board peeping from behind the hotel pointing the way towards the hostel. i started walking. there wasn't a road. it was basically just fielded. somehow i managed to reach the hostel. the hostel was on a higher land and the mountain view was clear. it was beautiful. so i got a room. they were offering tents but i needed to charge my phone so i just stuck with a normal room.
I tried talking to a gang full of people but I couldn't connect with. I decided I will rather spend my day alone and asked the owner for places to visit. He gave me a few options I decided to go on the Chalal trek. But i wasn't sure. I didn't want to go alone. So I went back to the river and sat there for a while lost in my thoughts. I figured if I don't make new friends my day will be ruined so I got up and started walking towards the road started interacting with random strangers. Asking them rubbish trying to just make a conversation. But it didn't work. I was a little disappointed. As I was waking I heard somebody talk in Telugu(My Mothertounge). Those words gave me a pure sense of ecstasy. In between all that noise could hear those Telugu words clearly. I, being a Telugu guy, got excited and asked them if they were Telugu guys. We connected that instant. They asked me where we could get some hash.
So I told them that I don't. They mentioned to me that the Chalal trek is where you will get some clay. They asked me if i would tag along. I nodded my head with all the energy in my body in agreement. I was virtually jumping in my head. So we started the trek. I didn't plan on going for the trek so i wore flipflops which were slipping but it was fun. Chalal trek is a very small trek 2.5 km and it wasn't that steep. But the view made my eyes pop out of my skull. The smell of nature caught me like a virus. It was heart-stopping. I could've sat there forever.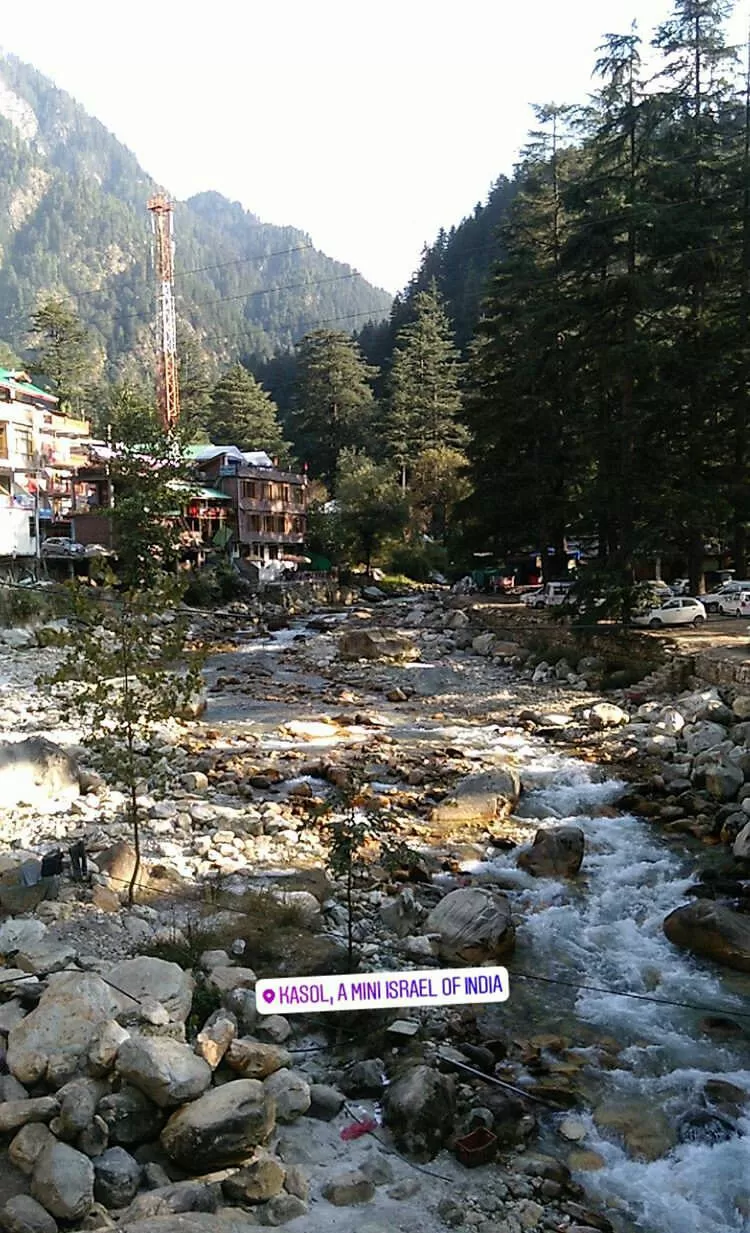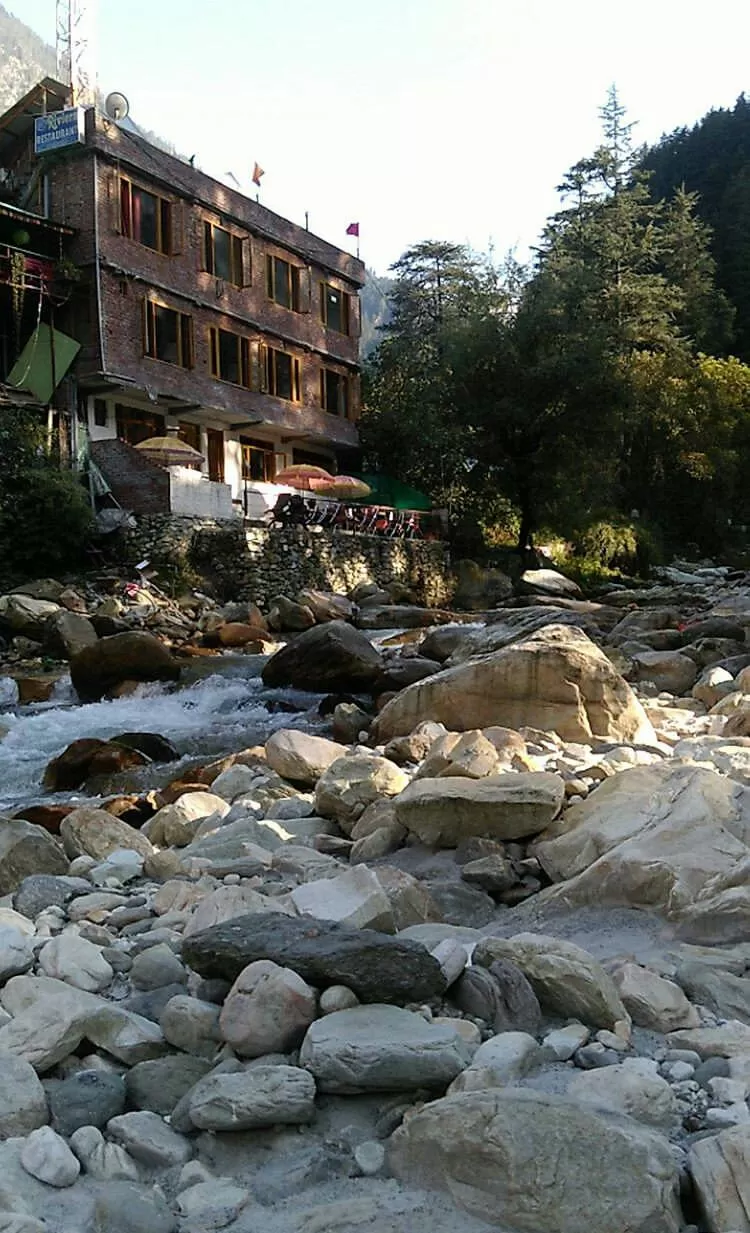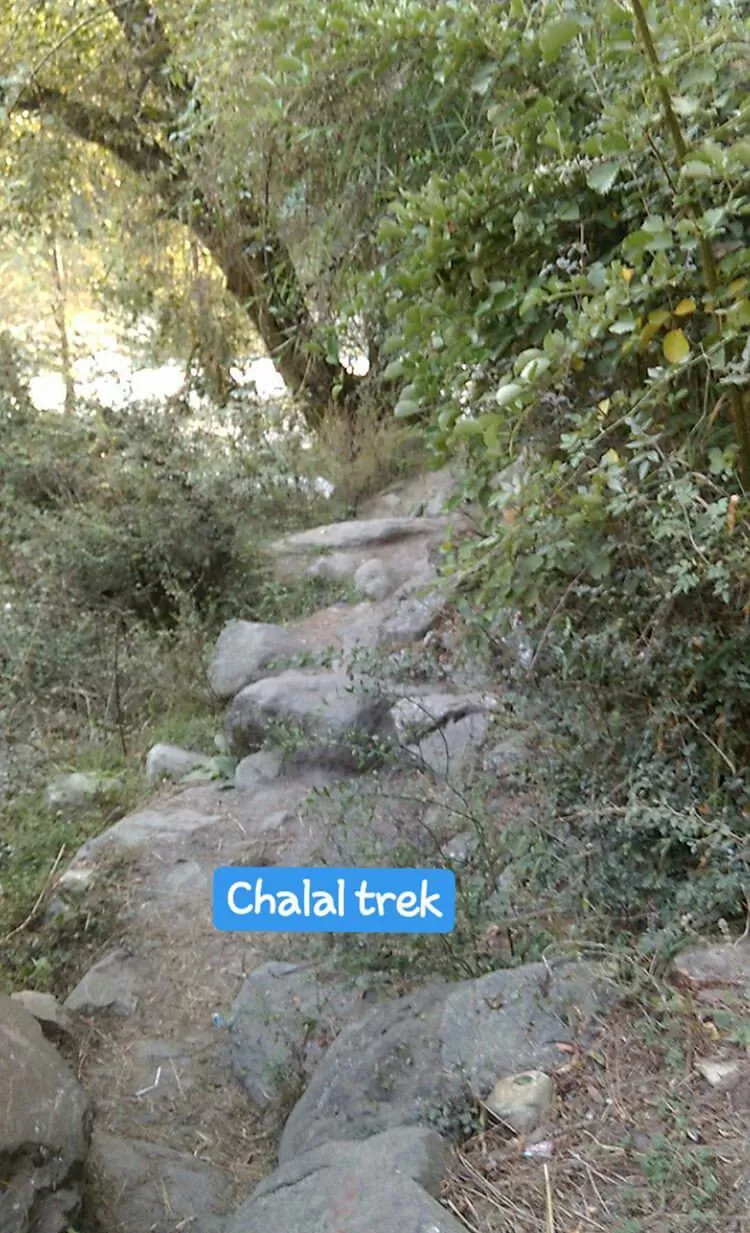 We weren't able to find it at first but later we found it. We found the spot. It was closed but we somehow managed to catch the attention of the people inside. He asked us to wait and got us our mud. We asked him for a test he gave us a roll and we sat together and tried it.
The sound of the river could be heard very clearly. We sat there watching the mesmerizing art of nature. The owner of the cafe told us a bit about the ancient history of a nearby village Malana. Slowly it started kicking in, smoothly in a certain order. It was time for sunset so we decided to go back. We got our things and we walked back. It was difficult this time. Because of the crazy trip, I was having. All my senses my emotions were heightened. Everything was so trippy. After we reached down, they offered me some of their herbs. I didn't buy for myself because
I was alone. So when they offered I took it and requested them to take the money. They told me it was a gift. It was the best feeling I ever had.
I connected so well with them it was amazing.
It felt amazing. We hugged bid our farewells and parted ways.
Time- 7:30
Leaves in my pocket and a bundle of memories in my head I walked back to the hostel. My phone was dead and I forget the route so I used my head and went to the big hotel and i was confused after that. So I asked a woman she guided me first I was a little skeptical if she would know but she guided me and that's when i realized local people are the best guides. I reached the hostel and went to the common room. I decided to smoke after food. But I didn't know how to make my smoke so I tried to make a few friends one guy actually did connect and we ended up smoking together, he also taught me how to do it. It was a beautiful feeling.
I went back to my room and tried to get some sleep when I started hearing loud noises. I went out and that's when I realized it was Diwali I got excited. I was going to celebrate Diwali in a whole new place. It was my first time. I walked around caught my friends sat around with them.
Had some fun. We talked a lot and then i finally went back to sleep. It was a good day.
Next day I checked out of the hostel and thought of taking a bus to Manikaran, it was 4km away from Kasol. So I was too happy to let someone drive me there. I decided to walk.
The road went around a hill so it started getting difficult for me to walk.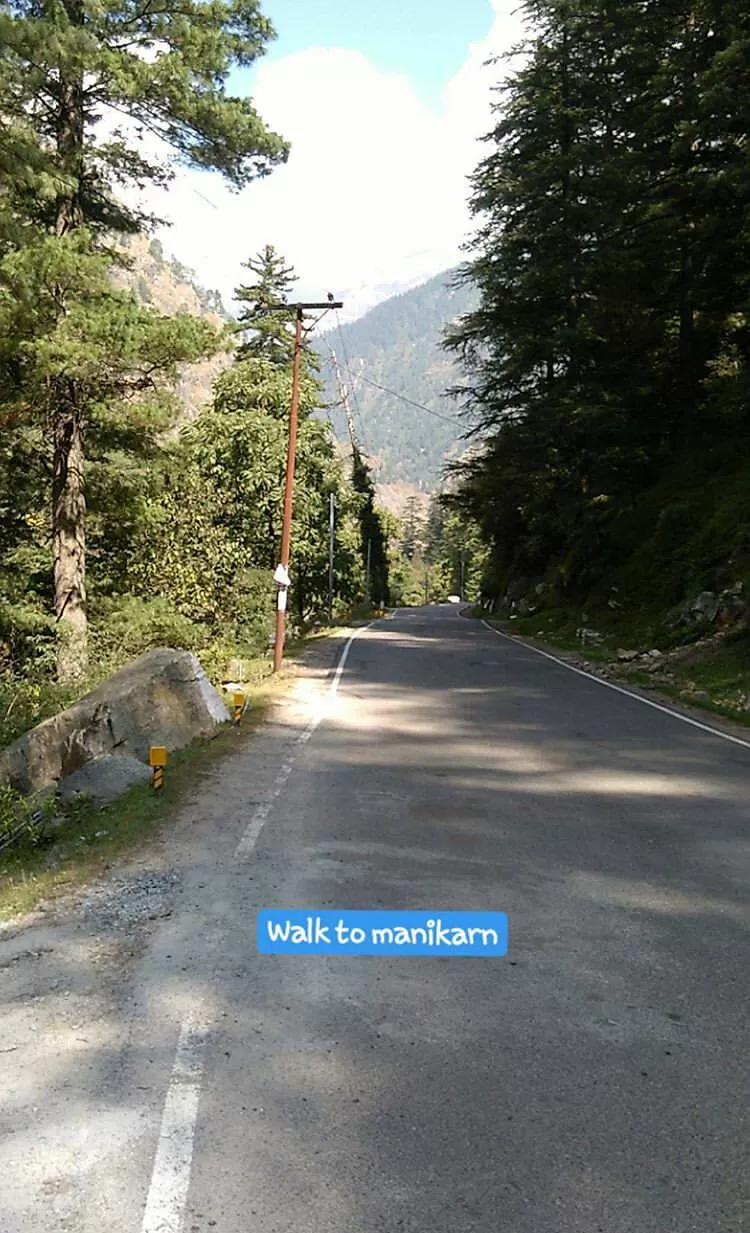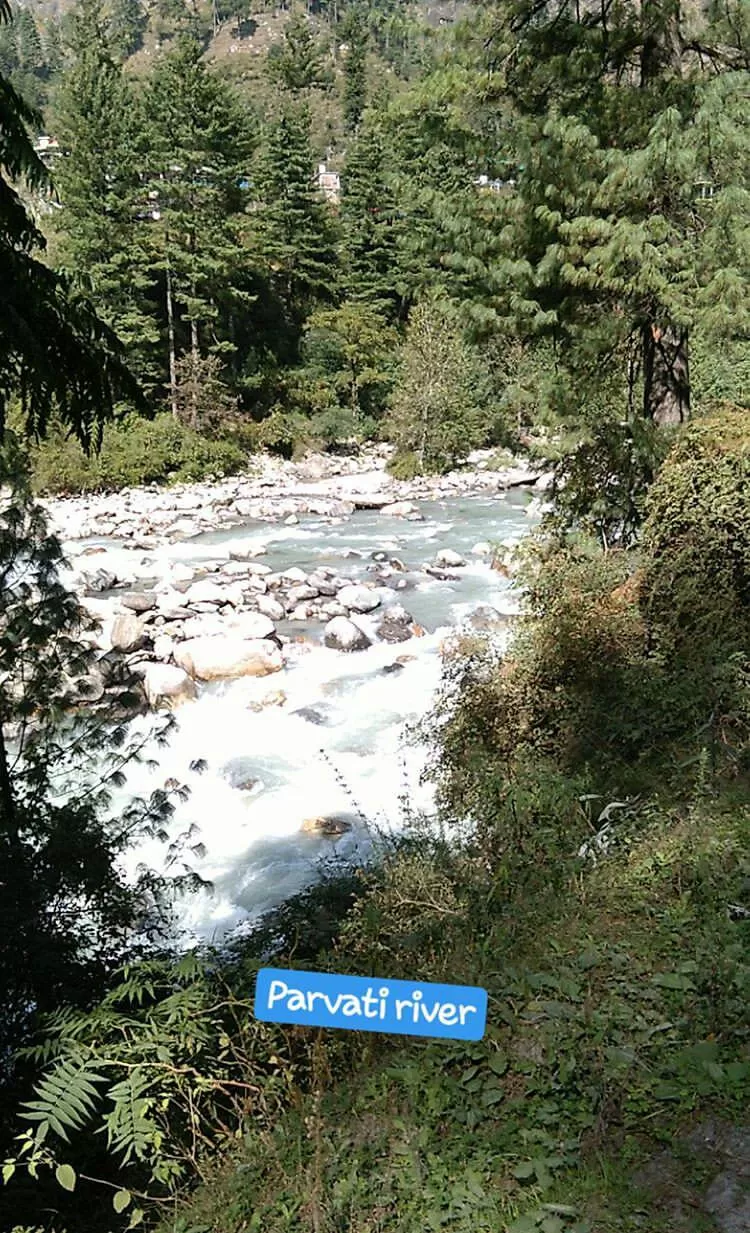 I tried taking short breaks in between but it was still very difficult. While I was struggling to walk up yet enjoying the view I met a biker gang. They asked me to take a picture for them and I did. We had a small conversation where I mentioned I was on a solo trip. I was hoping they would offer to help me and they did. In a second I responded, " yes please, thank you". I hopped onto one of the bikes and we started going. The air was gushing through my face. It made me feel more alive than ever. It was a pleasant atmosphere.
They dropped me at Manikaran and left. I was happy that all my wild fantasies are coming true. At least they were wild for me. I decided to go to the famous gurudwara there.
"Manikaran Gurudwara, located in the small town of Manikaran, is one of the most prominent places of worship for Sikhs.
On a visit to this holy site, do not forget to savor the sacred langar and take dips in the pious hot water springs, which are famed for their healing properties."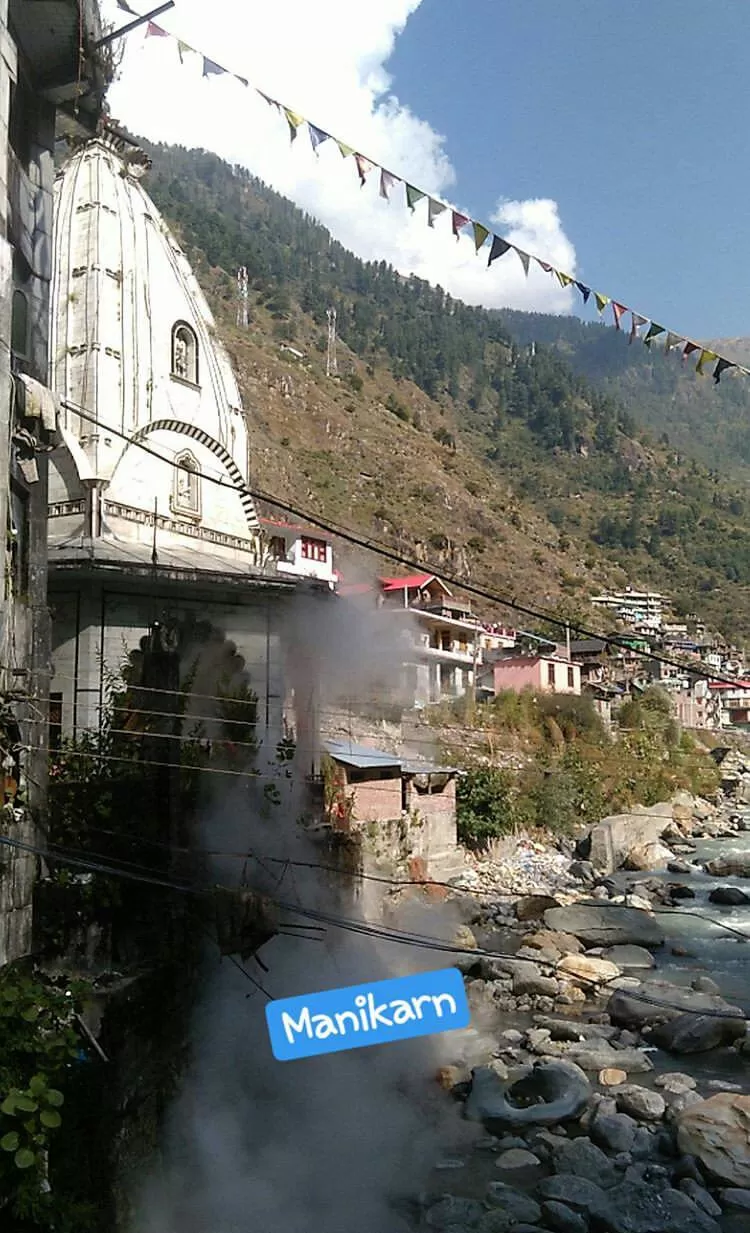 After the bath, I was so overwhelmed by this whole trip that i decided to not force myself and instead dwell in my feelings. I went to the bus stop to catch a bus back. I got onto the bus took the window seat and waited for it to start.
I was soaked in my own thoughts and memories. the hangover of the past two days wasn't going to wear off anytime soon so I just let it consume me.
So Manikaran to Bhutnar was the bus it had to go via Kasol. After the bus crossed Kasol there was a check post. Police got inside the bus and asked me to stand up. they asked for my details like where was i coming from and where I stayed last night. They checked my pockets and bags, they didn't find my tressure so they left. I had actually wrapped it in a shirt for this purpose. When I reached bhutnar I sat at the bus stop and waited for a bus that goes to Delhi. I waited for a long time. 4 hours or so later a bus arrived it was an ordinary bus. The bus started and I could feel the bumps and curves of the road. It was a low priced bus. It almost felt like a rollercoaster. The whole journey was a ride in a theme park.
Once I reached Delhi I was yet again confused if i should go back to Bhopal or stay in Delhi. I thought to myself again.
Let my destiny decide for me. The next bus that arrived was to Hazrat Nizamuddin railway station. I got onto it. There was a train waiting on the platform to Bhopal. I got onto the train and bid my farewell to my first solo trip. This was the end of it. But I was satisfied.
It felt complete it felt good. I train left the station while I sat on my seat with a big smile and a bunch of memories.