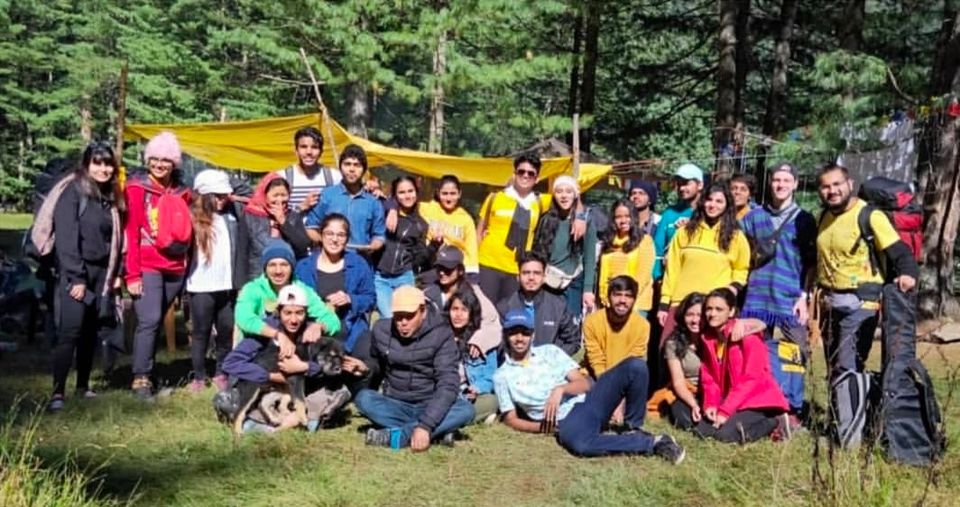 It has been a good year in terms of travelling. Accomplished three major goals:
1. A solo trip to Dalhousie in the snow
2. Challenging my introvert nature to travel with strangers
3. Visiting a place that doesn't exist on digital maps
Since the last two achievements were part of the same trip, I will take you through the moments that contributed towards these accomplishments.
…
It was a regular day. I had just reached office, unexcited, and started my PC. Simultaneously, I checked Instagram, as usual. That's when I came across a random (Instagram) story, which bespoke The Yellow Festival and claimed to include music, yoga, night trek, open-air movie screening and a few more of my favourite things. I was fascinated. But what attracted me the most was the location: Tulga, Himachal Pradesh, which corresponded with my love for the state and off-beat destinations.
I'd just have to figure out how to travel to and fro Delhi from Pune, since the tour began and concluded there. Also, how would I utilize my time in Delhi to do something I couldn't do during my sightseeing visits to the capital.
The next two weeks whizzed by in getting my doubts cleared from the organizers, shopping for quirky yellow t-shirts to comply with the rules of the festival and jumping with undying excitement about visiting a place that wasn't prominent on Google or Maps.
An Eventful Commencement
Part 1: Adventure Had No Patience
Finally, D Day had arrived. I was on my way to the airport to board the 11 am flight to Delhi.
While I was busy uploading stories on Instagram, a huge tree at half a kilometre from my cab got unrooted and created an unexpected, heavy traffic jam. Dodging all the cars and buses, I managed to reach the airport 35 minutes before the flight.
The entry gates had closed. I had started contemplating other ways to reach Delhi, when a miracle occurred.
A ground staff member of the airlines I was travelling with called out for me. When I dragged my limbs heavy with disbelief till her counter, she reminded me that we are from the same college. I forced a smile.
Cooperatively, she handed me my boarding pass and warned me to reach the entry gate within 3 minutes.
I ran, elbowed a few people, completed the security checks and reached just in time for the flight!
Part 2: Cafe Hopping in Hauz Khas, Delhi
I have been to Delhi thrice before, but this time was different. I was here for half a day, alone. I had decided to ditch the usual sight seeing for something I hadn't done before- café hopping in Hauz Khas.
Café 1: Kunzum Travel Café
Nestled between restaurants and small business shops, Kunzum is a café built with the purpose of providing travellers a meeting spot and discuss their travel stories. It overflows with travel related photographs and books. Interestingly, the cafe serves only coffee; they don't have a menu.
Café 2: Social
Next, I decided to visit the contemporary youth hub, Social, which was just a few feet away. This happening place has quite an upbeat, enthusiastic vibe.
Café 3: The Tea Room
After a scrumptious lunch at Social, I set for The Tea Room, which surpassed my expectations. A wide variety of teas at very affordable rates, and the most elegant white and gold interiors.
Part 3: A Day Long Bus Journey with Strangers
After satiating my taste buds, I left for the group gathering point. Finding my way to this new place, I realized that I was the only one who didn't know anyone. I was alone.
A young, confident extrovert then approached me, made me comfortable and introduced me to her friends, with whom I conversed before our bus finally started at 8 PM
In the bus, a red haired, cutesy girl sat next and to my surprise and relief, she was a solo traveller and an introvert too!
Rest of the journey was a pleasurable roller coaster. With multiple halts, post-landslide traffic and tyre failure, it was the picturesque views and enterprising co-passengers that kept the spirits high.
The Trek: Getting There By Hook or by Crook
The following day, we reached the trek commencement point, Barshaini at 9:30 PM tentatively. After wearing an additional layer of clothing as protection from the chilly -2° C air and getting our torches ready, we started the trek to Tulga.
Since it had been raining all day, the narrow one-man-at-a-time path to Tulga was slippery. As we continued the dynamic hike,, a volunteer from the organizing team asked us to stop and turn our torches off. And what did we see!
SHEER BEAUTY.
Above the tall pine trees was a dark violet sky completely filled with sparkling stars. So many stars! This definitely wasn't the sky I have grown up seeing. It was new, it was surreal. Almost like the 3D model of the universe in science museums!
The trek concluded at midnight with stove-cooked dal rice and my first night in a tent.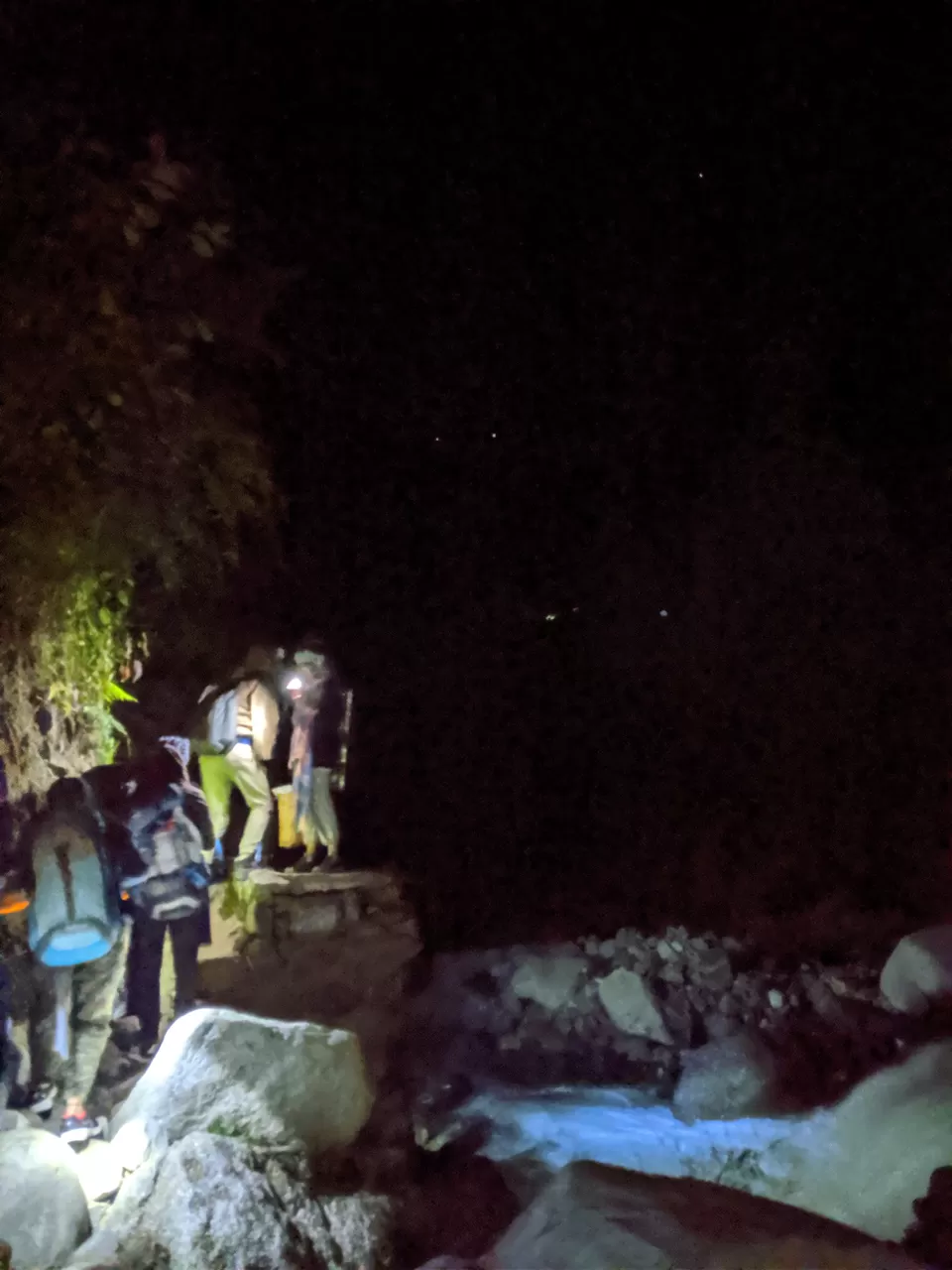 Into the Woods, Tulga
The freezing night was followed by a laid back, sunny morning, delicious home cooked parathas and some ear soothing jamming sessions by the artists at the festival.
That afternoon, we had the yoga session. It was a soulfully liberating yoga session was conducted by a supremely talented facilitator, Shipra. I vehemently stood right in the front to cherish the session I knew would be amazing!
Also, the session demanded to get rid of our jackets, which is something I have never done in the cold. But, the intention was well executed as I actually felt closer to nature by doing so.
The best part was when everyone stayed completely silent to listen to the sounds of nature- the swift air, swaying of the trees, the chirping of the birds and soulful songs being sung by the flowing stream. Ah! How wonderful is the earth!
The music festival started at night and went on till early next morning. Never in my life have I seen so many talented people under one roof- the sky. I am completely out of words to describe the heart-stirring performances! Apart from talent, it was wonderful seeing the artists follow their passion and promote it as well. The inspiration I've drawn from these sessions is etched in my soul forever!
Sitting in a blanket under the plethora of stars, munching on some chocolate desserts and letting the beautiful words seep into my heart- this is officially going to be my example of 'surreal' forever!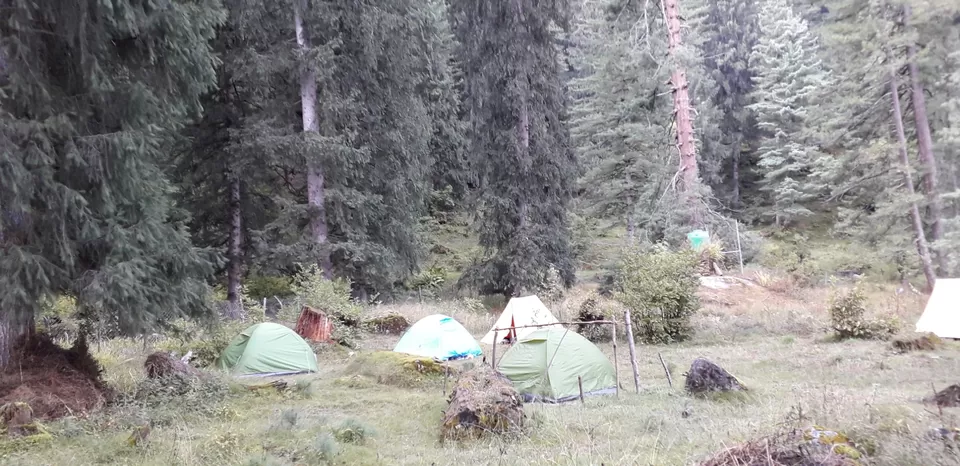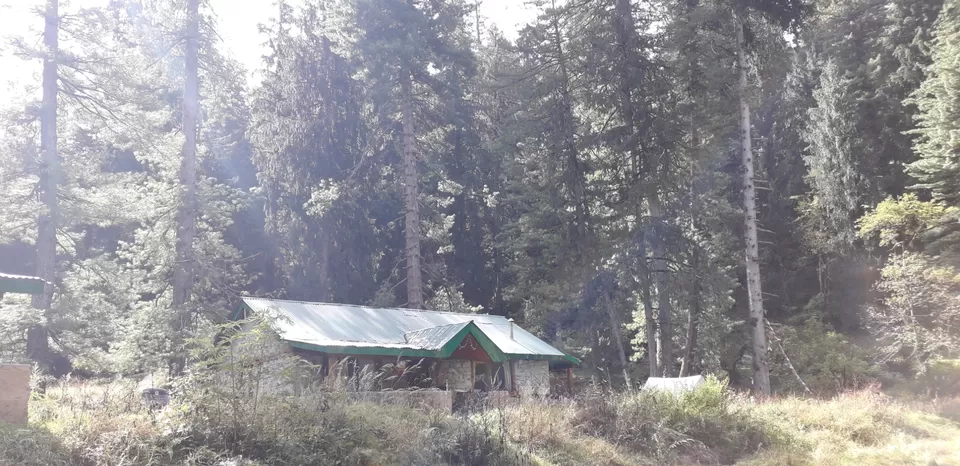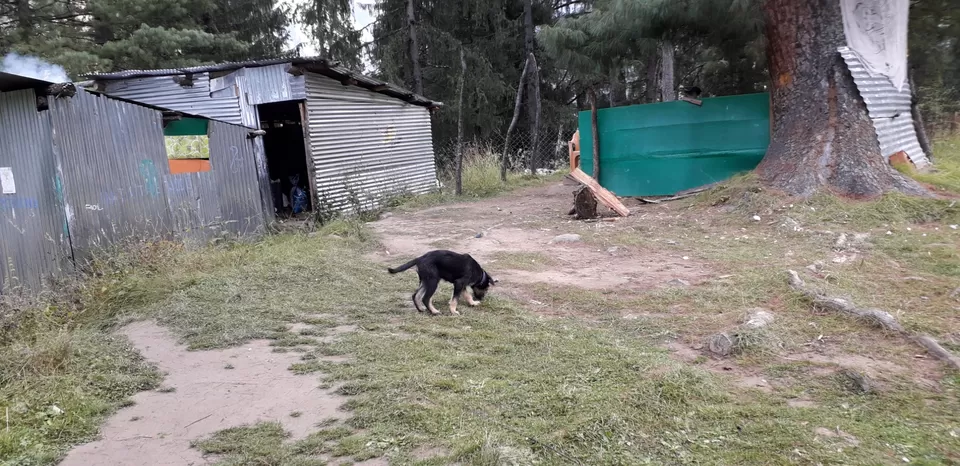 A Ravishing Stream
After a long night and a laid back morning, I left for trek to a nearby stream with two strangers. Expecting it to be an easy trek, I was hit by shock when the trek was actually adventurous with the soft ground, narrow trails and swift flowing, ice cold water.
But Parvati river never fails to impress! The stream was crystal clear and the water was the sweetest I've ever had!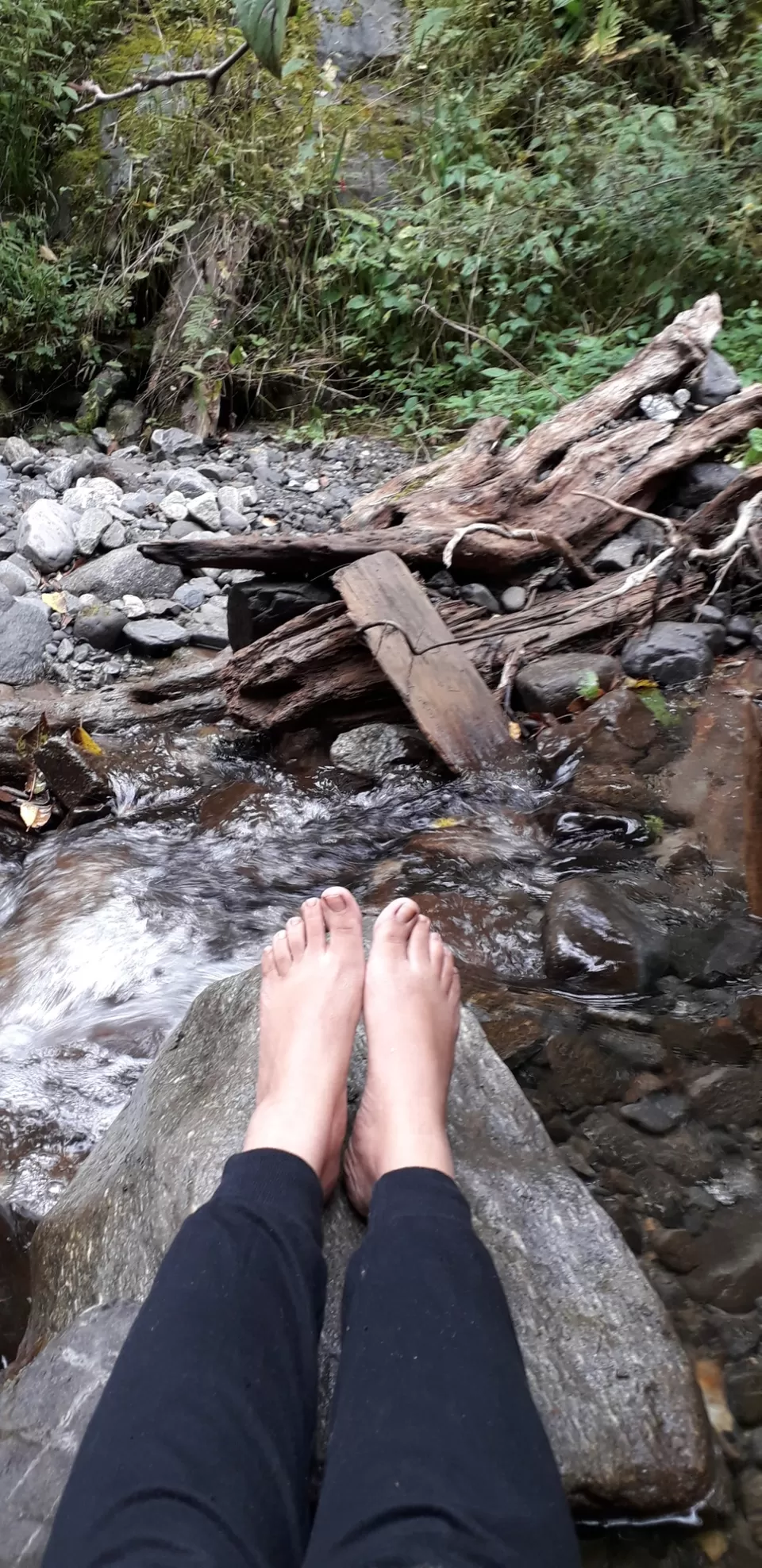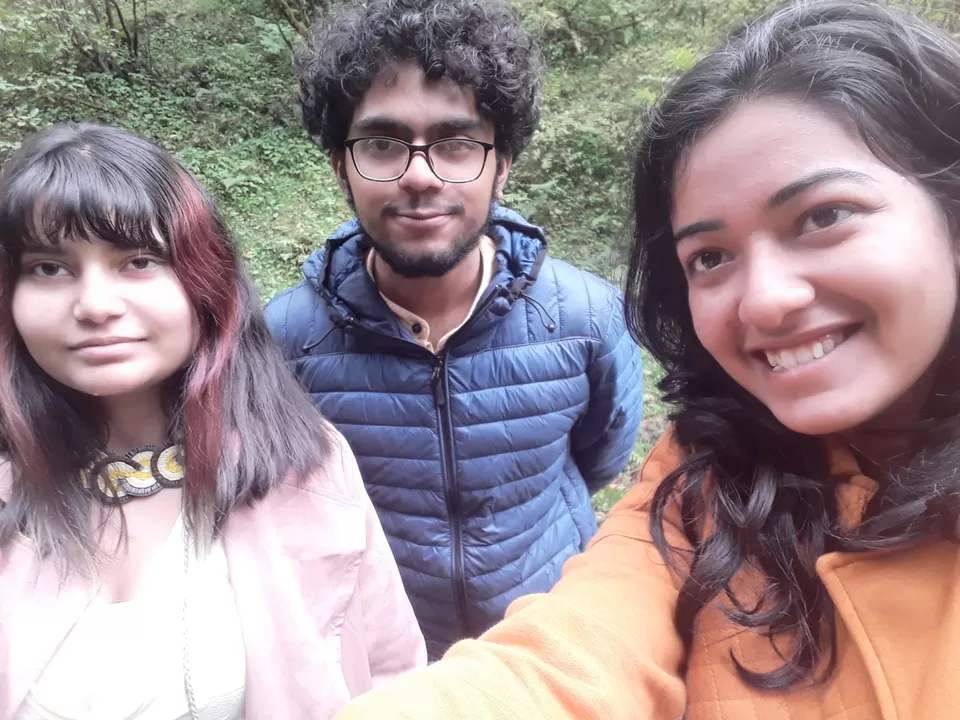 A Detour: Kasol
The last morning in Tulga began with an unofficial plan to visit Kasol, a hill station that lay two hours away. Stuck in the dilemma between not wanting to miss out on a laid back morning in the untouched beauty and simultaneously, not wanting to leave a chance to see a new place, I walked to the cottage my closest stranger friend, Priyanshi was staying in. She was packing her bags to go too, so I decided to join her.
…
After a prolonged period of good-byes and photographs, we set out for the descend, Priyanshi and I being the slowest and having our fellow trekkers, Ankur and Natansh to help us. It was now that we saw astonishing landscapes which were concealed during the hike. Despite the heavy weight of my backpack and micro-stress about being at the farthest end of the mob, I couldn't stop marvelling at the small hamlets we passed by. A beautiful temple with prominent brown walls, a sharp three tier dome, surrounded by an apple orchard was one picturesque landscape we stumbled upon. The structure of the temple screamed "Himachal".
Next, we passed by something extremely raw and pious- a young lady taking her cows to graze.
Once we reached Barshaini, everyone excitedly rushed into a general store, not missing the opportunity to binge on junk food after three days of the home stay. It was then that Shefali, the mastermind behind the Kasol detour, announced that we had to wait an hour for the bus. Sheltered in a cafe in Barshaini, we ordered a quick brunch.
"Hash brownies!" "Weed!" These words rang in my ears as most of my fellow travellers exclaimed with joy seeing a weed products' seller. Soon, the smoking up commenced, making my head heavy. Desperate for a breather, I went outside the cafe, just to see the stoned strangers everywhere. Now, my head began to throb and I decided against going to Kasol if this is what we were going for. Plan B was to take a bus to Bhuntar where our bus to Delhi was scheduled to start that night.
I decided to get clarity on the intention of visiting Kasol, and it was evident that it didn't match my expectation of 'fun'. Now, before you judge me, let me clarify that I don't have a problem with weed or the sort and I have myself tried it, but voluntarily chose to pursue a physically and mentally healthy lifestyle. It is one's personal choice and right/wrong is very subjective.
Missing the bus and the cab to Kasol, followed by missing the cab to Bhuntar because of lack of space, I waited on 'Stoned Street', contemplating my further course of action. It was then that I met a female trio heading towards Bhuntar. I asked them to join me, but they declined my offer because they felt the cab was expensive, and preferred awaiting the next bus. I sat on the steps of a restaurant, clueless. A good ten minutes later, a group from The Yellow Festival walked up to me and asked if I'd like to join them to Kasol. I agreed, but decided to explore the town solo.
My sulky mood in the cab to Kasol was cheered while conversing with a couple from Bangladesh, perched opposite me in the dickey. This enterprising couple had taken a break from their jobs to trek across south-east Asia. They had even trekked the Everest!
This, I thought, was probably the reason I missed multiple transports from Barshaini. I was glad to have met someone new and so dynamic!
Kasol, to be honest, was overall disappointing. I strode past the market where every shopkeeper was stoned. Yet, I managed to buy a few wooden items and my favourite Kangra Green Tea. Also, relished a delicious chicken sandwich and ginger-lemon tea at a cafe overlooking the Parvati river.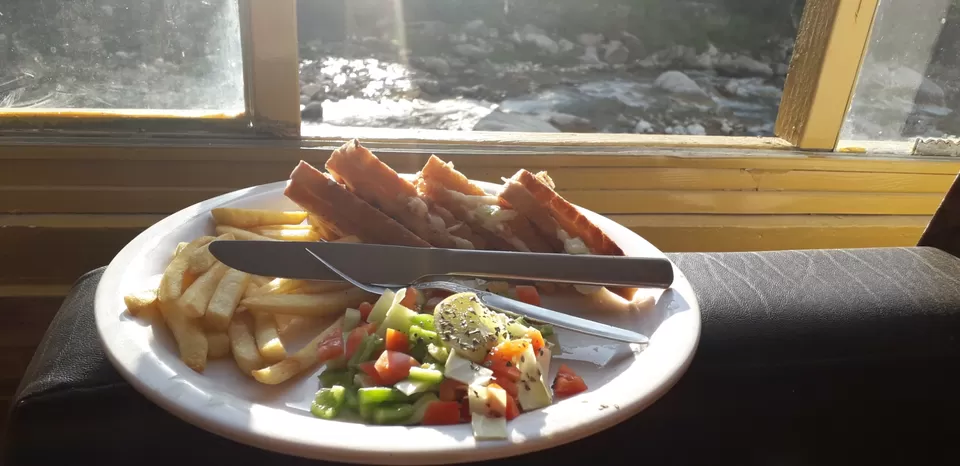 The Bus to Bhuntar: Possible?
Just when I thought the chaos is over and we could peacefully start our journey home, I was proved wrong. The bus to Bhuntar came in quite late and was overflowing with passengers. While I stood staring at the crowd, unable to board the bus, a few guys had kept all our luggage on top of the vehicle. I had almost decided to ditch the bus for a cab, but Priyanshi aptly reminded me that it will be difficult to get our luggage if we discard it on the bus. Simultaneously, Ankur and Natansh claimed that this will be fun.
The conductor, adorning his invisible superhero cape, asked the passengers standing inside the bus to remove their backpacks and hand them over to him. He then placed even the thinnest backpacks on the roof of the bus, which made place for us to stand on one foot.
I made my way through the bus, falling on one leg, next to Tanvi, a very sweet girl I met at the camp. This time, a look in the mirror cheered up my cranky mood.
"You're looking in the mirror? Even I want to see!" I exclaimed when I saw Ankur staring at himself in the mirror placed above the door of the bus. He nodded.
I stood on my toes to have a glance at myself in the mirror. I smiled. I was happy.
Precisely fifteen minutes later, I got a seat to sit. Guess where?
.
.
.
On a steel box next to the driver!
At least that's what I could configure my seat to be, without getting a chance to survey the piece of metal.
I had been sitting for fifteen minutes when Surbhi from the group joined me on the box. An hour later, Ankur and Natansh made their way to the seat opposite the box, and four of us got playing word games.
Return to Delhi: The Adventure Was Not Over
About half an hour before we reached Bhuntar, it was announced that the original bus taking us to Delhi had been cancelled. The BNK team had booked us in whichever bus had vacant seats. While everyone was divided into clusters, I was alone from the group to be seated in a bus of strangers. Again, my favourite feeling of resfeber (the restless race of the traveller's heart before the journey begins, when anxiety and anticipation are tangled together) creeped in and spread to each cell in my body.
Fortunately, I had an amazing journey. I was seated among a group of friends returning from Manali, smiling ear to ear while discussing the memories they have created. Oh the best part, finally got a plug point to charge my phone after three days!
A moment from this journey etched in my mind is: sipping a hot cup of coffee while strolling alone in Sundernagar at 12:30 am, when the bus had halted for a break.
When I reached Delhi the following morning, I took the metro to Select City Walk Mall, which wasn't that close from the place I unboarded, but at least there was a direct metro till there.
Bought myself a pair of clean clothes at the mall, changed, ate and set out for the airport.
Flight to Pune: Still an Adventure
While checking in at the airport, I overheard a passenger being instructed to remove his power bank from his overhead luggage and keep it in the hand luggage. This reminded me that I had to do the same too. I parked myself in a corner to hunt the power bank from my backpack. Much to my shock, I couldn't find it despite emptying my bag thrice. Deciding that I have forgotten it in Tulga, I checked in.
Few minutes later, when I was choosing which coffee shop to hit, my name was announced and I had to visit the security checking counter. I guess I knew what it was for.
I stood outside the cabin with three others. We were to go in one by one. The first man went in and came out laughing because a coconut had been found from his bag, which was apparently disallowed. The next two men went in and came out one by one and had similar experiences. I was last and my mouth was dry with fear.
I went in and as expected, I was accused of having a power bank in my bag. I emptied my bag and even the security checkers couldn't find the power bank in there. One of them then scanned my bag to find the precise location of my battery-savior. He suggested I check inside my bright pink toilet kit. Aha! There it was! My nasty travel companion!
Meanwhile, the weather in Pune was worsening. A heavy downpour had commenced, which got Mom worried, but not me.
…
As I sat in my cab from the airport to home, I felt a tear trickle down my eye. The beauty of the last 3 days- the snow capped mountains, the campsite, and most importantly, my new friends, played like a slideshow in my mind. Recollecting how everyone screamed while the group picture on the last day, a smile made way amidst the tears on my cheeks.